Facilities
Our facilities at Highfield and Brookham really are fantastic and help us to deliver a first-class education for your child. From specialist art and DT studios and well-equipped science labs to a full-sized all-weather hockey pitch, heated indoor swimming pool and an enviable theatre with state-of-the-art tiered seating for up to 300 people, we are incredibly well placed to enable our children to thrive and grow in every area of school and academic life.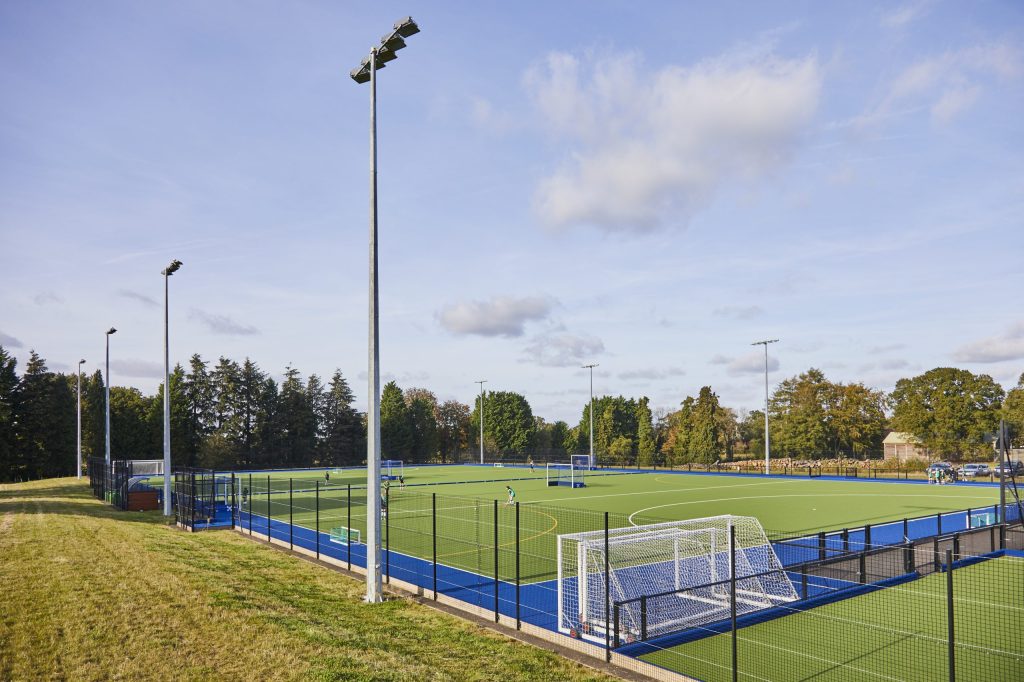 Astro
Our all-weather astro is a full-sized, sand-dressed hockey pitch, built to International Hockey Federation standards. During the hockey season your child's training and competitive fixtures will take place here and the floodlights allow your child to train and compete well in to the darker evenings of the autumn and spring terms. On Saturday mornings, the artificial pitch is home to our popular Saturday Sports Skills Club when children from Year 1 to Year 4 join us to develop their sports skills and enjoy the benefits of a fun and active Saturday morning.
Sports Hall
Our recently-refurbished Sports Hall is a popular and versatile space. Home to many indoor PE and Games lessons, it is used regularly for basketball, badminton, netball and volleyball, as well as indoor hockey and five-a-side football. The bright Sports Hall is also home to our after-school club cricket net sessions in the autumn and winter months. But the Sports Hall is not just a home for indoor sport, as the spacious area also hosts yoga sessions for our prep school children during their weekly Keys sessions and is the perfect setting for our Year 8 leavers to stage their spectacular end-of-year show.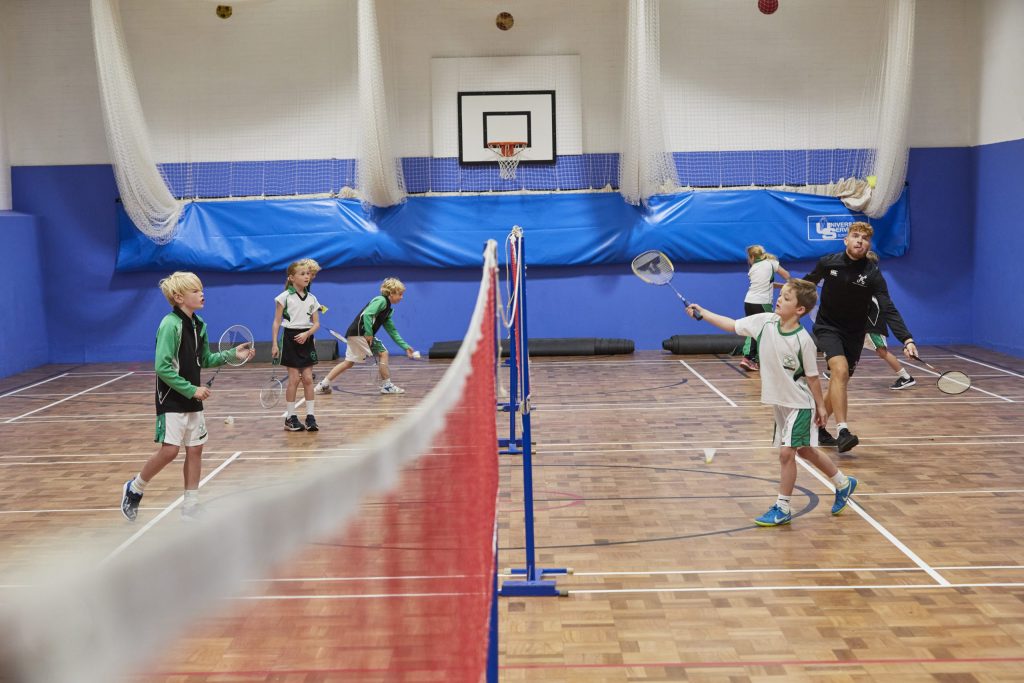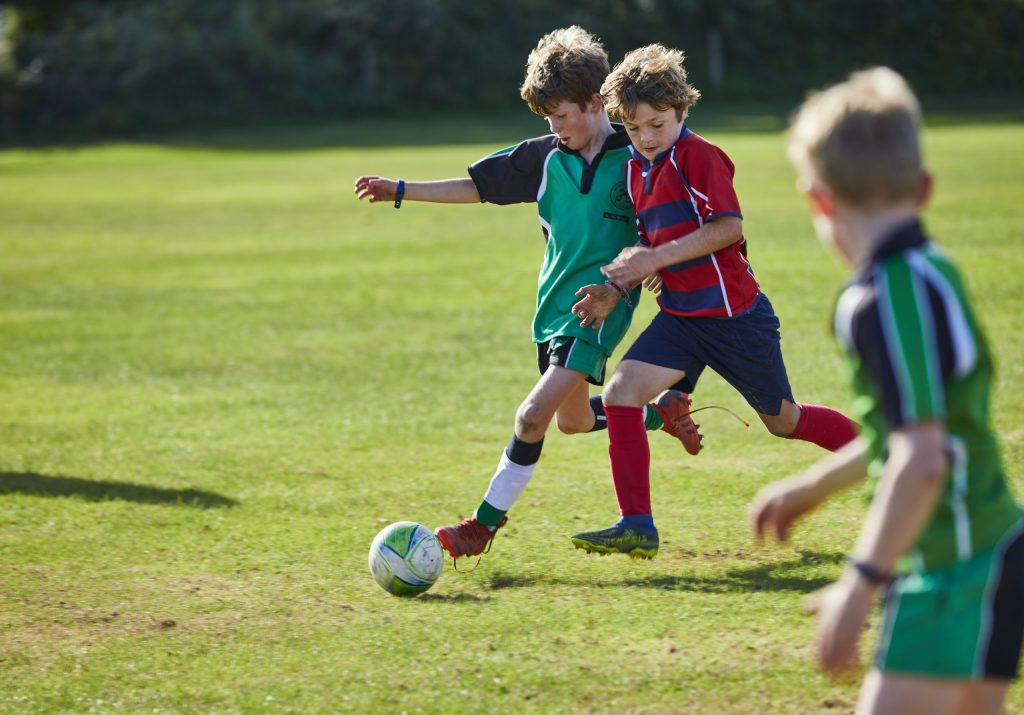 Playing Fields
We are blessed with amazing playing fields which host 15 natural grass pitches where your child will enjoy their games lessons and competitive sports fixtures. Our sports fields are maintained to a very high standard and provide first-class playing conditions, be it football, cricket, hockey or rugby.
Dining Hall
Your child will take their meals in our dining hall where all children and staff enjoy a delicious, freshly-prepared and nutritious food in sociable surroundings. Food at Highfield and Brookham is a true highlight of the day and our skilled and dedicated catering team prepare a fabulous range of healthy and tasty dishes. The dining hall is steeped in history as every child that has earned a senior school scholarship has their name on our honours boards which take pride of place all around the hall.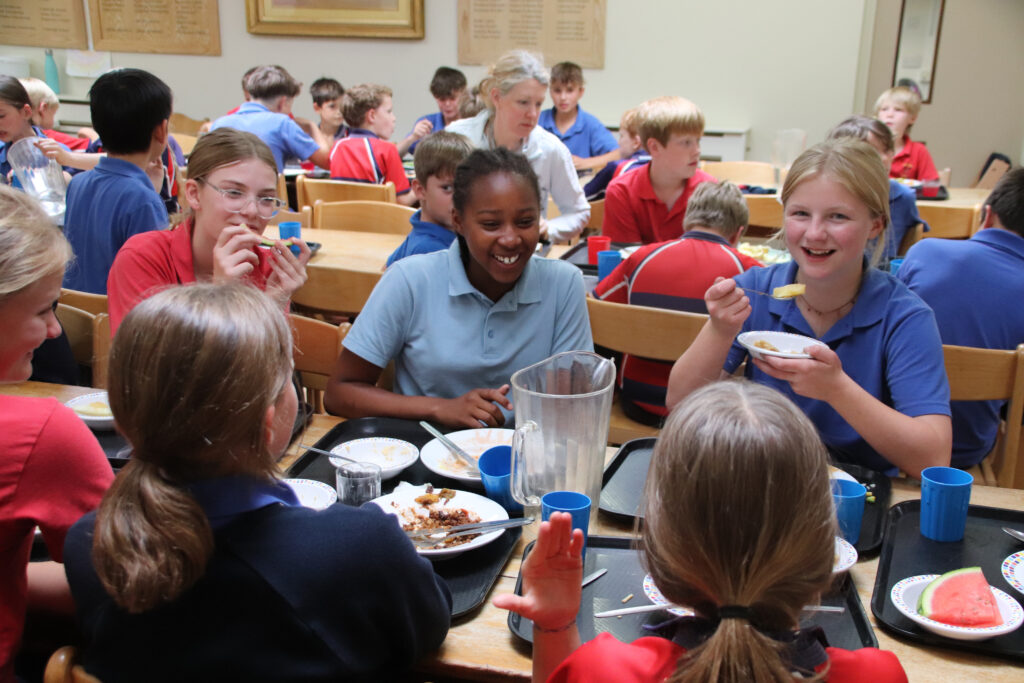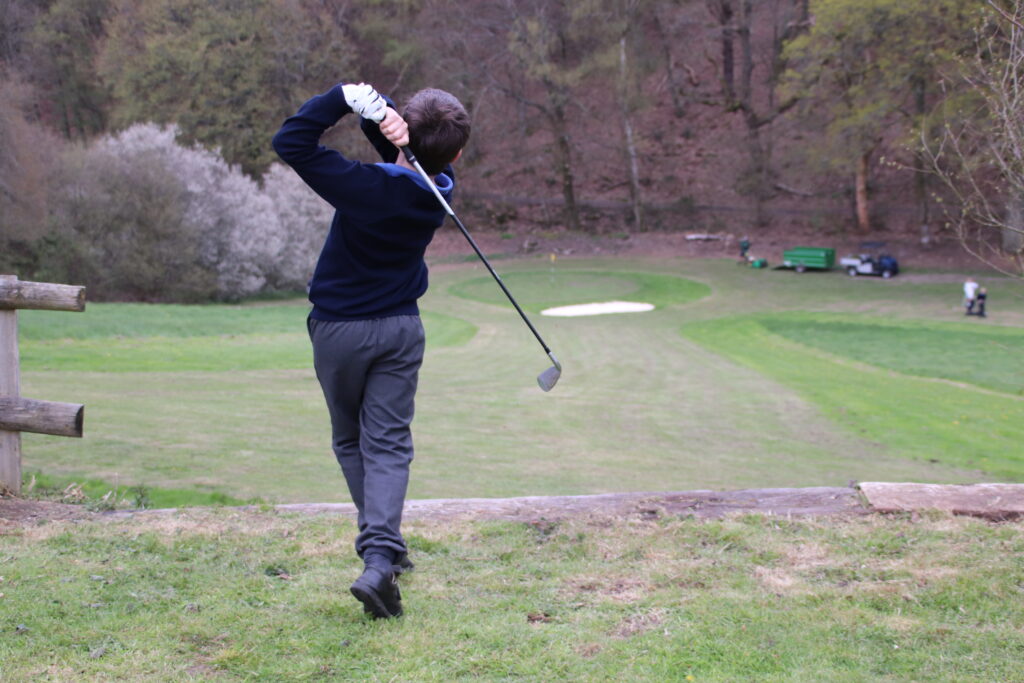 Golf Course
We are very proud of our picturesque nine-hole golf course. Set in delightful, tree-lined surroundings, the course offers just the right amount of challenge for our young golfers. Golf is offered as an after-school club and in our weekly Keys sessions and your child will also have the opportunity to play competitive golf fixtures against other visiting schools. During the holidays, we offer Golf lessons as part of our Holiday Activity Clubs for the local community.
Tennis and Netball Courts
Tennis is really popular at Highfield and Brookham and your child will take to the court on rotation in their weekly PE lessons. We have four hard surface tennis courts, which double up as netball courts, three of which are floodlit. Additional tennis lessons are offered for those keen to develop their skills, and for our younger children just starting out on their tennis journey there is an after-school tennis club. Parents can get involved in our weekly tennis club too. Netball is played internally during PE and Games lessons and forms part of our regular series of competitive matches against other schools.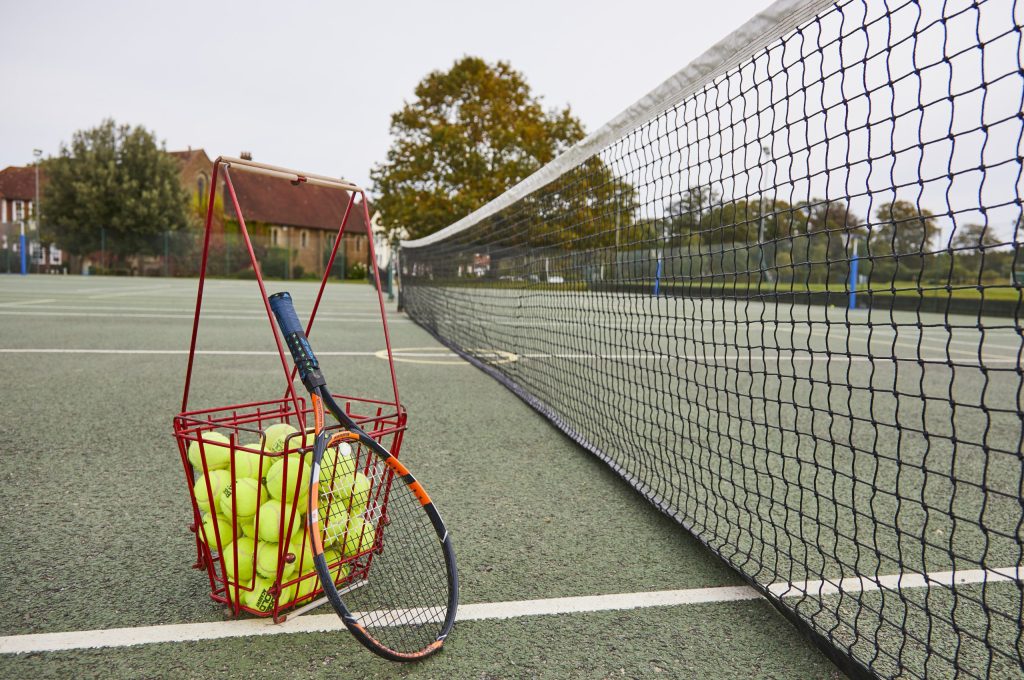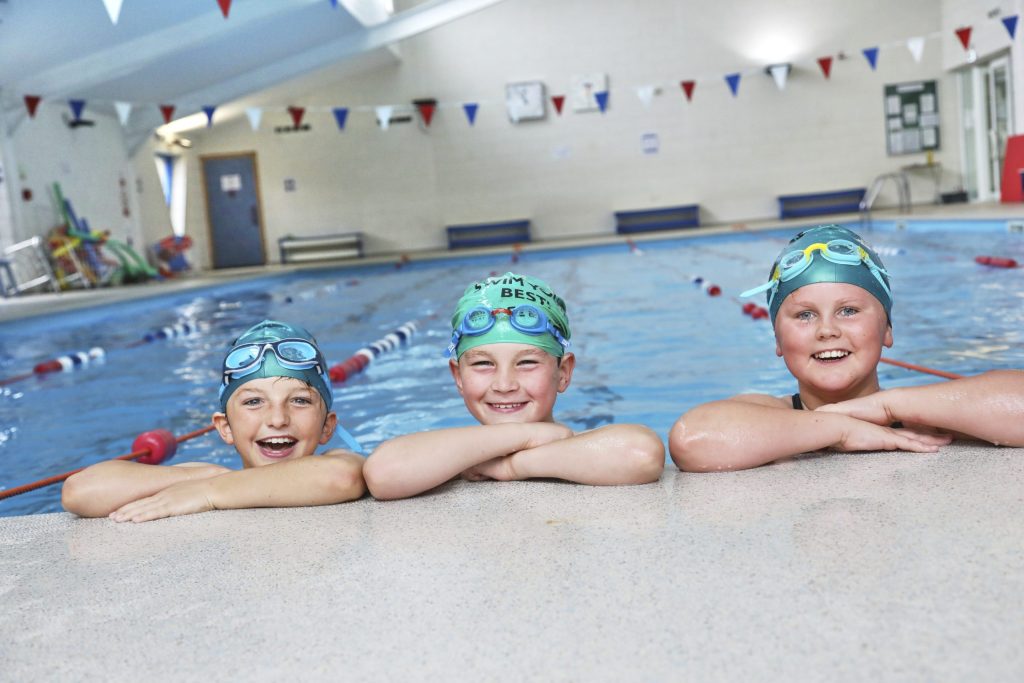 Swimming Pool
We are very proud of our lovely, warm and inviting indoor swimming pool. Children from Nursery to Year 2 enjoy weekly swimming lessons with our specialist swim coaches and swimming continues throughout the school years as part of the children's weekly PE rotation. The pool, which was recently refurbished and is 20 metres long and eight metres wide with a maximum depth of 1.9 metres, is also home to our highly-regarded Swim School where children from the wider local community can join us to learn to swim. The pool building has solar panels on its roof which generates all the electricity that the building needs while the water in the pool is solely heated by our sustainable biomass boiler. The water itself is UV filtered which means less chemicals are used, resulting in healthier water.
Theatre
The Theatre is fully equipped with stage lighting and sound equipment and will be the venue for your child's annual year-group drama productions. Our Theatre can house up to 300 people with its state-of-the-art, fold away, tiered seating and welcomes proud parents who come to watch their children perform. Our Theatre is also the location for our whole-school assemblies, a vital weekly activity which helps strengthen our educational community. During the holidays, the Theatre is also a hive of activity as we welcome children to Holiday Activity Clubs such as Musical Theatre and Multi-activities.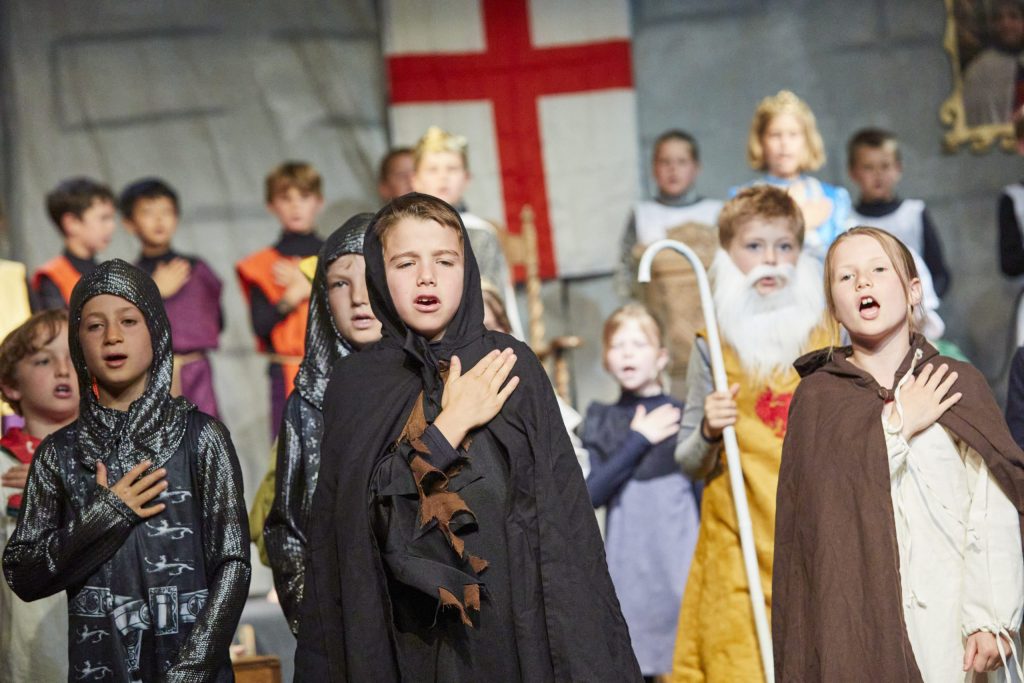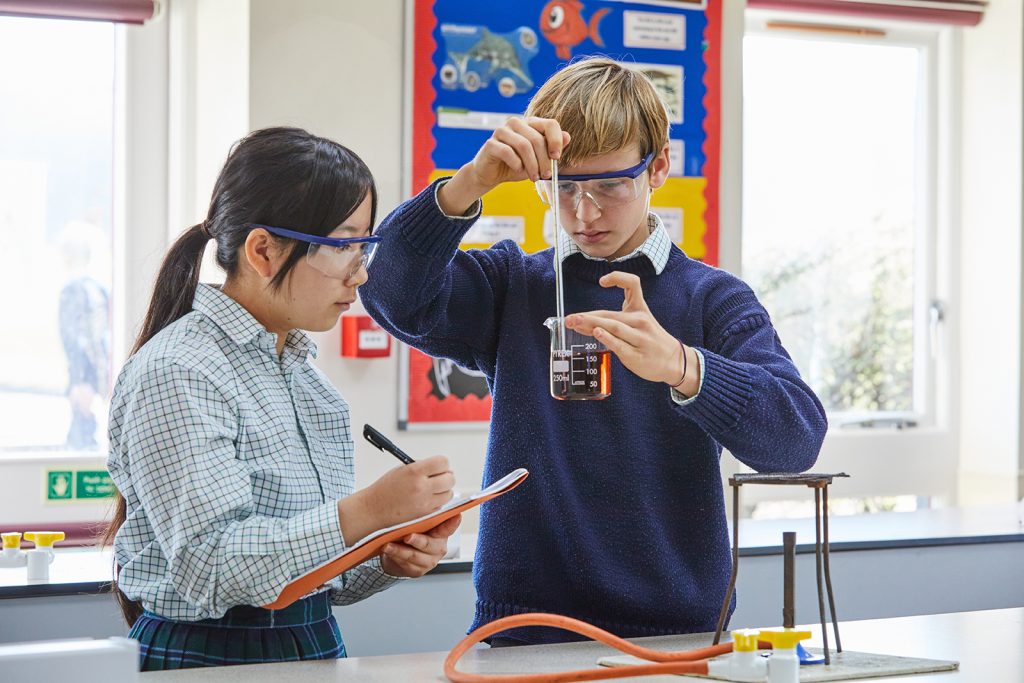 Science Labs
We have three modern, well-equipped science labs and a science prep room. Our labs provide an environment for innovation and experiments as we focus on practical science teaching. From Year 5, children take double lessons in Science when they can undertake exciting, hands-on experiments under the watchful gaze of specialist Science teachers with help from our skilled lab technicians. Away from the lab, we have extensive 175-acre grounds which are teeming with life and allow the children to take their scientific learning outside.
DT Workshop
Home to our own 3D printer and precision laser cutter, as well as an abundance of wood and metal-working equipment, our DT Studio is very well equipped and is the place where practical ideas and imagination are encouraged to flow freely. From Year 3, your child will learn to use a variety of design and technology tools in their weekly DT lessons under the expert eye of their subject specialist teacher.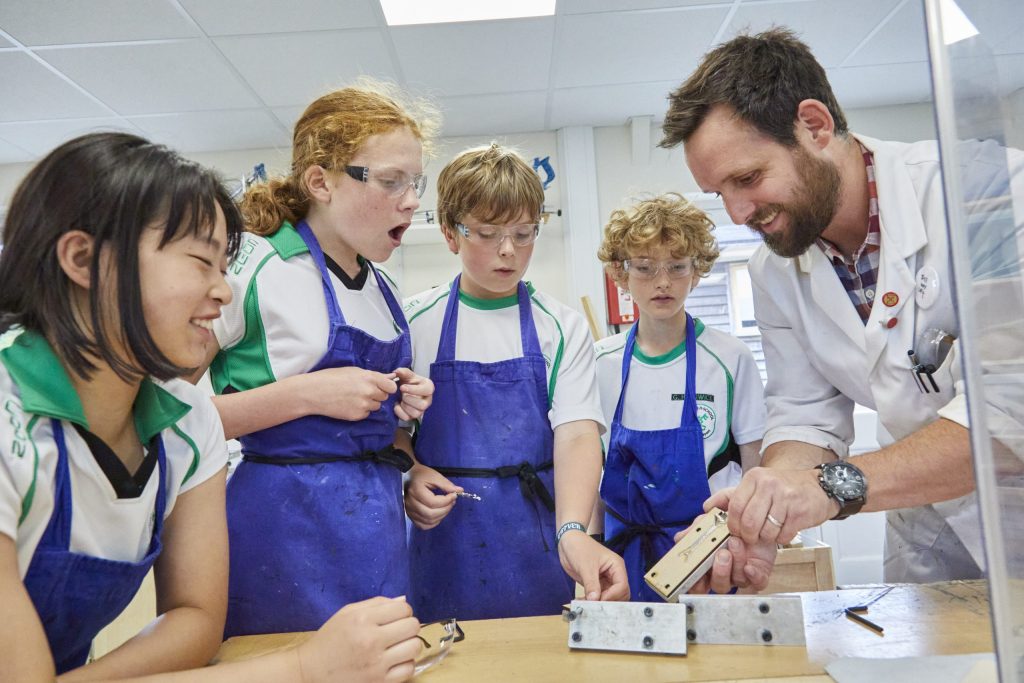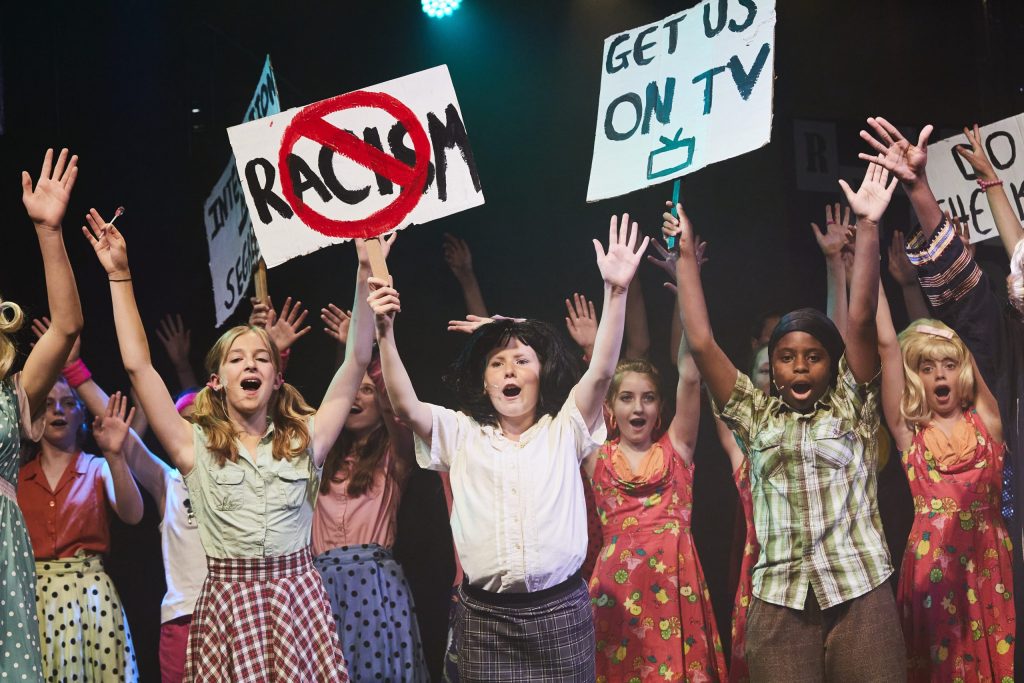 Dance Drama Studio
Our mirrored dance drama studio with its high ceilings and ballet barres is flooded with natural light and provides a perfect practice space for children taking extra-curricular dance and LAMDA lessons. Your child's weekly drama lesson with their subject specialist teacher will take place here and the environment helps the development of self-expression and performance. Dance is covered in our weekly Keys sessions (which equip children with a wide range of skills which can benefit them, the school and the wider community going forward) and Modern Dance and Ballet are offered as after-school clubs.
Art Studio
Our Art Studio is a haven in which your child can nurture and develop their artistic talent. It's equipped with two kilns and its very own potters' wheel, plenty of space for painting and drawing and is flooded with natural light. The studio, with its mezzanine level for more individually-tailored tuition with our Head of Art when needed, provides the perfect environment for your child's weekly Art lesson with their subject specialist teacher from Year 1. Our Art Studio also hosts a variety of Holiday Activity Clubs where children can join us for print-making, pottery or mixed-media workshops.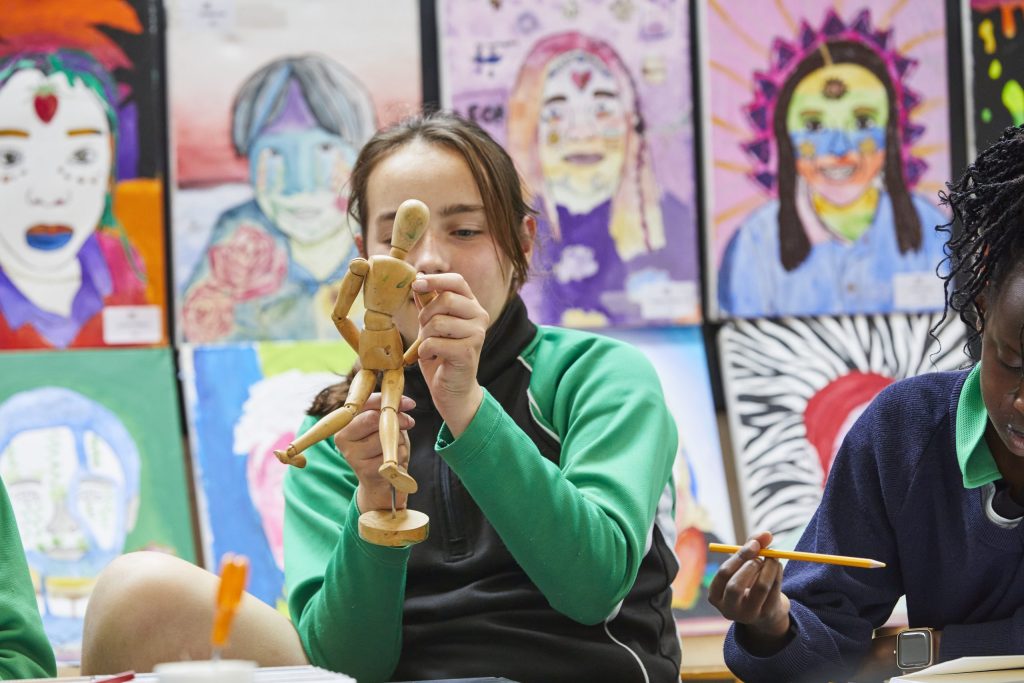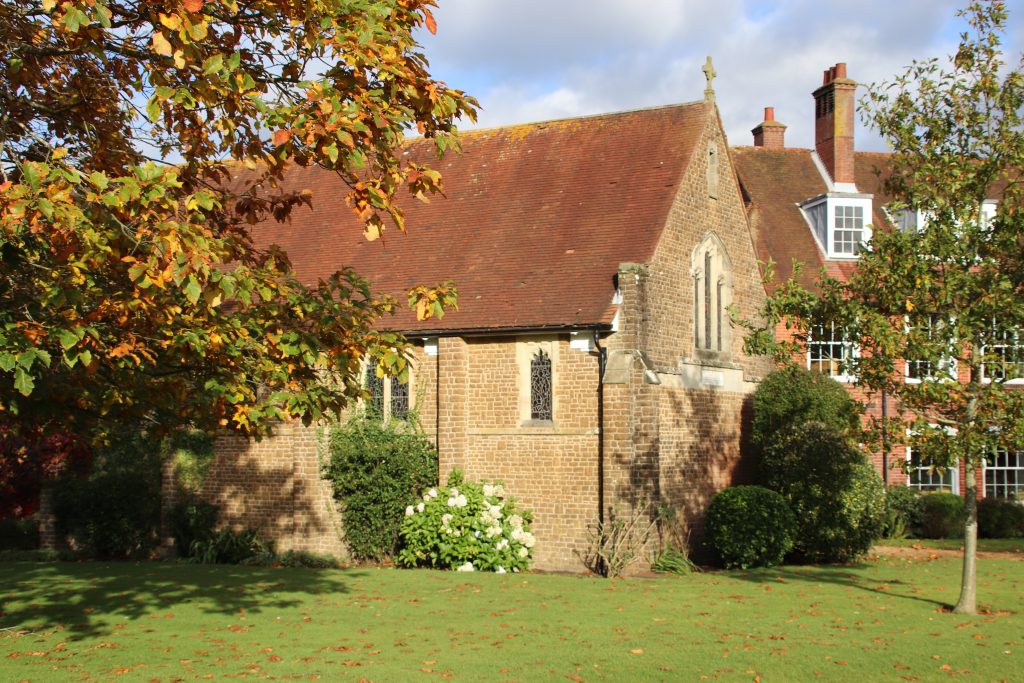 Chapel
Our beautiful chapel was built in 1910 and is where we hold assemblies, Sunday services, a multitude of concerts and even talks by inspirational speakers. But it really comes in to its own at Christmas when each group from Year 3 holds its very own carol concert and we invite former pupils to return for our annual Old Highfieldian and Boarders' Carol Service. The chapel was fully refurbished in 2023 with an extensive programme featuring new lighting, rewiring and painting, as well as some remedial woodworking and cleaning of the stained-glass windows.
Forest School
Our woodlands are a natural haven in which to learn and explore. They are carefully managed to ensure that the native trees flourish and provide a welcome habitat for a variety of flora and fauna and provide the most wonderful of outdoor classrooms. There is plenty of evidence that children learn best outside. Children from Nursery through to Year 2 enjoy Forest School where they learn bushcraft techniques such as fire making and cooking over a campfire, as well as shelter and den building. You child will have an amazing time hunting for minibeasts or producing fabulous forest art as they reap the benefits of simply spending time outside in the fresh air. During the holidays, children can join us for our popular Bushcraft camps.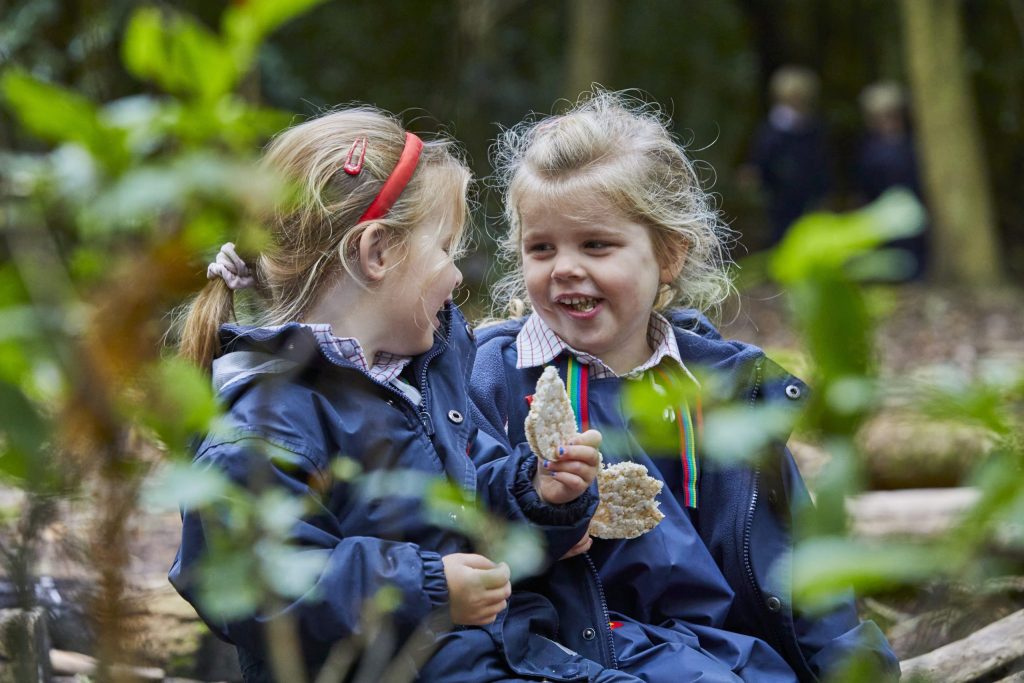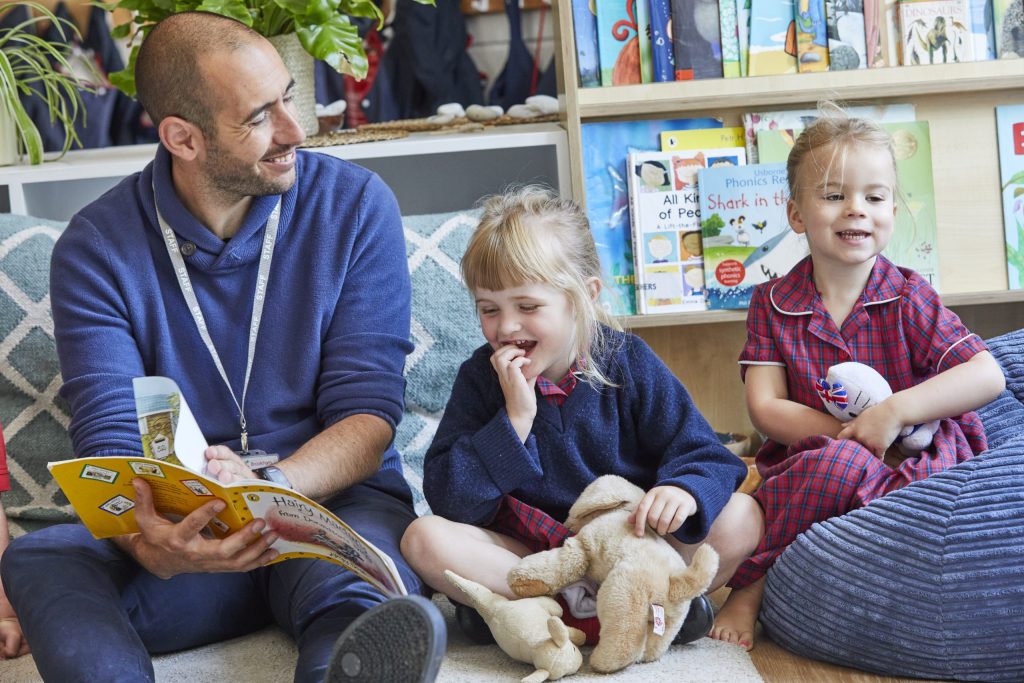 Libraries
We love our libraries! They offer comfy breakout areas and quiet spaces for concentration and are, of course, crammed full of the most amazing and inspiring collection of fiction and non-fiction books curated by our expert librarian. Your child will be encouraged to develop a love of reading while at Highfield and Brookham and we celebrate the joys of reading with exciting and colourful events such as World Book Day, where the children dress up as their favourite book characters, and holiday reading challenges.
Music School
Our music school is a really popular area of the school complete with its soundproofed practice rooms, where children can hone their skills on guitar, violin, piano and drums, and a music tech room where children have state-of-the-art digital equipment at the fingertips to help learn the basic physics of music and how to make and shape electronic sounds using virtual synthesizers. They can also develop song-writing techniques and gain experience using a variety of music-making software. Performance spaces are abundant too. Your child might start their musical performance in the less formal setting of our music room or at one of our weekly cushion concerts before progressing to more formal concerts in our theatre or chapel, or outside at our annual Summer Term music festival, HighFest.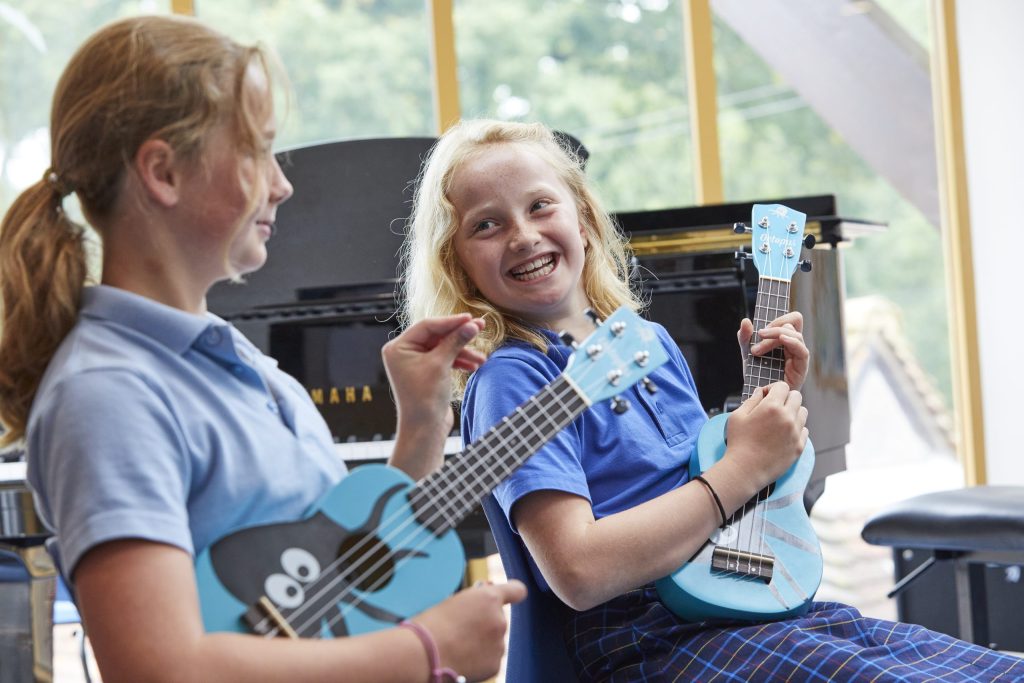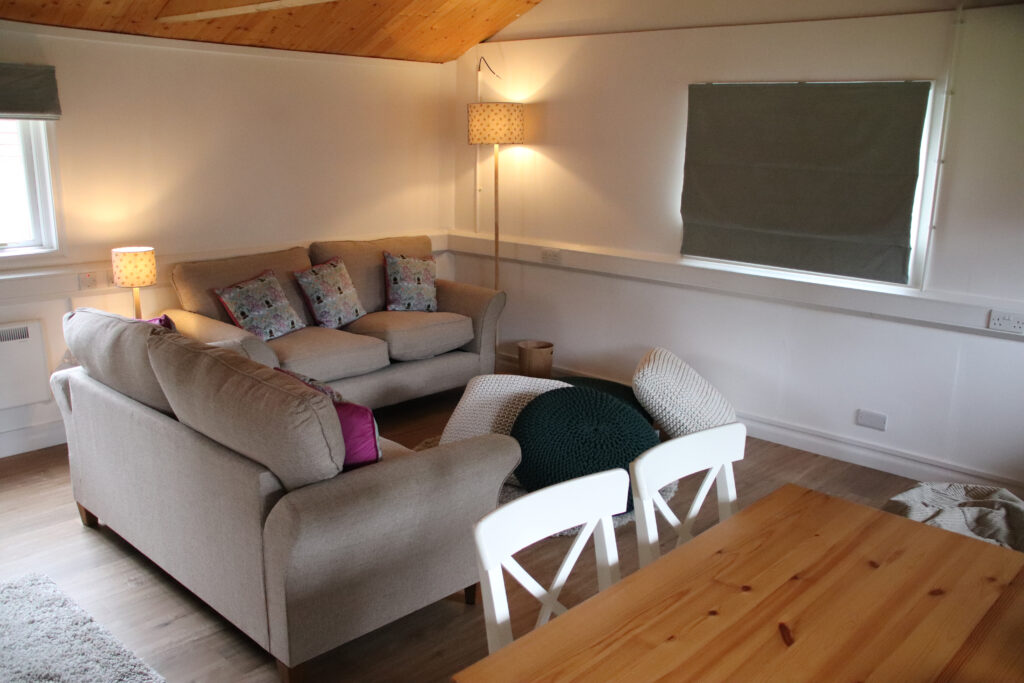 The Beehive
The Beehive is a safe and welcoming wellbeing hub at the heart of our school. Your child can self-refer and come along to The Beehive to relax, reset and regulate their emotions when and if they need to. It is a friendly, positive space which is also home to many of our popular wellbeing activities.