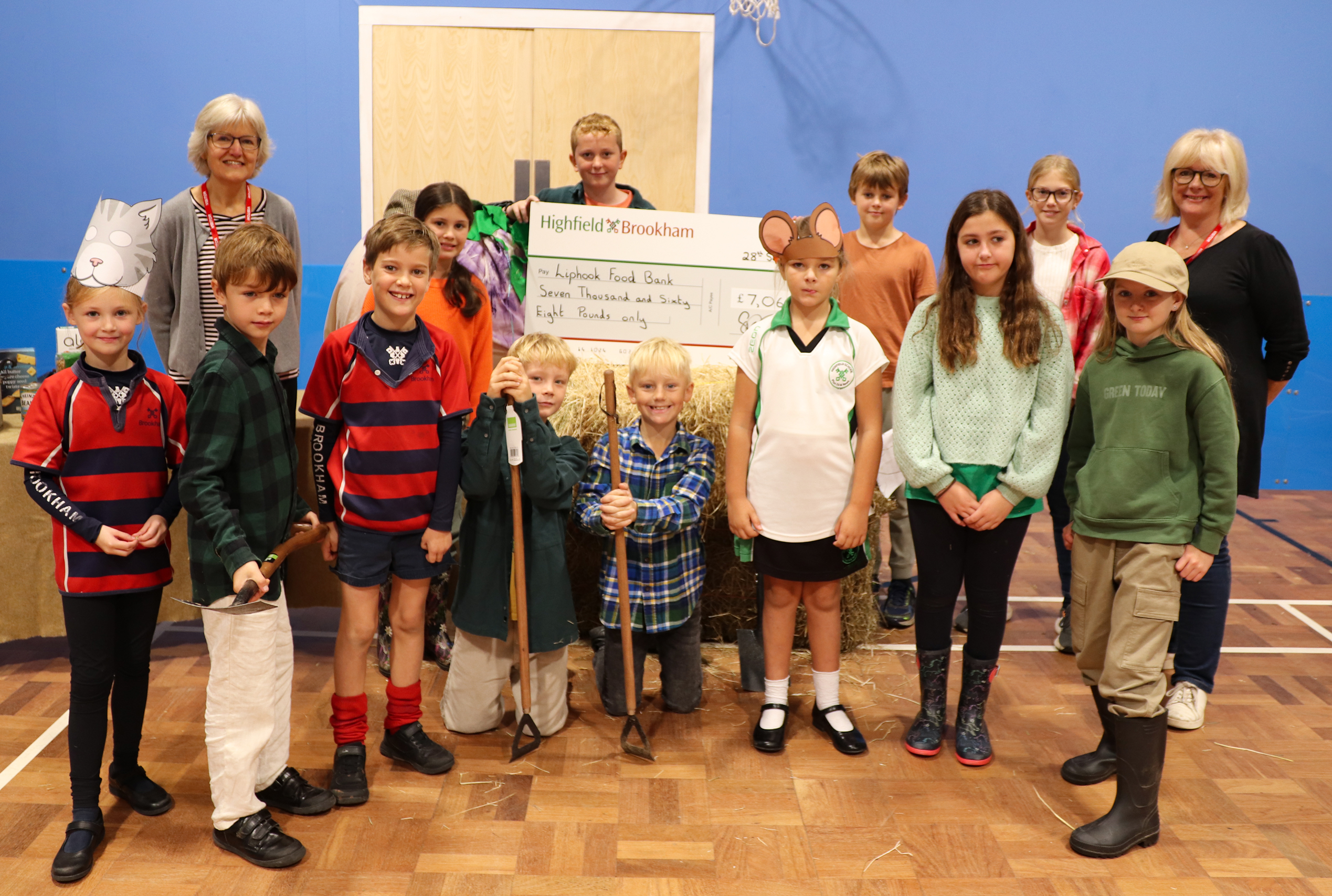 Caring Pupils Raise £7,000 For Food Bank
29th September 2023
Talented triathletes, disco divas, fun runners and rule breakers have cashed in to help under-pressure families struggling with the cost-of-living crisis.
Our selfless children have been involved in some fruitful fundraisers over the past 12 months, raising an impressive £7,068 for Liphook Food Bank along the way.
On Thursday, food bank trustees Glynis Blake and Mary Braitch were treated to a fun and topical adaptation of classic children's tale The Enormous Turnip before receiving the welcome cheque from children at our nursery, pre-prep and prep school, which sits on the rural borders of Hampshire, Surrey and West Sussex.
Break the Rules Day, where the children were (within reason!) given licence to drift away from the usual school regulations, a disco, fun run and testing triathlon, involving a tough swim, cycle and run, all added up to a healthy donation to the worthy charity.
Located at Liphook Junior School, the food bank offers food parcels and advice to families who are struggling financially, a crucial service all-year round but especially during the winter months.
Highfield and Brookham Head Suzannah Cryer said she was "incredibly proud" of the amount raised for such a deserving cause.
"Our children never need asking twice to roll up their sleeves and get stuck into a fundraising project and I couldn't be more proud of the amount of money they have raised for Liphook Food Bank.
"We absolutely love being part of the Liphook community and have a long and happy association with many groups, associations and charities in the village, and our children are always willing to go the extra mile to support causes that our dear to our hearts.
"Liphook Food Bank is one such cause and works tirelessly to get the right help to the right people in our community who really need it most. It is such a wonderful cause and we are delighted to help in our own small way."
The food bank is open from 9.30am-11.30am on Tuesdays and Fridays. For more details, call 07871 287295 or email liphookfoodbank@gmail.com.