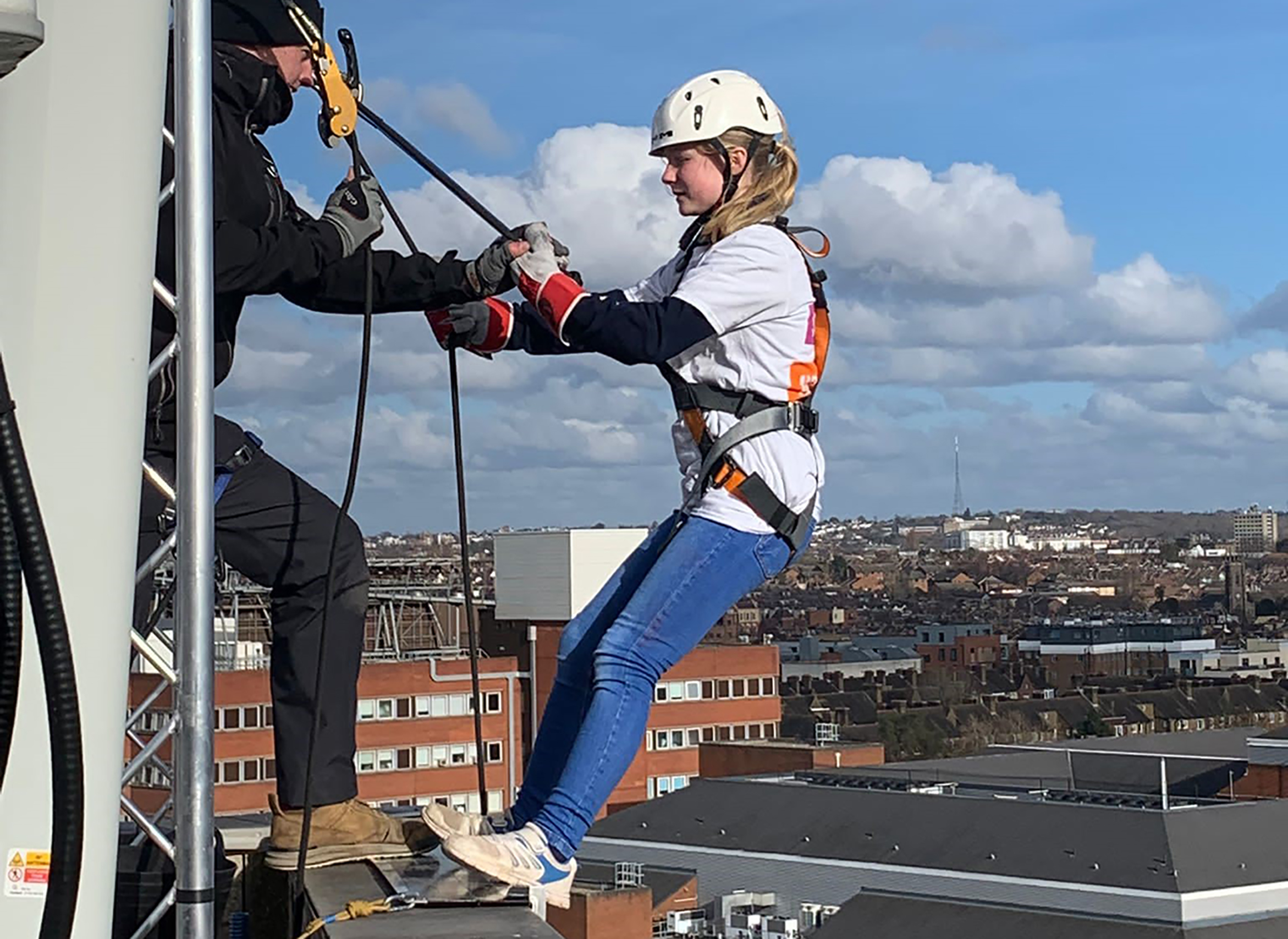 Daring Daisy's Leap Of Faith For Izzy
1st April 2022
A brave Highfield and Brookham pupil has taken a huge leap of faith – abseiling from the roof of a 13-storey building in London in honour of her cousin.
Daisy W took the plunge from the top of the Pelican Hotel at St George's Hospital in Tooting in memory of Izzy Wilson, who died of leukaemia two years ago.
The fearless Year 6 pupil joined a group of Izzy's friends and family for the daring descent and raised a whopping £8,138 for the Izzy Wilson Smile Fund.
The fund was set up in 2020 to "make children's lives better during their time at St George's" in line with Izzy's wishes and now stands at more than £100,000.
Daisy, 11, said: "I was really excited about doing the abseil at first but as soon as I stepped back off the building I thought 'do I really want to do this?' But when I reached the bottom I was so happy and wanted to do it again!"
Embarking on her first big fundraiser, alongside Izzy's schoolfriends and family, Daisy said the initial target had been £1,500.
"The amount of money raised was absolutely amazing," she said.
"Izzy and me were really close, she was like a sister to me, and hopefully all of this money will help make children's lives in the hospital a little bit better."
Izzy, who attended Broomwood Hall School in Northwood, was cared for at St George's Hospital for nine weeks and was eager to give something back.
Highfield School Headmaster Phillip Evitt said: "It never ceases to amaze me the extraordinary lengths that our children will go to to help others. Their selfless ways mean they always seem to find new things to do for the betterment of others.
"At the tender age of just 11, what Daisy has done is nothing short of remarkable. An abseil at any age is a pretty scary prospect but Daisy has been incredibly brave and helped raise lots of money for her cousin's wonderful cause. I know I speak for the whole school when I say we are immensely proud of her."