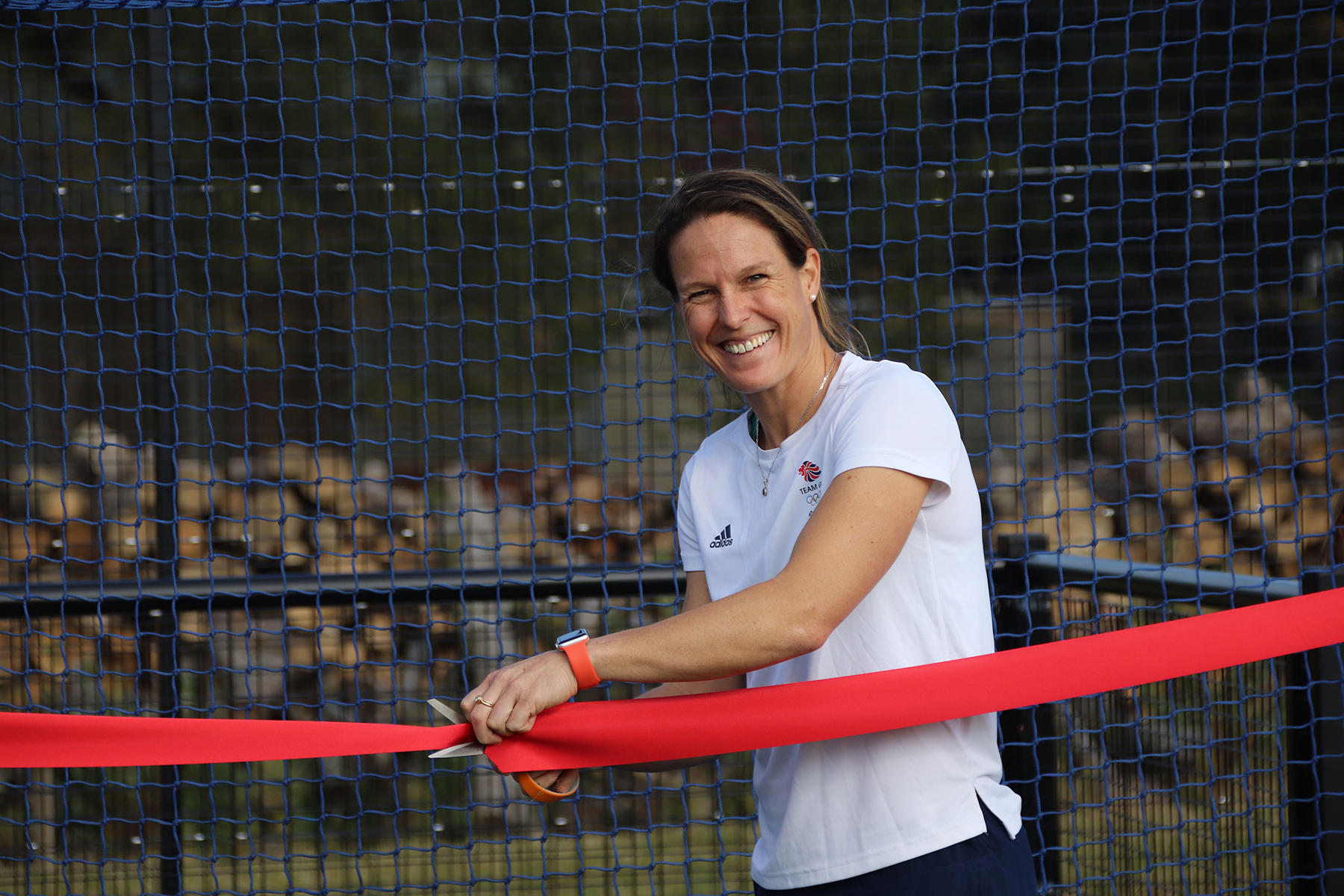 Golden day as Olympic star unveils all-weather pitch
12th October 2021
An ambitious sports project that has been more than two decades in the making finally came to fruition in a golden ceremony at Highfield and Brookham Schools on Saturday.
Team GB Olympic hockey star Crista Cullen, who won gold with her teammates at the Rio Games in 2016, cut the ribbon to open officially our impressive all-weather facility.
It proved to be third time lucky for both the school and the hockey player, who had twice been denied the chance to unveil the two impressive hockey pitches because of the coronavirus pandemic.
But the grand opening was certainly worth the wait as Cullen, 36, who also picked up a bronze medal in London in 2012, wowed pupils, parents and staff alike with a stirring speech and a coaching masterclass as she put Highfield's Year 7 and Year 8 hockey players firmly through their paces.
What also endeared the visiting Olympian to the young pupils, aside from her obvious top-class talent, was the time she happily spent signing a wealth of hockey sticks and various other bits of sporting apparel, posing for pictures with excited children clutching her gold medal and, of course, the obligatory selfies.
Armed with their new-found skills and techniques, Highfield then welcomed Twyford School for a series of matches to christen the multi-coloured surface.
The pitch project was set in motion in 1999 and will be fully complete when its associated café overlooking the floodlit pitches is opened later this year. The all-weather surface, which is available for hire, is currently used by Haslemere Hockey Club, Liphook United Football Club, and as a performance centre for England Hockey juniors.
It forms part of Highfield and Brookham's Whole Estate Plan, which was endorsed by the South Downs National Park Authority in 2018 and is led by Estate Manager Guy Baber.
Phillip Evitt, Headmaster of Highfield Prep School, said:
It's been a long time since we dreamed up the idea of having an all-weather pitch at the school and on Saturday that dream finally became a reality – and it truly was worth the wait



"We had glorious sunshine, an inspirational Olympian and a lot of eager and excited children who loved every minute of it. Crista was fabulous and impressed the children with her passion and her drive from start to finish."
And he added: "We've left a tremendous legacy for the future, one which we are immensely proud of, and maybe one day one of our pupils will follow in Crista's footsteps and achieve sporting glory on the biggest stage of all. After all, with the opening of the all-weather facility, we have proved that with a bit of hard work and dedication, dreams really can come true."