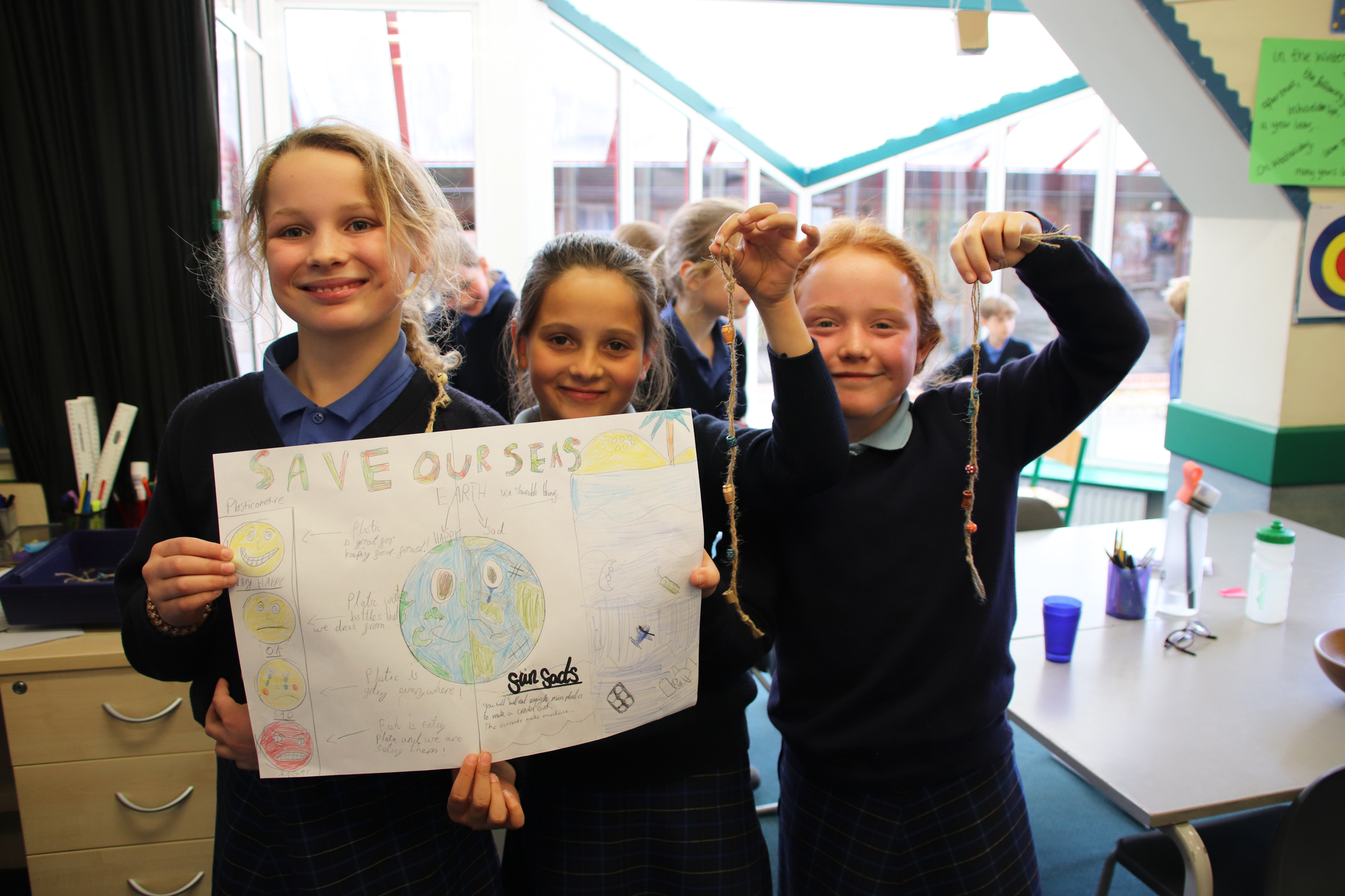 Green Dream As Eco Warriors Mark Earth Day
22nd April 2022
The future of our planet is in safe hands – if the commitment of caring children at Highfield and Brookham is anything to go by.
Our pupils showed not only maturity beyond their years in terms of awareness and knowledge of the plight of our home planet from the ever-growing threat posed by climate change but also a steely determination to put things right.
And this was ably demonstrated by the young eco warriors at both pre-prep and prep schools on Earth Day last Friday – a special day set aside in 1970 to "diversify, educate and activate an environmental movement worldwide" which has carried on ever since.
In a change to regular lessons, the children embarked on a series of day-long green activities aimed at tackling climate change and protecting the natural environment; everything from the creation of colourful mini-Earths by the pre-prep's youngest cohort, to be hung on trees in the Nursery at Brookham, to the design and production of workable wind turbines by the enquiring minds of young engineers in Year 8 at Highfield.
Year 2 children recycled old milk cartons to produce decorated bird feeders while Year 3 pupils worked alongside children in Year 4 in a fine example of cross-school harmony and collaboration as they dug deep to consider the threat to wildlife caused by masses of harmful plastic in our oceans. They also produced beautiful 'nature jewellery' in the form of bracelets using recyclable materials and planted a young silver birch tree in the school grounds to help curb rising levels of carbon dioxide in the atmosphere which are a known driver of climate change.
The scourge of ocean plastic, with a shocking eight million pieces finding their way into our seas on a daily basis, was also probed by children in Year 5 and Year 6 who considered ways in which we can clear the deadly detritus in our oceans in order to help marine life survive and thrive.
They also headed out of the classroom to monitor bee activity as they considered the consequences of a threatened bee population on mankind's very survival, with the busy buzzers pollinating our crops and therefore impacting on food production.
Thoughtful Year 7 and Year 8 children had a brainstorming session on a 'nature timeline', discovering what has already occurred environmentally and what could be done to restore the balance, while all the year groups staged a mock IPCC conference to debate climate change from differing global perspectives.
Phillip Evitt, Headmaster at Highfield School, said: "Climate change is an incredibly serious issue that affects each and every one of us and we all have a duty to do our bit. These are worrying times but what gives me great heart for the future is the way in which the children at Highfield and Brookham have taken up the challenge with open minds and big hearts with a real willingness and desire to make our world a better place."