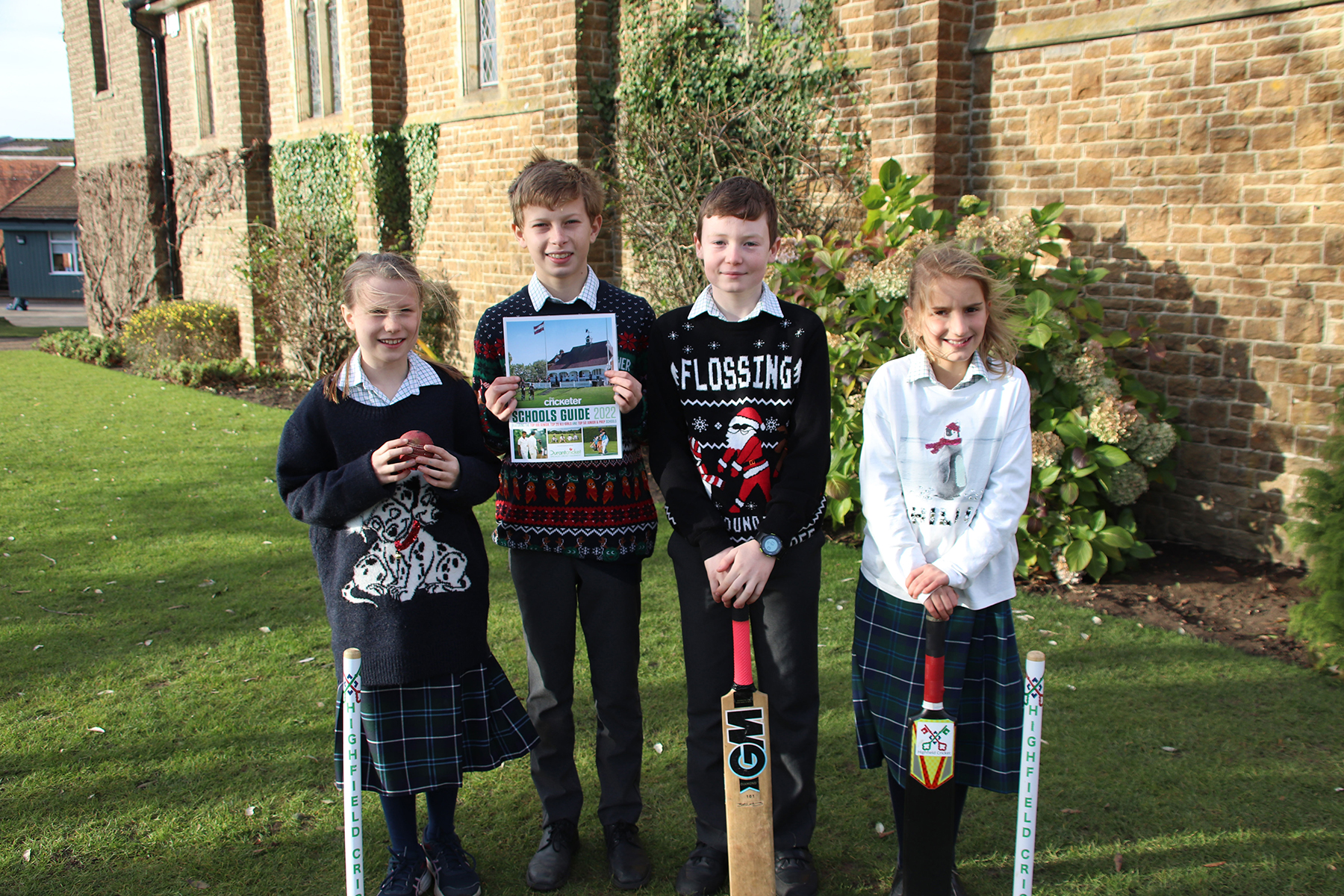 Highfield Named Top Cricketing Prep School in Hampshire
13th December 2021
Highfield and Brookham Schools has again been named the top prep school in Hampshire for cricket Ð and that's official!
The latest glowing endorsement comes from The Cricketer Schools Guide 2022, which has named us among its Top 50 Prep Schools in the UK for the third consecutive year.
It follows an exhaustive process which saw a record number of schools submit entries to be included in the prep school category of the guide. All entries were judged against an extensive set of criteria, which included a compelling commitment to cricket in the curriculum, facilities, fixture programmes and coaching.
Also considered was how schools kept the game alive during the pandemic, and how they look to ensure cricket remains a central part of school life.
Highfield Headmaster Phillip Evitt said: "Cricket is an important part of the sporting curriculum here at Highfield and Brookham and we are very proud to have been named one of the top prep schools in the country, recognising our fantastic facilities and coaches.
It was wonderful last summer for the school, for parents and children alike, to be able finally to welcome back spectators to our competitive match fixtures, and now to be named as the top prep school in Hampshire for cricket really is the icing on the cake
Highfield and Brookham has a strong cricketing tradition and regularly fulfils as many as 230 fixtures in the summer term against rival schools from neighbouring Surrey and West Sussex, as well as further afield encompassing the Home Counties.
The teams feature boys and girls aged eight to 13, with star prospect Summer Gratton becoming the first girl to break into the first XI while the U13A girls were the first at Highfield to take part in a competitive T20 game.
Huw Turbervill, editor of The Cricketer magazine, said: "It has been incredibly heartening to see schools cricket making such a comeback after a very different 2020. Of course, not all schools' programmes have been the same due to varying restrictions, facilities, and many other understandable reasons but what has been consistent across the spectrum is that the dedication to the game in schools has, not only remained unaffected, but increased.
"Congratulations to all of the schools included and we look forward to hearing about all of your future successes."
As well as representing Highfield and Brookham in external fixtures, many young school cricketers also play for local club sides, including Liphook & Ripsley, Haslemere, Fernhurst and Grayshott, while making full use of the indoor and outdoor nets at Highfield.