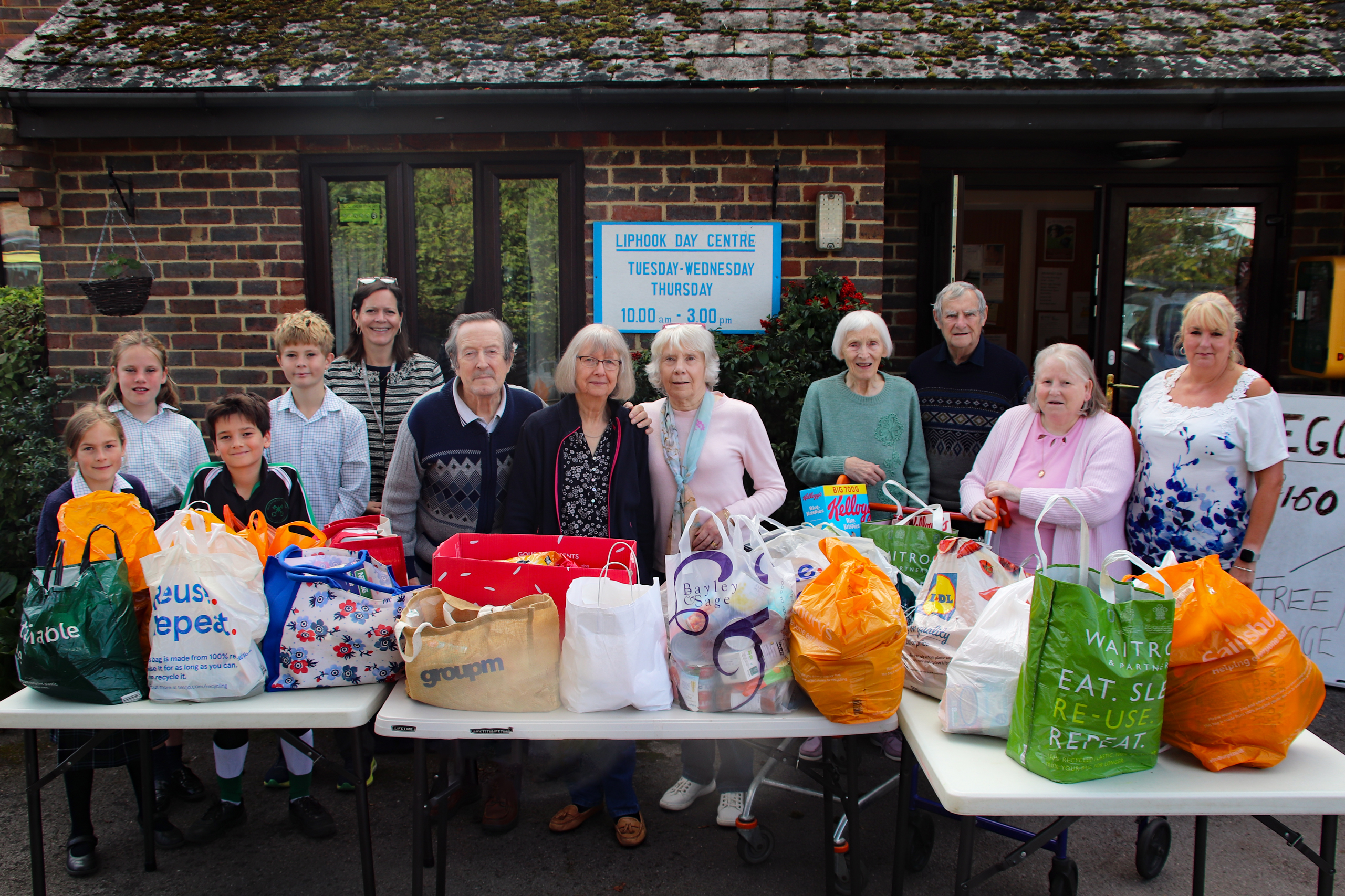 Pupils Donate Harvest Haul To Day Centre
5th October 2023
A harvest festival haul has been donated to a busy village day centre.
The veritable feast of canned goods, packets, bottles, jars and fresh produce was delivered by pupils from Highfield and Brookham School in Liphook having been collected on the run up to the independent school's annual harvest festival service at the end of September.
Four children were joined by Highfield and Brookham Head Suzannah Cryer for the handover of the goodies to day centre guests and bosses.
The harvest handover follows hard on the heels of the school presenting a cheque for more than £7,000 to trustees of Liphook Food Bank following a year of fundraising, with the nursery, pre-prep and prep school continuing to cement its strong links with the local community.
The Liphook Day Centre, which is also known as The Peak Centre Trust, relies entirely on donations in order to help support, provide companionship and feed people in the area who may otherwise miss out on hot meals and company, and Mrs Cryer said she hoped that residents got as much joy from the donation as the children did in collecting the goods.
"It really is a labour of love for our school community to gather as much food as they can, bag it all up and deliver it safely to the Liphook Day Centre each year," she said.
"The harvest festival traditionally celebrates the time of year when crops have been gathered from the fields and people can reflect and show gratitude for the food they have, and it offers a sharp reminder of our duty as a school to encourage our children to look out for and consider how they might best help others less fortunate than themselves, something that they regularly do without hesitation."
And Mrs Cryer added: "We have a strong and lovely relationship with the Peak Centre and hope that continues for many, many years to come."
Liphook Day Centre is open on Tuesdays, Wednesdays and Thursdays from 10am-3pm, collects and returns residents home, and offers myriad activities such as quizzes, bingo, art and crafts, flower arranging. Anyone interested in attending the day centre should call 01428 724941 or email info@liphookdaycentre.co.uk.