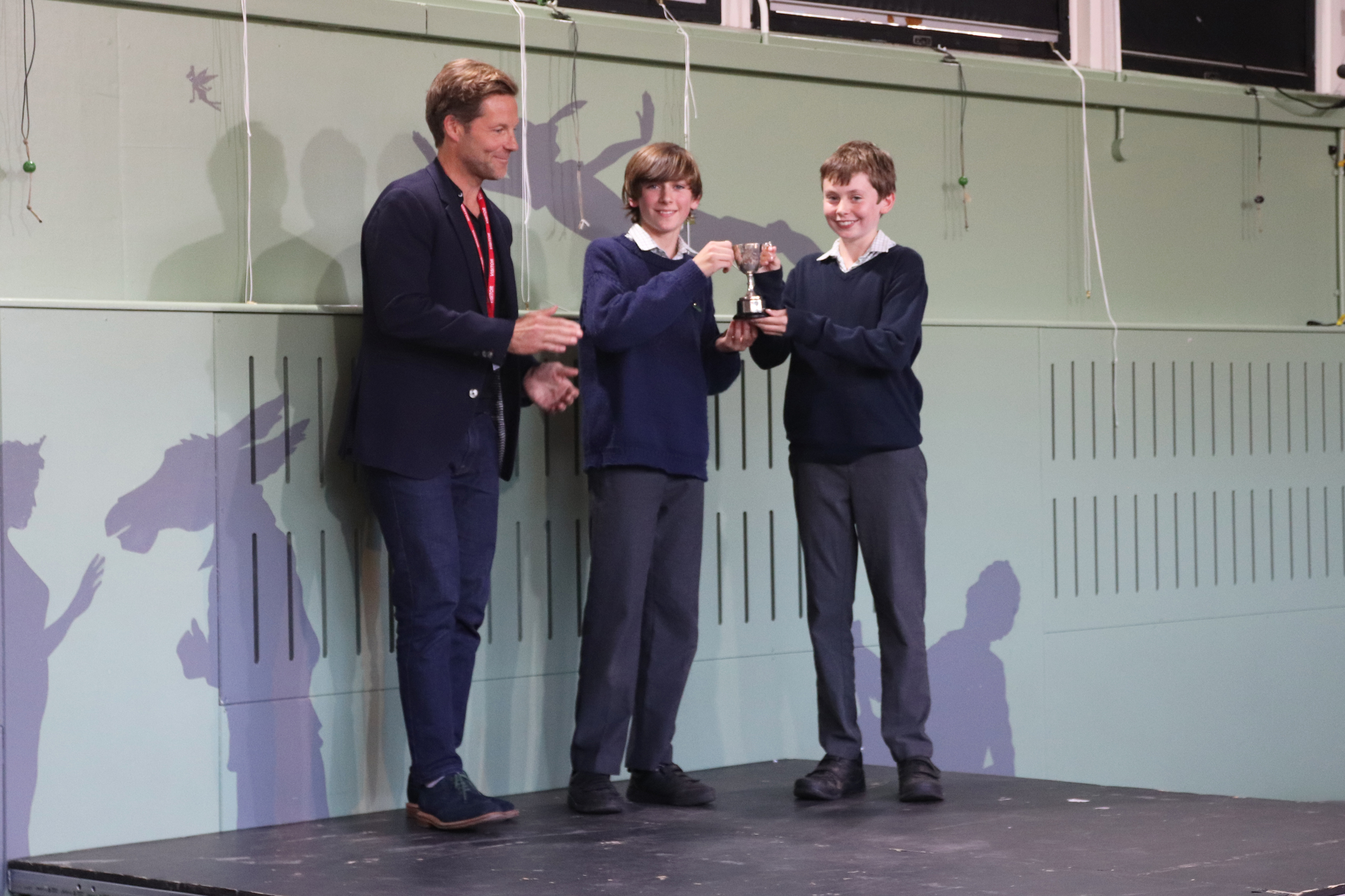 Star Of TV And Film Judges School Poetry Competition
30th October 2023
Our talented pupils have been professionally critiqued by a star of stage and screen.
The occasion was the annual house poetry recitation at Highfield and Brookham School, which this year was judged by Jamie Bamber, star of hit TV shows Battlestar Galactica, Law and Order: UK and Peak Practice.
A graduate of the acclaimed London Academy of Music and Dramatic Art (LAMDA), Mr Bamber was treated to a wealth of polished, powerful and imaginative performances by children from Year 3 to Year 8, many of whom are following in the actor's footsteps by taking LAMDA lessons as a co-curricular option at Highfield and Brookham.
Mr Bamber said he was "impressed by the high standard of the recitations", with many pupils tackling a variety of works by revered poets such as William Shakespeare, Roald Dahl and John Kitching with real verve and poise while others took the opportunity to deliver their own heartfelt poems with confidence and assuredness.
And such was the quality throughout the competition that nothing could separate Year 8 children Theo DP and Cristo P in the judge's eyes, the pair being declared joint overall winners.
Reciting Harry Baker's Paper People, Theo was praised for his "incredible diction" and for "making sense of complex ideas" with the end result being a real "poetry slam vibe" while Cristo, performing Sylvia Plath's dark work Getting There, demonstrated a "real understanding of language and imagery", leaving Mr Bamber to feel "every sensory horror of the poet's awful journey".
Pippa Napoli, who recited James Carter's Beware, came out top in Year 3, Jack Tweddle was named winner in Year 4 with his self-penned My Secret Garden, Seb Williams (JK Rowling's The Sorting Hat) claimed the honours in Year 5, John Kitching's Blue Mondays was the winning choice of Alice Craig in Year 6 and Alec Williams earned top marks in Year 7 with his reading of Roald Dahl's Cinderella.
Waterloo earned house competition bragging rights, fending off Trafalgar and Agincourt.
Commenting on another quality recitation, Highfield and Brookham Head Suzannah Cryer said she was in no way surprised at the strength of this year's competition.
"Having spent many happy years here as the school's former Head of Drama, I've been lucky enough to witness at first hand the talent and strength in depth that we have when it comes to the dramatic and performing arts," she said.
"To perform on stage in front of your peers at such a young age takes an awful lot of courage, to do so with such professionalism, clarity, desire and aplomb is nothing short or remarkable."
And Mrs Cryer added: "This year's competition was made extra special as we welcomed Jamie Bamber to give his expert opinion on proceedings. And, who knows, some of this year's participants may end up following in Jamie's footsteps and appearing on the big screen and the small screen in the years ahead."