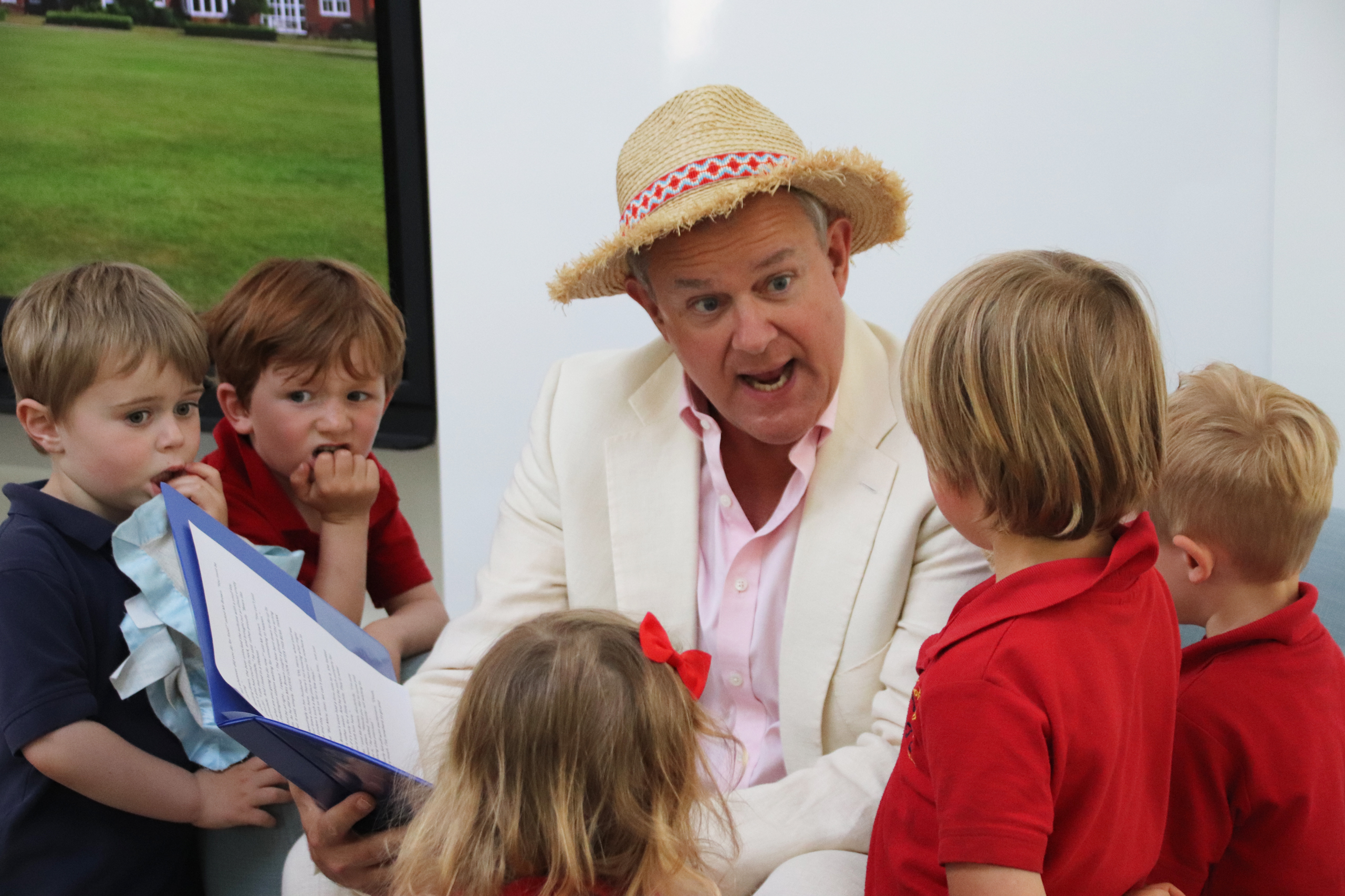 Hugh Bonneville Officially Opens Nursery Extension
26th May 2023
Marmalade sandwiches were the only thing missing as Hugh Bonneville, star of the Paddington Bear films, paid a visit to Highfield and Brookham on Thursday.
There was no shortage of sunshine, excited children and equally excited grown-ups as Mr Bonneville, who played Mr Brown in the charming film and its equally charming sequel on the big screen, officially opened our nursery extension.
The excited young children were left in awe as the family favourite, who also starred as Lord Grantham in the hit BBC drama Downton Abbey, read an excerpt from Michael Bond's wonderful Paddington Bear tale.
The bright, new nursery extension was the perfect location for Mr Bonneville's reading as the enthralled children hung on his every word, crowding around the reader to find out what happened next in the wholesome story.
Highfield and Brookham's thriving nursery, which takes children from the age of two, was extended due to continuing strong demand in light of their excellent reputation.
The new open-plan extension has enabled three-form entry throughout the pre-prep. It measures around 100 square metres internally and has big windows which let in lots of natural light. The wonderful new setting is neutral and calming, with the children bringing the vibrancy and colour to their environment. It also has a retractable wall to allow a space to be closed off for the youngest children to sleep.
The extra space also allows for the dedicated nursery staff to continue to provide a brilliant breadth of learning and opportunity, which currently includes art, ballet, swimming, Spanish, cookery and woodwork. Outside, the children tend their very own vegetable patch and make regular trips to the woods for much-loved Forest School sessions.
Highfield Head Suzannah Cryer said: "These are exciting times for the school and the nursery is an amazing place to work and learn. It's bright, lively, inspiring and full of imagination, so who better to officially open the exciting new space than Mr Brown himself?
"We're tremendously grateful for Mr Bonneville taking the time out of his busy schedule to read so beautifully to the children, a treasured memory for children and adults alike." Highfield and Brookham Nursery was named among the top 20 nurseries in the South East two years on the trot by Daynurseries.co.uk, as well as being rated "excellent in all areas" in its recent ISI inspection report.