Next Stop Half Term…
10th February 2023
Nursery Staying Healthy In The Great Outdoors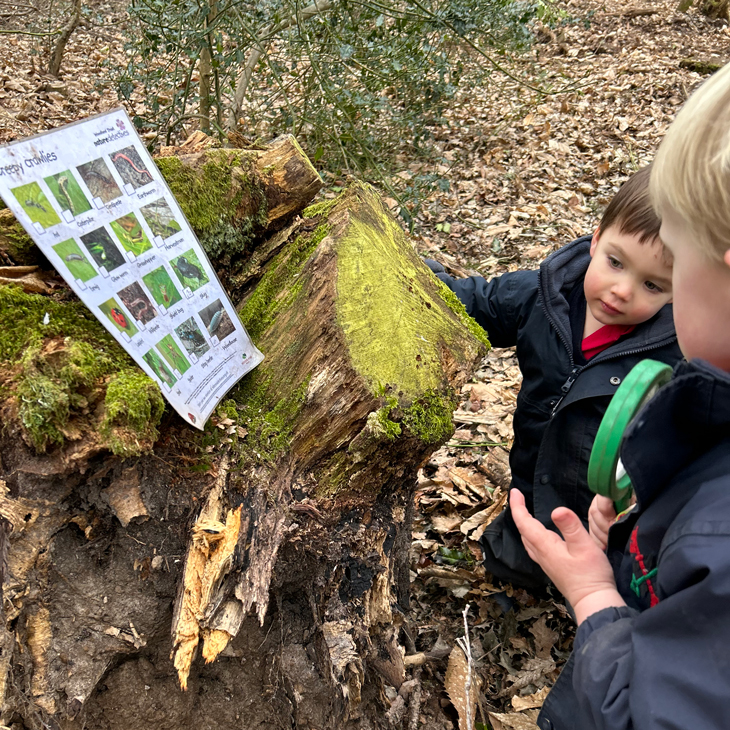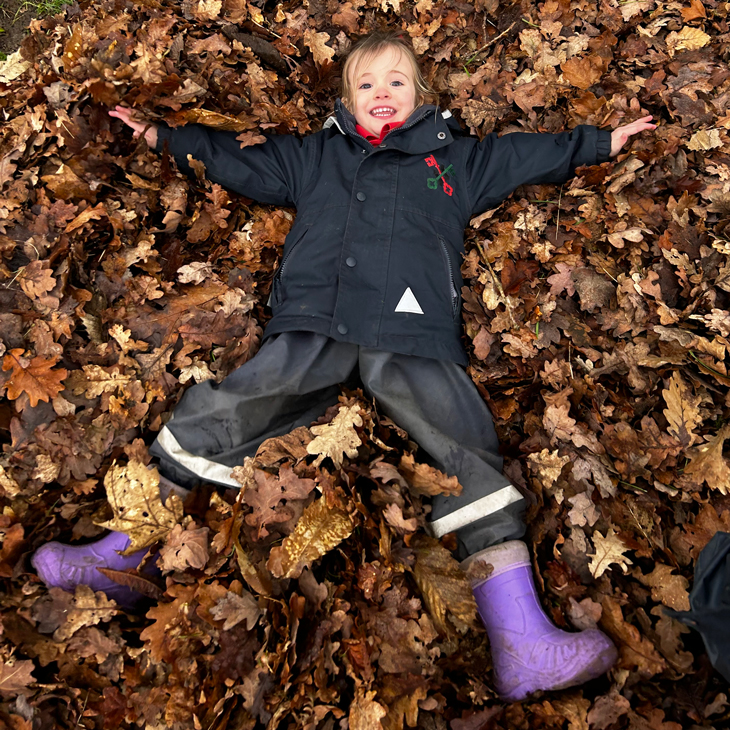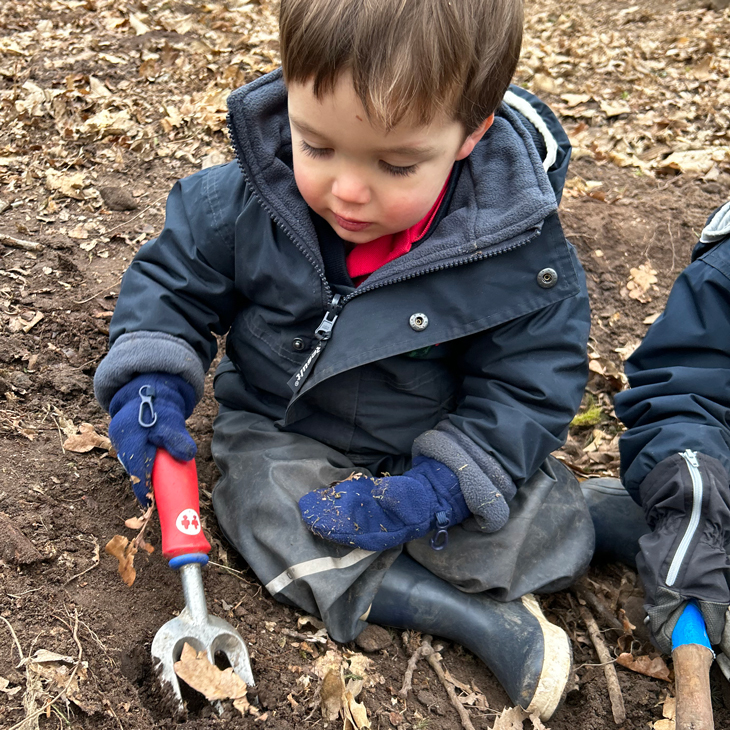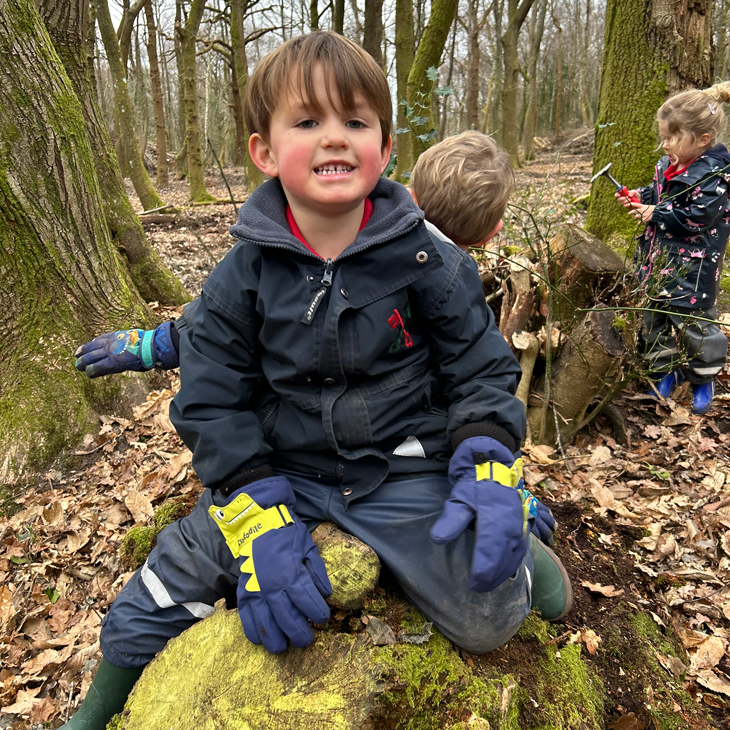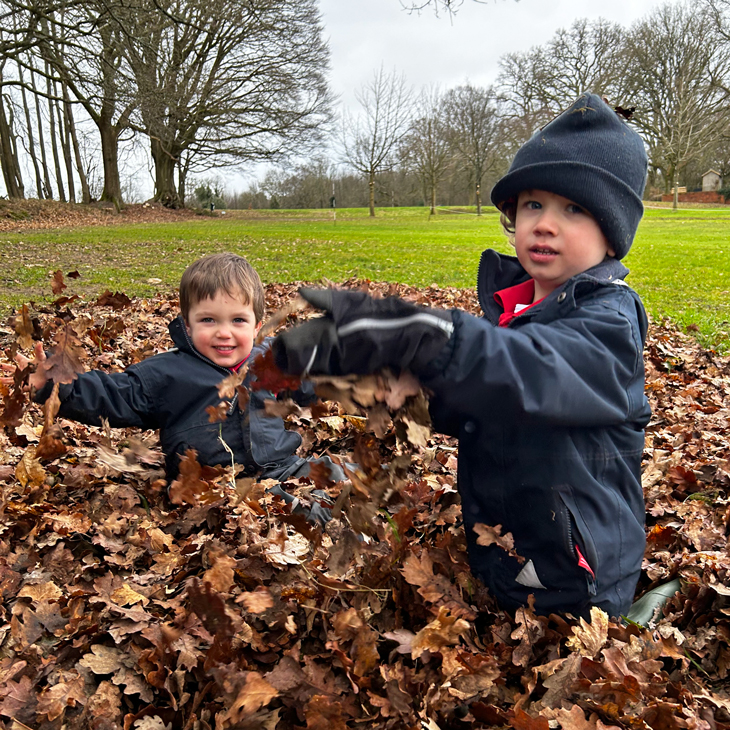 To mark Children's Mental Health Week, our Nursery children have been encouraged to think about how being outside in the fresh air makes them feel. Having a superb natural outdoor environment provides a continuously evolving and changing space to explore; seasons come and go, the weather varies, and shadows, seed heads, puddles and ice can appear and disappear rapidly. The children love this unstructured environment where they can try new things, safely take risks, make mistakes, and make their own decisions… especially at Forest School. The positive impact of spending time outside on children's mental health is well documented and we see the benefits of this each and every day. Exposure to outdoor green space, which the school has in abundance, results in a calmness in their play as well as lowering their heart rate and blood pressure. For the children, Forest school is a major motivating factor for physical activity. Climbing, rolling, running, bending, stretching and balancing are just a few examples of the exercise the natural 'gym' encourages; something we have again seen regularly in Nursery this week. Our children have this week played freely, kept healthy and learned about the natural world around them while out in the woods but, just as important, confirmed that Forest School is fun!
Kerry Chapman, Nursery Class Teacher
Reception Revel In The Wonders Of Wellbeing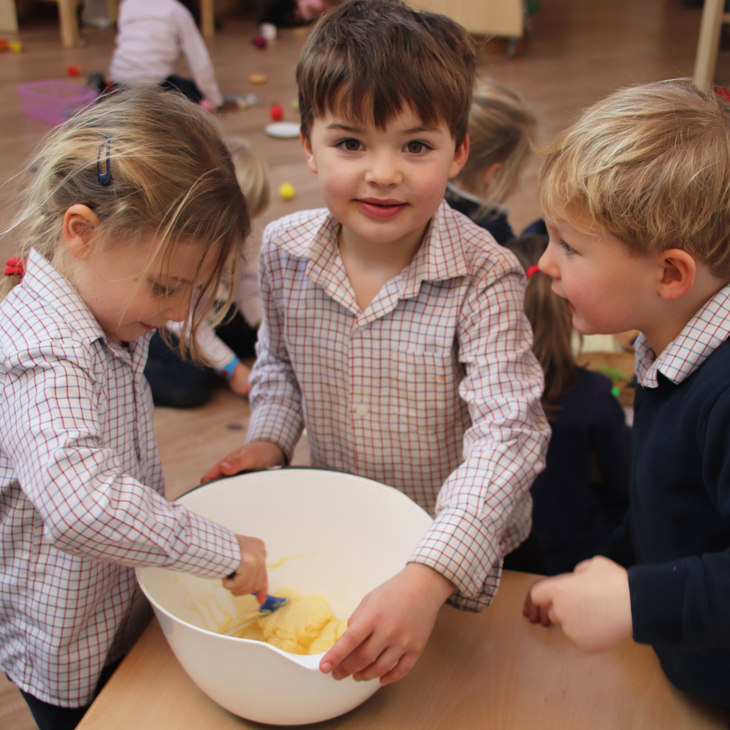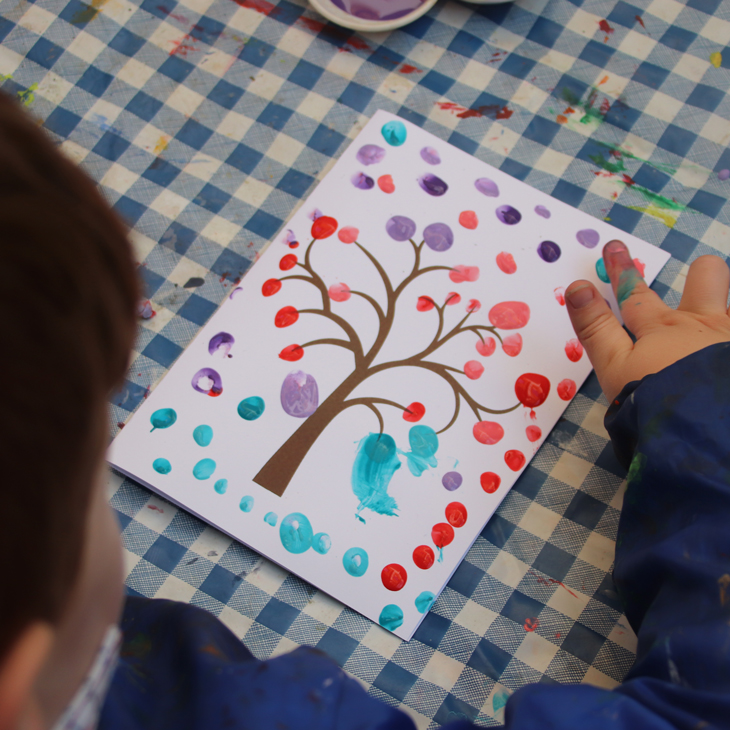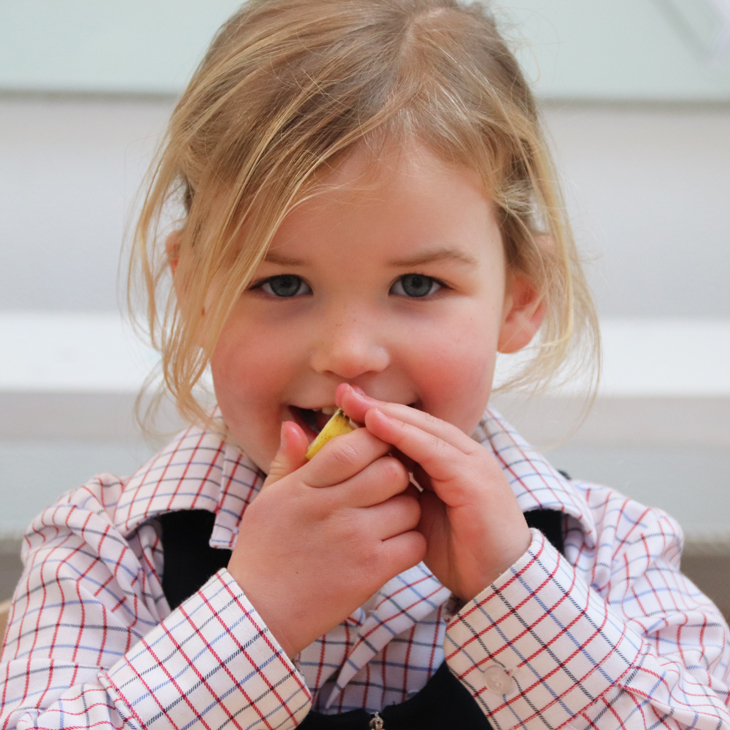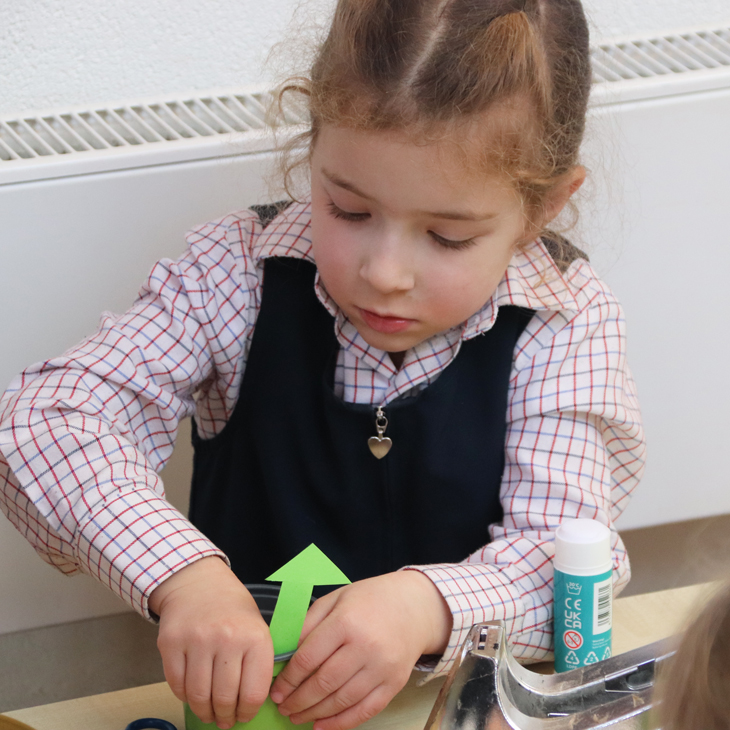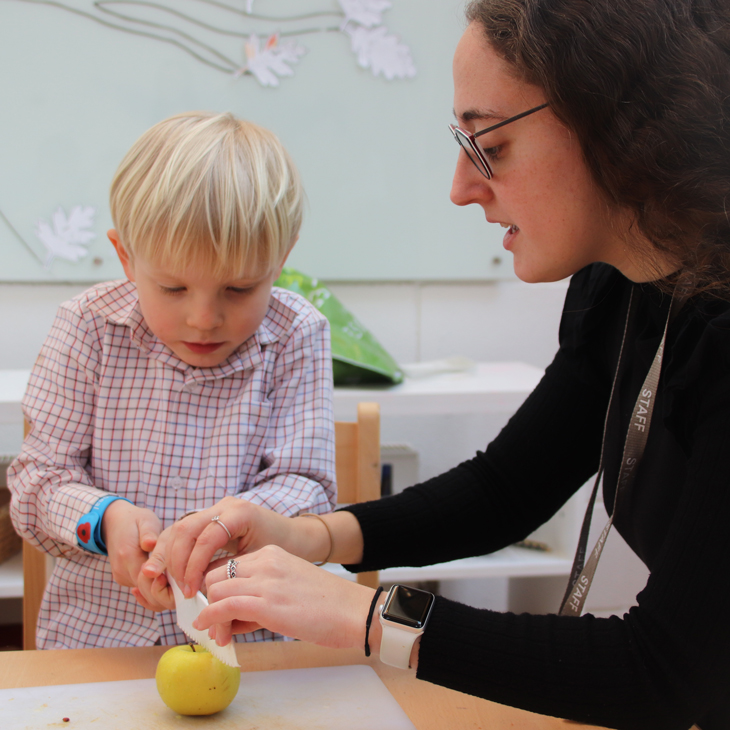 Linked to Children's Mental Health Week, Reception have focused on taking care of their well-being. This has offered a vital opportunity to talk about the importance of looking after ourselves and the people around us when life gets very busy. In class, the children have discussed some of the things that they do which make them feel happy and warm inside; with food fairly high up the list! We reminded each other how much we enjoy eating good food and, as a result, we decided to bake some lemon and raisin cookies. First, the children weighed out the ingredients which allowed them to practise the skills they had been learning in maths this week; the topic being 'weight'. The children collaborated on dishing out different roles for the baking project; the children adding, sieving and mixing the various ingredients while diligently following the recipe. The teamwork paid handsome dividends as a batch of delicious treats came out of the oven and, as we ate them, we discussed how working together can be another great way to relax. As well as baking, another firm favourite in Reception is painting and crafting. And as we were pondering what makes us happy, we decided to get busy with arts and crats; to make a thank you card for a loved one to make them smile too. Using a template of a tree, the children carefully painted their fingers and dabbed it on the card to produce an array of colourful leaves. Inside, the children wrote messages of appreciation to accompany their handiwork. As a year group, Reception wanted to make sure that anytime someone was feeling sad, we all had the power to quickly make them smile. To that end, the thoughtful children created a happiness jar filled with positive drawings and messages for a friend in need. And the considerate children finished the week by joining their prep school friends for a relaxing wellbeing walk around our beautiful grounds. After such a calm and refreshing week, we hope that the children remember to take time out to relax and consider their own well-being during the half-term holidays.
Hannah Feery, Reception Class Teacher
Year 1 On A Symmetrical Mission In And Out Of The Classroom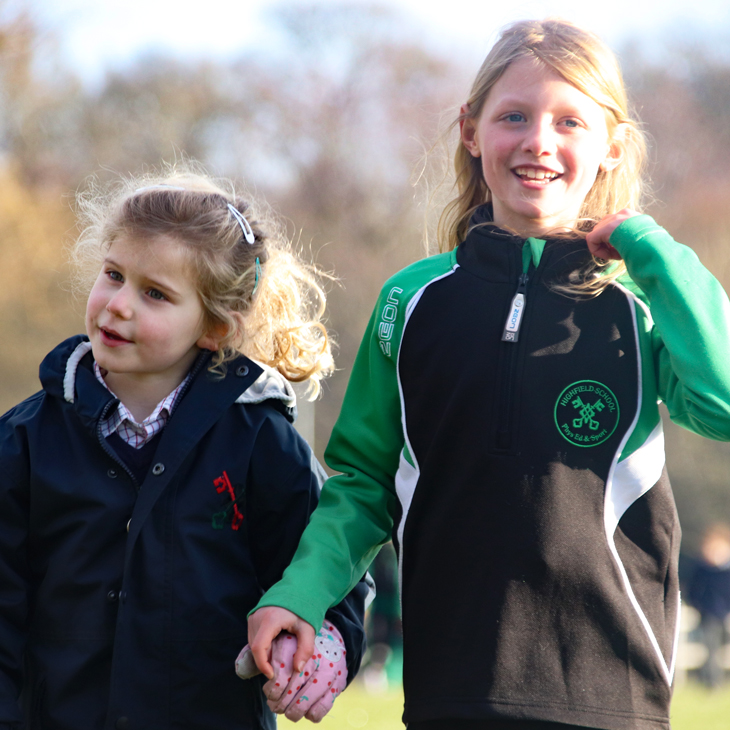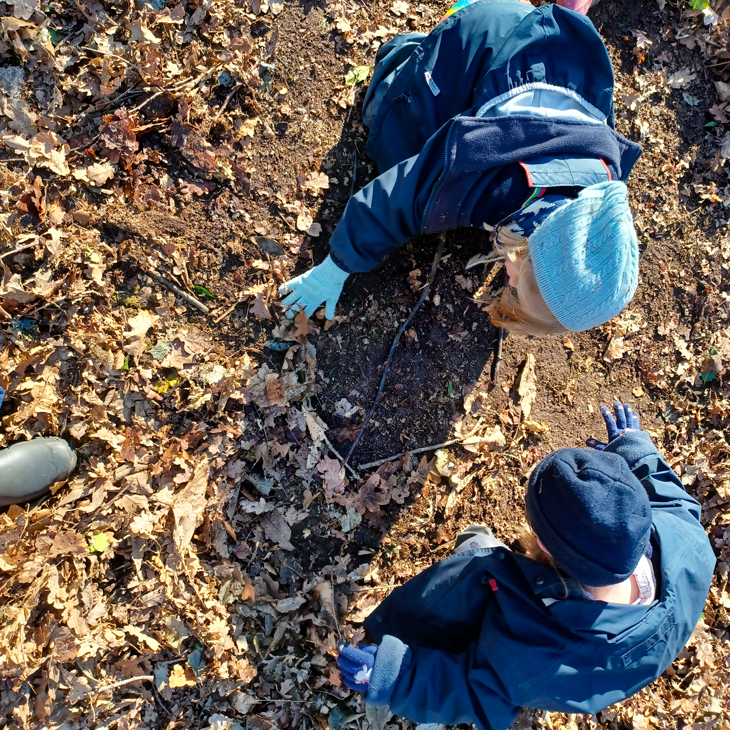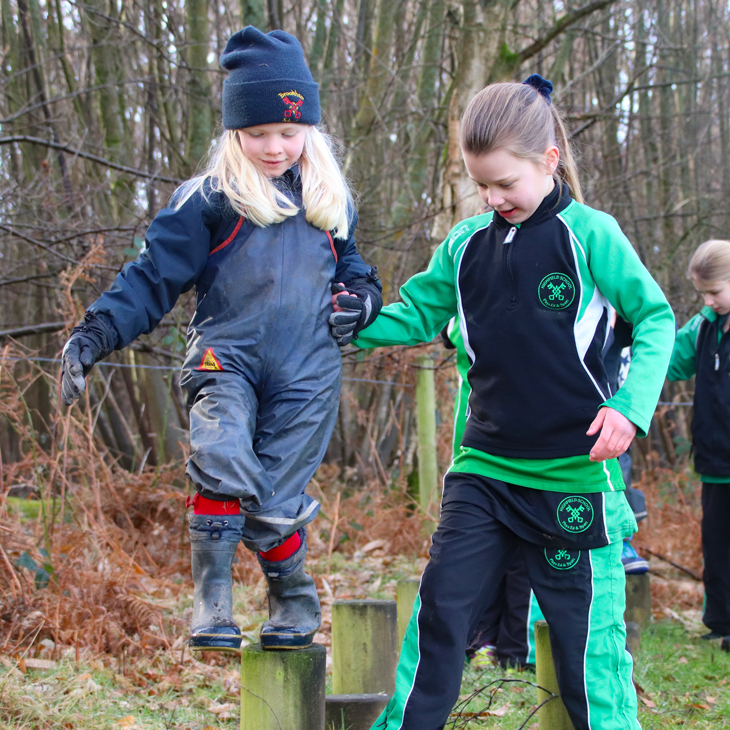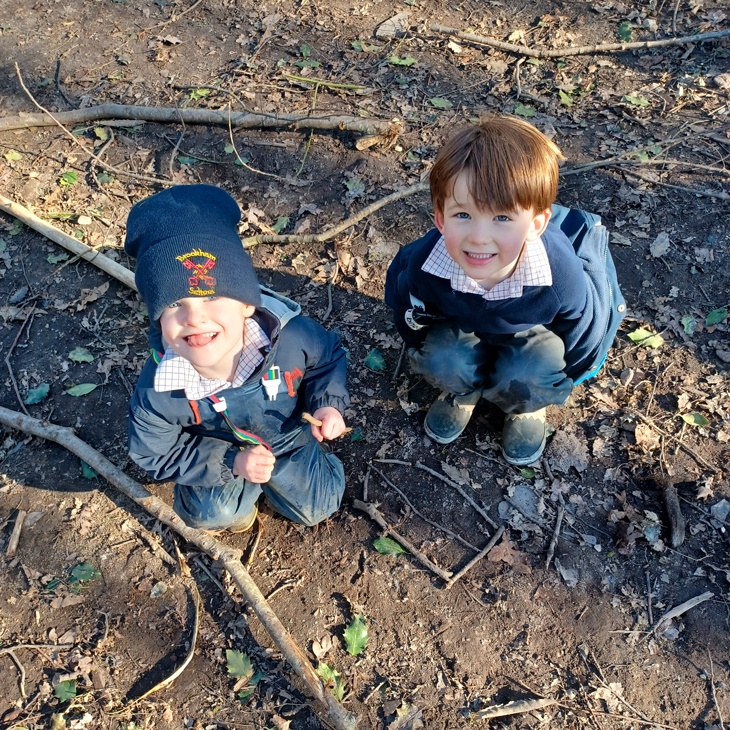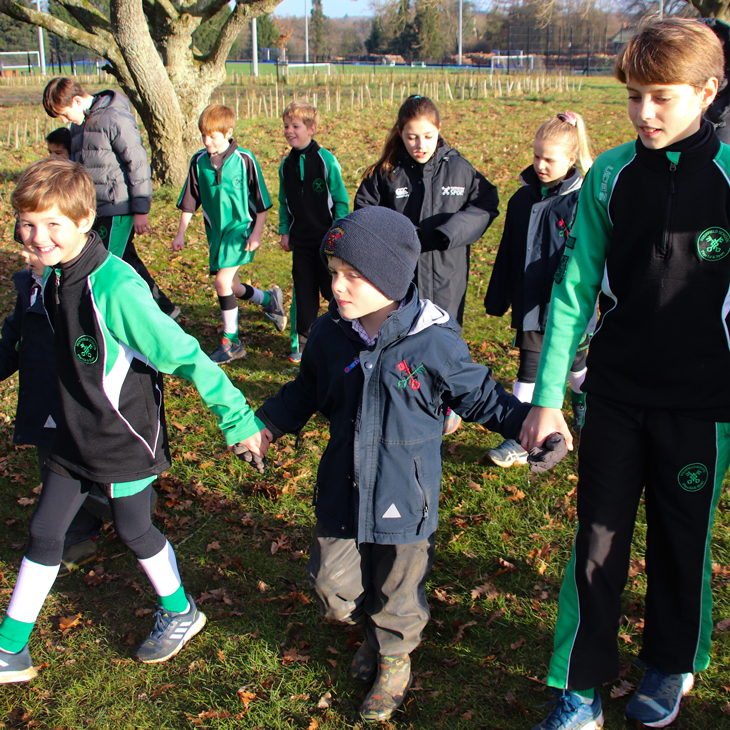 Year 1 have looked at symmetry this week and learnt how a pattern needs to be the same on both sides. The children enjoyed painting patterns on one half of a piece of paper and opening it up to see the amazing pattern they made. To enhance their understanding of what they had learnt in the classroom, the children decided to look at symmetry more closely in the woods at Forest School; making symmetrical patterns out of natural things they could find, including leaves, sticks and chestnuts. Year 1 also had fun trying to find sticks the same length and shape. Continuing our outdoor theme, the children rounded off a brilliant week with a special wellbeing walk around our wonderful grounds. What made it extra special is that the Year 1 children were joined by the older prep school children, and the bond between the different age groups was incredibly heartwarming on a cool winter's morning. All that remains now is to wish you all a fabulous half-term break!
Rachael Berry, Year 1 Class Teacher
Year 2 In Rude Health After Rugby And Wellbeing Walk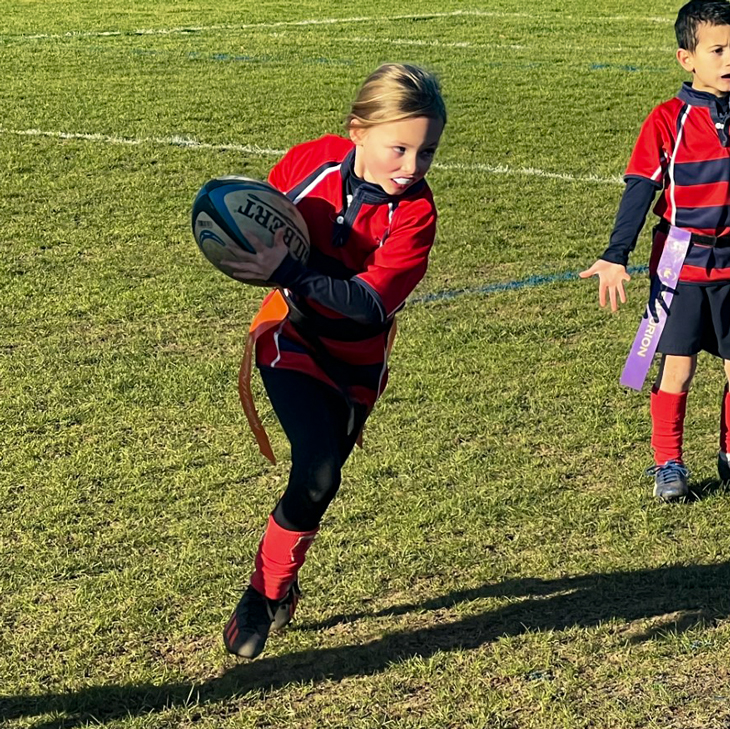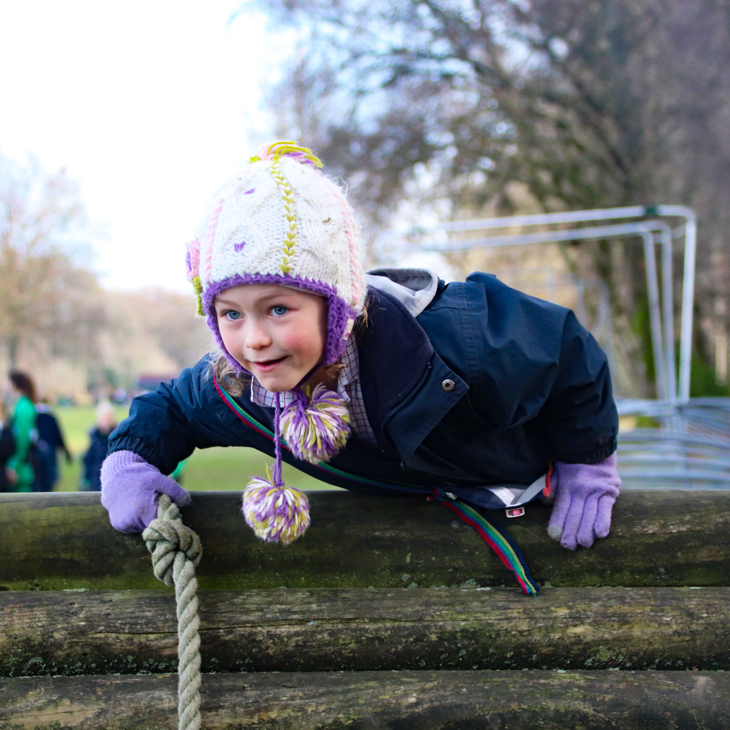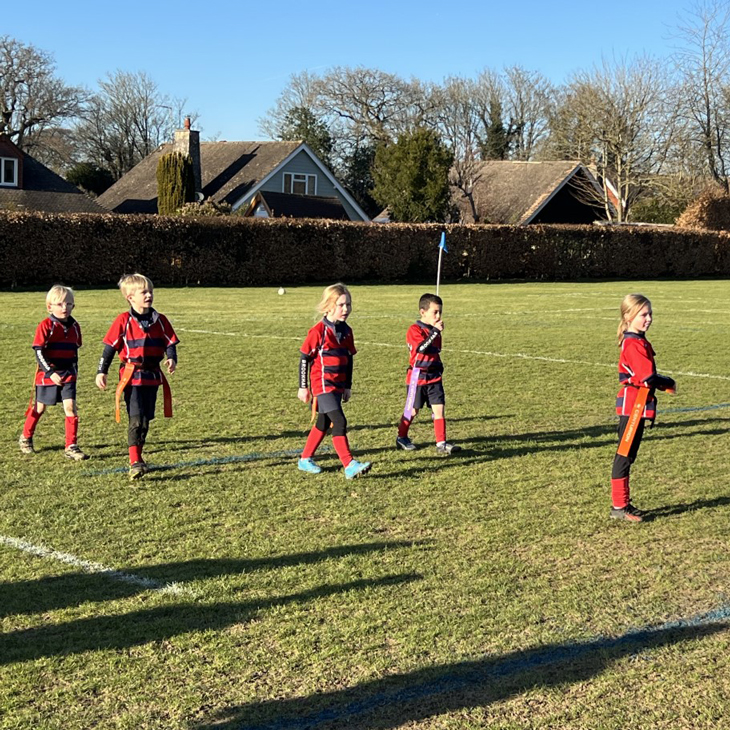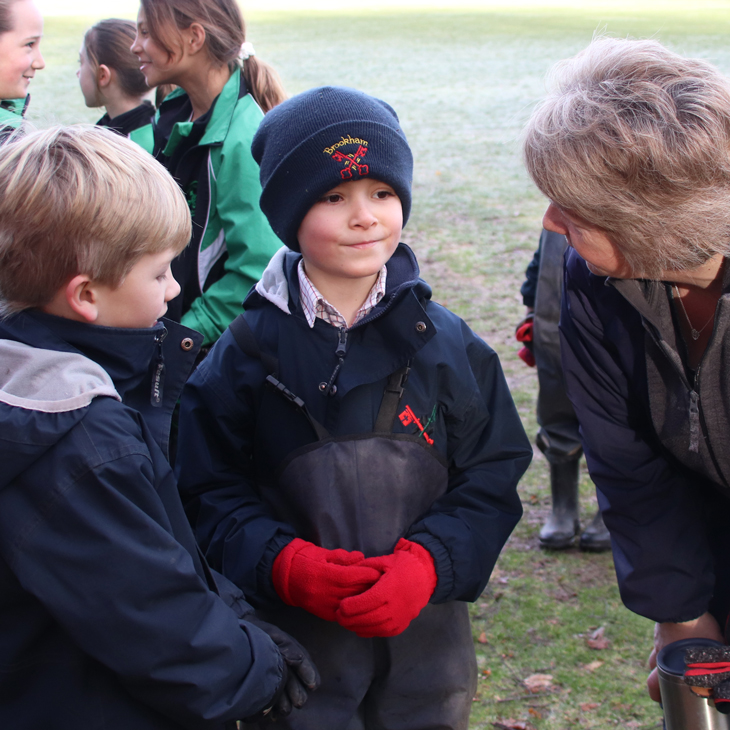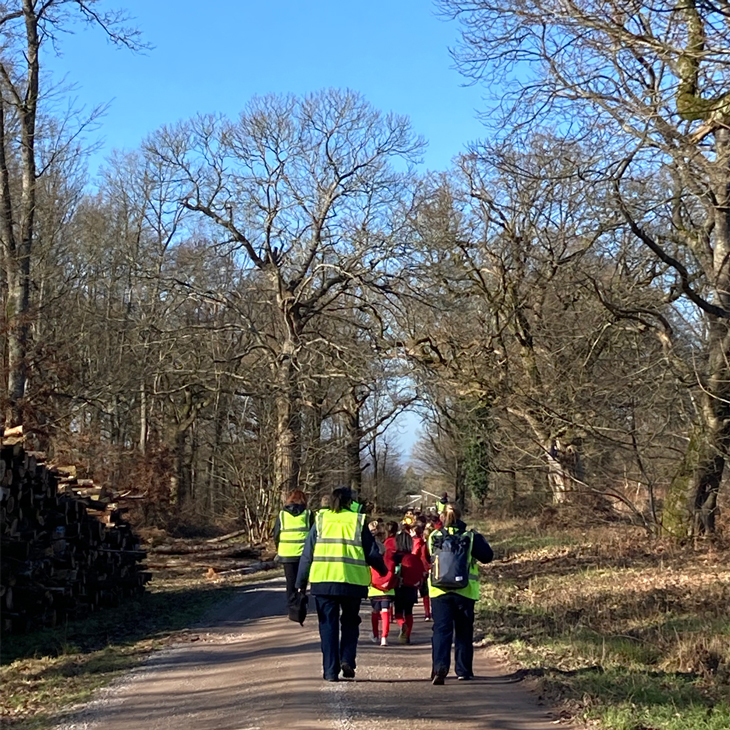 Year 2's successful rugby competition at Churcher's College on Monday gave any Six Nations match a real run for its money in terms of pure entertainment. Basking in welcome winter sunshine on a cloudless afternoon, our legion of supporters savoured this sensational sporting event. They enthusiastically applauded the children for their ball-handling skills, turn of pace, tenacity, competitiveness and sportsmanship. And there were excited whoops of joy as tries were scored by the visitors. Given that this was their first tag rugby tournament, it was unsurprising that there were a few wobbles as the children arrived in school, but a quick equipment check ensured that everyone was prepared for the occasion. Playing during Children's Mental Health Week gave the children the perfect opportunity to express any concerns and share any worries – and fear of dropping the ball featured highly. But taking our lead from professional sportspeople, we concluded that people don't berate their teammates when they make a mistake, instead they support, encourage and motivate, and that's exactly what Year 2 did. The children were also reassured that the purpose of the tournament was for them to learn to play tag rugby in a fun, friendly environment. After a relaxing and mental health-boosting walk to Churcher's Junior School, it was enlightening to see the fleet footwork and evasion skills that players exhibited as they ran with the ball and beat players with skill, pace and panache. Year 2 should be commended for their brilliant positivity, relentless running and teamwork. After their afternoon of sport, Year 2 wrapped up a great week with a wonderful wellbeing walk with the older prep school children; chatting, laughing and learning together as they explored our beautiful grounds.
Shirley Jervis, Year 2 Class Teacher
Safety First As Diligent Year Tackle Web Security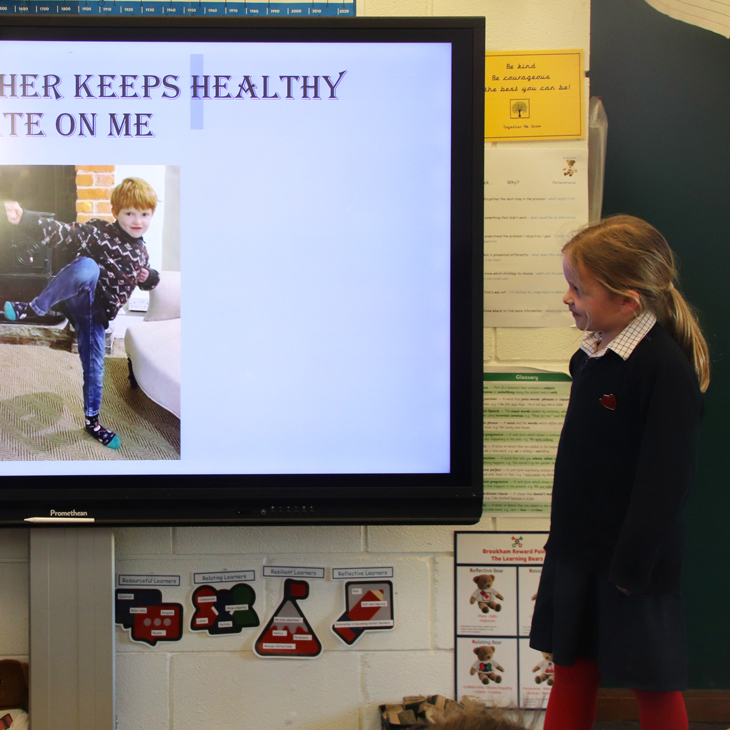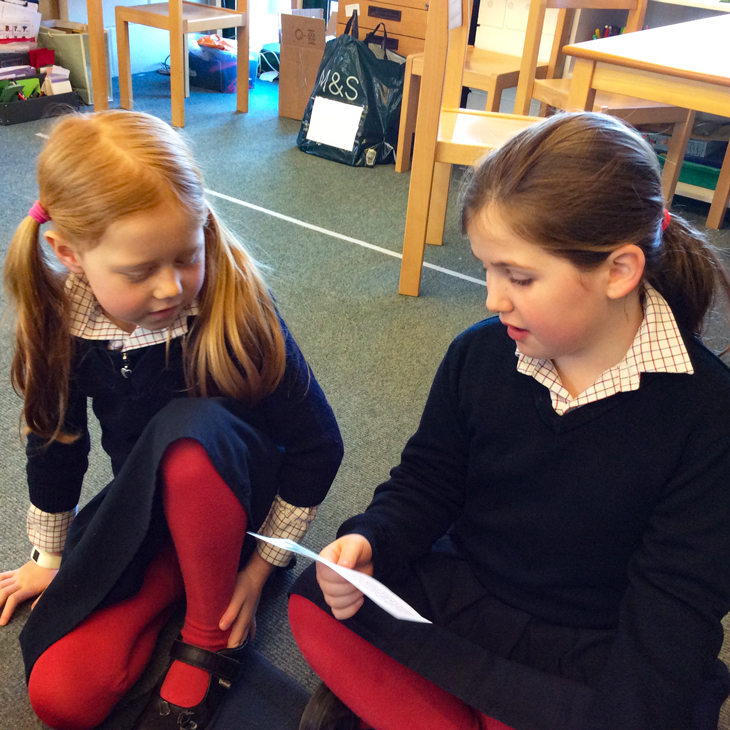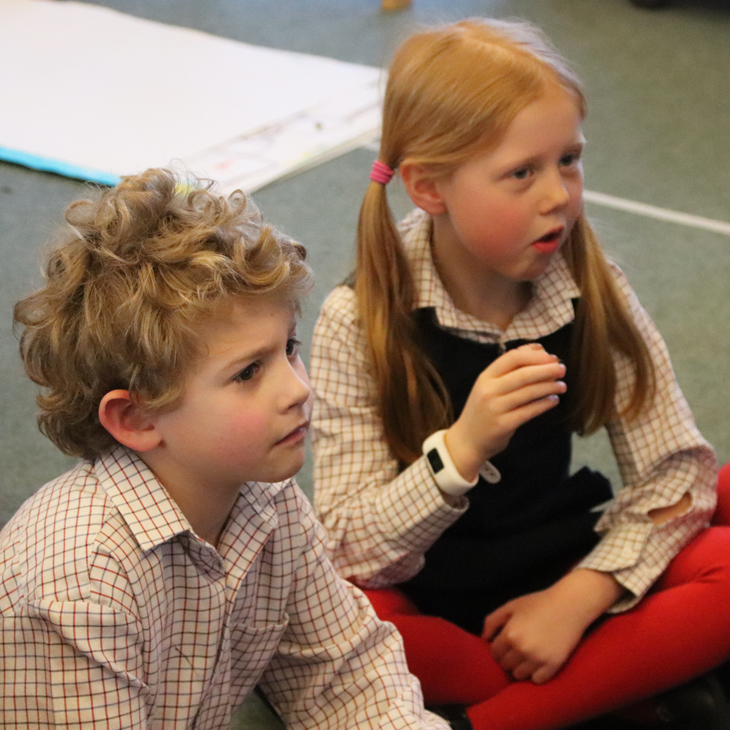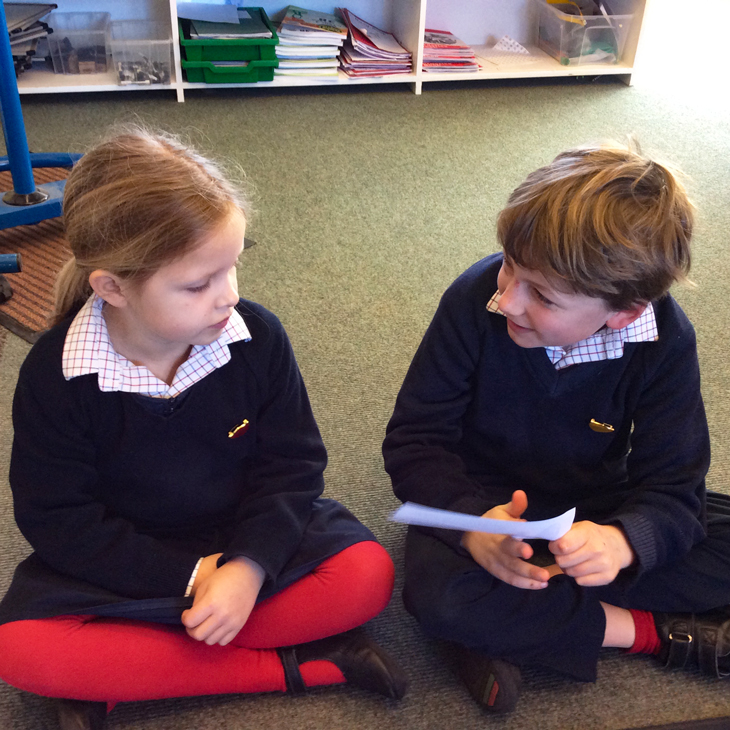 As part of Safer Internet Day, Year 3 eagerly took part in discussions around the theme 'Want to talk about it? Making space for conversations about life online'. Using scenario cards as a starting point for online safety, the children thought about how they used the internet. Knowing what to do, should certain situations arise, empowered them to use technology responsibly, respectfully, critically and creatively, while keeping safe and thereby increasing their resourceful learning power. The use of digital technology has also been a feature in a number of topic talks where the children take turns to give a presentation to the class, based on our current topic. As well as acquiring some impressive PowerPoint skills, Year 3 have revelled in developing their oral presentational skills by focusing on speaking audibly and succinctly, while also learning to gain, maintain and monitor the interest of the listener. Undoubtedly a highlight of the week, the children listened avidly to one another and were always bursting to ask relevant questions at the end.
Henrietta Platt, Head of Year 3
Theatre Of Dreams Becomes A Stunning Reality For Year 4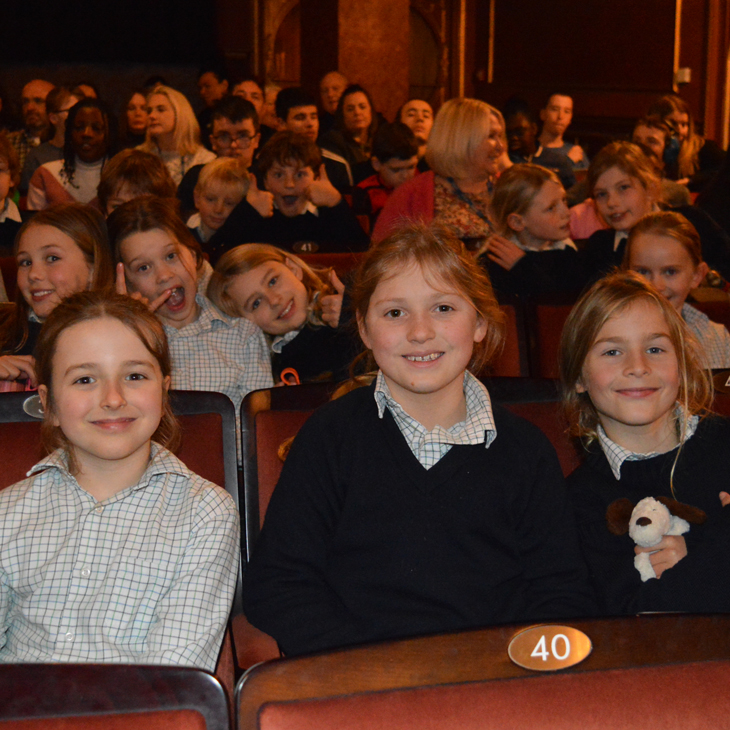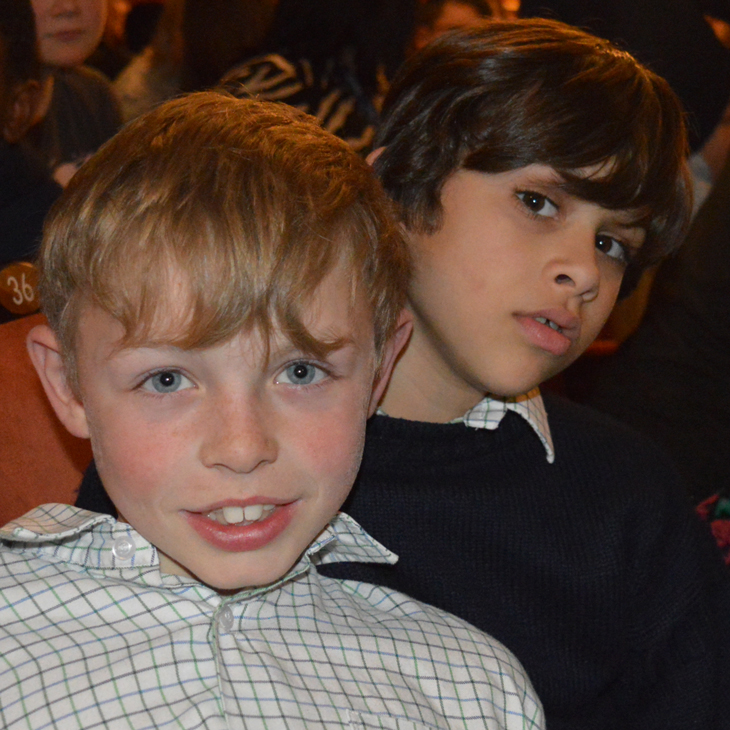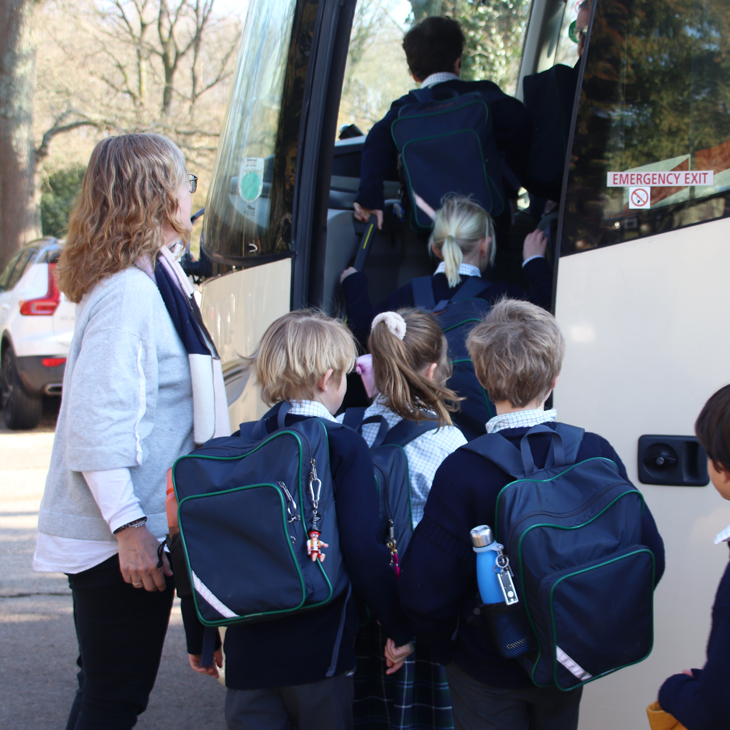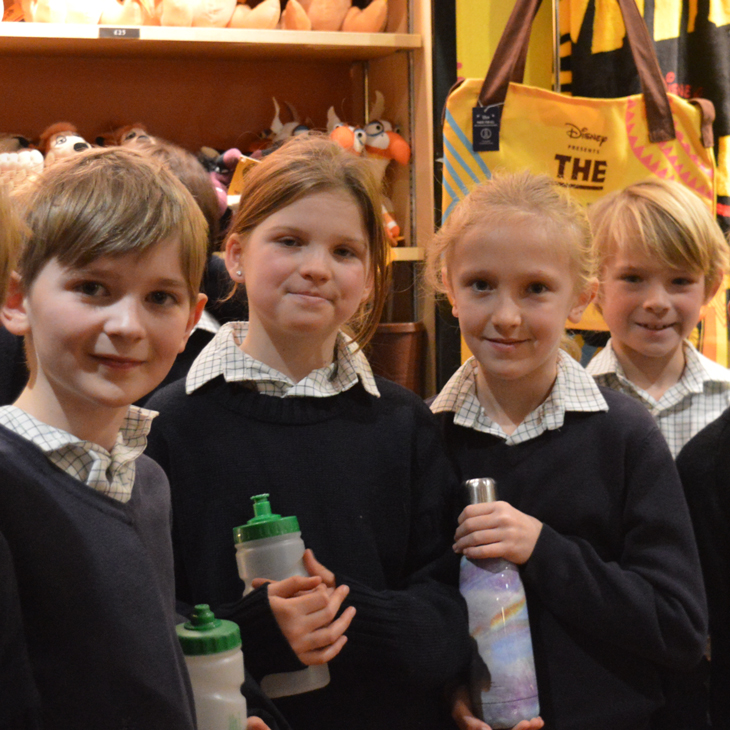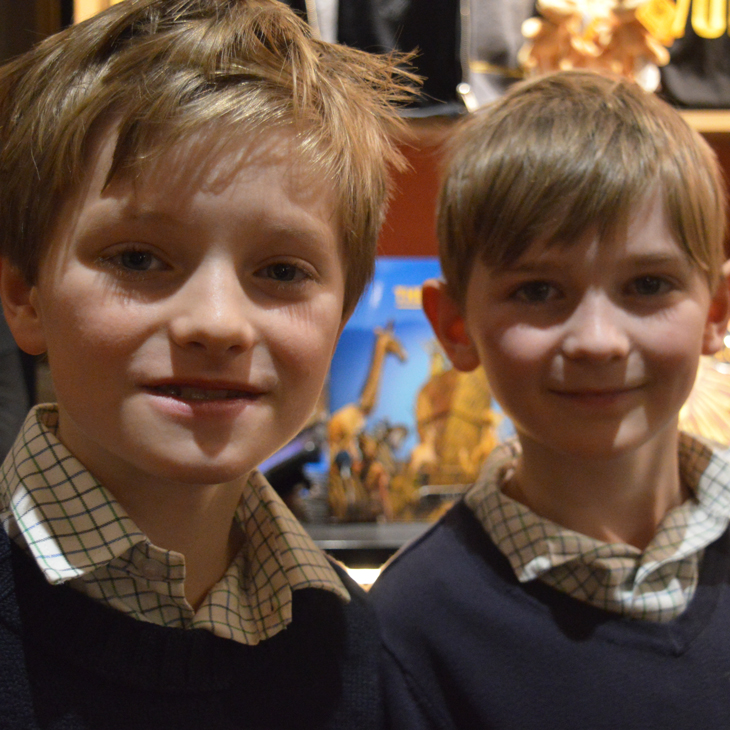 After an early hot lunch with the pre-prep children, Year 4 filed onto the coach full of excitement for their big theatre trip. Songs from The Lion King were sung with gusto as we made our way up the A3 and navigated the London traffic all the way to the ornate Lyceum Theatre. Our seats were some of the best in the house and it didn't take long for the children to settle down and wait in anticipation for the opening scene. And it didn't disappoint! Before we knew it, the music had started and life-size animal figures began appearing from all directions, sauntering down the aisle next to us and causing gasps of astonishment. As the story unravelled, the costumes, set design and choreography became increasingly impressive. Not to mention the remarkable singing and acting, particularly from young Simba and Nala, who can't have been much older than our own Year 4 children. The culmination of the show brought the well-known fight for the title of king between Scar and Simba and, as the scene ended, the rapturous applause from the audience was deafening, not least from Year 4. The production's music was especially noteworthy, with African drums being played in the boxes above us, and the songs clearly struck a chord with the children judging by the many renditions on the two-hour coach trip back to school! The children (and staff) represented Highfield beautifully and had a wonderful day out seeing one of London's best and most-loved musicals in the West End. What a lucky bunch we are!
Rosie Dachtler, Joint Head of Year 4
Year 5 Linguists Take Aim At Latin Verbs And Nouns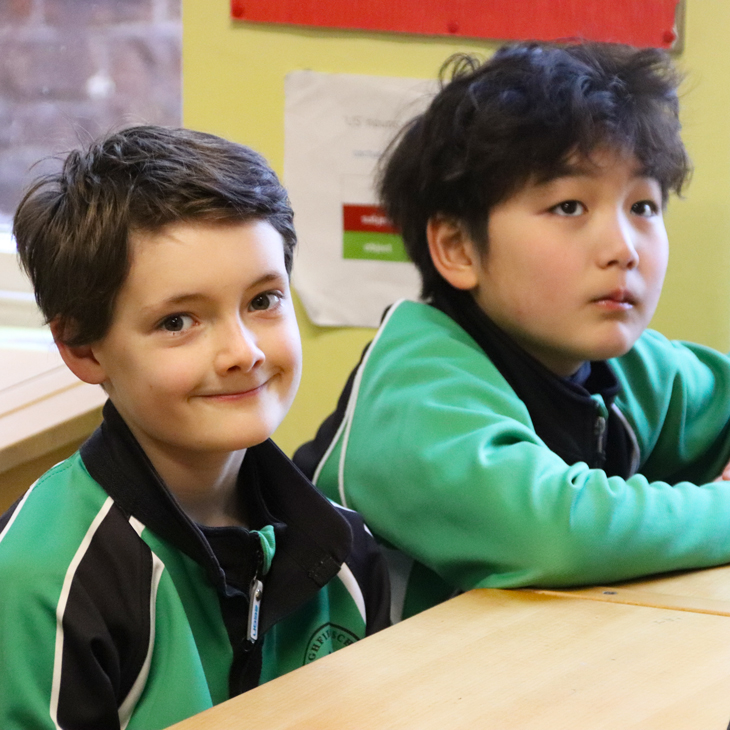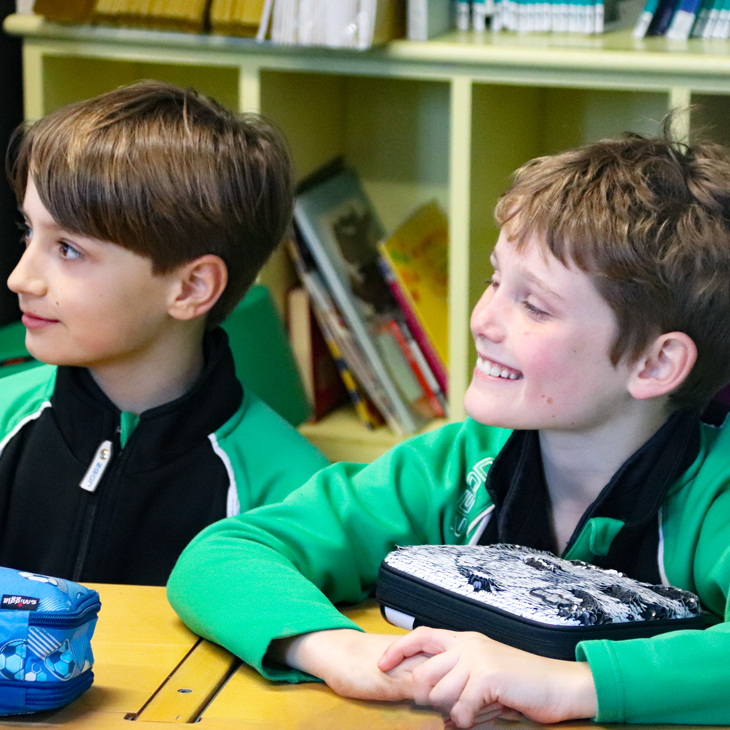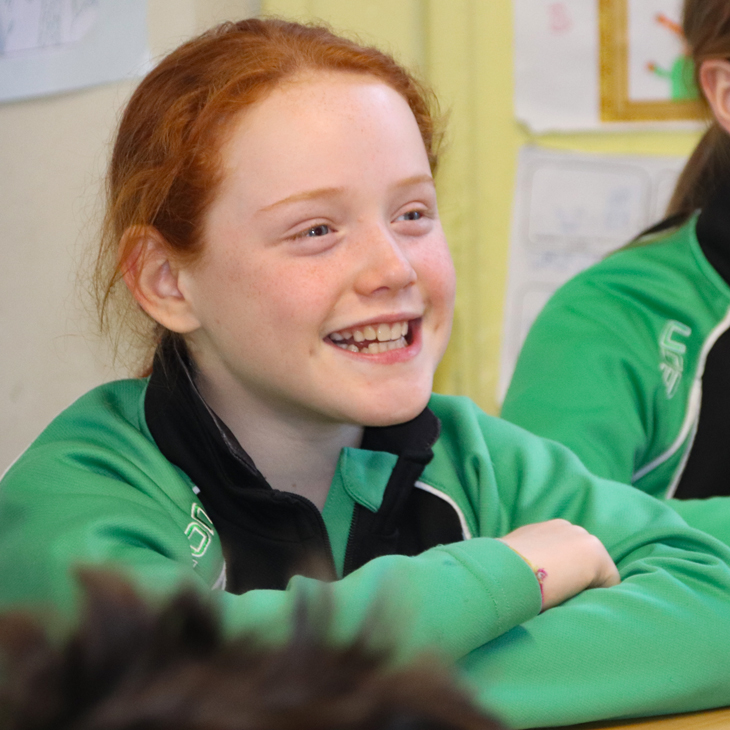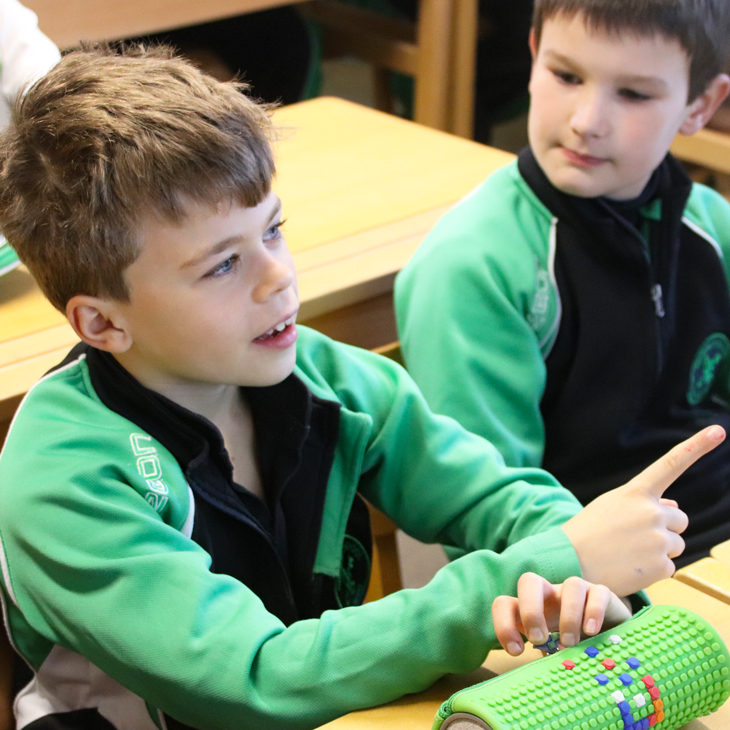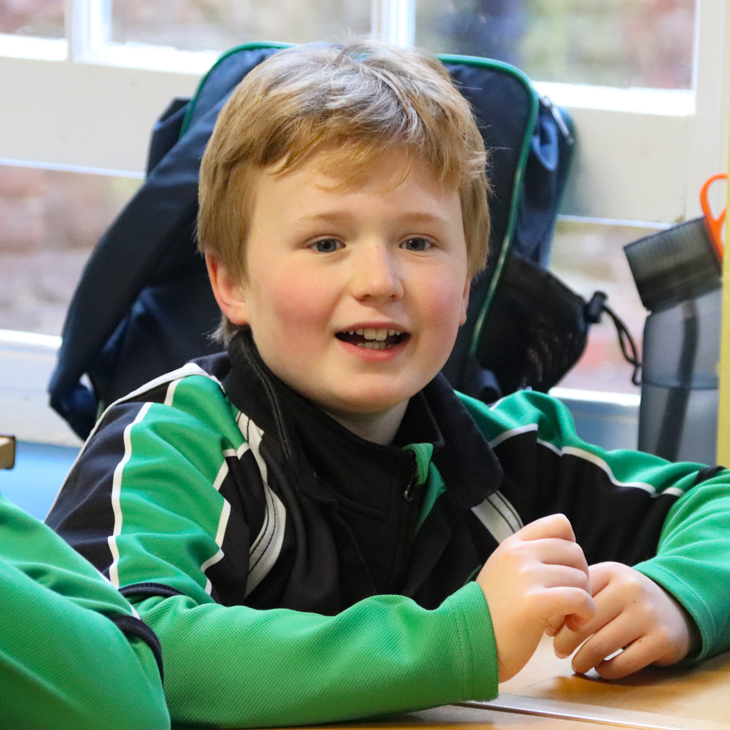 After a term of Greek, Year 5 have now turned their attention to Latin. As with Greek, time is spent looking at the many words which infuse English – and Spanish, French and Italian to name but a few – that come from this ancient language. However, learning Latin is not just about silly accents, the serious business of learning noun and verb endings has begun. The perils of mistaking a subject for object were perfectly revealed by the sentence "the cheese eats Arthur", and so the discipline of memorising those nominatives and accusatives has begun in earnest. Verbs, too, require careful watching, and the chants of "o-s-t-mus-tis-nt" that resounded during the Mr Clarke era continue to ring out joyfully from this small corner of the Highfield idyll…. "et in Arcadia ego".
Alex Walker, Head of Classics
Year 6 Linguists Cut A Dash On The Catwalk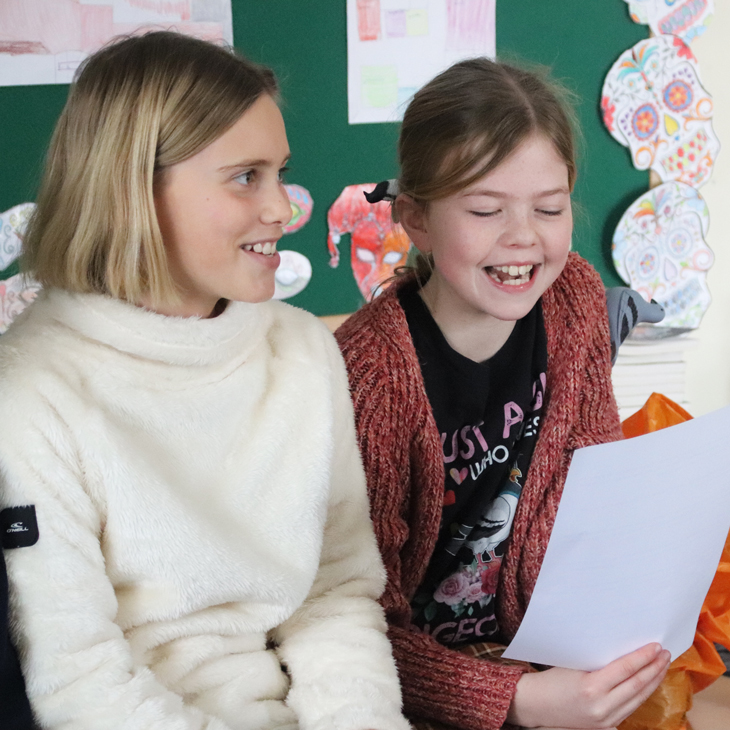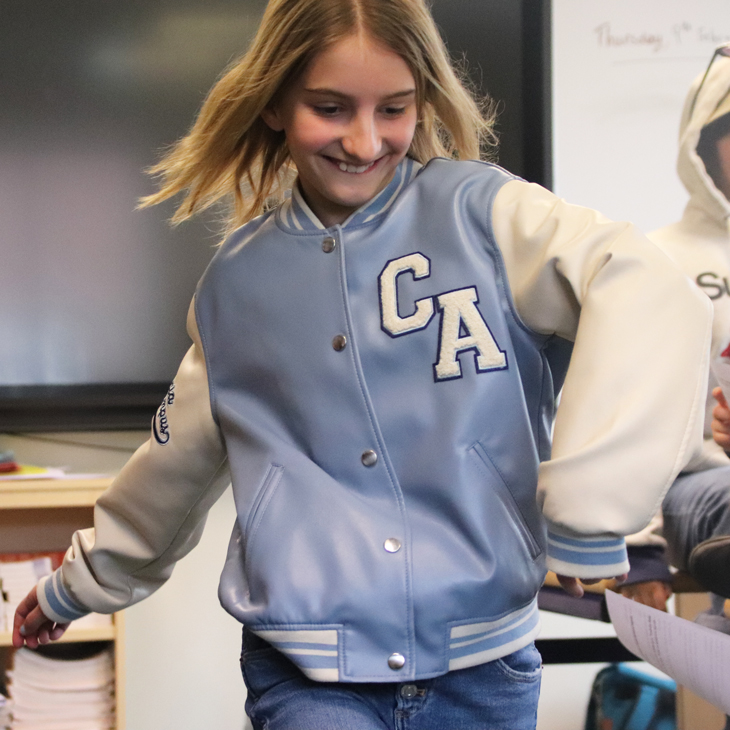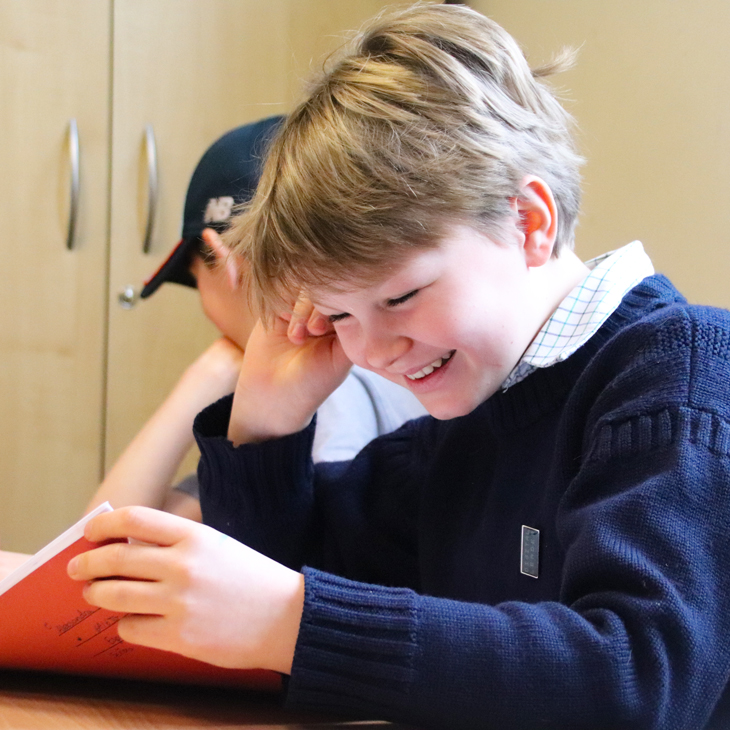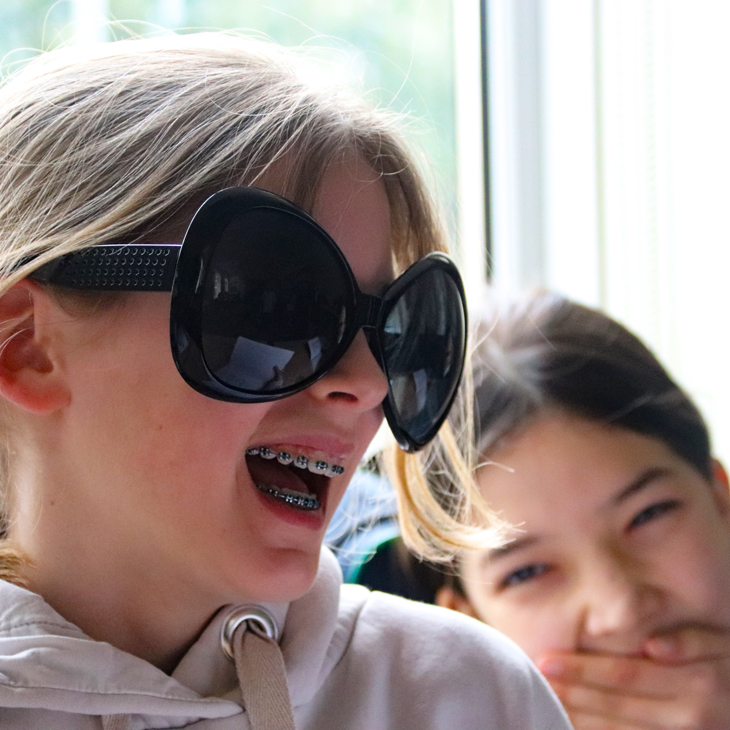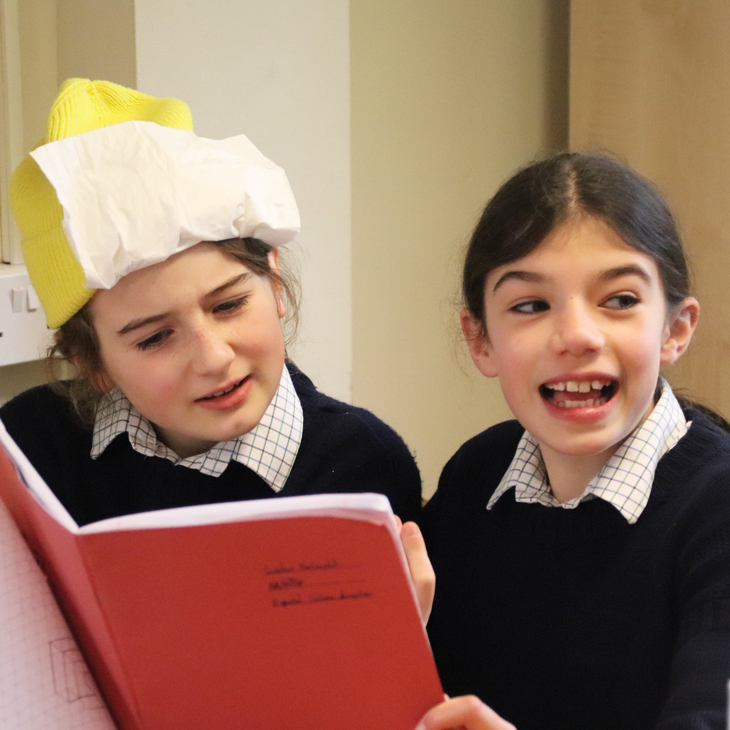 Year 6 transformed from keen linguists into fashionistas this week as one group's 'clothes' topic culminated on the 'catwalk' in the fine style of Madrid Fashion Week. Fabulous heels, large sunglasses and ripped jeans were the order of the day as pupils strutted their stuff on the runway while their peers described their outfits to the rest of the group – in Spanish, of course! Each child's moment in the spotlight came under the critical gaze of the judges, who offered their views and opinions on the various outfits. And judging by the critical feedback, it's probably safe to say that any of the outfits will star on the front cover of Vogue magazine anytime soon! The children had great fun adapting their Spanish to the task and it was a fabulous way to finish off the topic. Well done, Year 6.
Jo Longshaw, Head of Modern Foreign Languages
Year 7 Put Finishing Touches To Warhol-Inspired Self Portraits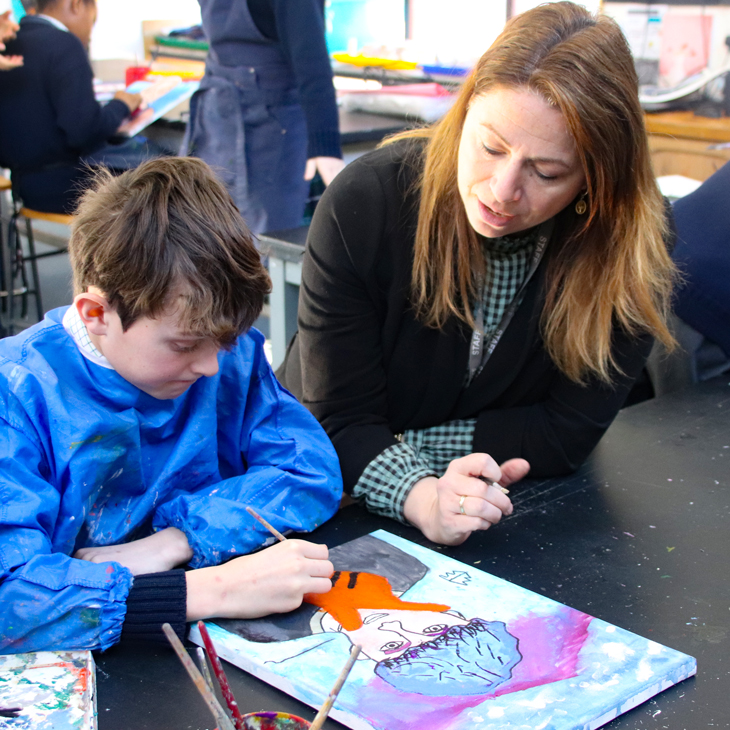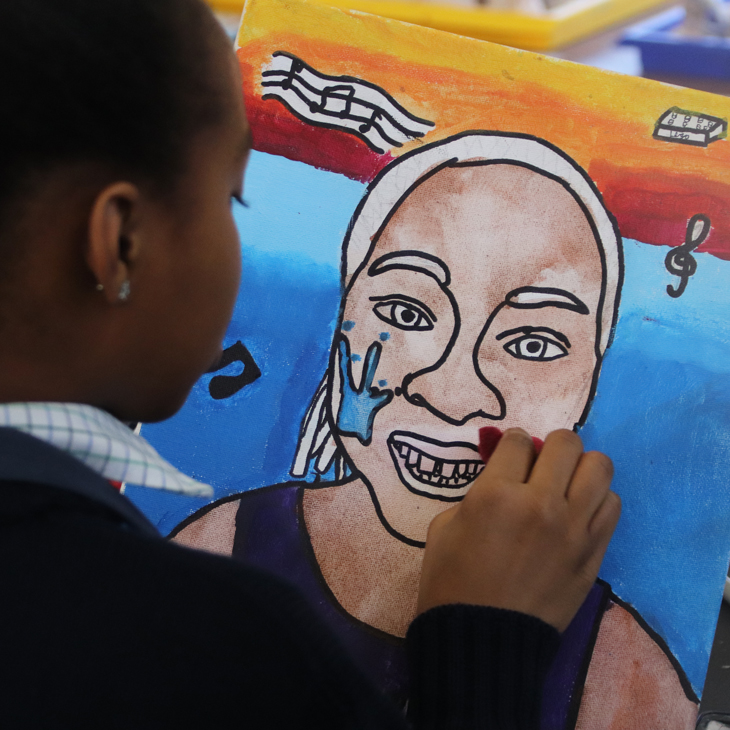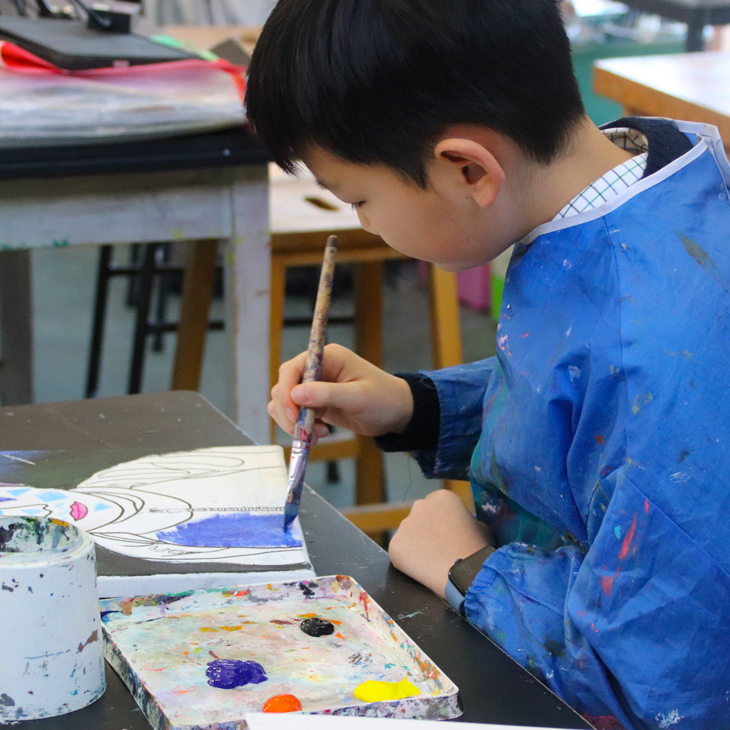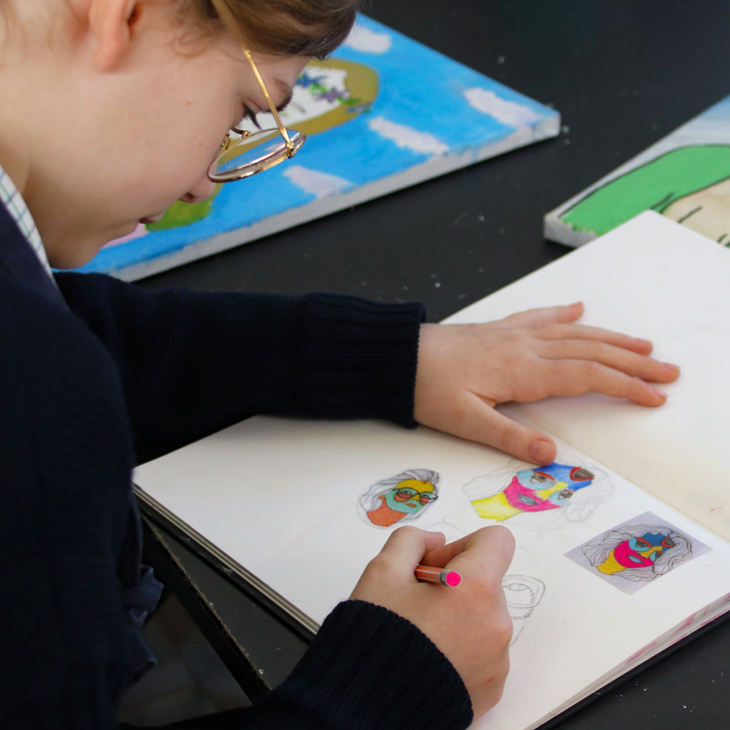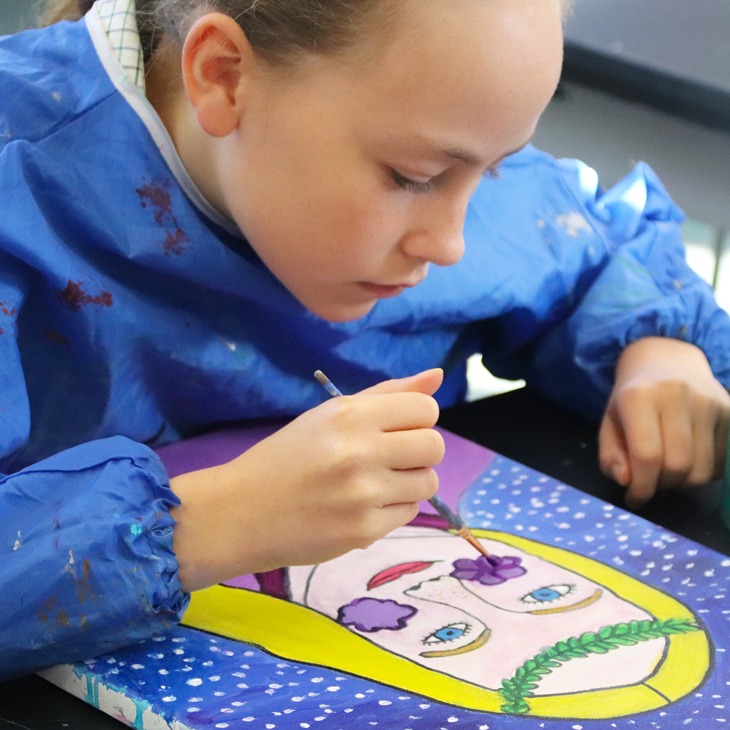 Year 7 are working on the final stage of their pop-art style self portrait paintings. Inspired by Andy Warhol and David Gomez, the wonderful artwork really does seem to pop out of the canvas. The children transferred their images onto canvas using a transfer method and then made creative decisions regarding colour, form, details and any additions they felt inclined to add. A striking serpent has been added to one portrait, a character which is half-Superhero and half-boy adorns another, while a clown, a skier and a swimmer also feature on these vibrant portraits. Year 7 have had a lot of fun producing and personalising their self-portraits and I am really delighted with this year group as a whole.
Olga Houghton, Head of Art
Excitement Palpable As Year 8 Make Successful Return To Hockey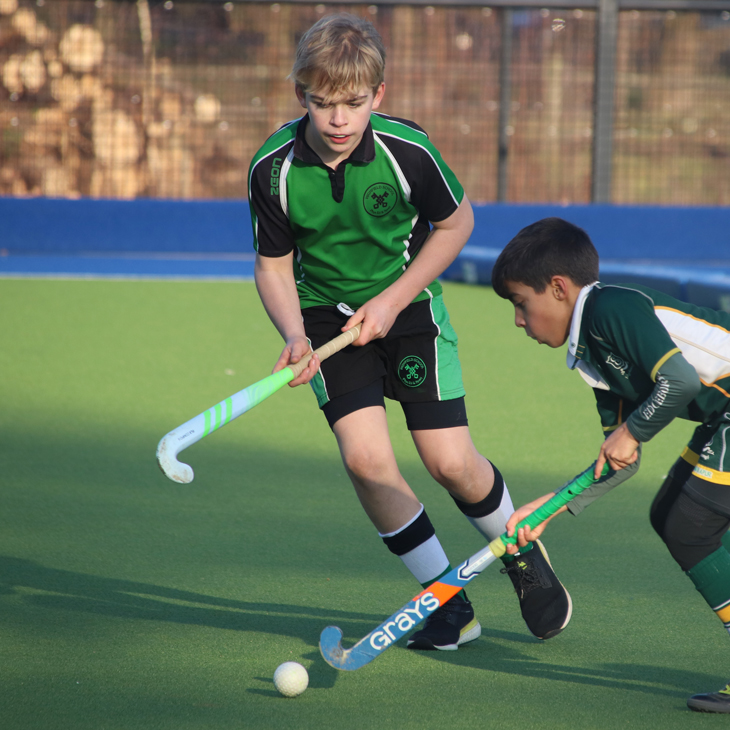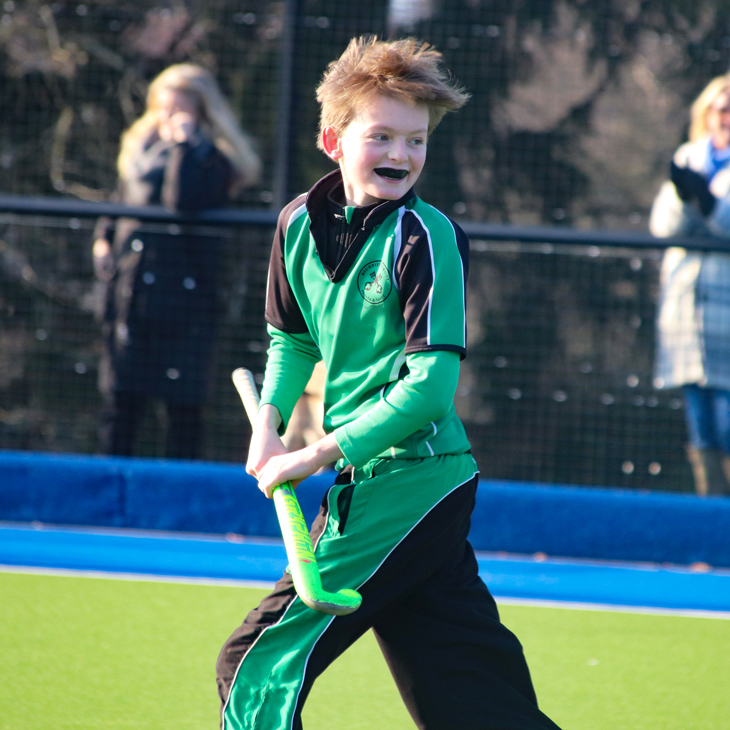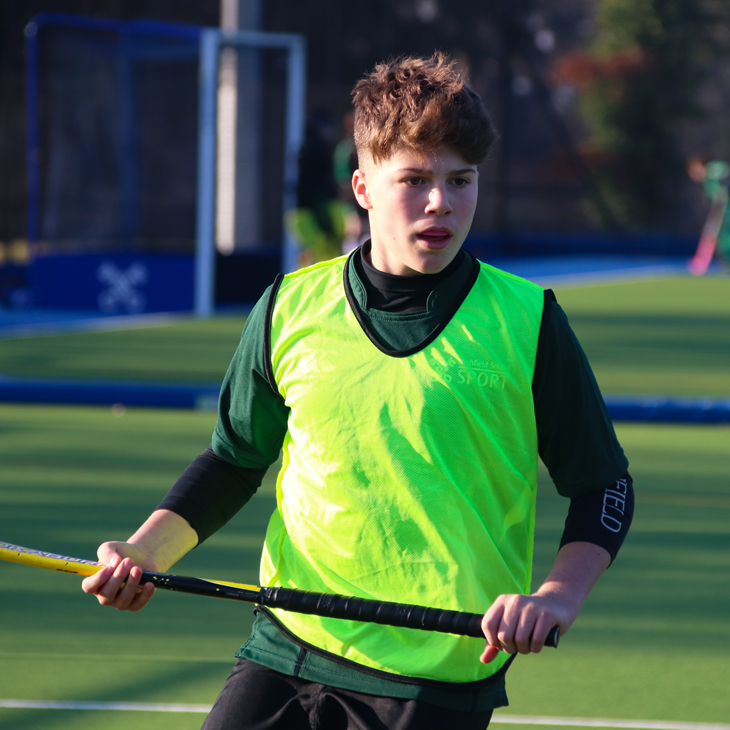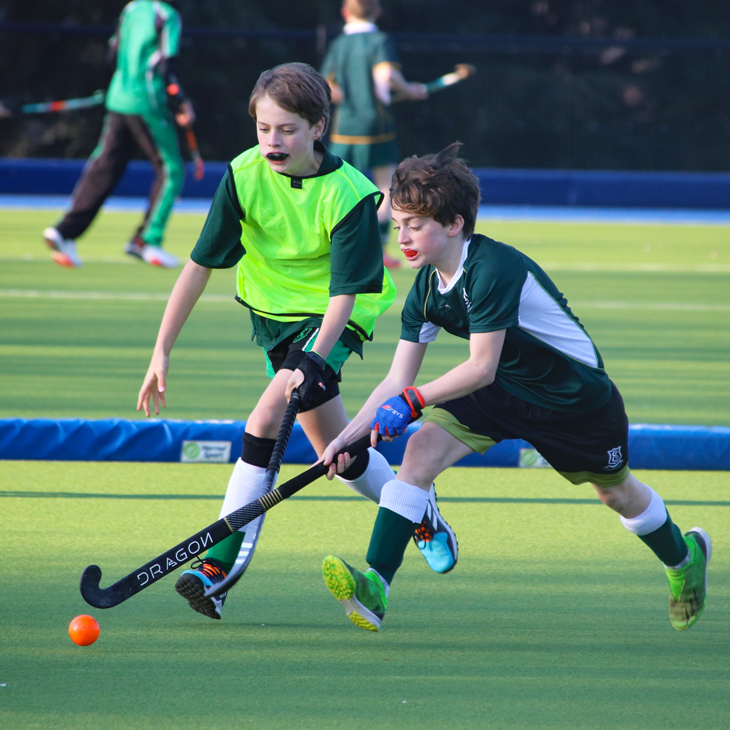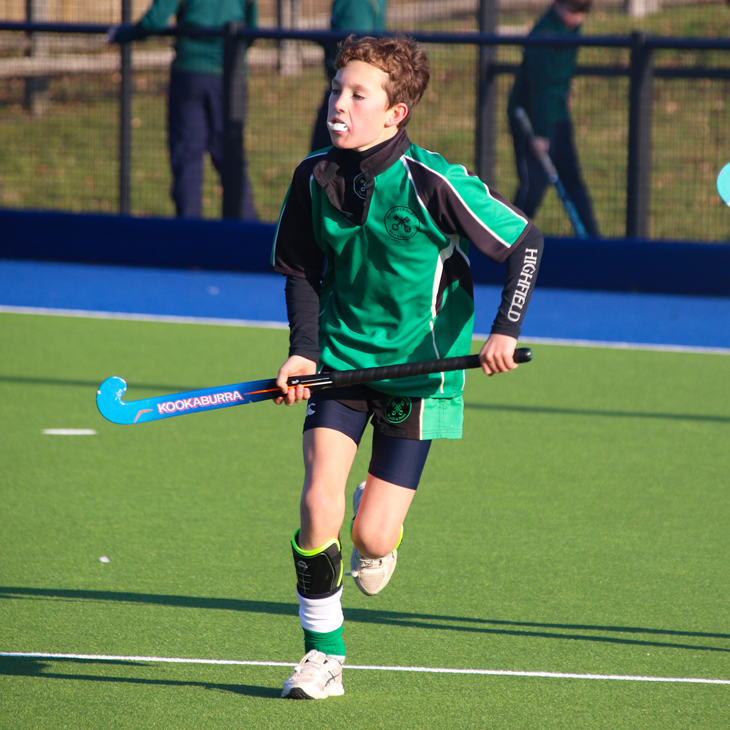 Highfield boys began their hockey season on Wednesday with a series of tight matches against Edgeborough. Senior boys in Year 7 and Year 8 represented the top six teams of the school and a great buzz and excited atmosphere greeted the teams as they arrived at the Astro. And that excitement clearly inspired the boys as all six teams played their matches with passion and determination; with three Highfield teams winning, one drawing, and two narrowly losing by the odd goal. The leadership of the Year 8 boys was evident all afternoon and proved to be a perfect example for their younger teammates, and positive team camaraderie led to some excellent performances.
Results: 1st team – lost 2-1; 2nd team – won 3-1; 3rd team – drew 1-1; 4th team – lost 2-1; 5th team – won 2-1; 6th team – won 2-1.
It was a great start to the season for a group of talented young players and we now look forward to the next fixture against Hoe Bridge School after the half term holiday.
Rob Dilworth, U13 Boys' Rugby Coach