Nursery Revel In Their Own Little Winter Wonderland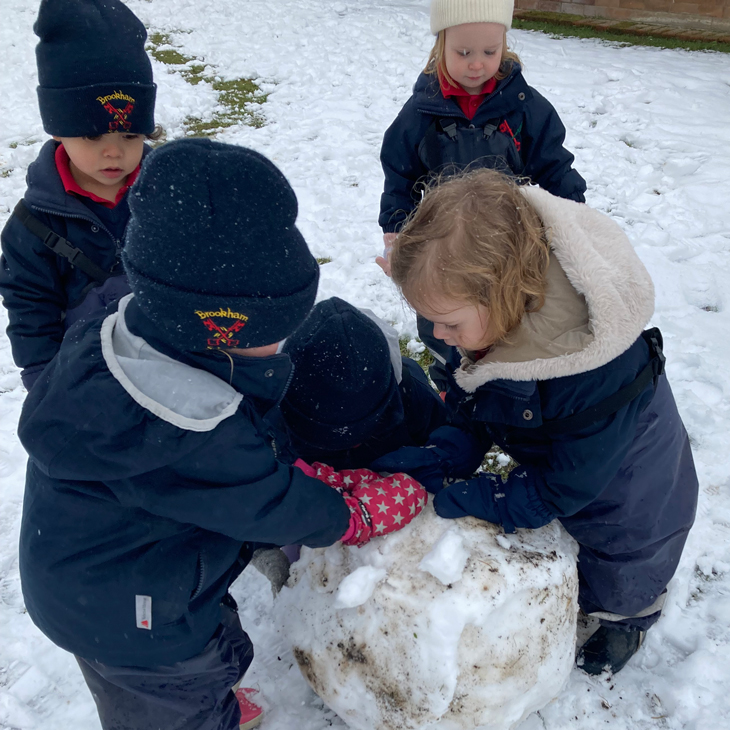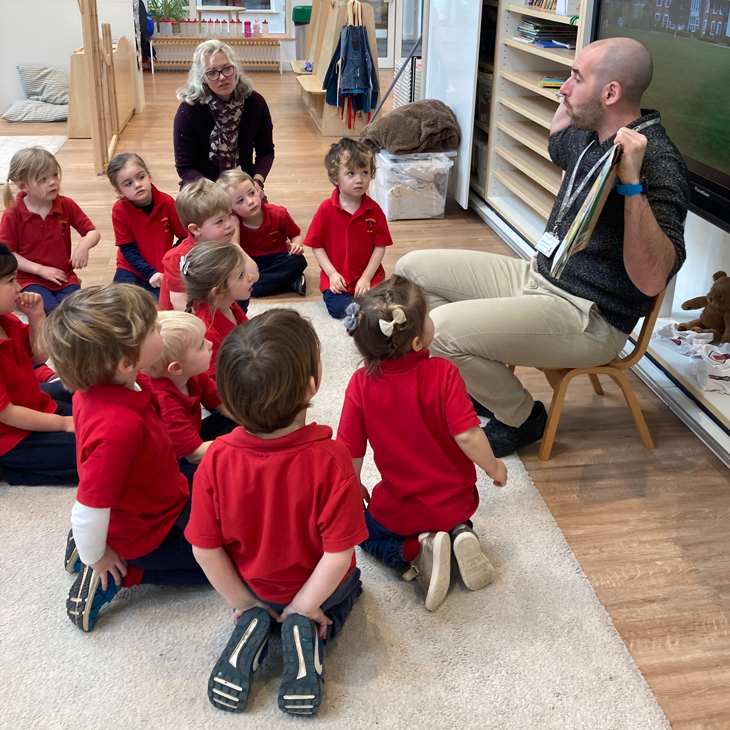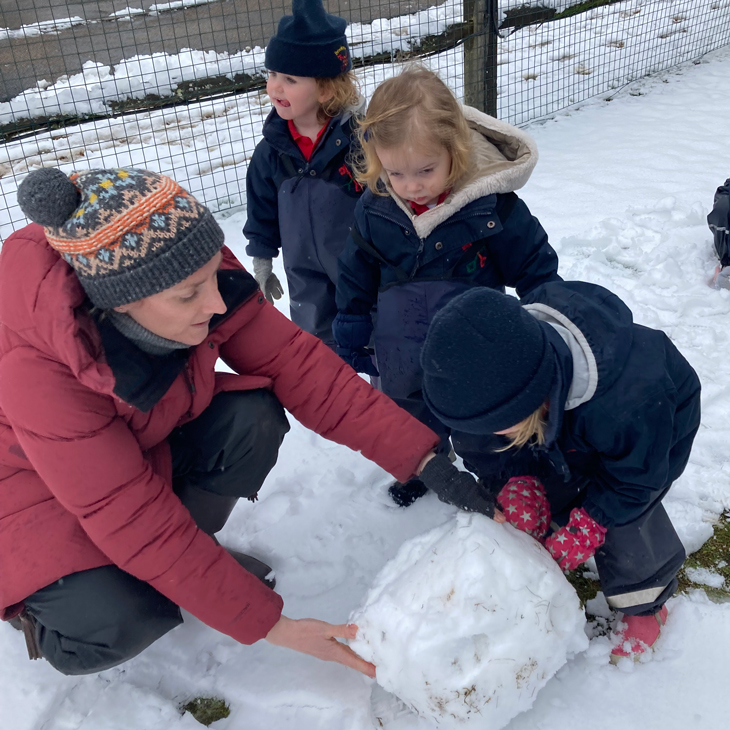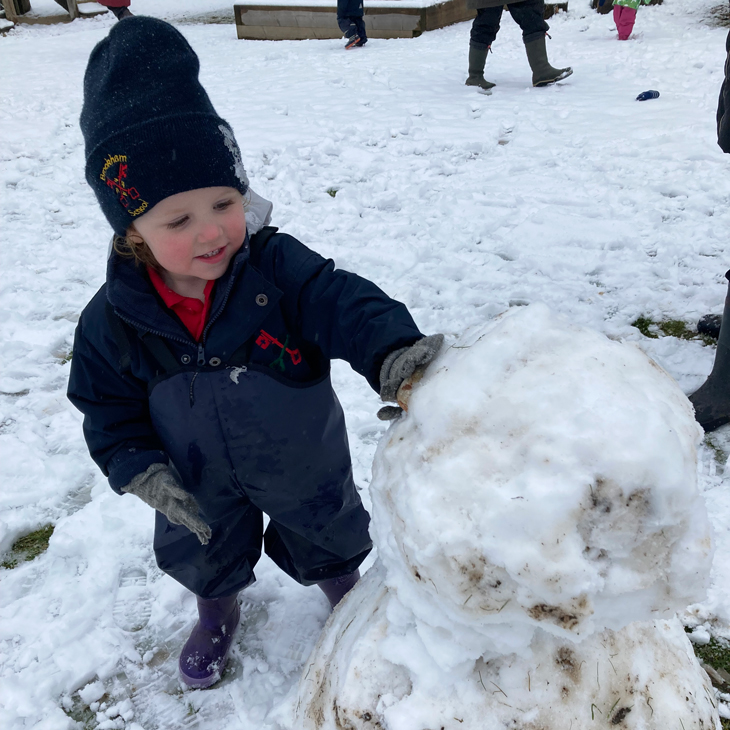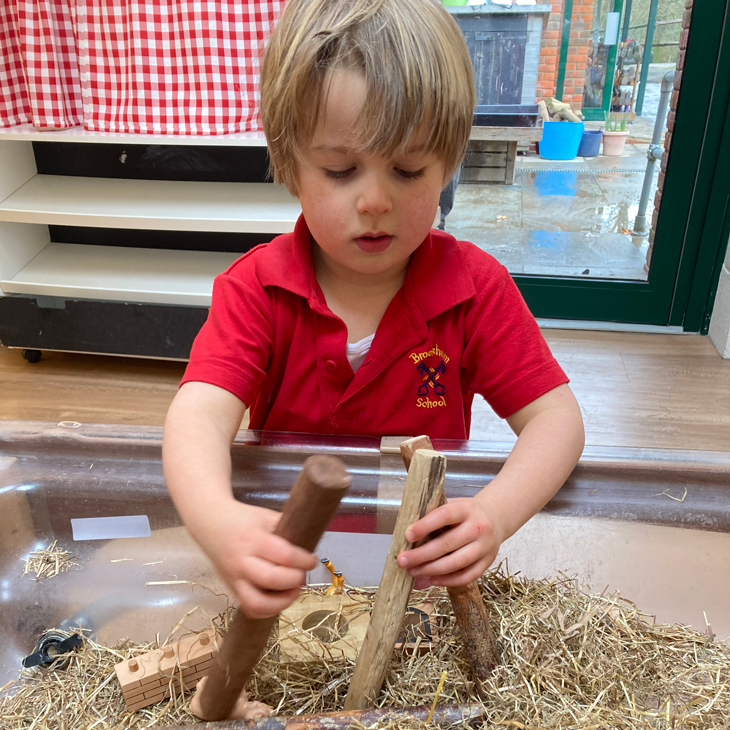 Snow is always guaranteed to cause great excitement in the Nursery and this week was no exception. Our very youngest children couldn't wait to put on their waterproofs and boots and venture out into the garden to play in the winter wonderland created by the midweek covering. They soon discovered that the snow was the perfect consistency for making snowmen and they enthusiastically worked together to roll balls of snow, shouting with excitement as they got bigger and bigger. Once they had built their snowmen, the children enjoyed exploring the effect of using paint on the snow as they decorated their creations and made patterns on the ground. Back in the classroom, the children spent time this week exploring the traditional story of The Three Little Pigs. The Nursery children listened to the story, acted it out and spent time using story stones and props to retell it with their friends. The resourceful children used straw, sticks and building blocks to make different homes for toy animals and followed up by using their imaginations to create imaginary homes in the shapes of little dens out in the garden. Through these activities the children have been developing their understanding of story structures and expanding their storytelling language.
Sam Forster, Head of Early Years
Caring Reception Hatch A Plan To Look After Ducklings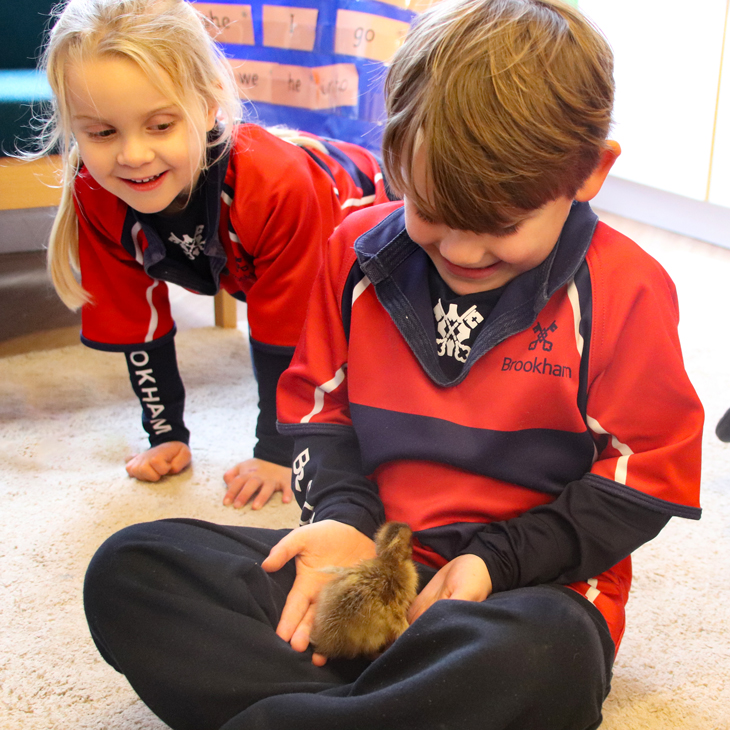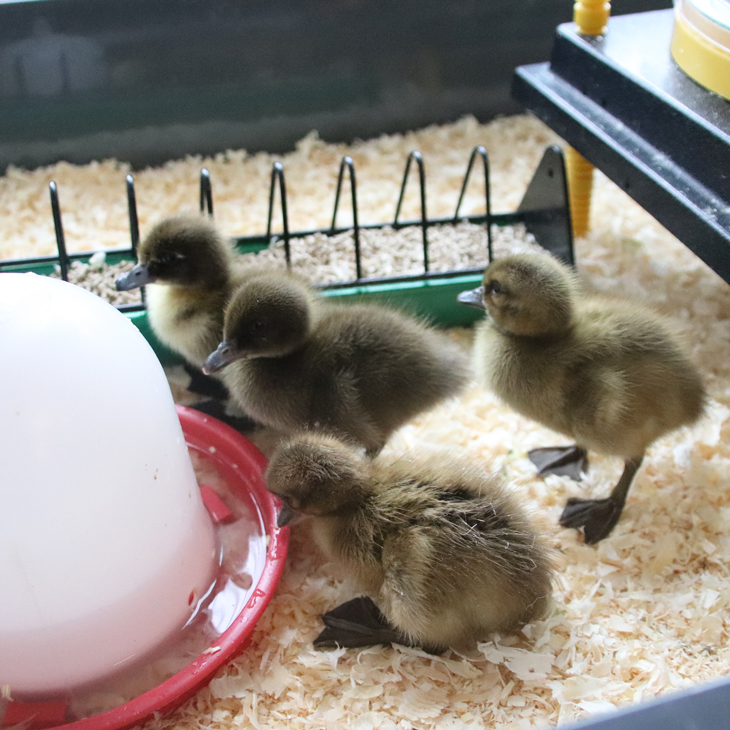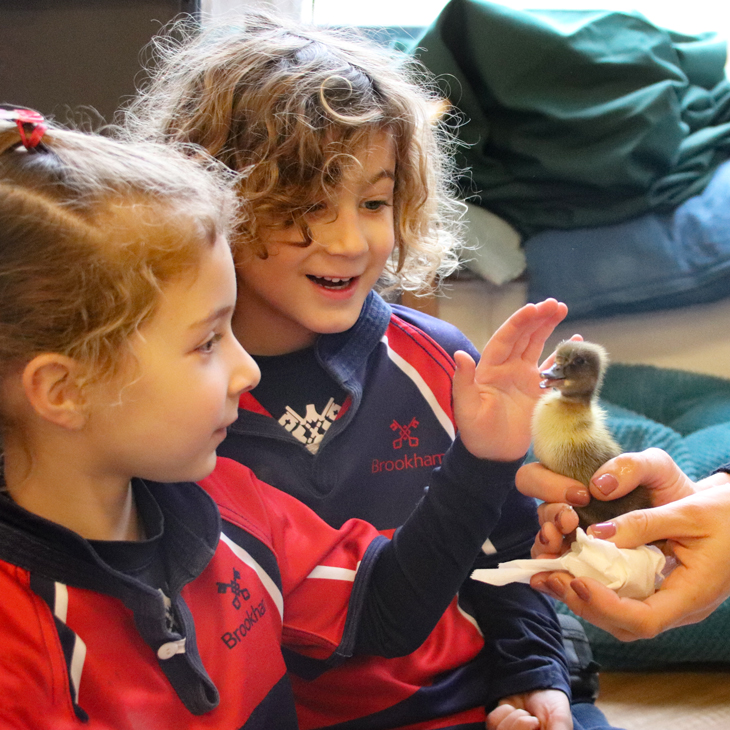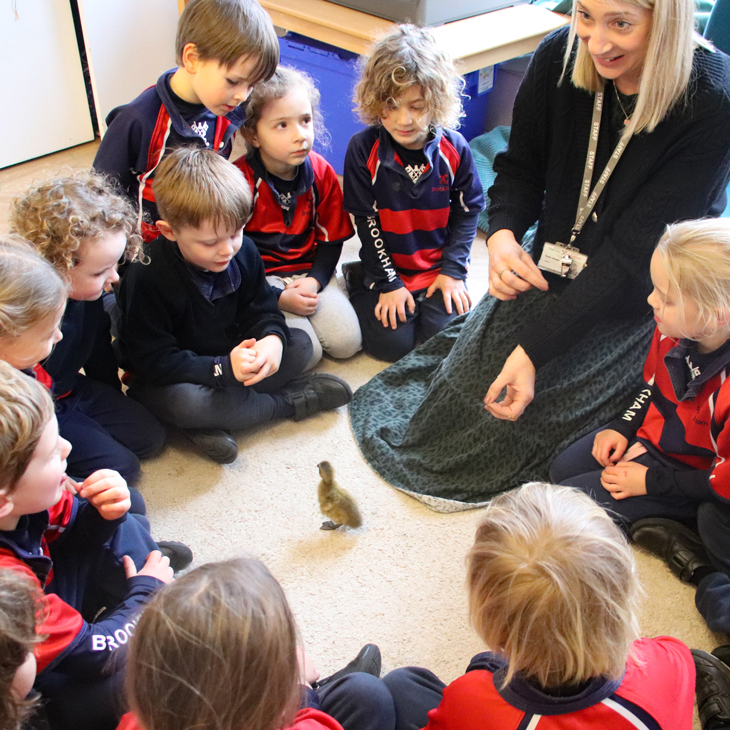 This week has been a particularly special one for our Reception children. On Monday, our friend, Farmer John delivered a letter asking us to take care of a very important package while he went on holiday… five duckling eggs! The excited children didn't need asking twice and they set about their task with real enthusiasm and zeal. The curious young learners asked questions and made careful observations, all the while waiting for tiny cracks to appear in the eggshells and they didn't have too long to wait as the first fluffy arrival hatched on Thursday. Keen to document these key events, the children decided to begin their own duckling diaries, making links in their learning, applying their phonic knowledge to their writing, and being resourceful in the selection of things they could use to help them. The children voted to name the ducklings and the first three hatchlings were duly named Steve, Rose and Timmy. It was a wonderful exercise as it gave the children the opportunity to tally scores and practice their counting skills. The joy of new life seen in spring is a time for real hope and new beginnings, and with the warmer weather (hopefully) coming and Easter fast approaching, it certainly is an exciting time.
Rosie Snagge, Reception Class Teacher
Year 1 In Their Element As They Go From Fire To Ice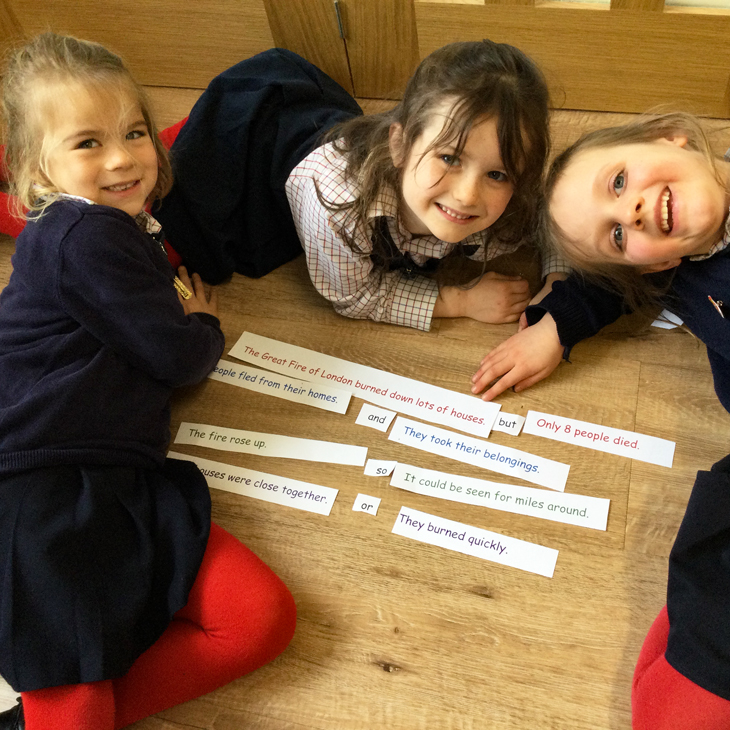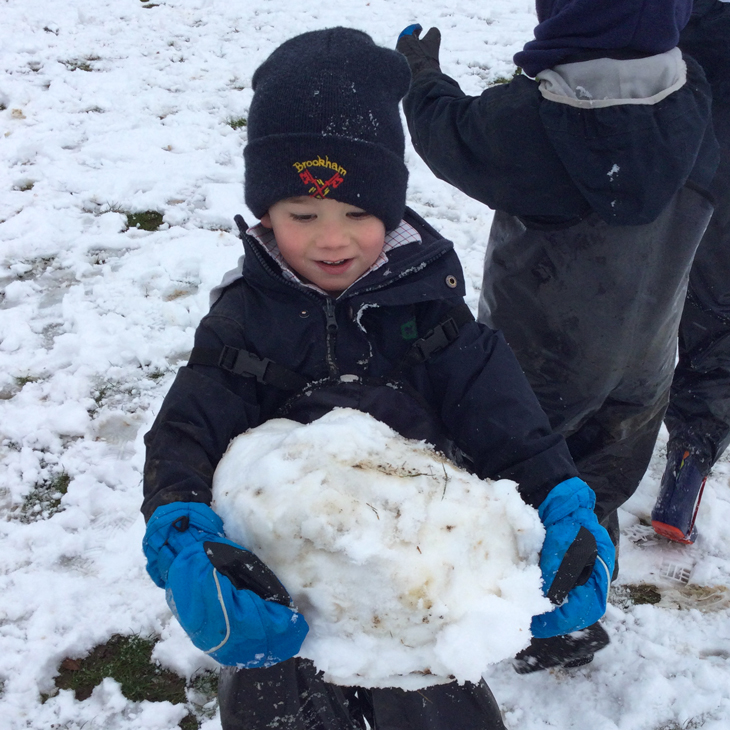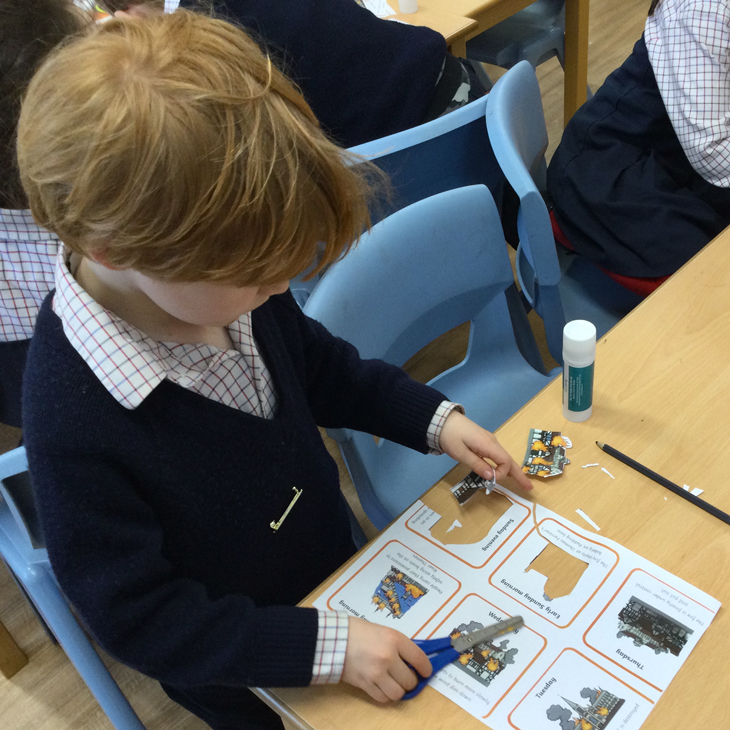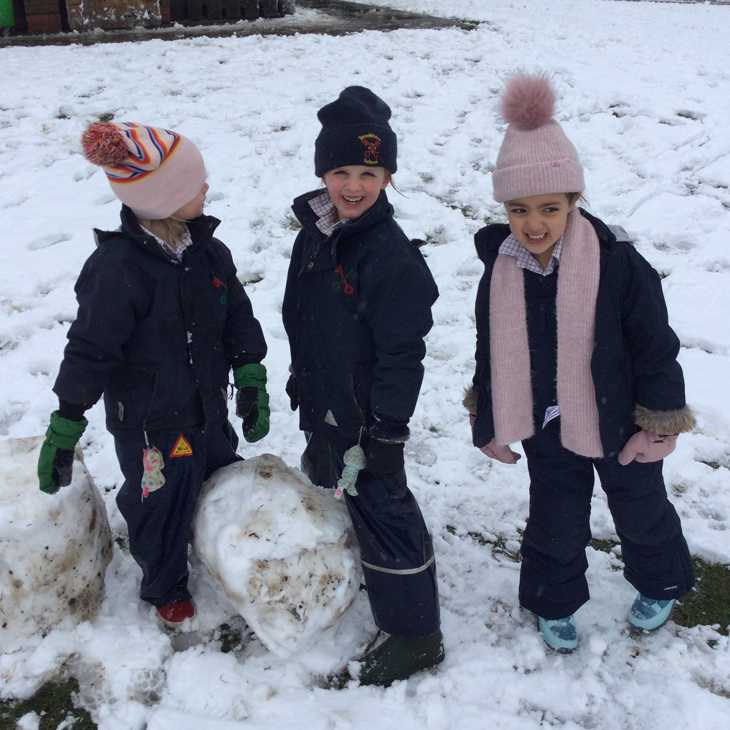 Year 1 have been working hard on connectives in literacy this week by learning how to join sentences together using words such as 'and', 'but' and 'so'. They collaborated successfully in small groups to connect sentences about the Great Fire of London before taking the opportunity to write some of their own. In stark contrast to the Great Fire, Year 1 found themselves ankle deep in the 'great snow' as the school grounds were transformed into a magical winter wonderland after heavy snowfall in the early hours of Wednesday morning. The excited children certainly took full advantage, laughing and shrieking with joy as they played with their friends while throwing snowballs, making snow angels and snowmen and sledging on the golf course. Even the teachers got involved in the sledging races and it's certainly fair to say that some proved they really do have quite the competitive streak!
Rachael Berry, Year 1 Class Teacher
Year 2 Open Their Hearts And Minds To Cultural Diversity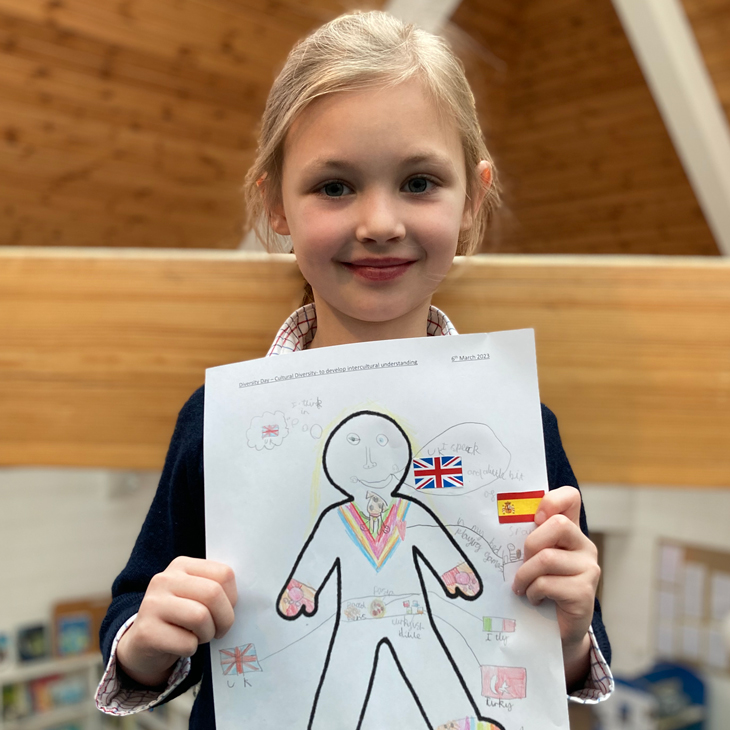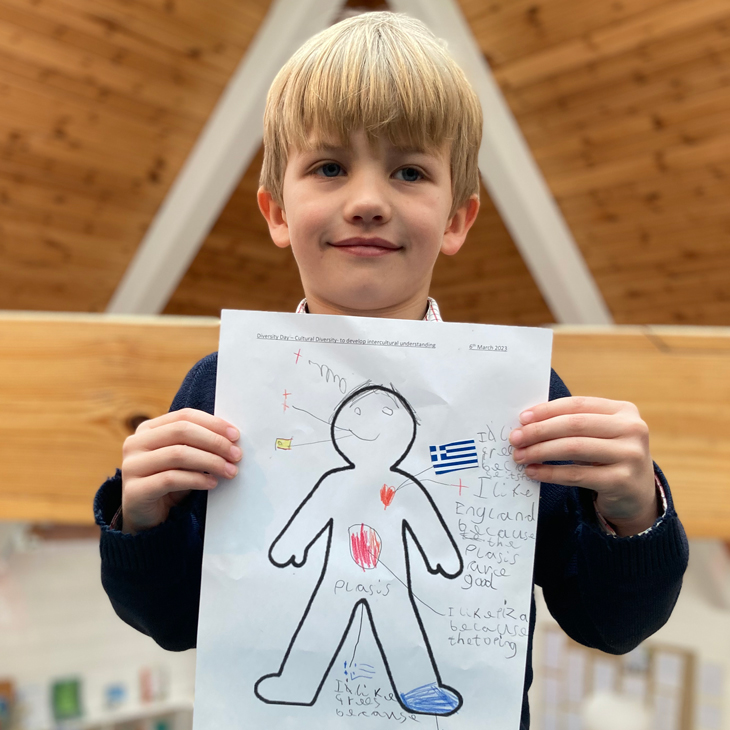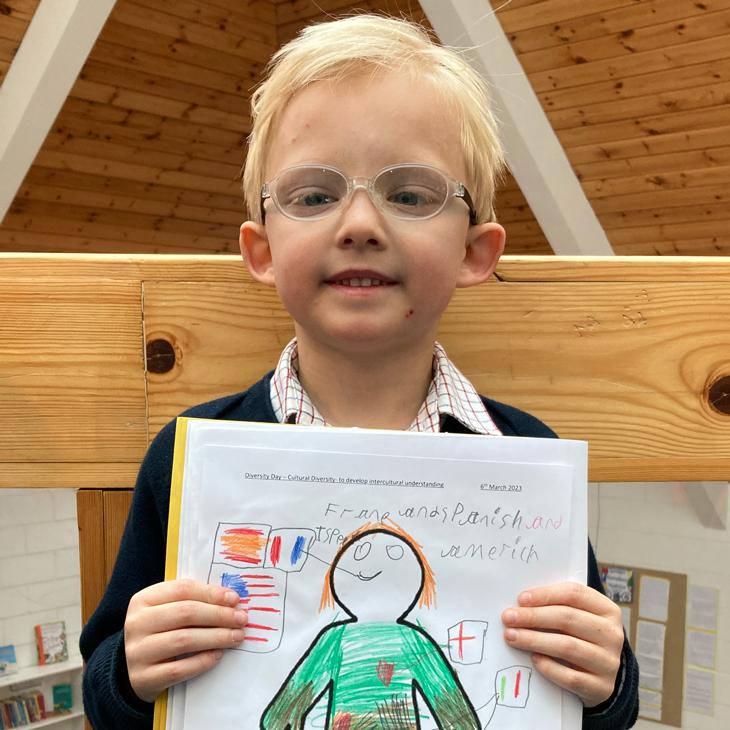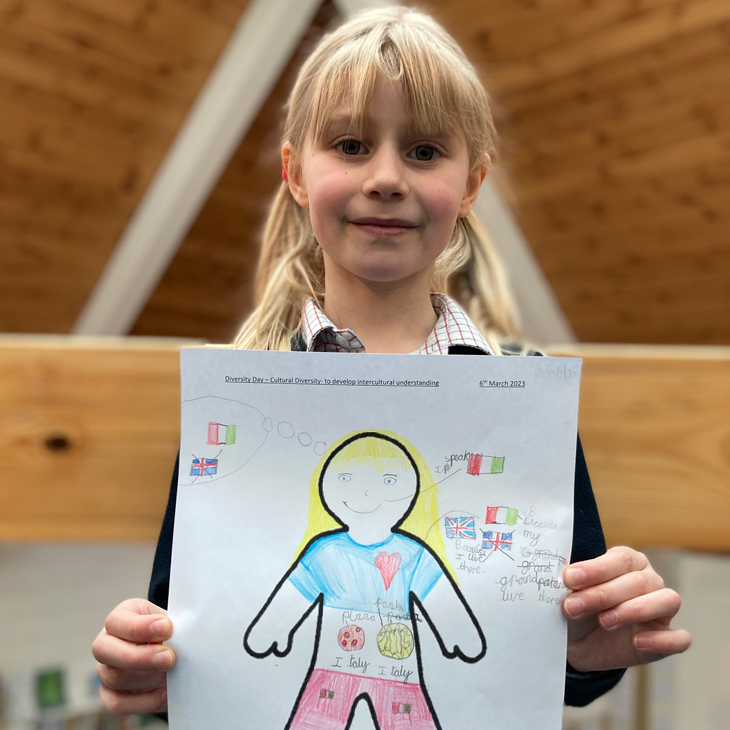 Year 2 have been exploring cultural diversity in their PSHE lessons this week. According to UNESCO, "three-quarters of the world's major conflicts have a cultural dimension. Bridging the gap between cultures is urgent and necessary for peace, stability, and development". Given the fact that there is evidence that Year 2 children are aware of global events featured in the news, the thoughtful pupils discussed the importance of recognising, respecting and celebrating each other's backgrounds. The overwhelming result of the discussion was that if we were all the same, then life would be much less interesting. Year 2 found that having friends with unique cultural backgrounds leads to a more fulfilling intellectual, emotional, moral and spiritual life. The children demonstrated a real sense of passion as they confidently and proudly expressed where they were born, where their parents and grandparents were born, languages they could speak, and what languages were spoken at home. They also told their peers about the traditional and modern music and dance that they enjoyed from around the globe. The volume went up a notch further as the eager children discussed their favourite foods and where in the world they had experienced them. Once again, there was immense enthusiasm as they shared where they had enjoyed travelling to in the world and which countries they would like to visit in the future and why. This uplifting, enjoyable and rewarding experience left the children feeling that they knew each other even better than before and that they gained a real appreciation and respect for each other's unique cultural heritage.
Shirley Jervis, Year 2 Class Teacher
Boomwhacker Instrumental In Year 3's Musical Odyssey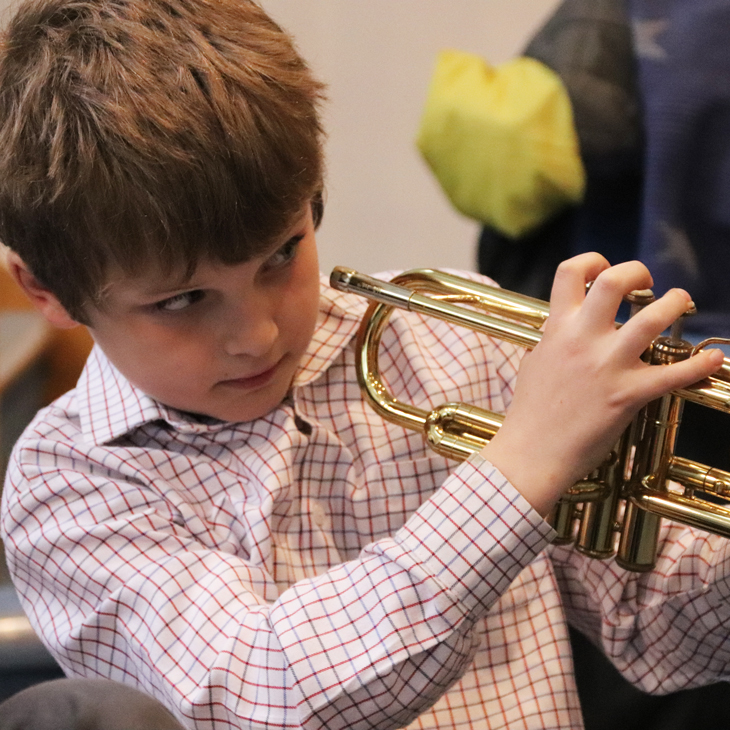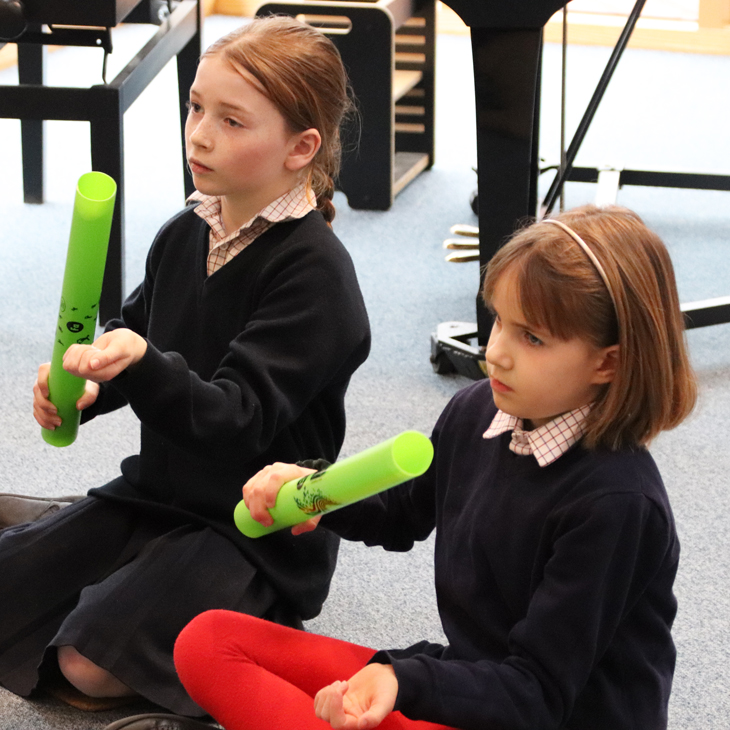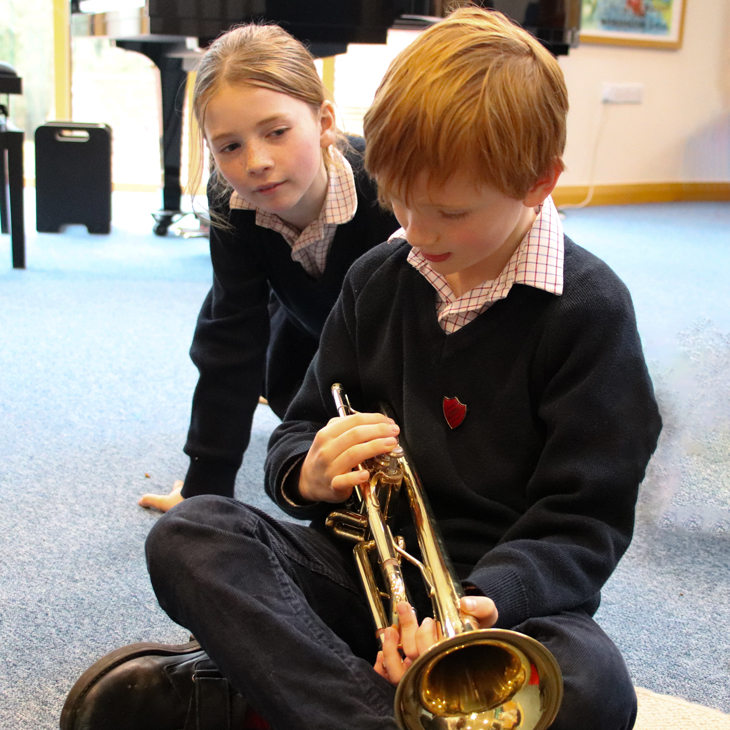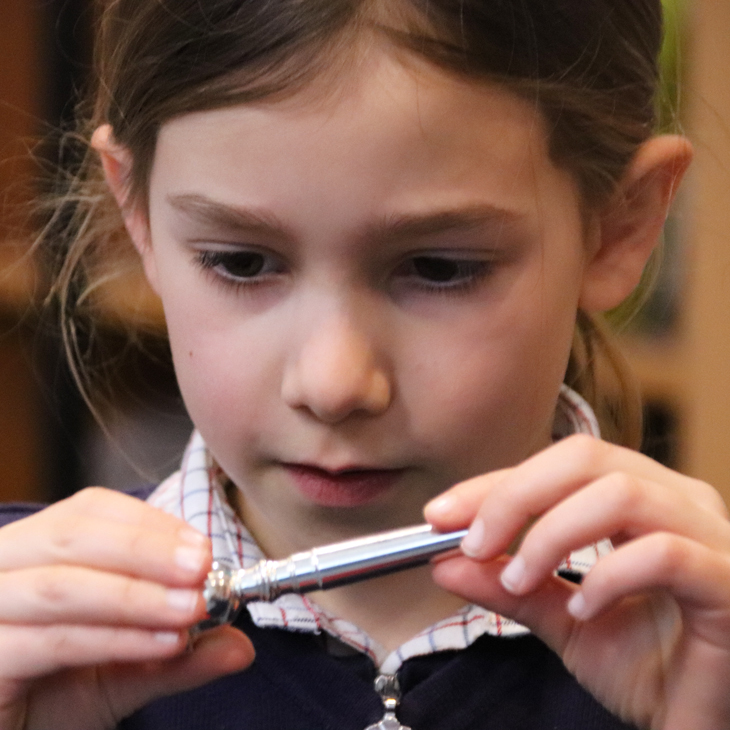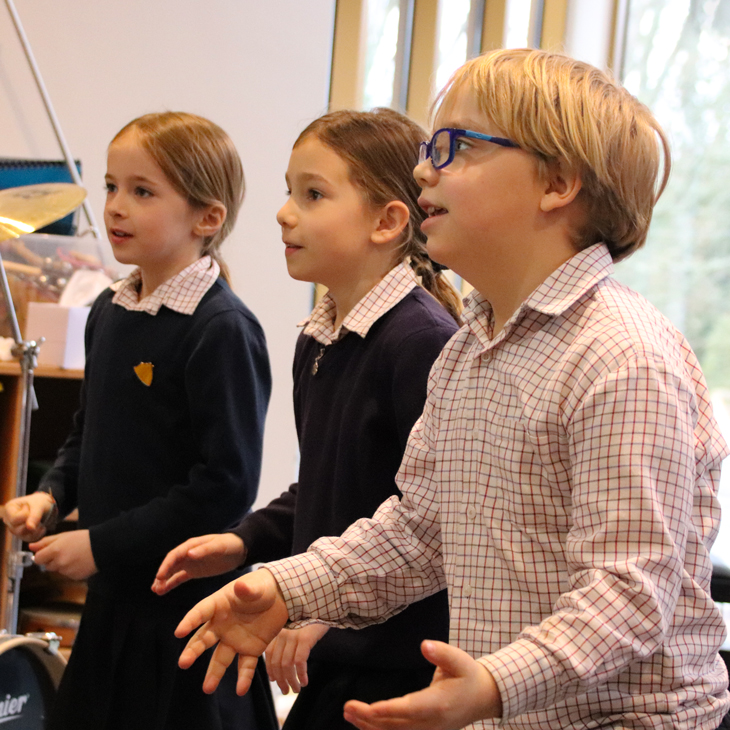 This term in music, Year 3 have been focusing on orchestral instruments; from learning the four 'families' and which instruments belong to them to seeing them played live in the classroom. The children have had the chance to find out not just what the instruments look and sound like but also how they make their sound. Having enjoyed a demonstration on clarinet last week, the children got to see and hear the trumpet this week. The main body of the instrument and a spare mouthpiece were passed around for a closer look and the children had to suggest how they thought a sound was produced. Suggestions ranged from "put the whole mouthpiece into your mouth" to "sing into it" before the correct answer of buzzing (blowing a raspberry) into the mouthpiece was suggested. Many children in Year 3 already have instrumental lessons and, as they prepare to move into Year 4, they are being encouraged to think about taking up an orchestral instrument. Performing as part of a larger ensemble is not only fantastic for musical skills like sight reading but also for more transferrable skills such as concentration and – as with all music – making friends. Therefore, in addition to learning about the orchestra, we have been performing as a class 'boomwhacker' band every week. Everyone has a different note and they play their boomwhacker when their note is highlighted on the board. Year 3's repertoire includes hits such as The Blue Danube and The Lion Sleeps Tonight. While the group may not be the London Symphony Orchestra just yet, everyone is enjoying being part of the team and learning one of the school's core values – collaboration.
Jessica Harman, Year 3 Music Teacher
Year 4 Girls Swept Up By Football Festival Fever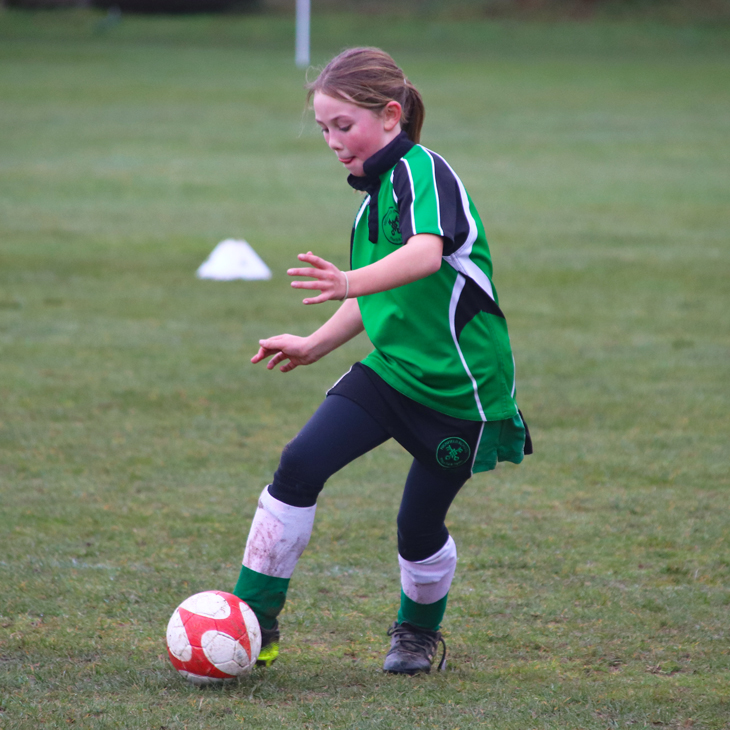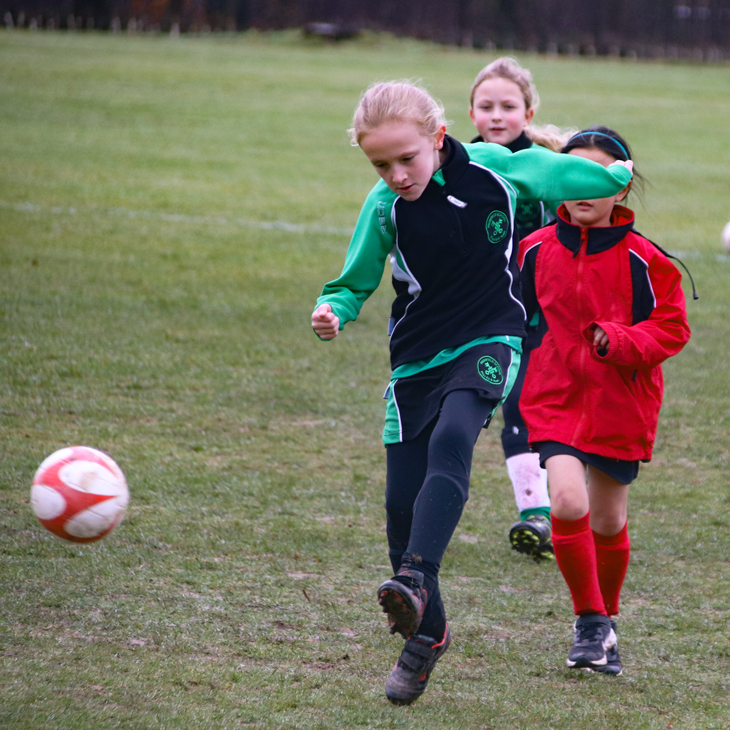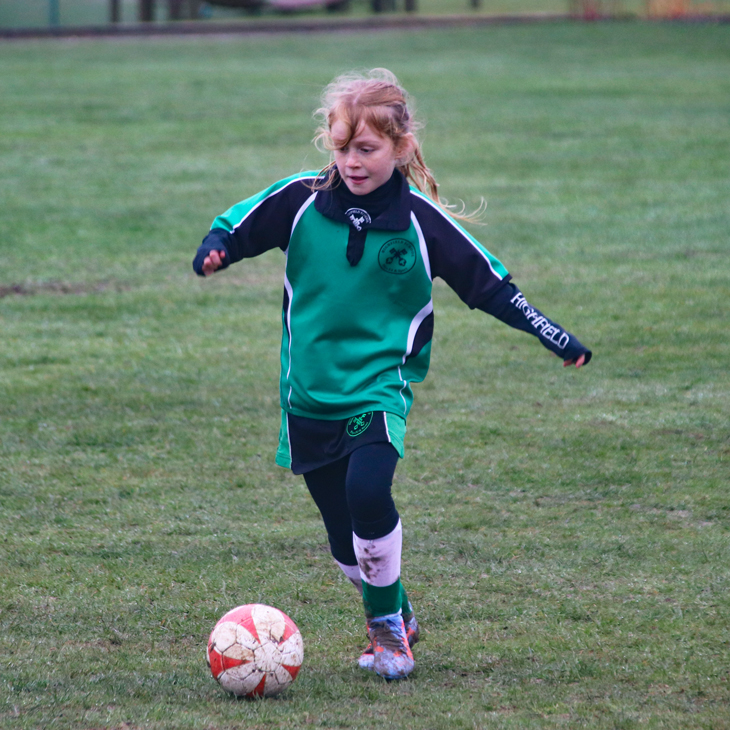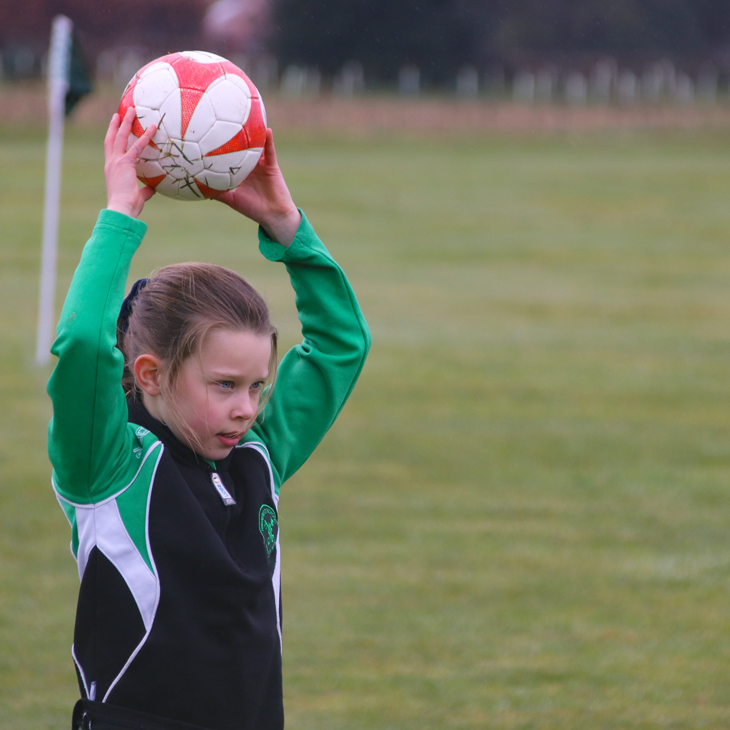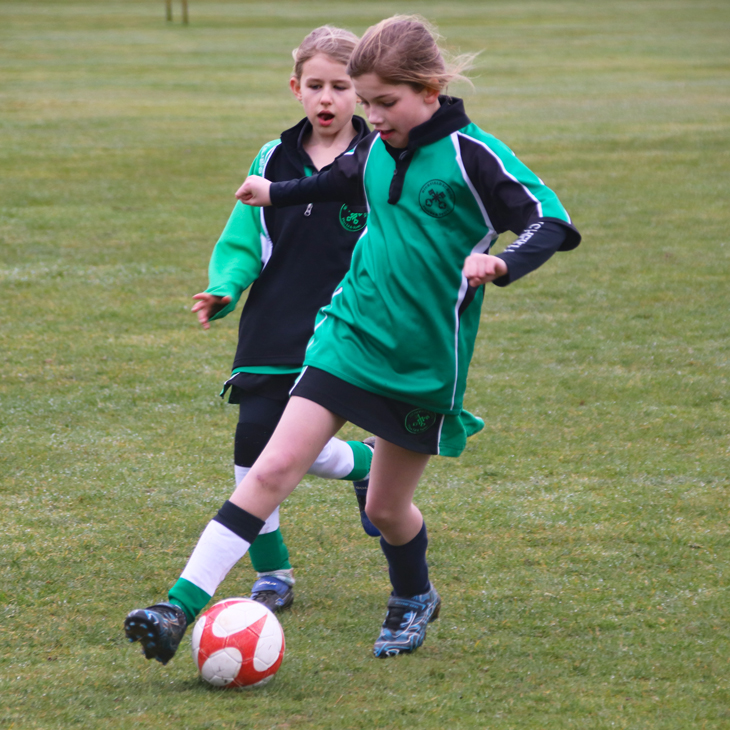 Freezing wind and driving rain would be enough to put many people off….. but not the U9A girls, who took to the pitch for the inaugural Highfield Girls' Football Festival. It was a tough start for the girls who faced Westbourne House in their first game and went a goal down early, but the girls began to find their feet and equalised in the second half to earn a draw. Highfield then really turned it on in their second game, scoring some fantastic goals en route to a 3-0 win over St Edmund's. Highfield's final game of the day was against a physical Edgeborough side, the home side battling superbly before going down 1-0. A huge amount of progress was evident over the course of the afternoon and a very exciting future lies ahead for this group of girls.
Dan Bather, U9A Girls' Football Coach
Despite the bitter weather, the U9Bs really rose to the occasion as they experienced their first football festival against Westbourne House, St Edmund's and Edgeborough. Highfield made a brilliant start with Martha B scoring twice in a 2-1 win over Westbourne House. The team progressed as the game wore on as the girls really thought about their passing, use of wide positions and defensive duties. They carried this into their second game, against St Edmund's, where strong midfield play set up goals for Martha B and Matilda G as Highfield ran out comfortable 2-0 winners. Tiredness had undoubtedly crept in by the time Highfield played their third and final game against Edgeborough, but the girls dug deep and battled to the bitter end, finally succumbing to a 2-0 defeat. It was so exciting to watch the team develop both their teamwork and individual skills and produce some lovely football. Well done, girls!
Annaliese Marshall, U9B Girls' Football Coach
Highfield's U9C team were unbeaten with a 2-0 win against Westbourne House and a gutsy draw against Edgeborough. Special mention must go to Matilda P for putting in two great crosses which resulted in goals and to Elsa Z and Catalina GH for resilient defending. It was a superb afternoon of football which was greatly enjoyed by all.
Natalie McIntosh, U9C Girls' Football Coach
Year 5 On Their Way To Cracking The Code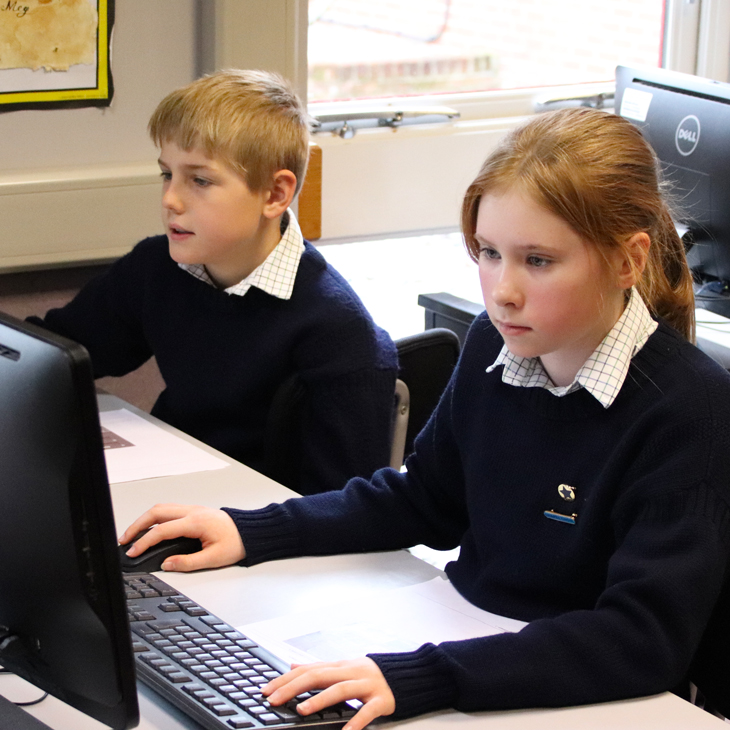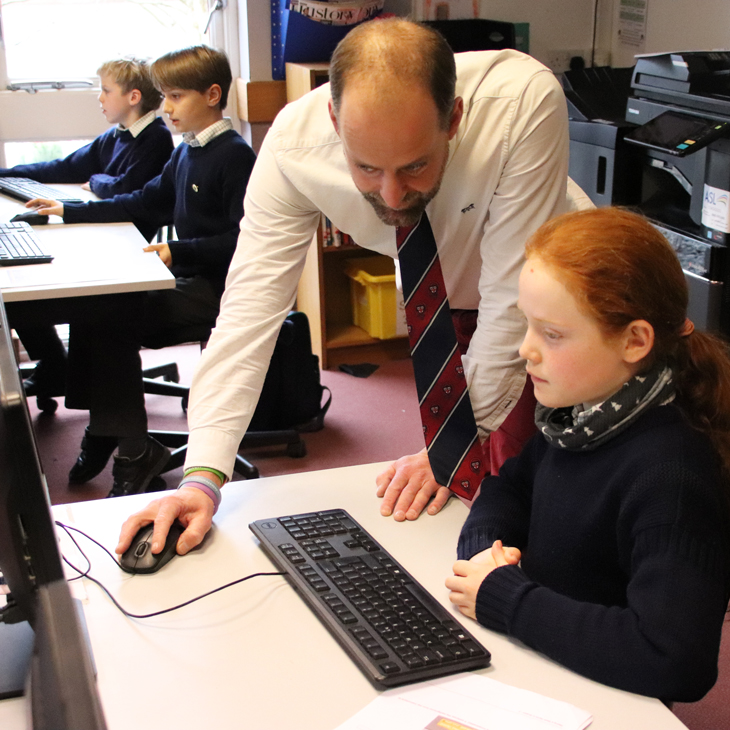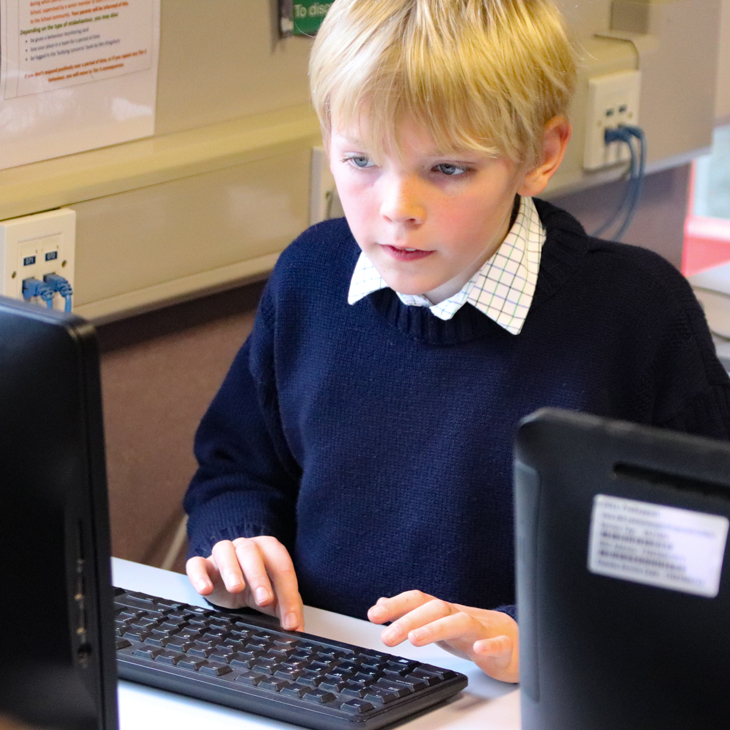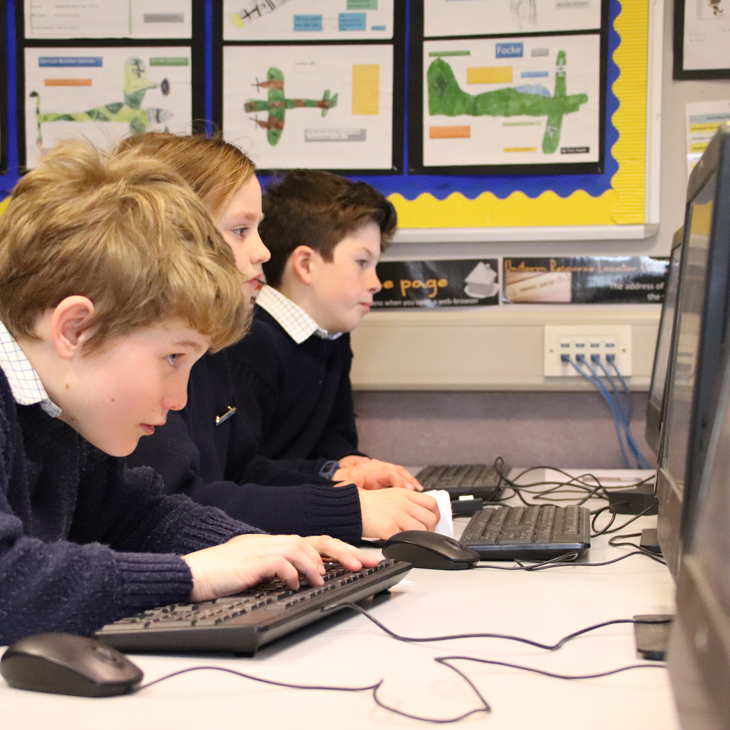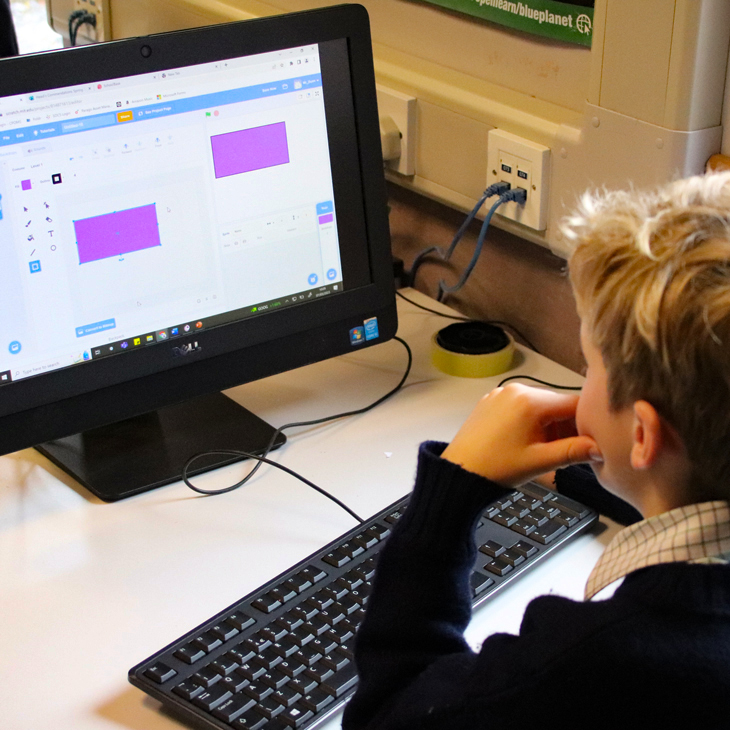 In the words of Will.i.am, 'coders are today's rock stars'. That news will doubtless bring much joy to Year 5, who have this week been introduced to the wonders of coding. The children have been using the Scratch platform to create accounts and learning the basics of coding with the words of Bill Gates and Mark Zuckerberg ringing in their ears as they took their first small steps into the world of programming. Year 5 looked at how to create variables, which store information to be referenced and manipulated in a computer programme, in this case 'score' and 'taunt' variables in a shark game. The children also began creating their own maze games with varying degrees of difficulty, and they were very much up for the challenge. Through coding, the children are developing their problem-solving skills, as well as their creative, algorithmic, sequential and computational thinking skills. They do also very much enjoy producing games that they can play!
Richard Dunn, Head of ICT
Year 6 Set Sail Into Armada Analytics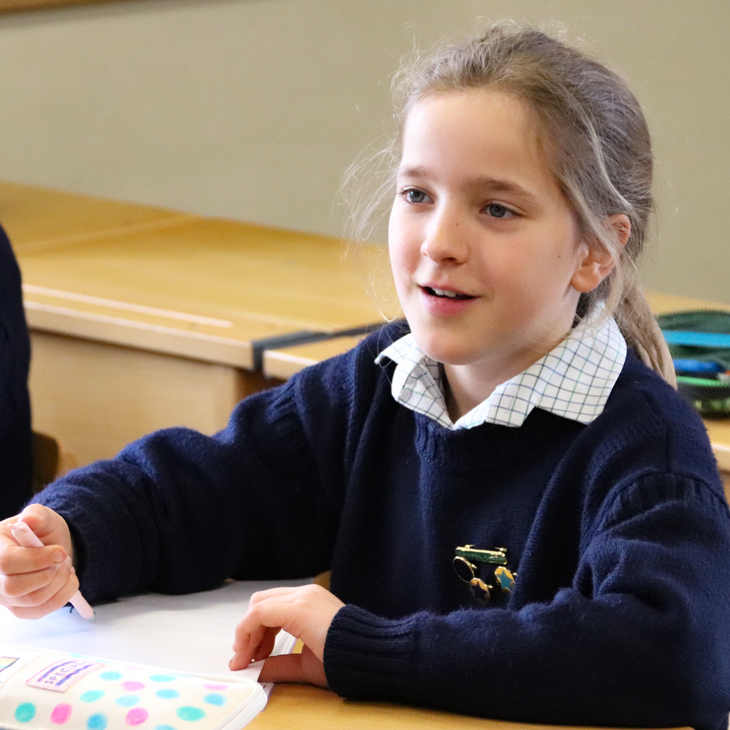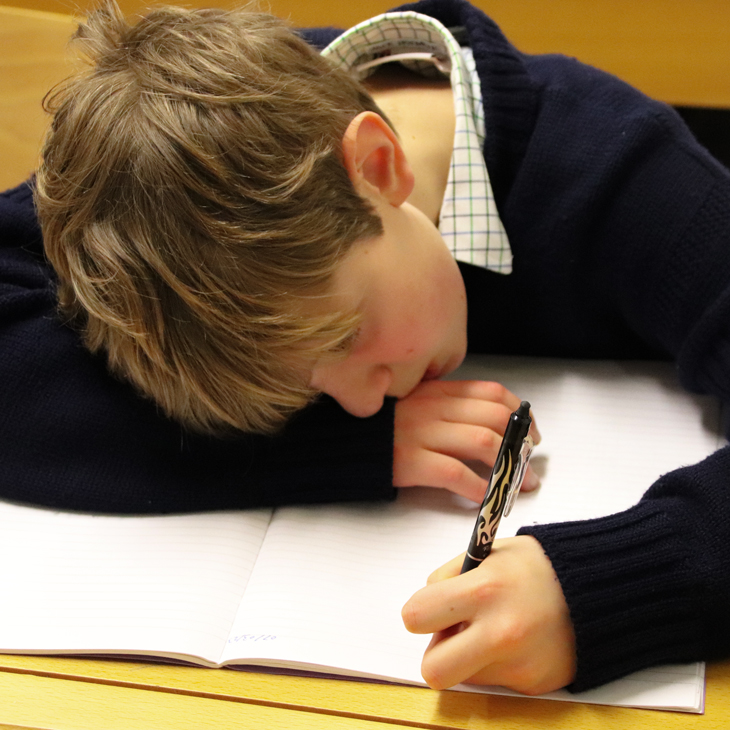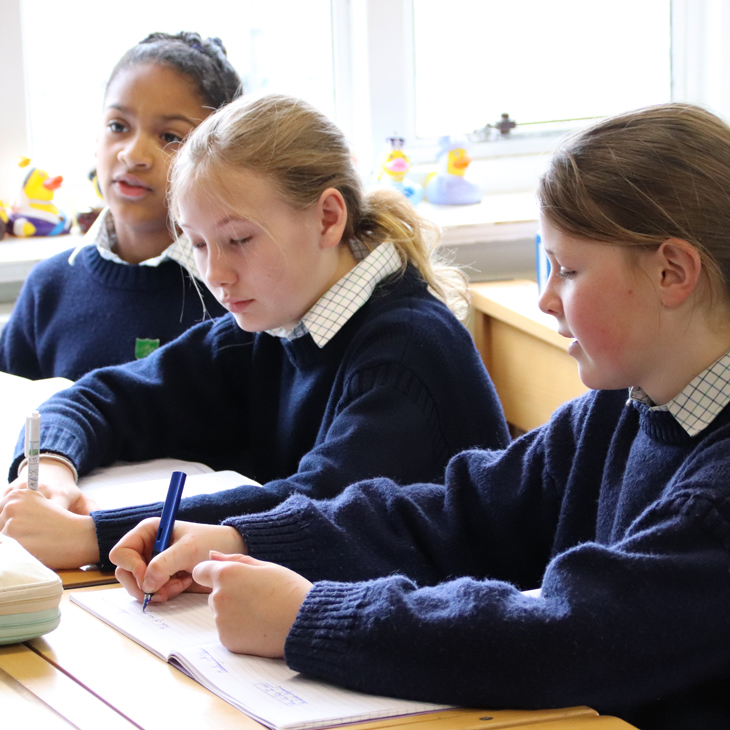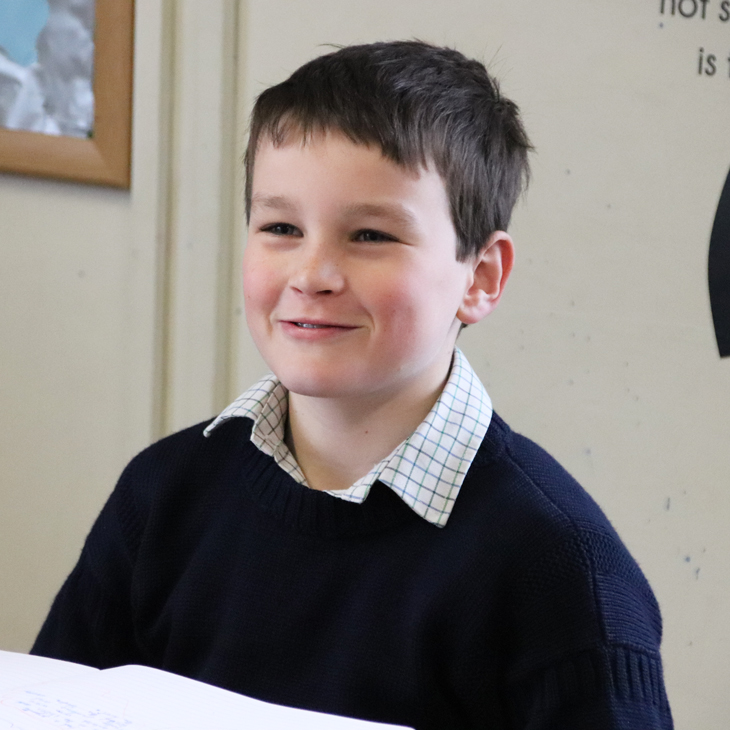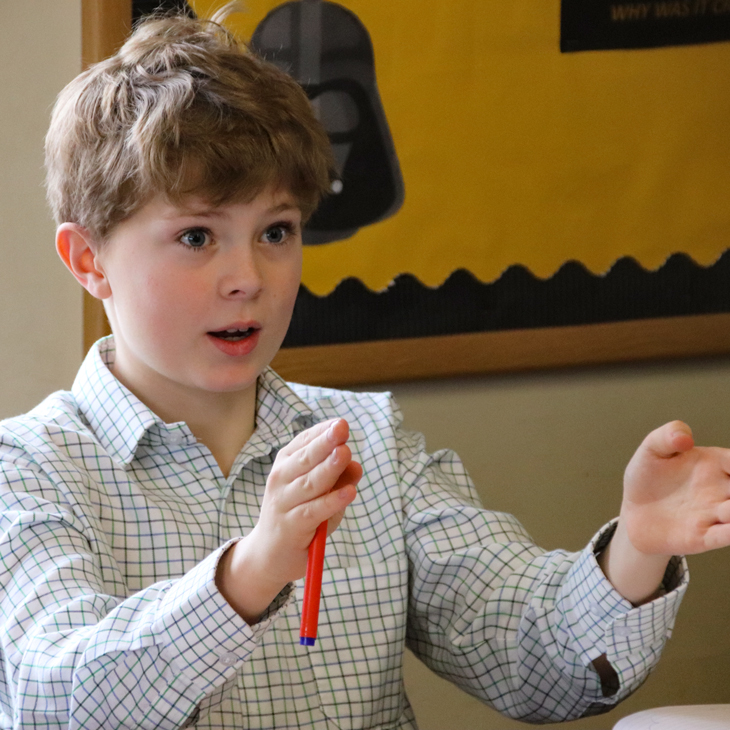 1588, 1066, 1666 – but which is the date of the Spanish Armada? Ask our Year 6 pupils this question and they will fire back an answer with ease, as this week they have been immersed in a world of rigging, cannon and fire ships! Much is known of the battle itself due to a plethora of contemporary accounts, but why was it that the English triumphed in the end? In Year 6 history lessons this term, the focus is not necessarily on 'what' you know but instead how can you use what you know to construct an analytical response. Was it Drake's tactics that won the day? Or was it the unfortunate weather conditions that did for the Spanish? This term will culminate in an extended piece of analytical writing on the Armada, with pupils tasked with sifting evidence, collating thoughts and structuring an appropriate answer. This is by no means an 'oar-deal', instead, pupil look set to 'seas' the challenge with both hands.
James Ridge, Head of History
Calm Before The Storm As Year 7 Star On Stage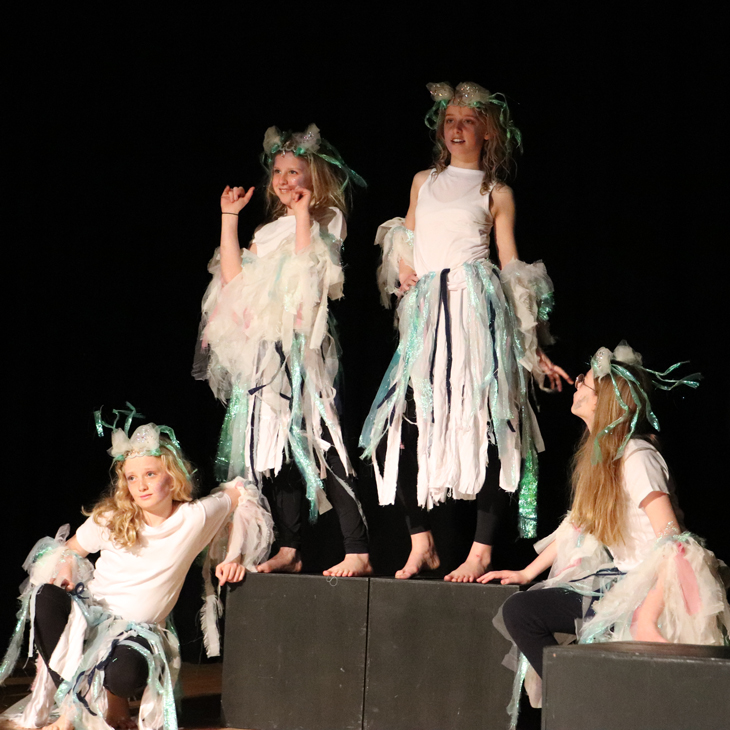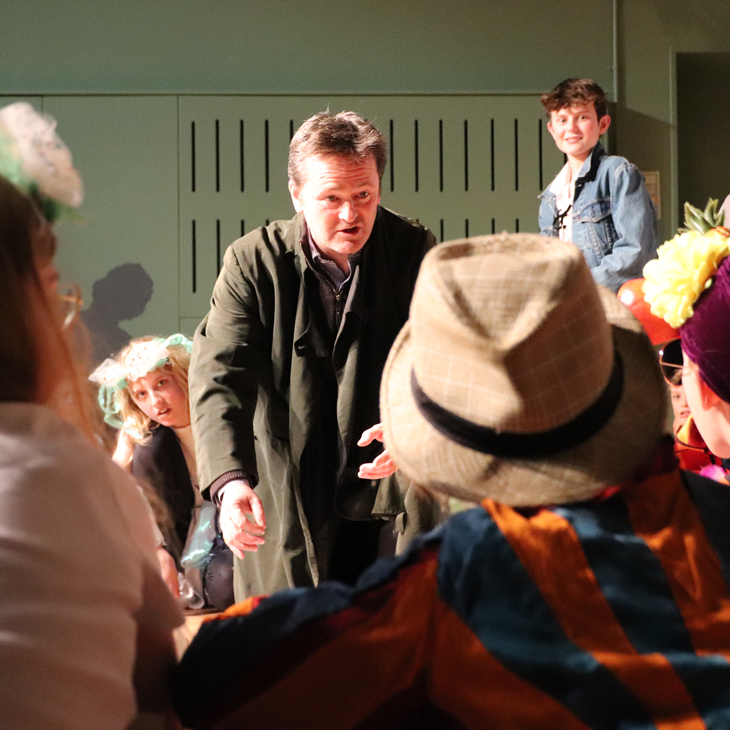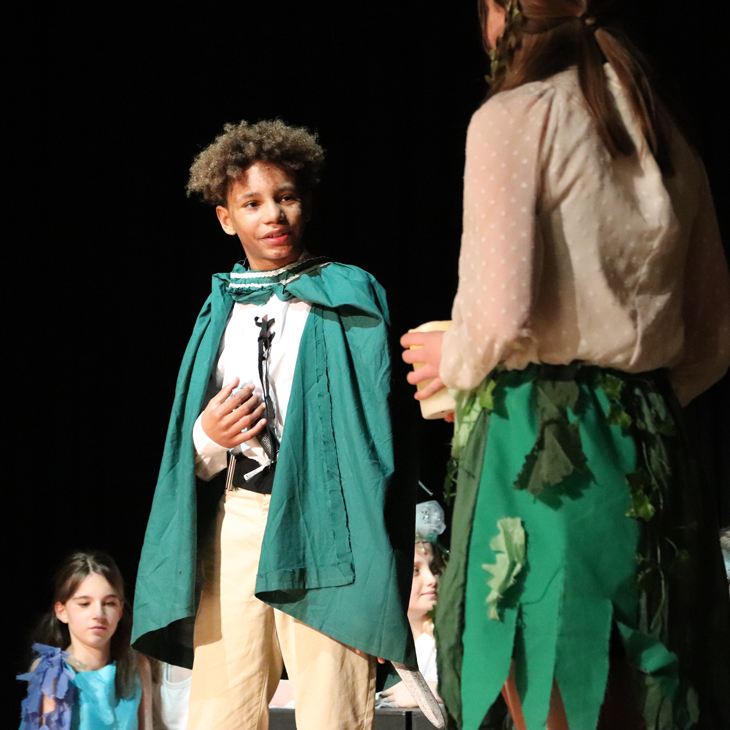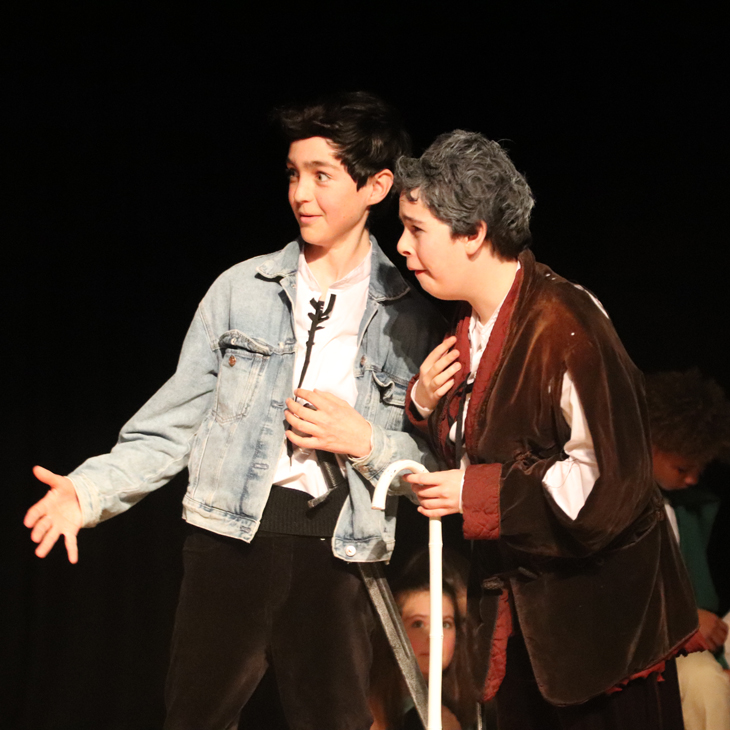 The inspired Year 7 cast of The Tempest took to the imposing stage of G-Live in Guildford and performed with utter confidence and professionalism on Tuesday. Over the last five weeks, the children have rehearsed feverishly through their break times and during Keys lessons and have gone on such an incredible journey both creatively and personally to bring this Shakespeare story to life. As Year 7 arrived in the auditorium, their eyes grew wide at the sheer expanse of the stage and its impressive lighting rig. But the excitement definitely hit a peak as the children found their dressing rooms, complete with 'lightbulb' mirrors! Every single cast member gave a stand-out performance, from the concoction of brave, sly and slightly inebriated Royal Crew who took to the seas to the mesmerising ensemble, from the electrifying Ariels to gritty island beast Caliban, and from the innocent magic of Prospero and his daughter to the accuracy of our technicians – they all told the story of The Tempest to an enthralled audience. To perform in a professional theatre is such a unique and magical experience and it was easy to forget that this cast are only 11 and 12 years old. We are all so proud of every single one of them. Bravo!
For more pictures from The Tempest, please see our Facebook page at bit.ly/3J8TYIR.
Sarah Baird, Head of Drama
Communication Key For Year 8 Spanish 'Tour Guides'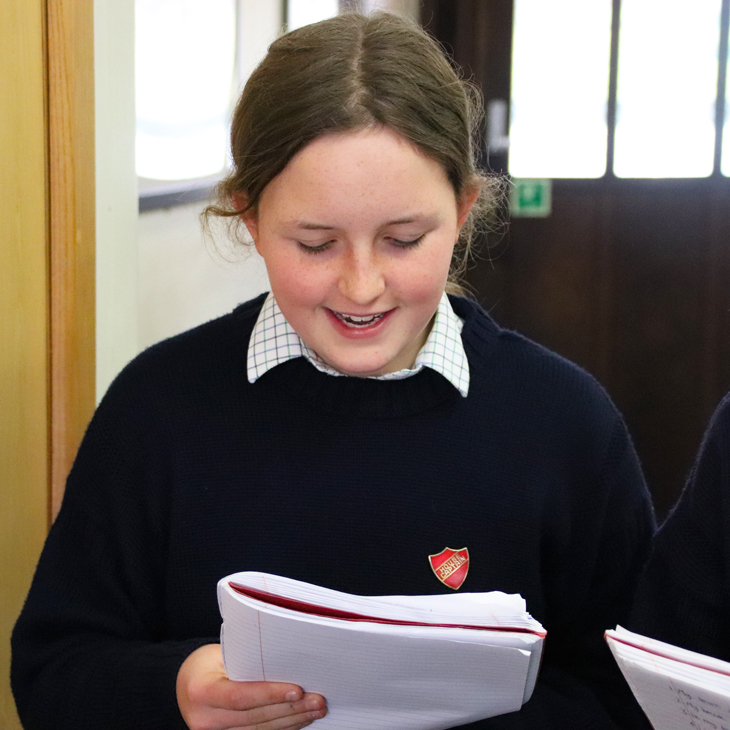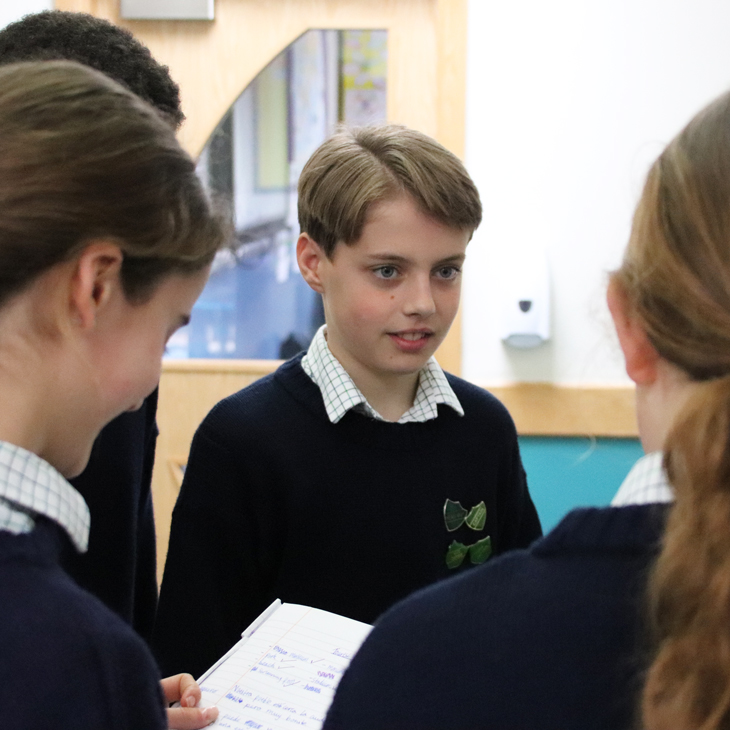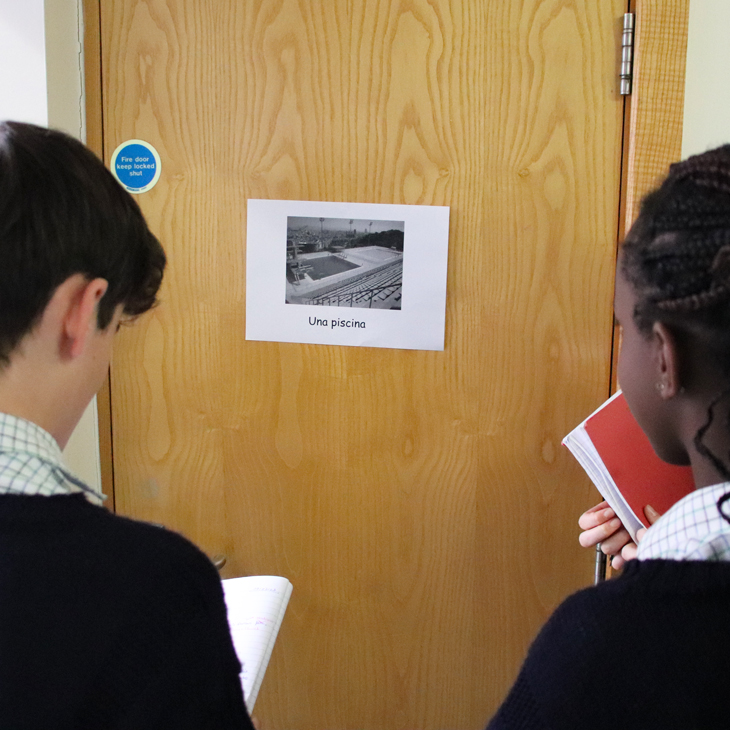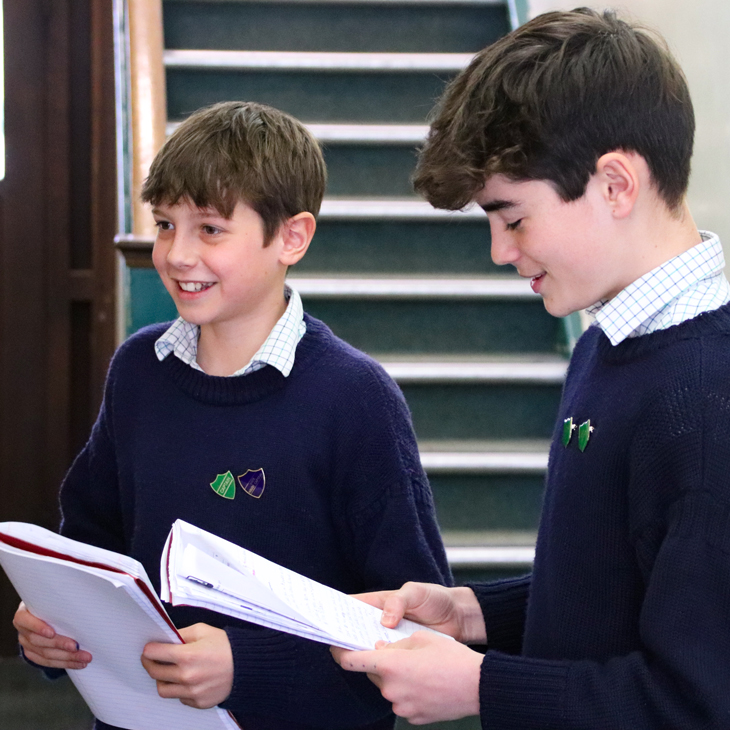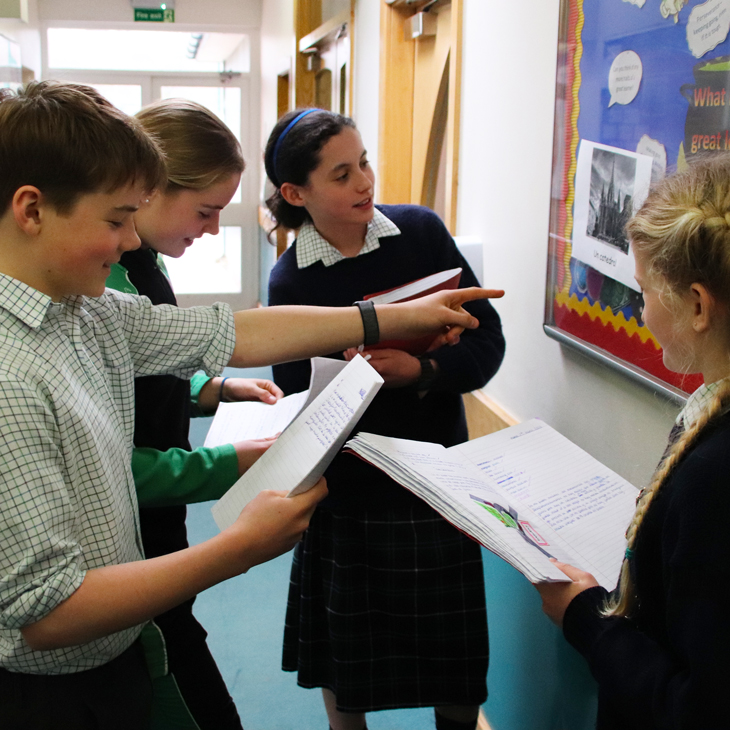 A wise person that I know often talks about 'taking learning for a drive' and my interpretation of this idea for languages is to ensure we are always trying to put our learning into a context that we can relate to. Being able to communicate in a foreign language is important, but it doesn't always mean being able to conjugate endless verb tables or put the correct ending onto an adjective. In fact, most of the time we want our pupils to simply 'communicate' – or get their point across. Year 8 are building on earlier learning by talking about their town and where they live. This week, they 'took their Spanish for a drive' by pretending to be tour guides around a local town. They had about 10 minutes to prep a spiel about an imaginary town before guiding their classmates around the town (a series of pictures put up around the corridor of the Master's House). They used some great phrases, no group kept it simple, they all wanted to show off the great range of vocabulary that they had learned and spoke it in beautiful accents. They drove steadily but drove well and realised that their learning had a purpose. Next, I'm looking forward to some climate change campaigns as we move to the topic of the environment!
Jo Longshaw, Head of Modern Foreign Languages