New life, new beginnings
11th March 2022
Wonder Of Spring Appears Early In The Nursery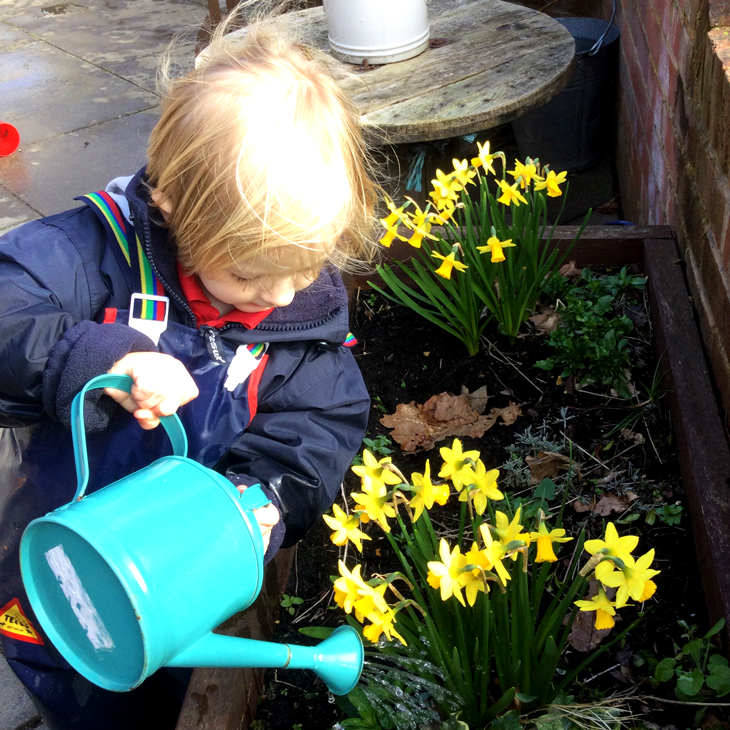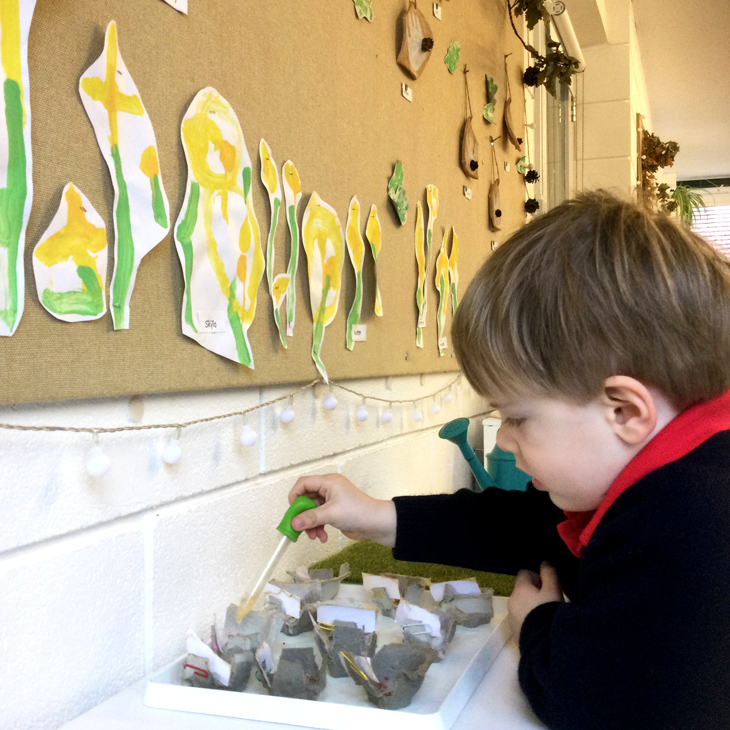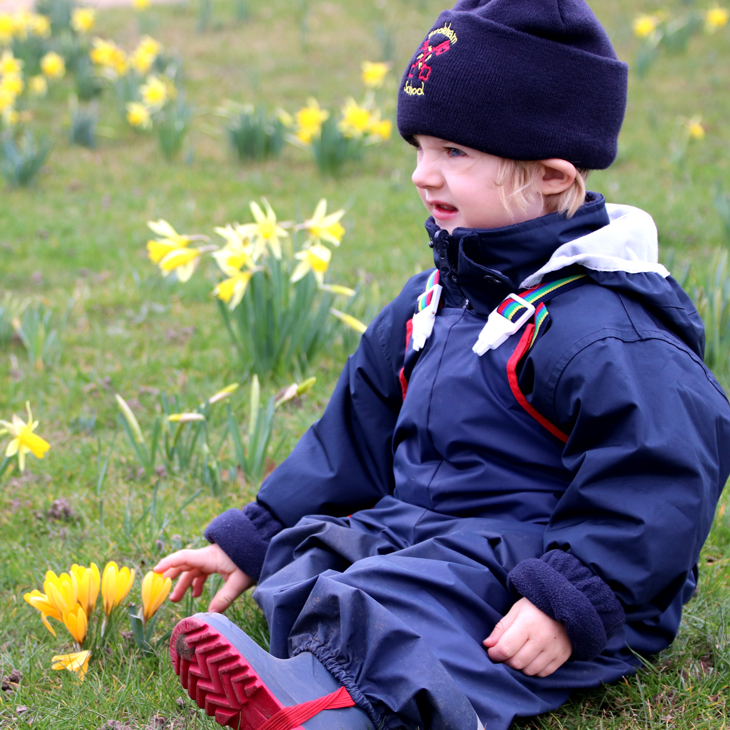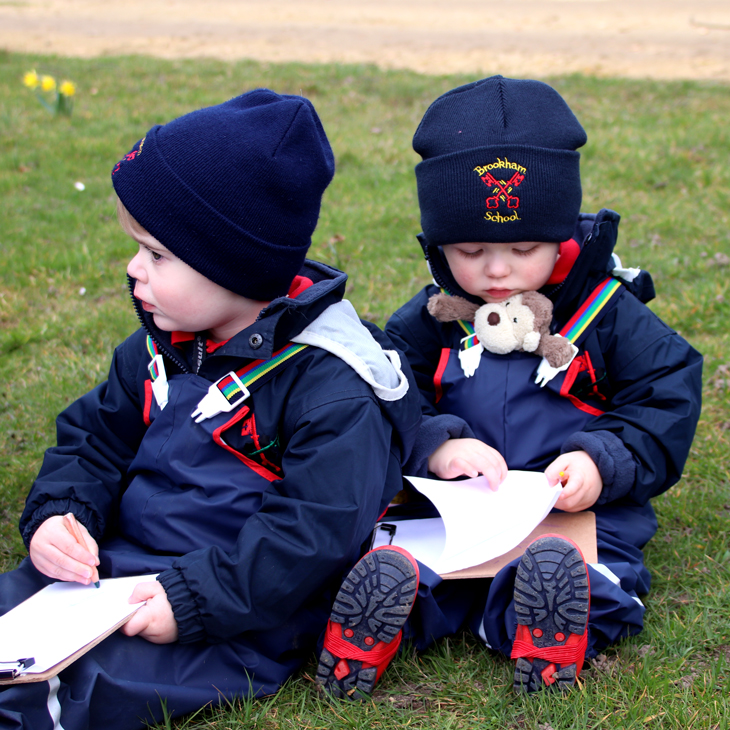 With a spring in their step the Nursery children set out to explore and investigate the emerging signs of new life in our surrounding grounds. Beautiful blossoms were spotted on branches, sparking the children's curiosity and developing their visual awareness. Discovering new buds and shoots at every turn the children tuned into the colourful natural environment around them and a carpet of yellow daffodils proved particularly inspiring as it stimulated the children's senses. The fascinated children responded to the riot of floral colour by expressing themselves creatively and began painting freely the beautiful scene in front of them. Talking to each other about what they could see, the children happily worked away on their masterpieces. The sun was hiding behind the clouds and the wind was fresh but the children weren't deterred as they busied themselves with the task at hand with true resilience and determination. Showing interest in the sprouting plants outside, the children have gone a step further and planted their own cress seeds in The Den. Taking time to care for their seeds they checked them daily; watering them and observing small changes with every day that passed. There was great excitement as the tiny seeds burst open and shoots appeared, and little by little the seedlings are getting bigger and stronger and enthusiasm is building about what the cress will eventually taste like!
Penny Hodnett, Nursery Class Teacher
Egg-citing Times In Reception As Ducklings Hatch Out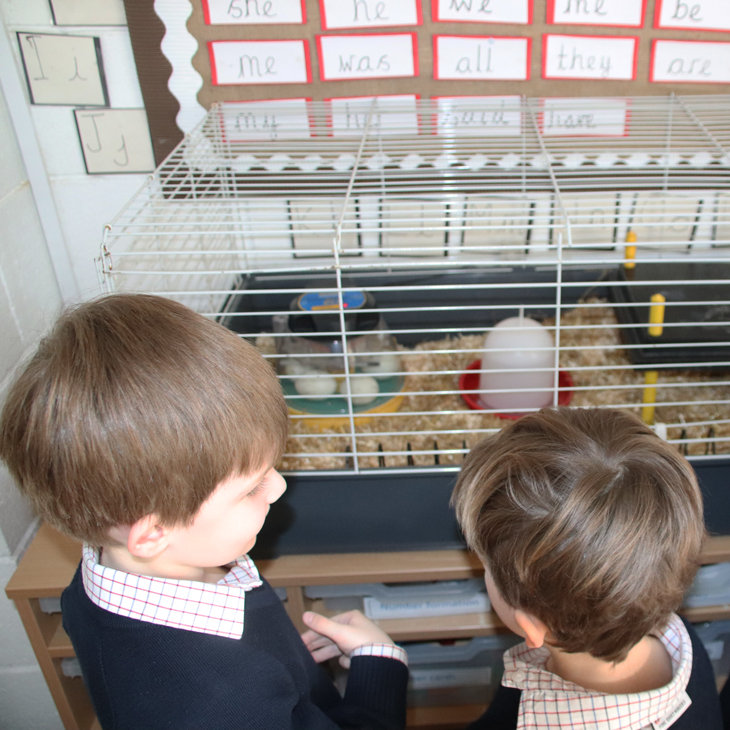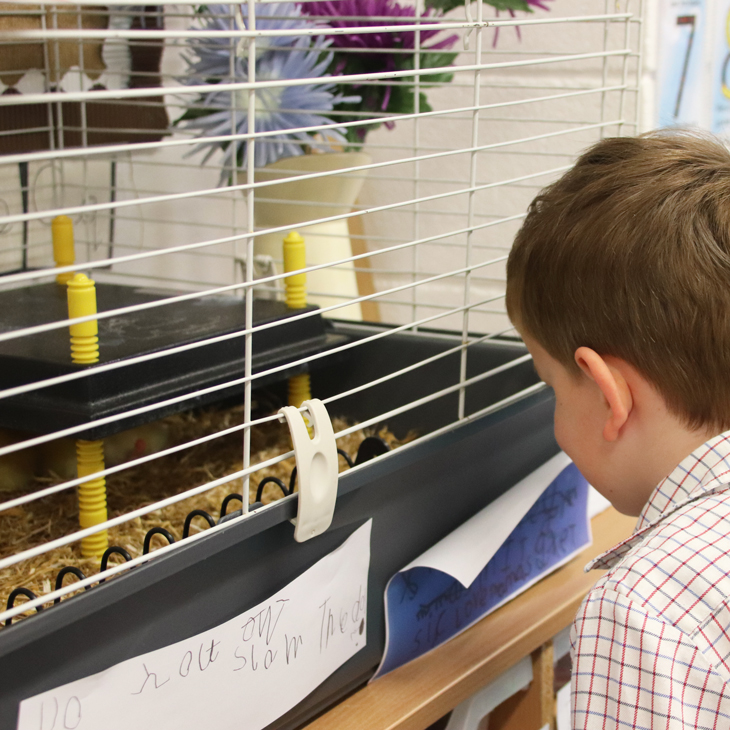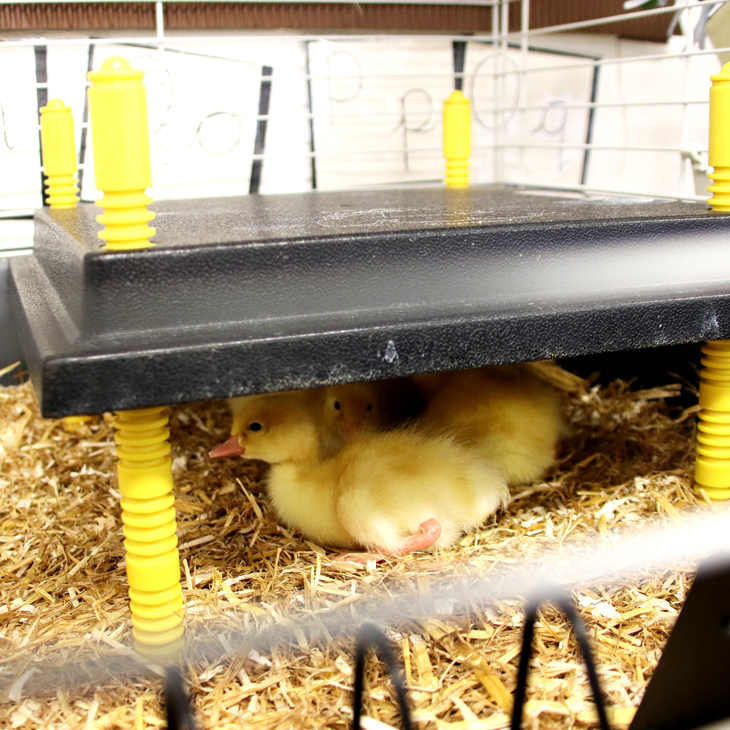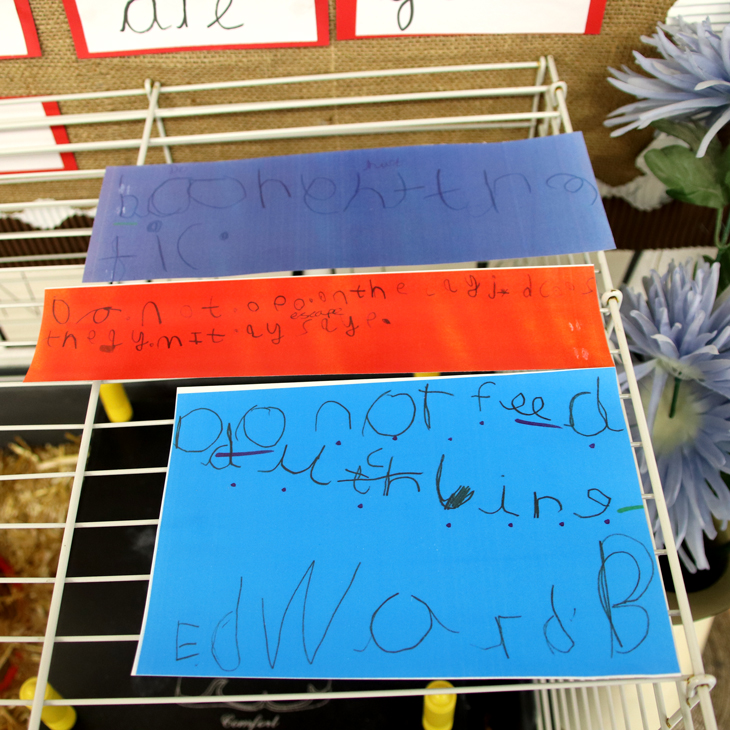 It was an exciting start to the week in Reception with the arrival of six duck eggs and a note from Farmer John asking the children to look after them while he is on his holidays. Once the incubator was safely installed in one of the Reception classrooms, the children were keen to make signs to remind visitors that they needed to be quiet when close to the eggs. The excited young children made links in their learning, applying their phonic knowledge to their writing while being resourceful in their selection of things they could use to help them. Brookham learners are always encouraged to ask questions and be inquisitive and resourceful and there have been plenty of opportunities for the children to develop these skills during the week when outside looking for signs of spring. The joy of new life seen in blossoming cherry trees, hatching ducklings and shoots of growing bulbs has led to many interesting discussions.  From examining a bumble bee by looking at its features and investigating what the different parts of its body are used for to identifying the different species of flowers spotted while walking to Forest School, interesting questions have been asked and the answers researched. The excitement of finding out new information and sharing known facts with friends can be very exciting and the teachers have also learned a lot! Spring is a time for hope and new beginnings; with the warmer weather hopefully coming and Easter fast approaching, it certainly is an exciting time at Brookham.
Georgie Hunter, Head of Reception
Rural Life Visit All In A Day's Work For Year 1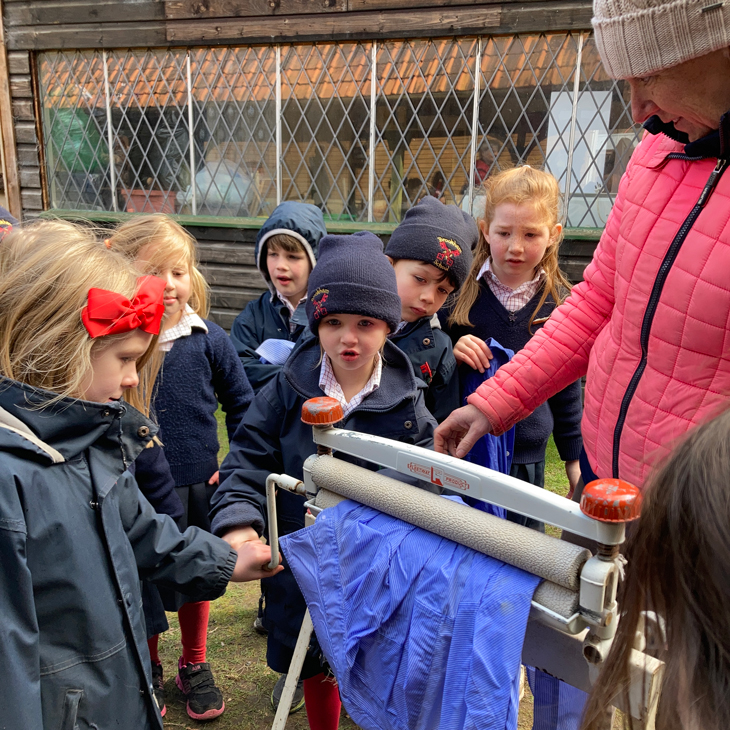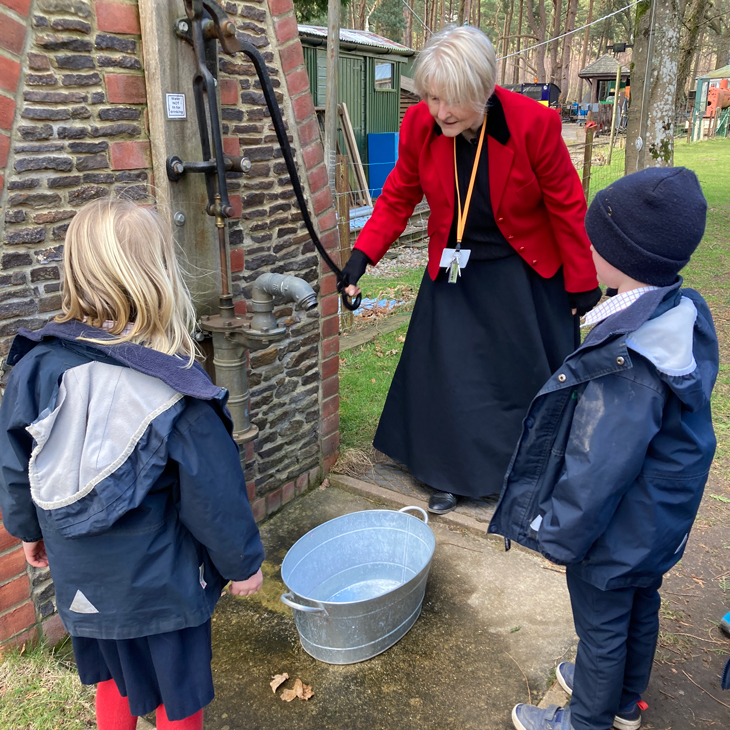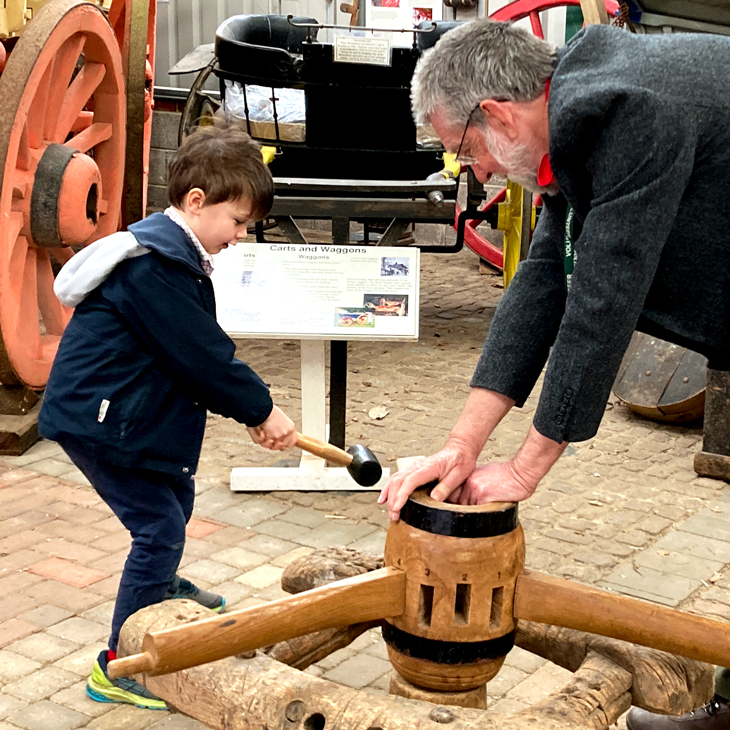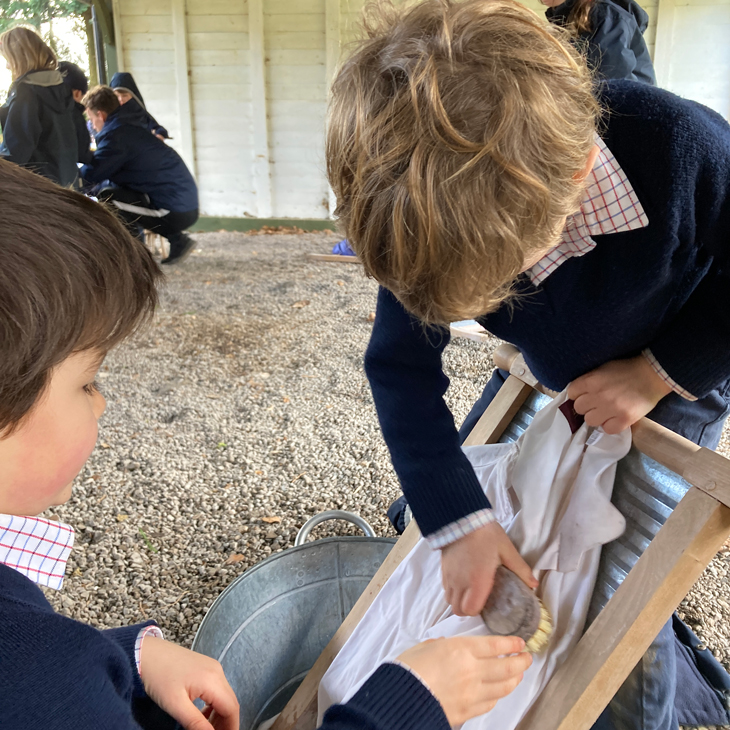 As part of their Great Fire of London topic, Year 1 had a greatly-anticipated visit to the Rural Life Living Museum at Tilford. With much excitement the children boarded the coach to be transported to a bygone era.  Curious and keen to learn, they listened, asked intelligent questions and then used their imaginations to role play how people lived in Stuart times, which encompassed the Great Fire of London. First, they did the housework. They cleaned the hearth, fetched coal, scrubbed the floors, bashed the rugs and even polished the silver.  Next, they were challenged to work as a team to make a wheel. They listened intently to their instructions, asked careful questions and proudly completed the task. And all this before lunch! On many occasions throughout the day the children reflected on how hard it must have been to live and work in the 17th Century. The final challenge was to do the washing. The prospect of doing the washing without electricity bemused the children at first but they were up for the challenge and keen to learn how. The children first collected the water, then they used the wash board and the dolly to clean the clothes. Next they used the mangle to wring out the water before hanging the clothes on the washing line. A day in 1666 was hard work but the Year 1 children proved they are not afraid to work hard and happy to have a go at something new.
Kathleen Salusbury, Year 1 Class Teacher
Year 2 Hear Of Plight Of The Zorbs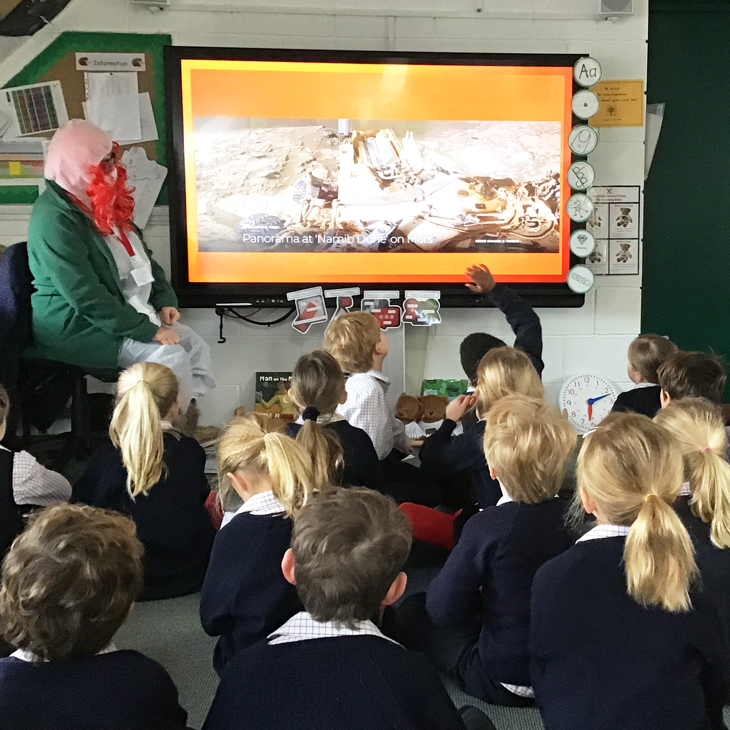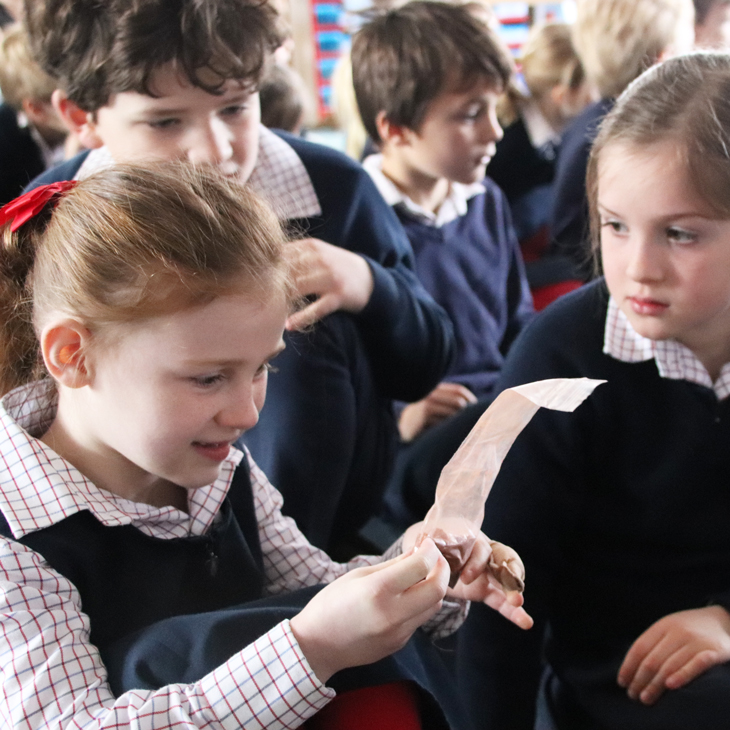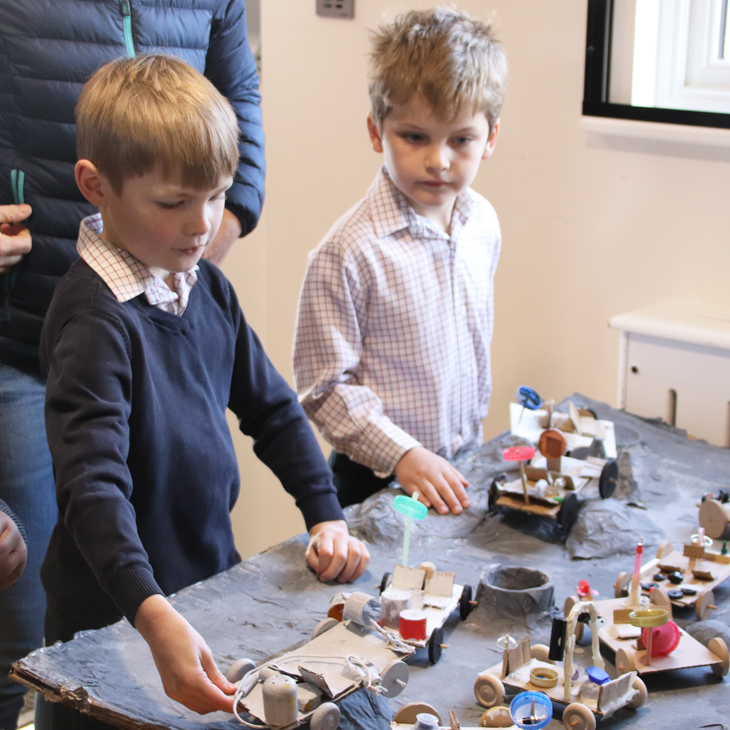 Year 2's space exploration took them to Mars this week, with the much-anticipated visit of Professor Marta Hootsman, a galactic zoologist from the Zorb Conservation Society. The children have been learning about the zorb, an elusive creature living in the barren rocky regions of Mars. Sadly, zorbs are at risk of becoming extinct because their toenails contain valuable properties which are much sought after in modern medicine. Professor Hootsman took the children on a virtual tour of her research station and the zorbs' habitat, then fielded some very thoughtful questions from the ecologically-aware children. It was clear to everyone present that they had thought carefully about the zorbs' plight prior to meeting Professor Hootsman and they took great interest in the samples she had brought to show them: martian soil, zorb hair and even a prized zorb toenail! Professor Hootsman is now making her way back to Mars to continue in her endeavours and we are only sorry that Mrs Staring, who was helping in Nursery, was unable to meet her too. This week also provided Year 2 with the opportunity to welcome their parents into the theatre for a special assembly. They were proud to share examples of this term's learning and spoke eloquently about space. Mrs O'Brien, with Mrs Hall on the piano, led the children in singing the nostalgic I Wish I Could Live On The Moon and toe-tapping Astronautical Waltz.  Having viewed their children's space buggies and enjoyed a cup of coffee, the parents left incredibly impressed. Well done to all the children and many thanks to all the adults who helped make the event such a success.
Sophie Delacombe, Year 2 Class Teacher
Year 3 Book In For A Session In Highfield Library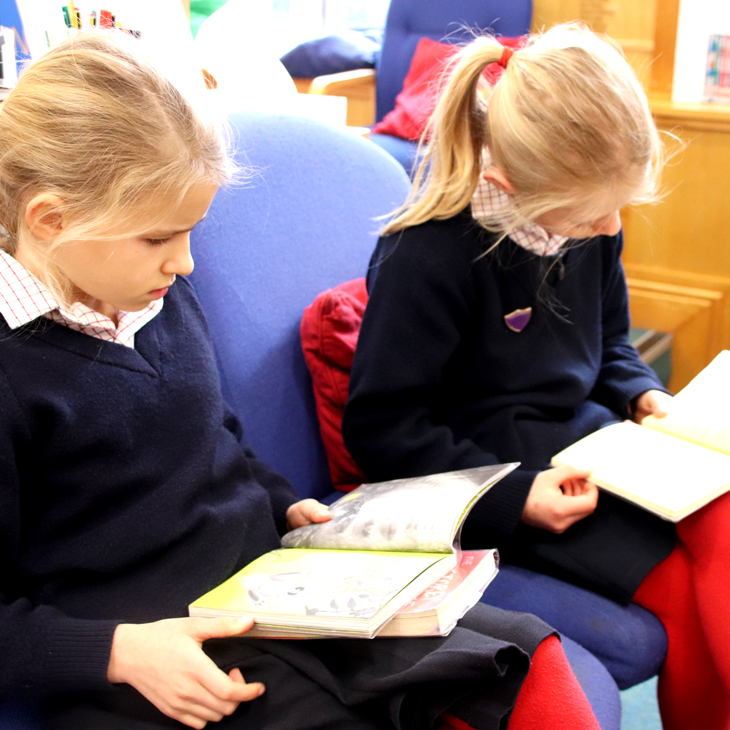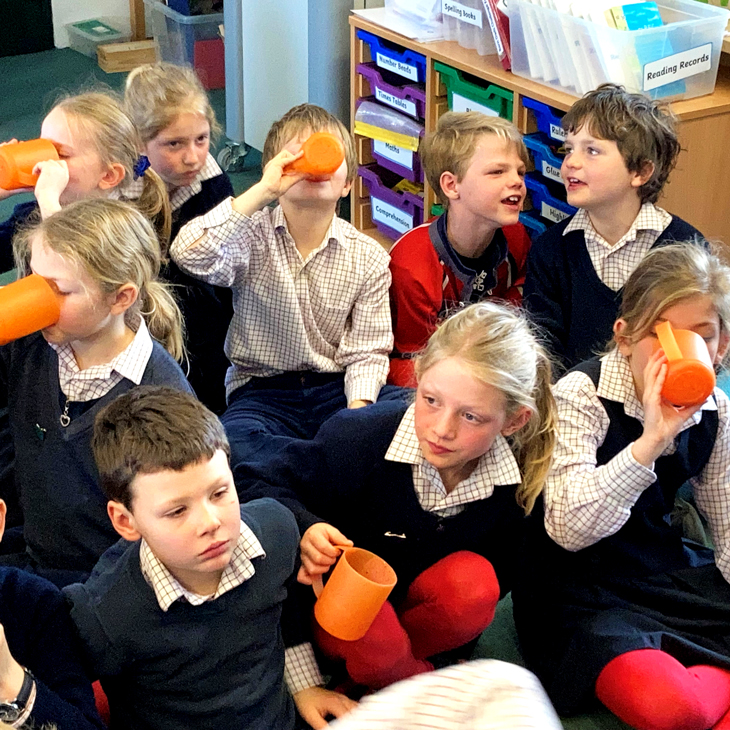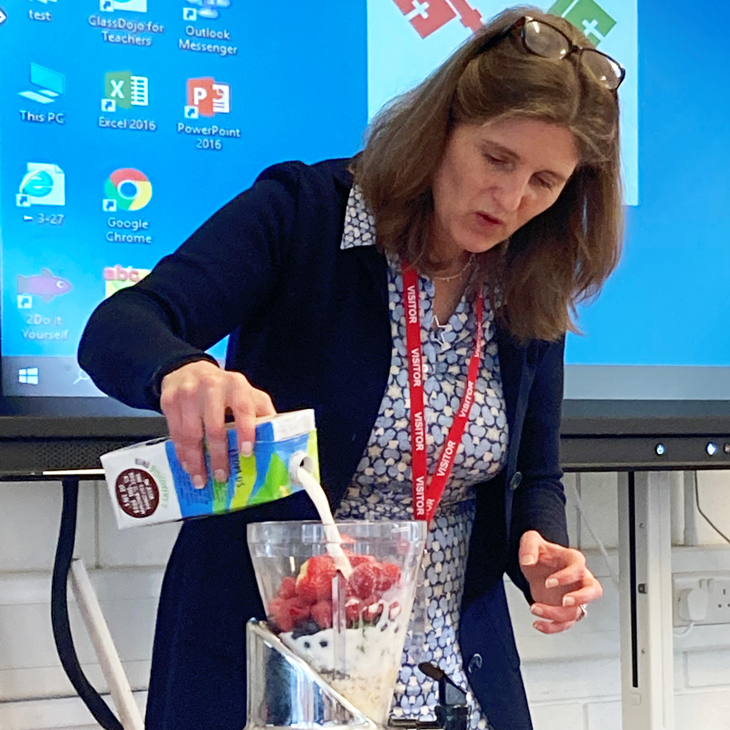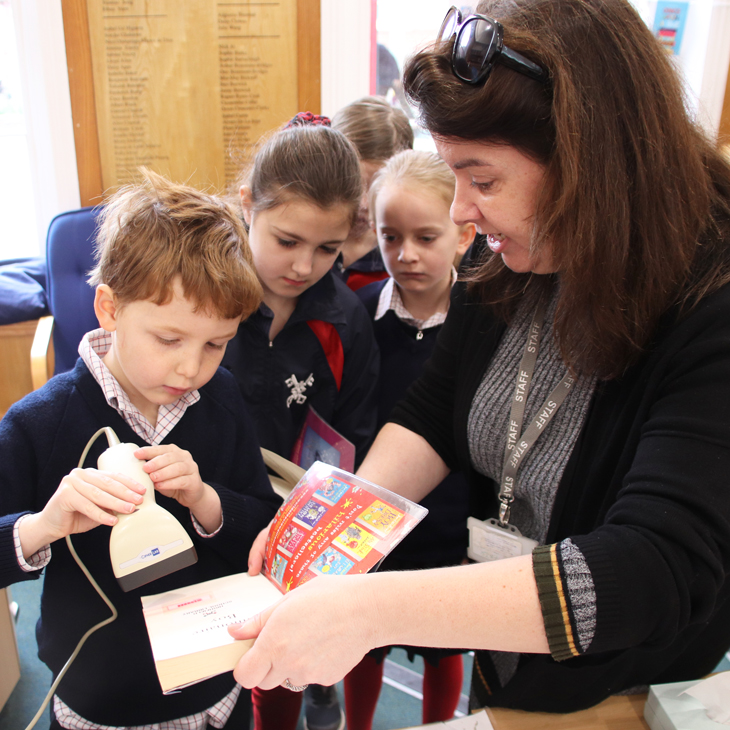 What an exciting week Year 3 have had! The week started with the opportunity for the children to visit the Highfield library and to check out a book each, using their own freshly-created barcodes. Helpful librarian Dr Whitfield showed the children all the different sections of the library and they were thrilled to see so many copies of books by their favourite authors. They were also interested to learn that in Year 4 they can choose to spend their break times in the library, for example when they were in the middle of a book that they just couldn't put down. The timing of this visit was perfect, following on from World Book Day last week, and the year group could not have been more pleased. Their new literacy learning is now in full swing and the children are starting to use confidently the language of discussion. They particularly enjoyed choosing a class topic to debate and have come up with some wonderfully original ideas for how to 'improve' the school without the need to build a Fairtrade factory on the site. Proposals included bringing pets or soft toys into school, wearing summer uniform all year round, motorising playground equipment and the very popular choice of turning the staff room into a soft-play area complete with a bouncy castle. In the end, at least one class decided that they would work together to generate a balanced argument about whether or not children in Year 2 and Year 3 could be allowed to use all of the Brookham and Highfield site at break and lunch times. This would include full use of the pool and access to the Oak Leaf Café. The children have been thinking very hard about points for and against an idea and they are realising how difficult it is to see an opposing point of view; they are very good at giving their own opinions.
Stephanie Turner, Year 3 Class Teacher
Curious Year 4 Quiz School Staff In Diversity Quest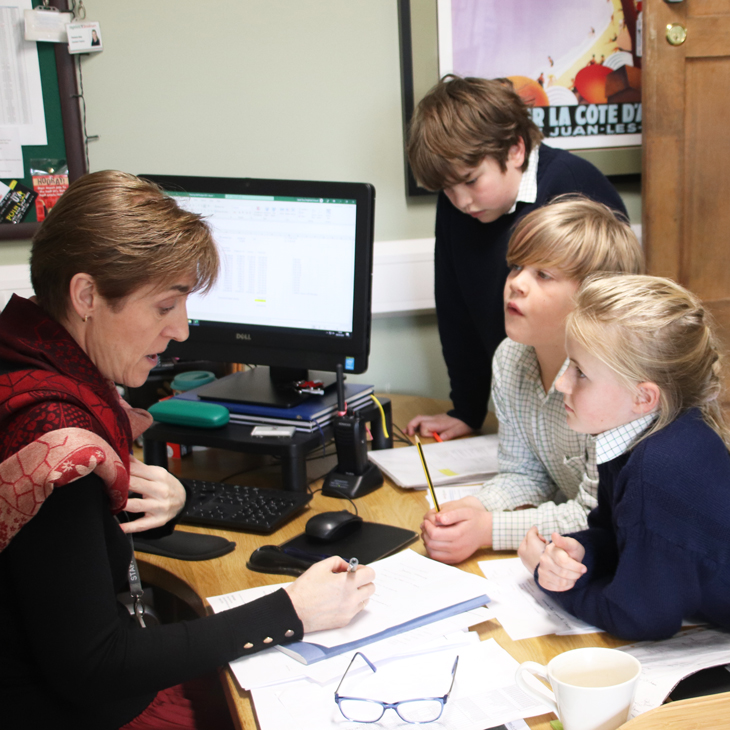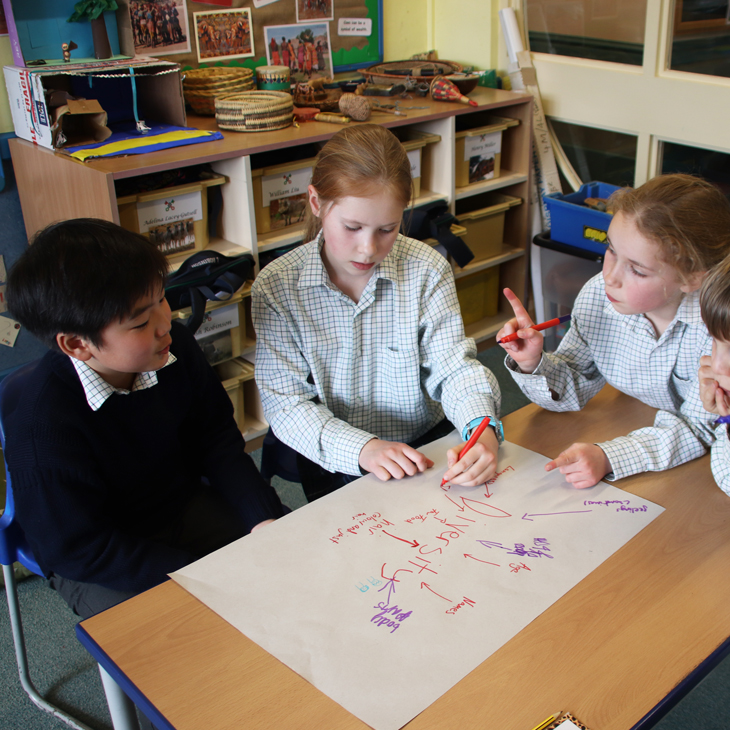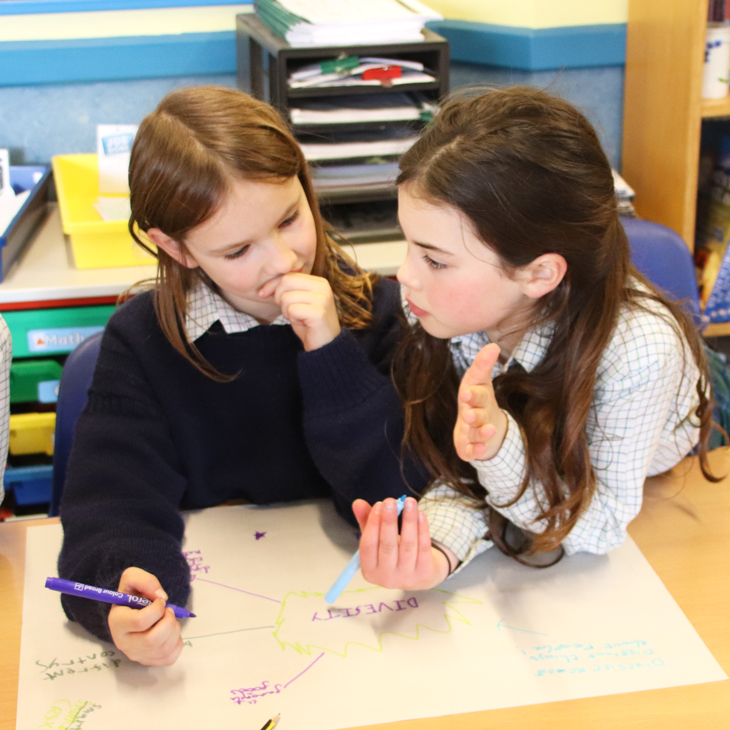 There has been a real focus on diversity and inclusivity at Highfield this half term and this culminated in additional PSHE lessons for our pupils this week. Year 4 spent their session considering what diversity means and how we, at Highfield, can benefit from it. They started in their classes, considering similarities and differences and completing a fun game of class 'diversity bingo'. From there, they widened the net and had an opportunity to speak to adults from across the Highfield site in order to understand more about who they are and what they do. In small groups they had the chance to interview a different member of staff, ranging from someone in the maintenance team to a member of the catering staff through and from the Headmaster's PA to the HR manager. The children asked interesting and thoughtful questions which allowed them to see everyone as a unique individual as well as a crucial cog in the wonderful Highfield wheel.
Zoe Thesiger-Pratt, Head of PSHE
Year 5 Learn The Art of Colour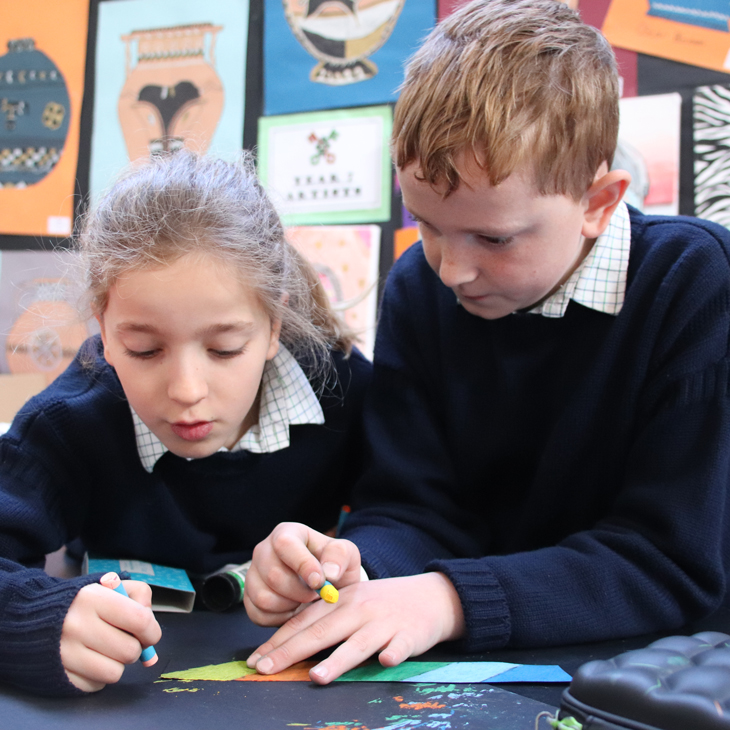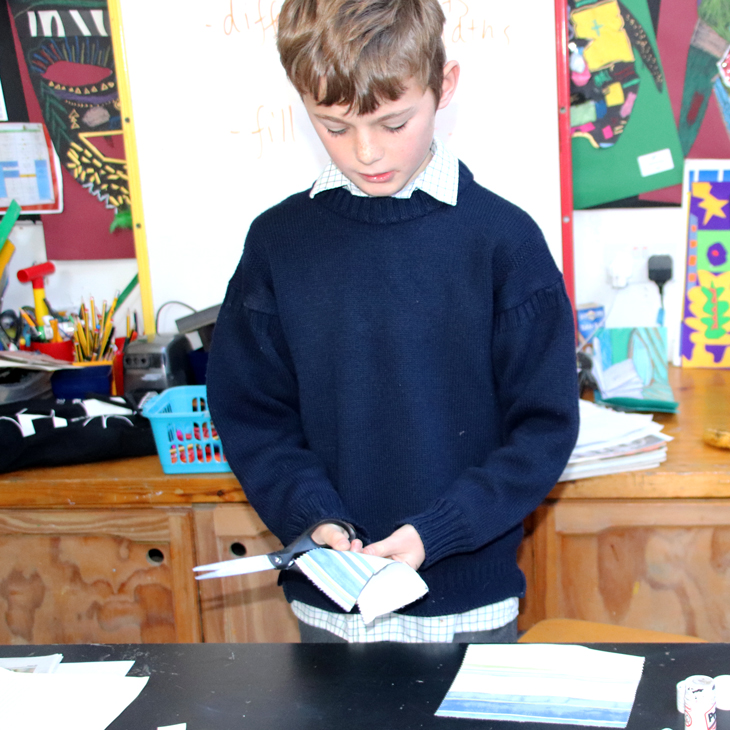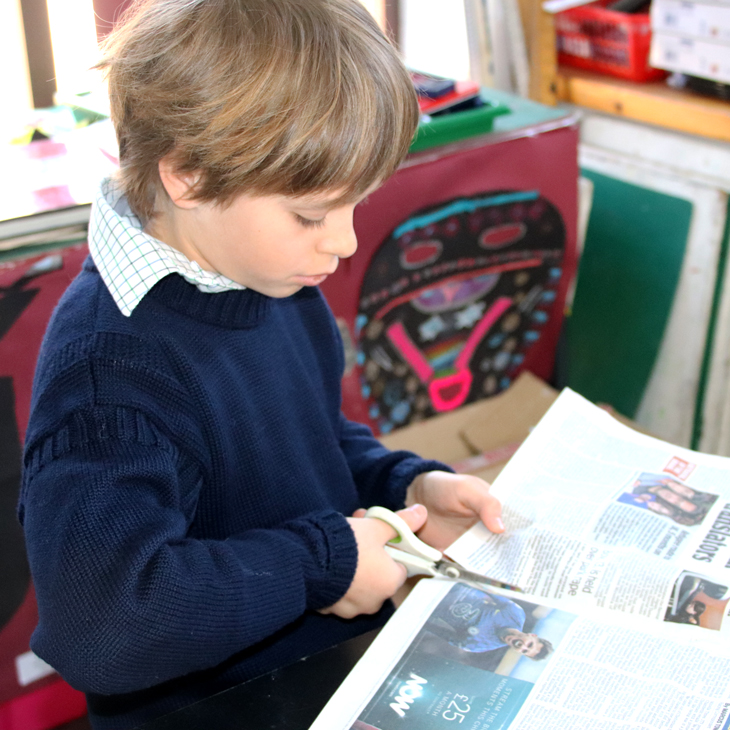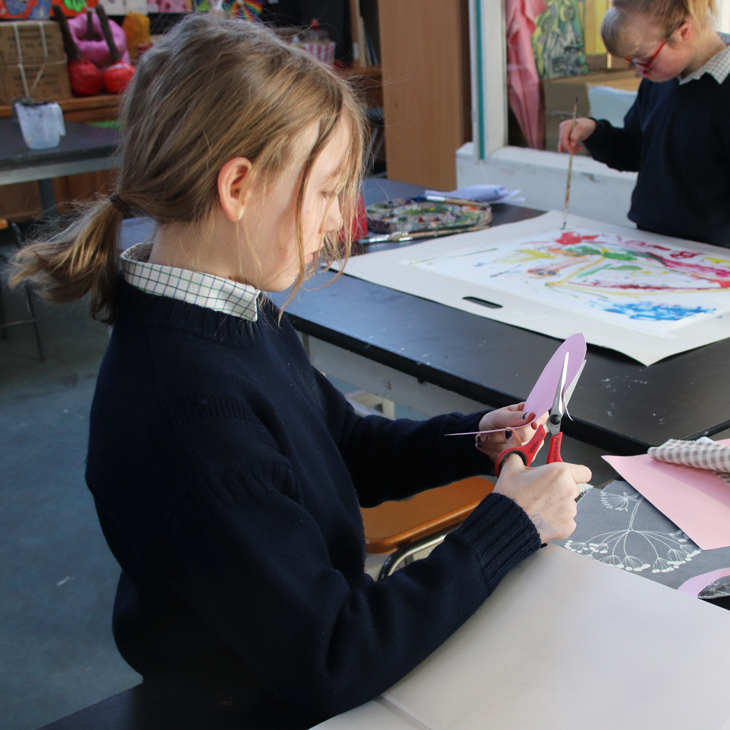 As a conclusion to their observation and colour-mixing investigations on a still-life theme, Year 5 have been working with great energy and focus on mixed-media pieces in art. Mixed media is a term used to describe artworks composed from a combination of different media or materials and the children experimented with a broad range of materials from fabrics and newspaper to card and wallpaper samples to produce their colourful work, not to mention pastels and watercolours. Colour mixing has also been key, with Year 5 using the knowledge that mixing two primary colours to produce a secondary colour, such as red and blue making purple, can really enhance their work, giving it individuality and flare.
Olga Houghton, Head of Art
Year 6 Boys Excel In Clean Sweep Of Cranleigh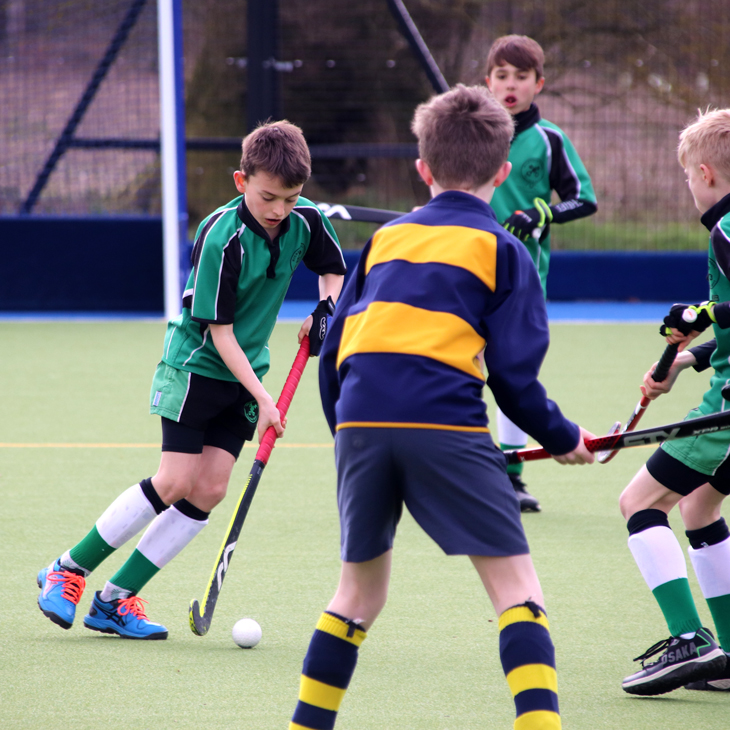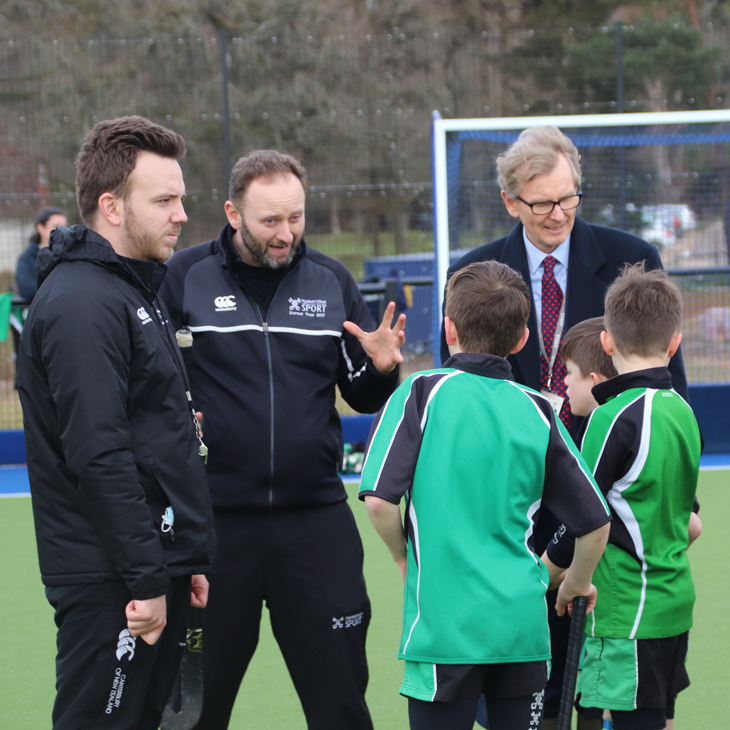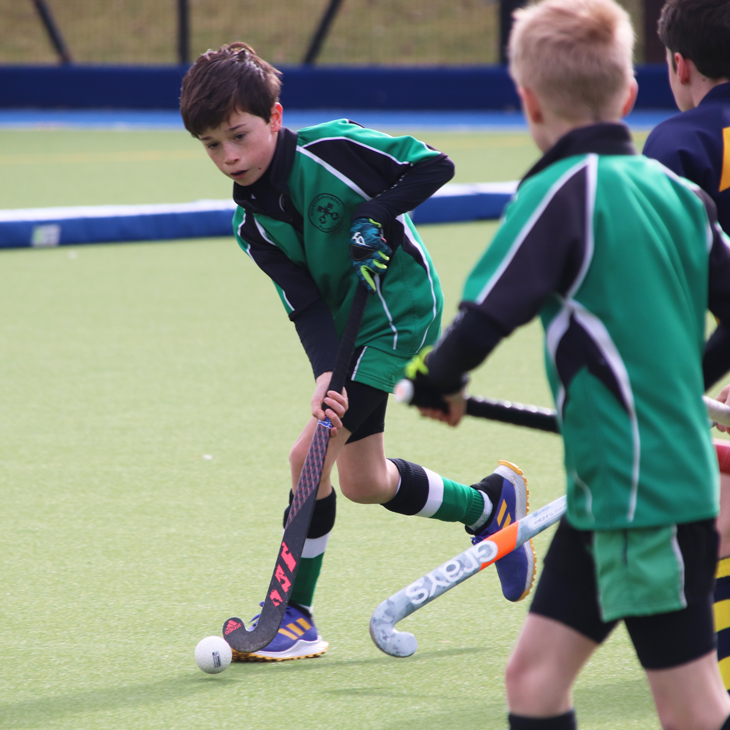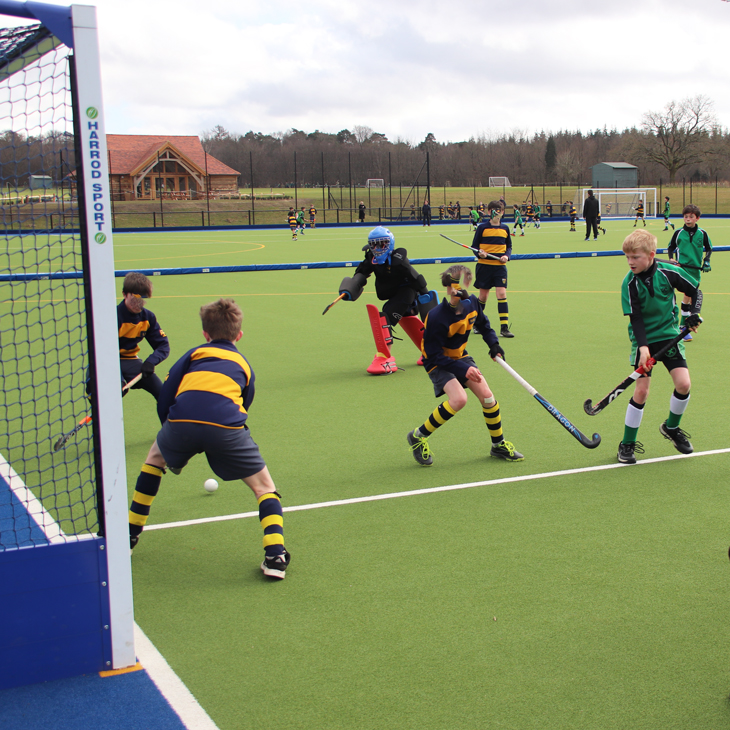 On Wednesday, four teams of U11 boys faced Cranleigh in a series of excellent fixtures on the Astro. With all the boys keen to play and represent Highfield, the opening matches involved the A and C teams. The A team started strongly and soon led after some well-worked goals, with Tom R netting a quickfire hat-trick. Taking advantage of a healthy lead, the coach made a few tactical changes, forcing the players to adapt to different positions. The transition allowed Cranleigh to grab a breakaway goal, but Highfield restored their three-goal lead moments before the half-time whistle. The second half began in a similar vein to the first as Highfield put their visitors under increased pressure but failed to turn possession and chances into more goals. At the other end, Highfield goalkeeper Rafe J had to stay alert as Cranleigh created several good chances of their own, and it took a big team effort and a fourth goal for Tom to seal the win for Highfield in an entertaining match. Over on the adjoining pitch, the U11C team were fighting hard against their Cranleigh counterparts, creating chances but struggling to convert them into goals, which led to a degree frustration at the break but also galvanised the boys into action in the second half. The second half was, for a long time, a similar tale to the first, with Highfield creating chances but unable to convert. But persistence paid off as Highfield finally made the breakthrough that their build-up play deserved – a lead which was doubled moments later as confidence soared and one which they defended without reply. With two wins for Highfield already in the bag, it was time for the B and D teams to show the visiting mums and dads what they could do. The D team got off to a flying start and took an early lead after a slick passing move and a smart finish. The level of hockey the boys were playing was exceptional, giving Cranleigh very little space and time on the ball to mount attacks. But they didn't rest on their laurels and raced into a 4-0 lead by half time, dominating their visitors with a constant series of attacks. In the second half, the boys continued where they left off in the first half, playing more beautiful hockey and creating an amazing amount of chances. But with nothing to lose and the game seemingly out of sight, Cranleigh stunned Highfield with two quick goals to halve the deficit and give themselves a lifeline. But rather than panic, Highfield roared back to life. Playing superbly as a team, they scored three more goals with just one in reply as they completed an emphatic 7-3 win. The B team's game against Cranleigh B was a much tighter clash, flowing from end to end as both teams gave their all in search of the opening goal. It was Highfield who nabbed the all-important goal, courtesy of Harry J, who scored a second as the home side led 2-1 at half time. With the game still very much in the balance in the second half, both teams knew the next goal would be crucial – and again it was Highfield who came up trumps to seal a 3-1 win. It was a beautifully-worked goal which was worthy of winning any game. Harry J played the ball wide to Theo K, who had made a great overlapping run to create more space. Theo then passed the ball with pinpoint accuracy to Ian L, who added the final touch to complete a clean sweep of wins for Highfield. Overall, all of the boys played exceptional hockey and all of the coaches were incredibly proud of their teams putting on such a great exhibition in front of the parents.
Elliott Hall, U11 Boys Hockey Coach
Year 7 Stay Current In Electrical Exploration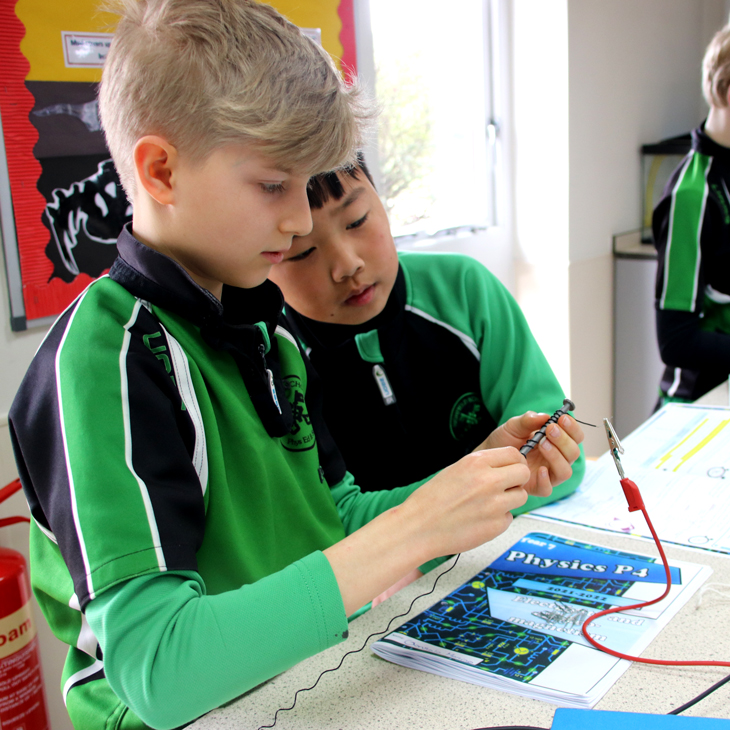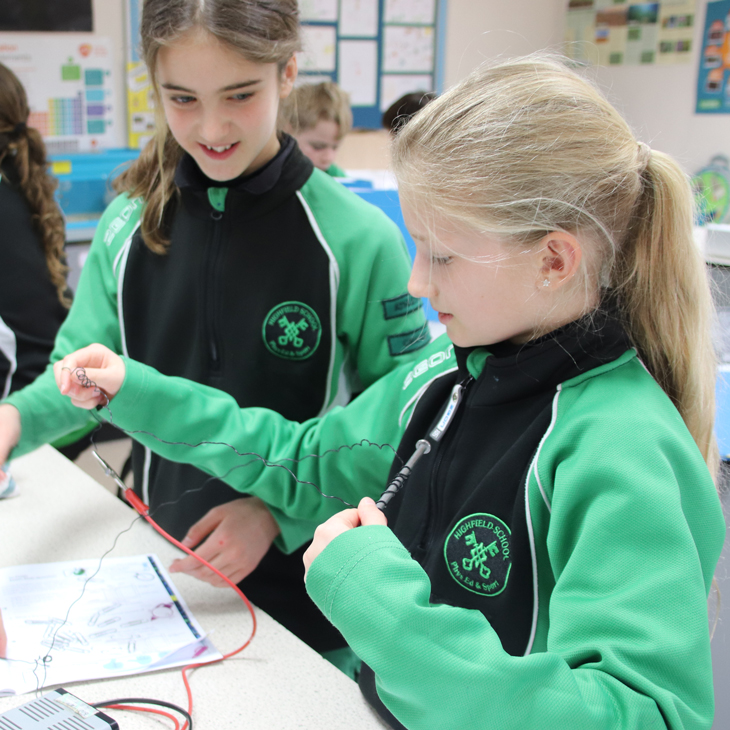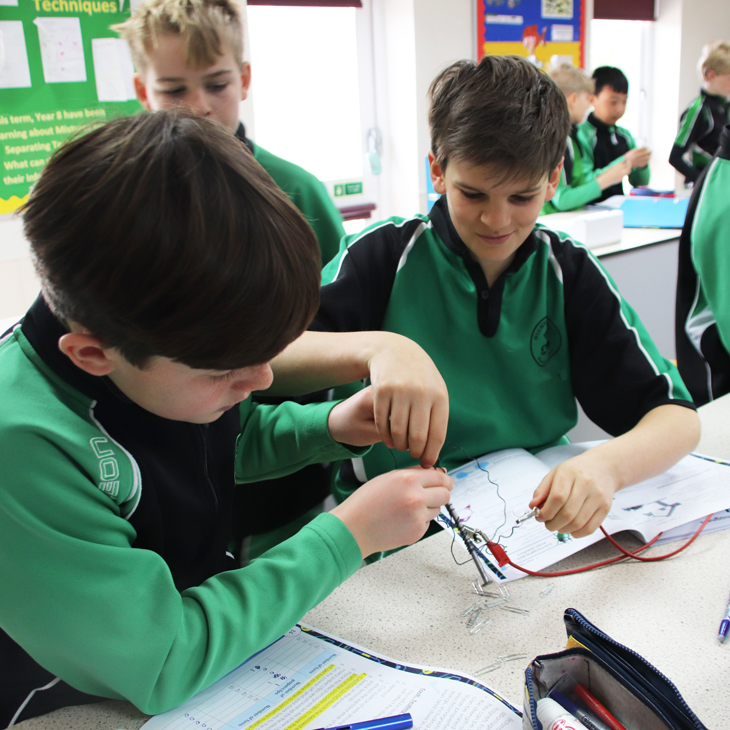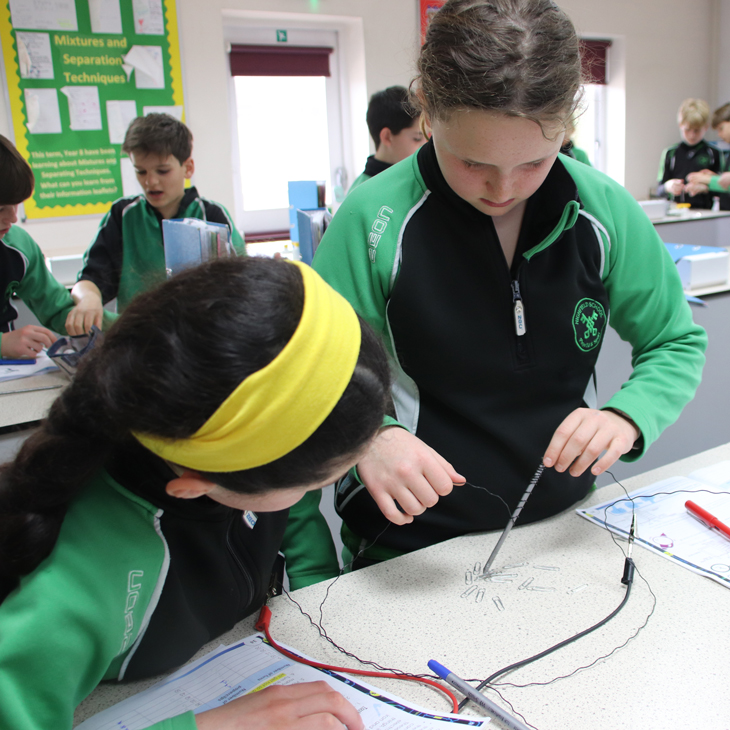 Over the past few weeks, Year 7 have been learning all about electricity, which is the set of physical phenomena associated with the presence and motion of matter that has a property of electric charge. Their studies this week have seen them using ammeters to measure current, identifying how the current is affected between series and parallel circuits, and how the thickness and length of a wire affects the resistance within a circuit. They have also worked effectively in pairs to recognise the advantages of electromagnets and how we can increase the magnetic field exerted by the electric current. One important part of their experiments saw the children increase the number of coils around an iron core to investigate how this affects the strength of the electromagnet. The children proved to be able and conscientious scientists – despite the presence of newly-hatched chicks in the biology lab!
Oliver Hamilton, Year 7 Science Teacher
Year 8 Discover The Divisive Power Of Words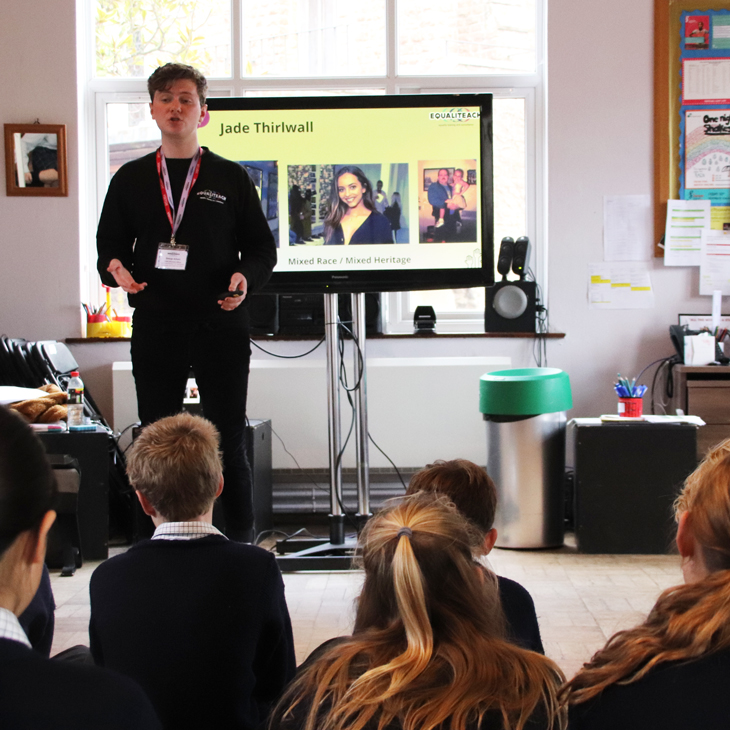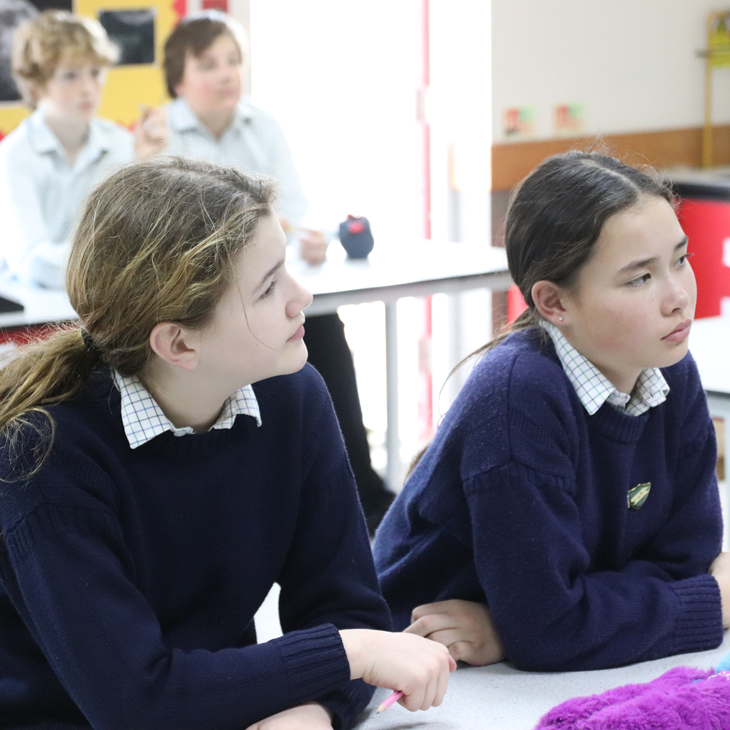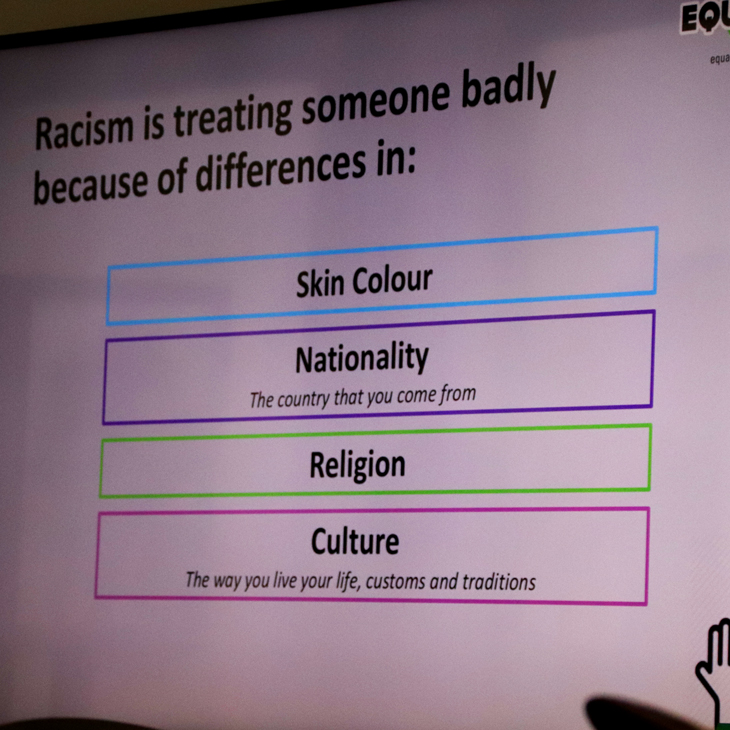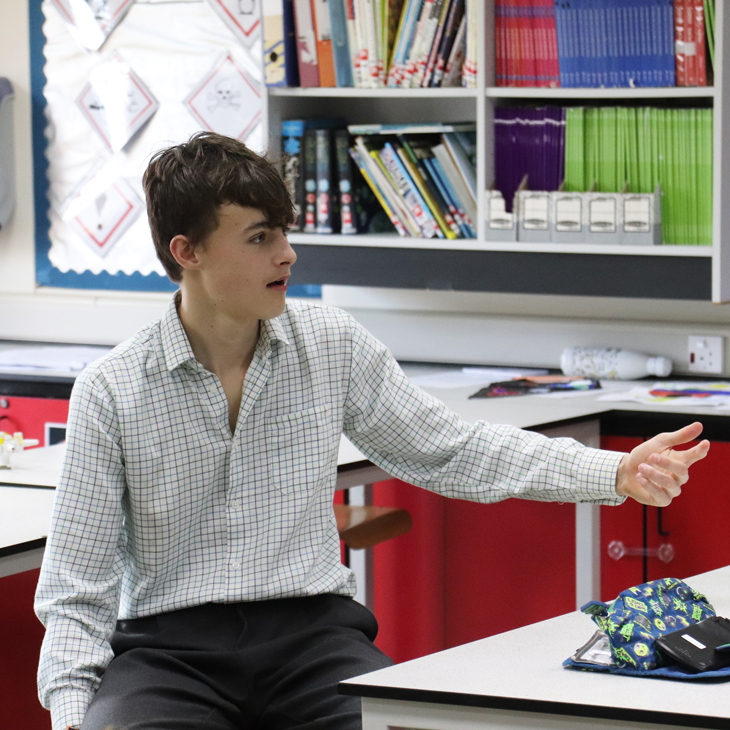 Year 8 had a super afternoon looking at aspects of diversity and inclusion on Thursday as part of a whole-school look at the topic across the half term.  They began by working in form groups and thinking about the way language can be used to build and inspire people, as well as to hurt and injure them.  They discussed the concept of derogatory language and considered alternatives to such words. The children were engaged and thoughtful throughout these sessions and really understood the damage that thoughtless slurs can bring to groups of people within society. Year 8 then got involved in a workshop presented by the Reject Racism group. The thought-provoking session helped equip the children with the correct terminology to use when discussing ethnicity. Having learnt what racism means, according to British law, the children spent time considering where the effects can be seen and what they as individuals and what we, as a wider community, can do to ensure we are respectful of everybody and do not tolerate demeaning language and behaviour.
Zoe Thesiger-Pratt, Head of PSHE