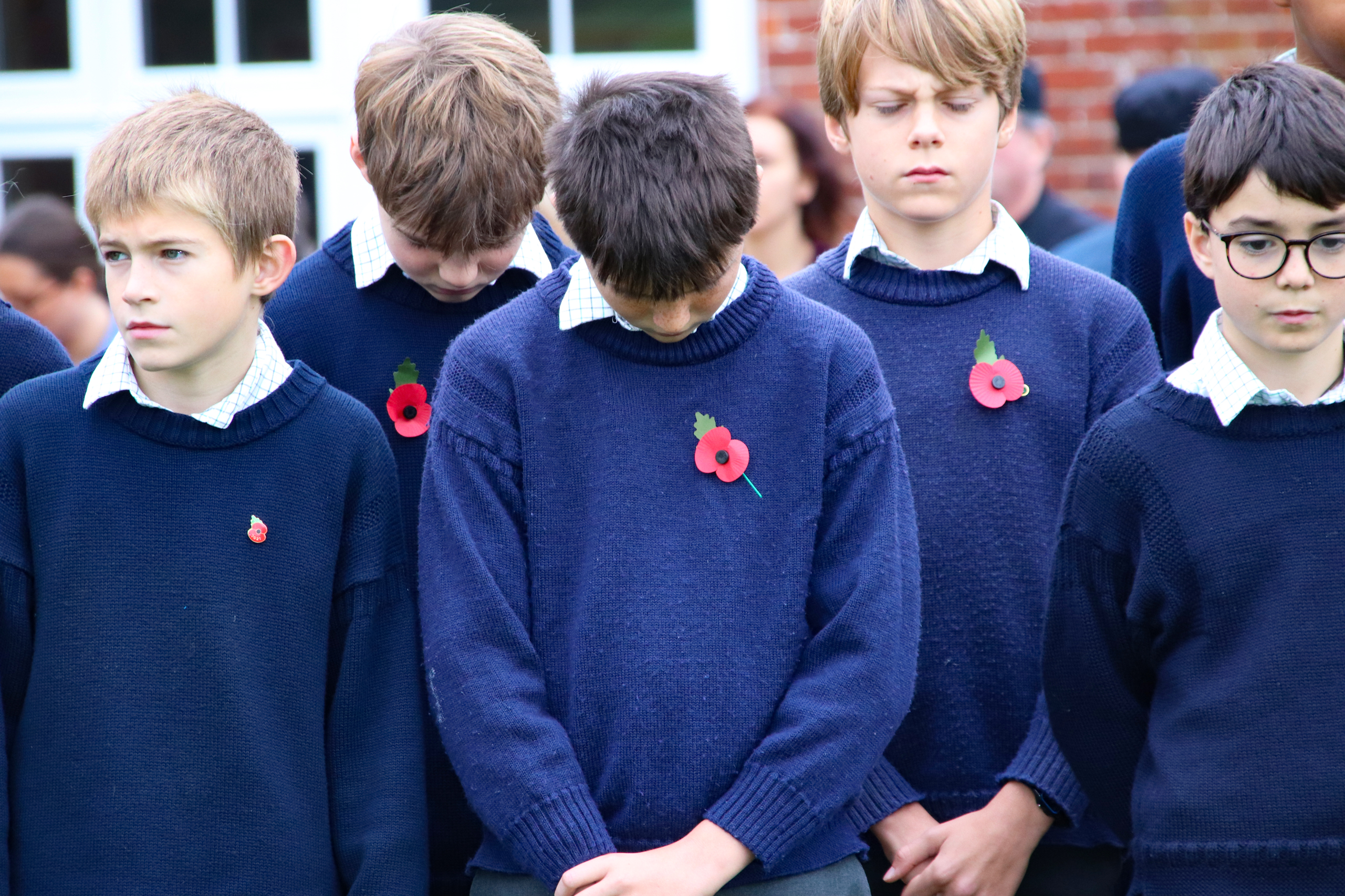 Lest We Forget
11th November 2022
Remembrance Creativity Blossoms In The Nursery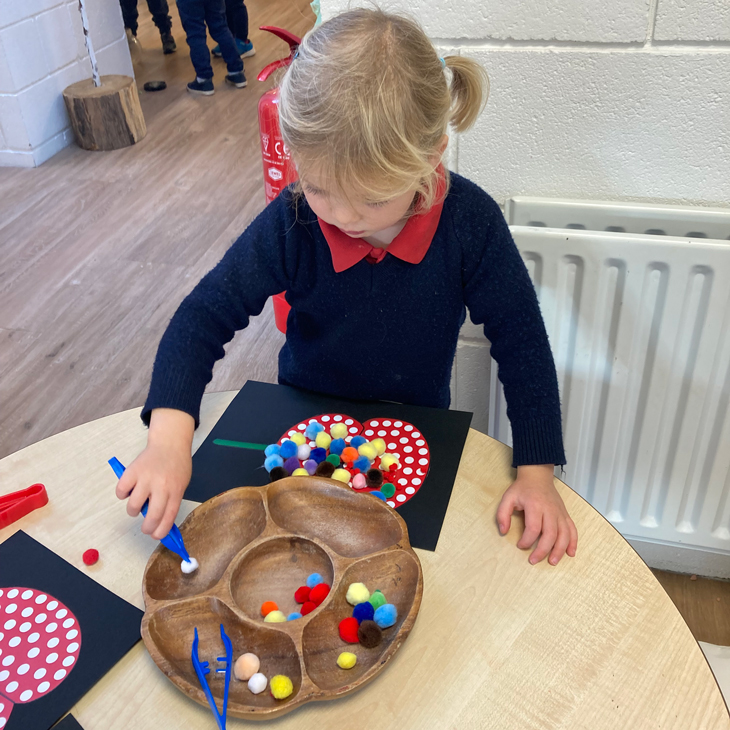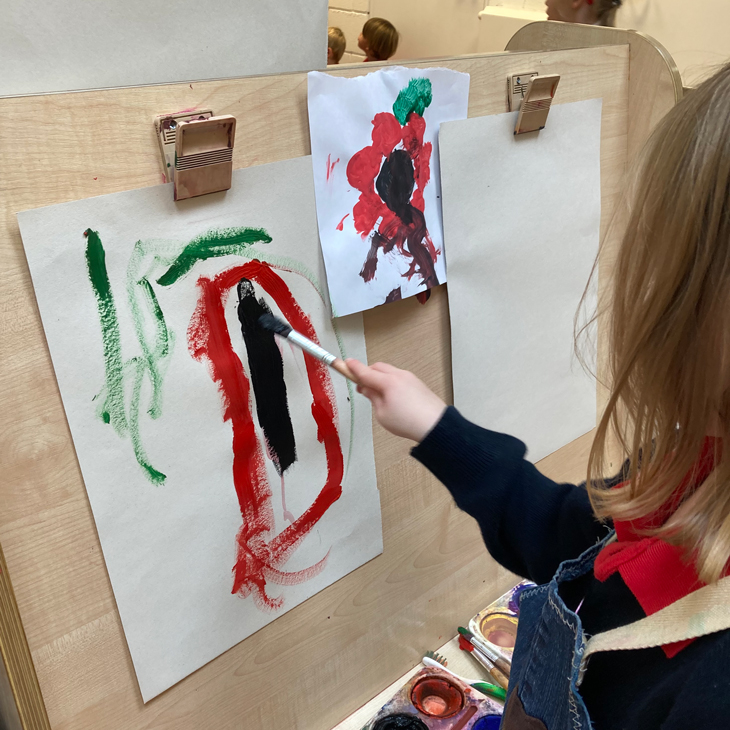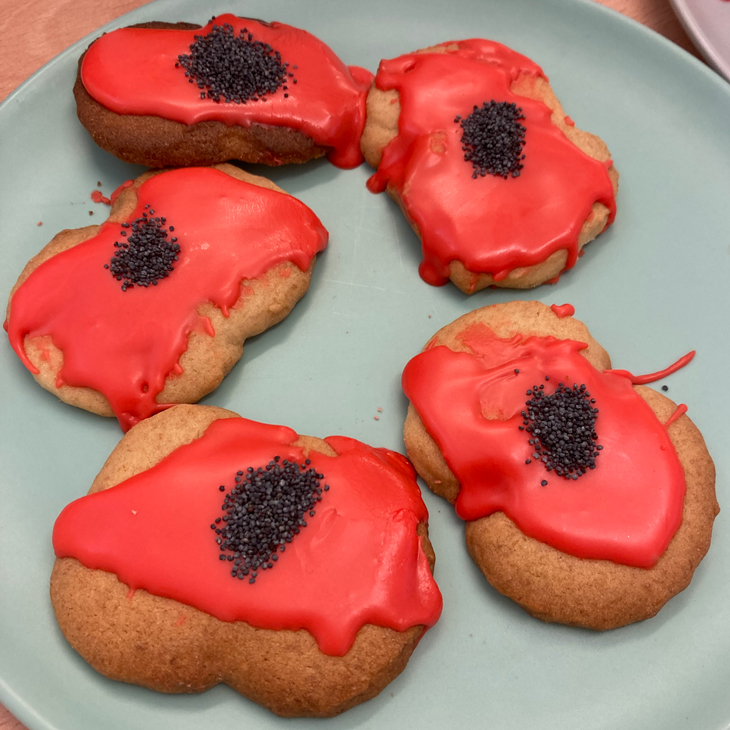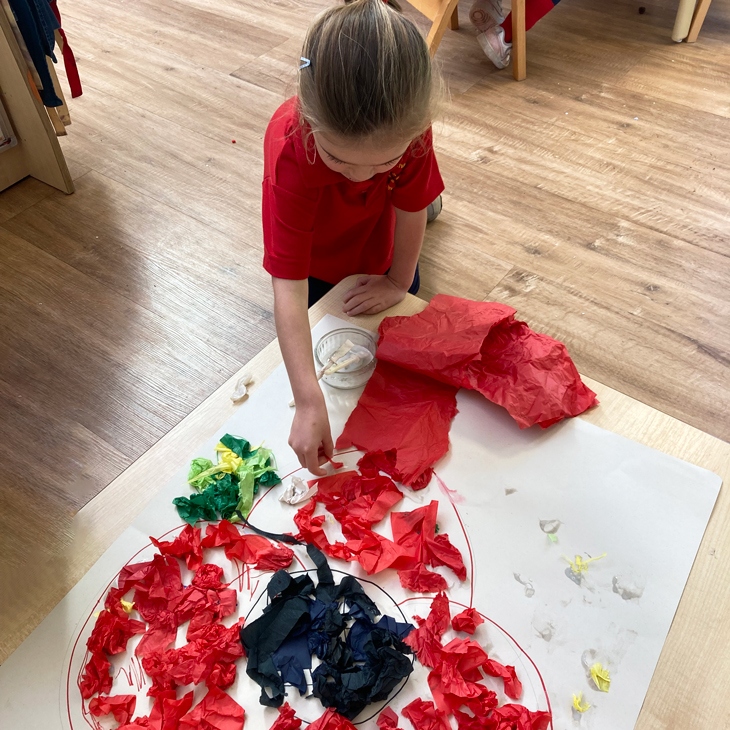 The children in Nursery have been learning all about Remembrance Day and its significance this week, with particular attention paid to the symbolic red poppies. The children used various different media to make their own colourful poppies, including paint, playdough, tissue paper and glue. Some children created beautiful poppies using handprints and halved apples while others collaborated on a huge poppy. And in order to produce their wonderful seasonal artwork, children showed brilliant perseverance by using fiddly tweezers to place pompoms onto their floral creation. With their arty poppies complete, the children made tasty poppy biscuits and watched a short video on Remembrance Day which inspired much discussion among the children and prompted one sage young man to reflect: "We made poppies to think about the soldiers that died for us."
Kerry Chapman, Nursery Class Teacher
Determined Reception Head To The Woods With The Bear Essentials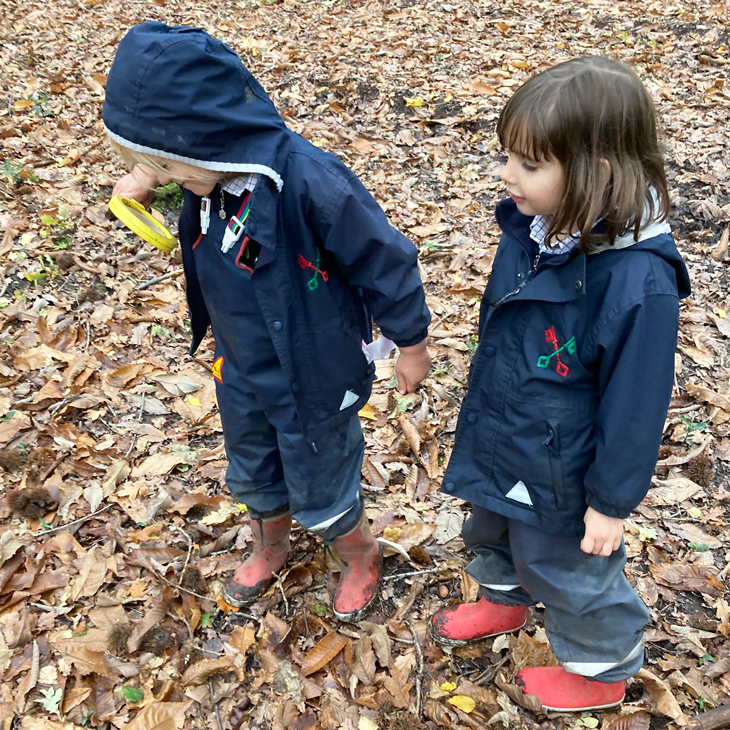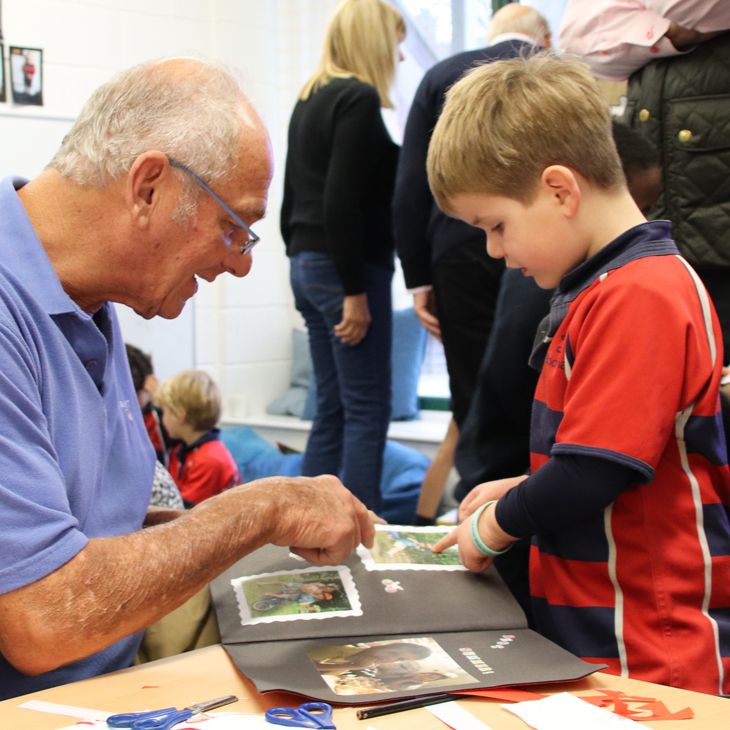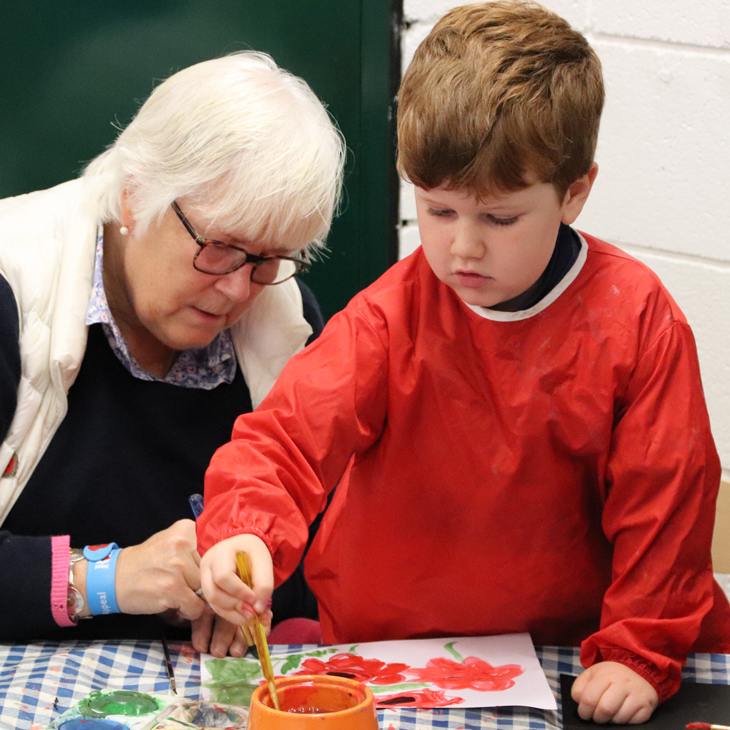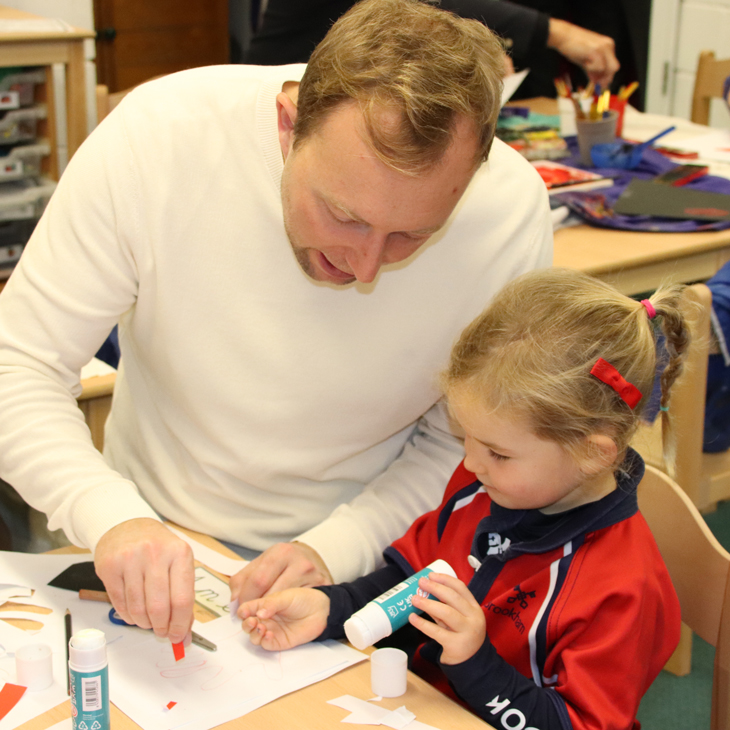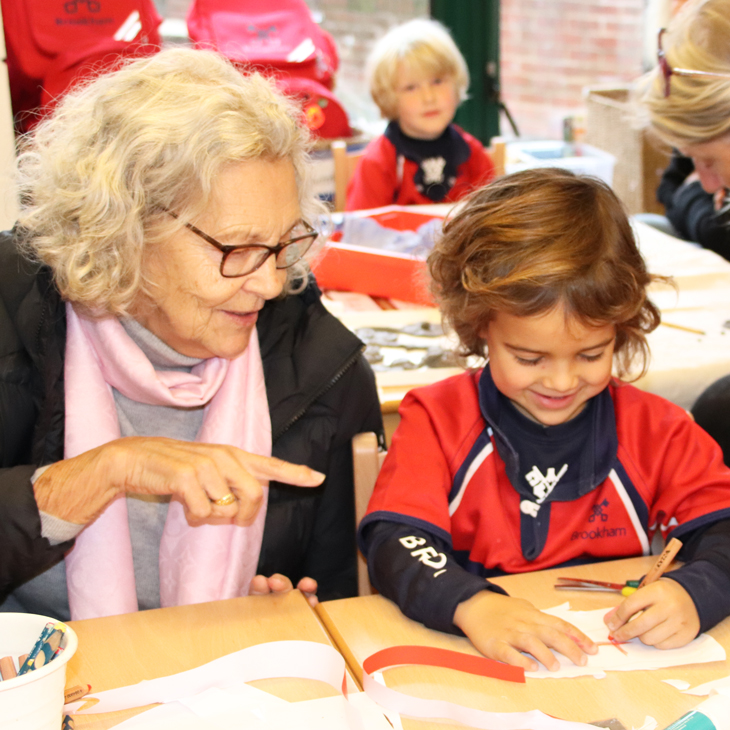 This week, Reception's 'Talk for Writing' text has provided a fantastic opportunity to ignite the children's imagination on what it would be like to go on a bear hunt. The children eagerly set off for the woods equipped with nets, honey, magical dust and magnifying glasses. But much to their disappointment, no bears could be found – although some children were convinced they could see and hear one! The children then came up with thoughtful suggestions on how best to trap a bear (humanely, of course) and were encouraged to work collaboratively to make their own bear traps. They planned their designs, decided which materials to use and wrote instructions to explain exactly how their traps worked. The children's creativity was incredible and it was agreed that there would definitely be no more bears lurking around the woods! On Friday, the Reception children welcomed their grandparents into school for a special morning of reflection to mark Remembrance Day. The children have been stretching their resilient learning muscles all week and persevering to learn a lovely poppy poem, which they performed beautifully to their grandparents with great confidence. The children then worked with their special visitors to make their own unique clay poppies, a beautiful handprint poppy wreath, and delicious poppy seed and honey cookies. It's safe to say that it's been another action-packed and fun week in Reception!
Rosie Snagge, Reception Class Teacher
Year 1's Burning Desire To Meet Firefighting Heroes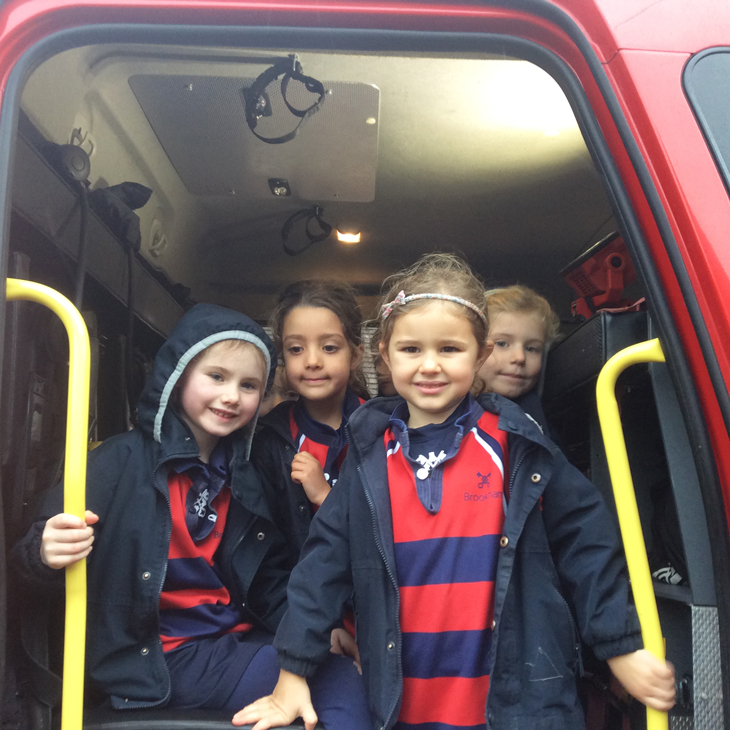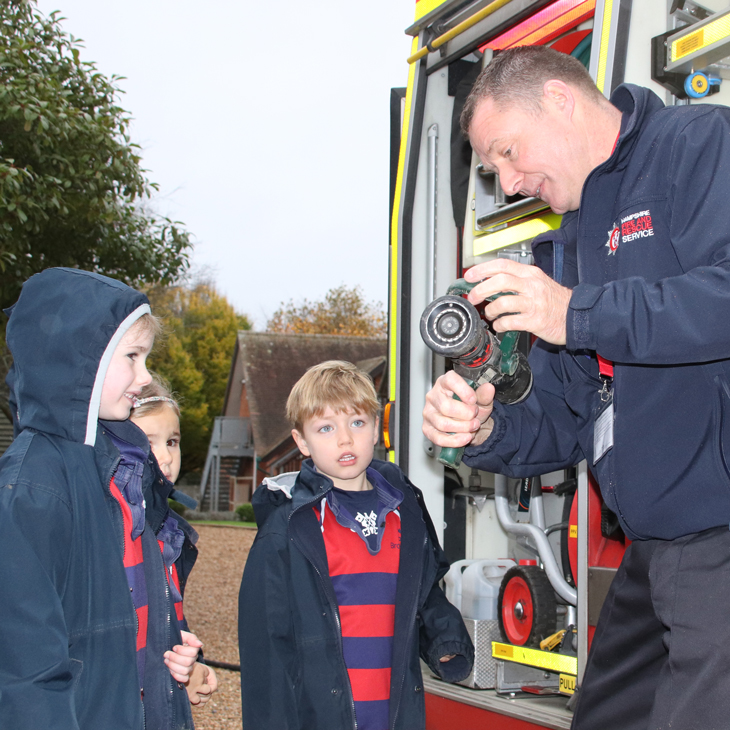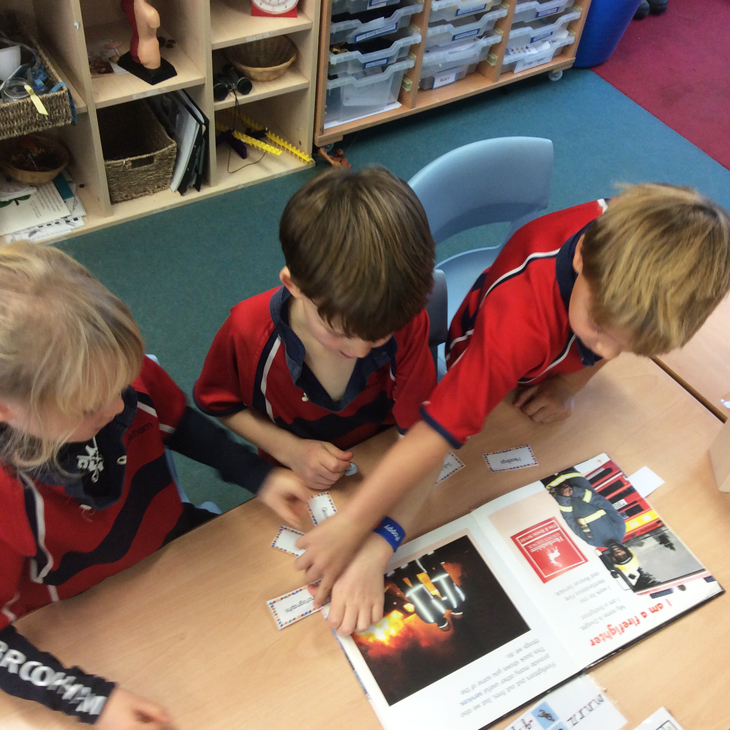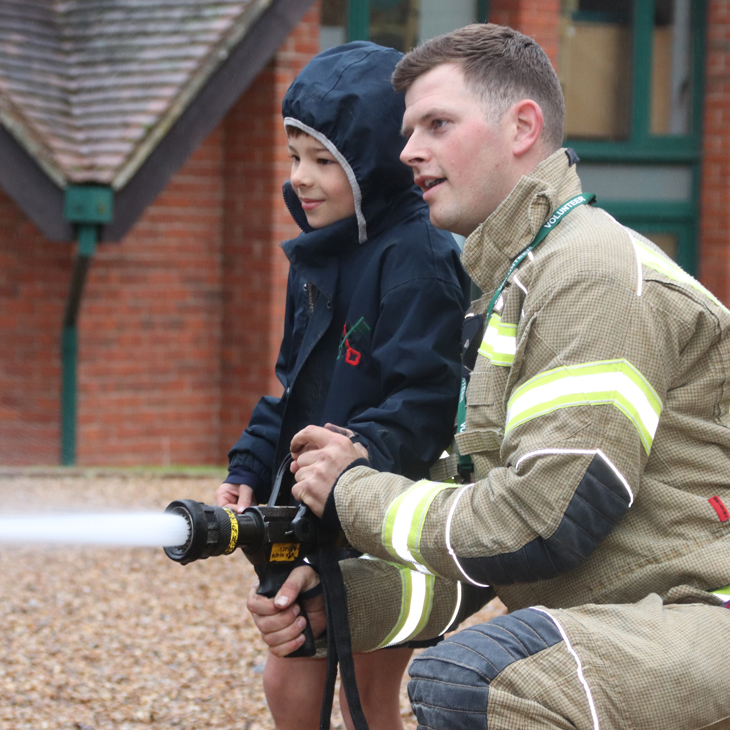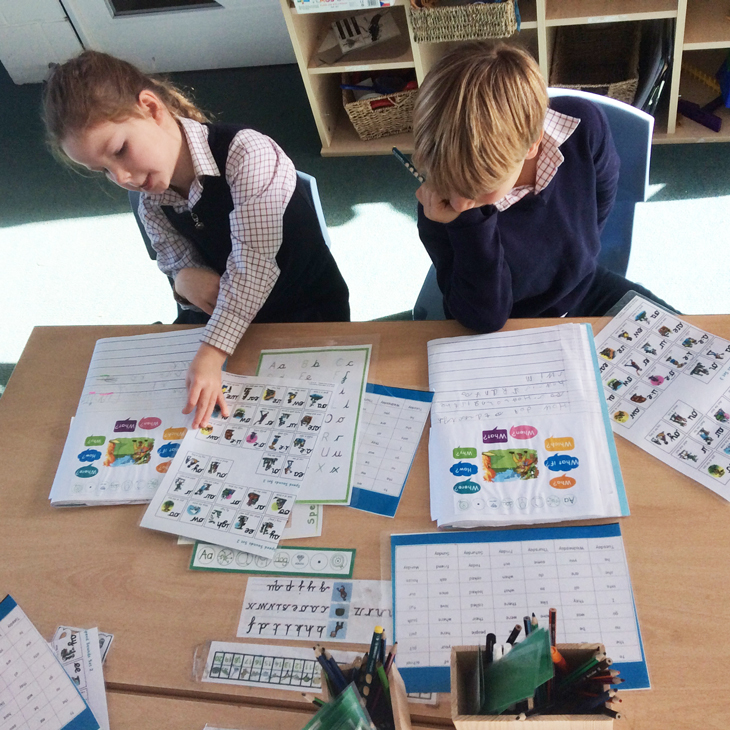 This week, Year 1 have had an exciting visit from a group of people who help all of us – our local firefighters. Excited to meet their heroic visitors from the Hampshire and Isle of Wight Fire & Rescue Service, the children were particularly keen to see a real-life fire engine. And they weren't disappointed as they had a wonderful opportunity to explore the fire truck inside and out and get a close look at some of the amazing equipment that the firefighters use. The highlight of the visit for many was a competition involving shooting a ball off a cone with a powerful jet of water from a hose. In literacy this term, we have specifically focused on firefighters; including rehearsing our Talk 4 Writing text, studying non-fiction books, and sharing prior knowledge in a class discussion. As hoped, the brainstorming session set a brilliant foundation for the children's naturally inquisitive natures to emerge. After sharing their most pressing questions with their talk partners, the children recorded questions in their books. As always, they were diligent, imaginative and super resourceful in their learning. Some wonderful and well-considered questions were ready to be posed to the visiting firefighters. It was the perfect way to inspire and motivate the children for yet more wonderful writing and to become some of the people of the future who might help us, perhaps more potential firefighters!
Rebecca Lane, Year 1 Class Teacher
Busy Year 2 Really Have Their Fingers On The Pulse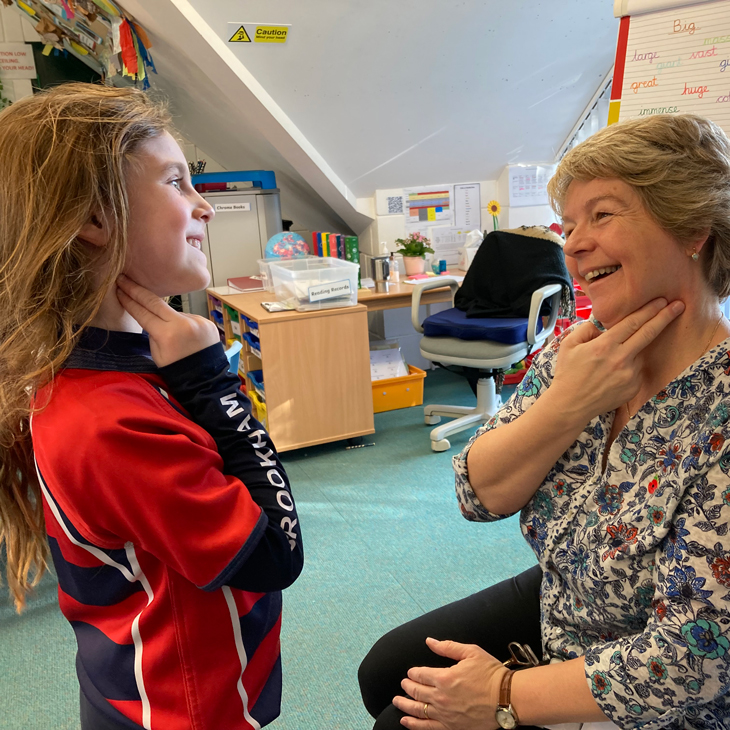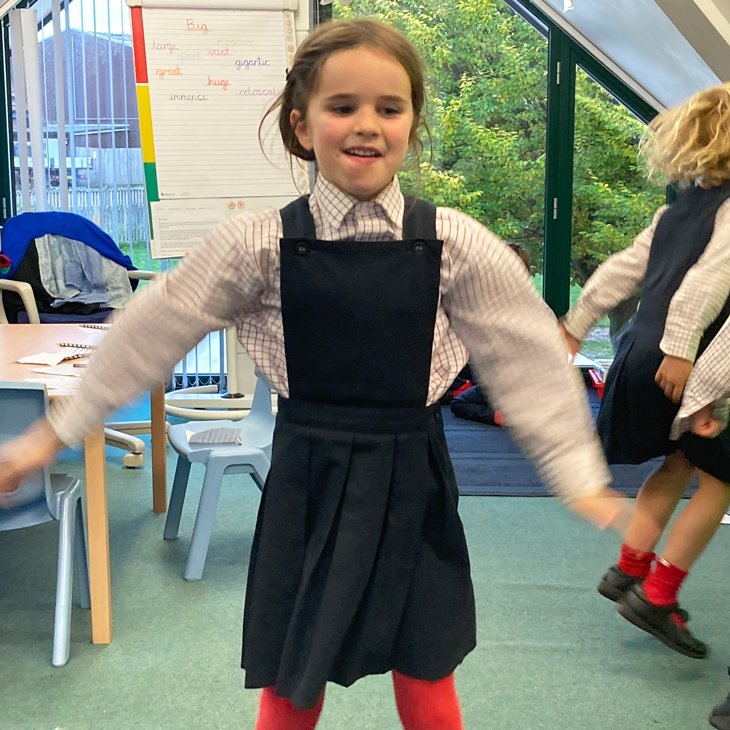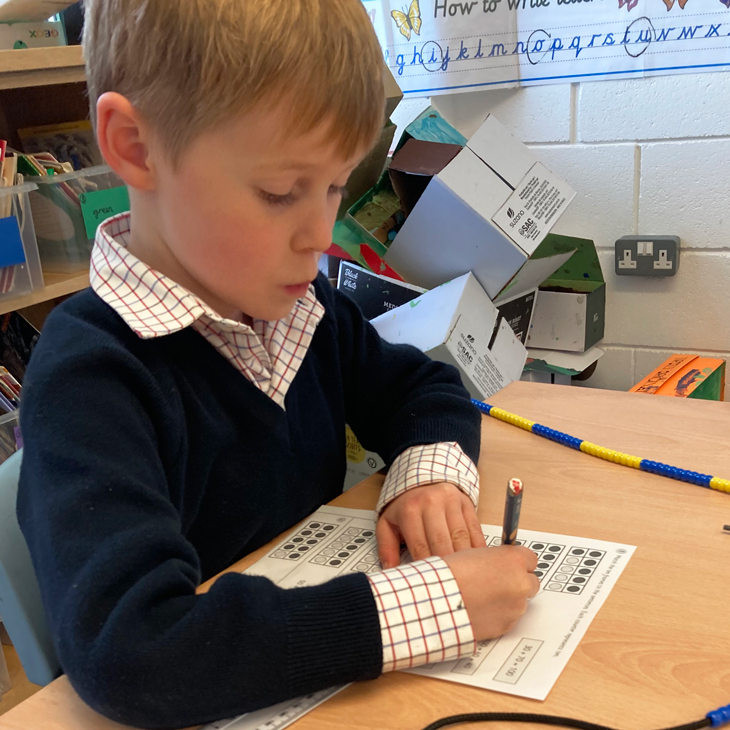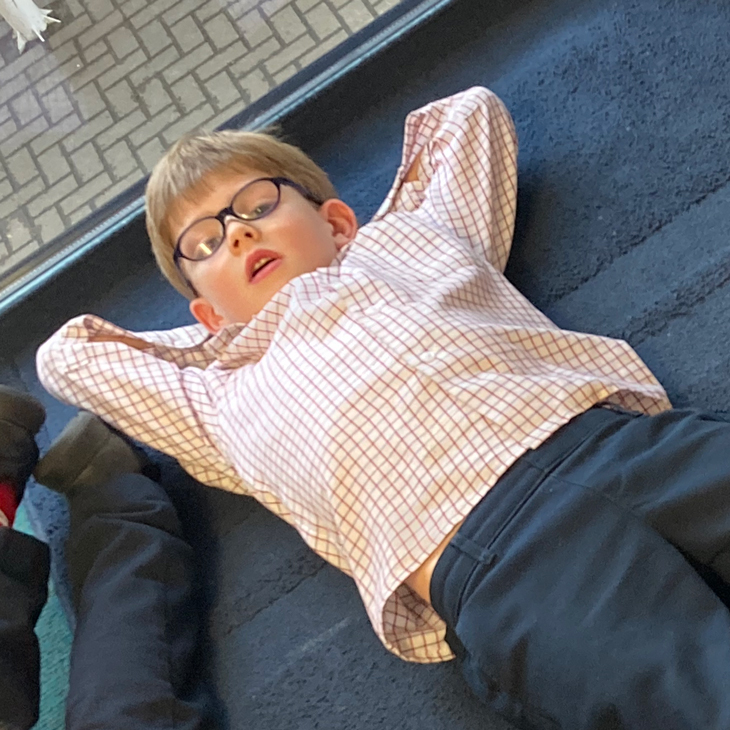 It's been another truly terrific week of fun, interactive learning in Year 2. The children have collectively created habitats for woodland creatures, improvised drama to bring persuasive writing to life, and investigated addition and subtraction relationships in maths using a plethora of mathematical resources. Today, they collectively commemorated Remembrance Day in a whole-school assembly, respectfully observing a one-minute silence to reflect upon and remember all those who have given their service and lives for ours to be free. An exceptionally thrilling learning experience in science focused upon the importance of maintaining a healthy heart and set of lungs. The children discussed the need to eat a well-balanced, nutritious diet, integrate exercise into their daily routine, and keep themselves hydrated in order to maintain a healthy heart. During this immersive, interactive science lesson, the children literally put their hearts to the test. They tried to find a pulse on their wrist or neck to work out what their resting heart rate was. This wasn't an easy task, although most did thankfully manage to find a pulse! They then undertook a variety of activities, ranging from relaxing (reading, sitting and talking, completing a word search) to throwing and catching, as well as much more strenuous pursuits such as doing star jumps and running on the spot. Those who couldn't find a pulse previously were then able to feel their hearts literally pounding in their chests. Data was assimilated in both classes, put on spreadsheets and converted into bar charts, enabling the children to visualise how hard their heart (which they had earlier discovered was a muscle) had been working. All in all, an enlightening, memorable and enjoyable experiment.
Shirley Jervis, Year 2 Class Teacher
Year 3 Explorers Get A Taste of Scott's Epic Polar Adventure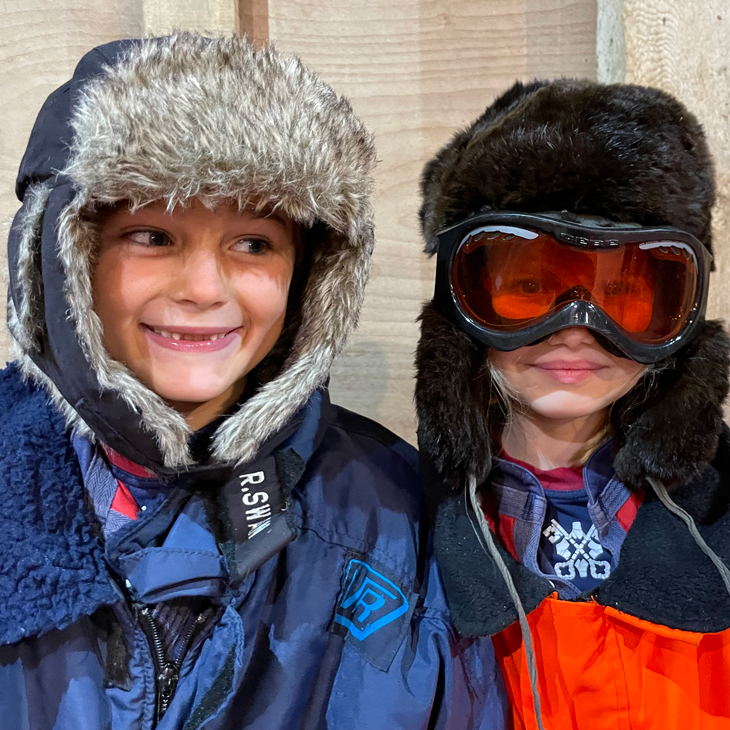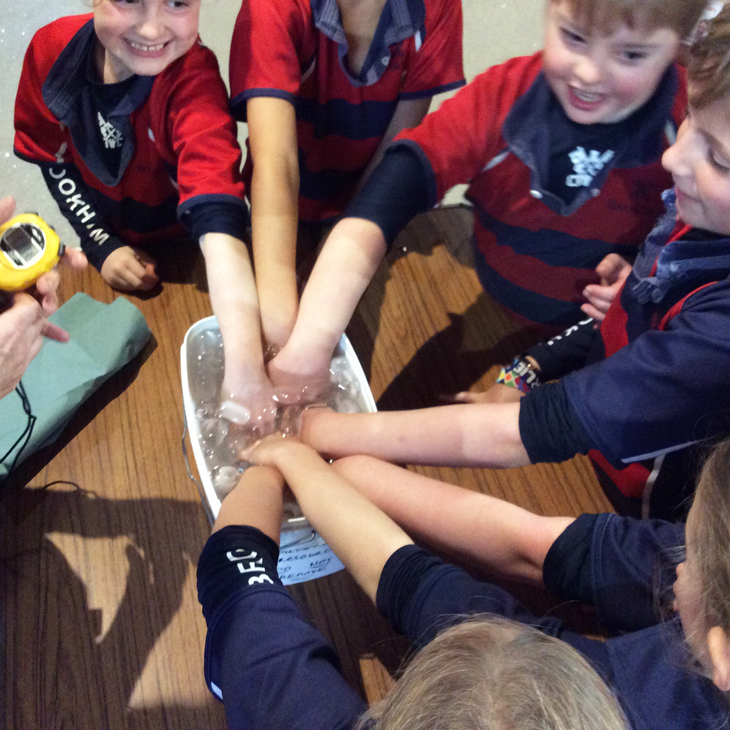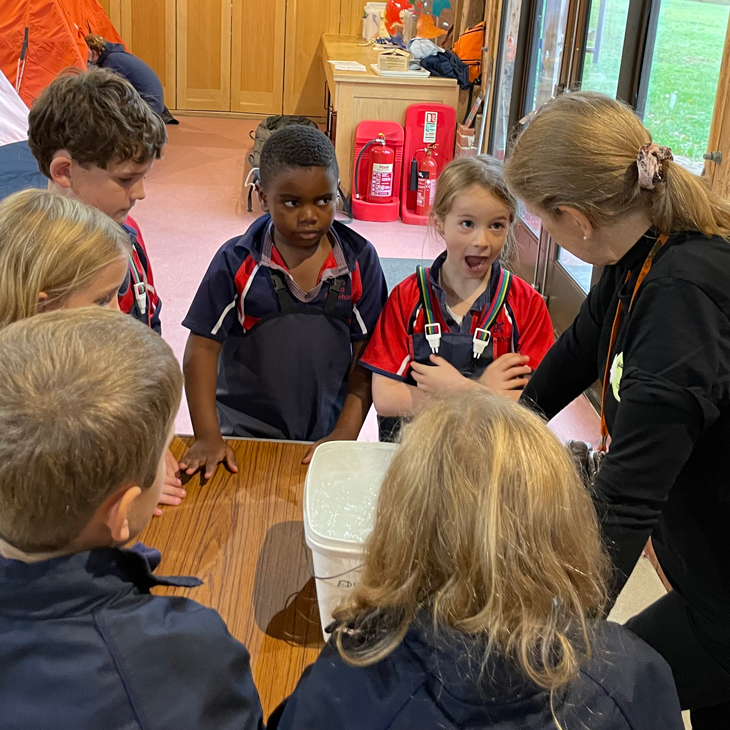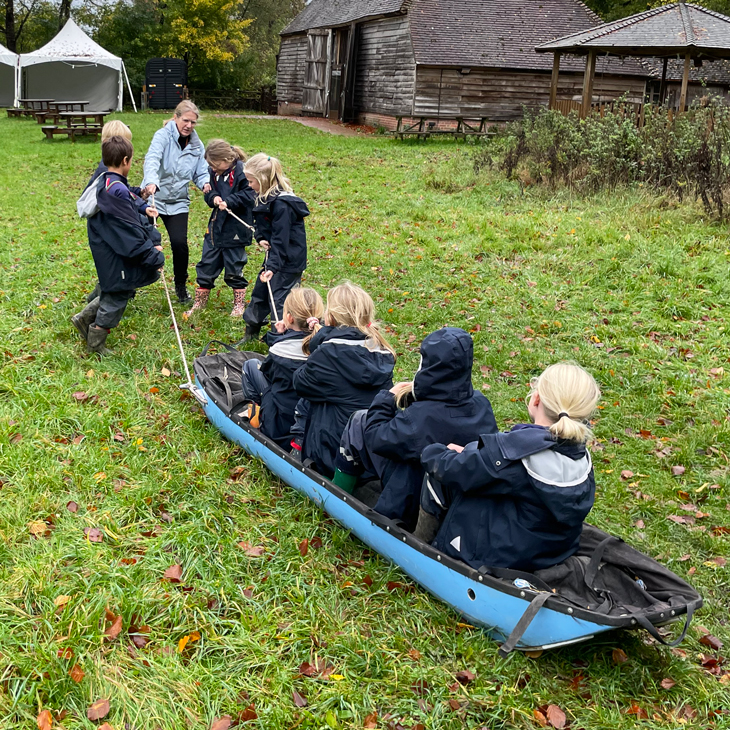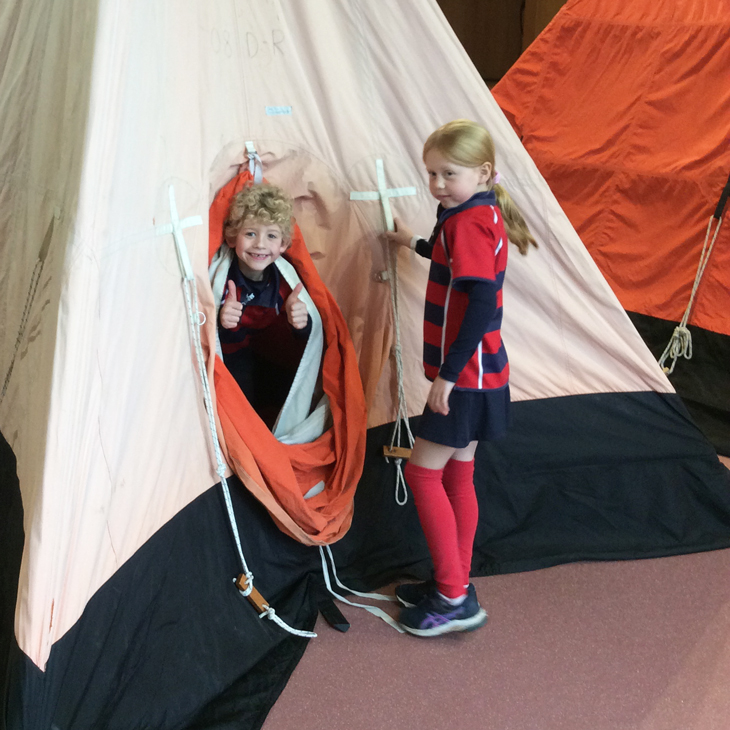 Undeterred by the wet weather, Year 3 became intrepid explorers themselves when they visited Gilbert White's House in Selborne to find out about Captain Scott's epic expedition. Using their prior knowledge of different materials, the children compared equipment, rations and clothing the explorers used more than 100 years ago to that of today. After learning about the few animals which inhabit the inhospitable polar desert of Antarctica, the children honed in on their measuring skills to discover they are the same height as an Emperor penguin. Furthermore, to get a real feel for stark conditions, the children timed themselves to see how long they could keep their hands in an icy bucket of water before – to much amusement! – donning the thick, cumbersome suits and boots worn nowadays. The final challenge was to pull collaboratively one of the sleds outside, crying "mush, mush!" to imitate the explorer's cries to his sled dogs. Year 3 returned to school in high spirits eager for their next adventure.
Henrietta Platt, Head of Year 3
Year 4 Pride At Pretty And Poignant Remembrance Poppies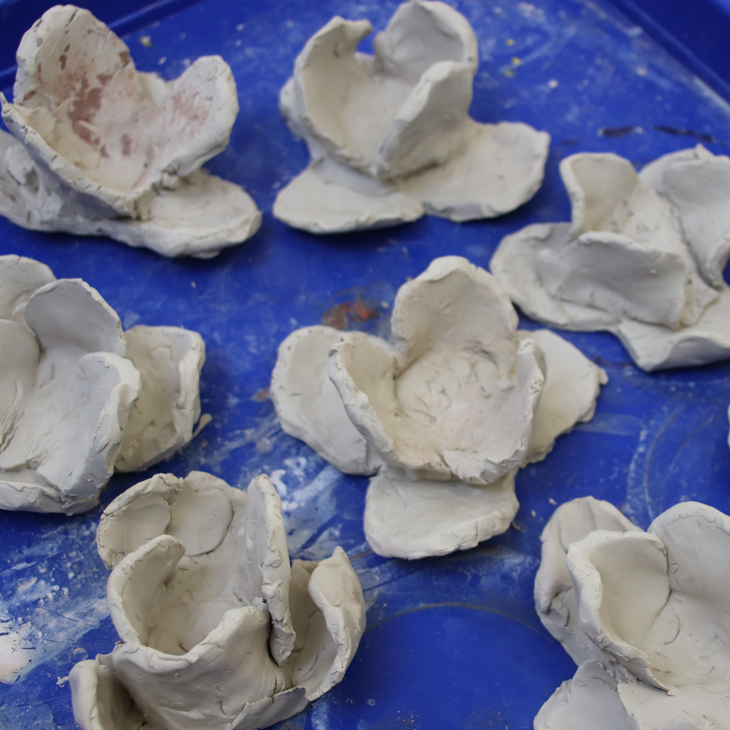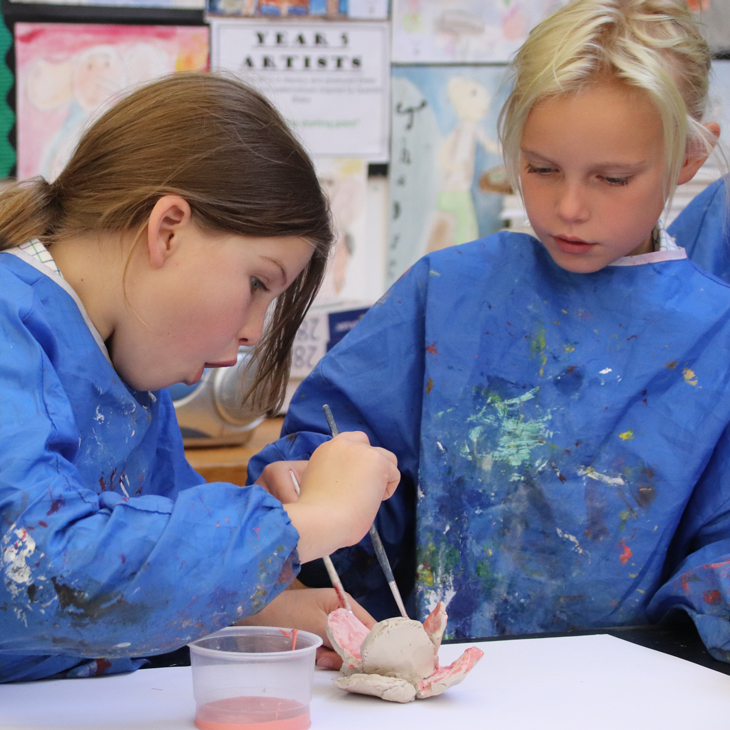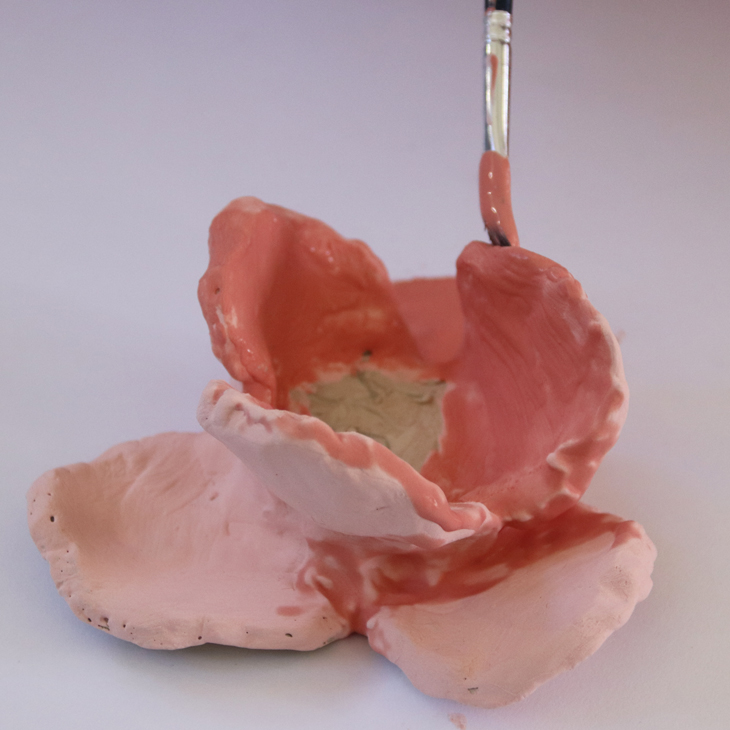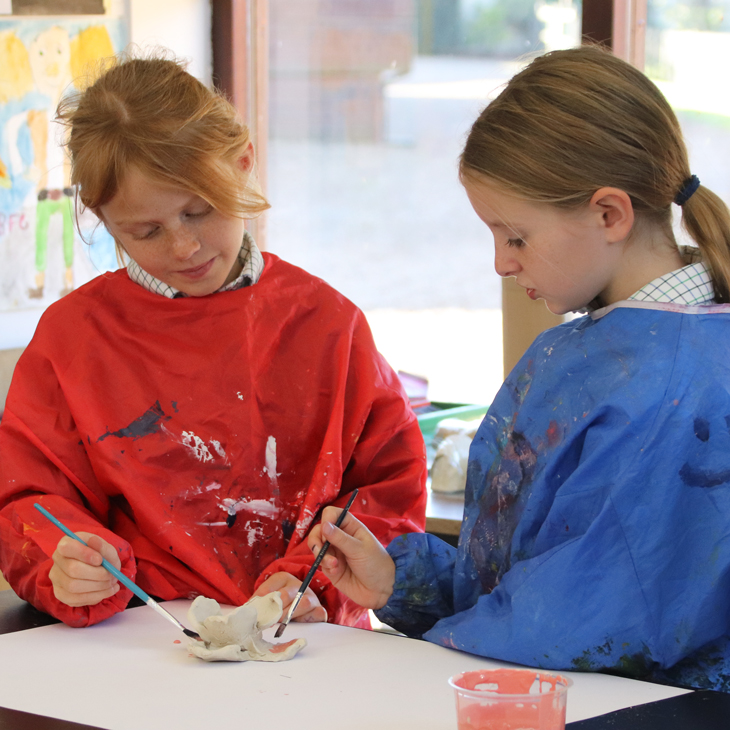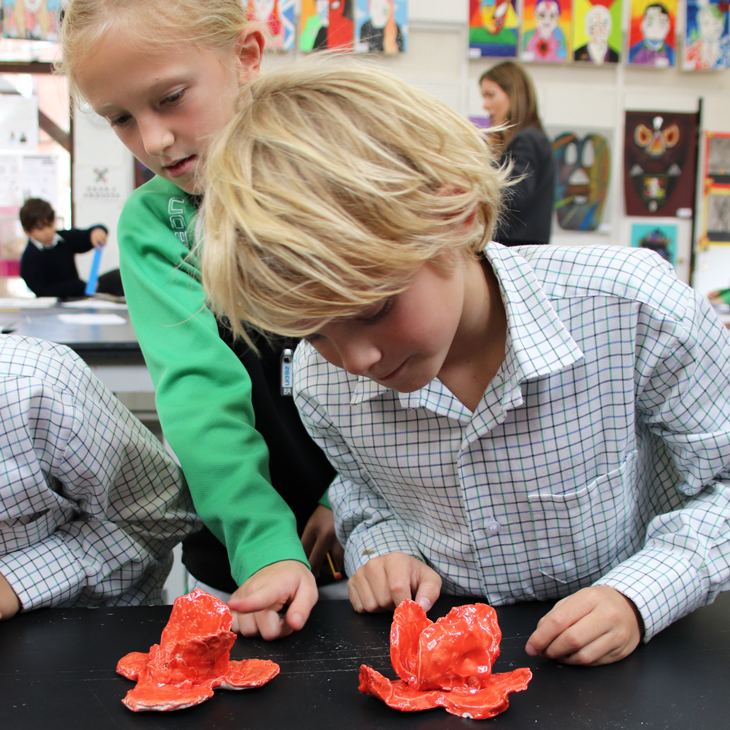 Pupils in Year 4 have this term been learning all about the Second World War, including the significance of poppies. In Art, in the run up to Remembrance Day, the children learned how to make clay poppies using a template and various tools and techniques. Once two template shapes were cut out, they were joined together using the scratch-and-slip technique. The pupils were then encouraged to curve the petals to make the poppies more realistic before glaze was applied ahead of firing in the kiln. Once out of the kiln, the poppies were beautifully shiny and red. Year 4 really enjoyed making their clay poppies and showed great application during the creative process, with one pupil saying: '"It's amazing to see how flat pieces of clay can be transformed into a 3D object!" Well done, Year 4!
Tamsin Pearson, Year 4 Art Teacher
Runes Revelation As Year 5 Get The Message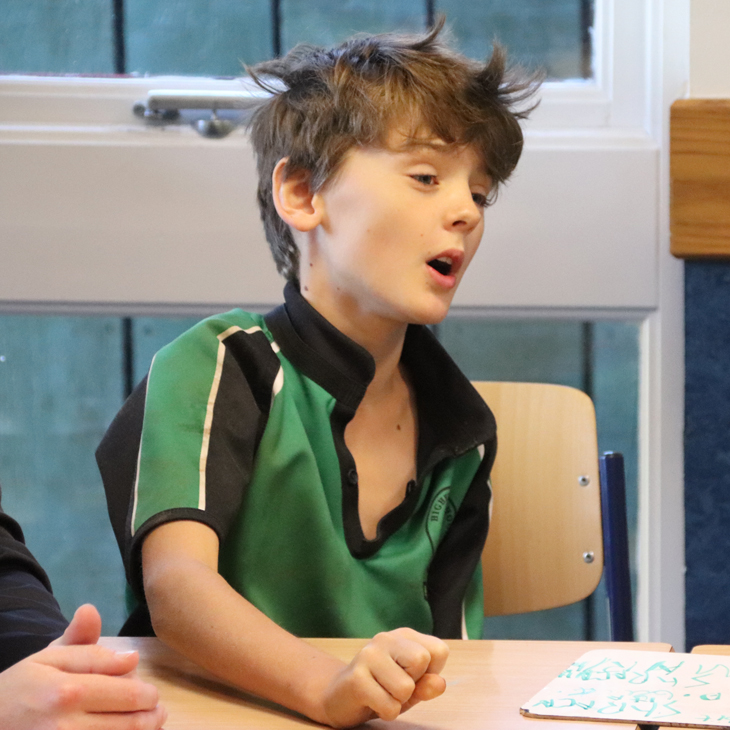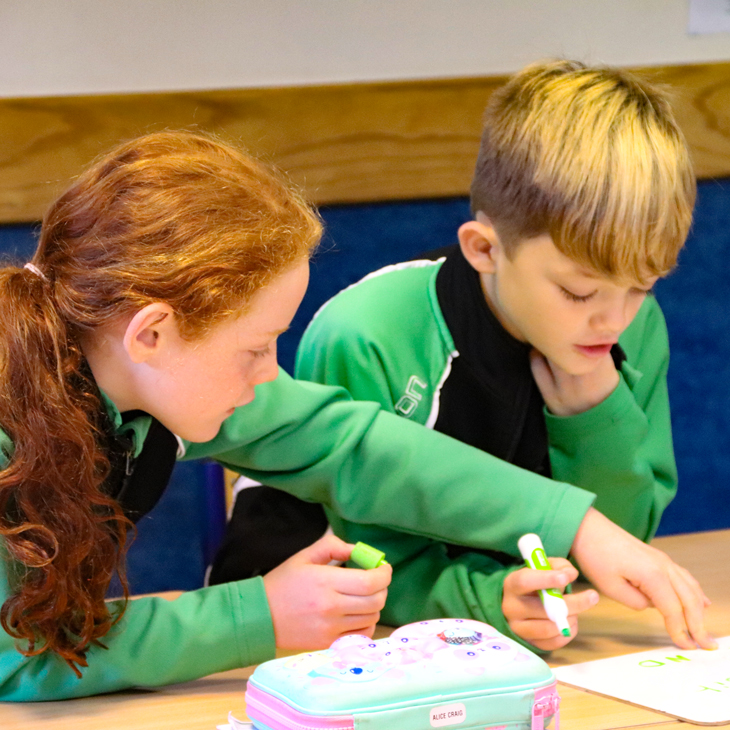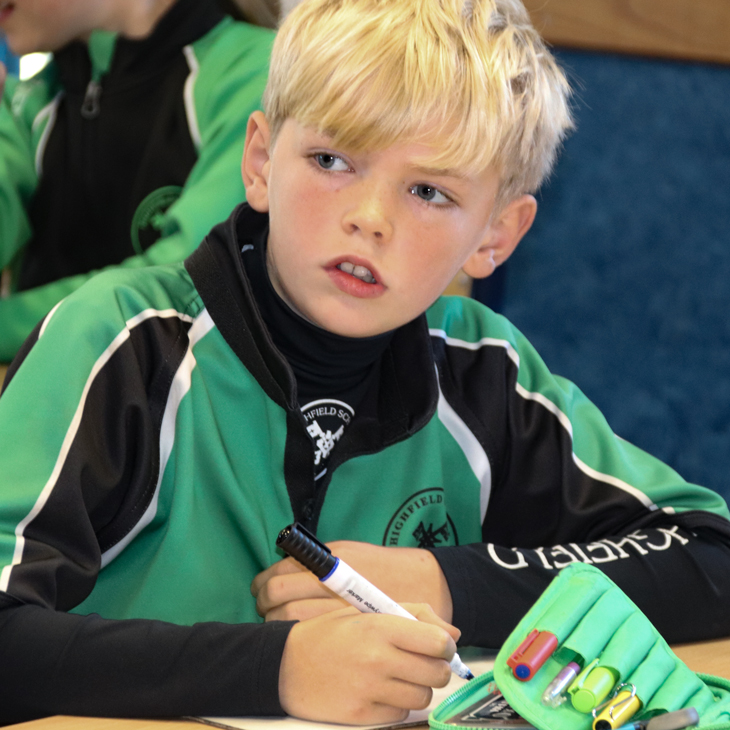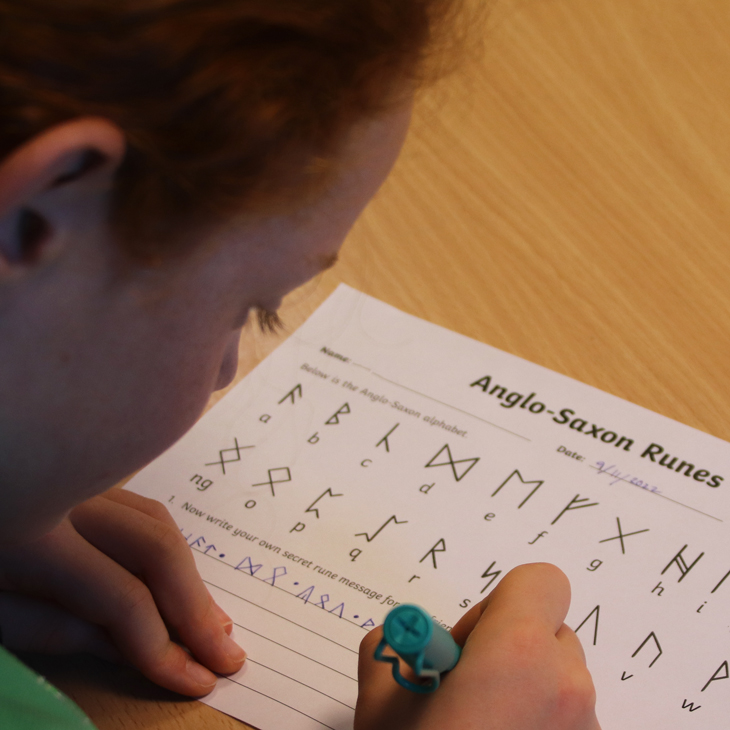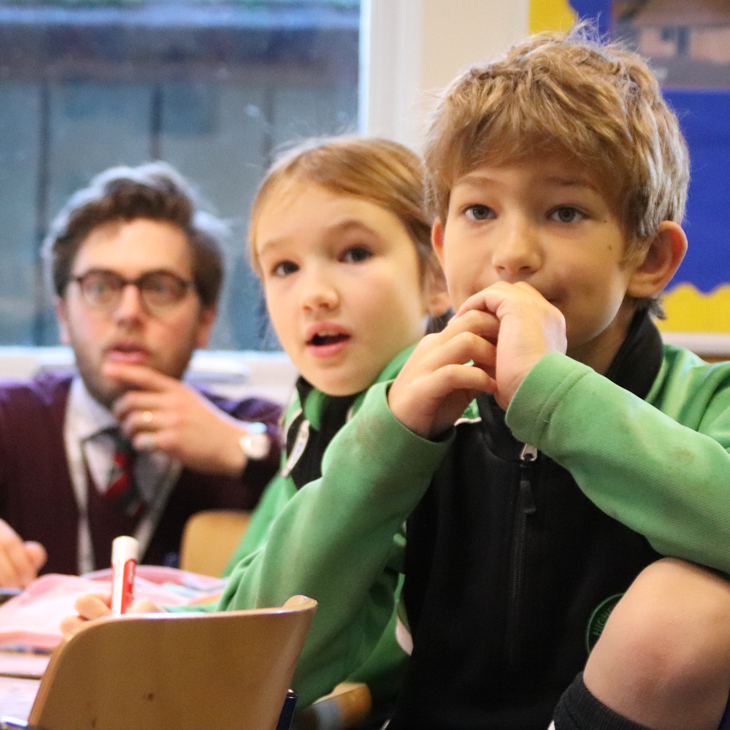 Year 5 have been looking at Anglo-Saxon runes in history this week. The secret codes written down by a civilisation a millennium-and-a-half ago provided a great level of intrigue and excitement for everyone involved, including our assistant teachers. As well as looking at where runes came from, Year 5 got the opportunity to try their hand at translating some code and creating some messages of their own – and the children loved passing secret messages to their friends around the classroom. We ended the lesson with a more modern adaptation of Anglo-Saxon runes, created by author JRR Tolkien in some of his famous novels, where the translated the message written on Thrór's map that the hobbits used to find the entrance to Smaug's cave. We should be ready to set off for Middle Earth imminently!
Ed Elgood, Year 5 History Teacher
Year 6 Adapt To The Ever-Changing World Of Nature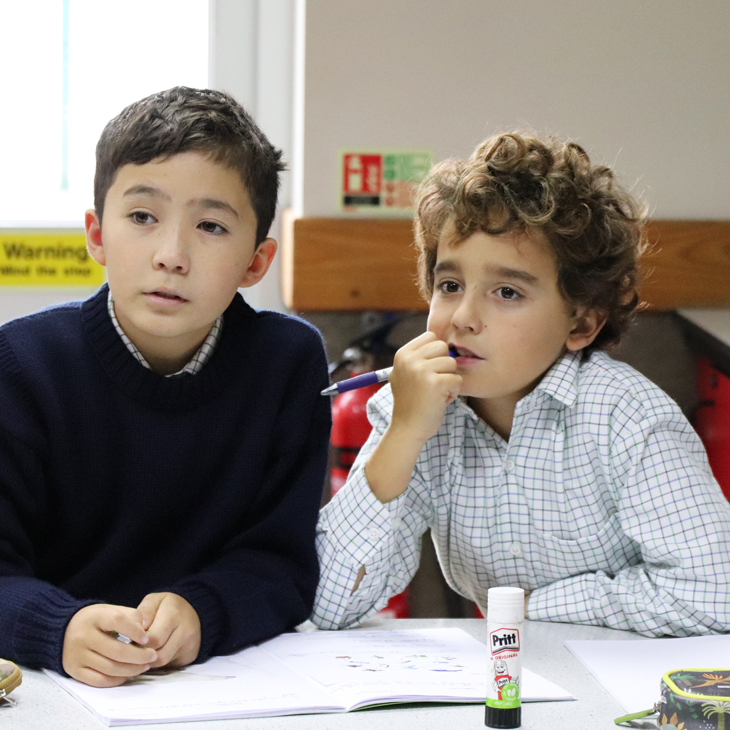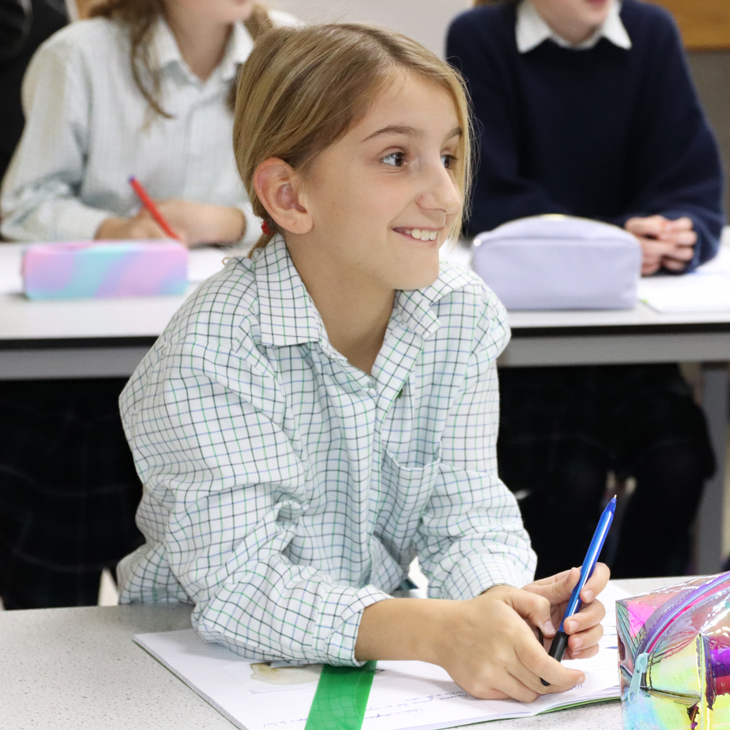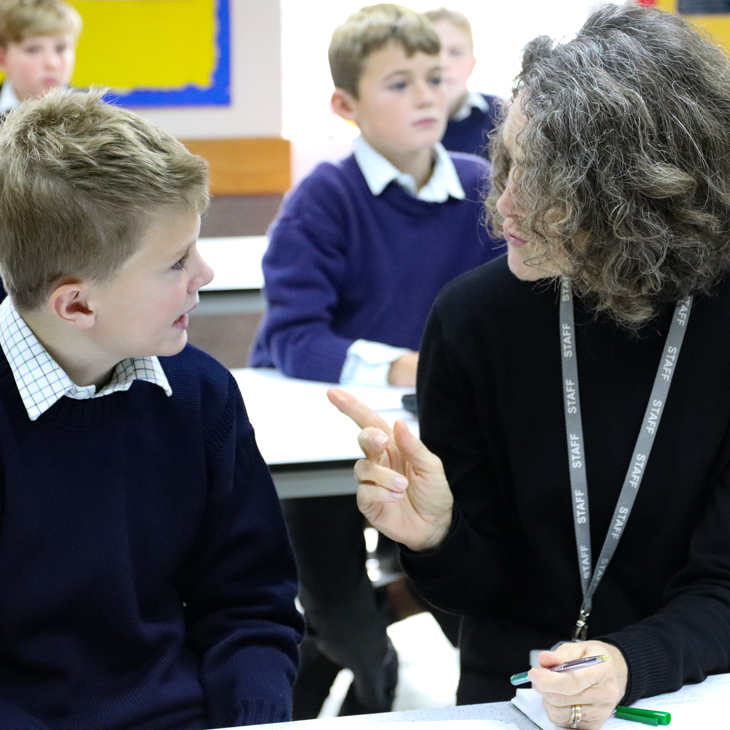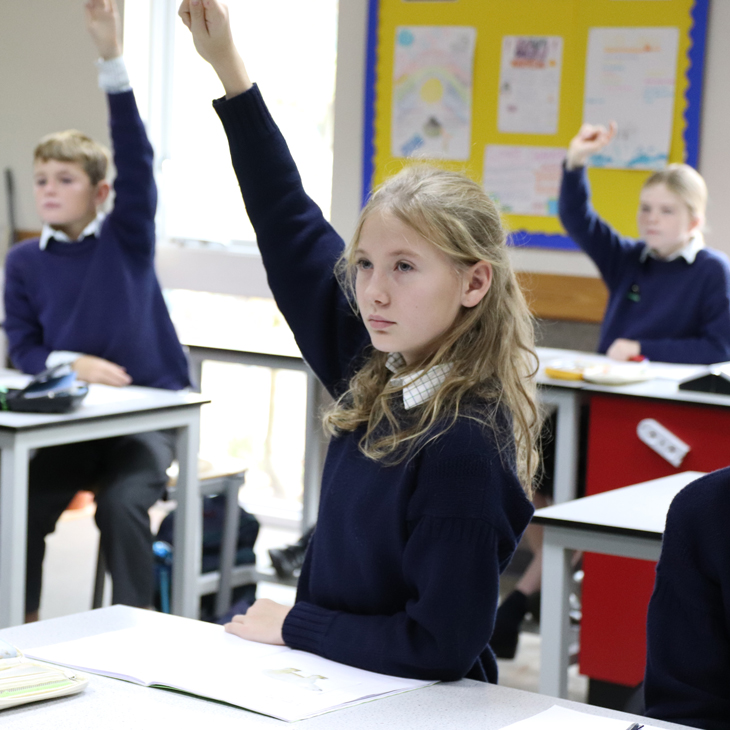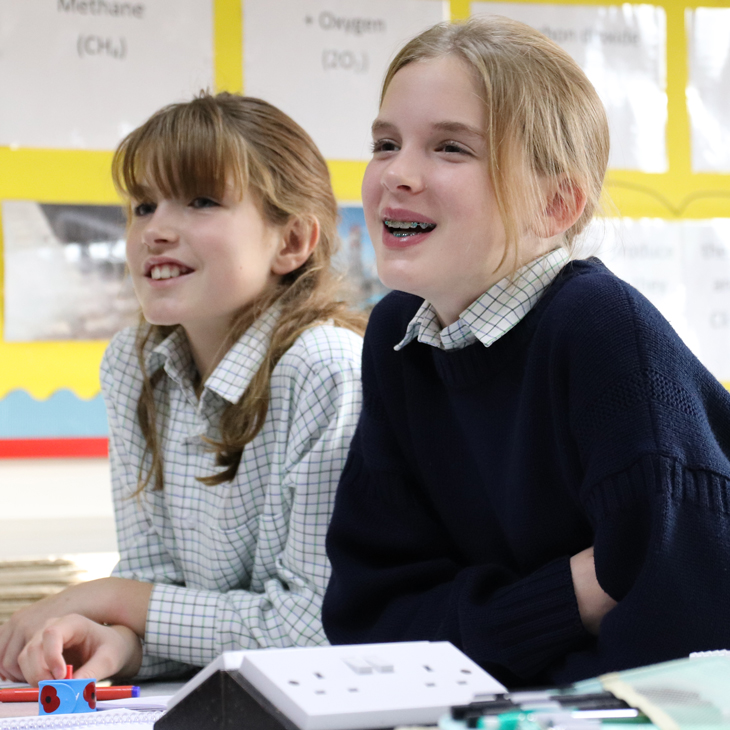 Year 6 are currently studying 'living things and their habitats' in science and this week they have begun looking at the adaptations of plants and animals. The children were amazed how some animals and plants adapt and the different ways they can be used to help them survive, such as camouflage. They were particularly impressed how the chameleon can change the colour of its skin into a variety of colours depending on its surroundings or activities. Year 6 were also fascinated by the concept of a plant being carnivorous, such as the Venus Flytrap which eats insects and arachnids. Over the next few lessons, the children will work in pairs to research the adaptations of an animal or plant and make a PowerPoint to present to the rest of the class.
Oli Backhouse, Year 6 Science Teacher
Attention Turns To Holidays For Year 7 Linguists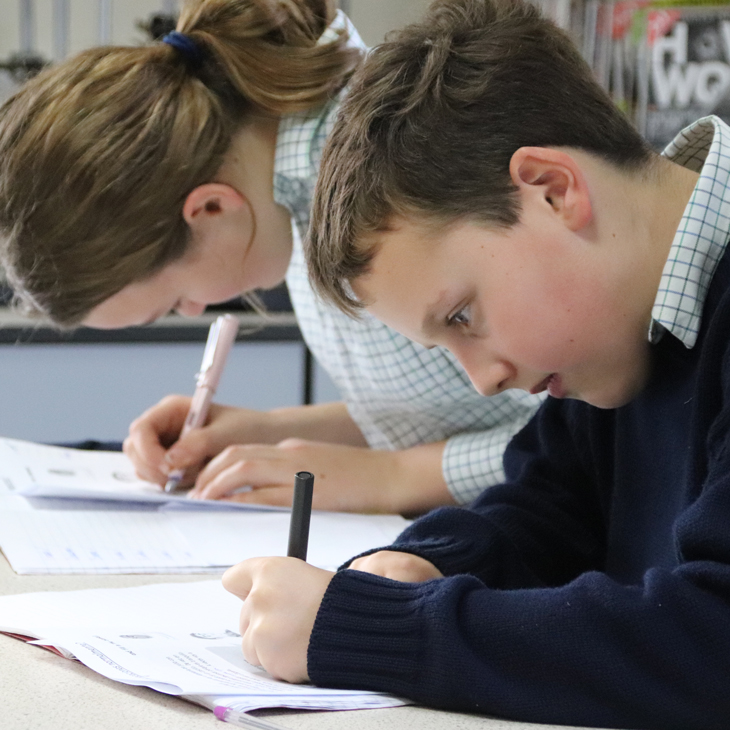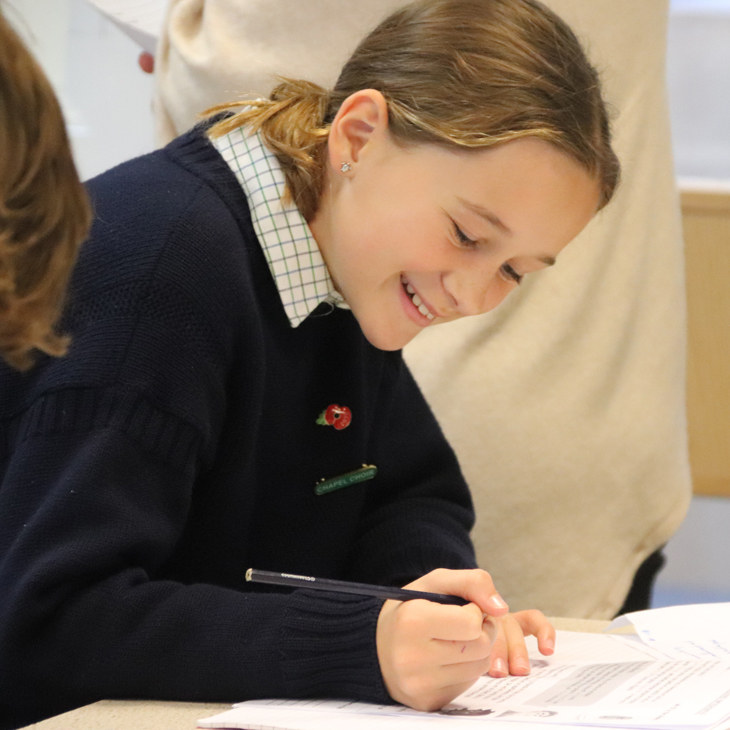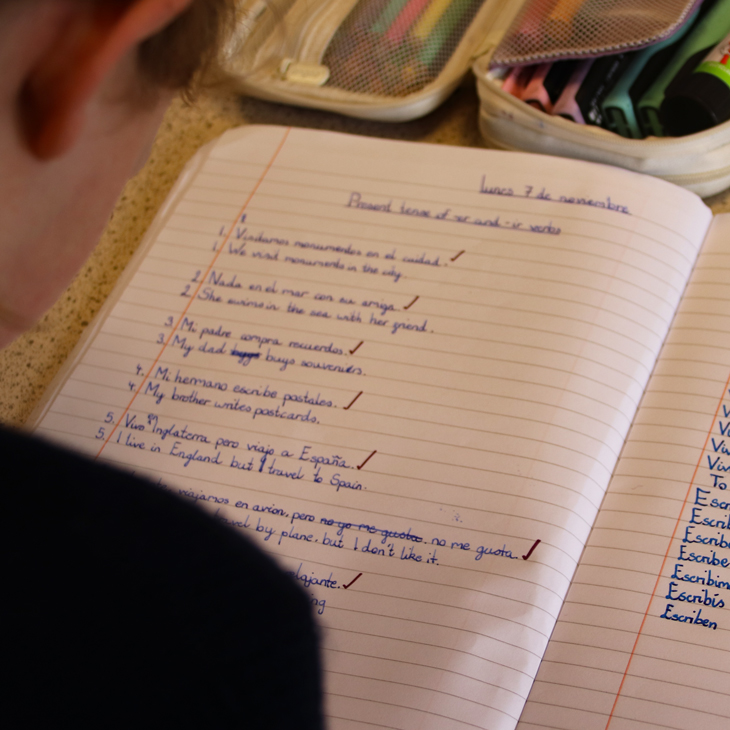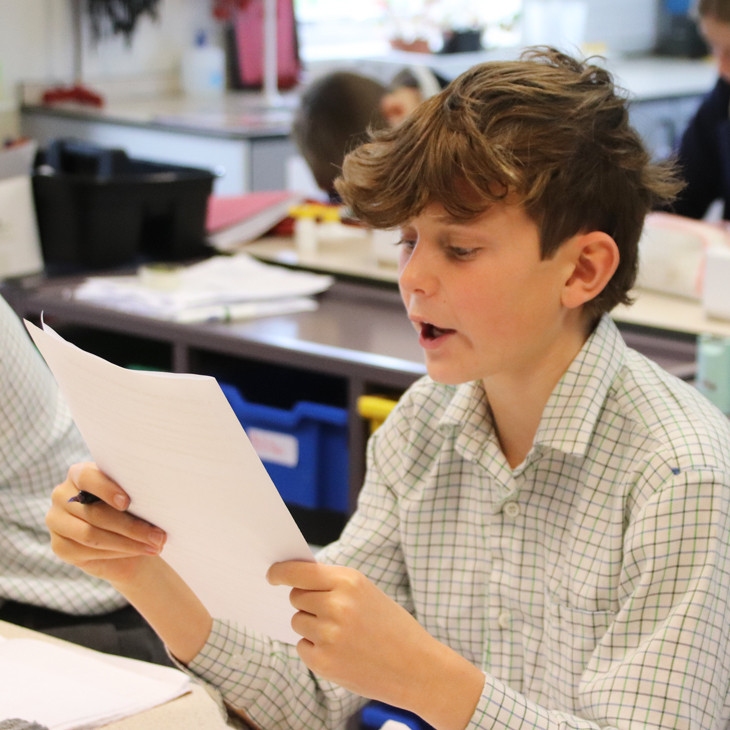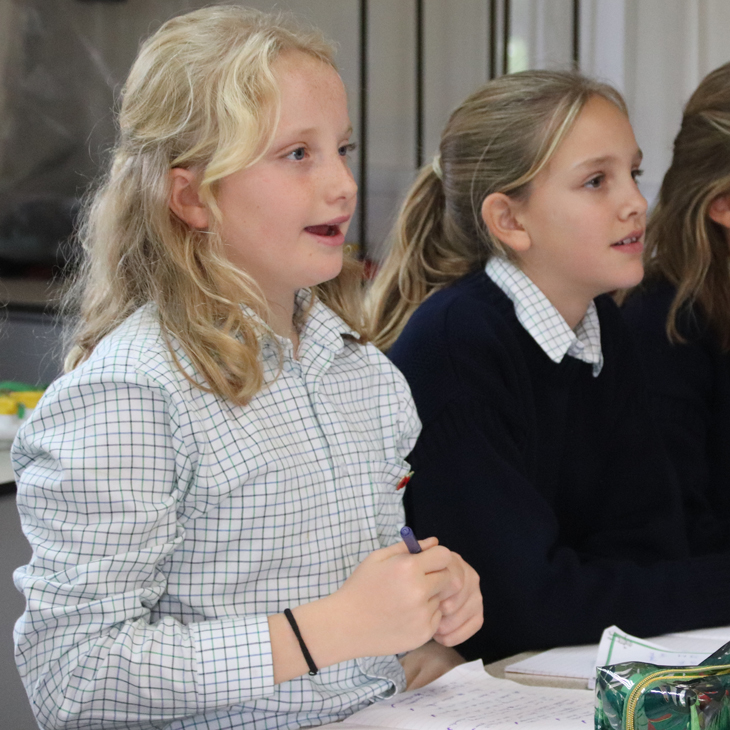 In Spanish, Year 7 are currently working on the topic of holidays. Children love talking about their holidays, and this subject lends itself perfectly to introducing the often feared but highly necessary element of grammar, which is an inevitable part of language learning. The children have delved into the present tense of regular and irregular verbs, the past tense, the imperative (to give directions) and impersonal verbs. It seems like a lot but we approach it in a fun way; adapting the game Battleships is one of our favourite ways to practise verb endings or short phrases and through repetition of vocabulary, the students get to practice and memorise the verb endings or structures. Other aspects we will cover are to give and ask for directions, make reservations in a hotel and buy tickets at a train station – clearly all very useful skills to have on holiday. By the end of the topic, the children will be able to produce a short presentation about a favourite, real or imaginary holiday to the class, hopefully using all that wonderful grammar they have been learning throughout the term.
Adela Munoz Garcia, Year 7 Spanish Teacher
Inquiring Year 8 Minds Ponder Economic Impacts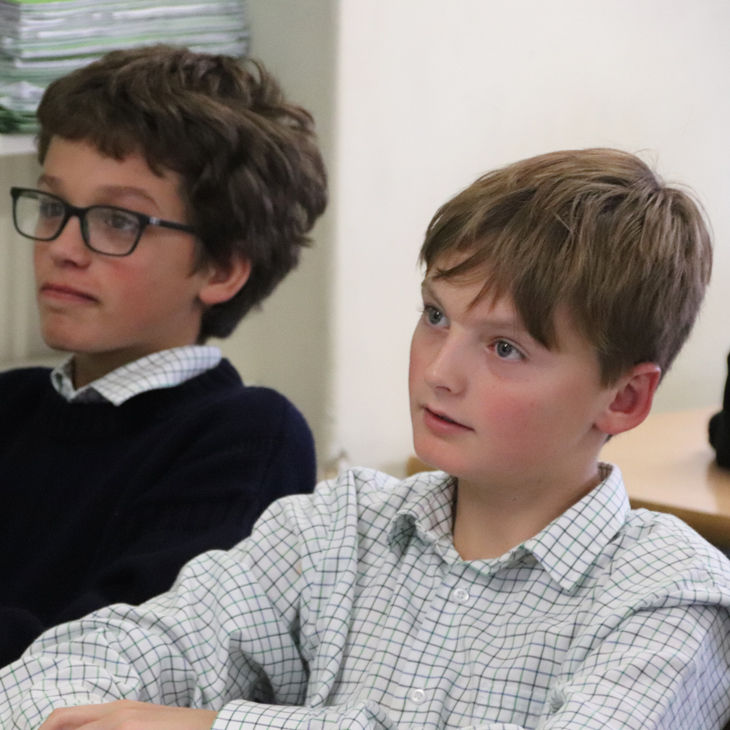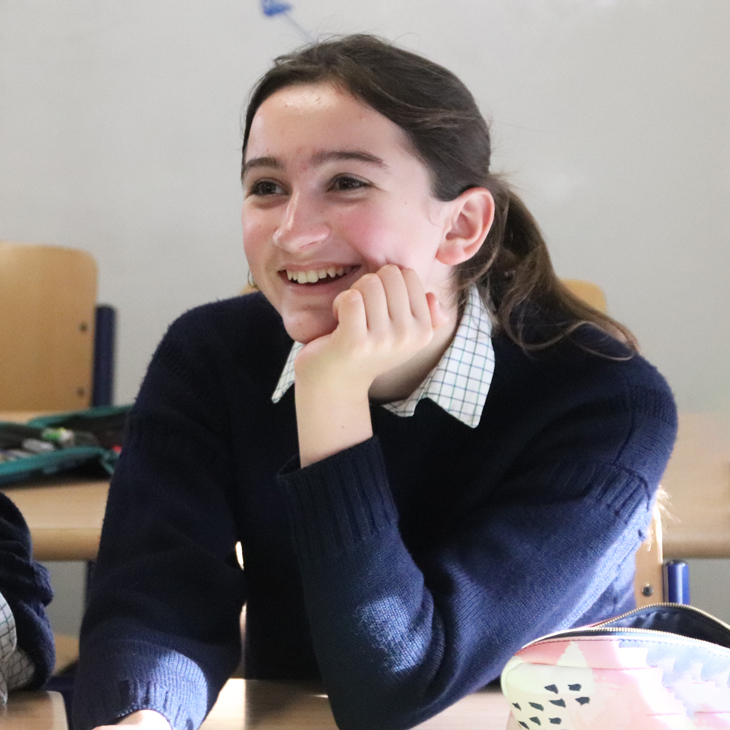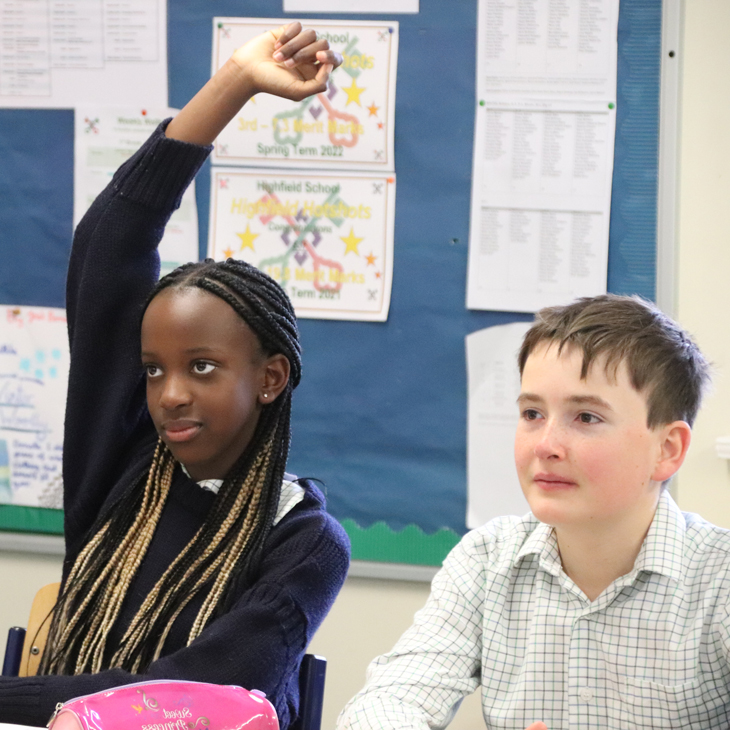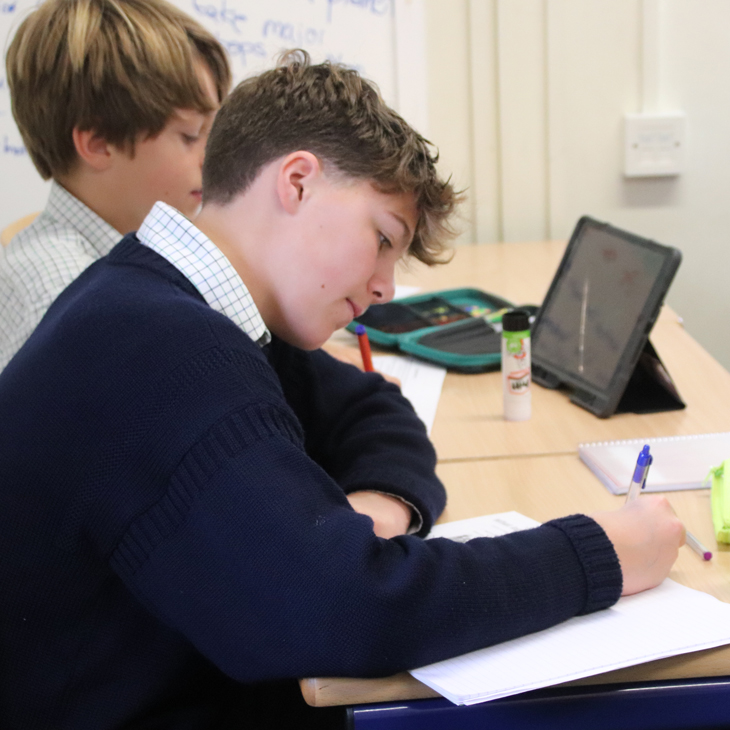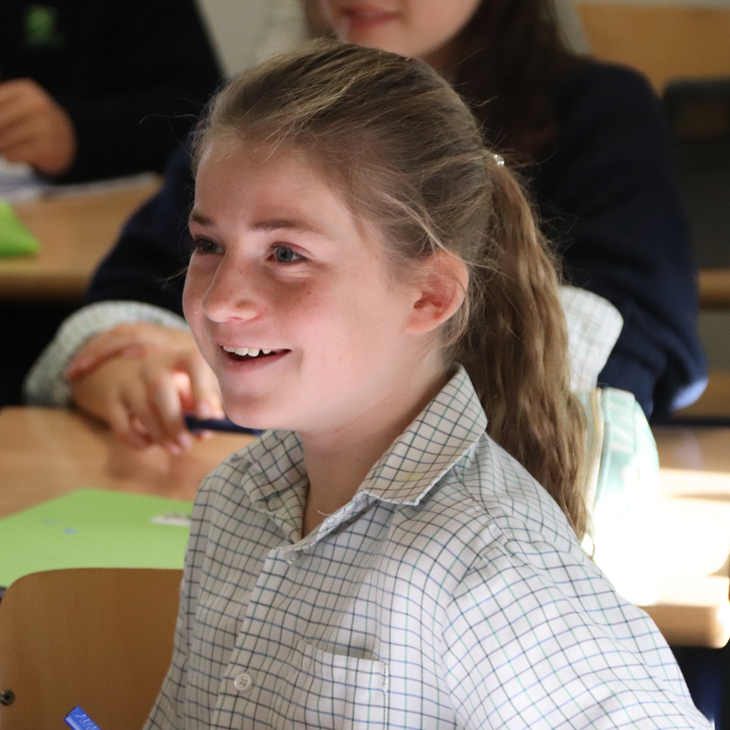 While subjects such as economics, sociology and politics are yet to enter the Year 8 timetable, the industry topic in our geography curriculum allows the children to delve into these areas. It offers an opportunity to link various skills and understanding together and discover more about the societies and professional world that they will one day enter. This week, Year 8 have been learning about the economic activities that are central to the world we live in and understanding how these differ, depending on their geographic locations. The children considered the move from a farming-based economy, through a period of industrialisation and manufacturing and into a post-industrial age that is enjoyed in this part of the world, based around tertiary industries.  Learning about the differences between these stages and seeing examples in the world we live in today allows the children to view the world through a broader lens. They have been brilliant at asking open and insightful questions, looking to build their knowledge of the planet they live on. The staging of COP27 during this particular period of learning also comes at a great time, when conversations surrounding the environment, development and the future are front and centre. A desire to uncover more sustainable ways for industries to work and how people from different economic and developmental backgrounds can come together will be a big focus in Year 8's work moving forward. I am confident this will lead to some exciting and healthy discussion among the children.
James Figgis, Head of Geography