Warm Days No Problem For Cool Young Nursery Cyclists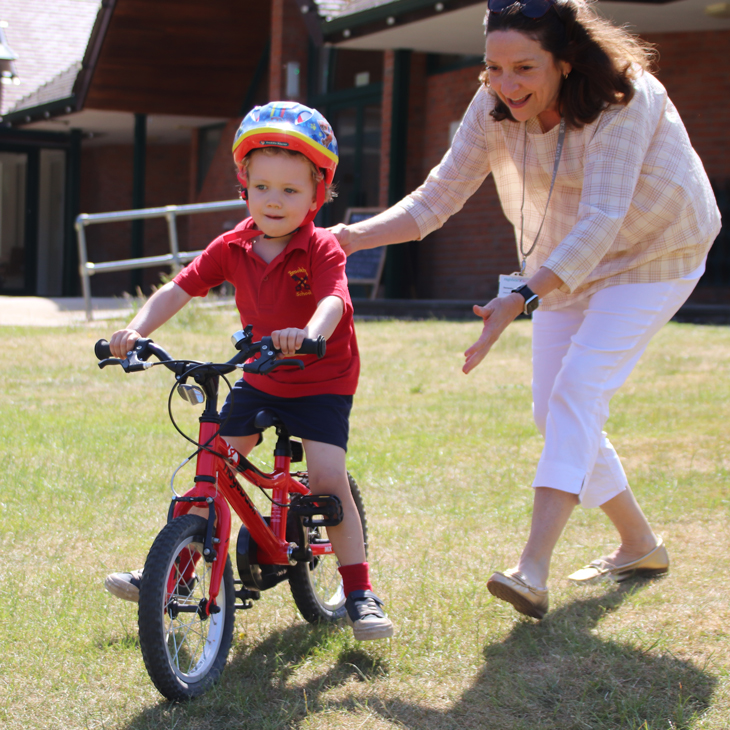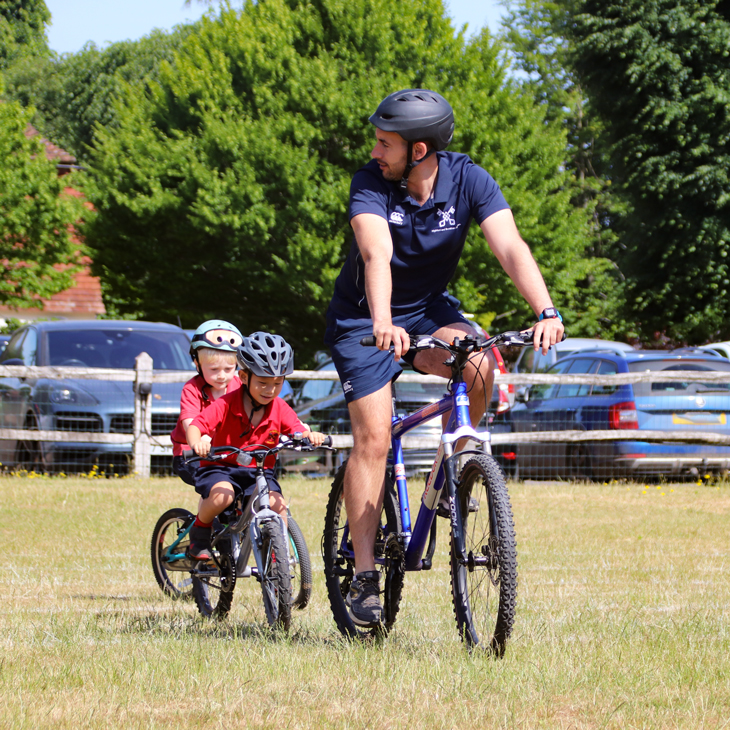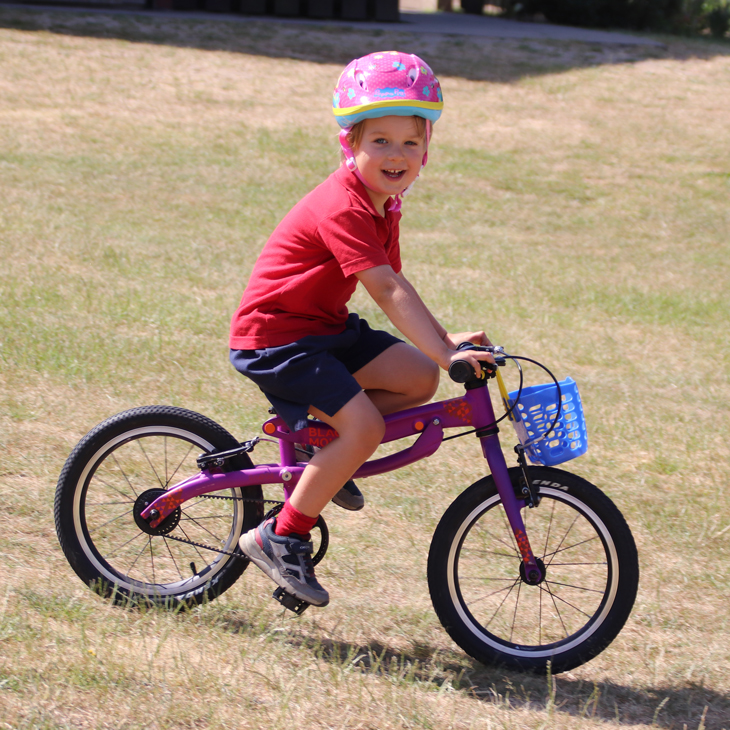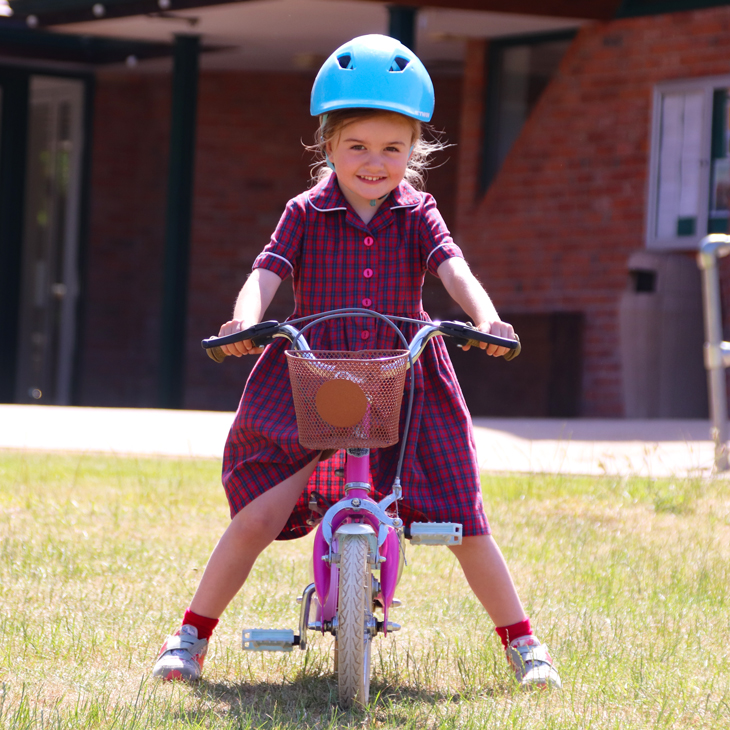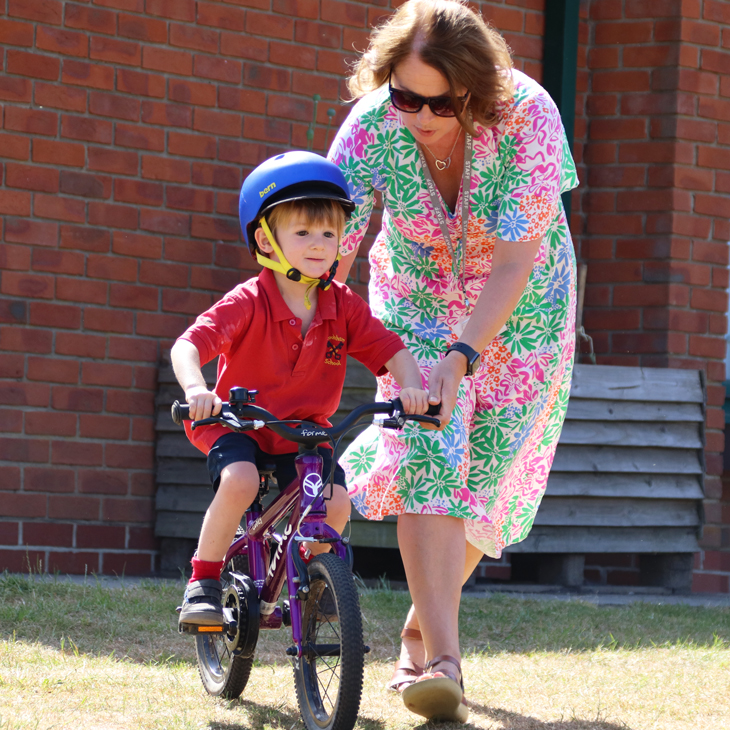 The Summer Term is in full swing, bringing us hot and sunny days that are perfect for wonderful outdoor activities. One such activity is cycling and it was thrilling to see our Little Bears and Big Bears bringing in their bikes and to experience the joy of riding them. Some of the children are mastering their coordination and balance with the help of their trusty balance bikes, while the older ones are pedalling away on their impressive pedal bikes. It's incredible to witness the resilience of our children as they pick themselves up after a fall and bravely get back in the saddle, always eager to try again. They truly thrive in the outdoors, embracing new challenges and acquiring new skills every day. Our dedicated teachers are right alongside them, running, encouraging and cheering them on. Well done, bear cubs! Keep up the fantastic work and continue to enjoy the sunshine and endless possibilities that the summer brings.
Kerry Chapman, Nursery Class Teacher
Hocus Pocus Focus As Reception Set A Potion In Motion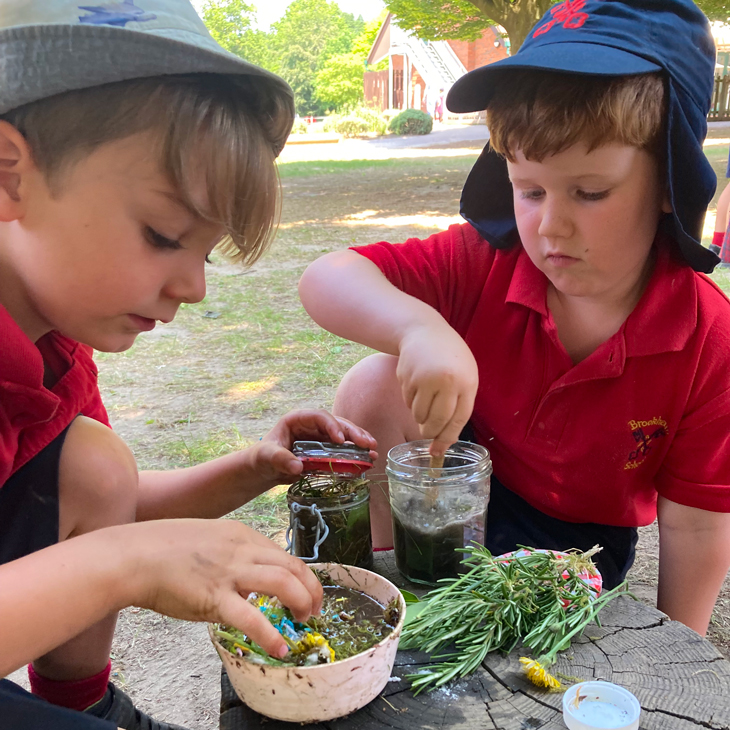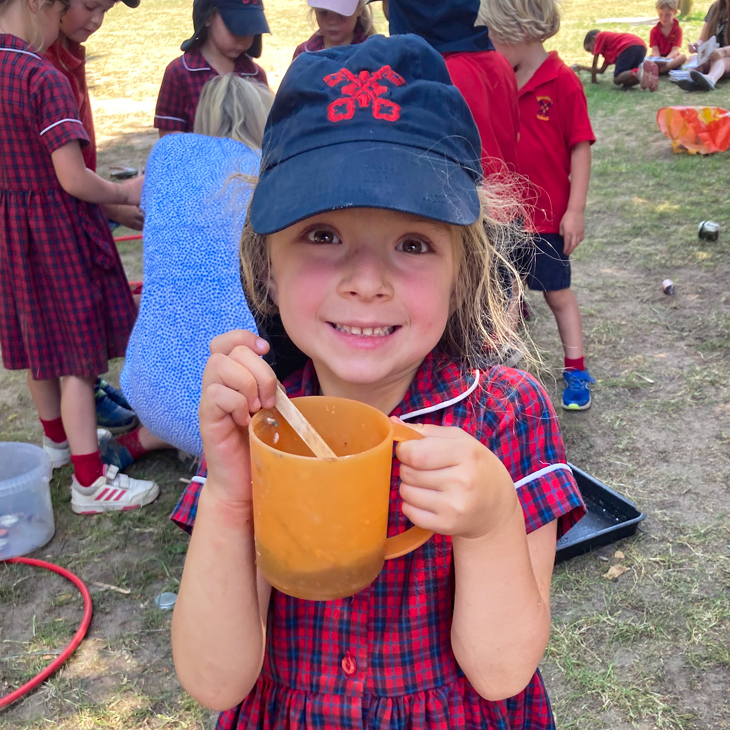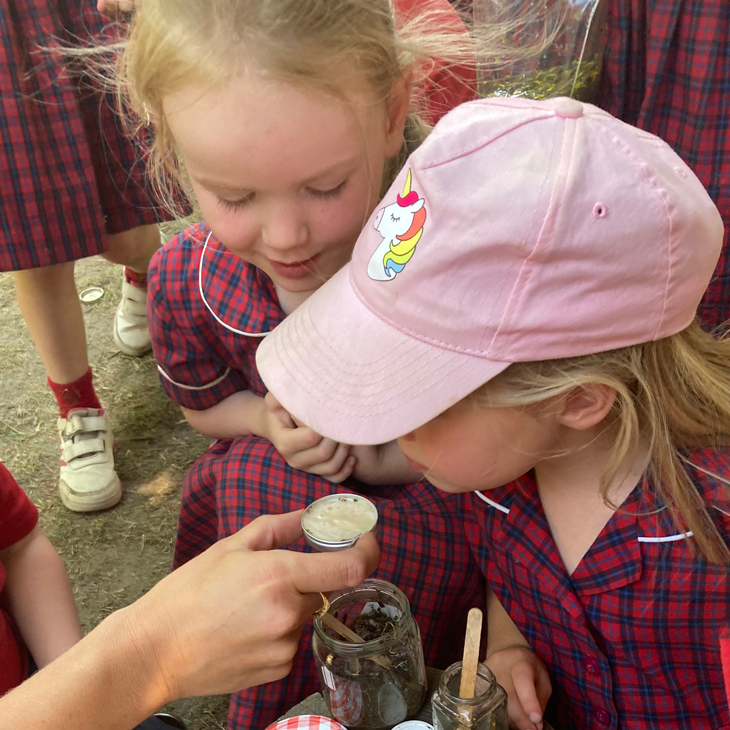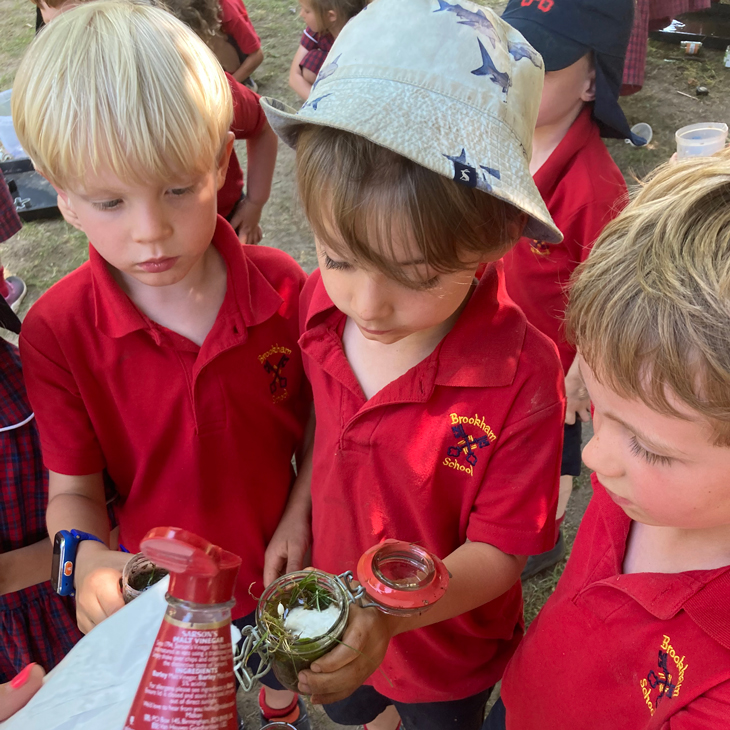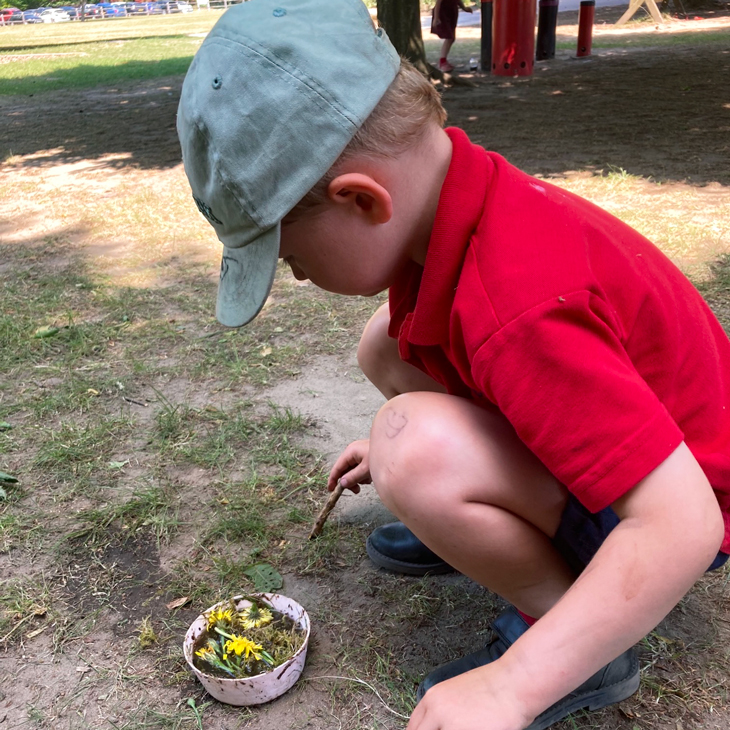 A teaspoon of grass, a pinch of dust, four petals and six drops of water mixed together and shaken three times was one of the exciting potions created by our enthusiastic Reception children. Building upon their knowledge of the text 'Instructions for how to make a potion', the inventive children spent time collecting a range of interesting and unusual ingredients from all over our wonderful grounds. Once they had collected their goodies, the children stretched their relating learning muscles when working together to decide how much of each ingredient was to be included in the creative and curious potions. And they even linked their potion project to their Maths when considering the different measurements that they were going to include in their marvellous mixtures. This required a dash of discussion, a pinch of patience and a cup of collaboration at times before the children were ready to produce perfect potions. So, with a mix and a shake and a huge tablespoon of wonderful imagination, a plethora of fantastic creations were concocted. Some claimed to make people invisible, others turn teachers into dinosaurs. What was certain was that there was a great deal of laughter as the children experimented with their brilliant brews. While none of the potions quite managed to do what they said on the tin, the keen Reception learners were undeterred and are determined to keep on experimenting to find the perfect potion!
Georgie Hunter, Head of Reception
Year 1 Eco Warriors Branch Out With Compost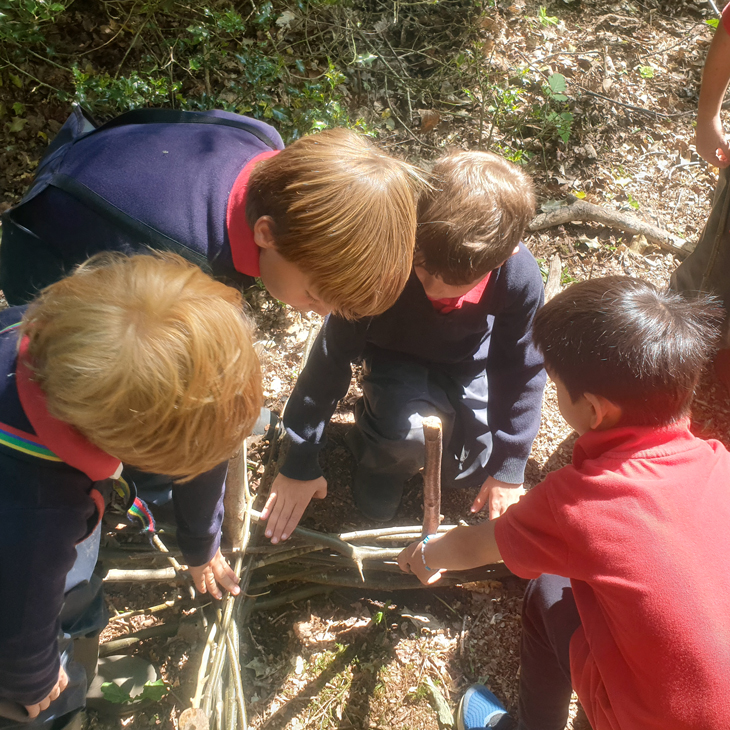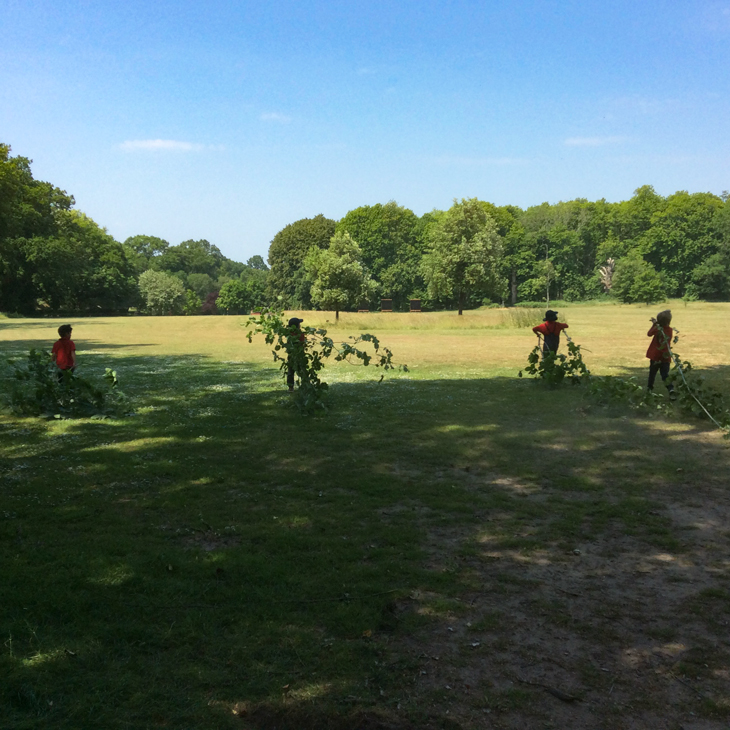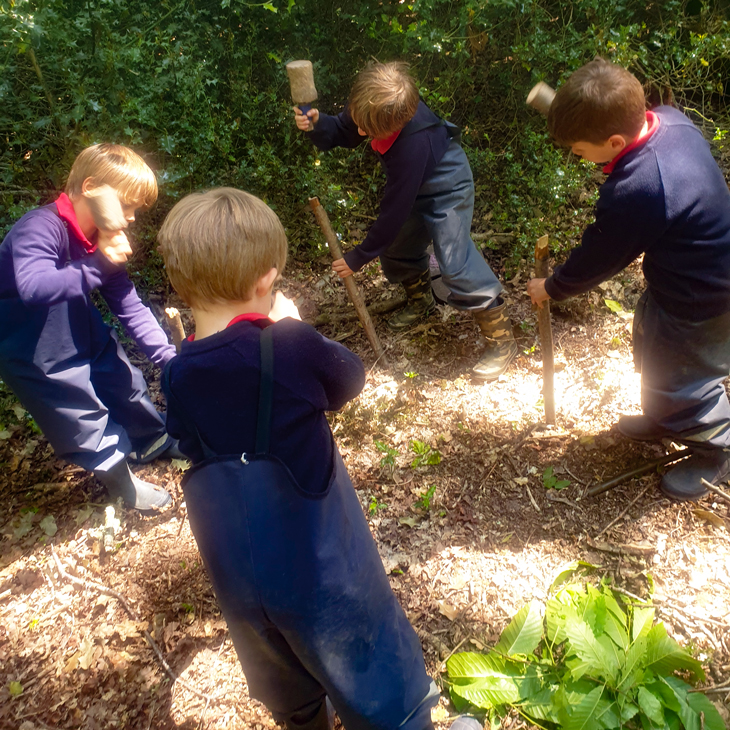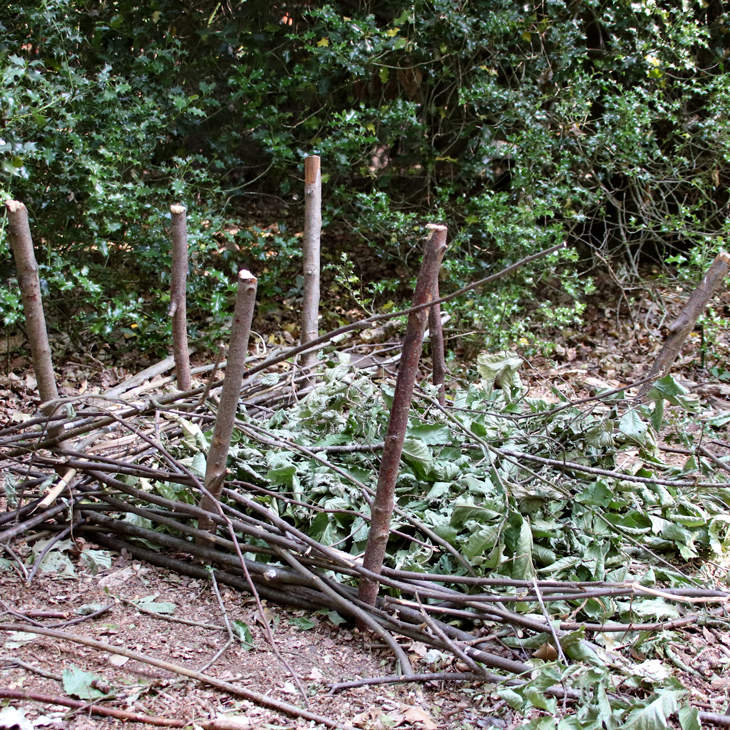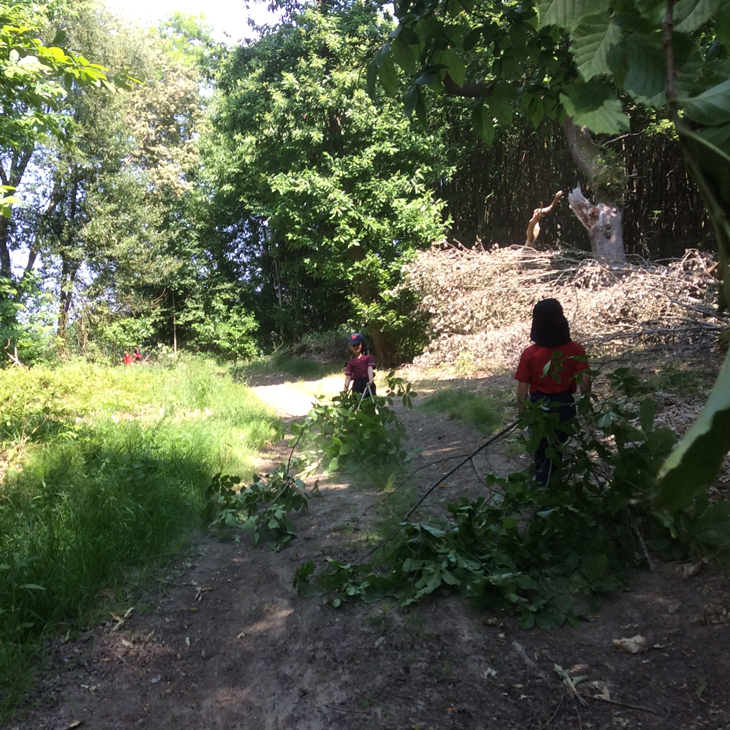 Enthusiastic and environmentally-minded Year 1 have thoroughly enjoyed working together to create a special area for compost in our wonderful woods. The eco project has taken several weeks, but the children have shown commitment, hard work and perseverance during their regular sessions at Forest School. Year 1 began by gathering fallen hazel branches, which involved great dexterity and technique using saws and long-handled secateurs, carefully shaping them into the correct length and thickness for their green plans. Once gathered and shaped, the children worked together to transport the hazel to a special site within their dedicated Forest School area. The industrious children then removed leaves and stripped the branches, ensuring that all offcuts were saved for future use, such as whittling around the campfire. Several children were than tasked with using little mallets to erect a wooden perimeter around which the hazel would be woven, demonstrating their excellent problem-solving techniques along the way as they decided that they needed a little water to soften the hard ground in order to keep the stakes in place. Once content that the structure was sound, everyone had a go at weaving the hazel. Year 1 worked together diligently and steadfastly and they are now the proud owners of a compost which is ready for use.
Rebecca Lane, Year 1 Class Teacher
A Moving Day As Year 2 Revel In Kwik Cricket Debut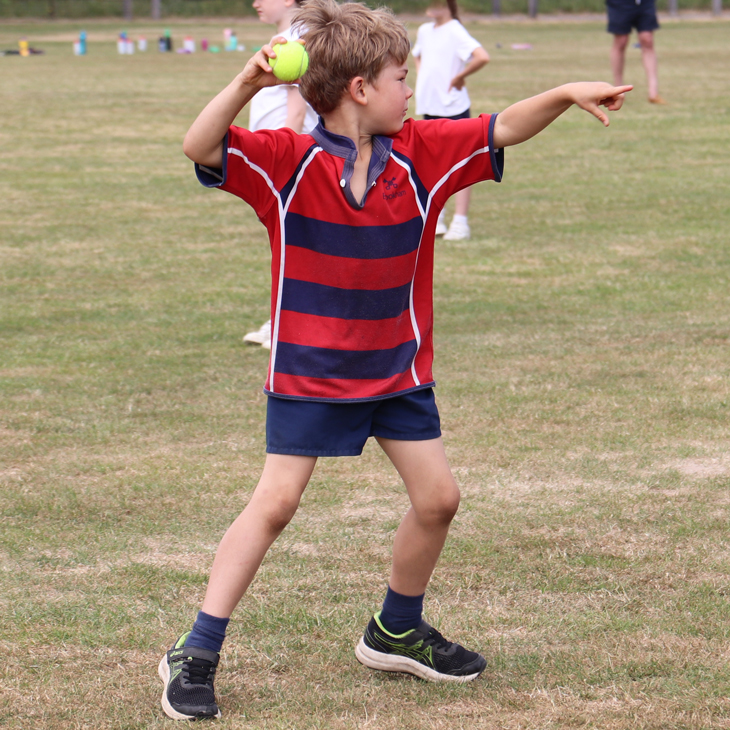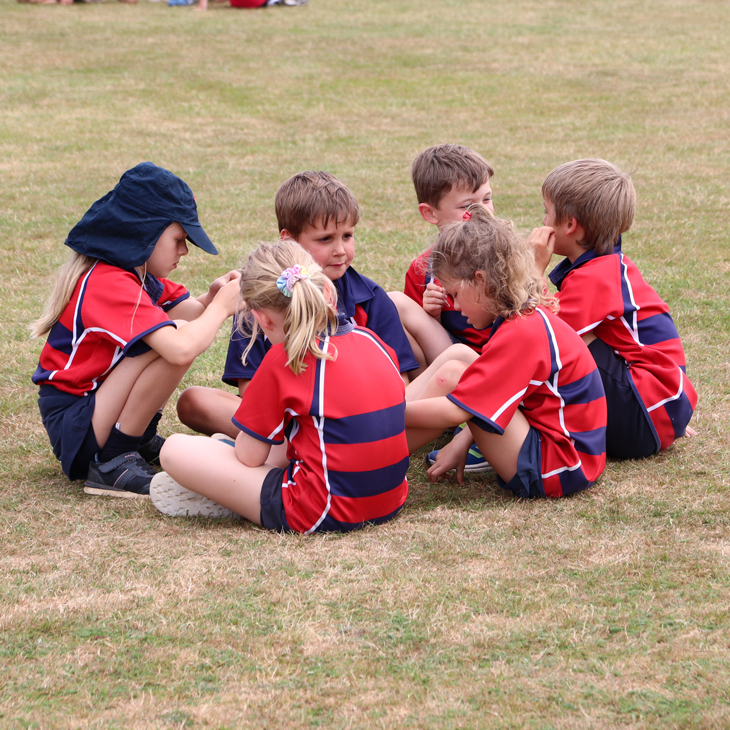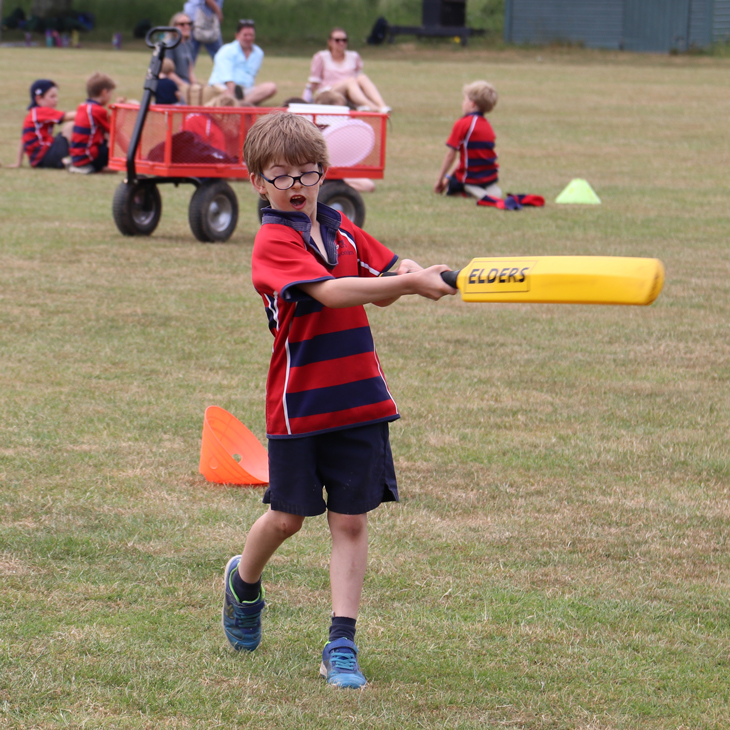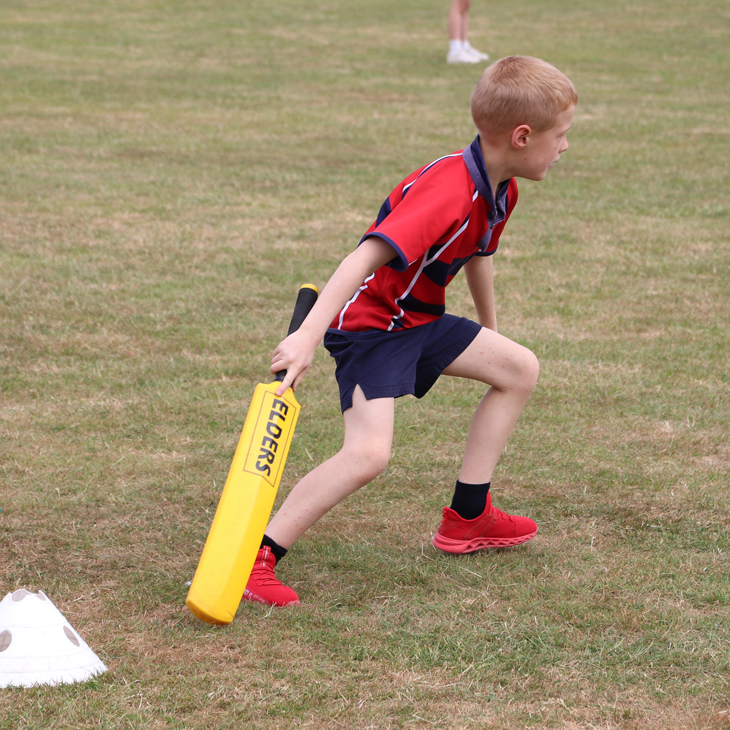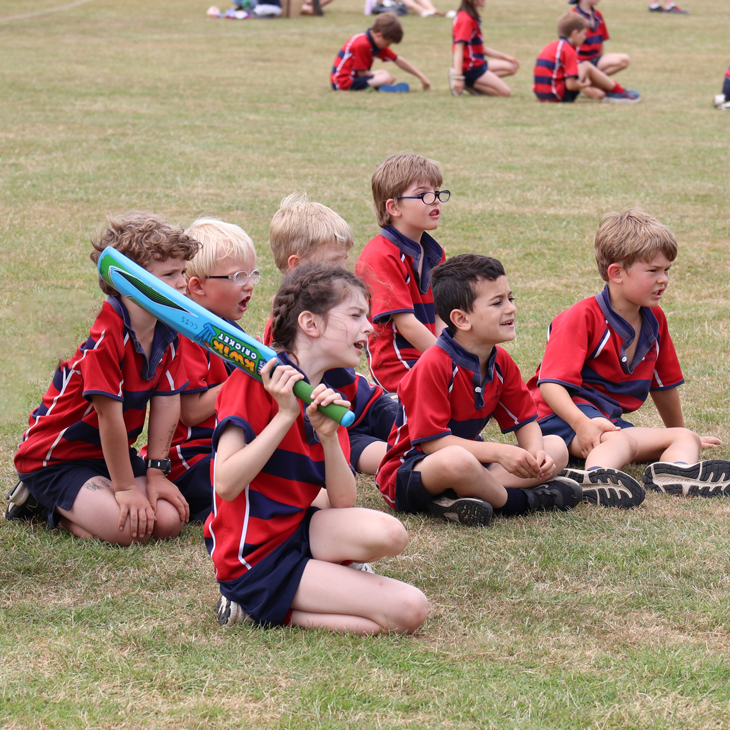 Excitement filled the air as Year 2 enthusiastically bounced into their respective classrooms on Monday morning. It was abundantly clear from the outset that the children had only one thing on their minds – playing in their first ever Brookham kwik cricket tournament and hosting our near neighbours from Churcher's College Junior School. Such is the importance of cricket for many children that they had forgotten that it was also 'Moving Up' day. When they returned to their classes, they recounted their fabulous mornings creating books and participating in team-building exercises with their soon-to-be new teachers, Mrs Platt and Mrs Statham. So, after a hearty and healthy lunch to refuel, lashings of sunscreen and water to rehydrate, they bounded across to the prep school cricket pitches – and the tournament surpassed even the children's wildest expectations. They collaborated within their teams, showed resilience against a good standard of opposition and demonstrated the developing batting and fielding skills that they have acquired from their games lessons and in diamond cricket club this term. The children entertained their superbly supportive spectators with an array of fine shots, great effort in the field and, most of all exceptional, sportsmanship. But the final word went to the legendary match tea which was a true delight!
Shirley Jervis, Year 2 Class Teacher
Year 3 Discover That Food Is The Language Of Love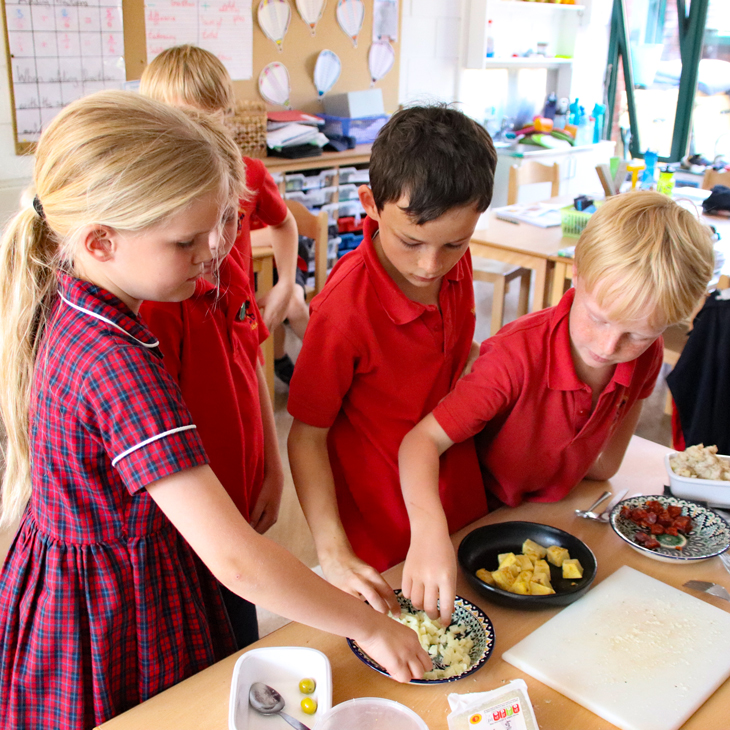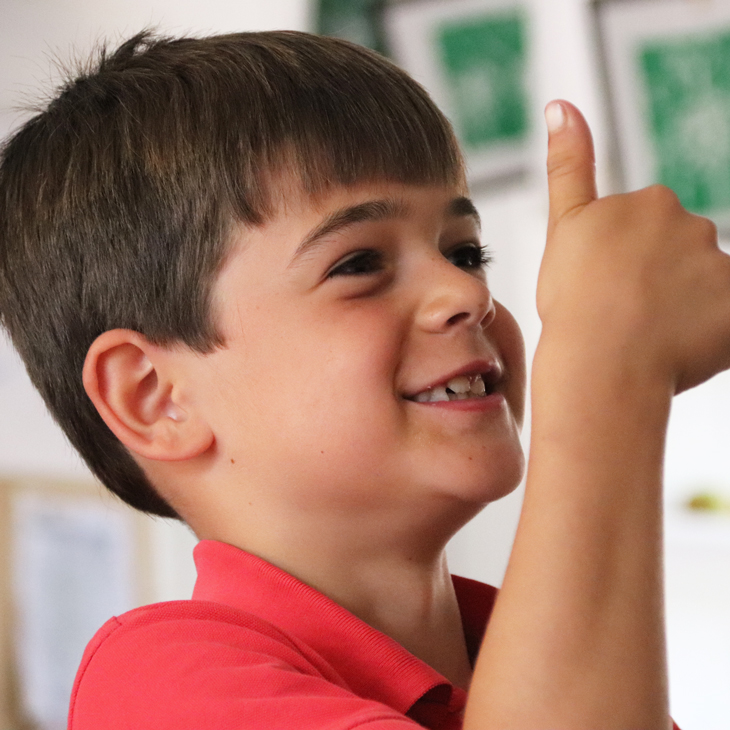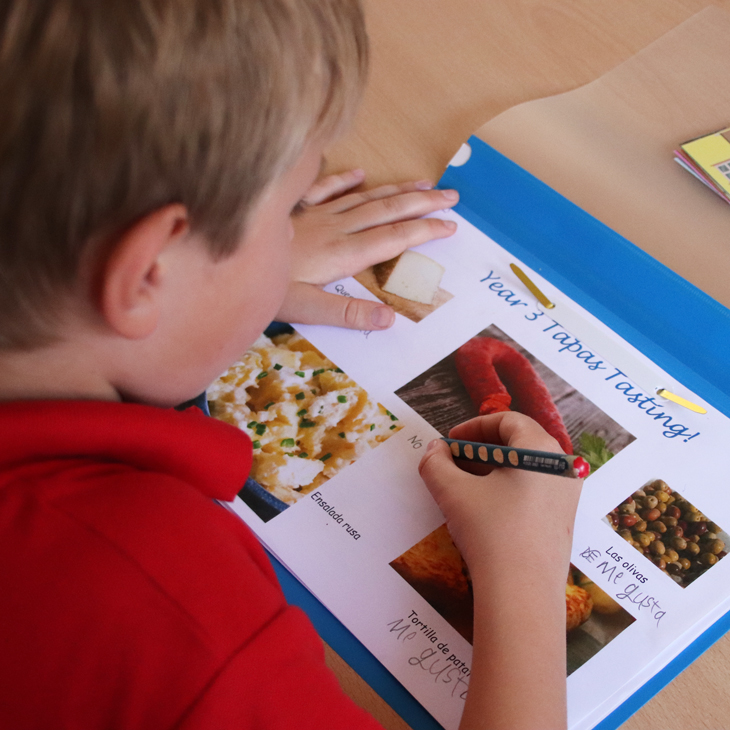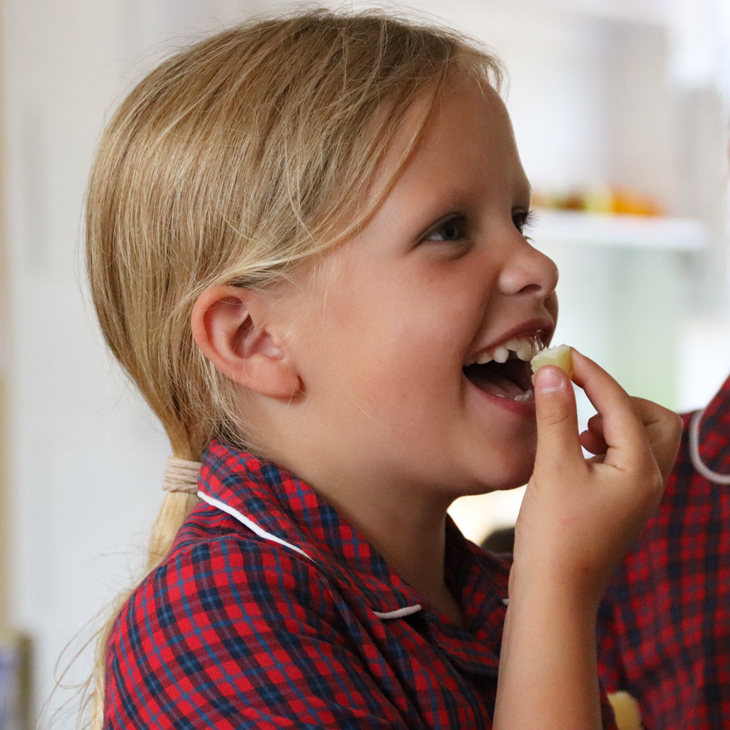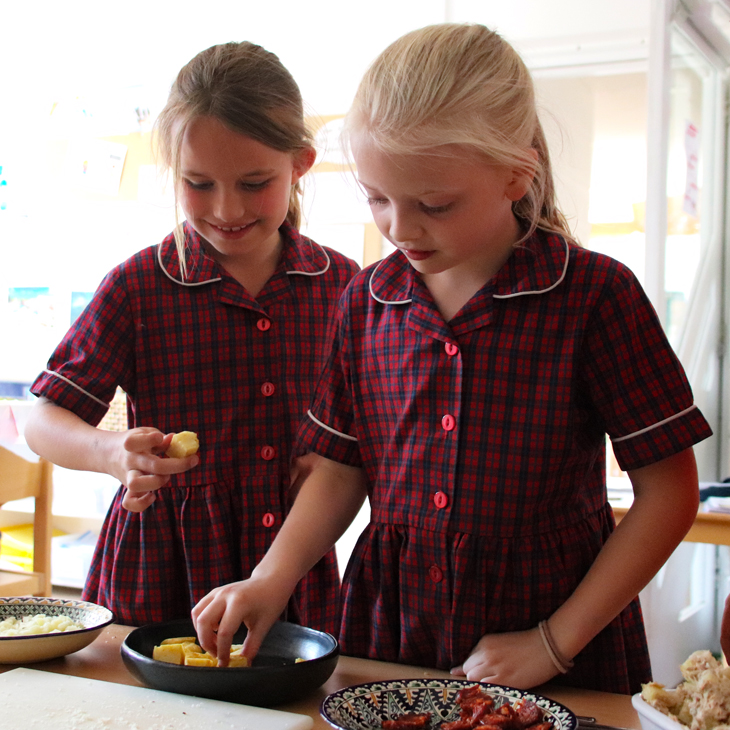 With food being the language of love, Spanish proved to be a real treat for Year 3 this week as Mrs Staring brought in an array of lovely tapas for the children to sample. The children began their tasty project by labelling pictures of some delicious Spanish treats, including tortilla de patatas, las olivas, chorizo and una ensalada Rusa handmade by Mr Grech. They then took turns to sample the morsels of delicious food and gave their verdict in Spanish. It was really encouraging to see the children try everything and that their favourite response was "quiero mas" or "more please". Far and away Year 3's favourite food was the manchego sheep's cheese which went down extremely well with all three classes. All in all, it has been an exciting week, with Moving Up day on Monday and every other spare minute spent practising our year-end production. The children are starting to get ready for the challenges ahead and the frantic fun that signals the end of term and the start of summer.
Stephanie Turner, Year 3 Class Teacher
Year 4 Make Capital Gains With Twickenham Visit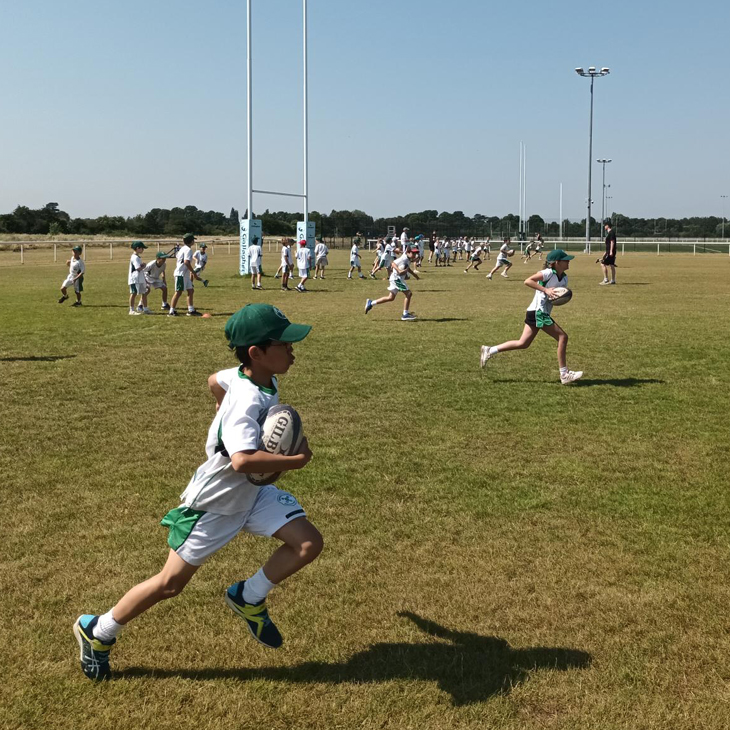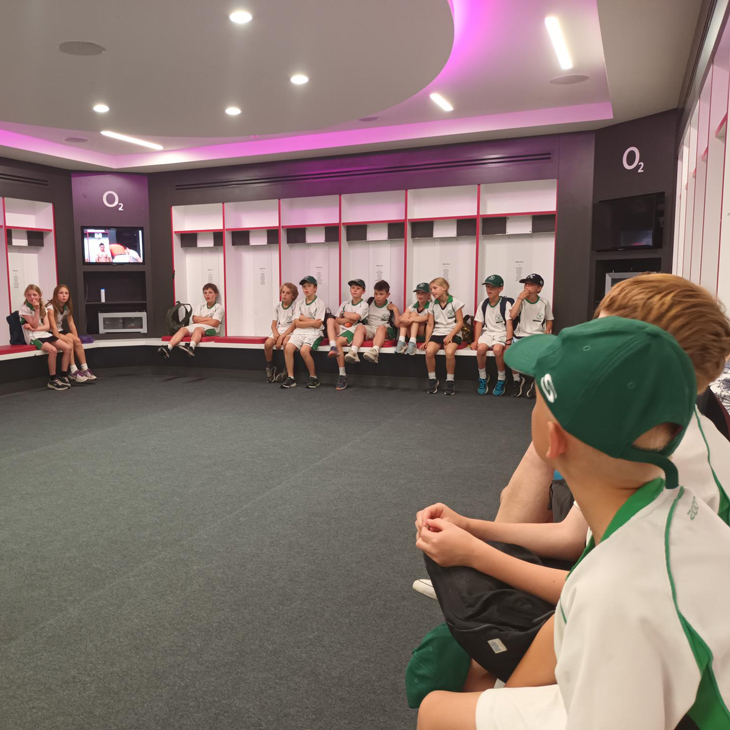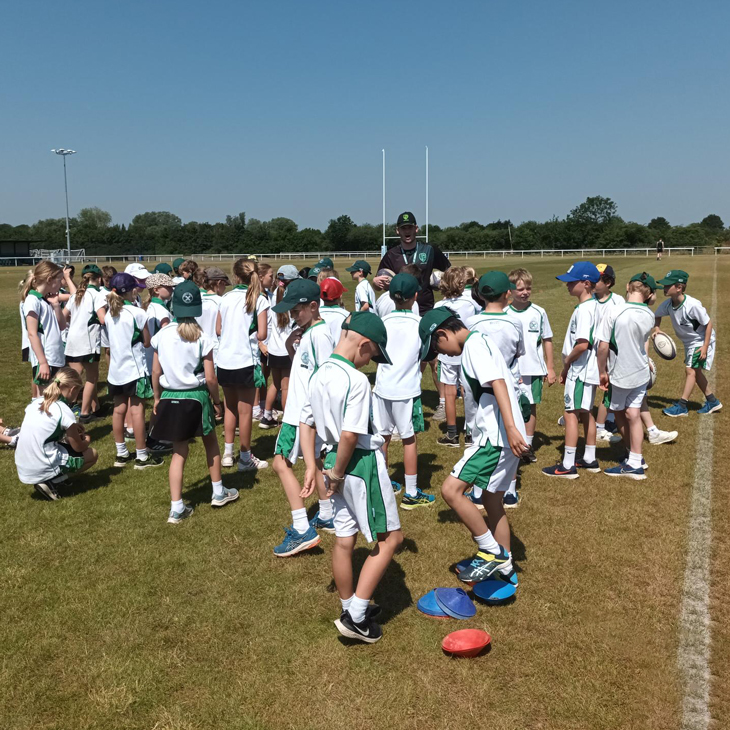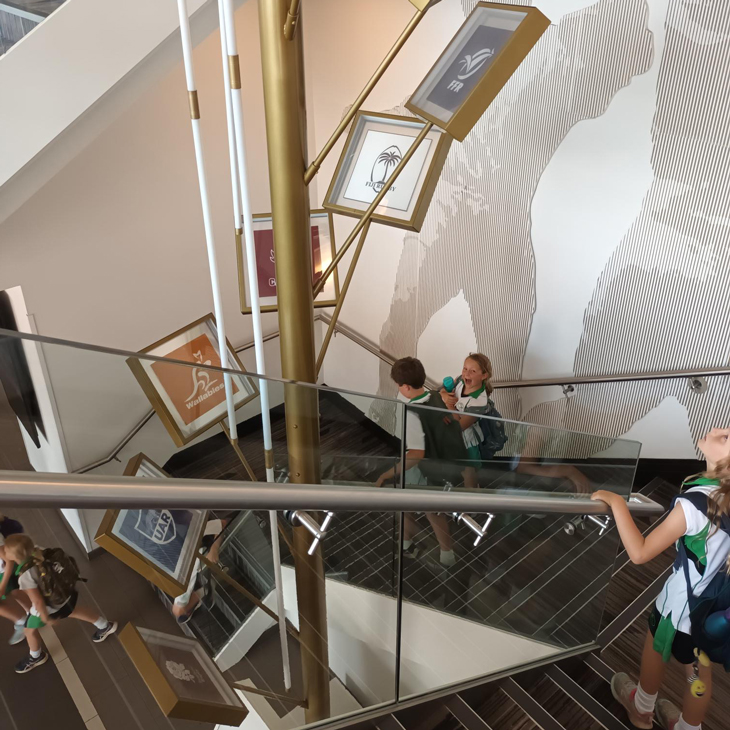 Sporty Year 4 headed to London this week for a fascinating behind-the-scenes look at the world of rugby union. Their day in the capital was split into two – spending time at the Gtech Community Stadium in Brentford in the morning before heading to the national stadium at Twickenham after lunch. While at the Gtech Stadium, the home of London Irish, the children had a rewarding coaching session with club coaches before taking part in a range of themed activities, including a rugby version of popular game Capture the Flag. The coach then took Year 4 to Twickenham, the home of English rugby, where the children had a tour of the impressive stadium, including the museum, changing rooms and VIP areas. It was a truly inspiring day and, you never know, perhaps some of the current Year 4 children will play on the Twickenham's hallowed turf in years to come.
Louise Doven, Year 4 Class Teacher
Enriching Learning Experience Is Key For Eager Year 5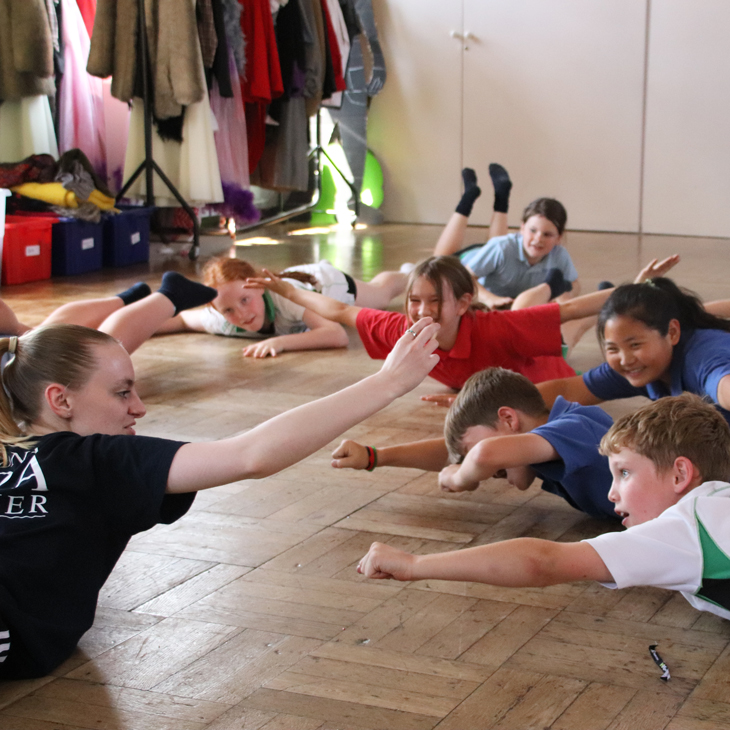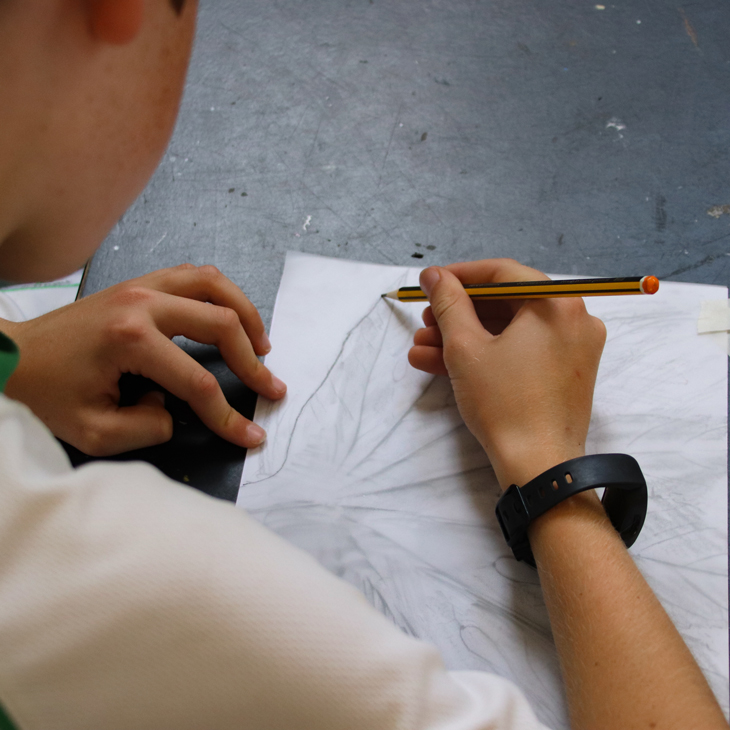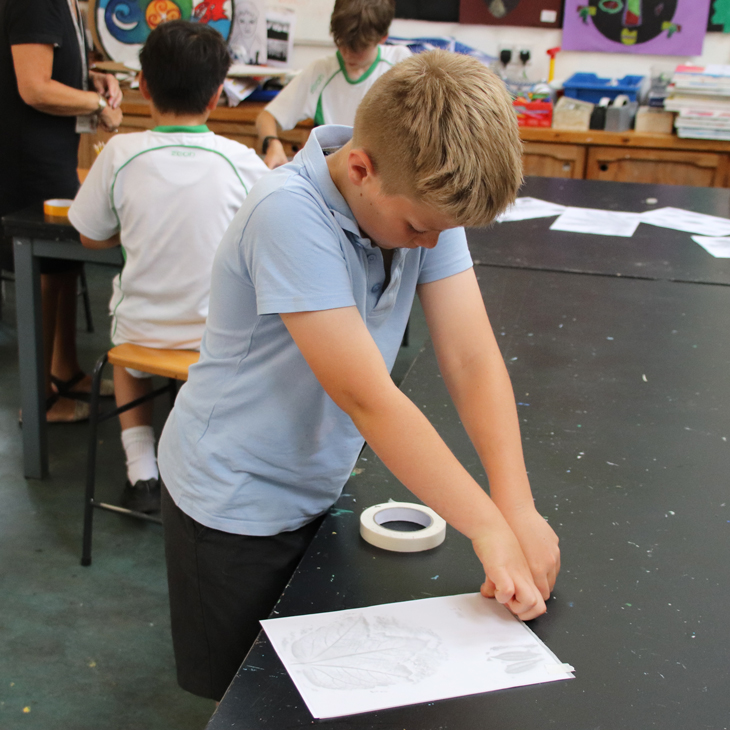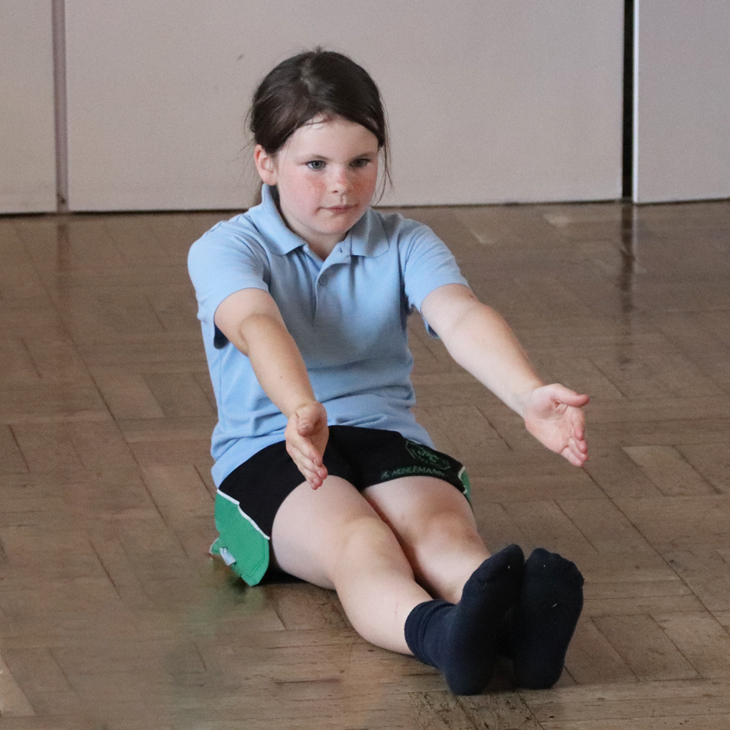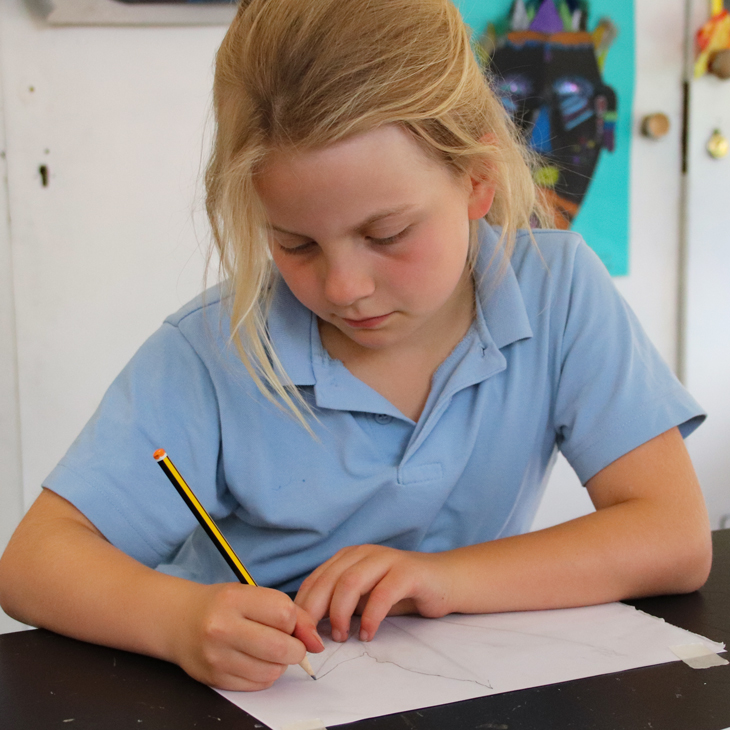 Year 5 have continued to thrive with their co-curricular studies. These inter-disciplinary activities, undertaken during the children's invaluable Thursday afternoon Keys sessions, really enrich the children's learning experience and cover a multitude of disciplines. This week, Year 5 were split into groups to focus on projects in Art, Dance, Bushcraft and Orienteering. Art lessons in Year 5 focus on nurturing creativity, developing artistic skills and fostering an appreciation for visual aesthetics while Dance offers the children a unique opportunity for self-expression, creativity, and physical coordination. Year 5 have embraced Orienteering with enthusiasm and demonstrated remarkable growth having been exposed to various key techniques such as map reading, compass navigation and route planning. And Bushcraft equips the children with essential outdoor survival skills, environmental awareness, and an appreciation for the natural world. As well as enhancing the children's day-to-day learning, these co-curricular activities also help them develop essential skills such as problem solving, teamwork, self-expression, creativity, and an appreciation for environmental awareness. We are proud of their achievements and the continued effort they put into these key lessons.
Rob Dilworth, Head of Co-curricular Learning
No Shortage Of Happy Campers In Year 6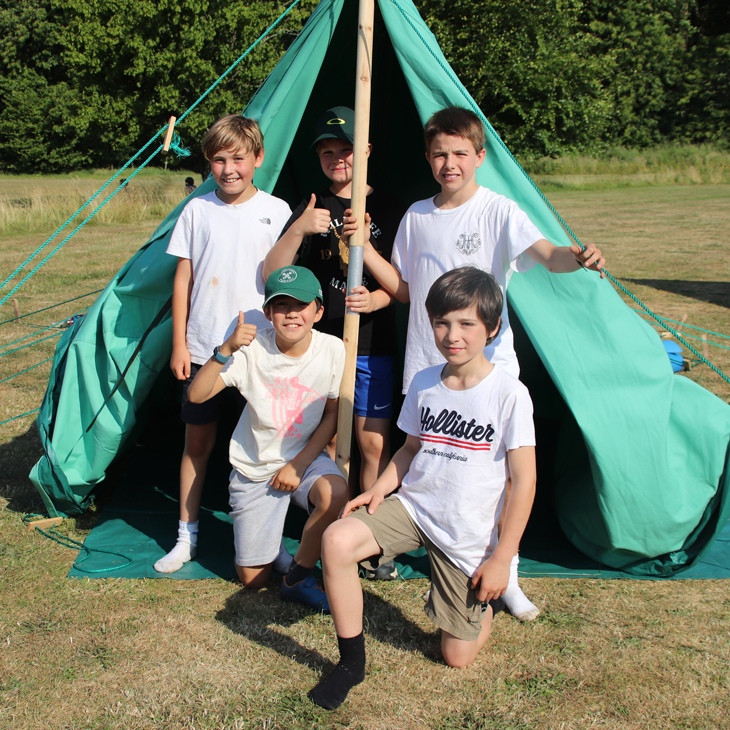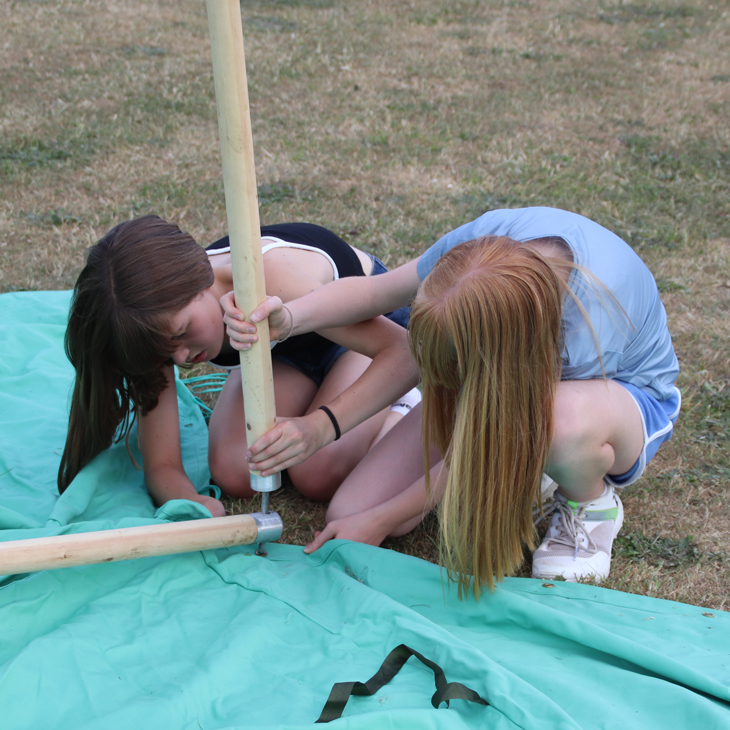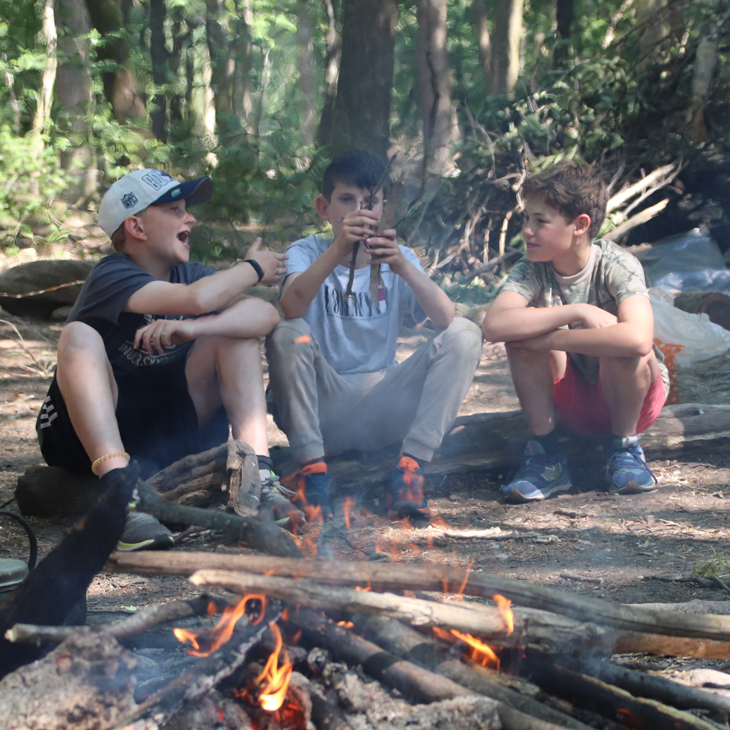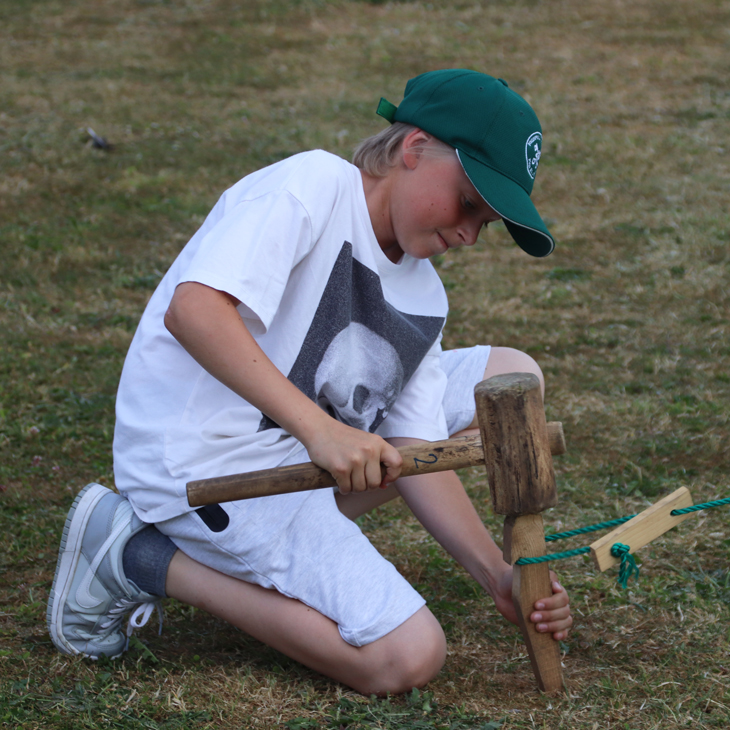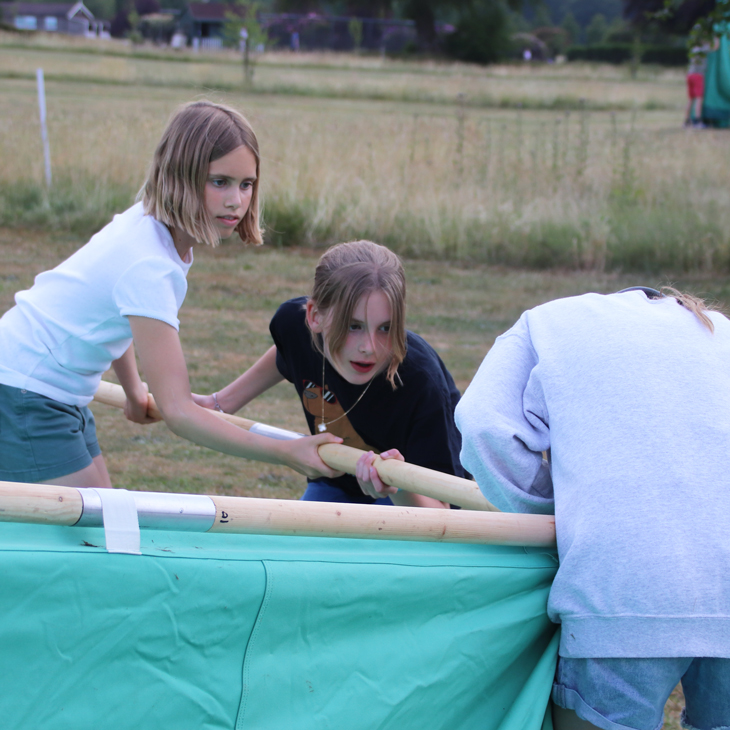 The annual Year 6 campout is always a firm favourite with the children – and this year was no exception. Armed with sleeping bags, spare clothes and water, around 50 excited children headed up to the golf course for a night of camping under the stars and all that that entails. But before they could even think about a good night's sleep with their friends – or distinct lack of sleep in some cases – the children had to work together in their groups to erect their tents. Faced with an array of floppy canvas, tent pegs, poles, rope and mallets, this was no easy task, but the children worked together in their teams to great effect to ensure they had somewhere safe, warm and cosy to sleep. Dinner, games and hot chocolate around the campfire followed before Year 6 finally crashed out at various stages of the night. An early start followed with the sun up so early – certainly much earlier than the accompanying adults anticipated – but the enthusiasm of the young campers didn't wane as they ate a leisurely breakfast before heading to the woods for a day of bushcraft around the campfire. It was lovely seeing Year 6 immersing themselves in the whole campout experience right from the off and working so well to get results and having great fun along the way.
Jo Gordon, Head of PE and Girls' Games
When The Going Gets Tough Year 7 Get Going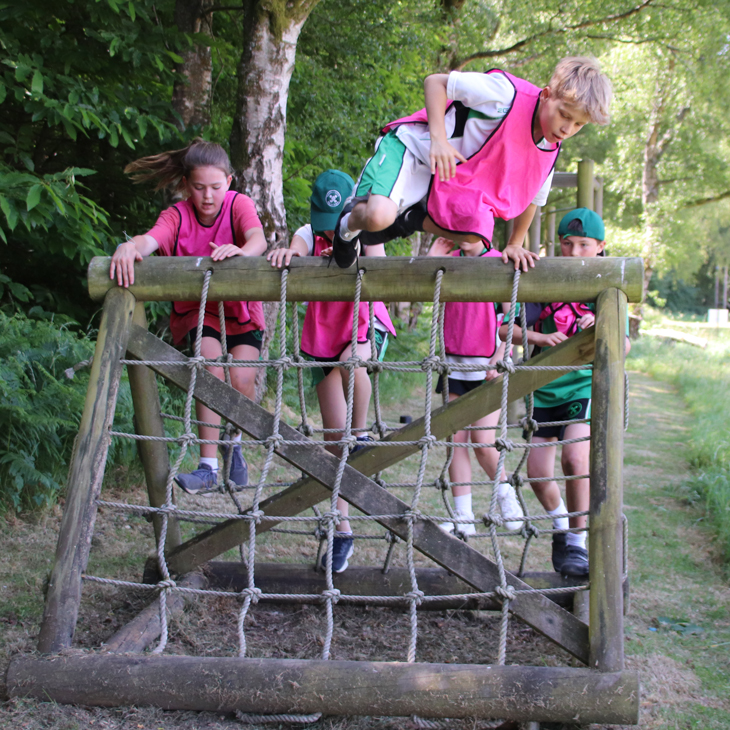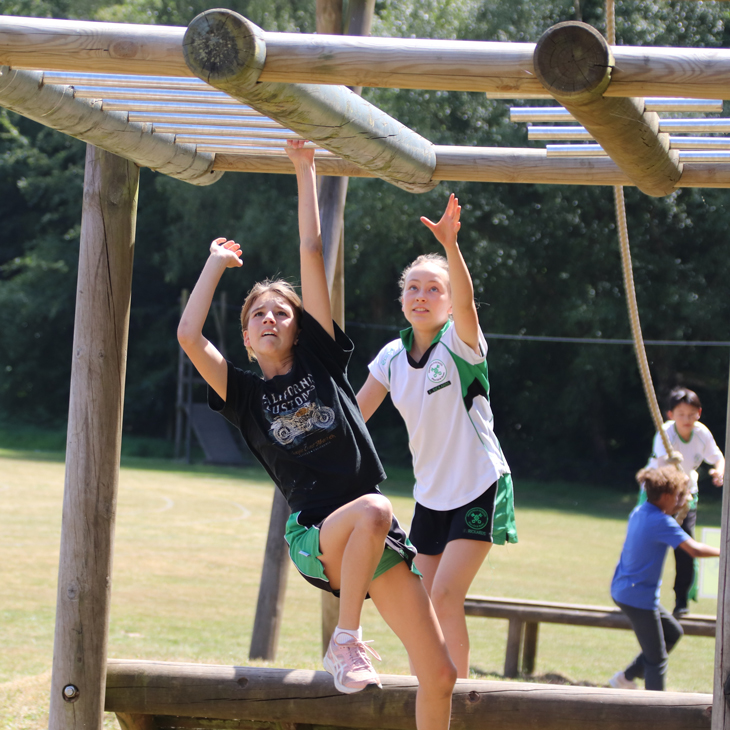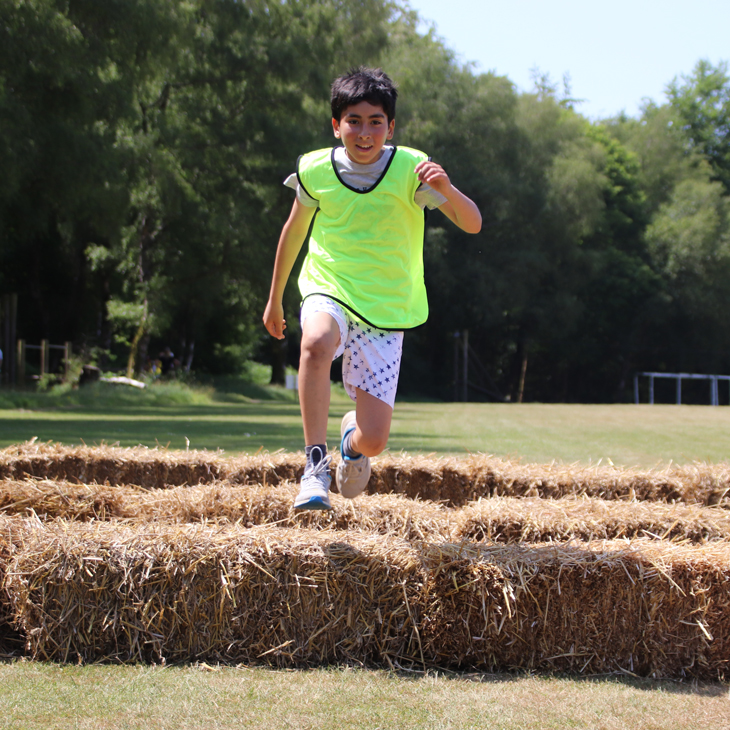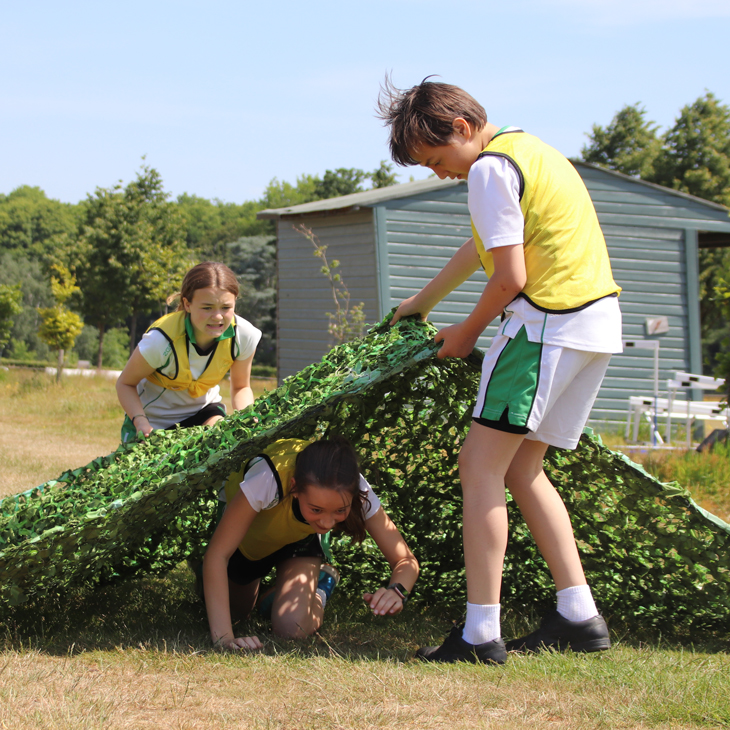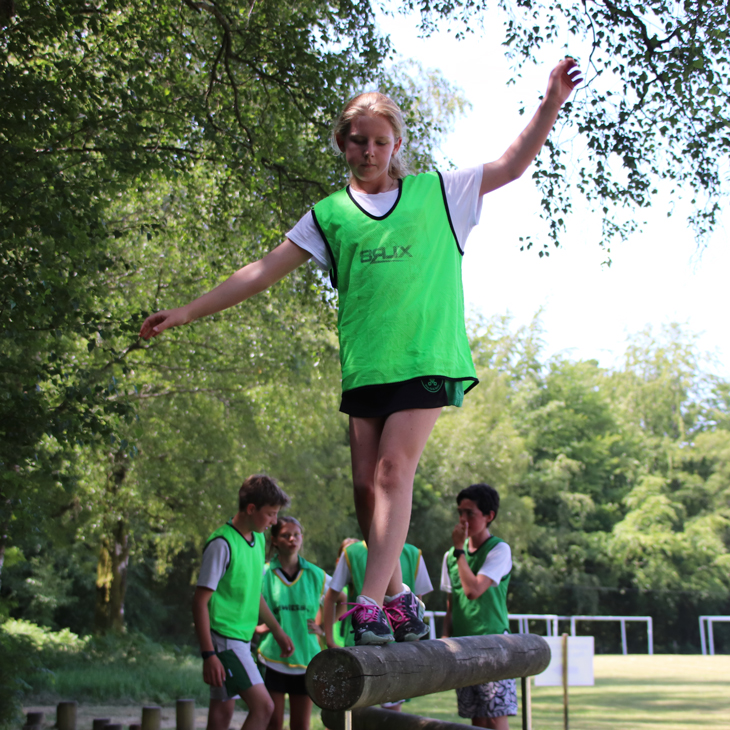 Underfoot conditions may not have been typical of the event, but Year 7 rose to the challenge of their very own 'Tough Mudder' this week. While competitors of similarly named events have sticky mud to contend with, the children had to overcome rising temperatures, hard ground and a variety of tricky obstacles instead. With Year 7 split into groups of six boys and girls, the emphasis in this timed challenge was firmly on teamwork. With around a dozen obstacles ahead of them, including two cargo nets, balance beams, a rope swing and monkey bars, the teams set off at two-minute intervals with the twist that each squad member must successfully complete each section of the course or all six would have to tackle the obstacle again. Bearing this in mind, the children soon learned that the best approach was to stick together as a group in order to help their teammates overcome each obstacle. The result was noticeable as the teams made relatively light work of what was a challenging course which culminated in a slip 'n' slide and a lung-busting run to the finish line. It seems the old adage is true – many hands do indeed make light work.
Jo Gordon, Head of PE and Girls' Games
Welsh Trip A Beautiful Learning Curve For Year 8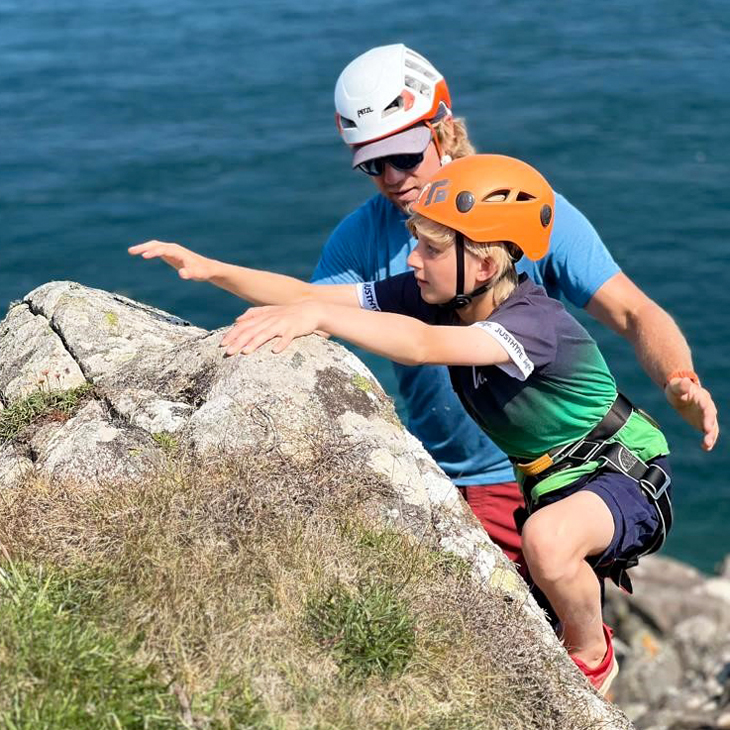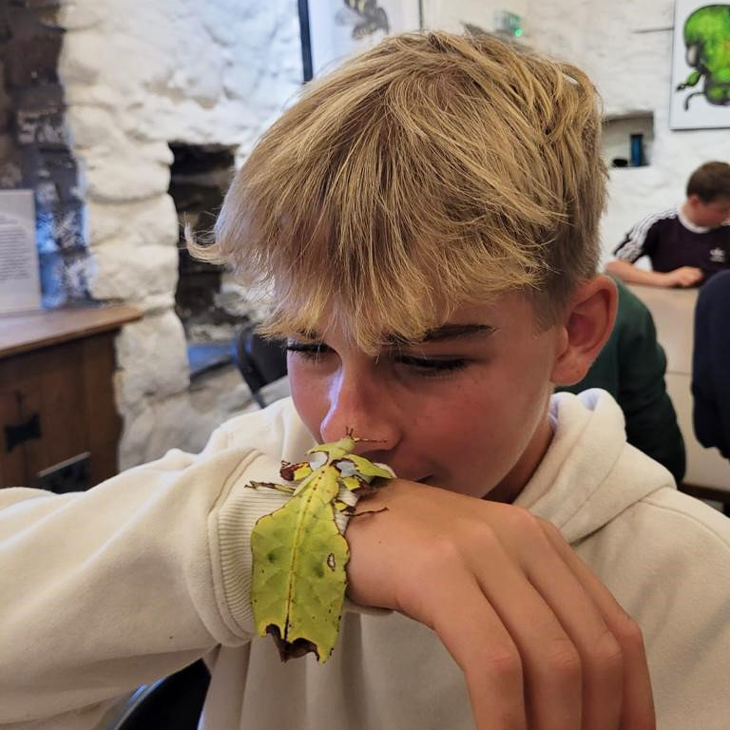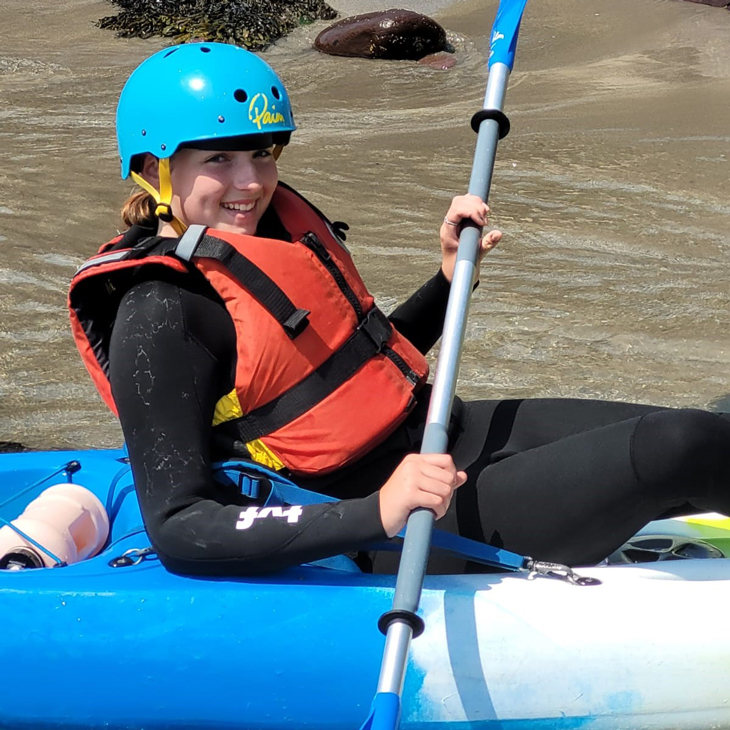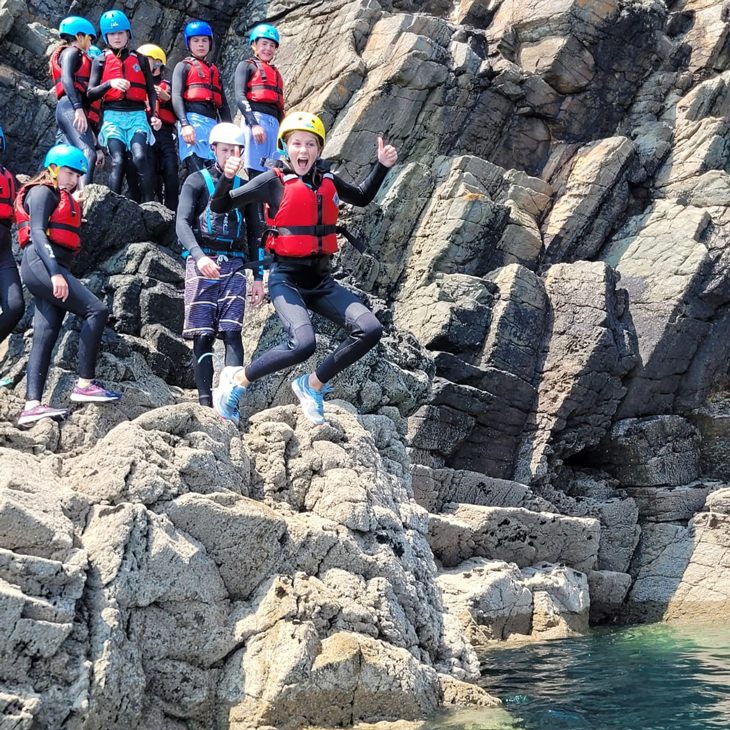 Exams may be over but the learning has continued in earnest this week for Year 8. Key skills have been developed in beautiful Pembrokeshire this week as communication and collaborative skills have helped pupils face challenges and push through their comfort zone. They have faced their fears jumping off rocks into the sea, climbing cliffs and surfing waves. Team skills were developed through beach games and bread making while creativity helped them come up with ways to tackle problem-solving tasks. Year 8 have also considered the impact we have on the environment; learning about nature, spotting the wonderful marine wildlife and a trip to a bug farm taught us all about the possible protein source of the future. Finally, the children have learned to listen; to instructors, to teachers but, more importantly, to each other and to their surroundings. They have made many happy memories and will hopefully come back to school rejuvenated and ready to put on an amazing end-of-year production.
Jo Longshaw, Head of Year 8