Looking Ahead
17th June 2022
Nursery Children Studying Life Cycle Of Butterflies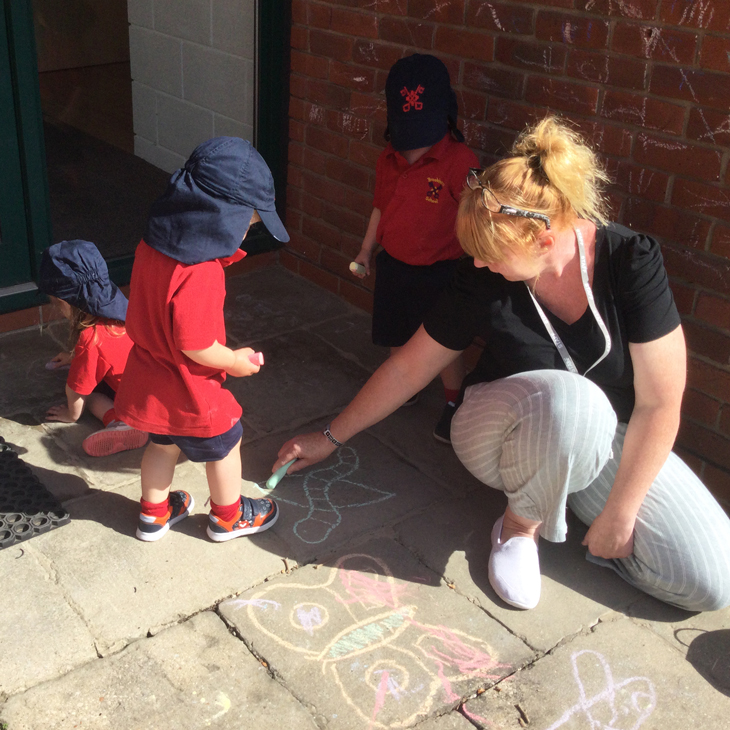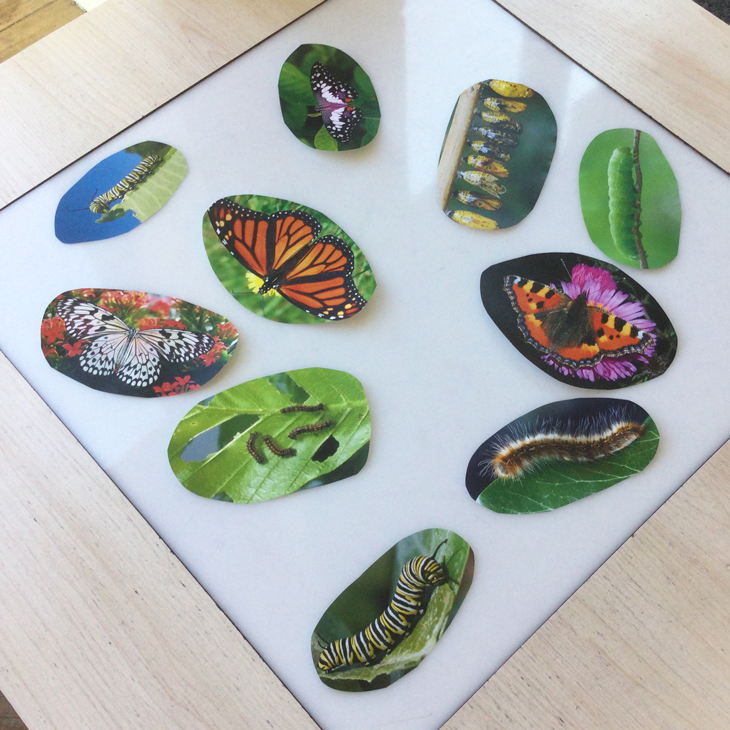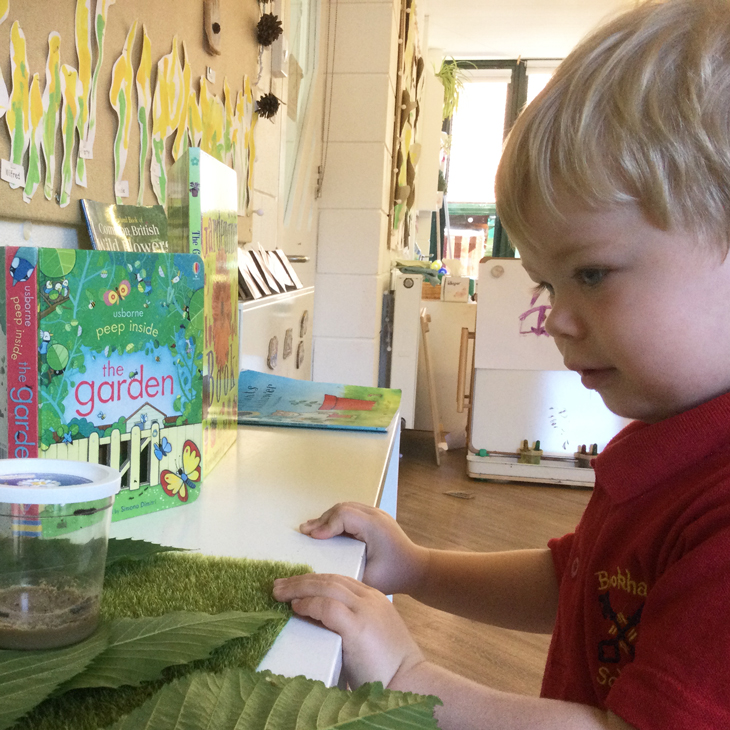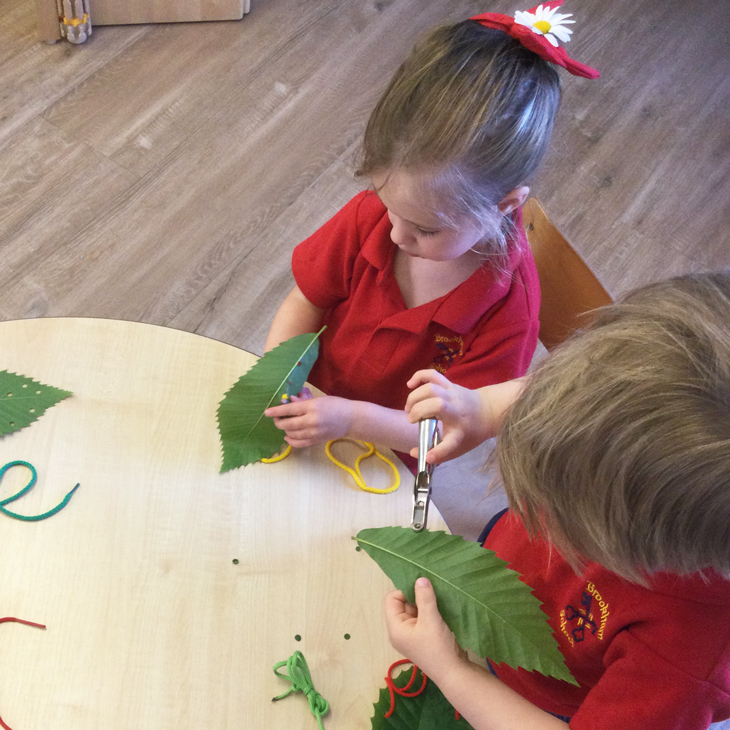 This week in The Den the children have been learning all about the life cycle of a butterfly. They were absolutely delighted to meet the tiny caterpillars that have arrived at Nursery and over the coming weeks they will watch them transform and develop from tiny caterpillars to beautiful butterflies. Ever keen to be friendly and welcome the wriggly little fellows, the children decided it would only be right to give them names – so a big Brookham welcome to Broccoli, White, Tomato, Mummy and Daddy. For the next few weeks at least, the morning welcome song in Nursery will have a few extra names on the list! Learning all about the caterpillars and their metamorphosis into butterflies has made the children think about their own journeys at Brookham. Soon it will be time for them to take their next steps as they progress and move up in Nursery. They spent a lovely sunny morning on Monday exploring in Woodlands and the fantastic garden. They enjoyed meeting new friends and, of course, took it all in their stride as they relished exploring the new environment. Much like butterflies, the children are almost ready to spread their wings and take flight to pastures new. Until then, we will continue to learn and grow together in the summer sunshine.
Penny Hodnett, Nursery Class Teacher
Reception Revel In Forest School Fitness And Fun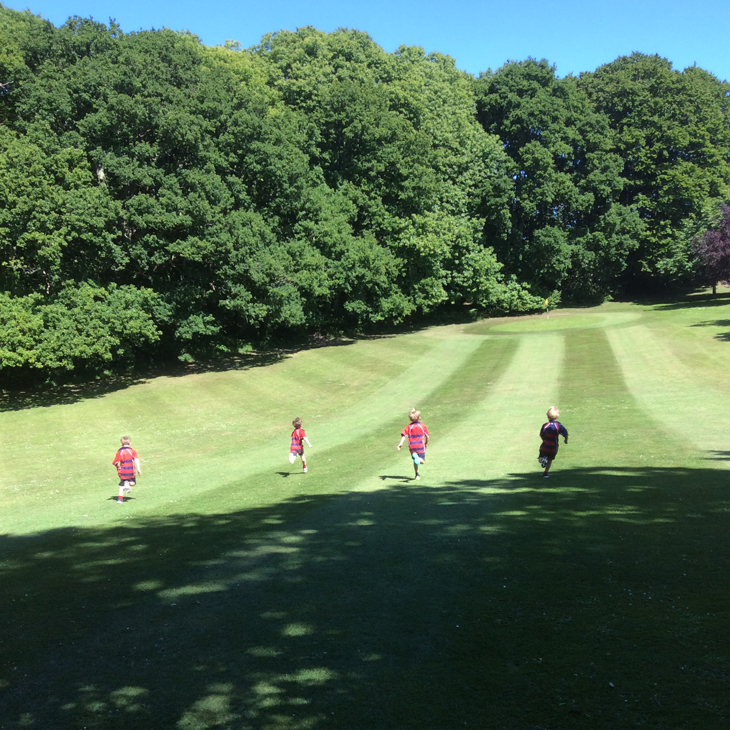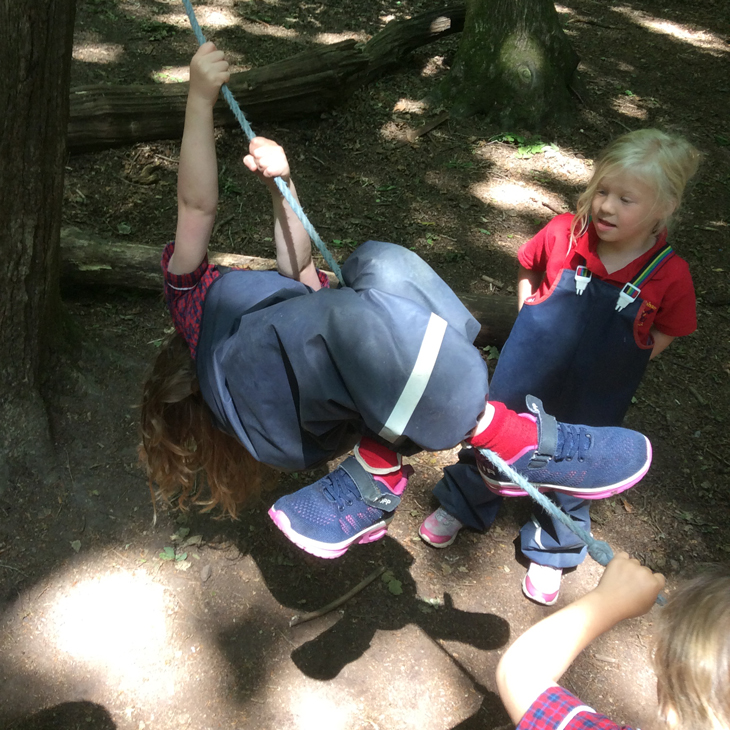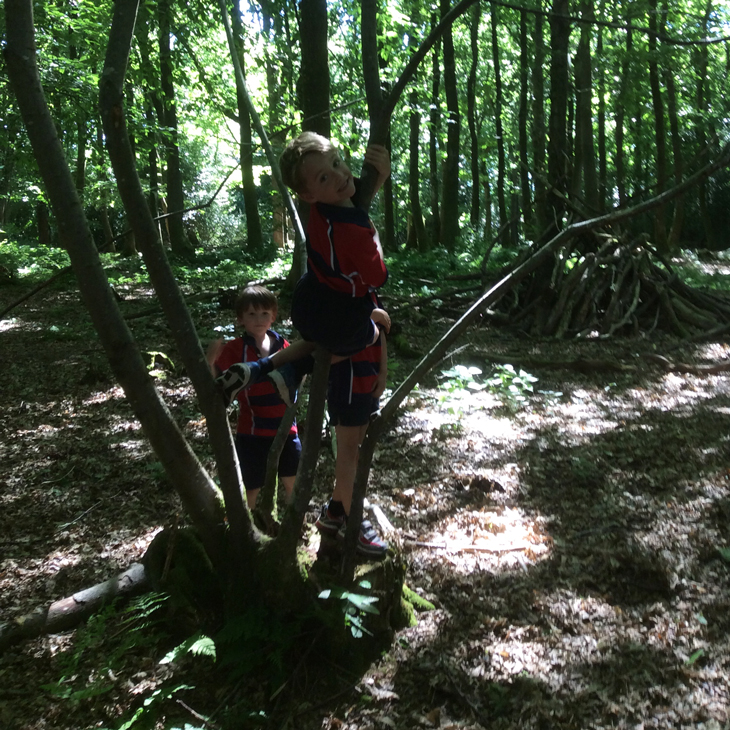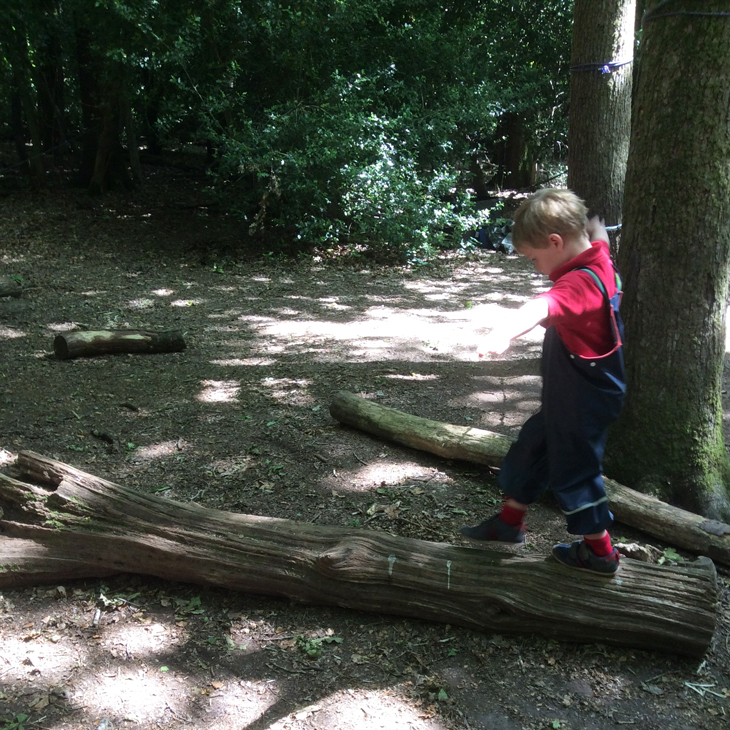 The children have this week thoroughly enjoyed exploring how to use the woods to develop their fitness and gross motor skills. Up at Forest School, children have been particularly enthusiastic when using the rope tied between trees to improve their upper body strength. With huge smiles while suspended upside down from the rope, they worked together to incorporate a somersault, supporting each other as required, collaborating and encouraging with kind words and a positive attitude. Fallen trees were also used as balance beams, which offered the perfect opportunity to improve both their balance and agility. It also provided an opportunity to discuss how we can all improve our balance. Focusing on the position of their feet, looking forwards and spreading their arms helped all the children  complete the 'beam'. Beady eyes also spotted some trees which were great for climbing. These encouraged children to persevere, work together and build their gross motor strength as they safely tackled the branches. Finally, the beautifully mown lines across the golf courses provided the opportunity for running races in 'lanes'. The fresh air and fitness will undoubtedly do wonders for the children's mental health while helping develop and refine various skills. Yet again, these children, who will soon be heading into Year 1, demonstrated just how far they have come this year; working together and being kind and motivated while aiming to be the very best they can at any opportunity.
Rebecca Lane, Reception Class Teacher
Growing Excitement As Year 1 Ponder Change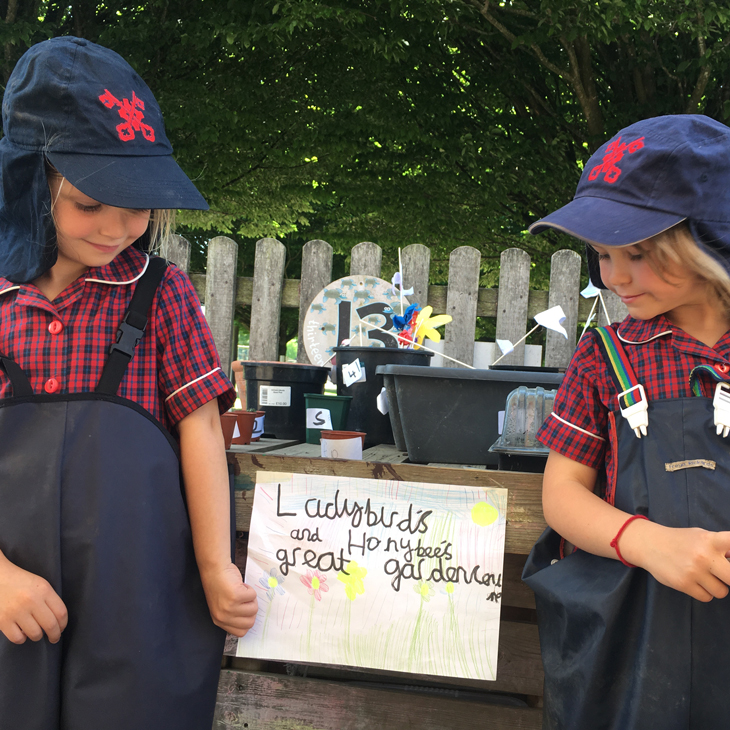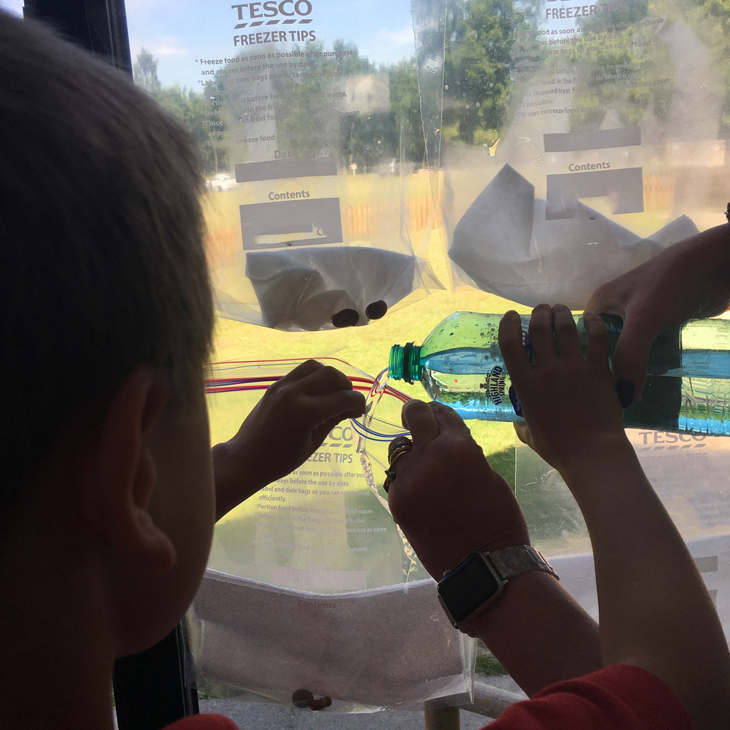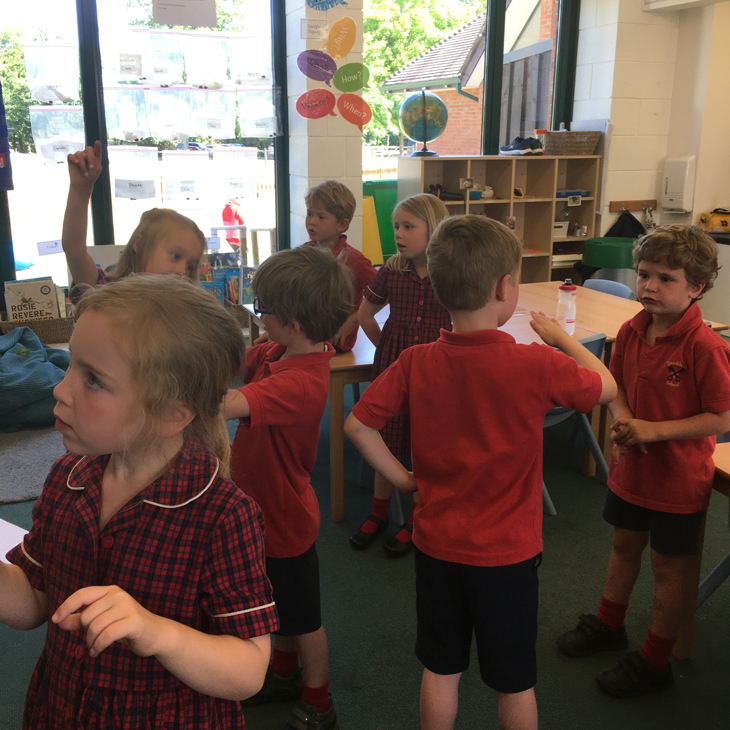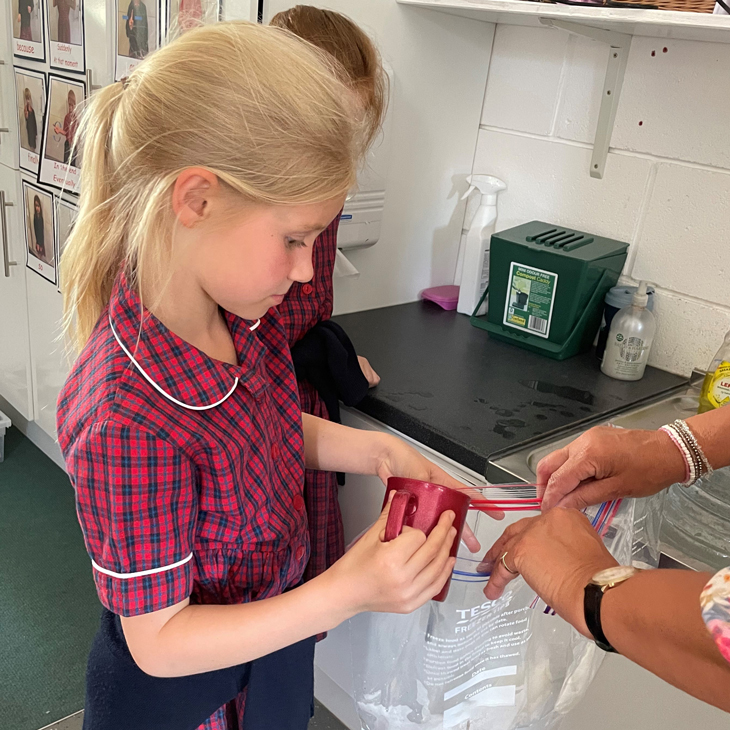 Year 1 began the week with a fantastic 'Moving Up Day' where they spent quality time with the teachers in Year 2. The children were a little quiet and nervous as they initially walked into what will be their new classroom from September, but after many curious questions about life in Year 2 were answered, and having spent time undertaking typical Year 2 tasks, the children came back to Year 1 excited about the changes ahead. Appropriately, the children have been learning all about change in their personal, social, health and economic lessons this term – and it was wonderful to hear the children reassure their friends that 'changes are okay, you know, Year 2 is going to be even better than Year 1!' While the children have been pondering the change from Year 1 to Year 2, in science they have been observing the changes that take place during germination. The classroom windows are currently adorned with plastic bags, each filled with a bean and damp tissue. We all hope that the constant sun and devotion to watering the beans will mean they blossom as beautifully as the children have done.
Kathleen Salusbury, Year 1 Class Teacher
Fascinating Look At Life In Roman Britain For Year 2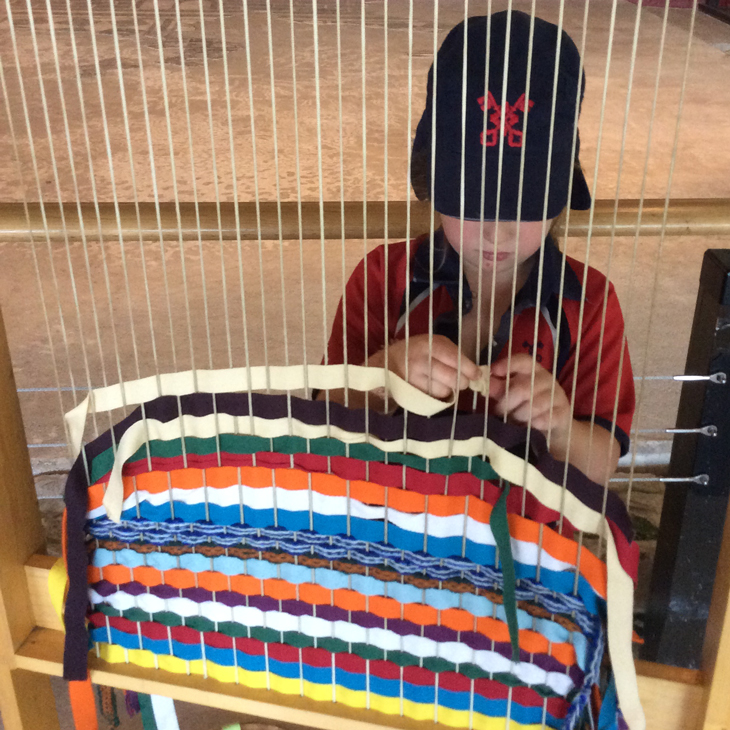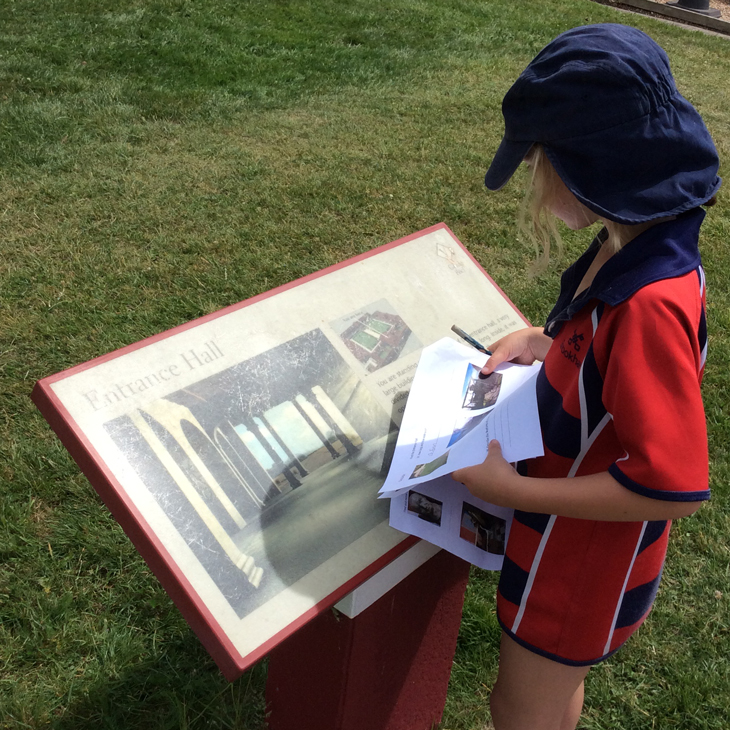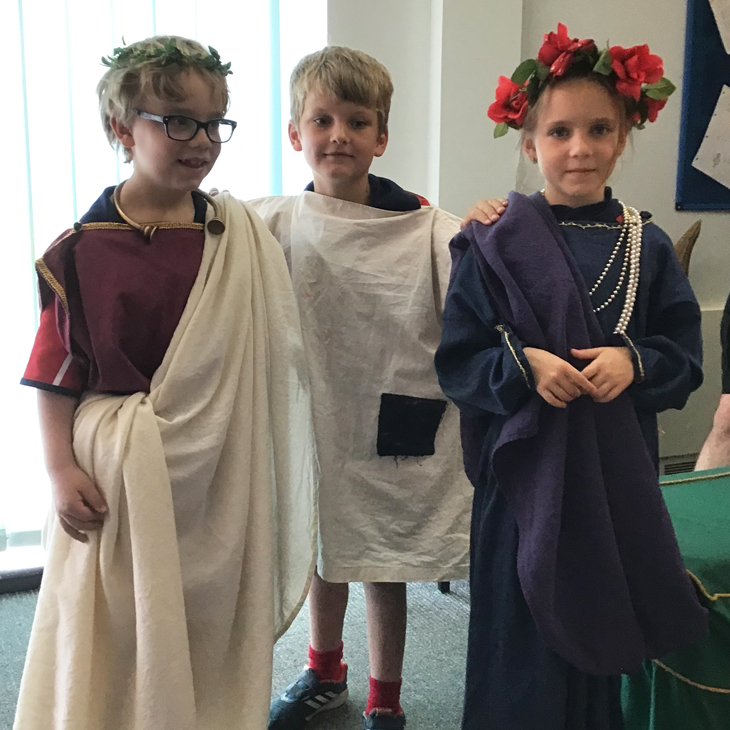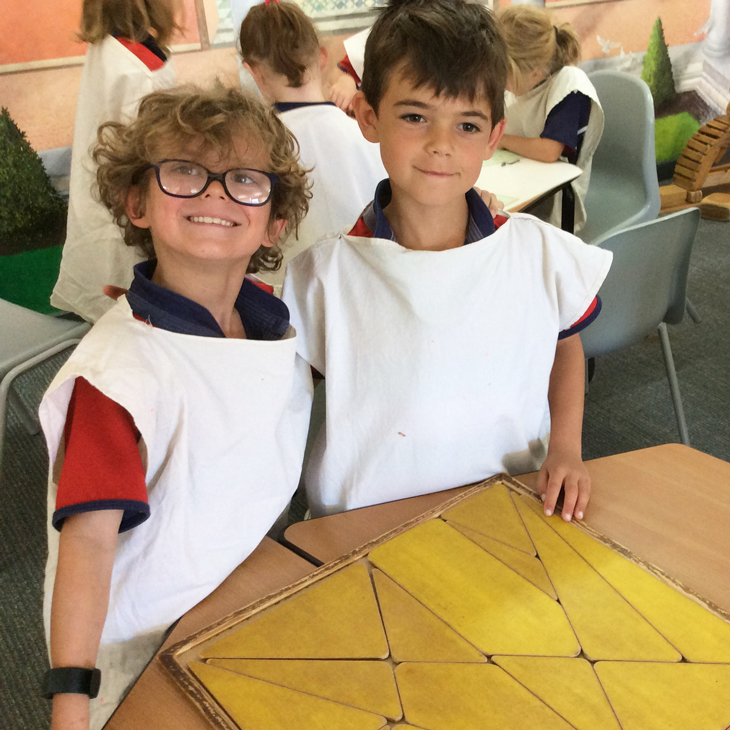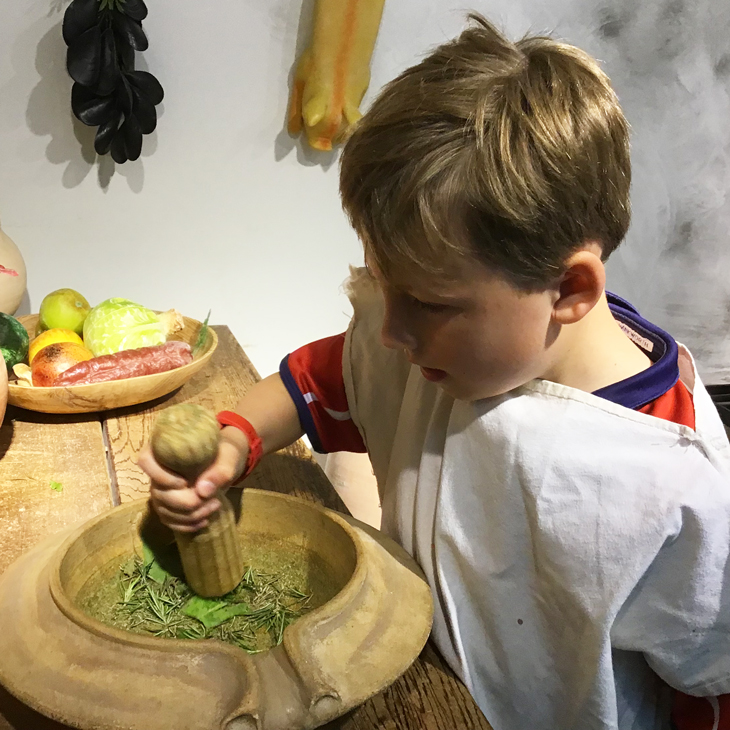 In high spirits, Year 2 had the opportunity to visit Fishbourne Roman Palace, the largest in Britain of its kind, in weather more akin to southern Italy. The exciting day began with a fascinating workshop at the villa near Chichester where the children got the chance to handle real Roman artefacts. And they certainly put them to good use by making mosaics, writing their names using a stylus and ink, playing Roman games and experiencing working in a Roman kitchen – all while dressed as slaves. With curiosity suitably piqued, Year 2 collaborated on a quiz where their observational and pattern-spotting skills were put to the test, such as noticing detail on the well-kept and intricate mosaic floors. Wandering around the recreated Roman gardens, the children used their resourceful learning power to step back in time and imagine what life must have been like almost 2,000 years ago. After discovering that the Romans had central heating and hot water, the children discussed similarities and differences between life now and then, while also stimulating a multitude of questions. The children and adults returned to school buzzing from the trip, which was undoubtedly a highlight of the year!
Henrietta Platt, Year 2 Class Teacher
Star Quality Abounds As Year 3 Take To The Stage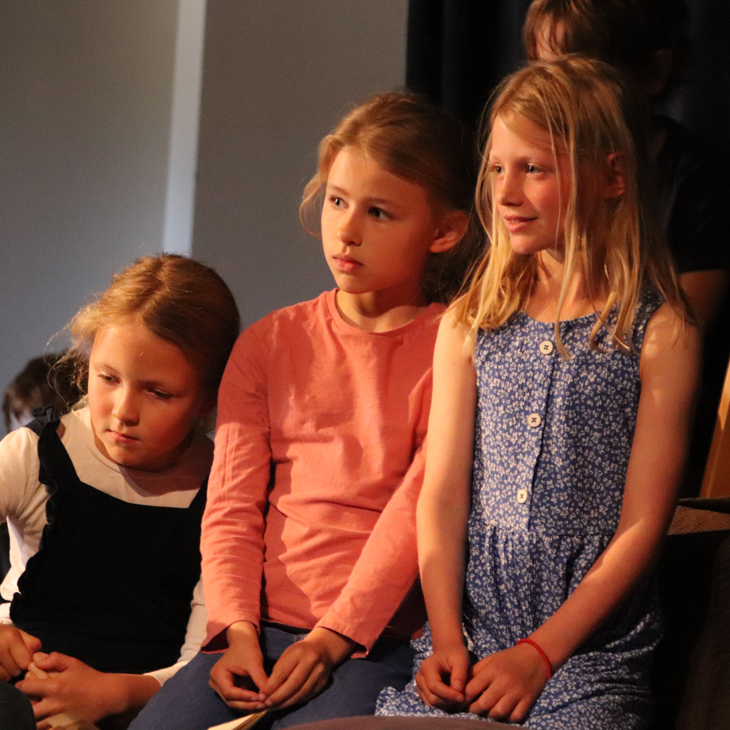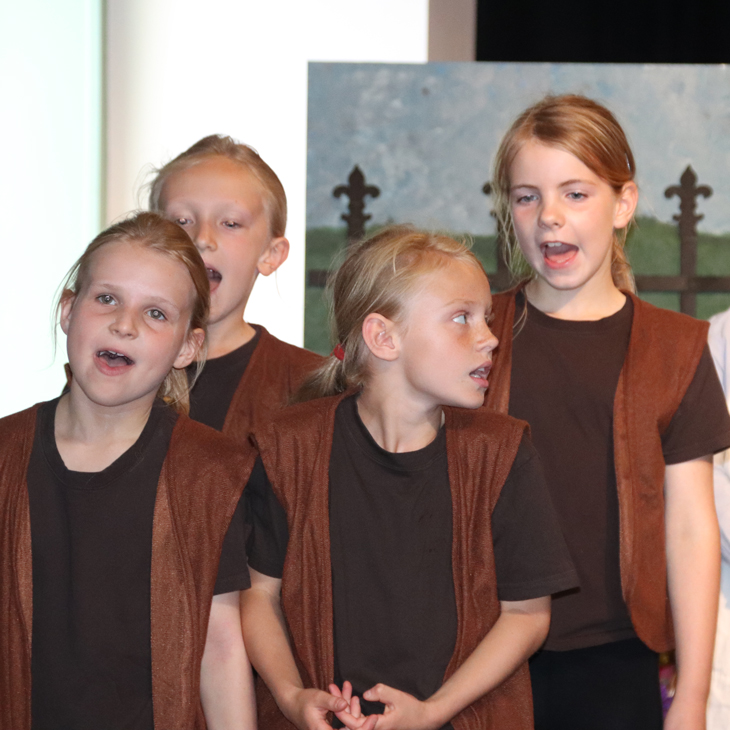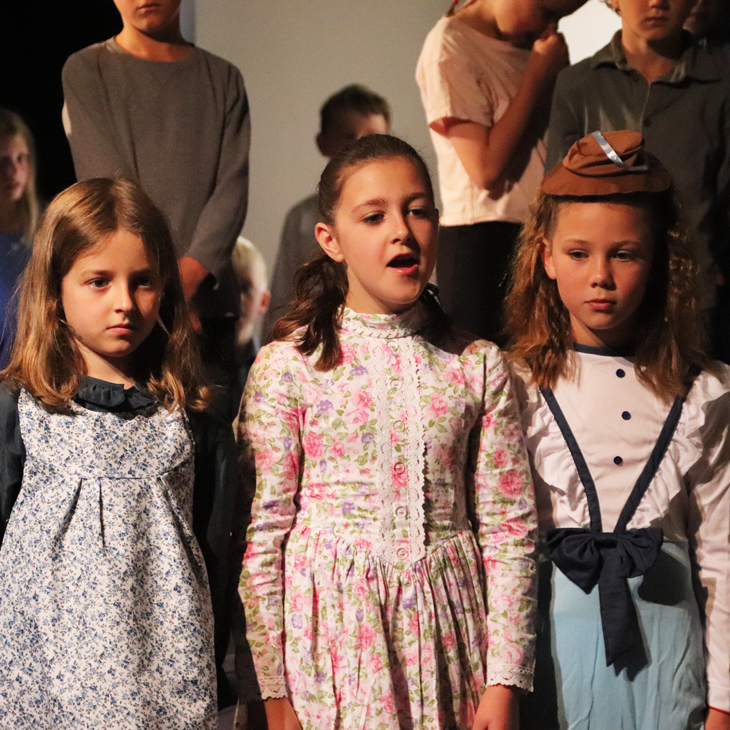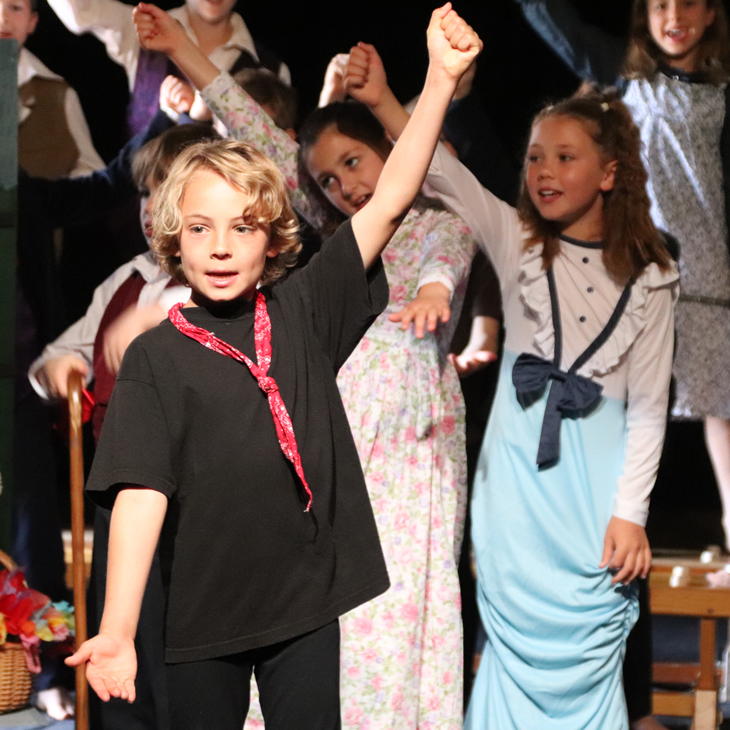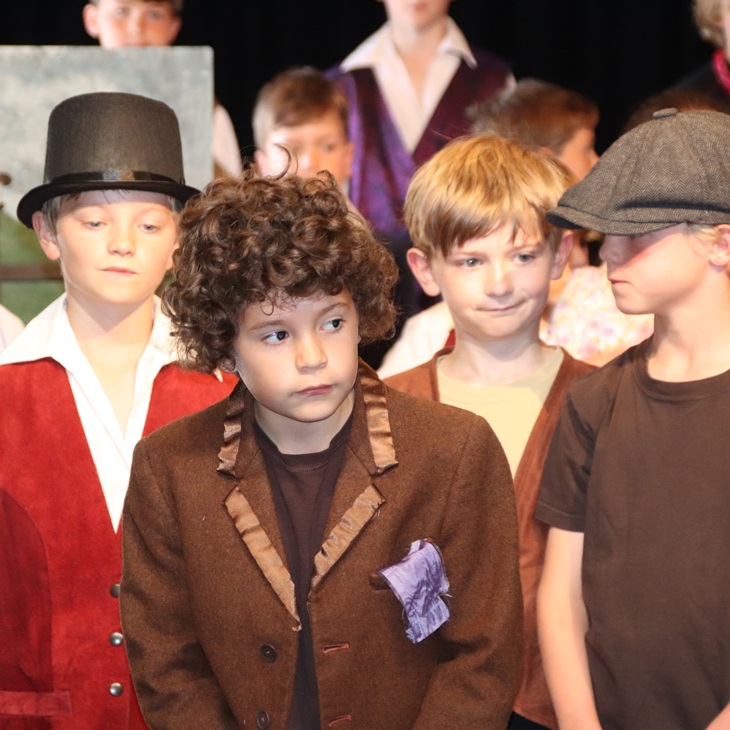 Wow, what a truly magical performance, what star quality! The Year 3 production of A Twist on Oliver was a magnificent triumph and a wonderful example of children's theatre at its best. From the music and set to the acting and wardrobe, the audience was treated to an afternoon of sheer joy. The cast was amazing, with super acting, emotional character arcs and limitless energy from absolutely everyone. Perhaps the really standout part of the performance was the heart-warmingly beautiful singing of such favourites as Food Glorious Food, Consider Yourself and Pick a Pocket or Two, all of which I will be humming for many days to come. Mrs Hall must be credited for raising the children to such heights; but the thing that I will remember, above all else from Oliver, is the way in which the children clearly loved every single moment of taking part.
Stephanie Turner, Y3 Class Teacher
Year 4 Wowed By Visit To Twickenham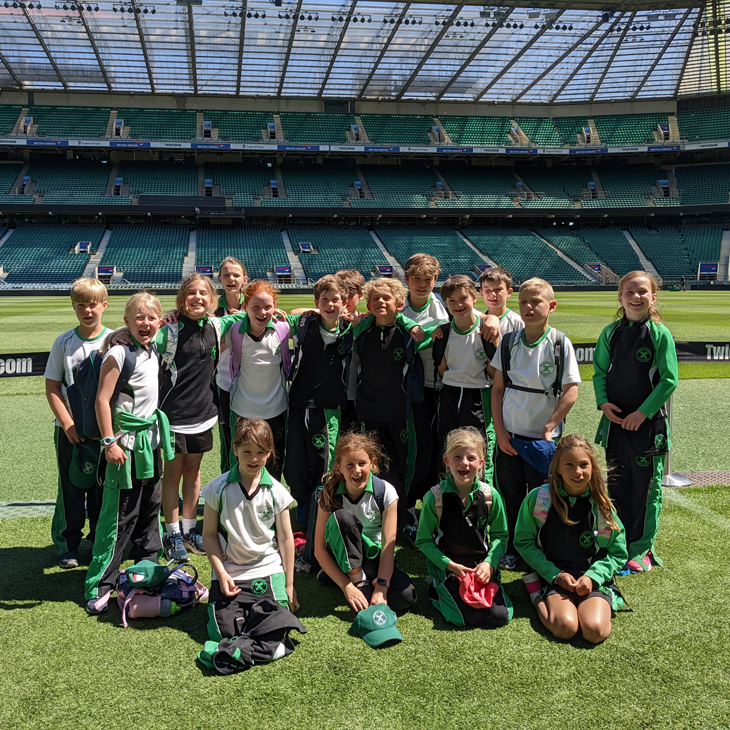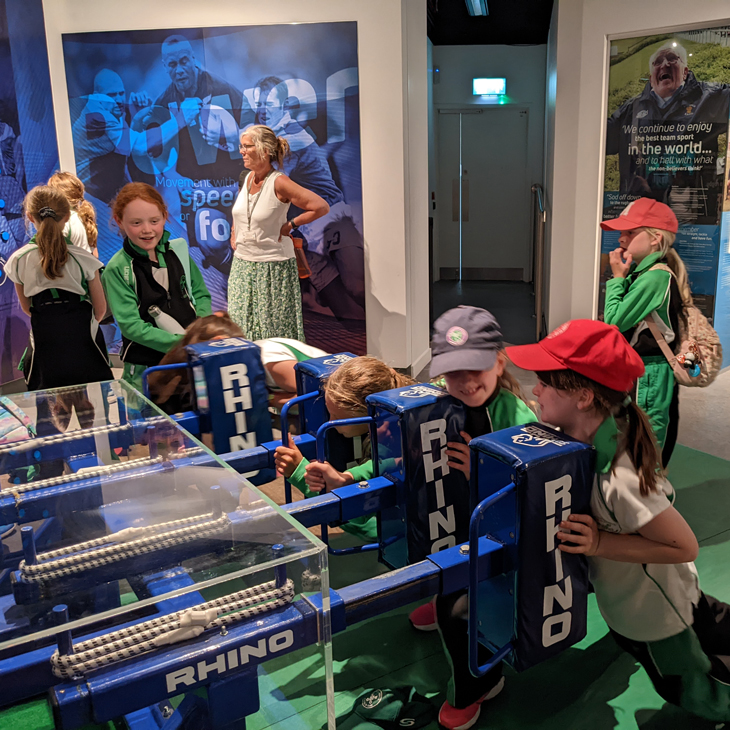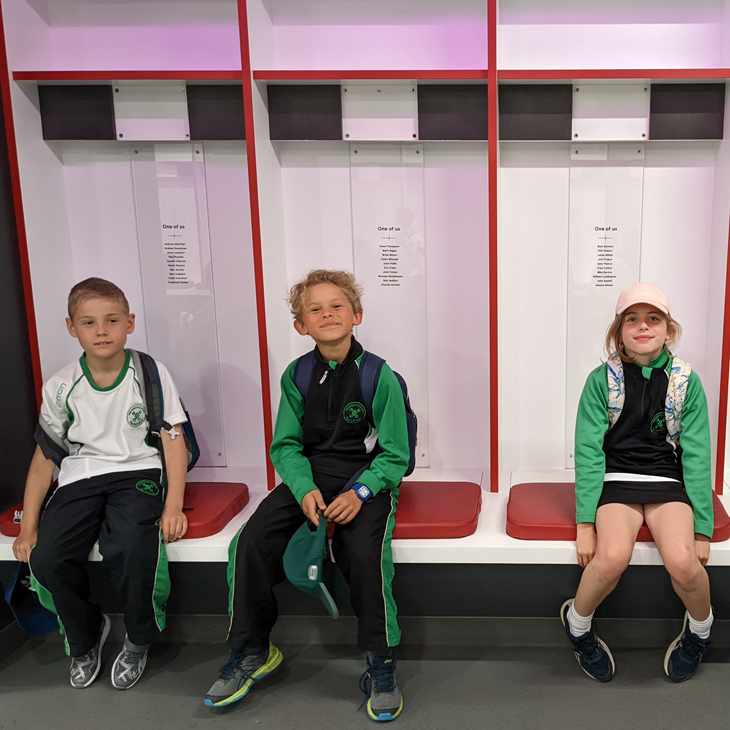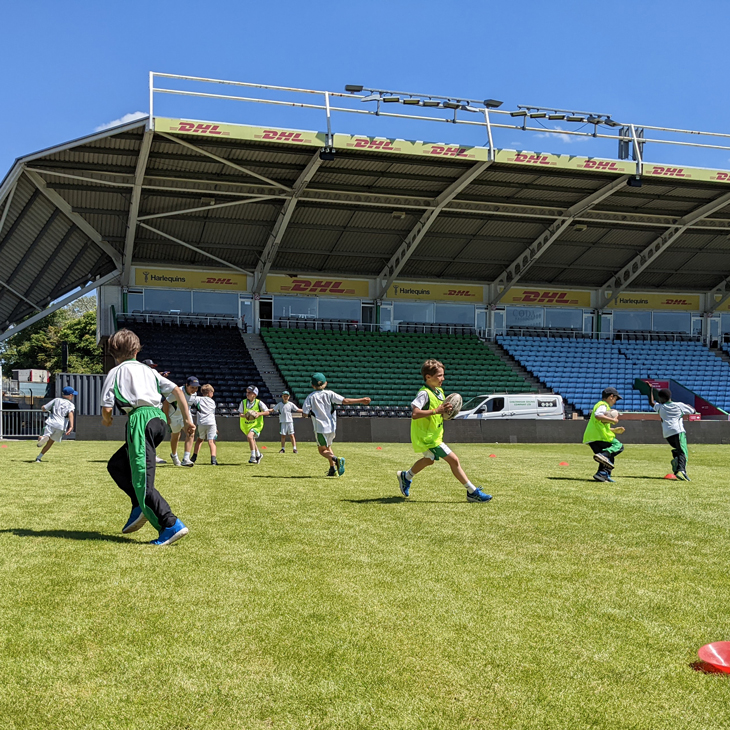 This week, the Year 4 children were given the opportunity to learn more about the world of rugby as part of this term's 'Going for Gold' topic. Bright and early on Tuesday morning, the excited boys and girls travelled up to Twickenham to visit the famous stadium. They were given an extensive tour of the stadium, including a look at the changing rooms and the members' area, before visiting the rugby museum, which was full of exciting memorabilia from past World Cups as well as an interactive section where the children could test their strength and agility. After a picnic lunch, the children walked over to The Stoop, the home of Harlequins Rugby Club, where they took part in a training session led by one of the excellent coaches of the Premiership club. The children learnt about the principles of the sport and how to form a successful line up. They then ended the day with a fun touch rugby match. After a warm and tiring day in the sunshine, the children were definitely ready for a rest on the coach ride home!
Rosie Dachtler, Year 4 Class Teacher
Year 5 In Their Element Exploring The Tempest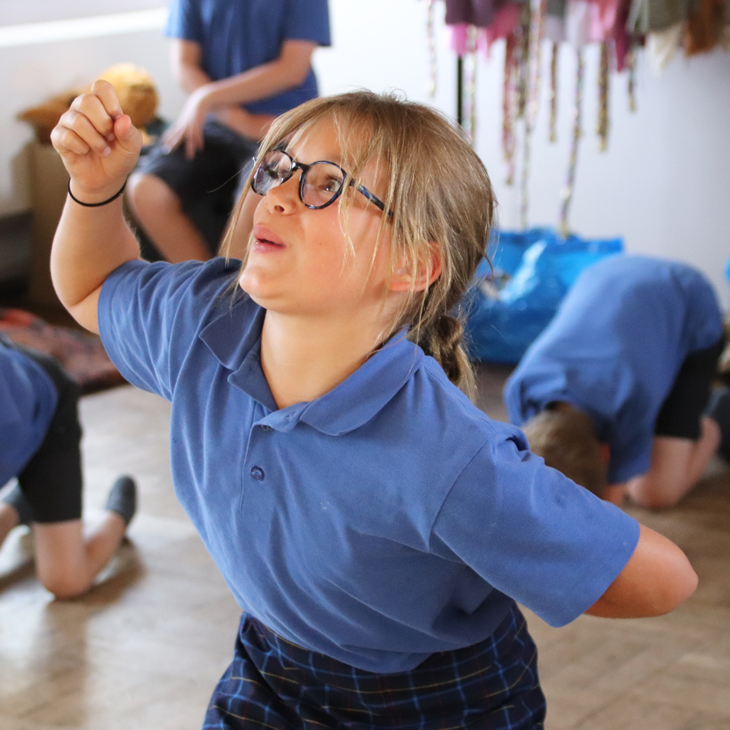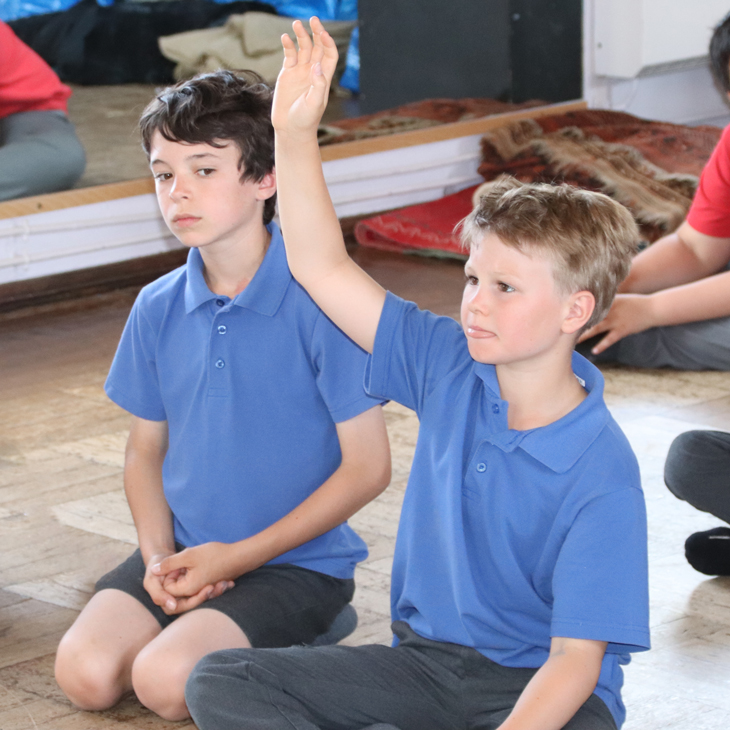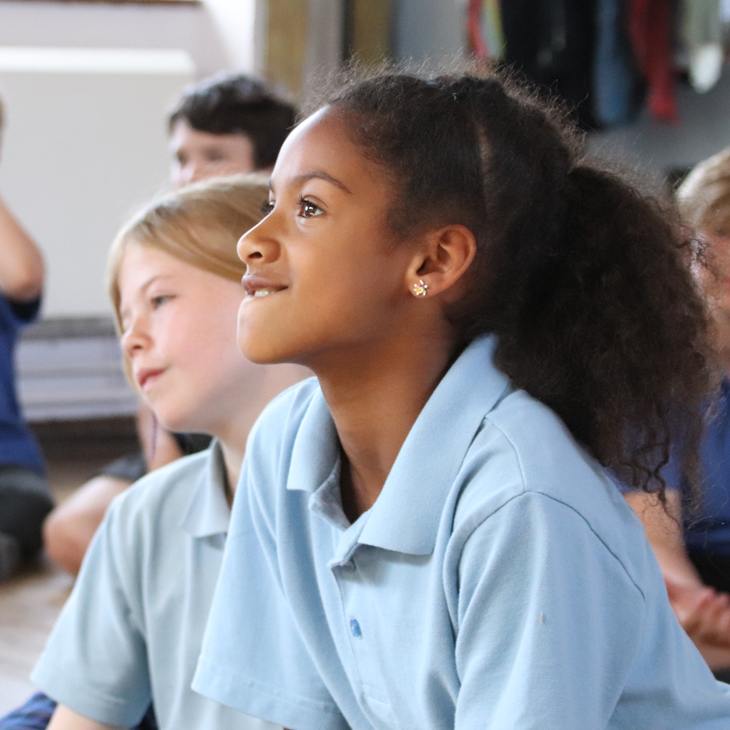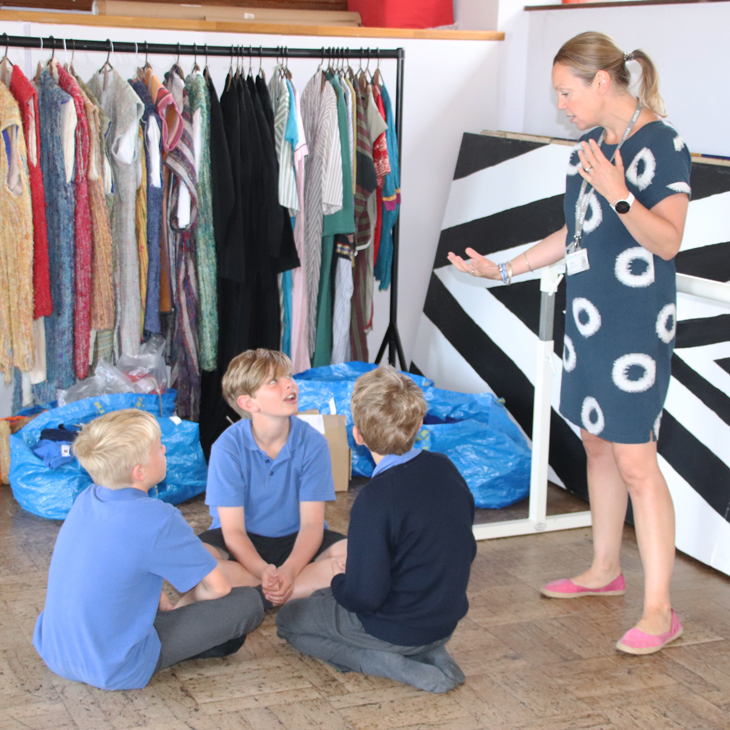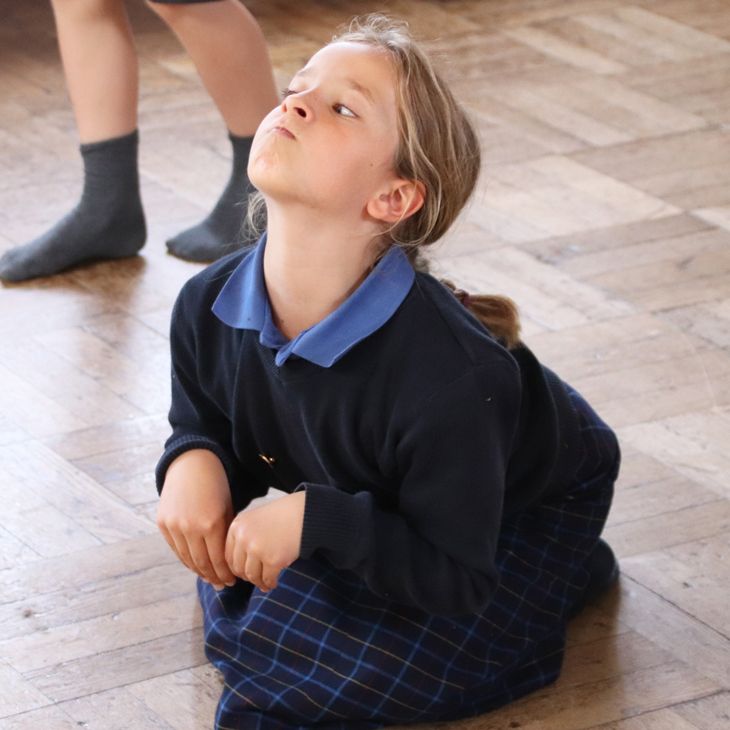 Year 5 have been busy exploring the theme of the elements this term and thinking about not only how the four elements – earth, air, fire and water – influence personalities but also which natural disasters they might create. This week's lesson saw them begin to explore one of Shakespeare's plays that starts with its very own natural disaster, courtesy of a little bit of magic! After re-creating the magical storm in The Tempest using their voices in soundscapes and their bodies with mime, the children moved on to considering the stock characters in this story. They created improvisations using the characters of Prospero (the magician), Miranda (the princess), Ariel (the nymph) and Caliban (the servant) and worked together imaginatively to find ways of influencing their audience to feel sympathy for different characters, depending on how they played their scene. Making Shakespeare fun and accessible at such a young age opens the door to endless possibilities for learning opportunities, not only about the Bard's wonderful stories but also about valuable life skills of communication and consequence.
Sarah Baird, Head of Drama
Year 6 Linguists Set To Bring Topics To Life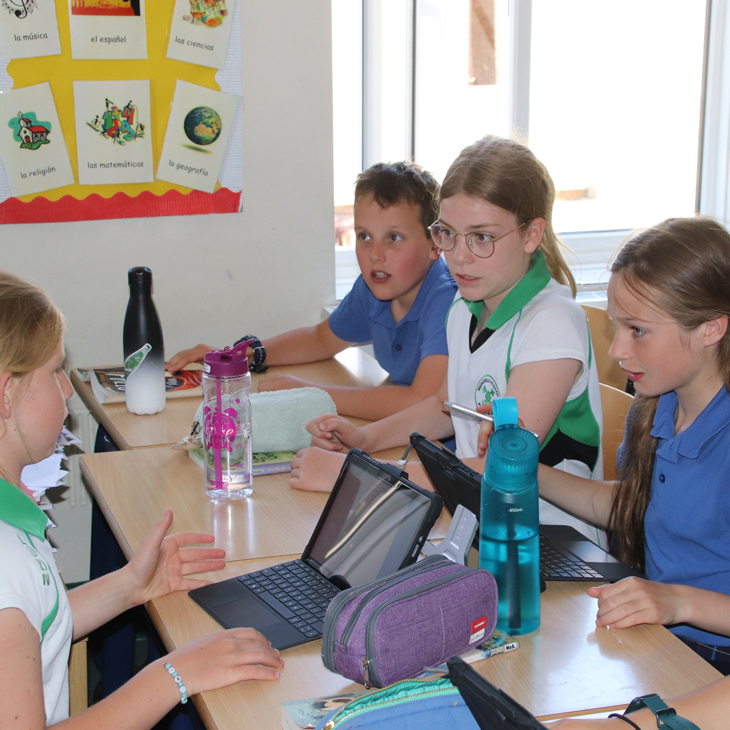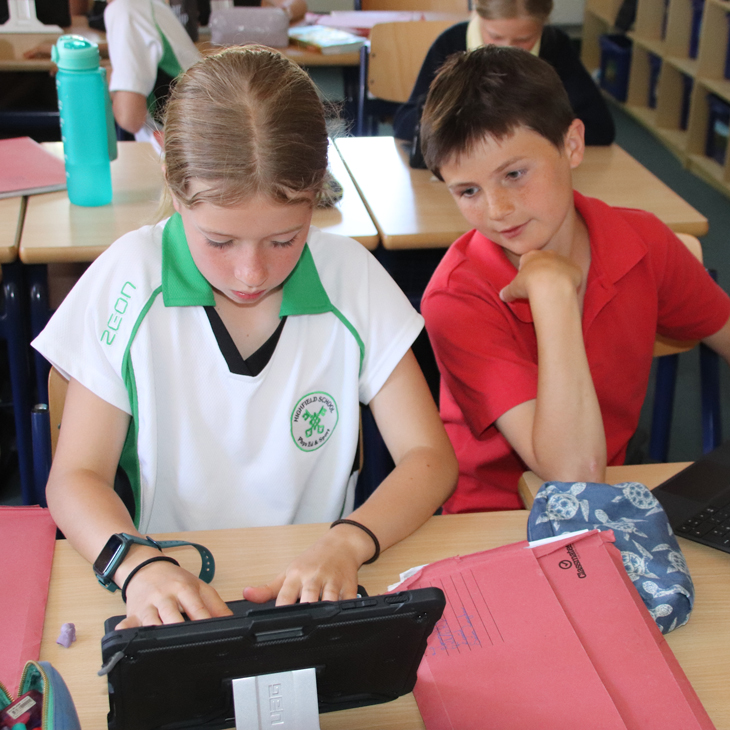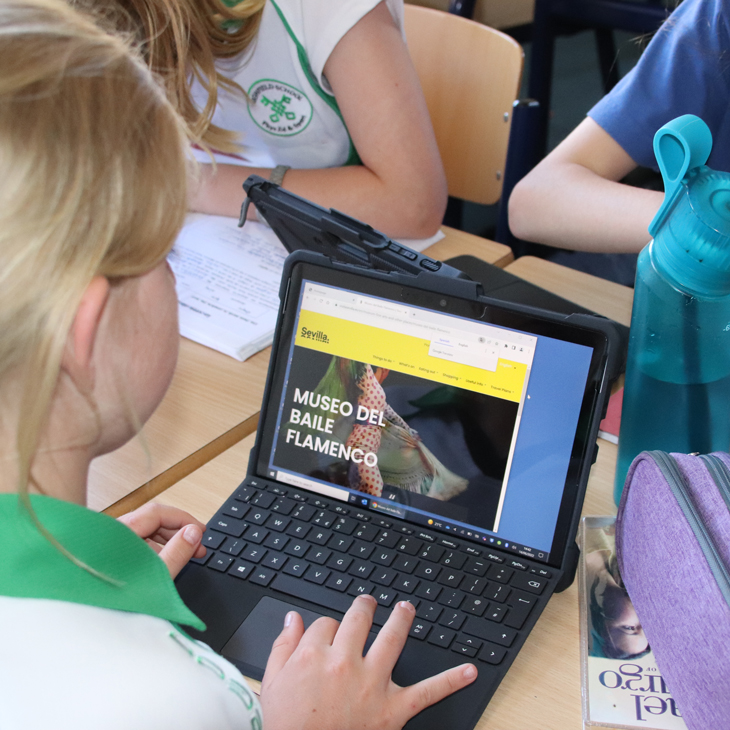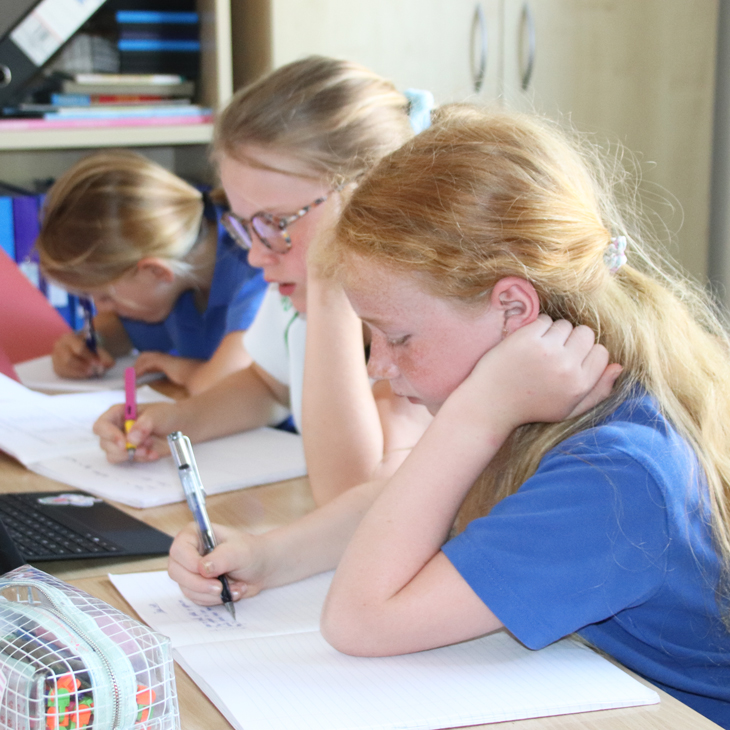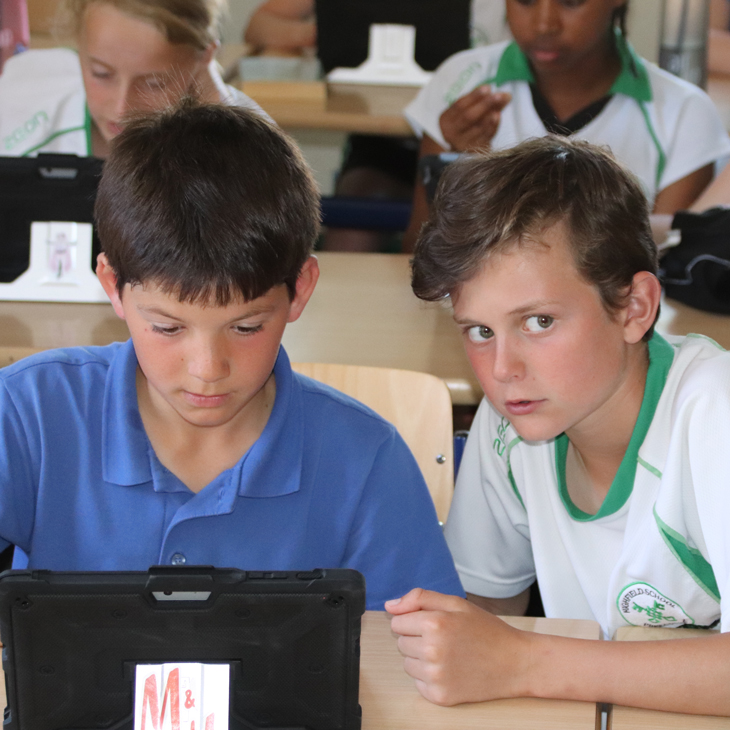 Language without context is not language, or at the very least, it would be a very confusing one. The children at Highfield enjoy delving into their language studies, but it's not all pure vocabulary and verb conjugation. During the second half of the Summer Term, Year 6 traditionally take the time to undertake a research project and this year's cohort is excited to use their new devices for choosing and learning about a specific aspect of Spanish culture. They note down a variety of facts before structuring them into a spoken presentation accompanied by a PowerPoint. We are all looking forward to hearing about a range of topics from tapas and flamenco dancing to bull fighting (the appropriateness of which is already causing hot debate). All of this really sets the Spanish scene in which the language will fit and I am looking forward to seeing what the children produce and how much they learn from this cross- curricular experience.
Jo Longshaw, Head of Modern Foreign Languages
Pure Drama As Year 7 Boys Tie Extraordinary Game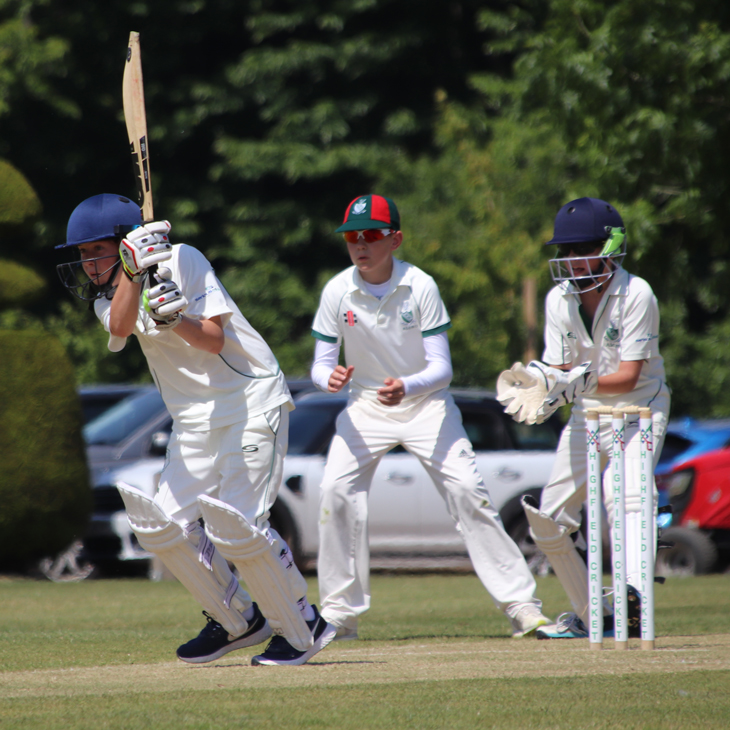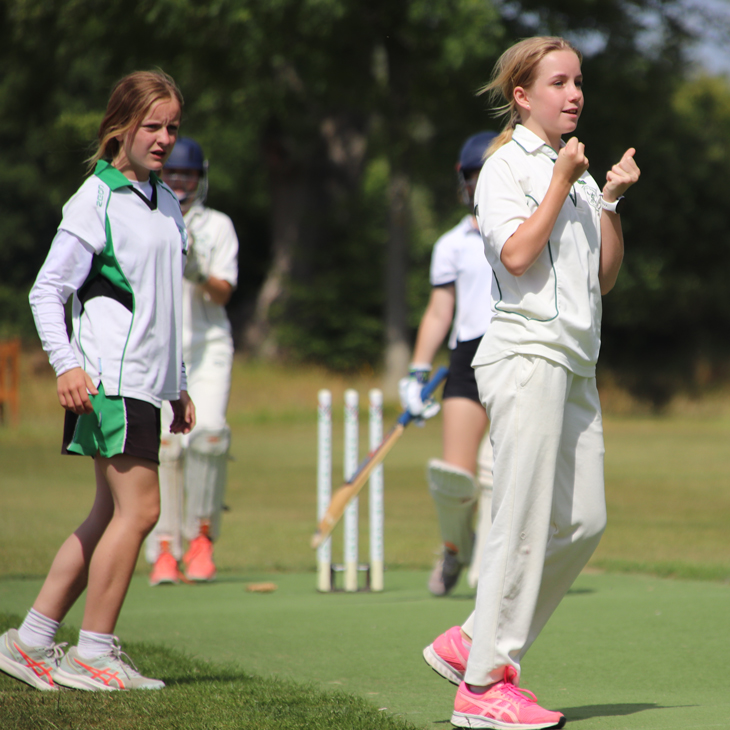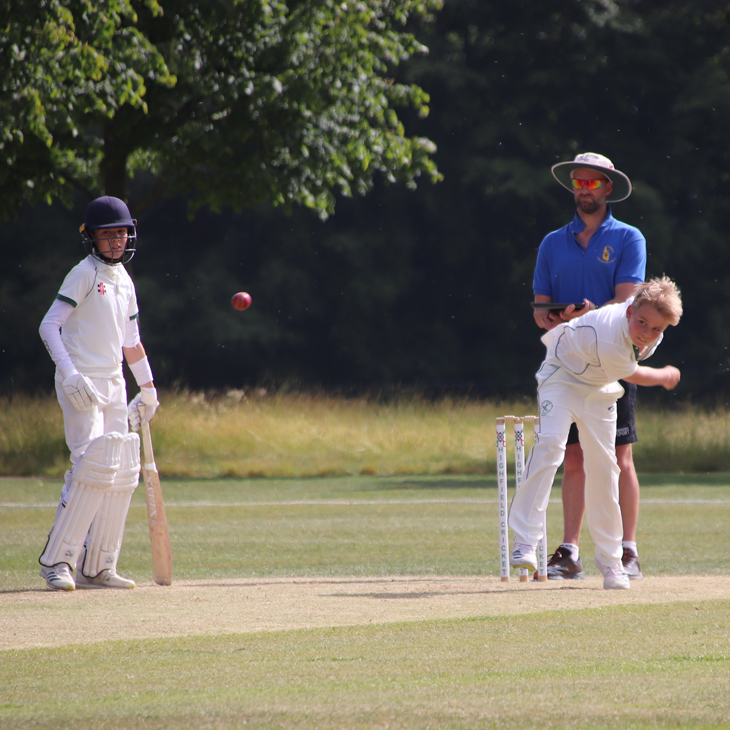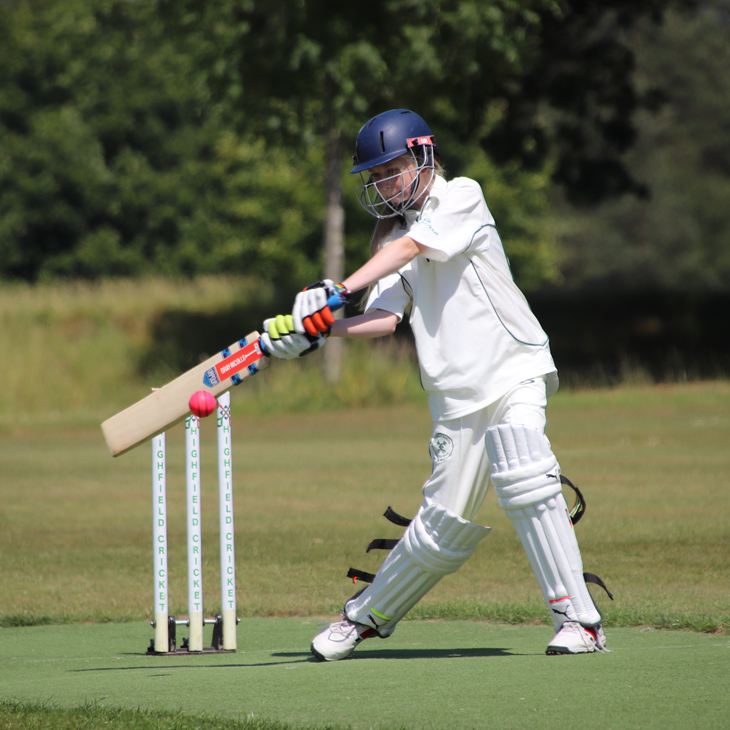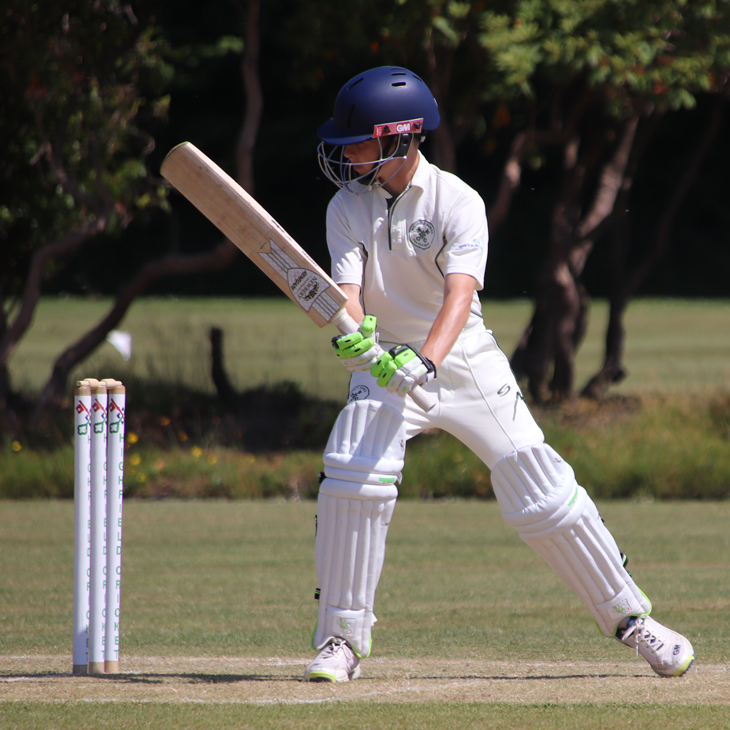 There are no other sports played by children of this age that can ebb and flow quite like a game of cricket. It is four, sometimes even five, hours of unrivalled, rollercoaster drama. Playing an agreed 25 overs per side on Chapel Field, with everyone bowling a minimum of two overs, Highfield's U12A boys found themselves in deep trouble at 56-9 in the 13th over before a superb stand of 41 from Harry L and Freddie S took the final score up to a respectable 97. Ptolemy G had earlier crafted a useful 24. Chasing 98 to win off 150 balls, Aldro reached a solid 46-0 off 12 overs despite the Highfield bowlers performing pretty well. The visitors moved the score onto 69-1 before Highfield made the breakthrough – and that wicket created panic among the Aldro ranks as Jimmy S and Monty L got to work with the ball. Suddenly wickets fell, gaps in the field closed and catches were taken, and from needing 27 from 42 balls with seven wickets in hand, Aldro found themselves in the final over needing three to win with seven wickets down. The loss of Aldro's eighth wicket sandwiched two dot balls before the visitors lost their ninth wicket to a run out after foolishly attempting a suicidal second run. A further dot ball left Aldro needing two runs to win off the last ball, but a single left an astonishing game tied. Well played all 22 boys, prep school cricket at its best.
Over on Lynchmere, Highfield's in-form U12A girls romped to an outstanding 50-run win against Amesbury. Batting first, Highfield scored an impressive 97 runs with free-flowing strokemaking from all the batters. Edie W and Dee Dee S deserve great credit for laying very solid foundations and some impressive lower-order hitting ensured the innings ended with real clout. The girls then fielded with aplomb, with Sam L and Issy S taking two wickets apiece. Restricting runs on a fast outfield is never easy but the girls flung themselves around with gusto and saved many a boundary. All in all, a very positive team performance.
Richard Dunn & James Ridge, U12 Cricket Coaches
Happy Year 8 Thrive On The Pembrokeshire Coast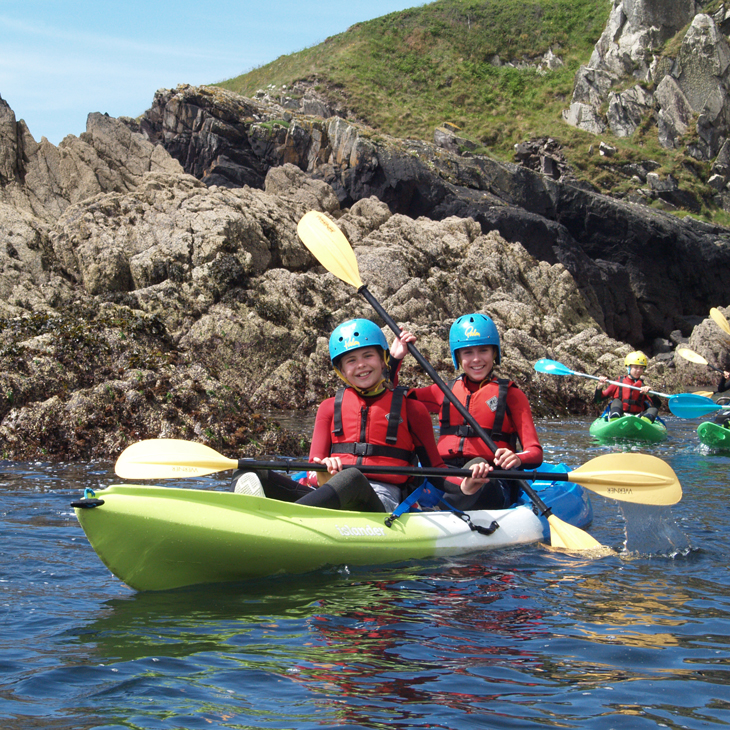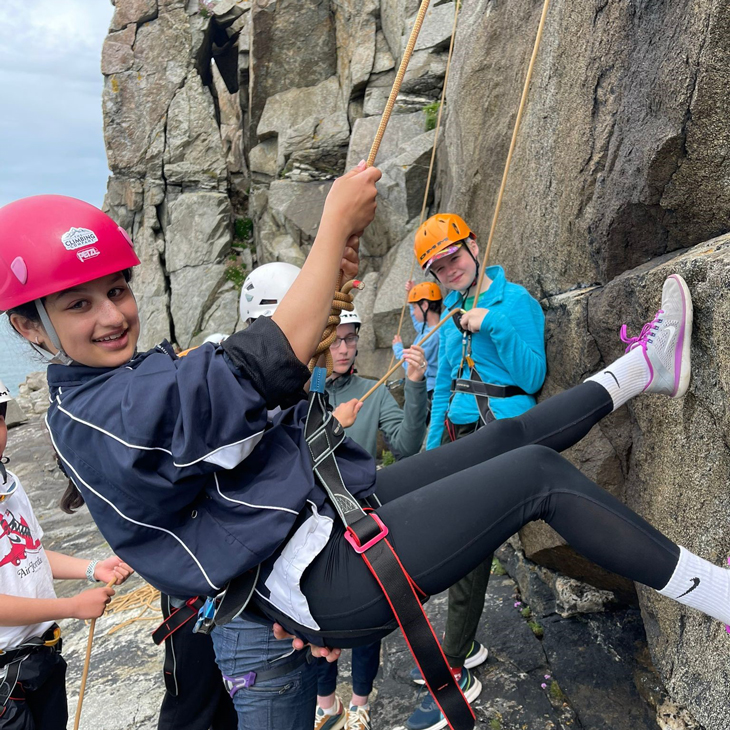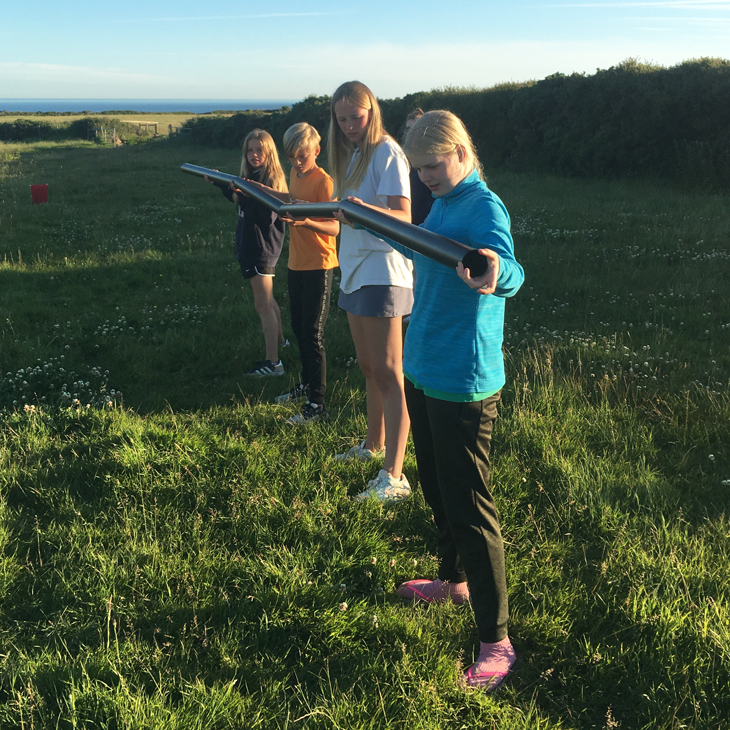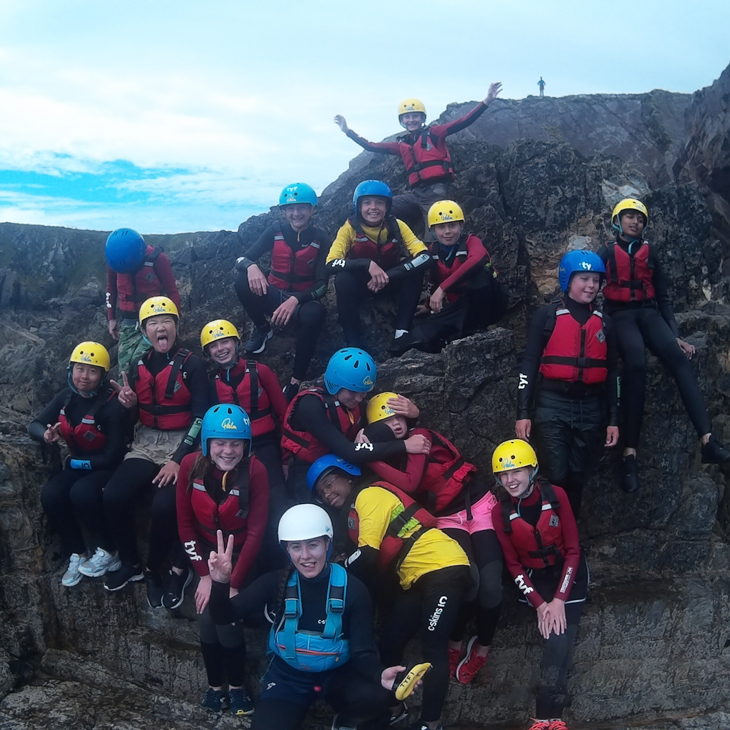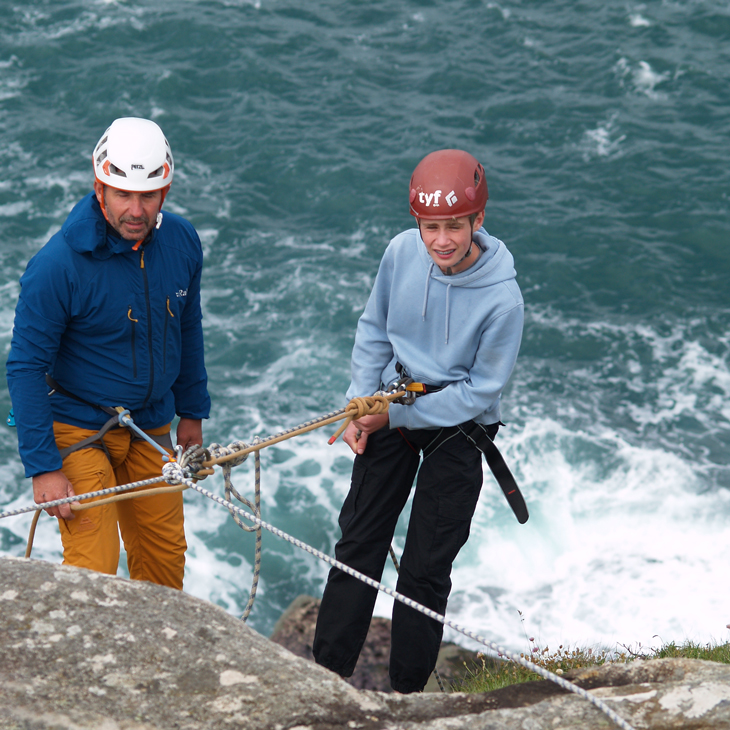 It is often said that the final weeks at prep school are where you make some of your greatest memories. This week, Year 8 have been afforded the most magical canvas for such memories. Following the conclusion of the pupils' final exams, and a 250-mile coach ride, Year 8 found themselves on the majestic Pembrokeshire coast, just outside St David's. Based at the Bunk Barns, the children participated in all manner of outdoor activities throughout the week, including surfing, abseiling, kayaking, climbing, boat trips, cultural excursions and coasteering. It has been a delight to see this year group throw themselves into each day, trying new things and pushing themselves to the limit. Everyone has tried their best and many have surprised themselves with how well they have done, all the while being cheered on by their peers. The only things slowing them down a tad have been the heat (not always to be expected in this part of the world) and various musings on constant coastal erosion from a certain Head of Geography. But just when they thought they had no energy left, the evening activities kicked in. Under the still blue skies, the children jumped into problem solving, firepit building and bread baking, as well as a visit to Grub Kitchen and the Bug Farm, where even more food options were offered and enjoyed. Understandably, there were rather weary faces on show come bedtime each evening but the collective excitement for a new day ensured all were fully recharged and reset the next morning. We are hugely grateful to Rob and Christine at the Bunk Barns, as well as our excellent activity leaders from TYF. Both groups went above and beyond to allow the children to thrive. A massive thank you also to the staff who joined the trip, sacrificing time with their own families for the benefit of the children. The final thank you goes to Year 8. They arrived in St David's excited for the week ahead and took full advantage of it. It was a pleasure to spend time with them in Wales and see their bonds form even more tightly. I have hugely enjoyed seeing them thrive in this environment and know they will remember this experience for many years to come.
James Figgis, Head of Year 8