Happiness And Wellbeing Nurtured In The Nursery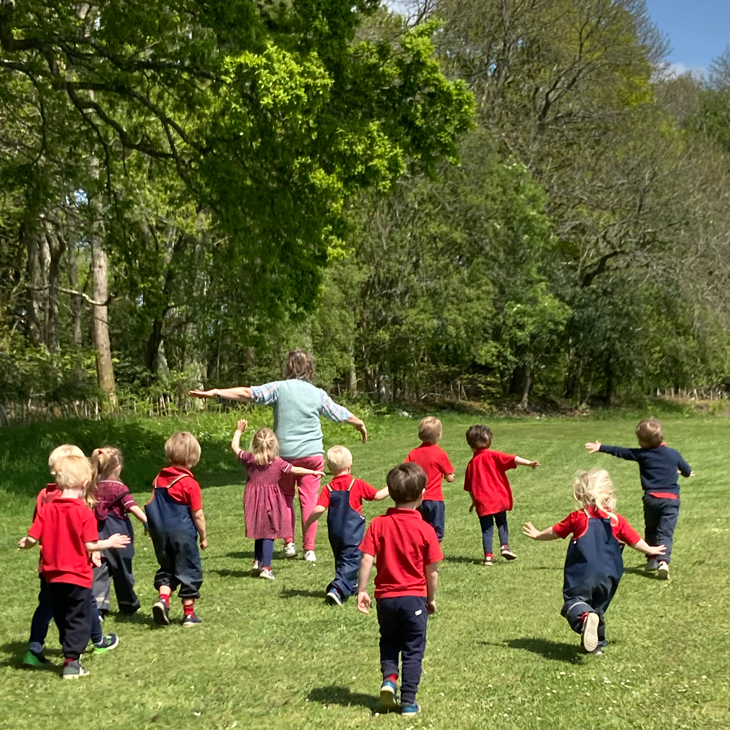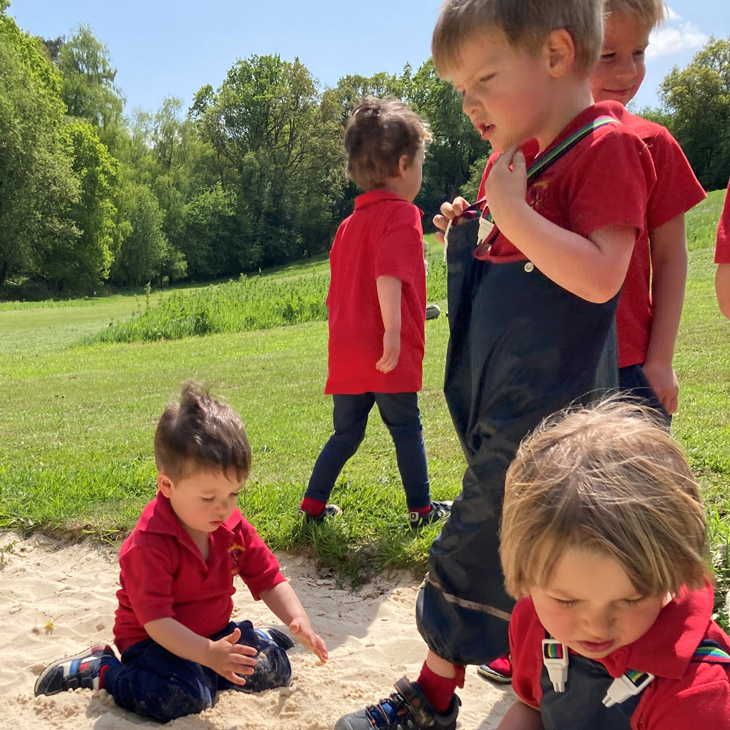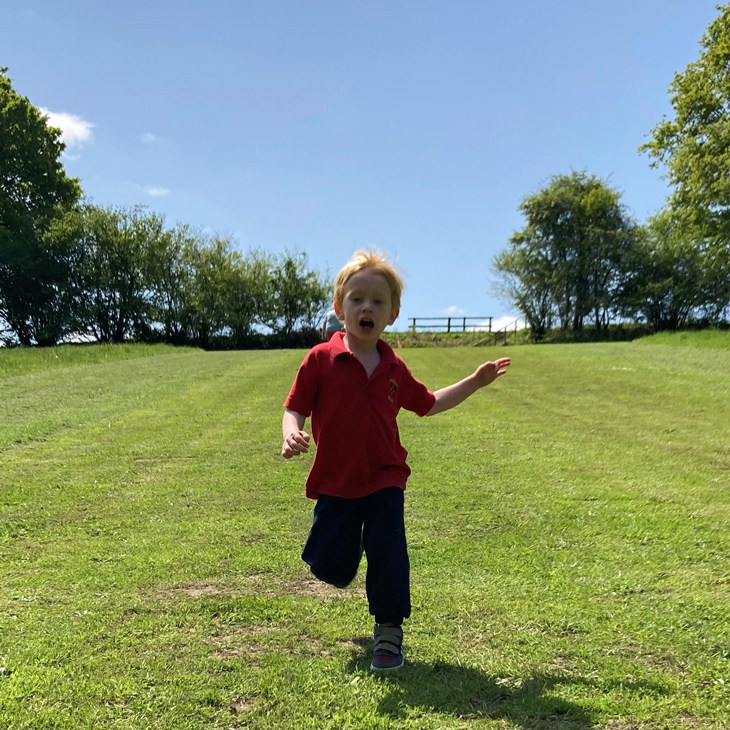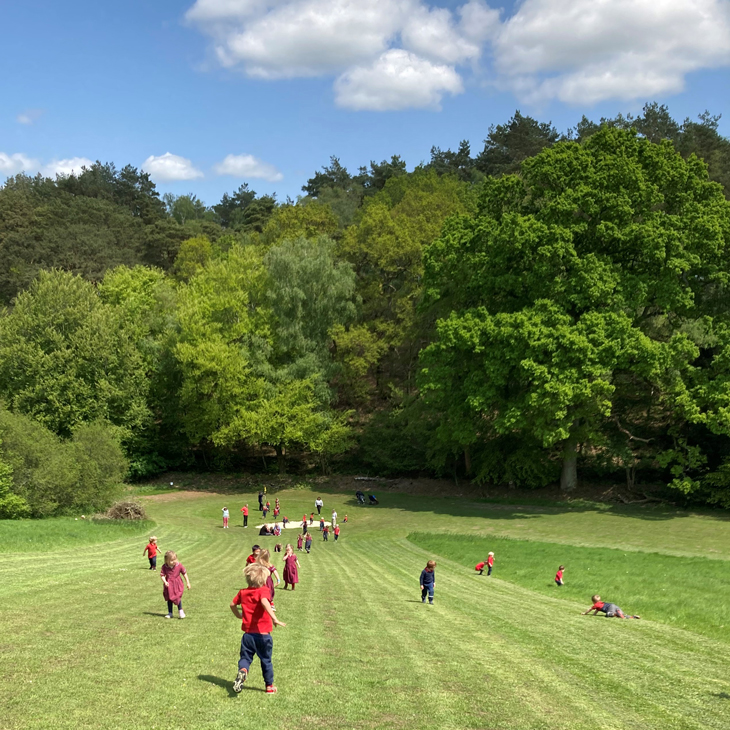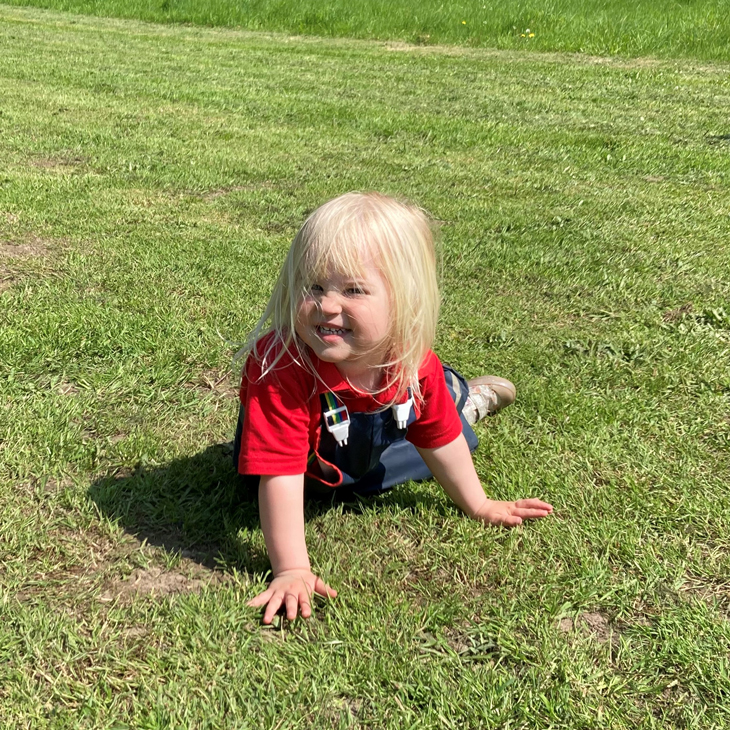 In honour of Mental Health Awareness Week, the Nursery children have revelled in a series of lovely activities aimed at fostering a sense of calm and cheerfulness. Embarking on a joyful journey toward happiness, the children organised a wonderful wellbeing walk and a picnic which definitely lifted the children's spirits. During the activities, the children discovered that being kind was a sure-fire way to spread joy and nurture their own contentment. With the sun shining, the children also took to the field for a game of football, soaking up essential Vitamin D from the sun's rays to boost their moods further. The children also found delight in digging and creating marvellous sand structures, while rolling and running down the hill on the golf course ensured smiles all round. Building strong friendships was also an important focus of the week as we pretended to be human Red Arrows on our way to the meadow, fostering teamwork and collaboration to create fun formations along the way. Cloud watching and mindfulness exercises allowed the children to take a break, encouraging everyone to appreciate the beauty of nature and learn the value of taking time out to relax. We rounded off a wonderful week by discussing the value of being kind and finding happiness in simple pleasures, both of which help nurture good mental health and wellbeing.
Kerry Chapman, Nursery Class Teacher
Reception Revel In Their Voyage Of Discovery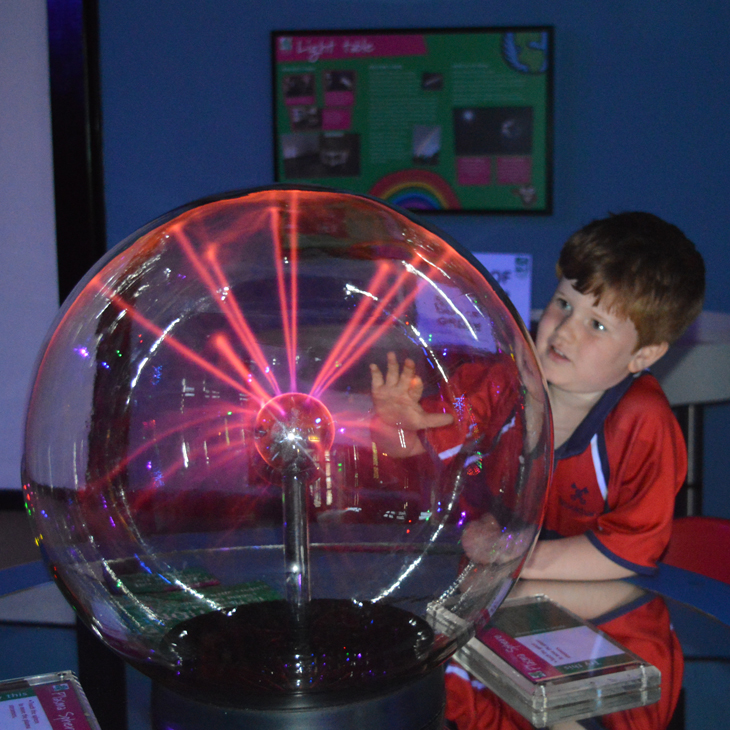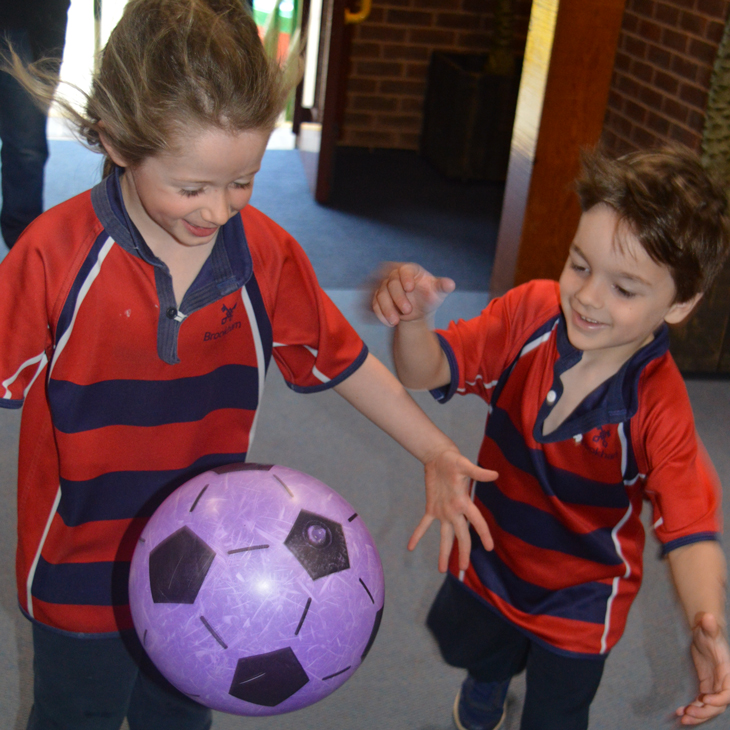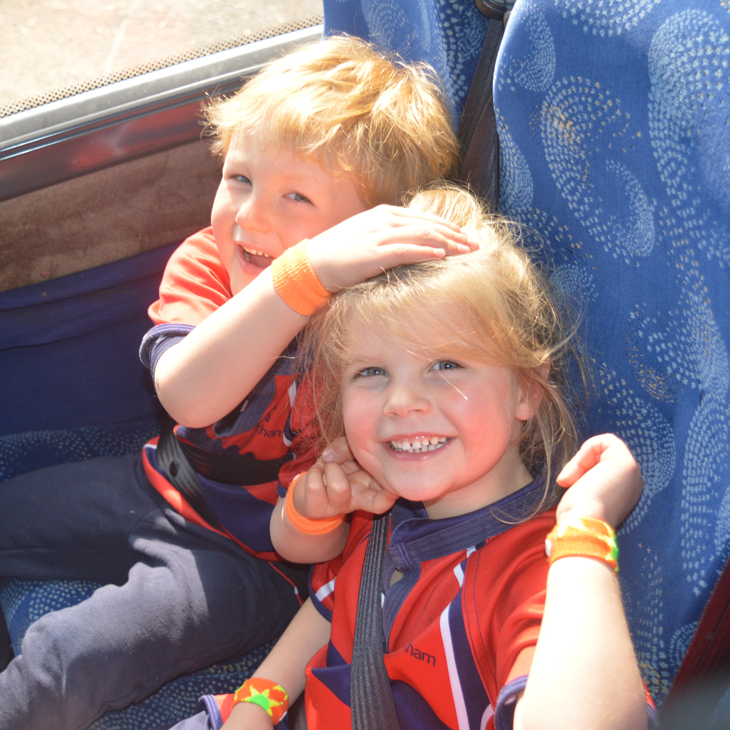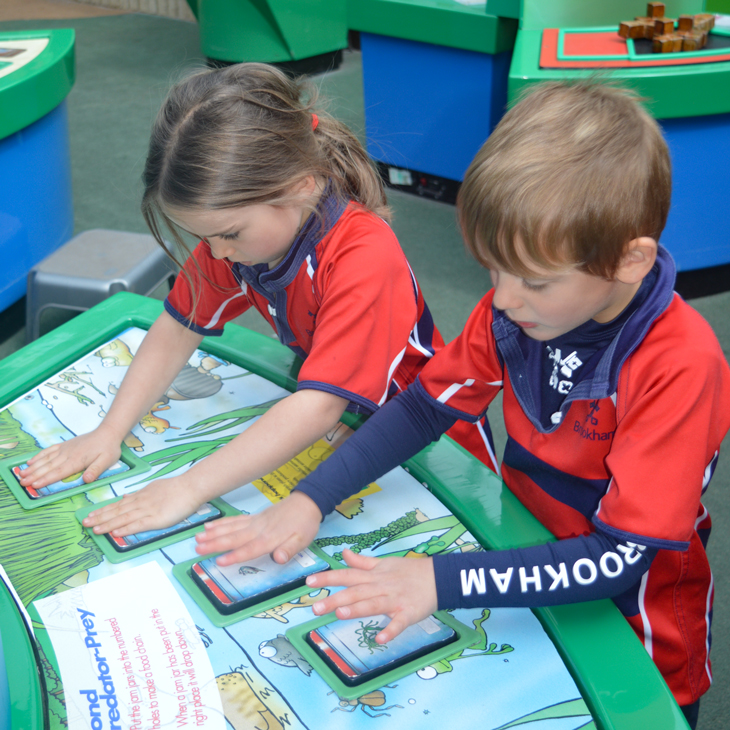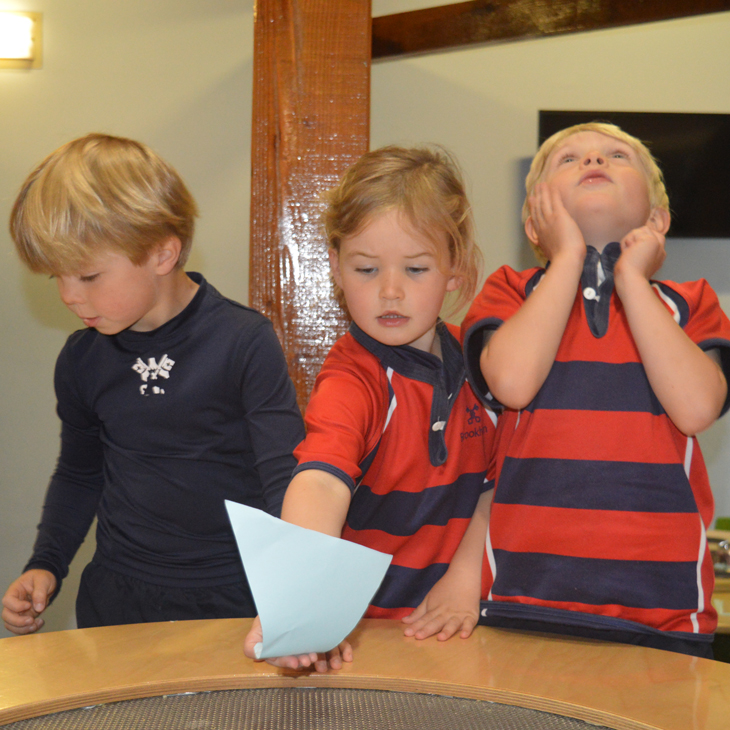 The excitement of any school trip is not just visible on the day of the visit but is even evident in the planning stages, such as children discussing the healthy options and environmentally-friendly packaging when it came to their packed lunches. So, it was for Reception who took an exciting trip to the Look Out Discovery Centre in Bracknell as part of their Summer Term topic, Magical Mayhem. Visiting the interactive science centre enabled the children to explore different areas of the curriculum through an exciting hands-on approach. Creativity was encouraged in the 'Light and Colour' zone, with the children trying out different moves in the coloured beams and drawing light pictures on the shadow box, while resilient learning muscles were stretched when working collaboratively to build a dam in the indoor stream. Although the children ended up a little wet during their endeavours, shrieks of delight were heard when they achieved their goal of spinning the water wheel. In the insect enclosure, while some children were initially hesitant about coming face to face with spiders, bugs and numerous other creepy crawlies, the children were all impressed by the efficiency of the working ants and the size of an African land snail. For some a trip up the high tower tests their fear of heights, but persevering and being courageous was rewarded with a spectacular view from the top. The end result of all of this was that the group of eager young visitors were reluctant to leave after such a action-packed, intriguing and fun day.
Georgie Hunter, Head of Reception
Year 1 Have A Tree-mendous Time In The Great Outdoors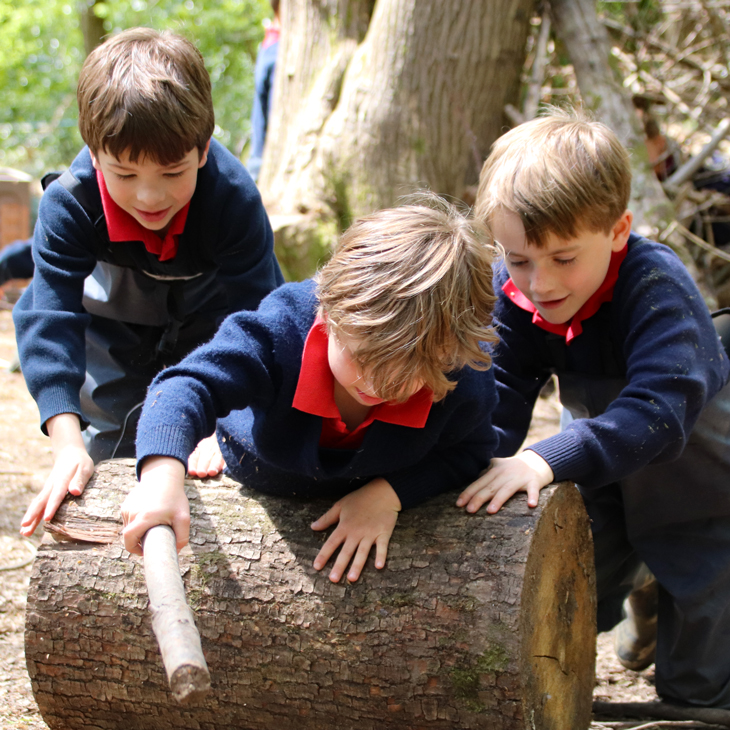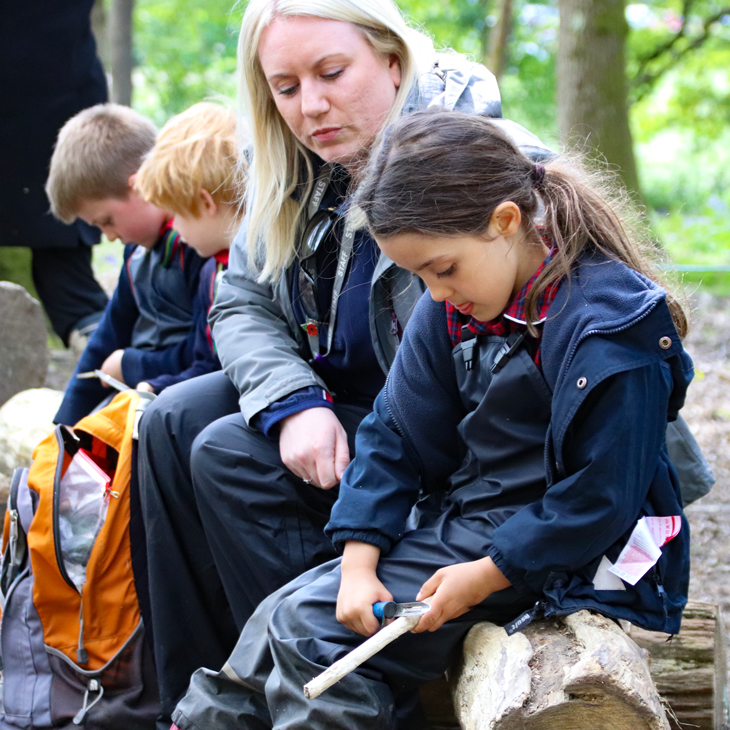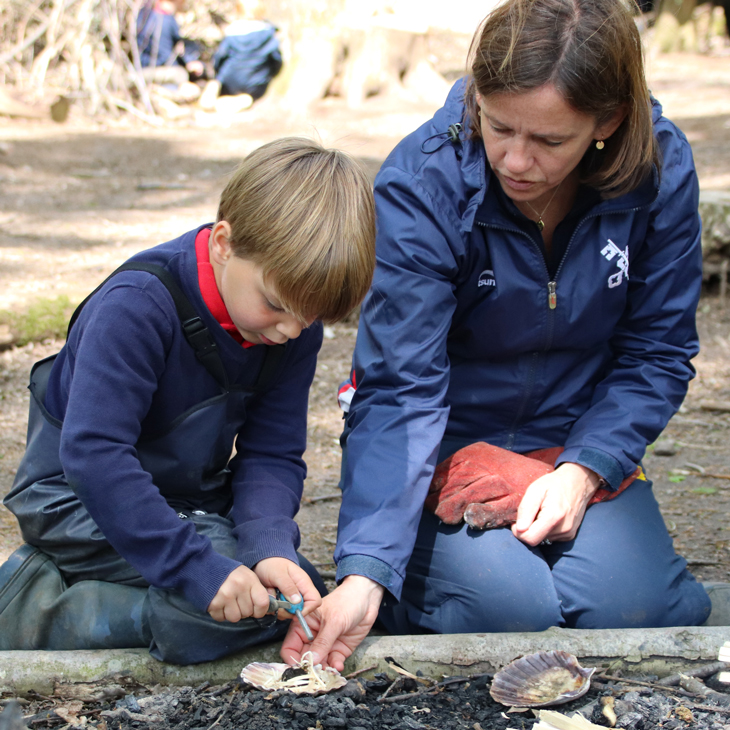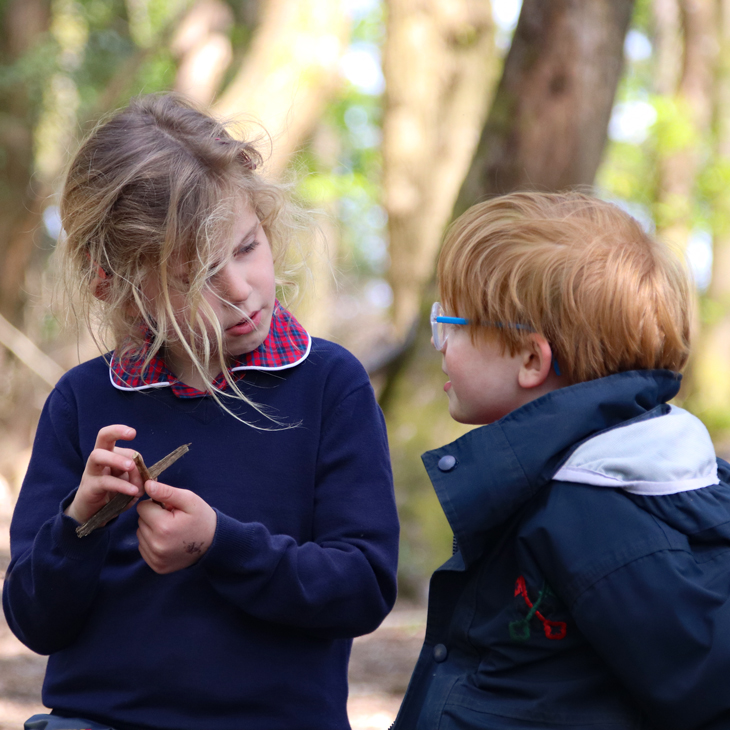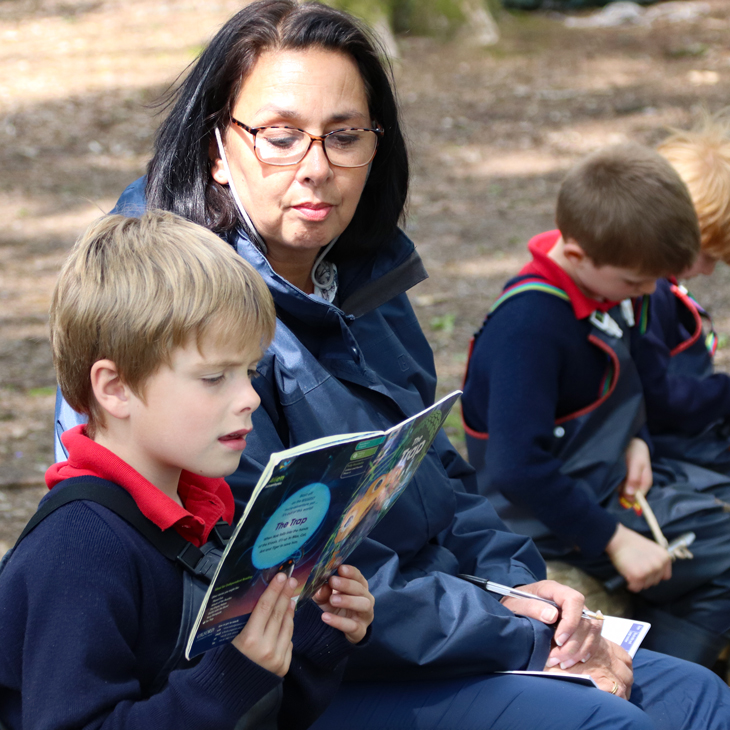 Year 1 have fully embraced the beautiful warm sunshine that has finally arrived this week. As part of their outdoor learning, the children worked in pairs to identify different varieties of trees which can be found around our lovely school grounds. They collaborated beautifully to determine what the various trees were, which involved some careful inspection of their leaves, including colour, feel and shape. Year 1 also had to consider whether the trees were deciduous or evergreen – in other words whether or not they lost their leaves in winter – and what properties would be needed for an evergreen tree to withstand cold winters. After identifying a good many varieties of tree, the children decided that their favourite was the horse chestnut which could be found close to Forest School and had leaves which resembled big fingers on a human hand. While at Forest School, Year 1 had the opportunity to get creative as they made leaf tiles, carefully identifying and printing their favourite leave onto clay. What a great week for our inquisitive children!
Rebecca Lane, Year 1 Class Teacher
Year 2 Enthralled By Inspirational Art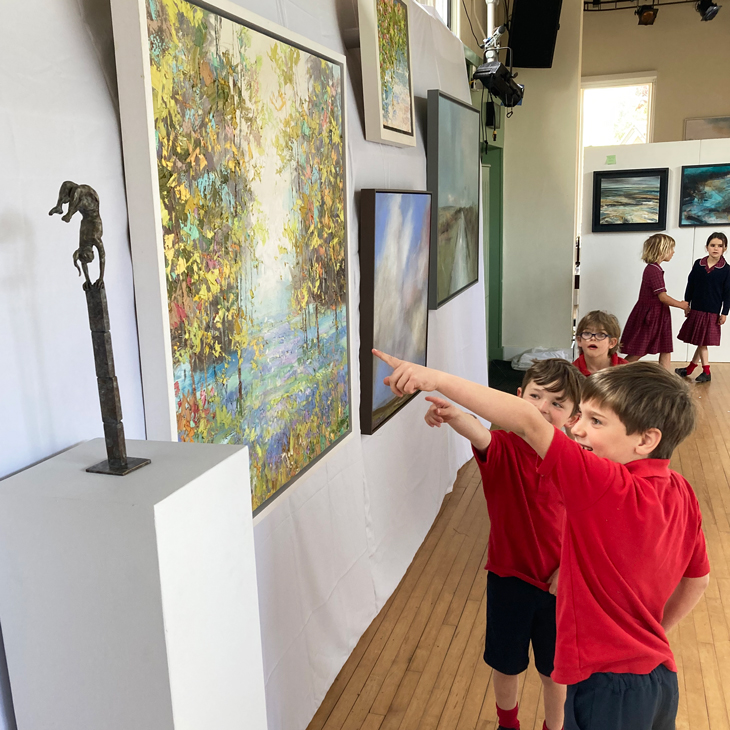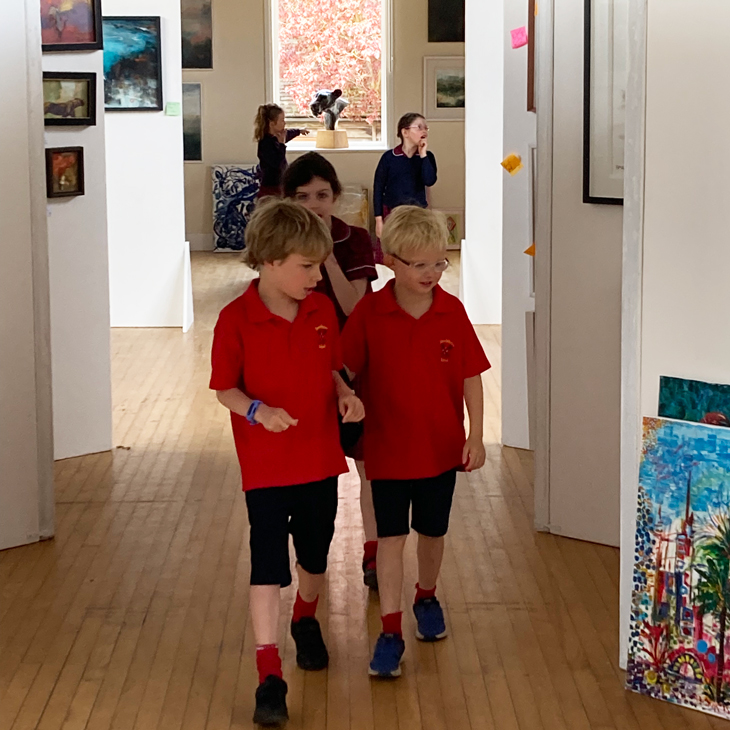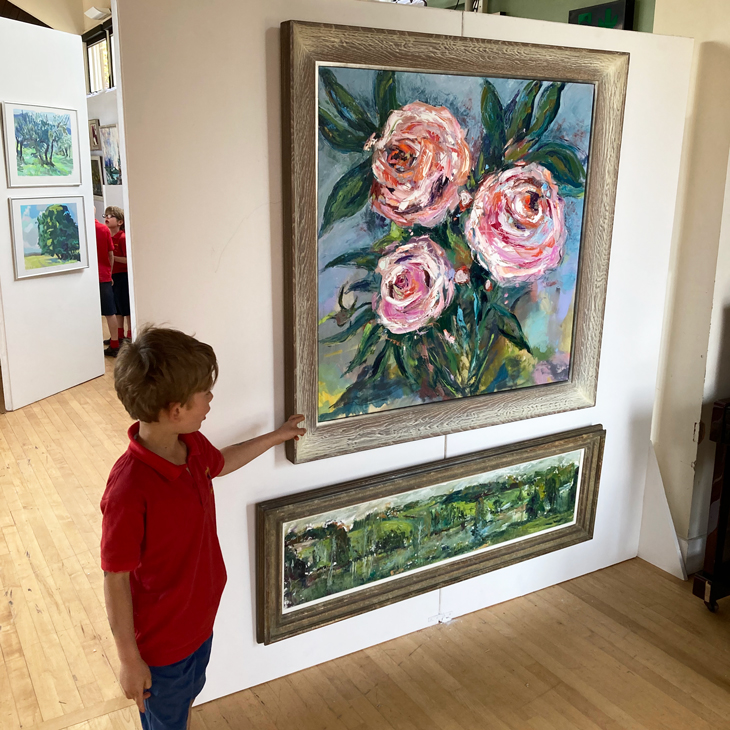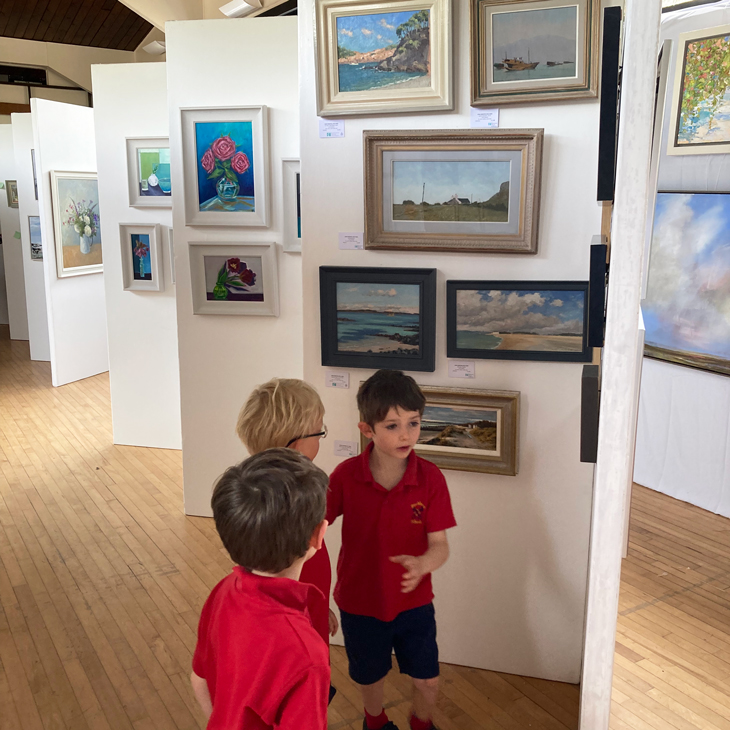 This week, Year 2 attended a private viewing of the Highfield and Brookham Art Exhibition. The enthusiastic children were greeted with gleaming smiles from the parent community, who have been working tirelessly in the Theatre to set up the most astonishing gallery. The wonderful gathering of art objects, prints and paintings unlocked a dozen questions of 'why?', 'how? and 'what made them do this?' The inquisitive pupils were exposed to a variety of works, involving a range of different themes, specific eras, defined media, and geographical regions. One of the many highlights was seeing amazing work that had been produced by former Highfield and Brookham pupils, while Year 2 were also in awe of work produced by current children at school. Another was the discovery that artist Hannah Watchorn had produced a wonderful print of the school grounds which would be sold via a sealed bid. In light of the wonderful exhibition preview, Year 2 eagerly discussed how they could become famous artists and follow in the footsteps of the producers of such amazing work. It led to an intriguing conversation about how the children could pool their pocket money to buy these wonderful pieces of artwork, taking it in turns to have the pieces in their bedrooms and playrooms.
Charlie Millsom, Head of Year 2
Year 3 Pool Their Resources In Brilliant Swimming Gala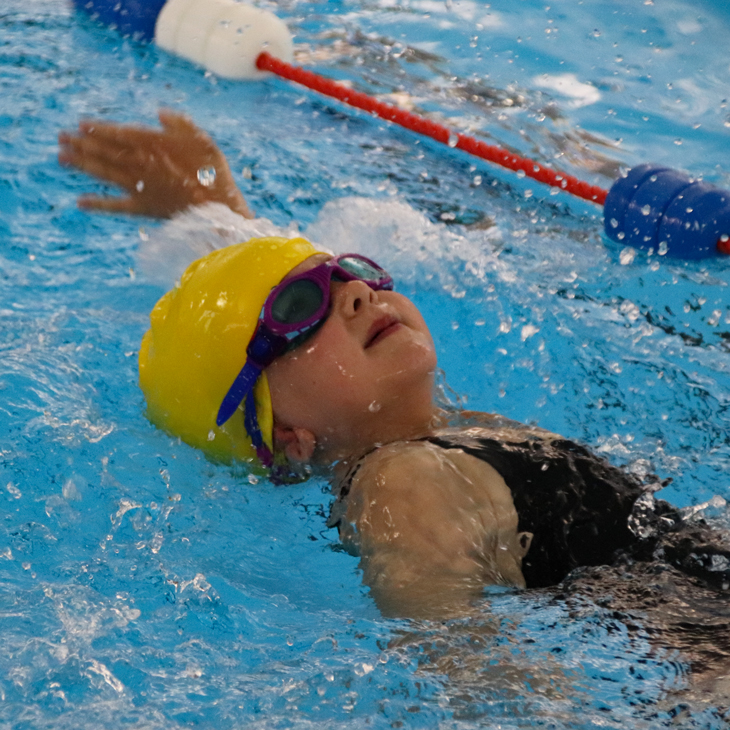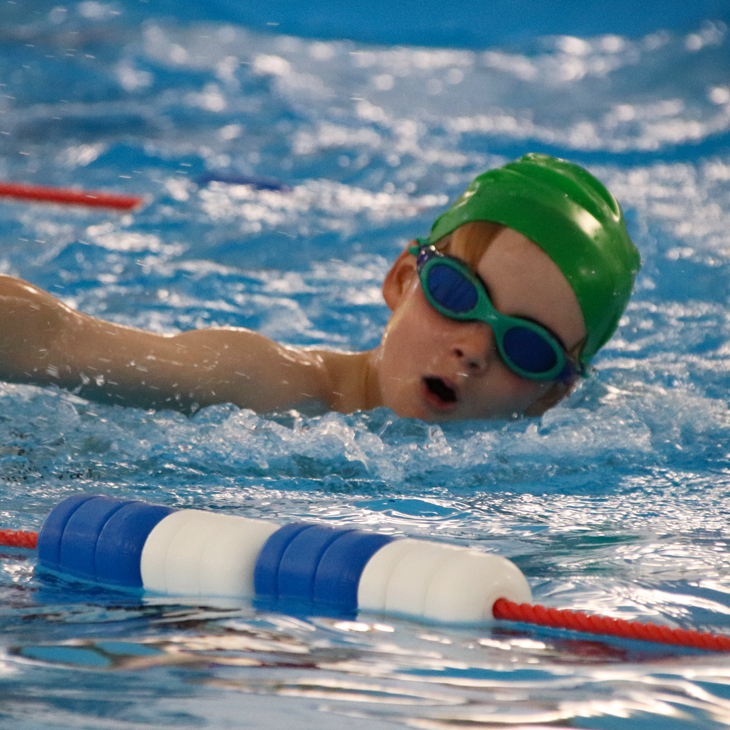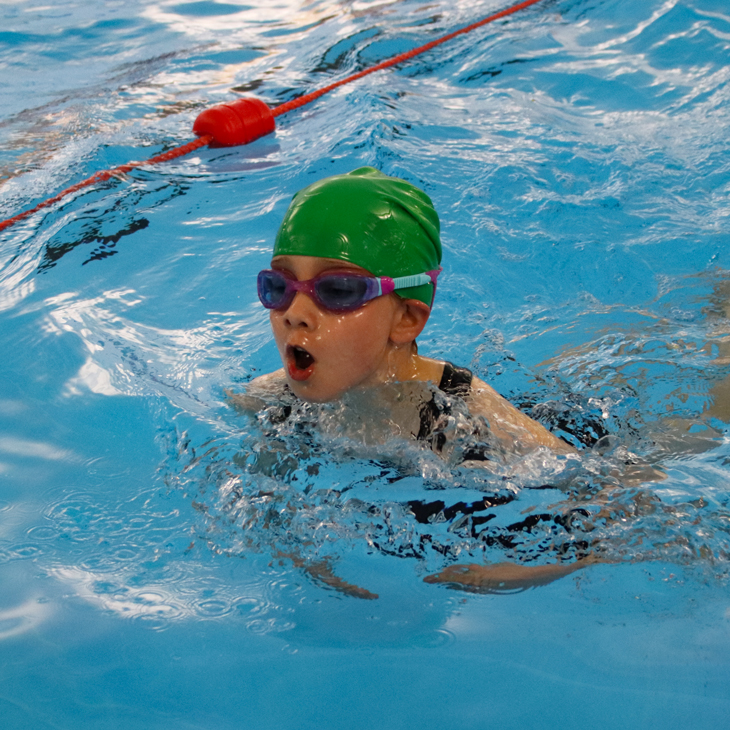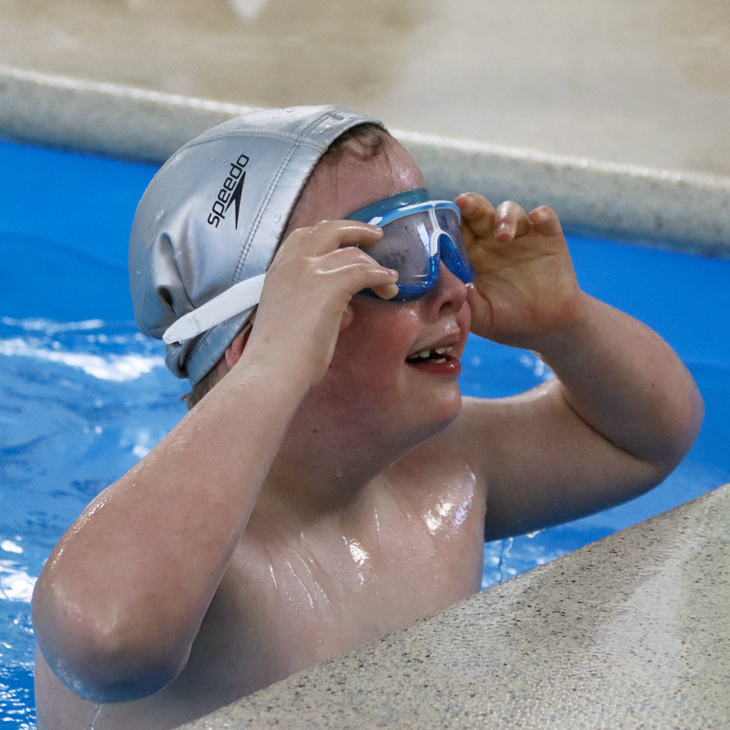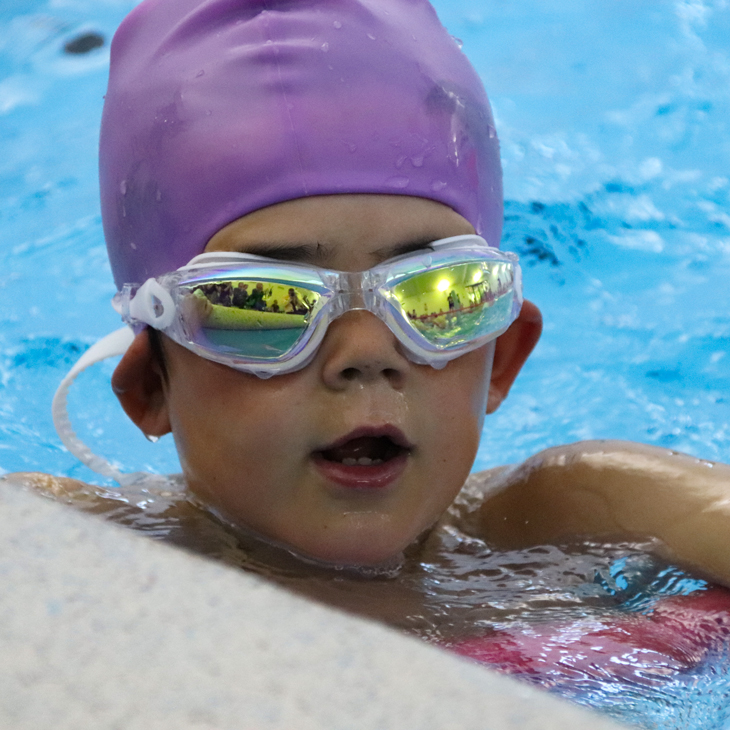 The annual Year 3 swimming gala is always such an exciting event – and this year was no exception! It's lovely to see the children sitting ready on their towels, wearing their house colours and raring to go. Then there's the hush of anticipation from the parents as the first swimmers line up and take their marks. Before we know it the gala is under way and the children are darting through the water impossibly quickly, one row of children after the other. It seems the best is always kept to last and the parents' favourite event, the house relay, is on centre stage. As the children get into their houses and prepare for the fastest lengths of their lives, the noise begins to build and then the whistle goes. The pool erupts with the noise of parents and children getting behind their teams and the children support one another to make it to the other end of the pool. Everyone took part, everyone finished, and everyone was brilliant. But only Ash could this year claim house bragging rights.
Stephanie Turner, Year 3 Class Teacher
Year 4 Rise To The Occasion For Centenary Fixtures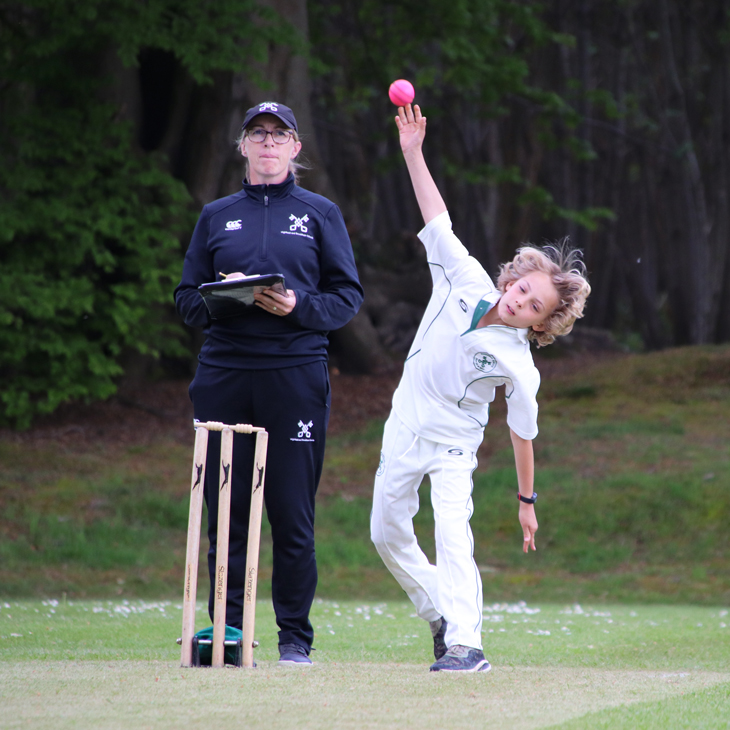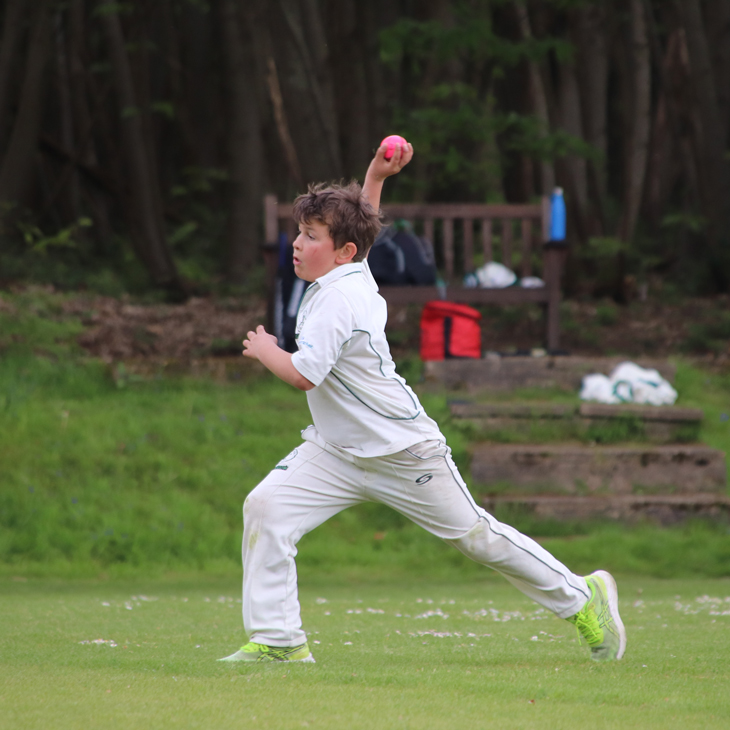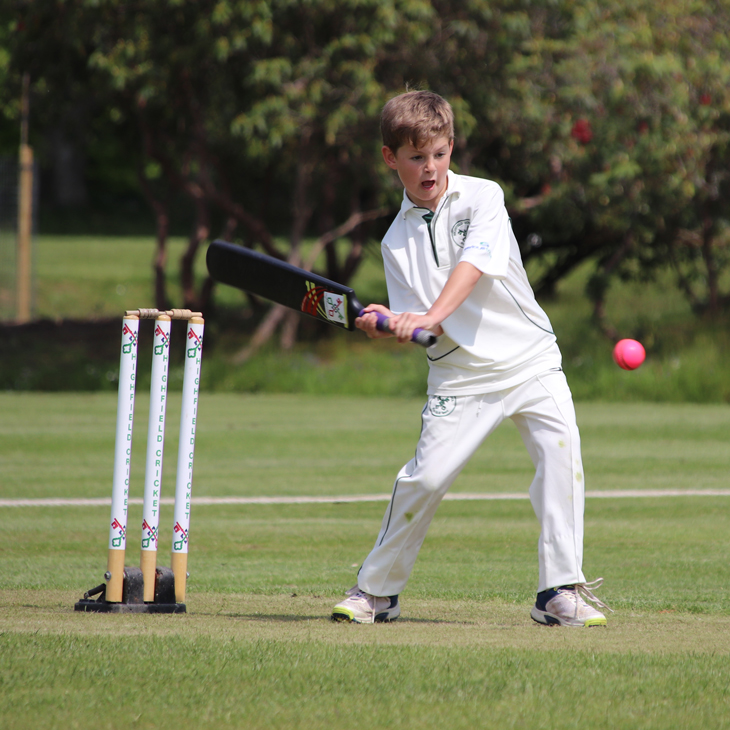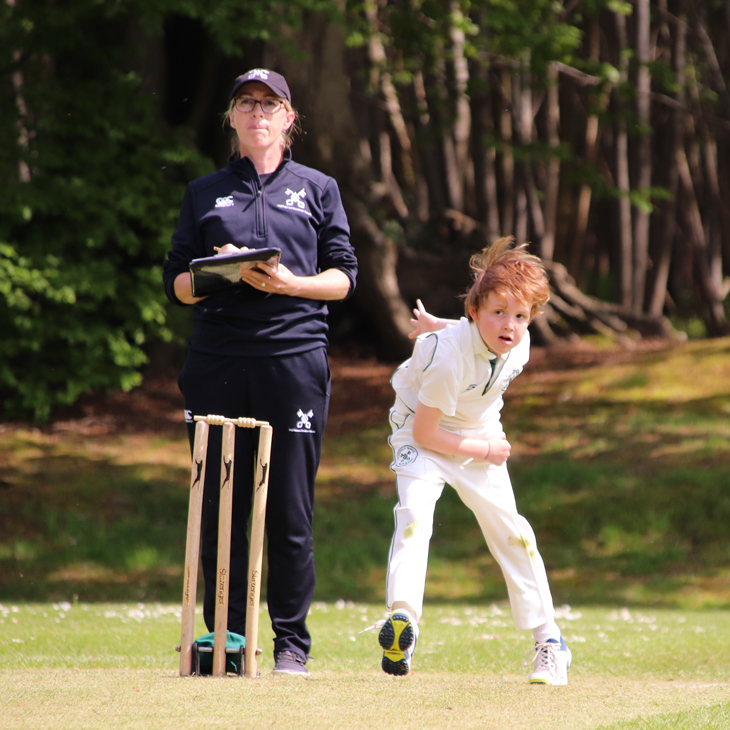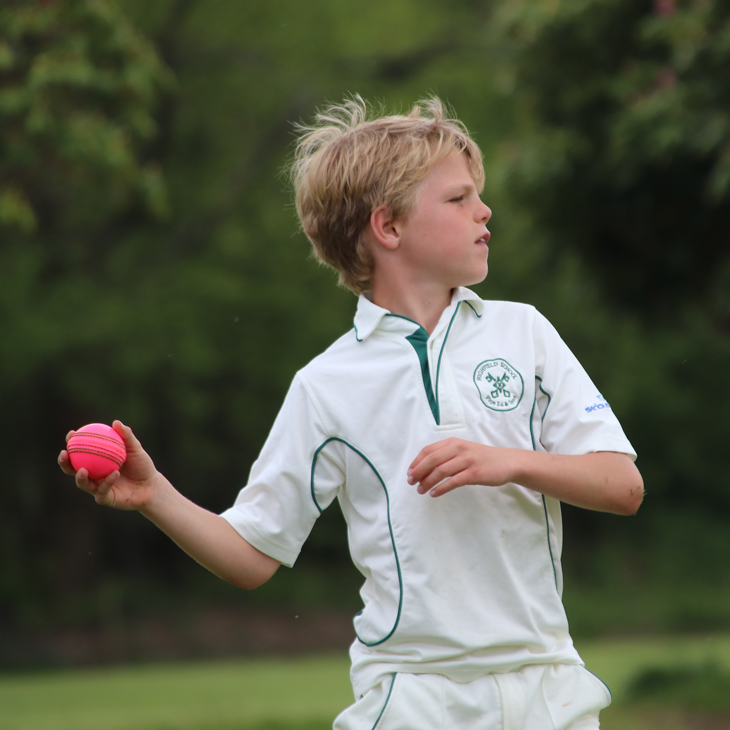 A convincing win for the U9A boys who beat Westbourne House on Chapel Field on Thursday. Highfield managed to secure a healthy 91 runs with plenty of boundaries and some excellent running between the wickets. When Westbourne batted, the Highfield fielding and bowling was particularly sharp, resulting in many wickets over the course of the match and far fewer wides being bowled. The boys are working really hard in training and making huge improvements and they are already looking forward to taking on Aldro next week.
Dan Bather, U9A Boys' Cricket Coach
The U9B boys fittingly had a very close game for their centenary fixture against Westbourne House, played in good spirit by both teams. Highfield fielded first and bowled well as Westbourne scored 284 runs. When Highfield batted, the boys chipped away at the total but lost cheap wickets along the way as they finished an agonising three runs short. What a wonderful game and an enjoyable afternoon.
Jo Gordon, U9B Boys' Cricket Coach
The U9C boys secured a great win against Westbourne House on Thursday. Our opponents put us in to bat first and we rose to the challenge. All pairs did really well but a special mention must go to Alessi G, who scored a handy seven not out. With a bit of help from the extras column, Highfield posted a formidable 305 runs, with teams starting on 200 runs in pairs cricket and losing five runs for each wicket lost. In reply, Highfield's bowlers put their visitors under the cosh from the outset as they picked up early wickets. Possibly a little over-confident from being well on top, a drop in concentration by the bowlers and fielders allowed Westbourne to creep ever closer to a winning score before death bowlers Oliver G and Ben B snuffed out the threat to see Highfield home by 11 runs.
Leigh Japhet, U9C Boys' Cricket Coach
Year 5 Have All The Elements For A Dramatic Performance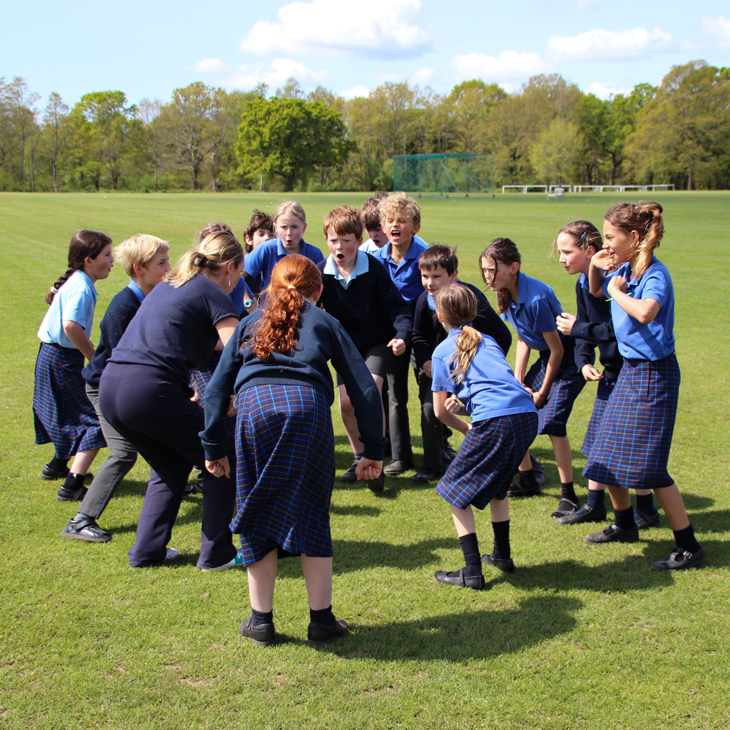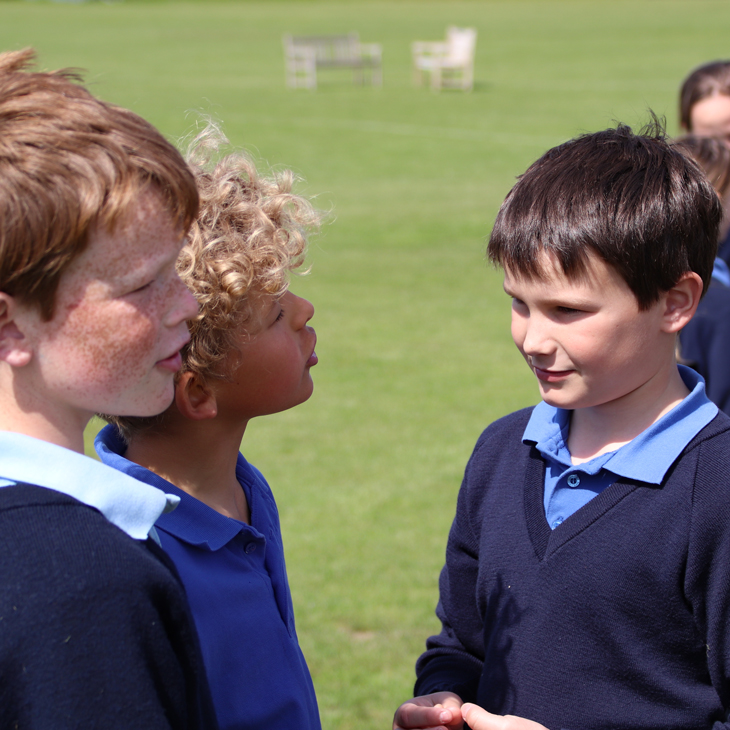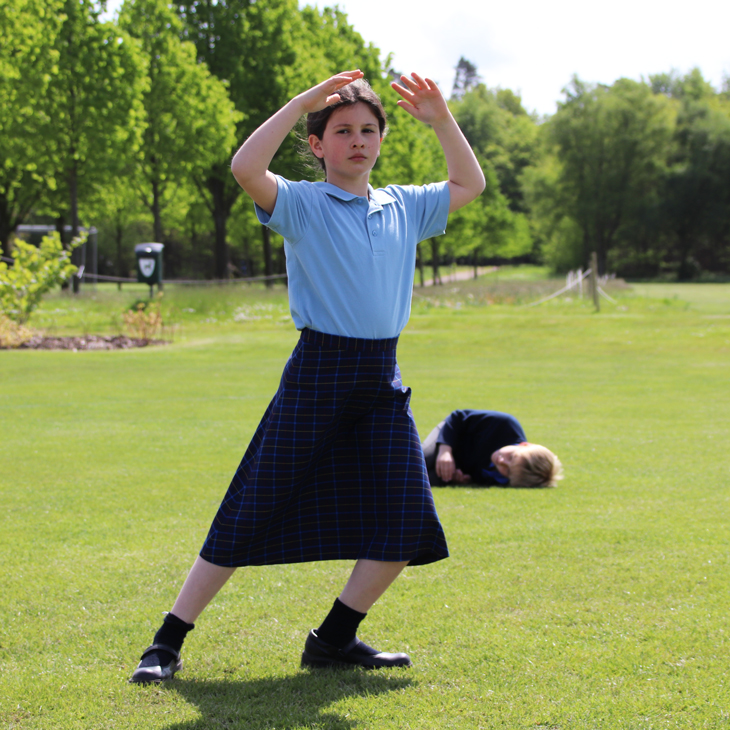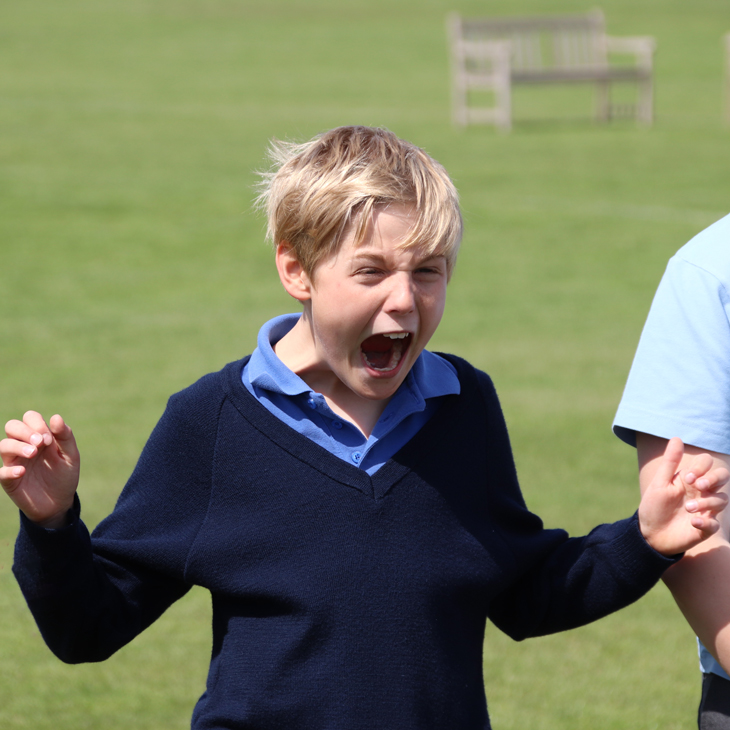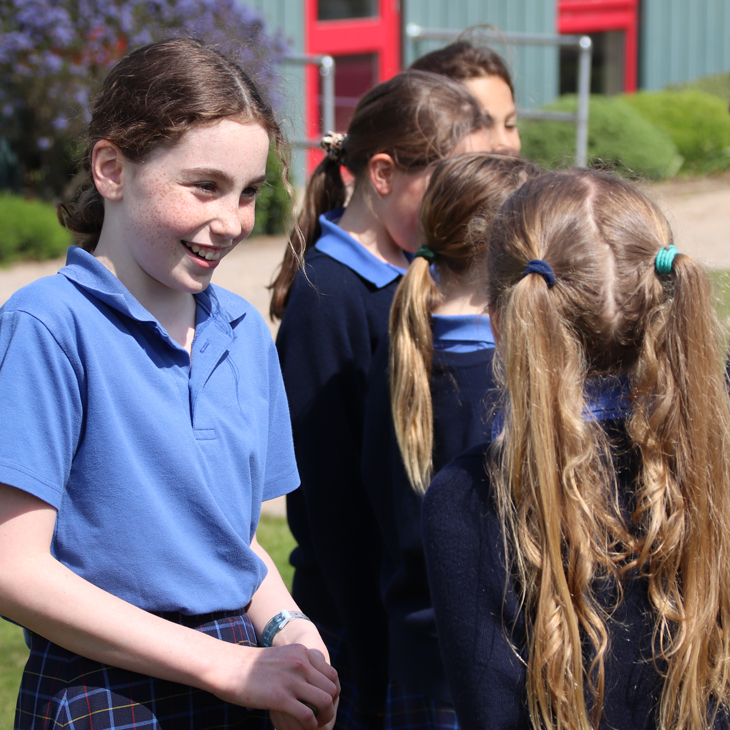 As the sun shone on Tuesday, 5SB took the opportunity to take their Drama lesson outside – and what better theme to explore than the elements? This term, Year 5 are looking at the four elements of fire, wind, earth and water in a variety of ways. They have been exploring how these elements could be interpreted as character traits (for example, fire could represent an angry person and water could be perceived as someone who often changes their thoughts or direction). The children have also considered natural disasters such as floods and earthquakes, some of which have occurred in their lifetime, considering how they can recreate such events in the form of physical theatre scenes, create soundscapes, and re-enact these scenes in a news report scenario. As the sun shone and the wind blew, 5SB used their bodies and their voices creatively and energetically in all their practical tasks. I'm now really looking forward to seeing the end result of their dramatic efforts when they bring their news reports to life next week.
Sarah Baird, Head of Drama
Year 6 Have Designs On Producing Logos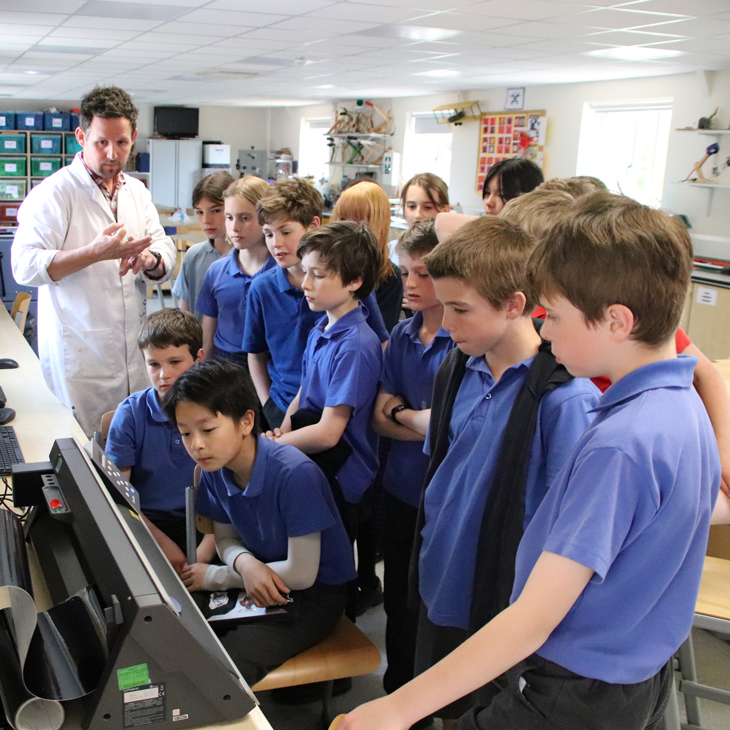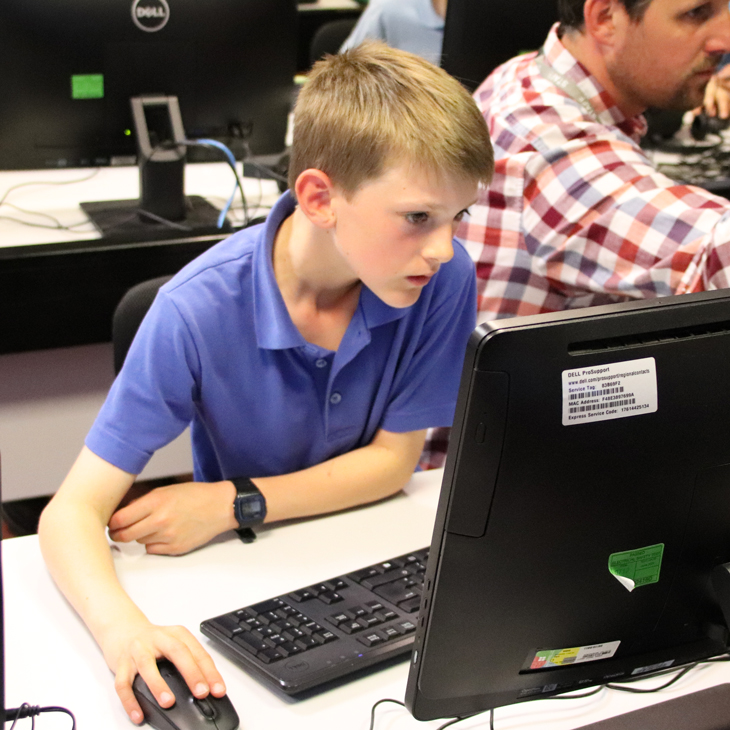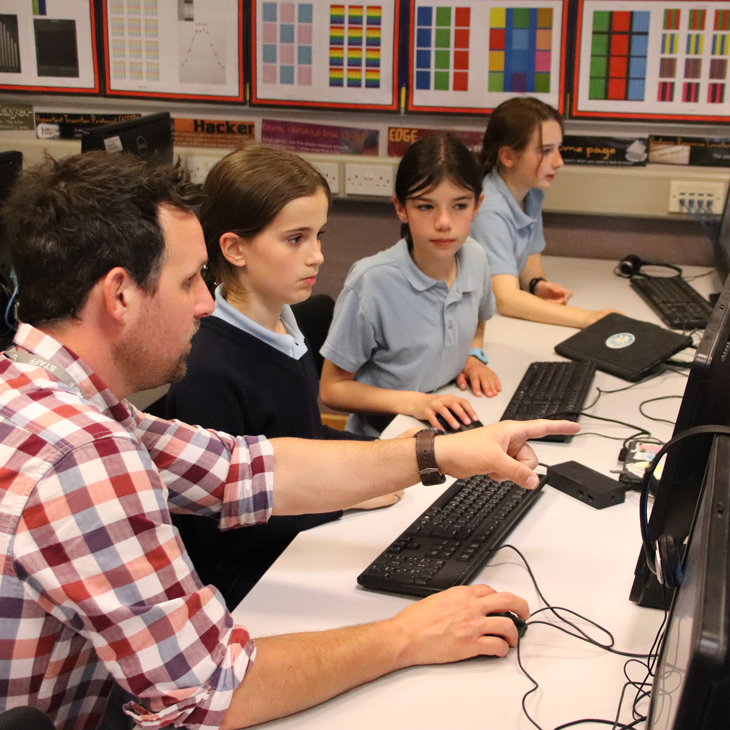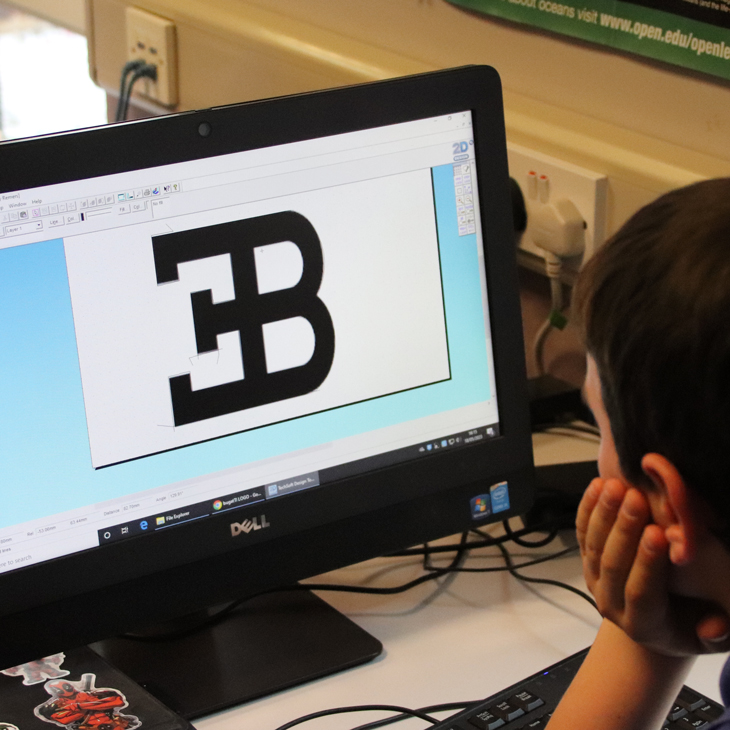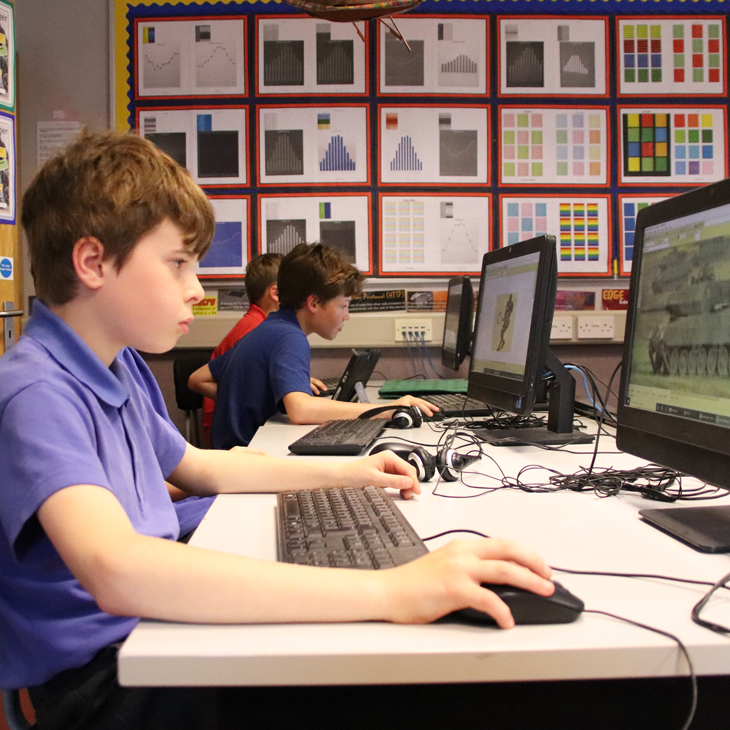 This week, Year 6 began the process of designing a new logo or graphic. With the computer-aided design project all about branding and understanding what is required to produce a successful logo, the children took to the ICT suite to draw up some designs which will ultimately be cut using a CAMM vinyl cutter. Throughout the term, Year 6 will develop their illustration techniques by exploring composition and layout as well as building on their CAD subject knowledge.
Jamie Dew, Head of Design Technology
Inquisitive Year 7 Delve Deep into George Orwell's World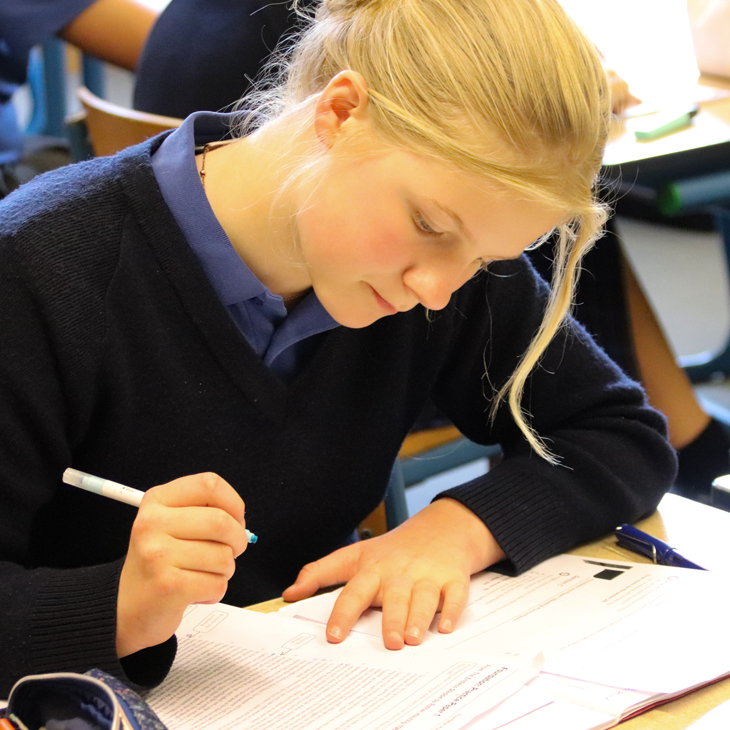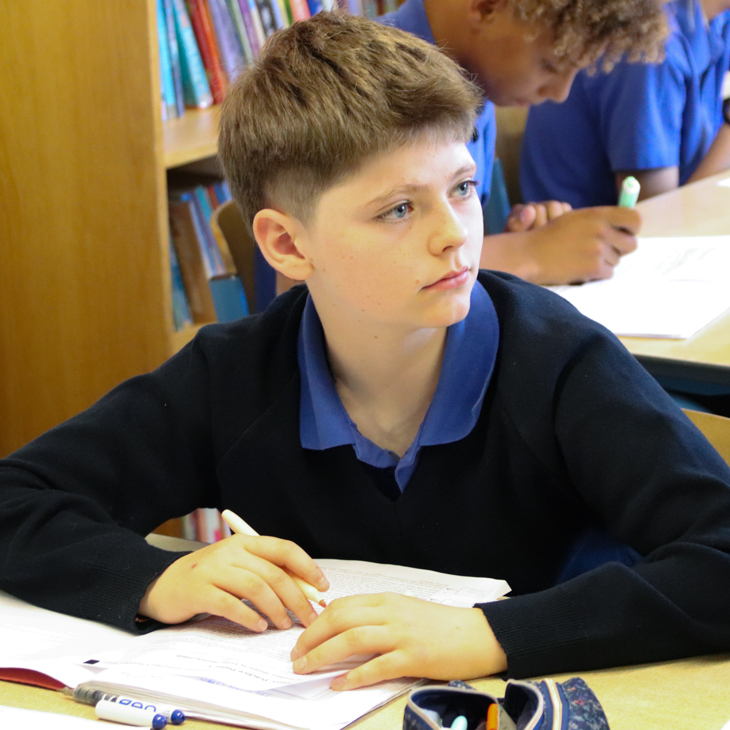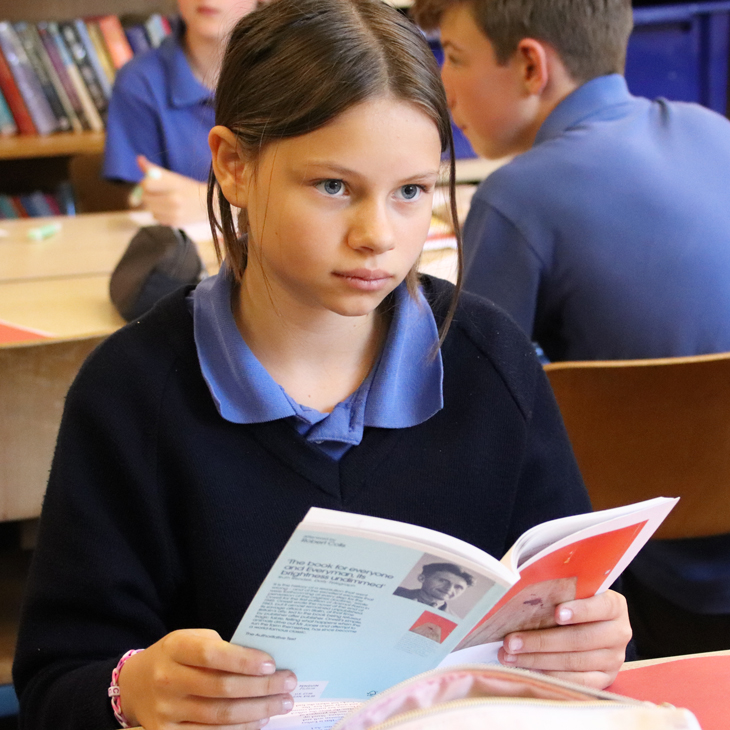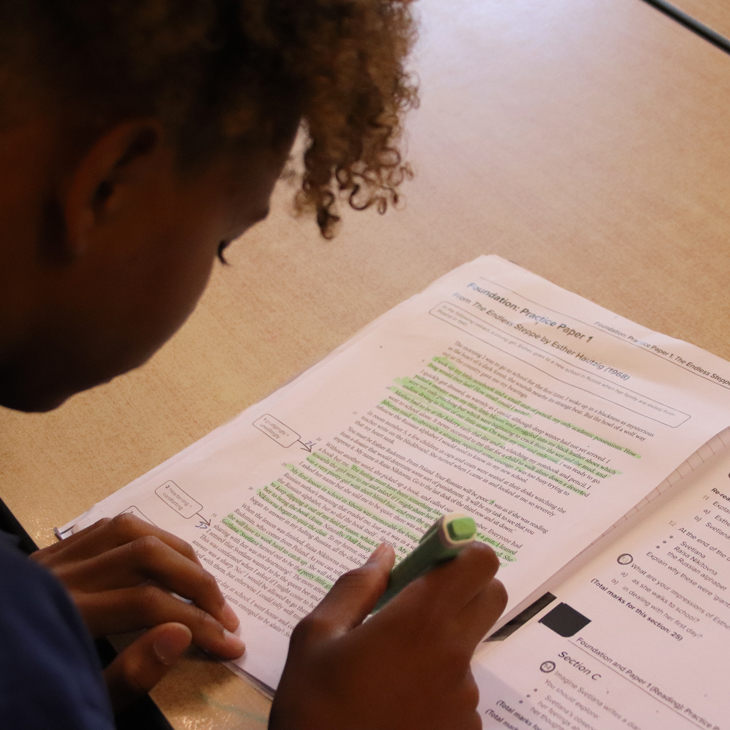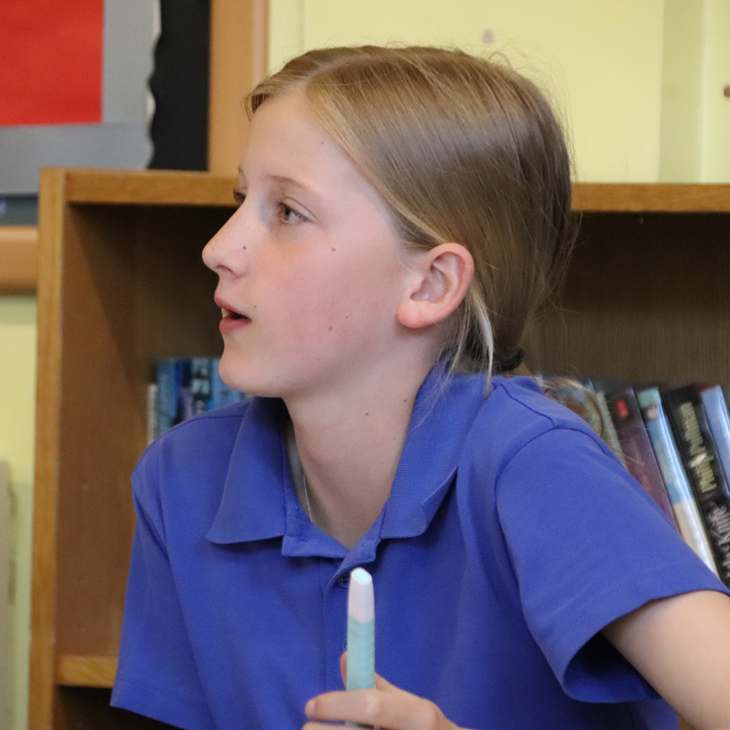 In the English department, we feel privileged to have the opportunity to introduce the children to a wide and wonderful range of literature throughout their years with us. This term, our Year 7 cohort have risen to the challenge of reading George Orwell classic Animal Farm. We like to use our set texts as a springboard for class work, which could take the form of such things as comprehension, creative writing, language analysis, or writing for a practical purpose. Orwell's allegorical novel is full of interesting themes for the children to explore and many of them in Year 7 are enjoying unpicking the deeper, more complex meanings within the story as well as producing a range of creative responses to the book.
Lucy Hendry, Year 7 English Teacher
Year 8 Make A Song And Dance About Boosting Powers Of Recall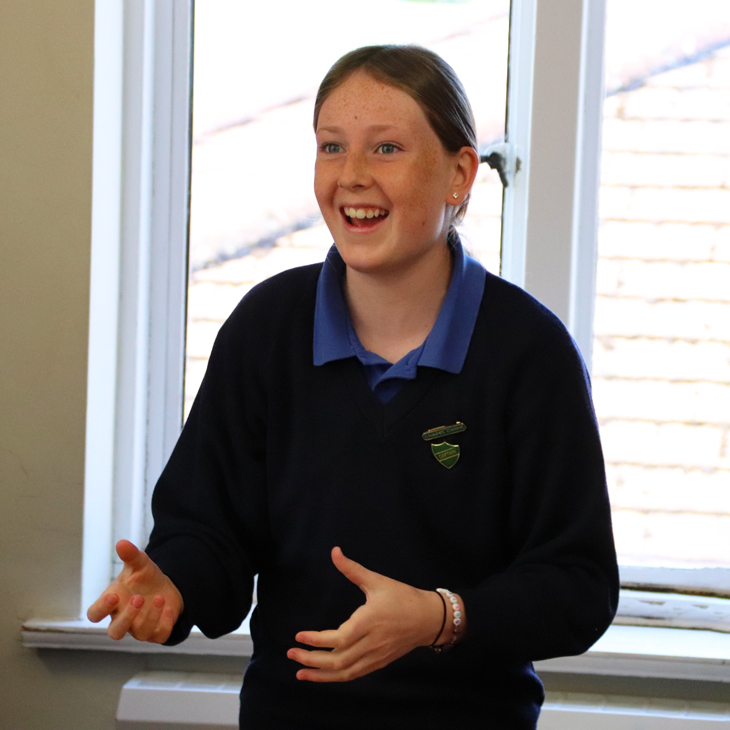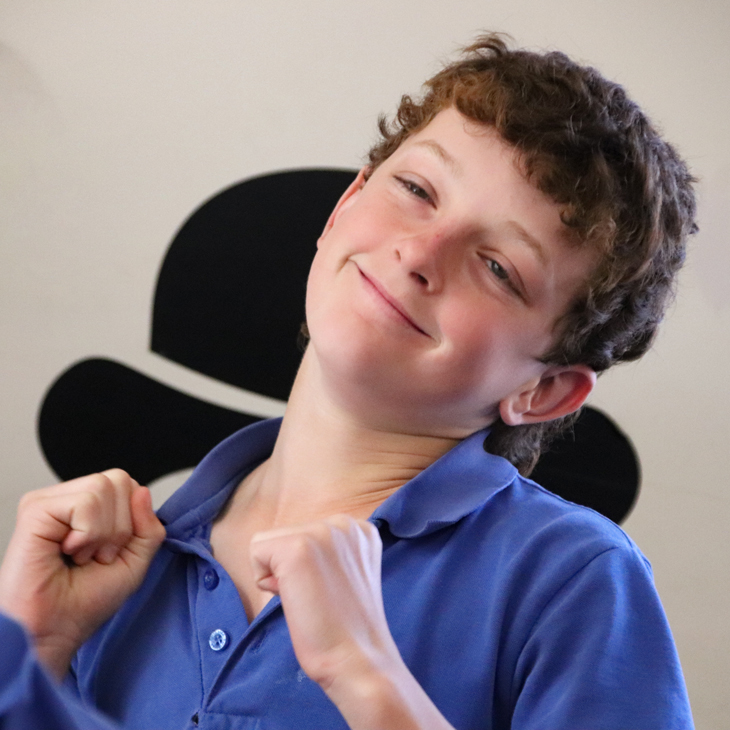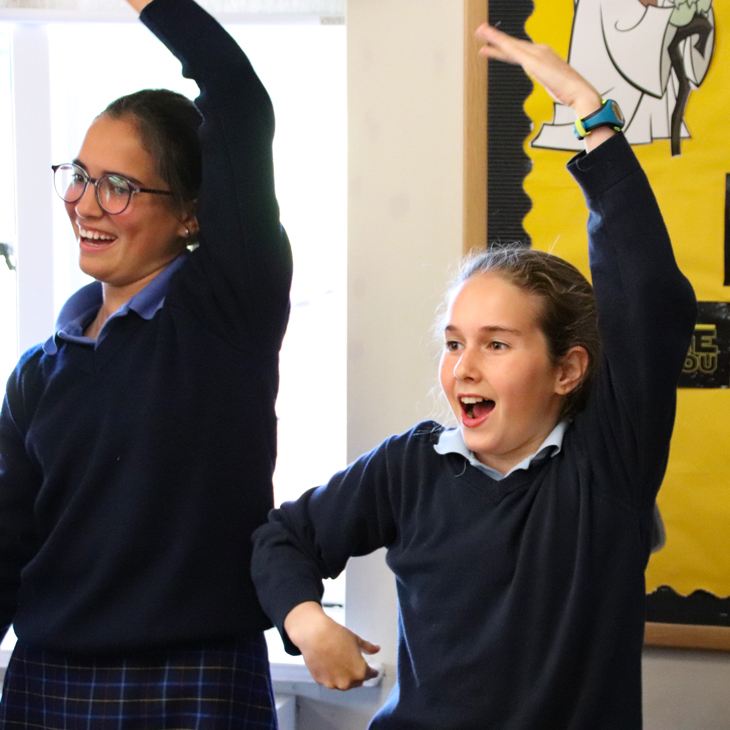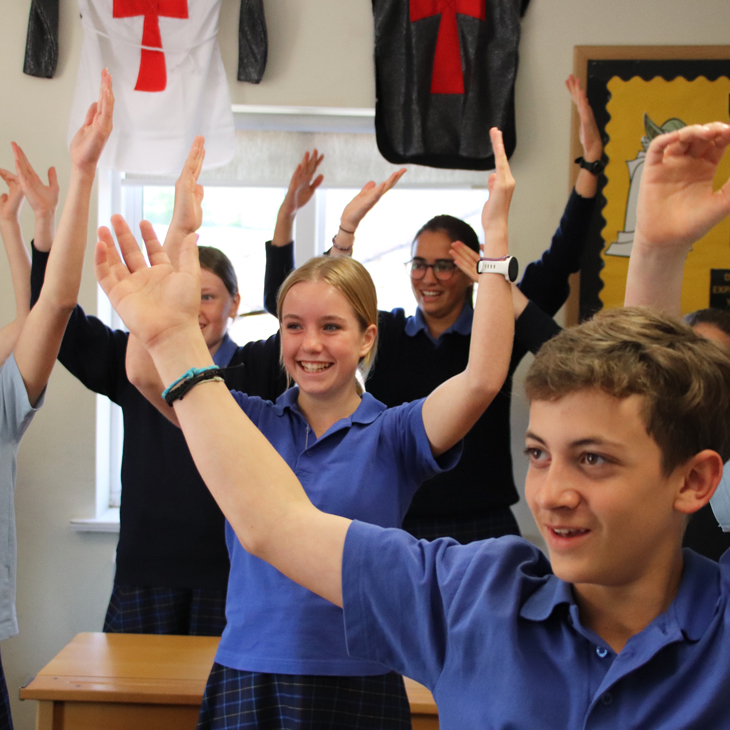 Your memory works in weird and wonderful ways. Ever been in a car when a song comes on the radio that you haven't heard in years and yet you remember every word? Do certain smells return you to a definitive place and time in an instant? This week, we spiced up History revision for Year 8 and encouraged them to write new lyrics for the song YMCA – this time with useful historical information inserted into the verse and chorus to jog the pupils' memory on the day of their Common Entrance exams. Rather than YMCA, the pupils created a new title of 'UVNR' to help them remember how to test sources for reliability and usefulness. This is a crucial skill in History as it asks the pupils to decipher evidence from the past. Is the author trustworthy? Should we believe what they say? Is the content of the source useful or are there important gaps to be filled? In an ever-changing world, pupils are bombarded with 'fake news', deliberately skewed information with the intention of swaying opinion, sometimes for good, sometimes not. It is essential that we prepare our young people to challenge what they read, test it for validity, and disregard if misleading. Hopefully, Tuesday's lesson will not only better prepare pupils for their Common Entrance exams but also move them closer to being more rounded citizens.
James Ridge, Head of History