The Home Stretch
1st July 2022
Pedal Power To The Fore As Nursery Get Into Gear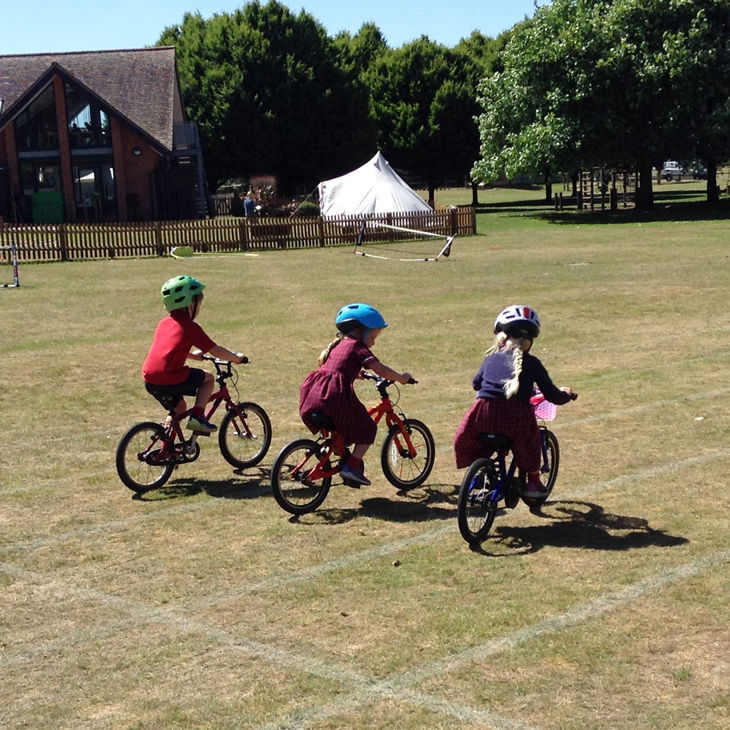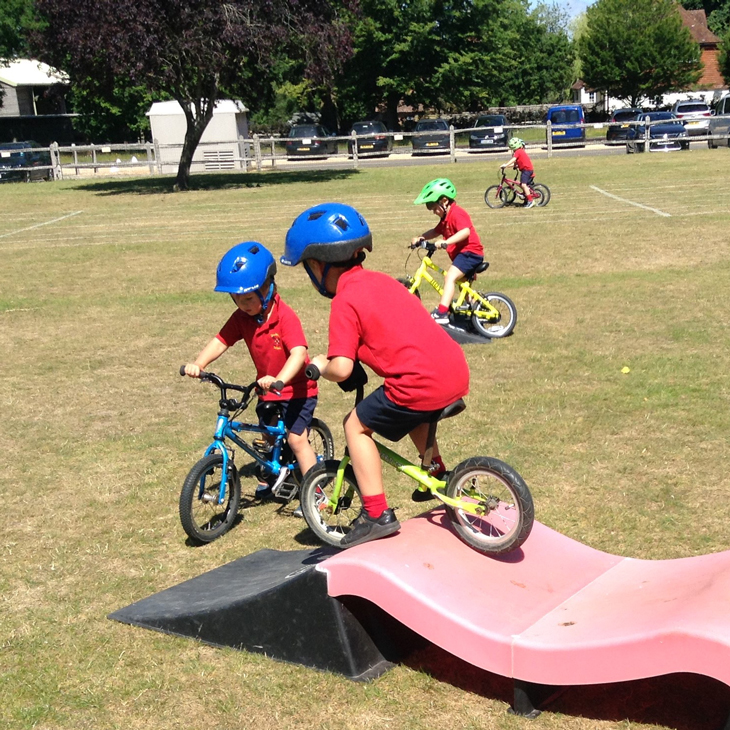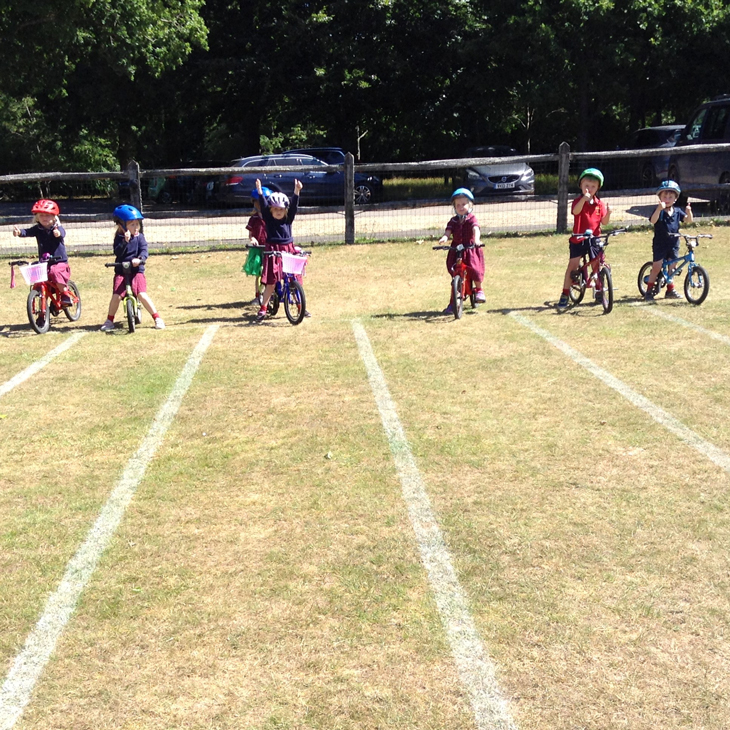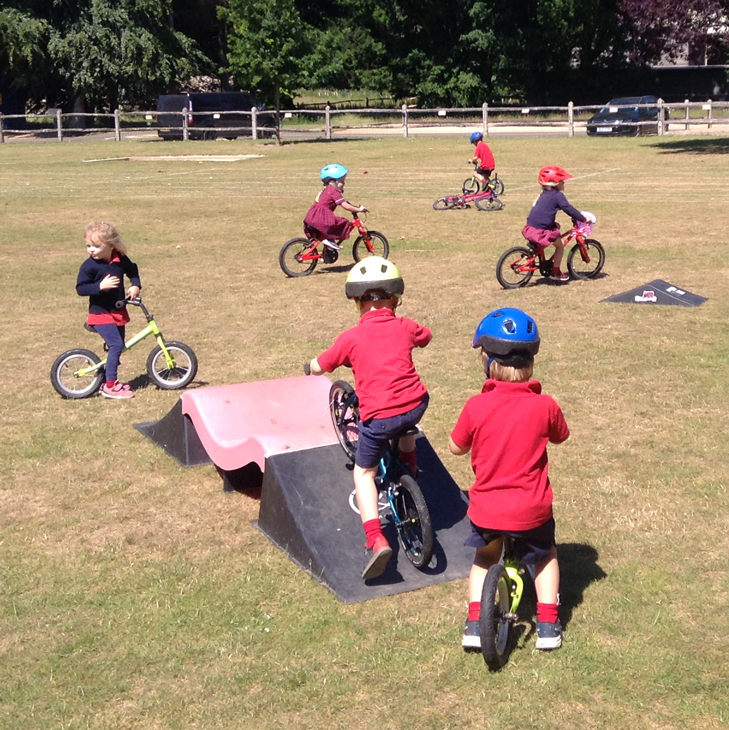 The penultimate week of term has been a hive of activity in our Nursery classes. All the children were invited to bring in their pedal bikes and were given a fantastic opportunity to learn a new skill. So, helmets at the ready and excitement levels high, the children were encouraged to be resourceful and resilient as they explored riding their bikes, which for many was their first time. The teachers ran alongside their young pedallers, holding children up and offering words of encouragement. And a few small stumbles were never going to deter our little learners and they duly responded by challenging themselves to pedal faster or steer straighter to reach their goal, always supported by cheers from their friends. What a delight to see their proud faces once they achieved their goals.
Rosie Snagge, Nursery Class Teacher
Reception Children Have The Measure Of Collaborative Learning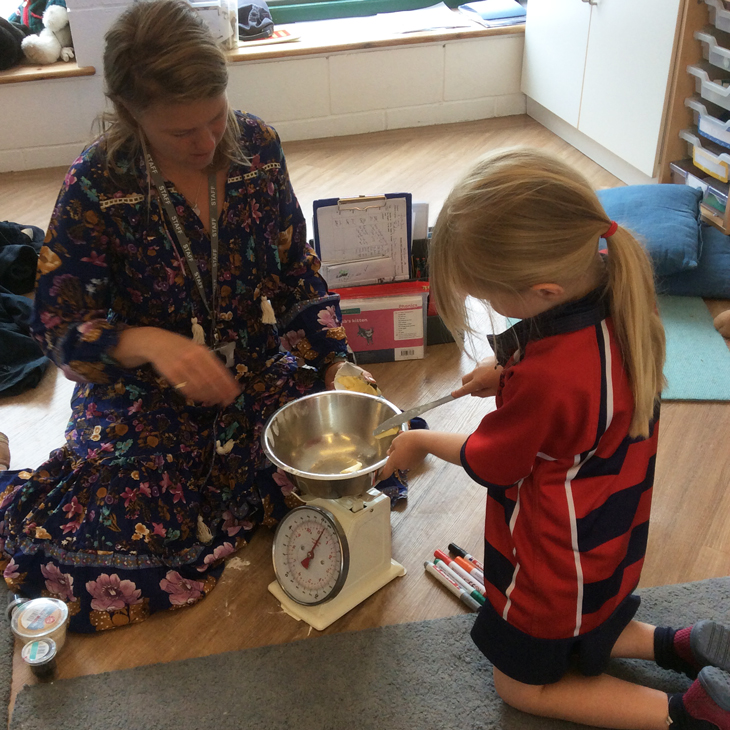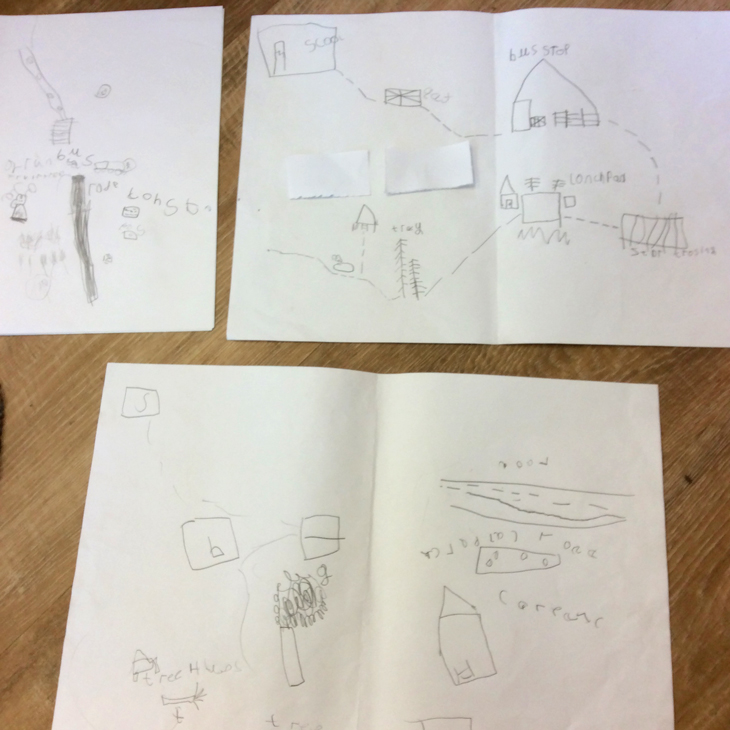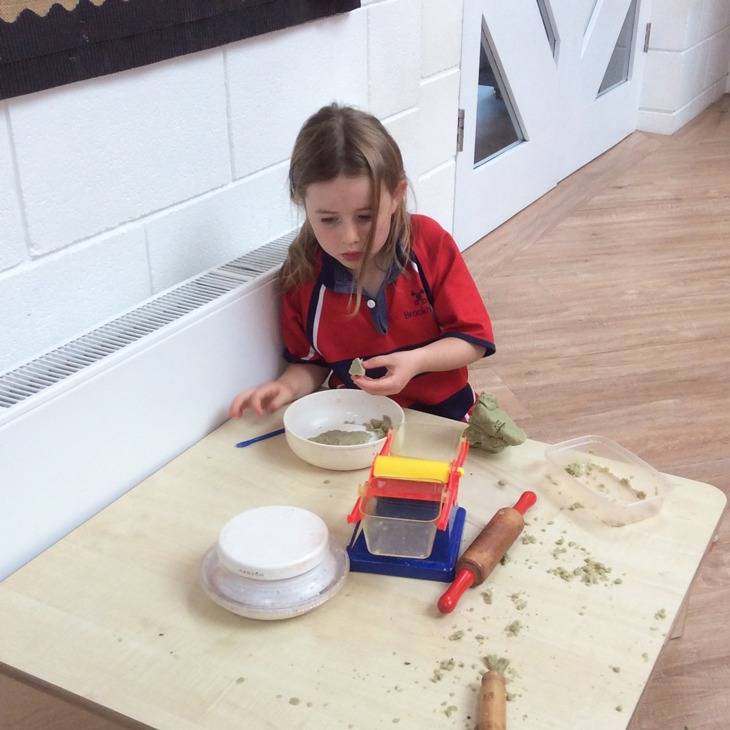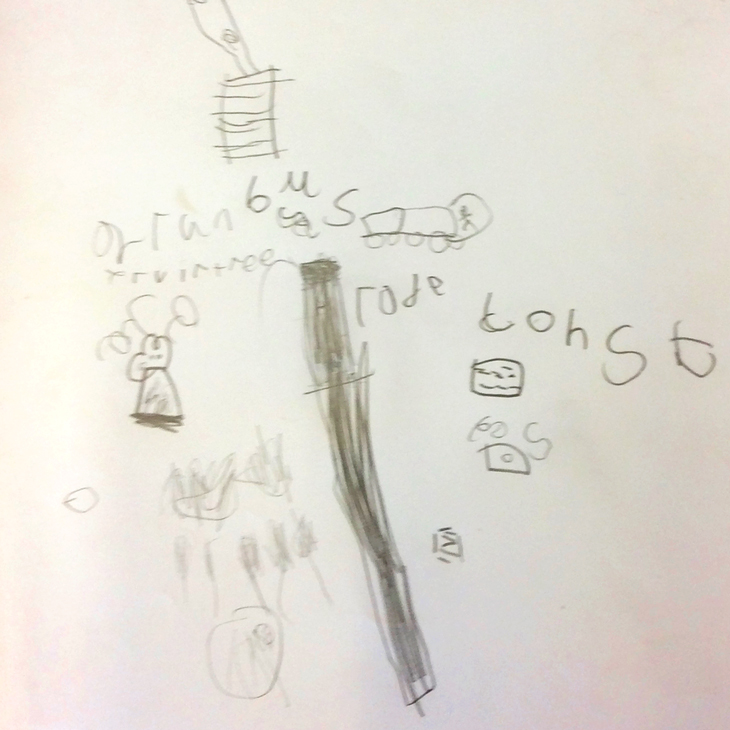 Earlier this term the children carefully followed a map from friendly witch Sue. Her intriguing map led them from the shared area all the way up to Forest School, via a few treats along the way. To challenge the children further, they were tasked with creating a map with a partner from another class. The purpose of this was to help the new Reception children find their way when they start in the Autumn Term. And they collaborated beautifully; discussing the positions of key reference points and sounding out the labels carefully while presenting their drawings with fantastic attention to detail. This really provided a wonderful opportunity for the children to refine their collaboration, reasoning and spatial awareness with somebody new, and there is no doubt that these maps will be of great value for the next cohort of Reception children. Back in the classroom, in Maths, the children have enjoyed exploring the concept of measuring; weighing out the ingredients to make a Victoria sponge cake, measuring their own feet, and looking at the capacity of different containers. Each of these areas have facilitated some interesting discussions about three-digit numbers and where on the scales these numbers fall, and predicting the capacity of various containers. There have been many opportunities to extend this newly-acquired knowledge during child-initiated learning time, which the children have done with an abundance of enthusiasm. It's been another busy week for the soon-to-be Year 1 children who have yet again proved their readiness for the next challenges that their school journey holds.
Rebecca Lane, Reception Class Teacher
Hotel Haven As Year 1 Get Bitten By The Designing Bug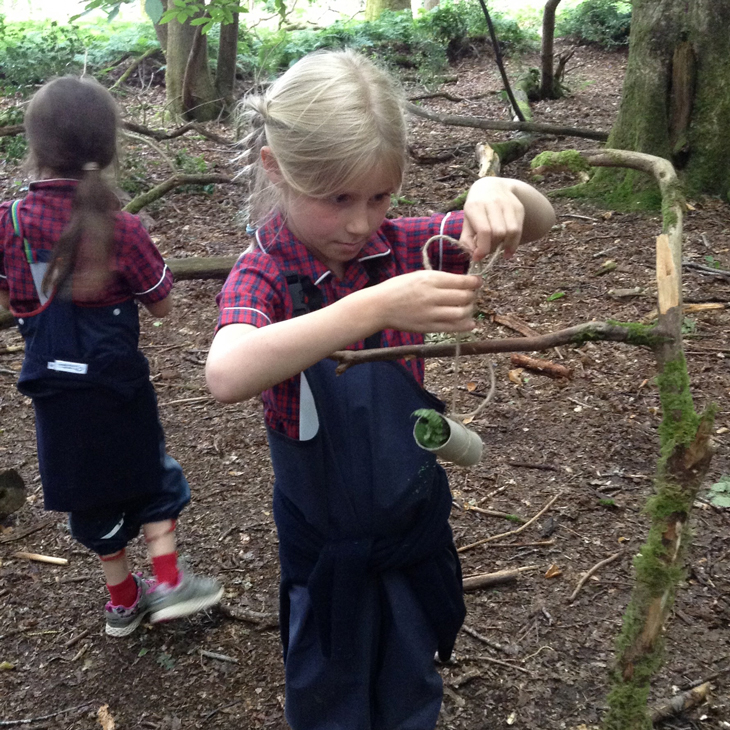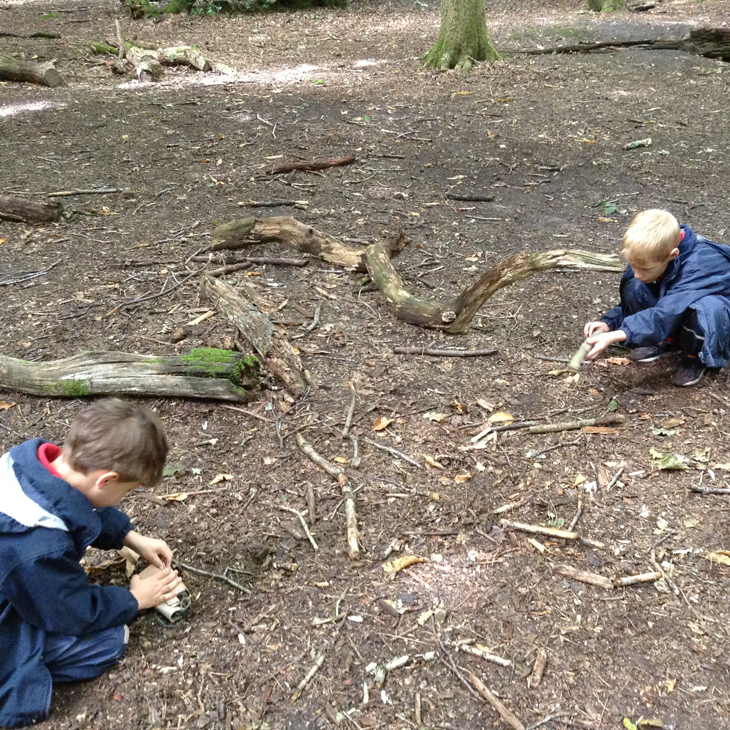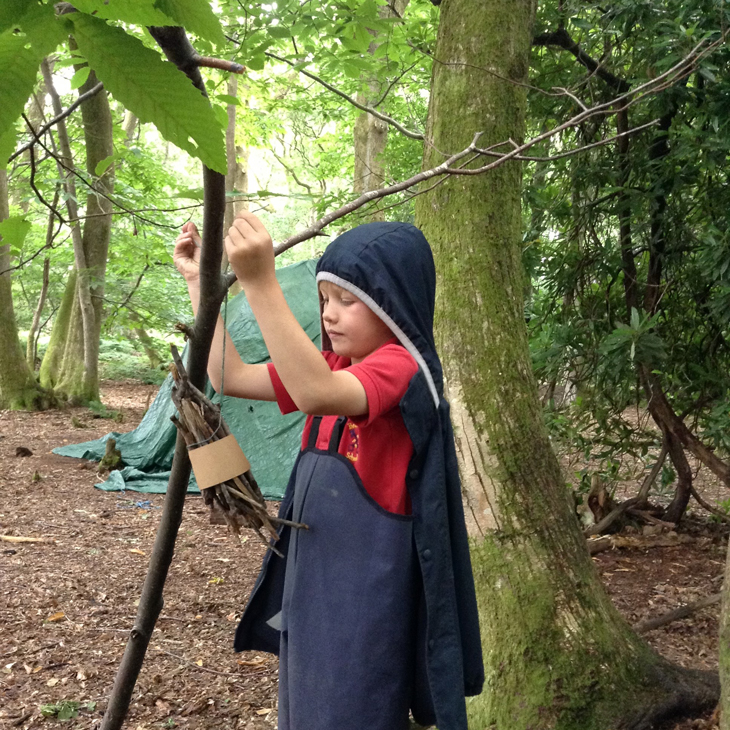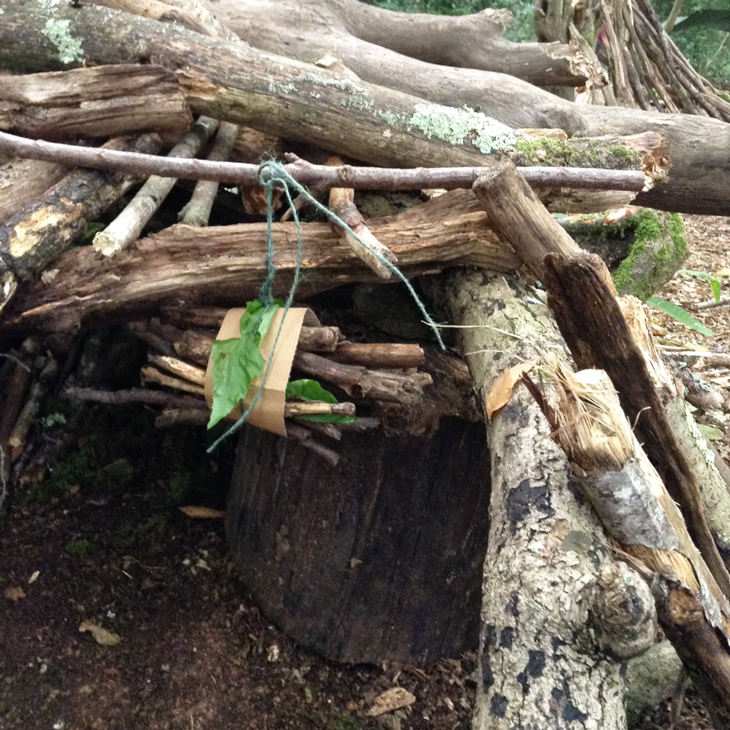 Are you searching for a bug hotel that is dark and damp? Have you always wanted a moss trampoline? Then look no further, Brookham Forest School has it all! Collaboration and creativity have been in abundance during our Forest School sessions this week with the children challenged to make bug hotels. With little more than string and a few cardboard tubes at their disposal, our keen and industrious little Year 1 engineers quickly got to work. The result was a wonderful woodland village of bug hotels. We had hotels nestled in tree stumps, hotels hanging from branches, and even what can only be described as a veritable bug palace! The young designers and engineers were keen to explain how they had enhanced their hotels with climbing walls, moss trampolines, and even zip wires. As the children have been learning to write persuasively in literacy, they have now decided to write an advert in order to try to persuade the many minibeasts we have in our leafy locale that we really do have the perfect home they have been searching for.
Kathleen Salusbury, Year 1 Class Teacher
Eager Year 2 Pupils Keen To Get A Pizza The Action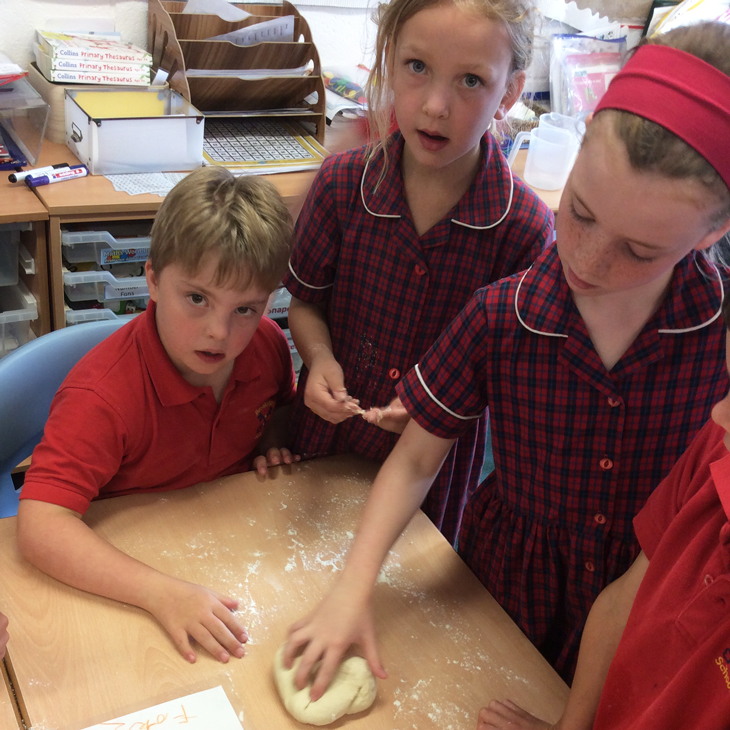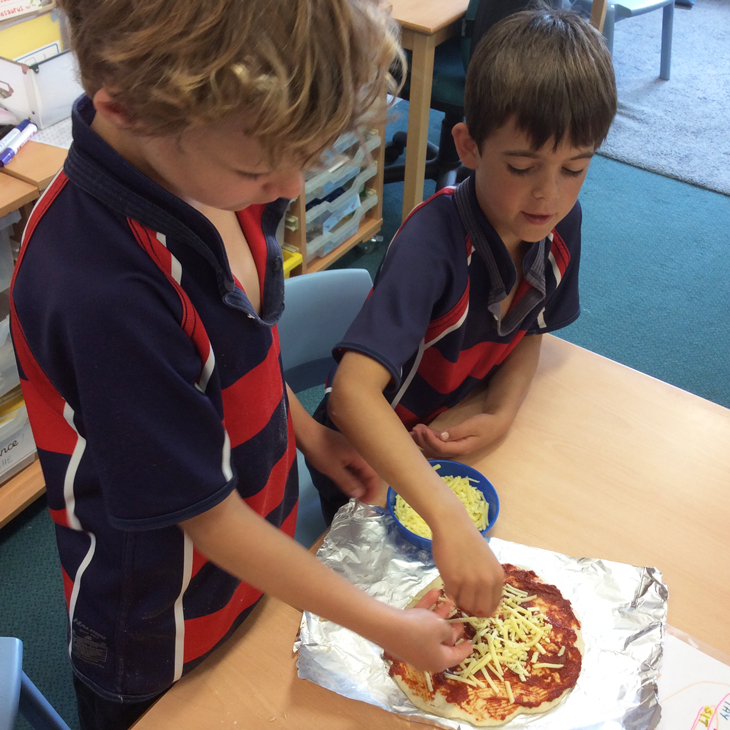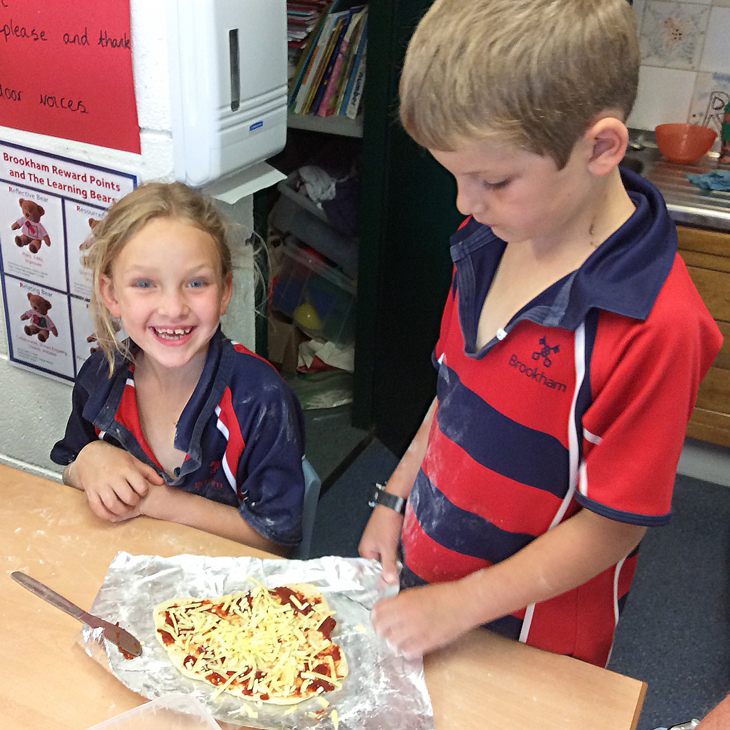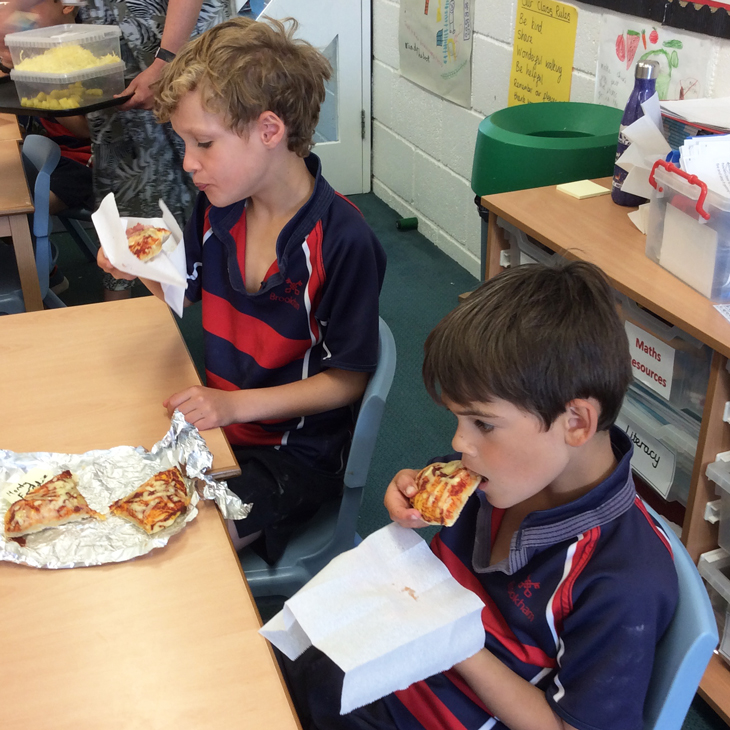 Unlike pizza, this week was a hard one to top. To round off our 'Italy and the Romans' topic, Year 2 were tasked with making their own pizzas, which sparked much excitement. Collaboratively, the children revelled in following instructions to make the dough which used clear, precise and bossy language. Several children showed off their obvious culinary experience, teaching others how to knead – which was quickly identified as an imperative verb. Furthermore, there was much debate as to what toppings should go on their pizza. This led to a discussion about fractions and whether the pizza needed to be divided into halves or thirds. The practical activity provided an exhilarating experience for the children to then go on and write their own set of instructions. With sumptuous smells wafting through the building, the children took great pleasure in eating their culinary delights, giving them a boost for the rest of their busy day.
Henrietta Platt, Year 2 Class Teacher
Year 3 Den Builders 'Knot' Fazed By The Wind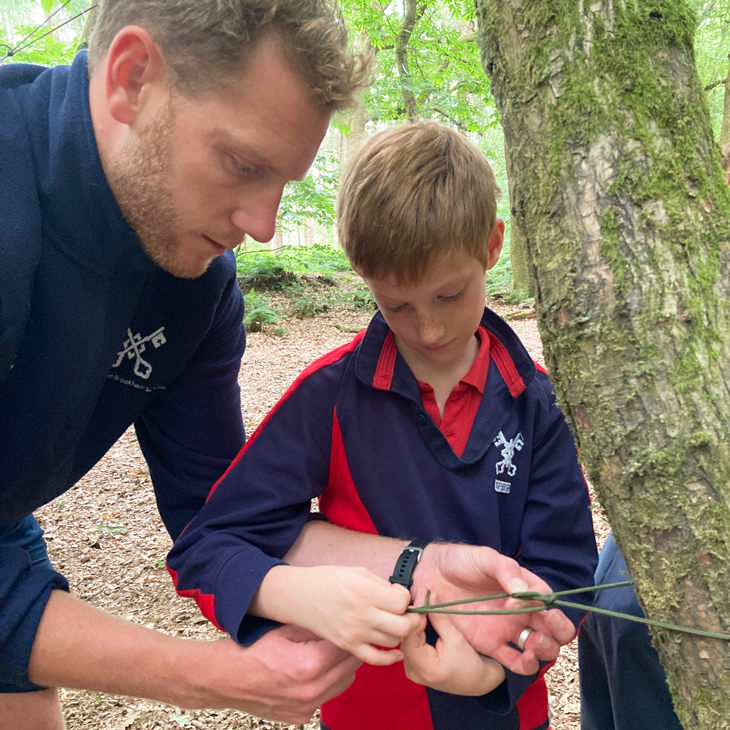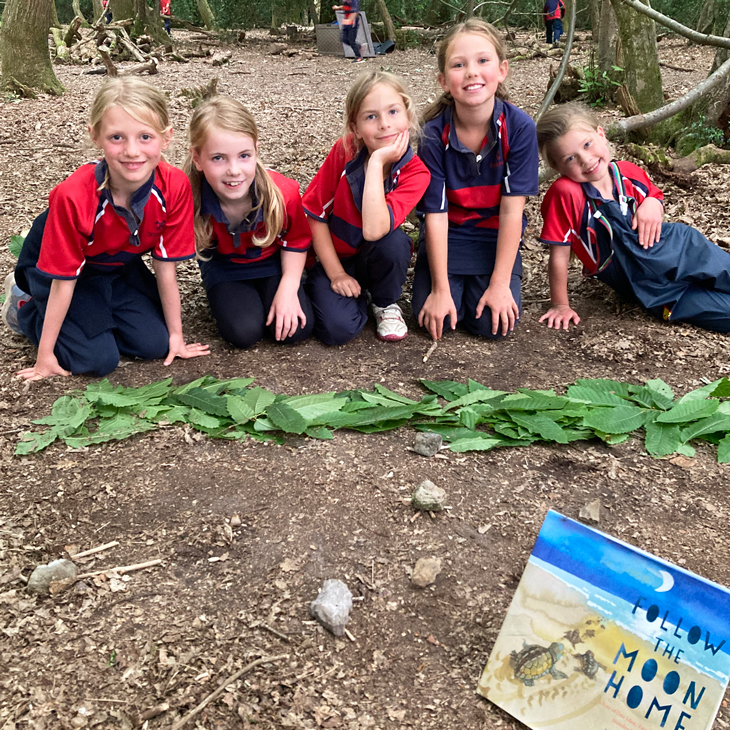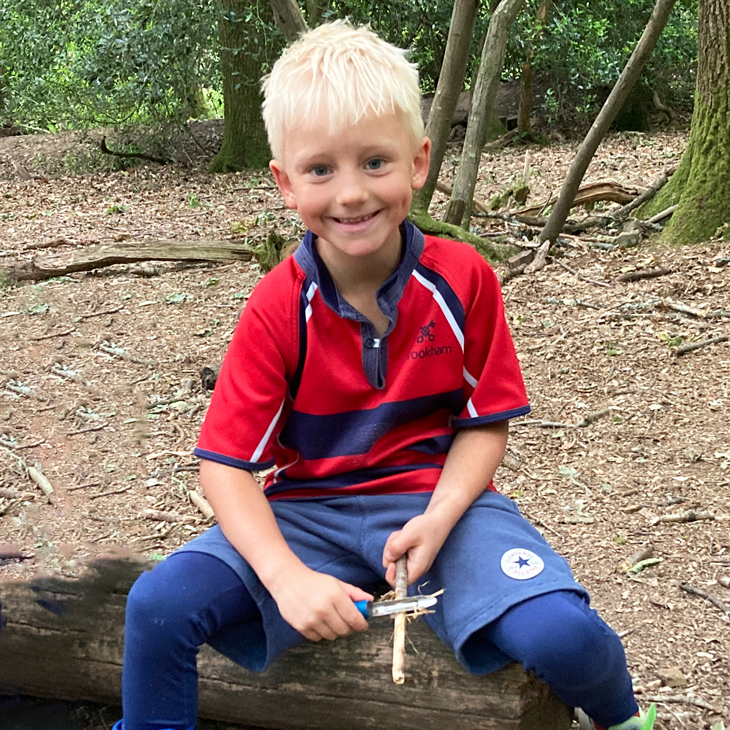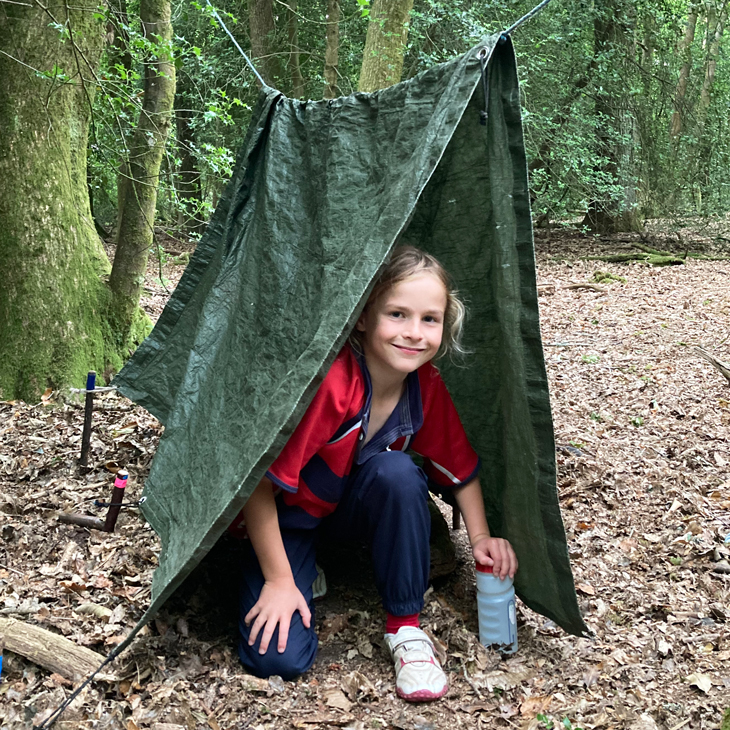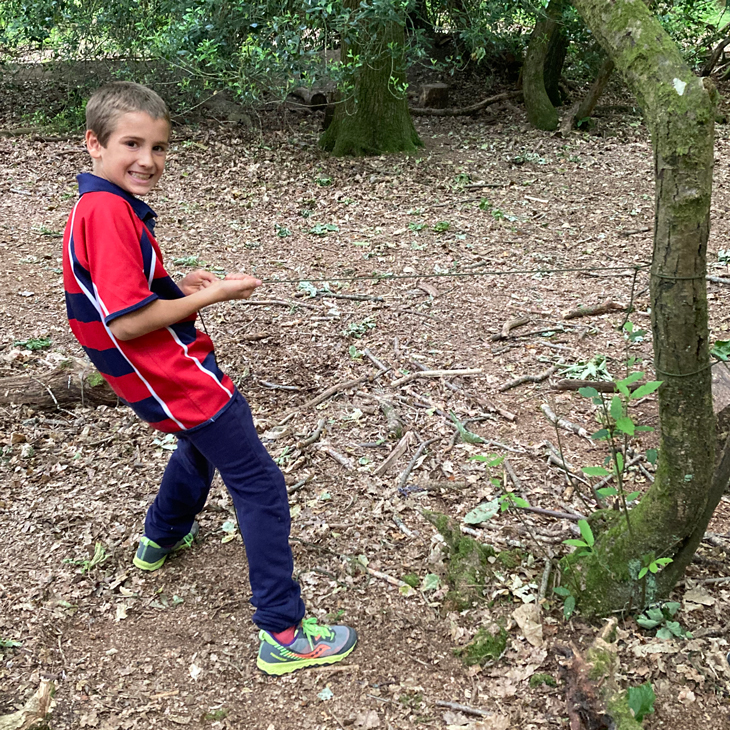 Year 3 children have had the opportunity to acquire new skills to create some spectacular dens. They demonstrated wonderful perseverance, resilience and, most importantly, patience to learn to tie two half hitch, taut line hitch and prusik knots. Though extremely challenging and fiddly, every child also tried their upmost to make their dens gale-force wind proof, and the fabulous end result blew the teachers away. With the topic focus this term on saving our seas and being sensitive to the environmental movements around us, the children listened and carefully discussed the story of Follow the Moon Home. This is a story about empowering people and recognising their ability to change the world. Year 3 have been thinking carefully about the inventions they could design and construct to help make changes to their local environments. While at Forest School, the children used the basis of the book to create their own turtle nesting spots and come up with sensible rules to help recognise and educate their friends and family about the importance of ecosystems and habitats of the world's ocean creatures.
Charlie Millsom, Head of Year 3
Game Faces On As Year 4 Face The Dragons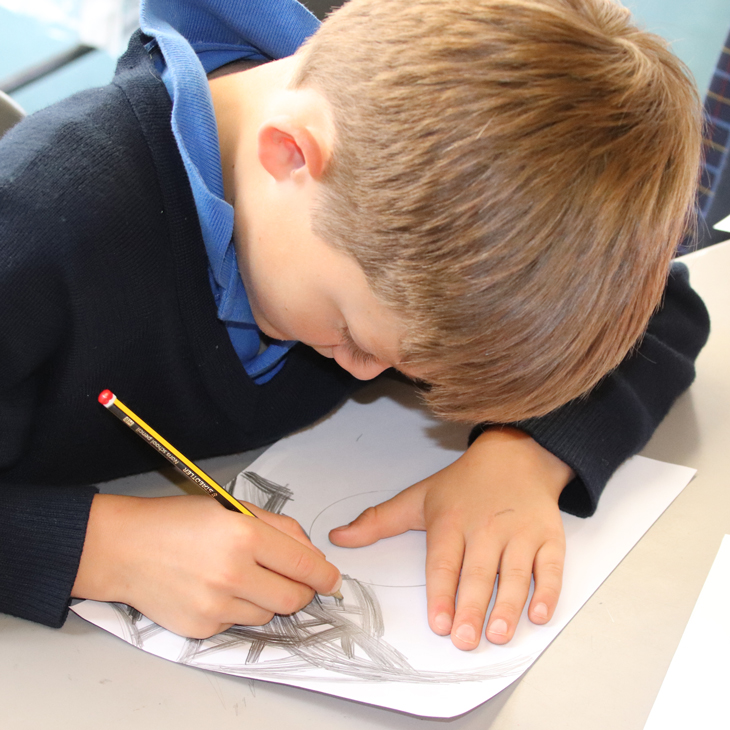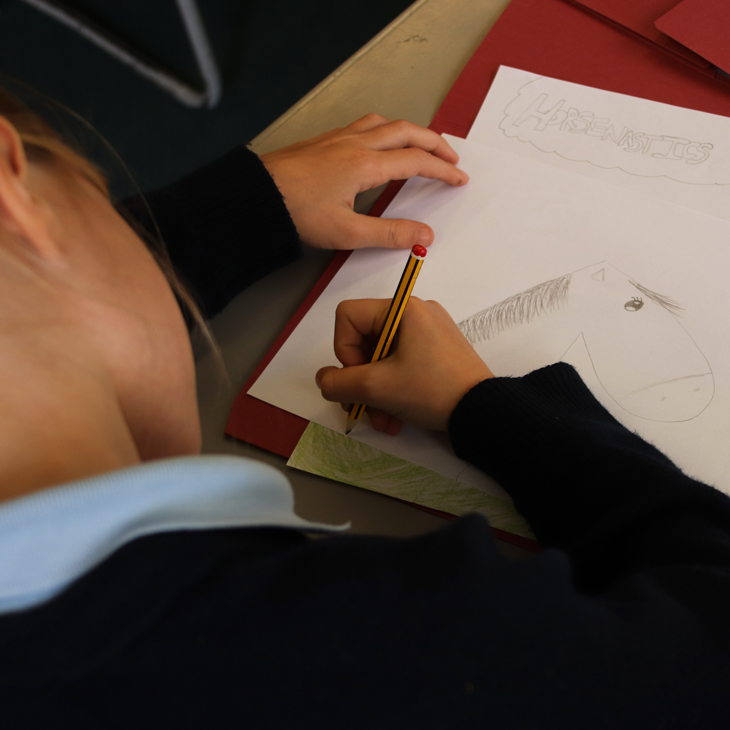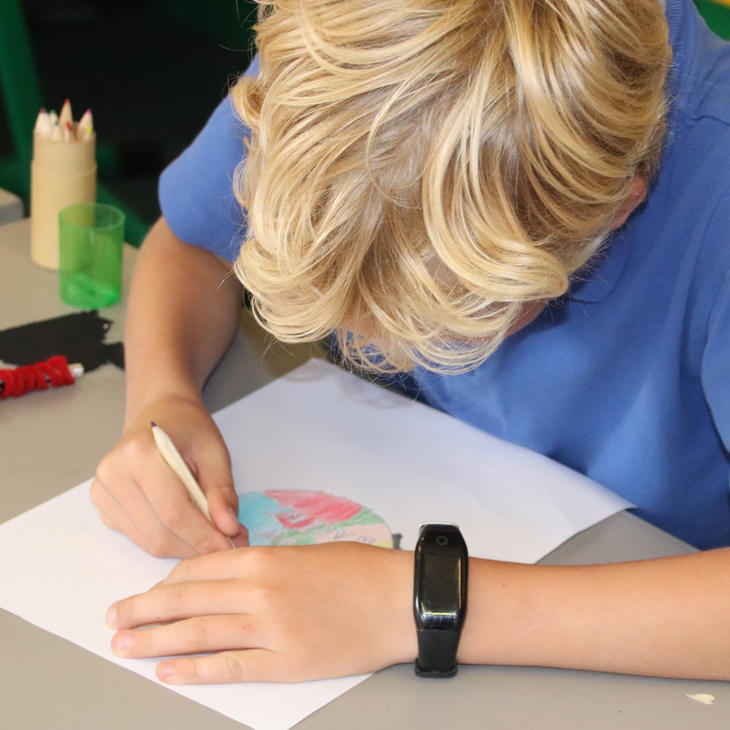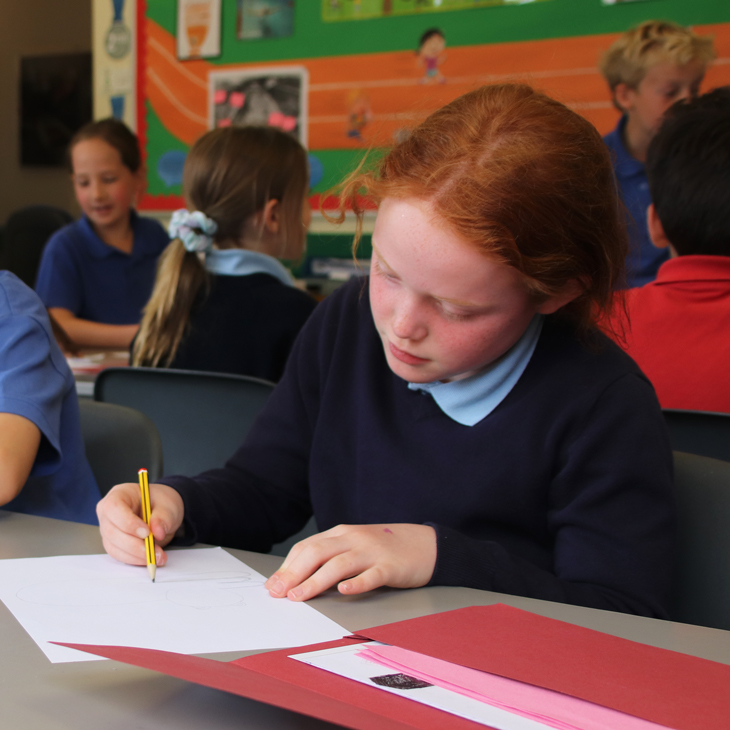 As part of their Going for Gold topic, Year 4 have been asked to create their own sport. They need to carry out various tasks such as designing a logo, writing instructions on how to play their sport, film an advert and create a team mascot. Once they have completed their project, they will be presenting it at a special sitting of the International Olympic Committee's Dragons' Den in the hope that it will be chosen as a sport at the Paris Olympics in 2024. The dragons will be made up of of Mr Evitt, Mrs Smith and Miss Liddell and the pupils will present their ideas to them next Tuesday.
Louise Doven, Year 4 Class Teacher
Year 5 Book In For Captivating Library Lessons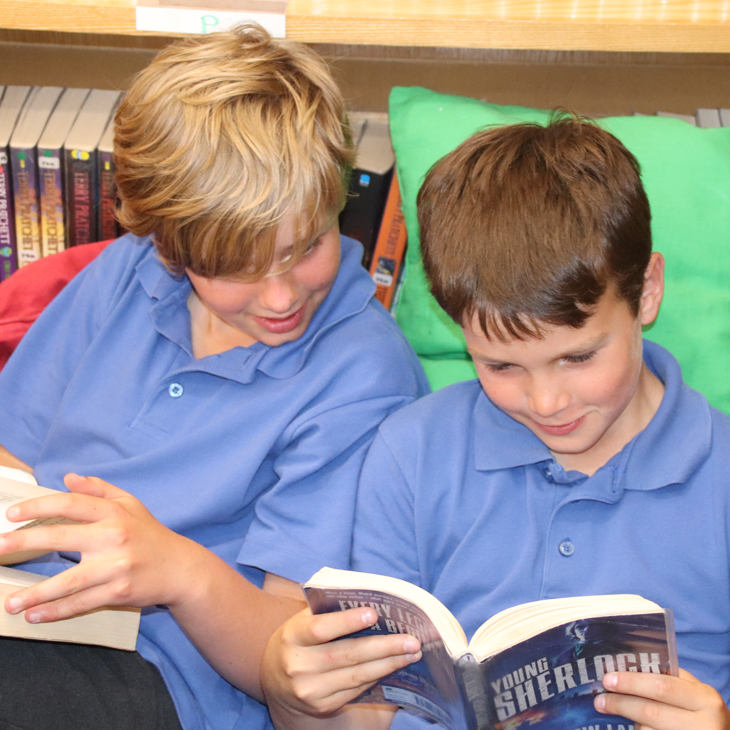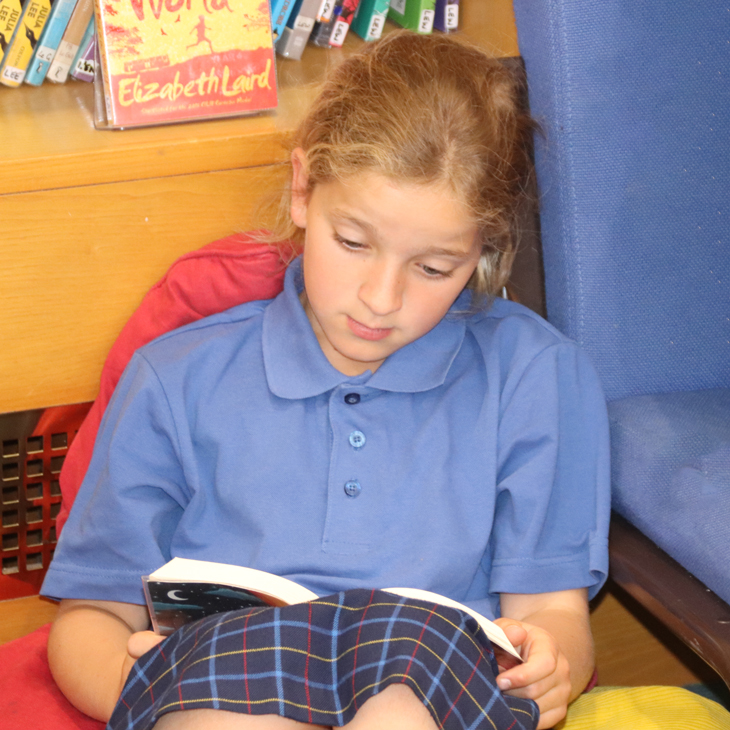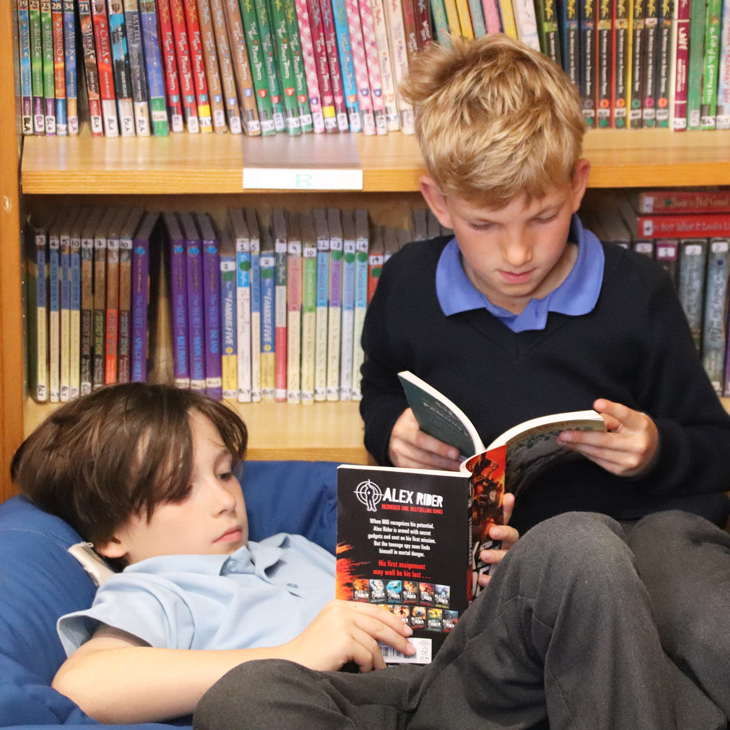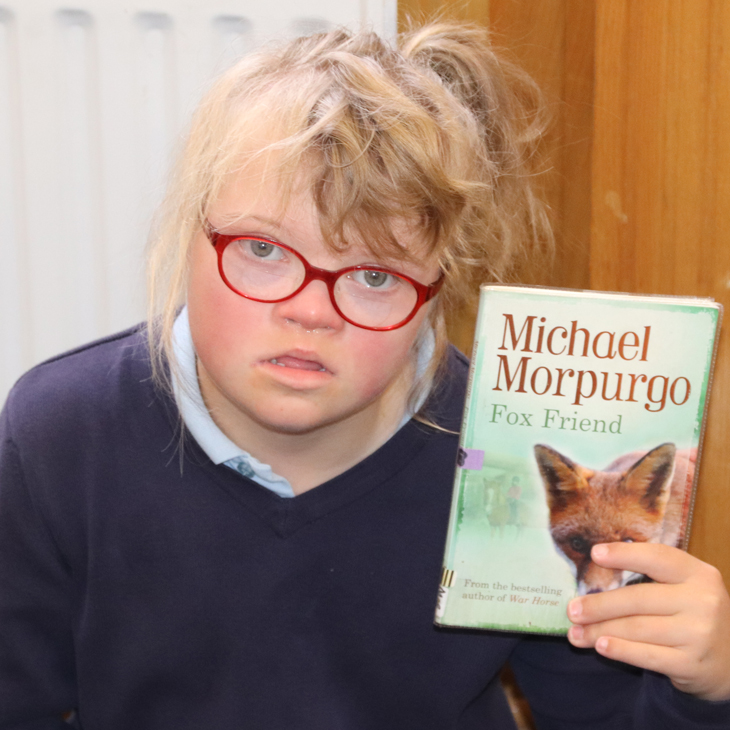 In Year 5, the children have relished taking part in dedicated 'library lessons' throughout the year. Located in our engaging and dynamic library, led by the brilliant Dr Whitfield, the children use the time to develop positive reading behaviours for life. These incredibly valuable sessions therefore allow the children to immerse themselves in the world of their favourite character, discuss their reading preferences, read aloud, take quizzes on books they have completed and, ultimately, get lost in a good story. This week, after completing their class reader Coming to England on Monday, the children began their library lesson by discussing the messages and morals tied up within the novel and considered what Floella Benjamin, the author, may have wanted us to take away from her experiences of Windrush. It's always a joy listening to the children read, and this week it was wonderful to hear Mia, Sophie, Emir, Aimee, Amelie, Harry M and Harry R developing their fluency, expression and comprehension. A true highlight of the fortnight. Thank you, 5FT.
Flora Aubrey-Thomas, Head of Year 5
Year 6 Mathematicians Draw On Their Creative Skills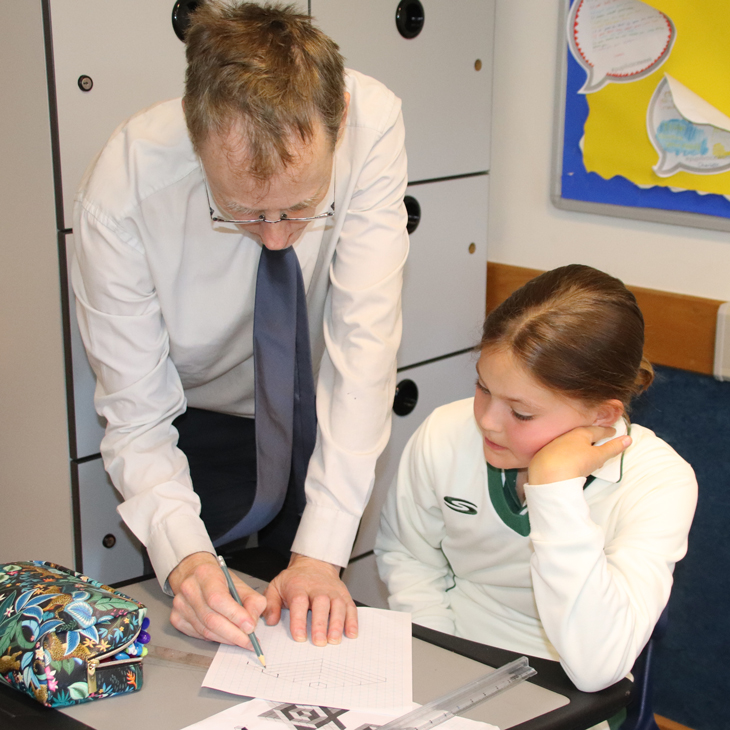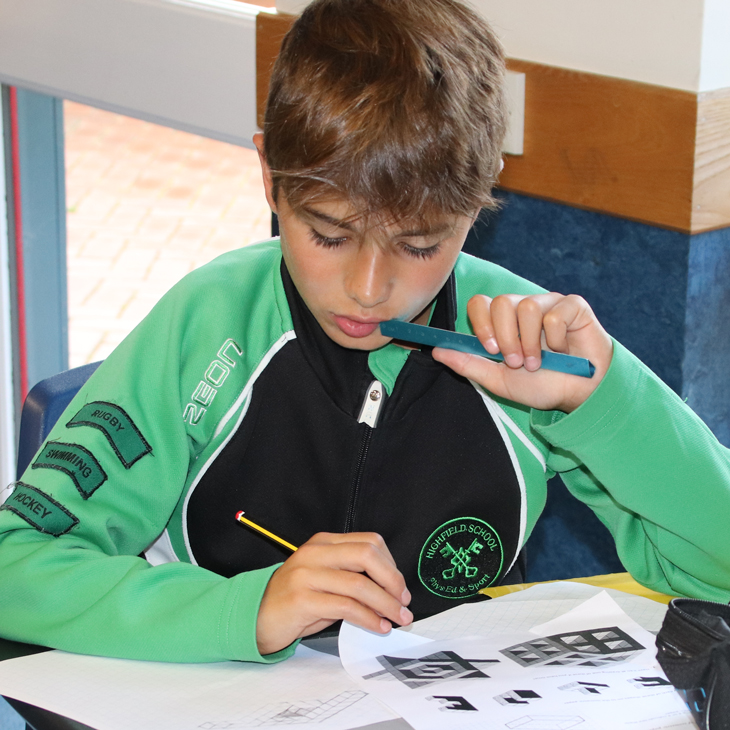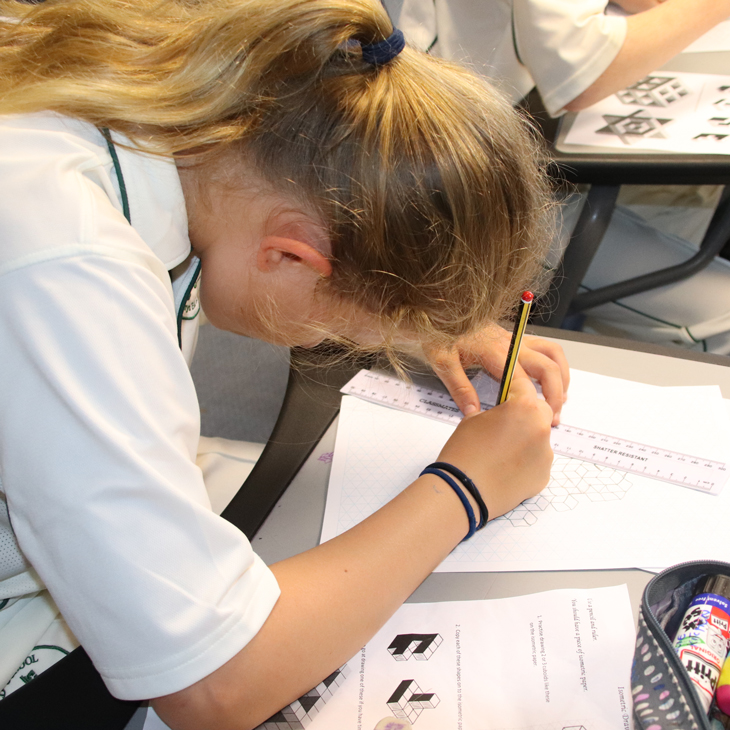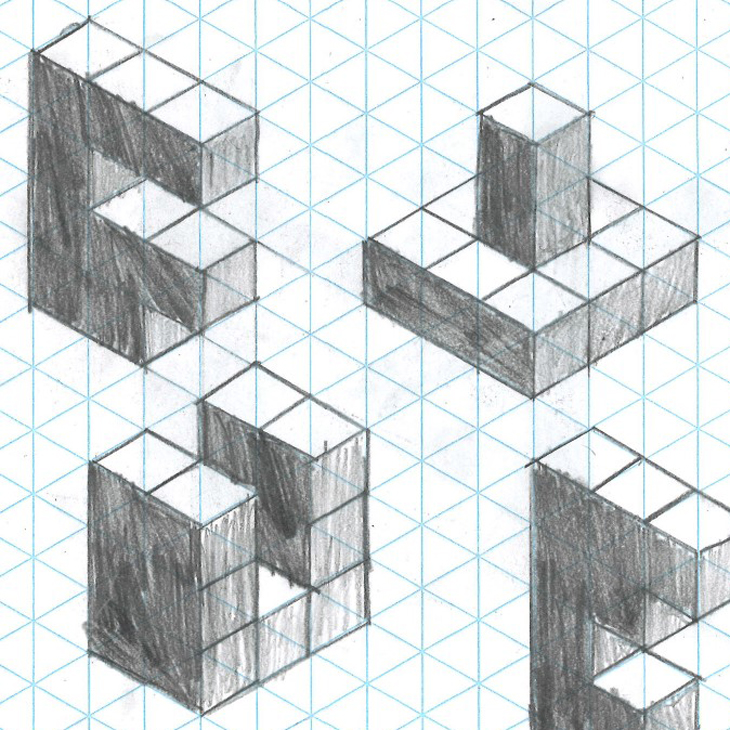 Term drawing to a close often provides a good opportunity to do some drawing in maths. So much hard work is done over the term on heady topics such as algebra, fractions and geometry that a little more creative, mindful, imaginative work can be welcome.  I believe three-dimensional drawing, in various forms, can really help open up and develop the mind. At various times, the children have attempted one-point, two-point and even three-point perspective drawing. This is where parallel lines appear to converge at an infinitely distant vanishing point. And some children in Year 6 have recently been undertaking isometric drawing – a form of parallel perspective which can be used for scale drawing and is used in architecture and design. Lines are only allowed to follow one of three directions on a special grid to give the impression of cuboids, which can then be built into more complex structures. It can be pretty tricky and sometimes ends up more like an impossible Escheresque shape, so an eraser and perseverance are definitely required! Shading, showing the direction of the light, can help reinforce the modelling. A little background music from the rock concert to accompany their colouring in, and it was hard to persuade them to move on to their next lesson. Some excellent pieces were created.
Patrick Davies, Head of Maths
Fun And Interaction Key As Year 7 Are Put On The Spot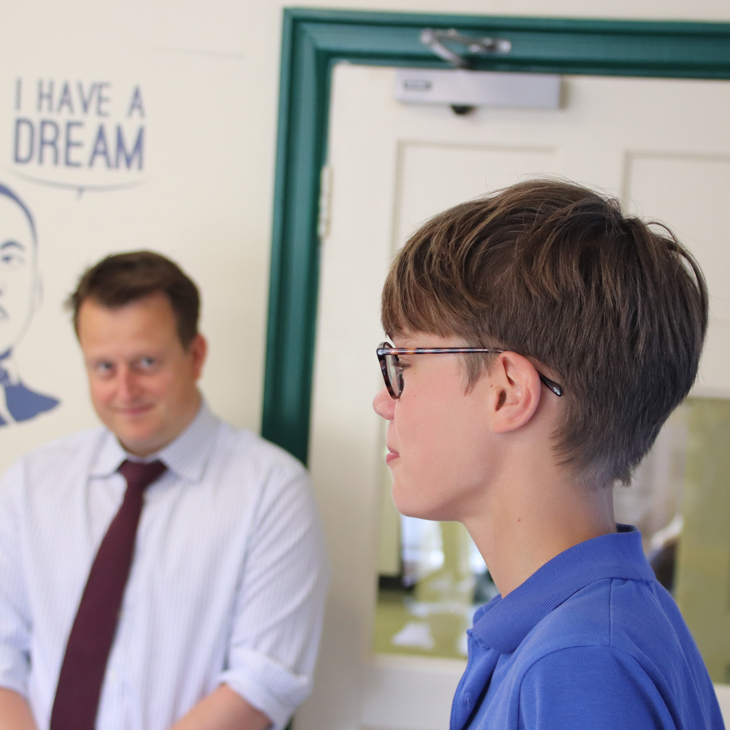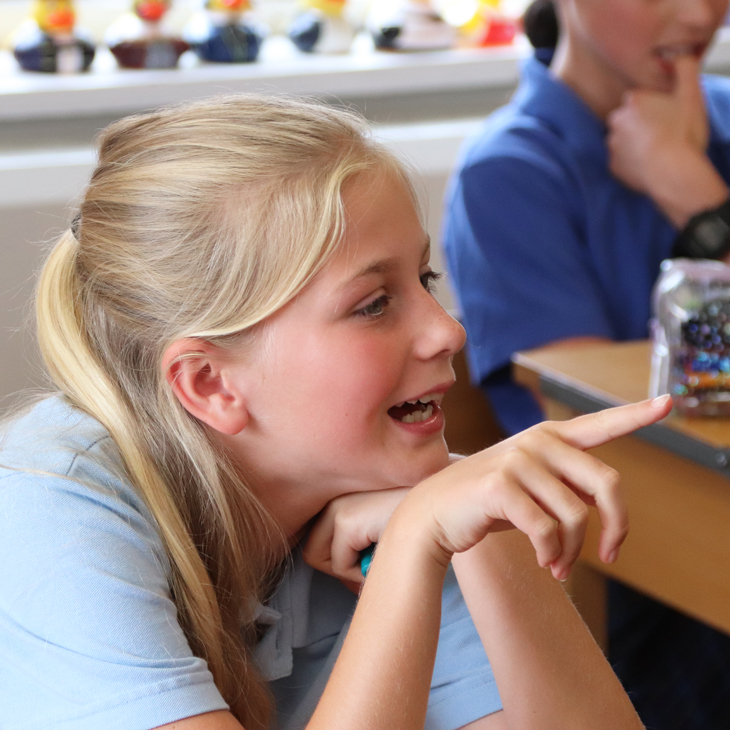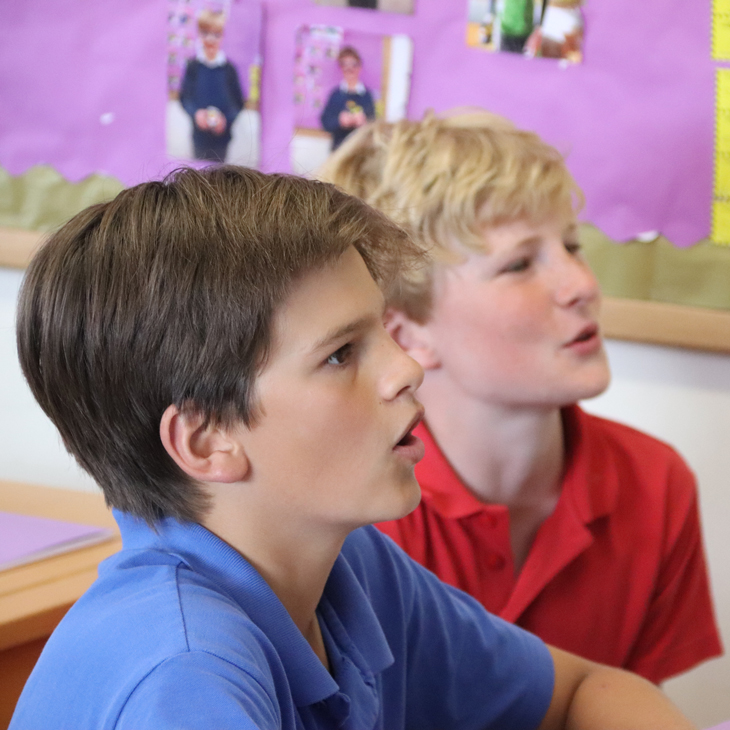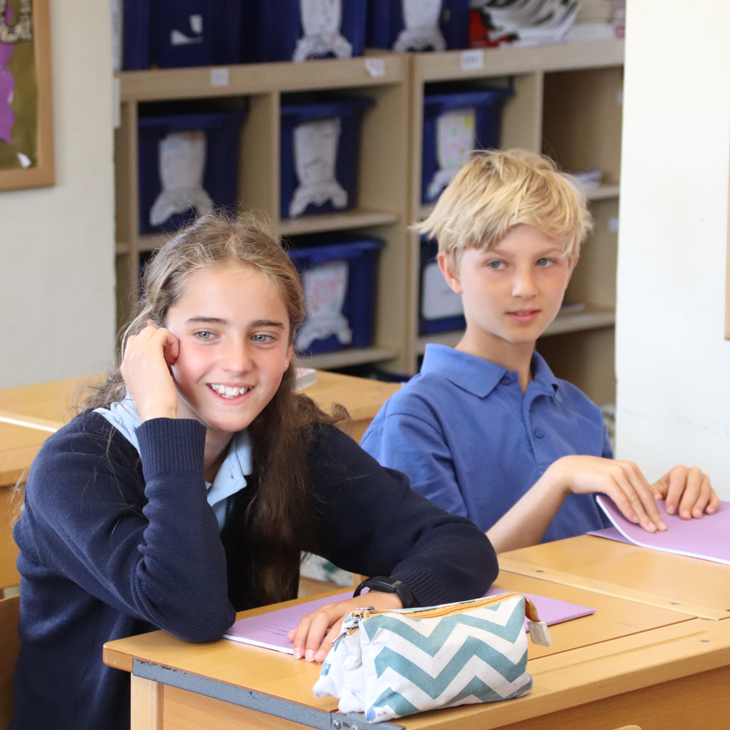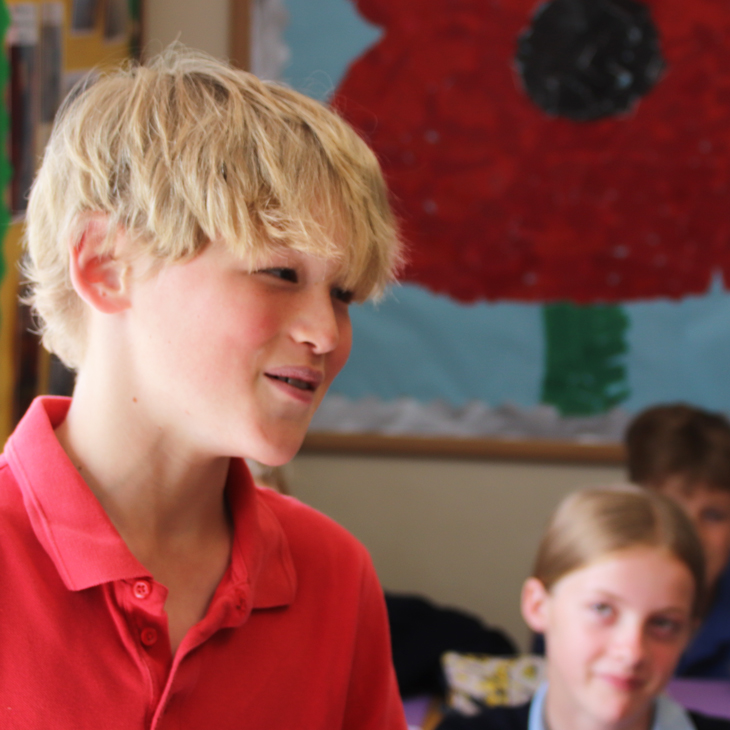 Ask a randomly chosen Year 7 pupil to speak to you in the playground for a minute, and they would do so gleefully and with ease. But ask them to do it under a bit of pressure in the classroom and on a specific subject and they might just find things a bit more of a challenge. That said, Year 7 were very much up for that challenge this week as they attempted the tried and tested Radio 4 'Just a Minute' activity on the claimants to the English throne in 1066. Learning, at its heart, should be fun and interactive. Children often learn best when with a smile on their face and, as evidenced by the pictures attached, pupils laughed and giggled their way through this engaging activity. Harold Godwinson, Harald Hardrada and William Duke of Normandy all got a mention, and their claims to the crown in 1066 articulately and eloquently made. Underpinning all historical learning this week though has been a genuine sense of fun – something to cherish as pupils make their way through their Highfield academic adventure.
James Ridge, Head of History
Strong End To Season For Year 8 Cricketers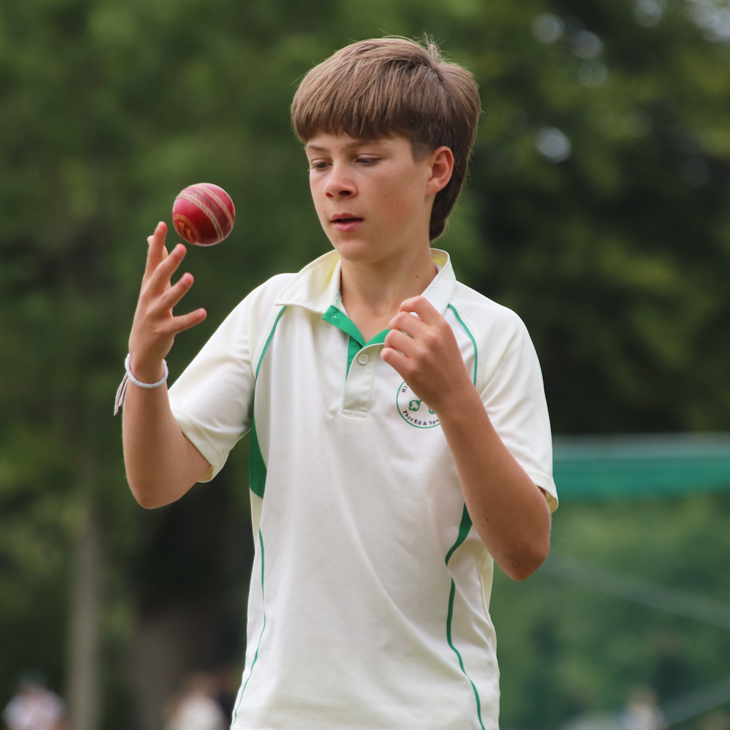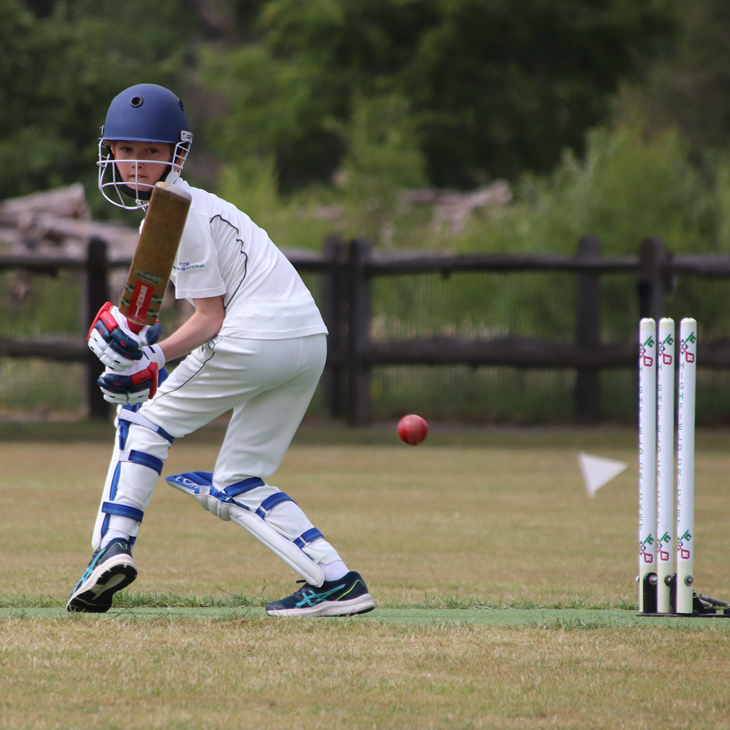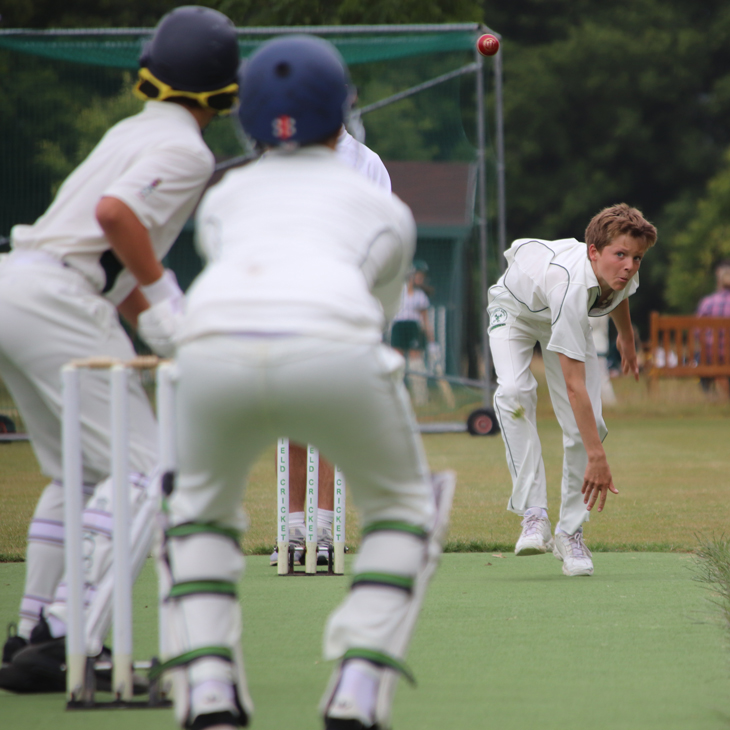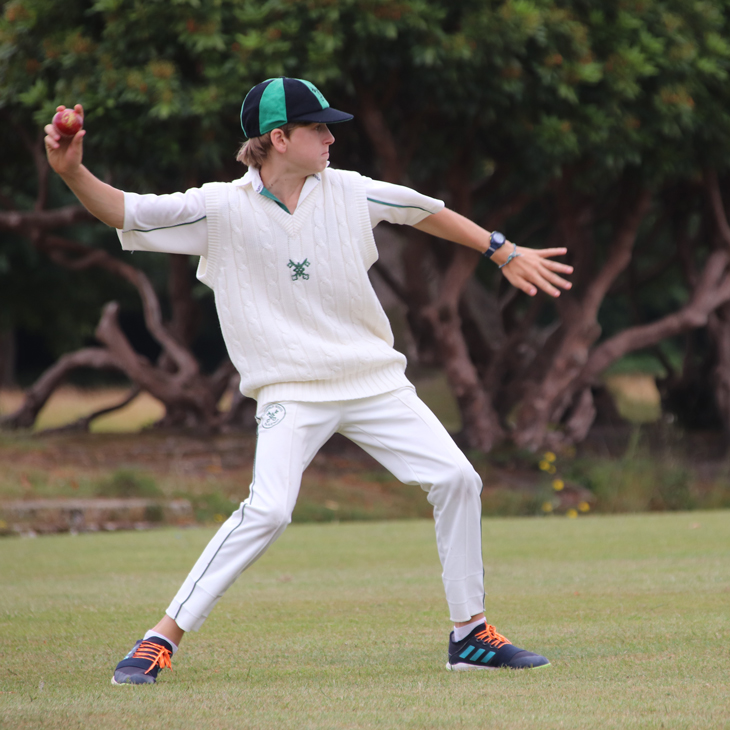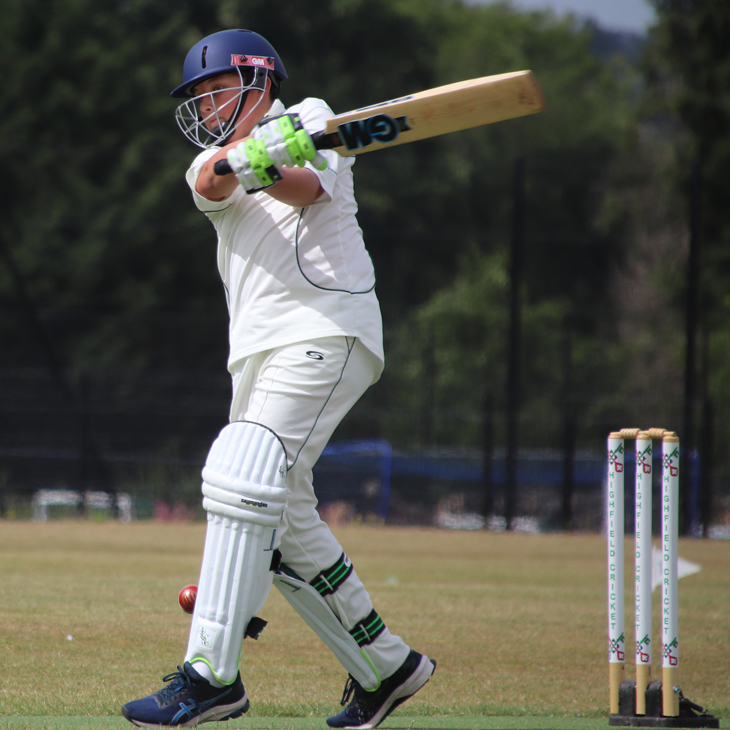 Another close fixture on Wednesday saw the 1st XI boys fall just 19 runs short of the 119 set by visitors RGS. It was an extremely competitive game which saw some excellent cricket from both sides. The batting from Highfield was particularly good given the very strong RGS bowling attack. The game saw some excellent stoke play by both teams as well as some super seam bowling amid sunny and cloudy conditions. The boys stuck to the game plan of batting for the entire 20 overs and seeing how close they could get. It was a lovely way to round off the season.
Richard Dunn, 1st XI Boys' Cricket Coach
The 2nd XI hosted a strong RGS U12A team at home. After an accurate spell of bowling against an accomplished batting attack, Highfield restricted RGS to 135 from their 20 overs. After struggling to make any early inroads into the RGS total, the middle order showed real grit. Oscar and Ryder put on a 40-run partnership, ending on 21 and 28 respectively. But Highfield ultimately fell short, finishing on 96. Despite the defeat, there were some good individual performances with some useful lessons learned. Thank you, RGS, for a high quality game of cricket.
Fred Sharp, 2nd XI Boys' Cricket Coach
The 3rd XI boys completed their season with a well-deserved 44-run win. Having scored 162 runs, their highest total of the season, with strong contributions from Gil H (31), Jack G (28) and Gus K (22), the battle was on as RGS Guildford came into bat. Chasing such a big target, RGS looked to score quickly but we're stifled by some tight bowling and excellent fielding. Wickets fell at regular intervals with everyone chipping in. Impressive catches from Seb L and Gus were matched by run outs from Monty L and Freddie B. The final wicket fell, as with the others, to a great catch by Will W. Overall, it was a fine performance by the thirds; their best of the season. It was a great way to finish the season and for members of Year 8 to complete their sporting careers at Highfield.
James Figgis, 3rd XI Boys' Cricket Coach
Highfield's 4th XI boys rounded off their season in style with a fourth successive win. RGS won the toss and decided to bowl first. Despite losing the toss, Highfield amassed a healthy 151 runs in 20 overs. Elliott B was the linchpin of the innings and got a steady 32 not out and was complemented by big hitters Freddie L and Archie L. Despite being a little off their game in the field, it looked like being a comfortable home win at the halfway point. But some superb counter-attacking cricket from RGS set up a tense and exciting finish before Highfield held firm to set up a 12-run win. It was a superb way to end an enjoyable season. Well done to all involved.
Oli Backhouse, 1st XI Boys' Cricket Coach