Happy Nursery Right At Home In The Great Outdoors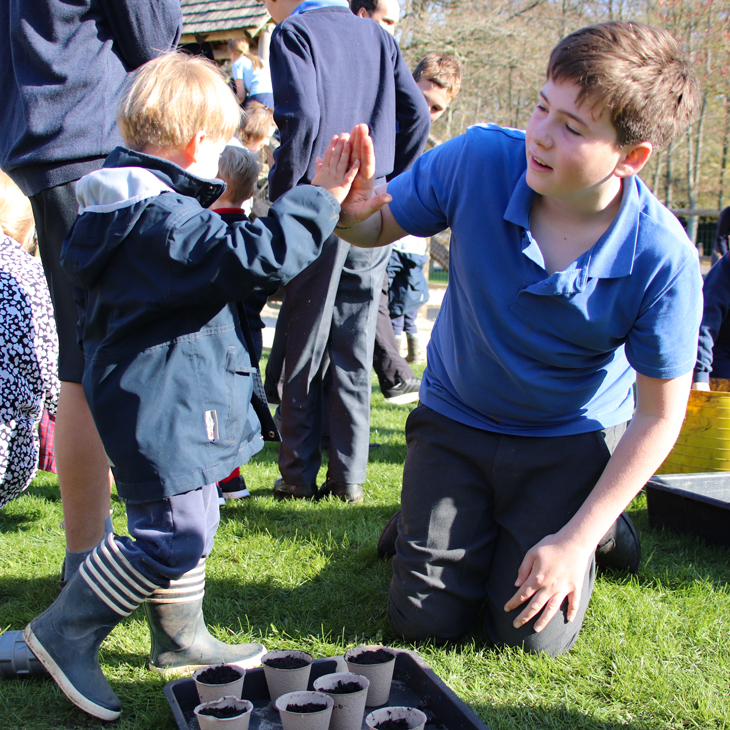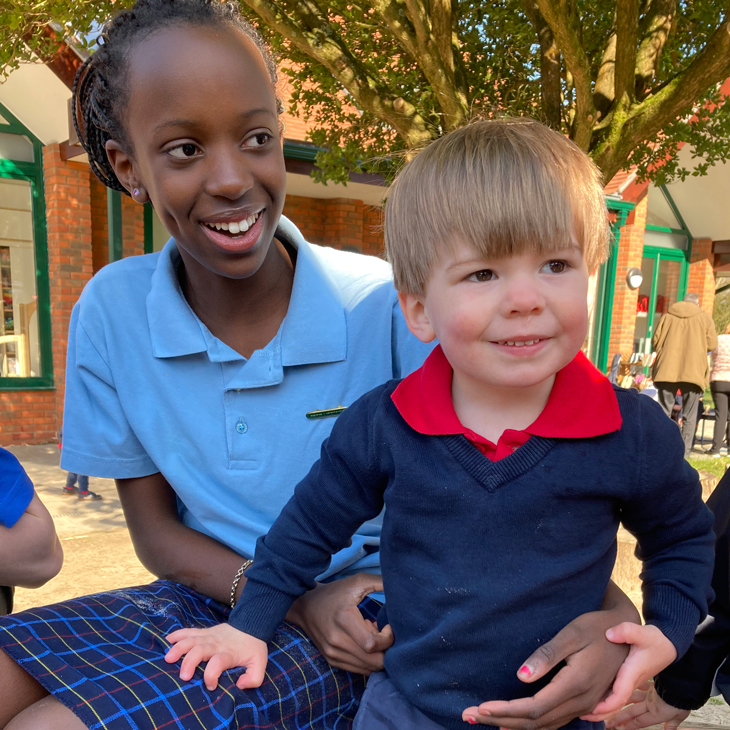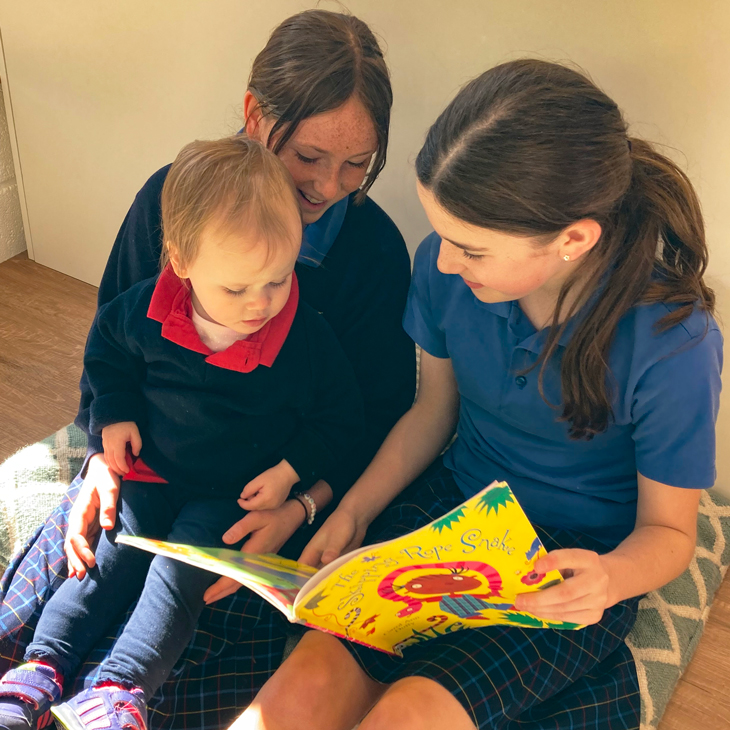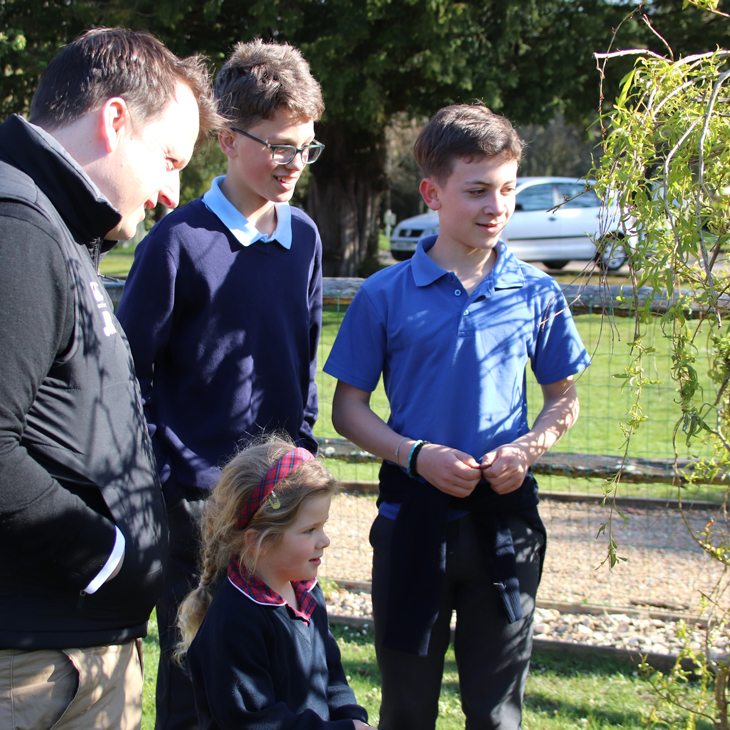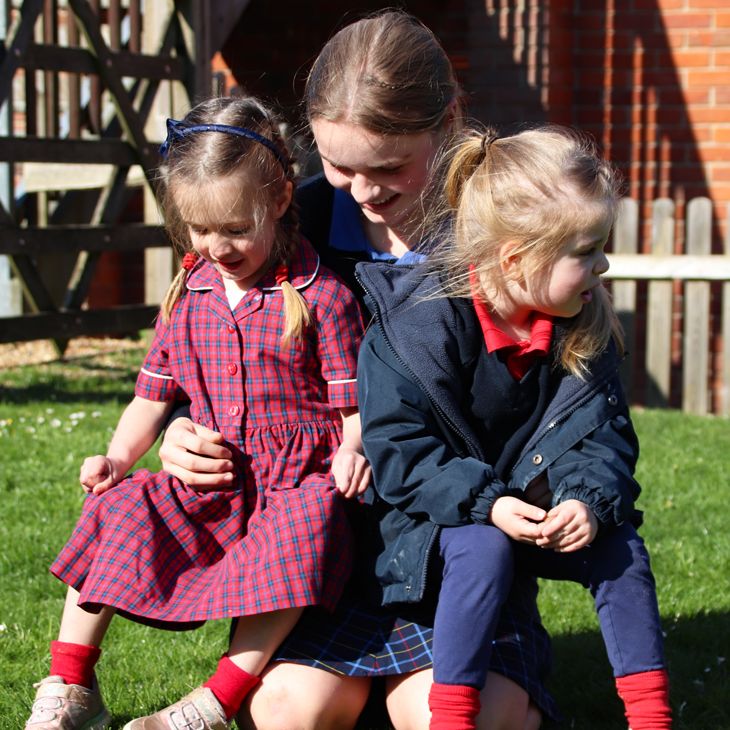 It was lovely to see how happy and excited the children were to be back with their friends in Nursery this week, after the Easter break. The Summer Term is always a favourite for the nursery staff and pupils, with the children keen to take their learning outdoors, spend time in the sunshine, and enjoy the garden with no need for coats and waterproofs! This week, there have been some fantastic circle-time discussions on the seasonal theme of growing plants as the children learn all about the lifecycles of plants. As a group, the young learners discussed and chose what they would like to plant in the nursery vegetable patch and flower beds and are looking forward to developing their gardening skills over the coming weeks. On that theme, to celebrate Earth Day, the children teamed up with the Year 8 prep school children and got busy planting sunflower seeds which they will be able to watch grow over the next few weeks. It was heart-warming to see how interested and enthusiastic they were when talking about the dangers facing the planet and listening to their ideas about how they could help protect it. This term provides a lovely opportunity for the children to develop their understanding of the world around them and to enjoy being in touch with the natural environment, which is so important for their future.
Sam Forster, Head of Early Years
Reception Excitement Every 'Witch' Way You Look!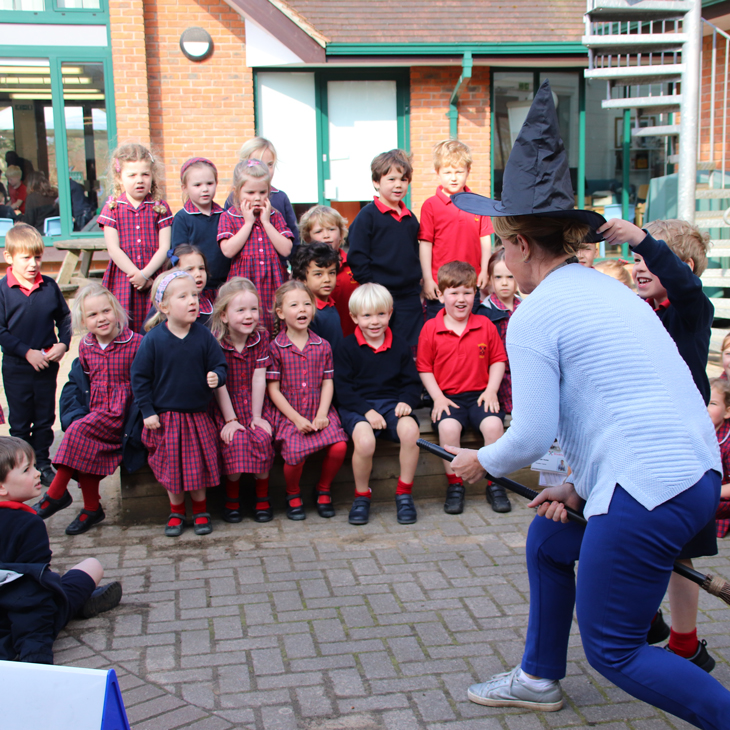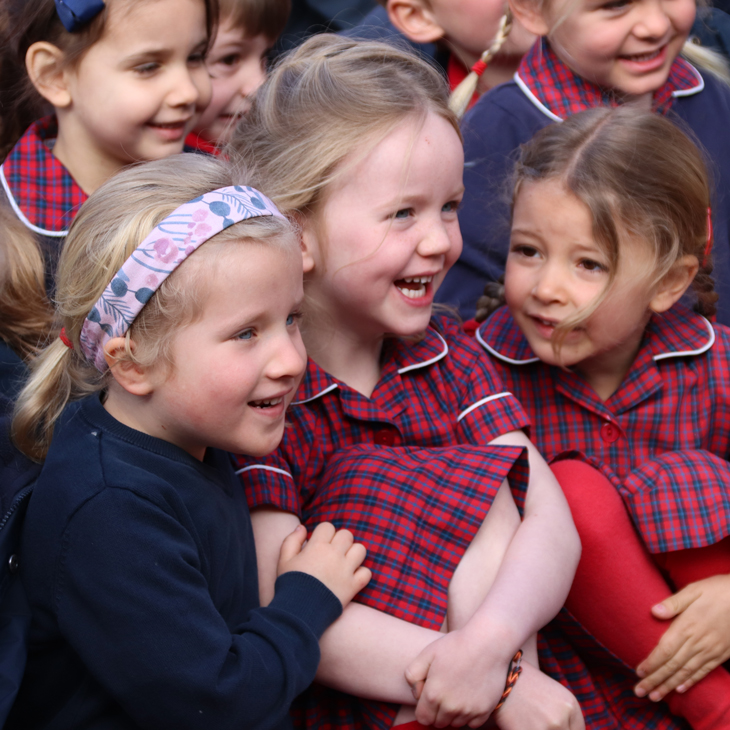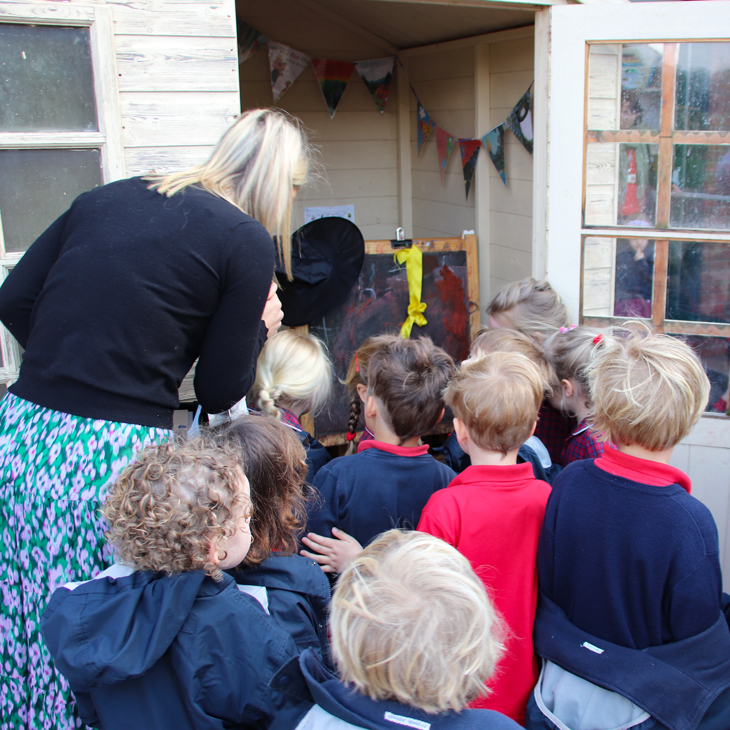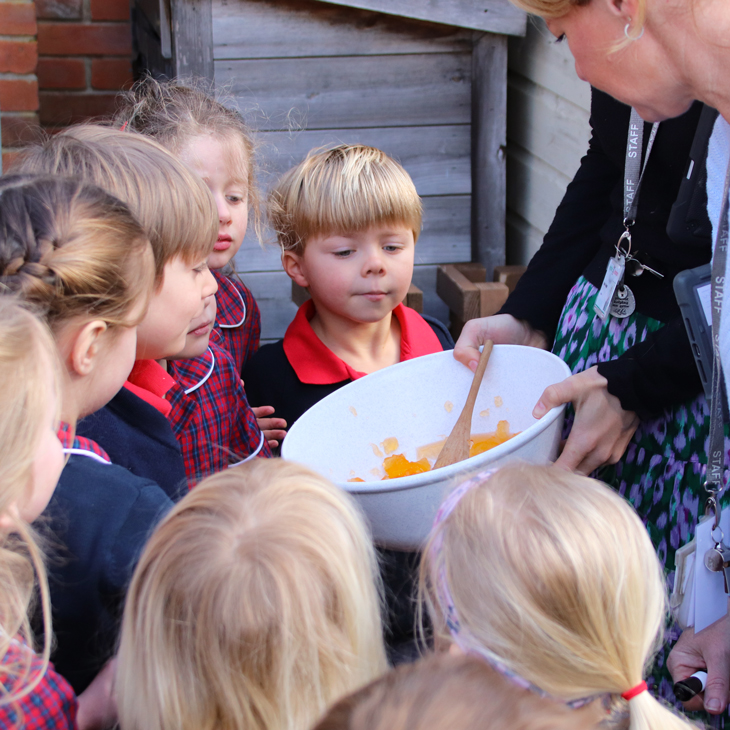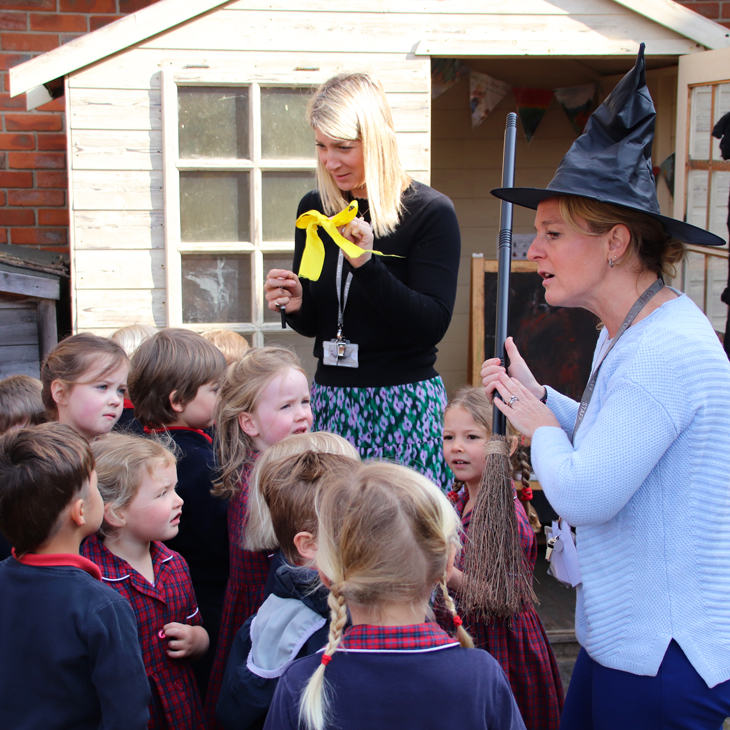 The first morning of the new Summer Term was filled with great excitement for our eager Reception children. On spotting a curious trail of slime, a yellow bow, a witch's broomstick and a black hat, the children dashed outside to see who or what might have left such unexpected clues. After stretching their relating learning muscles through their discussions, it was agreed that perhaps it was the witch from Julia Donaldson's popular children's story 'Room On The Broom'. By working together effectively, the children then made excellent suggestions about how they thought Mrs Hunter could make the broomstick fly. Sadly, counting to ten and saying the magic word 'abracadabra' didn't seem to have the desired effect this time around. Undeterred, the resolute children agreed to put their thinking caps on to keep working on a fix, so the week continued with many magic rhyming spells being written and the children agreeing that further perseverance was needed to create the perfect spell. Only time will tell if the young spellmakers are able to perform things that only others can dream of!
Georgie Hunter, Head of Reception
Hive Of Activity In Year 1 As Bee Topic Begins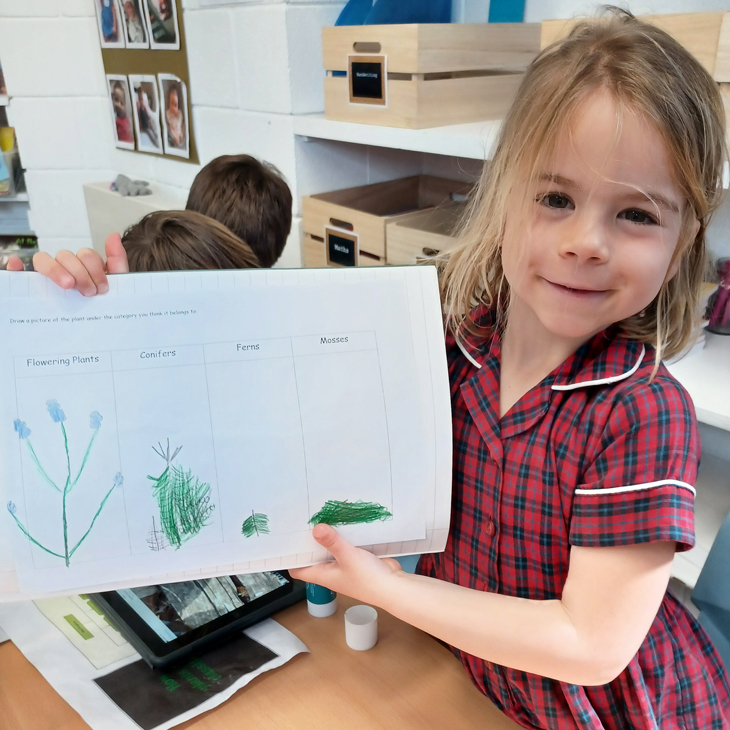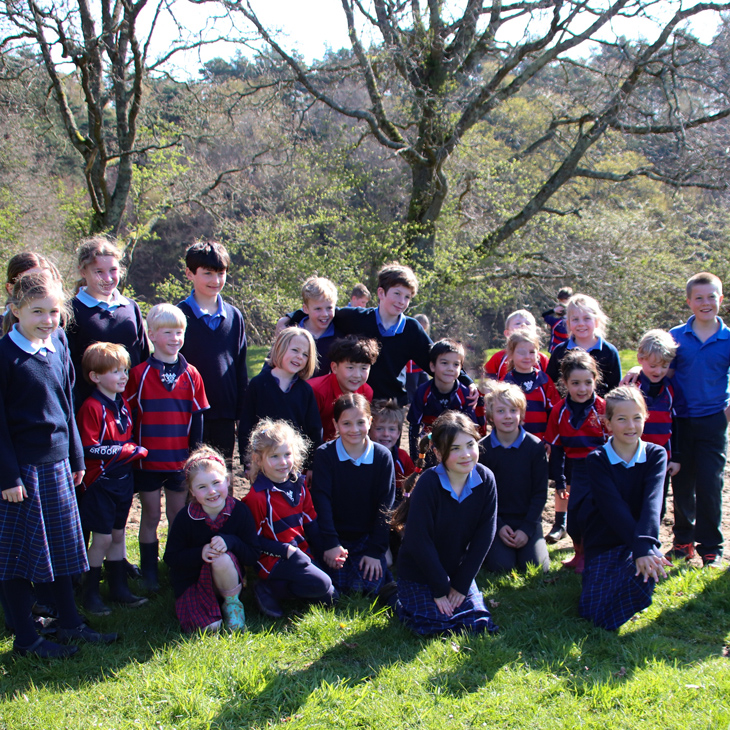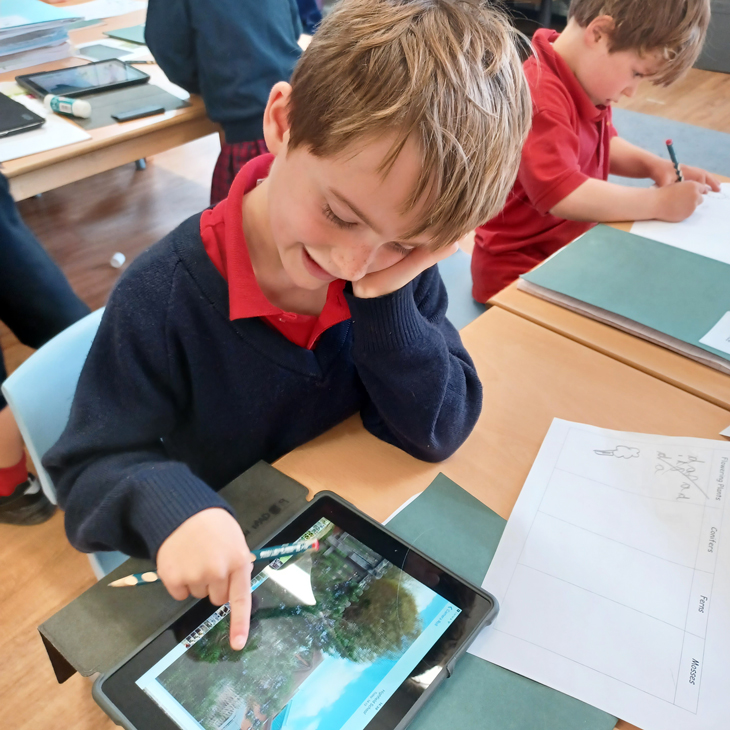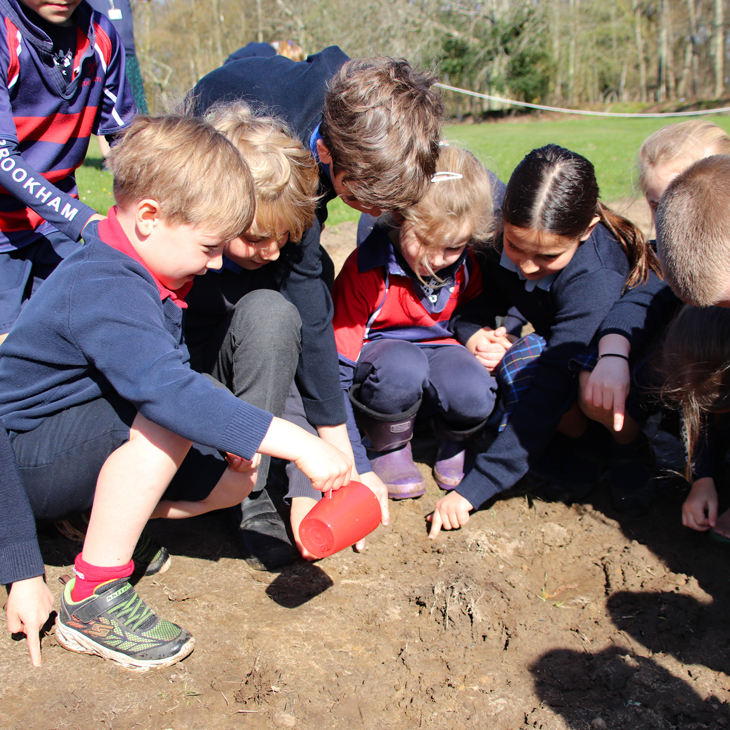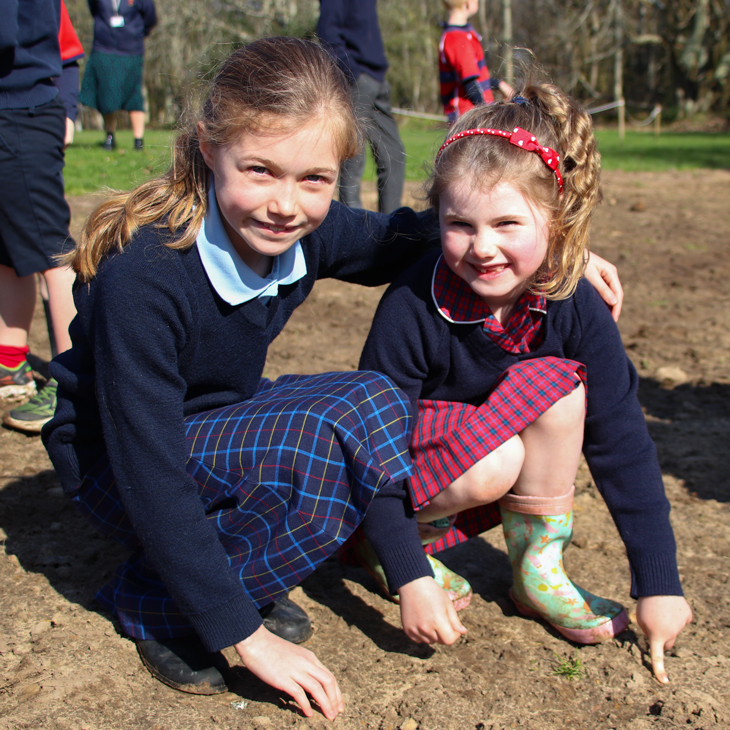 The Year 1 children have been busy getting back into school life after the Easter holidays. And it was a veritable hive of activity in the classroom as the children welcomed a special visitor in the form of the 'Bee Lady' to kick off their new Summer Term topic on the popular pollinators. The children listened intently as the Bee Lady impressed us all with her extensive knowledge of our buzzy friends and then followed up with some really intelligent questions. In Science, Year 1 took their iPads outside and were tasked with taking pictures of four different categories of plants. They hunted all over our wonderful grounds and eventually found all four, agreeing that flowering plants were definitely the easiest to find! Back in the classroom, the children used their photographs to classify the plants and place them in the relevant category before producing some detailed drawings. Continuing the outdoor spring and new growth theme, the children marked Earth Day by teaming up with Year 5 prep school pupils to plant meadow wildflower seeds on the golf course, doing their bit to attract pollinators such as bees and butterflies in a bid to help save the planet. And thoughtful Year 1 rounded off a busy and environmentally friendly week by collaborating on a huge Earth collage, adding details of ways in which we can all help keep the planet healthy and focusing on reduce, reuse and recycle.
Rachael Berry, Year 1 Class Teacher
Year 2 Travel Back To Time Of The Romans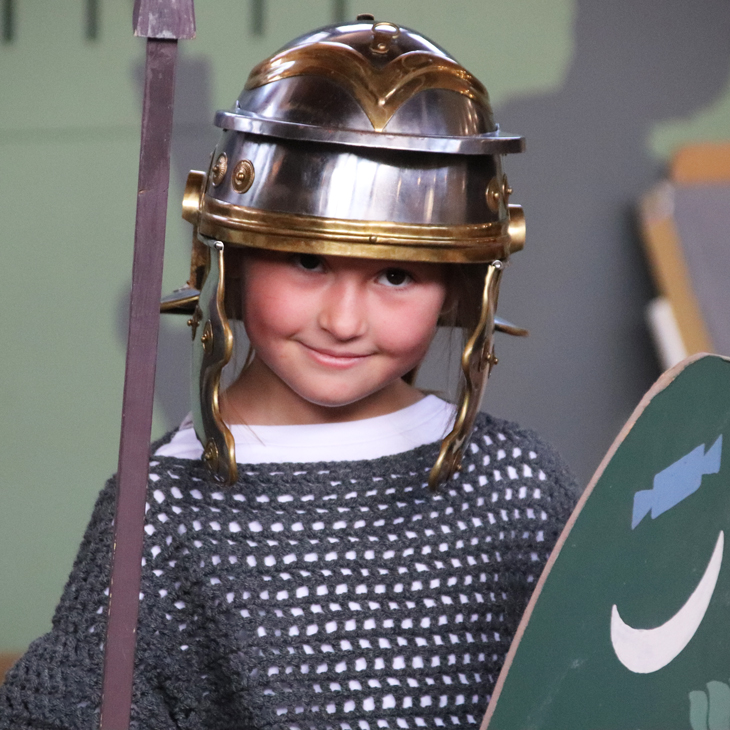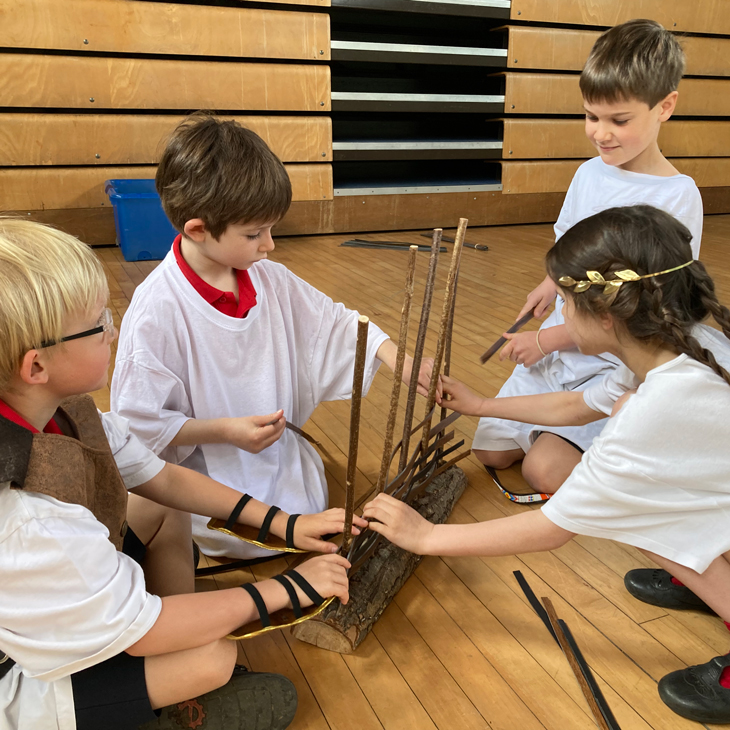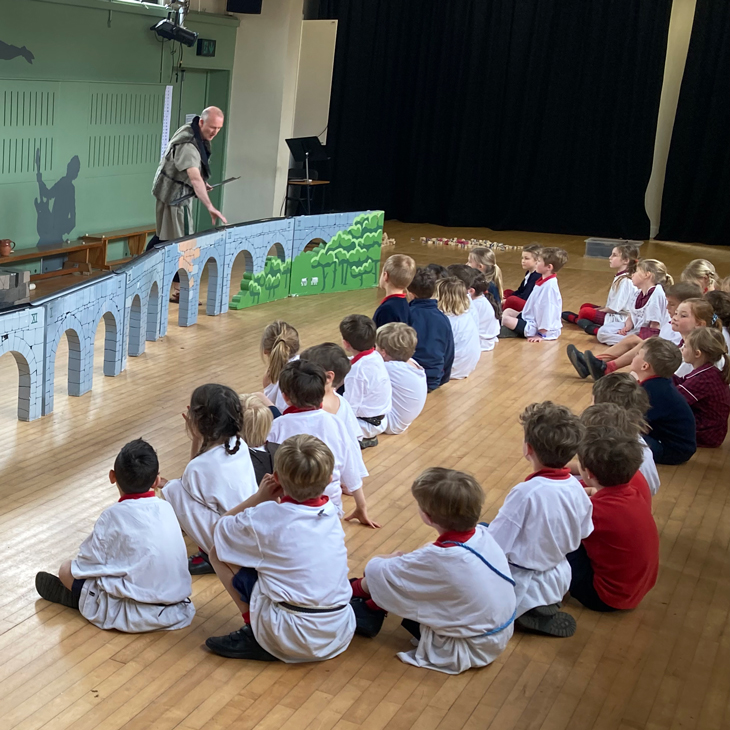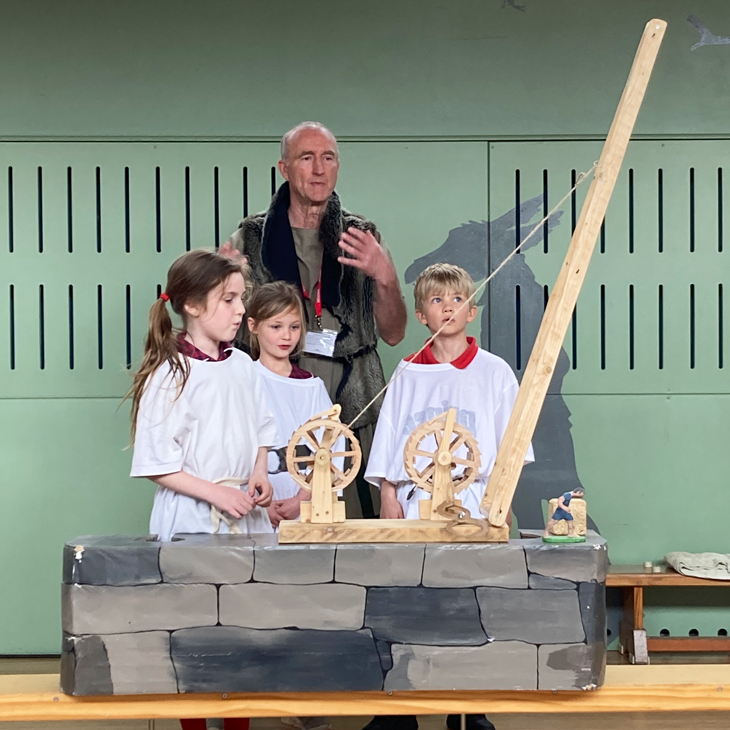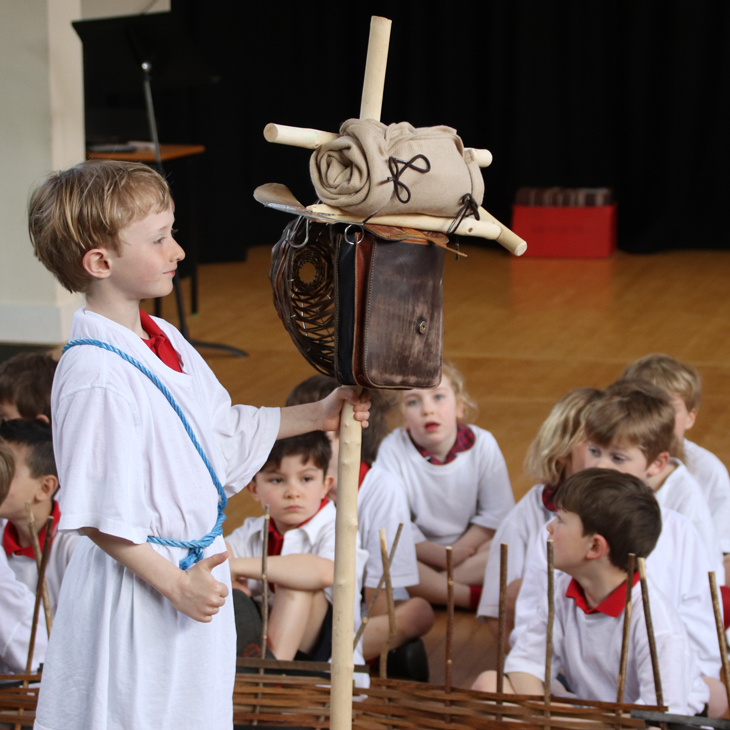 Year 2 began the Summer Term by heading back in time to 43AD, when the Romans first invaded Britain. The children were overwhelmed by how much their local environment and lives had been influenced by the Romans. A former Roman solider, Terrence, dropped in to tell Year 2 about how it all began and how Boudica, the leader of the British people, who settled in what is now Norfolk, revolted against the Romans in 47AD. Boudica's uprising was snuffed out quickly and the engaged young historians were astonished at just how superior the Romans were to the British people. As a result, the Britons of the time ended up adopting the Roman lifestyle and built warm homes, self-cleansing toilets, discovered how urine was used for brushing teeth, learnt impressive fighting skills, built aqueducts, spoke Latin, and even joined in with some classic Roman gladiator battles in front of Emperor Millsomius and Empress Jervius. Much to Terrence's delight, Year 2 really did heed the call to 'lend me your ears' on this fascinating Roman odyssey.
Charlie Millsom, Head of Year 2
Year 3 Eager To Be Protectors Of The Planet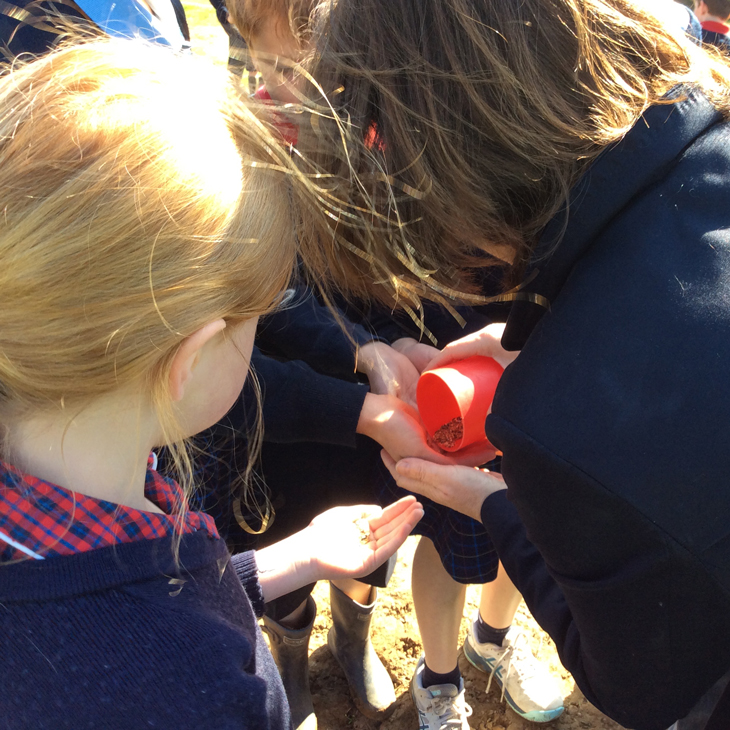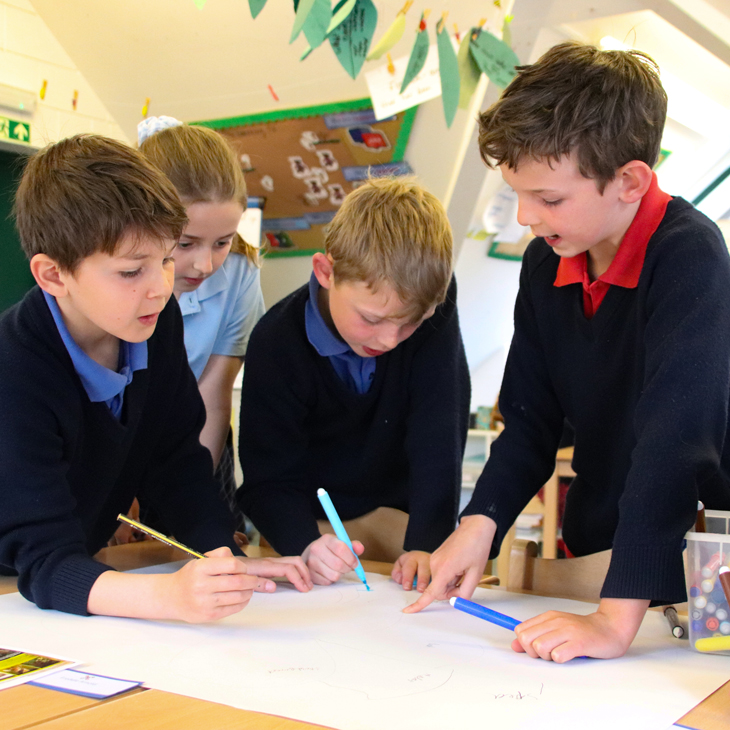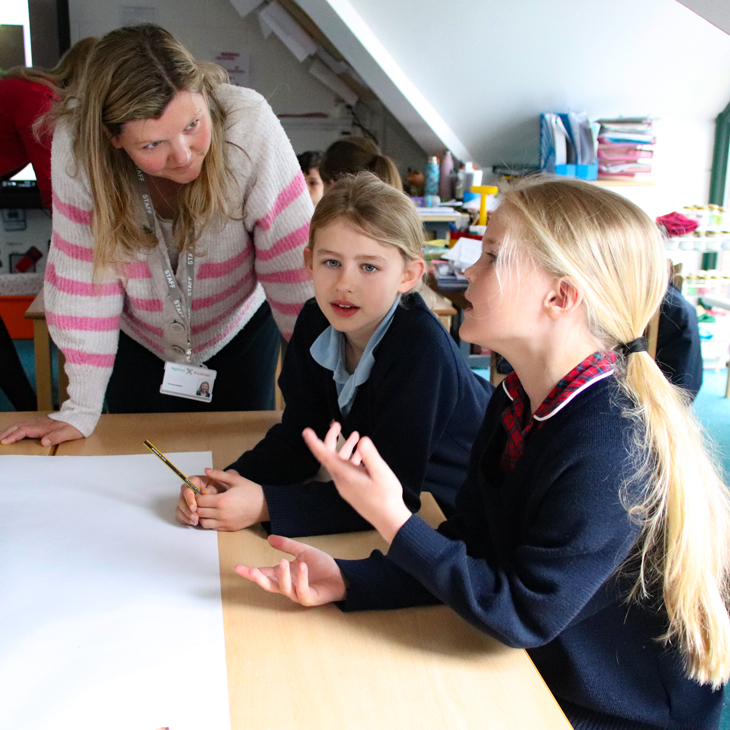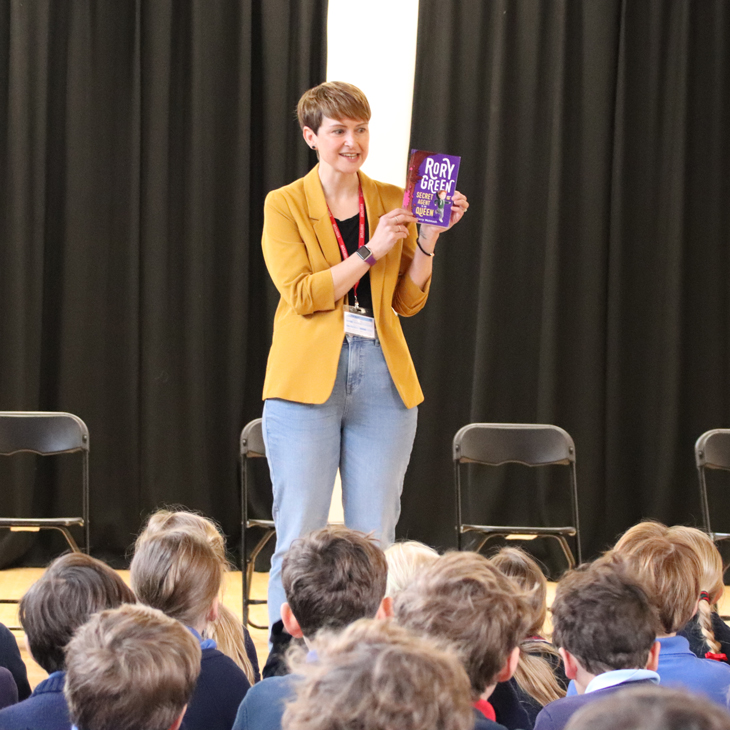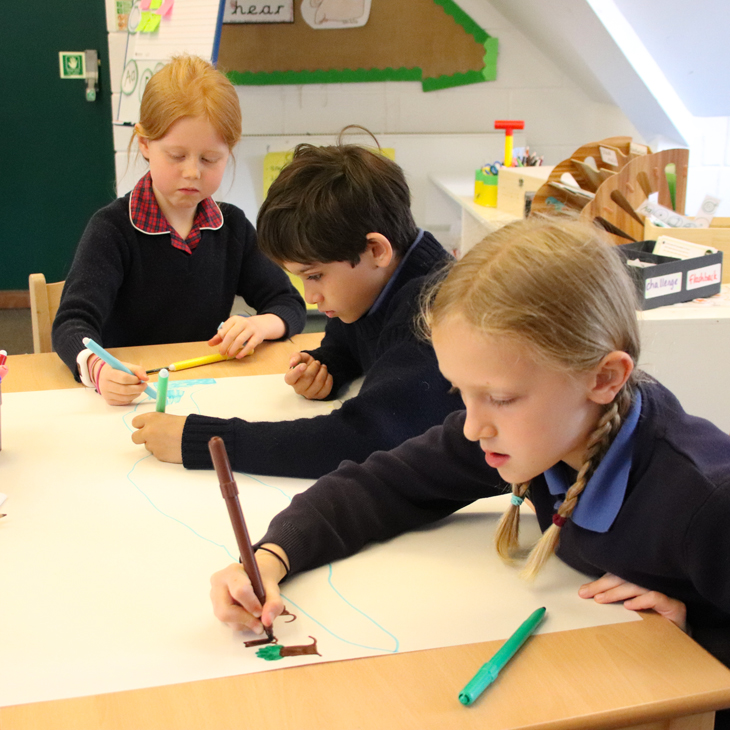 Under sunny blue skies, the importance of looking after our planet was even more discernible this week as Year 3 were excited to be back in our wonderful grounds for the Summer Term. Beaming from ear to ear as they joined up with pupils from Year 7, the children eagerly embarked on their Earth Day task of sowing wildflower seeds on the golf course to help encourage biodiversity. Having been revved up with ideas on how to Invest in Our Planet, Year 3 then had the pleasure of linking up with Year 4 as the children took part in a collaborative venture to create their own biome – an area classified according to the species that live in a specific location which are influenced by temperature range, soil type and the amount of available light and water. The two year groups worked together to focus on how animals and humans can live and thrive alongside each other. As part of the eco initiatives, the children also welcomed visiting BBC Writers' Room author Kerry McIntosh, who read extracts and answered questions about her new book Rory Green, Secret Agent to The Queen. With an eco plot reinforcing the message that children hold the key to potentially reversing climate change, the author inspired and captured everyone's imagination. Kerry also shared her experience of school life, where she found it hard to focus, and it was hugely motivating to hear how passionate she is now about writing. The children were eager to find out about the next book Kerry has planned in the series, even offering ideas as to how the plot could develop.
Henrietta Platt, Head of Year 3
Year 4 On The Front Foot For Athletics Challenge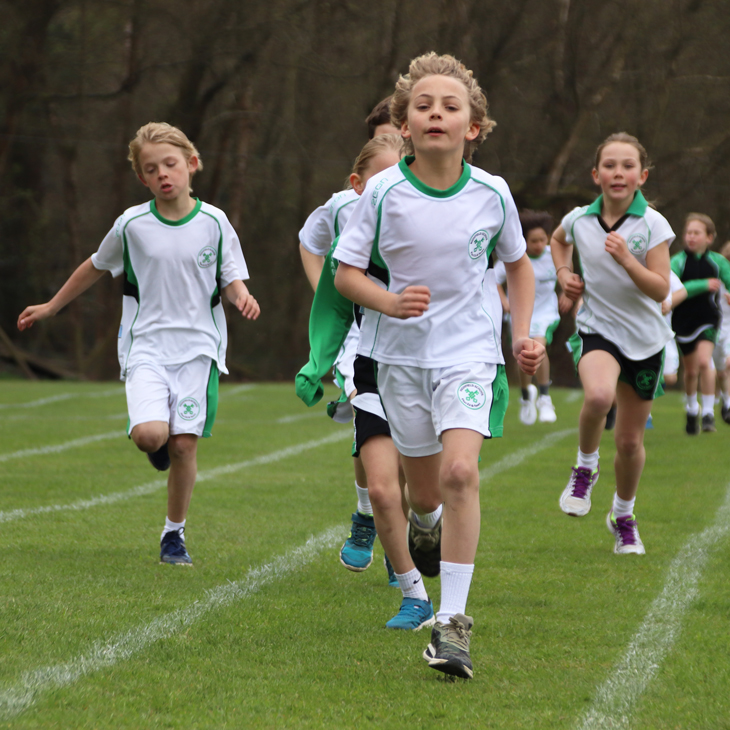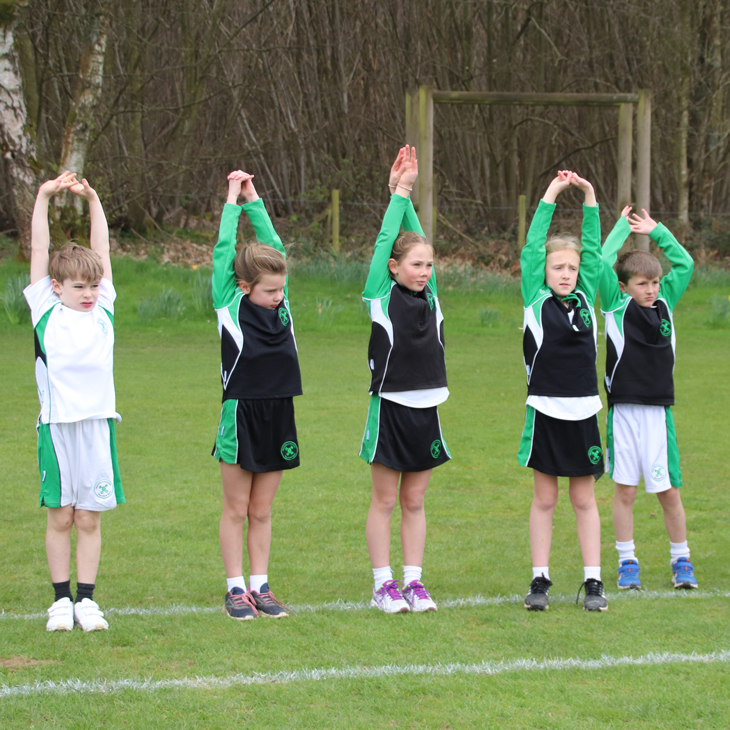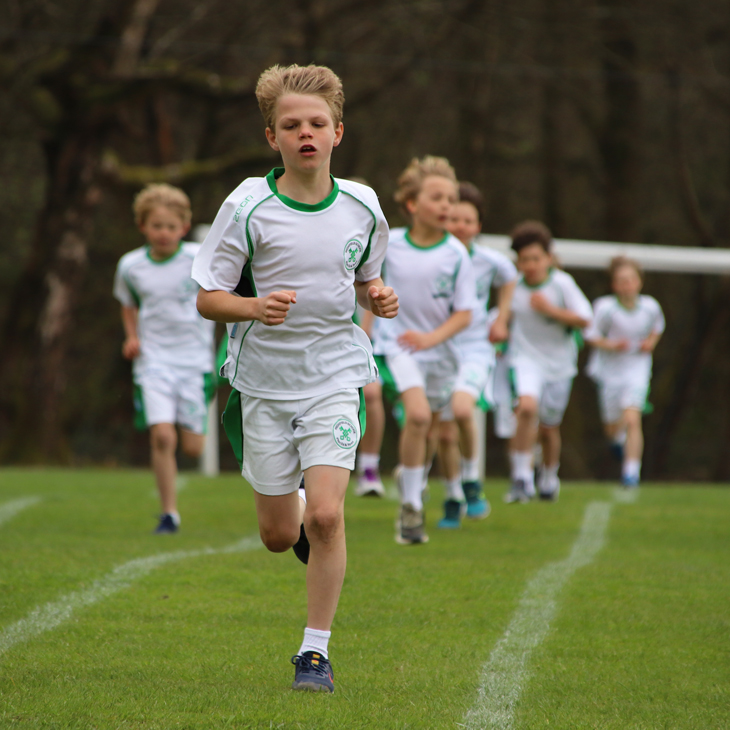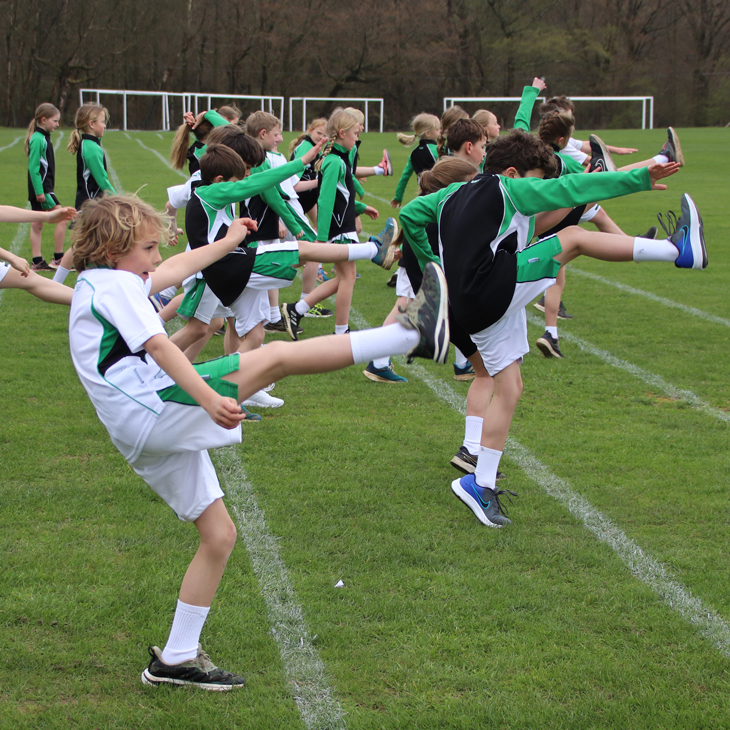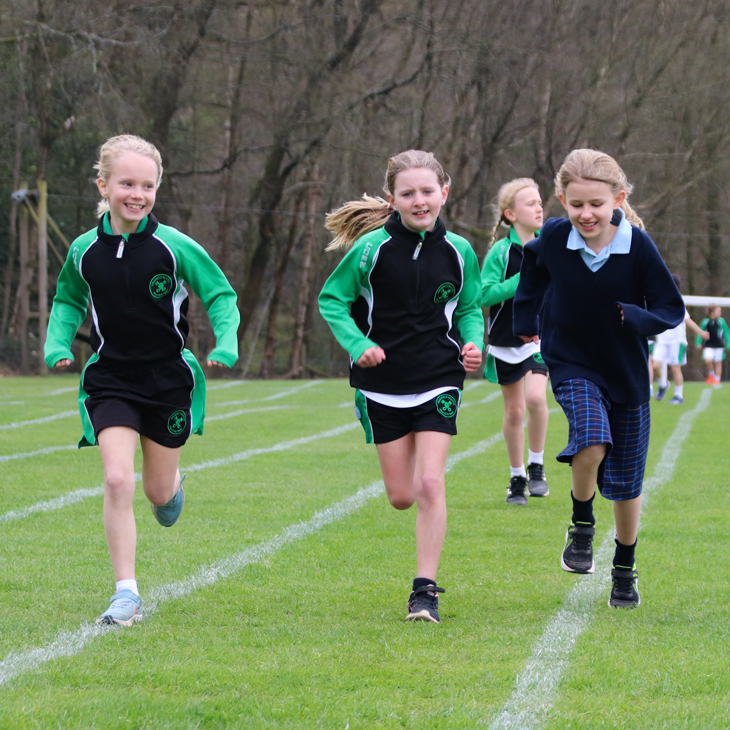 Despite the wet and chilly weather, Year 4 have been gripped by the excitement that the onset of the athletics season always brings. It began on Tuesday with a one-kilometre run – or two-and-a-half laps of the track – as part of the House Running Challenge, the brainchild of Mr Dilworth. All children across the prep school take part, with all timings and places recorded, ahead of a final outcome. Having done a series of warm-ups and stretches, Year 4 were the first to race and demonstrated excellent sportsmanship and teamwork throughout; cheering each other on and encouraging their classmates to do their best. All the children showed great determination and perseverance, which are essential qualities for success in athletics and in life in general. As we await the official results, one thing we are sure about is that Year 4 performed very well.
Jo Gordon, Head of PE
Year 5 Designers Inspired By Sottsass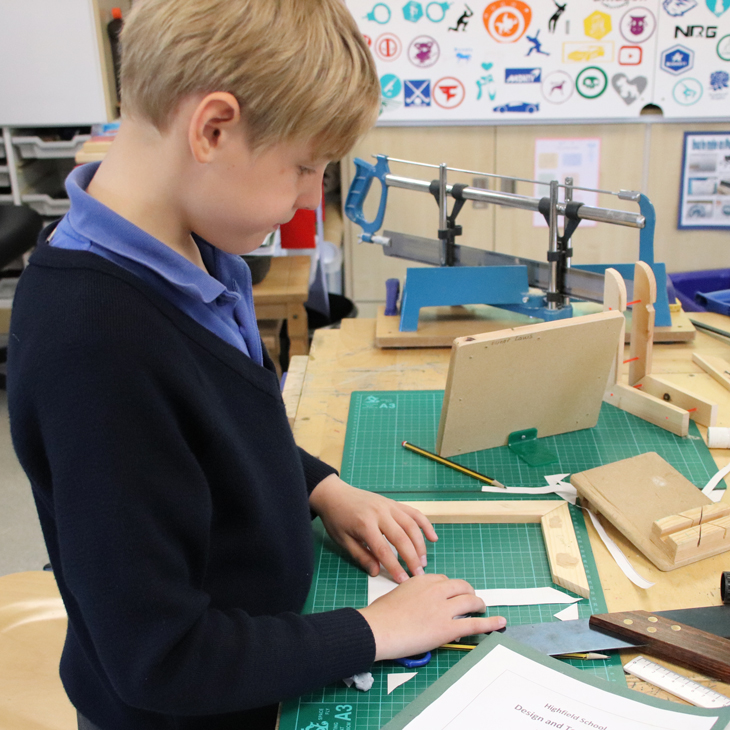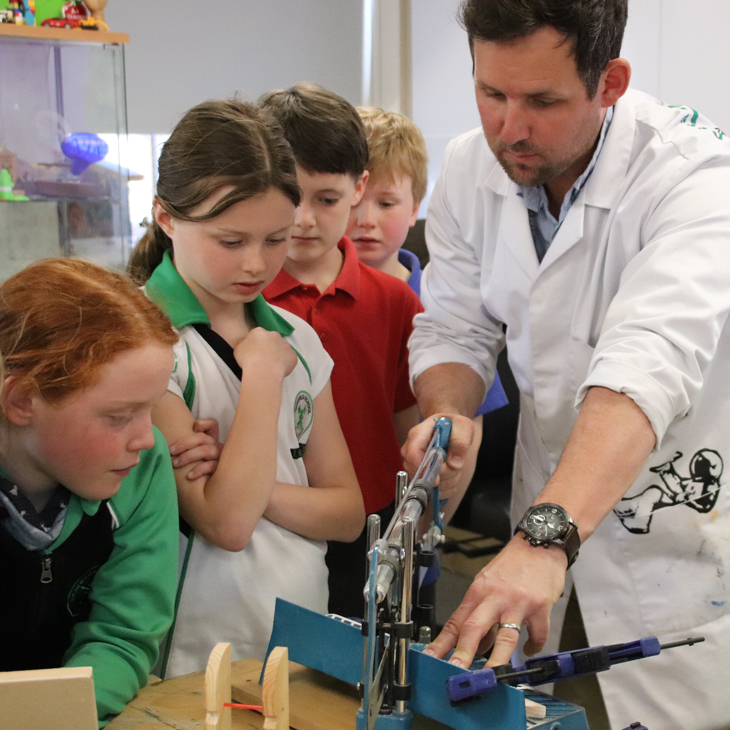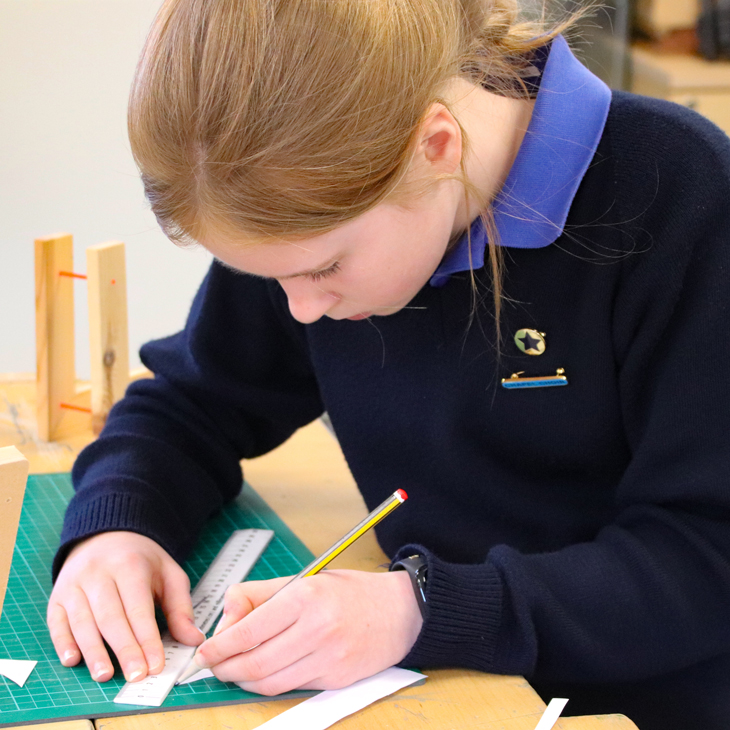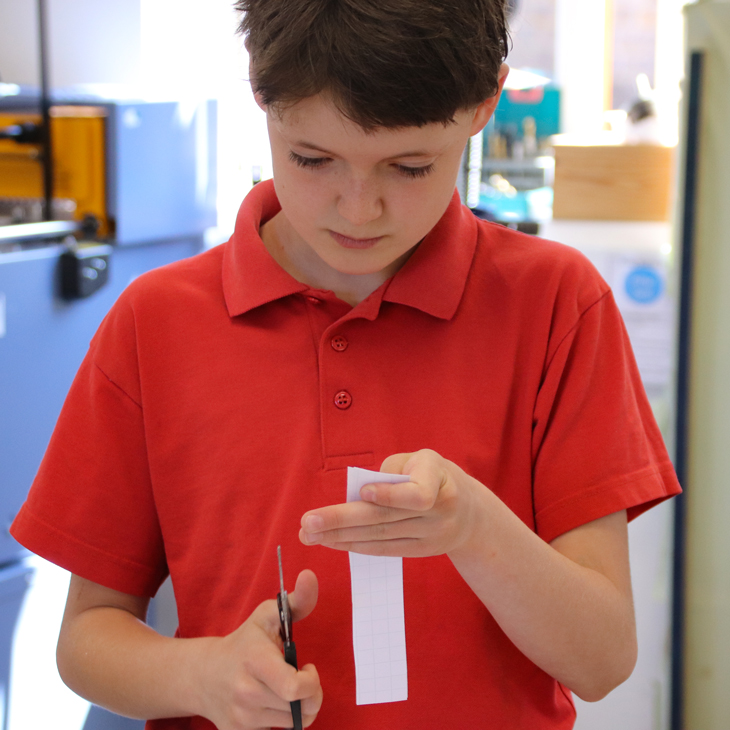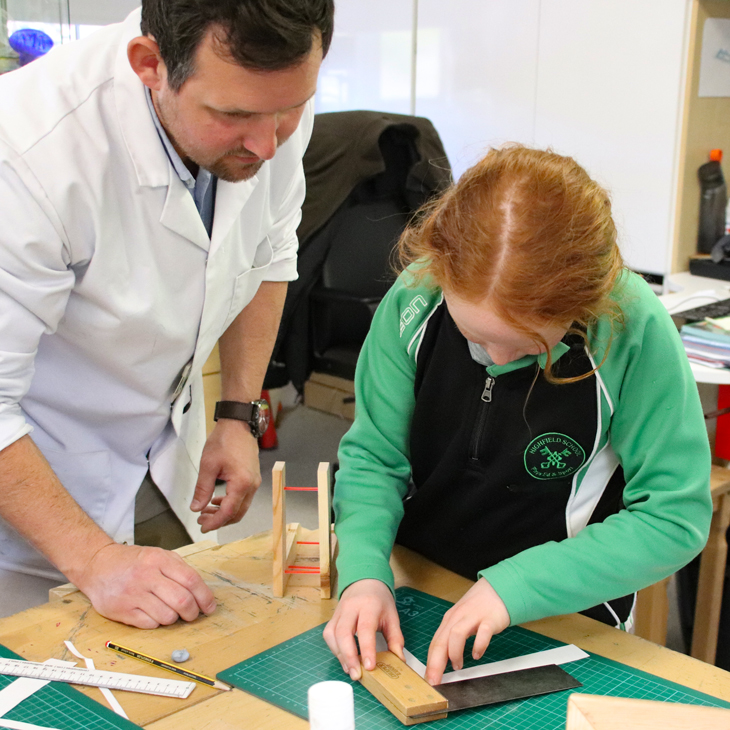 Creative Year 5 have been learning all about Italian architect and furniture designer Ettore Sottsass as they explore the 'mitre' carpentry wood joint this term in Design Technology. Using Sottsass as an inspiration, Year 5 have been tasked with producing a tablet stand or a picture frame and began by producing two 45-degree cut pieces of paper to represent the right-angle mitre join. Sottsass was responsible for creating the 'Memphis design' in the 1970s, which featured striking and bold colours that upset the status quo in furniture design, and Year 5 are being encouraged to follow suit. As part of the manufacturing process, the children have been getting to grips with jig saws, mitre saws, try squares and tenon saws.
Jamie Dew, Head of Design Technology
Year 6 Francophiles Are Natural Born Quizzers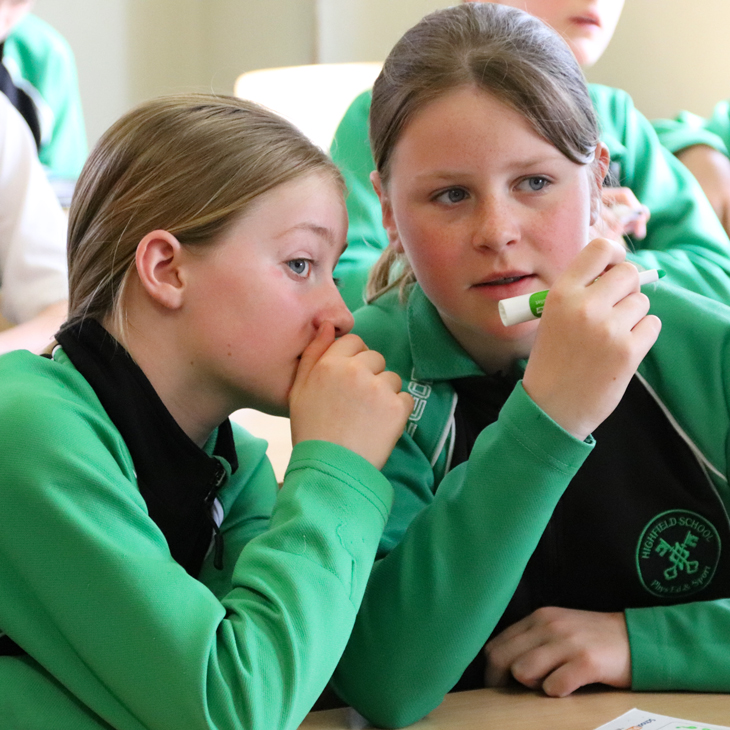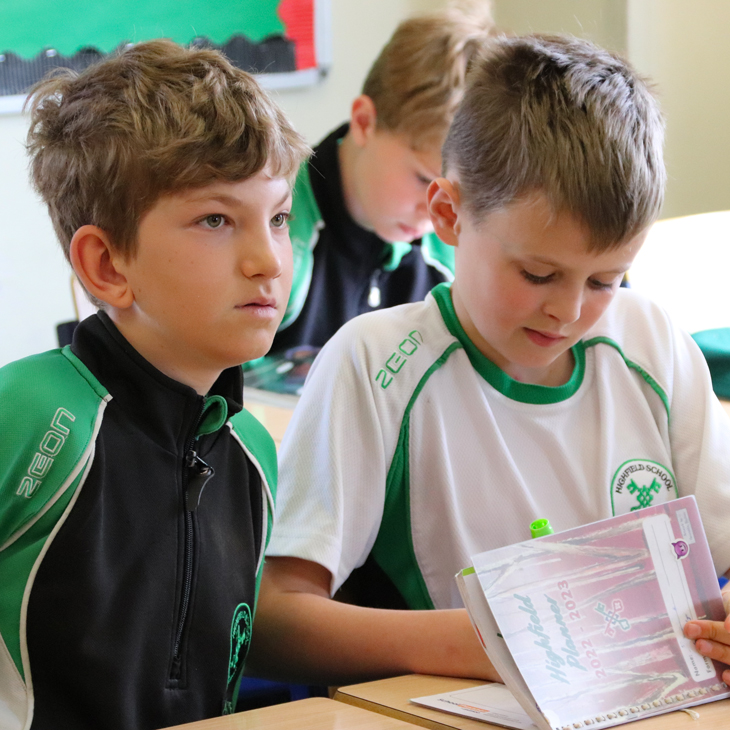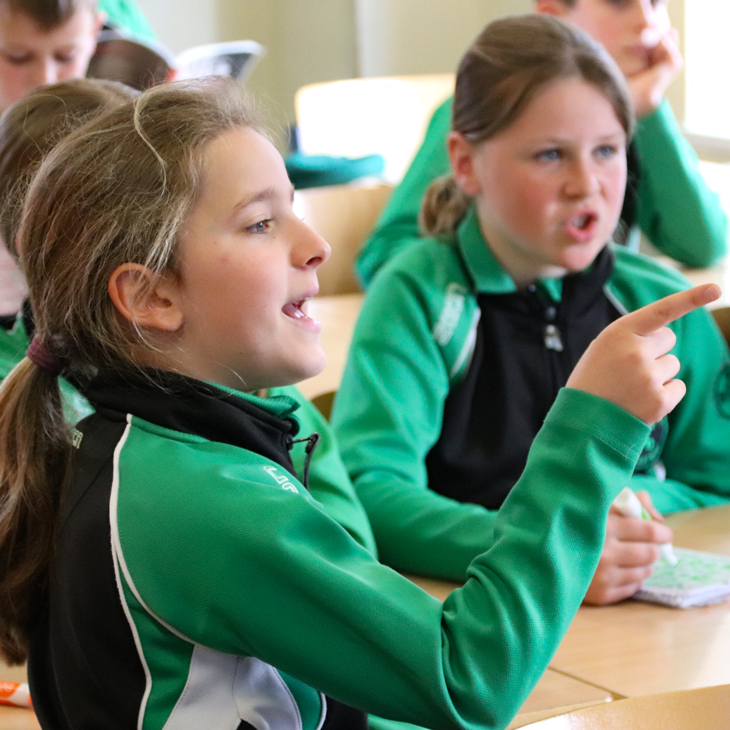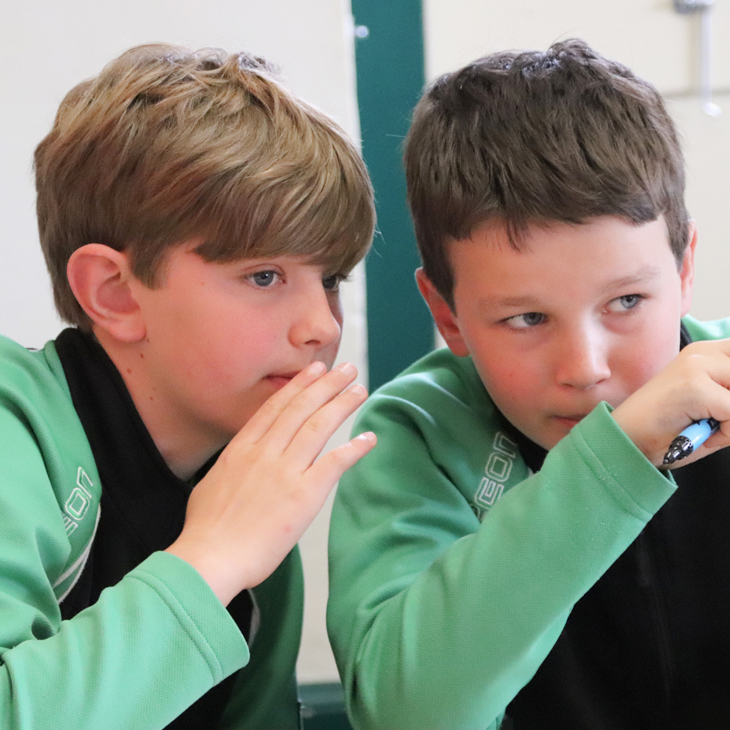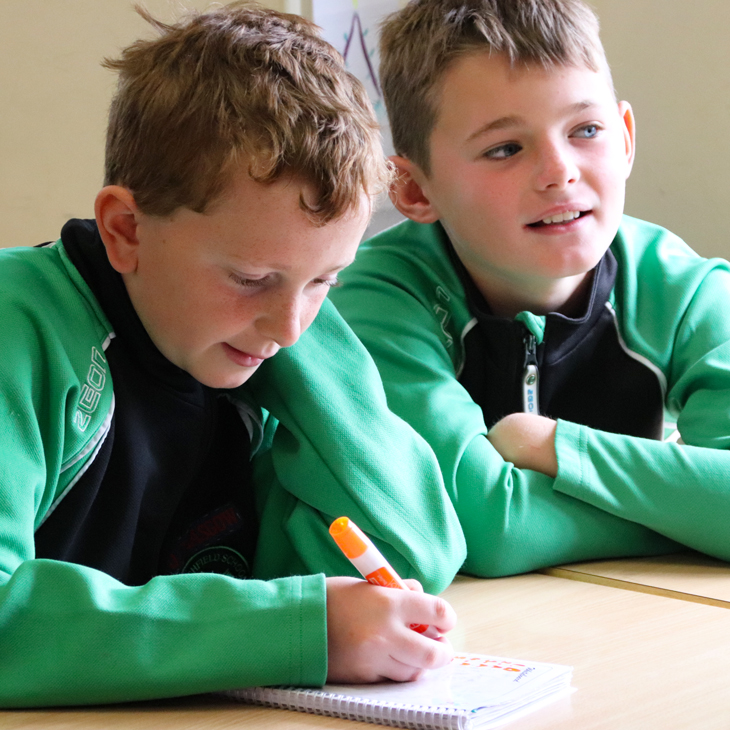 Fresh and recharged from their Easter holidays, Year 6 were ready to test both their knowledge and their memory in a friendly yet competitive quiz on all things French. Tricky questions on geography, culture and French brands didn't faze them at all. Their impressive knowledge even extended to Gallic sports personalities, events and the film Ratatouille. The tie-breaker question, in the case of a draw, was to guess the number of steps up to the top of the Eiffel Tower, which one team guessed correctly to demonstrate phenomenal memory power having learnt that statistic last year. There is no doubt that games in any shape or form encapsulate the enthusiasm and interest for any language. They learn, remember and apply their knowledge in a very relaxed but constructive manner. Bravo, Year 6!
Helene Pidebois, Year 6 French Teacher
Composed Year 7 Hit The Right Note In Music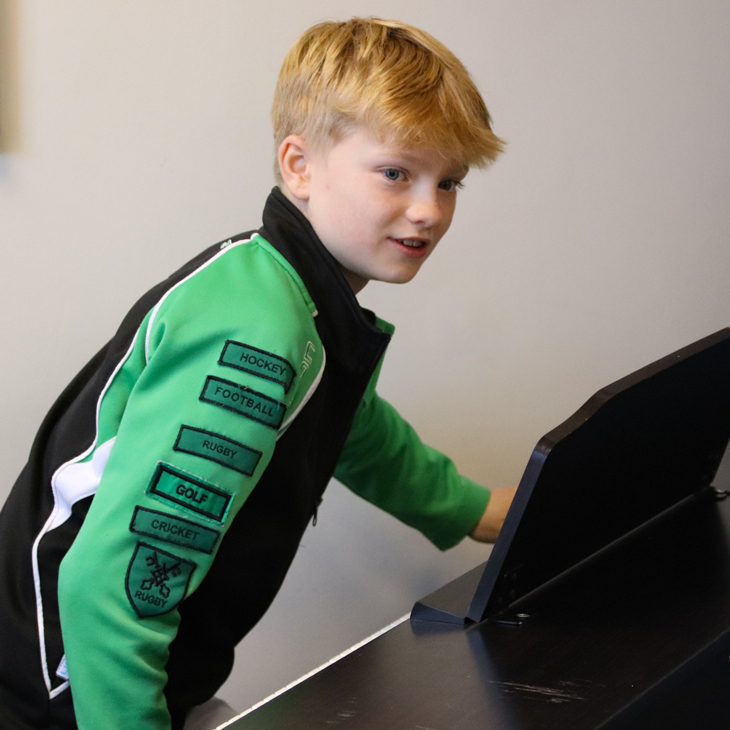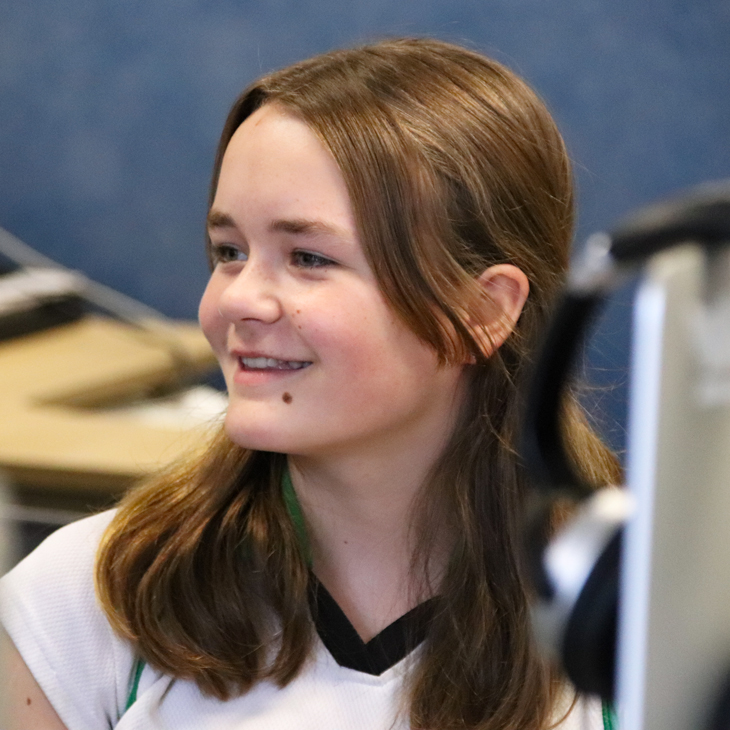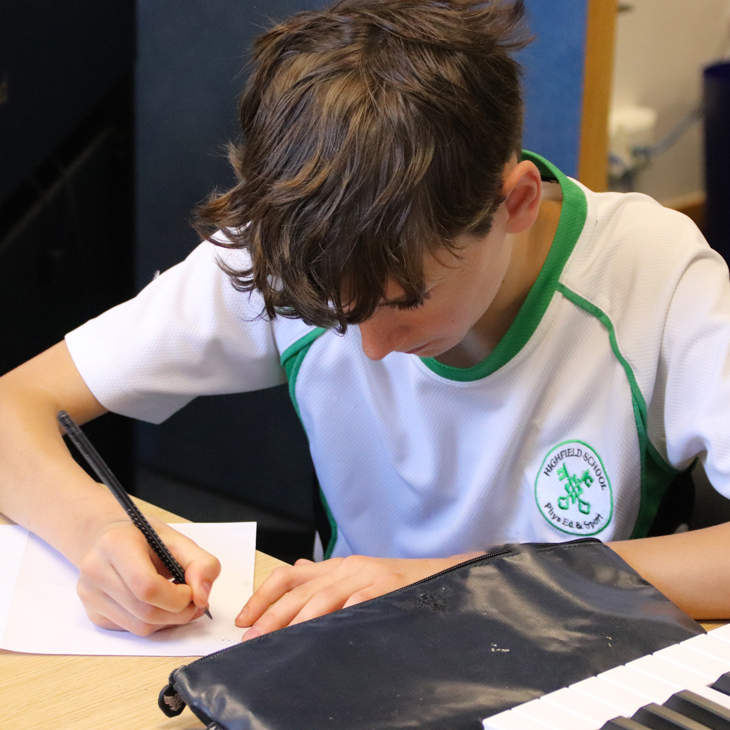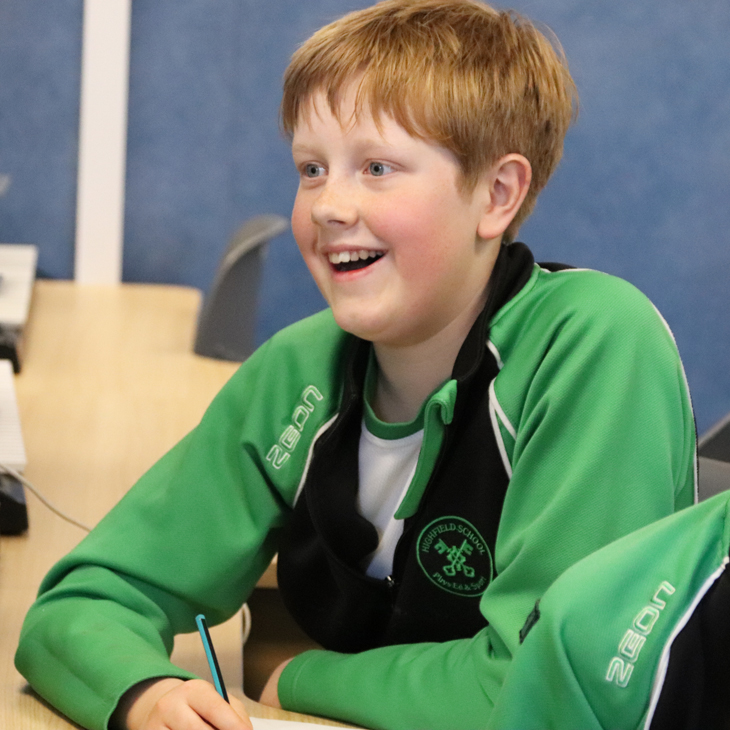 Year 7 are studying notation in Music this term. A series of symbols and markings that inform musicians how to perform a specific composition. As a starting point, the children were tasked with discovering who first wrote down music, how it was formulated, and different ways in which one can communicate the music. The class then formulated graphic scores to try to represent what we heard in the lesson with various students playing the piano and creating ways to pictorially illustrate the audio. Graphic scores are commonly used to allow composers to express musical ideas that cannot be described by traditional notation. It's fair to say that the Year 7 musicians really did grasp the concept particularly well.
John Mühlemann, Director of Music
Wordsworth And Dickens On Literary Agenda For Year 8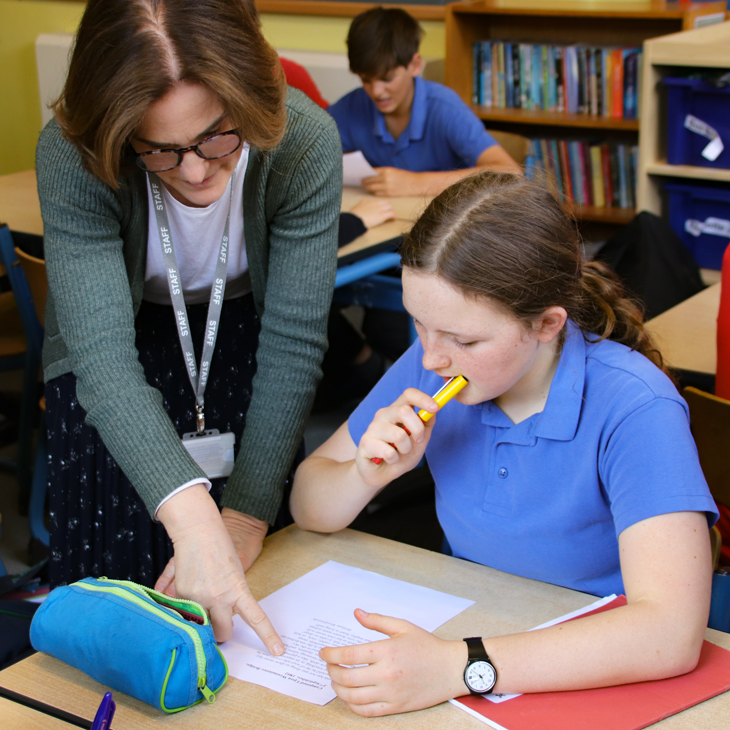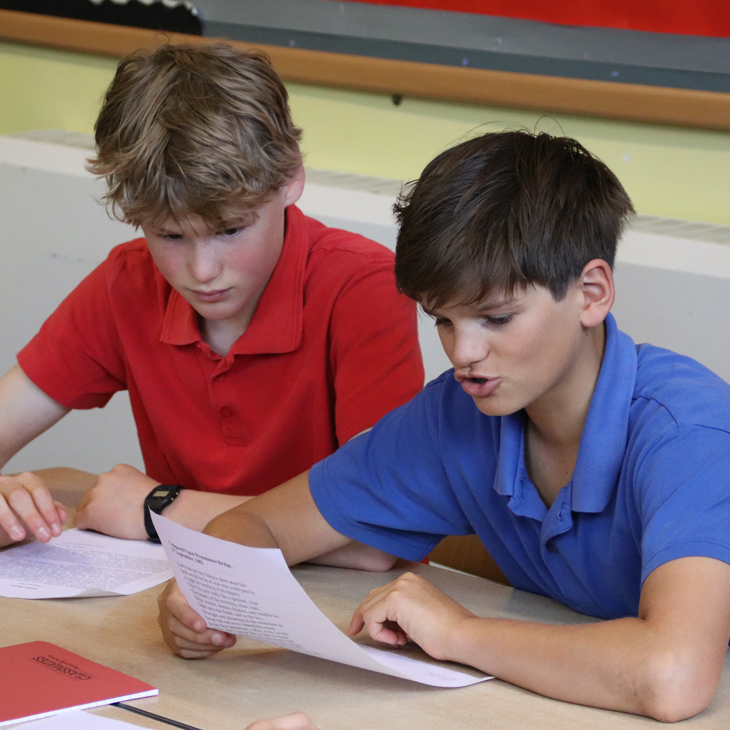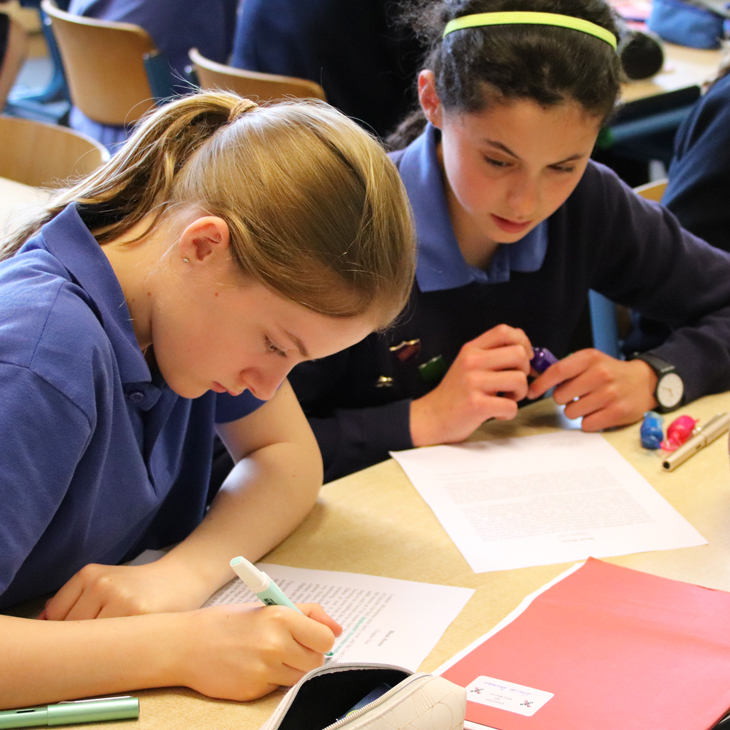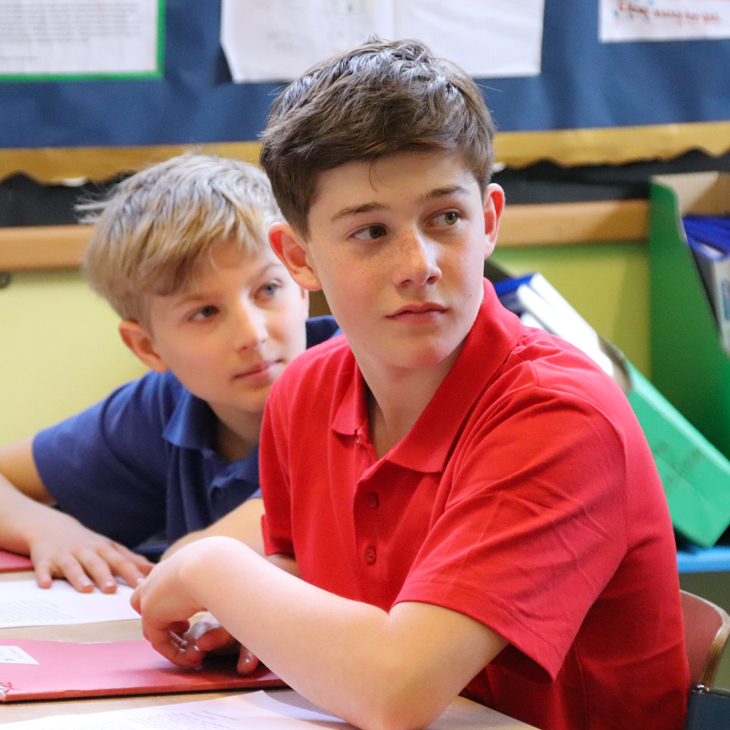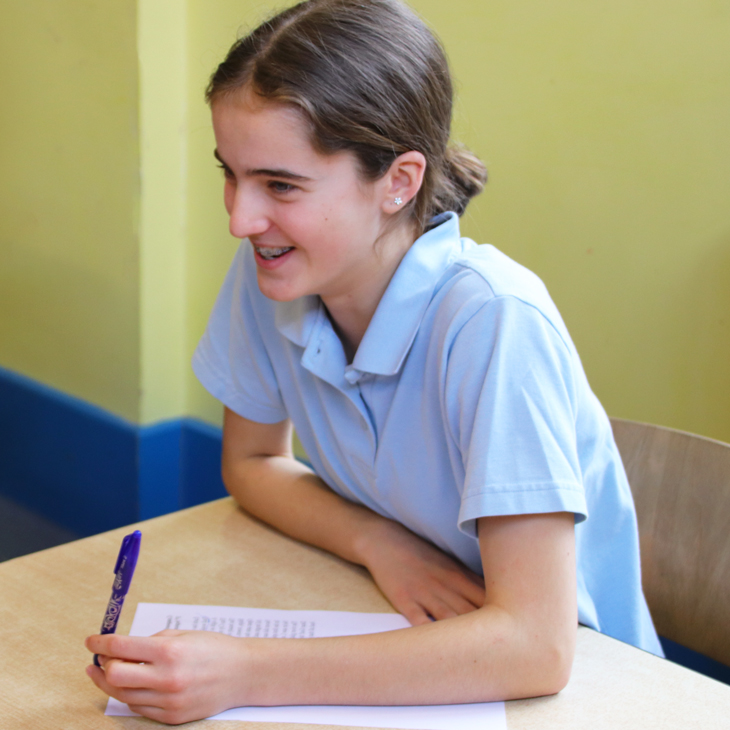 The start of the Summer Term is very busy for children taking academic scholarship exams, so in our 8A English lesson we have dived straight into some classic literature. For their first lesson back, the children looked at William Wordsworth's poem On Westminster Bridge and compared it to the opening description of London in Charles Dickens' Bleak House. The pupils identified the sonnet form, recognising that it tends to be used to express the heights of emotion and that, for Wordsworth, London is the pinnacle of both Man and God's achievements. Dickens' dense prose, on the other hand, submerges the reader into the miserable mud, fog and sooty atmosphere of Victorian London. Year 8 began the process of detailed textual analysis, identifying the literary techniques used to create mood and setting, and selecting relevant evidence. When they come to complete an essay evaluating, comparing and contrasting the two passages, they will use the pattern of point, evidence and explanation in order to structure their work. It's always interesting to follow an unexpected path during a lesson and Brodie noticed the coincidence of William Wordsworth's name, so we learnt about the hypothesis of nominative determinism, which suggests that people tend to gravitate toward areas of work that fit their names.
Katy Warner, Head of English