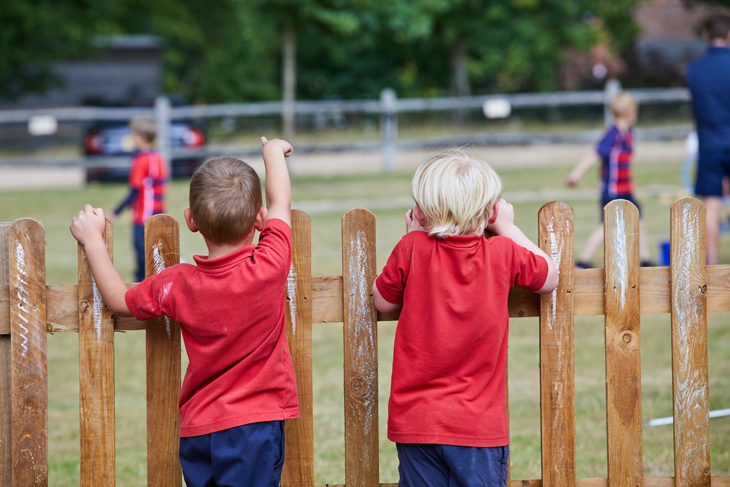 Learning Curve
23rd September 2022
Nursery Children Do So Much More Than The 'Bear' Essentials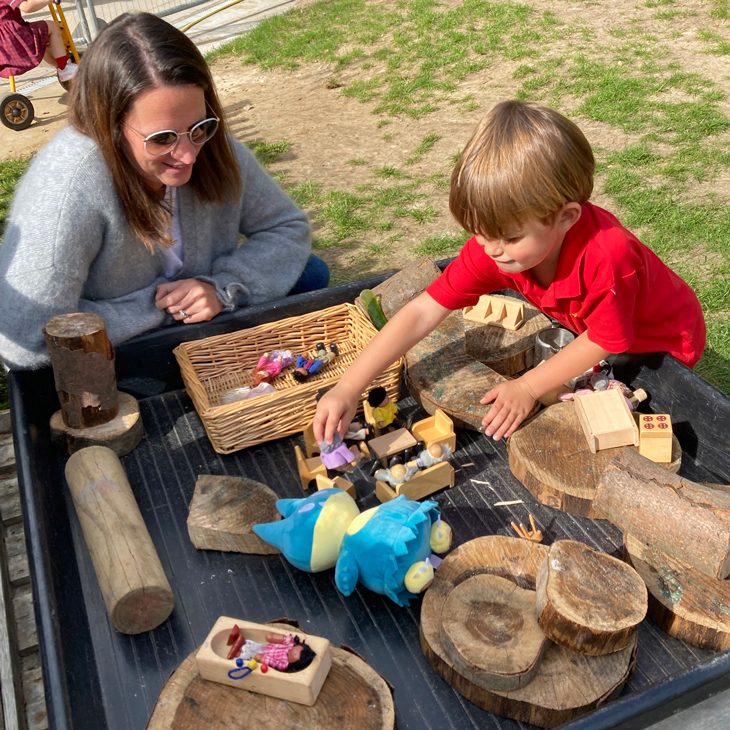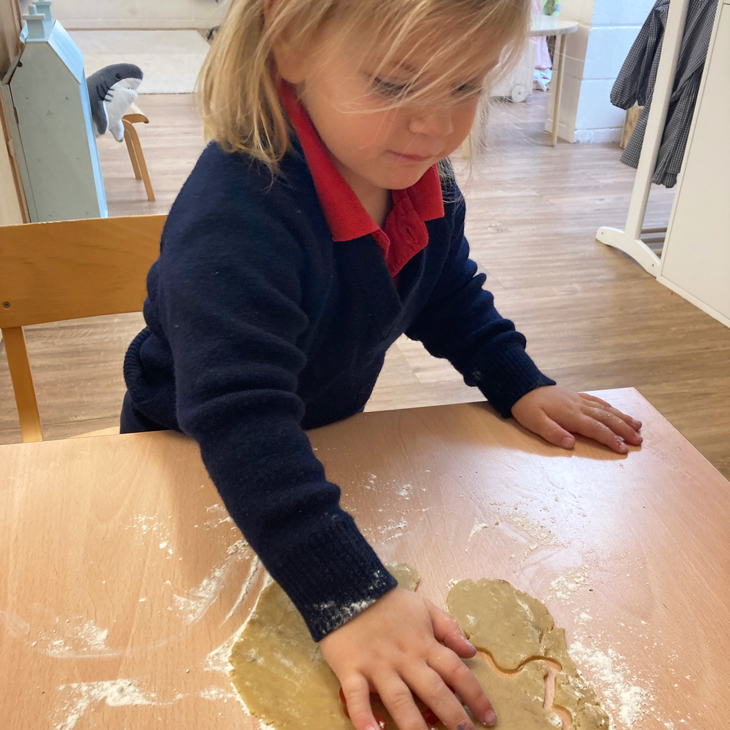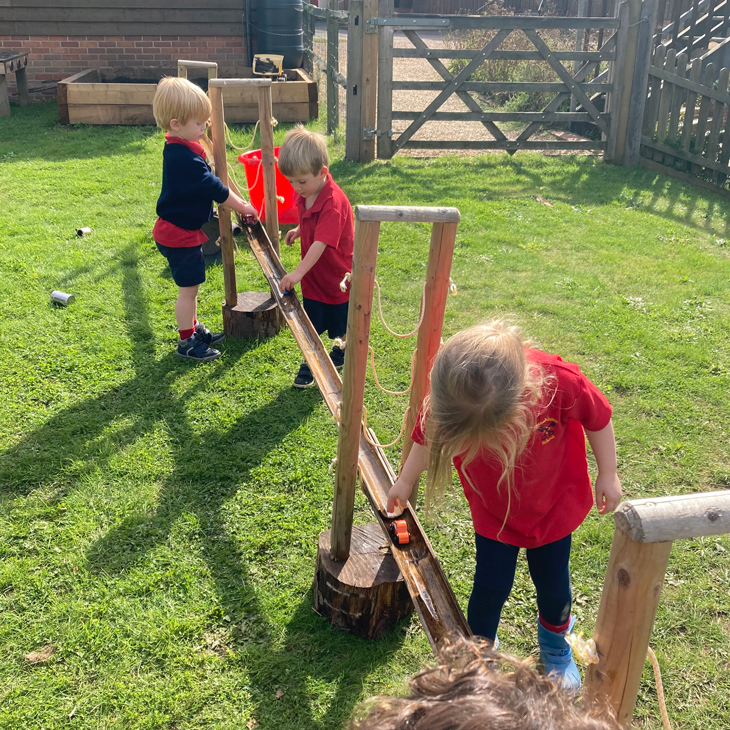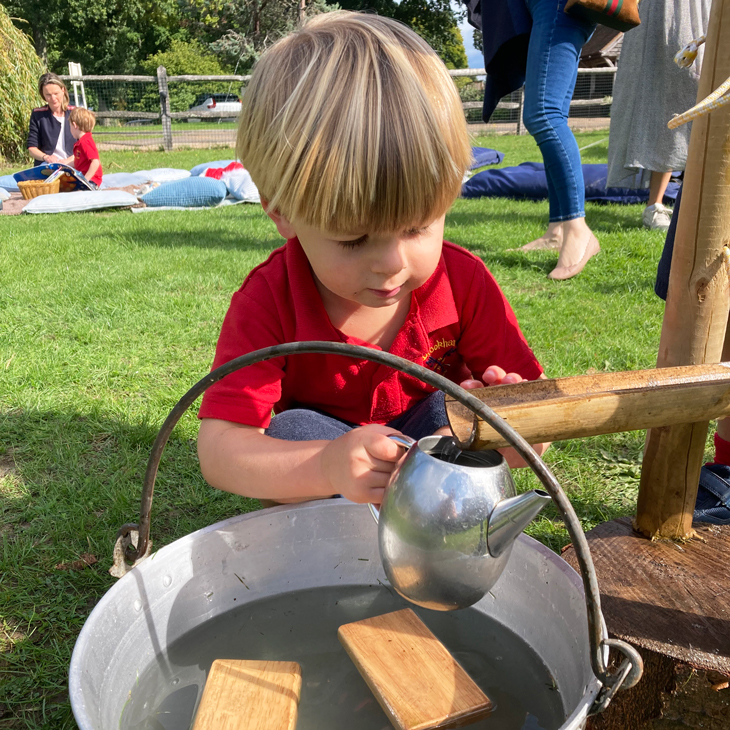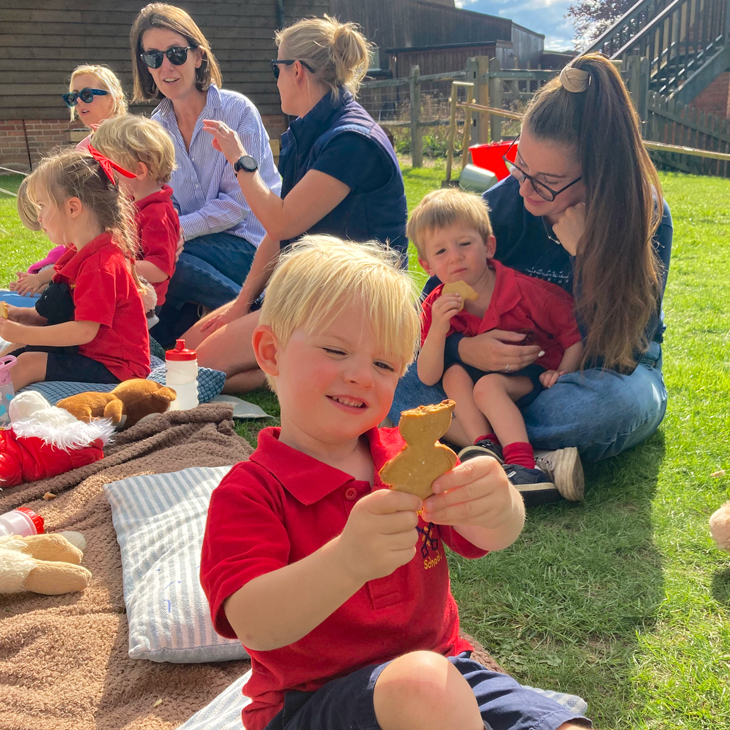 A highlight of the week for the Nursery children was welcoming their parents to a wonderful teddy bear's picnic in the garden. In glorious sunshine, the children enjoyed sitting with their mums and dads and a favourite soft toy from home; eating sandwiches and gingerbread teddy bears which they had carefully prepared earlier in the day in their new Nursery kitchen. The parents had the opportunity to chat while watching their children busily working together and forging friendships during child-initiated learning time in our outside environment.  Continuing the theme throughout the week, the children listened to a variety of lovely bear stories and went on an exciting bear hunt in the grounds of the school. Yoga also featured this week, as the children developed their coordination and strength during a session with Mrs Rollitt based on the book We're Going on a Bear Hunt. Not surprisingly, the children have embraced the theme enthusiastically and it has provided a wealth of learning opportunities.
Sam Forster, Head of Early Years
Young Reception Detectives On The Hunt For The Big, Bad Wolf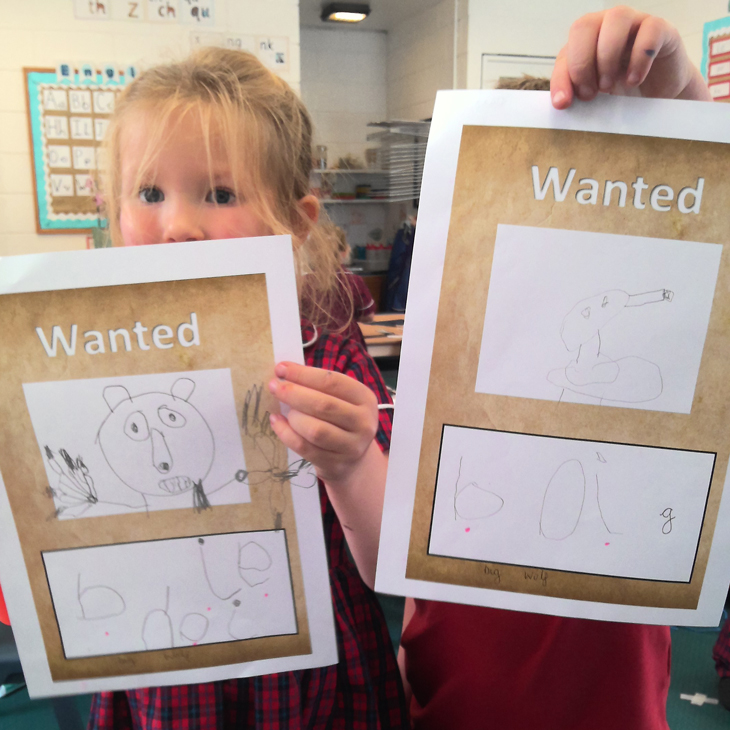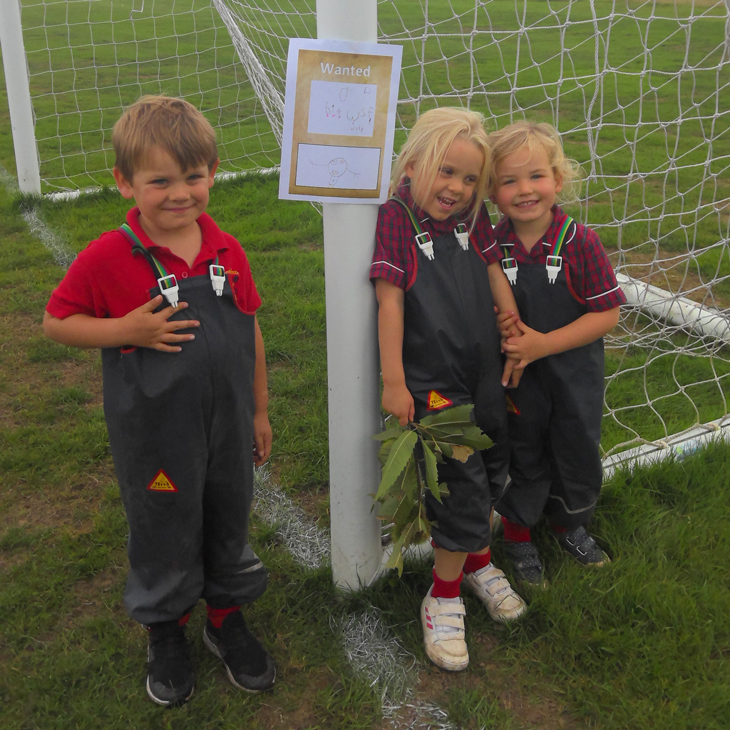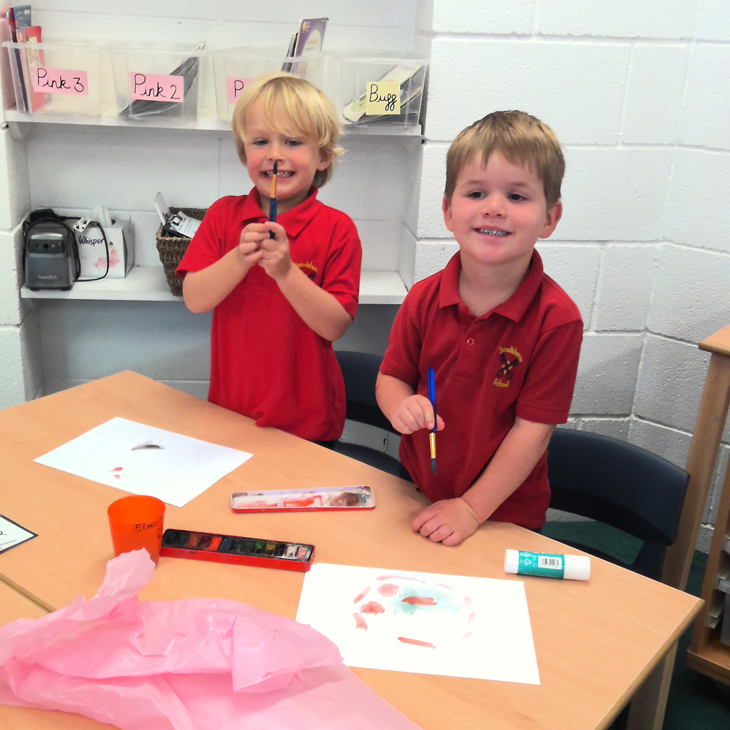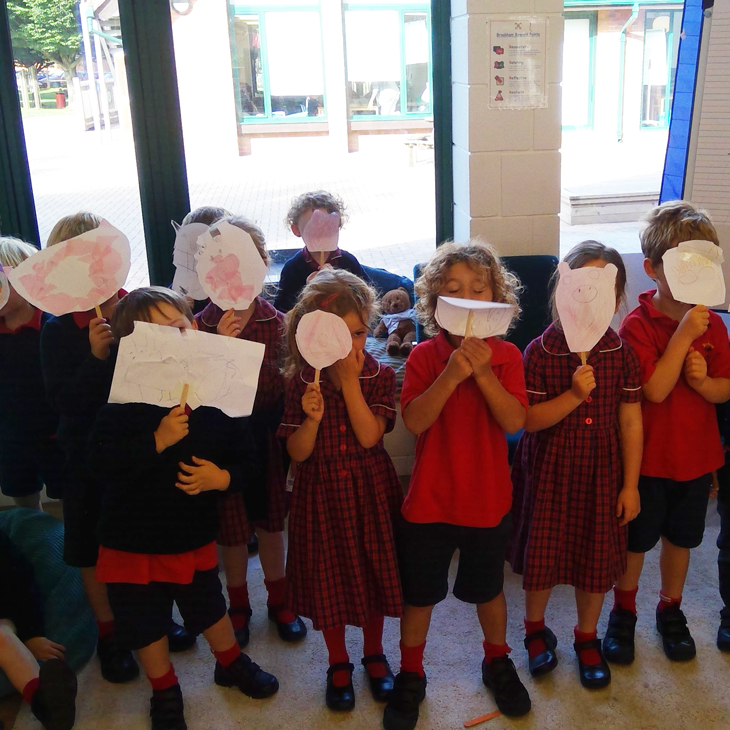 An intriguing letter addressed to the curious Reception children arrived in our classrooms on Wednesday morning. Desperate to know what was inside, eager little hands quickly opened the letter and were immediately caught up in a whirlwind adventure to help the three little pigs find the runaway wolf who blew down their houses! The children worked together to do some serious brainstorming and decided that the first thing they should do was create some 'wanted' posters to see if anyone could help them catch the mischievous wolf. The determined children displayed their posters all around the school, after considering where the best places would be for people to see them. The creative children also used their artistic skills to make pig masks in an attempt to lure the hungry wolf back to their Reception classrooms. The children are thoroughly enjoying immersing themselves in the traditional tale of The Three Little Pigs – and they are very much looking forward to catching the naughty wolf!
Hannah Feery, Reception Class Teacher
Year 1 Superheroes Up To Brave New Challenges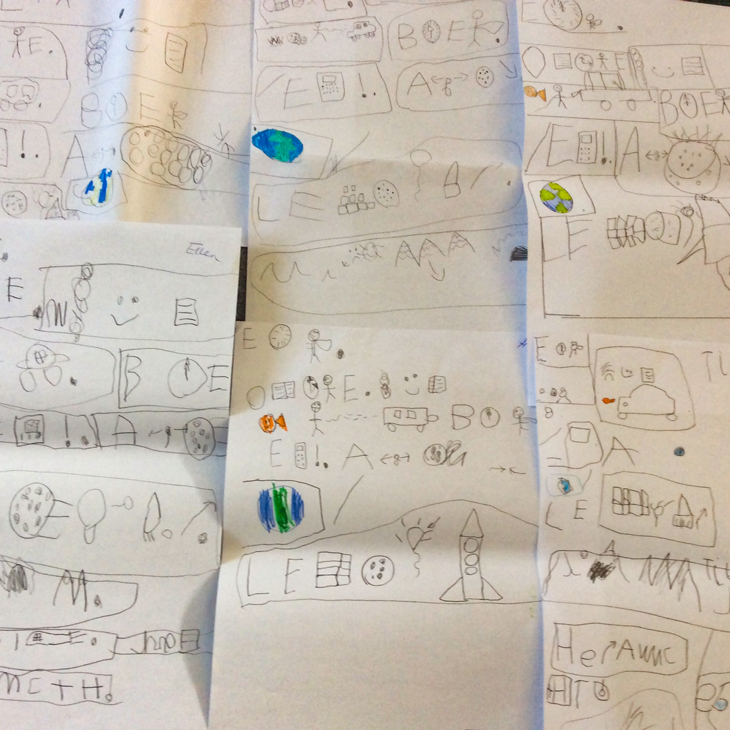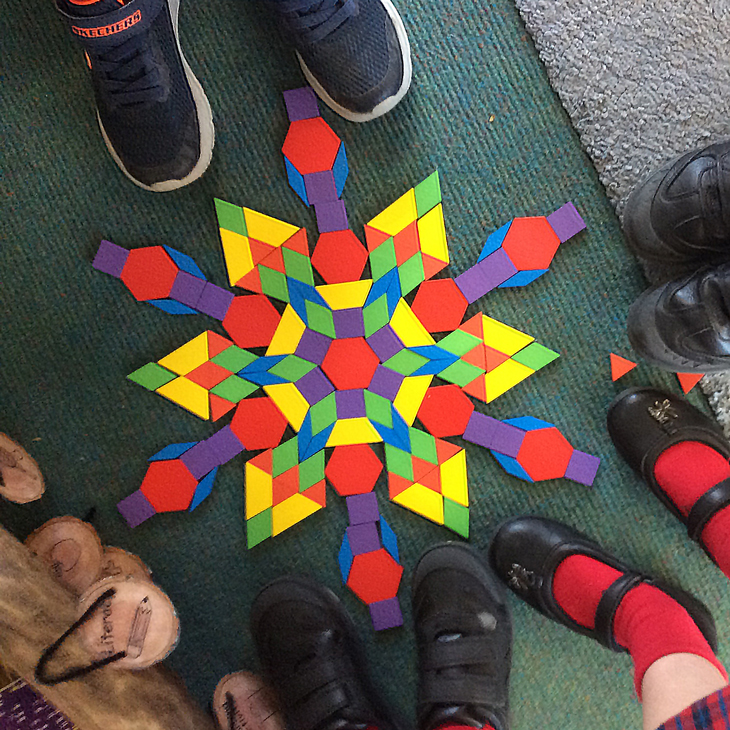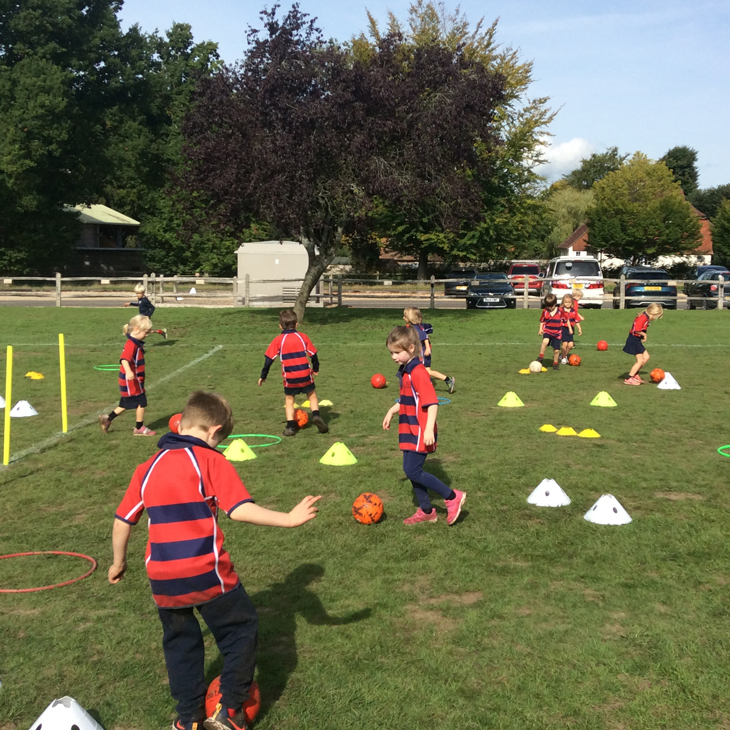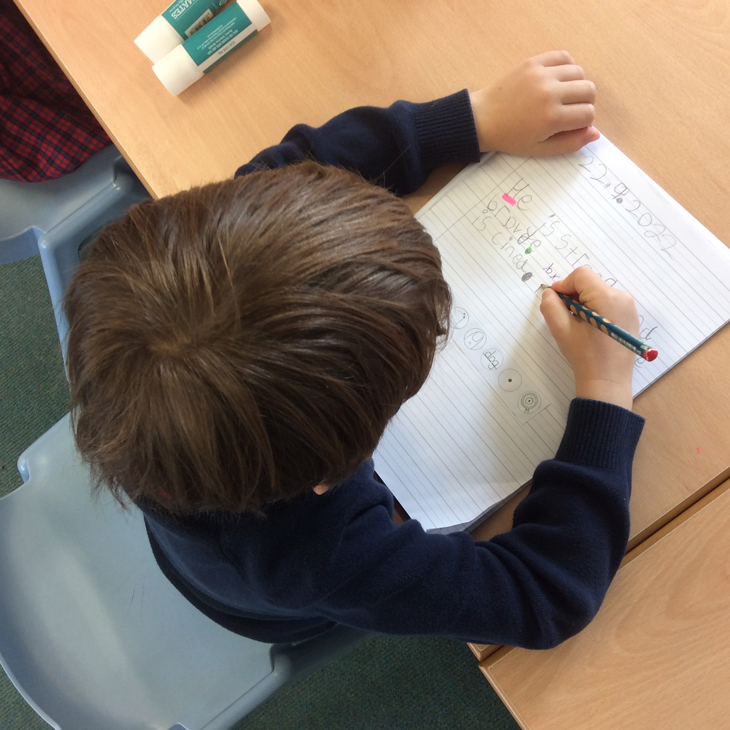 Year 1 have been immersing themselves fully into Eliot, Midnight Superhero, their current literacy text. As a result, they are embracing new language and the challenges that Year 1 lessons present. For the first time, the children have all created their own story maps which they have carefully illustrated to support them when it comes to recounting the text later this term. As always, a fantastic amount of effort, care and attention has gone into their work, demonstrating their desire to be their very best, which is one of the school's golden rules. Alongside producing their story maps, Year 1 have also spent time collaborating to decide what actions are needed to accompany the story as they retell it. This also provides an opportunity for the children to learn new Makaton signs, which allows them to communicate in an alternative way. As always, Year 1 have been resourceful, making considered and logical links. Meanwhile, new penpal Eliot the superhero has had regular communication with Year 1. As a result, the children have learnt how he helps others, and that has provided a real source of inspiration and excitement which, in turn, has led to many interesting conversations and opinions about what makes someone a superhero and what qualities and traits we would expect them to have. The main identified qualities were kindness and courage – two more of our golden school rules. Collaboration has been another key focus for Year 1 this week, with tangram Chinese geometrical puzzles and physical education games encouraging the children to move out of their comfort zones – and it was an opportunity they seized with both hands!
Rebecca Lane, Year 1 Class Teacher
Wildlife Park Visit A Natural Fit For Inquisitive Year 2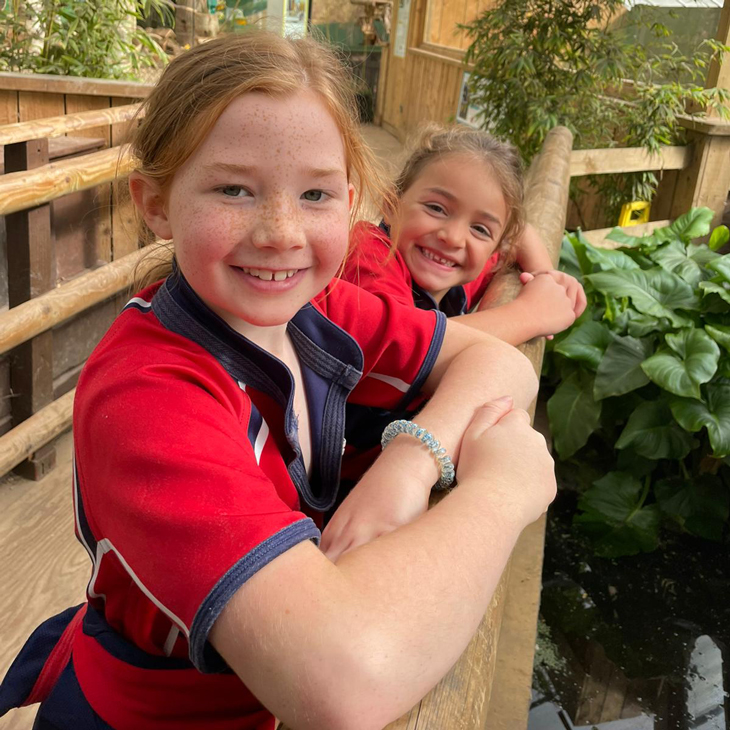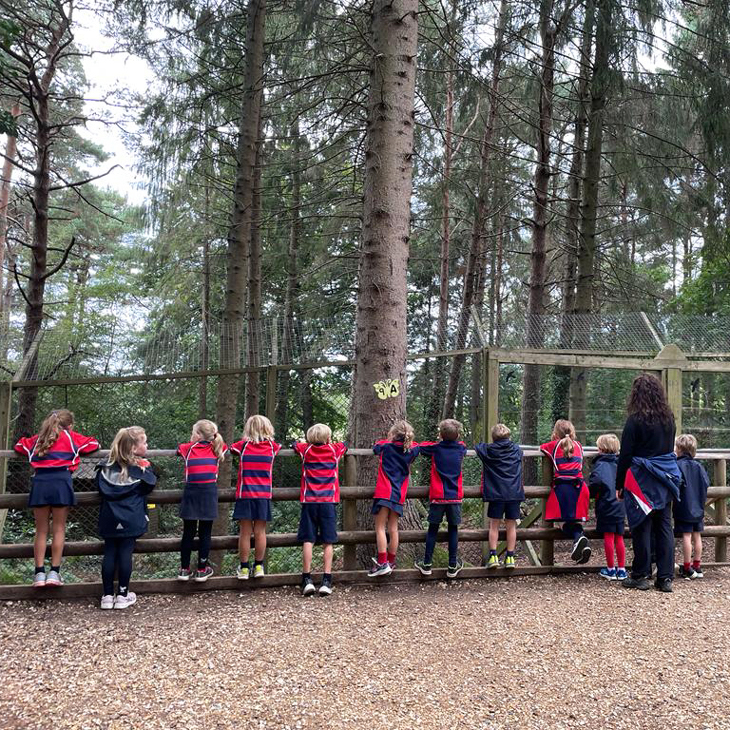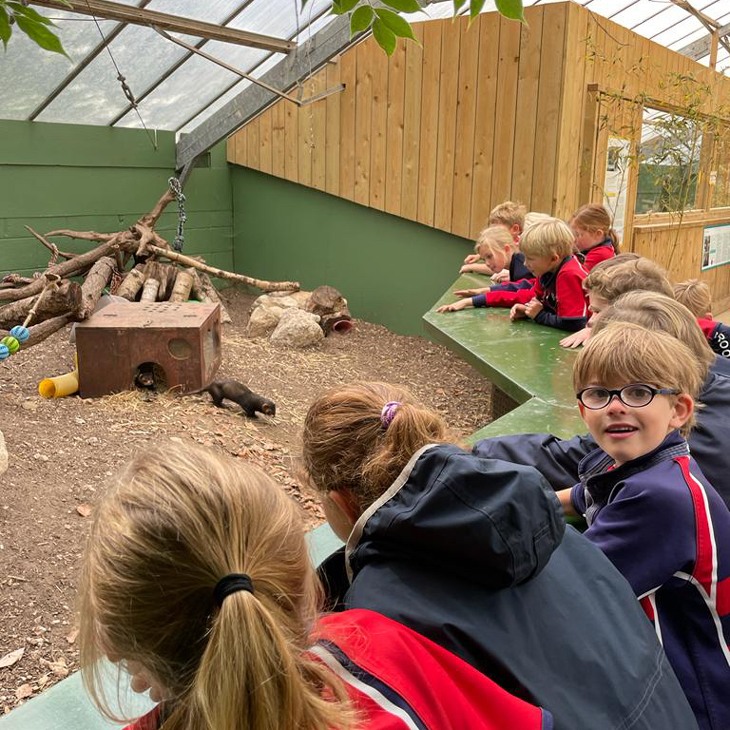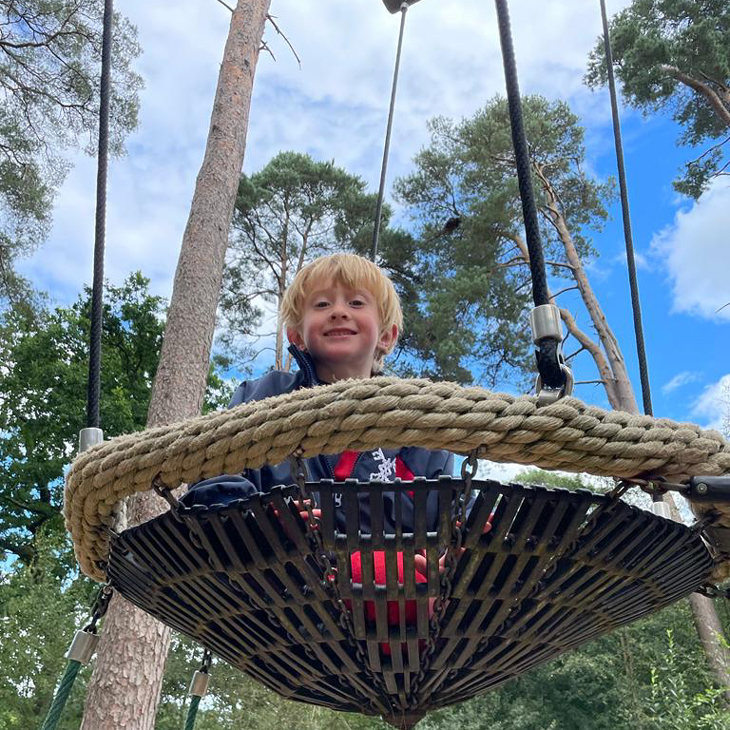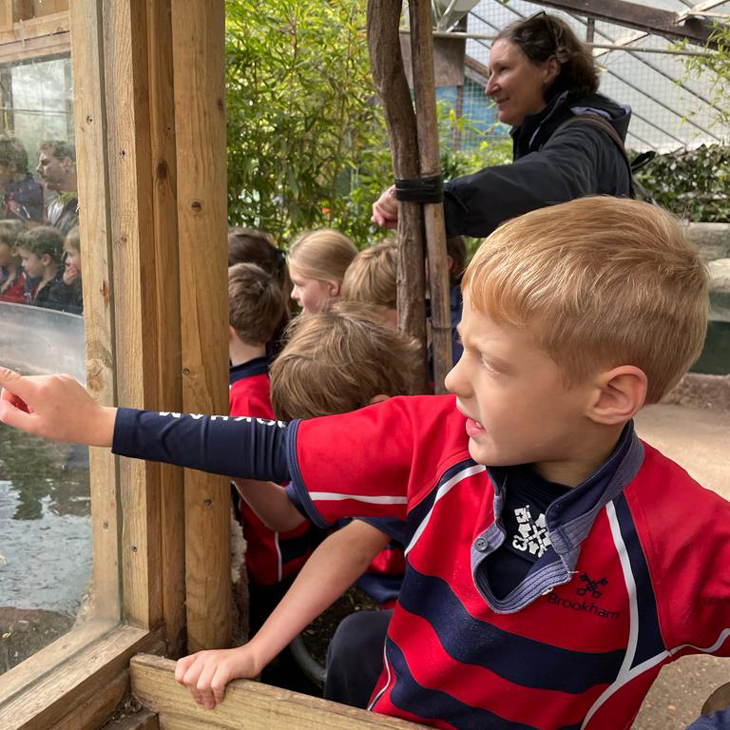 It's only week three of the new Autumn Term and Year 2 have already been treated to an exciting and illuminating visit to the New Forest Wildlife Park. The park specialises in the native wildlife of Britain in their natural surroundings as well as providing a home for otters and owls from around the globe. Year 2 are learning about 'Living Things and their Habitats' in science this term, so it was the perfect place for our keen and inquisitive learners to think about and observe what we have been discussing in the classroom. The children were keen to share tales of what they could see in each of the enclosures and delighted in discussing how well the animals were cared for; noting carefully the provision for water, food, shelter and space. We all marvelled at the exquisitely designed habitats for the mice and ferrets but excited chatter tailed off at the sight of wolves emerging from their dens in search of their breakfast. The Year 2 children have continued to talk about and refer to their trip throughout the week. It has enhanced and expanded their writing ability in literacy, their conversations in personal, social, health and economic (PHSE) lessons, and their investigations in science. Well done Year 2, you really have been exercising those relating learning muscles!
Kathleen Salusbury, Year 2 Class Teacher
Dramatic Twist As Year 3 Explorers Take Action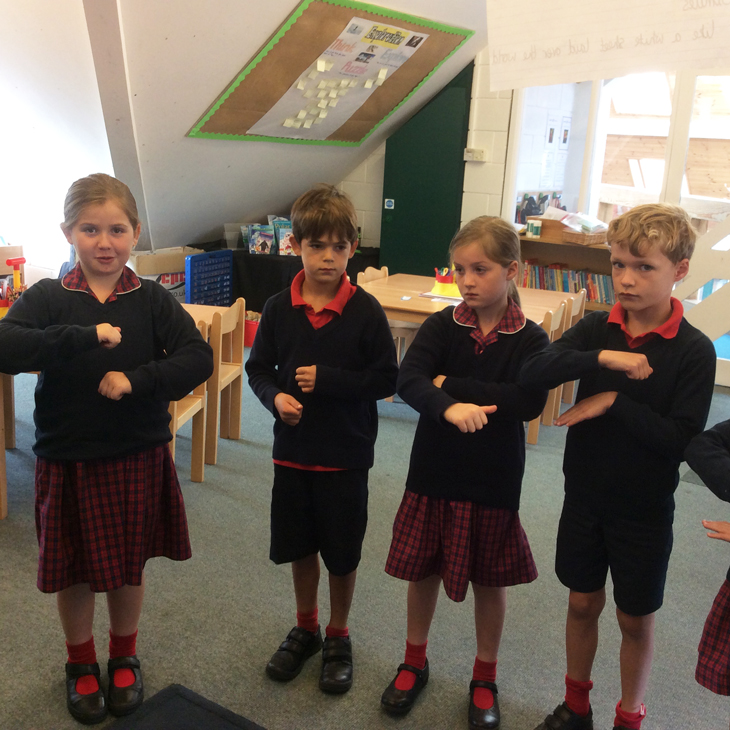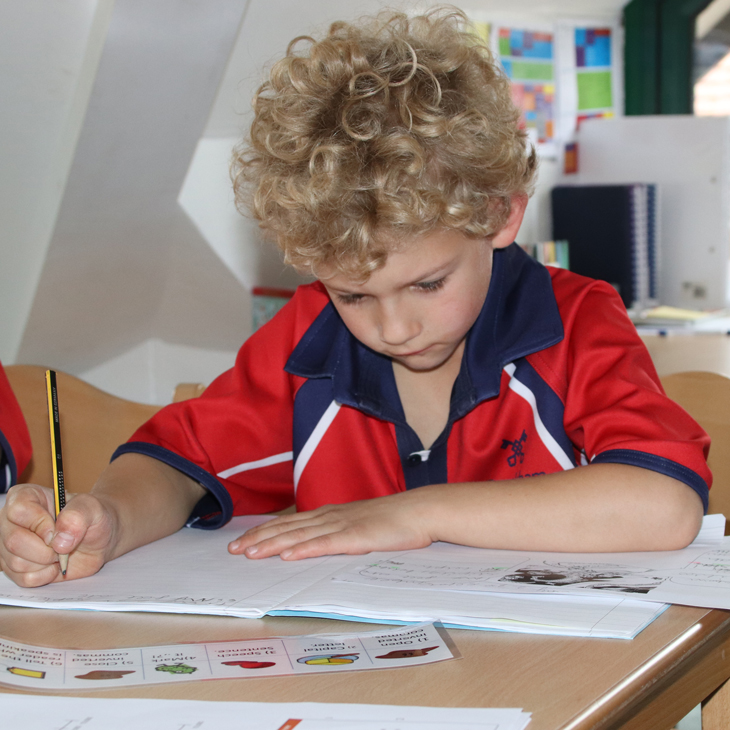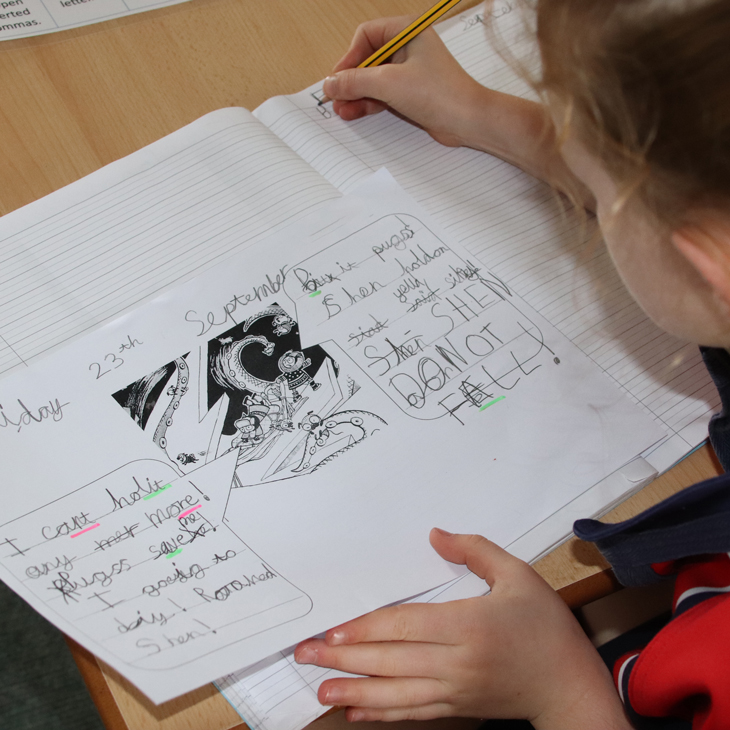 With an emphasis on developing and expanding their knowledge of vocabulary that requires a higher level of thinking and understanding, Year 3 were energised and enthused as they used drama to retell our class text. Having created a picture map to follow, the children revelled in making up actions to imitate the story, while also using Makaton signs for key connectives, prepositions and other general vocabulary. Time was spent discussing similar words and opposites, trying another word in the sentence and relating it to their own experiences. By exploring and finding out about things, they were able to develop their resourceful learning muscle. Furthermore, to really embed the story, the children collaborated in pairs, taking turns to say a sentence each. After their epic caving experience last week, hearing tales from Nick Carter about his perilous escapades and now being inspired by a thrilling snow-bound adventure, Year 3 have become totally absorbed and intrigued by their topic of 'Exploration'.
Henrietta Platt, Year 3 Class Teacher
Year 4 Busy Conducting Their Musical Affairs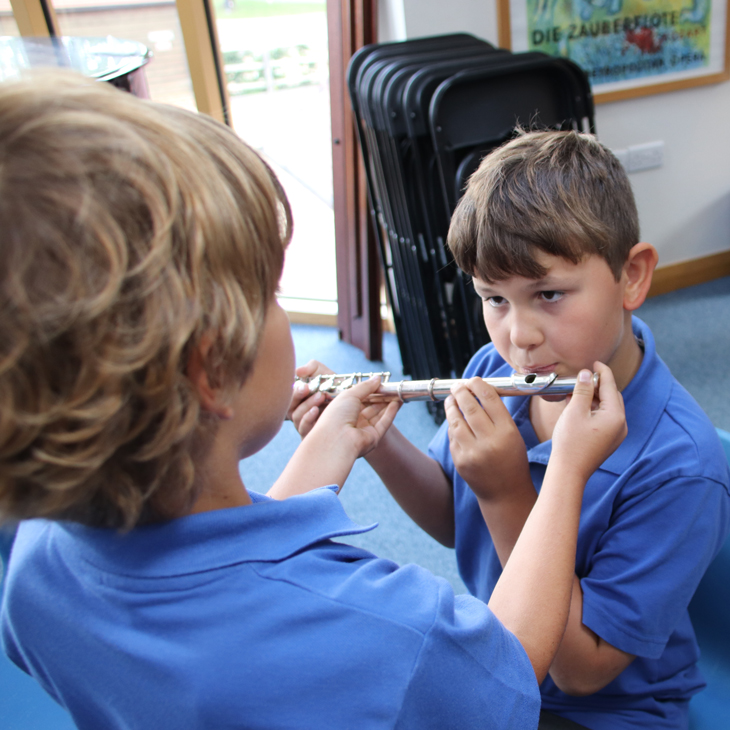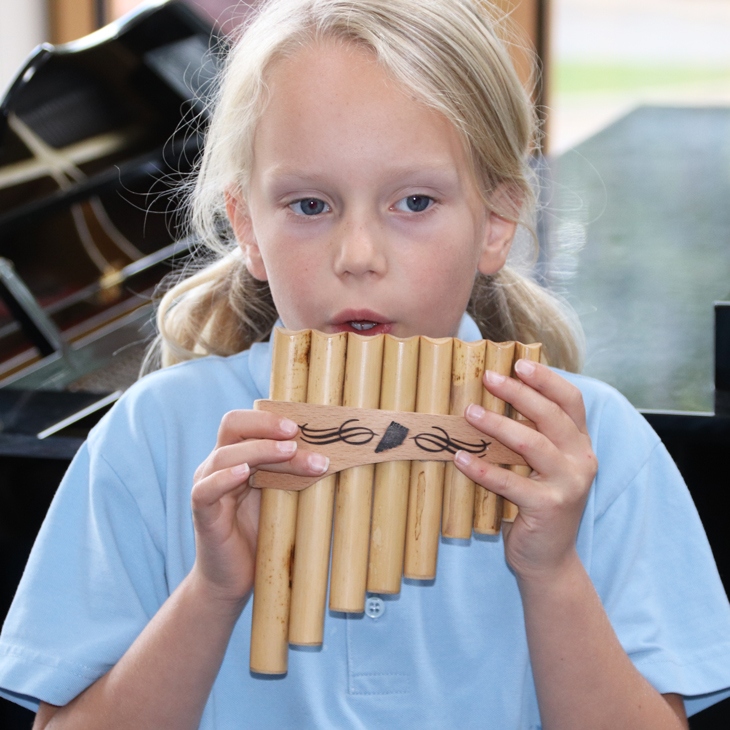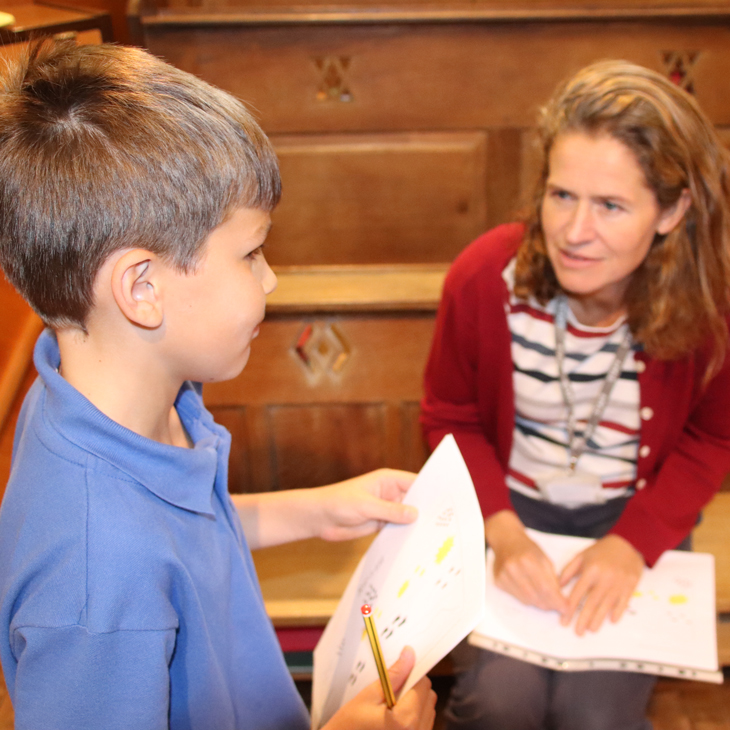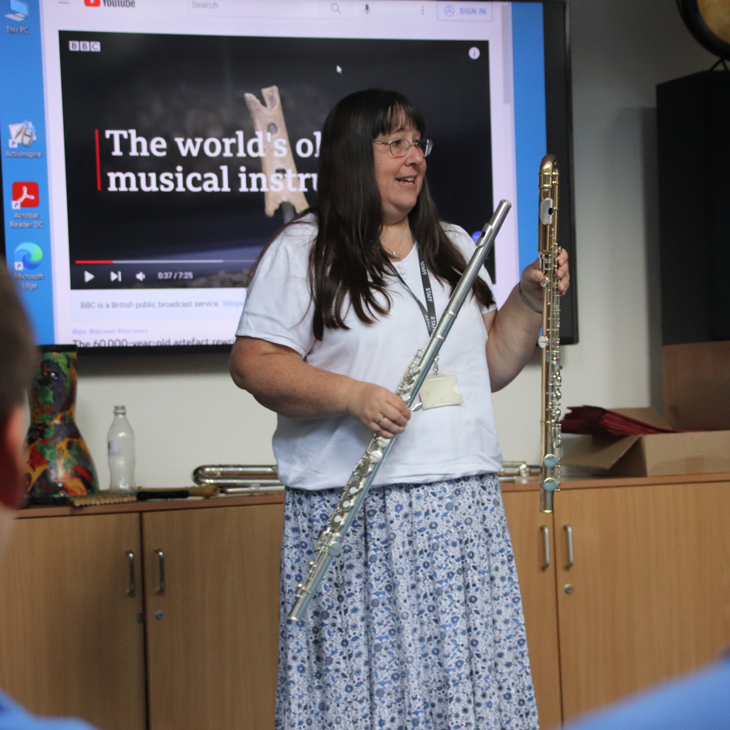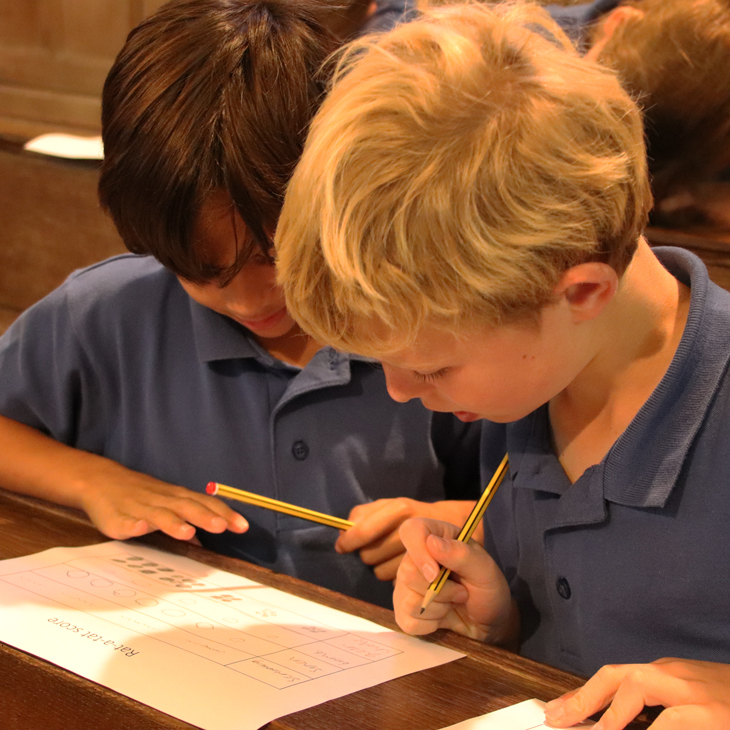 It's been a busy week in the Music department for Year 4. In their class lessons, they have been taking up the roles of composer and conductor as they bring the sounds of a Second World War battle into a graphic 'rat-a-tat' score. With the composer's hat on, they used texture and dynamic to create both structure and drama, not forgetting the powerful use of silence. Then, as conductors, they conveyed their intentions to the musicians so they could give a convincing performance. They have also been treated to a flute demonstration session with Mrs Craven, showing how the instrument has evolved from bone and wood to the instrument of today – in all its different shapes and sizes. We were only missing the subcontrabass as there are only four of them in the world! The children all had the opportunity to have a go at playing the flute and hopefully some budding flautists will emerge.
Mary Hall, Year 4 Music Teacher
Year 5 Developing A Real Understanding Of Maths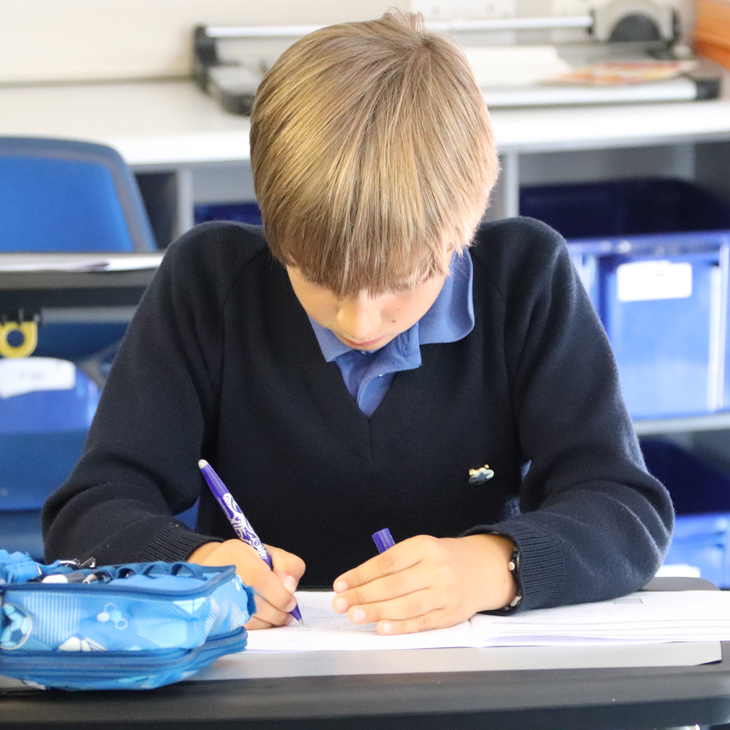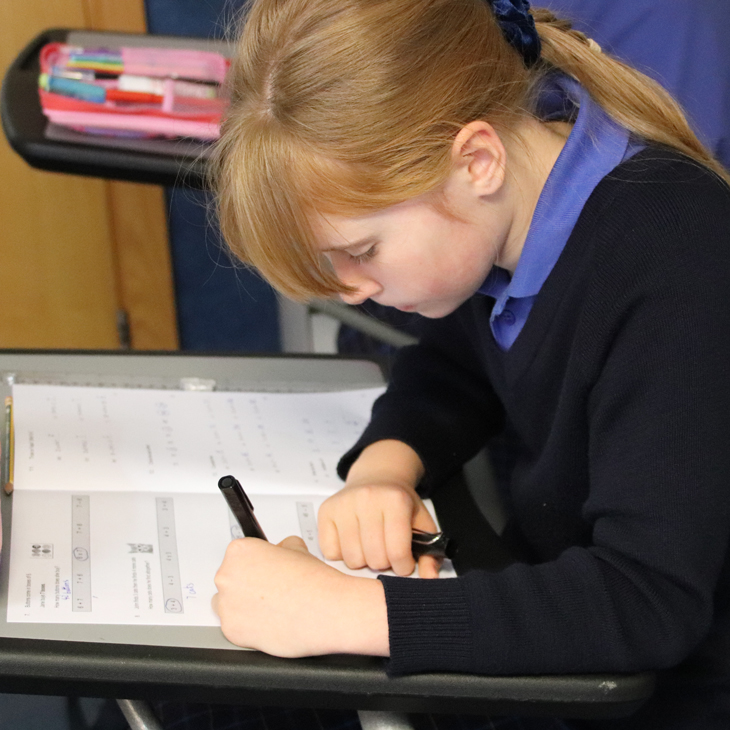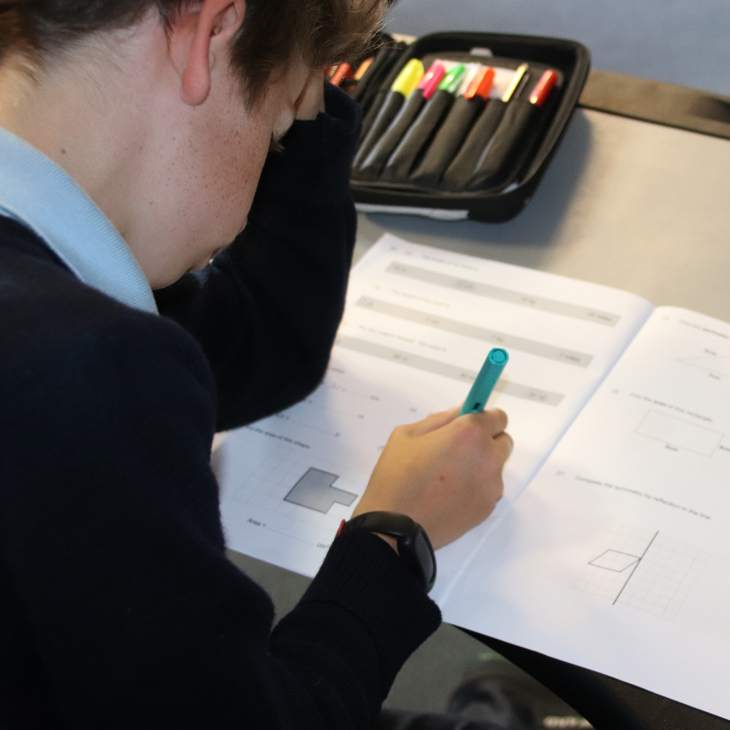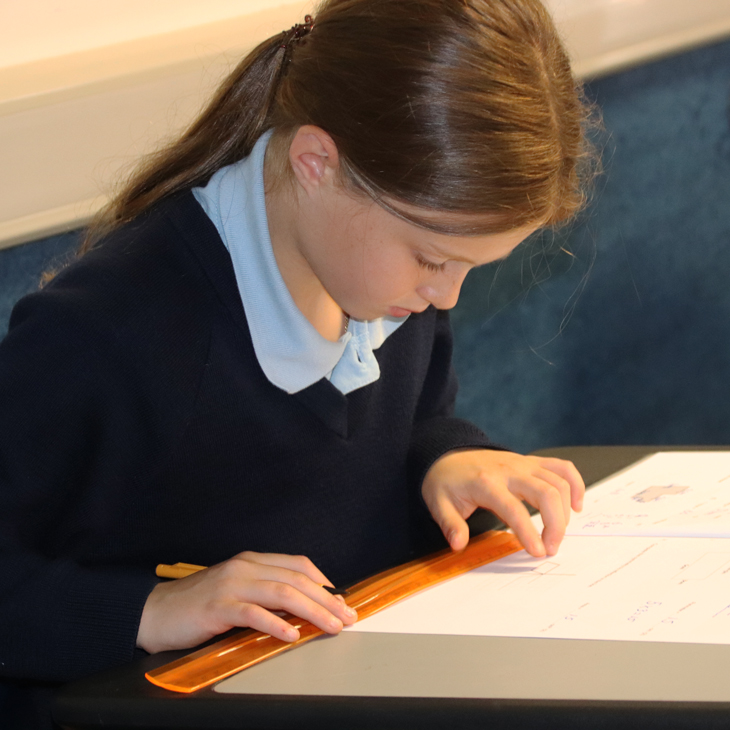 A major element of Year 5 Maths for the first couple of weeks of the year is increasing fluency in times tables, not just through practice but also through developing understanding, using reasoning and finding patterns. As a result, we are seeing a huge increase in scores. This fluency gives the children so much confidence in so many areas, not just arithmetic; spotting factors in larger numbers gives them the key to fractions, ratio and algebra… and they are loving it! The Year 5 children also took a basic test this week. Familiarity with regular tests means they can take them in their stride, with no worries or thought of revision or special preparation. It simply becomes routine. A test so early in the term is is also very useful as it brushes off a few summer holiday cobwebs and helps teachers know what areas need a bit of practice and consolidation before moving on. Foundations are so crucial; secure understanding is more important than cramming in topics. Aside from the routine work, children are also inspired and challenged with regular little puzzles and problems to really make them think. It's been a great start to the year.
Patrick Davies, Head of Maths
Year 6 Artists Get Everything In Proportion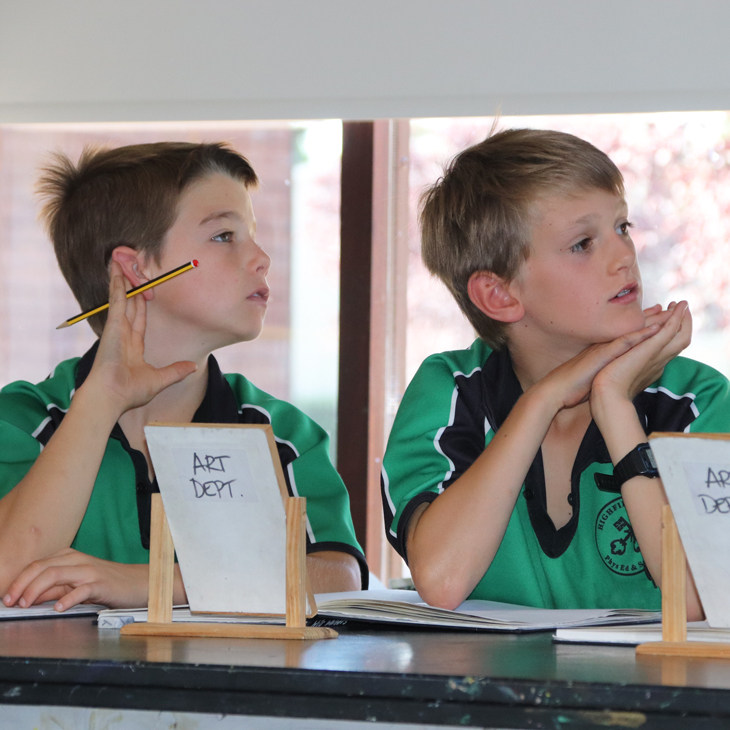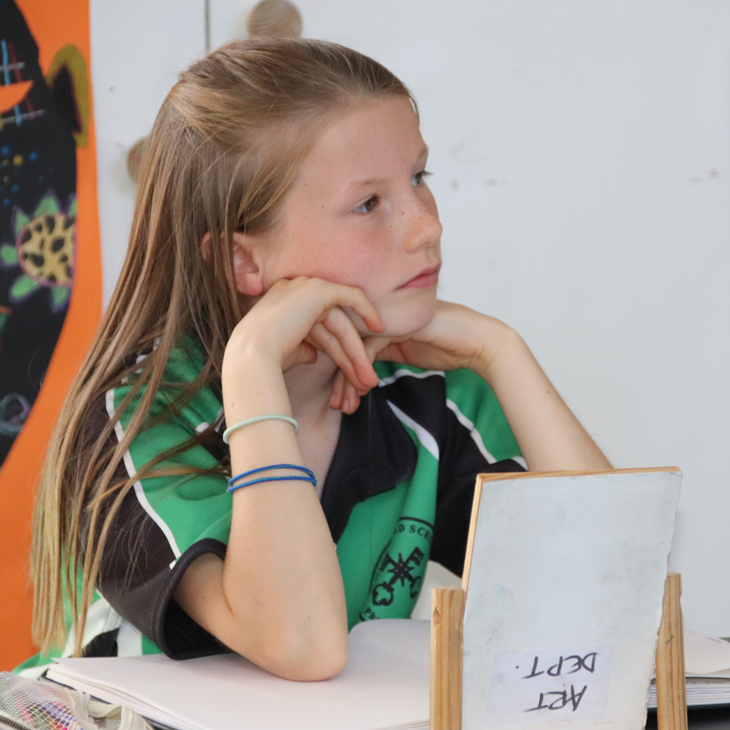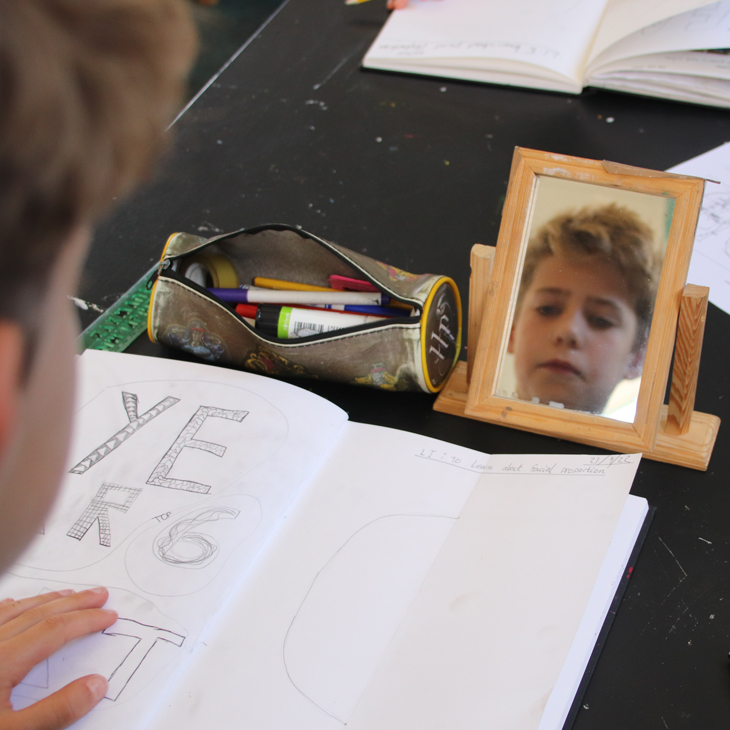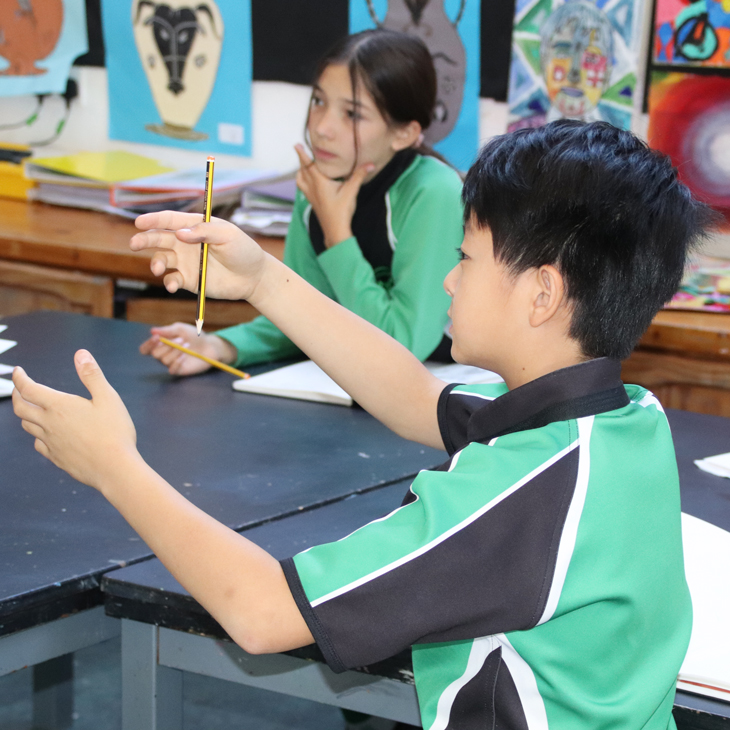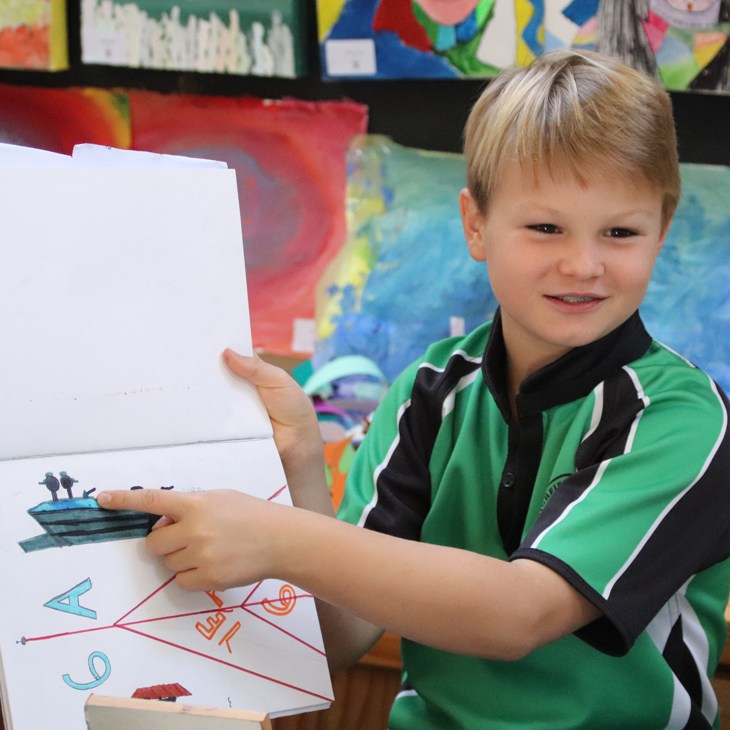 Year 6 had fun learning about facial proportion. They can tell you lots of interesting information on how to draw a portrait – perhaps they can show family members at home to consolidate their learning in the classroom? Did you know that the length of your ear should run from the top of the eyebrow to the bottom of the nose and that five eyes should be able to fit into the entire width of your face? When teaching these sketching rules, pupils use their kinaesthetic skills to measure findings using their own hands and fingers and this helps to retain their learning, as well as making for a more exciting lesson. The next step was for pupils to admire their gorgeous reflections in a mirror and to draw themselves using the skills they have learned. We will be moving on to drawing a portrait of Buddha next. Well done, Year 6, it's been a wonderful start to the new school year.
Olga Houghton, Head of Art
No Hard 'Cell' Needed As Year 7 Relish Scientific Work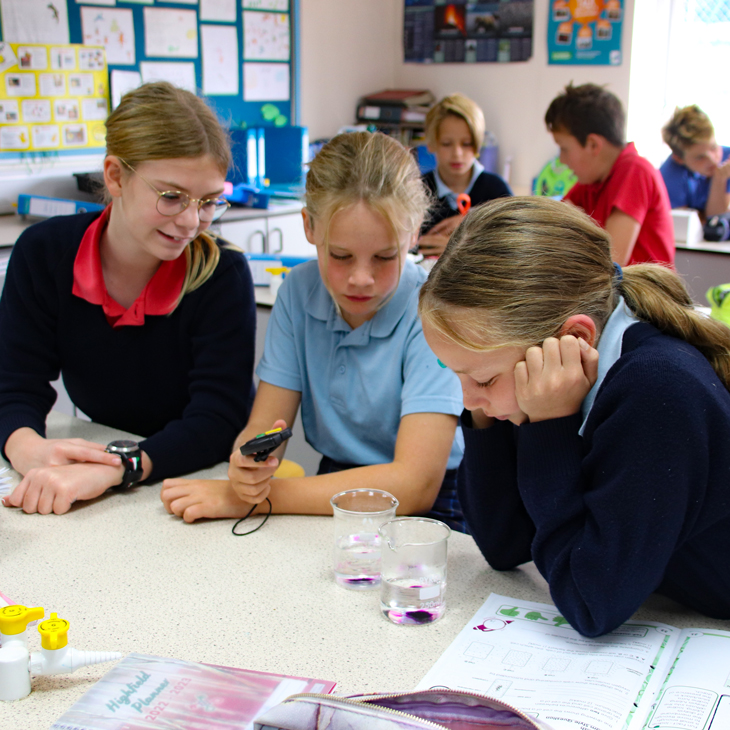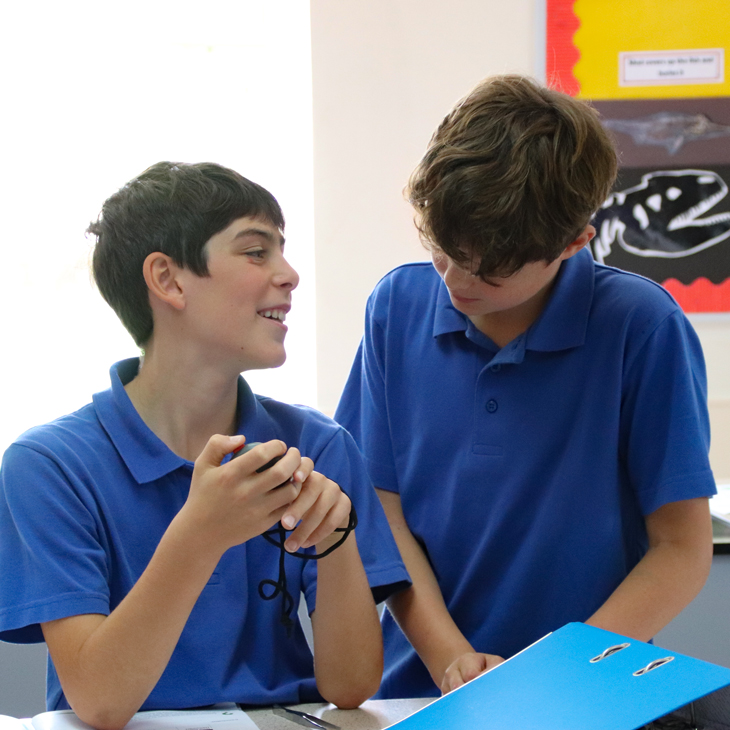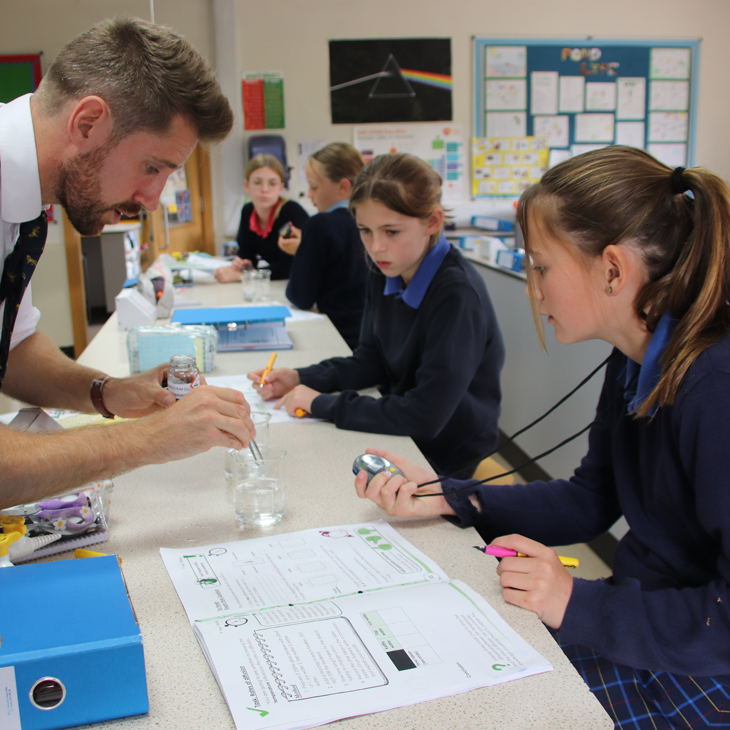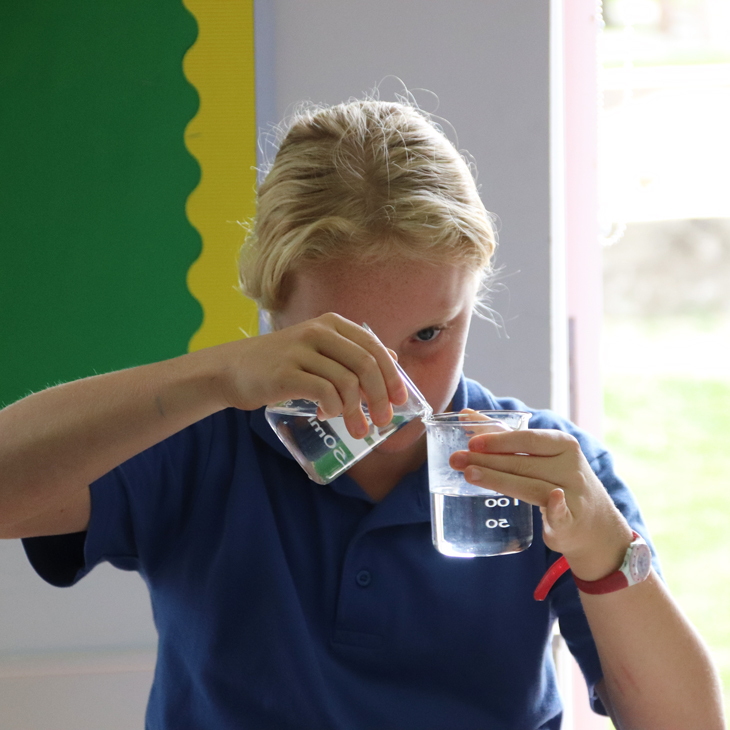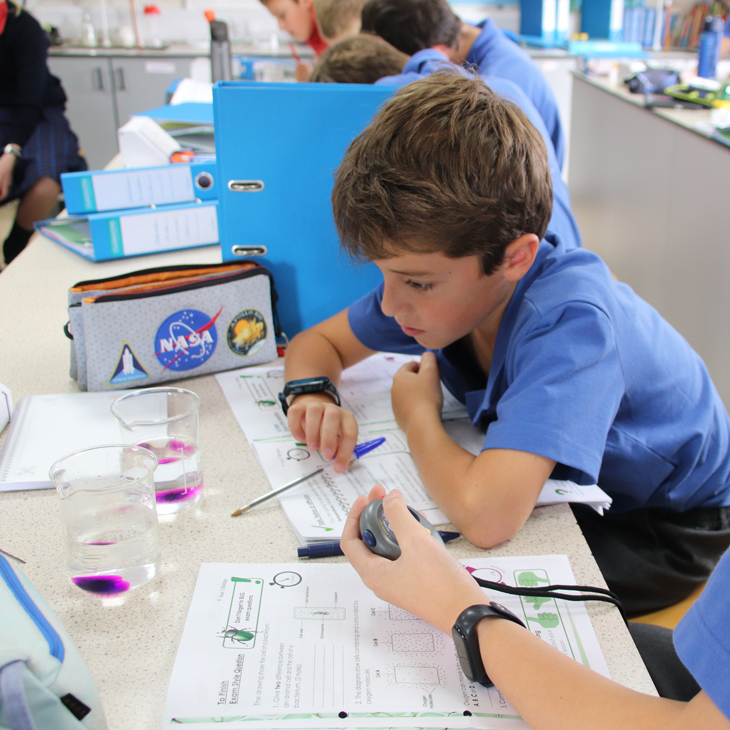 It's been a busy start to the term for our Year 7 children in Science. They have been focusing on the structure and function of living things, namely cells and organelles. This included learning the differences and similarities between animal and plant cells before swabbing the inside of their cheeks and creating slides to observe their own cheek cells under the microscope. The young scientists undertook a similar process with onion cells, minus the swabbing! Year 7 have also been learning about diffusion, and how this relates to the movement of molecules and particles within the cells inside our own bodies. They used potassium permanganate crystals and water at different temperatures to observe how the particles spread randomly from an area of high concentration to an area of low concentration. Next, they will learn about the effect drugs have on the body and will collaborate in small groups to create a 30-second advert on the short and long-term effects of drugs in our system, interspersed with any interesting facts and whether or not the drug they chose – alcohol, smoking or marijuana – is legal. Who knows, we could see their adverts make it to the big screen. Watch this space…
Oliver Hamilton, Head of Science
Early-Season Promise As Year 8 Start To Gel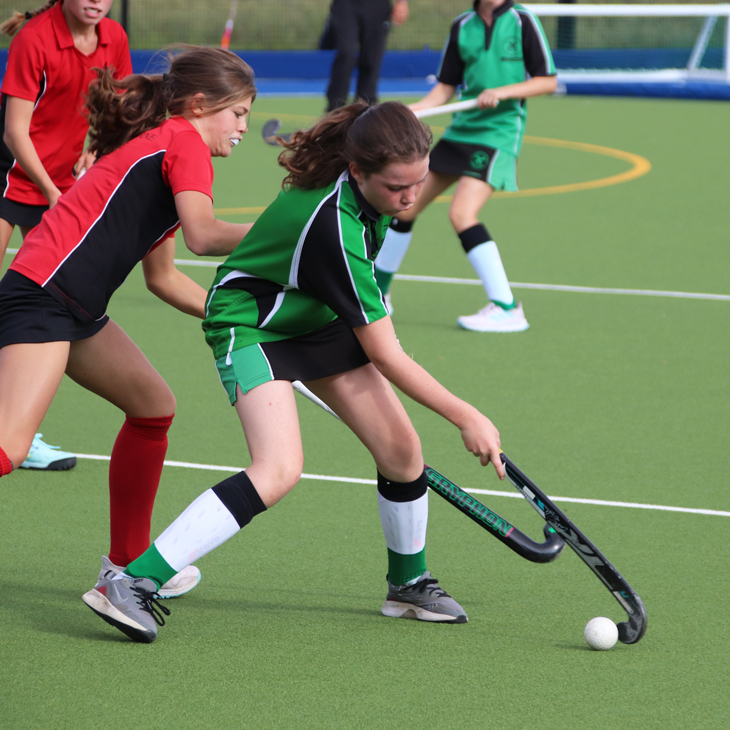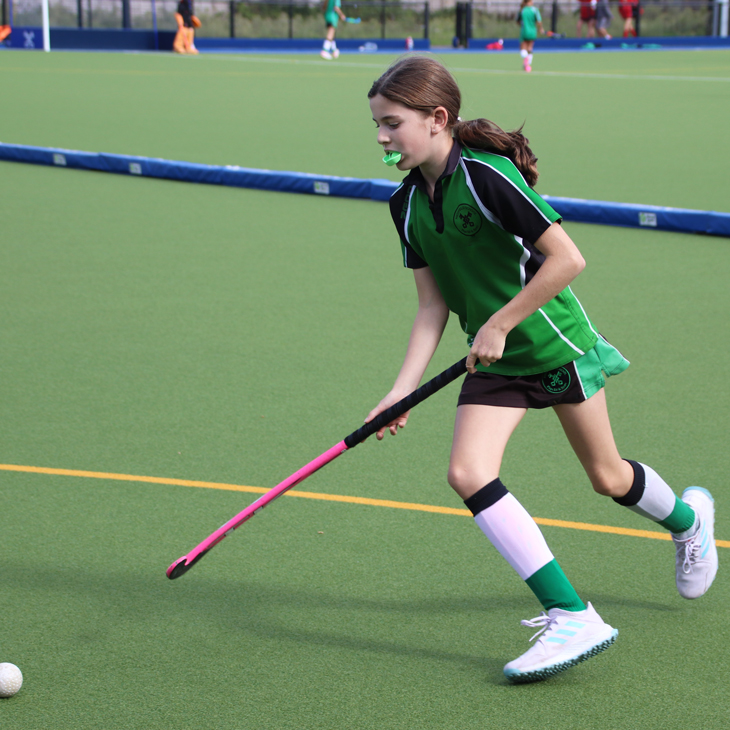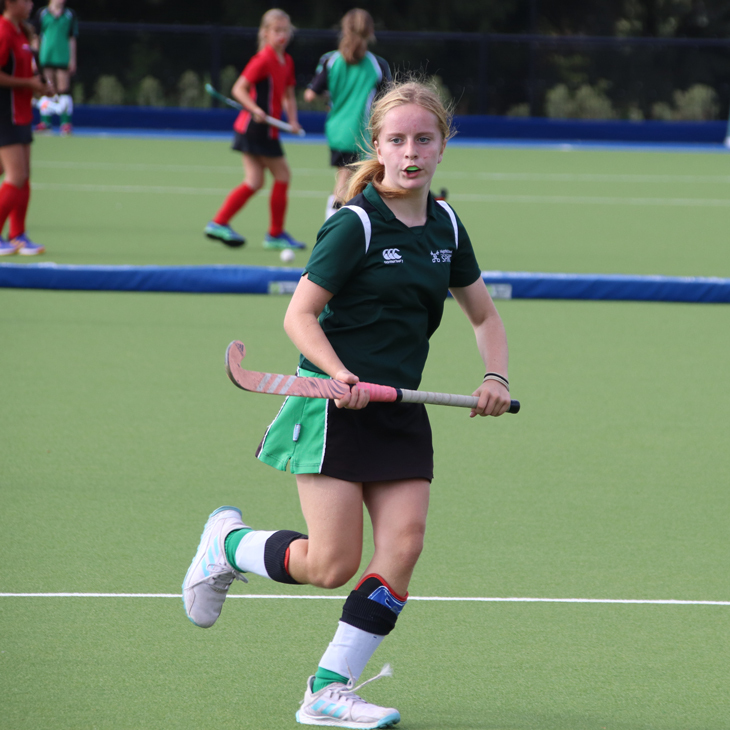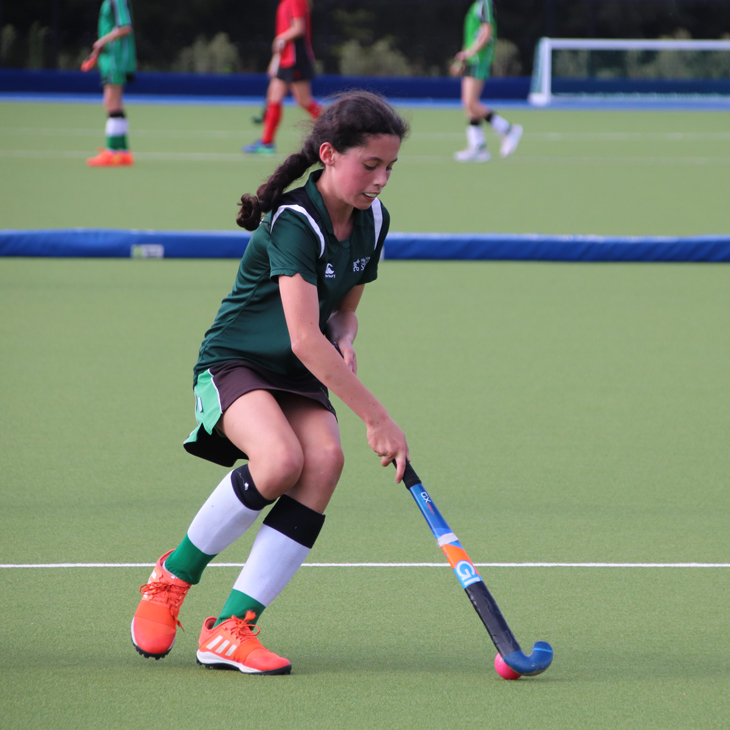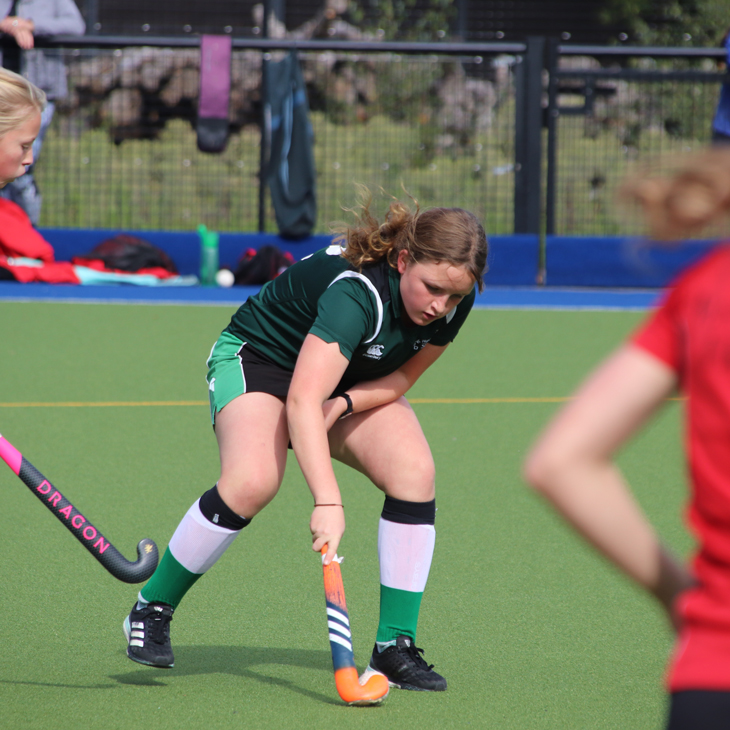 The first team continued their strong start to the season with a great performance at home to Westbourne House. After a successful tournament seven days earlier, Highfield welcomed two Year 7 girls to the team, Genny H and Imogen K. Highfield made a positive start to the game, pressing and hassling the visitors with great tenacity, and this hard work paid off as they won the ball high up the pitch where Emily S was on hand to score. Captain Emily has started the season on great form, following her six tournament goals with three more against Westbourne. Her second goal was particularly memorable as she picked up the ball up on the halfway line, dribbled past the Westbourne defence and found the net via the inside of the post. Highfield sealed a fine win with a goal from Tallulah B after a great passing move. After another good showing by the girls, an exciting season definitely lies ahead.
Rob Dilworth, Girls' 1st XI Hockey Coach
Highfield seconds played Westbourne in their first fixture of the season, with the Year 8 girls joined by a nice blend of Year 7s. After a lively start at both ends, Westbourne took the lead with a neat finish. But Highfield hit back with two quick goals, the latter set up by some excellent stick work from Dee Dee S, who beat two defenders before setting up a tap in at the back post. Highfield were then forced back as the visitors sought an equaliser, doggedly repelling attacks before Westbourne finally broke through to send the teams in at half time level at 2-2. Both teams went on the offensive at the start of the second half but it was Westbourne who retook the lead. Undaunted, Highfield attacked relentlessly and deservedly found an equaliser that their attacking play deserved. But the home side's hearts were broken in the dying minutes as Westbourne produced a winner to settle a tremendous match. All of the girls should be very proud of their performances.
Elliott Hall, Girls' 2nd XI Hockey Coach
Highfield thirds had a positive start to their campaign, despite the visitors from Westbourne securing a 5-2 win. The home side worked well together and put plenty of pressure on Westbourne throughout. When they attacked, they were focused and kept their communication clear and decisive. But they were at times a little naive when Westbourne attacked as the defence, so eager to move forward to support their own team's attacks, left gaps at the back that Westbourne were able to exploit, hence the visitors led 3-1 at the break, with Highfield's goal scored by Georgia S after good work by Annabel H. Westbourne scored twice more in the second half but there was no faulting Highfield's effort as the girls worked tirelessly and played well as a team from the first minute to the last. And their never-say-die attitude was rewarded when Georgia and Annabel combined to set up Flora D for a late consolation goal. The girls displayed impressive team work and perseverance all game against a strong Westbourne House side and will continue to develop their passing, intercepting and defensive skills while remaining driven and enthusiastic. They should be proud of themselves!
Helene Pidebois, Girls' 3rd XI Hockey Coach
A talented group of Highfield 4th XI girls had a brilliant tussle against Amesbury, playing with great spirit, working hard, and always supporting each other. Despite going two goals down, the Highfield girls, led by Breanna K, showed great perseverance and clawed their way back into the game as fine displays from the front three of Coco B, Lella B and India L always had the Amesbury defence on the back foot. However, it was Highfield's defence that really stole the show as Sophie Z and Shona O were in sensational form, working hard and stopping many Amesbury attacks. Despite these heroics, Amesbury ran out winners, but the girls can take a lot of credit for their hard work and determination throughout. It was an enjoyable match to watch and all the girls left the game with beaming smiles.
Isabella Wan Adnan, Girls' 4th XI Hockey Coach
In one of the most entertaining games of the day, both teams were determined to play attacking hockey with a view to scoring as many goals as possible. The game constantly went from end to end but it was Westbourne who converted more of their chances to secure the win. But the Highfield girls must be commended for their high levels of effort and skill. Many of the girls finished the match red-faced, a real pointer to their resilience and work rate as they supported each other throughout. Despite the result, there really were lots of positives to take from this entertaining affair.
Rob Dilworth, Girls' 5th XI Hockey Coach