Nursery Cooking On Gas To Produce Perfect Pancakes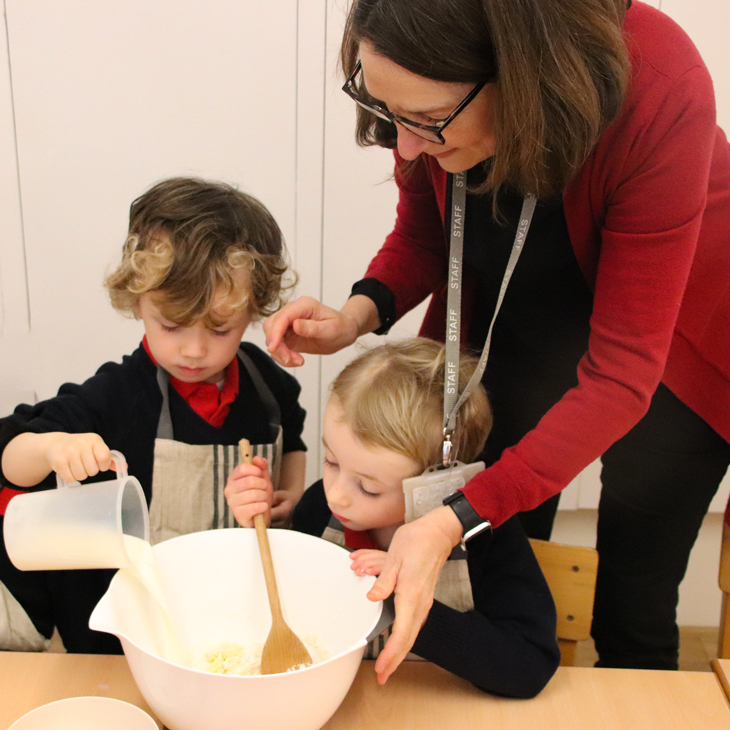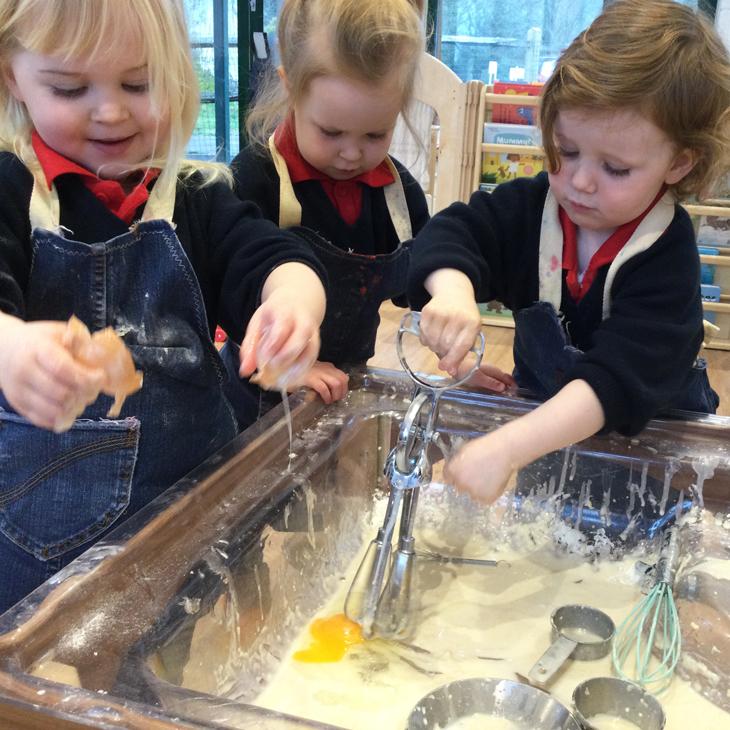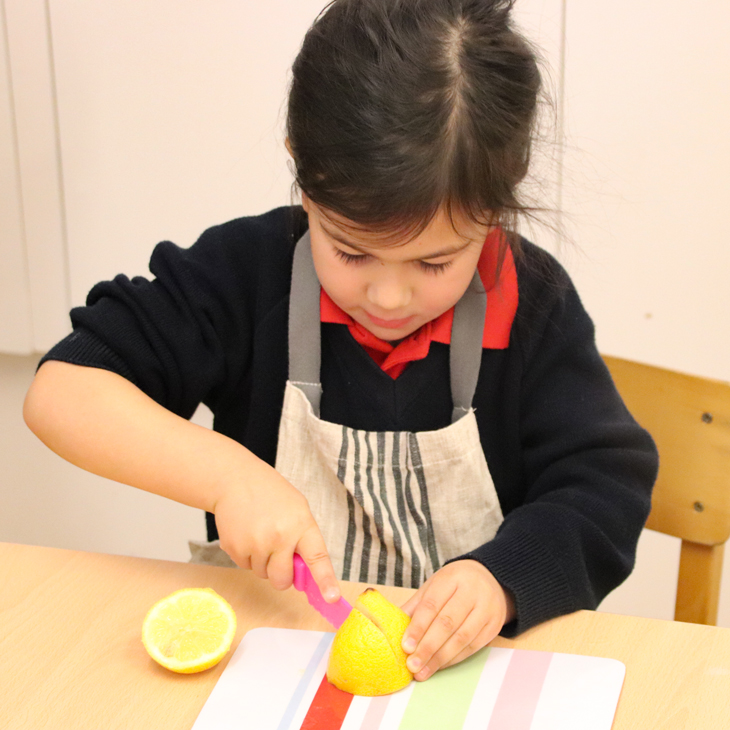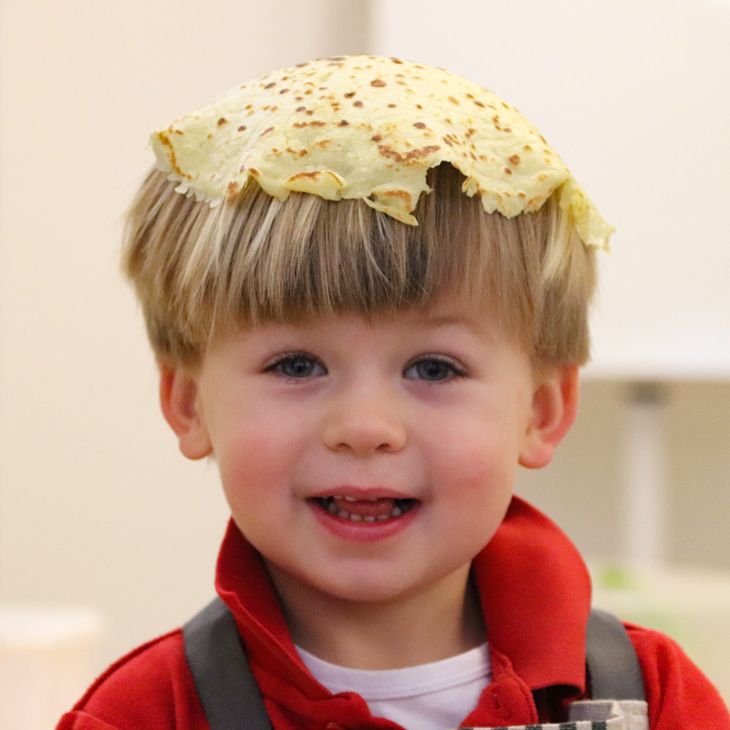 Things were certainly cooking in the Nursery kitchen this week as the children produced a veritable pile of pancakes to mark Shrove Tuesday. The pancake project provided the perfect opportunity for the children to develop their personal, social and emotional skills by cooking together. Satisfied that they had all the ingredients they needed, the eager young chefs got to work. Collaborating beautifully, the children got busy measuring, whisking and pouring; paying particular attention to Mrs Forster's amazing chicken, bantam and duck eggs, which came in all different shapes, sizes and colours and really piqued the children's curiosity. Using eggs, flour and milk, and just a hint of salt, the children worked in pairs to create the perfect pancake batter, with just the odd lump left in for added flavour! Then came the cooking – with a little help from the adults – and the flipping, which sparked much hilarity as not all the pancakes ended up where they should have! No matter, with their newfound confidence and pride in their amazing culinary accomplishments, the Nursery children did what they do best and came together to sample their delicious snacks.
Penny Hodnett, Nursery Class Teacher
Reception Bend To The Wide-Reaching Benefits Of Ballet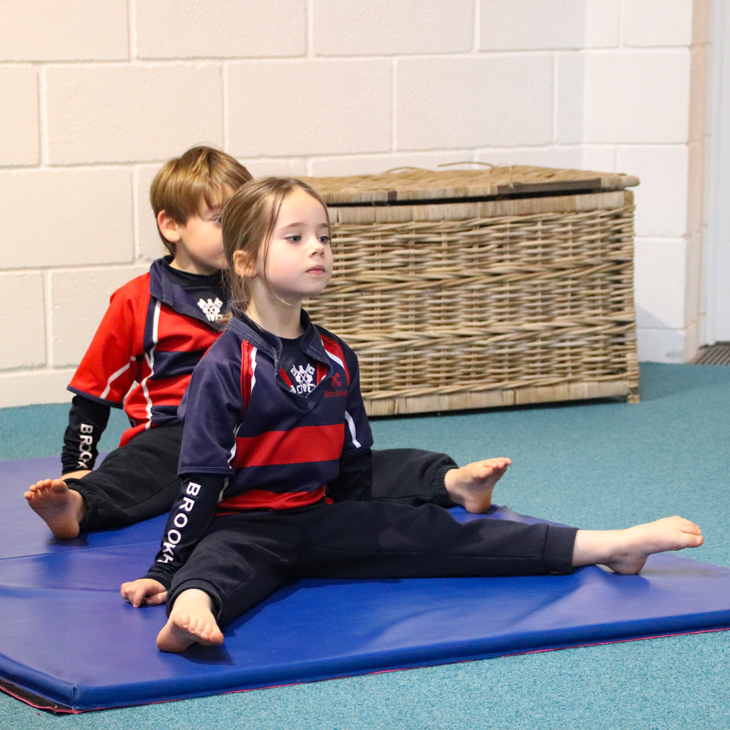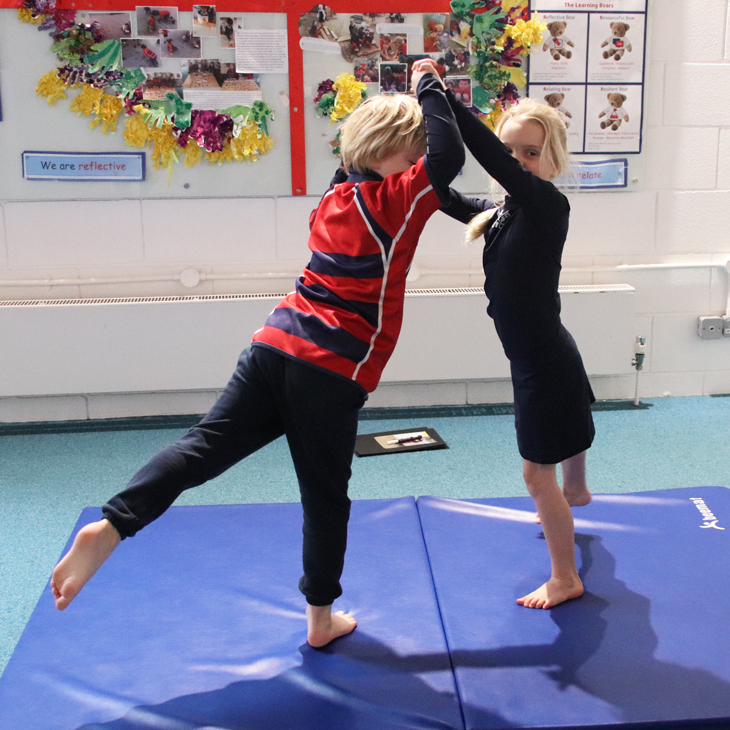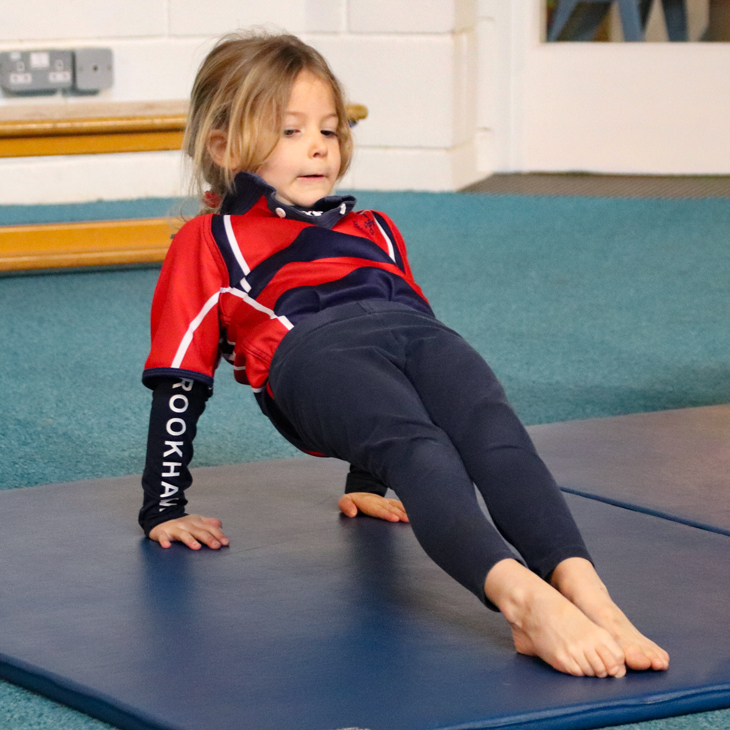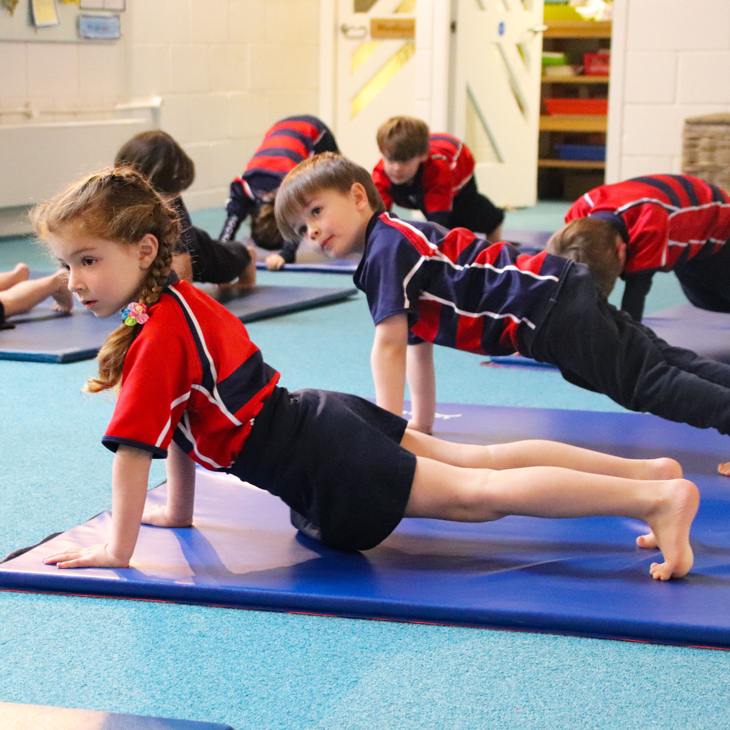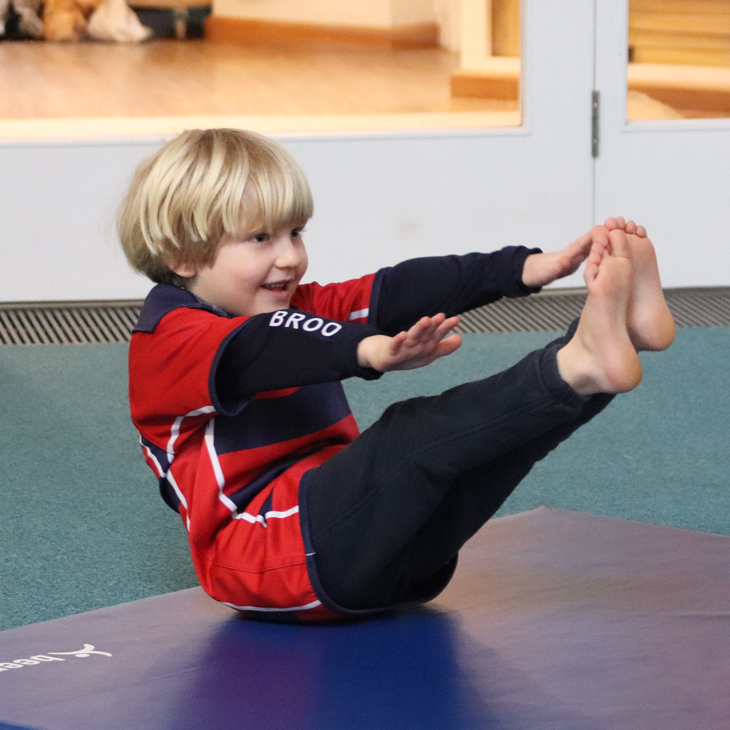 Weekly Ballet lessons are always a firm favourite with the Reception children. Expertly taught by Mrs Oecken, the sessions always begin with a warm up to prepare the children for the lesson ahead. Ballet helps the children think about their core strength, the development of which helps gross motor skills, fine motor skills, stability and balance, all of which enhance the ability to write and work in the classroom. This, in turn, affects their ability to coordinate more refined movements which are repeated in every Ballet session so that the moves can be perfected and developed further. While refining their moves, the children are being reflective learners; adapting and thinking about how their performance can be improved while also taking on board advice from their supportive audience. So while Ballet itself is taught only once a week, the skills developed during these sessions constantly help the children immensely in their learning across the curriculum. This week, the children have loved expressing themselves through their brilliant dinosaur dance, which will be showcased in a few weeks' time during the Reception assembly performance. Be prepared to be wowed by the children's superb moves!
Georgie Hunter, Head of Reception
Forest School Foray As Year 1 Delve Into Habitats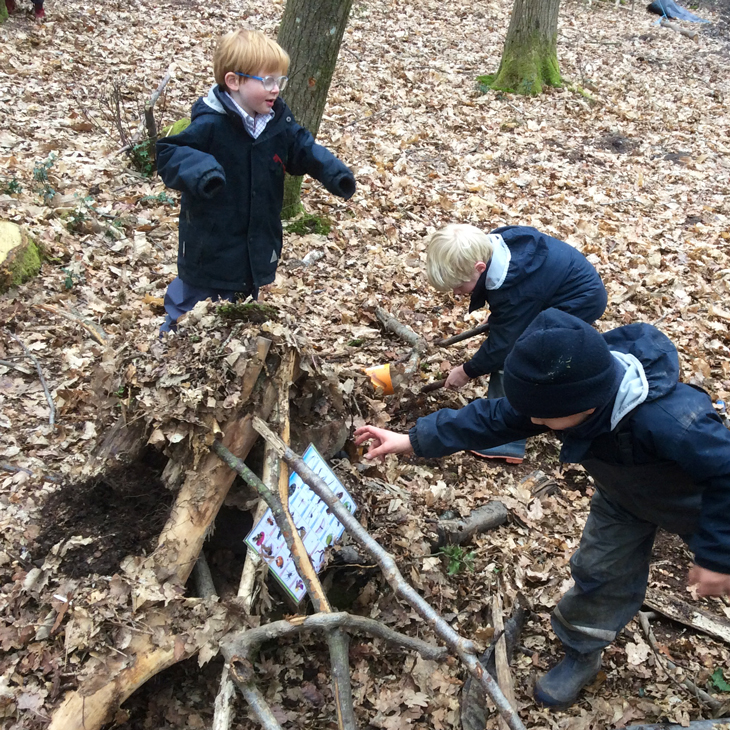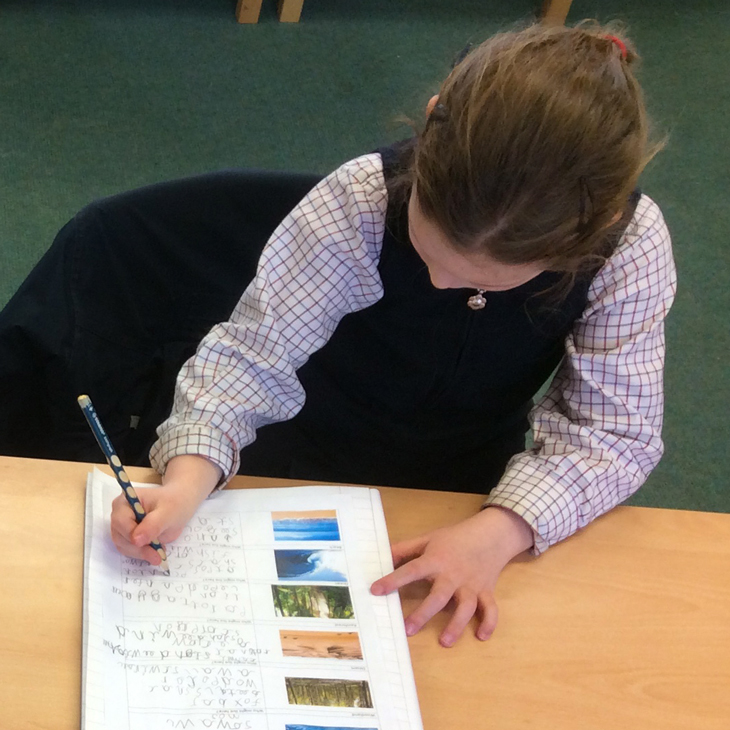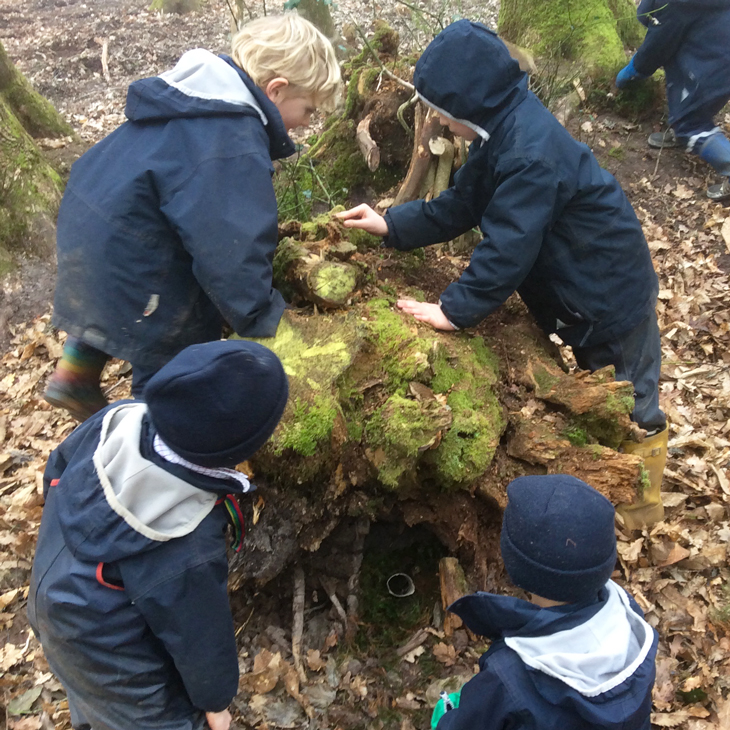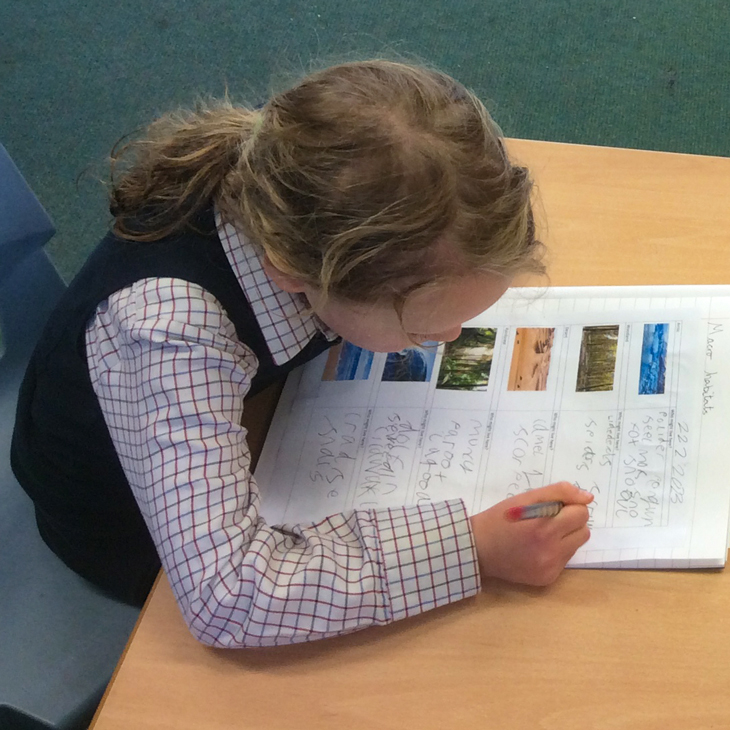 The inquisitive Year 1 children have used this week's Science lessons to explore the school grounds; looking at both animal behaviours and habitats. As a group, the children pondered how best to group certain animals; introducing some key terminology such as 'minibeast' and 'invertebrate' to help with that particular task. Working with their learning partners, the children then looked at the similarities and differences between the various habitats that they found during their woodland exploration. And some interesting discussions followed in a bid to discover why minibeasts choose the habitats they do and what their needs, habits and diets are. The children's enthusiasm and understanding of the natural world was clearly apparent when we had some informed, mature and interesting discussion surrounding a range of macro and micro-habitats. The ever-thoughtful children have also been enthusiastically designing and building minibeast hotels during their beloved trips to Forest School. And carefully considered locations have now been selected on our wonderful woodland site based on the children's newly-acquired knowledge. It's safe to say there's an air of excitement surrounding the potential new inhabitants of these lovingly-built bug hotels. It's also safe to say that it's been another busy, fun-filled and successful week in Year 1!
Rebecca Lane, Year 1 Class Teacher
One Small Step For Year 2, One Giant Leap For Mankind…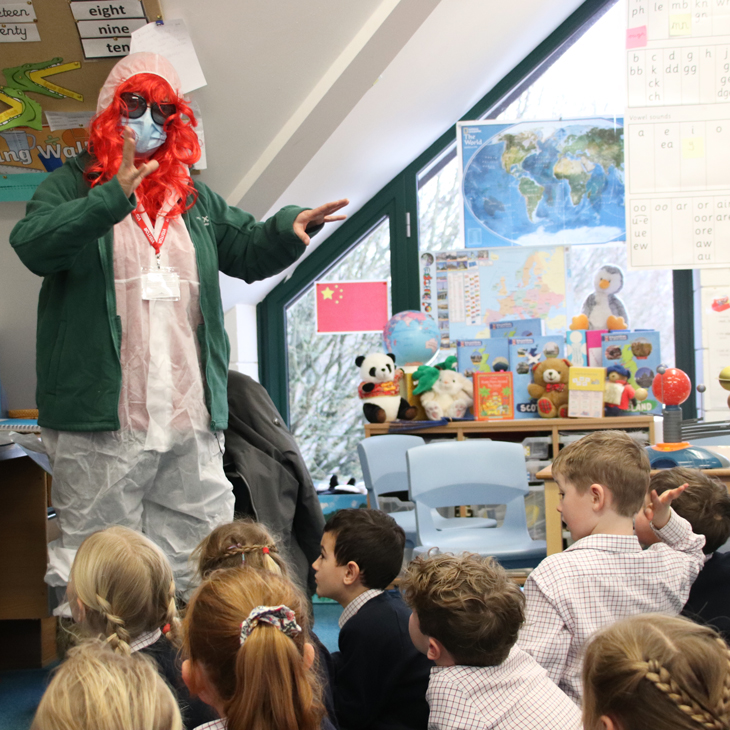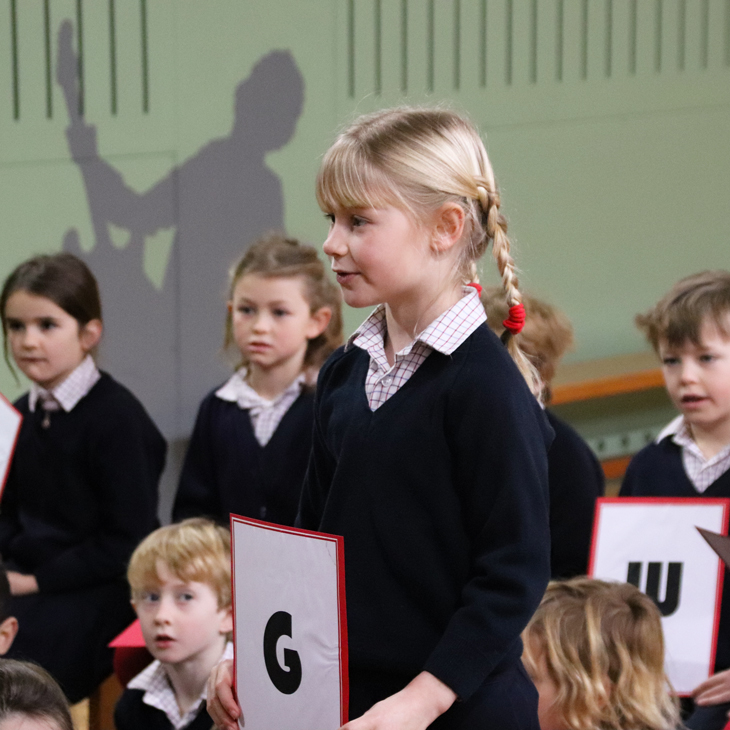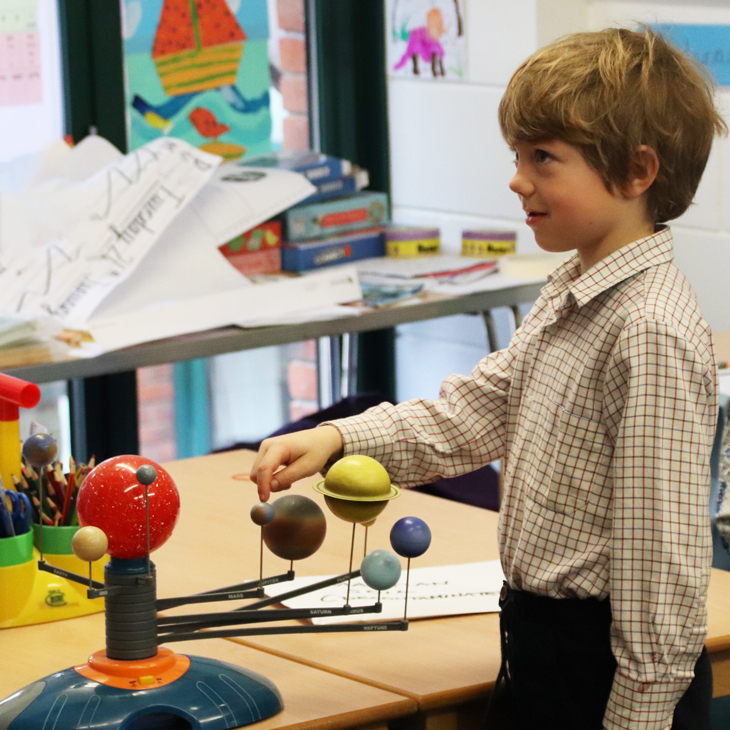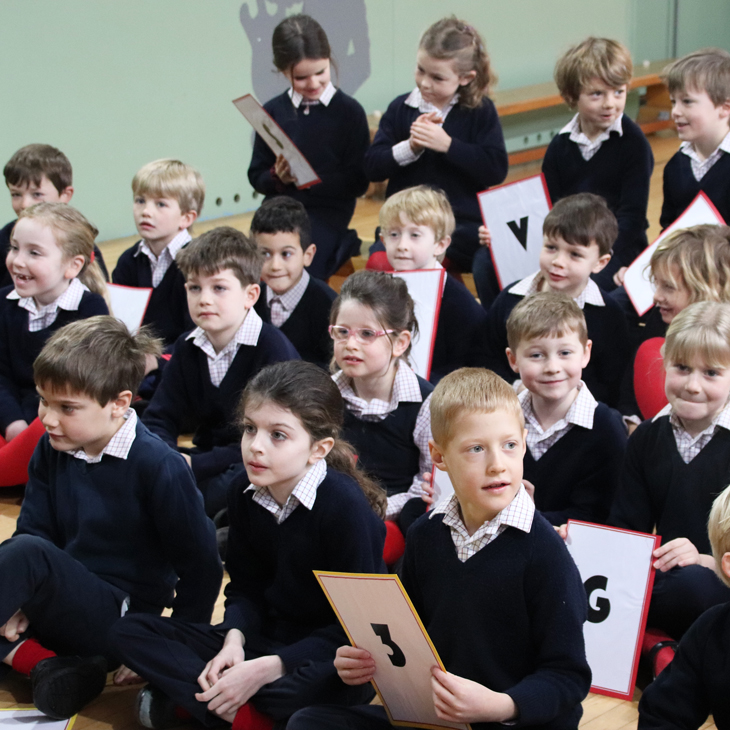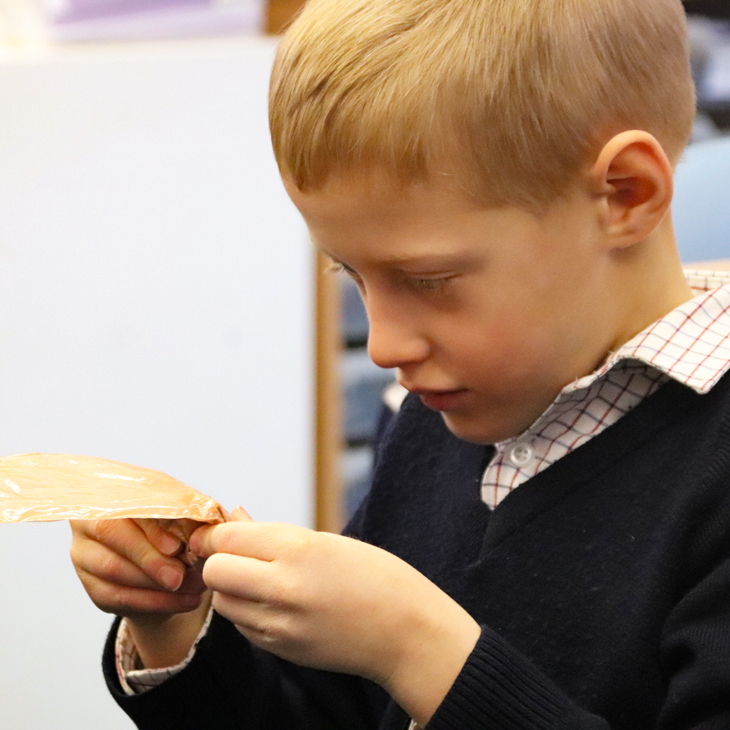 In 2024, NASA will be aiming to send a crew of experienced astronauts back to the moon. This is all part of their new space programme, Artemis. These stepping-stone missions will be the start of a greater quest to colonise the Moon and Mars. Future quests will include the construction of a Lunar Gateway and Artemis Lunar Base, which will begin sending humans to Mars using Elon Musk's starships. Jobs that don't yet exist will be at the forefront of the success of human exploration of our solar system. And our Year 2 children are well prepared and eager to become future geologists, botanists, meteorologists, chemists, miners and engineers of these lunar and martian missions. These potential young scientists have been navigating and investigating the truth of mind-blowing facts about our planet, solar system and the endlessness of our universe. And a brief, but detailed, performance was launched to parents during Wednesday's assembly to show exactly what the children have learned – and it was certainly a case of mission accomplished. Cosmic glue, nebulae, electrons, colliding galaxies, neutron stars and the continuous discovery of moons orbiting Saturn were just some of the facts the children so engagingly and fluently shared with their parents. To embellish their celestial learning, Year 2 were treated to a visit from Professor Hootsmen, a passionate conservationist who had to travel for more than two years from the red planet to share her information about Mars and the 'lifeforms' that live there…the Zorbs. Professor Hootsmen told the assembled children that these kind and gentle creatures are under threat from humans who are hunting them for the medicinal properties in their toenails! Having discussed the Zorbs' odd furry, orange appearance and martian insect diet, the children are ready to embark on their next intergalactic adventure; researching and writing a non-chronological report about other interesting lifeforms that may roam our neighbouring planets and moons.
Charlie Millsom, Head of Year 2
Year 3 In Rude Health In And Out Of The Classroom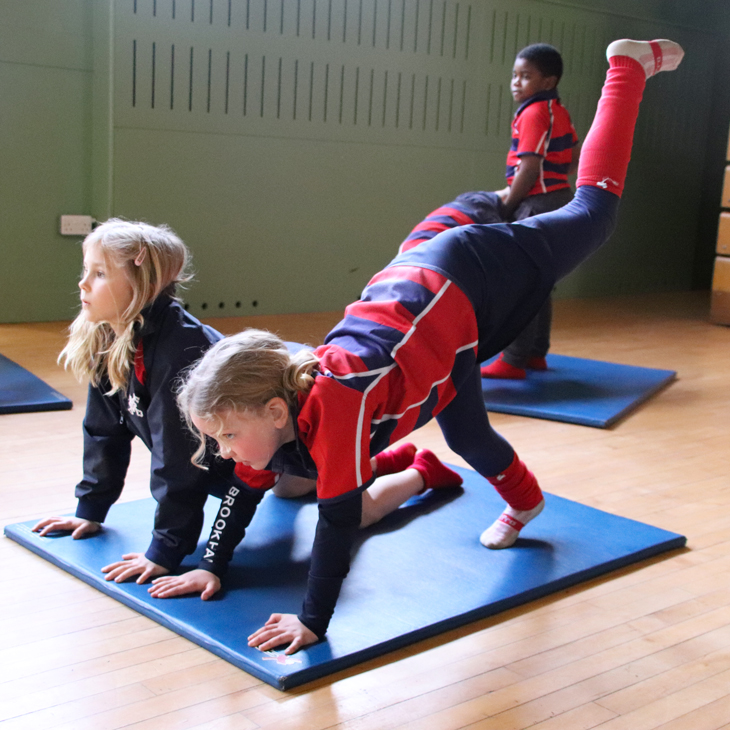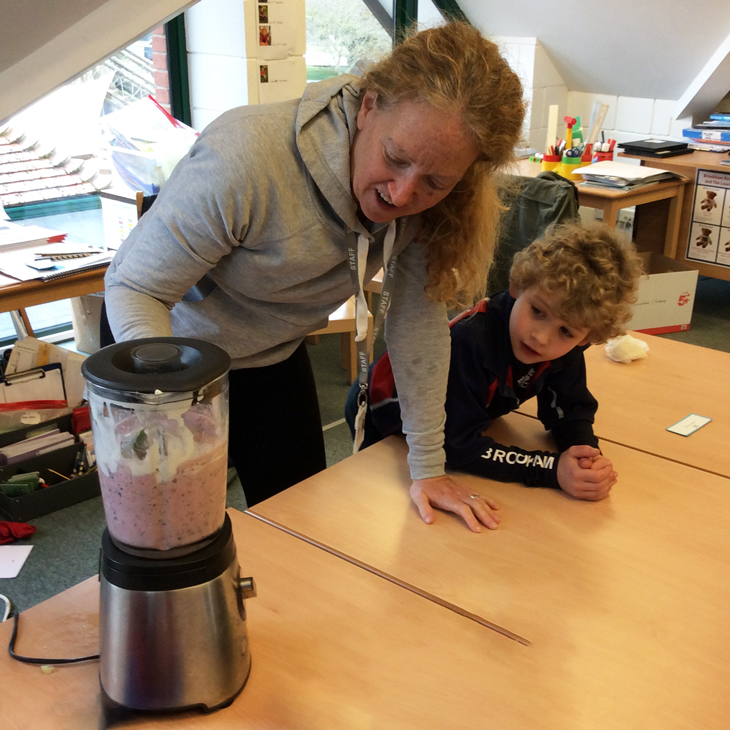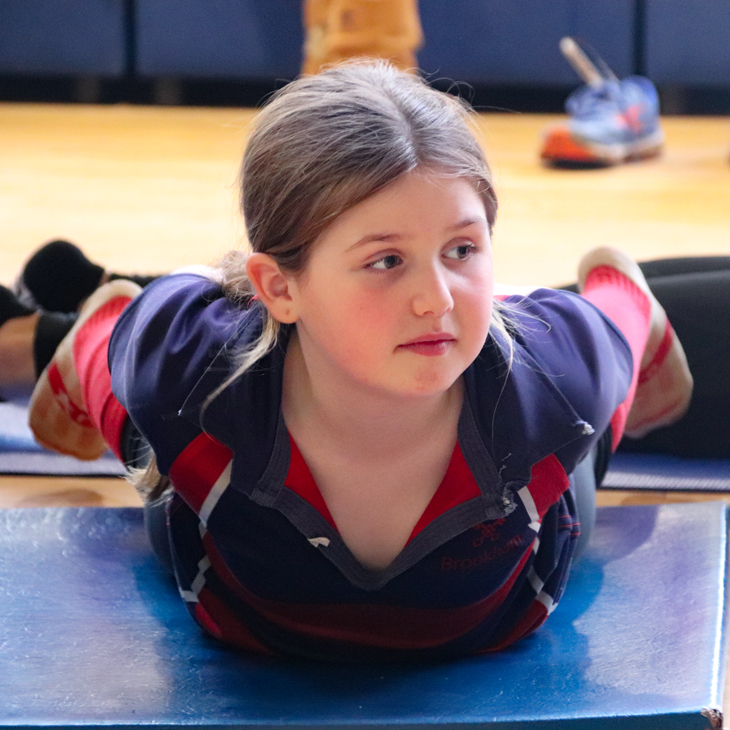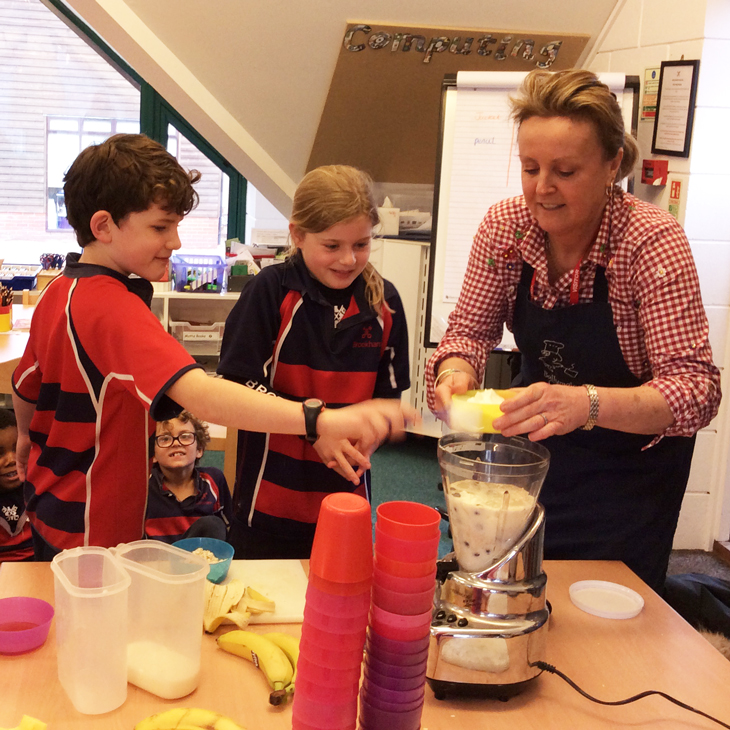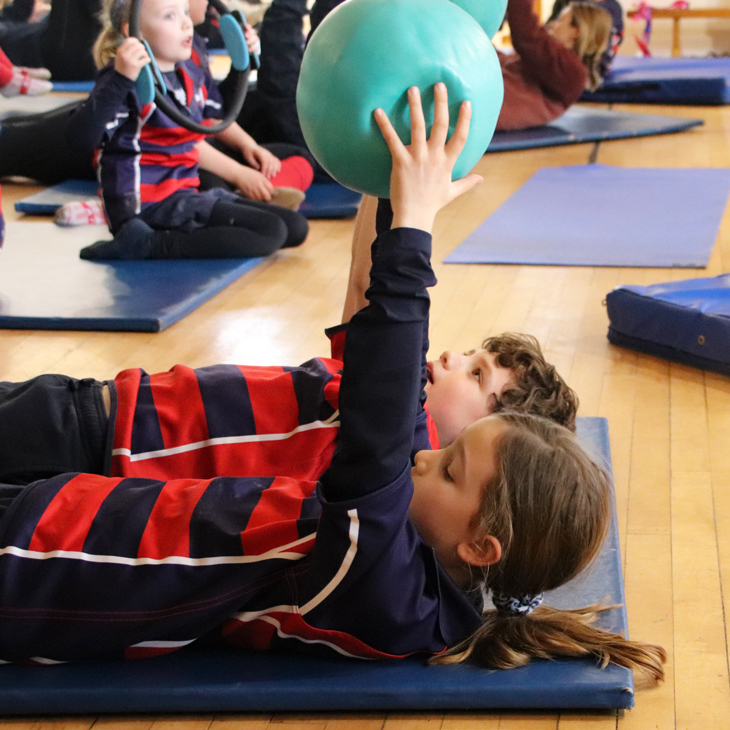 Year 3 have returned to school after the half-term break raring to go. And the industrious children have forged lots of cross-curricular links with this term's 'healthy eating' topic. In maths, the children are learning about length and perimeter, and recording their measurements. They have had such great fun measuring each other's 'wingspans' and had to decide whether to chart their findings using millimetres, centimetres, metres or children! Year 3 did have one tricky moment this week, though, when Mrs Baber spotted that we had been given crisps as part of our literacy hook. Luckily, we also had our usual portion of fruit alongside! The children engaged in some brilliant discussions about whether or not we should have crisps at snack time and how to make a balanced argument. This all fed beautifully into our Healthy Fitness Day, which was an absolute triumph. From smoothies to circuits, the children stretched their minds as well as their muscles; and it was fabulous to see so many of our parents joining in too. What a first week back!
Stephanie Turner, Year 3 Class Teacher
Perimeter And Area Really Starting To Add Up For Year 4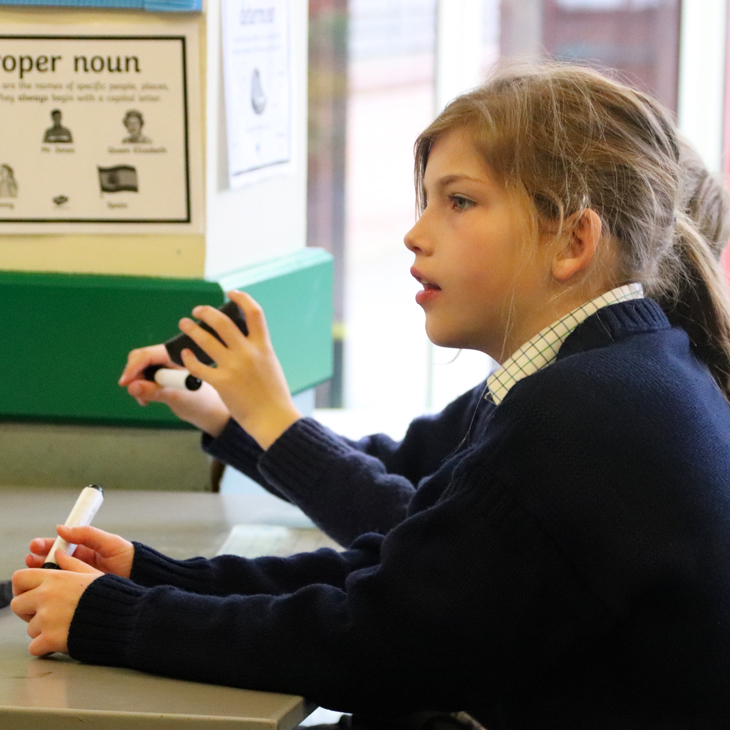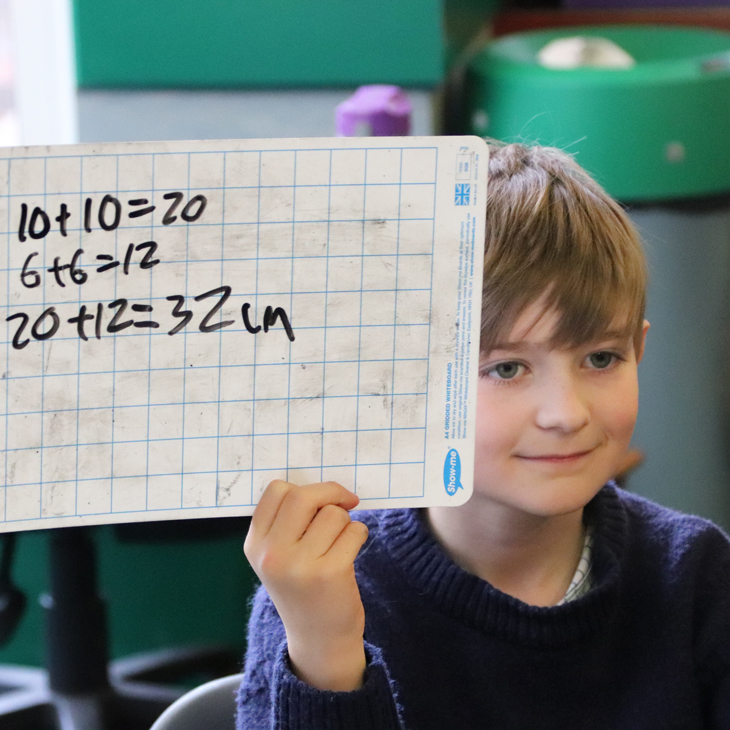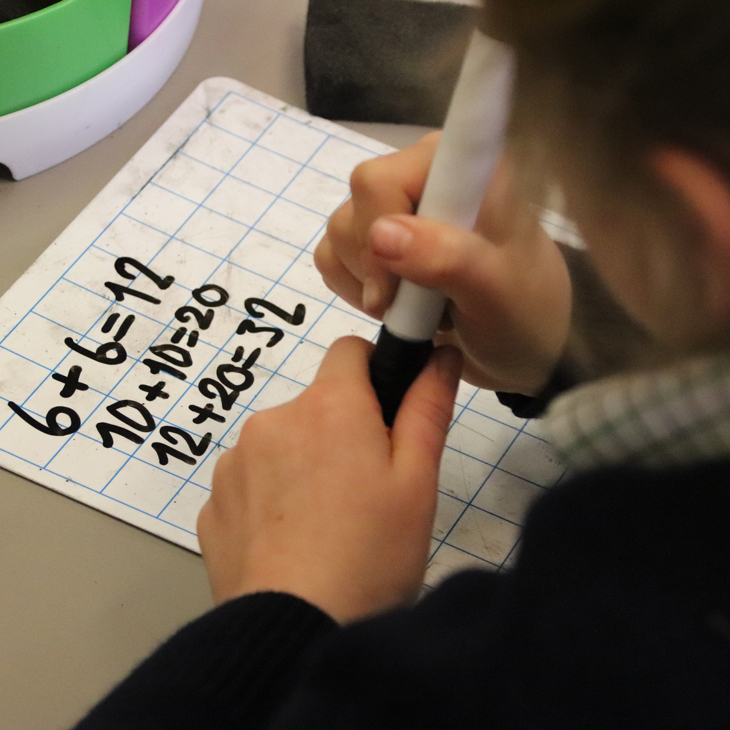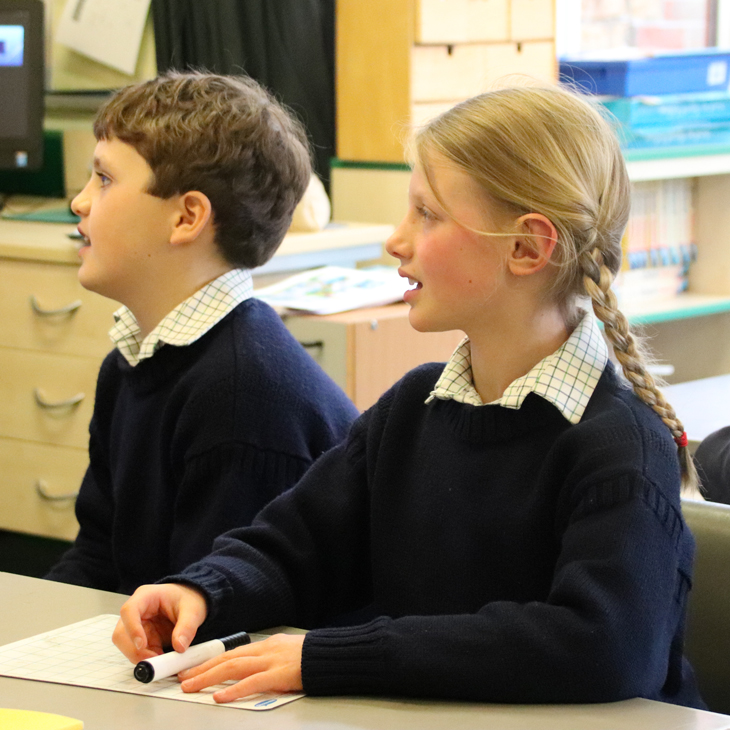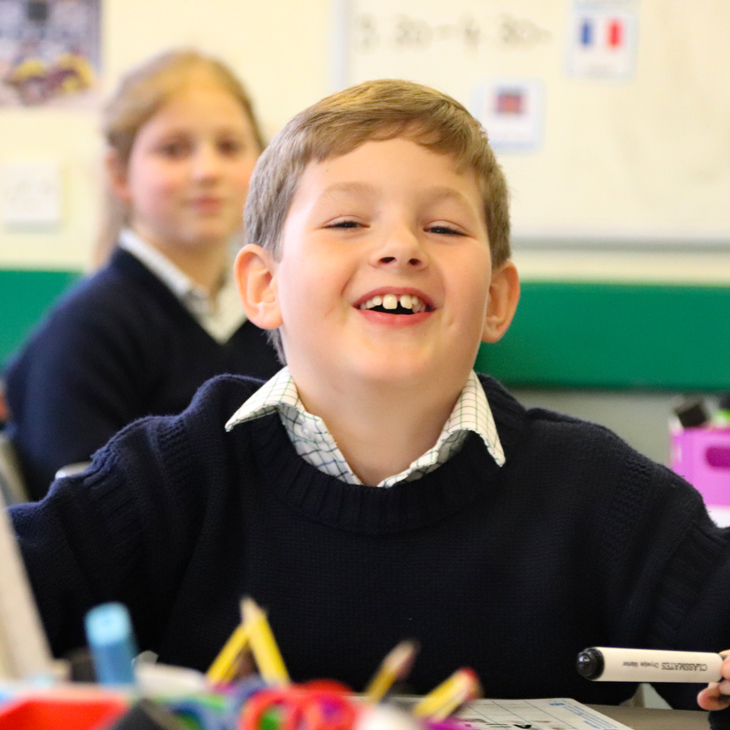 In maths this term, Year 4 are busy studying perimeter and area. Linking with their ongoing Africa-themed topic, the children were this week asked to design a safari park and were given a specific brief. They were told that certain criteria had to be met to maximise available space for the new safari park in Tanzania, and that they would need to use their knowledge of area and perimeter to design the various animal enclosures. Having worked together to discuss what was required for the project, Year 4 worked on squared paper using a key of 1cm2 to 1m2 to plot the positions of their enclosures to house safely all of the native animals. Once the size and location of the various enclosures had been worked out, the children had to revise their plans to include designated feeding and bathing areas. By the end of the collaborative brainstorming, it's fair to say that the whole issue of perimeter and area was really starting to add up.
Louise Doven, Year 4 Class Teacher
Inspired Year 5 Have Contour Work All Mapped Out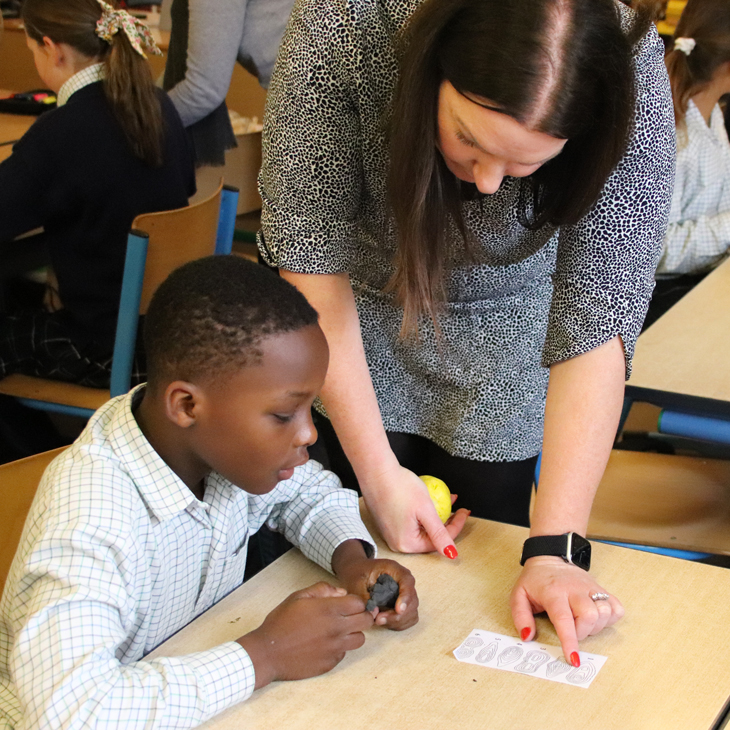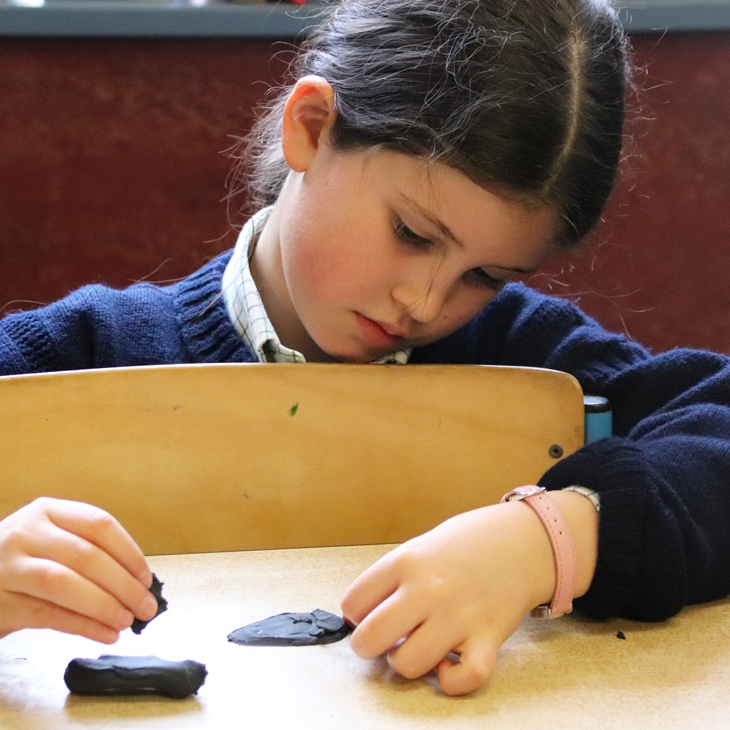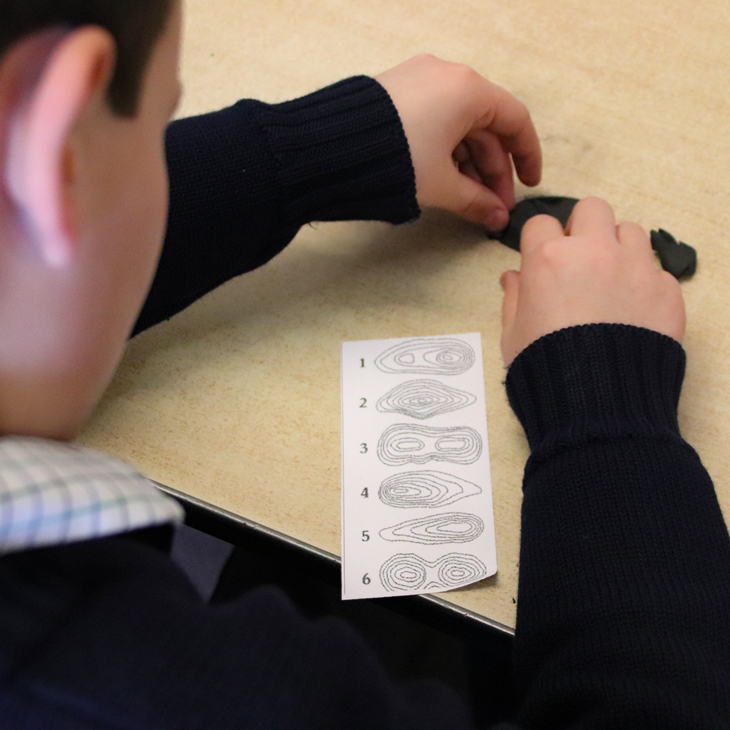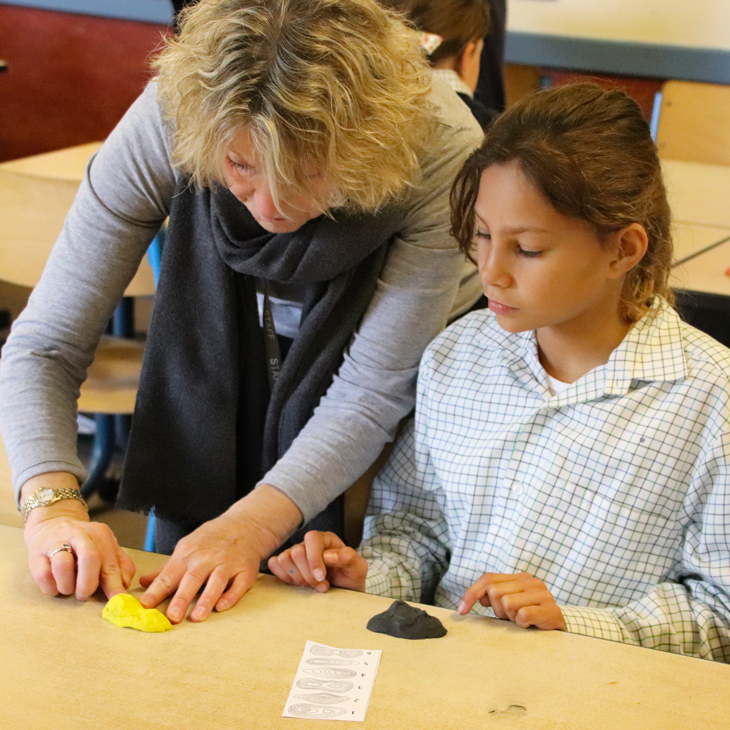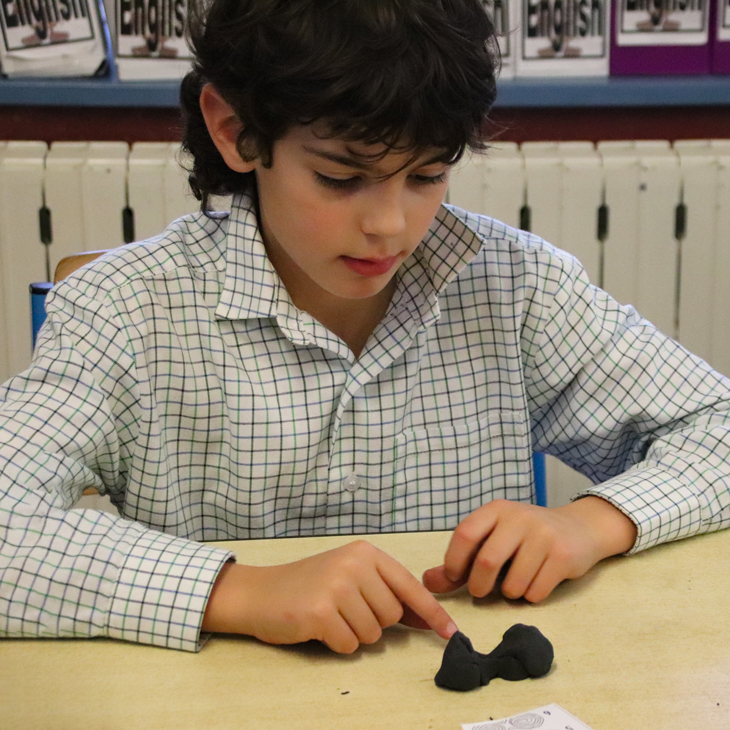 Geography lessons continue to be exciting, engaging and fun in Year 5. This term, the children have been developing their map skills: from reading four and six-figure grid references to understanding how height is depicted. This week, 5SB put their new-found knowledge to the test by investigating contour lines in the good old-fashioned way – using plasticine. Working in pairs, the children were given a selection of maps where relief was shown through contour lines and they had to recreate each map as a three-dimensional piece of land. Once that task was completed, the children had to test each other; drawing their own maps and challenging their partner to create it. As always, geography lessons are fun and learning takes place in an interesting and inspiring way.
Viv Liddell, Head of Year 5
Positive Signs As Year 6 Face Tough Tests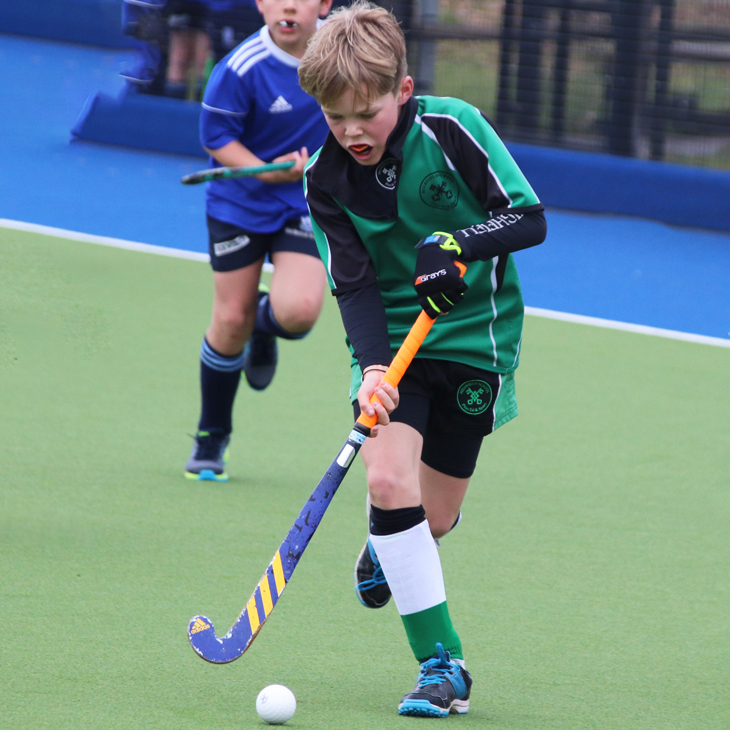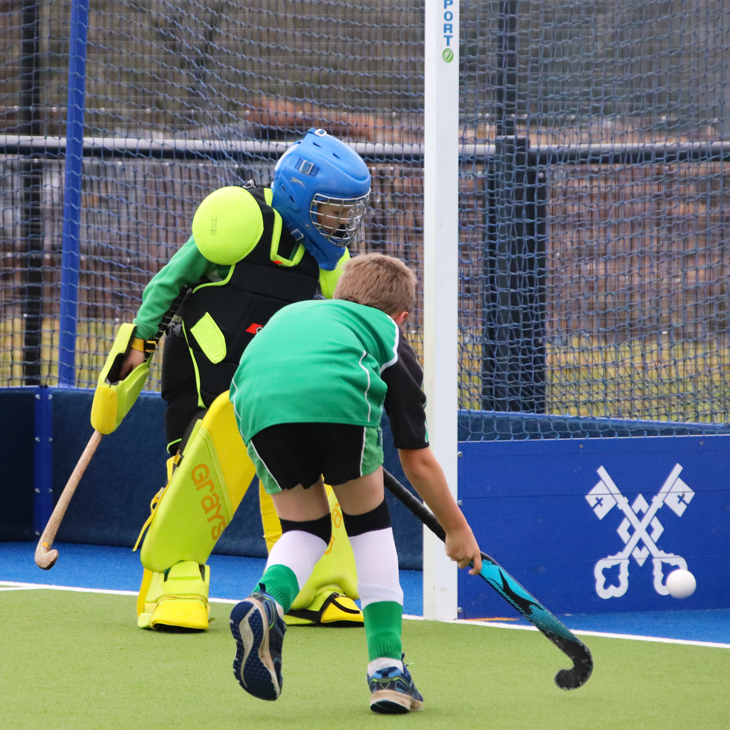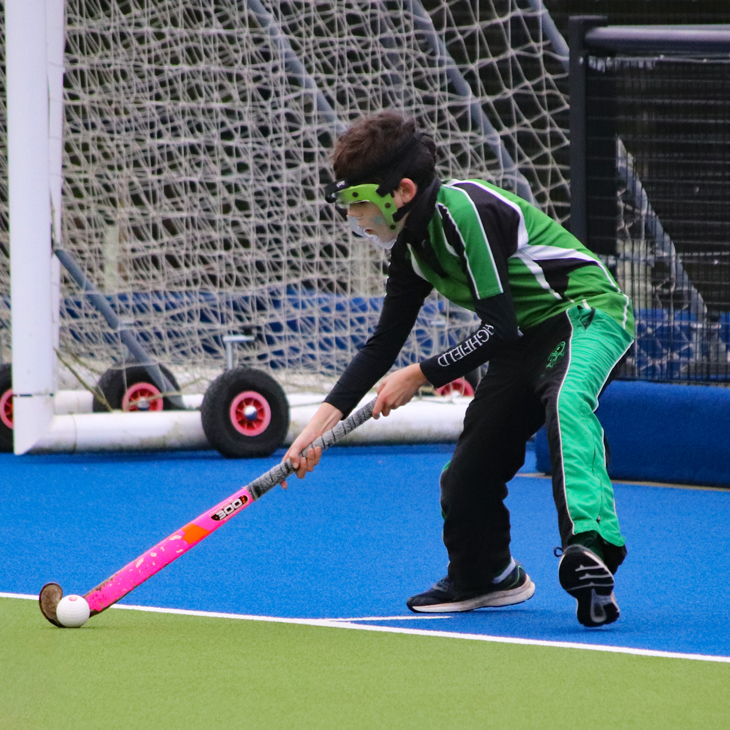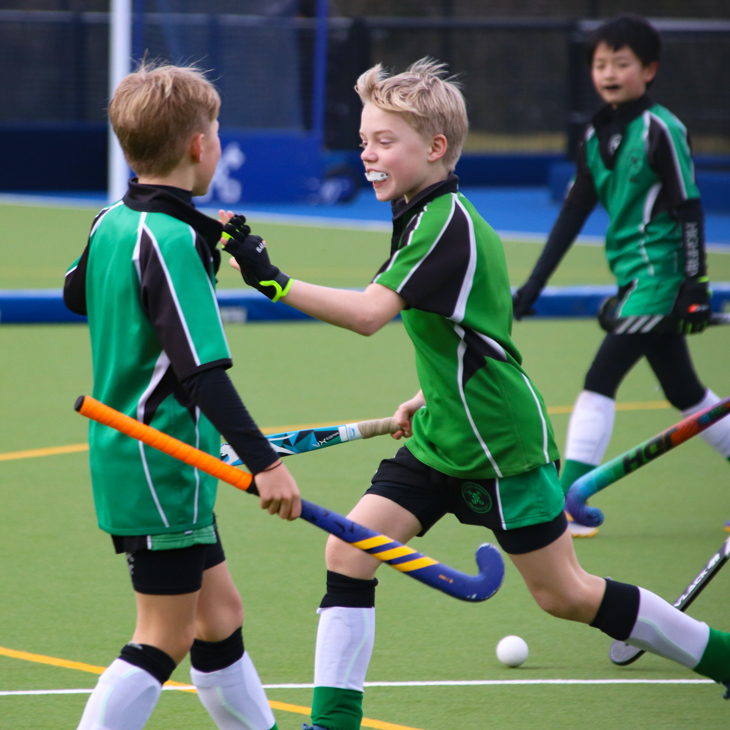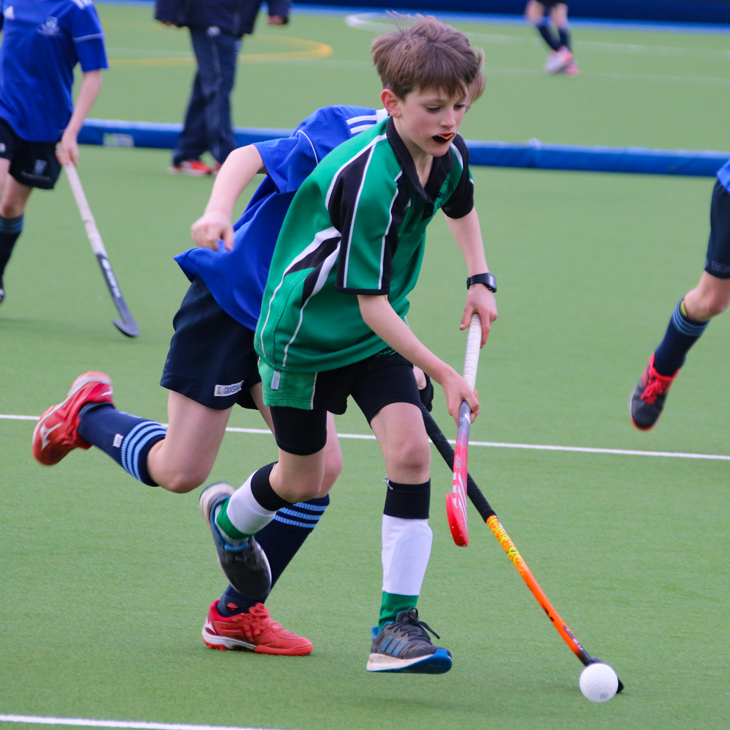 Highfield's U11A hockey team faced one of their toughest challenges of the season when they hosted Hoe Bridge School on Wednesday. The game began at a fast pace with both teams creating scoring chances, but it was the visitors who took the lead despite some dogged defending by Highfield; a lead they maintained until half time. Still very much in the game, Highfield levelled the score early in the second half when Harry M slid the ball past the onrushing Hoe Bridge goalkeeper following a quickly-taken free hit by Harry R. Full of confidence, Highfield stunned their Woking-based visitors when Harry M doubled his personal tally to put his side 2-1 up, but back came Hoe Bridge to equalise and set up a grandstand finish. And it was the visitors who clinched a late winner to break Highfield's hearts after a superb game of quality hockey.
Elliott Hall, U11A Boys' Hockey Coach
Highfield U11B continued to show off their developing skills in a challenging fixture against Hoe Bridge. From the start, it was clear the game was going to be a competitive one and the home side struggled to get full control of the ball in the early stages, but excellent defending from Rupert B and Max G kept the visitors at bay. And as Highfield's confidence grew, so did the rate of their forays up the pitch, with Aurian G and Jack H breaking through the stubborn Hoe Bridge defence on a number of occasions, linking well with Oscar J up top. But it was Hoe Bridge who broke the deadlock with a fine goal into the corner beyond the reach of goalkeeper Alec W before sealing the win with a late second despite some stoic defending from the home team. Highfield worked hard and were competitive throughout, led by Ted K and an excellent performance by Alec in goal, and their skills and understanding of the game are evolving quickly.  This was a good test and a sign of plenty more quality hockey to come.
James Figgis, U11B Boys' Hockey Coach
It was always going to be a big test for Highfield U11C this week as Hoe Bridge had made a strong start to the season, and so it proved as the visitors ran out 3-0 winners. But it certainly wasn't through lack of commitment or effort from the home side as the boys all worked hard and created some decent chances to find the net. Hoe Bridge, though, defended fiercely and proved clinical in front of goal, and they could have won by a bigger margin if not for the heroics of Alec W in the Highfield goal. And credit must also go to Ted K and Ihor S who gave their all to the cause and left the pitch at the end with faces nearly as red as the ball.
Lewis Campbell, U11C Boys' Hockey Coach
Highfield U11D played intense, back-to-back matches against Hoe Bridge on Wednesday, losing out 2-0 in the first game as the visitors sealed the win with a second goal in the dying seconds and going down 3-0 in the second. Highfield defended doggedly in both games with goalkeeper Jack H making a string of excellent saves while Luke H was in fine form and full of running.
Lewis Campbell, U11D Boys' Hockey Coach
Year 7 Turning Green DT Dreams Into A Reality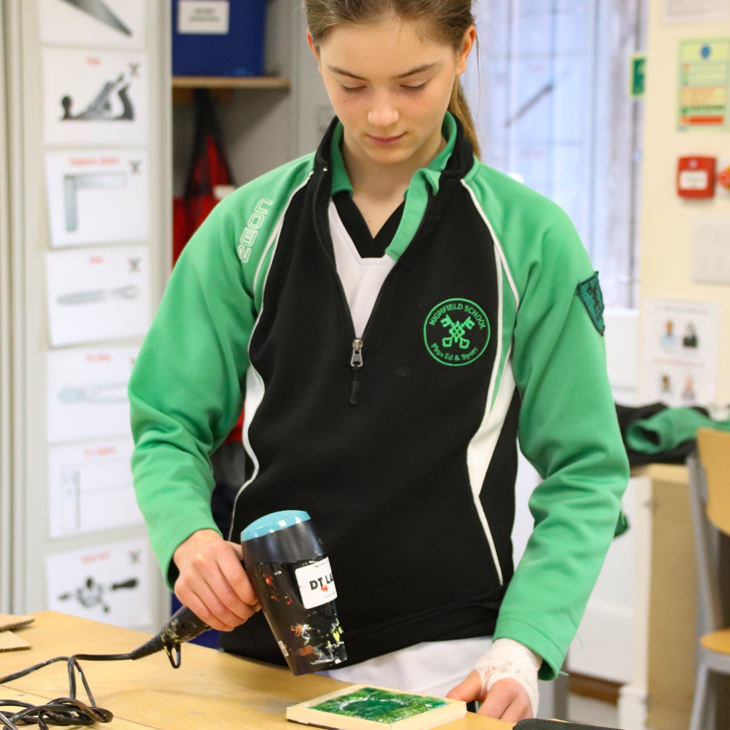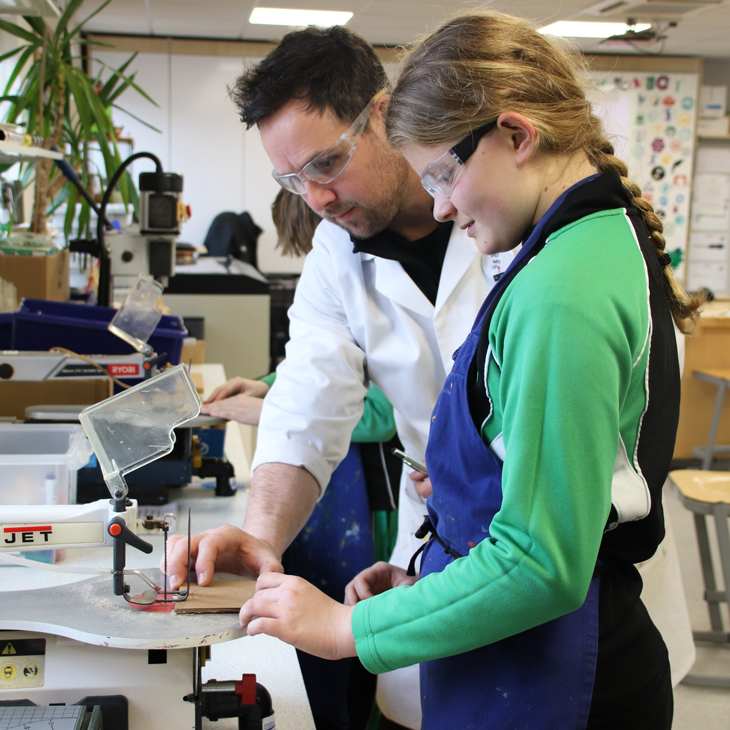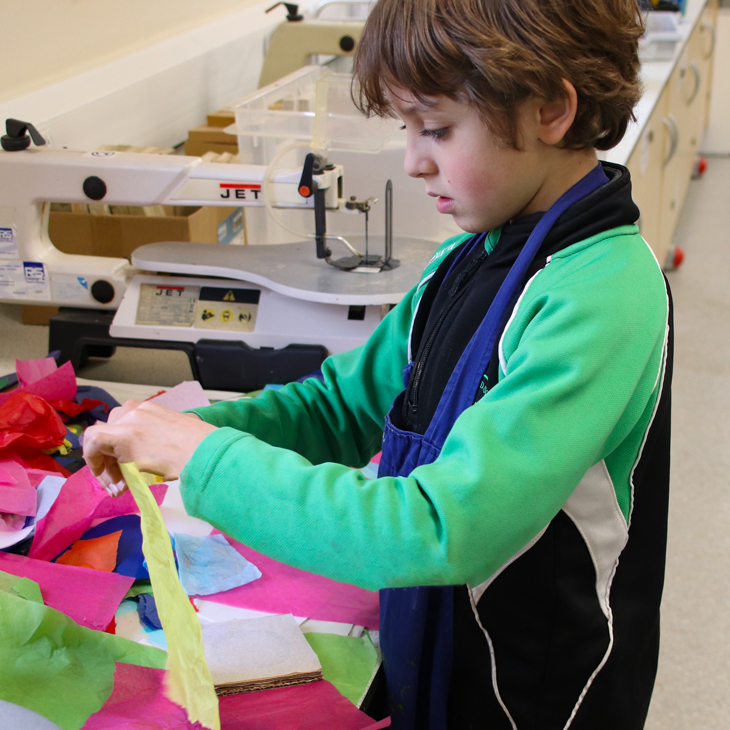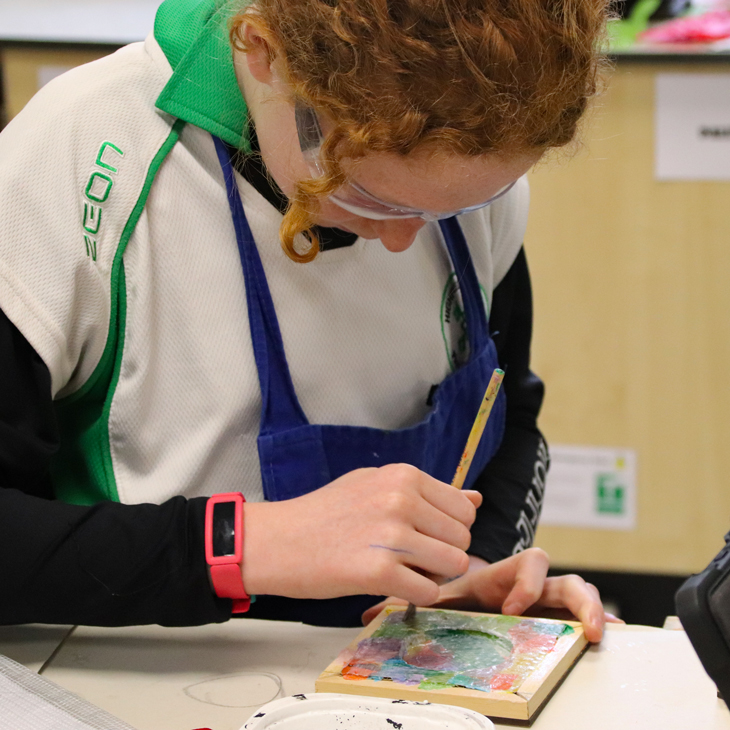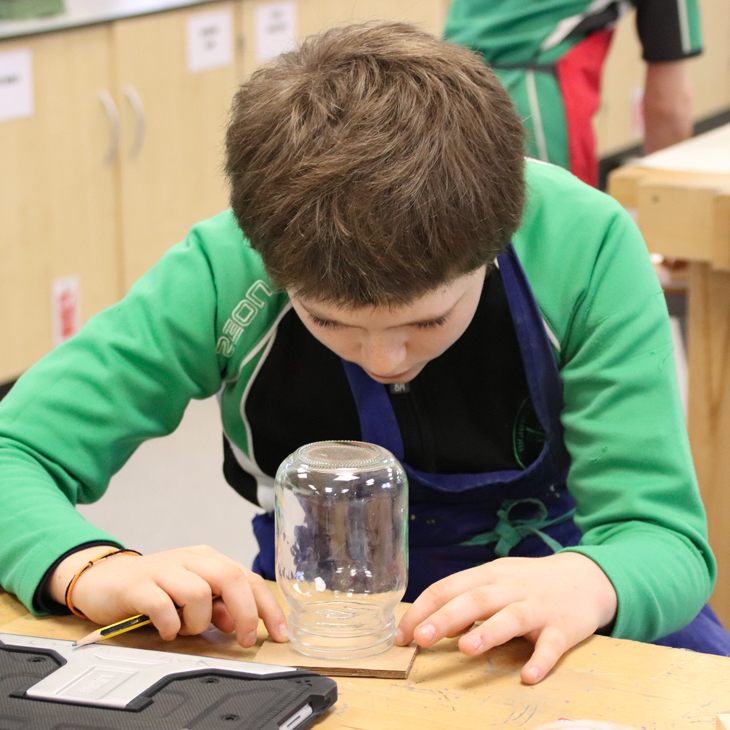 Cityscapes, computer-aided design and renewable energy are firmly on Year 7's agenda in DT this term. In a sustainable drive befitting the school's green ethos, the children are currently creating solar-powered lamps. The ornate lamps will feature an engraving of a cityscape and will sit on a decorative decoupage coaster which has been cut using a mitre saw. The coaster itself, which is decorated by gluing coloured paper, will feature the national colours of the country associated with their chosen cityscape.
Jamie Dew, Head of DT
Year 8 Gain Invaluable Insight Analysing Mock Exam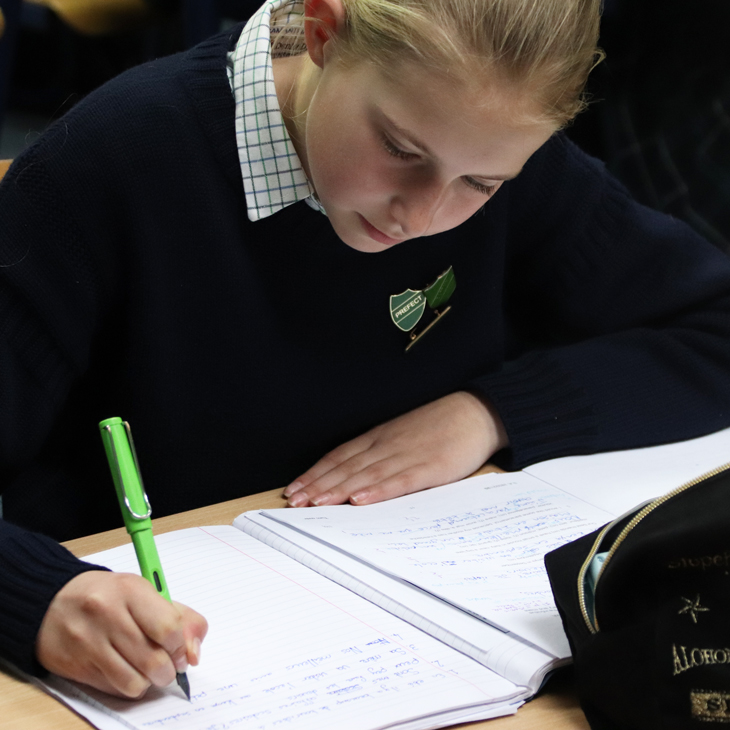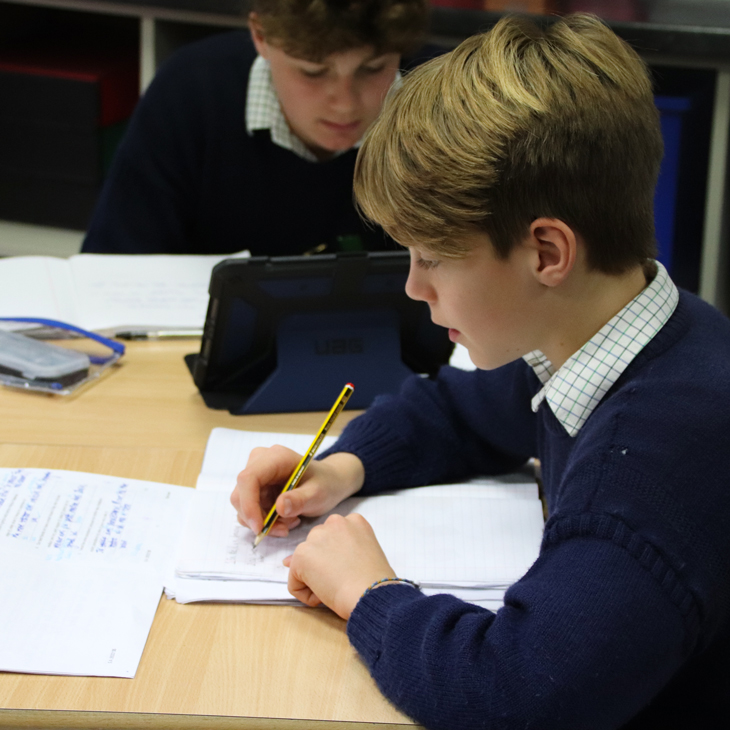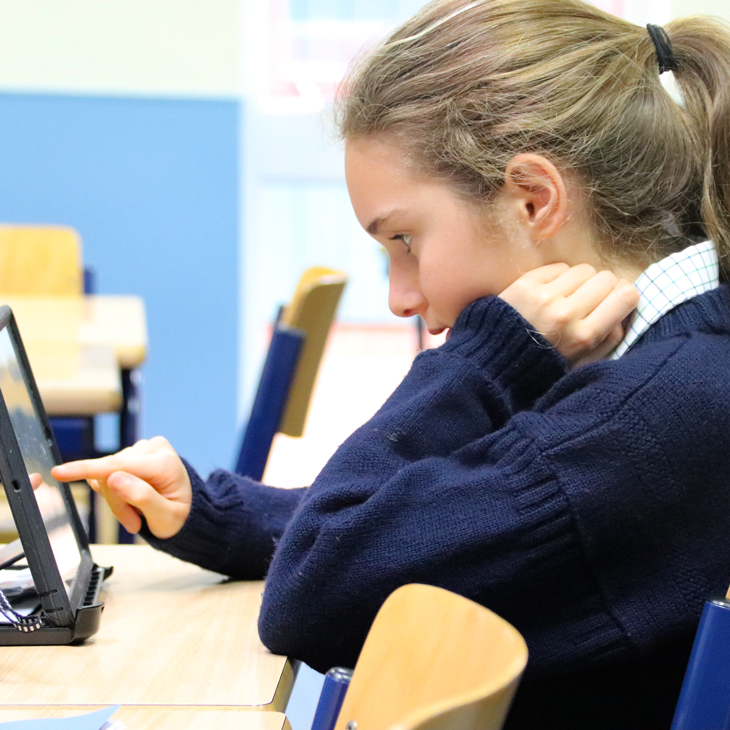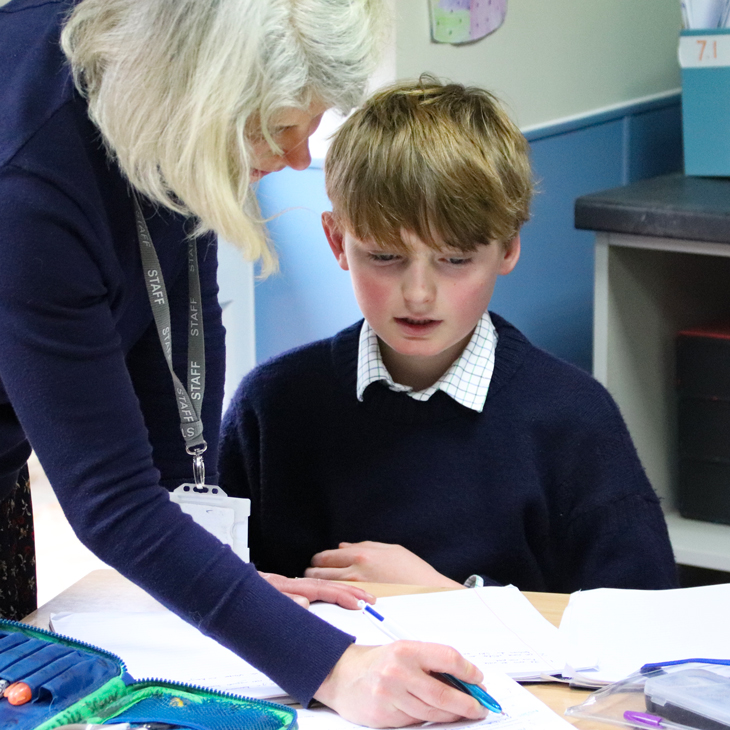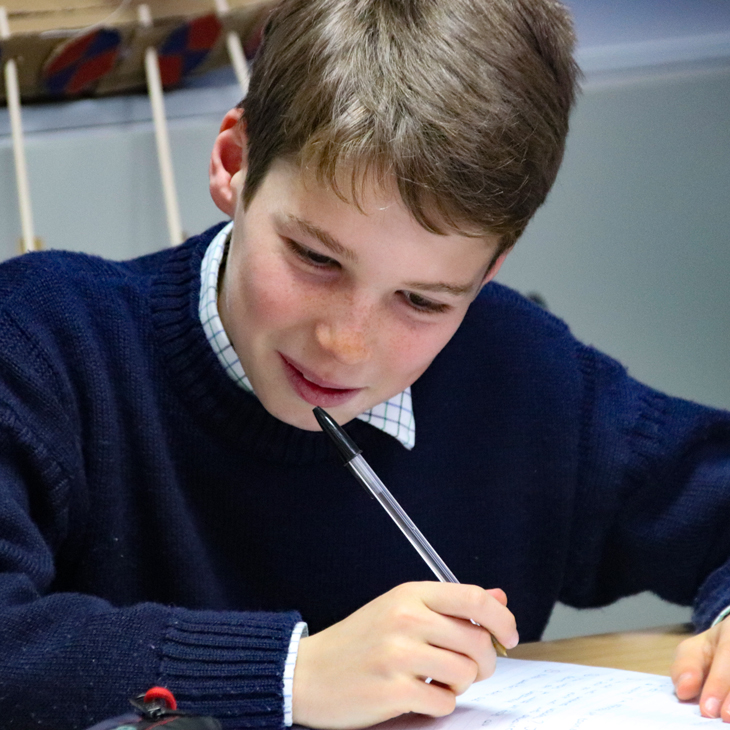 Just before half term, Year 8 sat their mock Common Entrance exams. This week, the children took the opportunity to review their performance in their French exam, with particular emphasis on the tricky writing section. This required the pupils to write an email to an imaginary French friend. During the lesson, Year 8 looked at how to tackle this scenario, focusing on grammar in particular, and the children were given feedback and targets on how to improve their writing skills. Sitting this French mock exam should be a positive experience as the children can see their progress, strengths and weaknesses. All very useful preparation for the actual Common Entrance exam in the summer.
Melanie Barnett, Year 8 French Teacher