Springing Their Way to Easter
25th March 2022
Nursery Children Welcome Very Special Visitors for Easter Celebration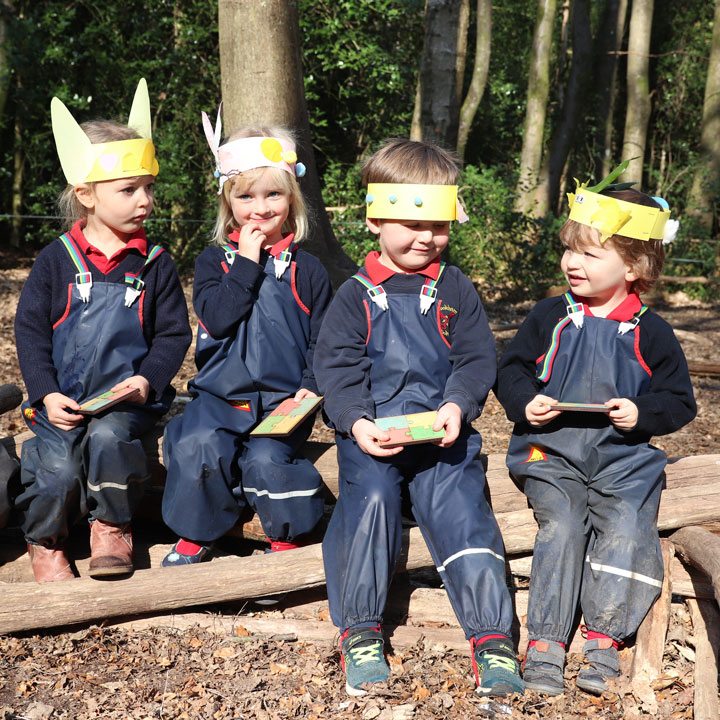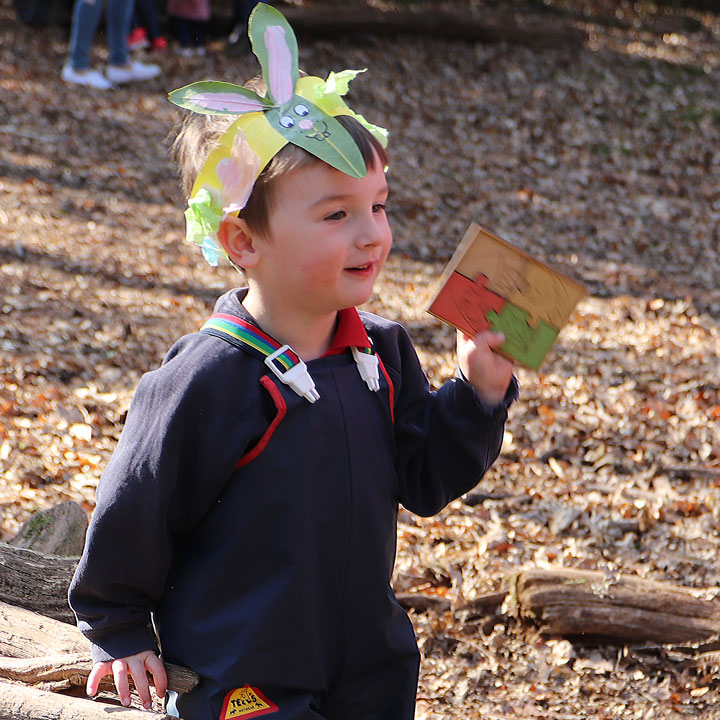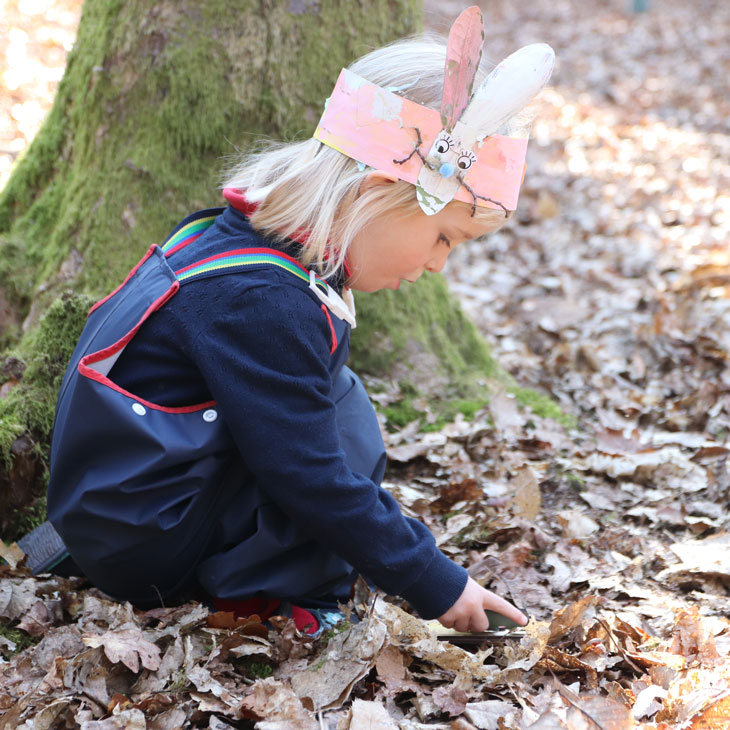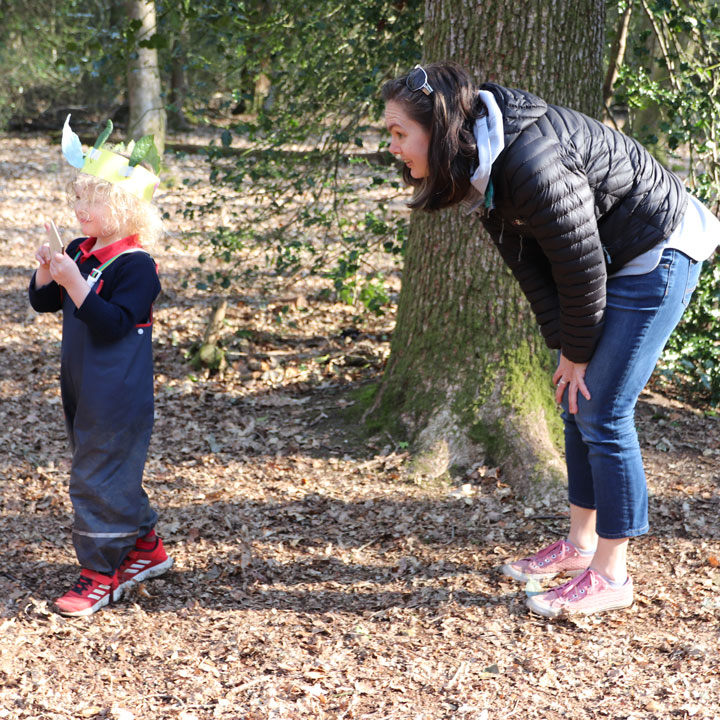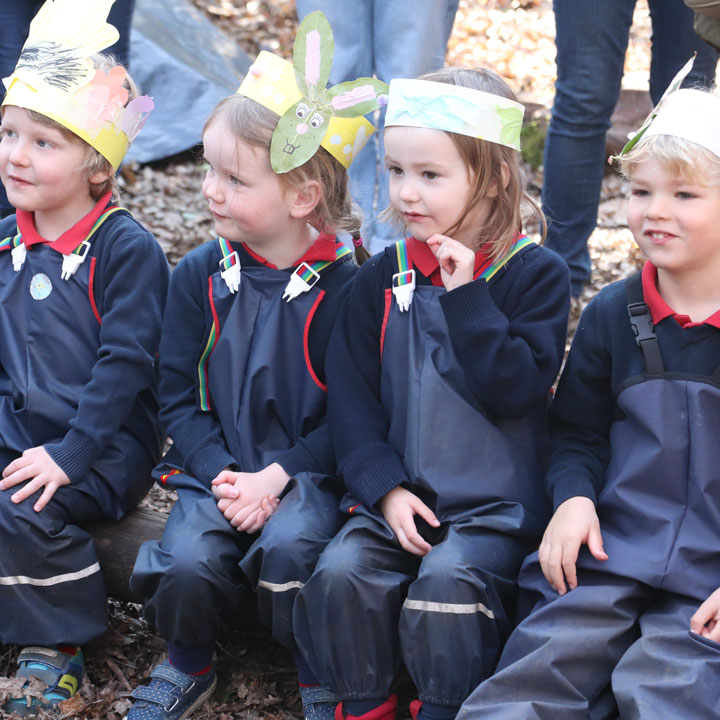 On Thursday the Nursery children eagerly welcomed their parents into the forest for a morning of Easter celebrations. As the sun shone through the trees the excited buzz of chattering children could be heard making their way down the woodland path. The children had carefully designed and created the most beautiful Easter crowns which they wore with pride. Each individual crown had a unique animal which the children had independently made with natural materials, tissue paper and paint, all of which had been carefully handpicked. The children were delighted to be able to take their special grown up on an adventure hunt through the trees to look for hidden Easter puzzle pieces. Once collected, they diligently matched them together to form a puzzle to take home as an Easter gift. The celebrations concluded with a delicious picnic of Easter biscuits, that our nursery children had carefully baked the previous day. Such fun was had by all and it was wonderful to see our youngest members of our school sharing their love for our wonderful forest school setting.
Rosie Snagge, Nursery Teacher
Reception Score At Netball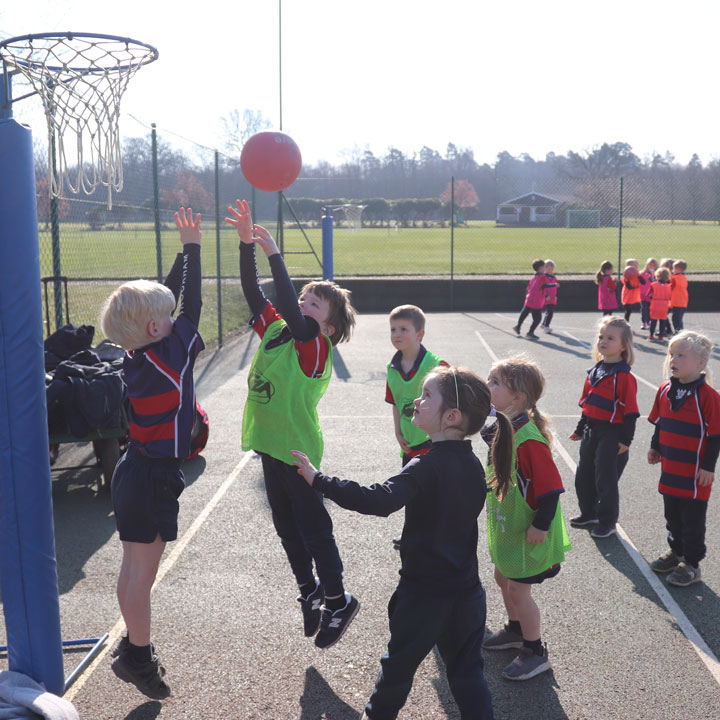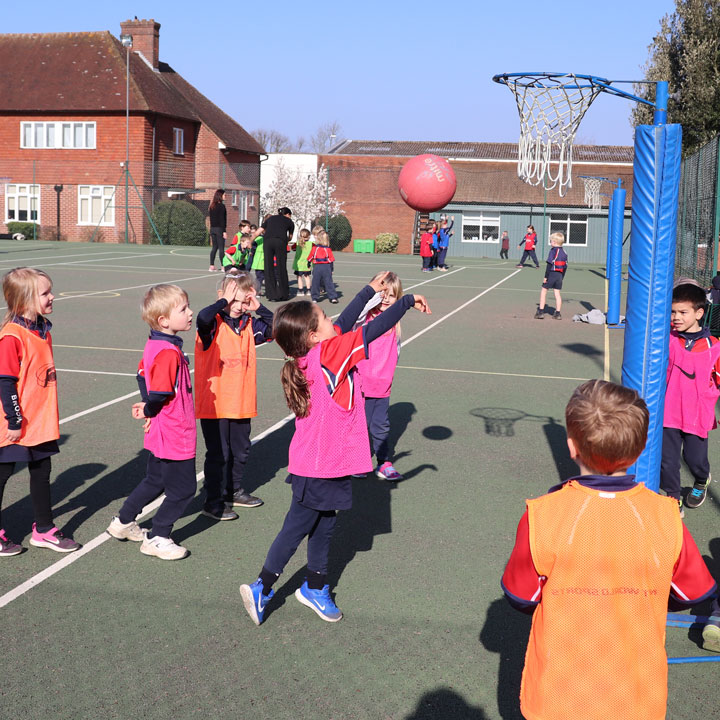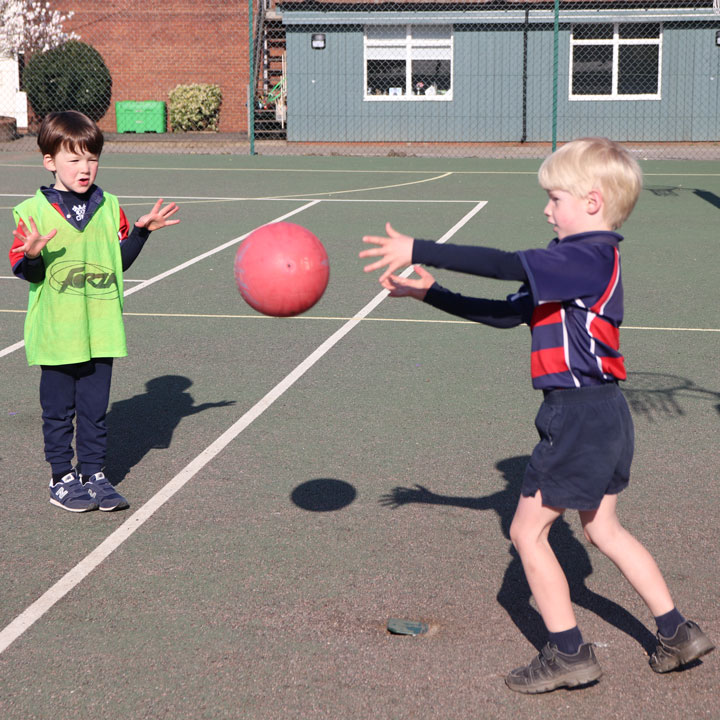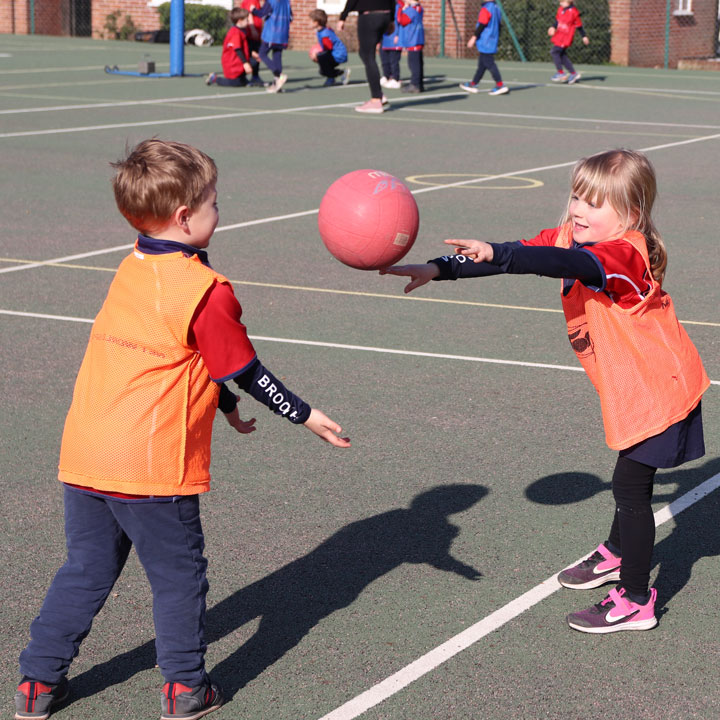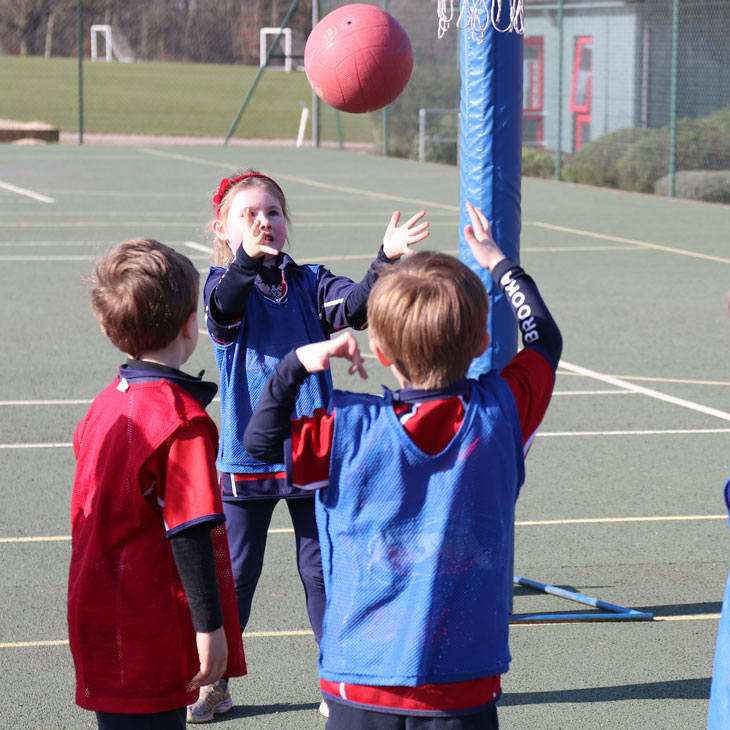 This half of term, the reception children have been developing their netball skills and have astounded us all with their ability to throw, catch, bounce and begin to understand attacking and defending principles. As a result, it was decided that we would hold an inaugural 'in-house' reception netball tournament during their games lesson. The children were very excited at the prospect of playing matches and warmed up in their pairs like true professionals, working on hand-eye coordination, movement into space and of course some shooting. Throughout their matches, the children not only developed their ball handling skills, but their confidence and resilience shone through with each match change-over. Participation and enjoyment were the main aims of this tournament, however, a great amount of success in shooting was a wonderful bonus to witness. Well done Reception, I am already looking forward to cricket next term.
Jess Oecken, Head of Brookham Sport
Year 1 Wow Parents At Assembly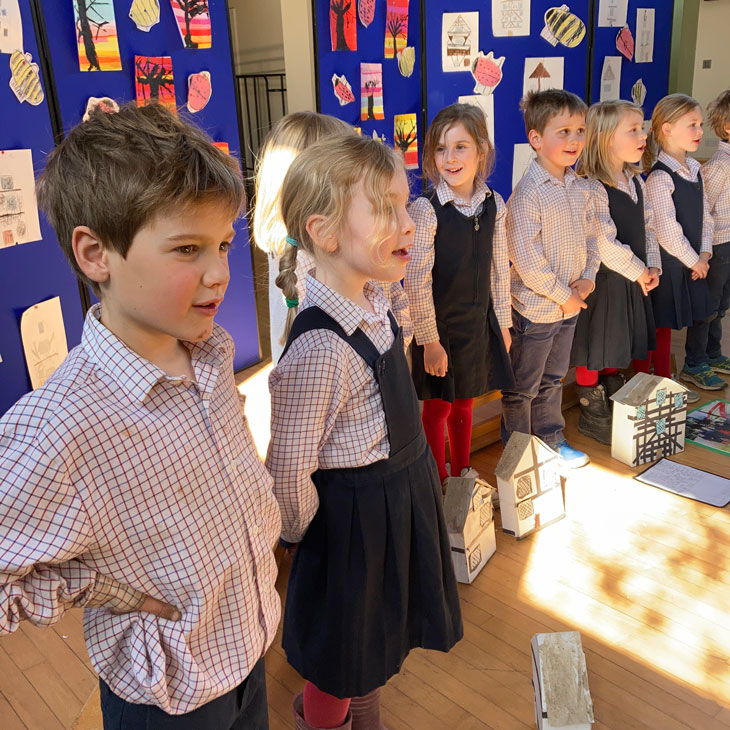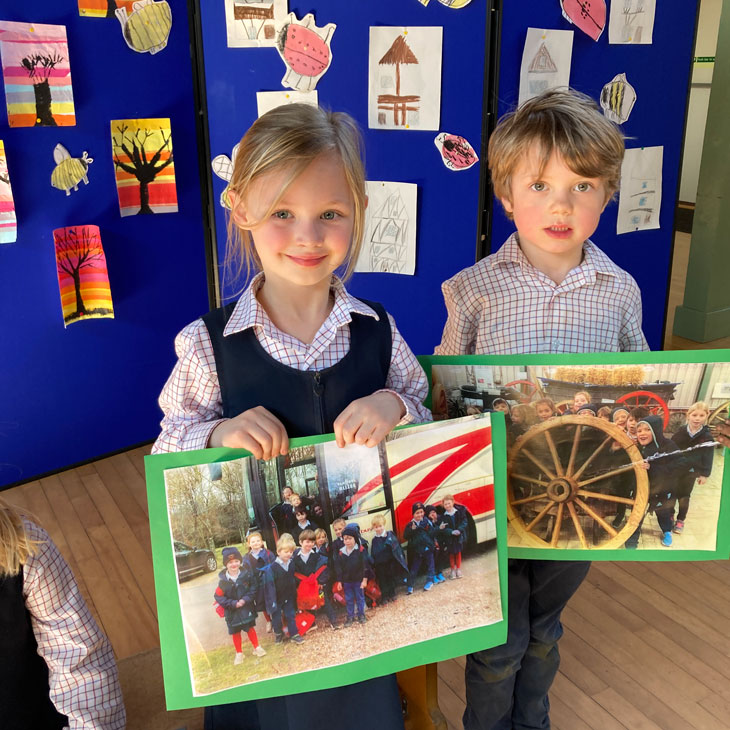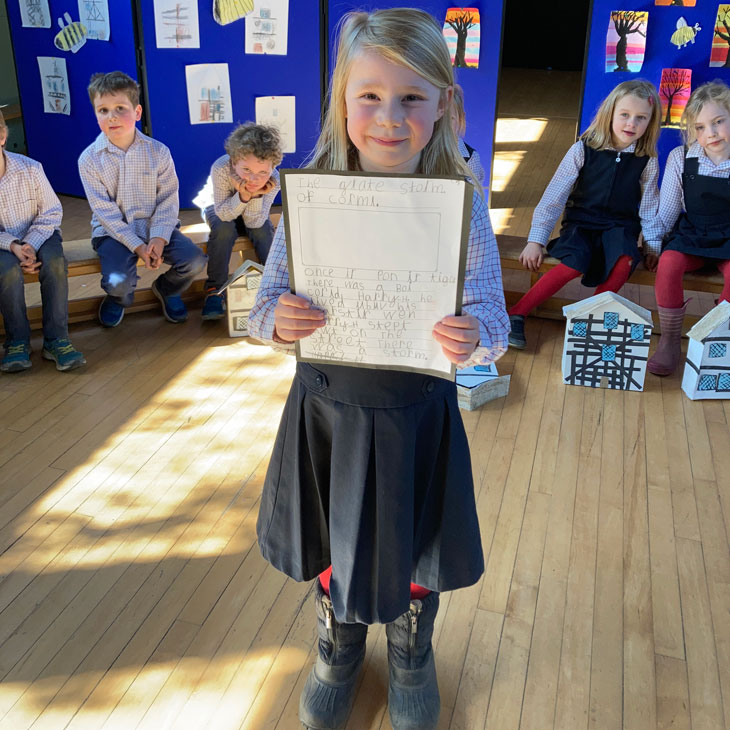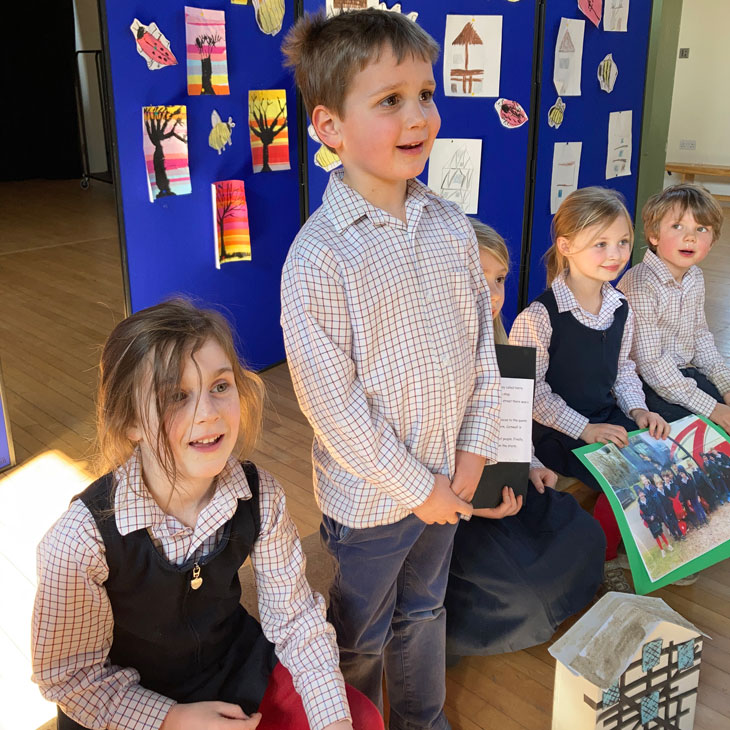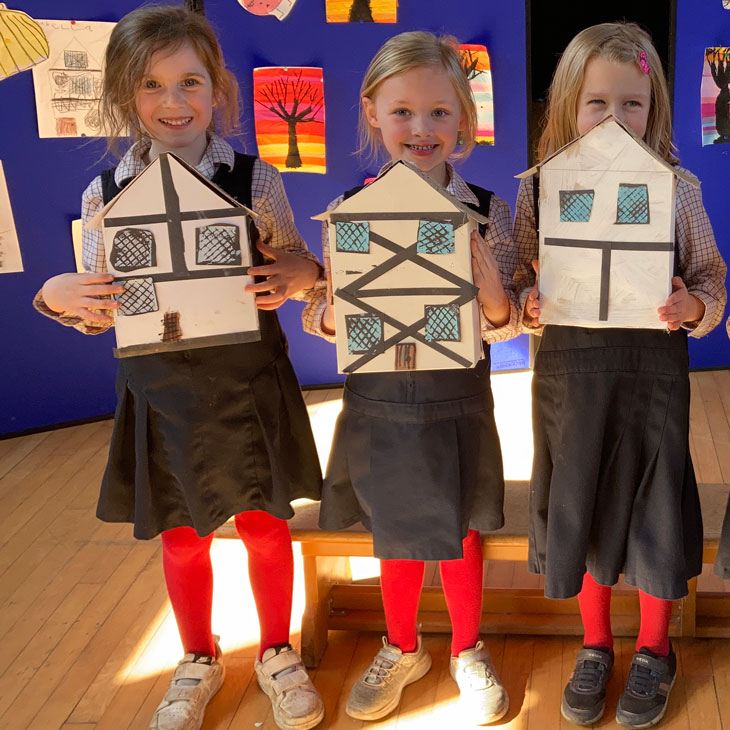 This week Year 1 welcomed their parents to an assembly, planned and presented by themselves, to share their learning this term. Keen to collaborate and encourage others, it made every parent and teacher smile to witness our confident and mature children stand up and present so well. The children had learnt the story 'Toby and the Great Fire of London' off by heart and with the aid of their own picture prompts and actions they carefully told the story. We were then treated to some of the children's innovated versions of the story. We heard about the 'Great Storm of Cornwall' and 'The Great Volcano of Hawaii'! The children also enjoyed sharing some of their 'Splish, Splash, Splosh' and 'Happy' poems. In music the children have been learning about Tudor instruments and have learnt two songs. With their beautifully constructed Tudor houses made in their art lessons and with the rhythmic beat of the drums, the children's voices transported us all to Tudor times. Year 1 really enjoy their Spanish lessons, and keen to share even more of their learning this term, the children finished their assembly with a very enthusiastic and entertaining song telling the days of the week in Spanish. Well done and thank you Year 1, the assembly was such a treat for us all.
Kathleen Salusbury, Year 1 Teacher 
Year 2 Discover Healthy Snacks Are Tasty Snacks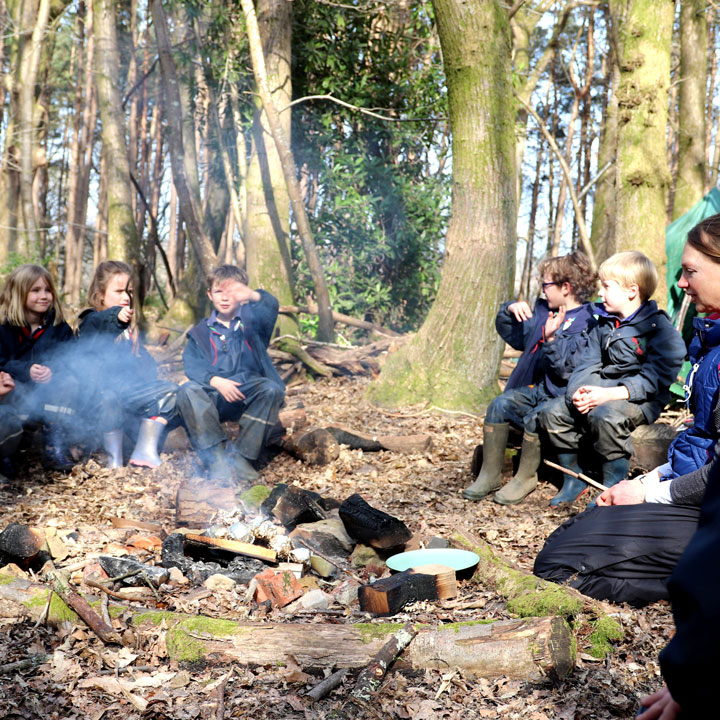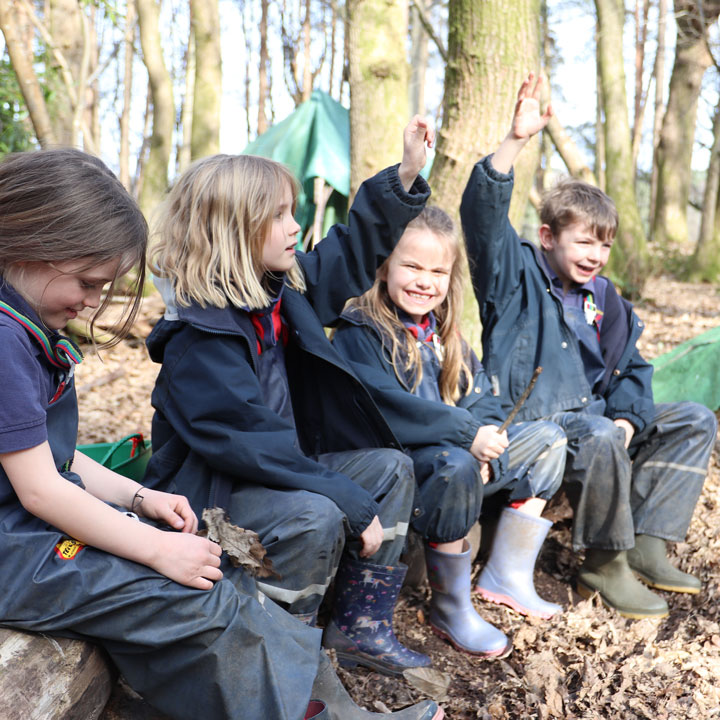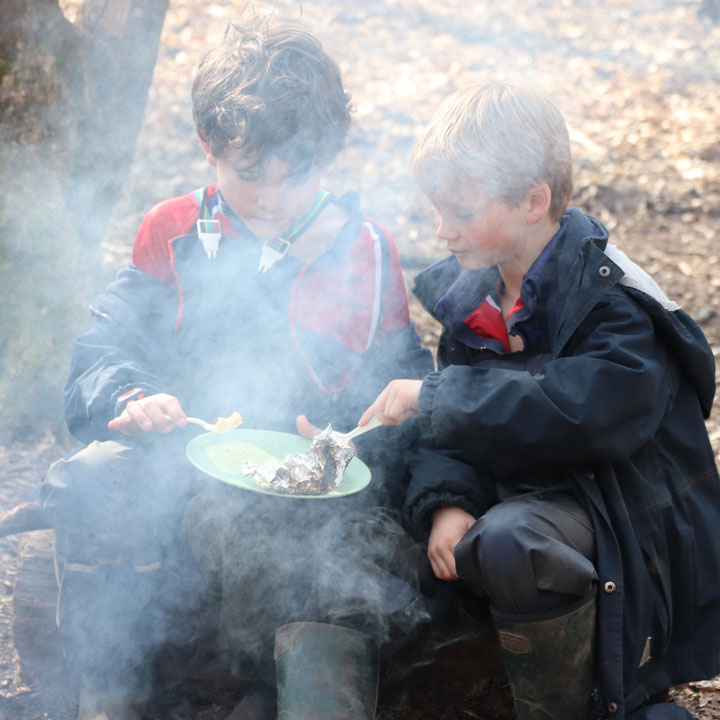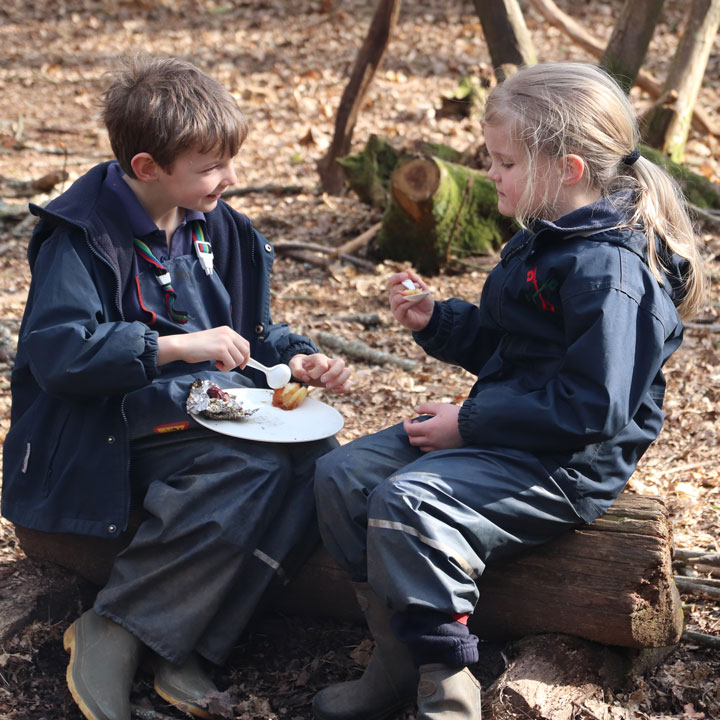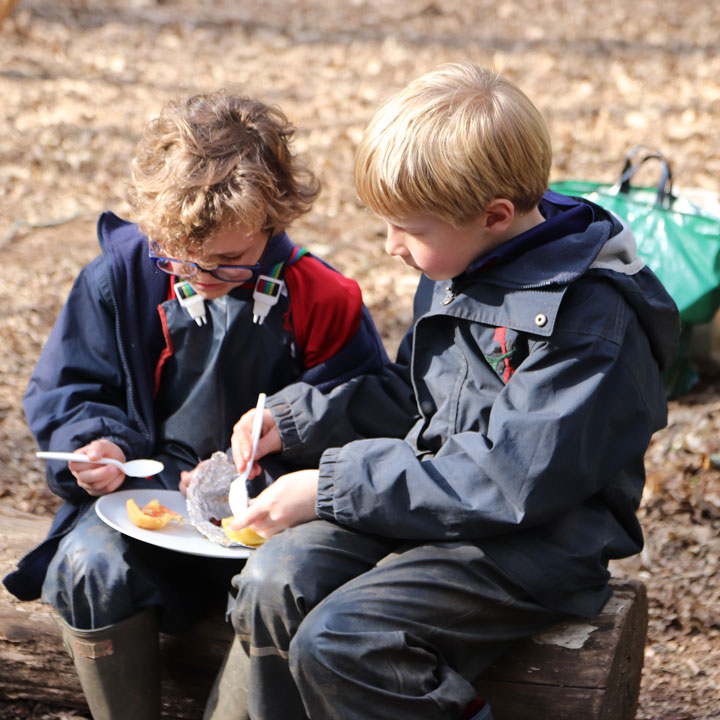 Year 2 enjoyed the milder weather up at forest school this week when they thought about healthy snacks and why they are good for our bodies. After discussing what constituted a healthy snack and the benefits they have on our bodies, the children collaboratively prepared apples to bake on the campfire. After adding a small amount of sugar, a few raisins and some cinnamon, the cored apples were wrapped in tin foil before being placed on the hot embers. Whilst the apples were cooking, the children noticed how the foil started to change colour the nearer it was to the heat. Drawing on their learning in science about different materials, the children considered the purpose of the tin foil and how it conducted heat, whilst preventing the apple from drying out. With a focus this week on fire safety and how fire is used for survival, the children discussed how it can be used to keep us warm, cook food, boil water, dry wet clothes and keep away predators. The verdict on the baked apples was unanimous, they were very tasty! And for some, even better than marshmallows!
Henrietta Platt, Year 2 Teacher
Year 3 Are Ready For The Future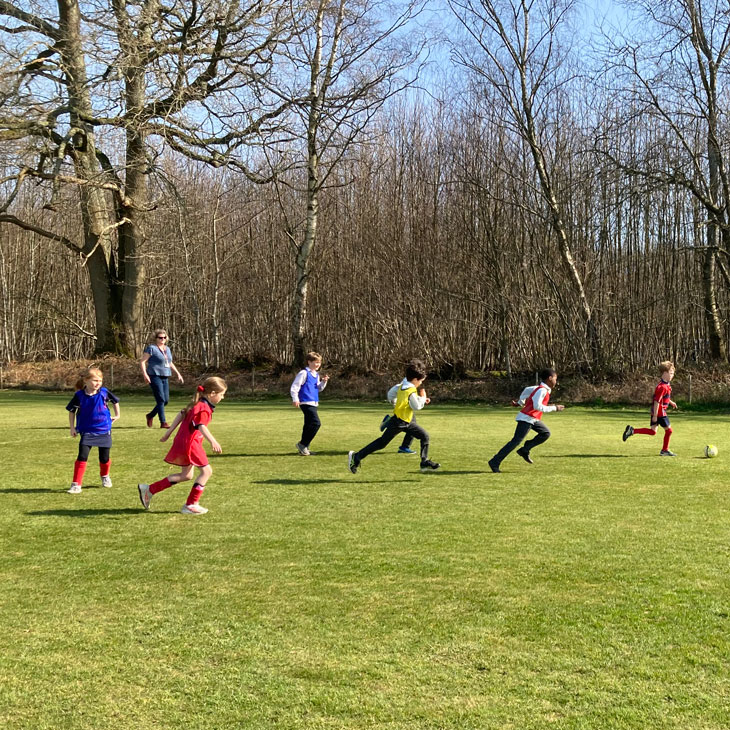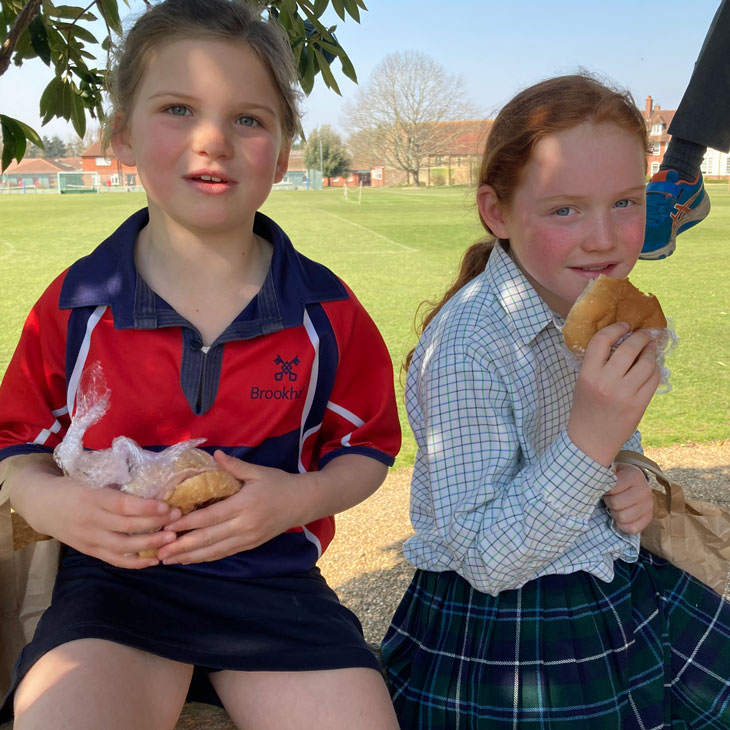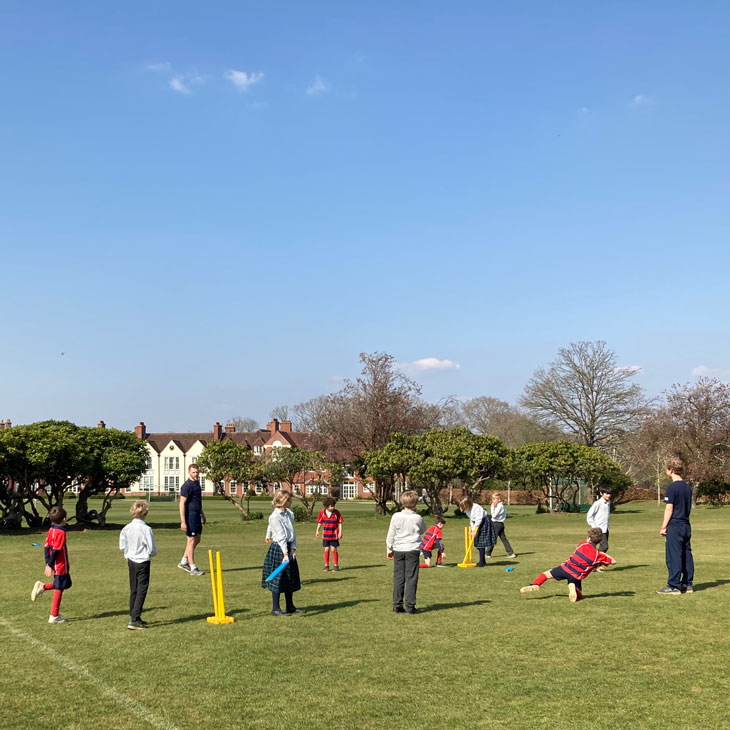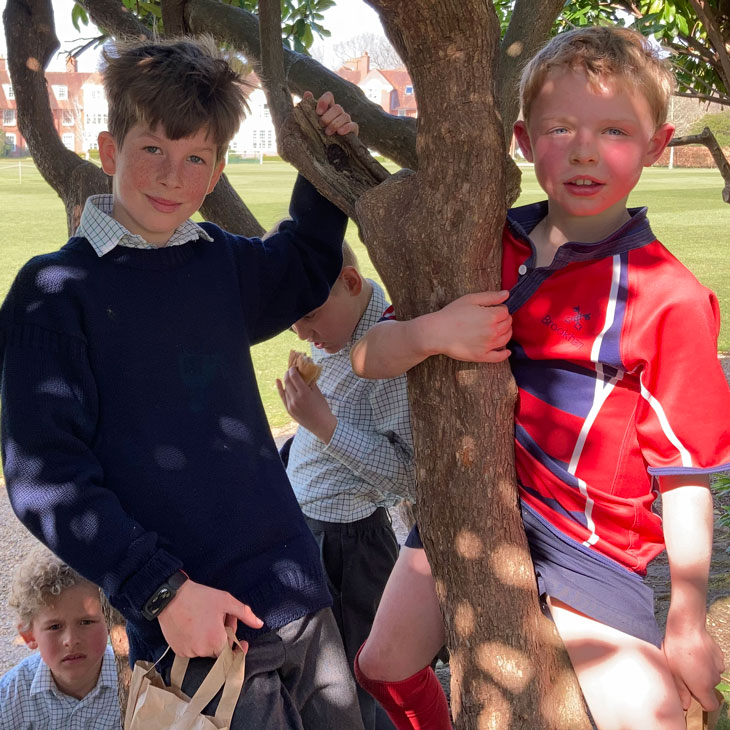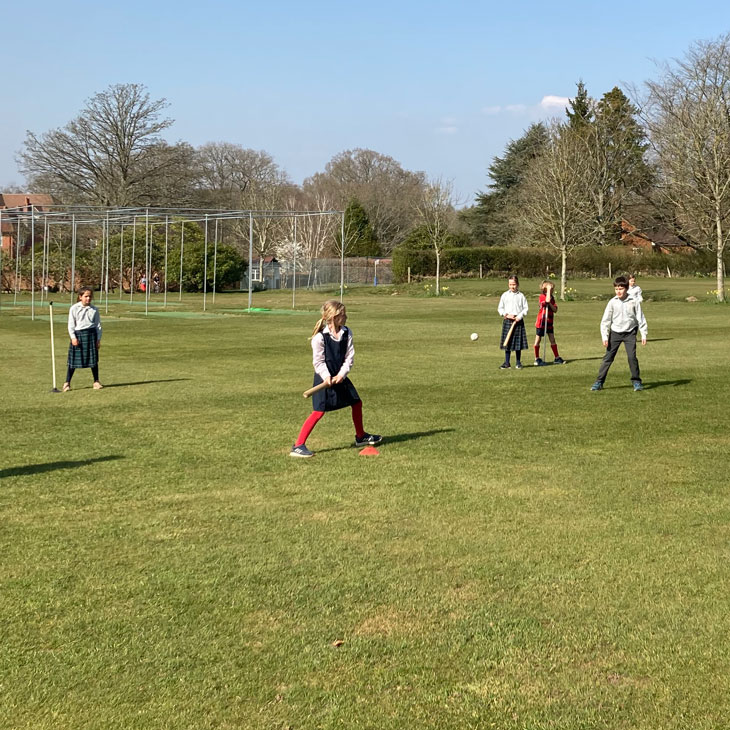 Year 3 were in their absolute element as they proudly walked up to the Highfield cricket pavilion and pitches on a gloriously sunny spring day to join Year 4 pupils and staff for a picnic and afternoon of fun activities. Mrs Statham, Head of Year 4, welcomed Year 3 and the children enjoyed free play together, followed by a wonderful picnic lunch. It was a delight to witness new friendships forming amongst the avenue of rhododendrons as children relaxed in their surroundings and initiated conversations. However, we don't sit for long at Highfield and Brookham and soon all ninety children and staff were fully engaged in a delightful carousel of cricket, football, rounders and 'Capture the flag.' The Year 3 children and staff would like to thank Mrs Statham and the staff and children of Year 4 for their hospitality and to the catering staff for providing our lunches. Returning to Brookham, Year 3 were buzzing with enthusiasm about moving up to Highfield next year and commented on the fabulous time they had experienced. Their highlights were meeting the Highfield staff who they found to be warm, welcoming and caring and making new friends with the Year 4 pupils who they found to be inclusive, fun and adventurous. Needless to say, they cannot wait for another visit.
Shirley Jervis, Year 3 Teacher
Year 4 Put Diversity And Equality In The Spotlight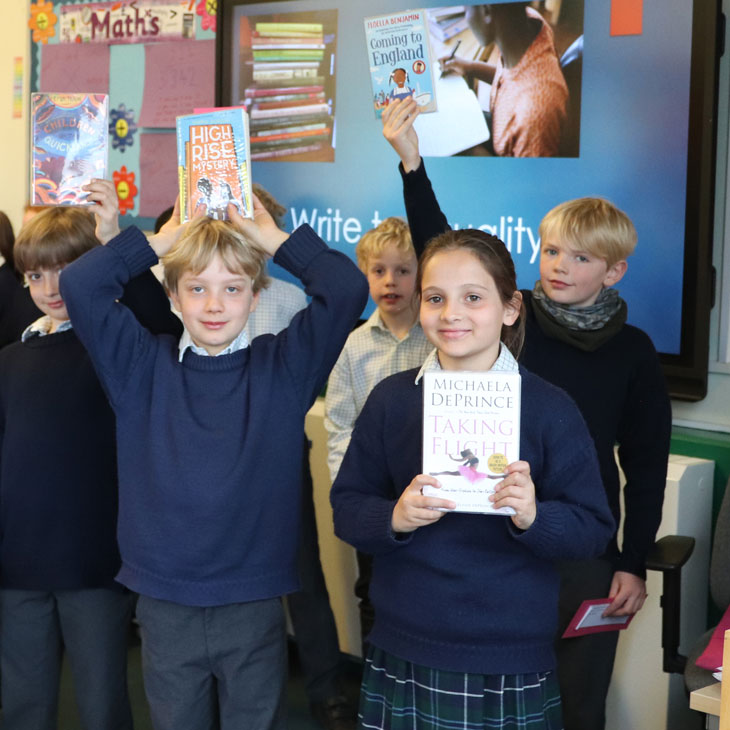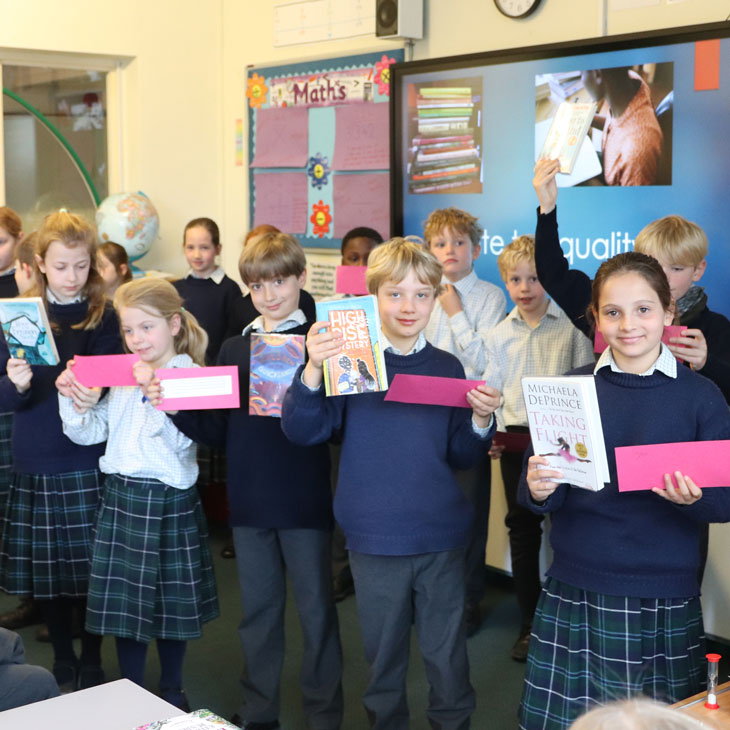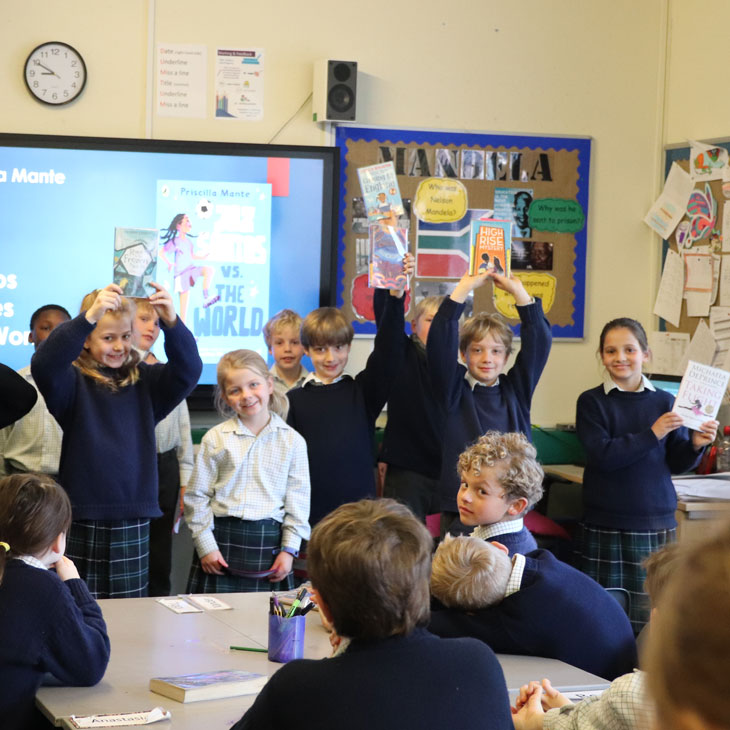 This term, the Year 4 assemblies have been linked to the children's PSHE learning. 4S chose the theme of  'Diversity' and 4DP focussed on 'Breaking the Bias' whilst 4Ds chose 'Write to Equality', basing their  assembly on the lives and works of black female authors. 4D diligently researched the information they wanted to present and Mrs Doven helped them by putting their information into a PowerPoint which the class took turns to present to their peers. The children impressed their teachers and their audience with their wonderfully enthusiastic presenting skills. The children also promoted books by black female authors that could be found in the school library.
Louise Doven, Year 4 Teacher
Year 5 Know Where They Are In Spanish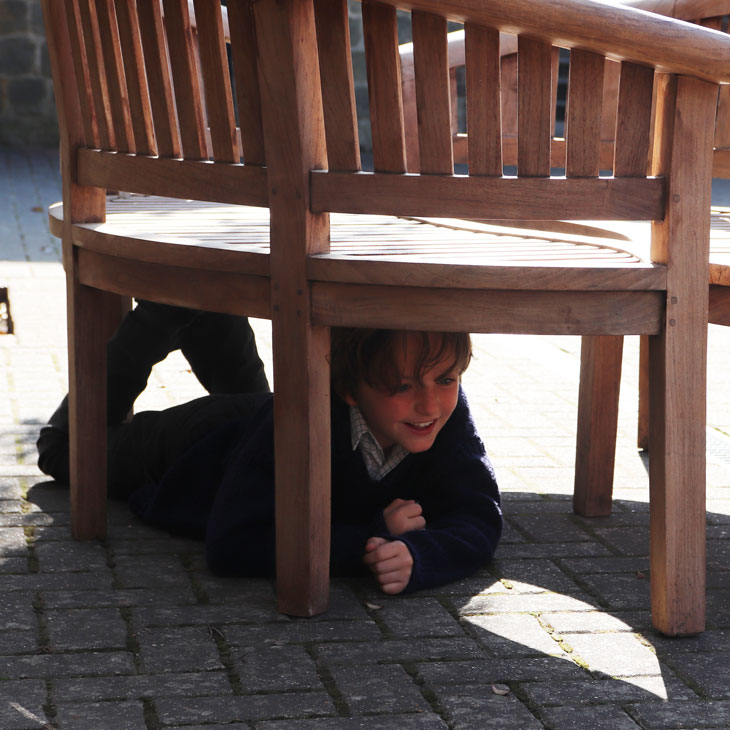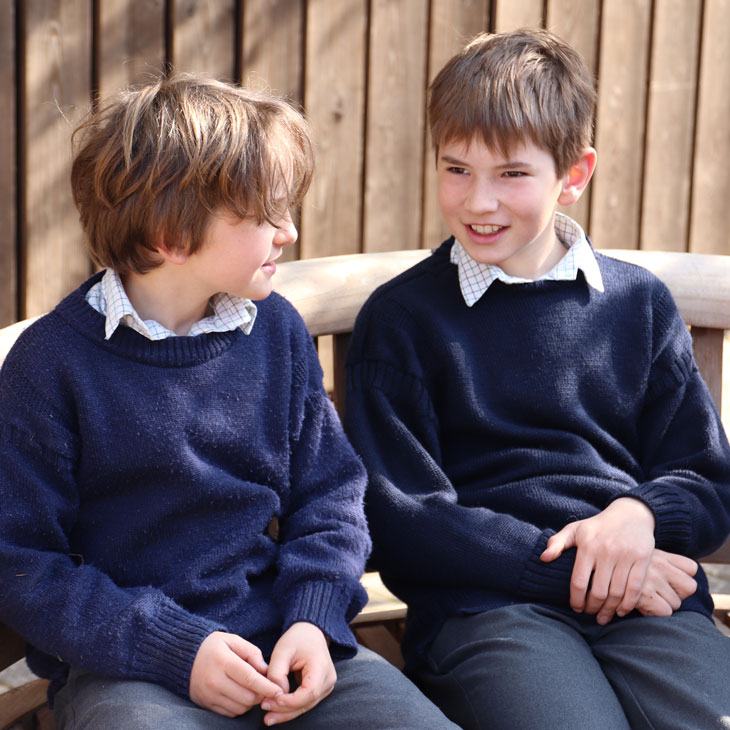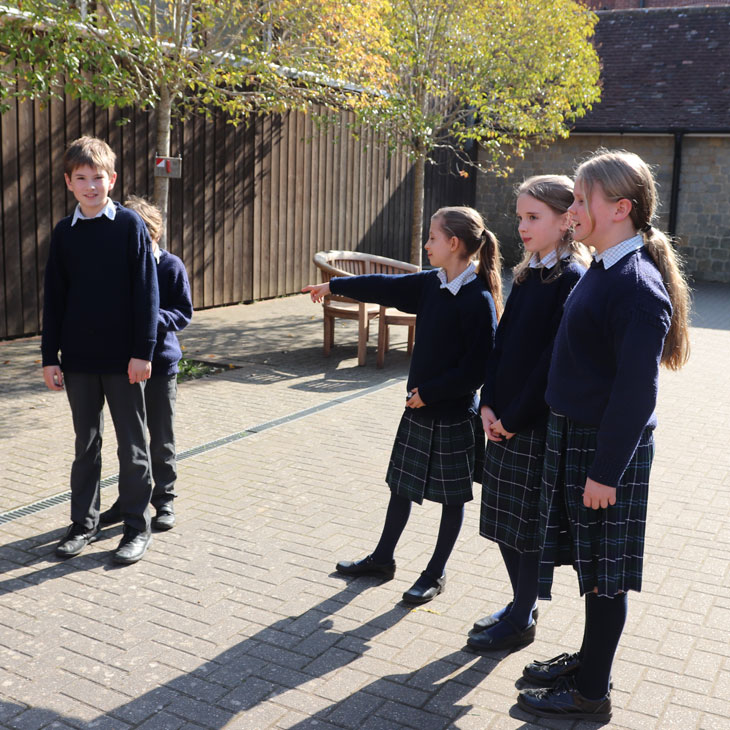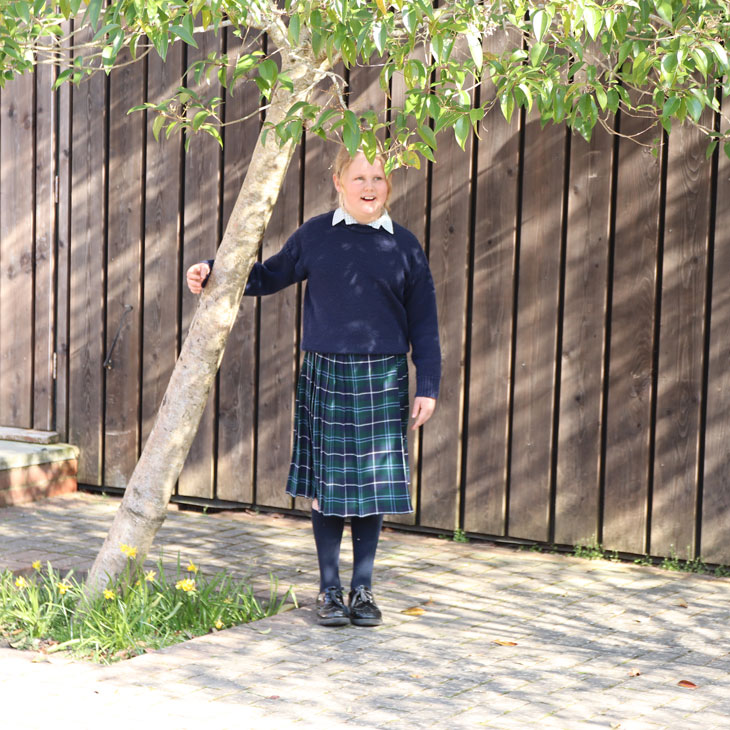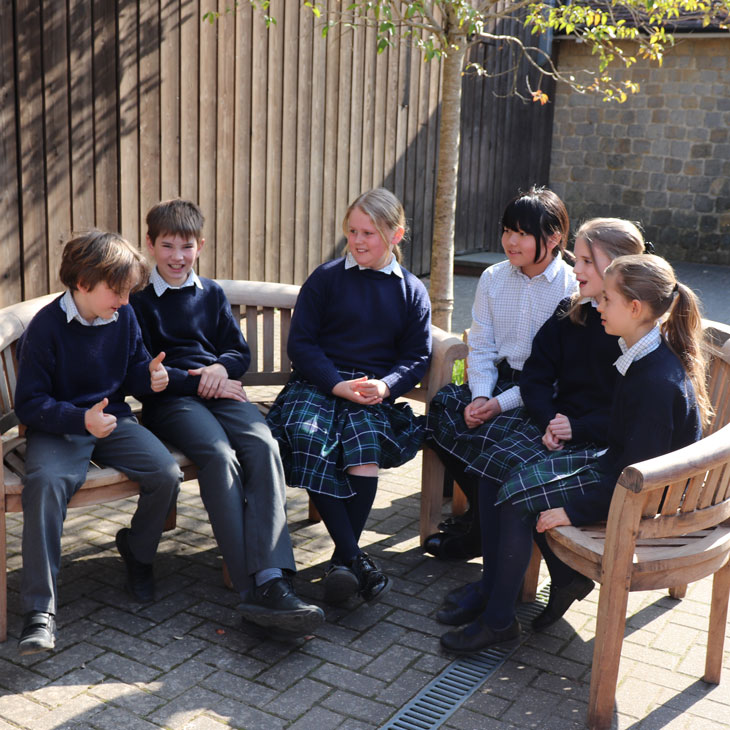 Year 5 have been learning to talk about where they live in Spanish this term, describing house and home, their towns and moving into prepositions and directions. We resurrected the favourite 'hot/cold' game, hiding a teddy in the classroom and chanting a preposition as a clue to where he might be – the louder the chanting, the closer the pupil was to finding 'Bobo'. We also took our learning outside in the lovely spring sunshine and the children directed each other using prepositions. Pupils have built a firm understanding of how to talk about their location and homes, so for those of you contemplating a second home on the Costa Brava, a city getaway in Barcelona or a chalet in the Sierra Nevada, your children will be able to fully communicate all your needs to ensure your requirements are met and amenities are on your door step! Go ahead, put them to the test!
Jo Longshaw, Head of Modern Foreign Languages
Year 6 Get Creative With Clay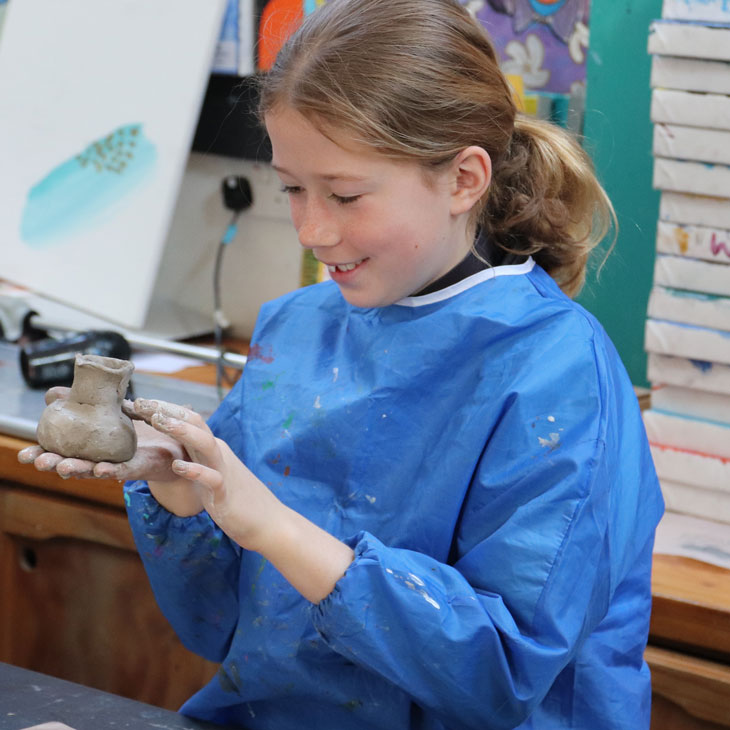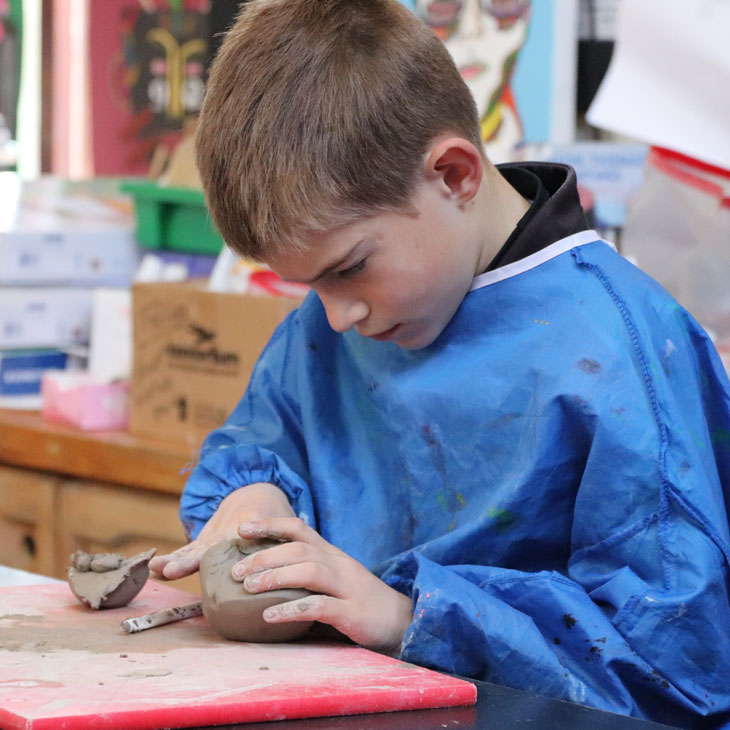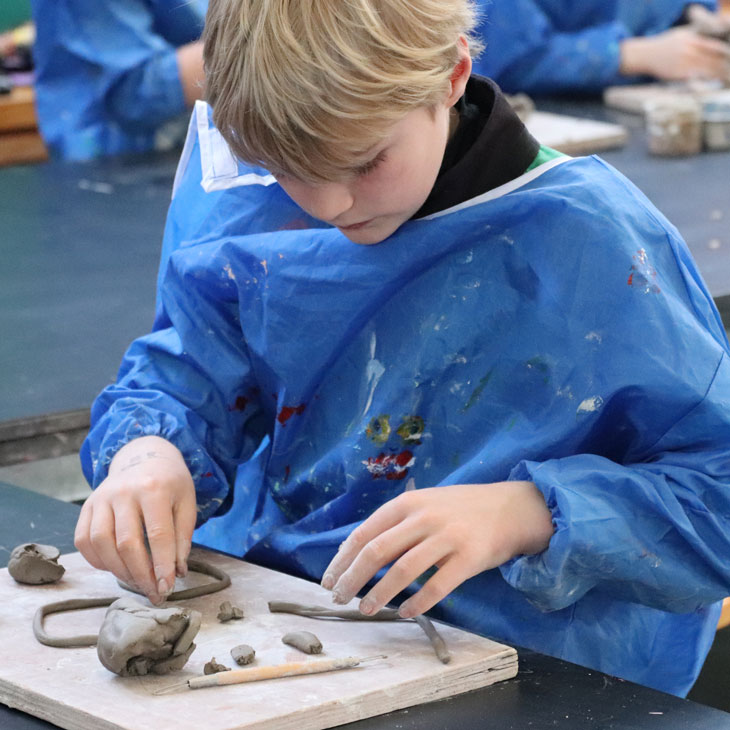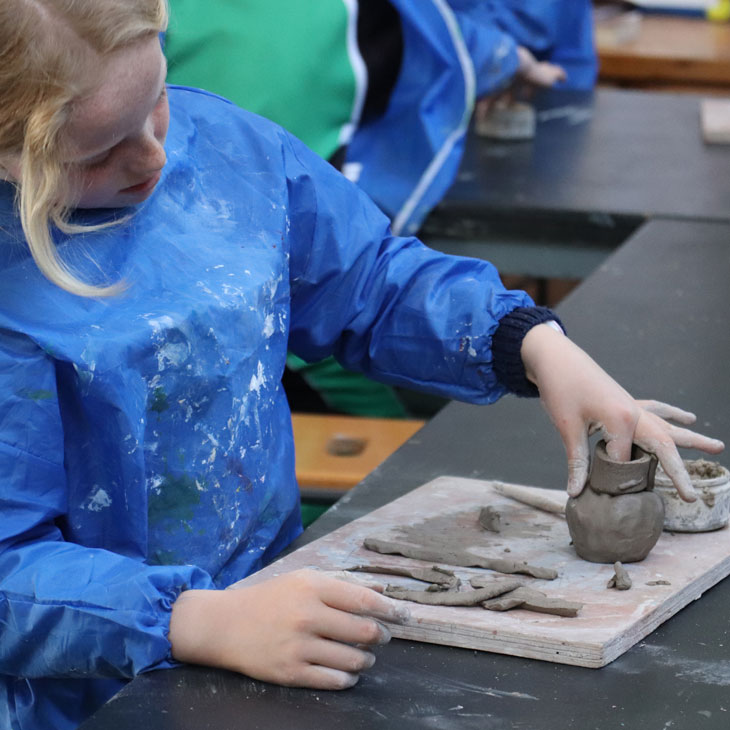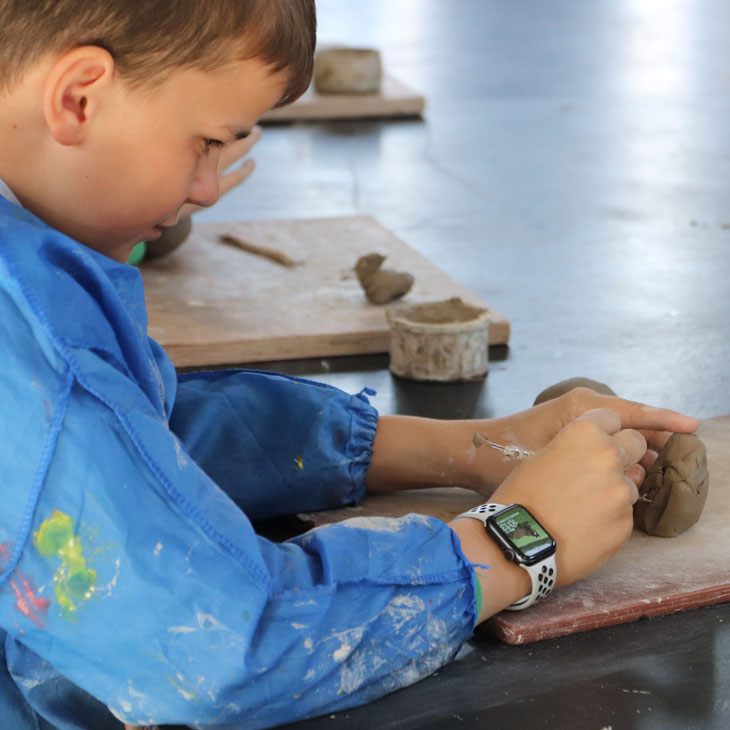 Year 6 have been researching Ancient Greek pots discovering the use, function, style and decoration of these beautiful and functional pots, including the bold central motif that makes their work stand out and tells the story of a Greek myth. After a series of drawings and producing a final large design using metallic pens, pupils created a 3D version of their wonderful Amphora, Volute Krater and Pelike style pots in clay. There were several methods that pupils could try. Lloyd was successful with his own unique approach, initially moulding the entire pot in one piece of clay and then piercing a hole down through its core using a specific clay tool. Others tried coil pots and several tried the good old fashioned and reliable pinch pot as a base before adding a neck and handles. For some of our pupils, including Sasha, it was their first time using clay and everyone agreed it was a favourite medium. The children learned the importance of scoring clay and adding slip to create good joins. Everyone persevered and produced a pot that the Ancient Greek and Roman gods would covet! Next step is to fire them in our kiln and the final step will be to decorate them. They will make beautiful gifts and additions to your homes.
Olga Houghton, Head of Art
Year 7 Develop A Love Of Reading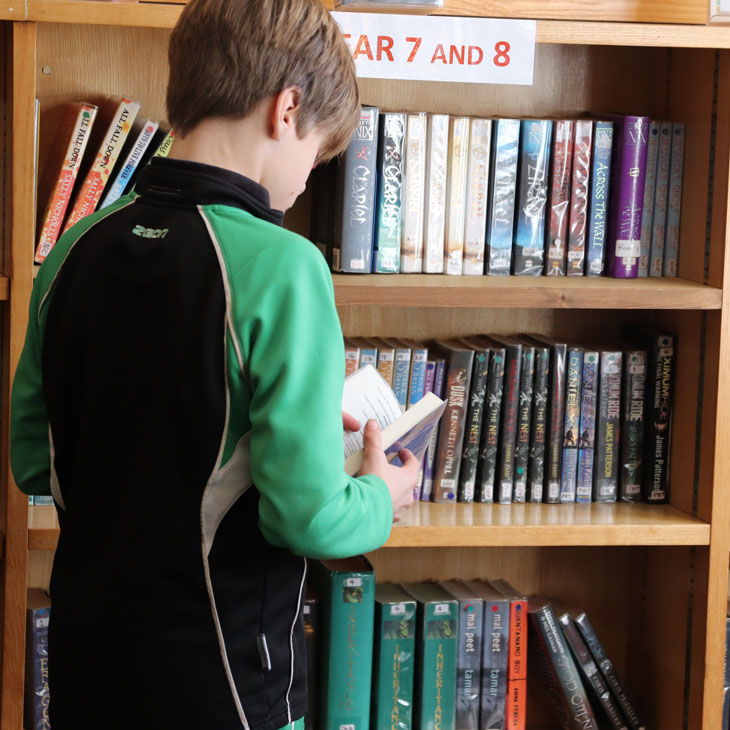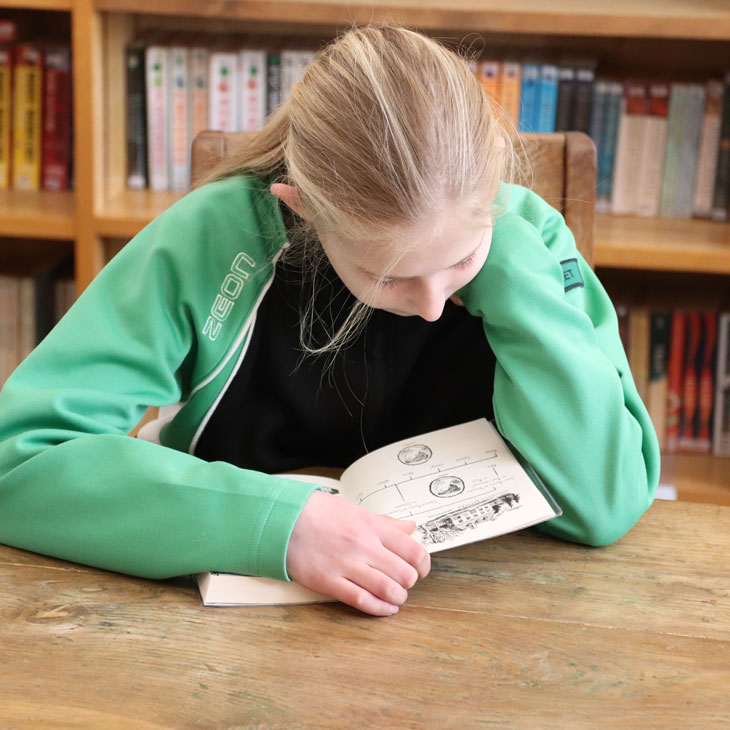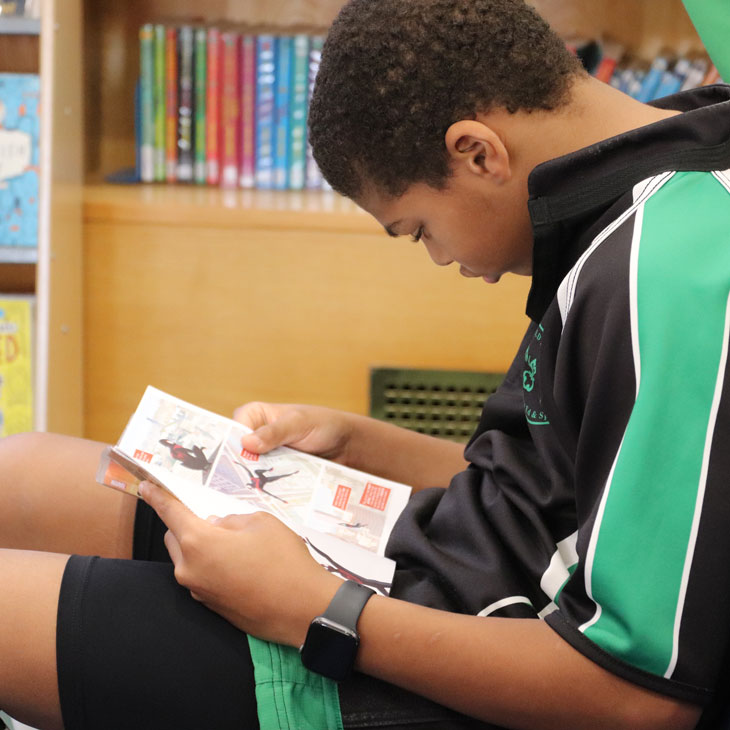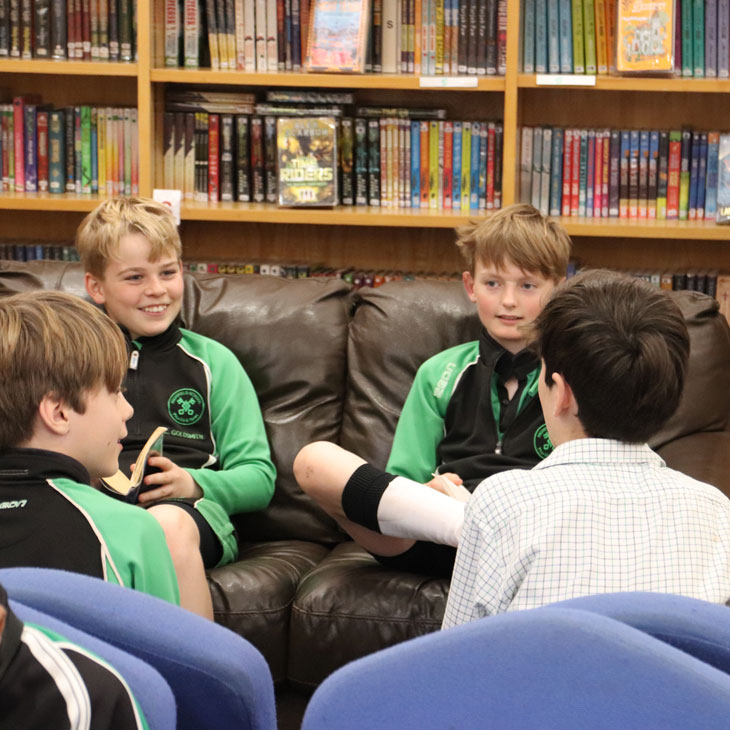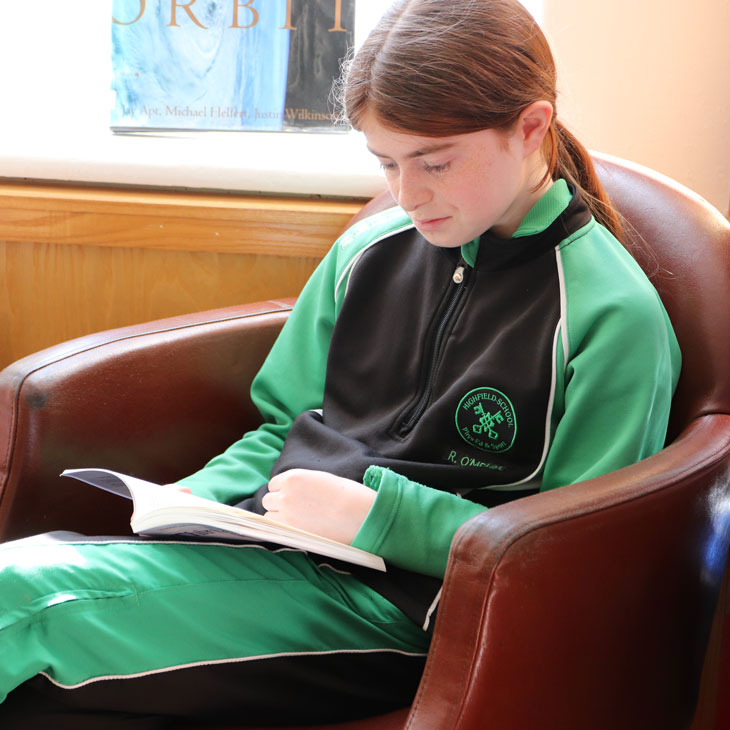 Alongside their study of Romeo and Juliet, the children in Year 7 have been working diligently towards completing their ISEB Reading Certificate this term. The process is designed to encourage good habits of sustained wider reading throughout Years 7 and 8, and has been ably supported by our brilliant librarian, Dr Whitfield. This week 7.2 spent time in the library selecting a book to enjoy over the Easter holiday. On their return to school after Easter the class will complete a written response based on their book of choice. These tasks are creative responses which reflect their understanding of the events, characters and themes within the book and encourage the children to demonstrate empathy and understanding of the characters. So far, they have completed a book review, a letter, a diary entry and designed a new book cover. As a department we are passionate about books and believe the reading certificate is an excellent way to promote reading and encourage the children to read more widely and more regularly. We hope that every child in the school will enjoy a good book this holiday!
Lucy Hendry, English Teacher
Year 8 Design Skills Abound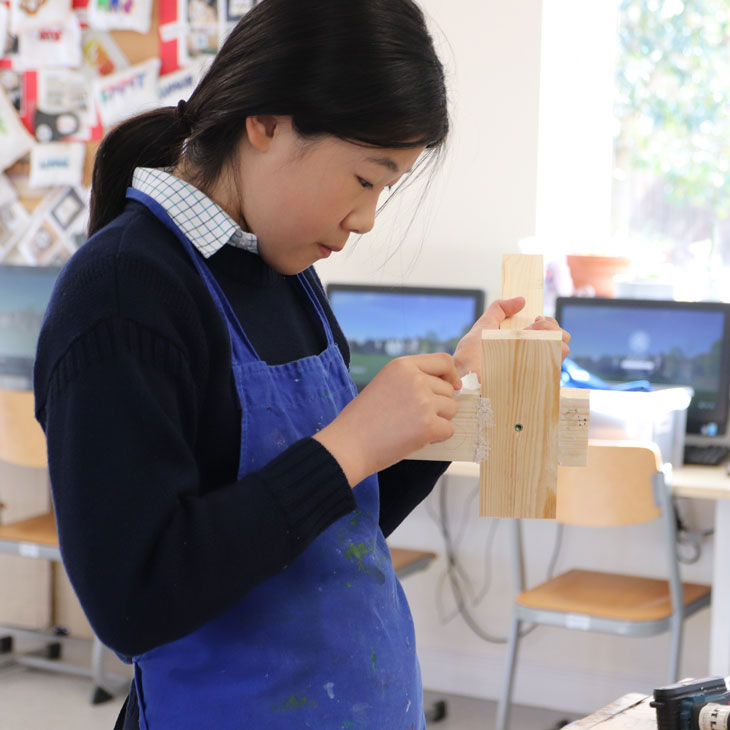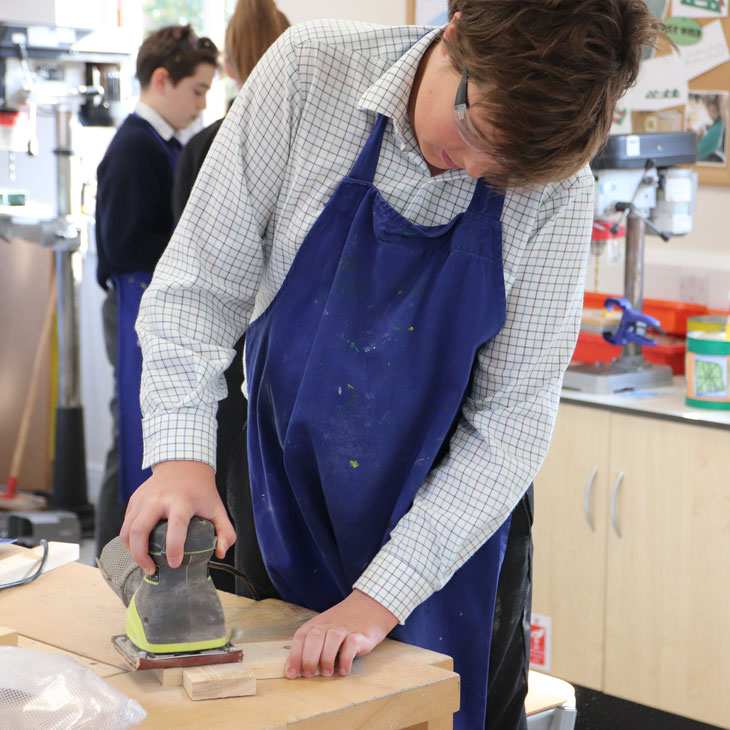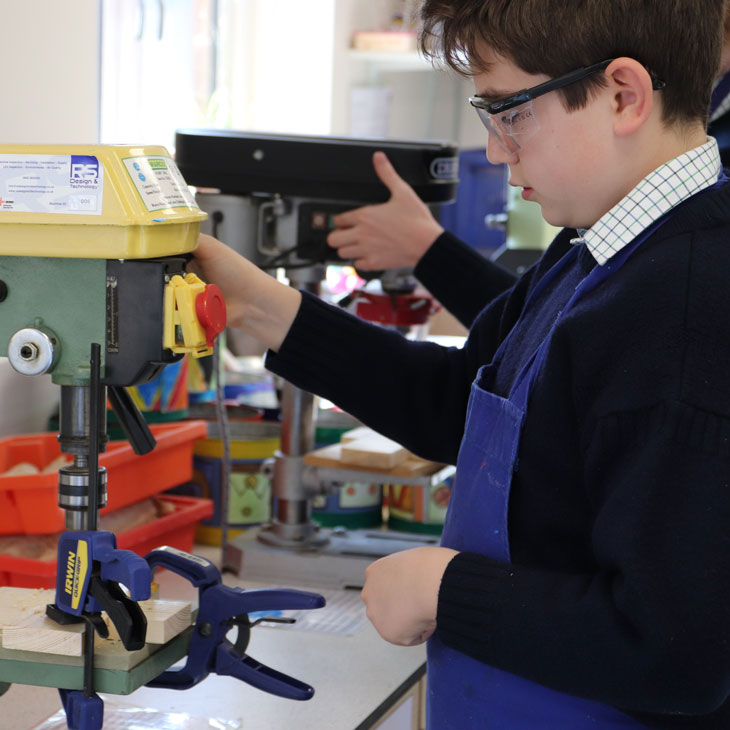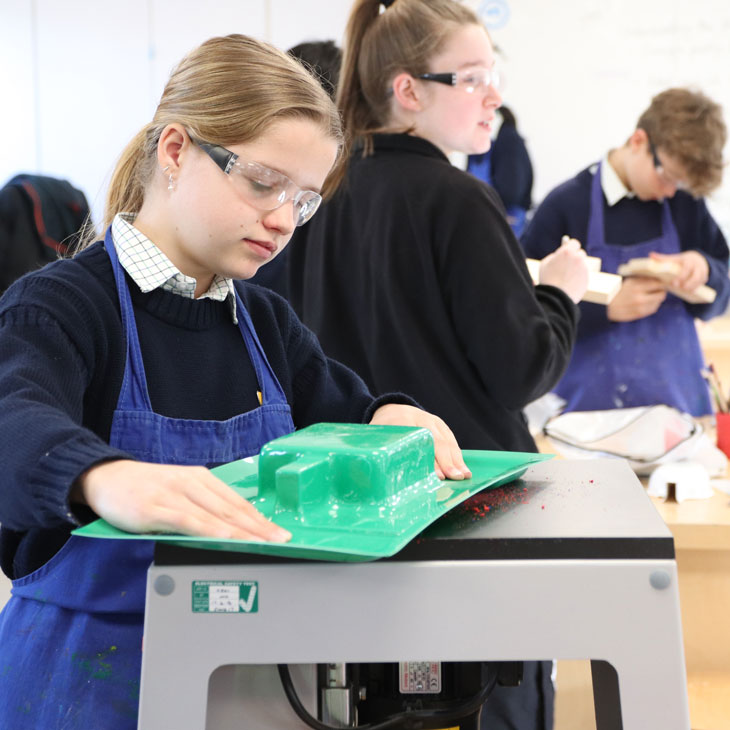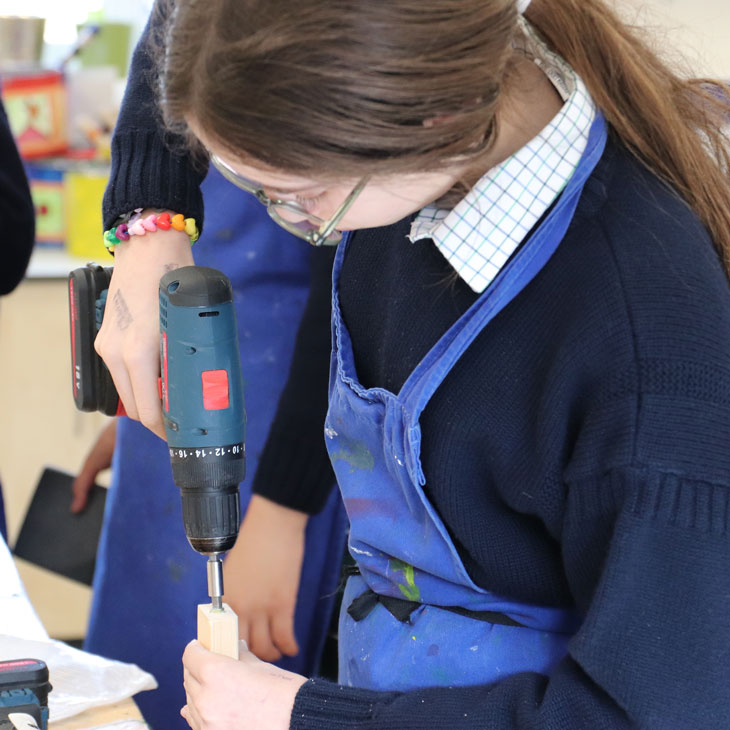 The Year 8 children are working on Product Design in DT. This two-term projects sees the creative young designers developing and building a cross lap Angle-poise Desk Lamp with a vacuum formed shade. The lamps will be finished next term. Over the course of this project the children learn a variety of different techniques including 3D design, concept sketching, electronics and laser engraving. They develop skills in using a variety of tools such as a mallet, chisel, hack saw and vacuum former and work with three different materials, plastic, metal and wood.
Jamie Dew, Head of DT