Future Looks Bright
25th November 2022
Arctic Adventure As Nursery Ponder Plight Of Polar Bears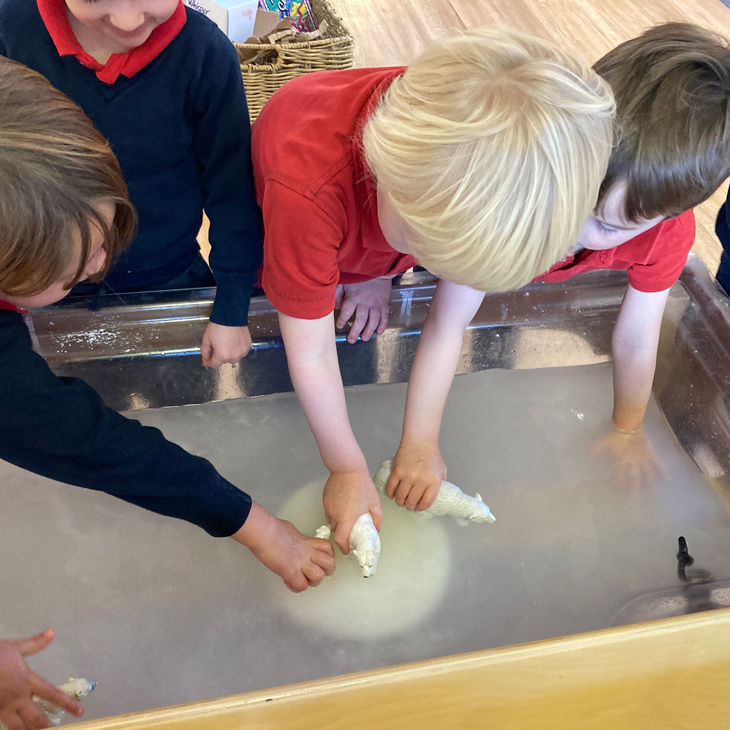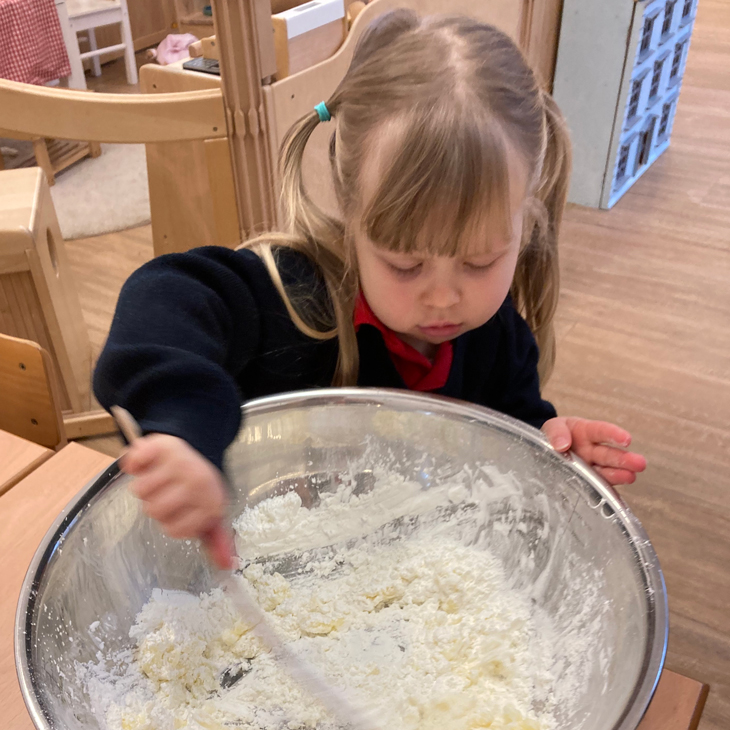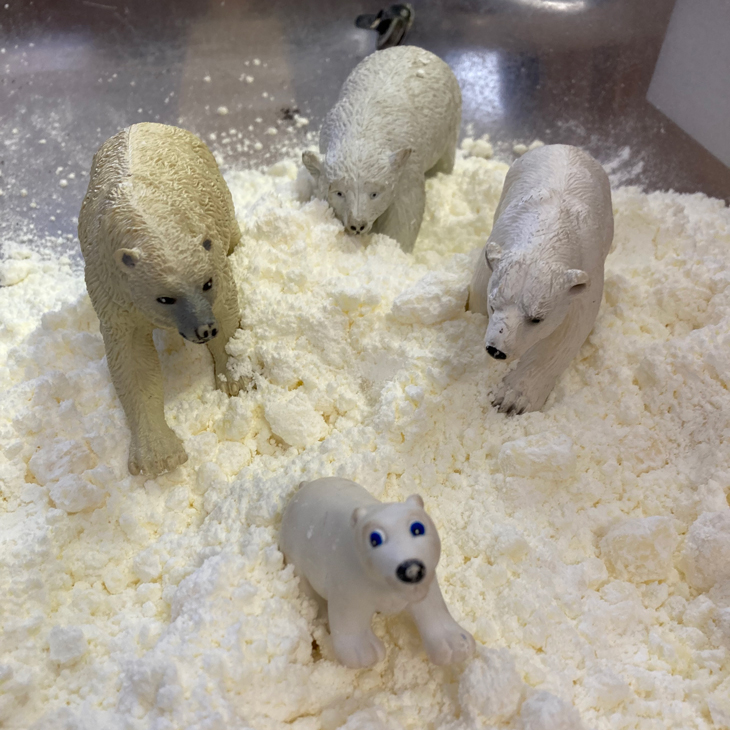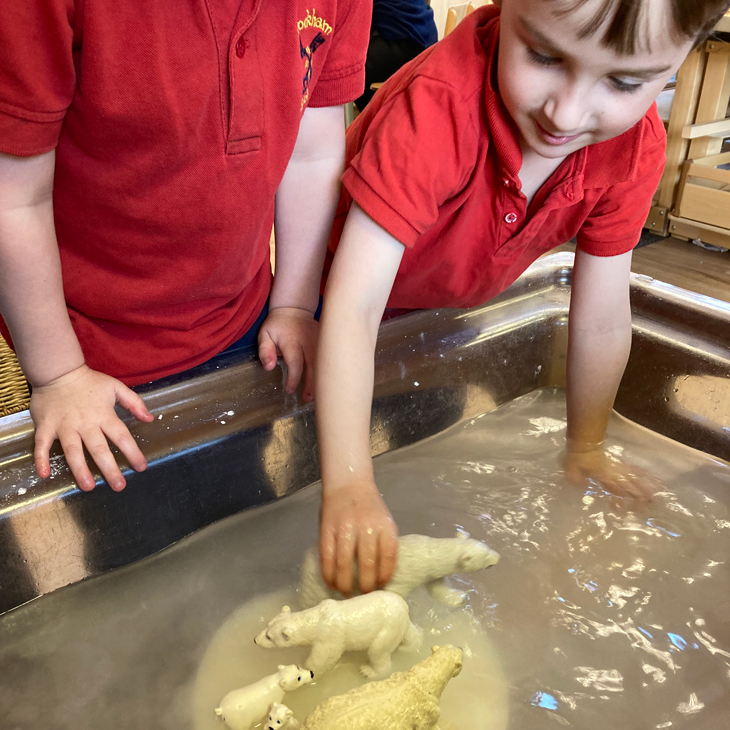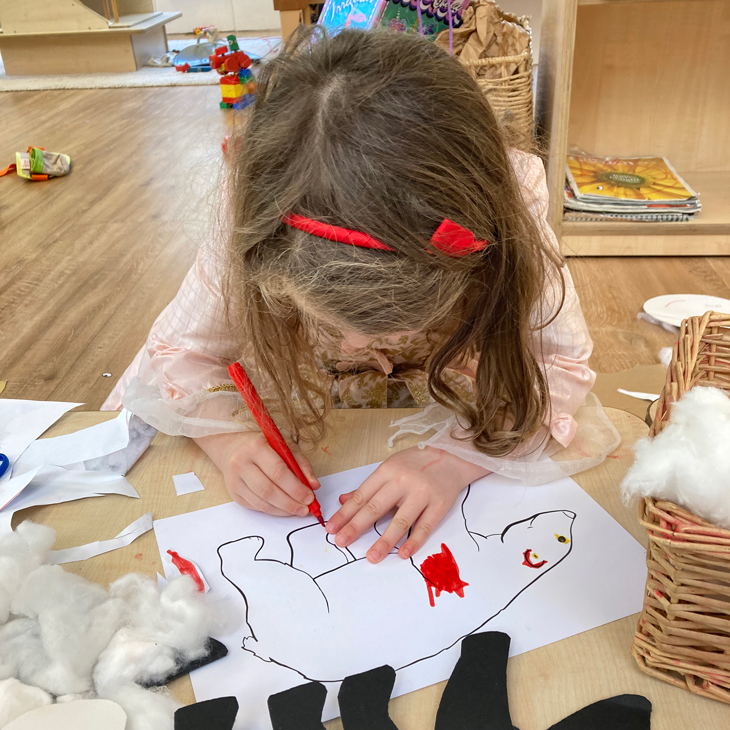 The Nursery children have this week been exploring how polar bears live in the Arctic. They have learnt how the bears' double layer of fur insulates them from the bitterly cold Arctic air and how they have black skin under their snow-coloured fur, which is perfect camouflage. The children discussed what they thought polar bears ate – and there were certainly some very imaginative ideas! The intrigued young learners then turned to non-fiction books and their new iPads to find out all they could about how exactly the bears survive in such extreme conditions. Fact-finding done, the children tried moving around the classroom like polar bears and thought about how heavy their big white fur coats would be to carry around. The children embellished this learning with myriad craft activities; such as making their very own polar bears using a variety of different materials, with some children expertly drawing polar bears from scratch. The fascinated Nursery youngsters also undertook an experiment to discover how ice melts in warmer temperatures; enabling them to reflect on the problems facing polar bears as their ice platforms begin to melt. When the class looked at how the polar bears lived on ice, they discovered their habitats were like floating islands of ice that were in grave danger from climate change which, in turn, put the bears themselves under real threat. So the concerned children were set the challenge of pondering ways in which the beautiful Arctic bears could be protected.
Kerry Chapman, Nursery Class Teacher
Creative Reception Inspired By Popular Children's Book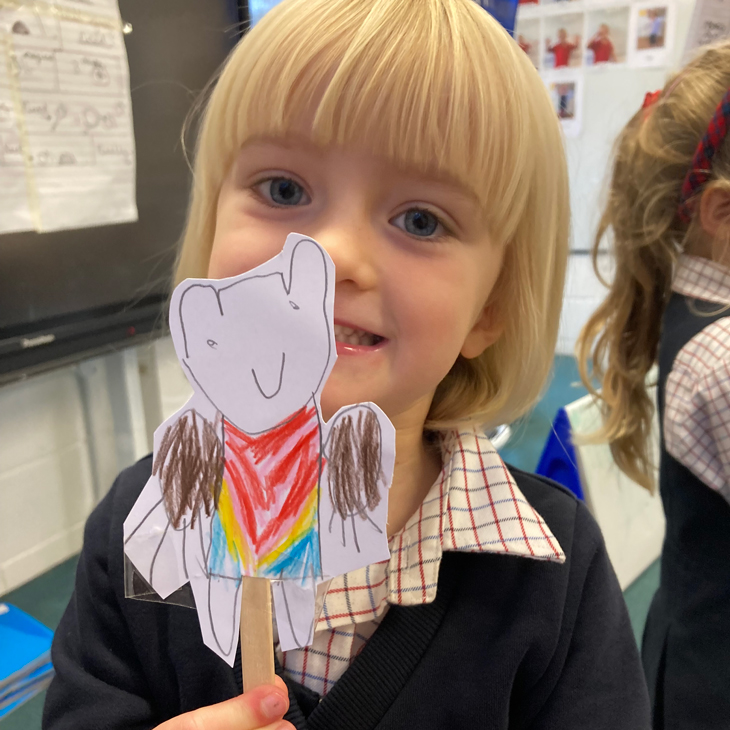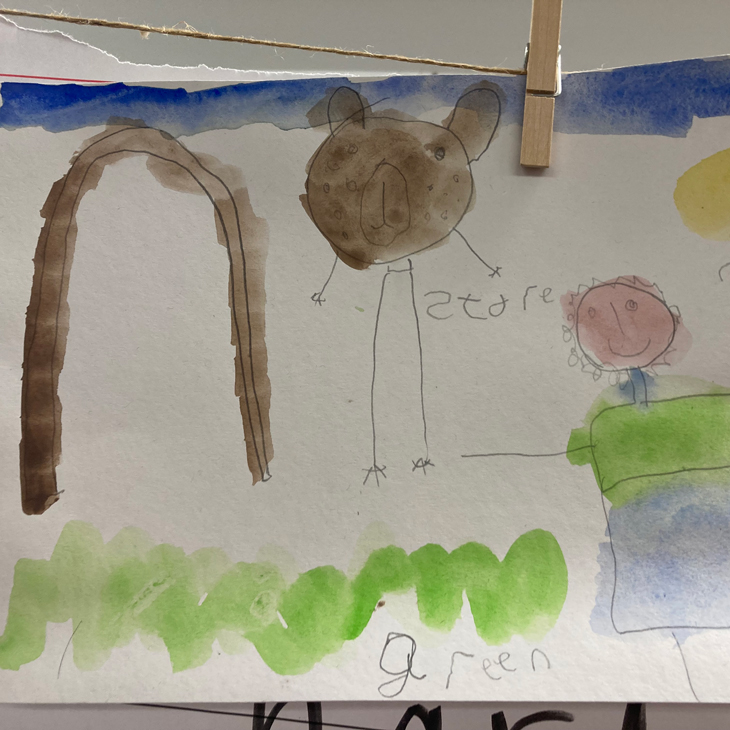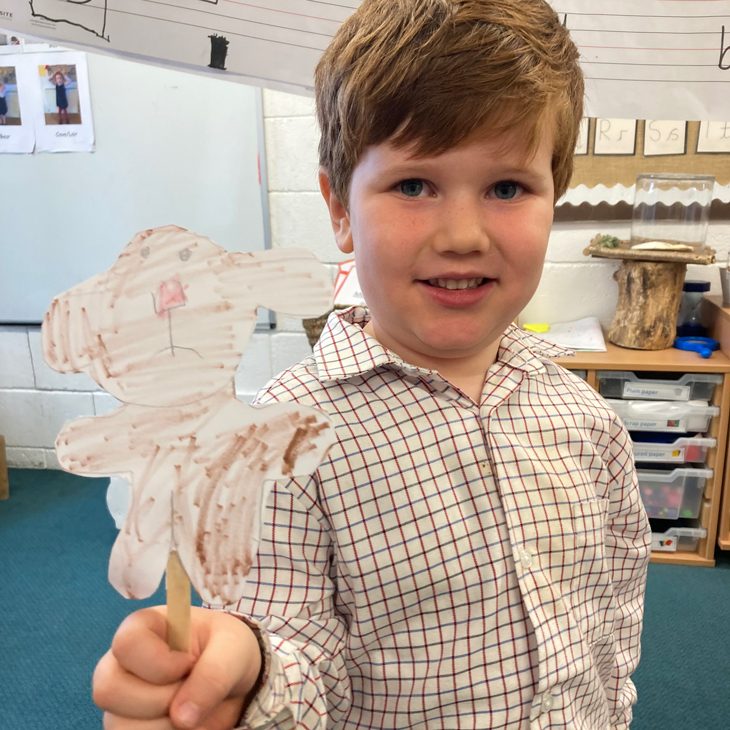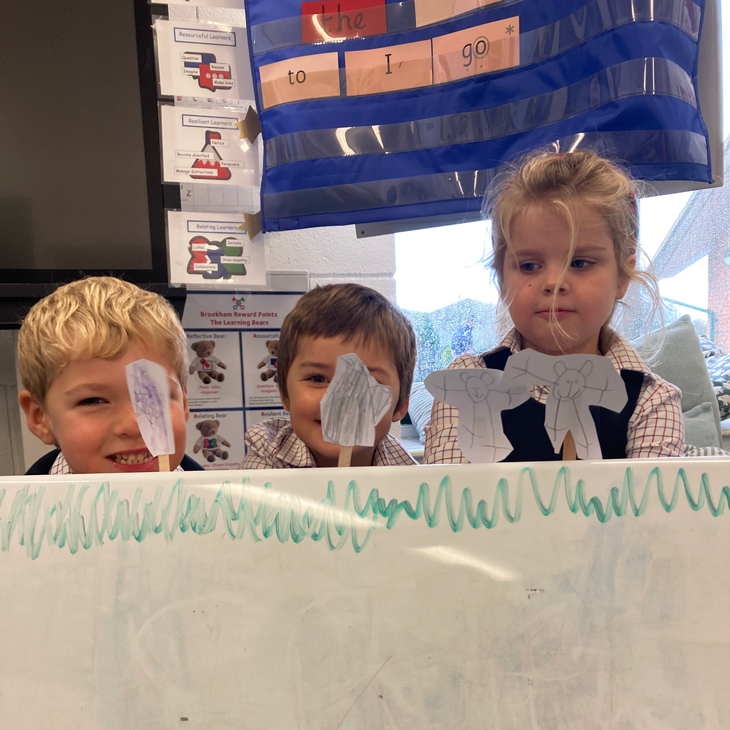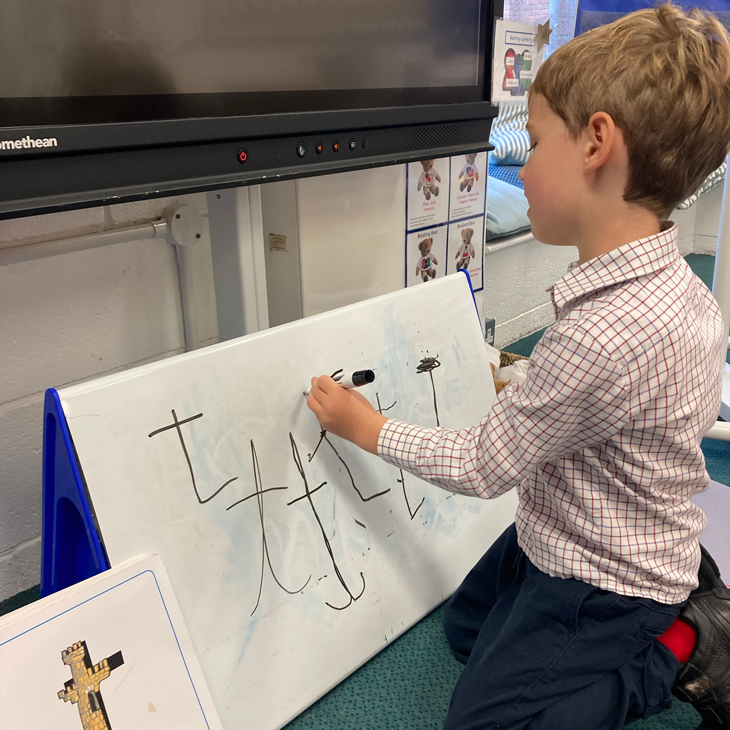 This week, Reception have been inspired by the much-loved children's story We're Going on a Bear Hunt. From splashing through the many puddles left in the playground by the recent heavy rain to squelching through mud at Forest School, the eager explorers retold the lovely story as they made their way happily around the school grounds. Inside the classroom, and keen to stretch their reflective learning muscles, the creative youngsters painted a scene from the story before using their developing phonic knowledge to label their pictures and write about them. And their wonderful development continued during child-initiated learning where new skills were explored and trialled in the creative area when designing and creating a bear in a cave. The resourceful learners selected their own materials while also drawing on their cutting skills to create bear puppets. The children then stretched their relating learning muscles by listening carefully to their peers who used their creations to retell the charming story. Shrieks of delight and laughter were heard during the performances; building self-esteem and putting big smiles on the young faces.
Georgie Hunter, Head of Reception
Excited Year 1 Have A Brush With The Law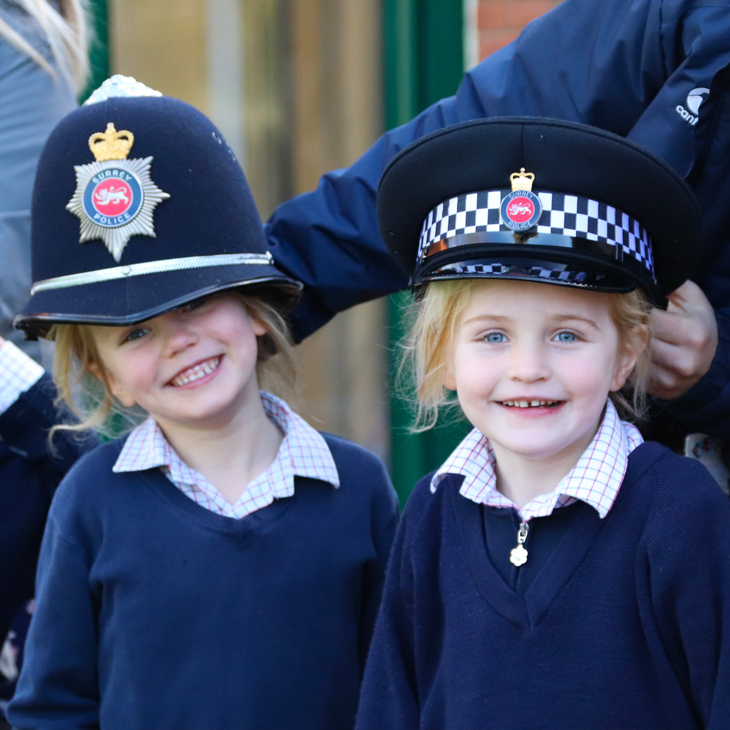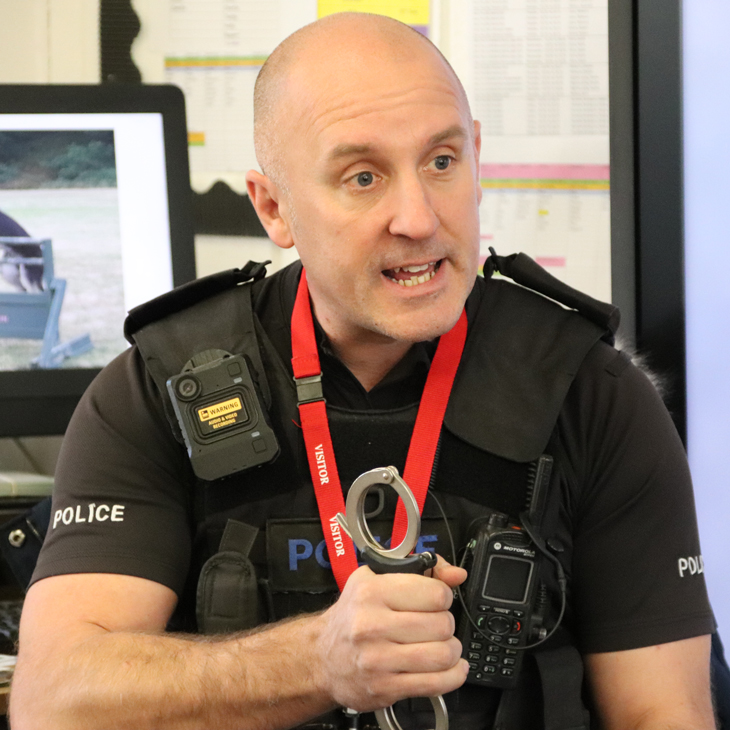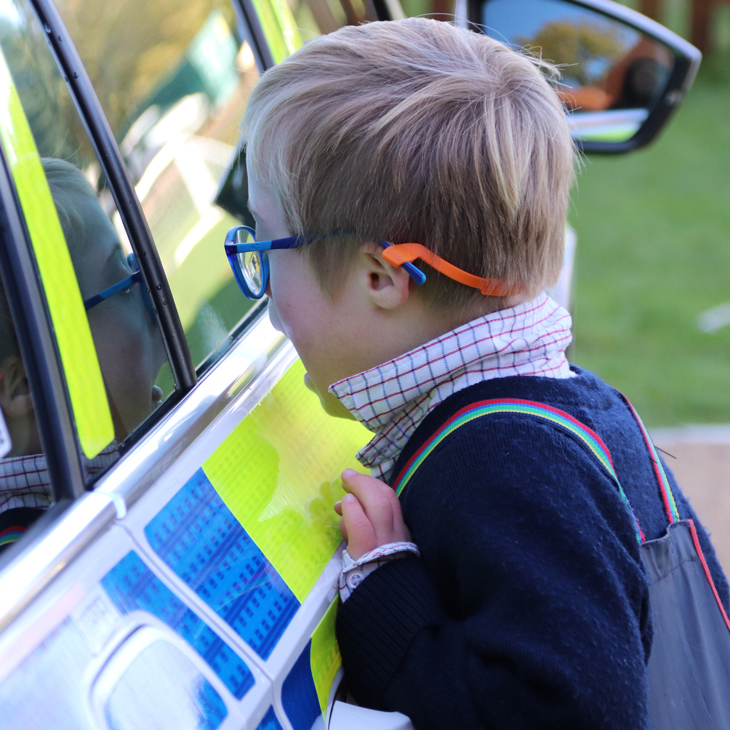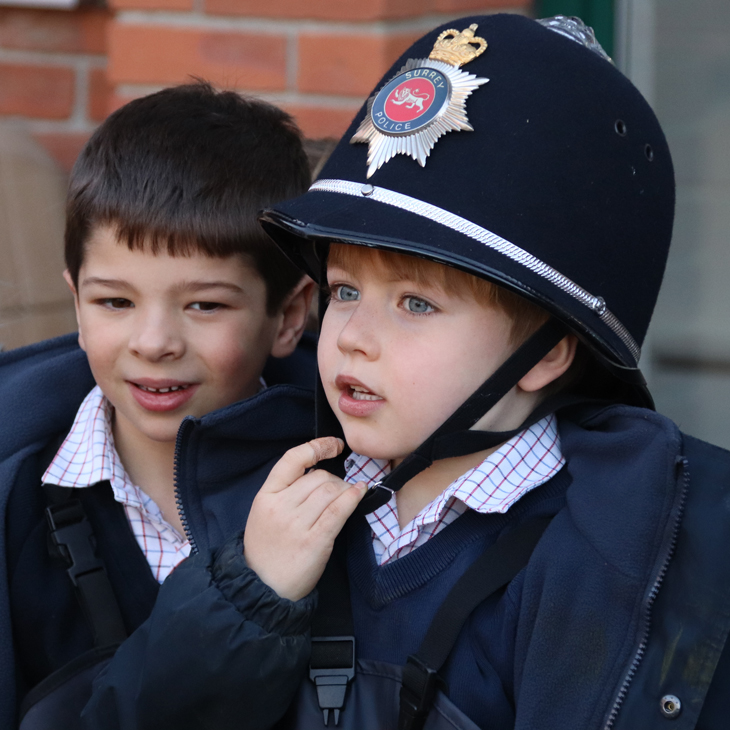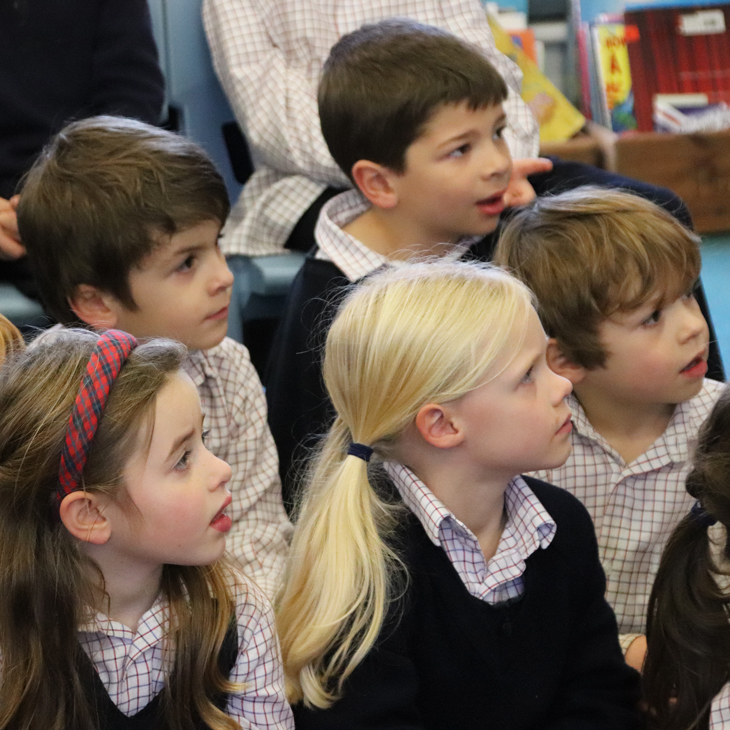 Children in Year 1 were this week incredibly excited to meet yet another real-life superhero – a police officer! The children had the opportunity to look inside a real police car and try on all three of PC McBrown's hats and helmets. They also found out that he has two amazing dogs who help him to do his job, such as tracking down criminals and helping find missing people. The fascinated children asked PC McBrown lots of brilliant questions that they had thought about during their literacy lessons and, after his visit, they created some amazing persuasive posters to encourage people to join the police force. In maths, the children have been consolidating subtraction and addition using a mixture of number sentences using the plus and minus symbols, as well as turning detective in a bid to try to spot the parts and whole in number sentences and solving problems using the methods they have learnt so far, including number lines.
Rachael Berry, Year 1 Class Teacher
'Famous Forests' Topic Inspires Year 2 Artists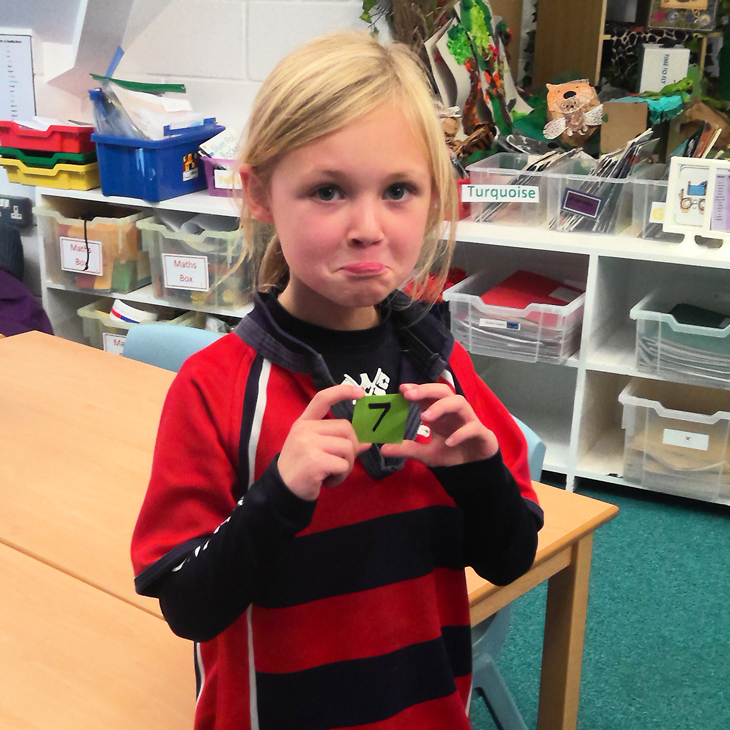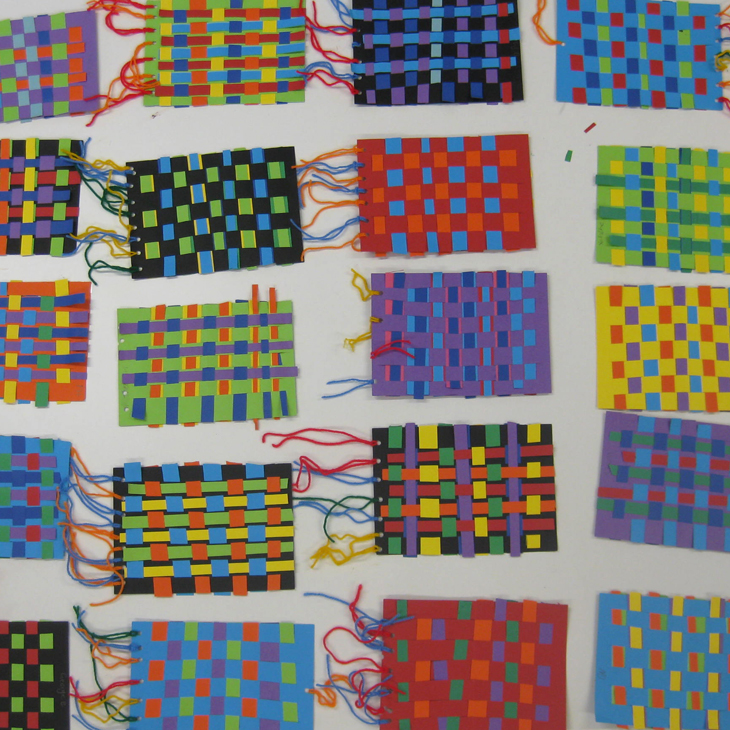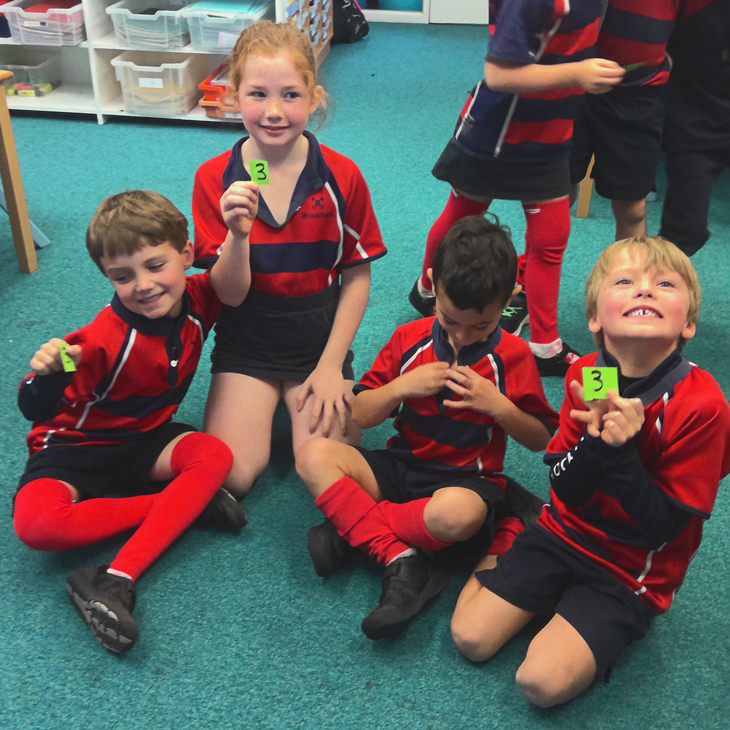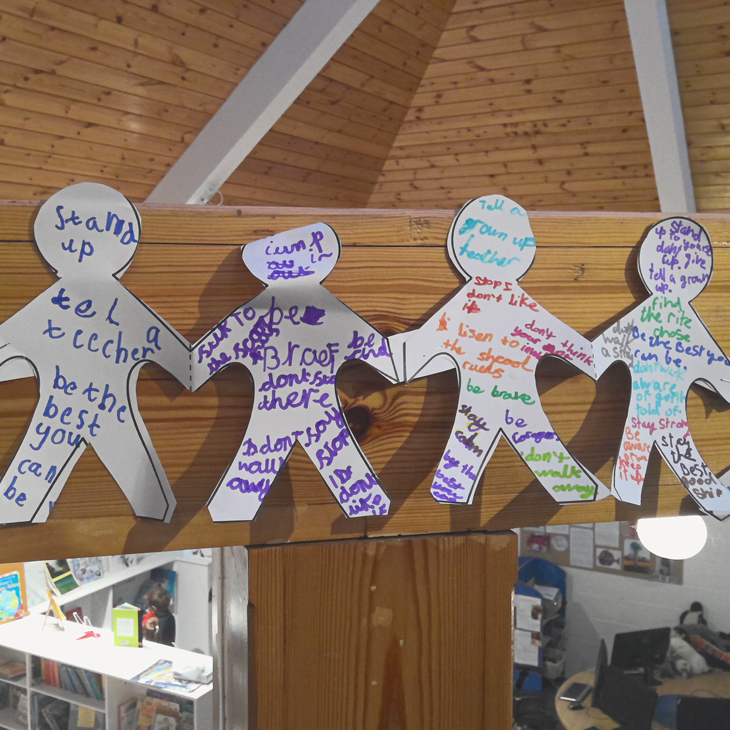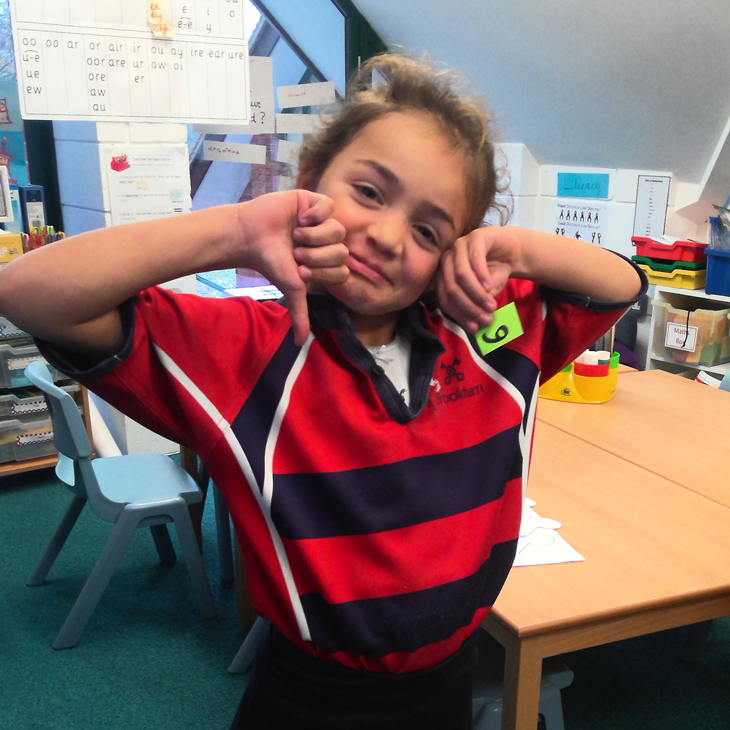 Year 2 children have been flexing their resourceful muscles by making fabulous links between different areas of the curriculum. This has culminated in some stunning artistic creations, under the guidance of Mrs Martin. Inspired by our magnificent 'Famous Forests' topic, the children have been taught the techniques of weaving and over-weaving in their art lessons. All the children persevered with the techniques, trying incredibly hard and demonstrating their use of their resilience muscles. Inspired by the spectacular Guatemalan kite festival and Guatemalan fabrics, they selected a similar array of vibrant colours and superb patterns to great effect. Back in class, the children located the Spanish-speaking, Central American country of Guatemala using interactive technology. Through Google Earth, the children zoomed in on la Ciudad de Guatemala. They identified human features of this city landscape, such as residential and commercial areas arranged in a grid system, as well as churches, hospitals, schools and parks. They then compared this area to Quetzal Biotope, a nature reserve in the rainforest area of Guatemala, which highlighted contrasting physical geographical features. The satellite view was really revealing and the children were quick to identify areas of the rainforest that had suffered deforestation by burning; the tell-tale signs of dark, scorched areas there for all to see. While shocked by what they saw, it fuelled the enthusiasm of Year 2 to look at sustainable methods of farming and ways in which the rainforests can be protected for the endangered species which live there. Reinforcing last week's anti-bullying theme, the children considered how it feels to belong to a group and, conversely, how it feels to be left out. These feelings and emotions were discussed with great honesty and enthusiasm. The children thought of ways to ensure that everyone has someone to play with at playtimes and created a 'Stand up to bullying' chain annotated with their personalised strategies of how to ensure that everyone is included, feels safe and is happy.
Shirley Jervis, Year 2 Class Teacher
Year 3 Prove To Be Technological Whizzkids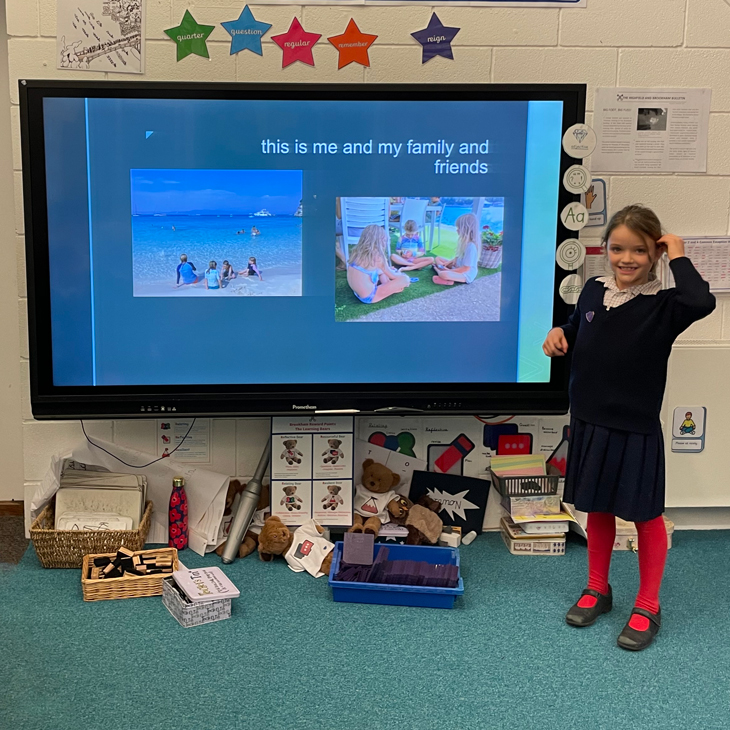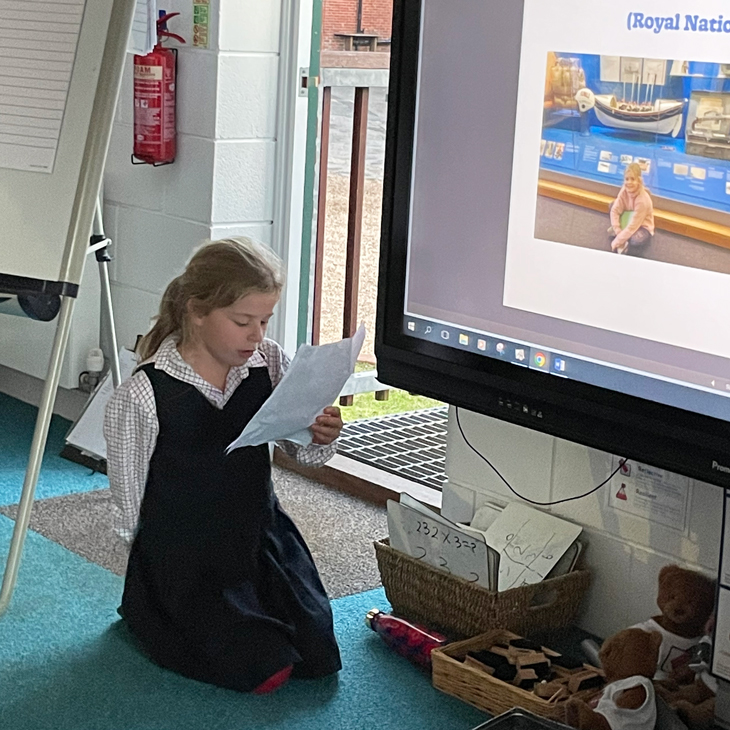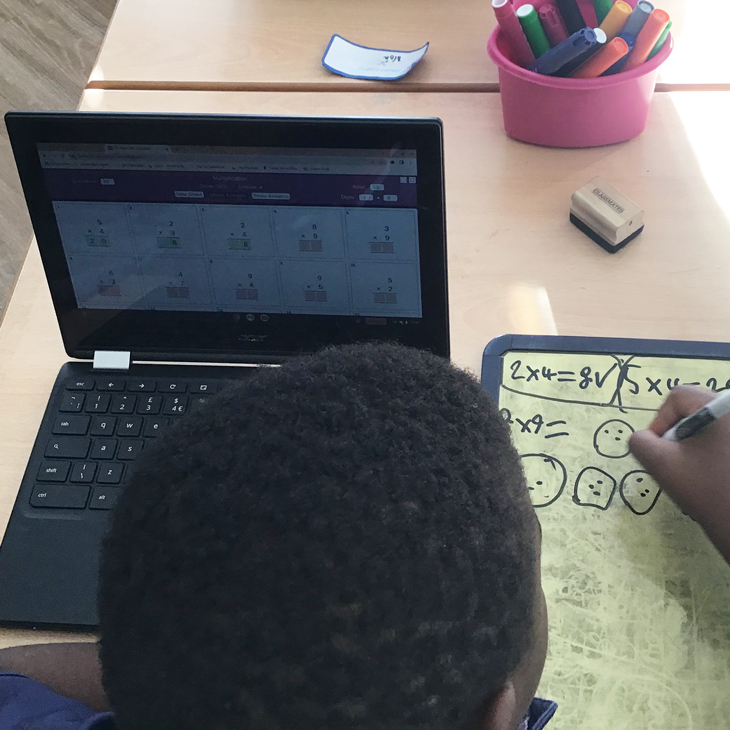 Year 3 are keen to use technology in the classroom to enhance their learning. The children will often take the opportunity to use various programs and apps to help meet learning objectives across the curriculum in new and exciting ways. In literacy, the young learners are using a word-processing application to help innovate their class text; experimenting with language and trying out different phrases to improve it. They are also learning how to recognise different parts of speech, such as verbs and adjectives. In maths, Year 3 have been using a program to generate different multiplication questions and to check the answers when they have solved them. The big advantages to the children of using their chrome books are that the difficulty of questions can be very quickly varied (as each child becomes more familiar with how to tackle the questions and works at their own pace) and that marking is immediate. Furthermore, Year 3 use their computing lessons to help support their other learning activities, with the emphasis always on keeping safe online. The children are taught how to use their computers to find out information from the web, and to perform safe and efficient searches. Perhaps most exciting this term has been learning to build presentations to share information about our topic of exploration. The children have been honing these skills at home and presenting 'topic talks' to their friends, depending on their special interests. Year 3 are clearly ready for the future!
Stephanie Turner, Year 3 Class Teacher
Year 4 Take Charge With Empowering Experiment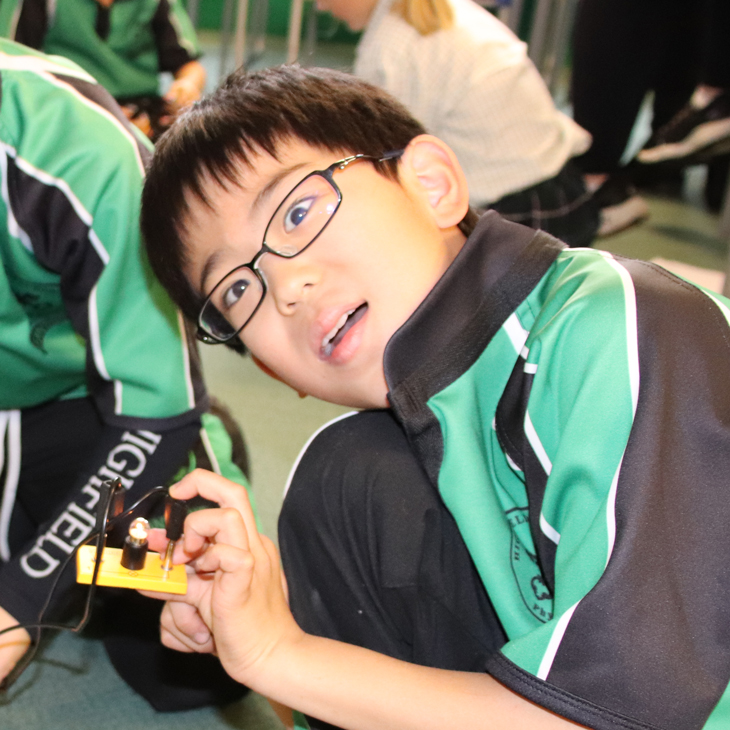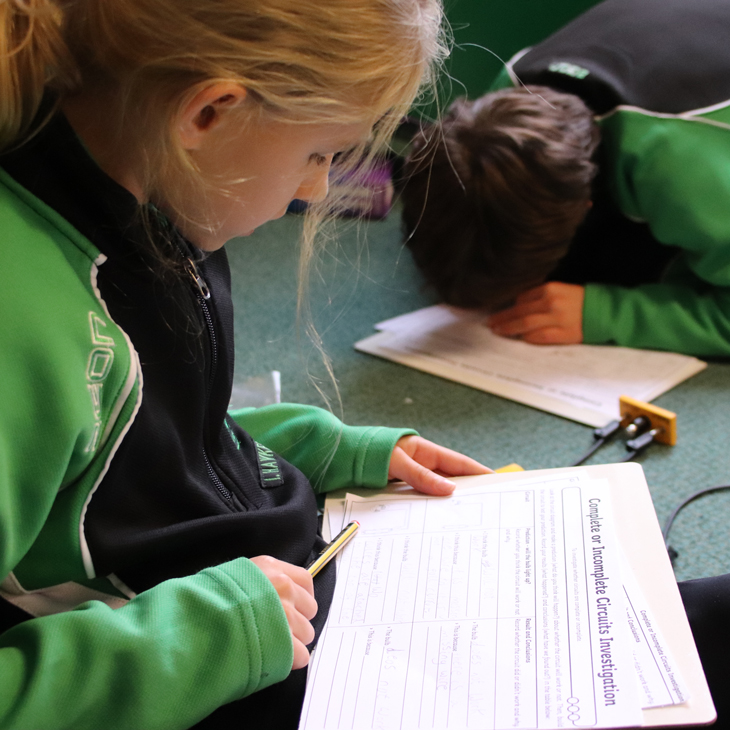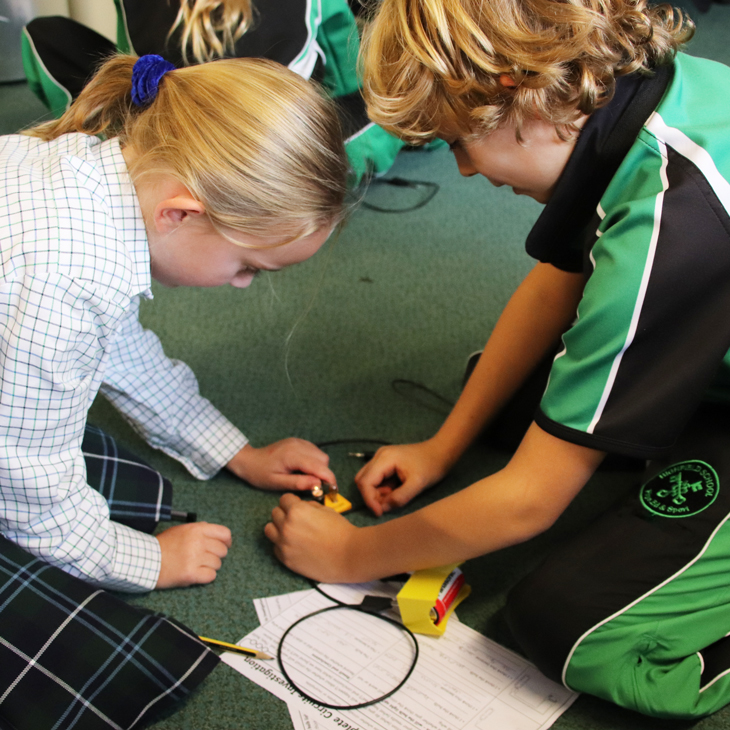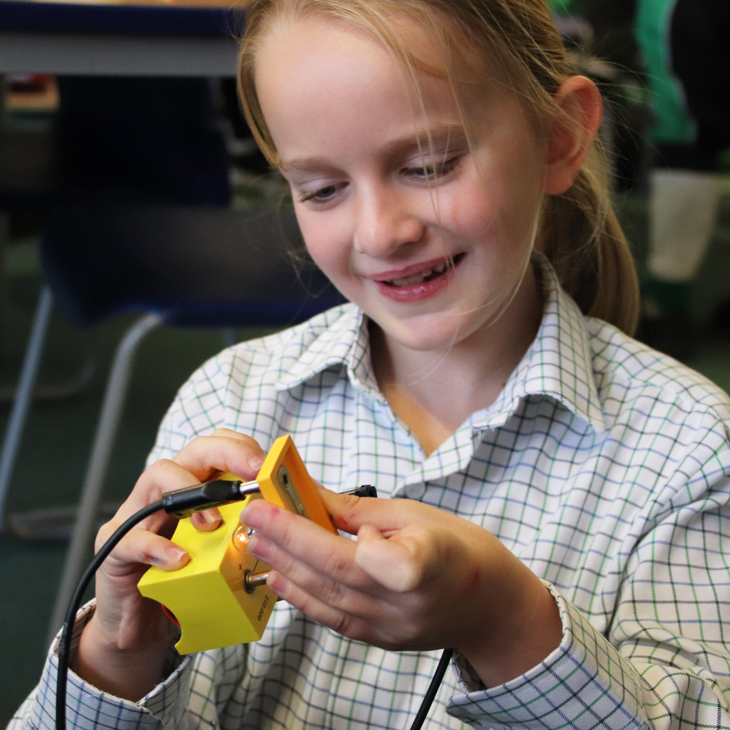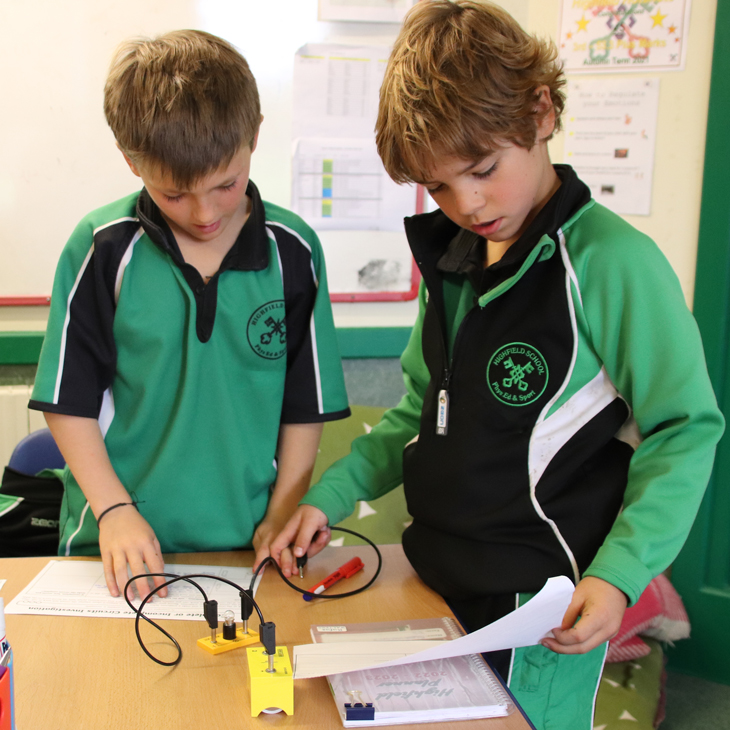 Year 4 are studying electricity as part of their science learning this term. During this week's lesson, the children had to identify and build working circuits, as well as explain how to work safely with electrical components. The pupils had to build a variety of complete electrical circuits using varying apparatus. They then had to draw diagrams of the circuits and label the components. And as part of a scientific enquiry, they were asked to experiment with the amount of cells within the circuit and report on their findings. The children worked diligently in pairs and it was wonderful to witness so many lightbulb moments – literally!
Louise Doven, Year 4 Class Teacher
Year 5 Place Much Faith In Interactive Language Learning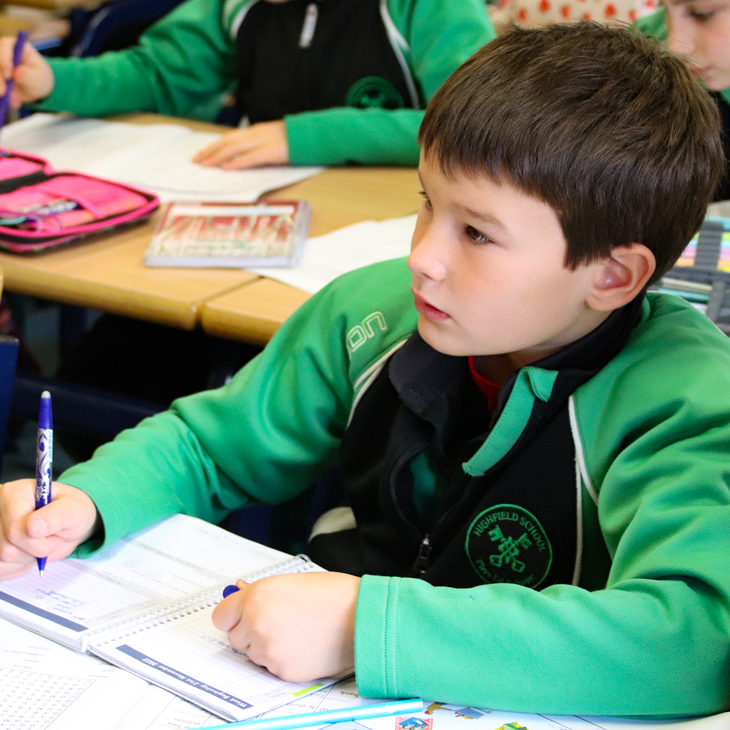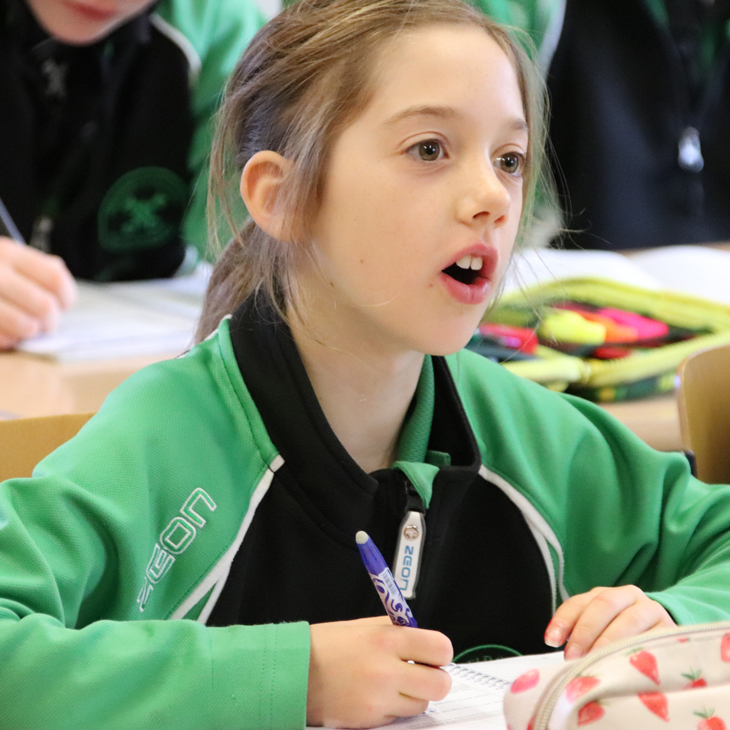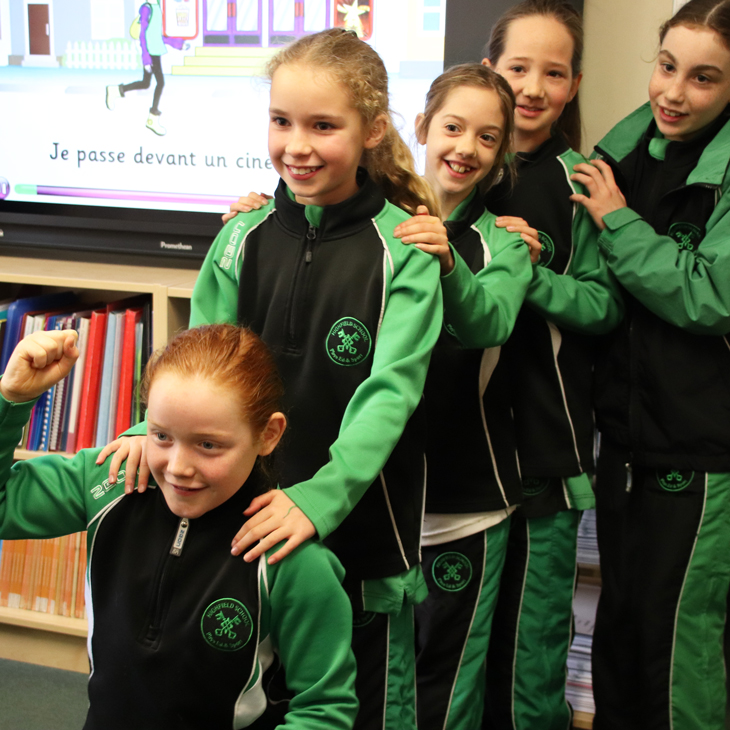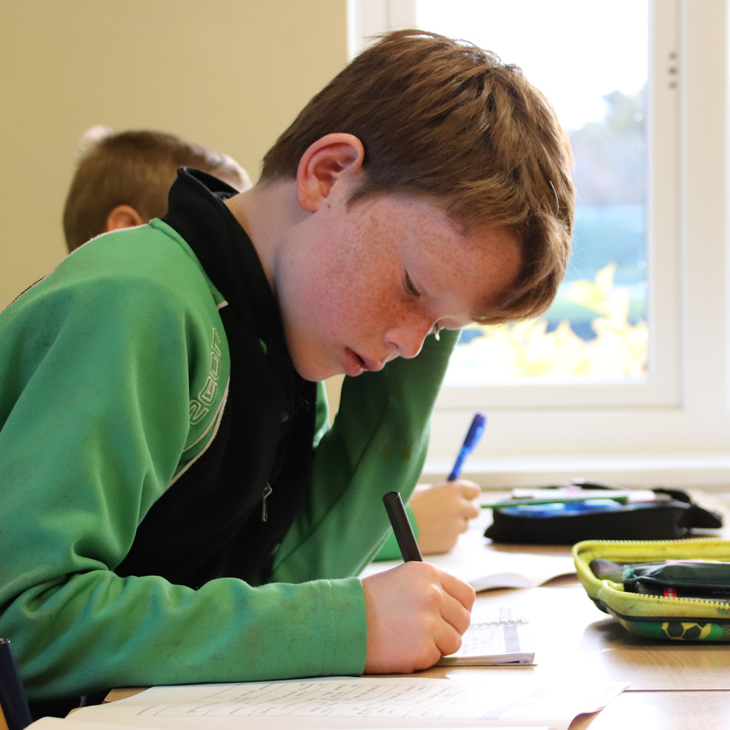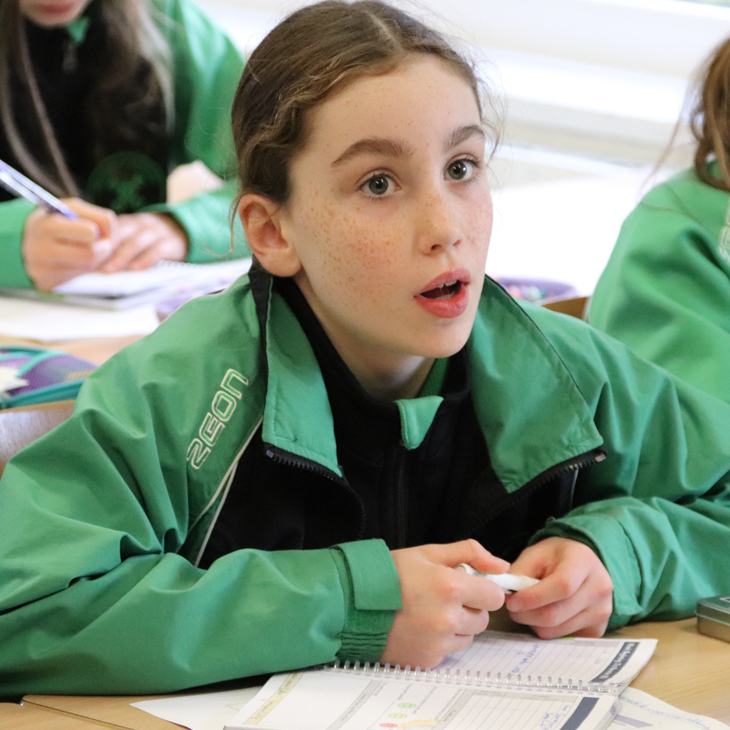 In French this term, Year 5 are focusing on countries and what places and buildings may well be found in a typical town. This is done largely through conversation, games and song. As ambassadors of a particular country, the children must explain which country they are referring to, the colours of that particular country's flag, and how best to get there. They then mimic places in town with clever actions to help lost travellers reach their destination. The children may imitate a particular building, such as a church or library, or a direction post; making the topic and the grammar more current, fun and engaging. Interactive lessons is the key to language learning at this stage and it is lovely to see the enthusiasm that the pupils bring, as well as the confidence they have to join in.
Helene Pidebois, Year 5 French Teacher
Year 6 Bring Historic Research Work To The Surface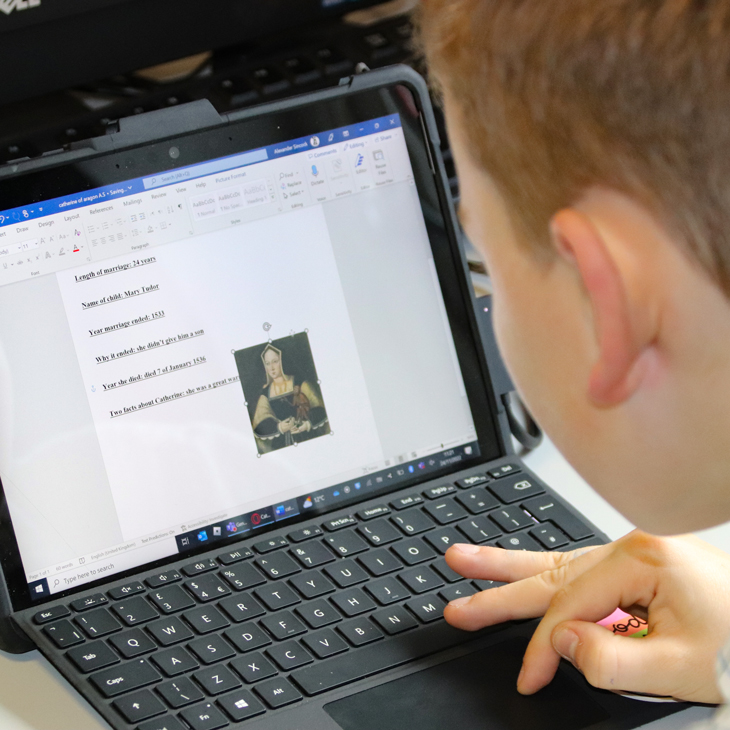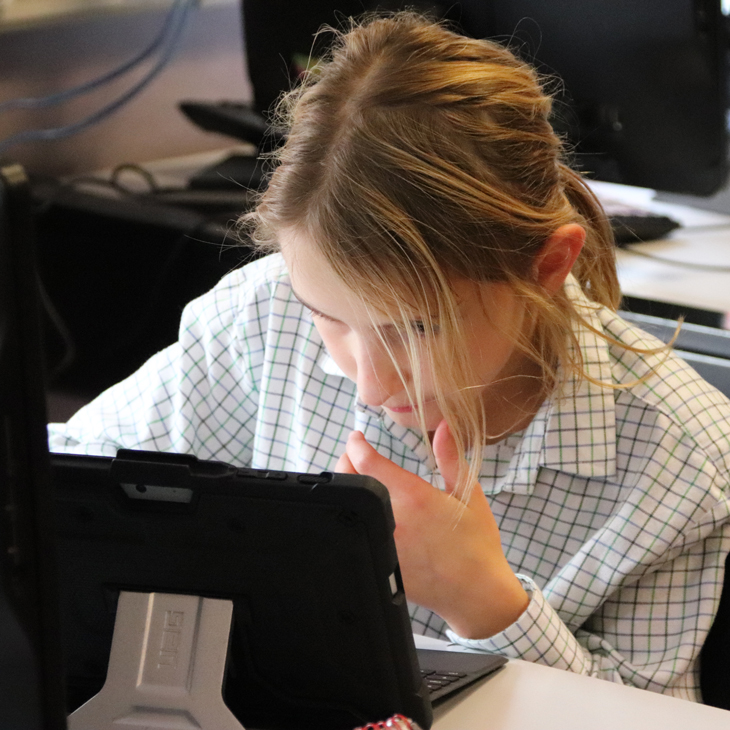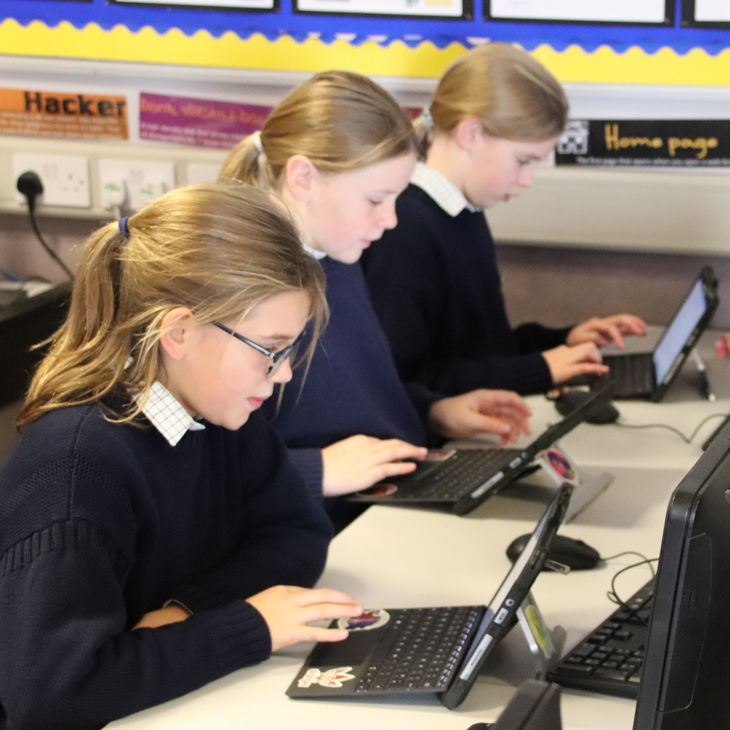 In digital literacy, Year 6 have been complementing their studies of the Tudors in history by doing a research project on the wives of Henry VIII. Using their Surface devices, the children have set up a page with a range of research criteria. From there, they have been trawling through various websites to find the answers they need. Once they have completed their research, the children are developing their formatting skills and the layout of pages. This work is being saved to their OneDrive accounts, therefore developing the children's understanding of using the cloud-based storage facility. Once finished, Year 6 will print out the work and add it to their history books.
Richard Dunn, Head of Digital Literacy
Year 7 Mathematicians Consider All The Angles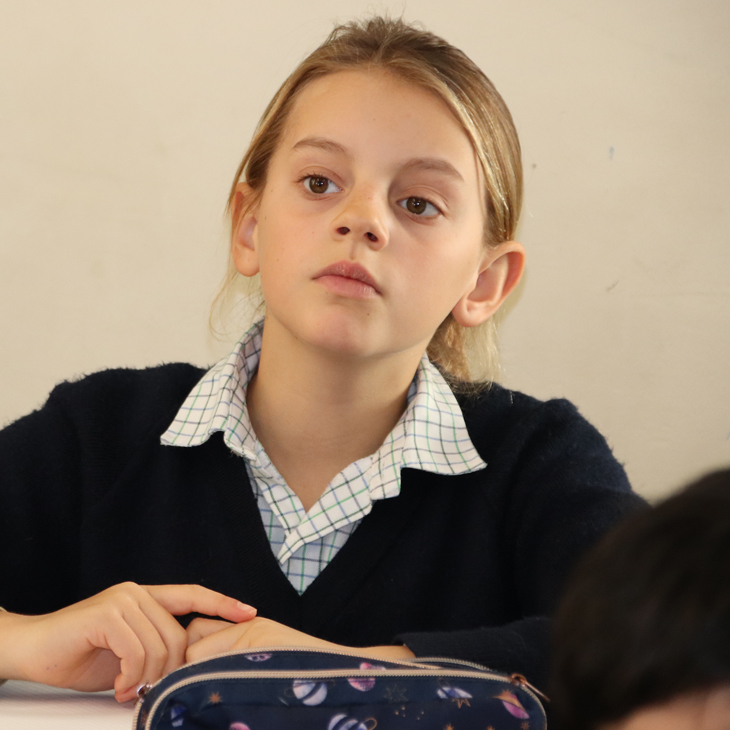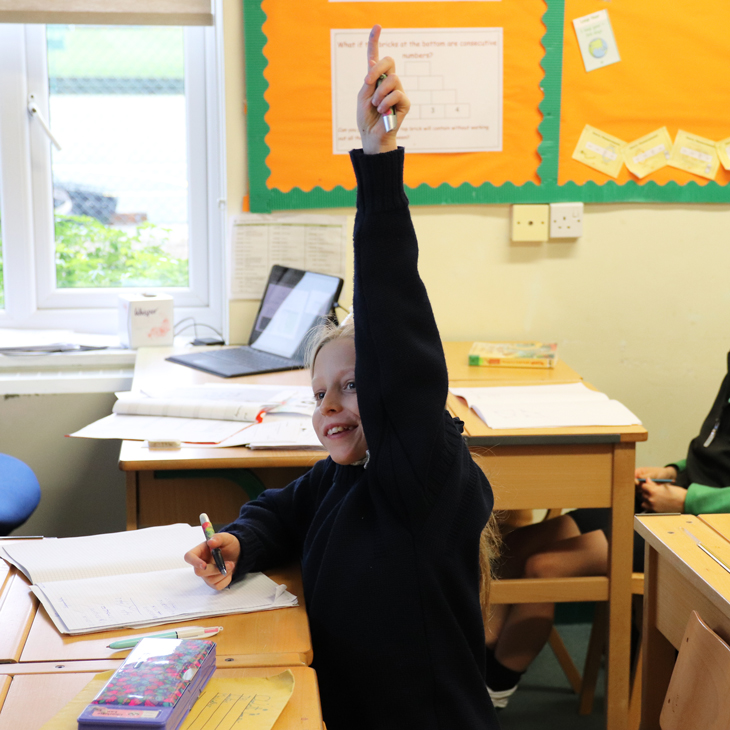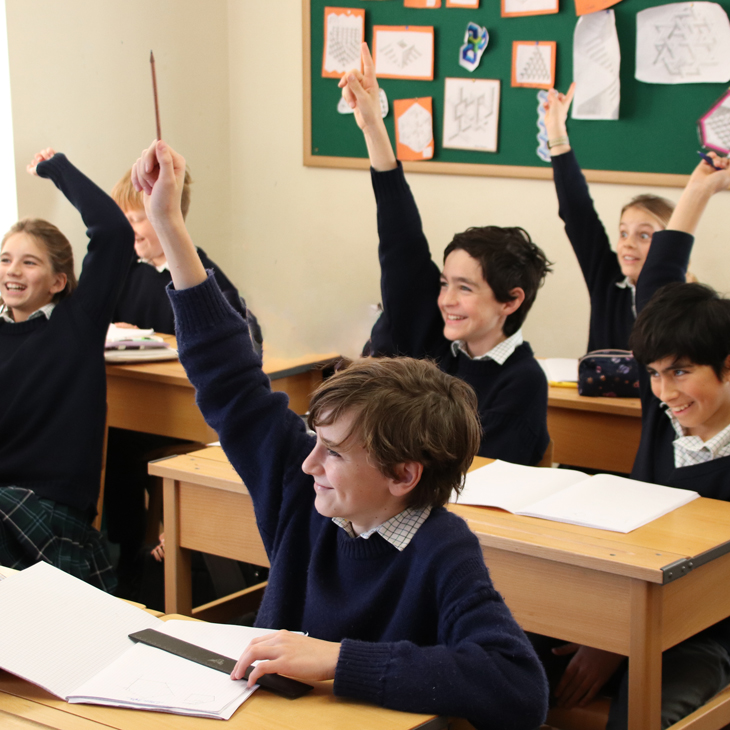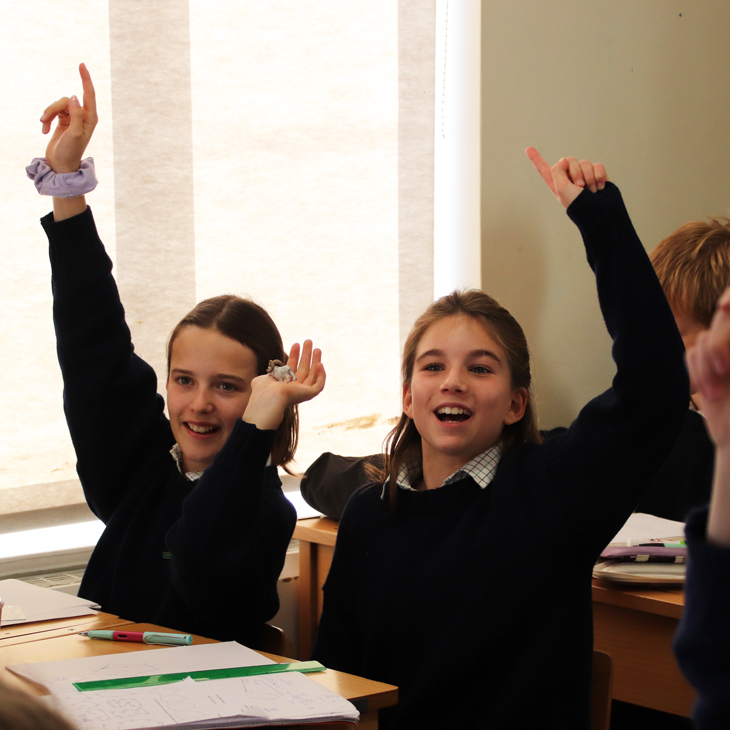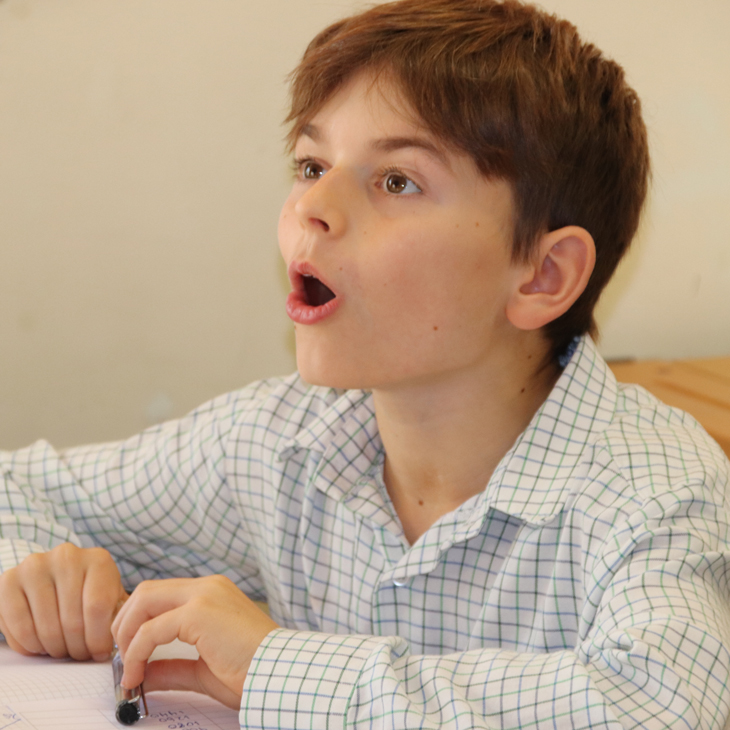 Our Year 7 top set have spent the week studying angles and their different properties in maths. After a quick recap of what they already knew about basic angle facts, the pupils investigated what patterns they could identify when measuring different angles in parallel lines. They were able to quickly spot certain patterns and identify the rules relating to alternate, corresponding and co-interior angles. To further stretch the pupils, the unit then extended to applying algebraic expressions and looking at how they can be applied to different shapes, given the knowledge they already have of angle properties. I was so impressed by the pupils' knowledge, application and resilience with what is a tricky topic. The unit will set them up nicely for exploring these angle properties in more depth in Year 8, in addition to giving them a solid base of knowledge that will support them at Key Stage 4.
Danny Parkinson, Year 7 Maths Teacher
Early Start No Problem For Year 8 Latin Linguists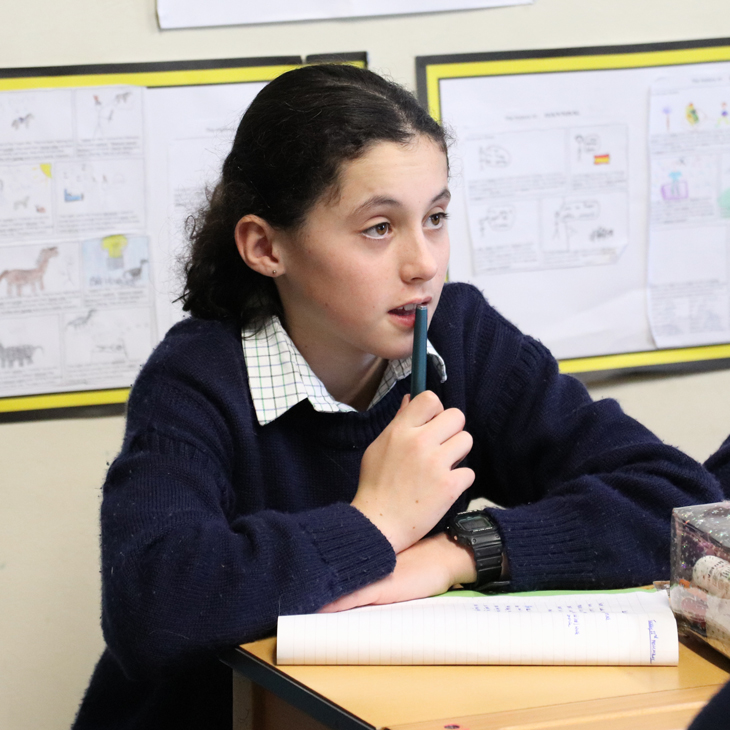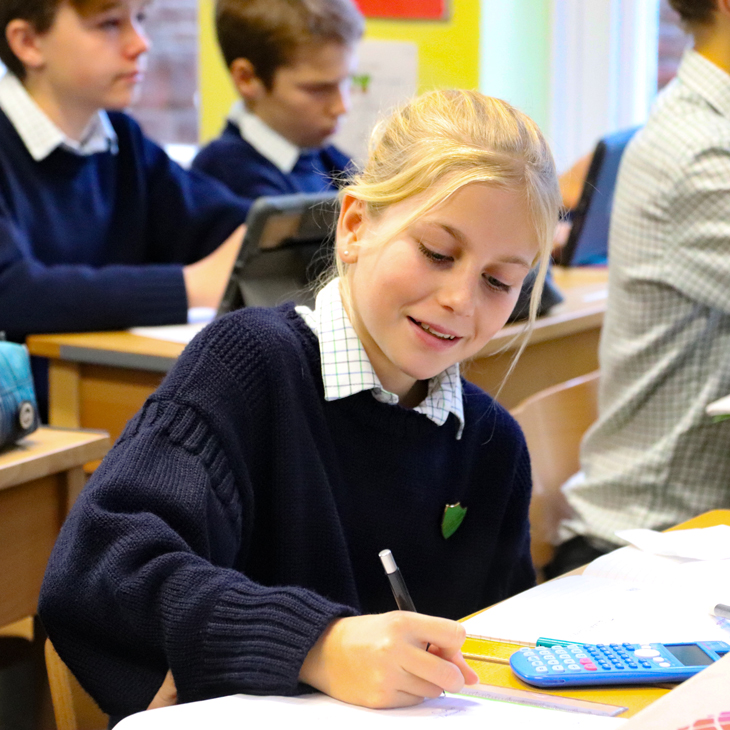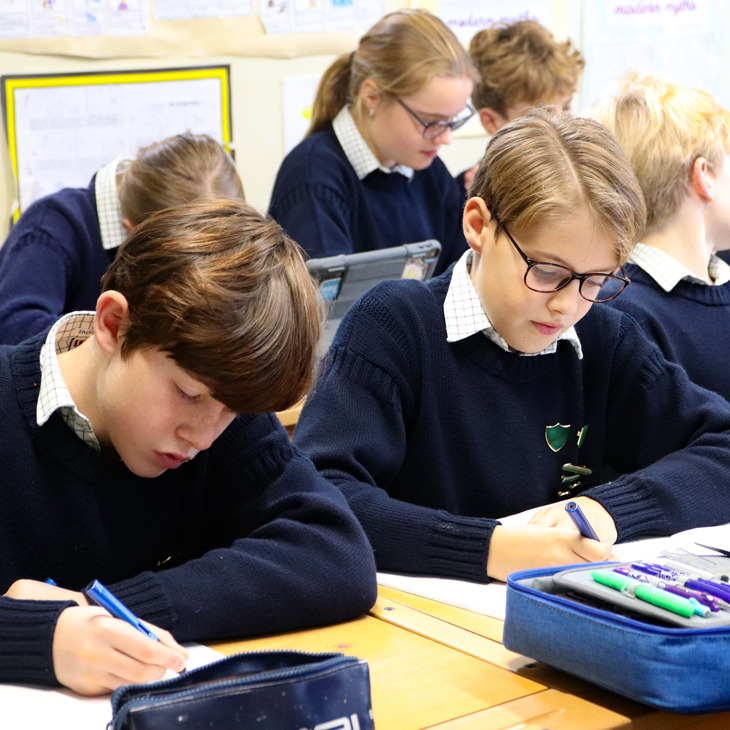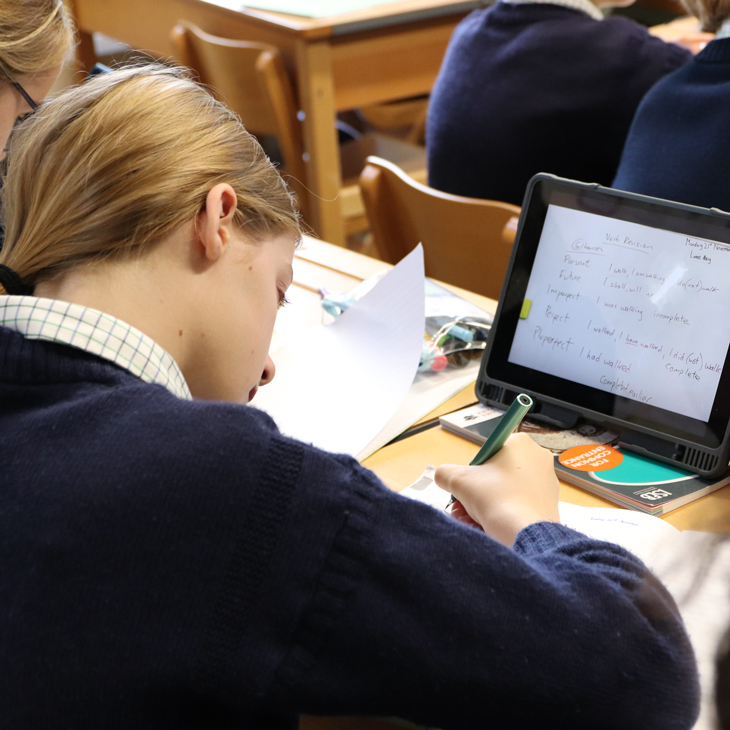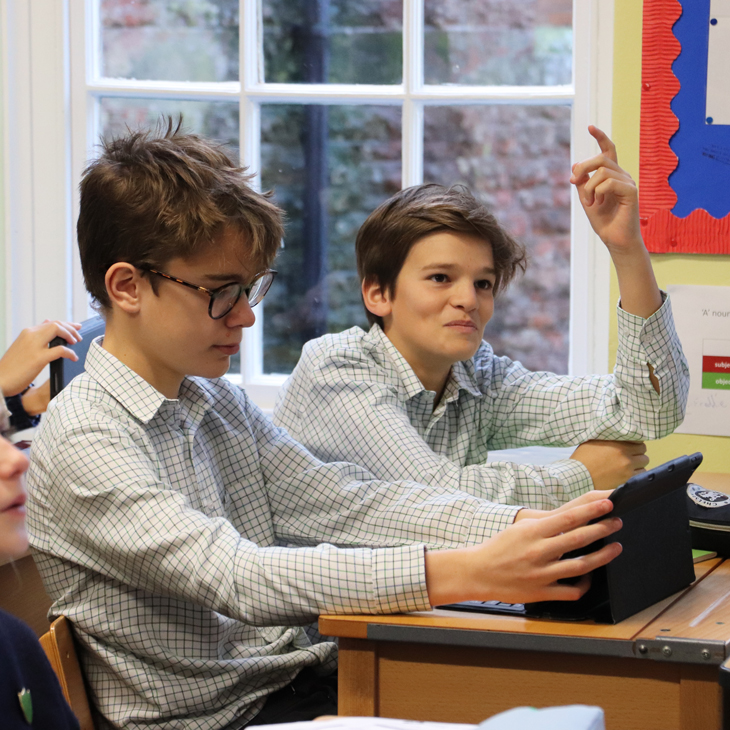 Year 8 have been focusing on verbs in Latin this week, and with their usual vigour they turned an early-morning revision lesson into a haven of energetic questioning. Despite all our efforts to drag Latin into the modern era (including a dedicated neologism website from the Vatican), sometimes old-fashioned grammar bashing is required, and this week that's what the children got. Ninety verbs, five tenses, five conjugations – joyous sounds to the ears of many parents no doubt and this teacher – and the instruction "you simply have to go away and learn them" were the order of the day. Just to reinforce the message, everyone took pictures of the collective wisdom on the board before departing with chants of "I, you, he/she/it, we, you, they" ringing out all the way to maths!
Alex Walker, Head of Classics