Nursery Sandwich A Special Visit Into Their Busy Week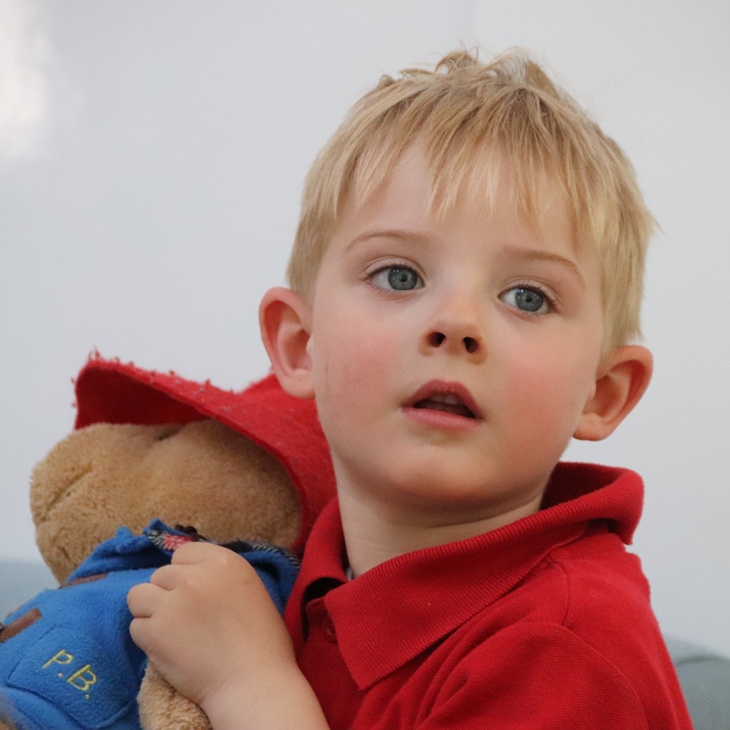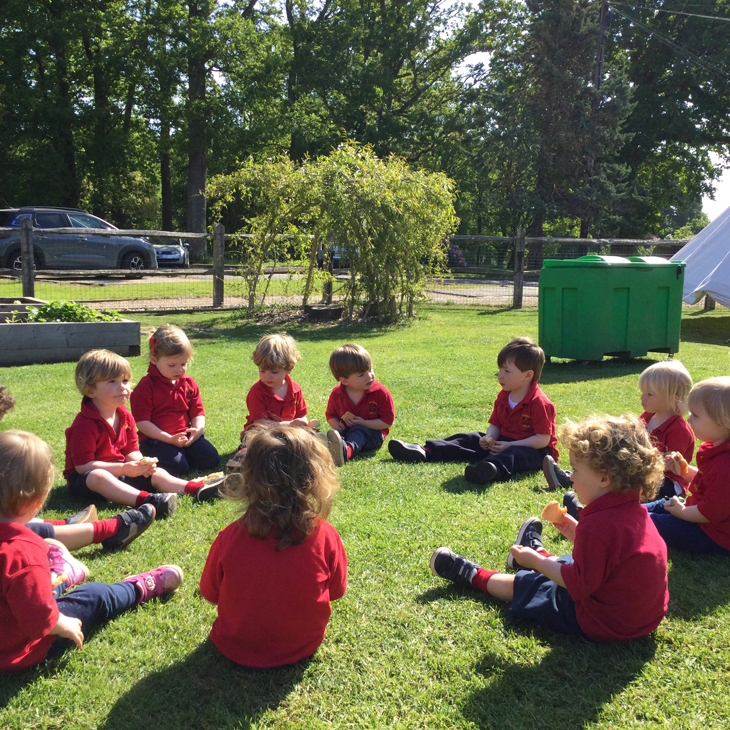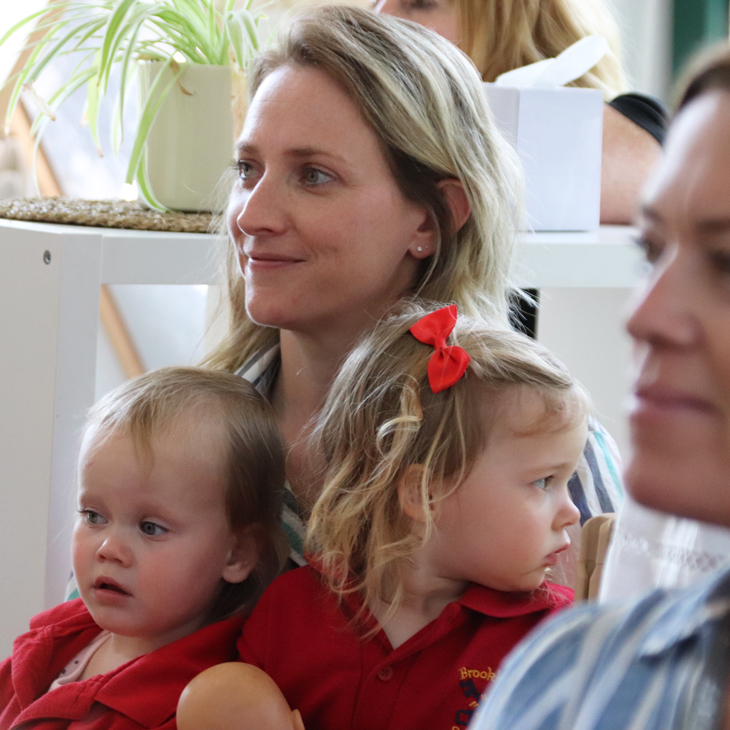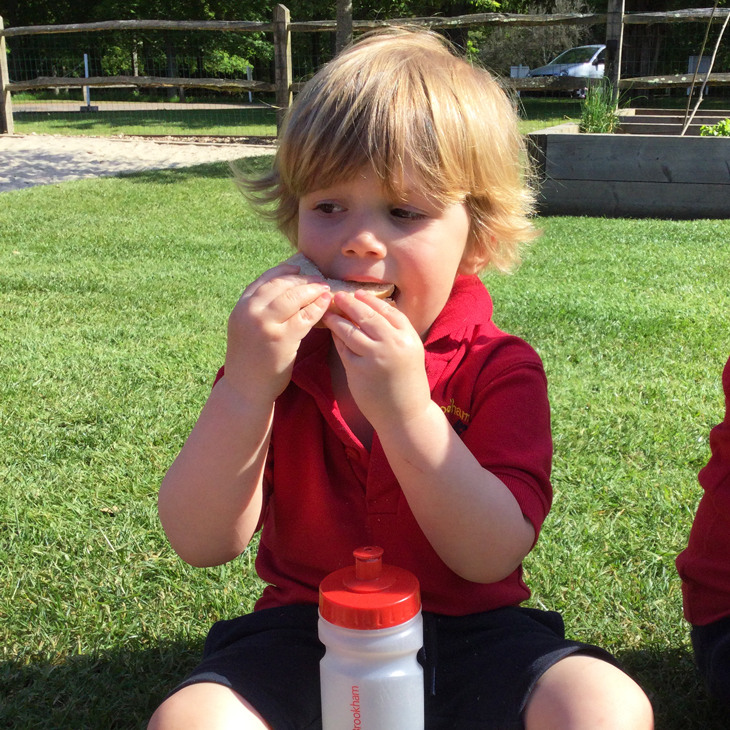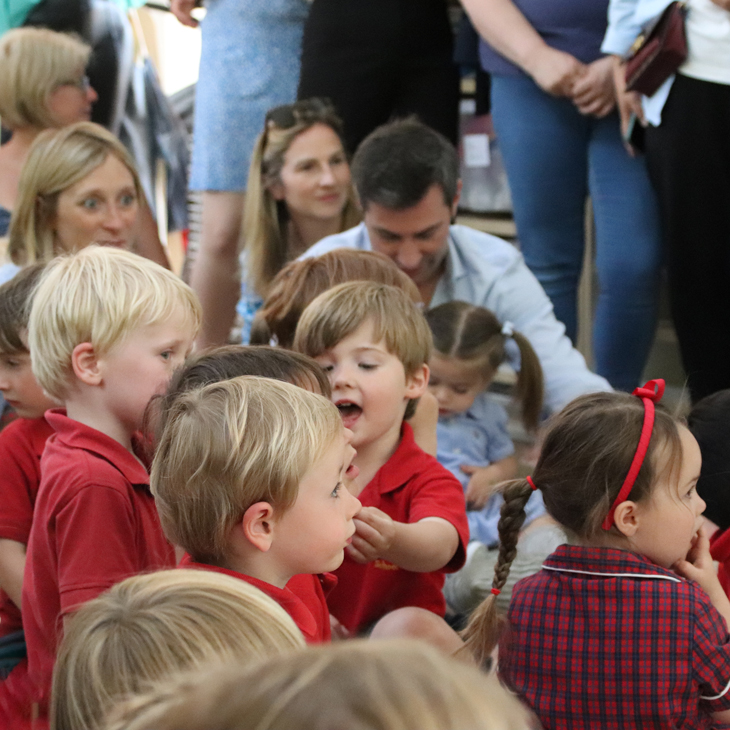 Another half term has simply flown by and the children are well and truly making the most of their final term of the year. This week, the children excitedly prepared for the official opening of the nursery extension – and welcomed a very special visitor to open the new space and read the children a lovely story about a very special bear who is partial to a marmalade sandwich! Ahead of the opening, the children got busy in the kitchen making bread. Having mixed the ingredients and kneaded the dough, the excited children waited for the bread to bake – and wafts of freshly-baked bread filling the air meant it must be time for the young bakers to sample their delicious snack. So, gathered together in the sunny garden, the Nursery children tucked into yummy, sticky, marmalade sandwiches. What better way for the children to finish a week filled with sharing stories and building relationships with all the special people in their lives, sparking interests and making memories together in our lovely learning environment, where so many educational journeys begin and flourish. Together we really do grow!
Penny Hodnett, Nursery Class Teacher
Reception Club Together To Learn And Have Fun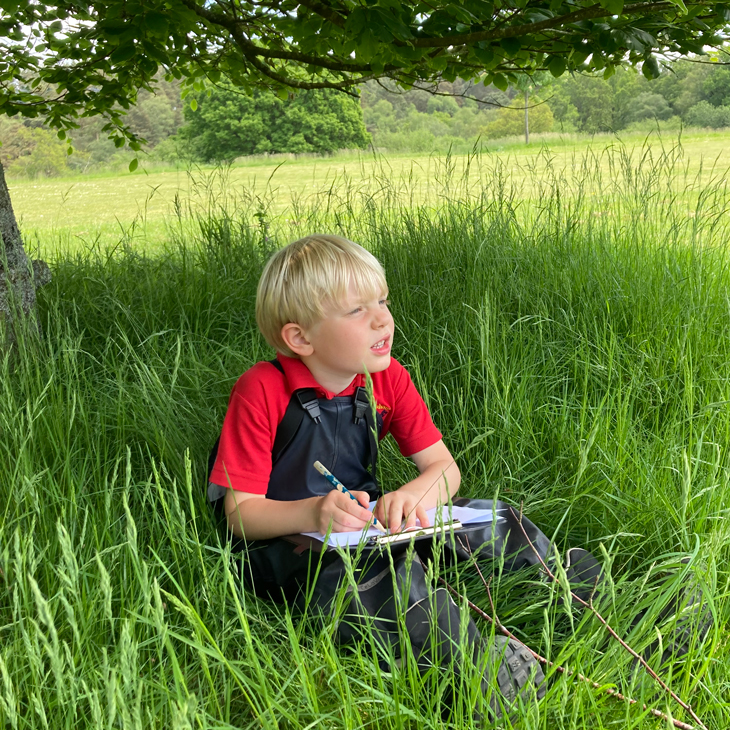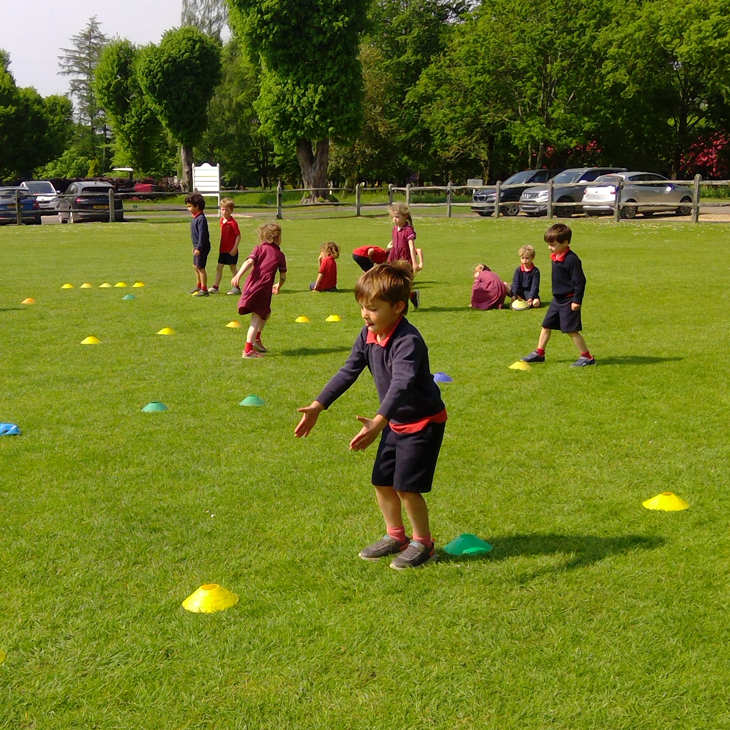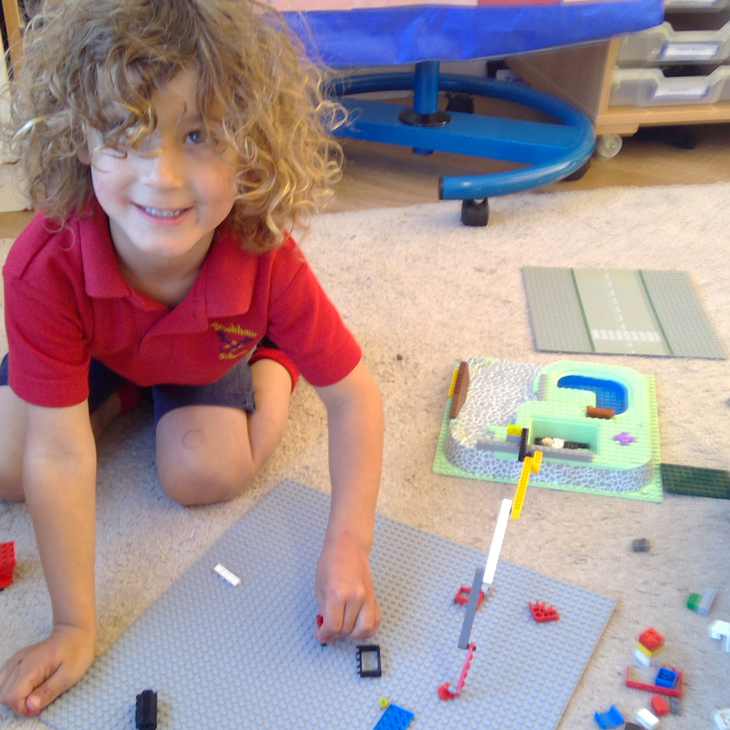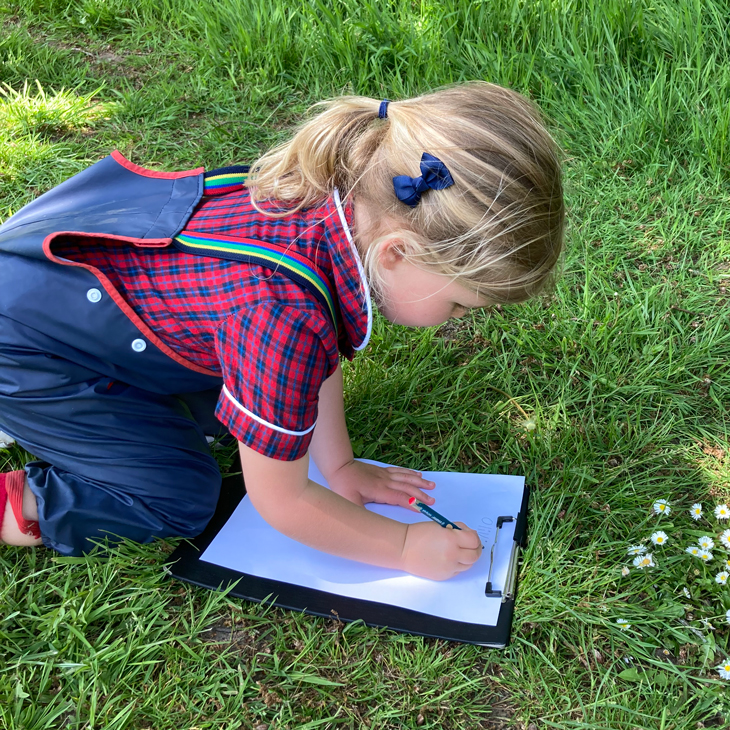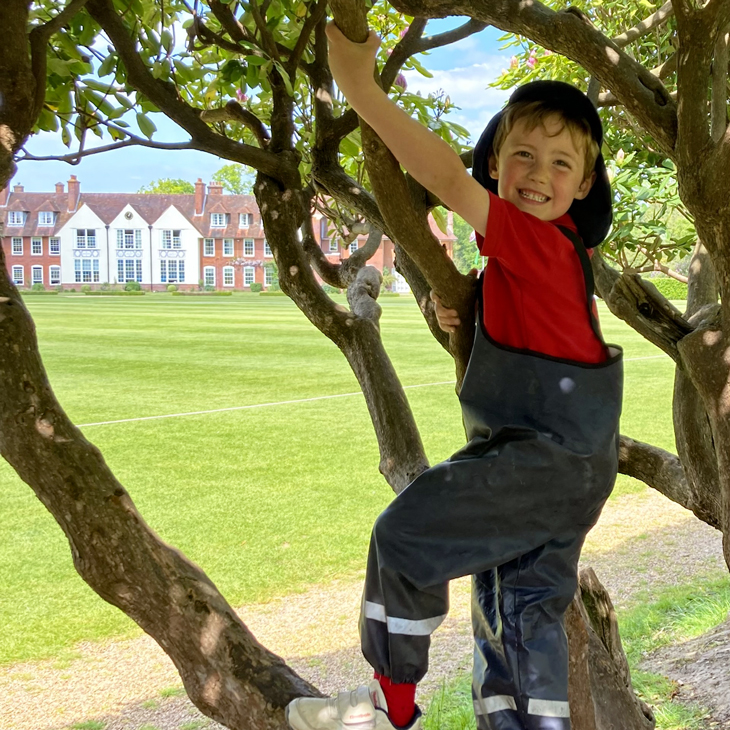 Our Reception children have been immersed in a range of fantastic clubs this week. These clubs not only provide opportunities for fun but also allow the children to develop key learning skills. In Exploring Nature Club, the children have embraced their creativity and imagination by using natural resources to make self-portraits. It has been a delight to see their artistic talents shine as they express themselves through these unique creations. Additionally, they have learned about environmental awareness by constructing bug houses from twigs and plastic bottles, providing habitats for insects. Furthermore, the children have honed their observational skills by making beautiful drawings of wild flowers in our school grounds. Lego Club has been a collaborative endeavour, with the children working together to construct designs. This club has nurtured their teamwork abilities and problem-solving skills as they explore the endless possibilities of building with Lego. The children have enjoyed the hands-on experience and the opportunity to exercise their creativity in constructing various structures. Multisports Club has been a fantastic platform for the children to develop their gross motor skills. Through engaging in a range of sports activities, they have enhanced their coordination, balance and physical fitness. It has been a joy to witness their enthusiasm and growth in these areas as they participate in energetic games and exercises. The Book Club has offered them a valuable opportunity to engage in quiet and focused reading, exploring a diverse selection of non-fiction and fiction texts. This club has been instrumental in developing their comprehension skills and fostering a love for reading. The clubs this year have provided our Reception children with diverse learning opportunities. We are proud of their accomplishments, creativity, and development of important skills, and we look forward to continuing to nurture their interests and providing them with exciting club experiences in the future.
Rosie Snagge, Reception Class Teacher
Year 1 Go To Great Lengths To Make Pool Progress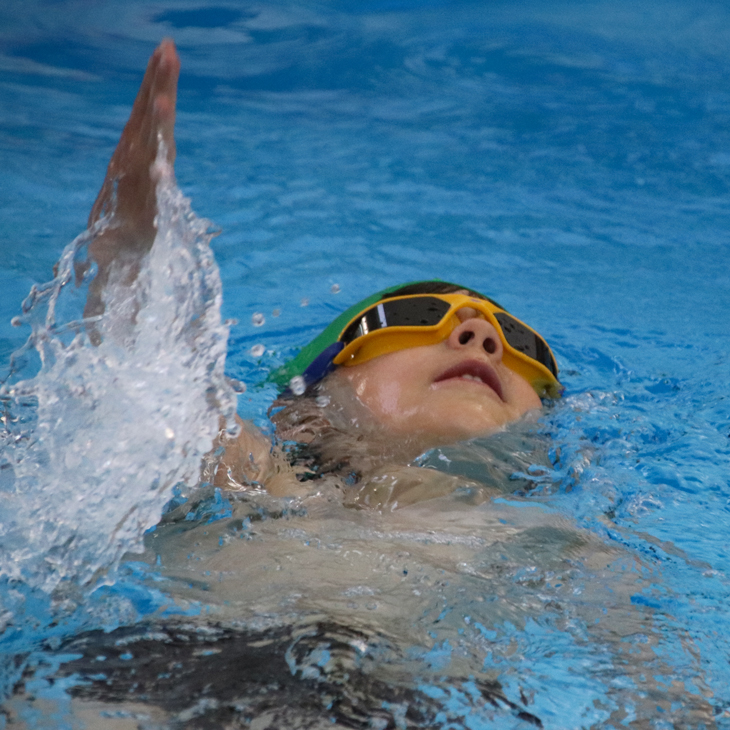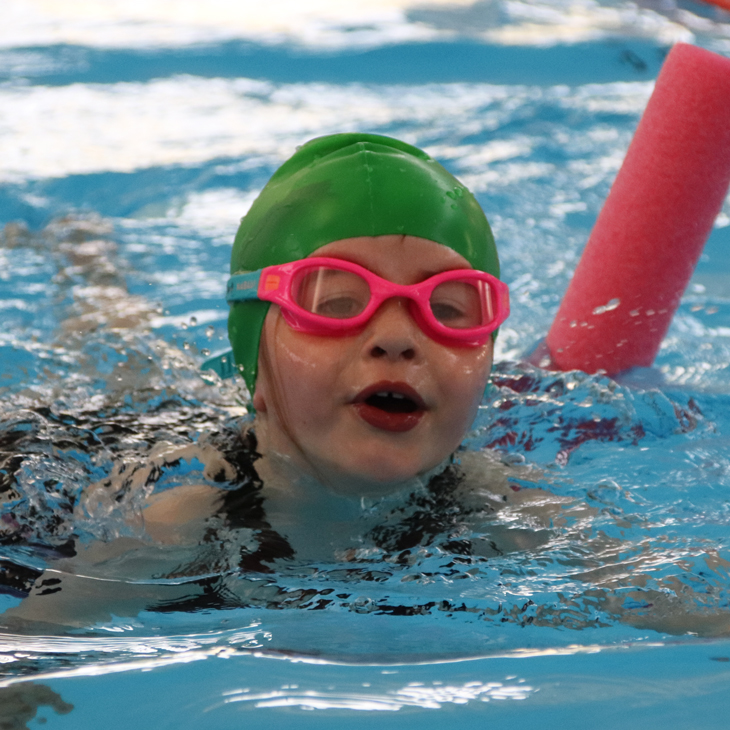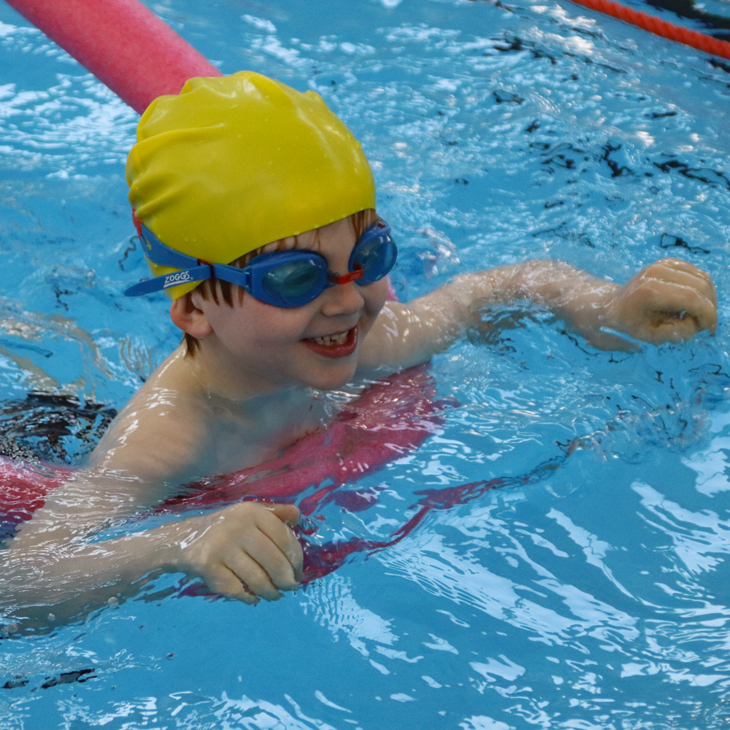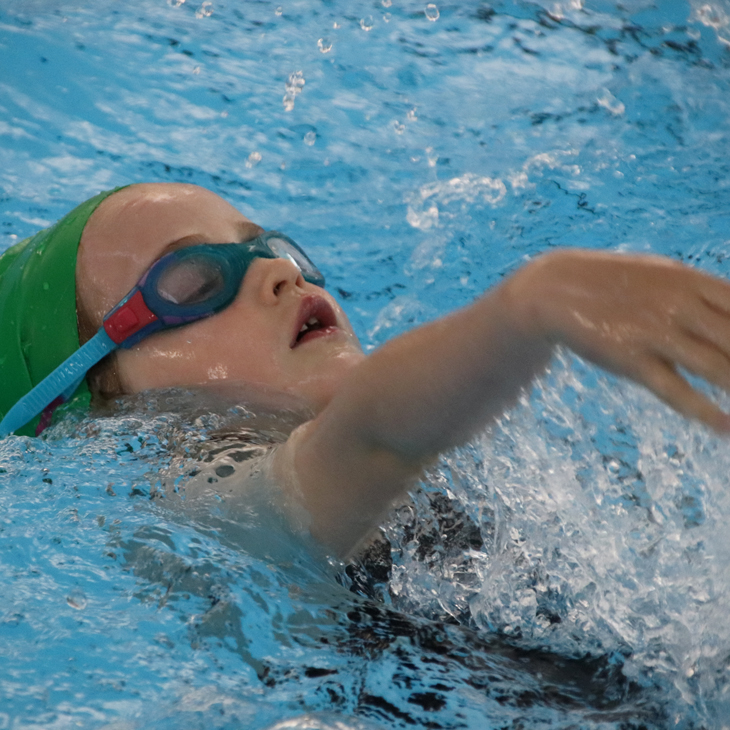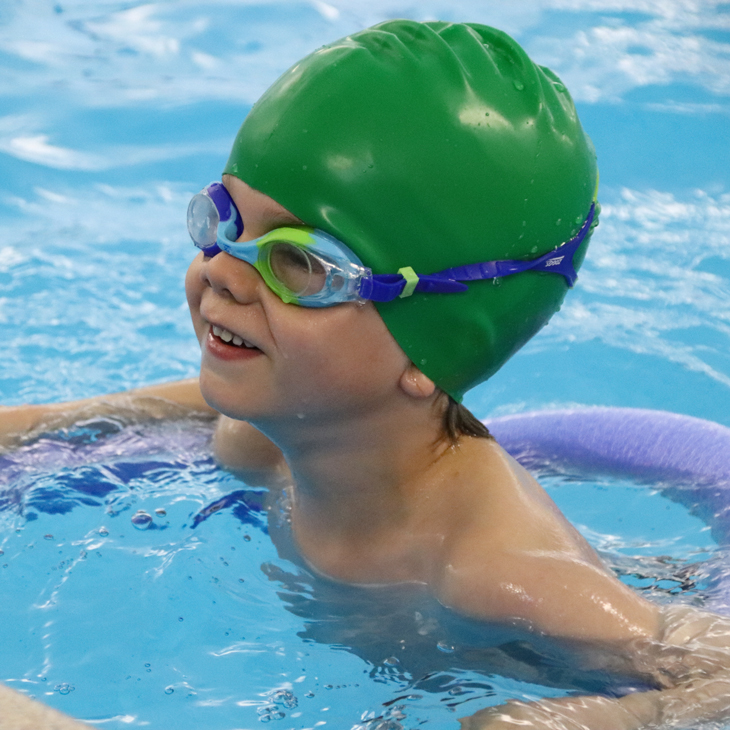 What incredibly resilient little swimmers we have in Year 1. Tuesday's swimming gala highlighted not only the progress the children have made over the year in the pool but also in terms of their stamina, grit and determination. Initially planning to get the children to swim widths of our lovely indoor pool, the gala was reorganised so that Year 1 swam lengths for their races in recognition of the impressive progress the children had made. At this age, performing a skill like this in front of an audience of parents is amazing and takes great courage, and we were all so proud of each and every child's performance.
Kerri Wilkes, Head of Year 1
Learning Brought To Life With Year 2 Synagogue Visit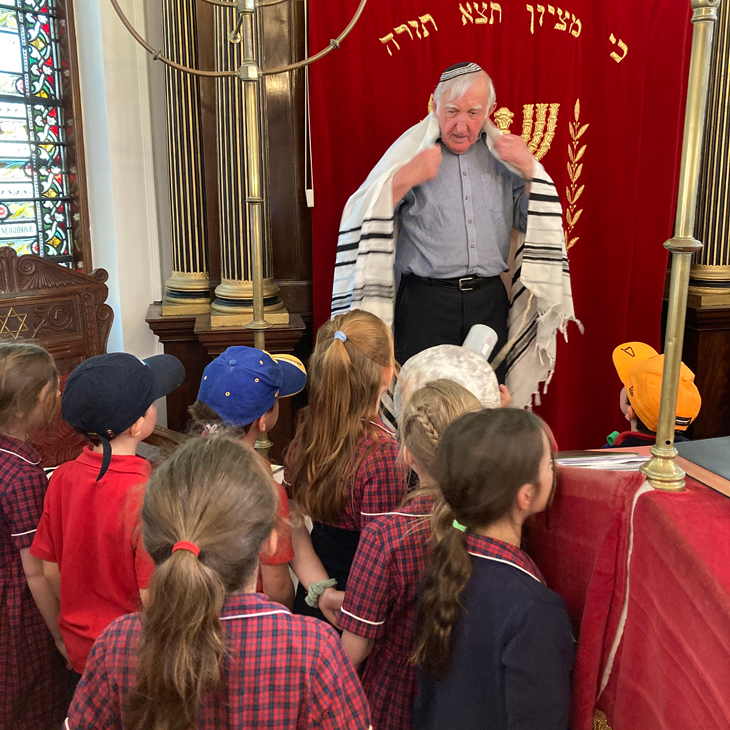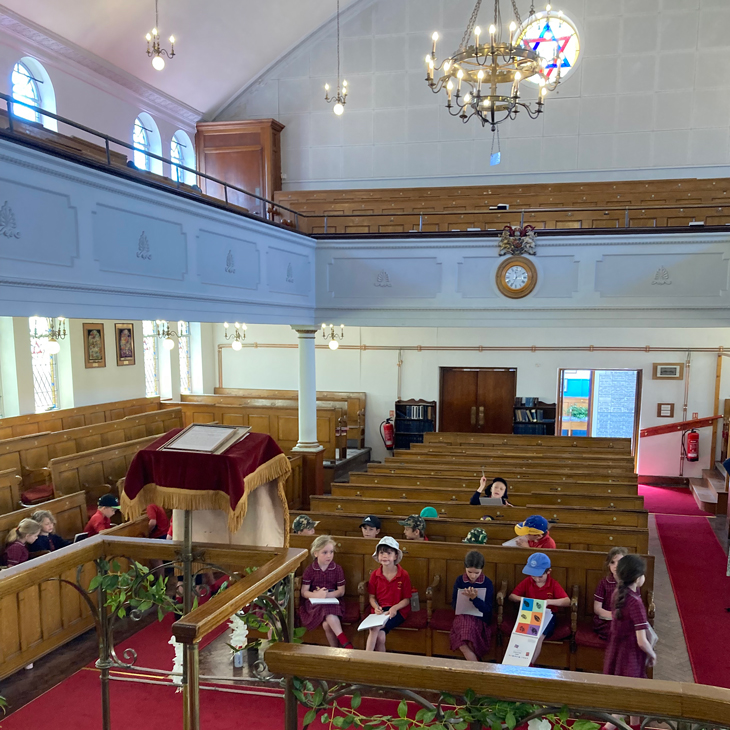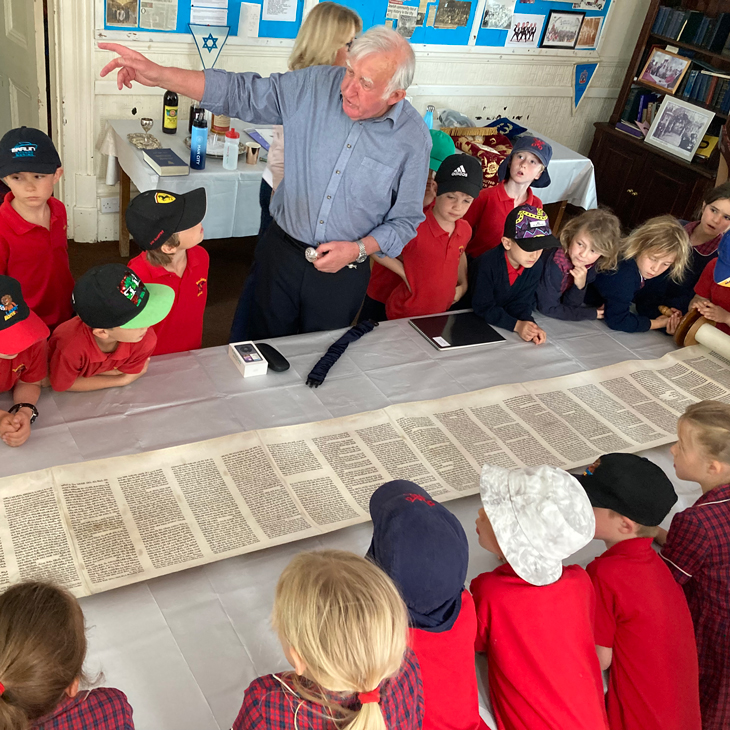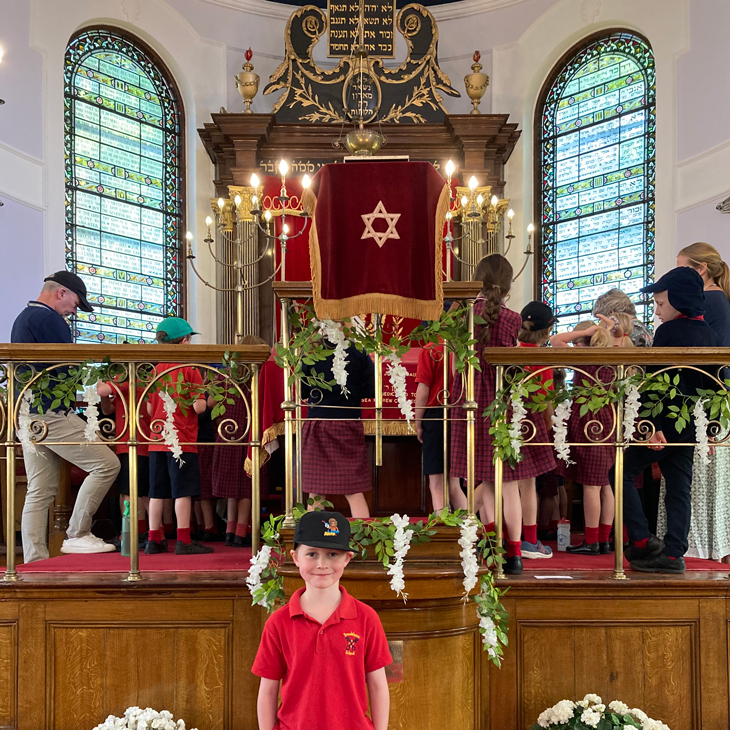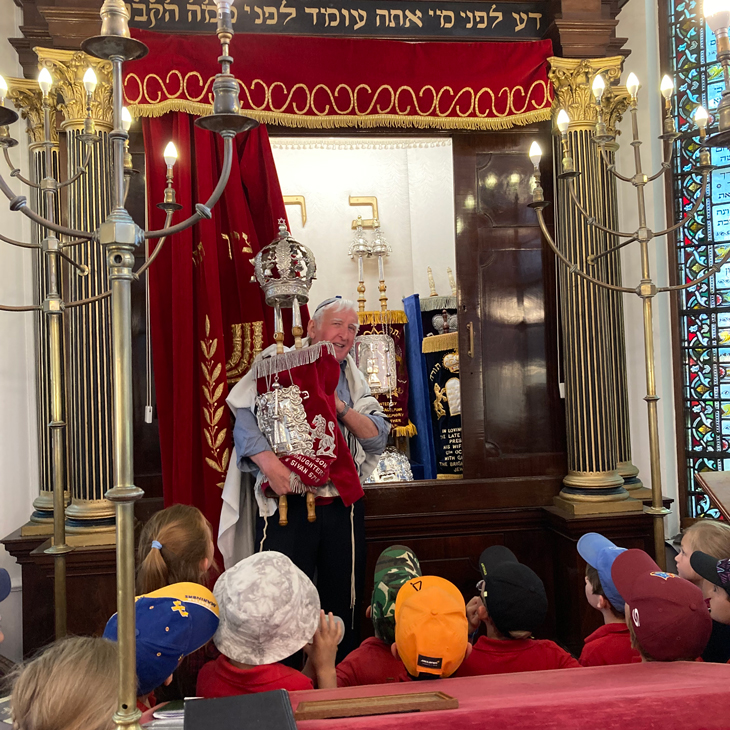 This term Year 2 have been expanding their knowledge of world faiths by learning all about Judaism. In the classroom, the children have learnt to recognise The Star of David and the Menorah as key symbols of Judaism while discovering that synagogues are sacred places where Jewish people learn, worship God and congregate as a community. On Wednesday, the children got to bring their learning to life as they visited the Portsmouth and Southsea Synagogue. Once inside, Year 2 were amazed when host David Clannachan drew back heavy velvet curtains to reveal an ark of the covenant which contained ornate Torah scrolls, which are believed to be 200-300 years old and filled with the five books of Moses. With art books at the ready, the children were then tasked with sketching any aspects of the synagogue that really captured their imagination, resulting in some fine drawings. It was a wonderful learning experience for Year 2 and one which is sure to live long in the children's memories and help them to understand and appreciate the Jewish faith.
Shirley Jervis, Year 2 Class Teacher
Year 3 Have Outdoor Learning All Mapped Out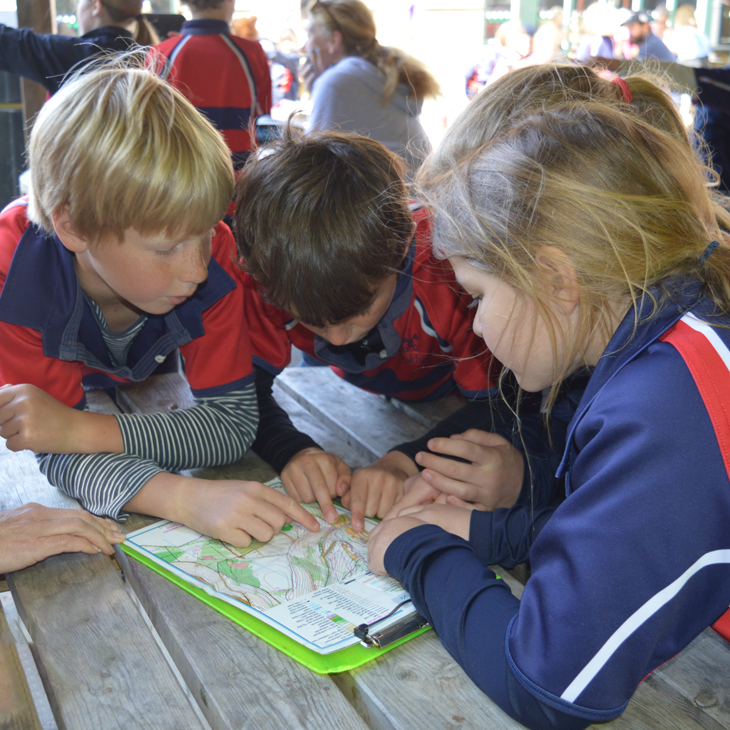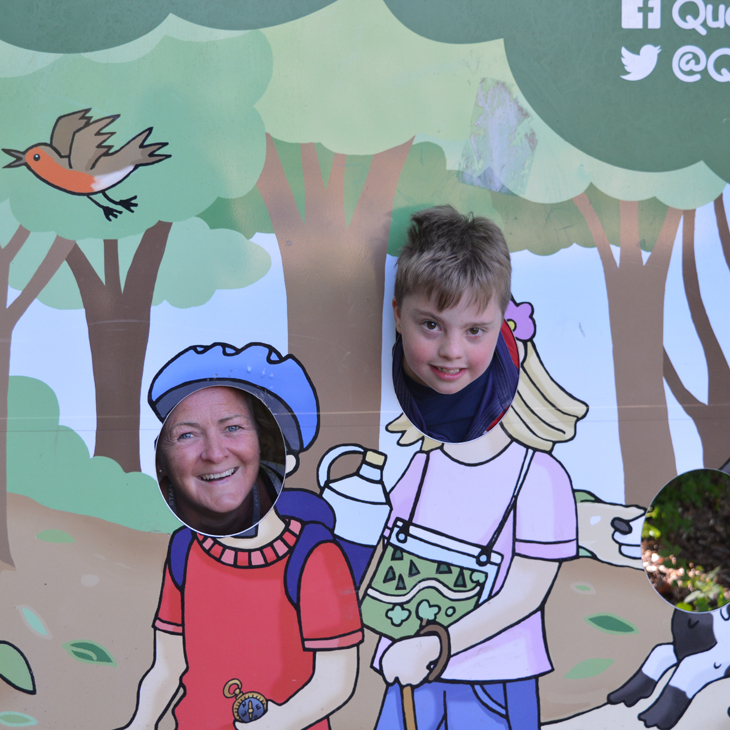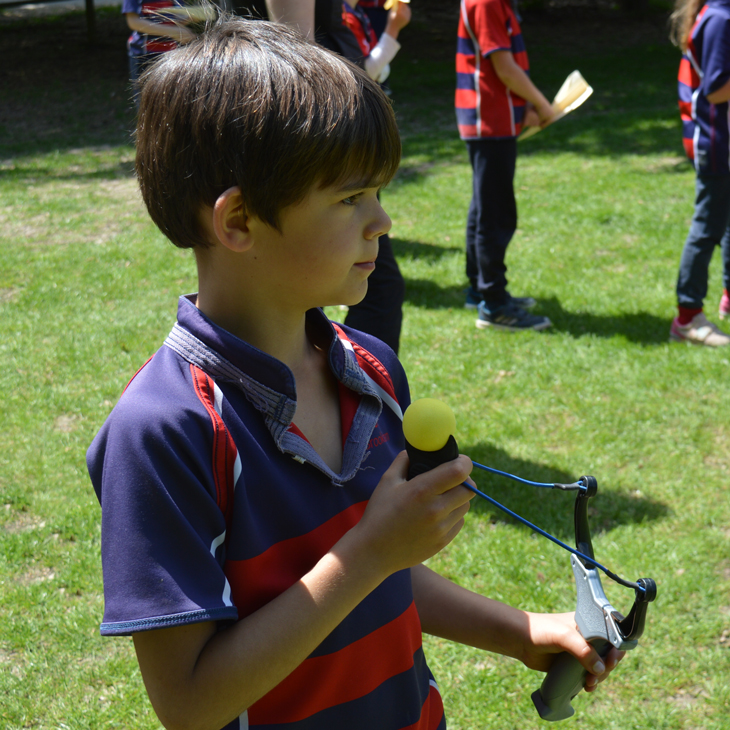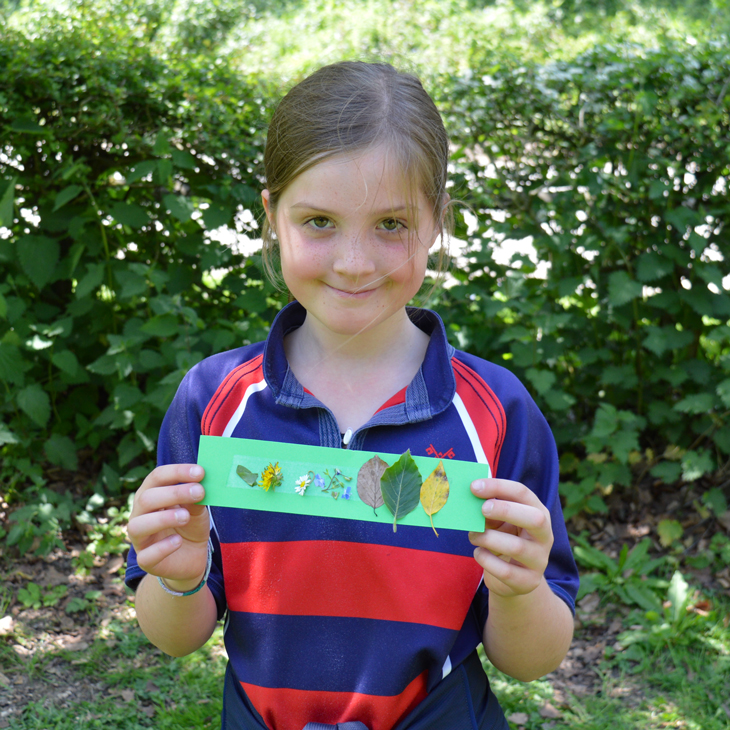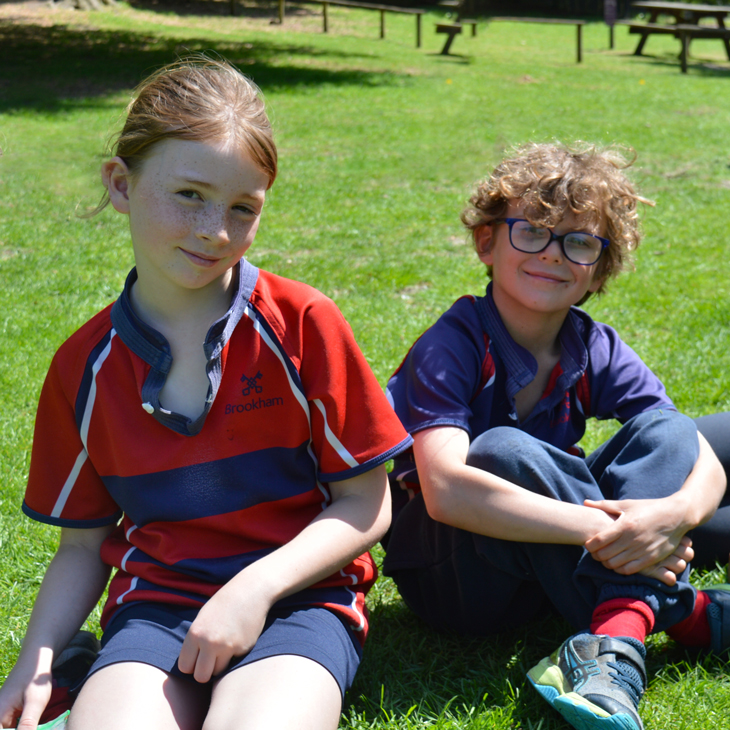 With the sun shining, the coach was a veritable buzz of excitement as Year 3 embarked on an orienteering expedition around Queen Elizabeth Country Park, near Petersfield. The task, quite simply, was for the children to find their way from markers numbered one to eight by recognising and reading key symbols on an Ordnance Survey map. Careful observational and awareness skills were vital to ensure the children didn't make unnecessary deviations and detours. Deciding which path to take as they climbed up the steep hill and into the enticing forest gave the children a valuable opportunity to work as a team. After finding their way back to the start, the number of steps were exchanged before Year 3 took to a welcoming grassy area to enjoy a well-earned picnic. After lunch, the children used a kinaesthetic approach – which requires manipulation or touch – to learn about the different types of seed dispersal through a range of engaging activities. The children revelled in their outdoor learning in what was a truly memorable trip.
Henrietta Platt, Head of Year 3
Year 4 Turn Their Attentions To The Paris Olympics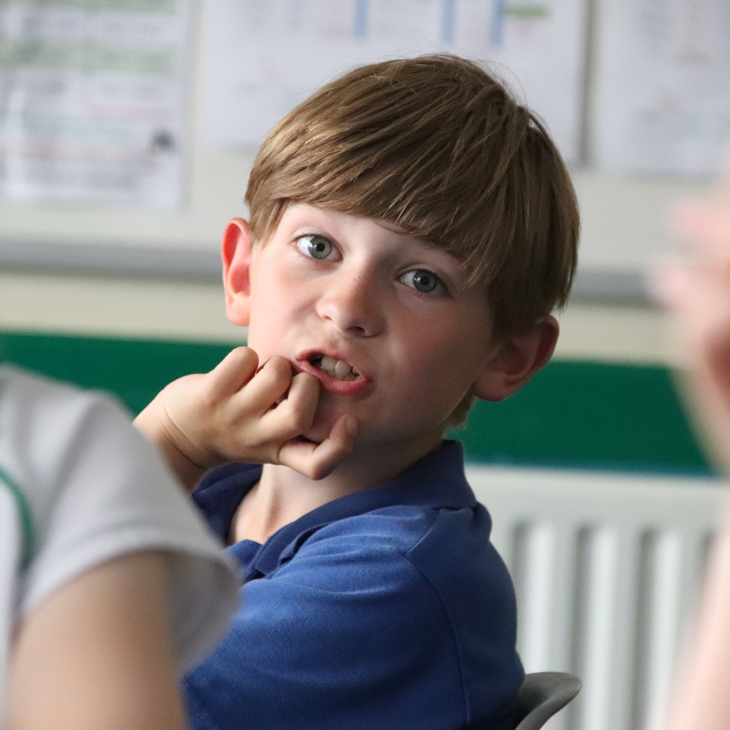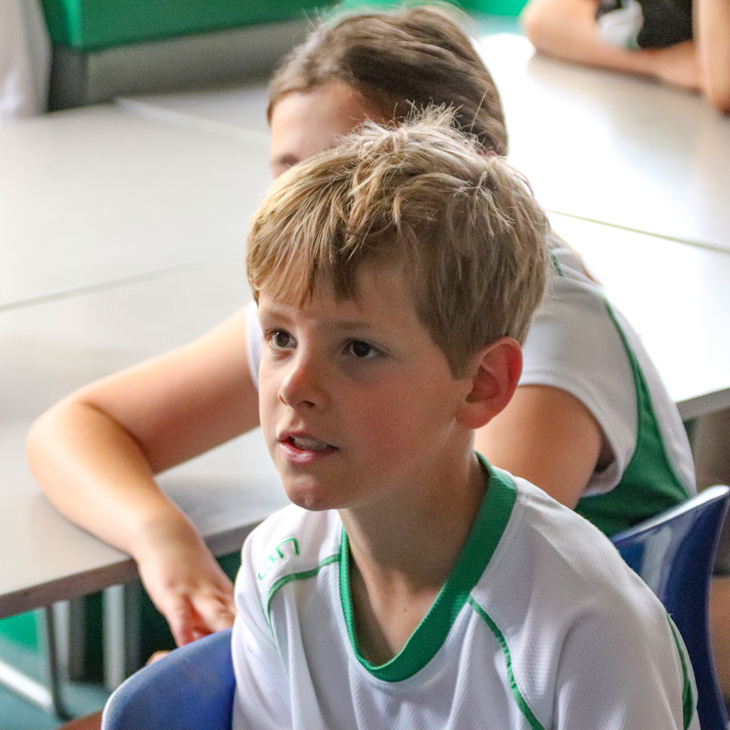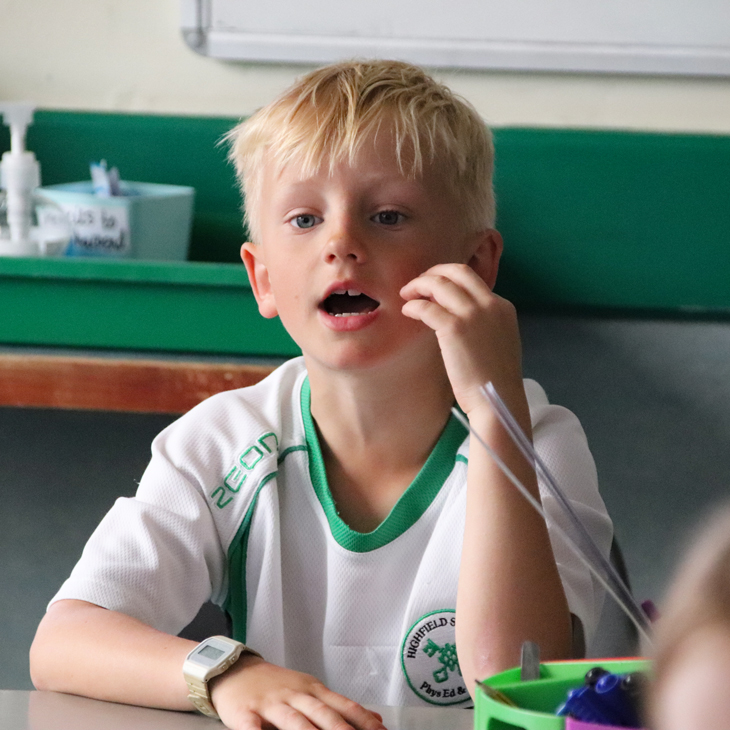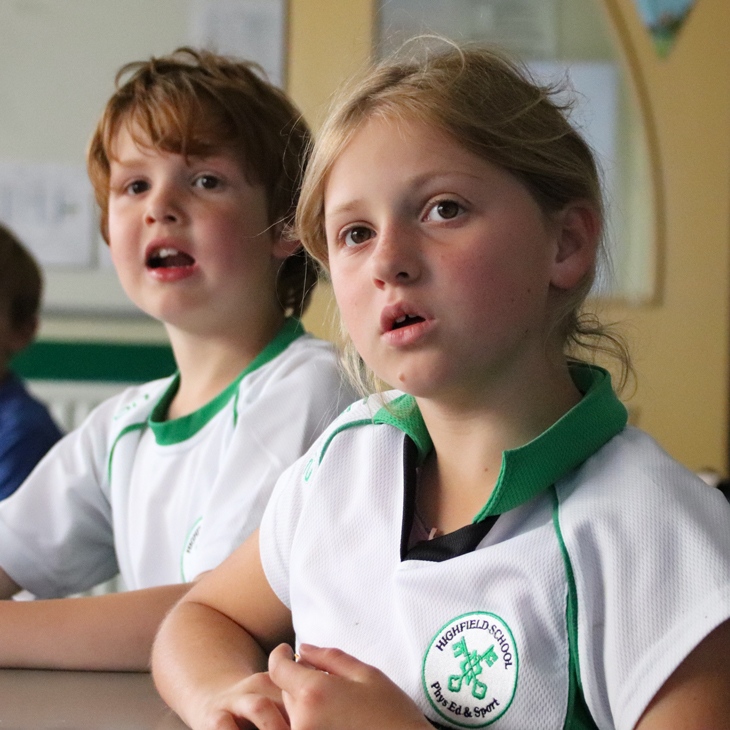 Year 4 have discovered a natural link between their French lessons and their Summer Term 'Going for Gold' topic. With the 2024 Paris Olympics looming up on the horizon, there is much to look at and learn about. In previous weeks, the children have been learning about transport, and this week they added in the various Olympic venues so pupils could learn how to say where they are travelling to and how they are travelling. Year 4 looked at some of the exciting venues Paris has lined up, such as surfing in Tahiti, sailing in Marseilles, volleyball under the Eiffel Tower and horse riding in the gardens of Versailles. Talk of the latter took us completely off topic and back to the days of the guillotine in the French Revolution! There is never a dull moment in the French classroom. Language learning includes verbs and prepositions – with a healthy dose of culture!
Jo Longshaw, Head of Modern Foreign Languages
Year 5 High Jumpers Hit The Heights In PE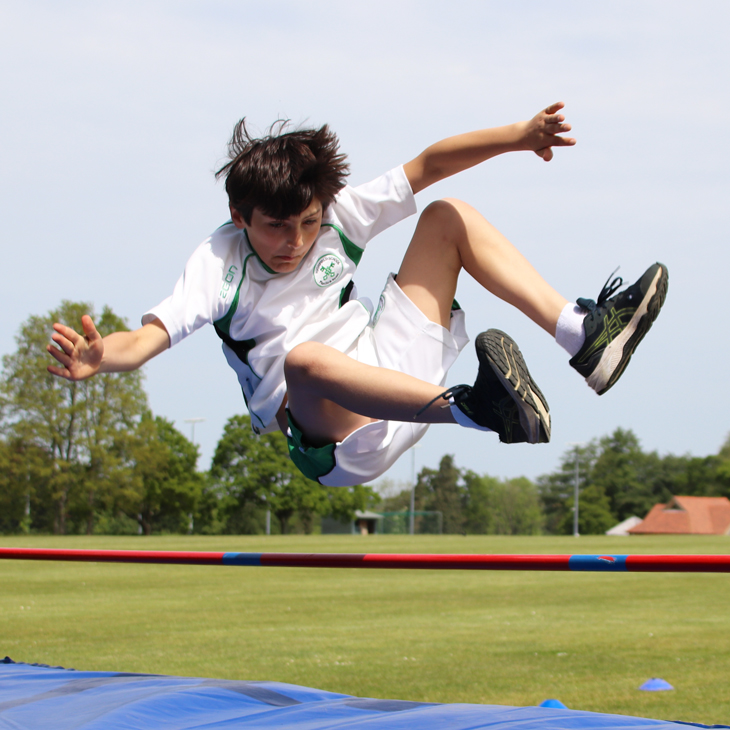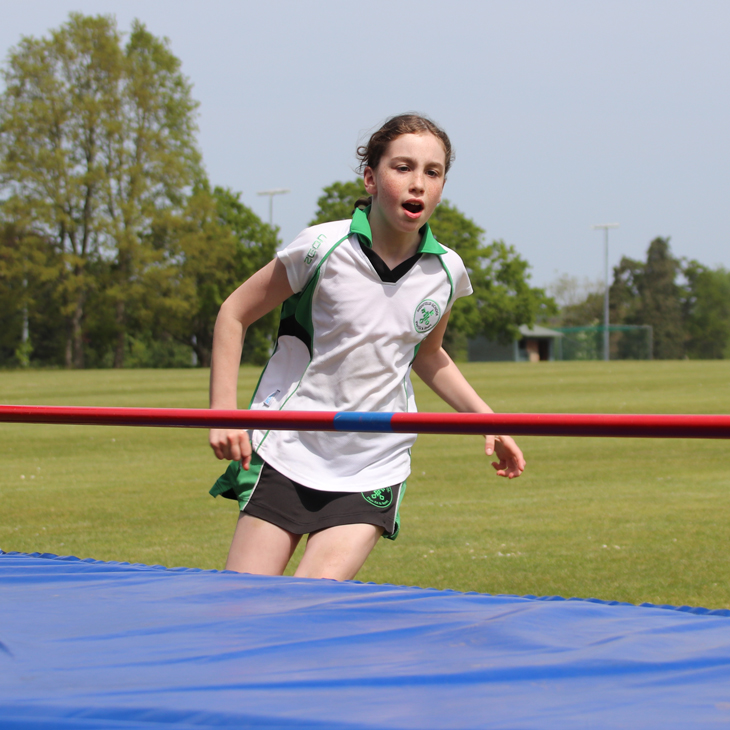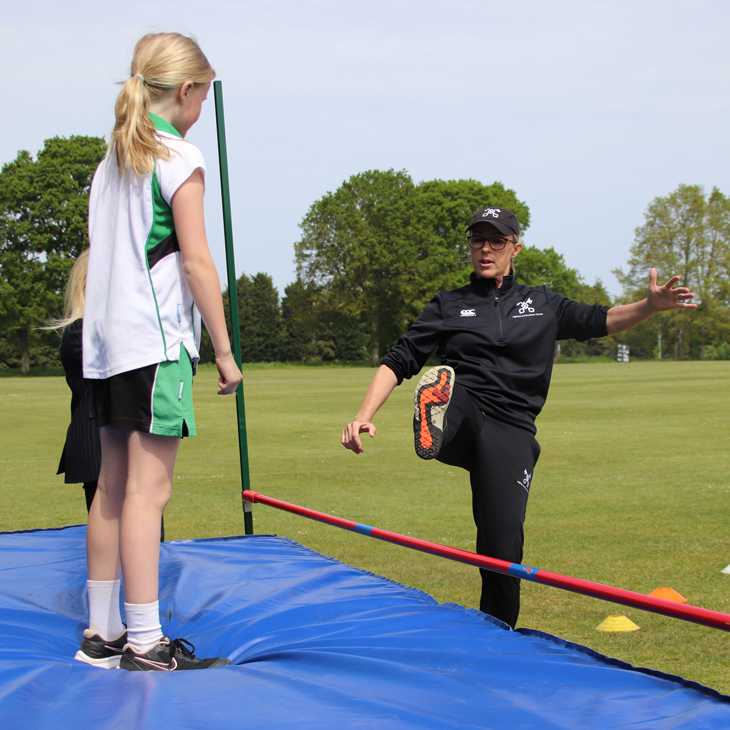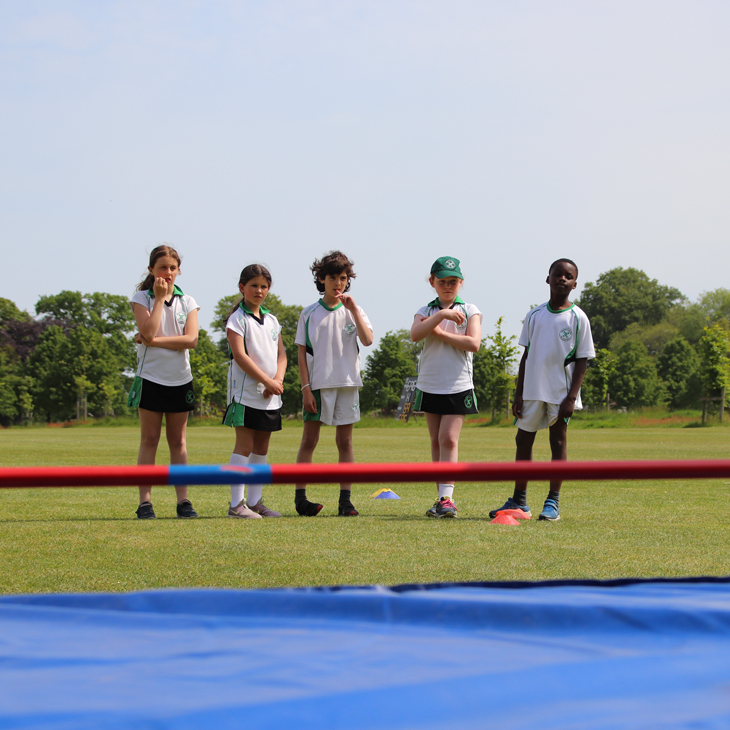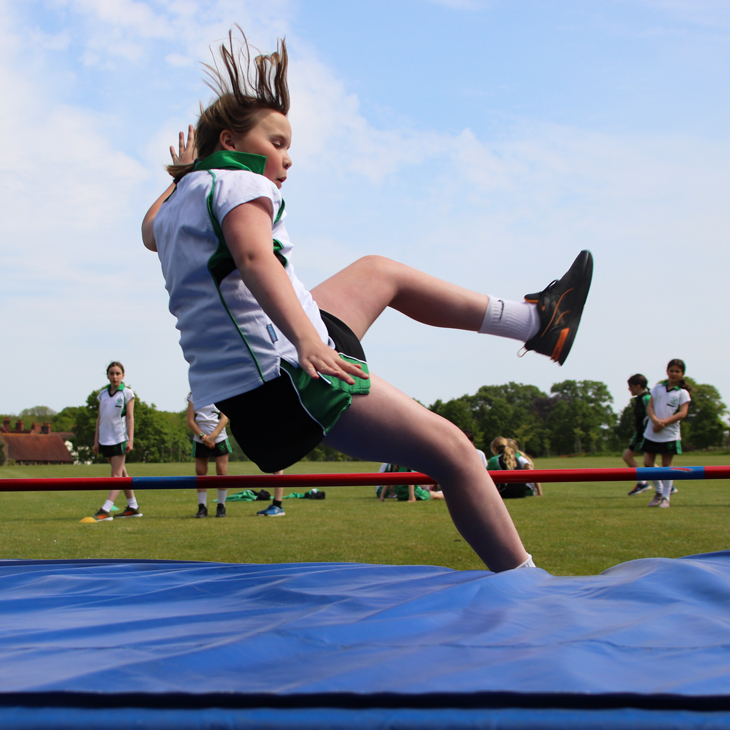 As a school, we have had a proud record at high jump for a number of years now, producing some good athletes along the way. One of the most fascinating disciplines in terms of both the heights jumpers reach and the different techniques they employ to reach such heights. We teach the high jump from Year 4 and it remains on the athletics circuit for children right the way through prep school. This week, Year 5 got the opportunity to hone their skills in PE ahead of next month's sports day. They began with the scissor-jump technique before moving onto the famous Fosbury Flop, paying close attention to using the correct lead-off leg and polishing their landings. The event is such a wonderful spectacle and the immense sense of achievement is writ large on the children's faces as they clear the bar at ever-increasing heights.
Jo Gordon, Head of PE
Food For Thought As Year 6 Ponder Digestion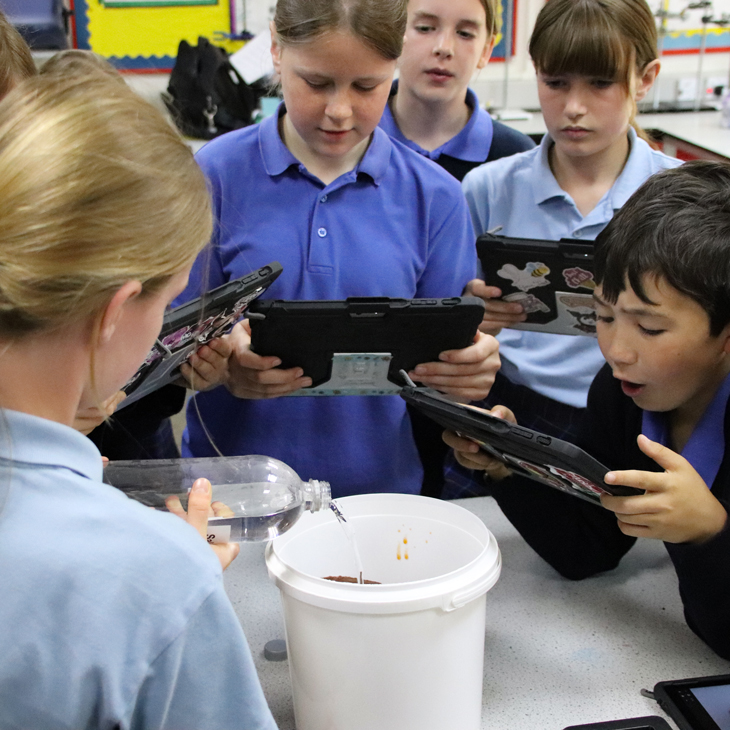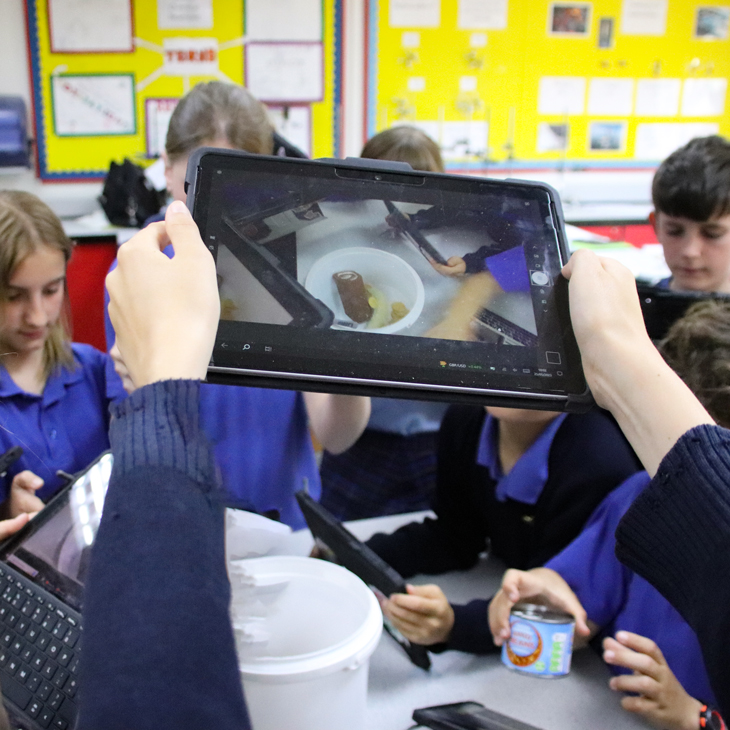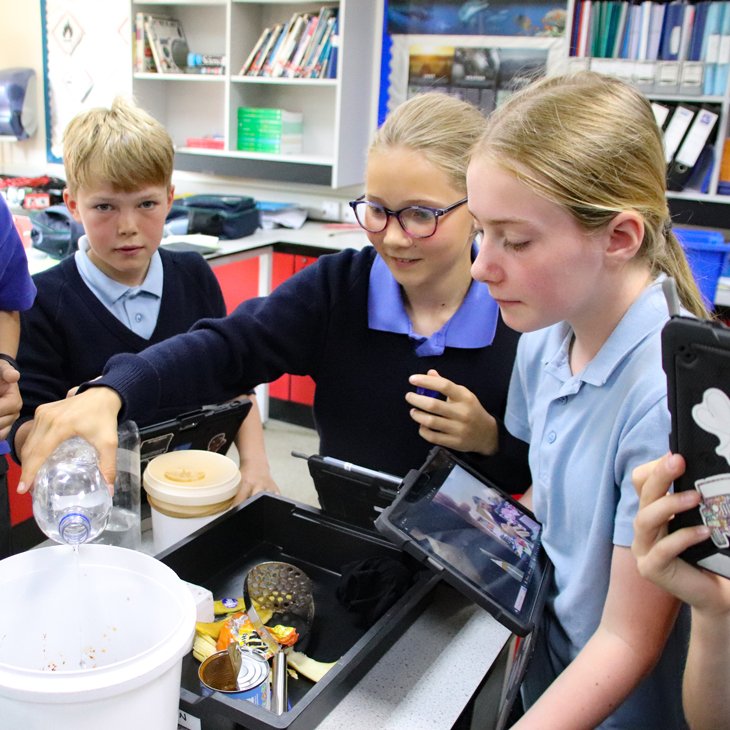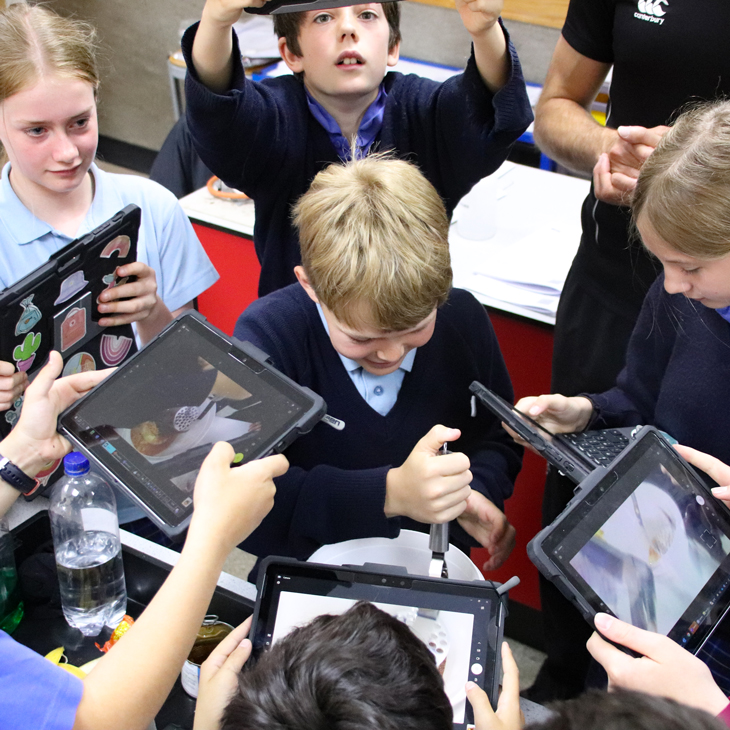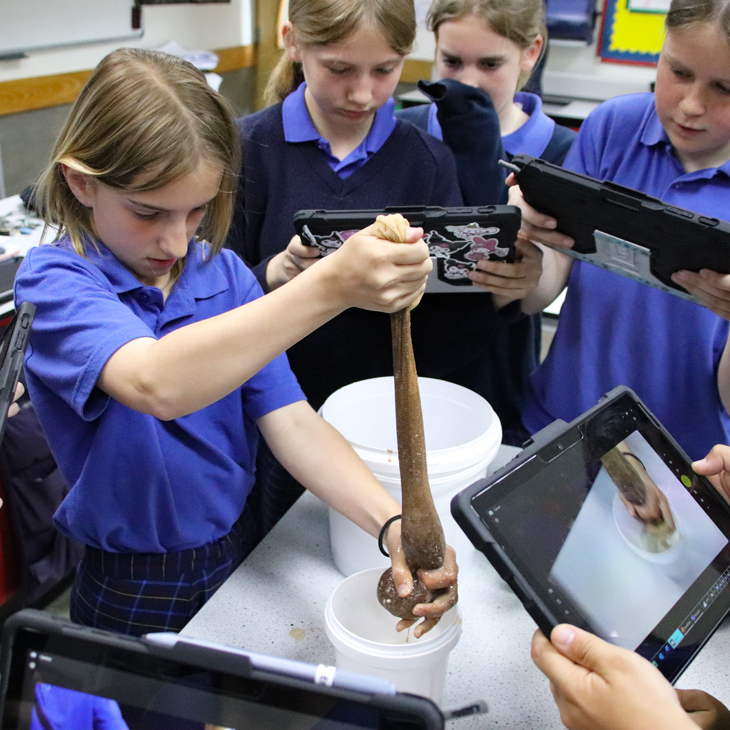 This term in Science, Year 6 have been looking at how the body works – specifically how the different systems work together to allow the body to function. The children have already immersed themselves in a heart dissection – where the discovery of all the different blood vessels and chambers was met with plenty of 'oohs', 'aahs' and 'urghs' – and this week the focus switched to the digestive system. The young scientists looked at how it worked with the circulatory system to help transport all the digested food and water around the body. Using a bucket and foodstuffs such as a banana and a tin of beans, the children added liquids representing saliva, enzymes and bile as they demonstrated the 'gum to bum' process. And I think it's fair to say that Year 6 thoroughly digested everything that they learnt.
Oli Backhouse, Year 6 Science Teacher
Year 7 Refresh Knowledge Of Graphs Ahead Of Summer Exams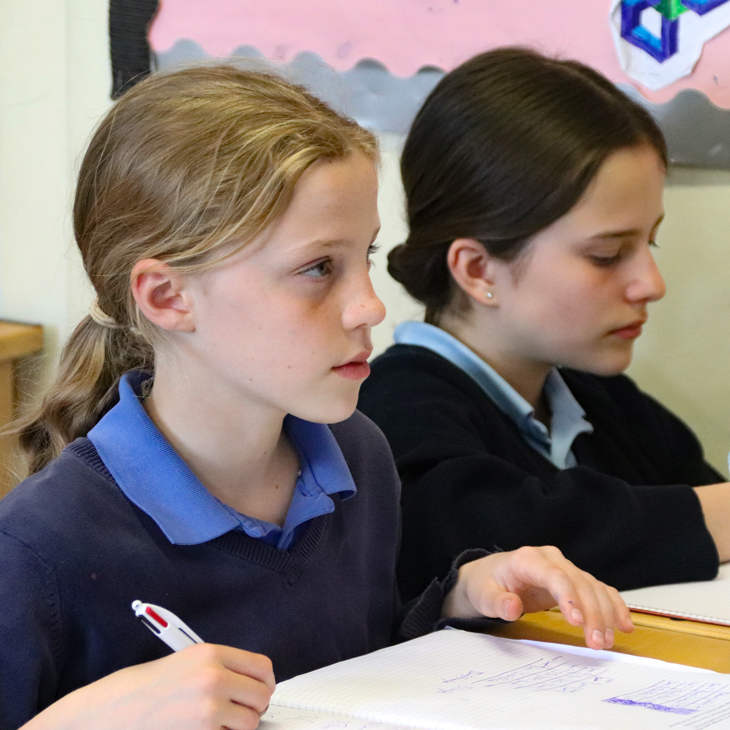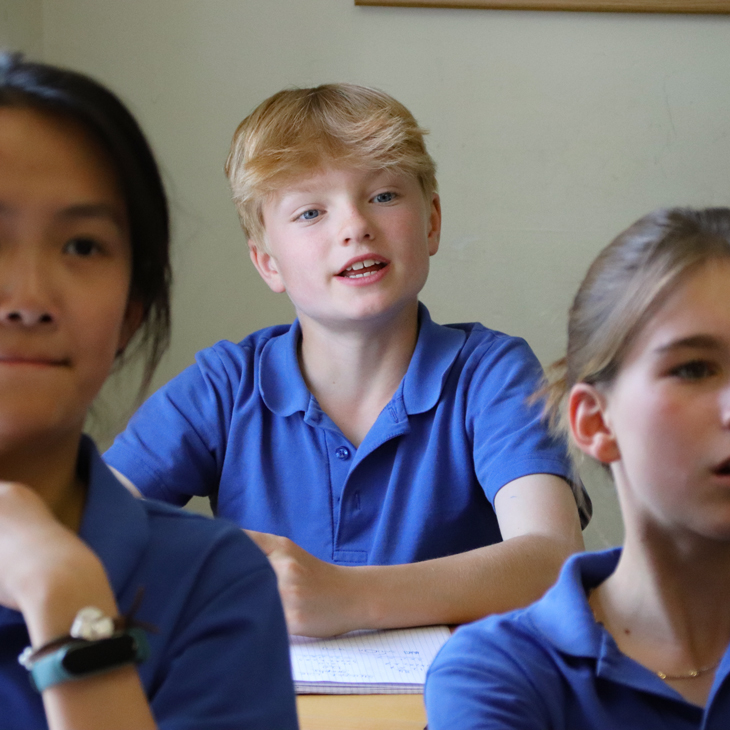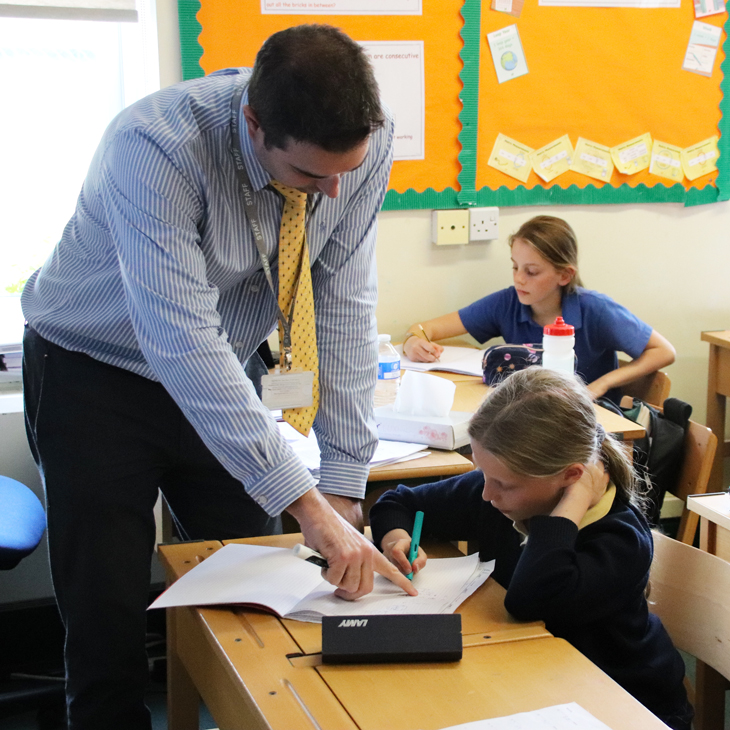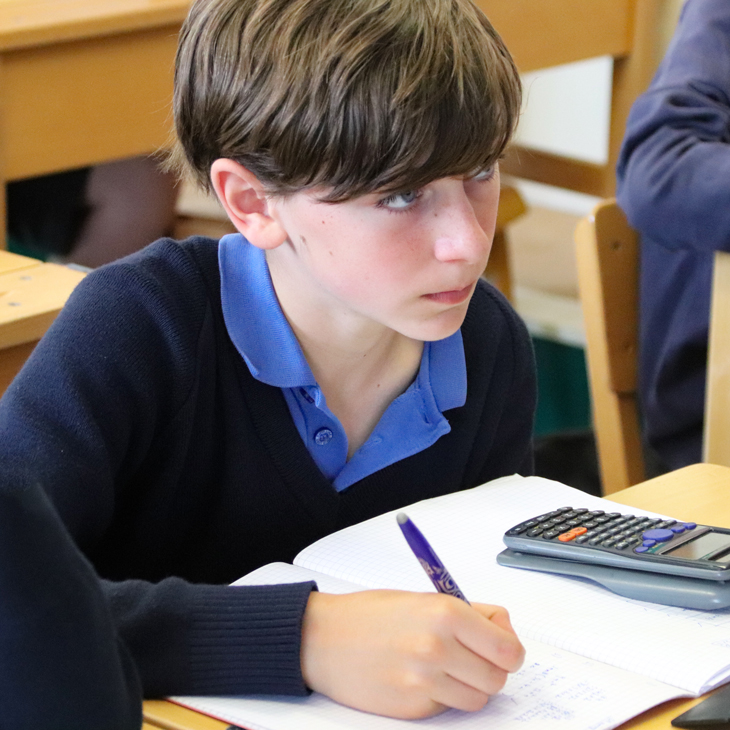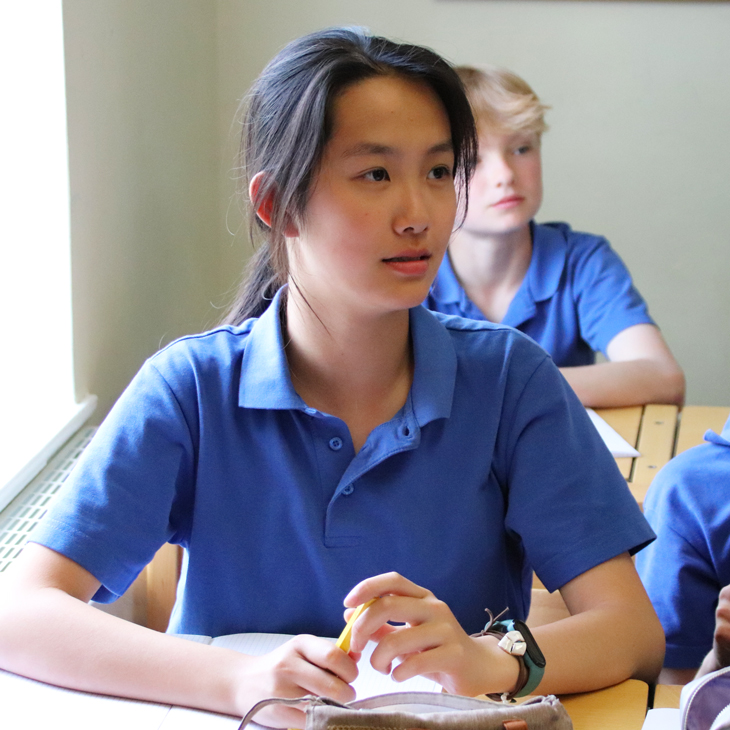 With the summer exams just around the corner, Year 7 this week took the opportunity to refresh their memories of drawing straight line graphs. After identifying the equations of simple lines, the children plotted lines from a table of values, a typical type of question they will encounter at Key Stage 4. Given the group's ability, I was able to stretch them further by looking at the gradient of a line and how we can find the equation of a line from either a graph or two points. The class are fresh off the back of completing the UKMT Maths challenge with the results due to be published after half term. I wish them all an enjoyable half-term break and look forward to seeing the culmination of their efforts in the upcoming exams.
Danny Parkinson, Year 7 Maths Teacher
Artistic Inspiration for Year 8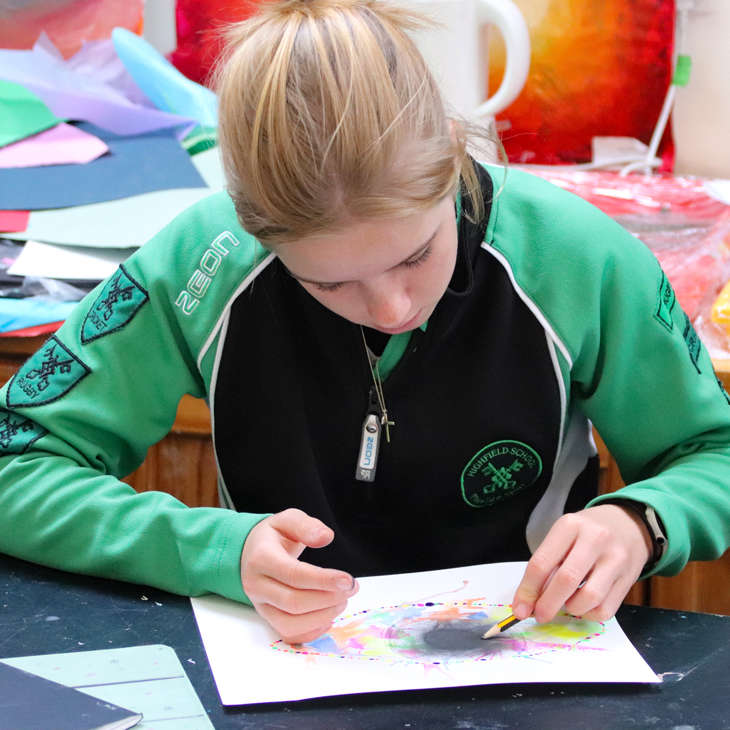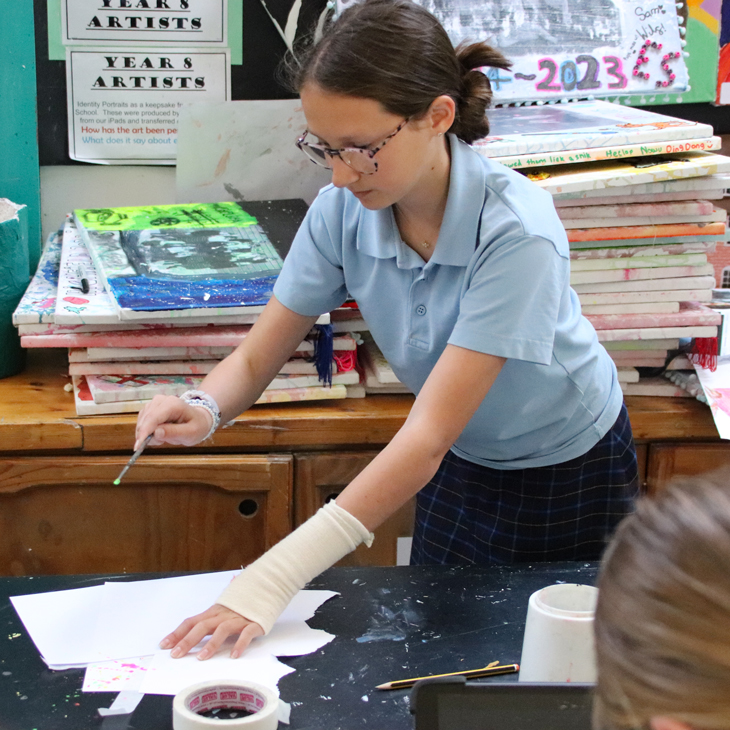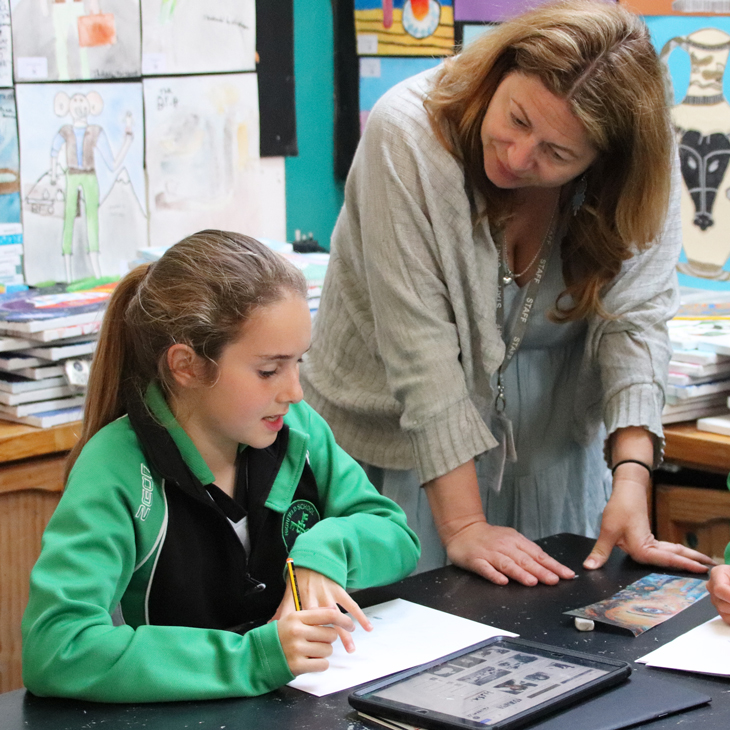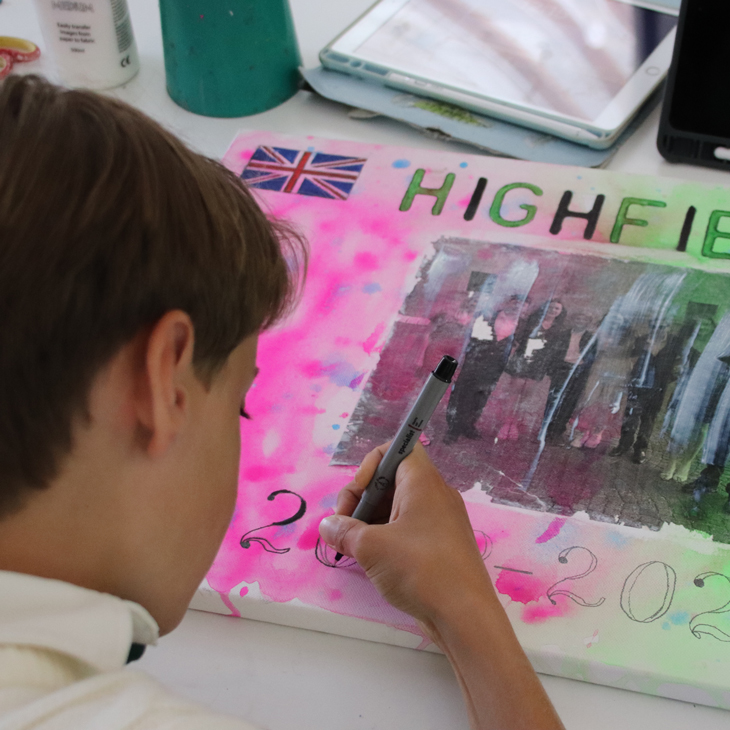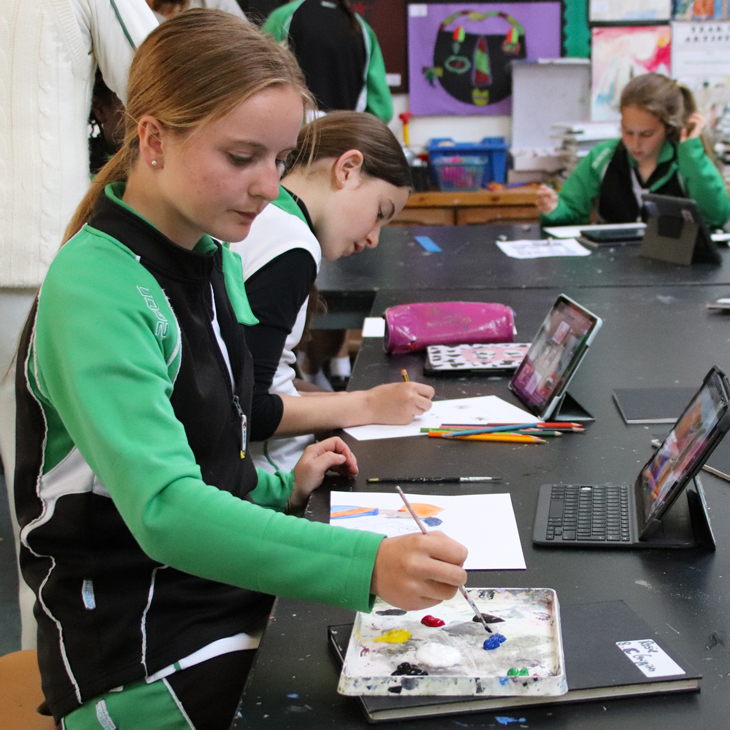 Year 8 have been inspired by the work of leading Black, Asian, Minority and Ethnic artists this week as they considered their next pieces of artwork. Considering work by the likes of Sonya Boyce, Kara Walker, Lynette Yiadom-Boakye, Chris Ofili and Winston Branch, the children had the opportunity to work in any medium of their choice including acrylic paint, watercolour, clay and mixed media. Meanwhile, the scholars among Year 8, inspired by their recent cultural trip to Italy, returned to the art room after completing their academic studies and immediately set to work on their 'identity' projects involving a digital media image transfer. Needless to say, between these projects and supporting Mrs Baird in set and prop making for their forthcoming end-of-year production, the art studio has been a hub of productivity for Year 8.
Olga Houghton, Head of Art