Time To Draw Breath…
27th May 2022
Nursery Children Have A Right Royal Celebration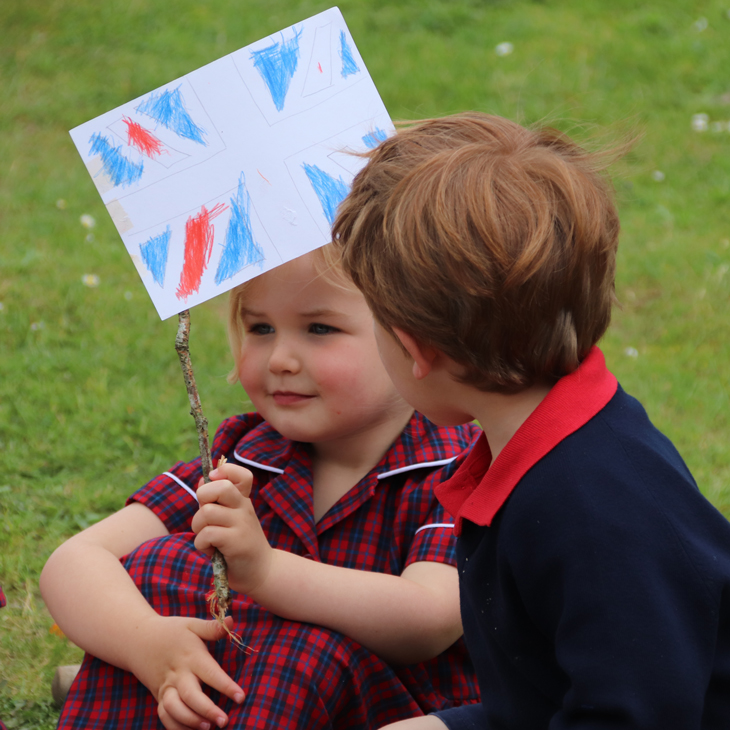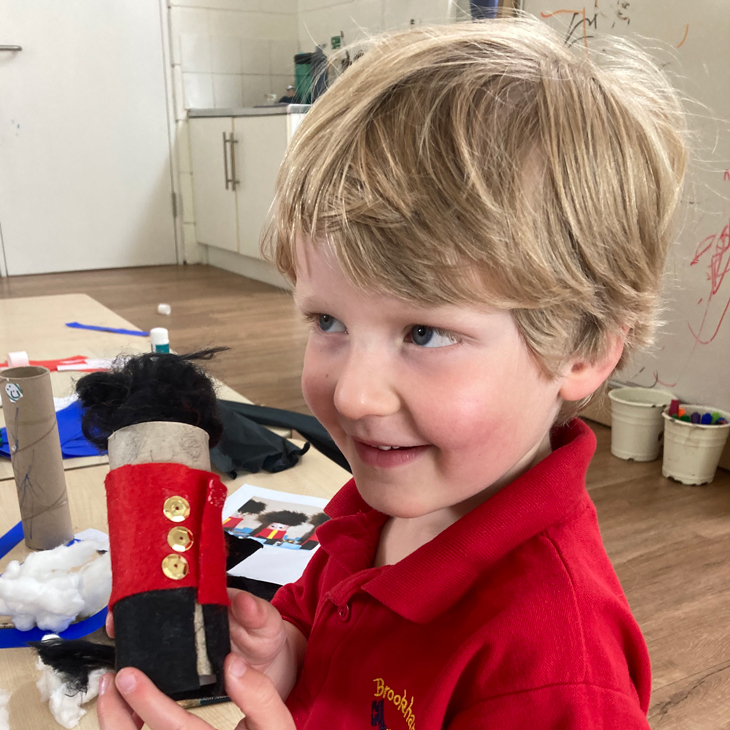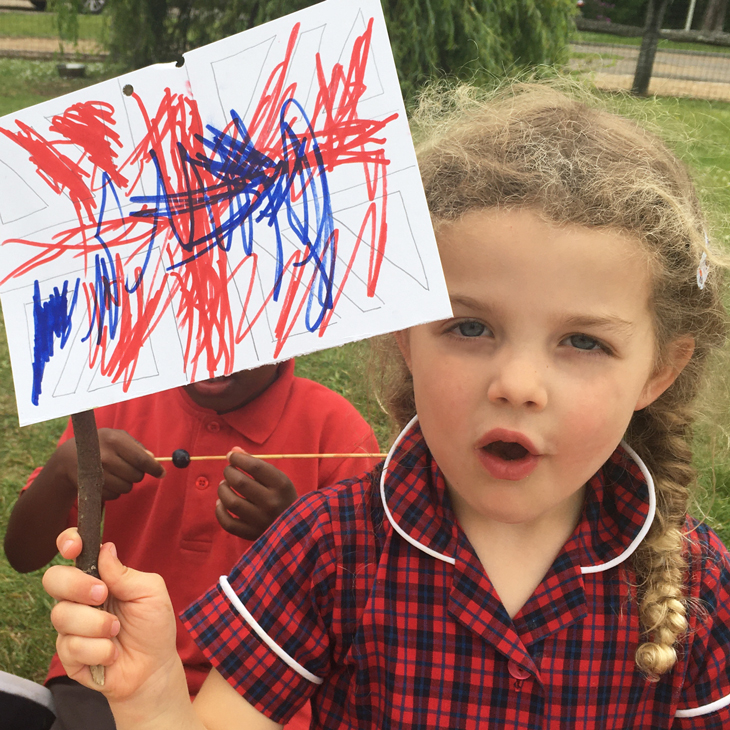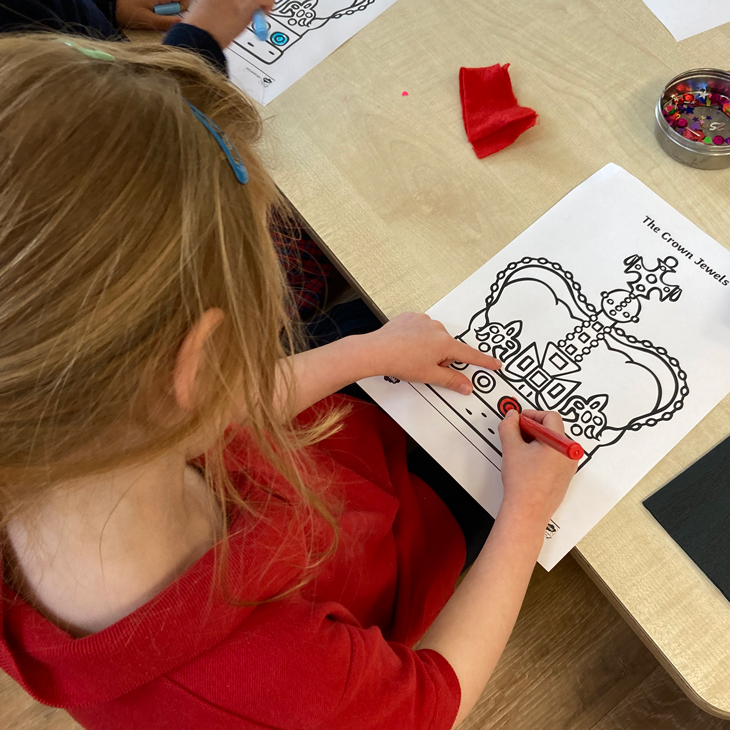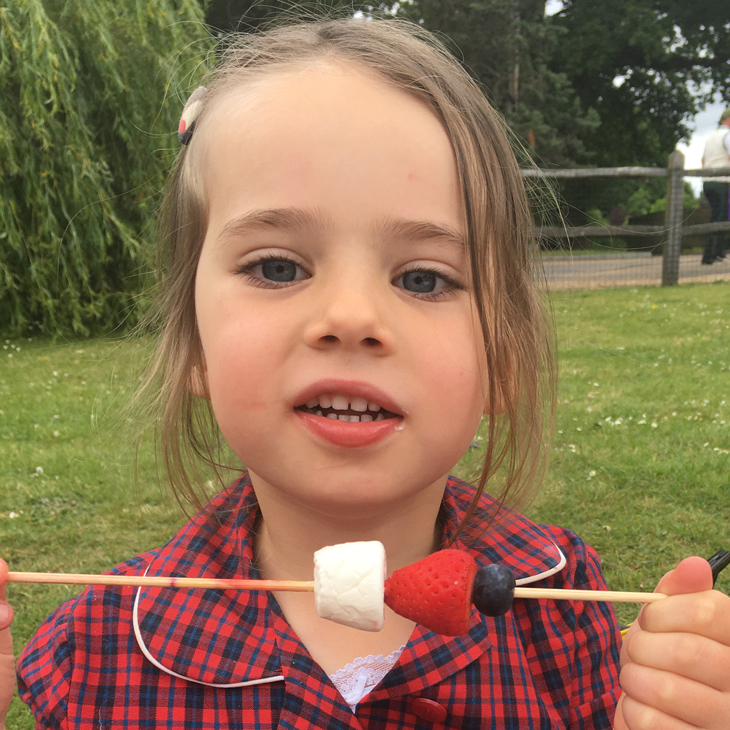 The Queen's upcoming Platinum Jubilee celebration has provided a wealth of exciting opportunities for learning for the children in Nursery. Having talked about the Queen and discussed how long she has served as our monarch, the children have enthusiastically prepared for their own unique celebration. They started the week by making red white and blue paper chain decorations and bunting, and they worked collaboratively to make a Union flag from scrunched up tissue paper. They also baked crown-shaped biscuits and decorated them with edible 'jewels'. Having watched a video of the majestic Trooping the Colour ceremony, the children used their creative flair to make models of the guardsmen, complete with red tunics and bearskins on their heads. All these activities not only provided an opportunity for the children to develop fine motor skills, but also encouraged discussion, new vocabulary and creative expression. Later in the week, they practised marching in time to music with Mr Moo and then enjoyed a celebratory picnic in the garden in honour of the Queen. To complete the celebrations, the Nursery children were joined by family members for a special jubilee walk and tea at the café.
Sam Forster, Head of Nursery
'X' Marks The Spot For Intrigued Reception Children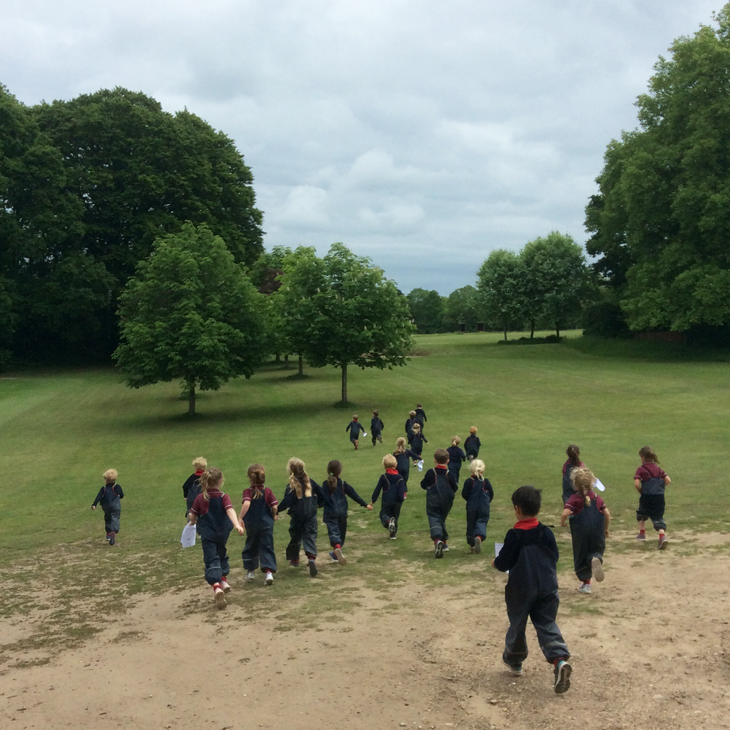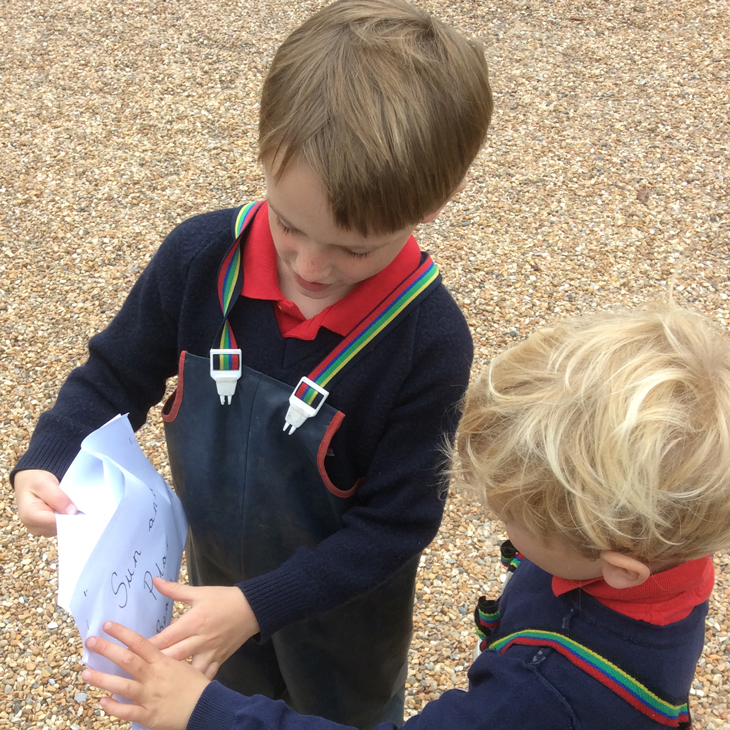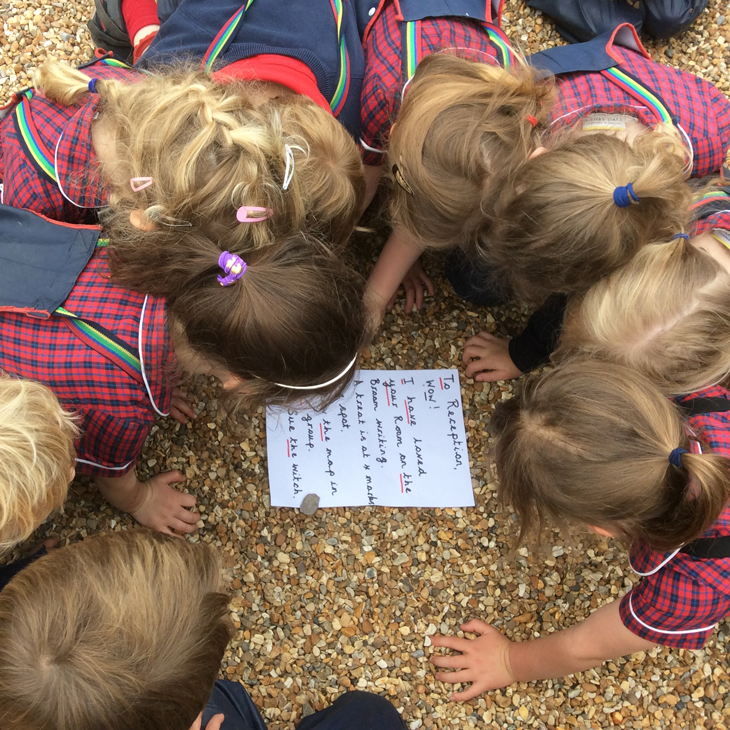 On the way to Forest School this week, the Reception children stumbled across a curious letter addressed to both Sun Bears and Polar Bears. With their interest suitably piqued, the intrigued children were left to wonder who had left the letter and how had it got there? In the dark on both counts, it was decided that the letter must be opened right away. Working collaboratively, the children discovered that the letter was left by the friendly witch, Sue, who congratulated them on their wonderful written recounts of lovely children's book Room on the Broom. She was so impressed by the effort that every child in Reception had put into their story books that she decided to give them a treat. But in order to discover what this treat could be they were challenged to follow a map through the school grounds. So the excited children set off in small groups in anticipation of discovering Sue's treat. Confidently voicing their interpretations of the map, listening to each other and agreeing on the best route, the children successfully identified where 'x' marked the spot. And after all their hard work, the young detectives enjoyed their new-found treat – hot chocolate and marshmallows around the fire. Well done, Reception!
Rebecca Lane, Reception Class Teacher
Year 1 Are Bright And Breezy Weather Watchers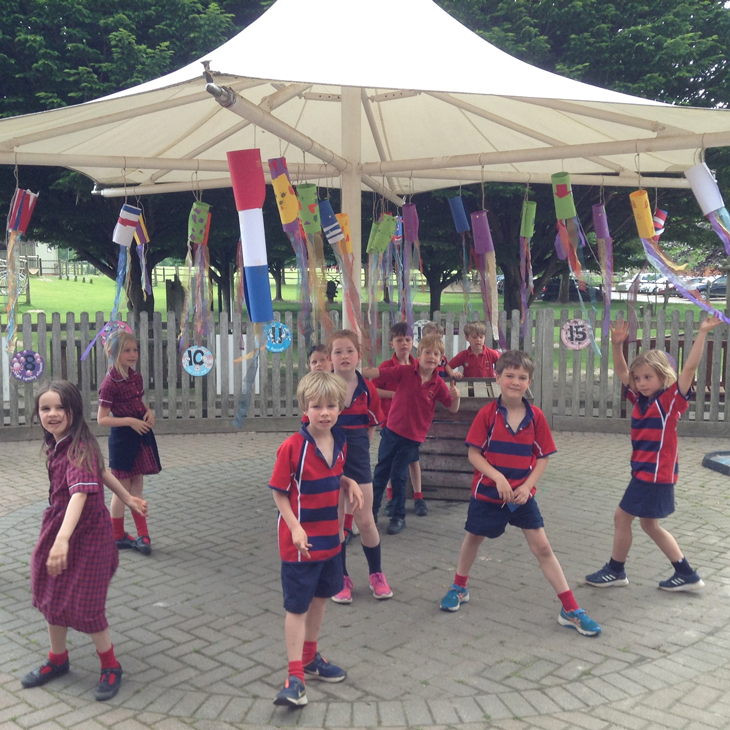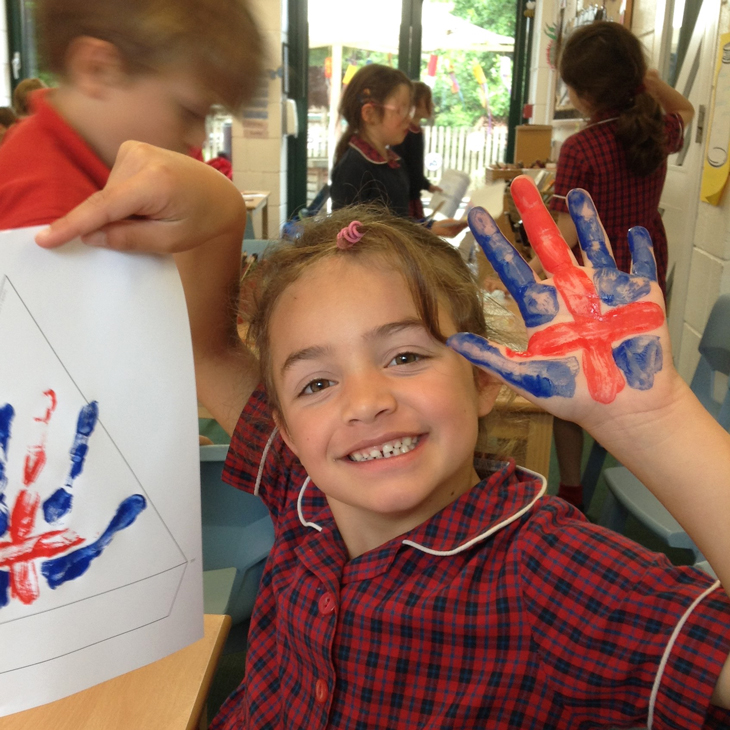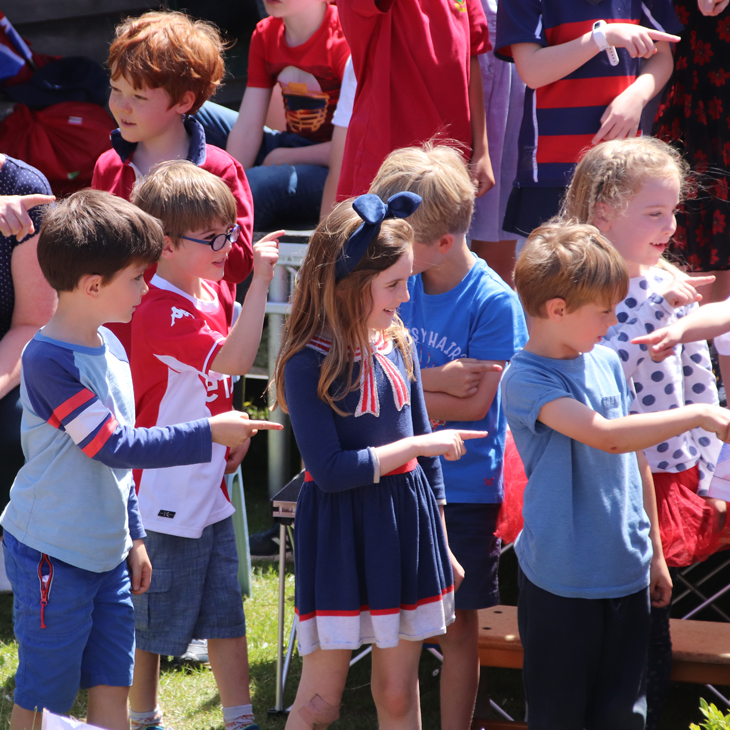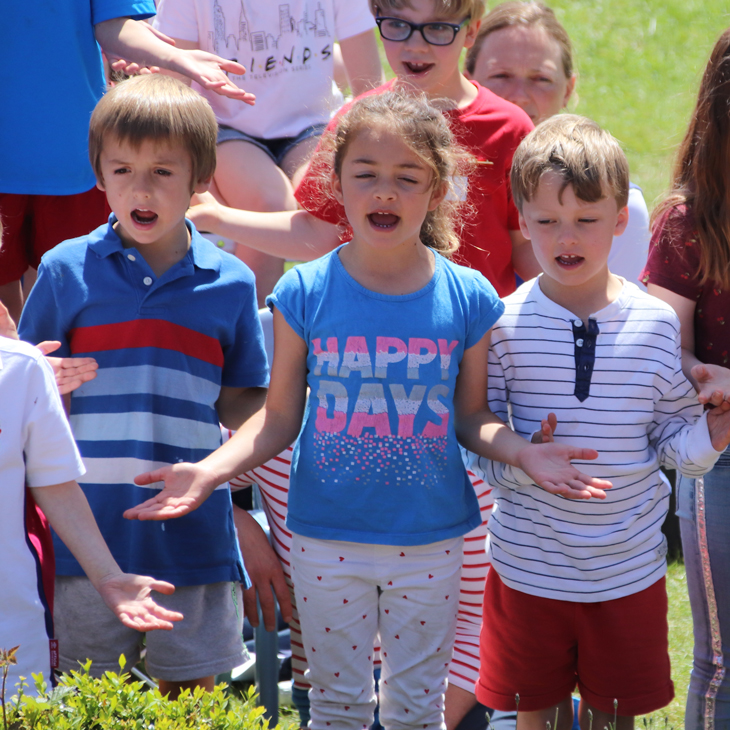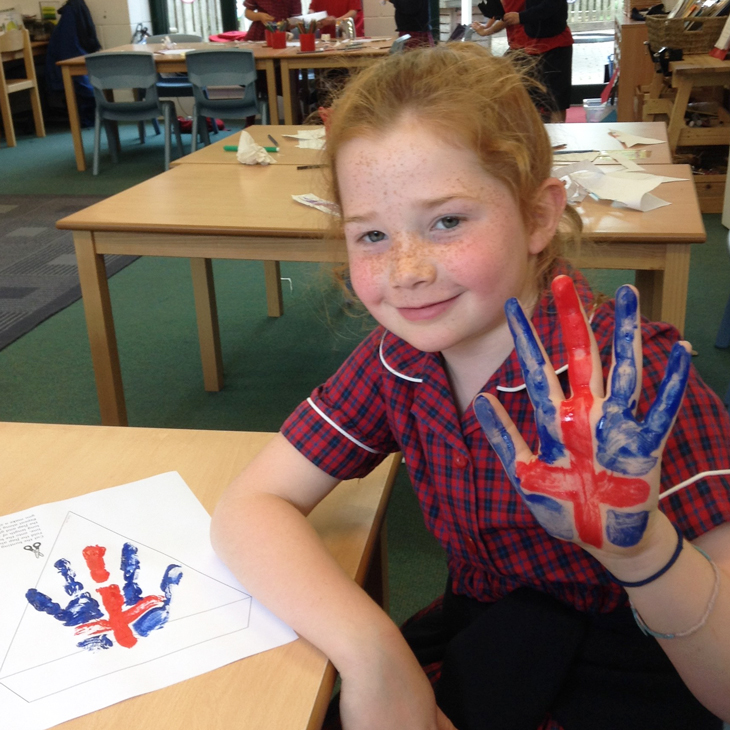 Year 1 have been learning all about 'Wonderful Weather' this term, so the past week of varied weather has been perfect for the children to observe and put their new-found knowledge to the test. The children have been busy learning about the impact of wind direction on the weather and were interested to learn that wind direction is important in determining, tracking and predicting the weather. Always keen to know if waterproofs, wellies and coats are needed at playtime, the children agreed that knowing the wind direction in the playground would be really useful and so at the start of this week the children made colourful wind socks which sway gently in the breeze. The children  discussed what materials would be best to use before planning and creating  their very own wind socks. Aside from the colour that the wind socks have brought to a very grey week, they have enabled the children to observe when the wind has picked up and to then discuss with their friends what they think the weather might do next. The children have also been busy preparing for the Queen's Platinum Jubilee; making flags and bunting, colourful Union Flag handprints, and singing during an uplifting whole-school jubilee concert.
Kathleen Salusbury, Year 1 Class Teacher
Respectful Year 2 Learn About Judaism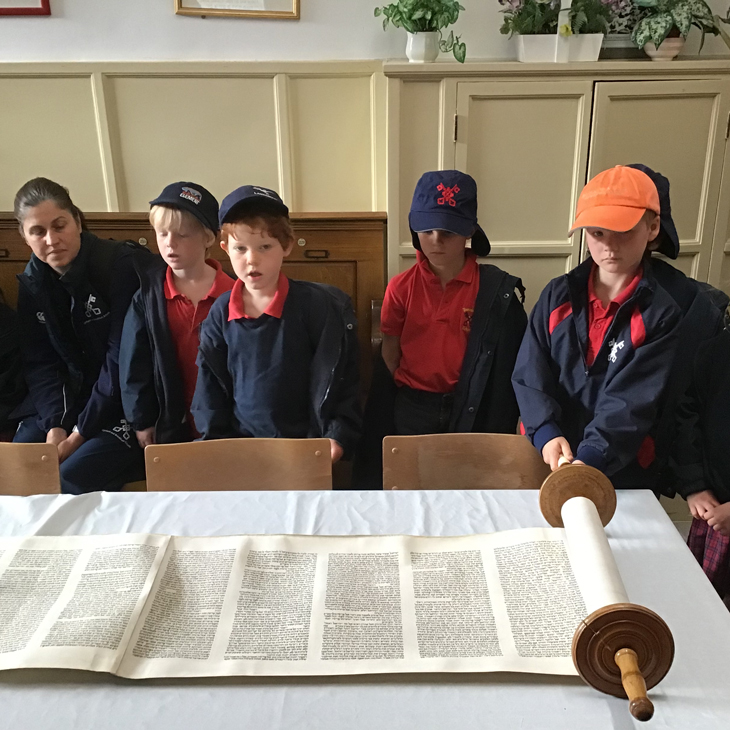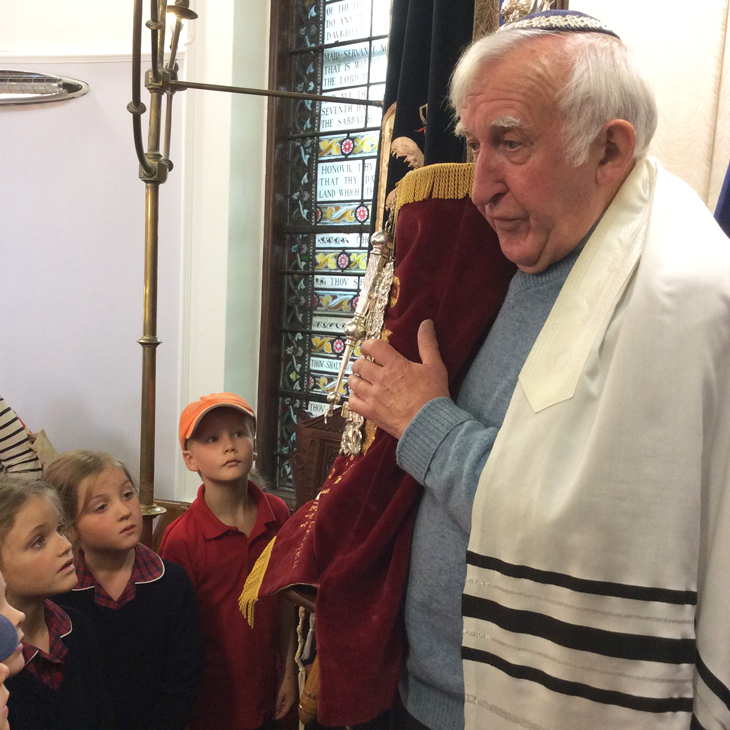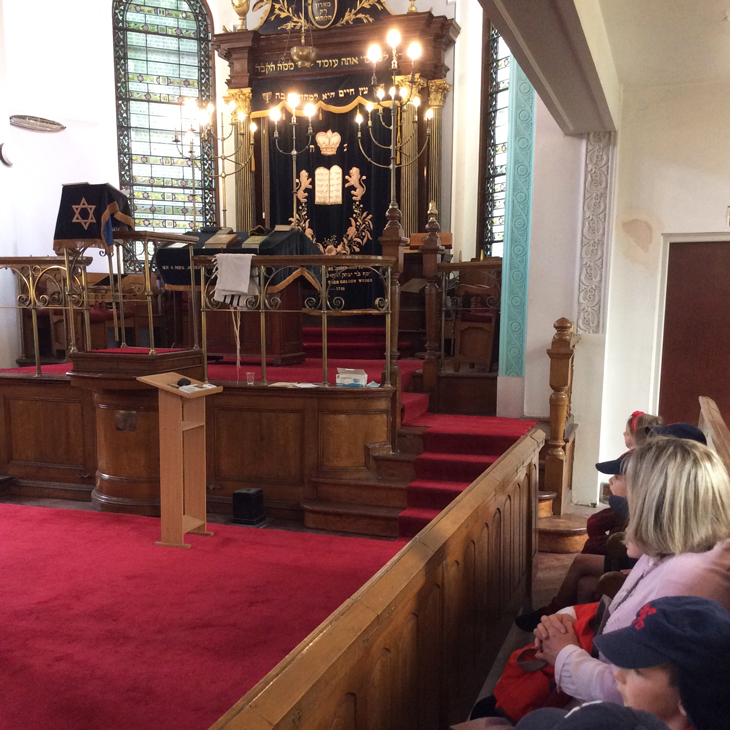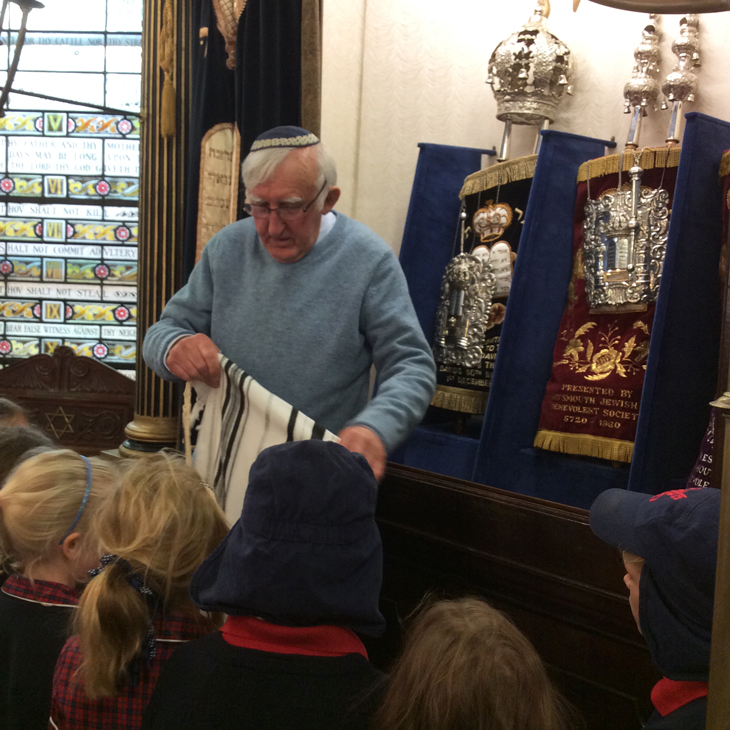 A trip to Portsmouth and Southsea Synagogue provided an heuristic opportunity for Year 2 to learn about the religion of Judaism and the type of buildings that Jewish people like to worship in. One of the oldest synagogues in Britain, which was established in 1780, the children found out about the different customs and beliefs associated with Judaism. Building on their learning earlier in the week, when Year 2 found out about the centre piece of Jewish life, Shabbat, the children recognised many of the key objects and symbols on their fascinating tour of the building. Having discussed a few of the different aspects that constitute Judaism, the children were very excited at the prospect of seeing a 'real' Torah scroll which they discovered can be as long as a football pitch when unrolled. Donning caps, which are known as Kippahs, the boys followed the Jewish custom of covering their heads, thereby showing respect for God. Year 2 returned to school with a knowledge of, and respect for, different people's faiths while also taking time to be reflective about their own thoughts on life.
Henrietta Platt, Year 2 Class Teacher
Year 3 Make A Splash In Annual Swimming Gala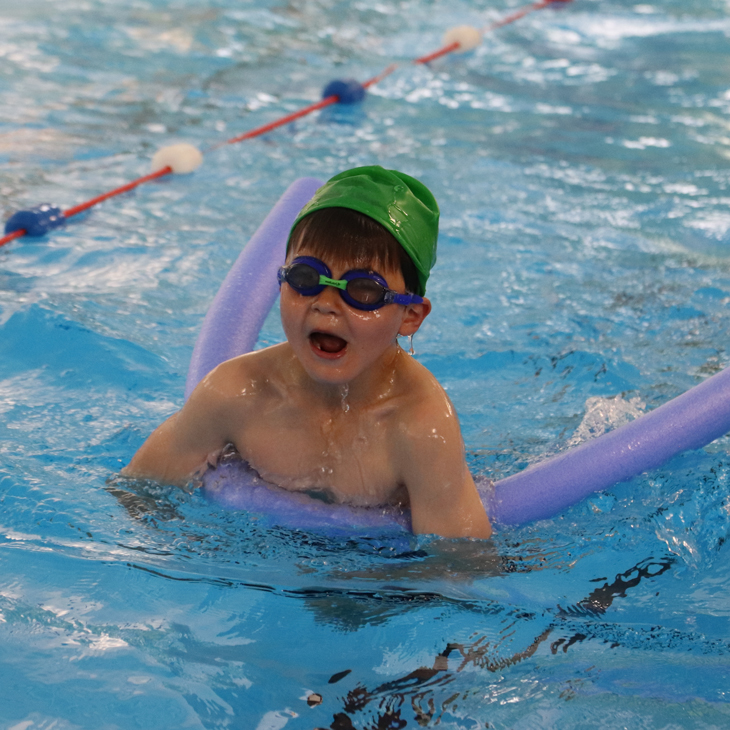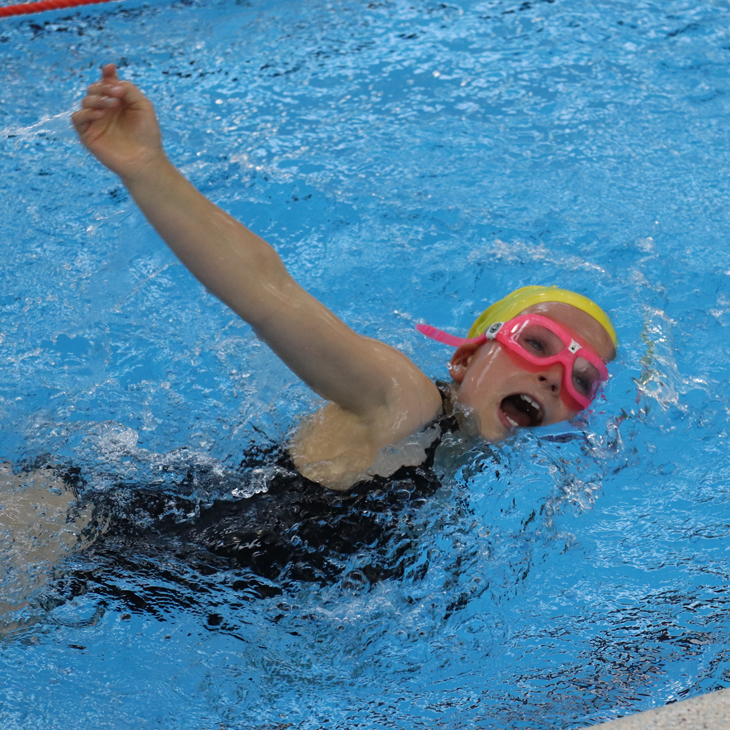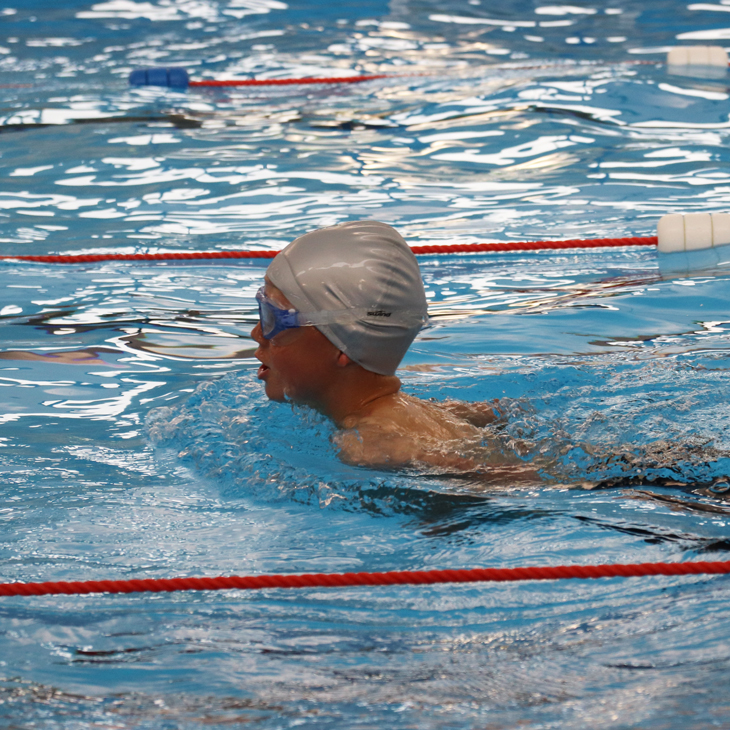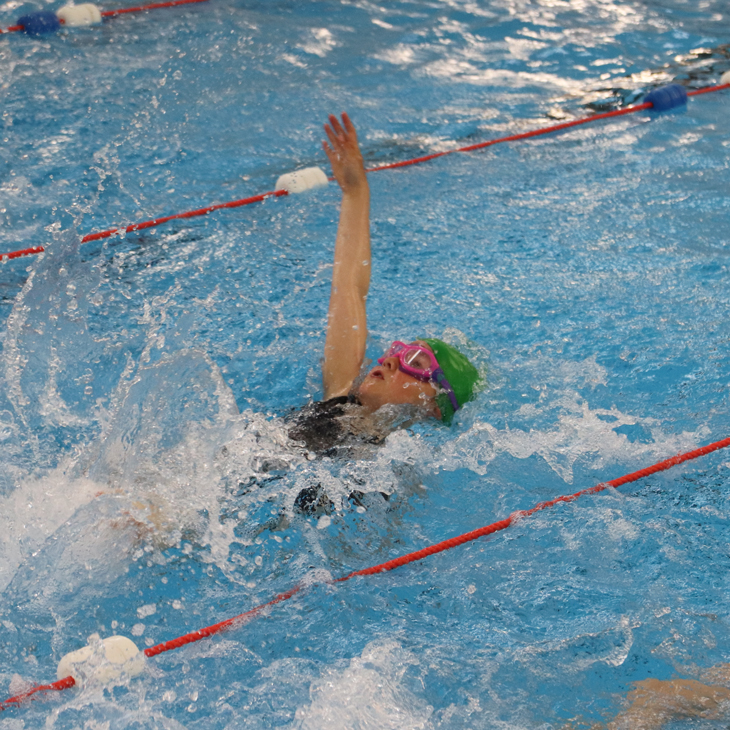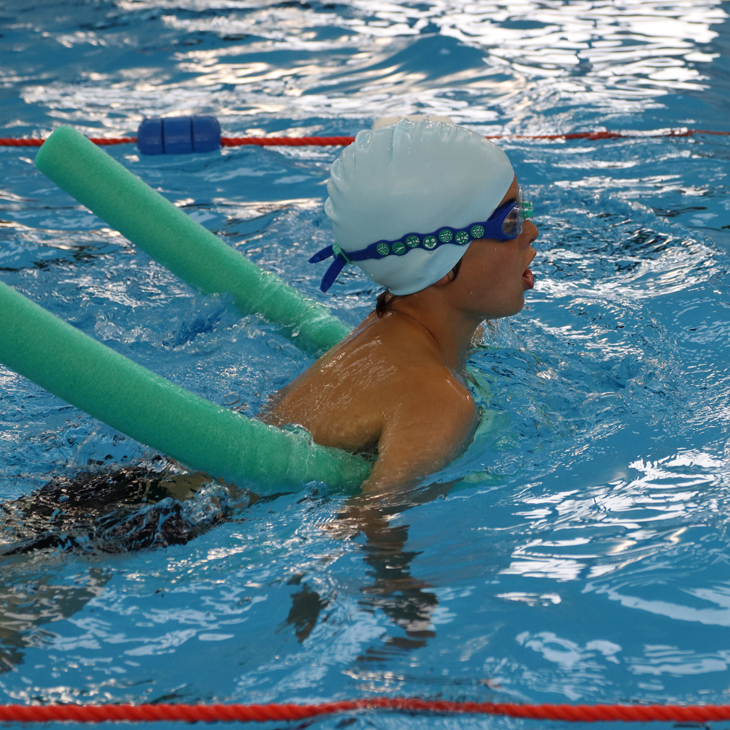 An energetic cohort of Year 3 pupils made a real splash at this year's annual swimming gala. Each year, Oak, Ash and Willow go head to head to get their hands on the Brookham Swimming Gala Cup. Some were novices to the world of competitive swimming, but they certainly rose to the occasion! With their proud parents cheering on poolside, the atmosphere before racing was filled with a mixture of excitement and tension as the children sat nervously chatting together before they focused on the challenge that lay ahead. First up was the front crawl, followed swiftly by the backstroke, where the children demonstrated that they had perfected the technique during their regular swimming lessons. Everyone who participated held their own and in many races only a stretched arm at the finish decided the winners. The final race was the ever-popular House Fun Race and it certainly lived up to its name. There were many extremely courageous efforts throughout the gala but there can only be one winner – and this year the honours went to Ash! Congratulations to all the fabulous swimmers and special thanks to the spirited parents who supported all the children throughout the afternoon. Head of Brookham Sport, Mrs Oecken said: "Many thanks to all the children who took part this year. Even though Ash managed to take the trophy, it was definitely a great effort by all the houses which made for an exciting gala for both children and parents alike."
Charlie Millsom, Head of Year 3
Year 4 Cricketers Live Up To Star Billing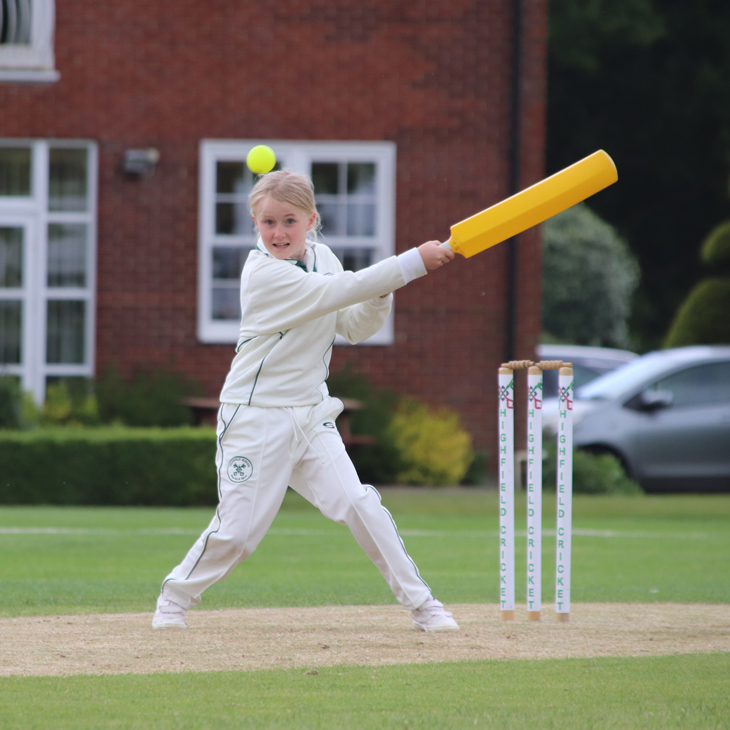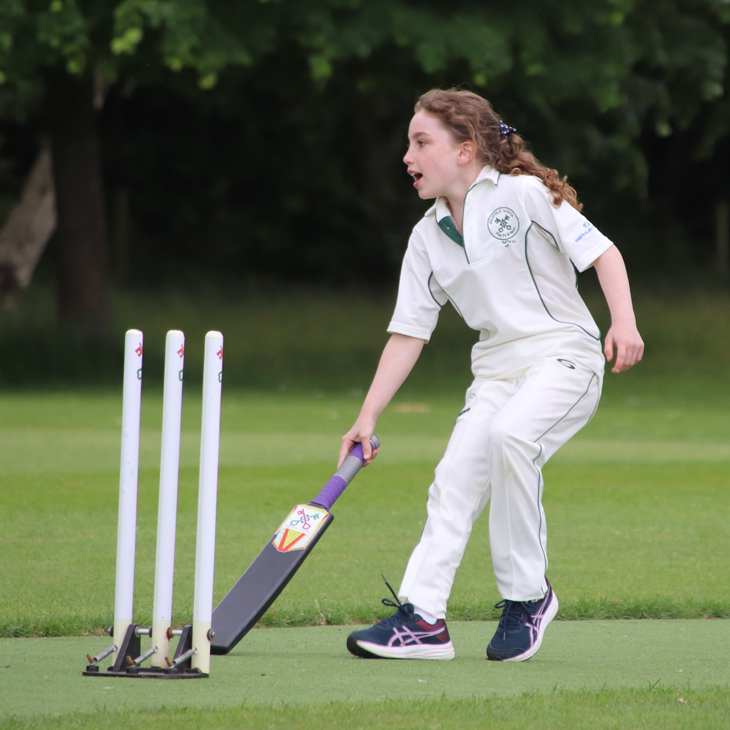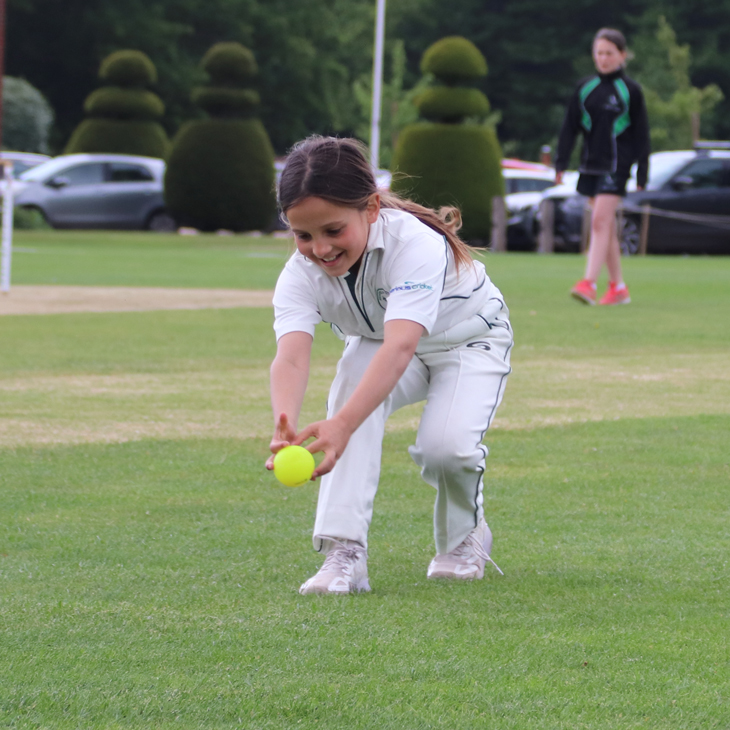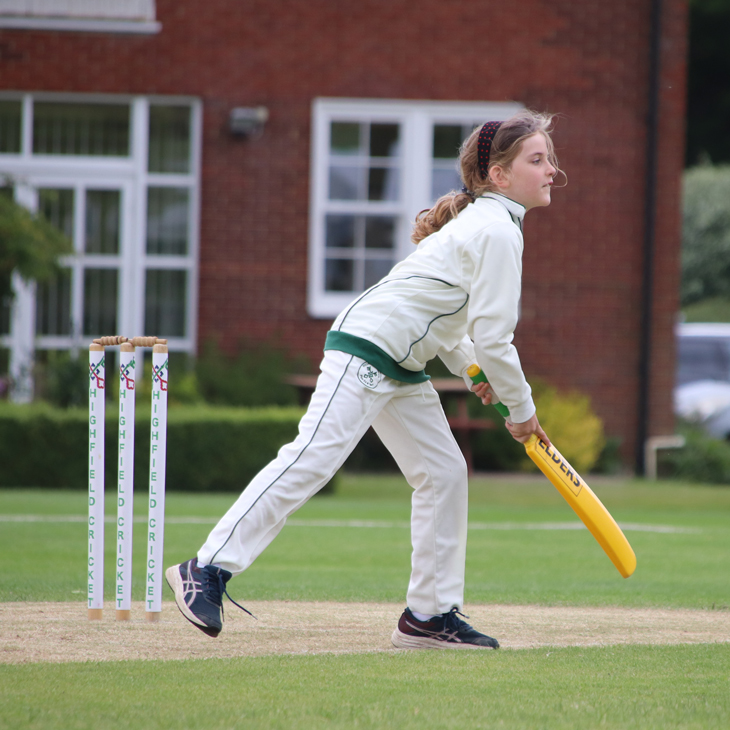 The U9 Girls' A team, looking very smart in their sparkling cricket whites, was delighted to be playing on the stunning Chapel Field – normally the reserve of the Highfield 1st XI. And they certainly lived up to the star billing with a fine win against Ripley Court. The visitors batted first and looked a little tentative on the big stage. Tiger opened the bowling with a maiden over before the girls picked up three fine wickets.  Grace then bowled another maiden to close proceedings – a great way to top and tail the Ripley innings ! In reply, chasing 225 to win, opening batters Phoebe and Isla set the standard for the Highfield innings by scoring 16 runs between them – a handy figure matched by sixth pair Beatrice and Anastasia as the girls raced to dominant winning score of 292 runs. Everyone played exceptionally well, with special mention to captain Jemima for engendering wonderful team spirit and motivational encouragement throughout. Tiger was named 'girl of the game' for batting and Olivia for fielding. Over on Lynchmere, the home of Highfield's 2nd XI, the U9 Girls' B team had a wonderful afternoon against their friendly rivals from Ripley Court. Charlotte, the Highfield captain, won the toss and chose to bowl first – and what an inspired decision it proved to be! Wickets fell regularly thanks to some fine bowling from Alba, Tiggy and Jemima while the team's backing up in the field – a regular focus during the girls' Games lessons – was exceptional; the girls fielded excellently and backed each other up throughout the game. The end result was that Ripley Court finished their innings on 224 runs. In reply, Highfield quickly racked up a fabulous score; making well-timed runs and hitting beautiful balls to the boundary. Luella and Lottie particularly impressed, making a fabulous 24 runs between them as Highfield scored 272 runs to secure a comfortable win. Well done, Highfield!
Natalie McIntosh & Charlie Peerless, Year 4 Cricket Coaches
Year 5 Take Action For Harry Potter Presentation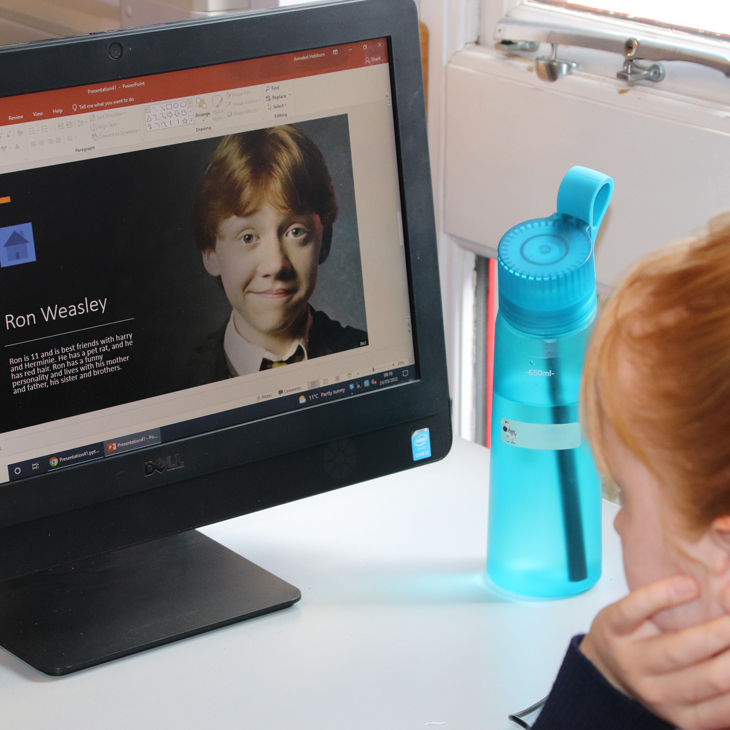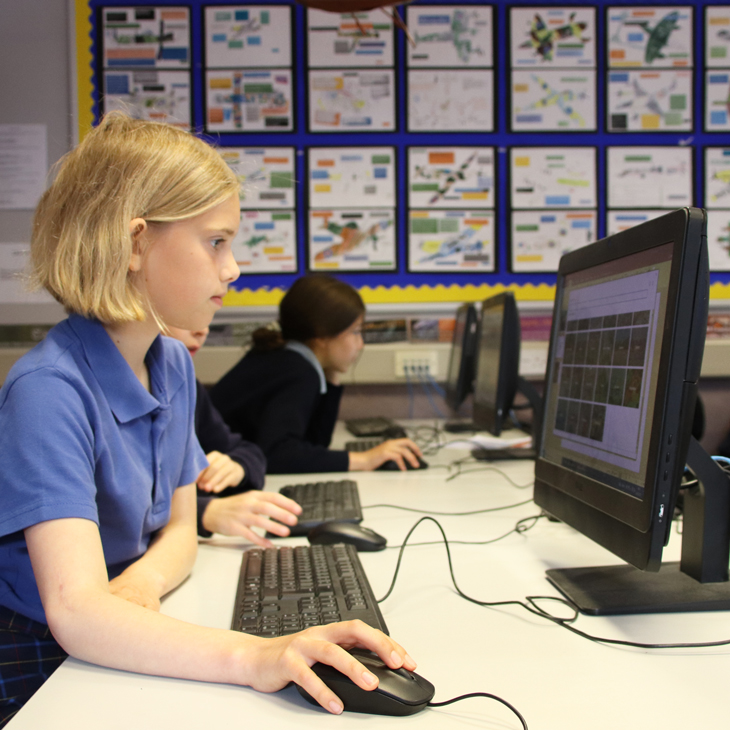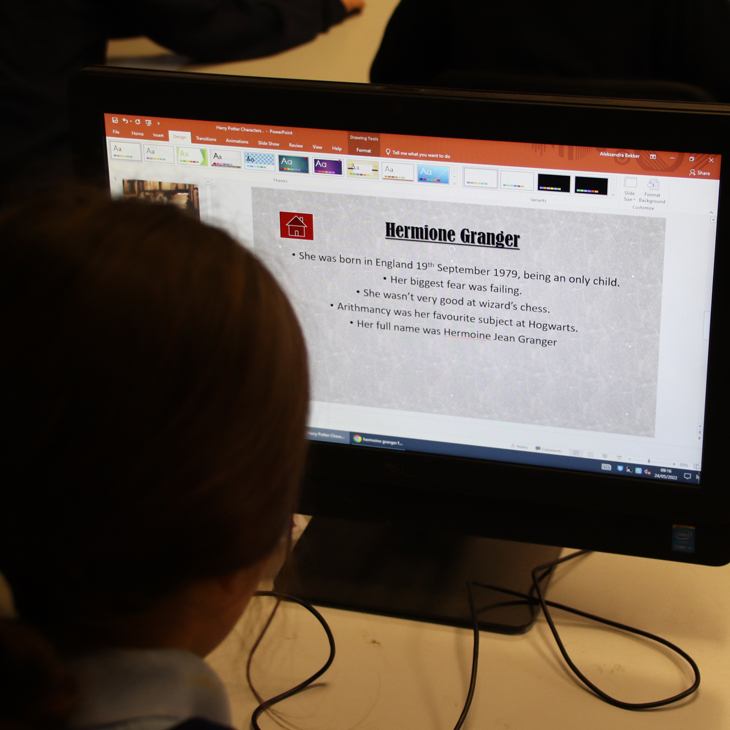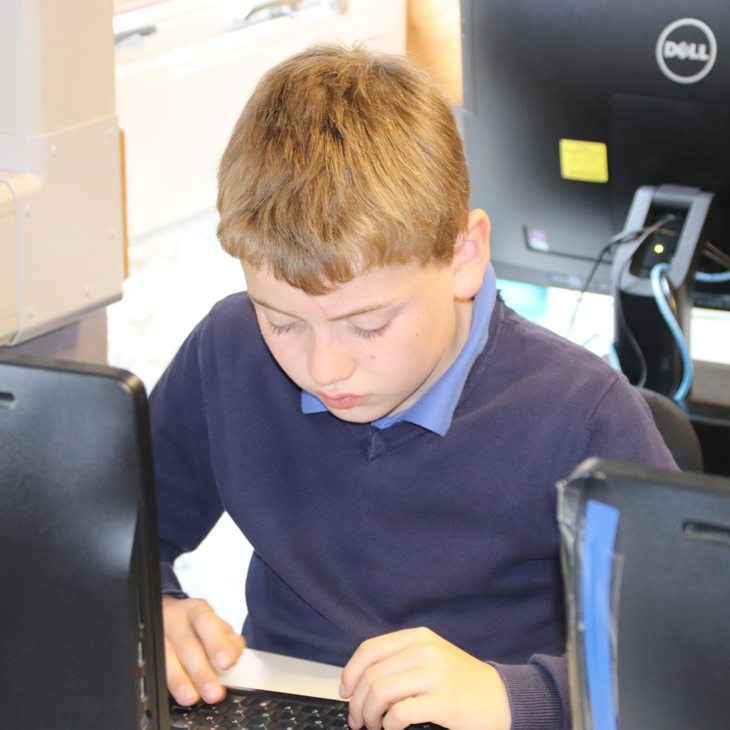 Children in Year 5 have been learning about 'action buttons' during their Digital Literacy lessons. Choosing five literary characters from Harry Potter and the Philosopher's Stone, the children were asked to research information about the characters and produce a PowerPoint that contained action buttons and hyperlinks. Action buttons add a navigational element to presentations, enabling the audience to return to a contents page and choose a character to read about rather than trawling through an entire presentation. Hyperlinking words can take the audience to websites, open up a file or play a video. The effective use of transitions and animations, as well as refining one's researching ability on the web, are all skills that need to be developed in order to produce an engaging and factual presentation.
Richard Dunn, Head of Digital Literacy
Growing Maturity Of Year 6 Evident In Art Class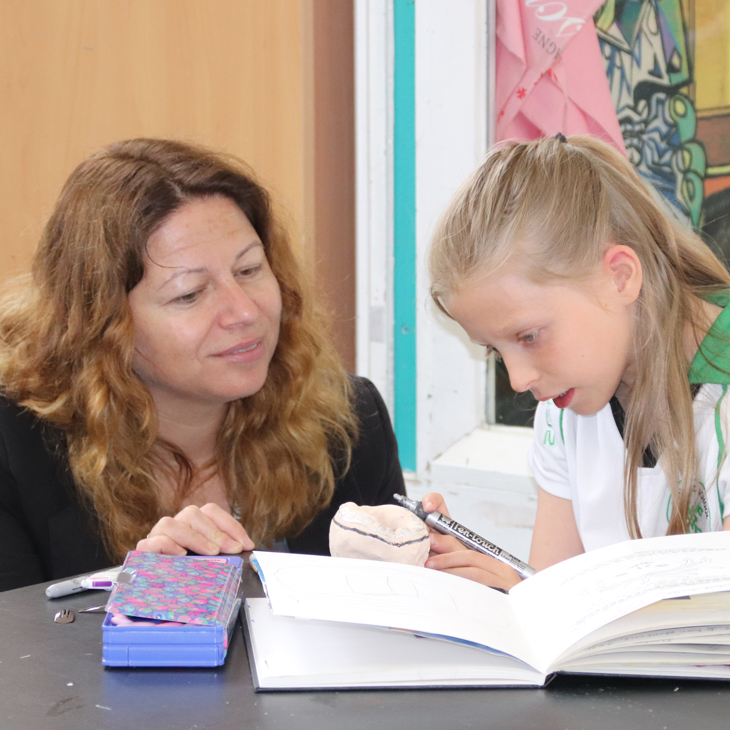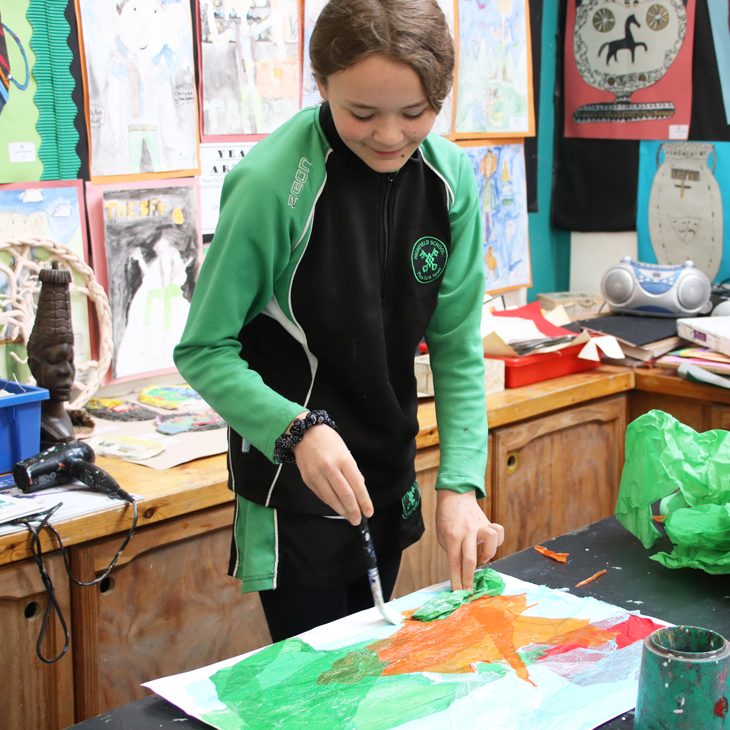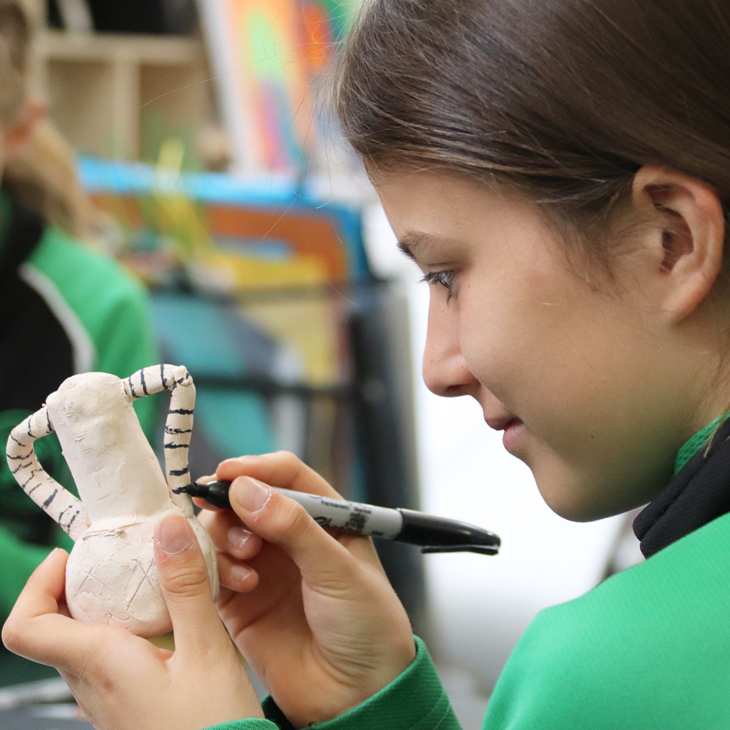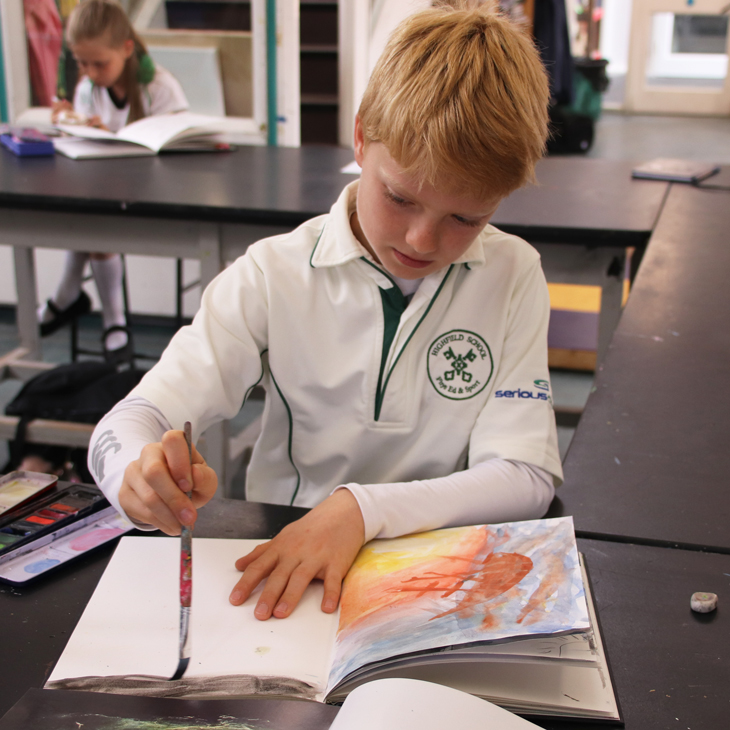 Year 6 are maturing and enjoy when they have options to choose from more and more. Their lessons this week were to choose the order of either finishing off their Ancient Greek Pelikes and Amphoras sculptures in clay by decorating them with various Greek patterns and motifs with metallic and black pens; completing their turbulent Turner watercolours; or preparing the ground for a larger Turner painting after half term by laying down layers of tissue to create texture. All pupils are greatly enjoying all of the topics and I look forward to their expressive Turneresque paintings using a limited palette after half term.  Well done, Year 6!  Perhaps families might enjoy sitting outdoors and cloud watching while creating Turner-like sketches and paintings at home!
Olga Houghton, Head of Art
Fieldwork Forays All In A Day's Work For Year 7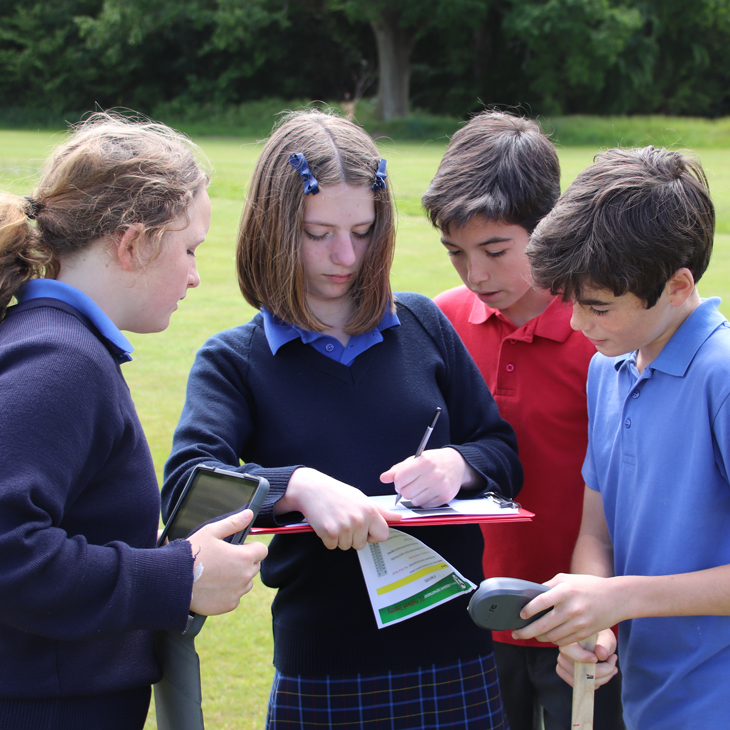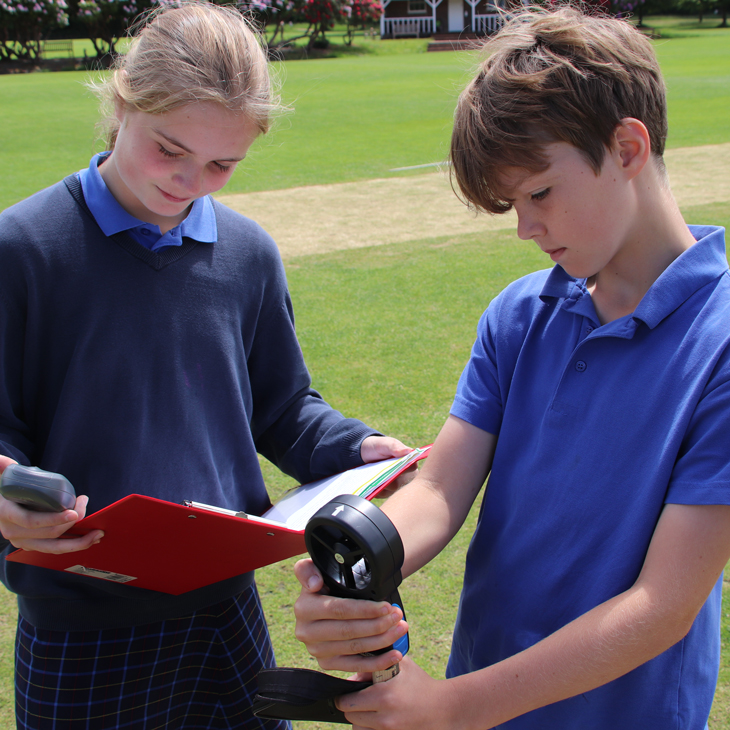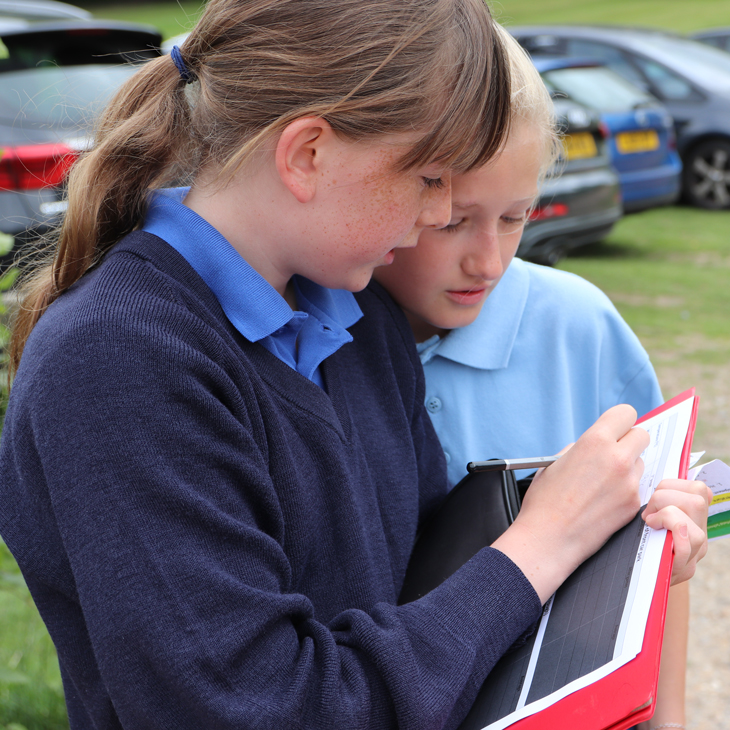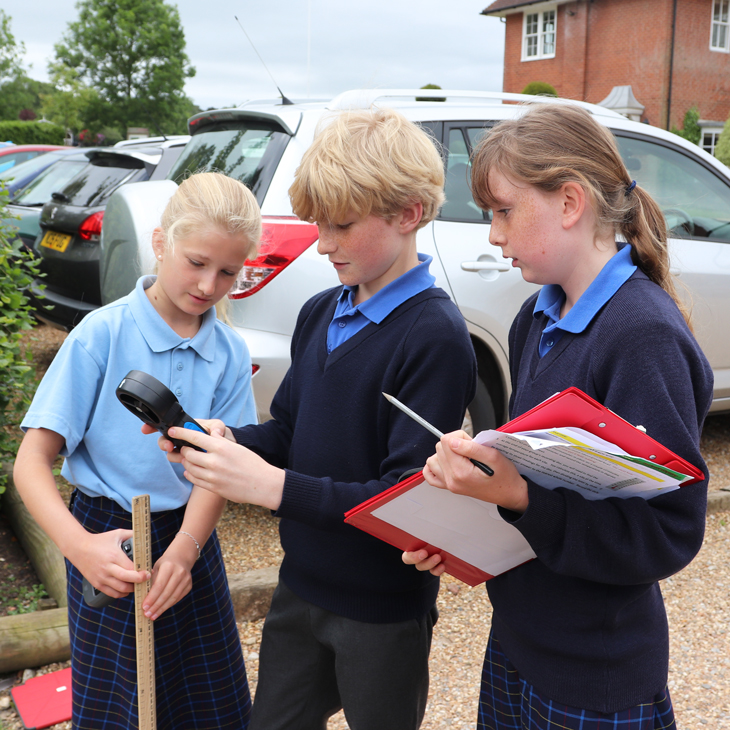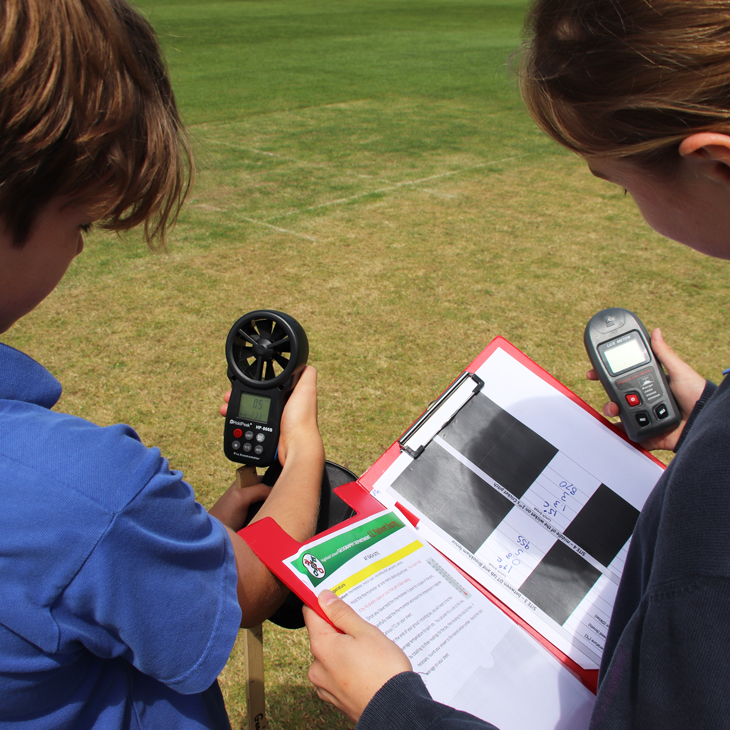 The whole of Year 7 have been out and about in the Highfield grounds this week collecting primary data for their Common Entrance fieldwork project.  This data forms a central part of their projects, which will be written in the second half of the Summer Term, and is the base for the two main questions the children are asking – what impact does the microclimate of Highfield have on wind speed and light and where would be the most suitable site(s) to locate wind turbines and solar panels at Highfield? Each day has seen groups of children collect data from six different sites around school, including the playground, the golf course and the cricket pitch. At each site, they have taken light, wind speed, temperature and cloud cover readings. This has been done in the children's free time and they have done so with impressive independence.  Their focus has been on recording the information as accurately and as fairly as possible, even with the continual threat of rain! The children have worked brilliantly in their groups and shown a maturity and care in their work that sets them up well for the next phase of this task.  The project has also given Year 7 the opportunity to think about  climate and sustainability at Highfield; conversations that will continue throughout the rest of this term and beyond.
James Figgis, Head of Geography
Talented Year 8 Bow Out In Style With LAMDA Swansong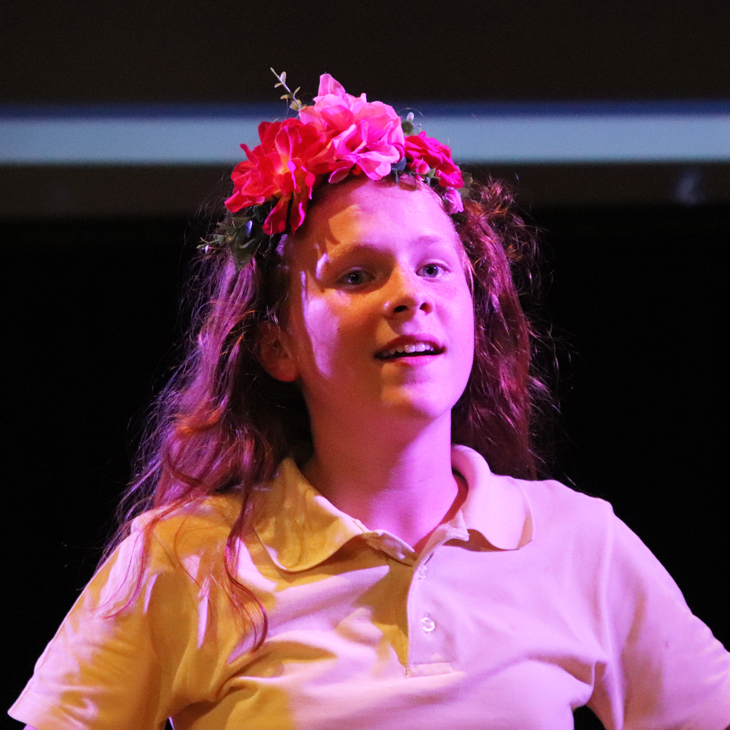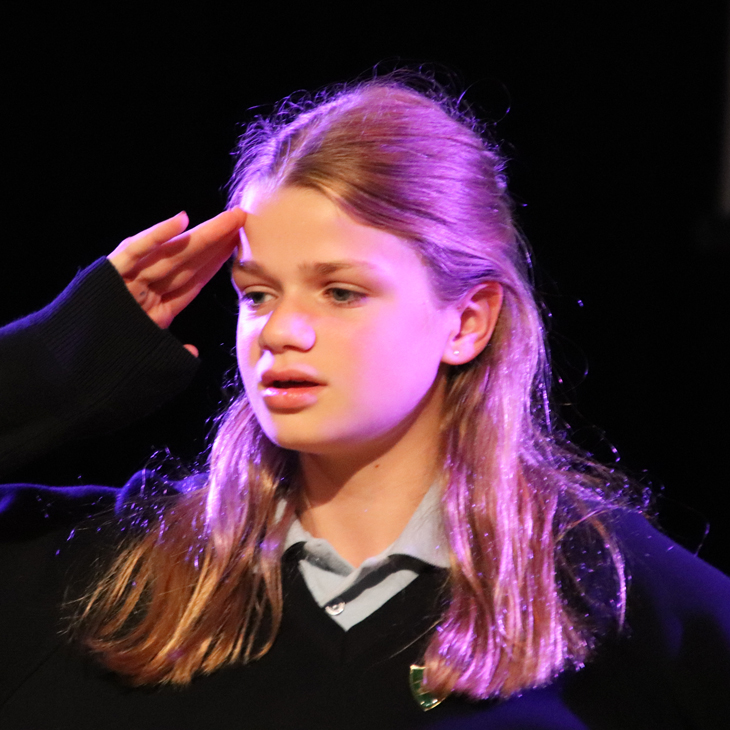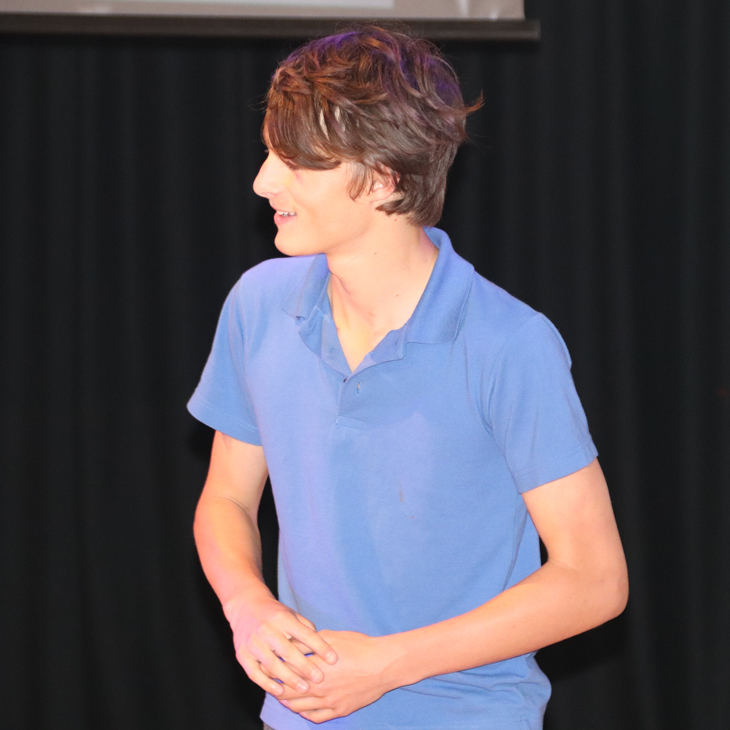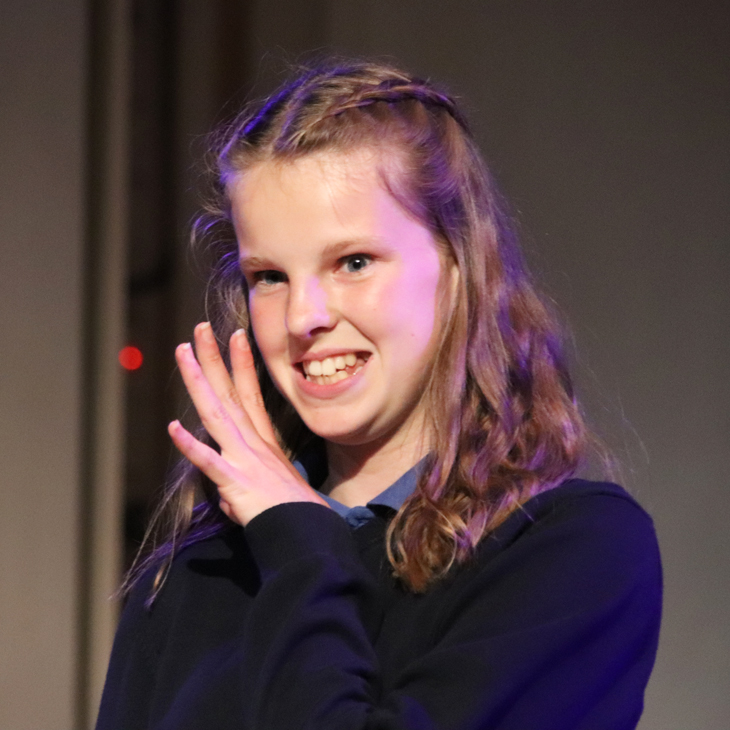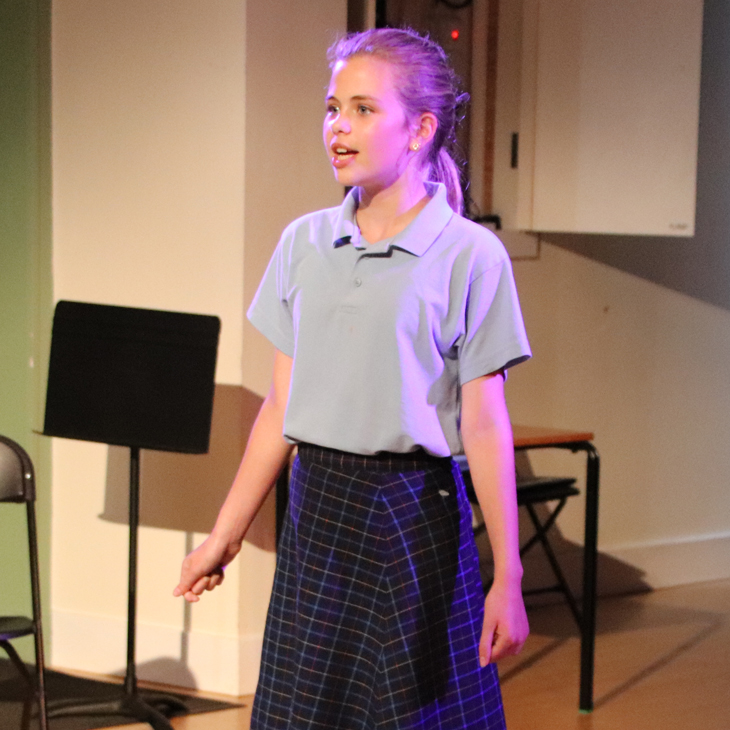 On Thursday evening, parents and children were treated to an evening of talent, creativity and sheer delight as they watched more than 30 performances from children across Years 5,6,7 and 8. The children performed a scene they had been working on in their LAMDA sessions. The London Academy of Music and Drama Art (LAMDA) is a weekly lesson that helps develop children's confidence, vocal clarity, sense of understanding and communication skills. The appreciative audience was entertained by a huge variety of performances involving a wealth of characters, accents and scenarios; ranging from a Scottish tea bag (courtesy of Freddie) to the mischievous Puck (who was outstandingly performed by Annabel). A real highlight of the evening was Kitty's performance in After Juliet; her compelling performance sent chills down many a spine and held everyone's attention. It isn't difficult to see why she has been awarded a Drama Scholarship to Charterhouse! For many Year 8s, this will have been their last week of LAMDA at Highfield, but hopefully it will just be the beginning of their LAMDA journey at senior school, where they can achieve valuable UCAS points for every grade from bronze upwards. A huge well done to all who performed and what a wonderful way to usher in the half term.
*For a gallery of pictures from the LAMDA showcase, click here
Sarah Baird, Head of Drama