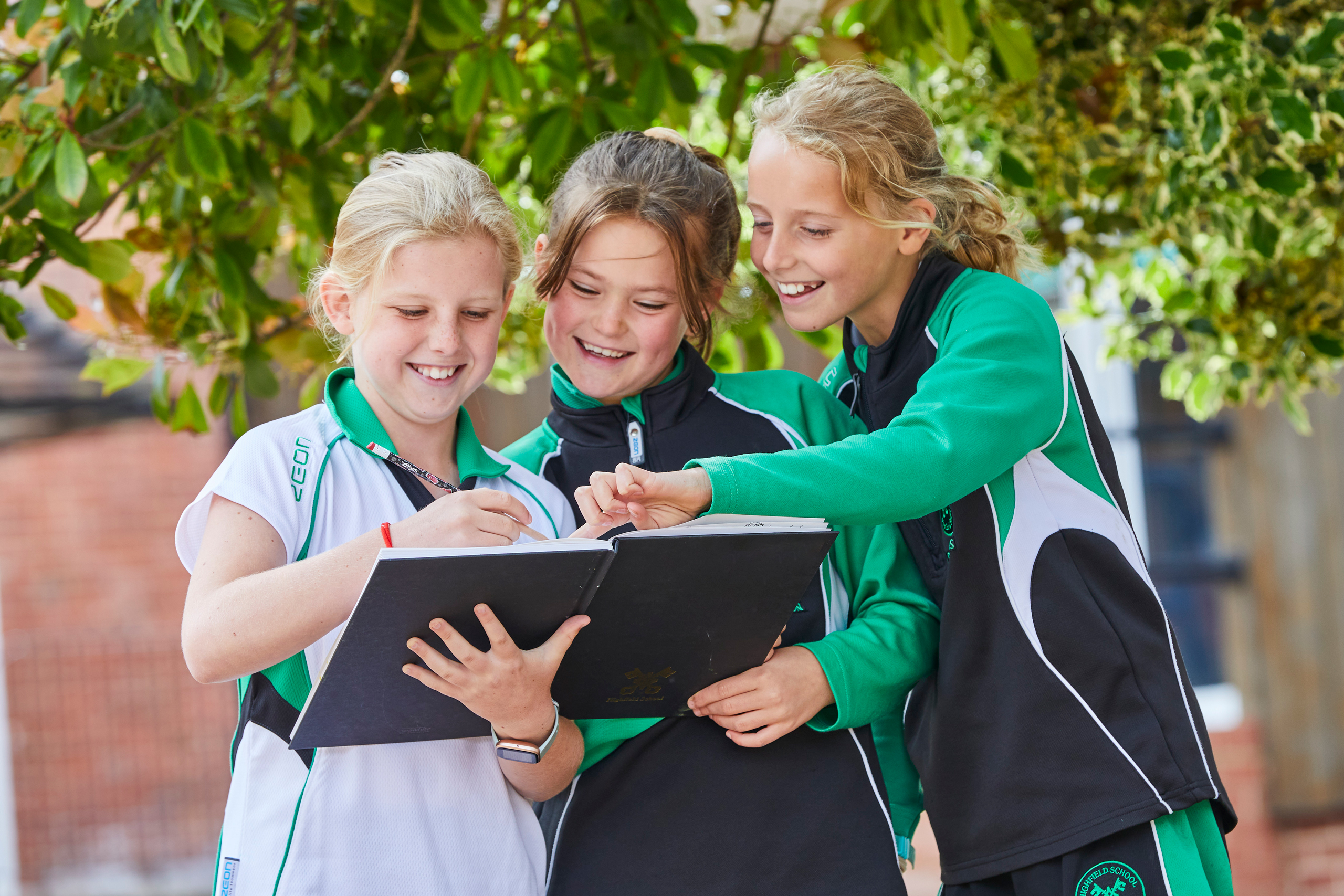 Voyage Of Discovery
30th September 2022
Nursery Children Came, They Saw, They Conkered!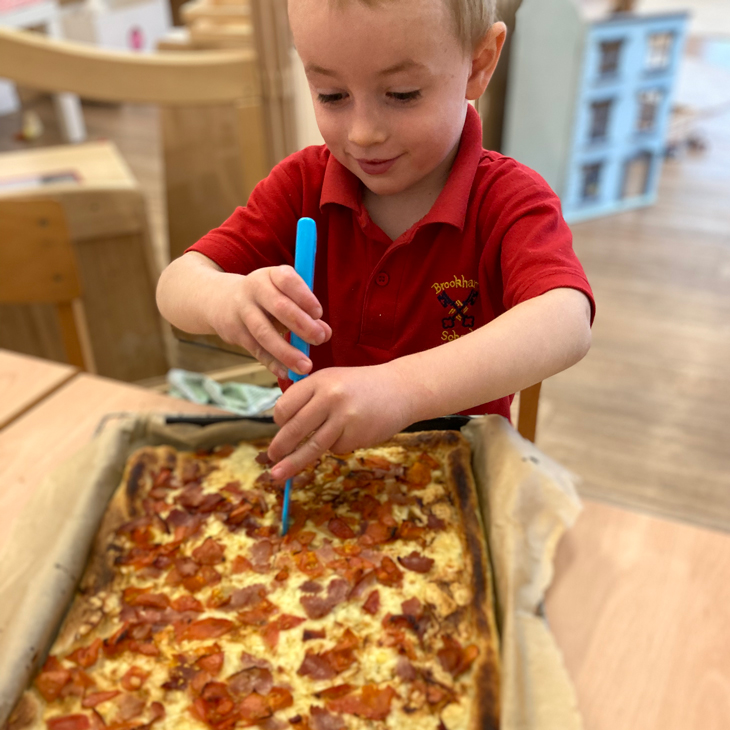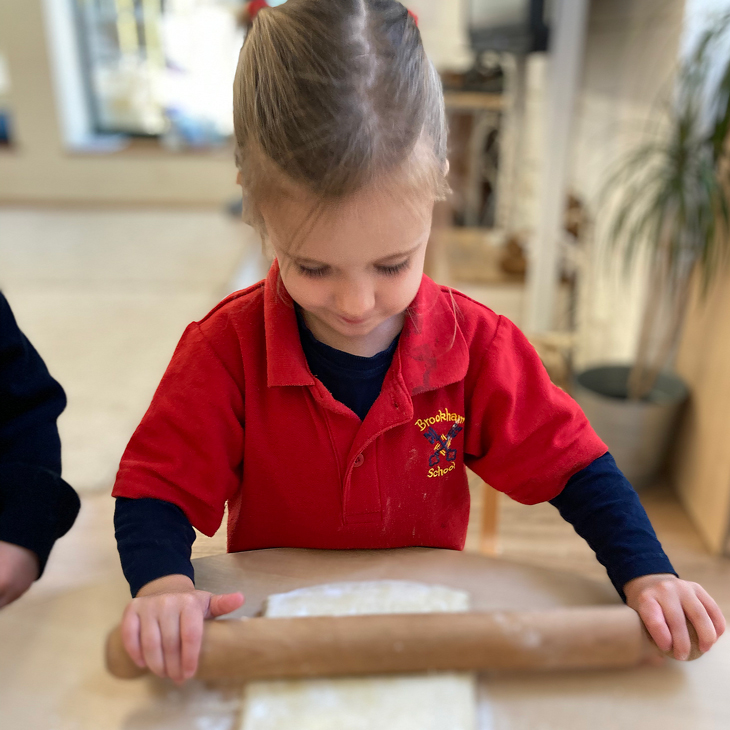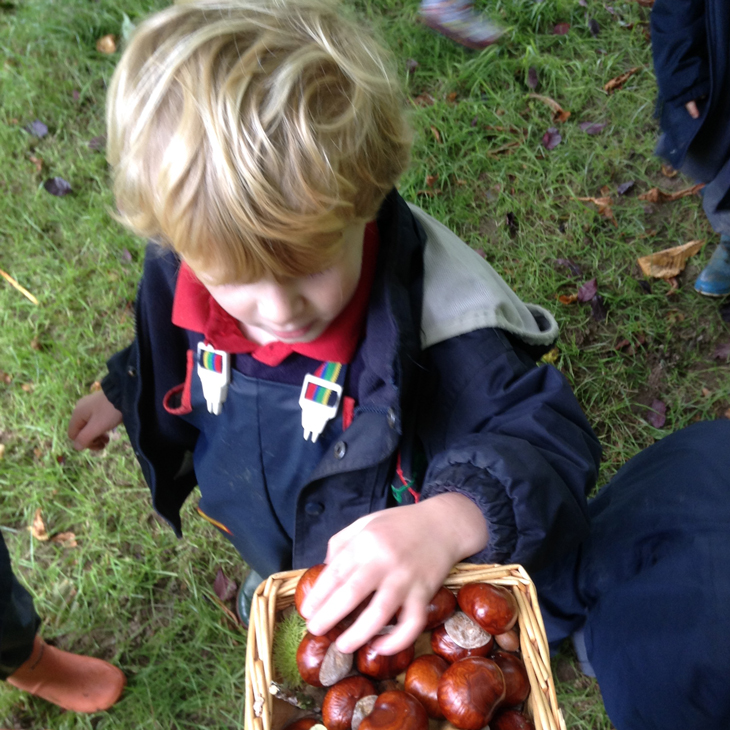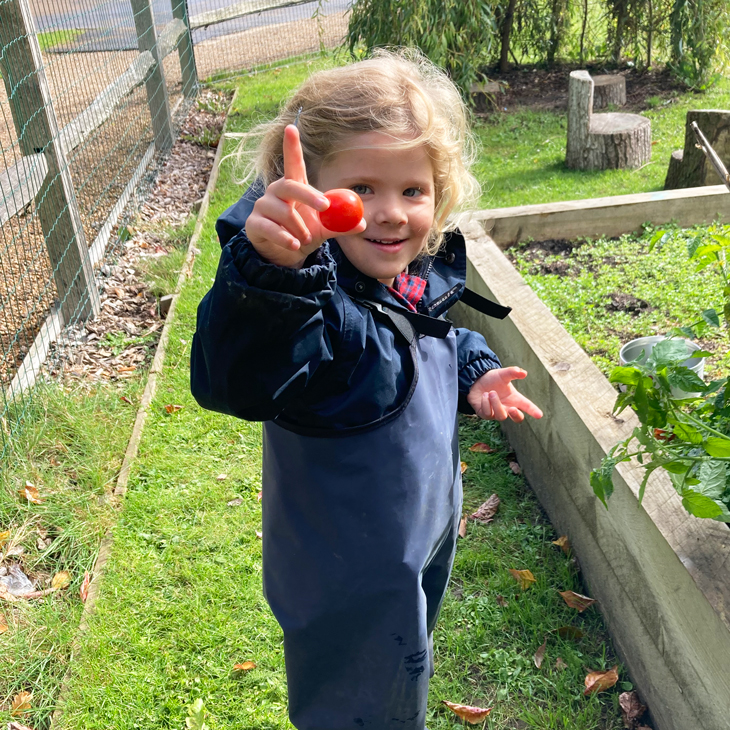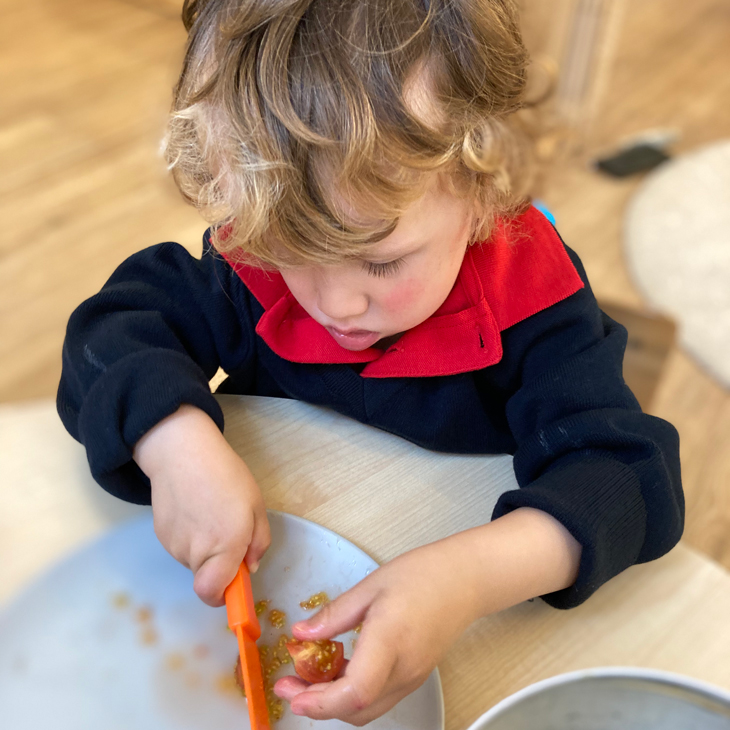 The weather this week has turned from glorious sunshine to feeling distinctly chilly and autumnal. As always, though, the children have embraced the change of season and we have spent a lot of time outside investigating the changes that are evident now we have moved from summer to autumn. The  youngsters headed out into the school grounds to see what natural resources they could find – and the children were so excited to discover heaps of acorns under our beloved 'grandfather' tree. Buoyed by their discovery, they moved on to find beautiful, shiny, mahogany conkers in their spiky green cases. But the resourceful children soon worked out exactly how to break into them and their faces lit up as if they had found treasure! We took all our nature findings back to the classroom to investigate more: How do they grow? When did they fall from the tree? What will happen to the leaves on the trees? Back in their own Nursery garden, the children loved planting, watering and watching their produce grow in their vegetable patch. They especially liked picking, chopping, cooking and then, of course, eating what they had made at snack time. They really are so proud of what they have helped produce and this week they picked some of the tomatoes that we have grown, carefully choosing the glossy red ones which we then turned into delicious cheese and  tomato turnovers.
Kerry Chapman, Nursery Class Teacher
Reception Children's Skills Put To The Test In PE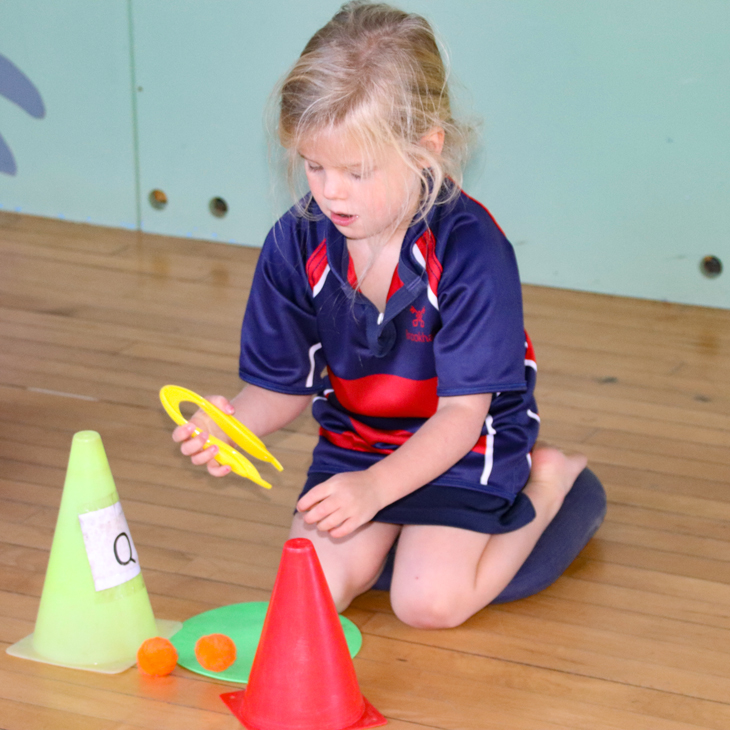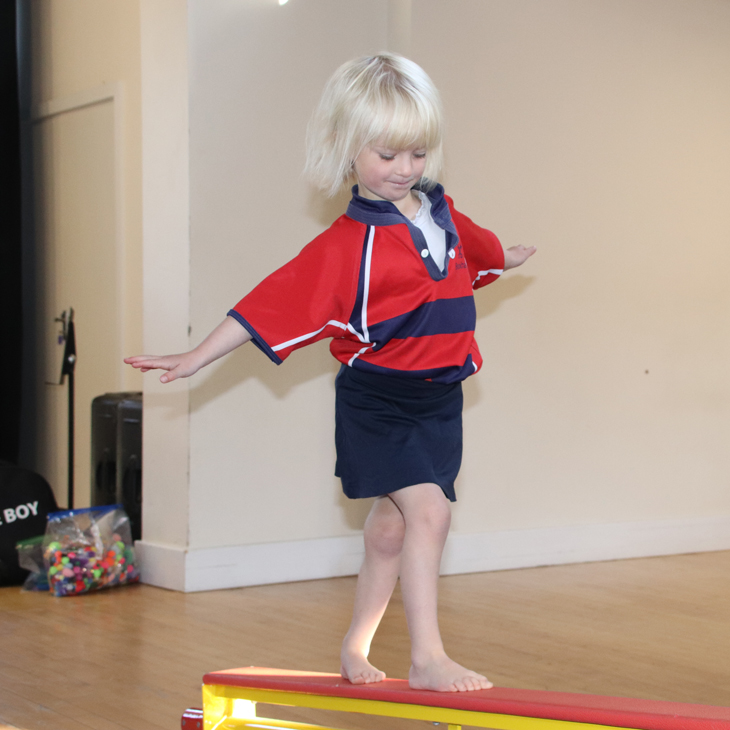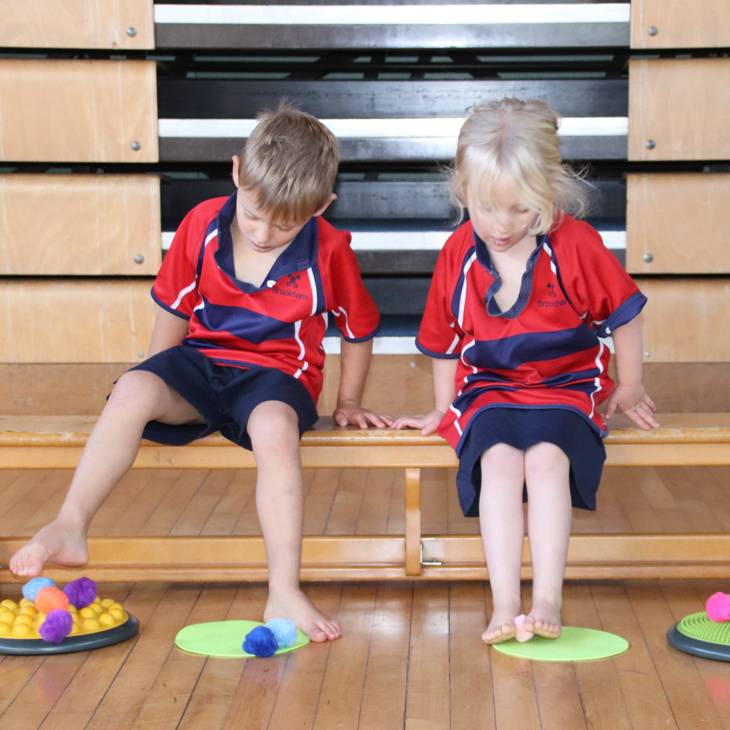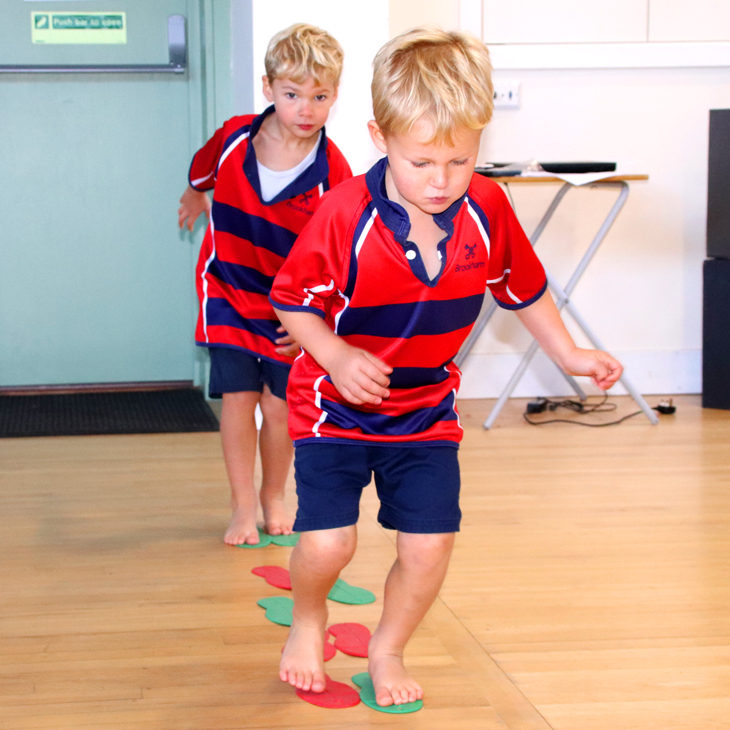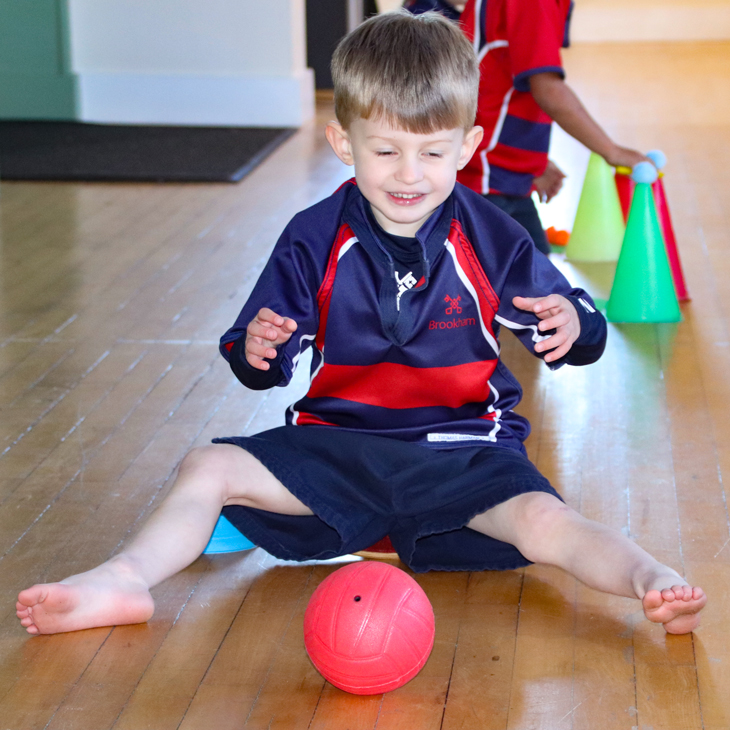 Throughout the school day, the Reception children think about which learning muscles they are using in order to achieve one of Brookham's golden rules –  being the best that they can be. The activities in the weekly PE lessons give these young learners the opportunity to develop their core strength and build upon their fine motor skills, but they also identify and work on stretching a number of their learning muscles. Under the careful guidance of Mrs Oecken, the well-planned sessions challenge the children in many areas. When rolling a ball to a partner, the focus is on collaboration in order to achieve the end goal of keeping it within the 'goalposts' created by their legs. In order to develop their fine motor skills, which is instrumental in the writing process, a challenge was given of putting a pom pom on a cone with tweezers which required resilience, focus and perseverance. Undeterred by the tricky challenge, a combination of little fingers and core strength helped them to succeed. The final task of climbing up and over an A frame was a little nerve-wracking for some of the children, but having stretched their relating learning muscles when listening to the instructions of best practice, huge grins and shrieks of delight were heard as they clambered safely over the top and landed securely on the mat.
Georgie Hunter, Head of Reception
Maths Really Adding Up For Resourceful Year 1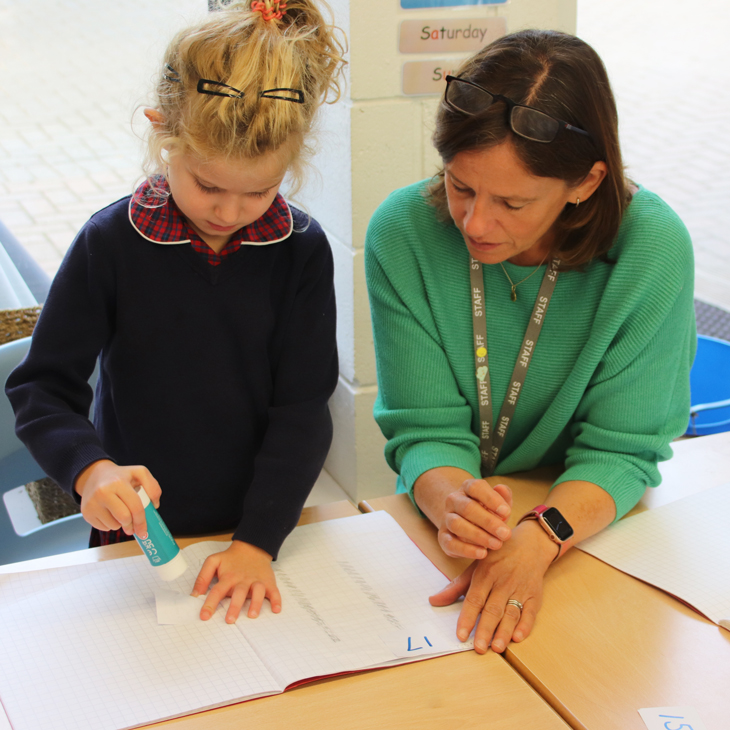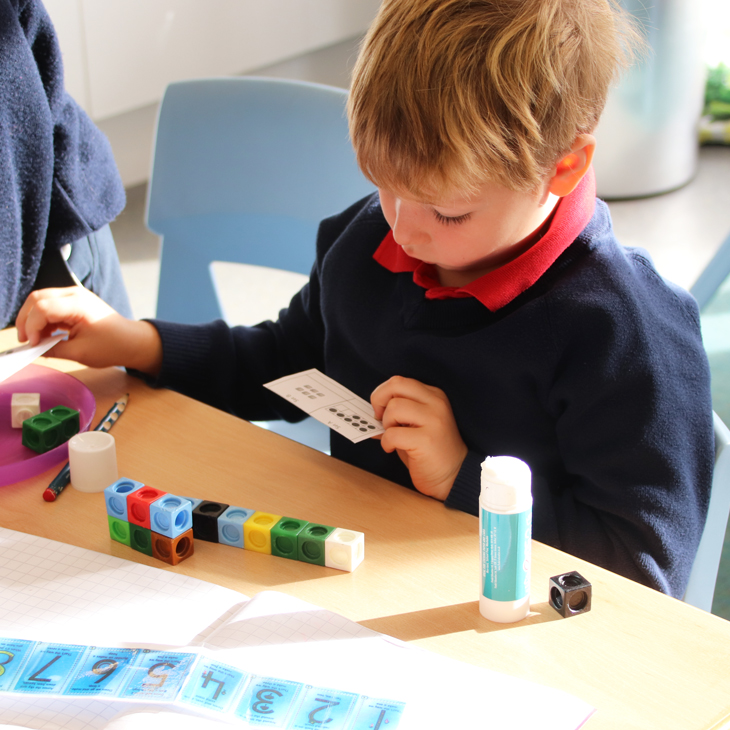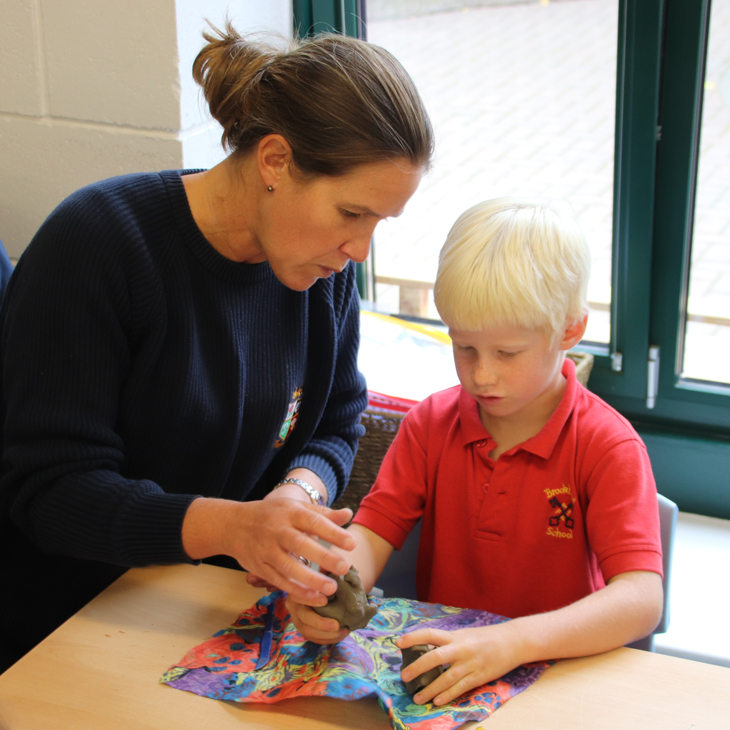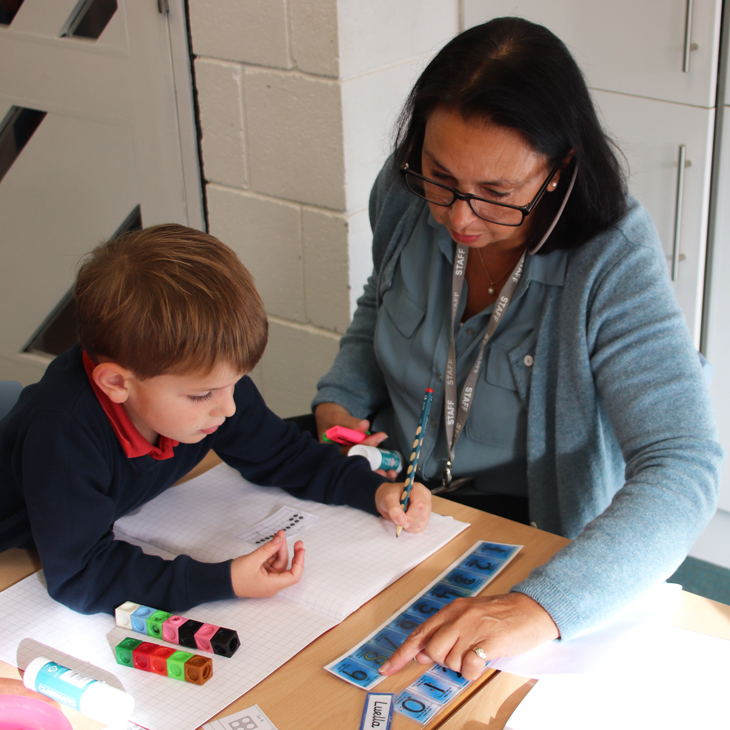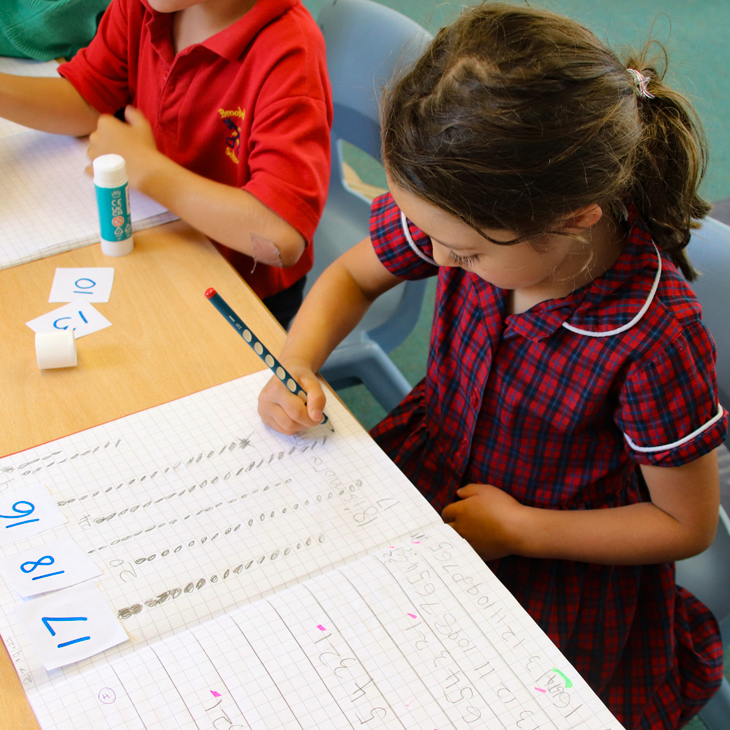 It has all been about the wonderful language of maths in Year 1 this week. We have become experts at using this week's stem sentences when discussing our learning and we have been using the following vocabulary when comparing numerical values –  "is less than", "is greater than" and "is equal to". The children have also been learning how to use the symbols that represent these terms. Number tracks have been useful for the children to see that smaller numbers are to the left of greater numbers and we have used concrete resources to make towers in order for us to see clearly which number is greater. The children's focus in our maths lessons this week clearly shows what resilient learners they are becoming; managing distractions is not easy but Year 1 are showing determination to master this important learning habit. This week, the children have also been helping our Superhero Elliot find a lion that had escaped from a zoo. They eagerly wrote posters to help find him and then, after several sightings in the woods, the children wrote to the zoo to let them know he was here hiding in the school grounds. Year 1 finished the week with a wonderful open classroom afternoon, inviting our visitors to help us with our clay creations.
Kerri Wilkes, Year 1 Class Teacher
It's All Greek To Me But Not To Year 2!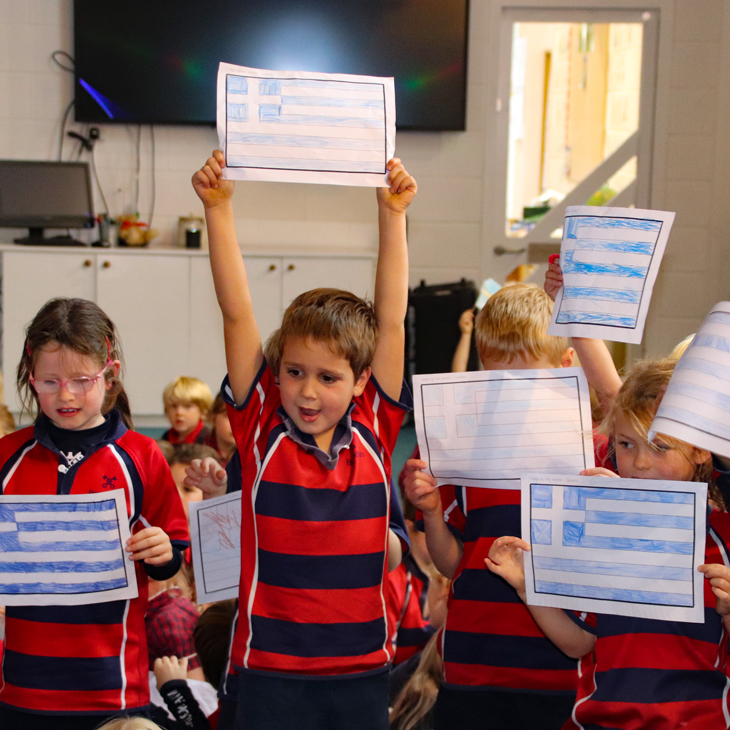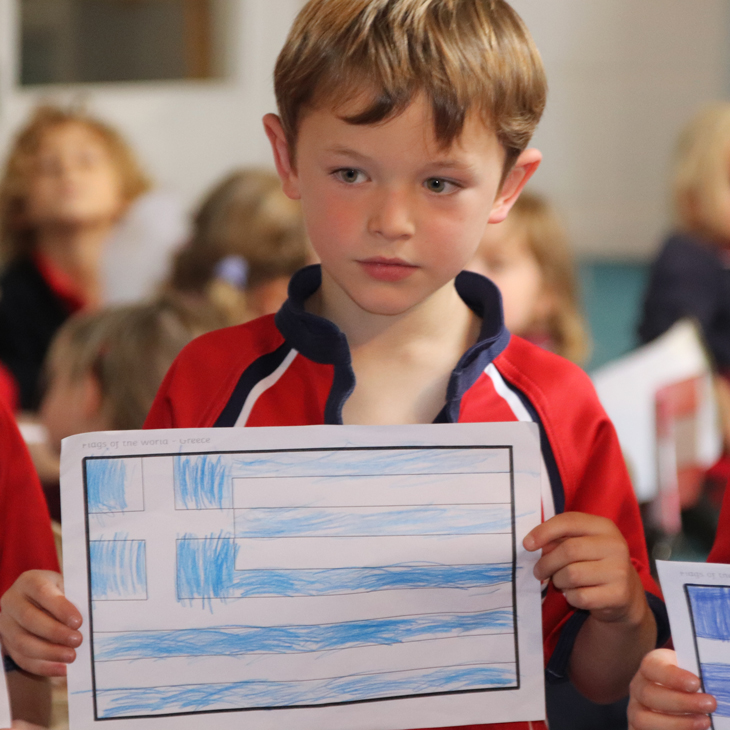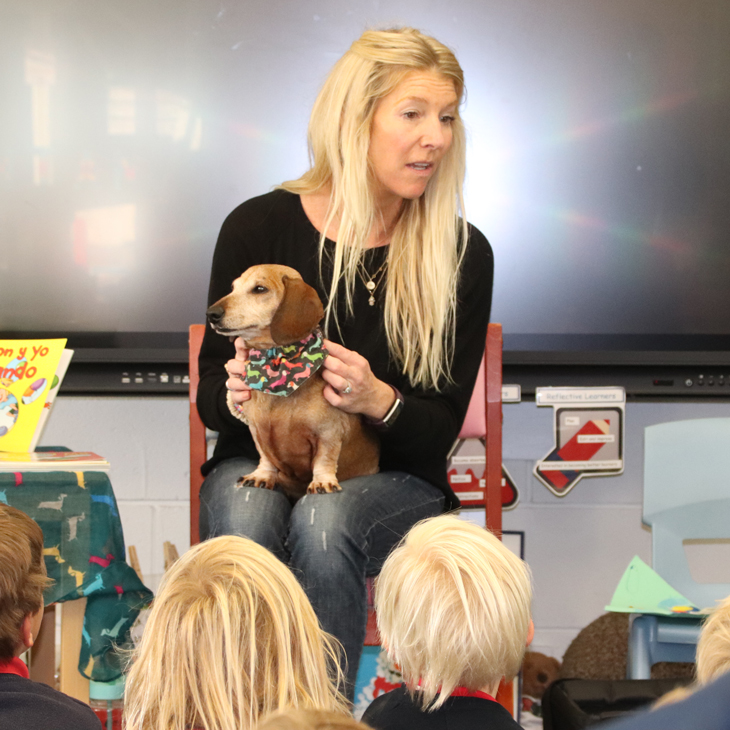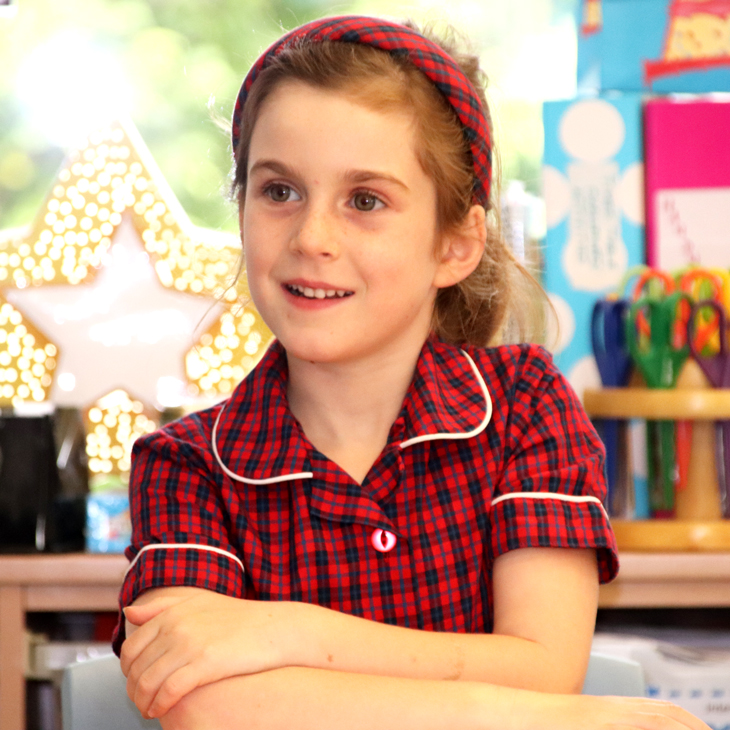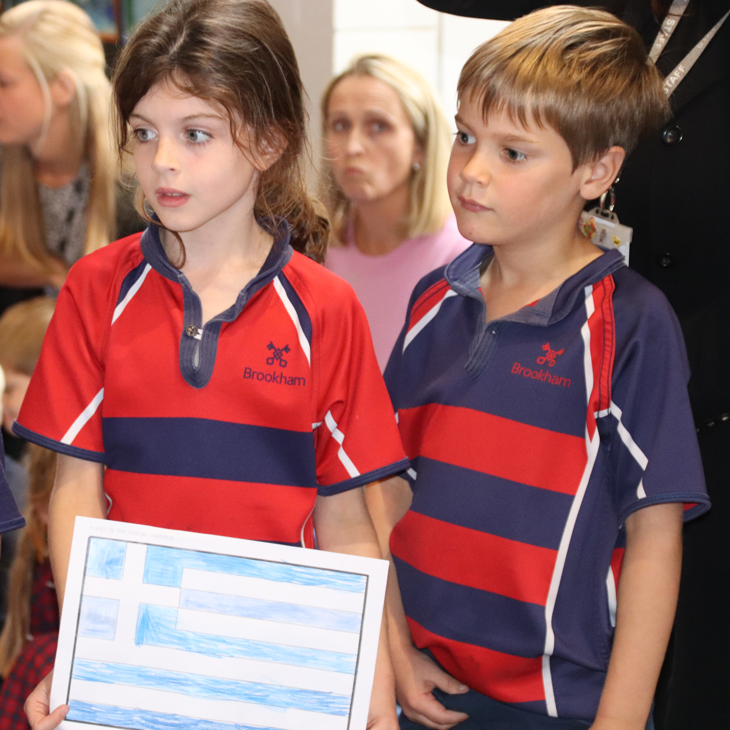 This week, Year 2 have spoken Greek, learnt about the importance of the Italian flag and been fortunate to listen to stories in Spanish. To mark European Day of Languages, Year 2 invited Nicola Hall to visit with her prize pooch, and star of her line of books, Hudson the dog. Nicola has been very fortunate to have achieved so much in her life and one of her achievements has been the chance to publish her own set of books for children. She has had the books translated into French and Spanish, allowing the children to share, listen and read all about the adventures her dog, Hudson, had been on. The children loved having little Hudson visit, jumping at the chance to take some pictures with the four-legged star. Although Year 2 had specific countries to focus on for European Day of Languages, it was lovely to share and hear a variety of words and phrases in a number of different languages. With Hudson and Nicola, the children learnt a range of Spanish foods that Hudson loved to eat as a puppy and the days of the week. We're very grateful to Hudson, and Nicola, for taking the time to come in and read to us. The special visit inspired an array of children to write down some lovely ideas of their own and illustrate their work. Gracias, merci, grazie and efcharistó to all.
Charlie Millsom, Head of Year 2
Year 3 Turn Their Attention To The Wider World Around Them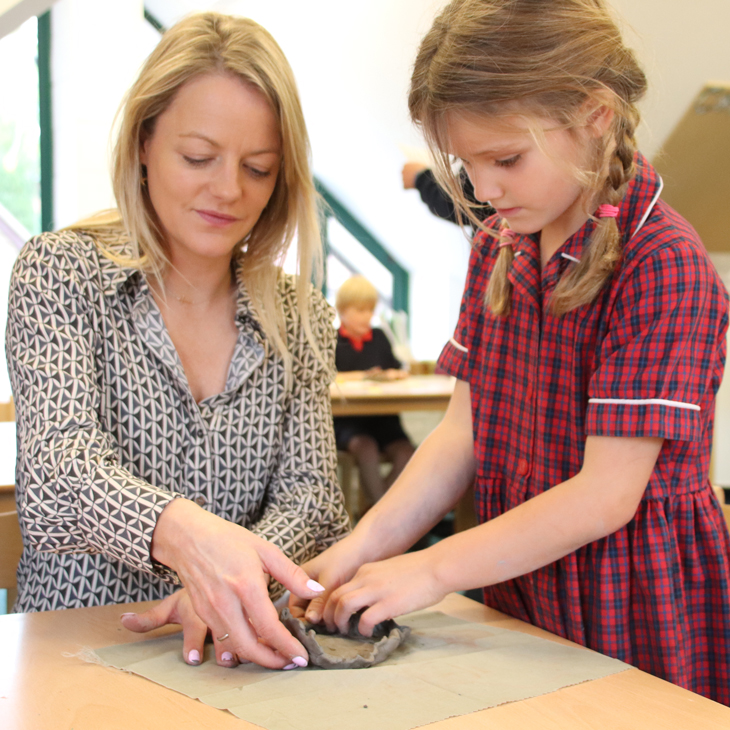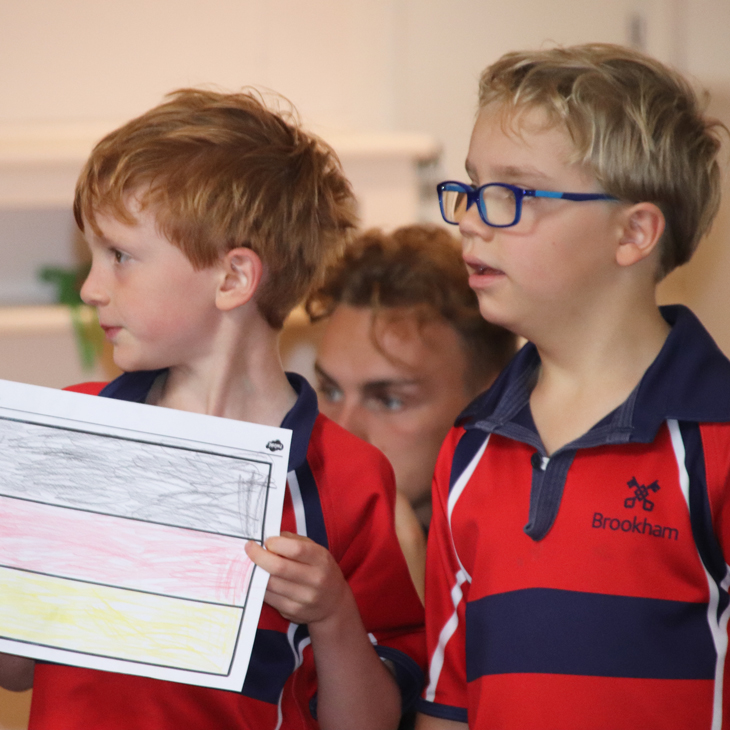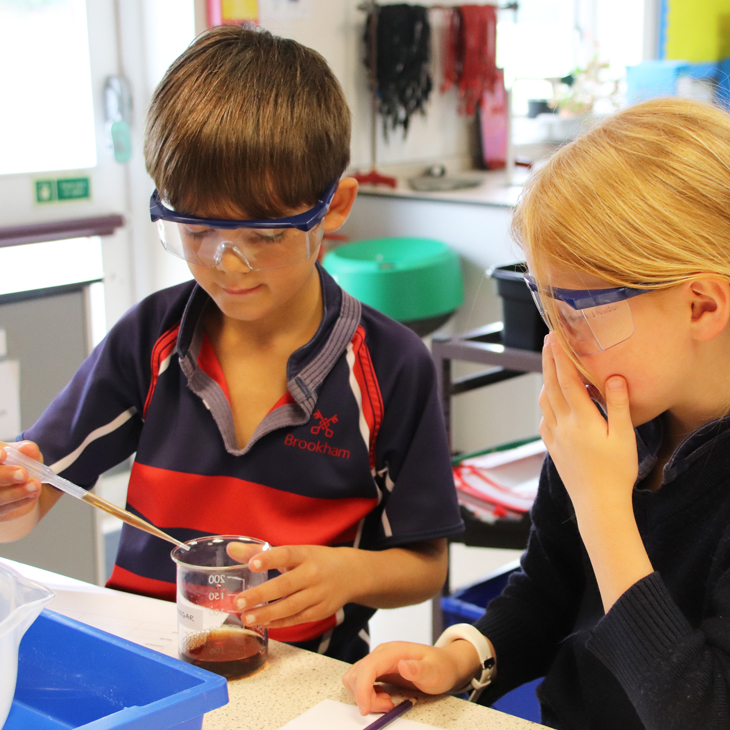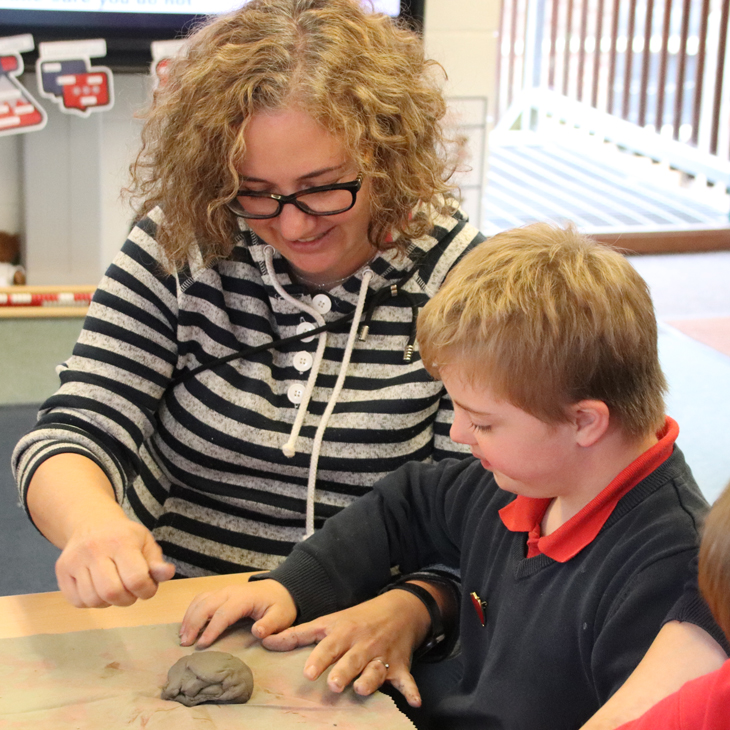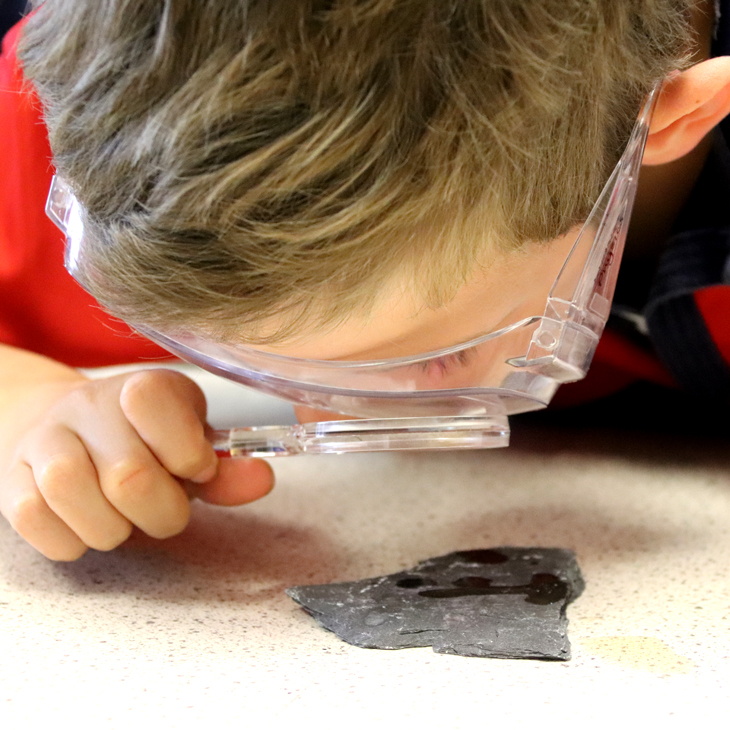 Now that the Autumn term is in full swing and new routines have become established, Year 3 have started to turn their thoughts outwards to the rest of the school and to the wider world. European Day of Languages is an annual reminder to the children to value diversity and to appreciate other cultures through understanding of differences. This year, the three classes chose different countries from all over Europe to find out more about their particular language and customs. They made colourful banners and flags, shared newly-discovered traditions and learnt new greetings. Year 3 were particularly lucky to have parents come into school to read stories to them in different languages as part of a wonderfully multinational occasion. It has also been quite a week for science in Year 3. Not only have the first children from the year group been taught in the physics lab at Highfield, but they have been engaged in making fossils too. The children invited their parents into their very own fossil museum as part of the wonderful 'open classroom' initiative and the visiting mums and dads delighted in sharing in some fun and messy activities, armed with the cautionary note of not forgetting to bring an apron! The parents, along with the children, learned how to make fossils and, as in all good museums, the items were displayed and labelled with interesting facts about their provenance and their famous discoverers. Oh, and did I forget to mention that we were visited by Otto the pug, who fitted in wonderfully with our literacy text Pugs of the Frozen North? It's no wonder the children already can't wait for next week's lessons to begin!
Stephanie Turner, Year 3 Class Teacher
Year 4 'Evacuees' Preparing To Pen Wartime Letters Home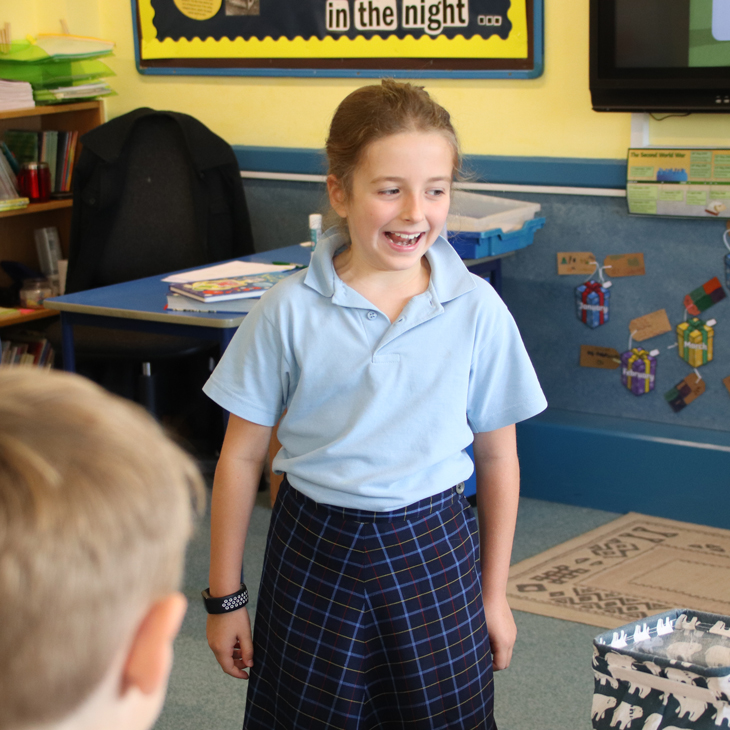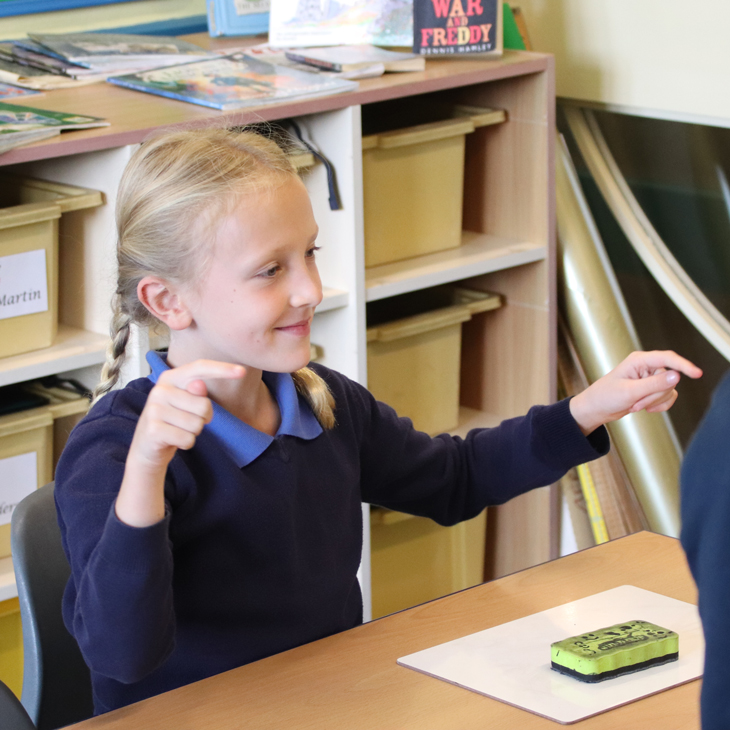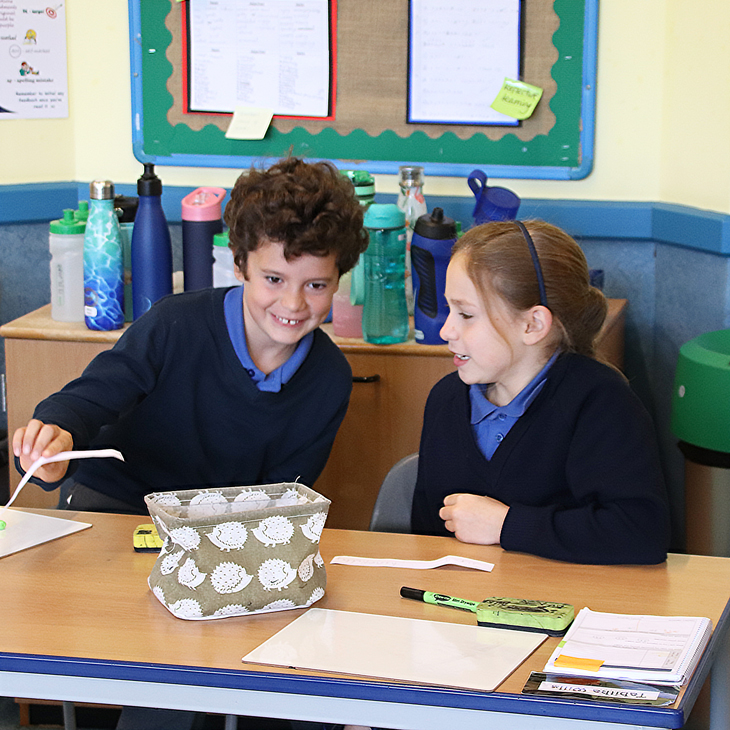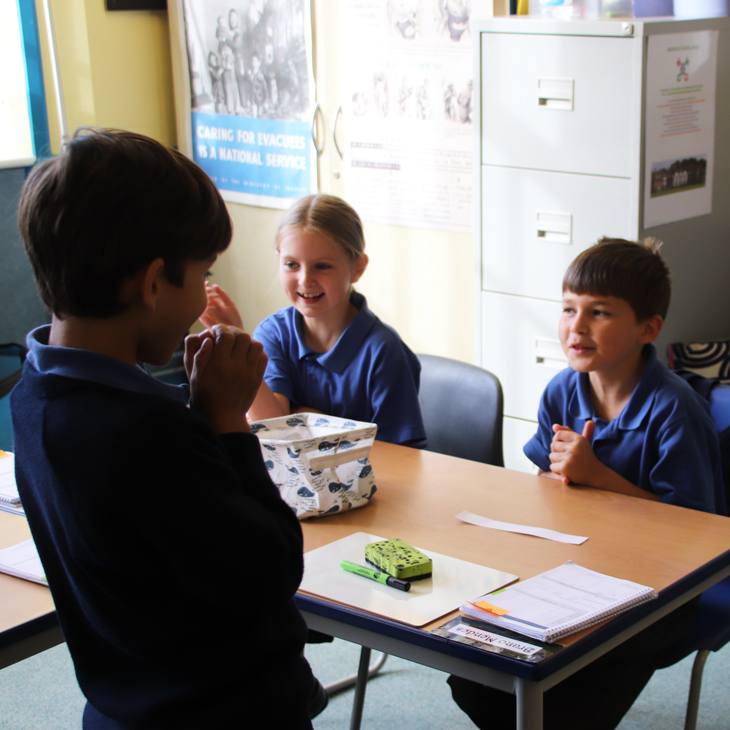 Linking with our current work on evacuation during the Second World War, Year 4 have been imagining themselves as evacuees being sent away to live in the countryside, far away from their homes and families. The children have been looking at the features of informal letters prior to planning and writing their own from the point of view of an evacuee. In their grammar lesson this week, the children looked at verbs and adverbs in order to add further detail to their letters. To bring verbs and adverbs to life, the children mimed them for their classmates to guess. They then worked on identifying them in sentences before moving on to using their own. Year 4 have also enjoyed using their senses and picture prompts to describe life in the countryside compared to life in London during the war. All of this has helped them to develop great content for the informal letters they will be writing and sending home to their parents.
Rosie Dachtler, Year 4 English Teacher
Food For Thought As Year 5 Go Global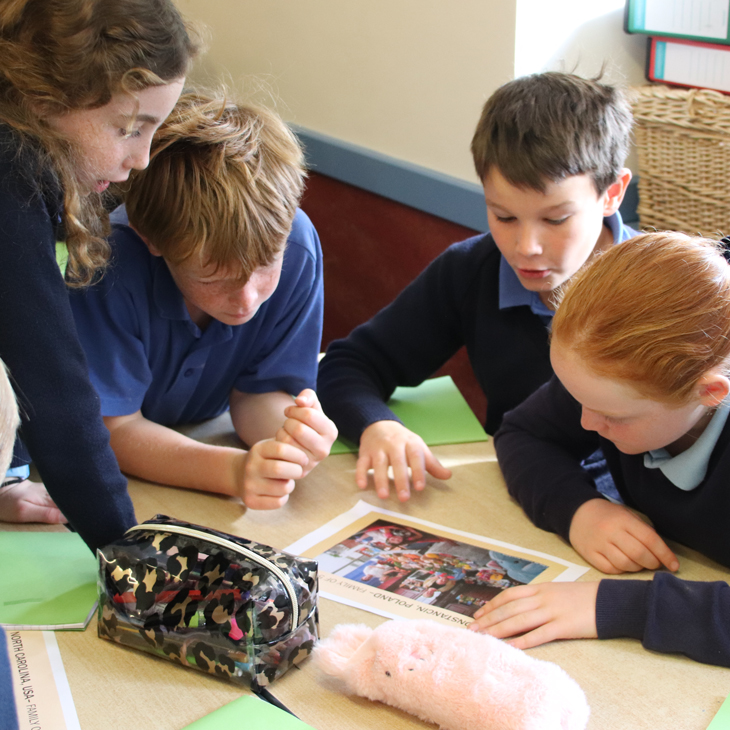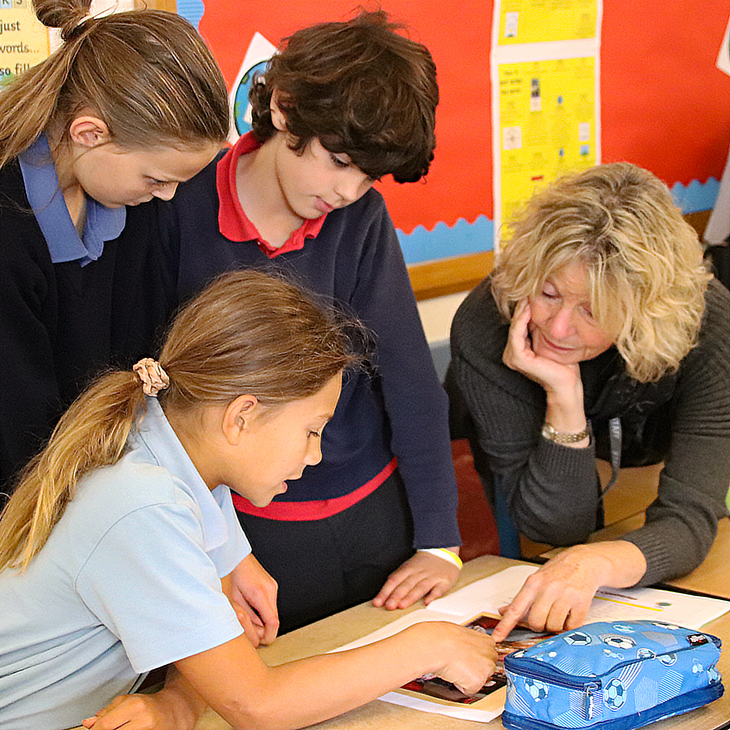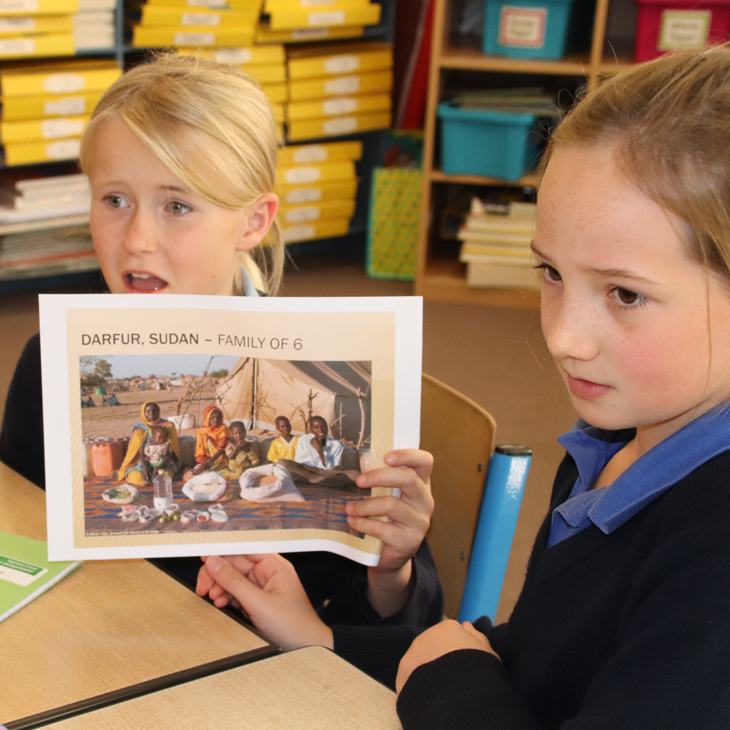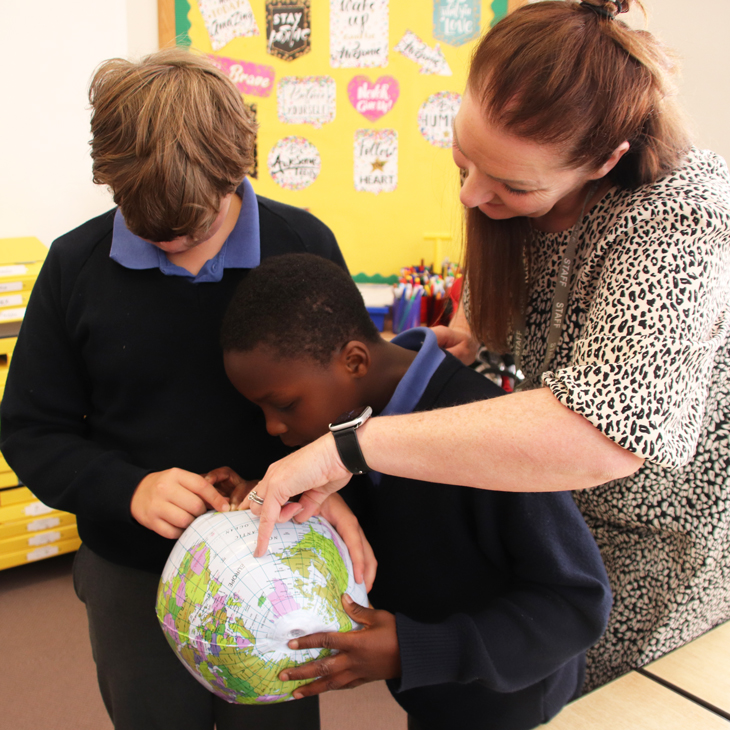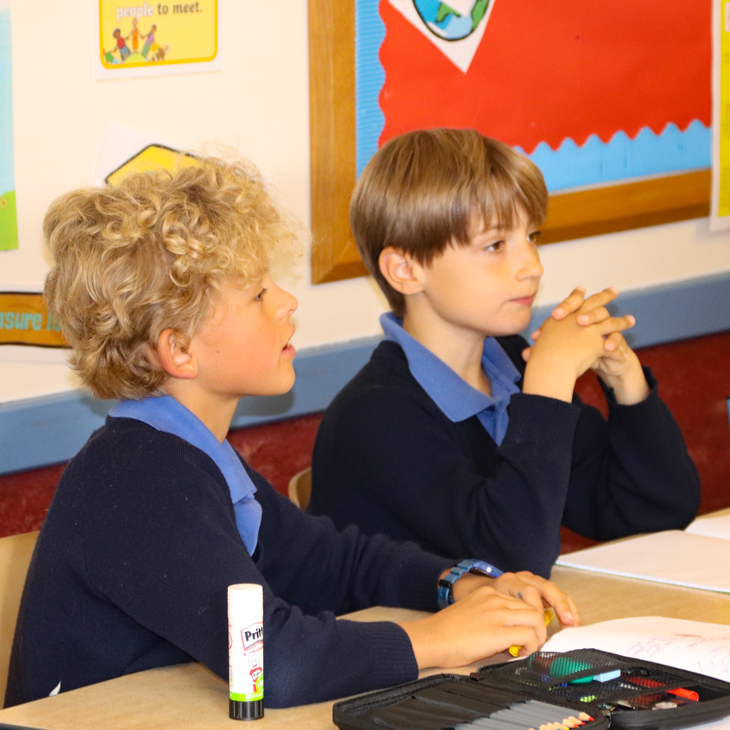 In the curriculum, geography is referred to as an 'umbrella' subject because of its capacity to make tangible and effective connections across subjects. This was very much in evidence in our lesson this week, where 5SB were investigating where food comes from. The start of the lesson recapped global location knowledge; revisiting continents and oceans, and capital cities. This is directly linked to the gruesome giants in Roald Dahl's BFG, who travel the world gobbling 'human beans'. Following this quick, interactive starter, the children worked collaboratively to investigate the shopping baskets of various countries across the globe. Focussing on questions such as: Where did this food come from? How much did it cost? How much plastic is used in the packaging? These questions touch on elements of pollution, economics, equality, poverty and global hunger. I was so impressed by the children's excellent group work, investigative and enquiry skills and also how interested they were in a topic which is directly linked to them and their future. Geography truly is an 'umbrella' subject.
Viv Liddell, Head of Year 5
Year 6 Can't Mask Their Delight As Stage Production Looms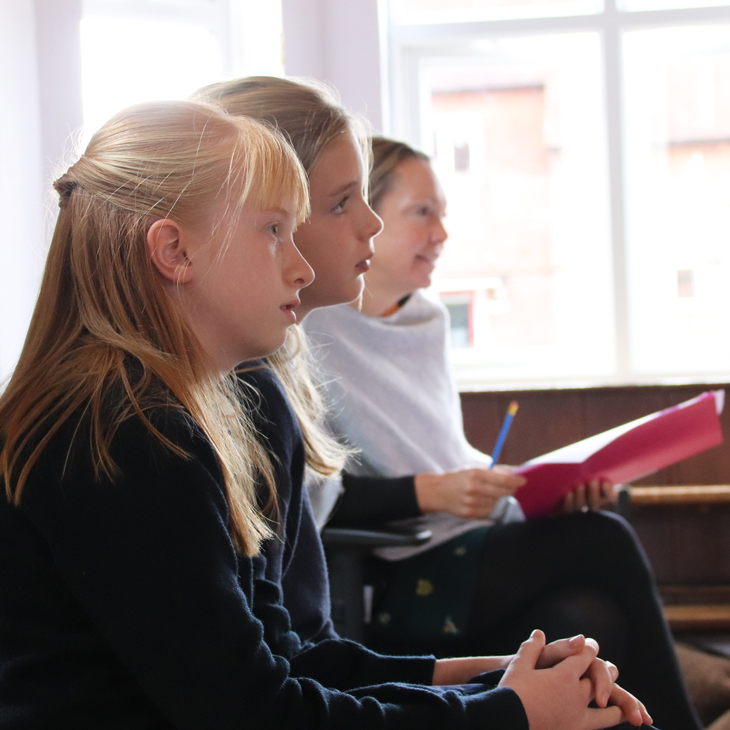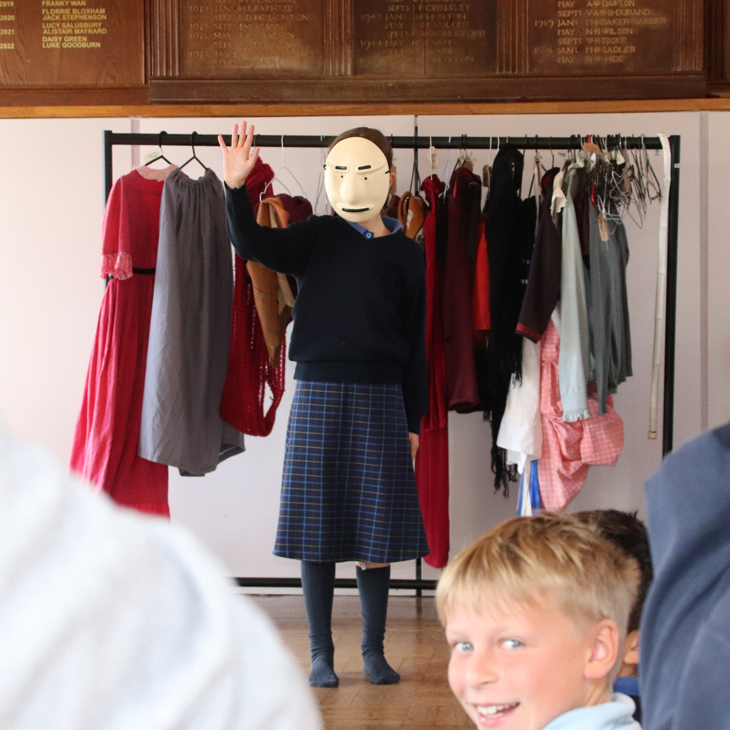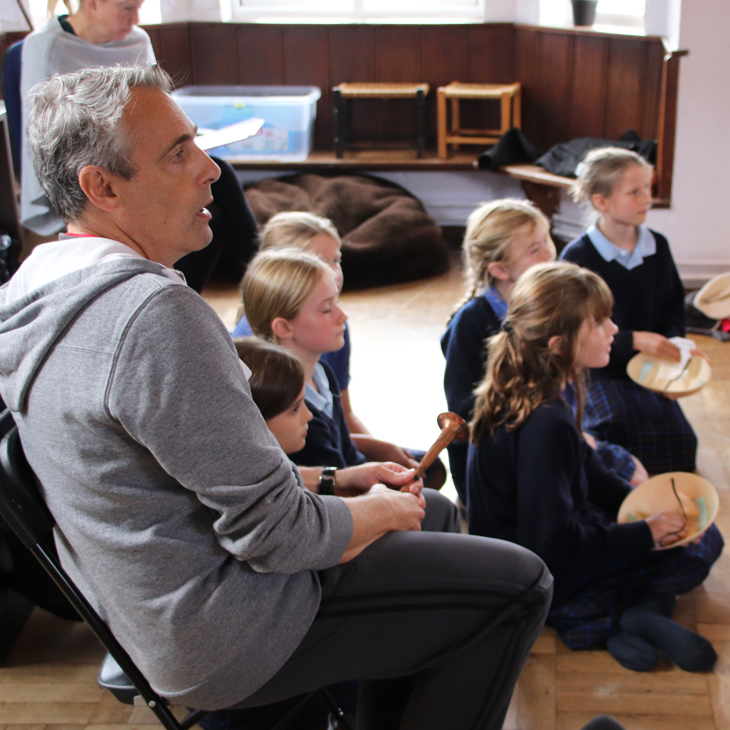 On Monday, we welcomed Jason Mitchell from The Trestle Mask Theatre Company to introduce our Year 6s to the performance art of Mask – and what an experience it was! Throughout each two-hour workshop, the children developed the key mask skills of using the 'fixed point', facing the front, how to always use the mask's expression to aid the physicality and how to keep the mask alive. This inclusive workshop enabled all our budding actors to develop their skills in a safe and exciting environment, and it was such a joy to see every one of them gain so much confidence as the workshop progressed, which culminated with some hilarious performances to each other. Ten pupils will be utilising their newly-harnessed skills in a Trestle Mask scene as part of their production of Growing Up, which will be held in the theatre on December 1. I'm so excited to see all of their hard work put into practice over the next six weeks of rehearsals.
Sarah Baird, Head of Drama
Superb Year 7 Denied Win By Last-Gasp Equaliser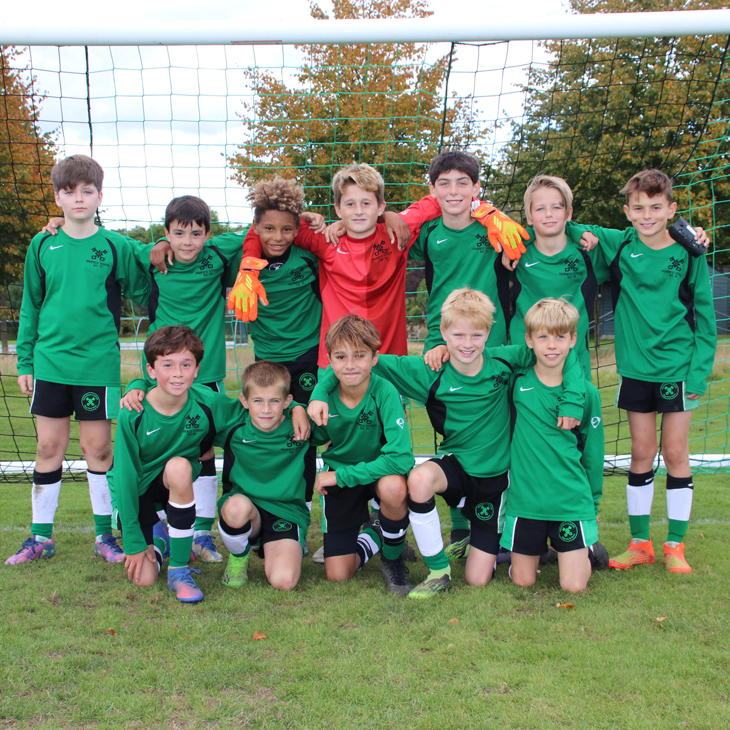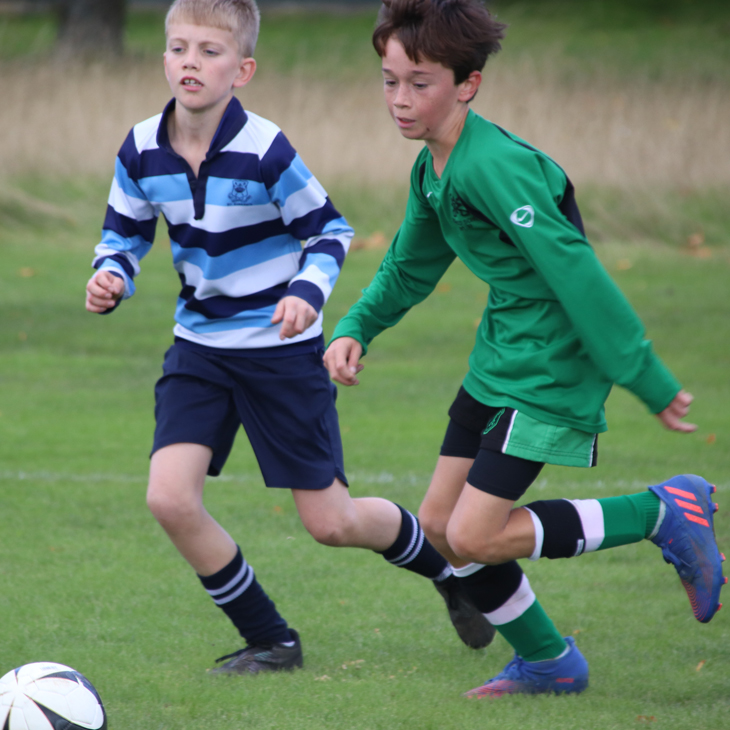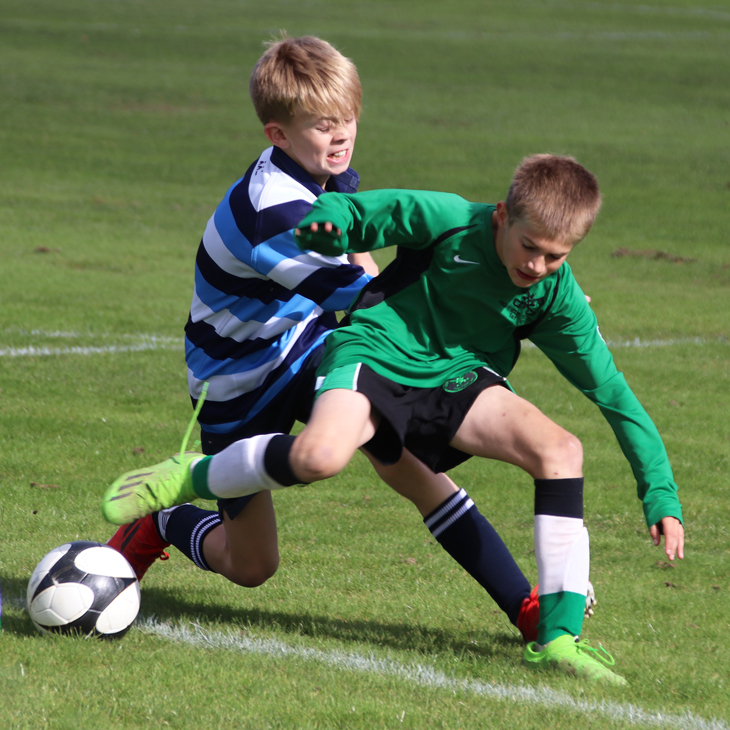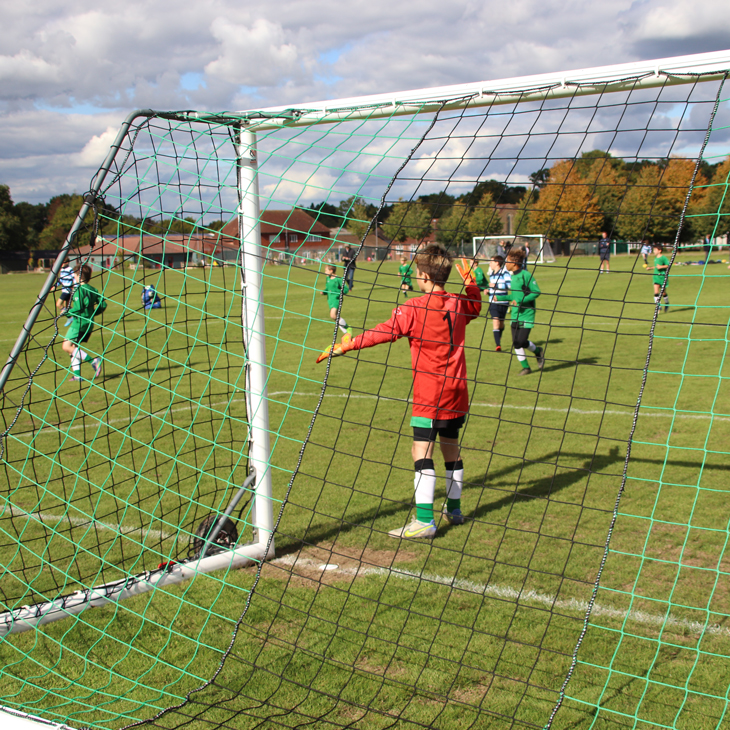 With the U13s away in France, there was a big opportunity for several Year 7 footballers to stake a claim for a place in the first team with a home game against a full-strength St Edmund's XI on Wednesday. After a scrappy opening period from both teams, Highfield began to move the ball with quality and started to create chances. After a sustained period of pressure on the St Edmund's goal, Tom R nicked the ball off of a visiting defender and slotted the ball superbly past the goalkeeper to give Highfield a deserved lead. Highfield then had to defend a barrage of chances on their goal, with Rafe J making two superb saves to maintain Highfield's slender lead heading into the break. In the second half, the home side again started the stronger, moving the ball well and dominating possession. And that continued pressure resulted in several more chances being created which Highfield's battling youngsters couldn't convert into a crucial second goal. After putting in an amazing effort for the majority of the game, the Highfield boys began to tire as St Edmund's pushed for an equaliser. After clearing several chances from inside their own penalty area and successfully defending three quick corners, the pressure finally told as St Edmund's snatched a deserved equaliser with the last kick of the game. Despite the late equaliser, the Highfield U12s can walk away from the game with their heads held high as they put in a superb effort and made their school proud by securing a draw against a very strong St Edmund's team.
Billy Boxall, U12A Football Coach
History Brought To Life For Year 8 Francophiles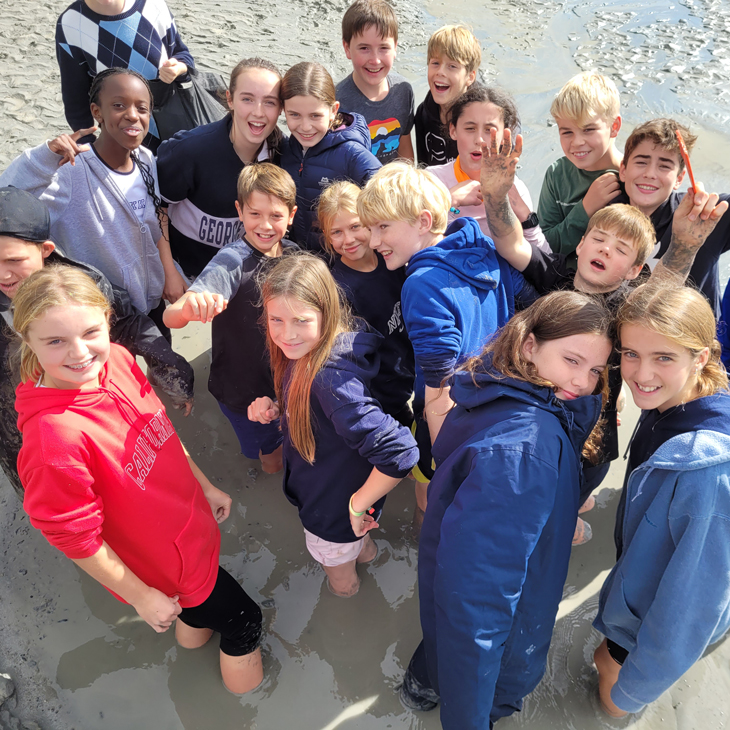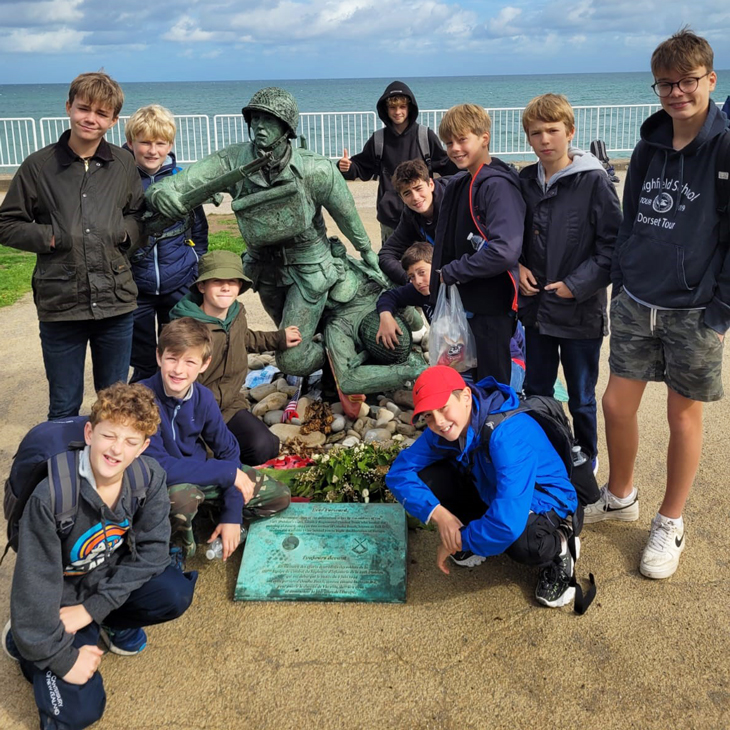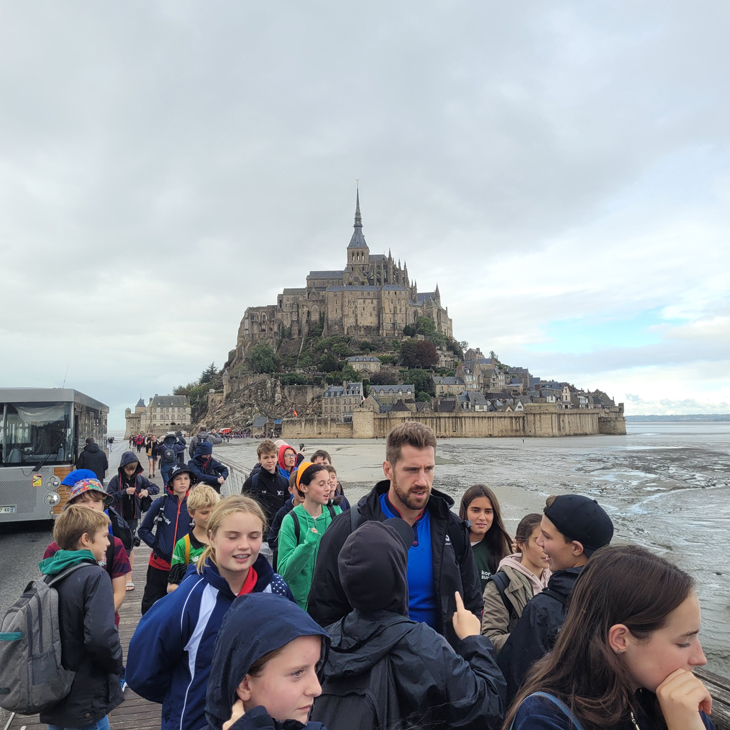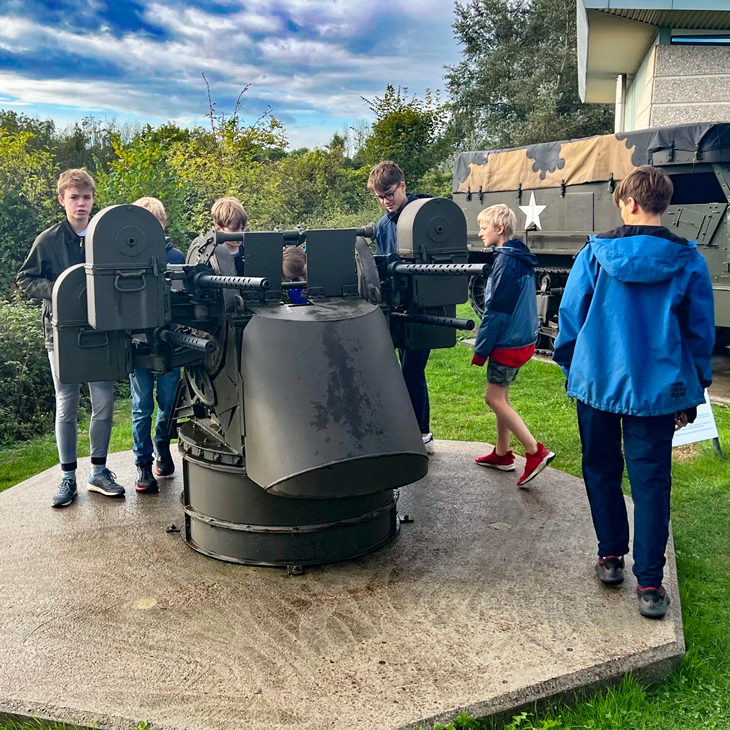 It has been so exciting to be back at the Chateau du Baffy after two years away. Normandy is crammed full of fascinating history spanning many centuries which we took full advantage of during our time here. We started at Pegasus Bridge where the D-Day action began and pupils learned about the role of the 6th Airborne Division that helped to take and hold this important stronghold before the troops landed on the beaches. We followed up with a visit to the Merville Gun Battery, which was also a crucial part of the action on the 6th June 1944. Over the first couple of days we also visited local British, American and German cemeteries, which all contrast greatly but nevertheless offer beautiful and quiet places to reflect the losses incurred during the Battle for Normandy. On day three, we stepped back in time a bit further to the days of William the Conqueror at Falaise, his place of birth. Guides took us round his castle, full of extensive knowledge to impart on young minds who had so much of their own learning to share (indeed, Mr Ridge would have been proud!). From his birth place to his resting place, Year 8 also spent the afternoon exploring the Men's Abbey at Caen. The study of the Duke of Normandy continued on Wednesday as we spent the day in Bayeux exploring this beautiful Medieval town, including a visit to the famous tapestry. The children were really surprised by the length of the tapestry and how much detail this 11th Century comic had to offer. On Thursday, to the backdrop of parachutists celebrating St Michael's Day, the children earned the title of Micholos of Mont St Michel as they braved mud, quicksand and fast river currents to cross the bay. They followed in the footsteps of the medieval armies of the tapestry, thankfully with a good deal more success. There was just the one hairy moment as some children had to be dug out of the quicksand (all planned and supervised of course) before squelching across to the other side tired and very ready for our final supper. The weather was not on our side this week, but the rain failed to dampen Year 8's spirits at all, as was underlined by a loud and impromptu rendition of Sweet Caroline on one particular coach trip. The children have been so excited to share what they know and have asked insightful and interesting questions all week. They have learned so much and created some beautiful journals as a long-term memory of everywhere they have been. It has been such a pleasure to have their company for the week. Well done, Year 8, and here's to a restful exeat weekend.
Jo Longshaw, Head of Modern Foreign Languages