Royal Preparations A Crowning Moment For Nursery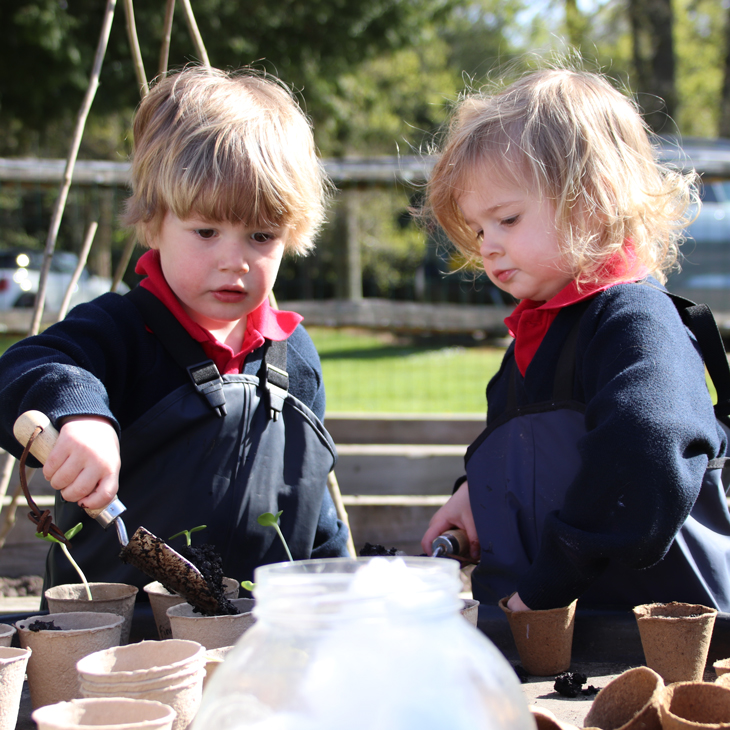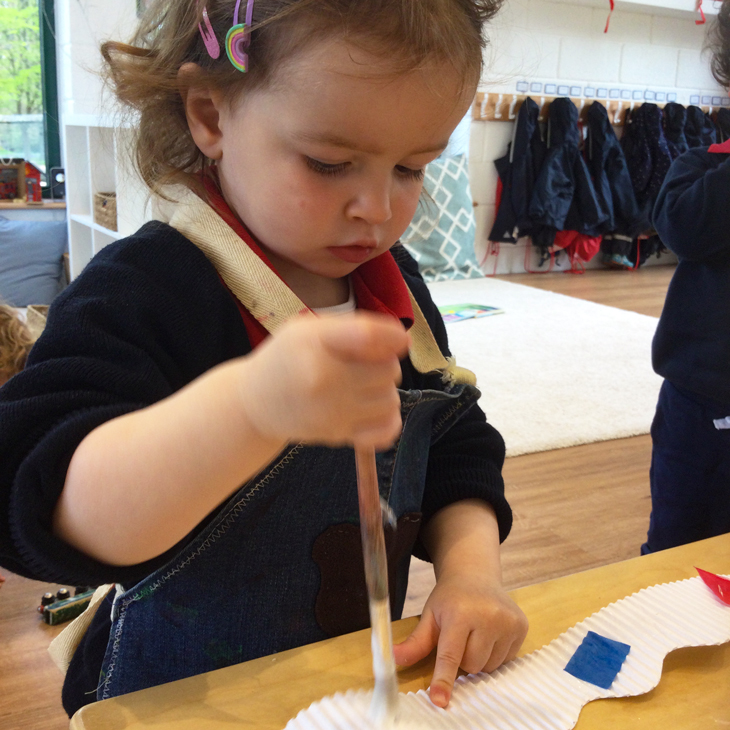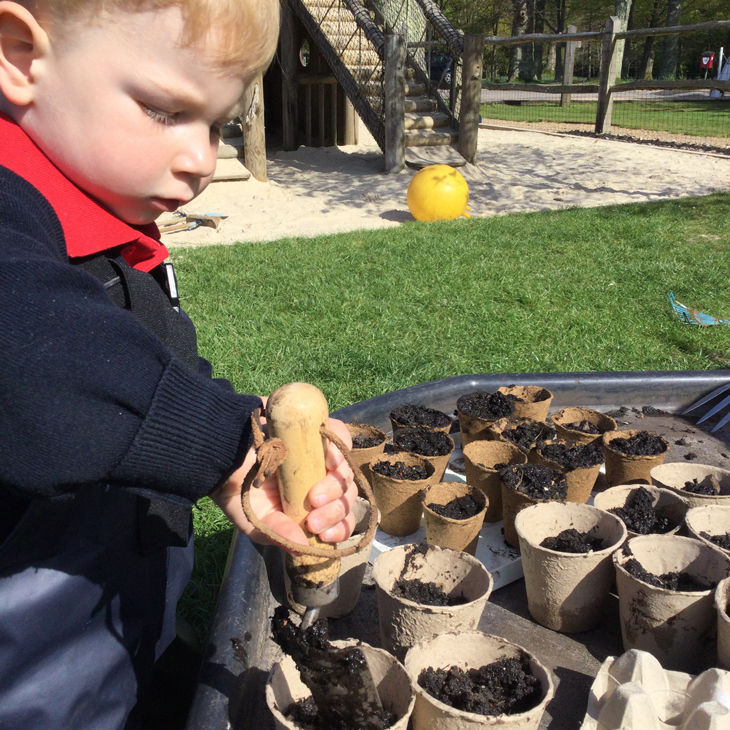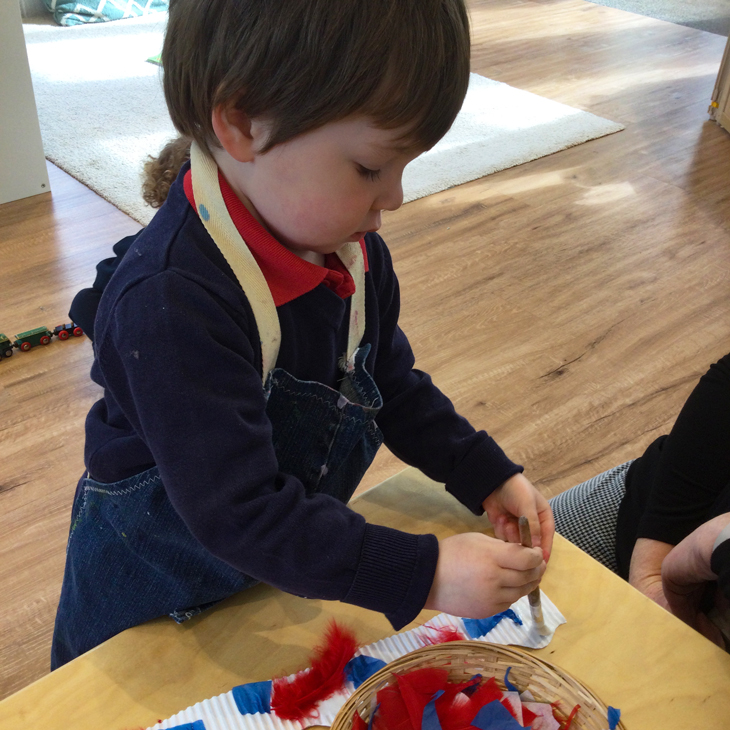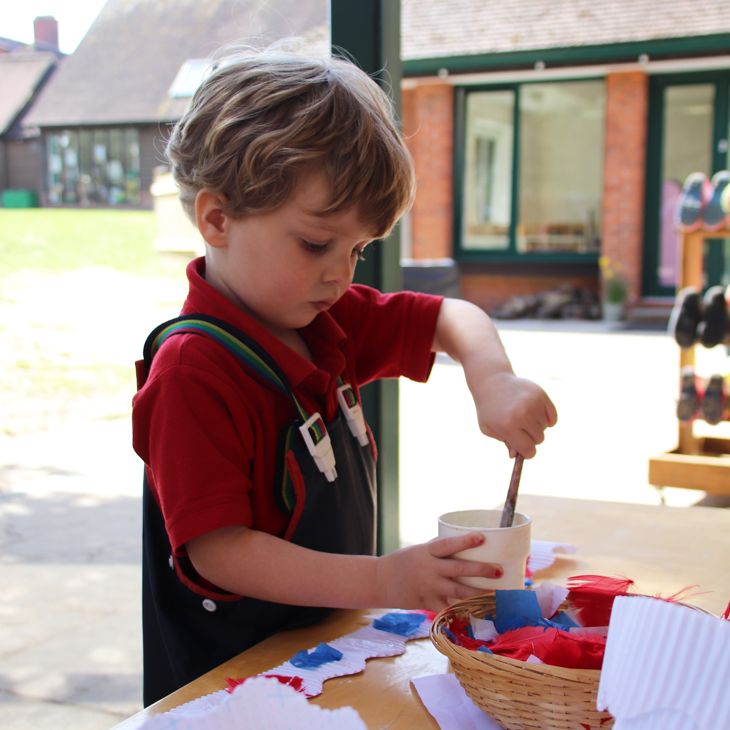 While the sun has been shining on the Nursery's Earth Day sunflower seedlings, the children's enthusiasm has grown along with the sprouting plants. Putting their green fingers to good use, the eager young gardeners set about sowing more seeds in the hope that they can entice some creepy crawlies to work their magic within the vegetable patch. Always ready to get a little messy, the children dug deep and planted an array of flowers and cress to help further their knowledge and understanding about life cycles and caring for and growing plants. Away from the garden, the buzz of excitement continued this week as the children got busy with preparations for the King's coronation. Snippets of red, white and blue adorned the craft table and littered the floor as Nursery was swept up in a creative flurry ahead of the big day. Demonstrating a real desire to soak up every ounce of the festivities, the children made wonderful crowns brimming with unique style and pizzazz to help celebrate the imminent arrival of the new monarch.
Penny Hodnett, Nursery Class Teacher
Coronation Excitement Levels Reach Fever Pitch In Reception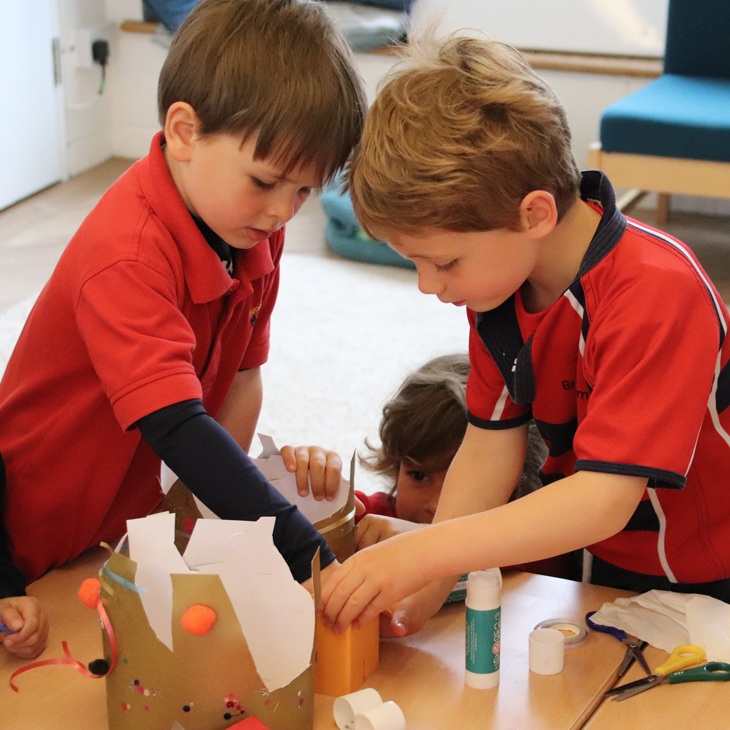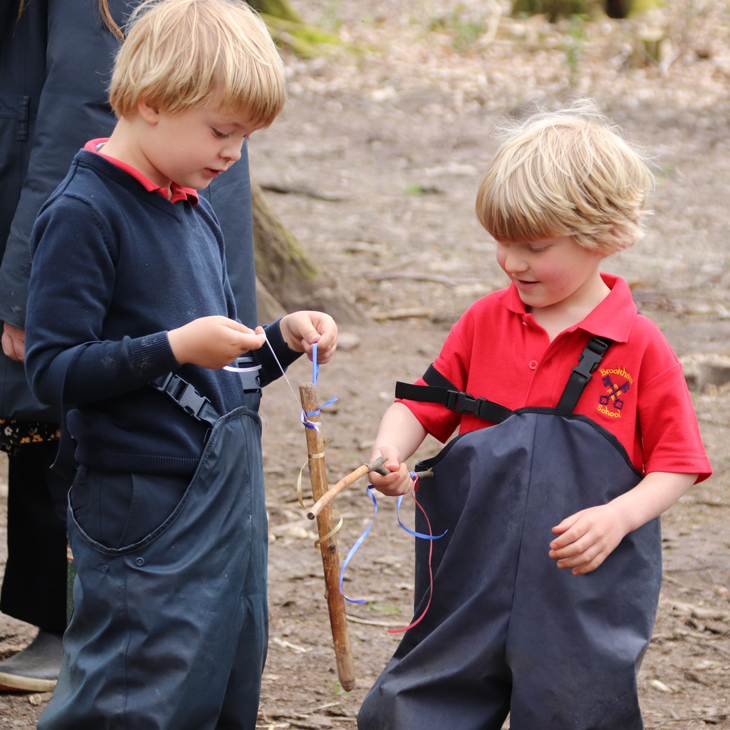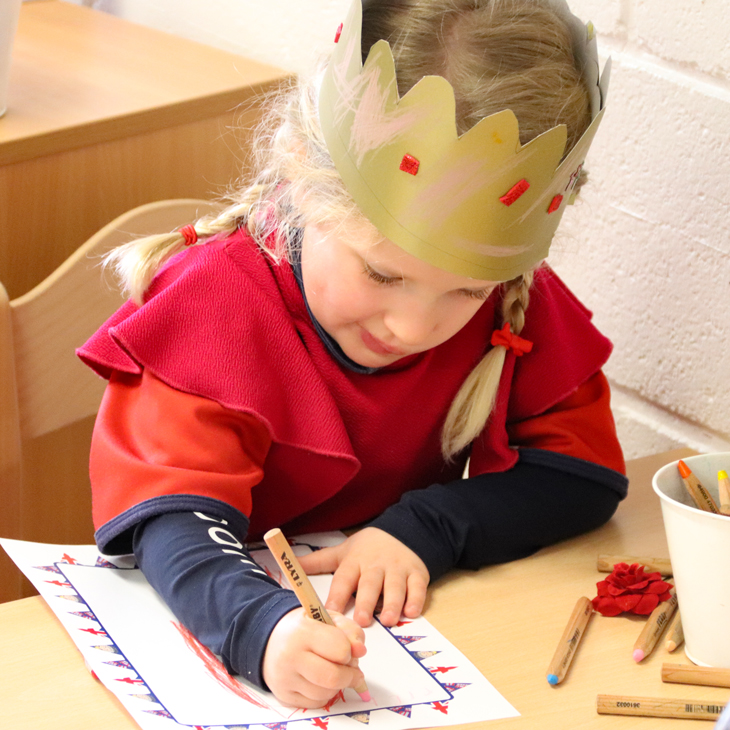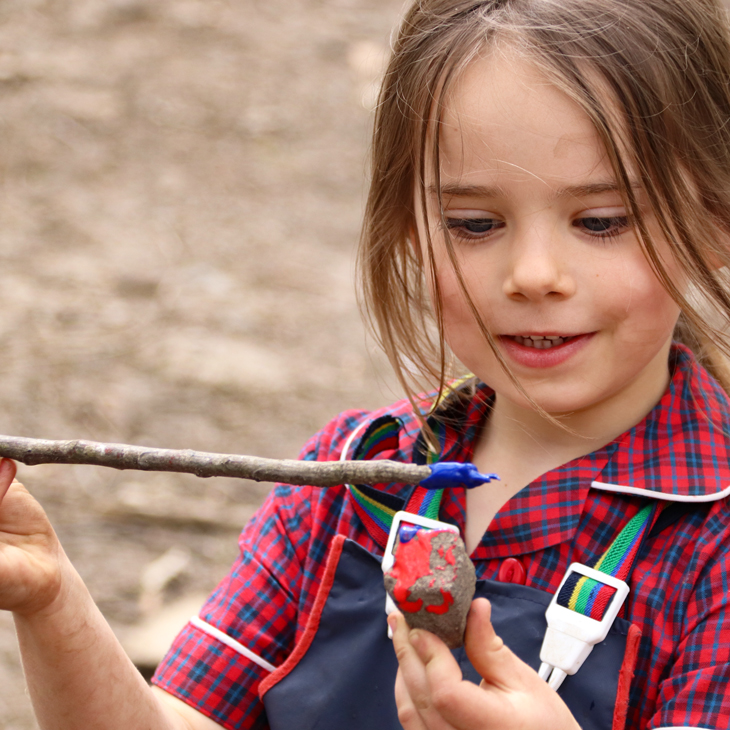 There was a huge amount of anticipation and excitement in Reception this week surrounding the upcoming coronation of King Charles. The children began the week by writing a letter to the new monarch, asking many important questions about the ceremony, not least 'will there be cake?' and 'what colour balloons does King Charles like?' The young learners used their phonics knowledge, sound mats and 'Fred fingers' – a technique using hands which helps children with spelling – to write independently before reflecting on their work and editing and improving as they went along. Keen to stretch their relating learning muscles, and appropriate for the coronation, the children then shared their own thoughtful ideas of what they believe makes the best party. This interest continued during child-initiated learning time when many children chose to use a range of media, including paint, collage and natural resources, to create crowns, bunting and flags. Today the Reception children wore their handmade crowns as they stood shoulder to shoulder with their prep school peers to create a huge Union Jack on Chapel Field for an aerial picture which is sure to provide a fantastic memory for years to come.
Rosie Snagge, Reception Class Teacher
Things Really Adding Up For Year 1 Mathematicians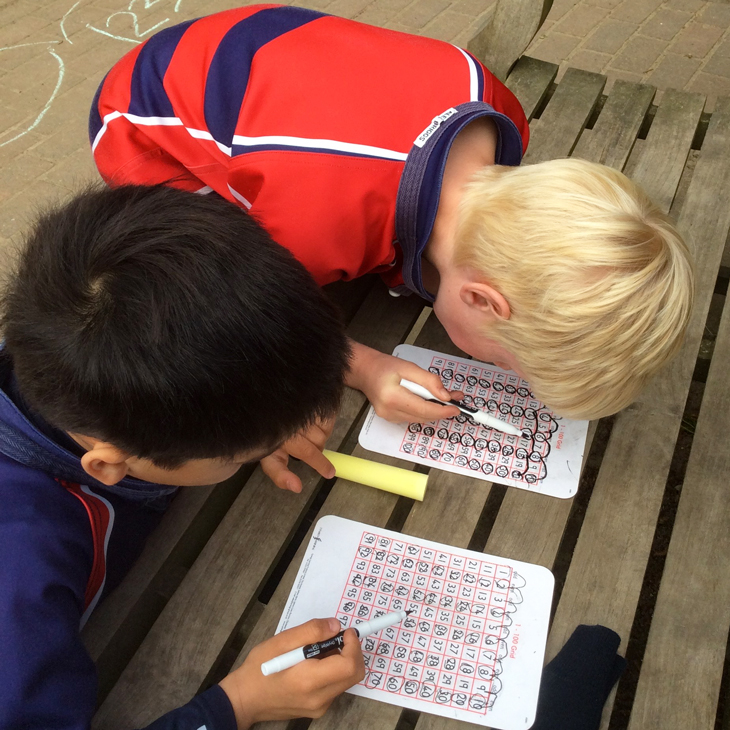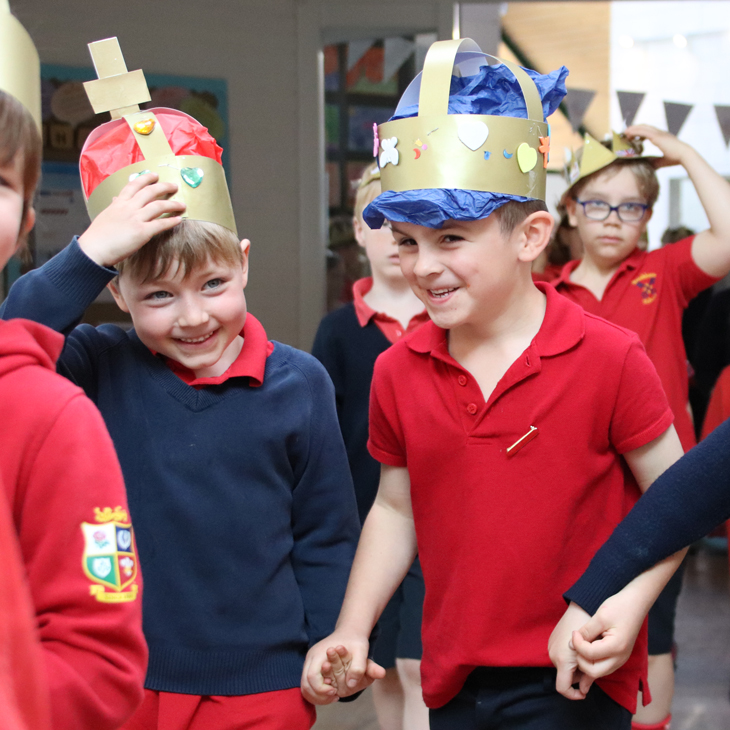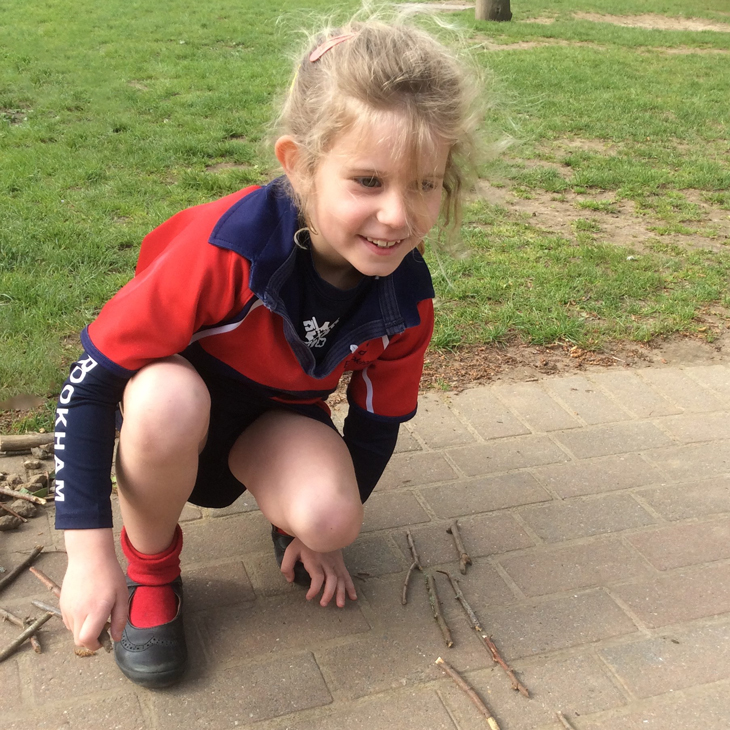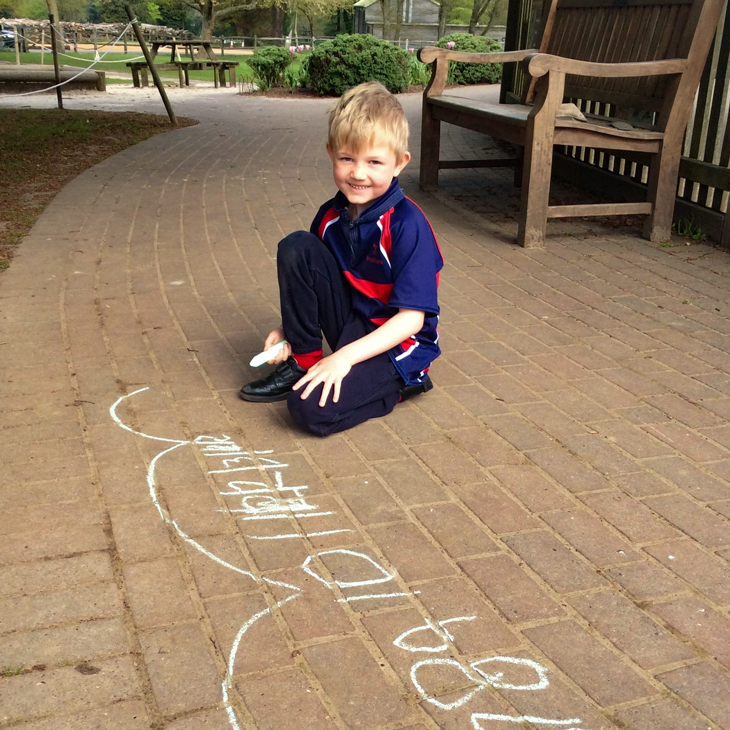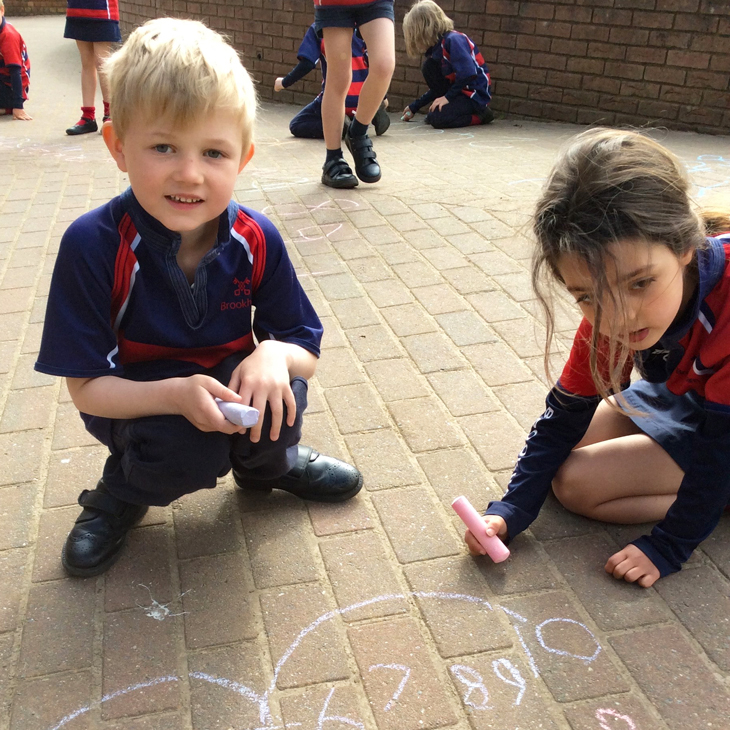 Year 1 immersed themselves in the tricky task of 'marvellous multiplication' this week – and they were up to the challenge. The children made the link to repeated addition, understood the difference between equal and not-equal groups, and learnt how to skip count accurately in twos, fives and tens. Using manipulatives from our environment and pictorial representations, Year 1 also found the total of multiple equal groups. Building natural arrays have been a powerful way of developing their multiplicative reasoning. Our busy bug hunters found multiple beetles at Forest School and by doubling and repeated addition they were able to carefully calculate how many legs were in the bug pot. The week came to a close with a brilliant creative crown-making session, a house crown parade, and the creation of an epic human flag on Chapel Field.
Kerri Wilkes, Head of Year 1
Year 2 Take Inspiration From Thriving Forest Floor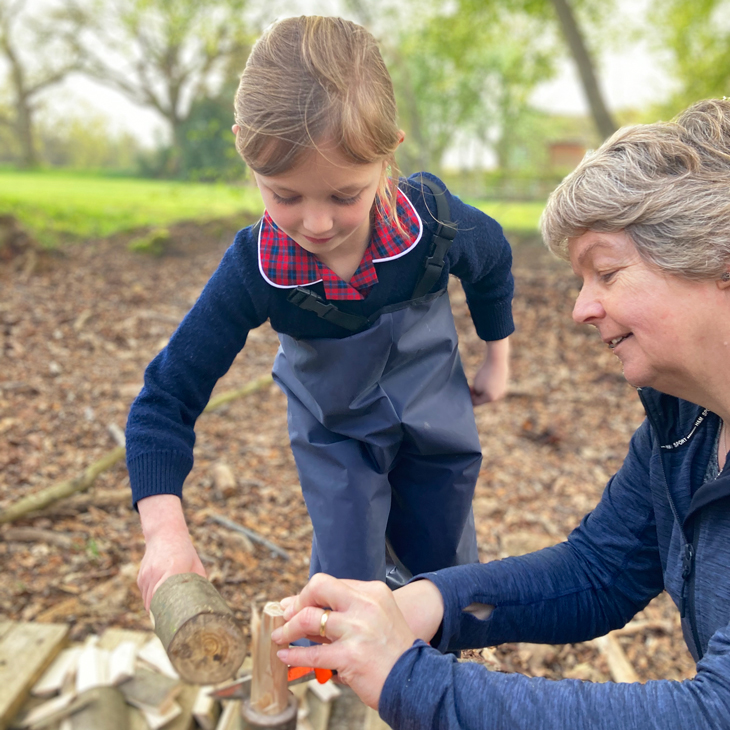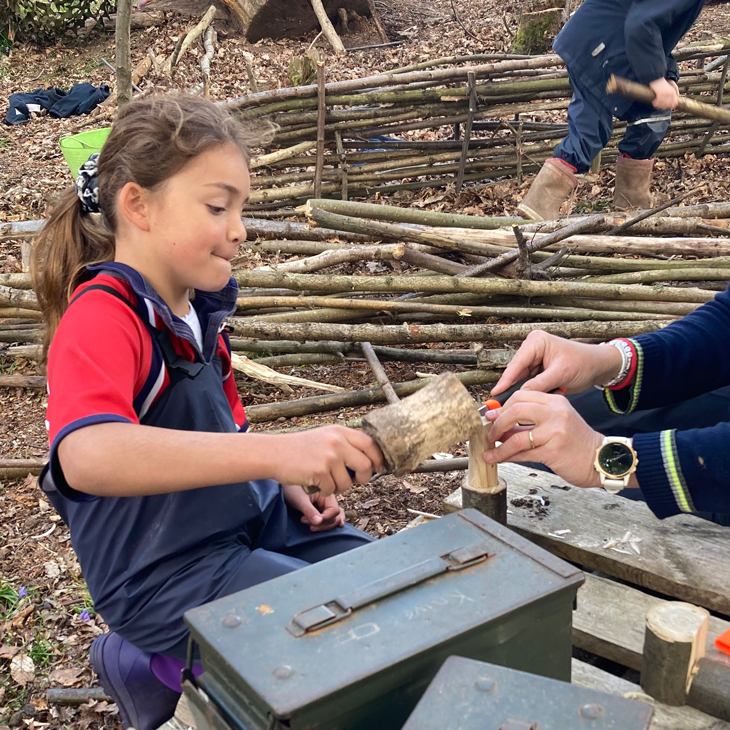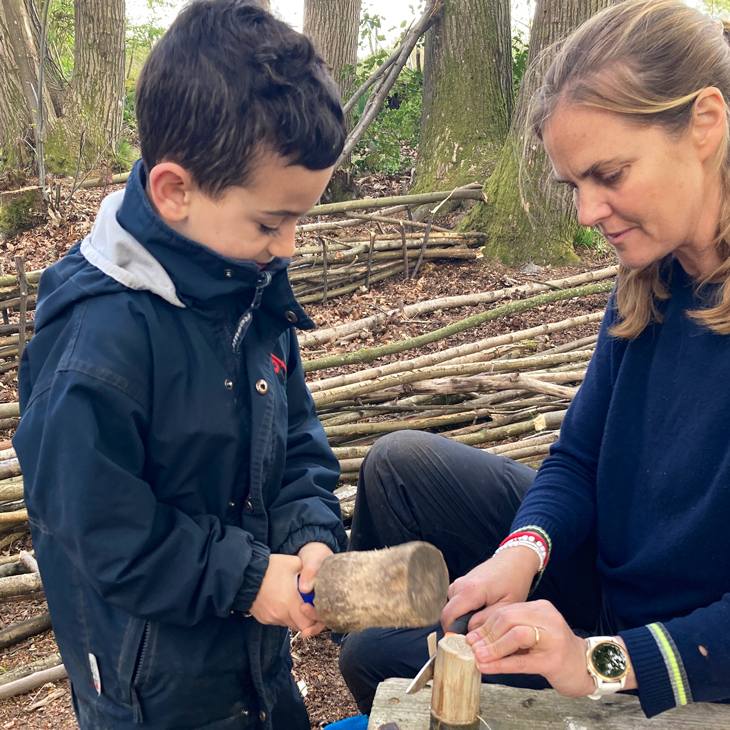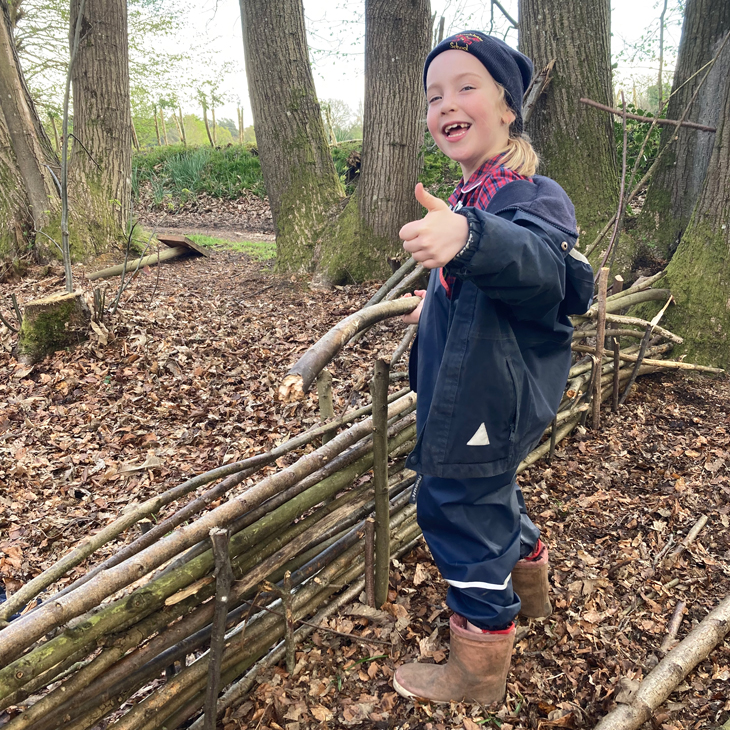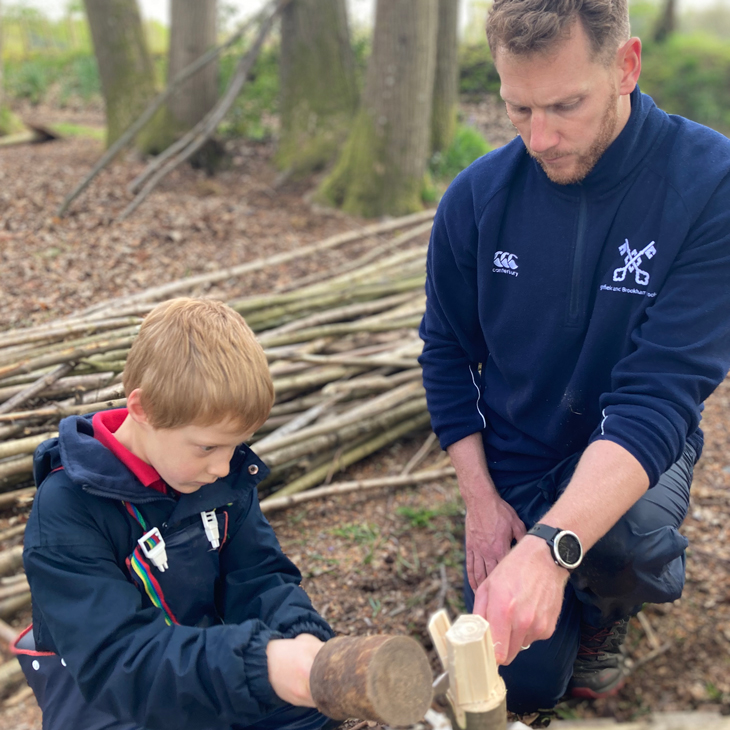 Inquisitive Year 2 headed up to Forest School to observe how a little bit of sunshine and a lot of rain can have a huge impact on the woodland floor. Especially now, after the school's treasured woodland has gone through some intensive tree felling to reduce the canopy and allow more growth from the ground up. The changes were dramatic as the scars from the heavy machinery used in the clearance are now becoming hidden beneath the bursting green floor. The children also linked the woodland work to their science lessons by predicting how seed dispersal will take place for our legendary bluebell meadow. The woodland session began with a safety refresher for using a sheath knife. Having recalled the key information to stay safe from a previous visit, the resourceful children had the opportunity to help turn chestnut into durable mallets. And there was real focus and determination, as well as resilience, to achieve the desired outcome. Furthermore, Year 2 worked together to use skills picked up during last week's Roman workshop to weave a robust fence. The perseverance and collaboration this week really was outstanding and the teachers were delighted to see the children exceed their expectations.
Charlie Millsom, Head of Year 2
Busy Year 3 Build On Their Lodge Hill Experience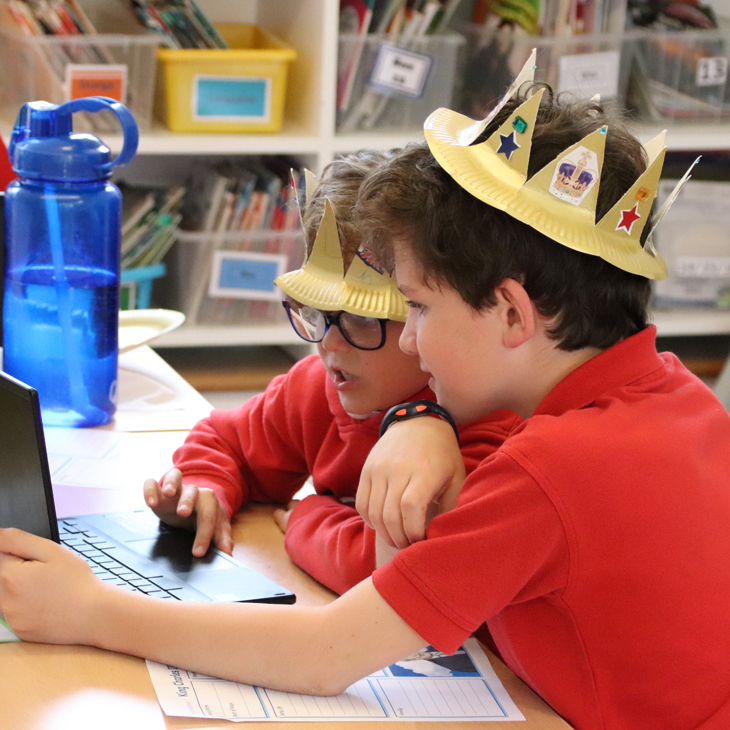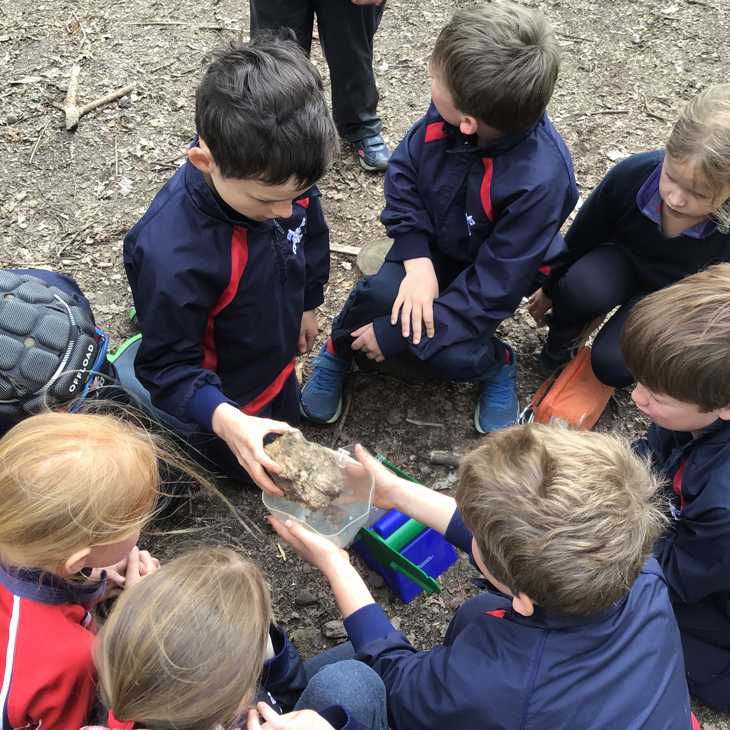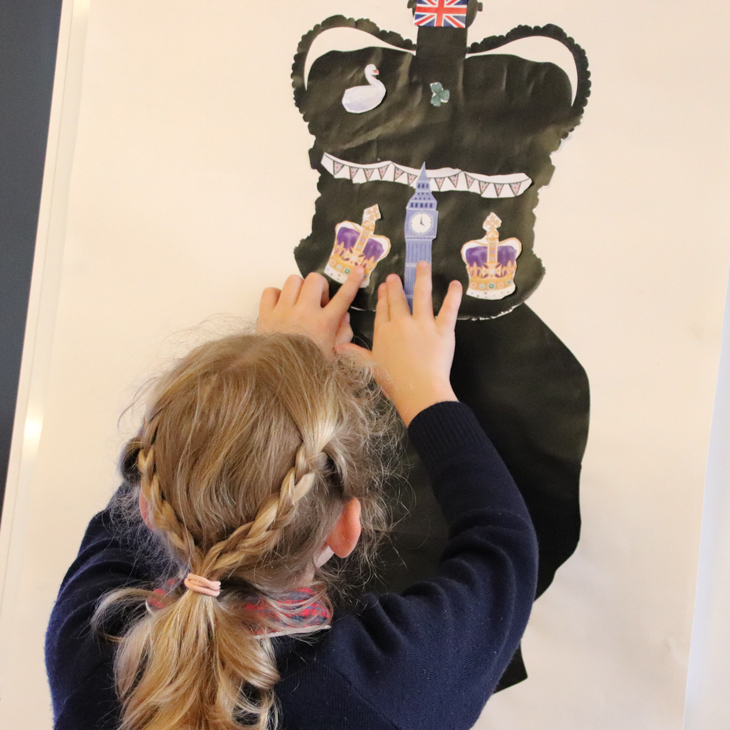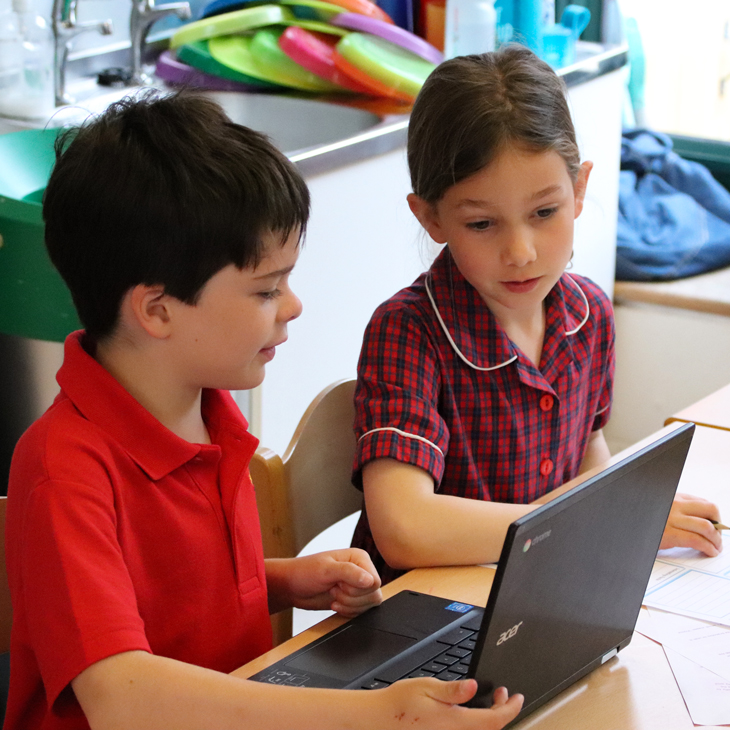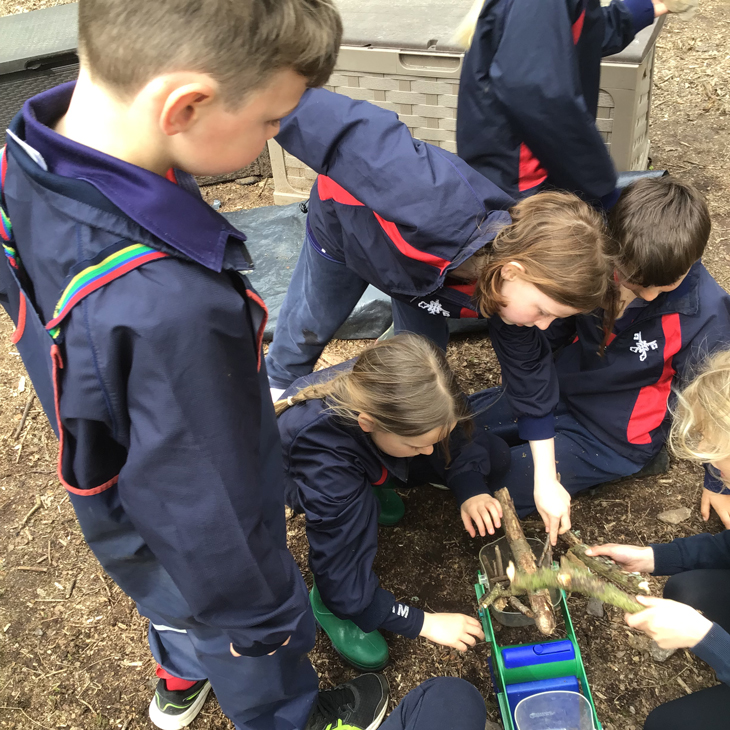 Following last week's character-building residential trip to Lodge Hill, Year 3 turned their attentions to the coronation of a new monarch. Working together effectively just like they did in West Sussex, the children faced a variety of challenges with purpose and a real spring in their step. Among the tasks designed to usher in the reign of King Charles III were creating collages, making crowns and designing their very own coins. The children also learned all about the coronation process and a few interesting facts about the new king himself before heading out to Chapel Field to create a human Union Flag. In between the coronation preparations, Year 3 threw themselves into the start of rehearsals for their end-of-year play while relishing another wonderful visit to Forest School for some more much-loved outdoor learning. Working on their new Summer Term topic of 'Mass', the children were tasked with finding equivalent masses using natural resources, learning key words and phrases along the way which will help them unlock the door to their new project.
Robert Grech, Year 3 Class Teacher
Intrepid Year 4 Revel In Island Adventure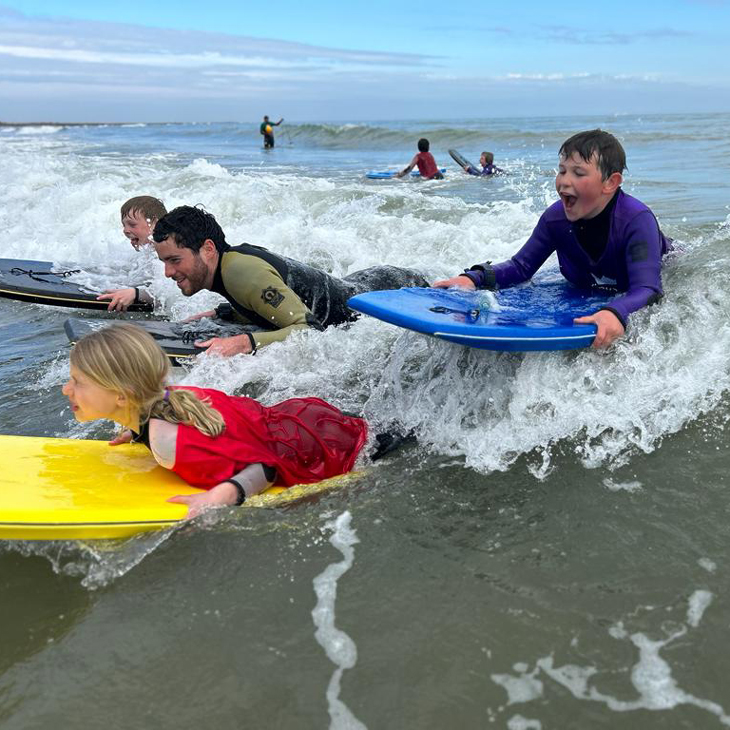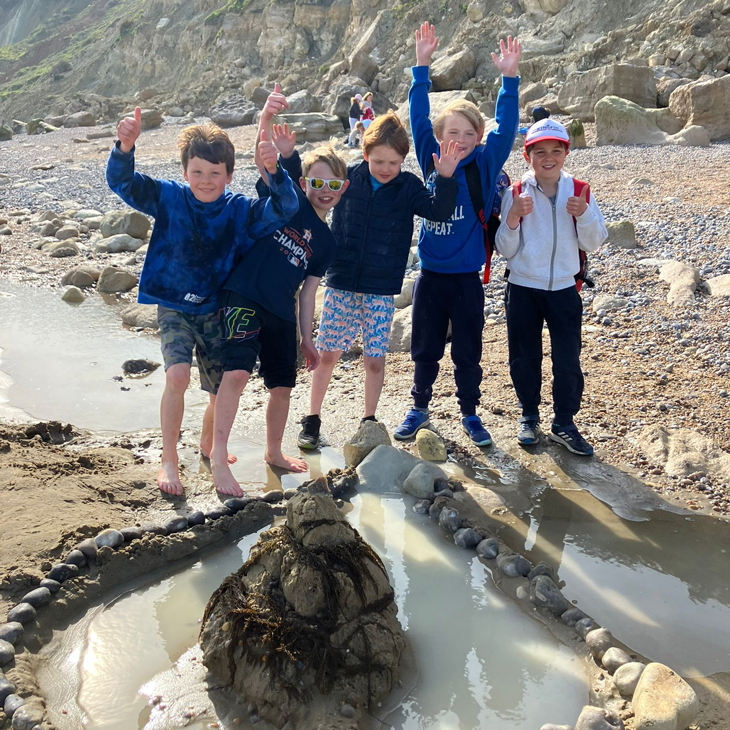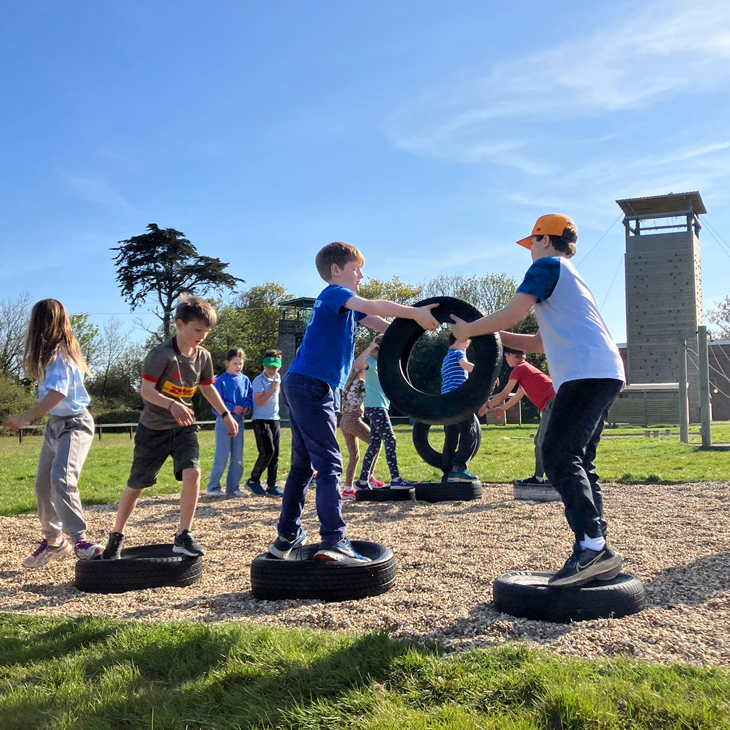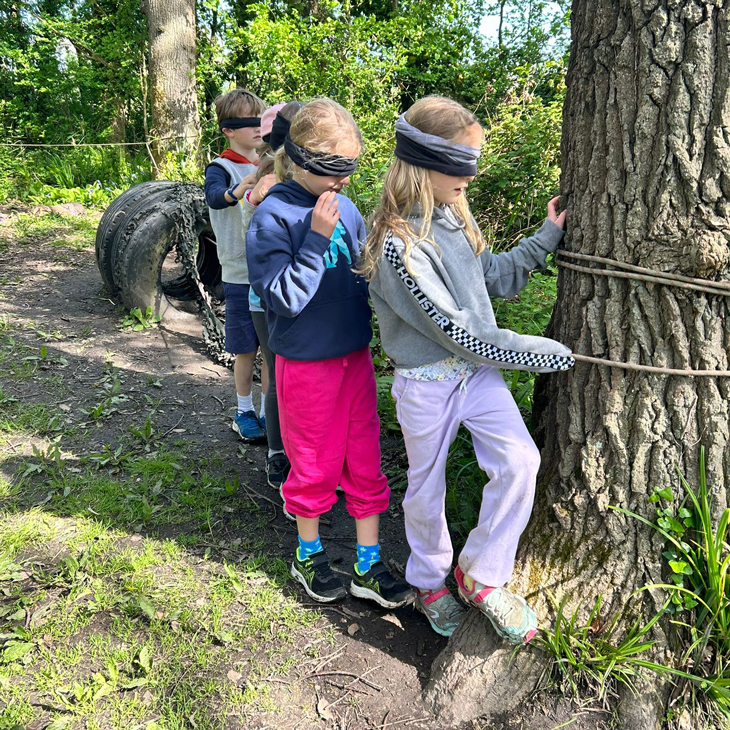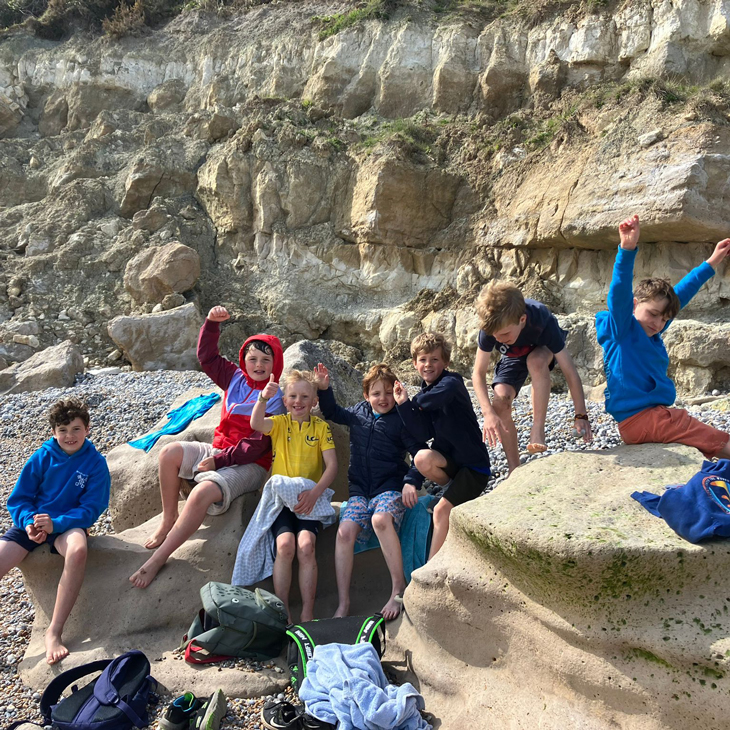 The teachers have just about survived the 3G Swing, the Leap of Faith and the 5am wake up calls! Oh, but as for the children… a wonderful and adventurous time was had by all on the Isle of Wight. Based at the excellent Kingswood outdoor activity centre in Bembridge, the Year 4 children pushed themselves beyond their comfort zones every day, showing perseverance and great teamwork to tackle problem-solving tasks. Adrenaline-inducing activities were also embraced with great excitement, but the beach was where the children truly shone. They loved the competitive element and the creativity required for the sandcastle-making competition on Wednesday afternoon and Thursday saw them rushing into the surf together on their body boards. It has been a pleasure for us to be with the children in a different environment and watch them challenge themselves in new ways, whether jumping off a telegraph pole (complete with safety harness) or sleeping away from home.
Rosie Dachtler, Joint Head of Year 4
Year 5 Learn A Powerful Lesson From Floella Benjamin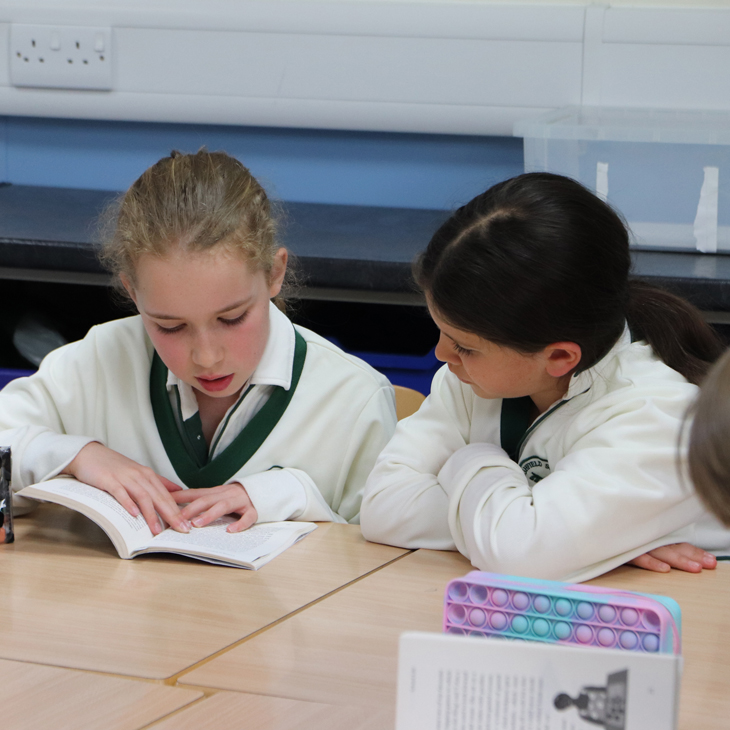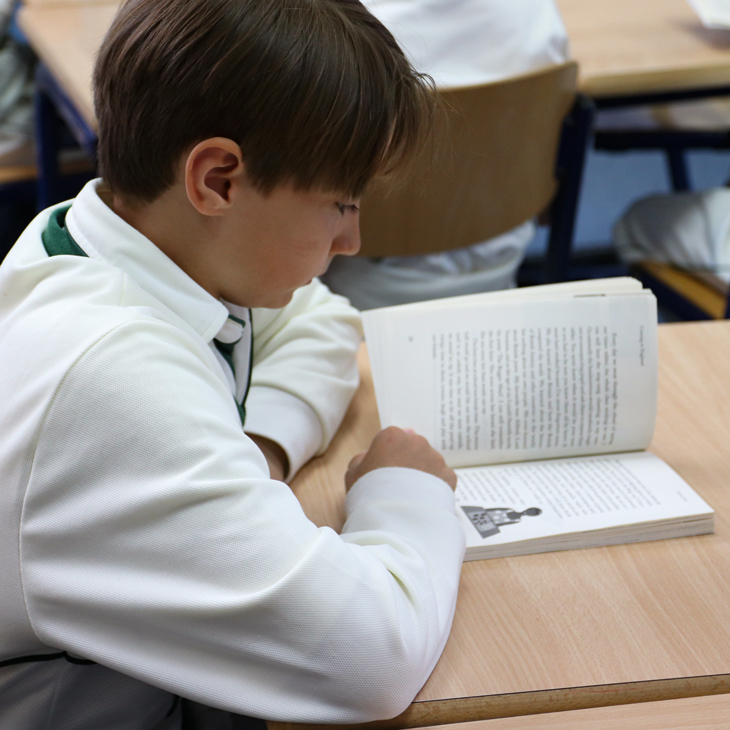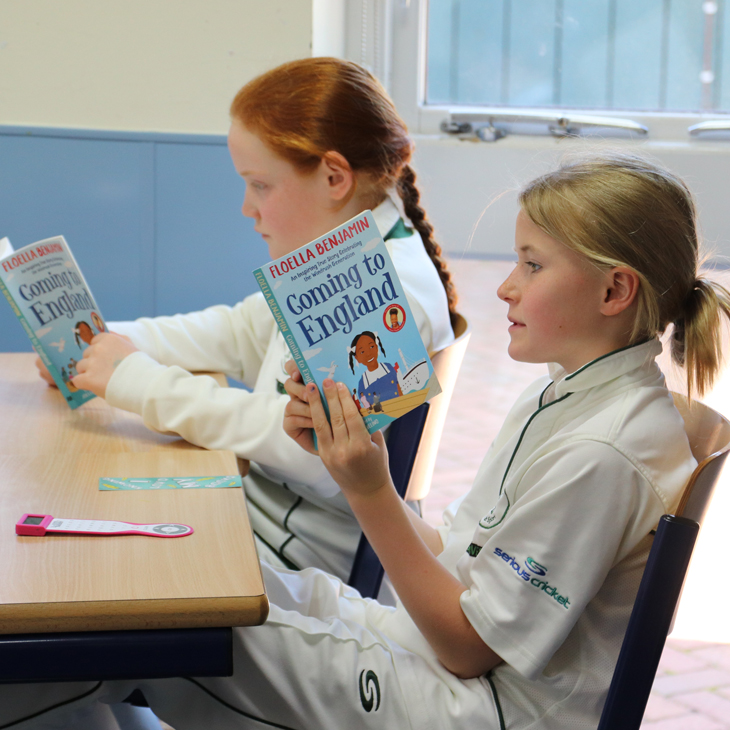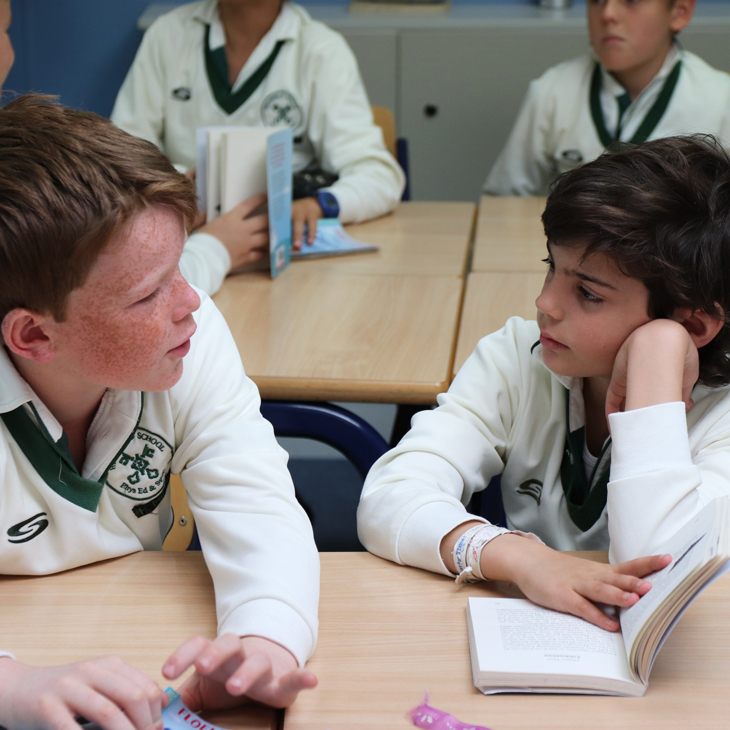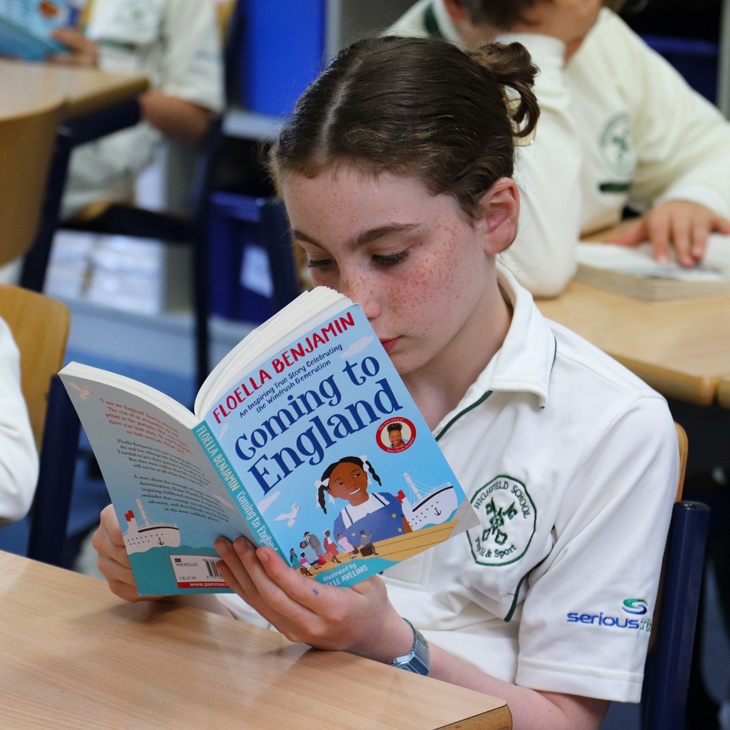 This term, Year 5 are honing their creative writing, comprehension and spelling and grammar skills while reading Floella Benjamin's autobiography, Coming To England. This inspiring true story of hope, love and determination recounts Floella's journey from Trinidad to London, as part of the Windrush Generation in the 1950s. Baroness Benjamin's story is both deeply personal and relevant to today's society, as our Year 5 children learnt about her experiences of moving home and making new friends, while also exploring her powerful message that courage and determination can always overcome adversity. This week's theme was 'Gratitude' and I can't help but feel that Year 5 were humbled and were left feeling grateful for their own fortunate situations, having discovered that life was not always so rosy for others growing up just a few decades ago. As Baroness Benjamin takes part in the coronation of King Charles III this weekend, I hope that Year 5 will watch her with pride and admiration for the journey that this lady has been on.
Sarah Baird, Year 5 English Teacher
Thrilling Finish As Year 6 Agonisingly Fall Just Short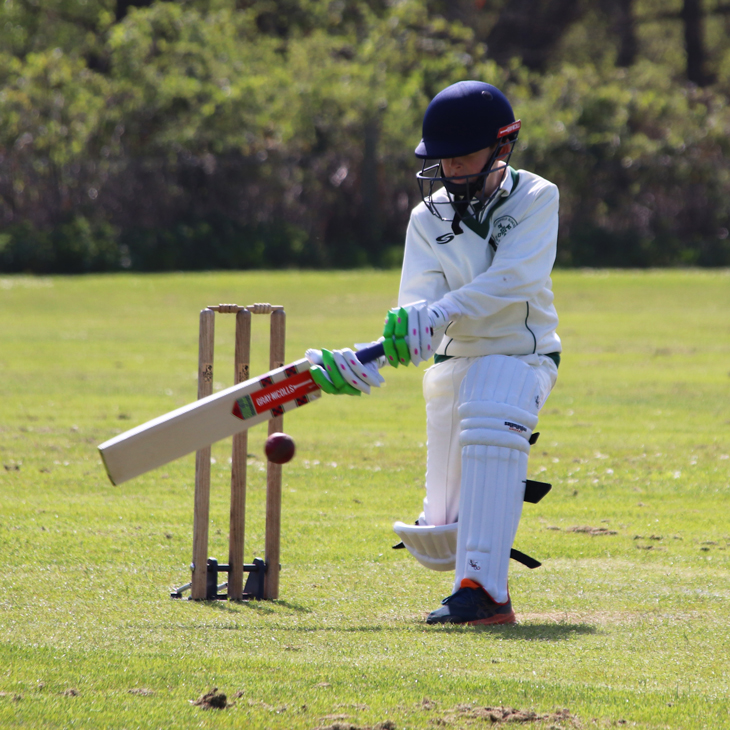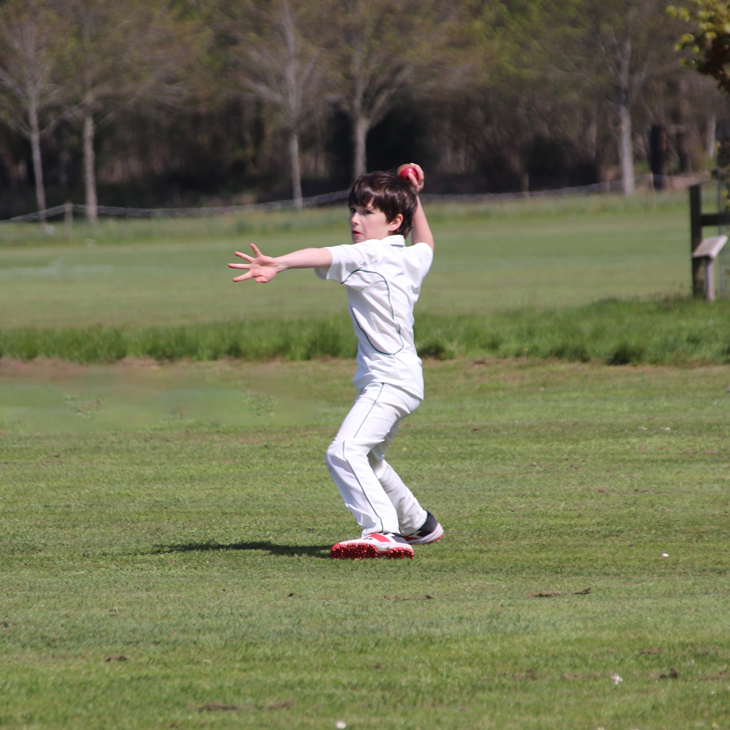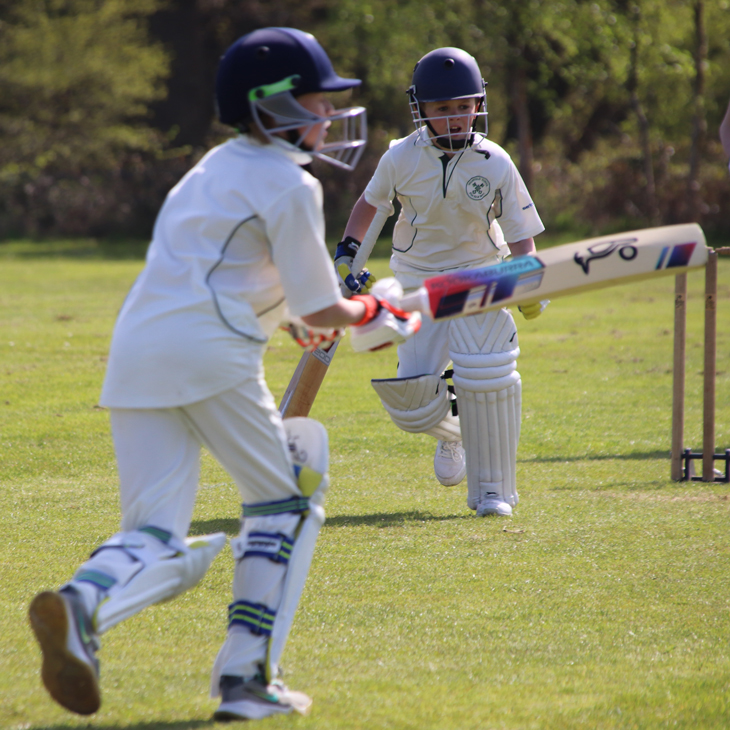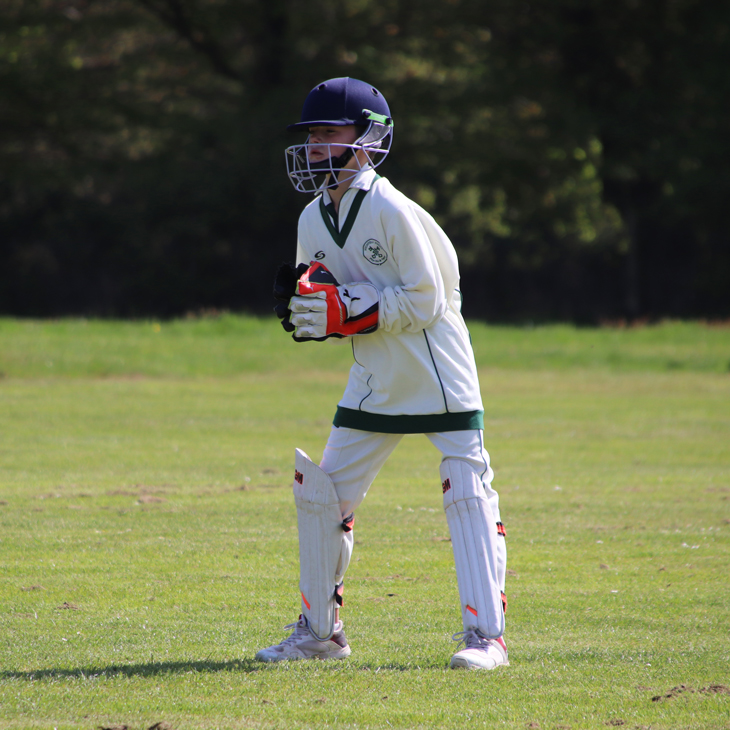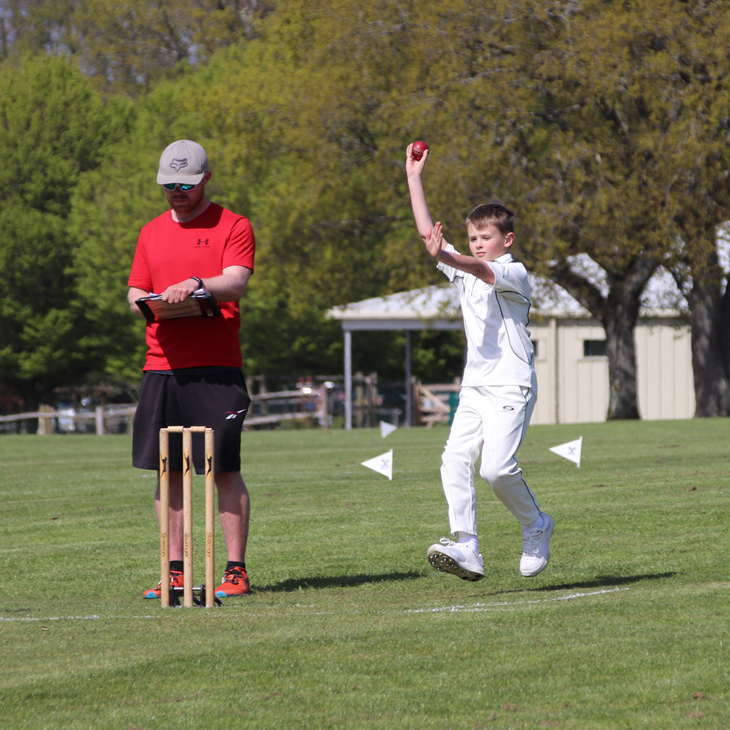 Highfield's U11B boys' cricketers were edged out in a thriller by our visitors from Farleigh on Wednesday. Playing a hard ball pairs format featuring many players on rotation between their two top teams, Highfield won the toss and elected to bowl first. Tom C and Rupert B kept things tight in the first couple of overs before Roman K and skipper Digby L teamed up to claim the first Farleigh wicket and reduce their score by five runs. Farleigh's innings really picked up pace in the second half of the innings, finishing on 274 runs as Bryn E picked up a couple of wickets. Chasing 275 to win and knowing that wickets were costly with a five-run reduction, Highfield battled hard with decent contributions from Aurie G, Jack, Ollie G and Bryn setting up a grandstand finish. Max and Roman worked singles to good effect as Highfield were left needing eight runs off the last over, hoping for a six off a no ball to claim the win. But Aurie's brave attempt at clearing the boundary rope fell agonisingly short as Farleigh hung on for the victory after a superb game of cricket.
Michael Chapman, U11B Boys' Cricket Coach
Year 7 Driven To Succeed At Robotics Challenge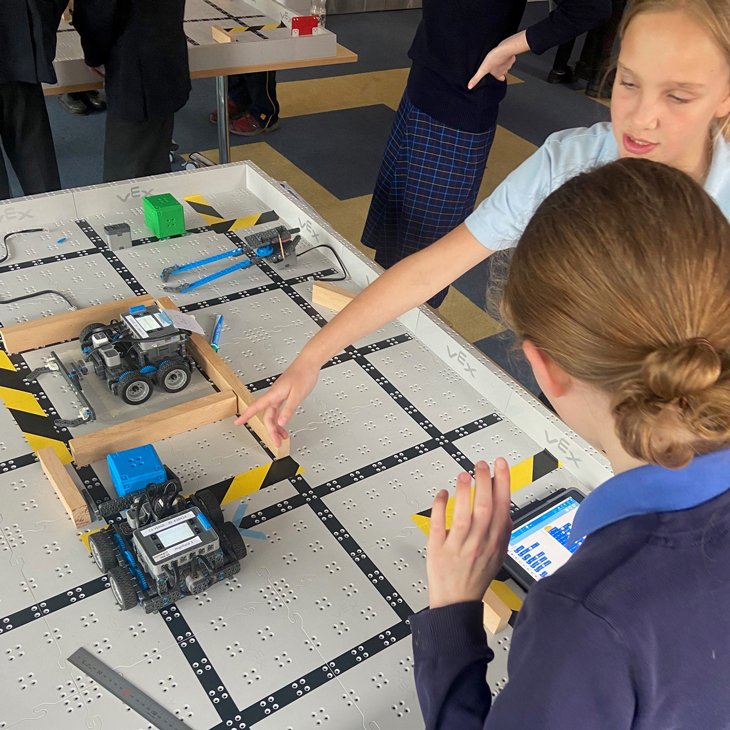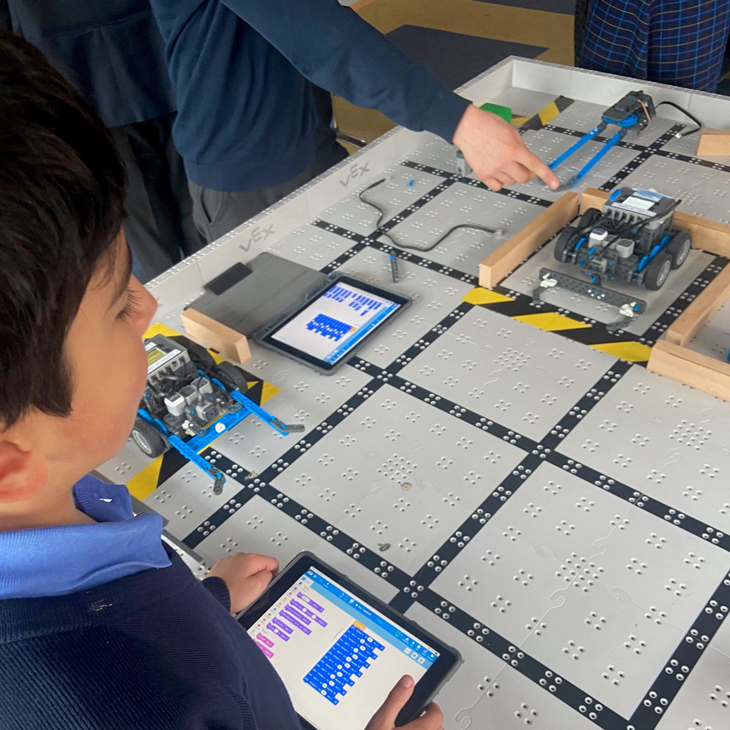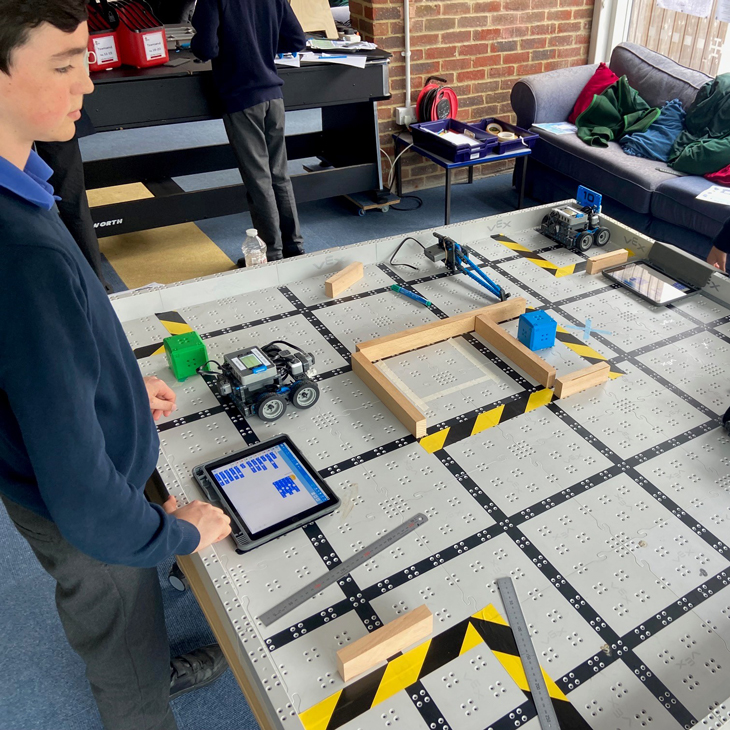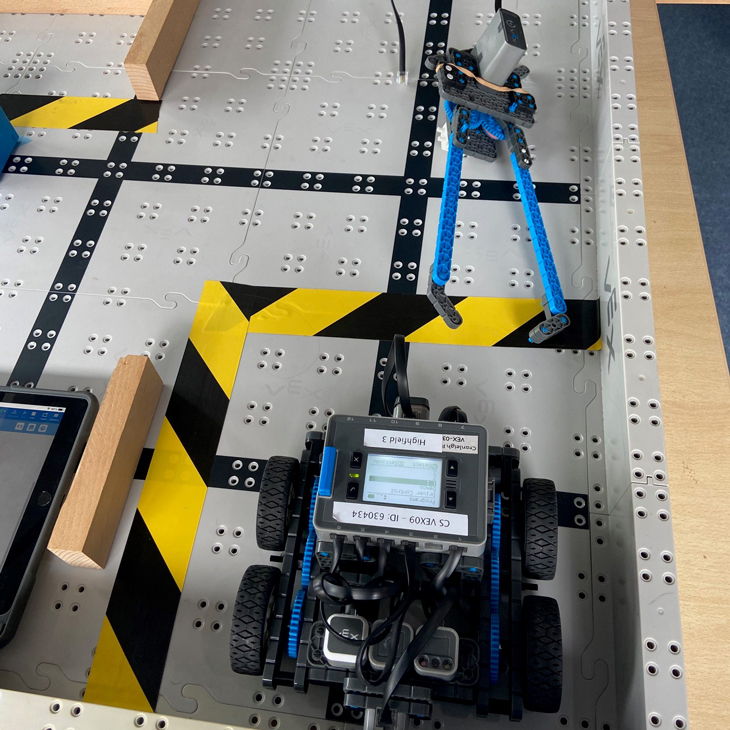 A skilled team of six Year 7 engineers were driven to succeed at the VEX Robotics Challenge at Cranleigh this week, scooping silverware for their efforts. Robotics involves the design, construction, operation and use of robots and the children had only 40 minutes to learn the software, 20 minutes to build their robot and 20 minutes to design a corporate logo as they took on Aldro and hosts Cranleigh. They then had to navigate three different courses, with Highfield picking up the trophy in the 'Driver Programming' category. The young engineers – otherwise known as The Rolling Robots – had to program their robots to navigate around an obstacle course and move a set of coloured objects into a closed off boundary. They achieved this by having to carefully measure, plan and map out the direction of travel their hand made robots needed to take as well as designing their robot's integrated claw. Although adept with the knowledge of design, coding and programming, Highfield had never experienced robotics before and I must commend the children for their efforts and teamwork on the day and congratulate them on their prize-winning trophy awarded for their knowledge, skill and teamwork during the drivers' programming challenge.
Year 8 Have Designs On End-Of-Year Production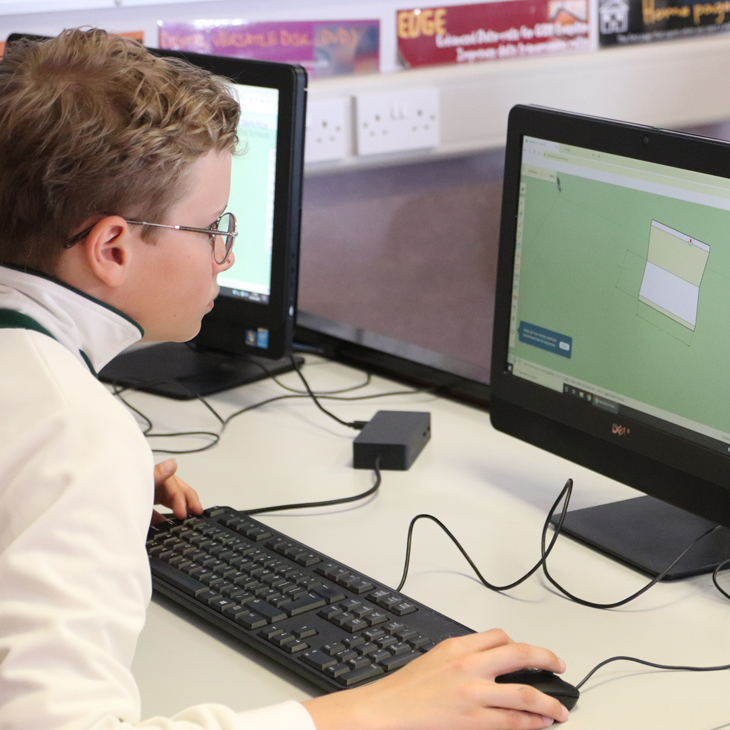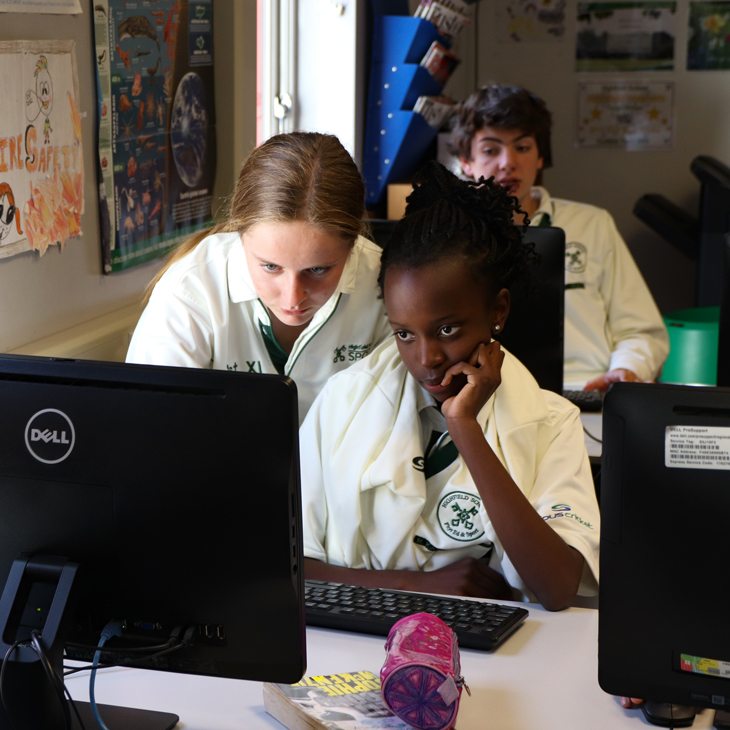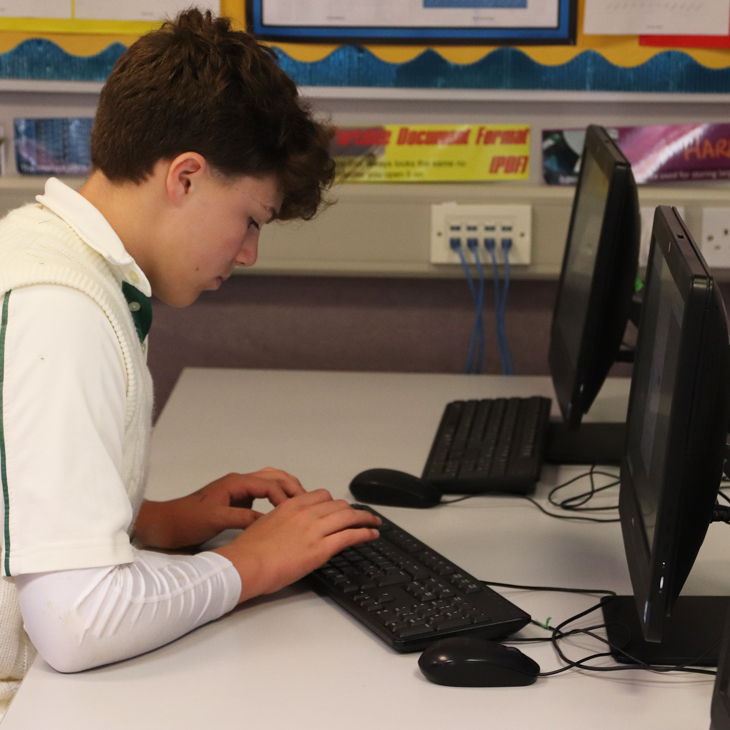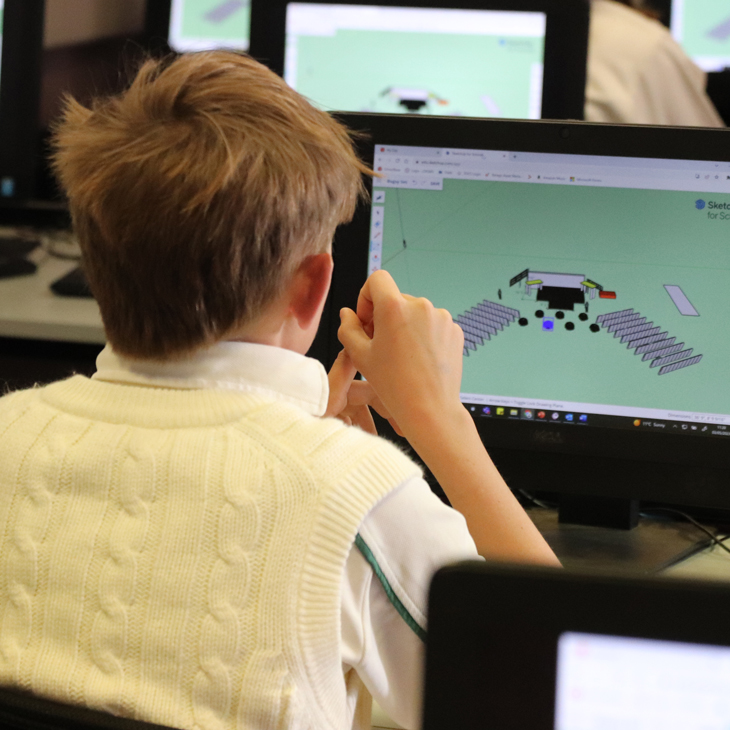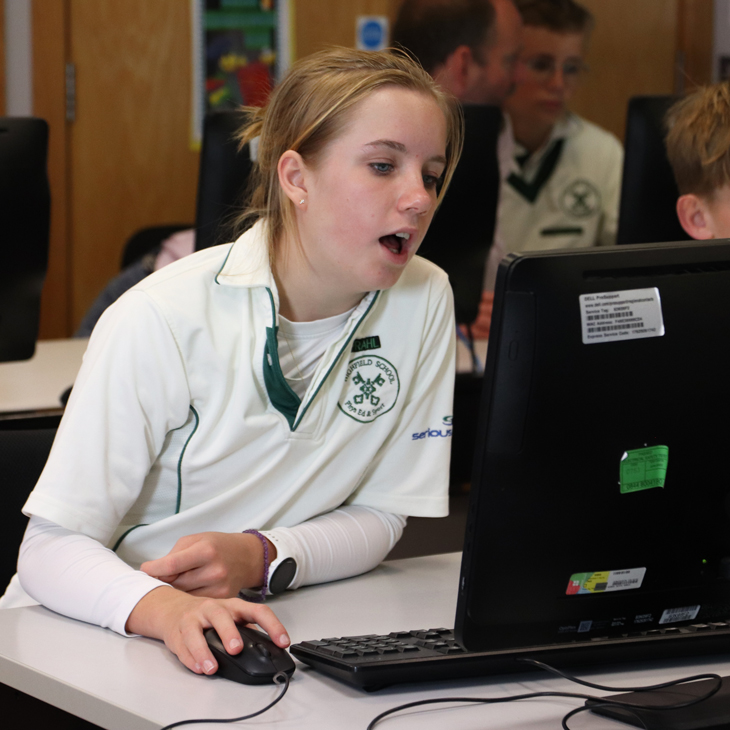 It was not quite showbusiness, but in their Digital Literacy lessons the Year 8 pupils have been designing the set for their up-and-coming performance of Bugsy Malone. Using the design platform 'SketchUp',  the children scaled up what their final set may look like. This powerful software produces 3D designs of the how the set will look, together with audience chairs, Fat Sam's office, and the band's seating area. The children have been using a range of icons as well as the 3D warehouse to pull in some ready-made items. Exploring perspective and angles, as well as the measuring tool so that everything is in proportion, and not to mention honing their mouse skills, the children have garnered a lot of useful skills. Whether we have some budding architects, engineers, stage designers or some pupils who are interested in redesigning their bedroom, this software allows them to explore endless possibilities in the computer-aided design world.
Richard Dunn, Head of Digital Literacy