Busy Year In Nursery Ends With Perfect Picnic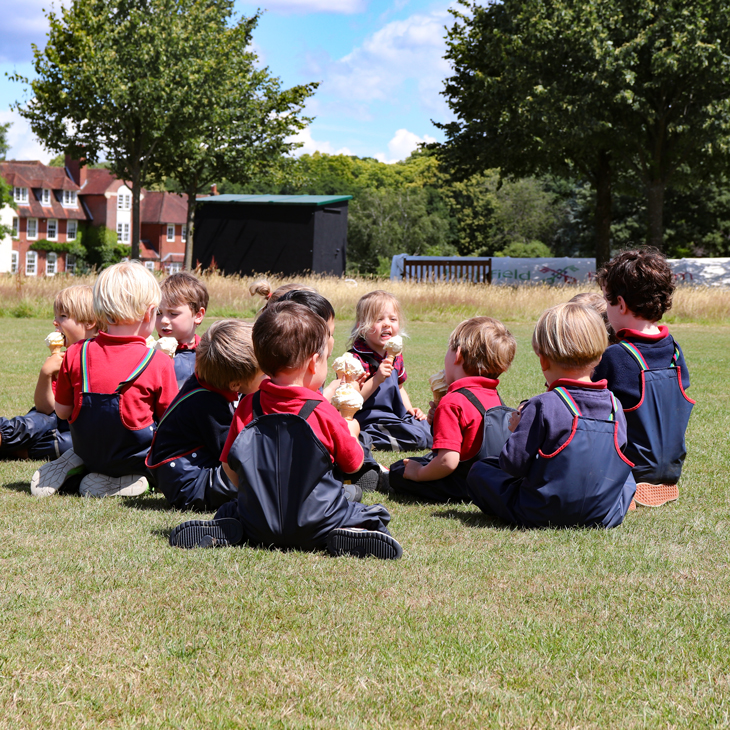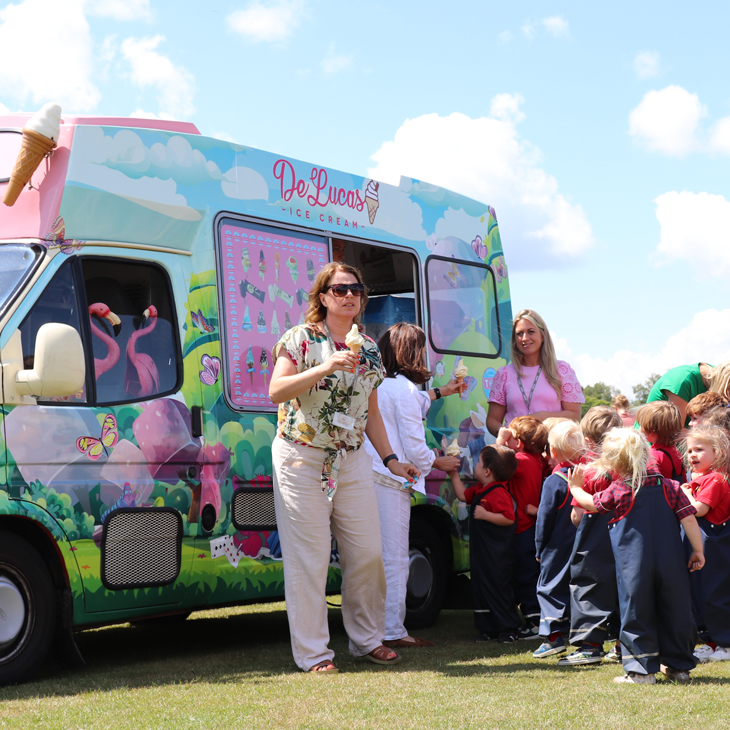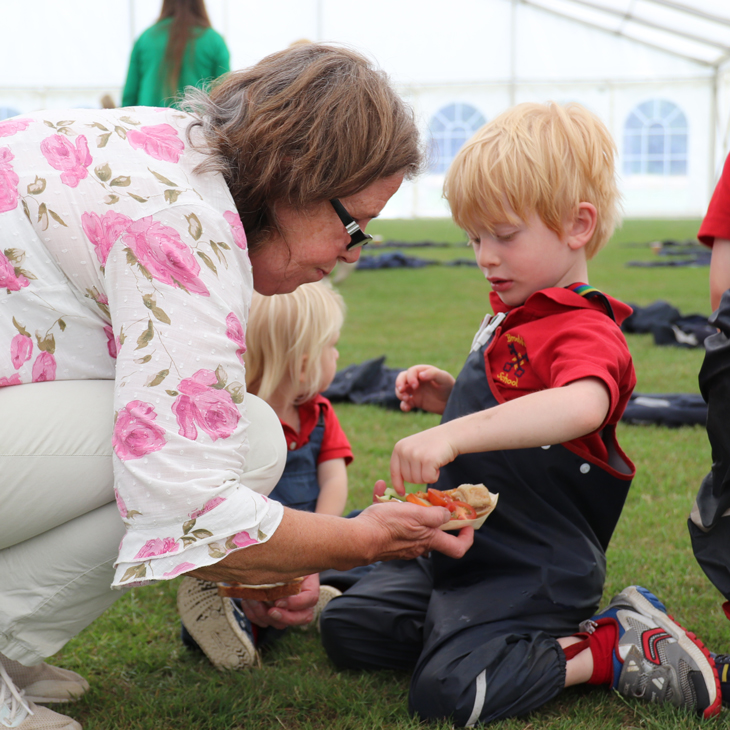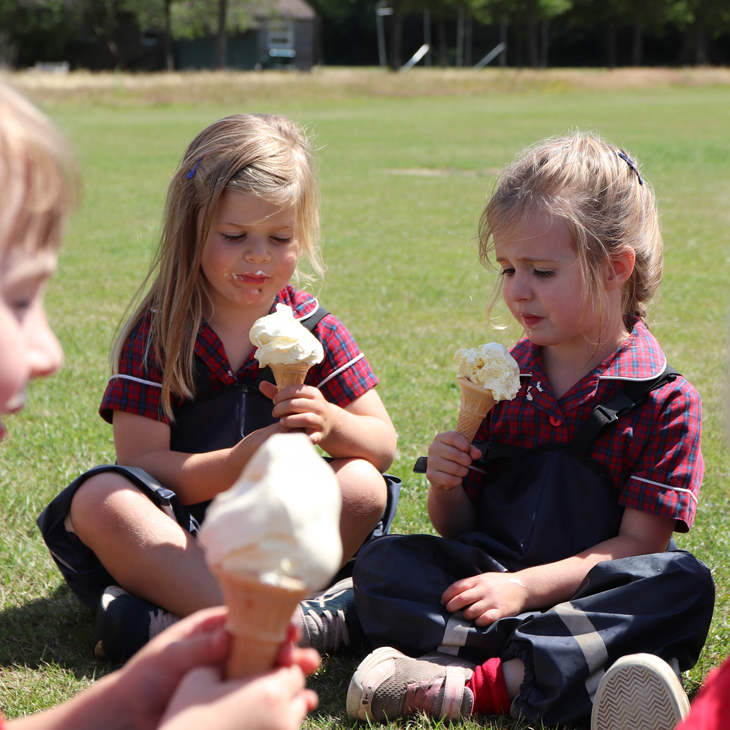 The final week of term in the Nursery has been extremely busy and lots of fun, but also a time of mixed emotions. We have talked with excitement about plans for the summer and where the children will be in September and we have said goodbye to our Big Bears, some of whom have been with us for nearly three years. It's hard to believe the change we have seen in all the children since they first arrived at pre-prep for the start of their educational journey and, yet again, we are amazed and thrilled at the progress they have all made. Wednesday this week was a particularly exciting day, when instead of having lunch in the dining room the Nursery children joined the older pupils for a whole-school picnic in a marquee courtesy of our wonderful catering team. As well as enjoying the lovely food on offer, the children danced and played together before descending en masse on the visiting ice cream van. All that's left to say is that we wish all of our children a wonderful summer holiday.
Sam Forster, Head of Early Years
Sense Of Pride And Achievement As Reception Make Big Strides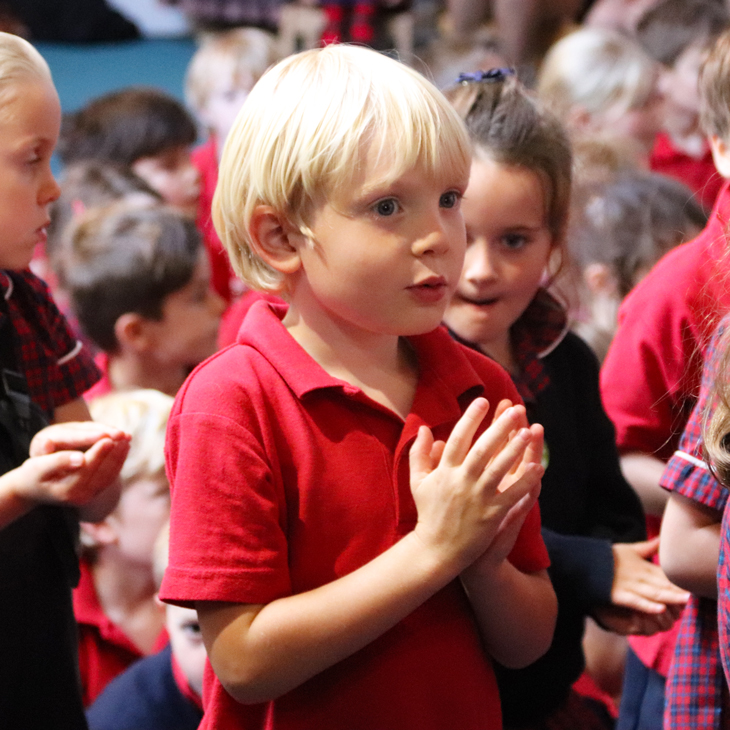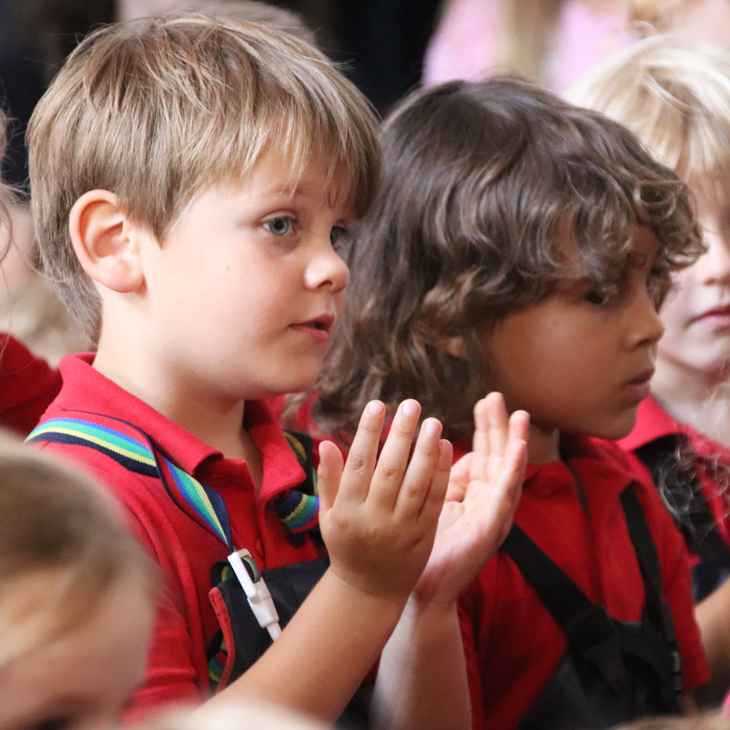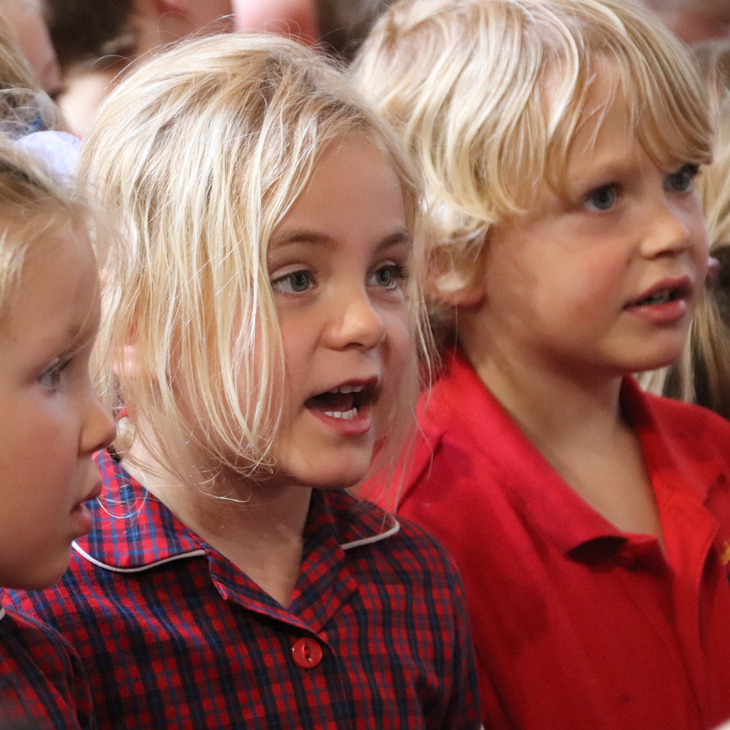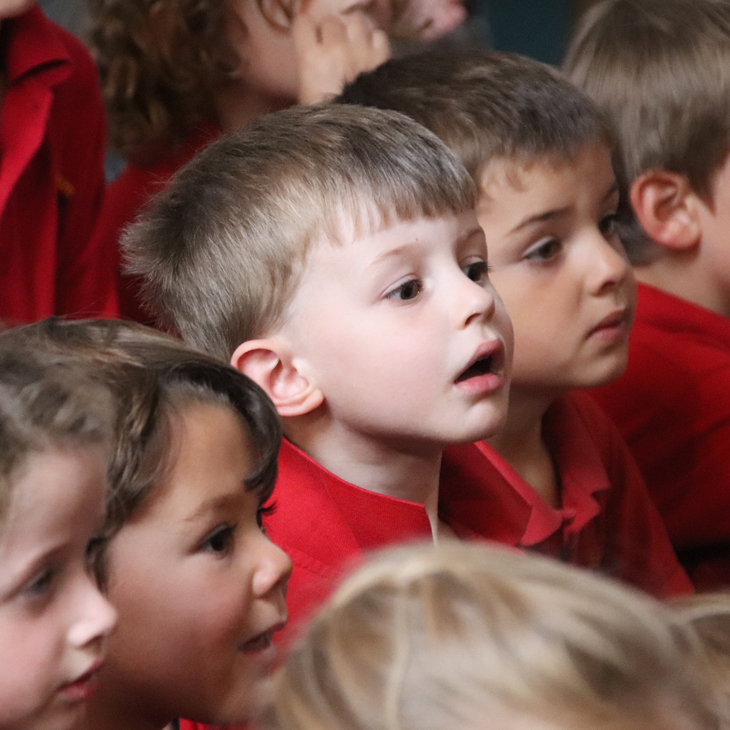 At the end of what has been a successful and joyful year for this fantastic bunch of Reception children, we celebrate all that they have achieved. As individuals and as a group they have blossomed in so many ways, stretching their learning muscles and taking every opportunity to develop physically, mentally and emotionally. Whether stepping out of their comfort zone to increase their confidence speaking in front of their friends and classmates, trying their hand at something new or mastering a tricky concept, Reception have really challenged themselves all year and made huge strides forward. In doing so, the visible sense of achievement and pride on their faces has been wonderful for parents and teachers to see. And their amazing levels of perseverance were evident as they learnt new songs for a special midweek concert. They weren't the easiest songs to sing for children so young but they never gave up and put on a wonderful performance. Such was the determination of the children to perform to the best of their ability that they rehearsed the lyrics during snack time, up at Forest School and even at the end of the day. It was a beautiful performance and epitomised the love, joy and passion that this year group has for every aspect of life. We have been extremely lucky to cherish so many special memories with the children and I feel particularly lucky as I will continue to teach them in Year 1 from September. I wish them all fun and happy summer holidays and can't wait to see lots of smiling faces on the first day back in the autumn.
Hannah Feery, Reception Class Teacher
Musical Magic As Year 1 Sign Off In Fine Style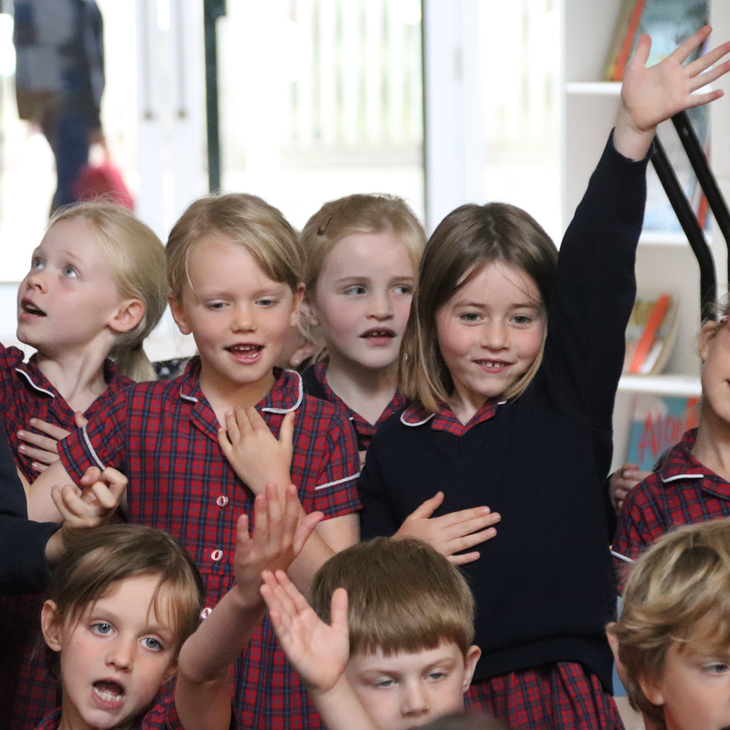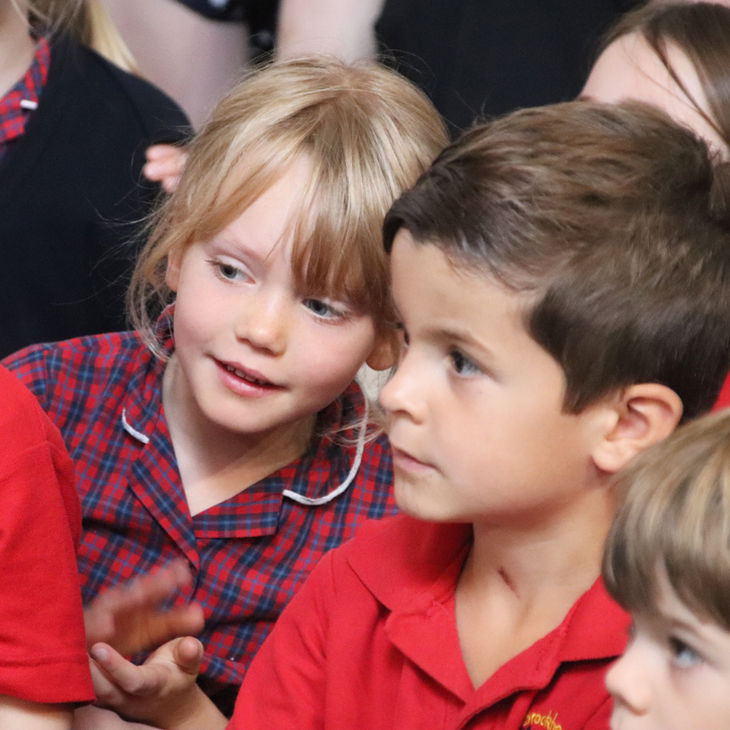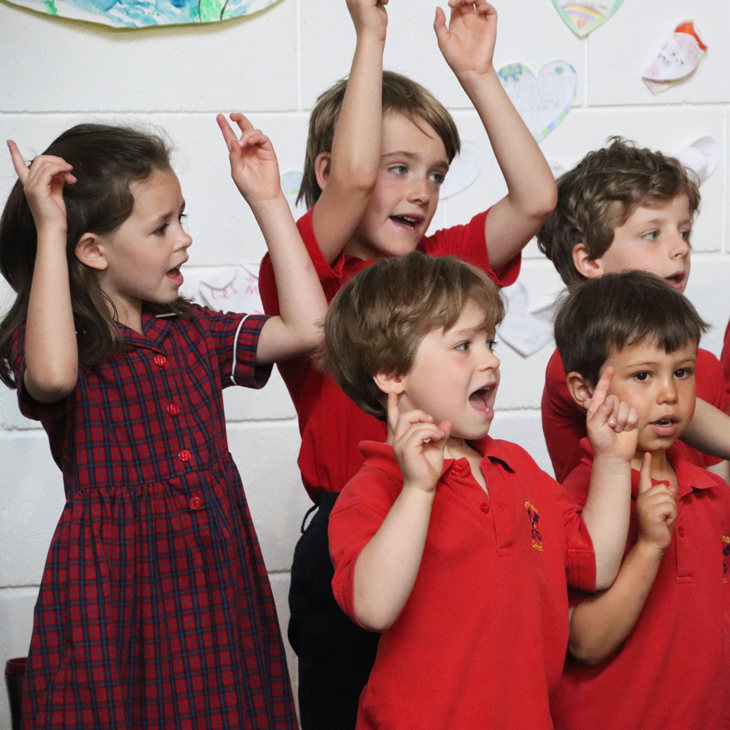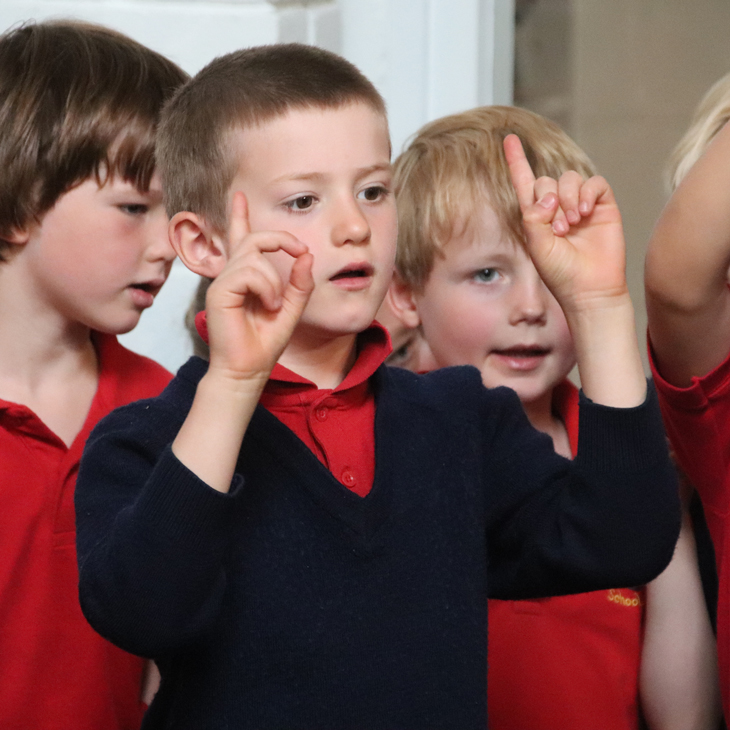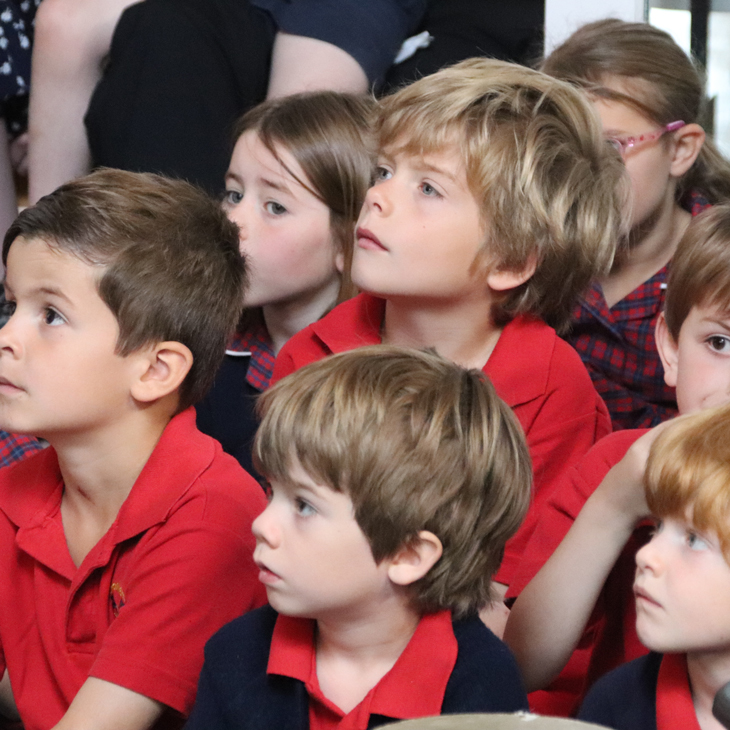 Year 1 this week played their full part in a wonderful end-of-term concert to sign off for the summer holidays in fine style. They sang beautifully and played a diverse range of instruments with real determination and panache, with the big highlight playing alongside older and more established prep school musicians. And Year 1 had a starring role of their own as they learnt the lyrics and actions for a super song all about creepy crawlies, which they performed beautifully. Year 1 have been an absolute pleasure to teach this year and have clearly matured and developed in so many ways in and out of the classroom. I wish them all a fun and happy summer holiday and hope they come back refreshed and raring to go as they embark on life in Year 2 in September.
Rachael Berry, Year 1 Class Teacher
Legion Of Year 2 Learners Show Their Versatility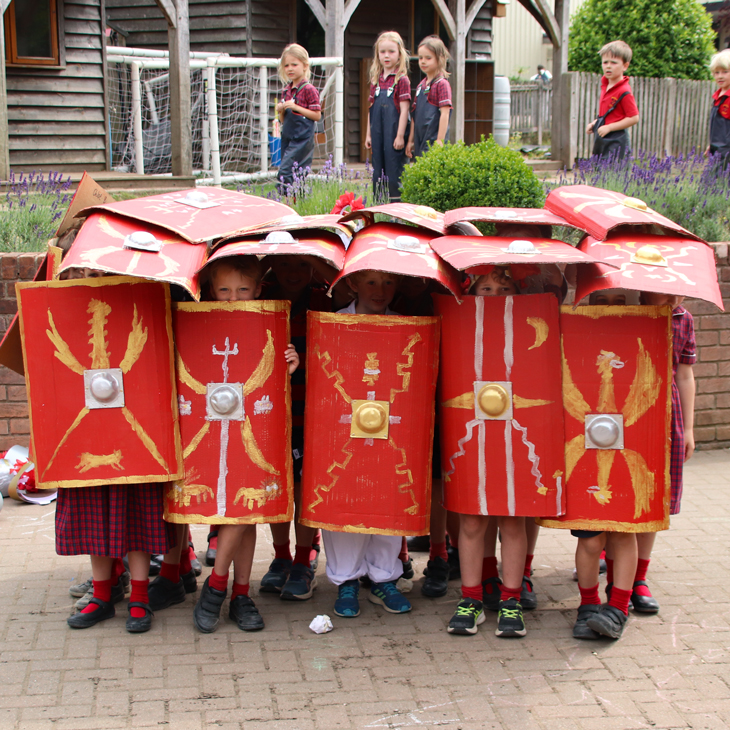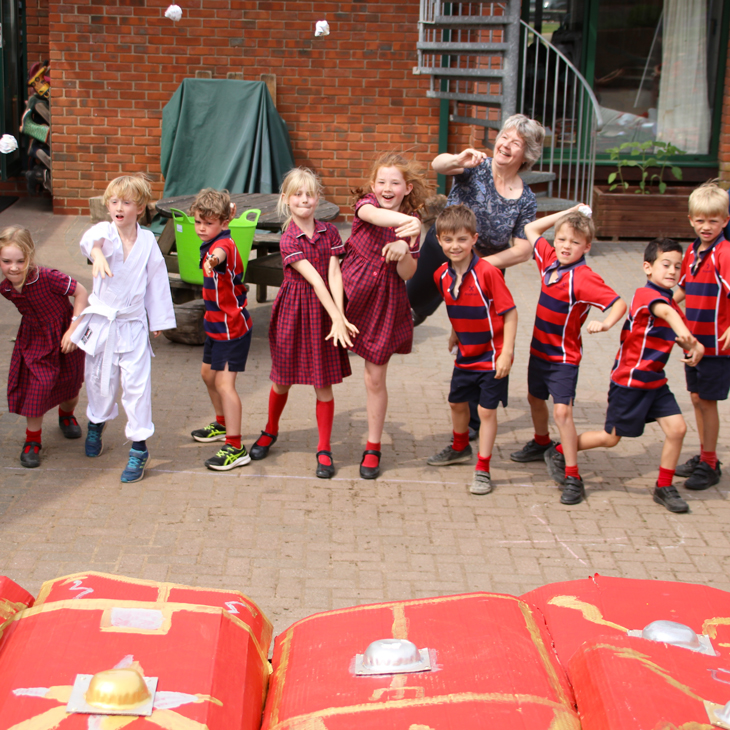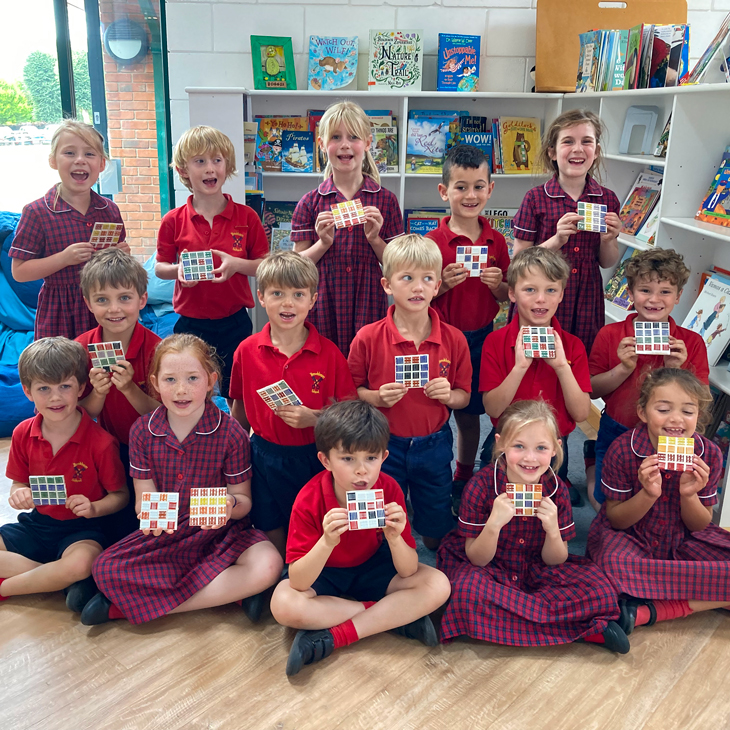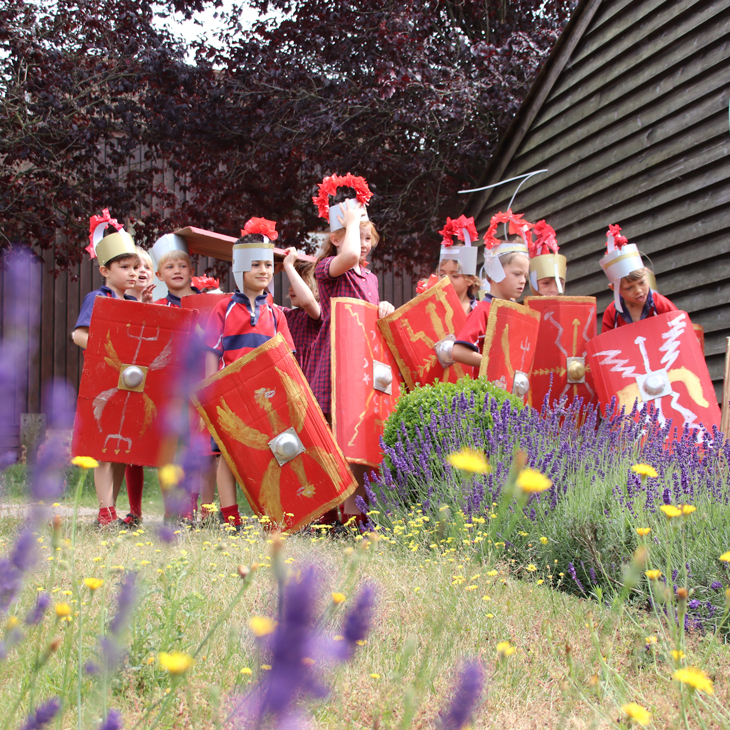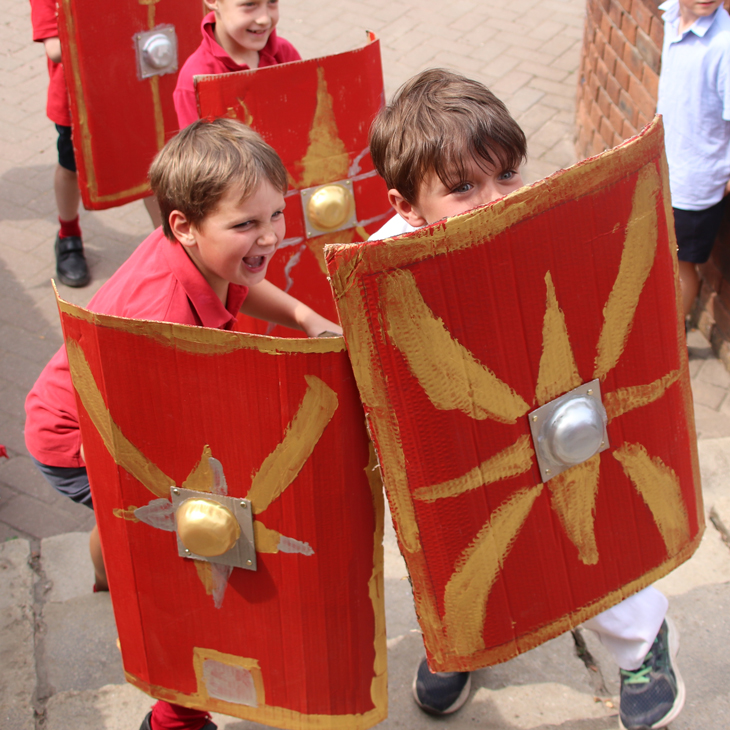 The broad and varied pre-prep curriculum is encapsulated by the final few weeks of the Summer Term. Adapting to and embracing different learning types is important and Year 2 put this into practice by learning all about the eruption of Mount Vesuvius in Italy and the subsequent disaster that befell the city of Pompeii. Armed with the facts, the young historians then wrote their innovated tales and acted them out. Continuing the history theme, Year 2 revelled in hands-on Roman workshops, collaborating with visiting parents to build aqueducts, and took in a fascinating trip to Fishbourne Roman Palace. And in the last few days of term, the children finished a successful design and technology project where they created their very own impressive Roman shields and helmets which they put to good use by having a pitched battle in the playground, demonstrating their ability to fend of attacks by forming a Roman shield 'tortoise'. What a memorable finale for Year 2, which reflects the joy, energy and enthusiasm that this year group has brought to its learning. Wishing you all a healthy, happy and relaxed summer holiday.
Shirley Jervis, Year 2 Class Teacher
Impressive Year 3 Prove They Have Real Star Quality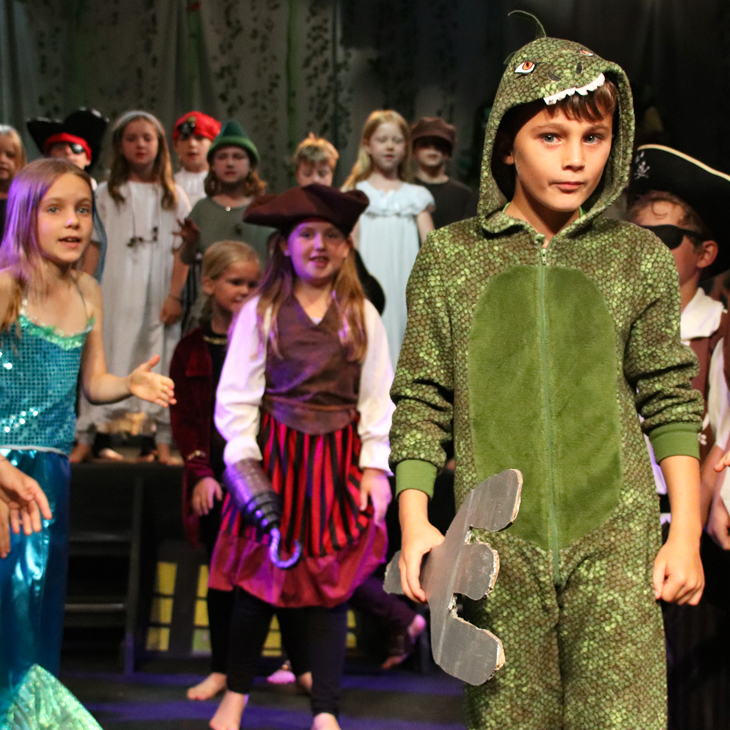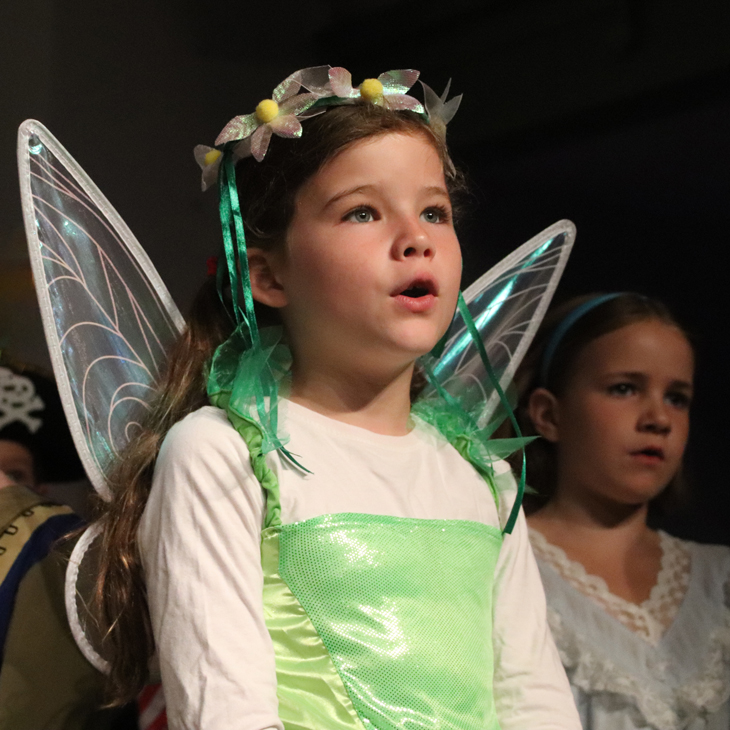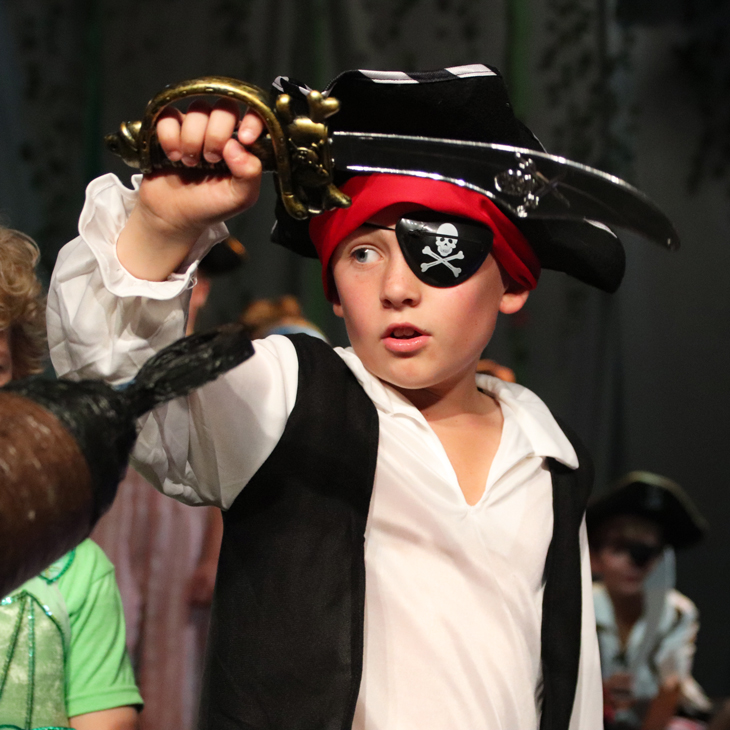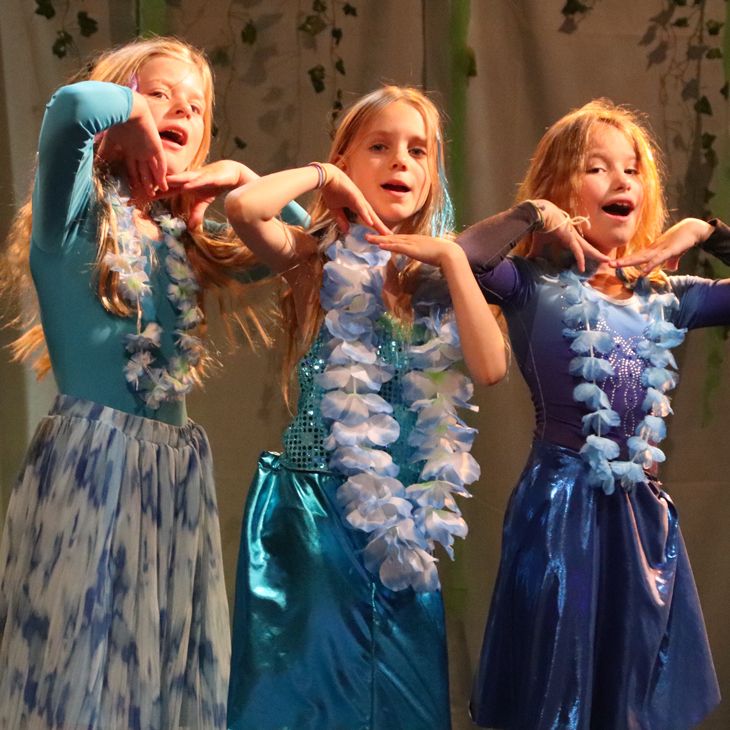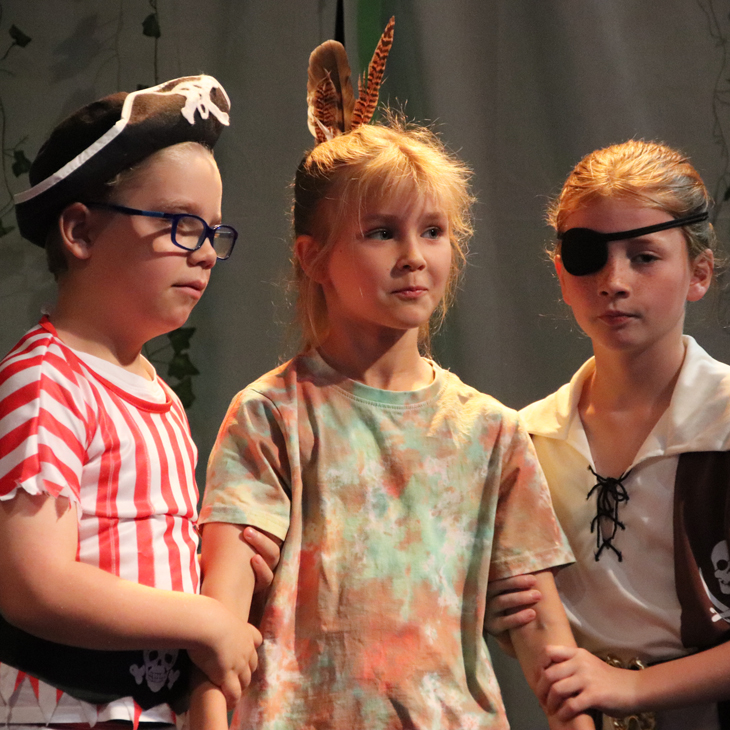 Wow, what a truly memorable production!  The Year 3 production of Peter Pan was truly a triumph and a wonderful example of children's drama and performance at its best. From the songs and the set to the acting and costumes, the audience were given a real treat. As they soared above Neverland, fought against Hook's pirates and welcomed the Lost Boys into the Darlings' Nursery, Year 3 showed their proud parents just how to put on a show. The children received lavish praise from Mrs Baber, who said just how far all of the children had come as they said a brilliant farewell to pre-prep life before moving up to prep school in September. Mrs Baber added that their play would live long in her memory, in particular, the sheer joy on the faces of the children as they sang and danced. The cast was amazing, with super acting, emotional character arcs and limitless energy from absolutely everyone. Perhaps the standout part of the performance was the rapturous singing of such earworms as Pirates of the Sea, Don't Look Down and Tick Tock – all of which could be heard being hummed regularly all over school. Credit must also go to Mrs Harman for raising the children's singing to such heights, and to Mrs Platt for her peerless directing. But what made this year's performance truly exceptional was the support that the children gave each other – and an unusually participatory and vocal audience!
Stephanie Turner, Year 3 Class Teacher
Rain Fails To Dampen The Spirits Of Nurturing Year 4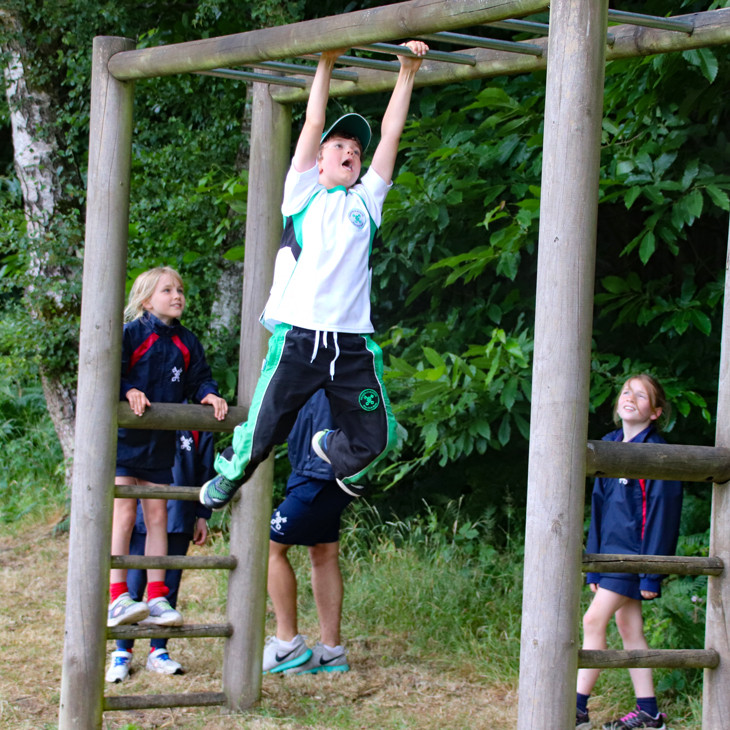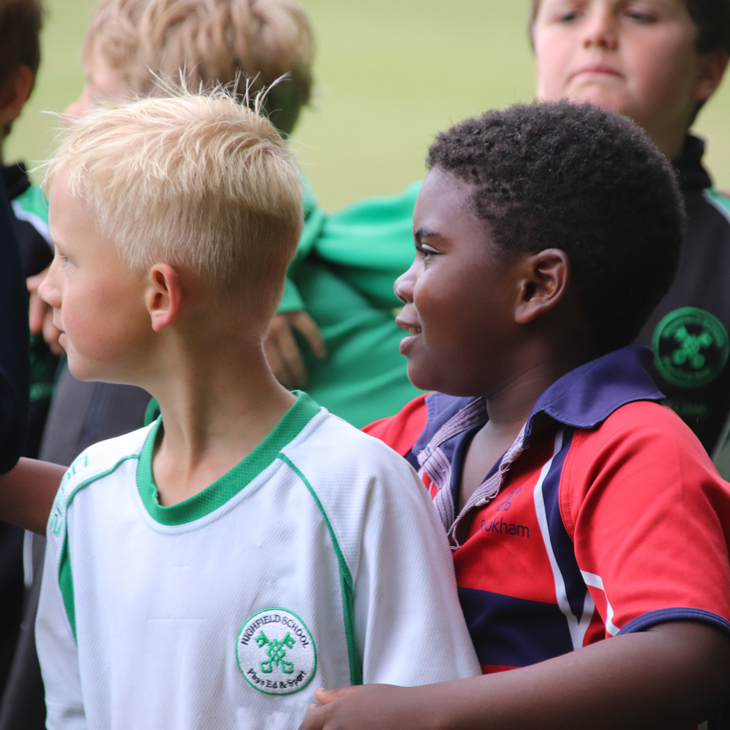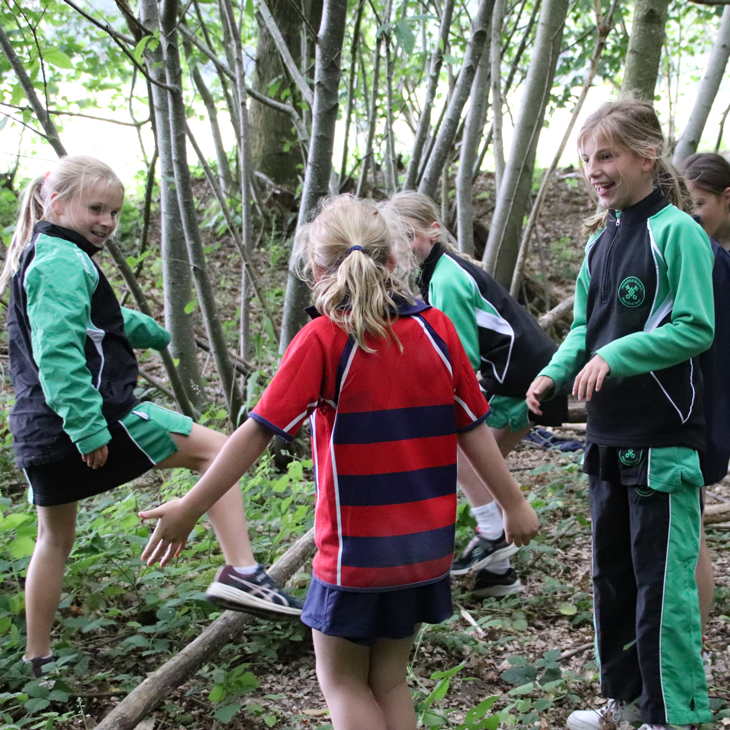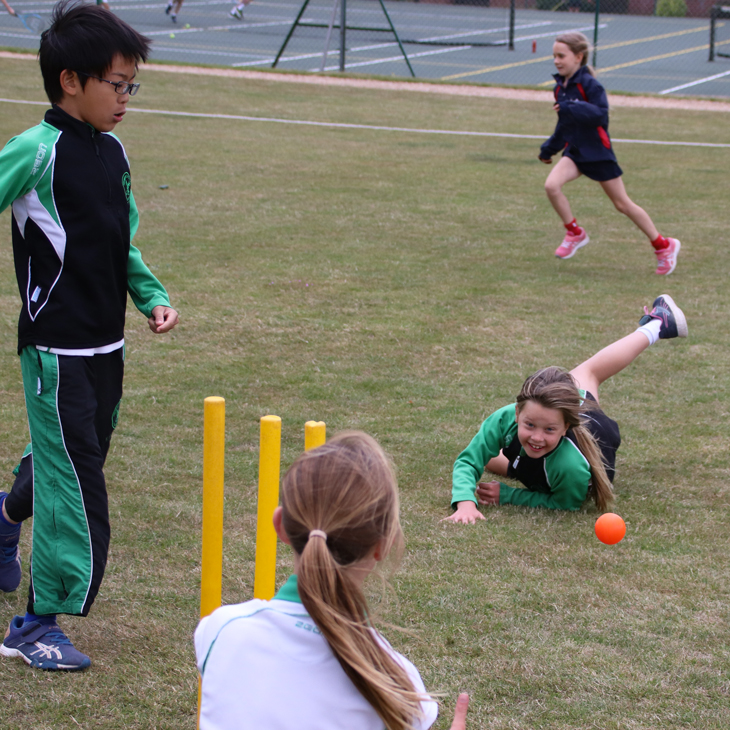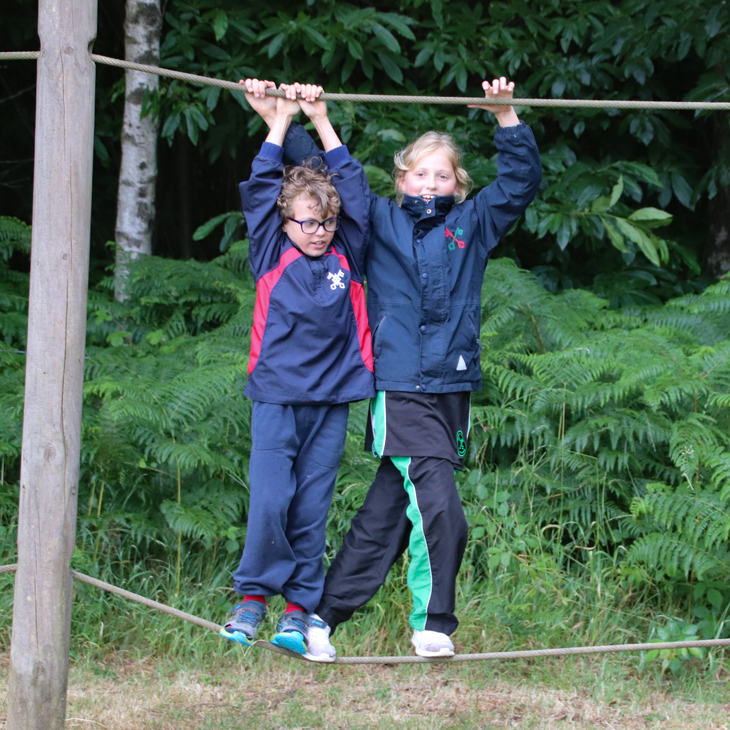 On a wet and windy last Monday of the Summer Term, the Year 3 and Year 4 children came together for an afternoon of activities on our beautiful grounds. Not only was this a lovely opportunity for the younger pupils to get to know their new stomping ground, but it provided the chance for the children to mix and get to know one another. Each Year 4 class merged with a Year 3 class and rotated around a series of activities, including creative den building in the woods, a spirited game of diamond cricket, and an obstacle course on the adventure playground. The children collaborated well and really encouraged each other throughout the afternoon, which was so lovely to see. The rain became increasingly heavy as the day wore on, but this didn't seem to deter the fun-loving pupils as they got stuck into the assorted activities with relish. It was a lovely way to start the final week of a busy, fun and productive year before the children prepare for the next step in their educational journey in September.
Rosie Dachtler, Year 4 Class Teacher
History Brought To Life As Year 5 Head To Roman Palace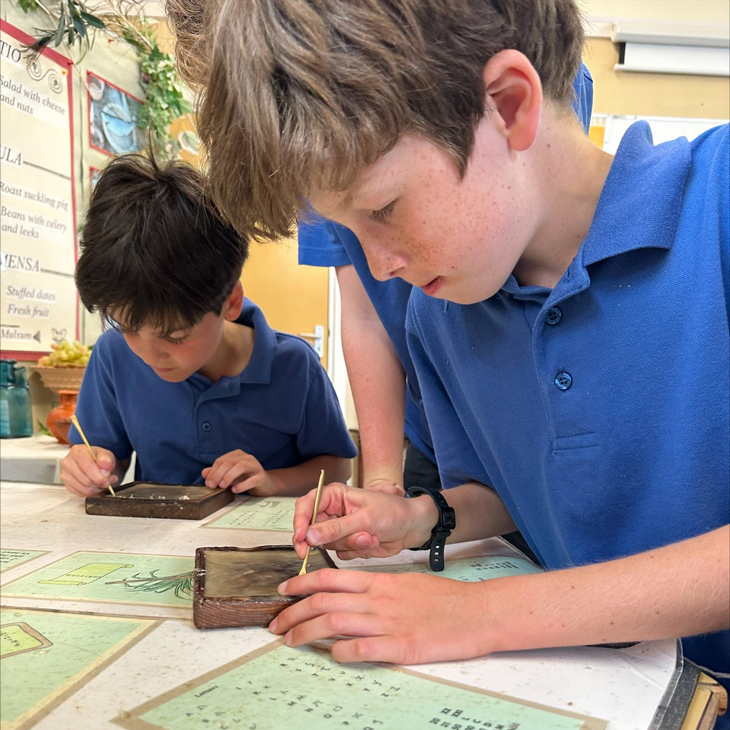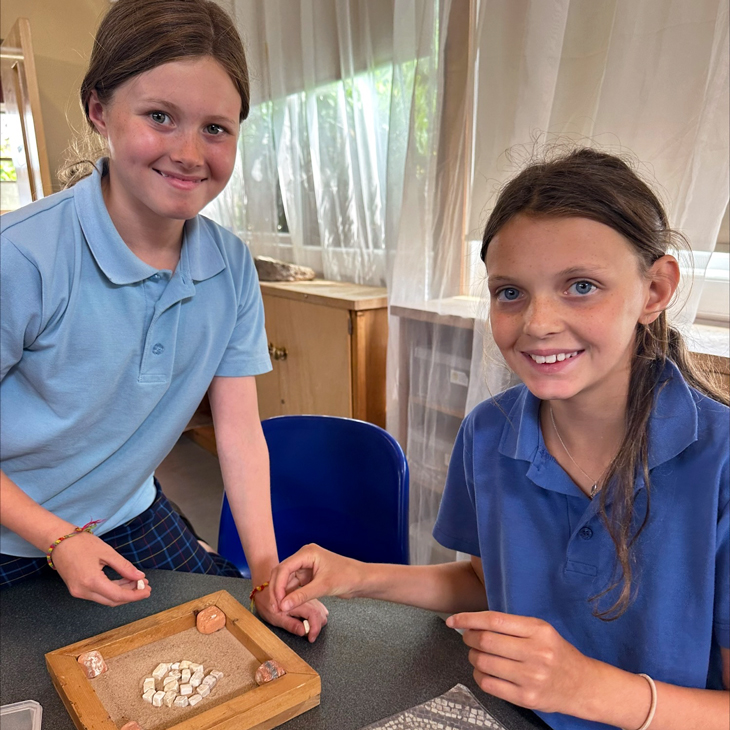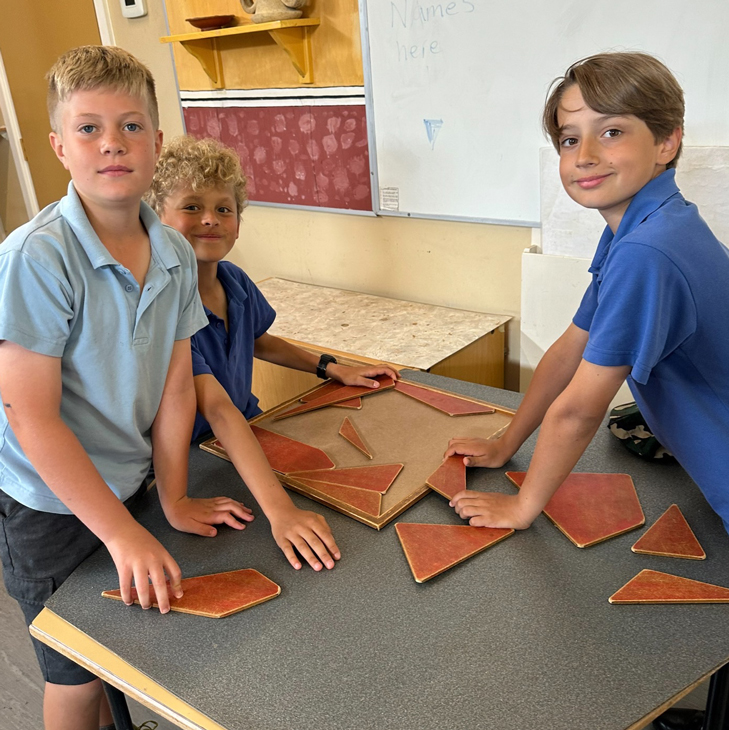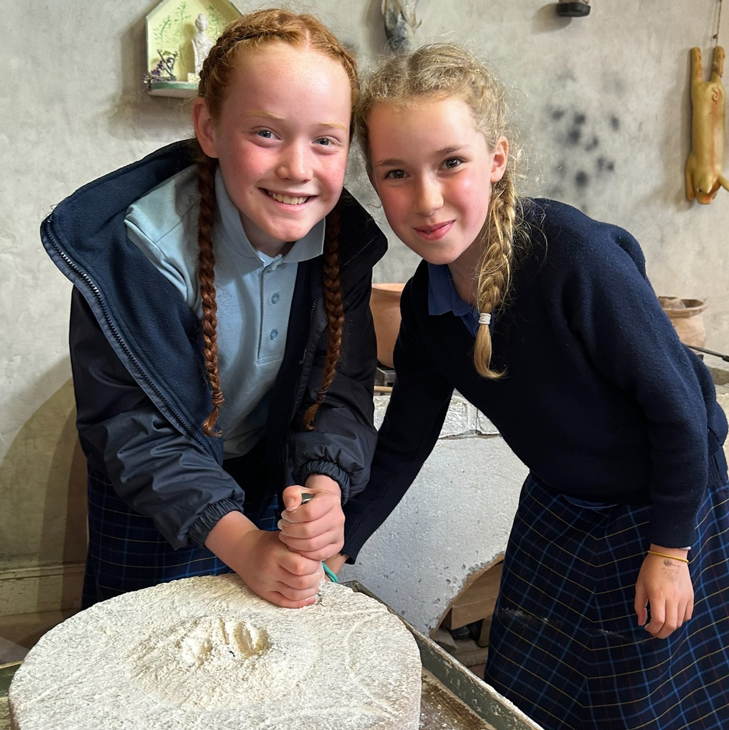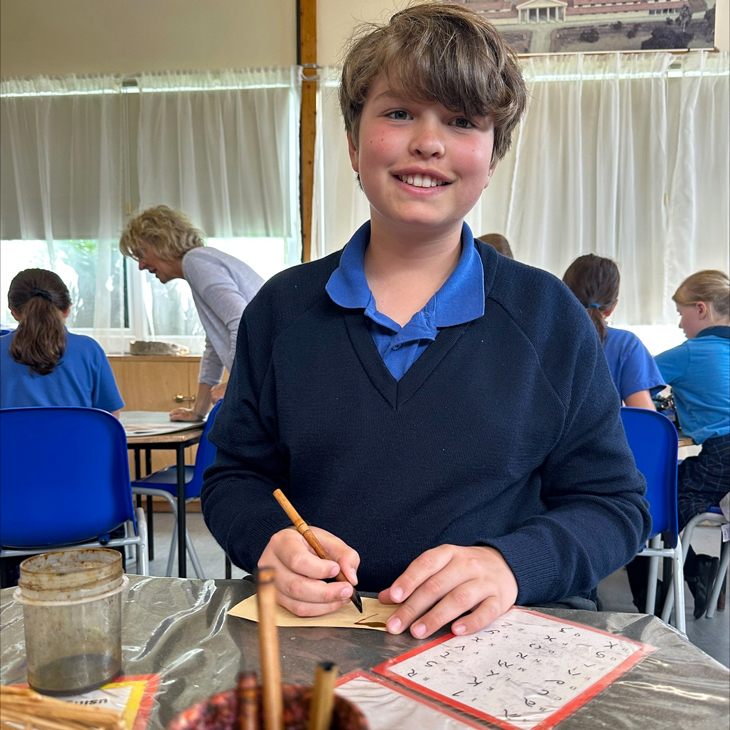 Year 5 got a taste of living history as they visited Fishbourne Roman Palace, built by the Romans for local Celtic king Togidubnus. The pupils watched an introductory video which explained how mosaic floors were discovered by accident in the 1960s when builders were laying a new water main; when their quality was spotted the site was swiftly purchased and the mosaics protected. They went on to explore the museum (an entire wing of the palace has been uncovered) and were given the chance to dress as Romans, try various Roman activities in a workshop, and get a taste of Roman food in the banqueting hall. Thankfully, with grey clouds looming, the weather held and the children got to walk round the recreated Roman gardens and visit the fascinating potting shed to hear from the (waxwork) head gardener about the challenges of growing food in this climate. Before leaving, Year 5 got the chance to pick up some souvenirs from the gift shop, with the Roman coins proving particularly popular. And there were plenty of opportunities for the children to demonstrate their knowledge of Latin phrases and complement what they had learnt during the year about the Roman influence on this part of the world.
Alex Walker, Head of Classics
Sun, Sea And Sandcastles For Super Year 6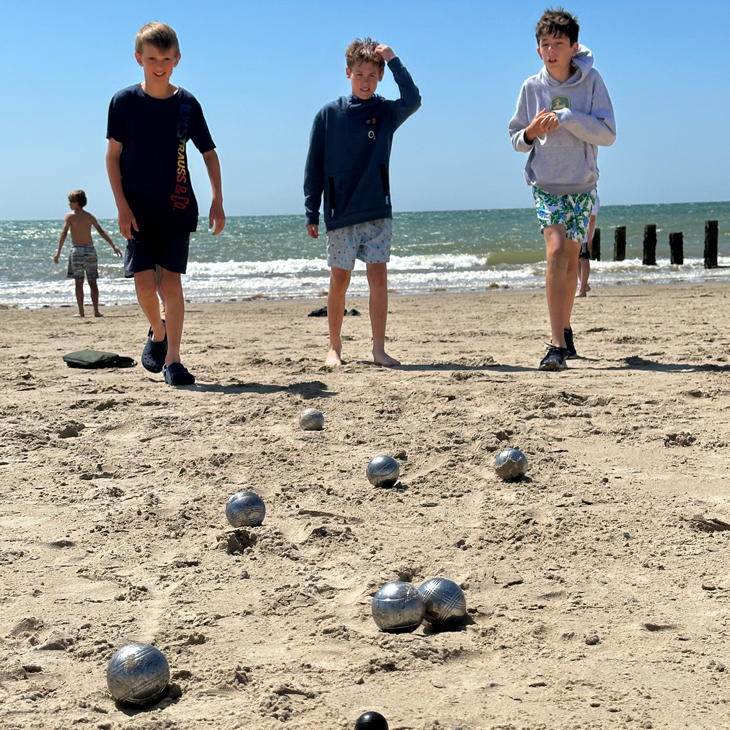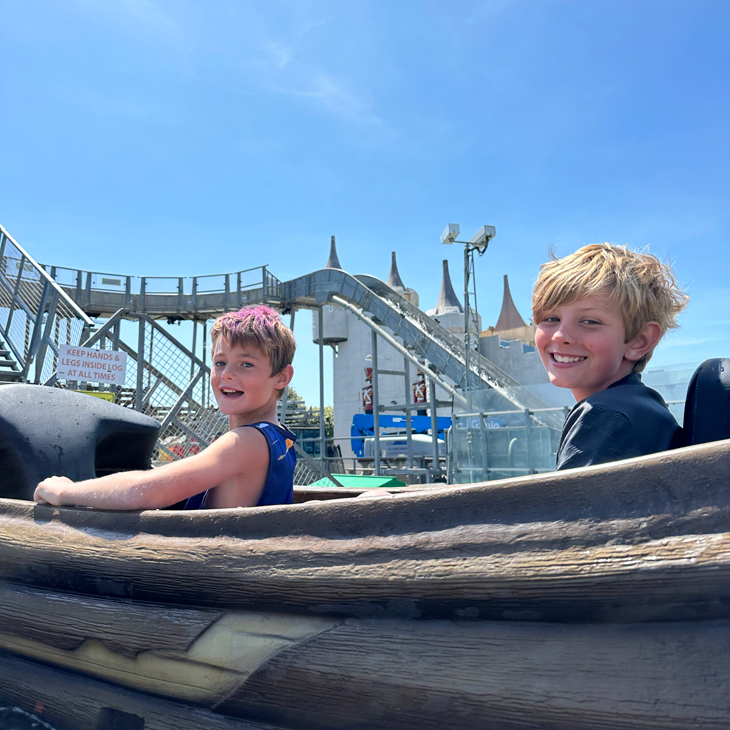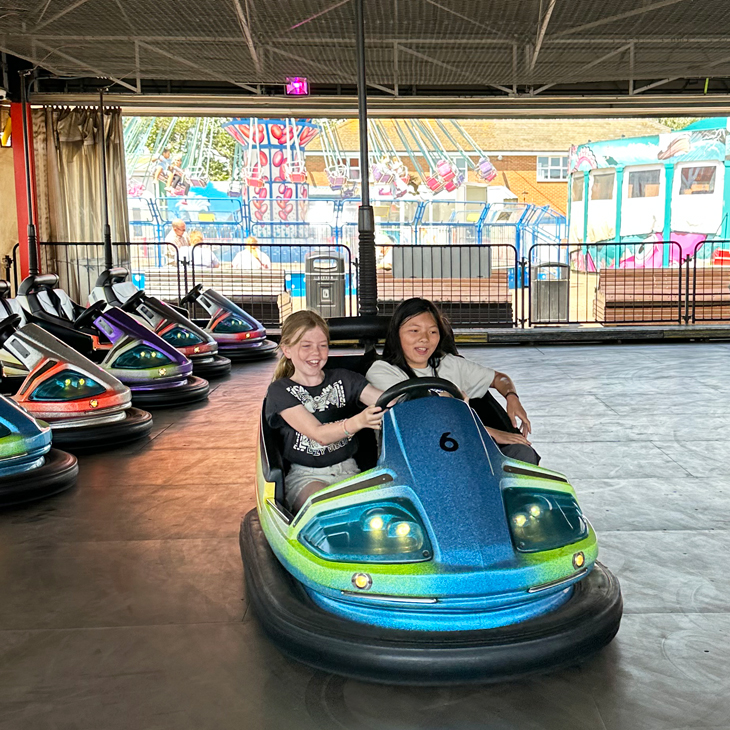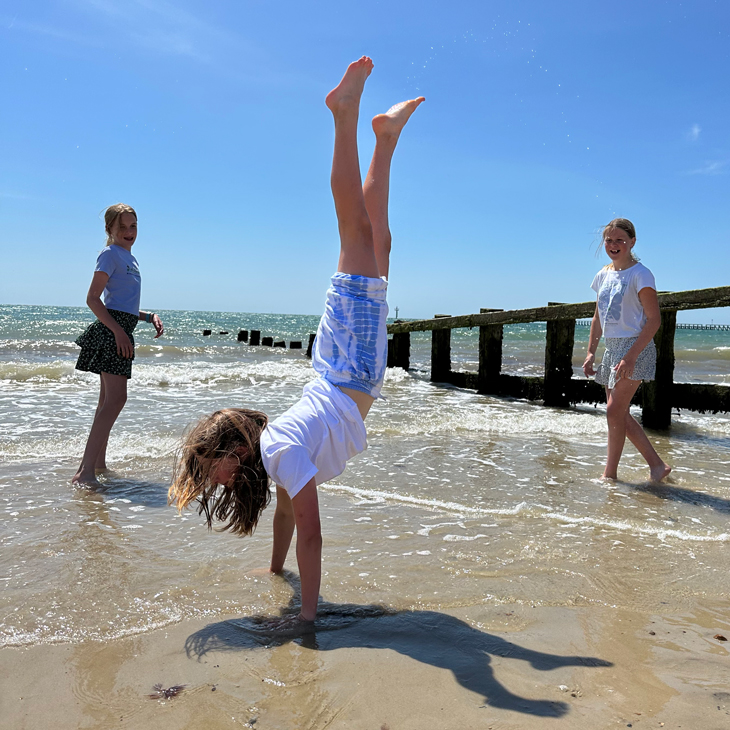 Despite the cloudy forecast, the sun shone brightly at Littlehampton on Thursday as Year 6 headed to the beach. On arrival at the coast, the excited children ran straight into the sea to paddle – many in their clothes before realising that swimming gear would probably be a better idea – with some experiencing the English Channel for the very first time. As well as the sea, the sandy beach was a big draw with the children entertaining themselves with boules, cricket, football, sunbathing and sandcastle building. After so much fun in the sun, Year 6 turned their attention to the ice cream stalls and the funfair, with the water ride, dodgems and waltzers proving extremely popular. It was a privilege to spend the day with the children who, on several occasions, earned wonderful compliments from members of the public for their good manners and good behaviour. Well done, Year 6!
Viv Liddell, Head of Year 6
Caring Year 7 Demonstrate Their Leadership Qualities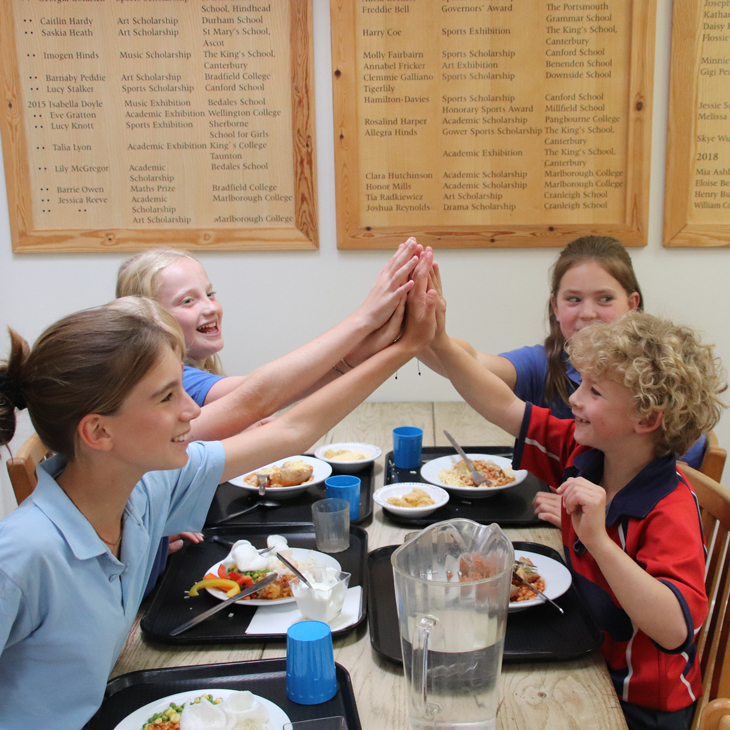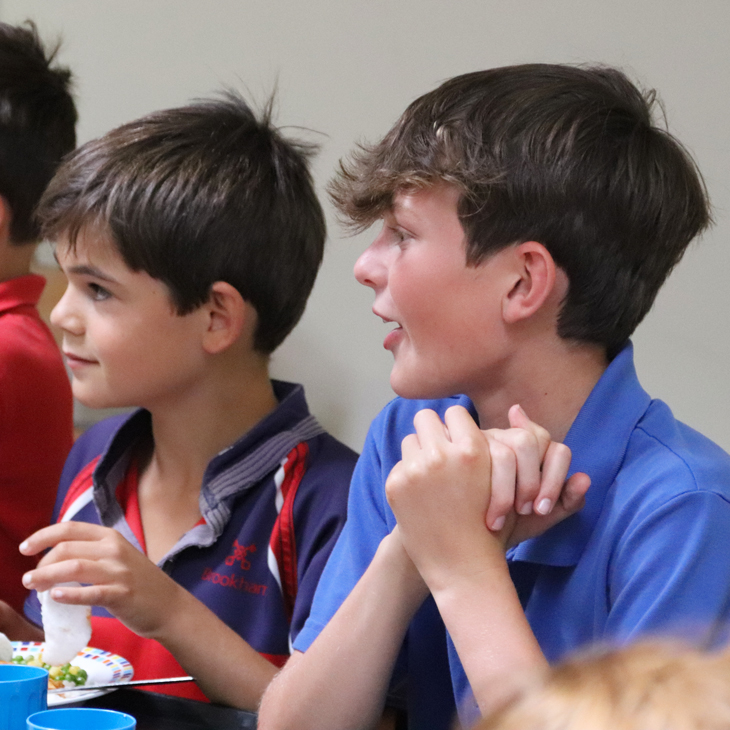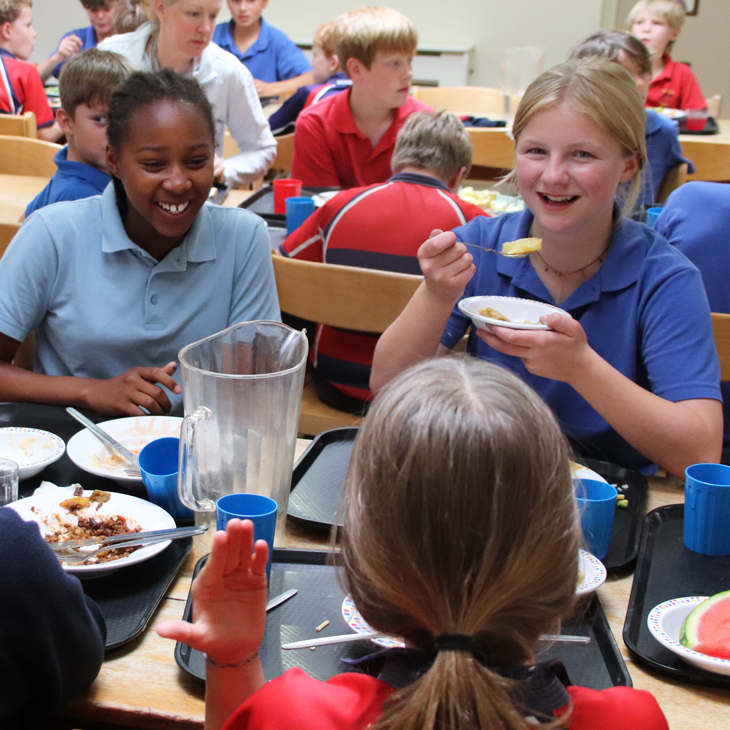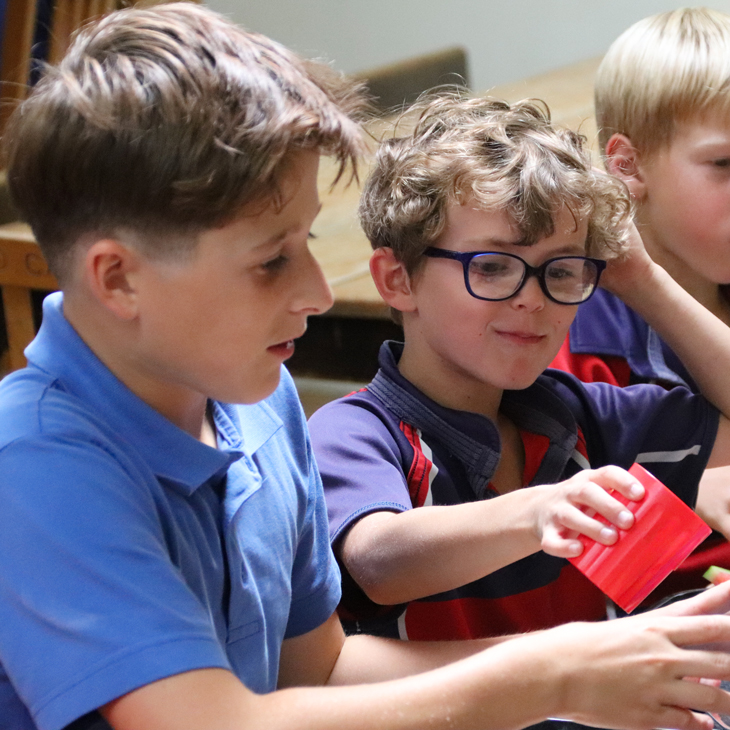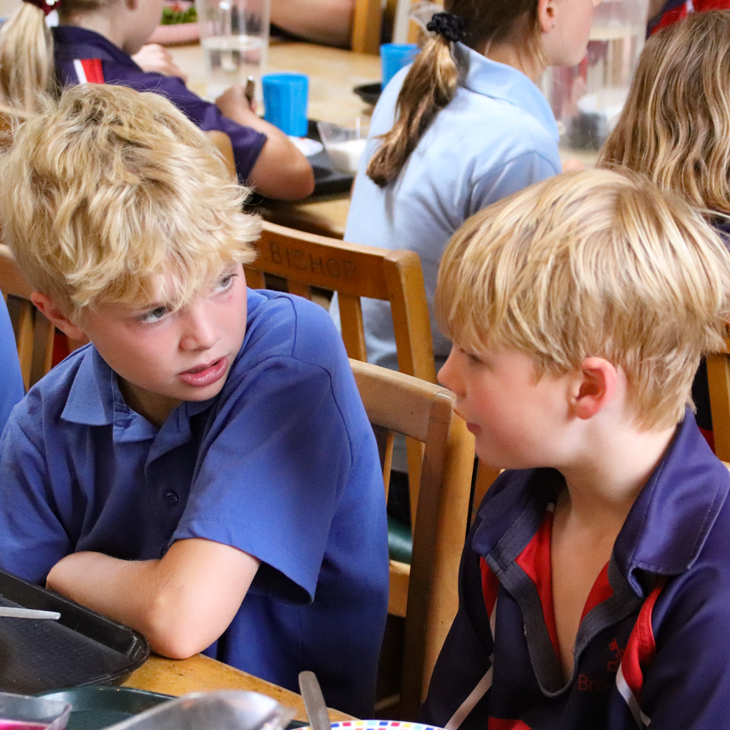 Throughout the course of this academic year, time has been set aside to bring children from Year 7 and Year 3 together. This has been done through both the weekly prep school Keys programme and regular visits by the older children to the Year 3 classrooms, with the aim of allowing Year 7 to develop their leadership, group work, communication and community skills. And on Monday, as a lovely way to mark a successful union, the Year 7 children were invited to lunch by their young charges, an invitation they happily accepted. There was plenty of excitement within the year group as they spent time with a combination of younger siblings and children they met throughout the year. The opportunity to remind themselves of where many of this cohort were four years ago allowed both the children and staff to see just how much they have developed over the past few years, both individually and as a collective. After lunch, all the children headed to Chapel Field and it was a joy to see how well the older children interacted with Year 3, whether instigating games of 'Duck, Duck, Goose' or simply playing catch with tennis balls. Year 7's behaviour was exemplary and the example set for the children transitioning into Year 4 was wonderful. These relationships are important, particularly for Year 3, as it's not long now until Year 7 are at the top of the school and leading our community by example. There are exciting times ahead with this excellent year group.
James Figgis, Head of Year 7
Year 8 Leavers Underline Their Star Quality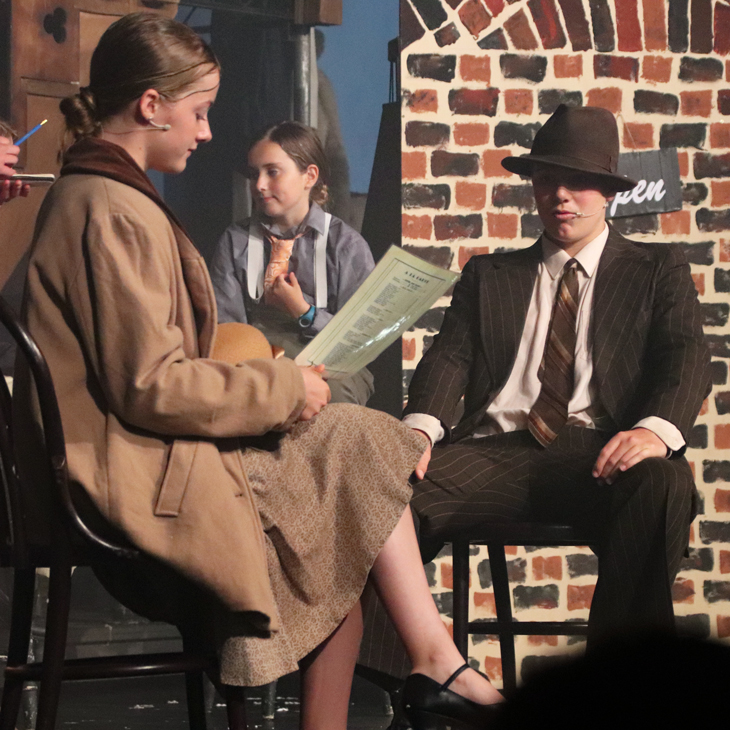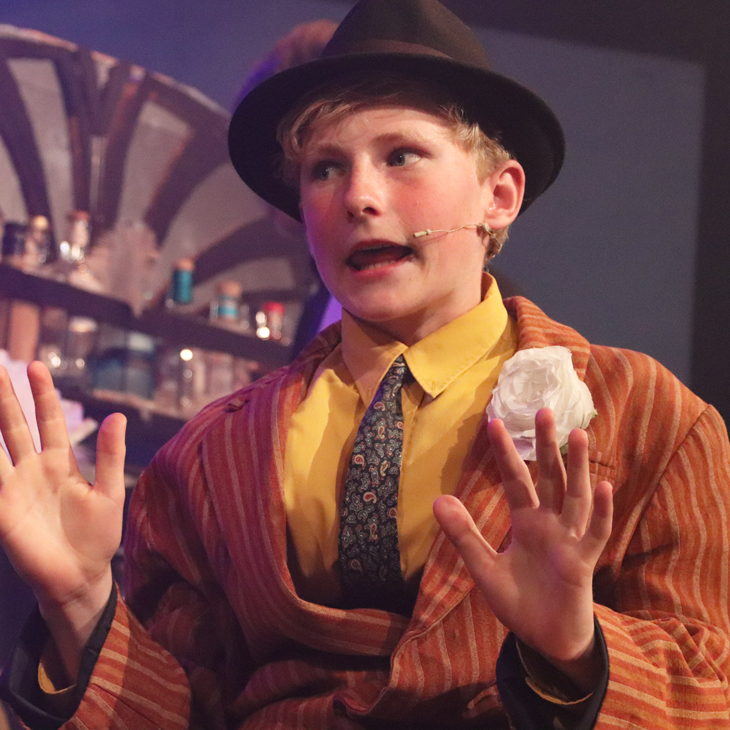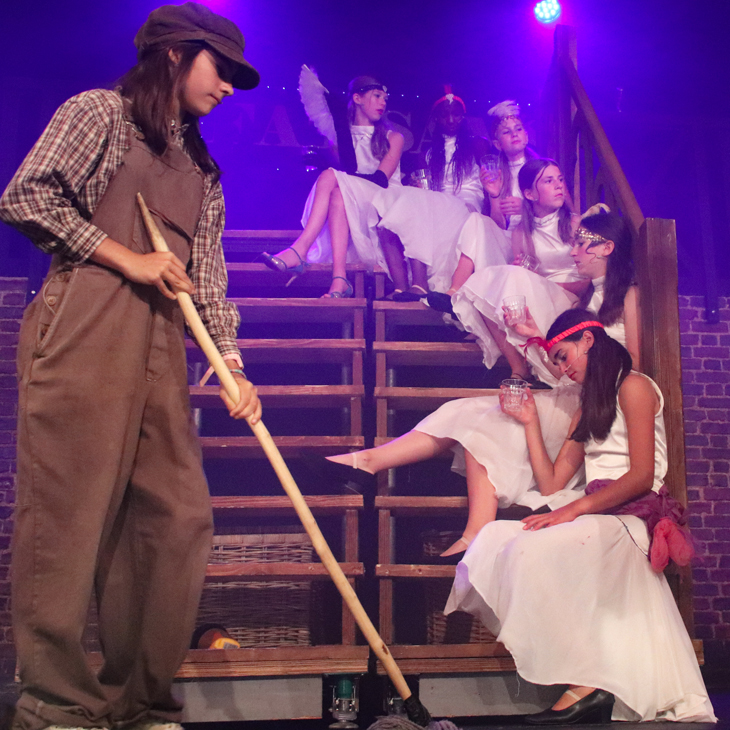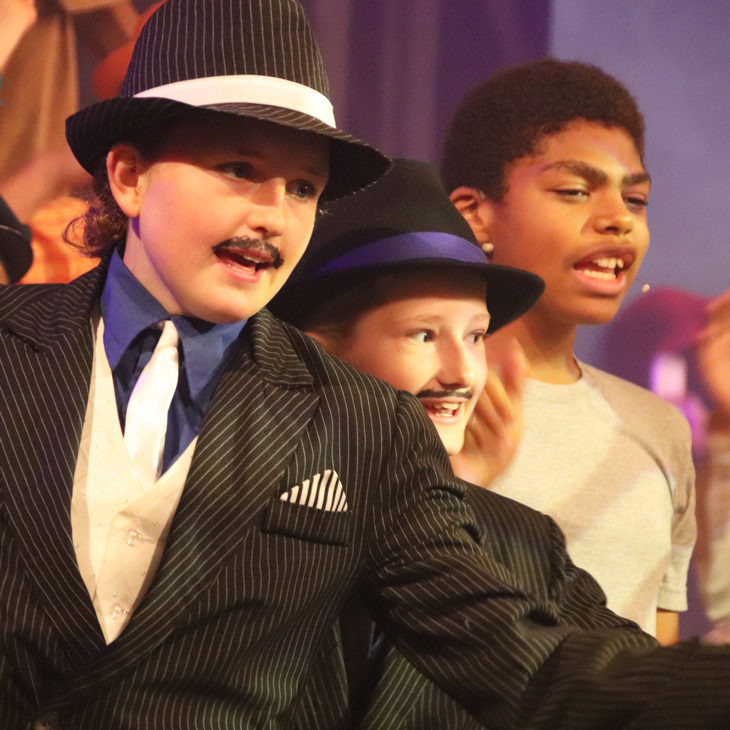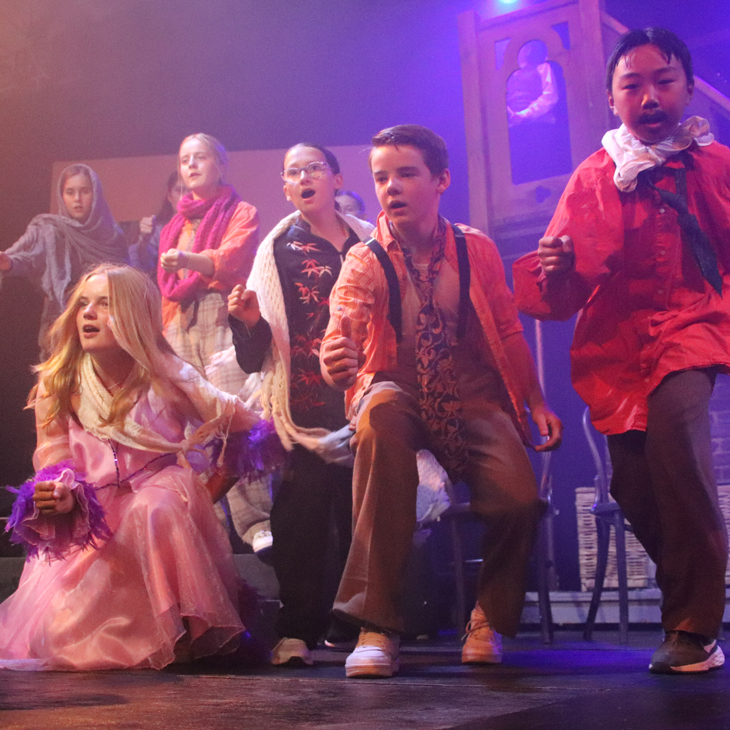 Parents, staff and children alike were blown away this week by our incredible Year 8 leavers as they performed their adaptation of hit musical Bugsy Malone. Every single one of the 55-strong cohort gave an outstanding performance, coming together as one incredible ensemble to tell the story of two rival gangs led by Fat Sam and Dandy Dan. The sports hall was transformed into 1920s downtown New York, featuring two moving staircases, a real bar and genuine speakeasy teapots complete with surprise cocktails on the cabaret tables for the audience to enjoy! The oldest cohort has been such a wonderful year group and the children are so special to me, as many of them were part of my first Year 5 form group when I joined the school four years ago. It has been such a privilege to watch them grow into such creative, confident, talented young people and I can honestly say I have loved every minute of directing them in Bugsy Malone. To see all their happy faces (albeit splurged faces!) in the final song 'You Gotta Give a Little Love' made me so proud of every single one of them. As the lyrics say, "no doubt about it, it must be worthwhile, good friends do tend to make you smile"…. Year 8 have been such a joy to work with and I wish them all the very best for the adventures that lie ahead!
Sarah Baird, Head of Drama