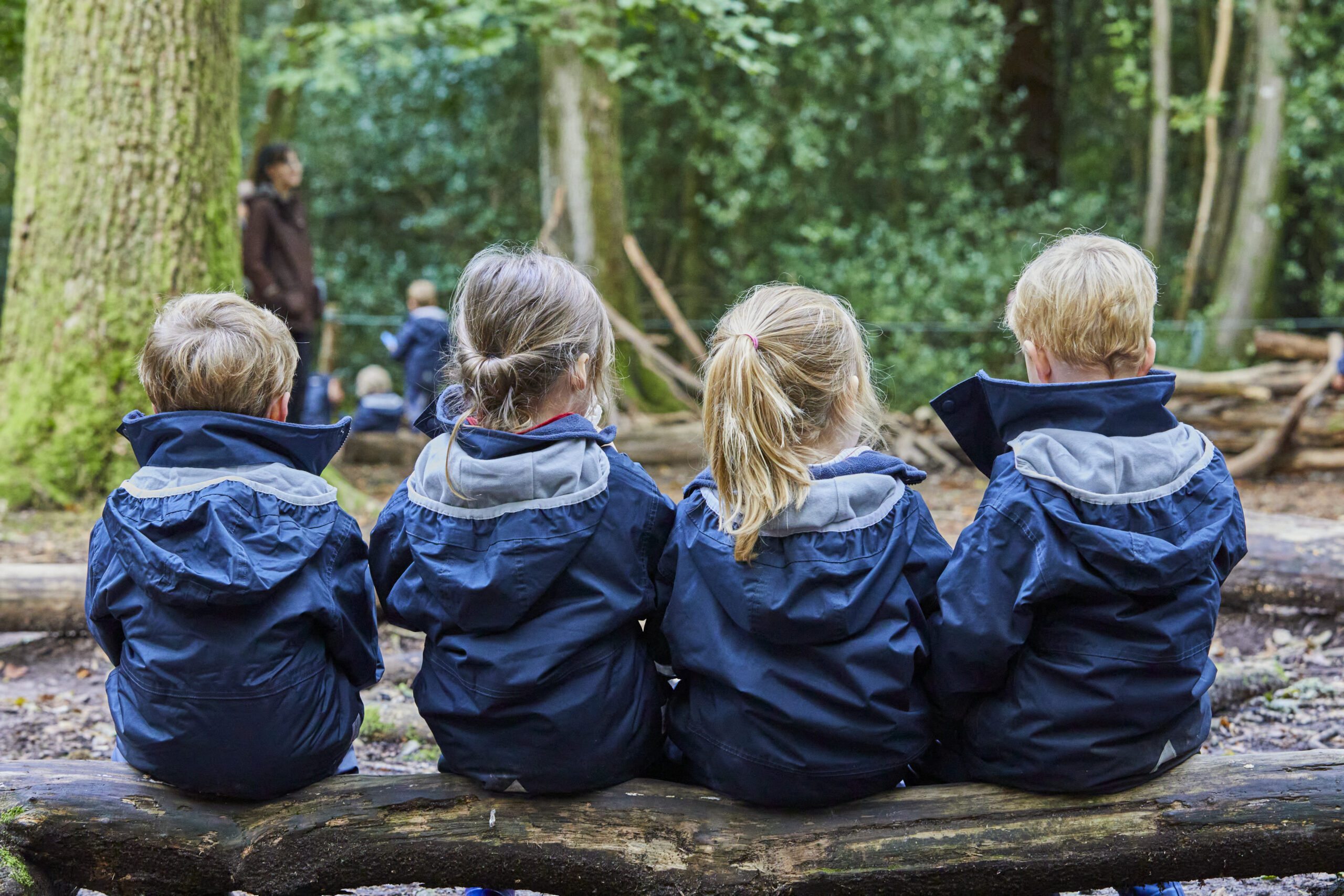 Grounds For Optimism
7th October 2022
Imaginations Set Free As Nursery Take To The Great Outdoors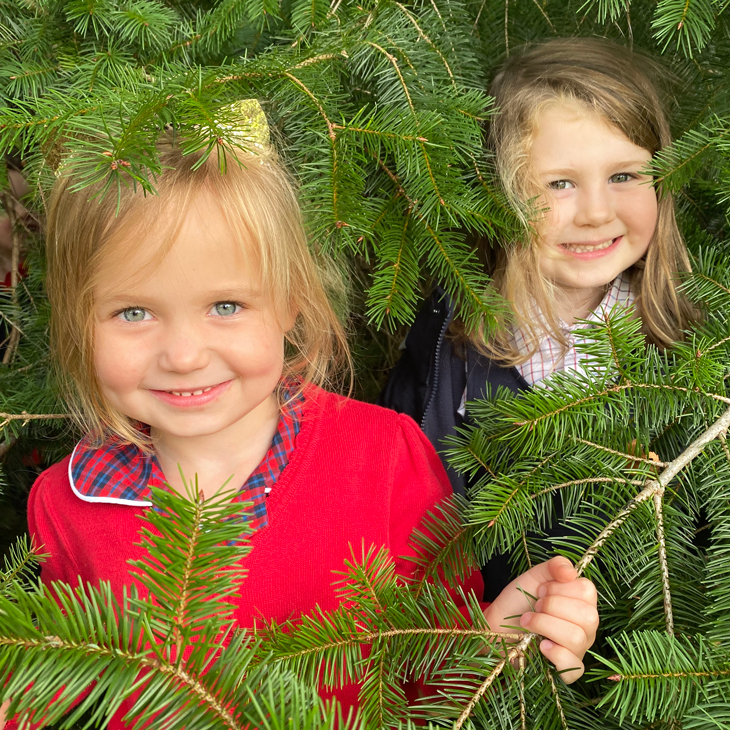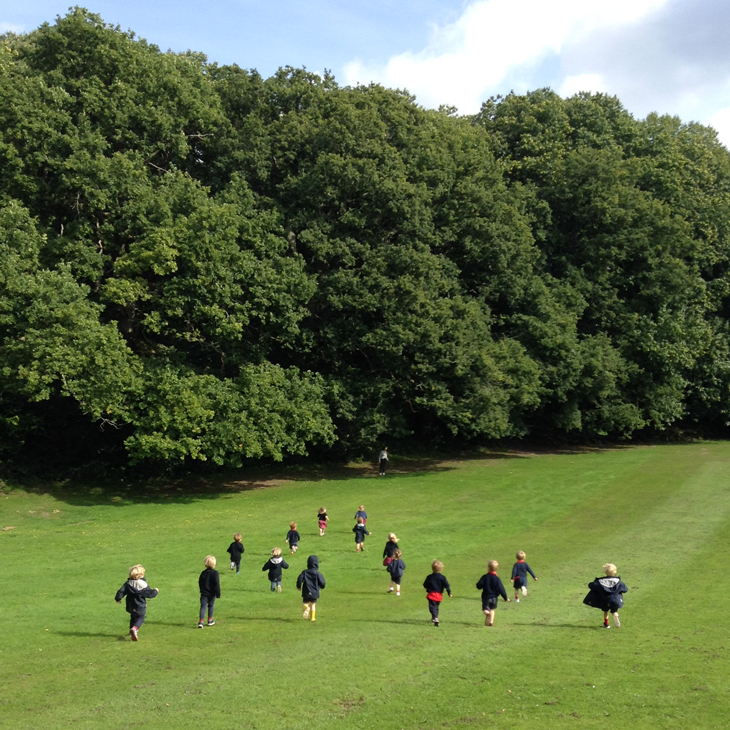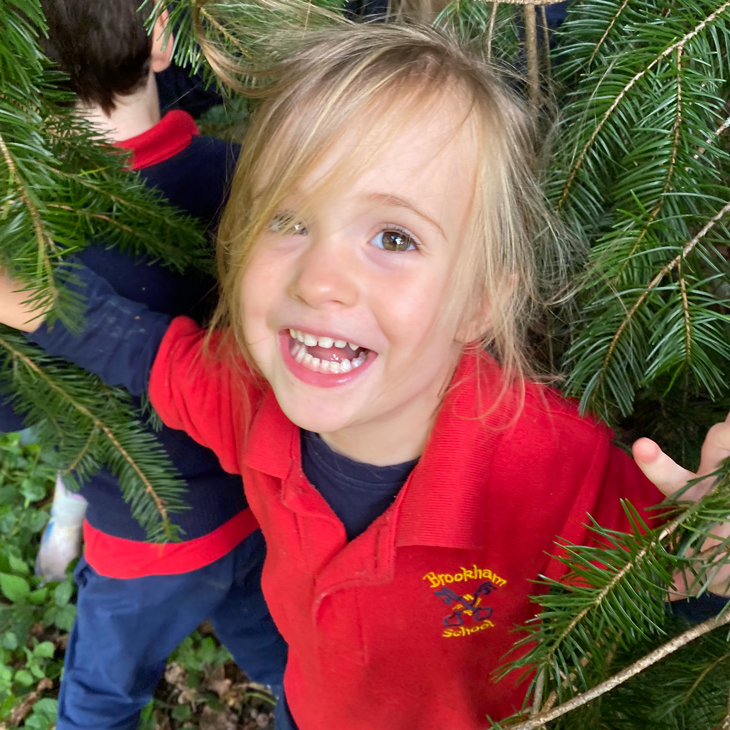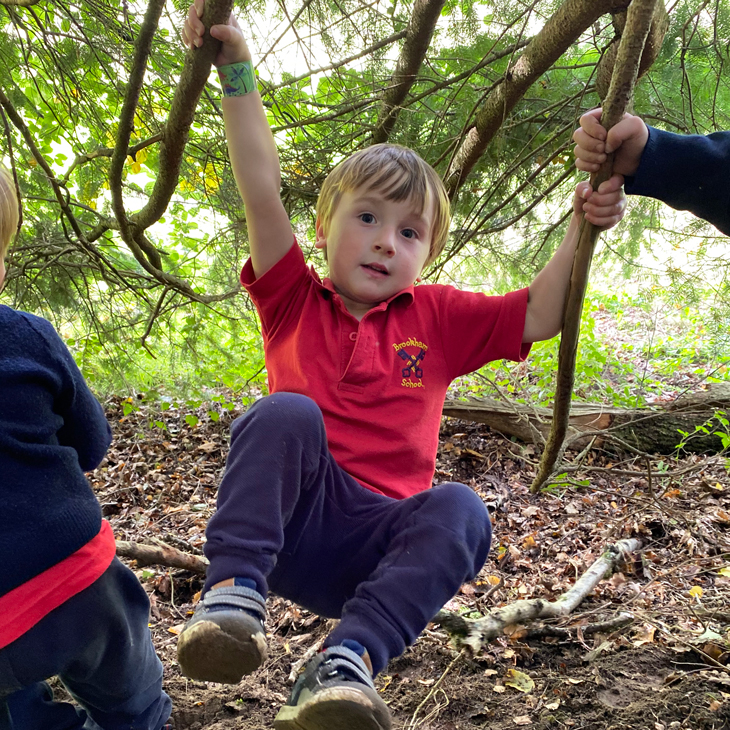 It's always lovely to see how well the Nursery children use their imaginations, and our beautiful outdoor environment allows the children plenty of scope to do exactly that! This week, an impromptu ramble to the edge of the woods provided our energetic and adventurous Nursery pupils with the chance to play on some felled logs and swing on the low branches of trees. These trees soon became a pirate ship in the eyes of the children and a swashbuckling game that the children had initiated offered a wonderful opportunity for the teachers to develop the children's language and knowledge and understanding of the wider world. As the children played together they developed their ability to relate to each other, taking turns and sharing ideas about how to extend their game. They also had great fun developing their gross motor skills and learning to assess risk as they scrambled on the logs and swung from the branches. The learning that took place was fantastic and there wasn't a toy in sight!
Sam Forster, Head of Nursery
Party Fever Sweeps Through Reception After Wondrous Woodland Walk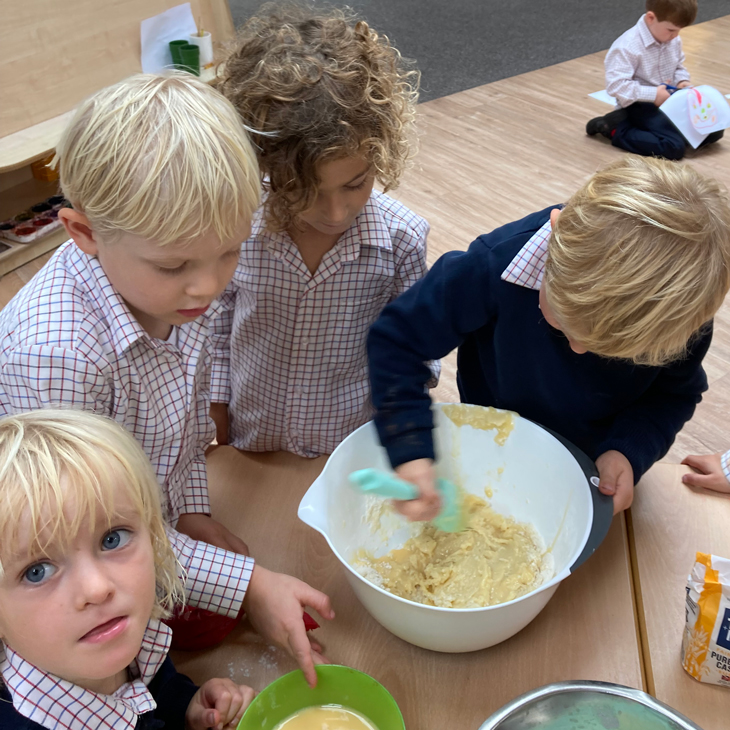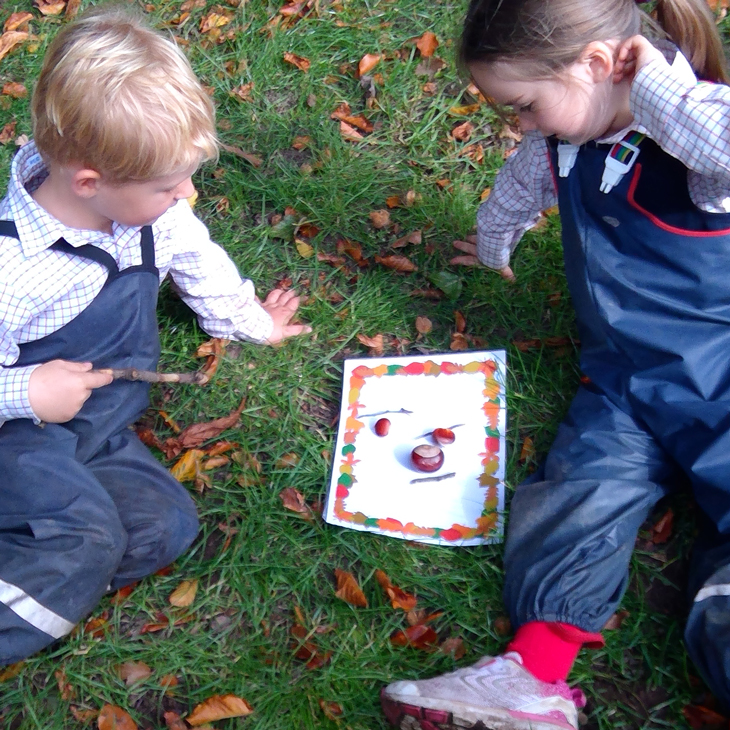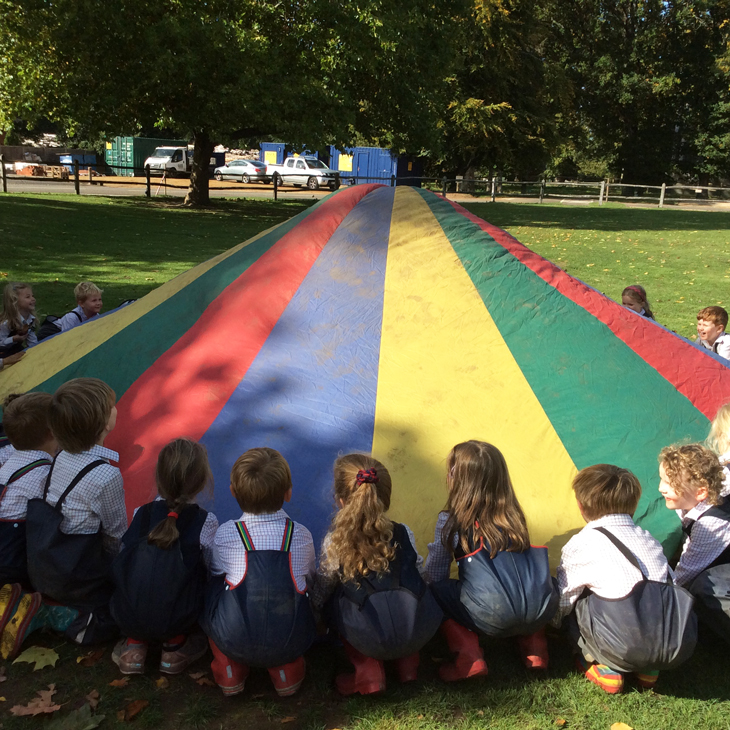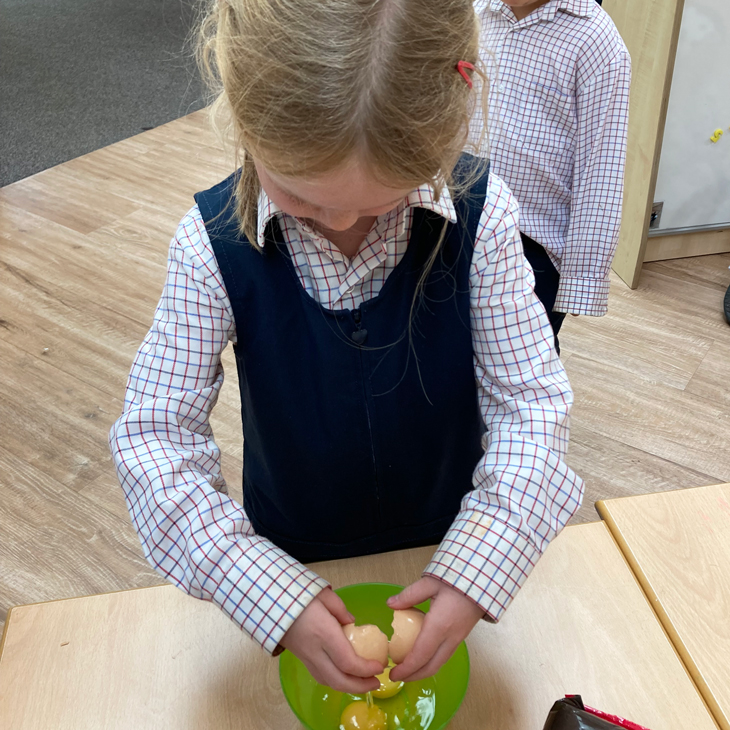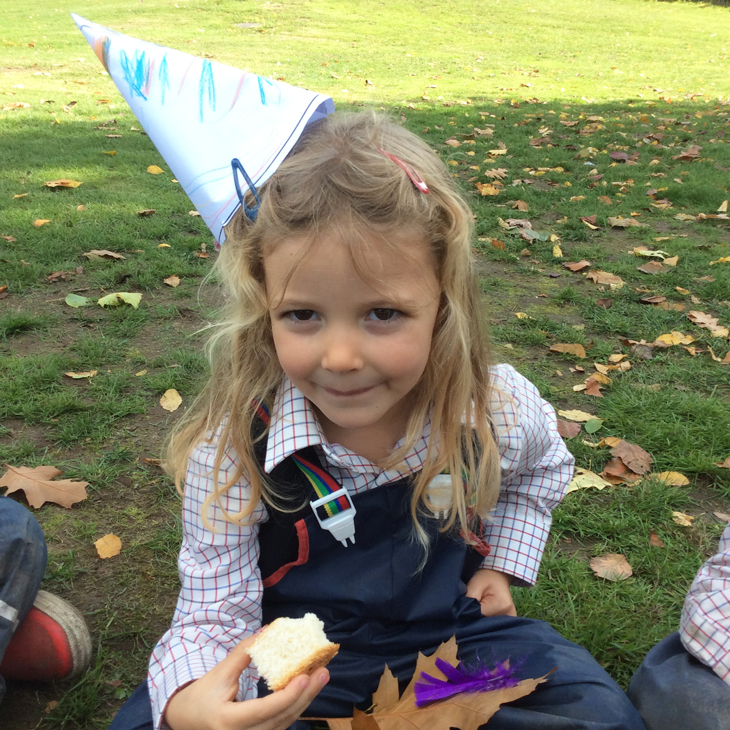 This week saw a change to the winter uniform, and a noticeable change to cooler weather sparked an impromptu discussion about the seasons. In Reception, we find that our learning is best achieved first hand, so we immediately set off on an exciting autumn walk. Being out and about in the fresh air gave the children the chance to observe various changes in colour, such as the leaves on the trees, as well as an opportunity to spot and collect an array of wonderful natural materials that had fallen from the many trees in our beautiful grounds. After their successful nature trail, the children gathered round to listen to the story of Leafman, by Lois Ehlert. The story acted as a stimulus to spark the children's imaginations and in their learning pairs they discussed what they would like to create from their natural discoveries. Our resourceful young learners collaboratively used the autumnal goodies to produce a unique collage. Their creative flare, resilience and perseverance shone through and they managed to make the most wonderful 3D pictures. As well as the woodland walk, another big highlight of the week was the preparation for our class bear's fifth birthday – and what a birthday it was! The children weighed and mixed ingredients to make a delicious cake, got busy in the classroom writing and drawing beautiful, bright birthday cards and party invitations, and did some fantastic cutting and sticking as they made their own snazzy party hats. The excited and eager children were then delighted to celebrate with the bears at a year-group party. Happy giggles and fun were the order of the day as the children danced and played lovely party games.
Rosie Snagge, Reception Class Teacher
Practical Progress As Busy Year 1 Get Hands On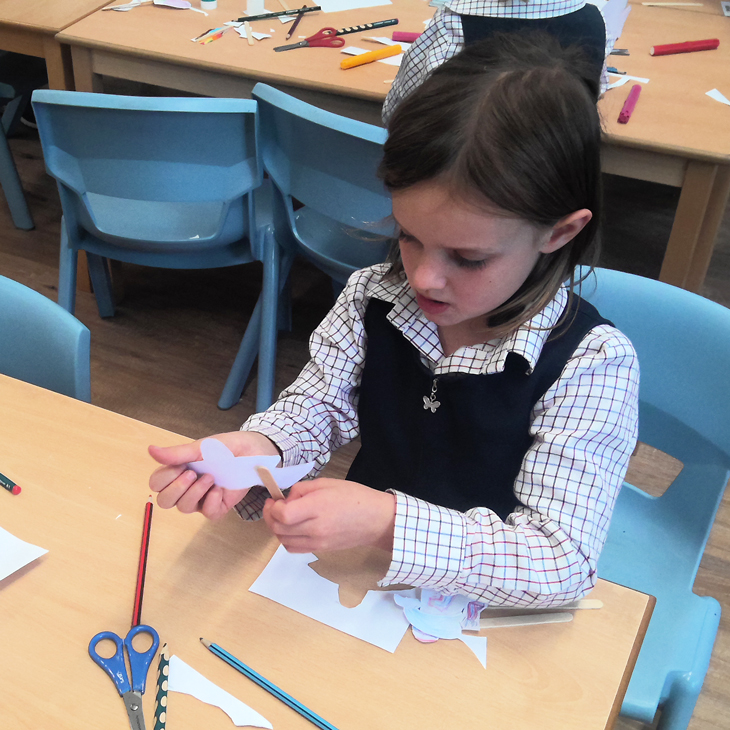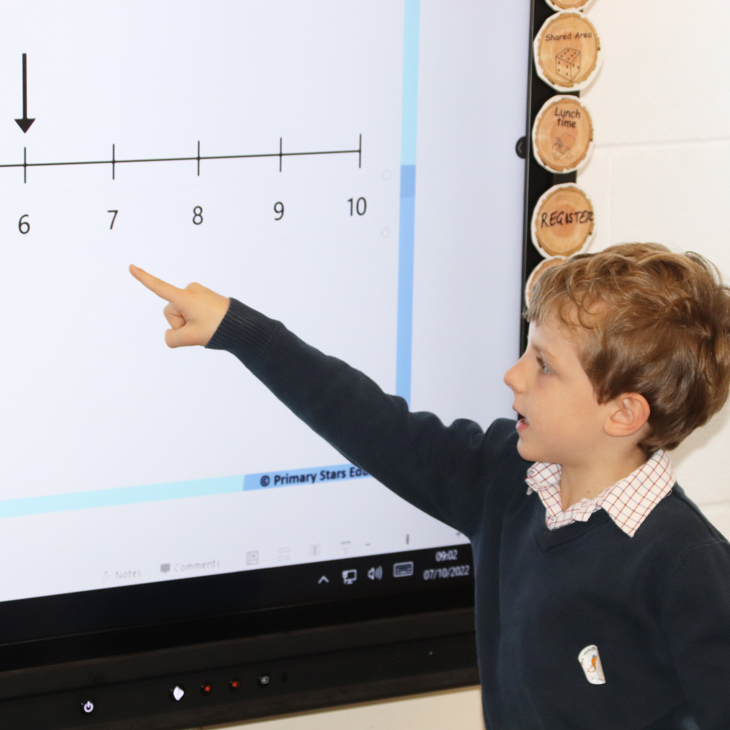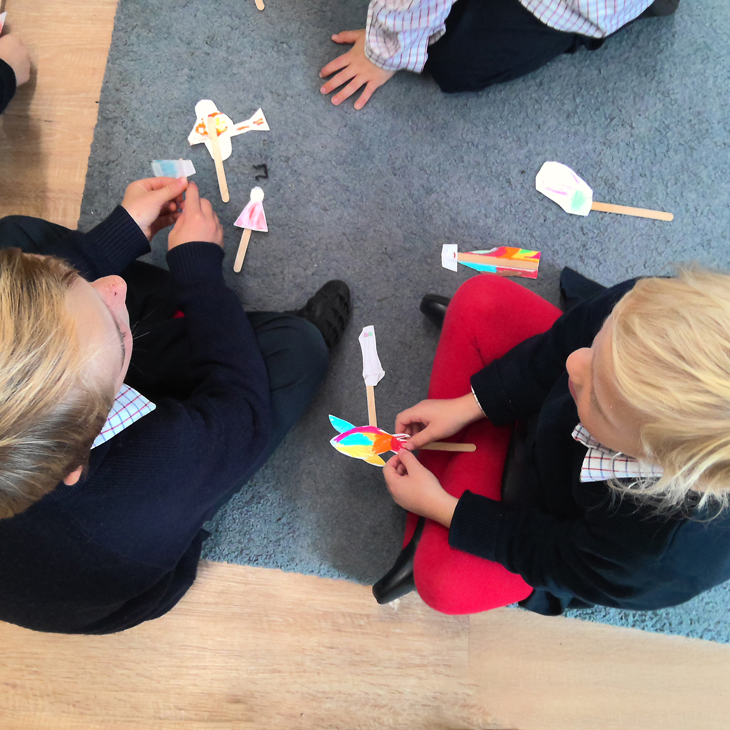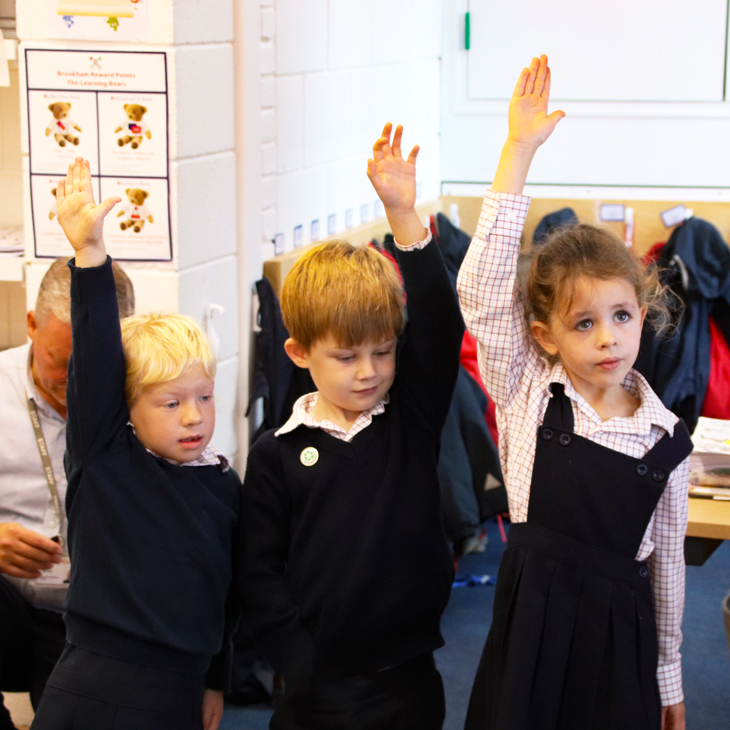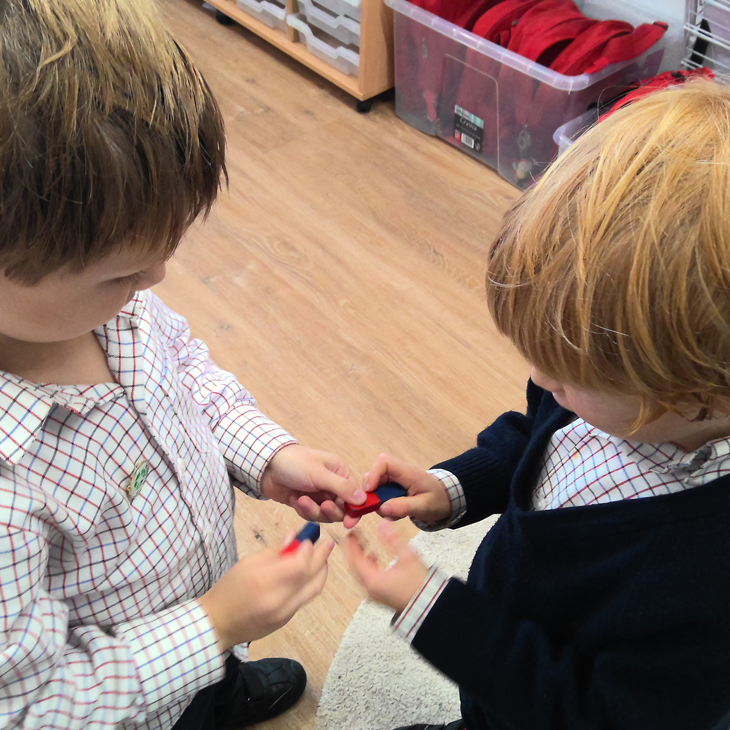 During literacy this week, Year 1 worked together to adapt the story of Eliot the Midnight Superhero by creating a new and exciting problem. The children proved they are amazing storytellers by confidently recounting the innovated story; using handmade puppets to help them. True to form, the children collaborated incredibly well; practising their story in pairs and showcasing it to the rest of the class. This retelling really helped with their writing and some children even chose to add adjectives to make their story sound even more interesting. Science was another exciting and hands-on lesson where the children got the chance to explore materials using magnets; discovering which objects in the classroom were magnetic and which were non-magnetic. They also learnt the word repel, discovering that two poles which are identical 'push' each other away. As part of their voyage of scientific discovery, some children also learnt that they could race the magnets on tables by repelling other magnets while some found that the magnet would twirl round and round on the table! And the learning didn't stop there as Year 1 got to grips with number lines, which help provide a strong basis for addition and subtraction during their maths lessons. All in all, it's been a very exciting and hands-on week in Year 1!
Rachael Berry, Year 1 Class Teacher
Year 2 Place Great Value On Working Together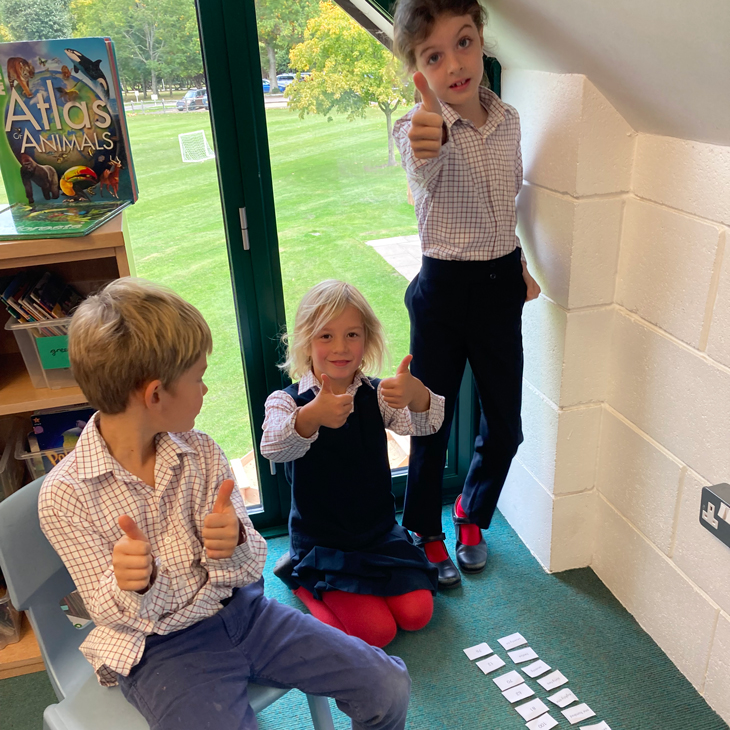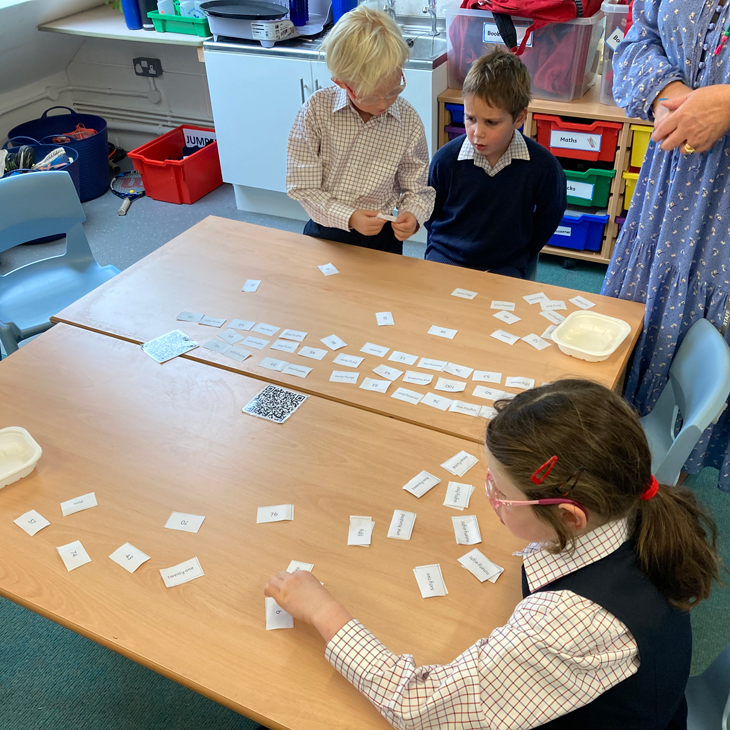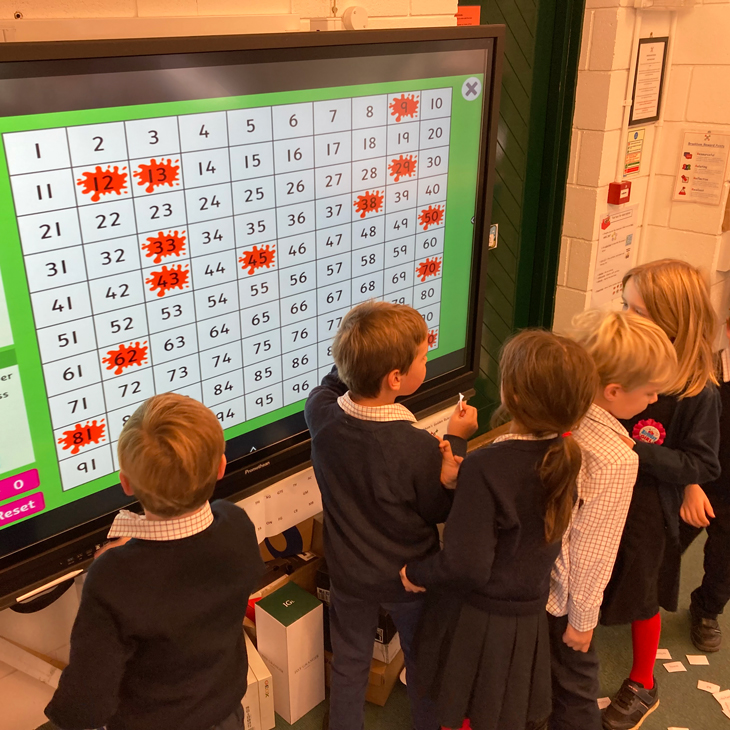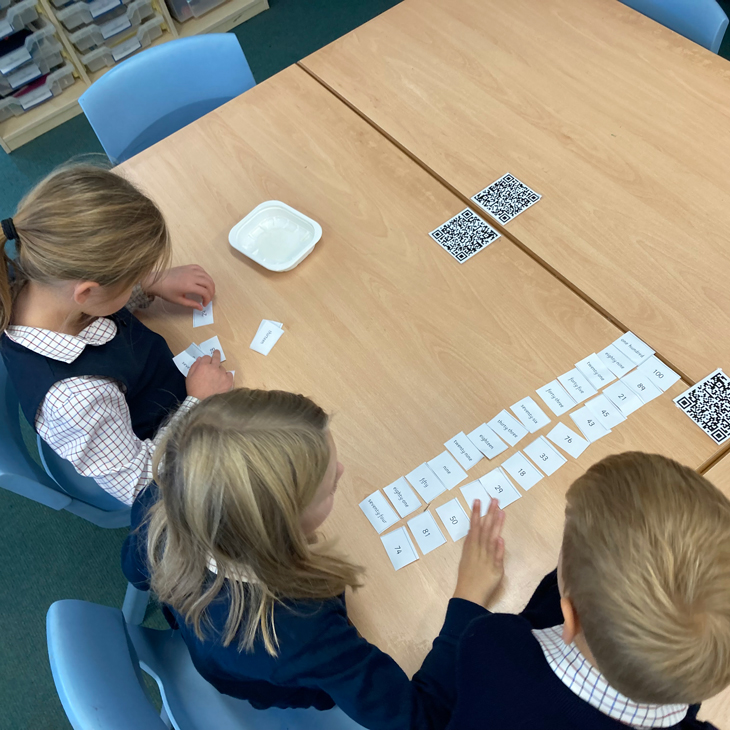 The Year 2 children have this week excelled in their understanding of place value. The children have developed a solid perception of the numerical value that a digit has by virtue of its position, giving them a strong foundation to link to the four operations in maths – addition, subtraction, division and multiplication. The efforts and reasoning skills on display were brilliant to see as children worked collaboratively with their peers. This teamwork approach to learning develops high-level thinking skills and boosts the children's confidence and self-esteem. The group activity also maximized their experience of using multi-media resources, while improving their social and interpersonal ability. The practicality of the lesson improved the group's engagement and knowledge retention; in this instance, the knowledge of place value, ordering numbers and numbers in their written state. The children headed home for the weekend with their heads held a little higher and with a better understanding of spelling out their numbers in letters too. This allows the class to acknowledge a number and its meaning, improve their performance of mental mathematics, give them the tools to look at maths in the outside world, and continue to make comparisons with numbers. Bring on addition and subtraction, we're ready!
Charlie Millsom, Head of Year 2
Year 3 Club Together To Grasp New Opportunities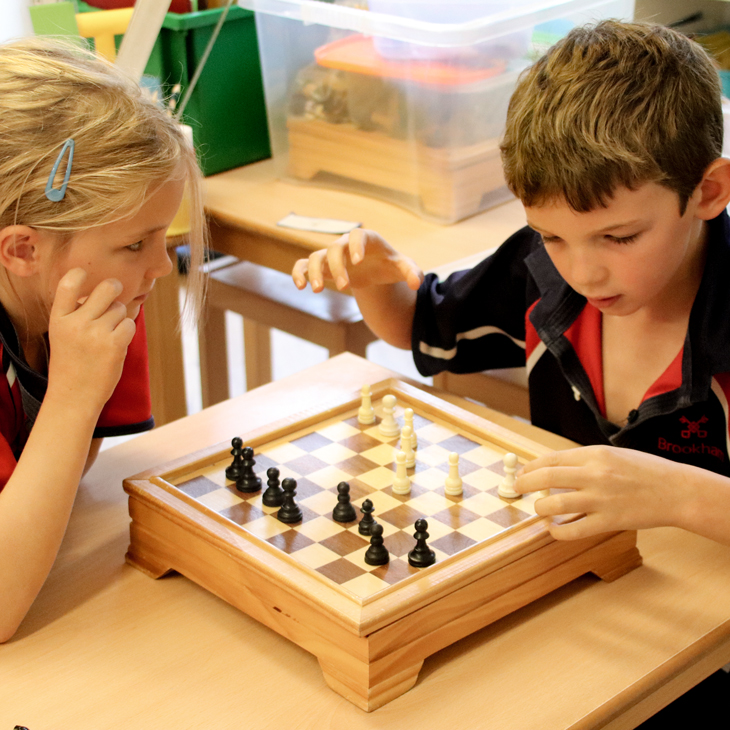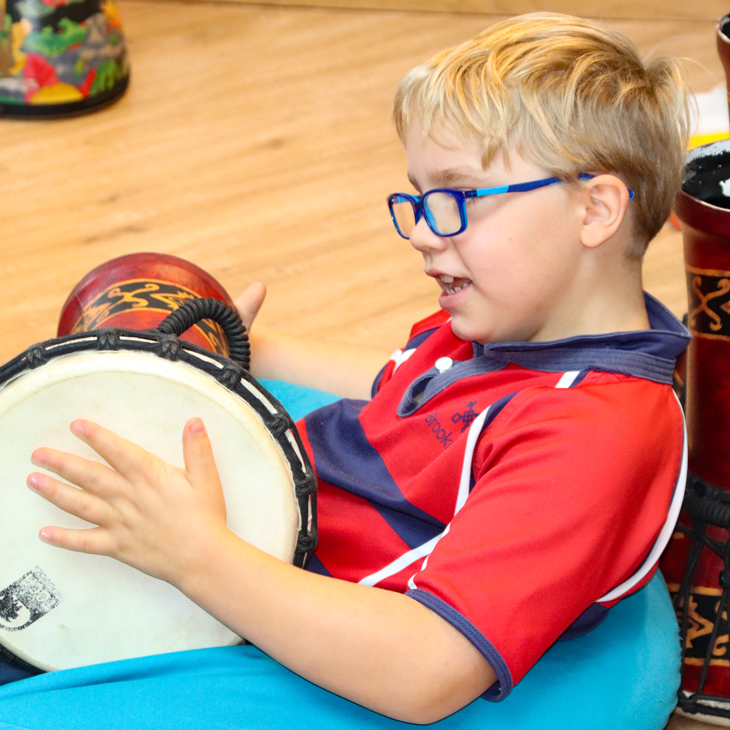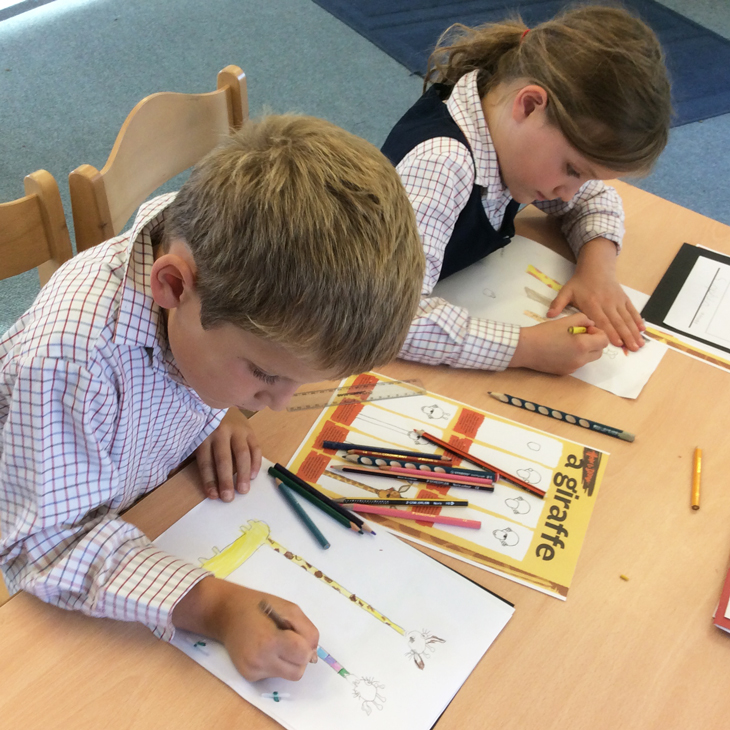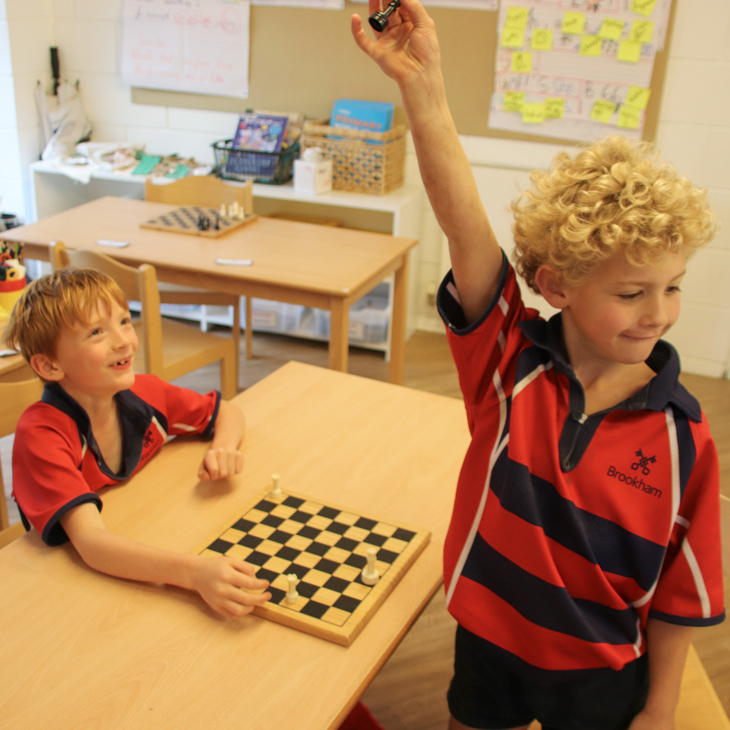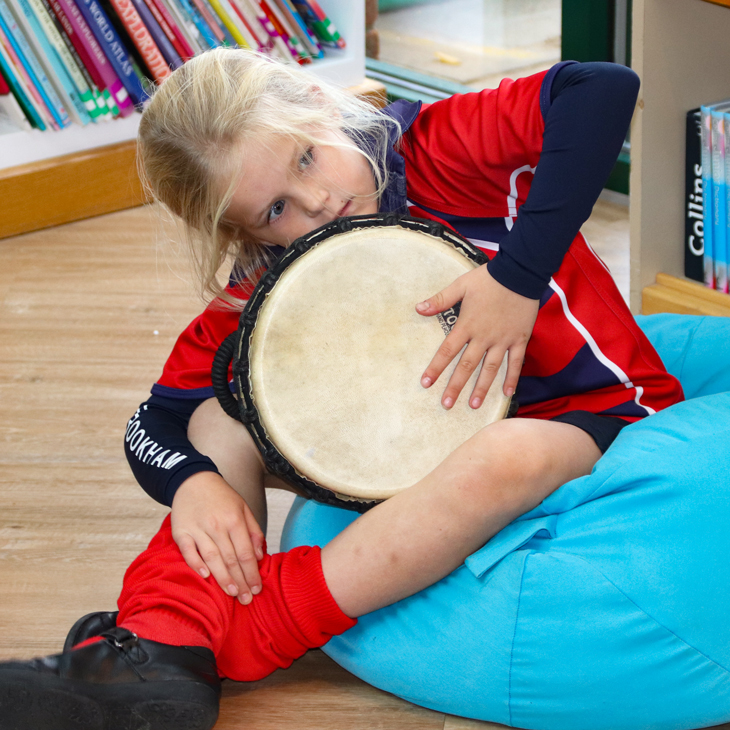 Extra-curricular clubs are a fundamental part of daily life at school, providing an opportunity to try out new skills and nurture talent in their own familiar environment. Year 3 have jumped at the chance to learn to draw this term, following step-by-step instructions on how to draw fun and engaging animals. Downstairs in the hall, our budding actors have honed in on their performance skills in theatre club, where they are learning to project their voices clearly and succinctly. Critical thinking skills such as problem solving, abstract reasoning, pattern recognition and strategic planning are some of the many skills being developed in the popular chess club. In addition, there are many health benefits associated with drumming club, which teaches mindfulness, induces relaxation and improves personal well-being while also promoting self-expression and enjoyment. These are but a few of the many clubs on offer which allow the children to thrive and be the best they can be.
Henrietta Platt, Head of Year 3
Year 4 Girls Courting Enhanced Netball Skills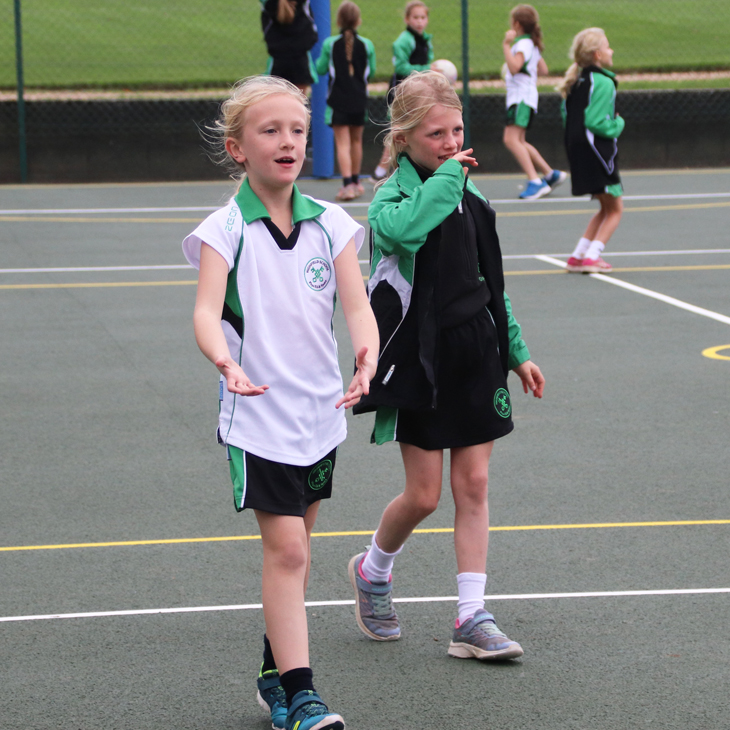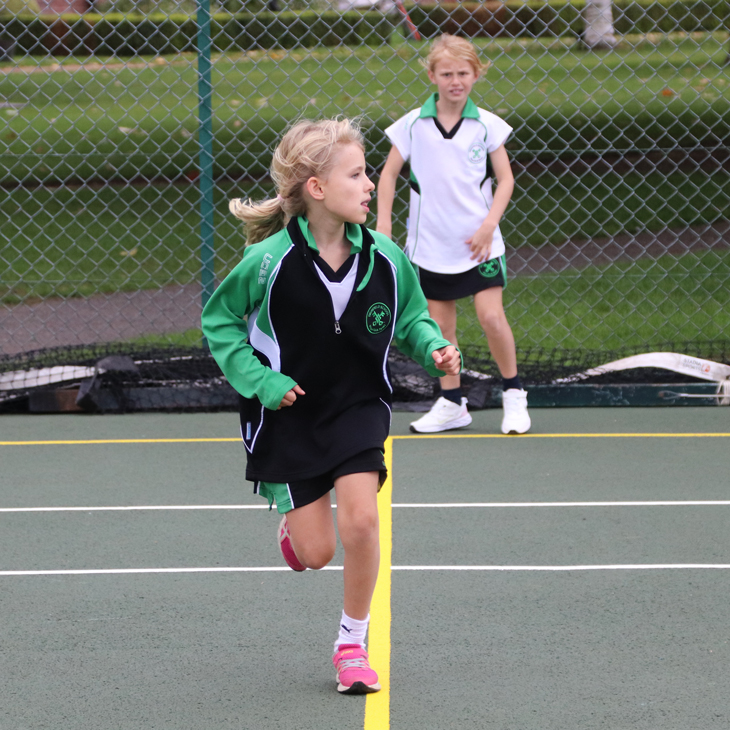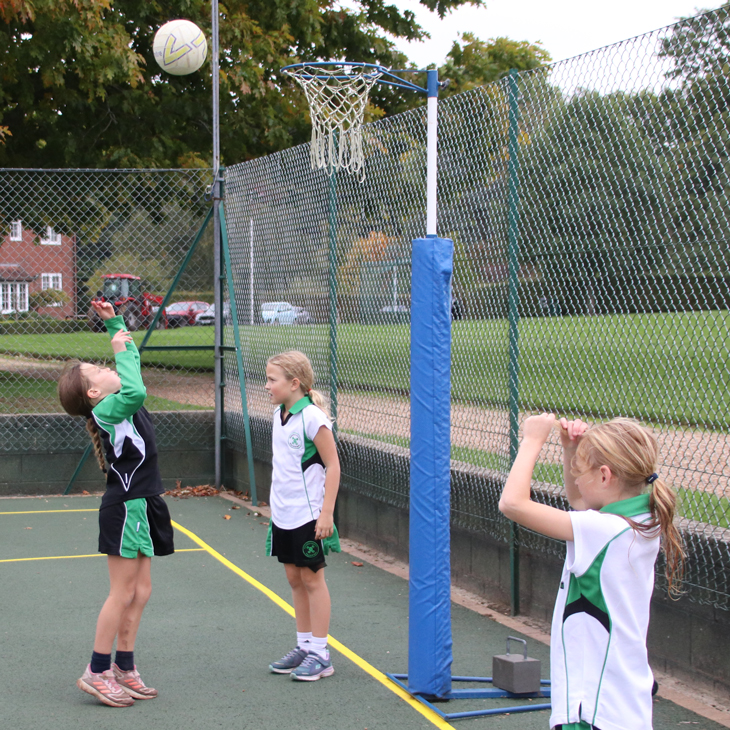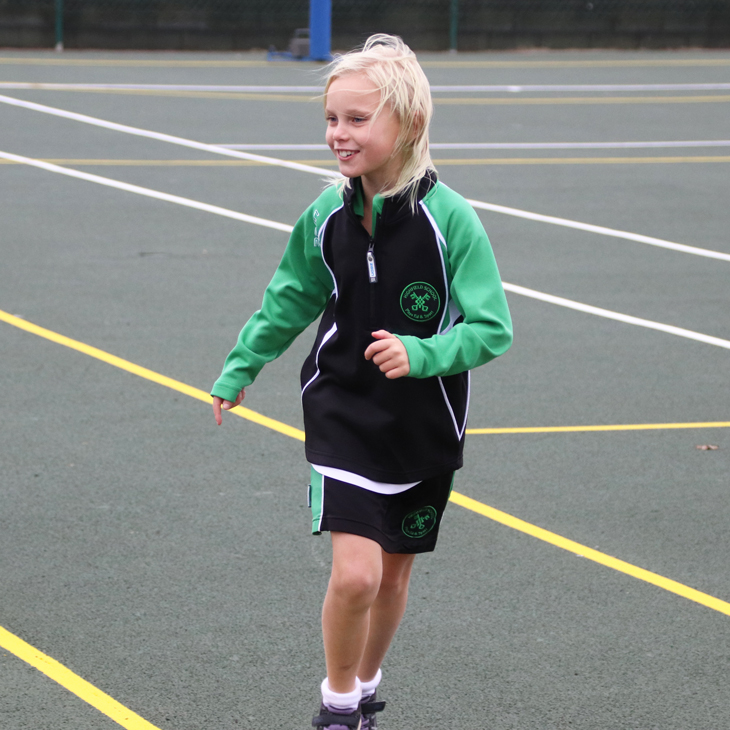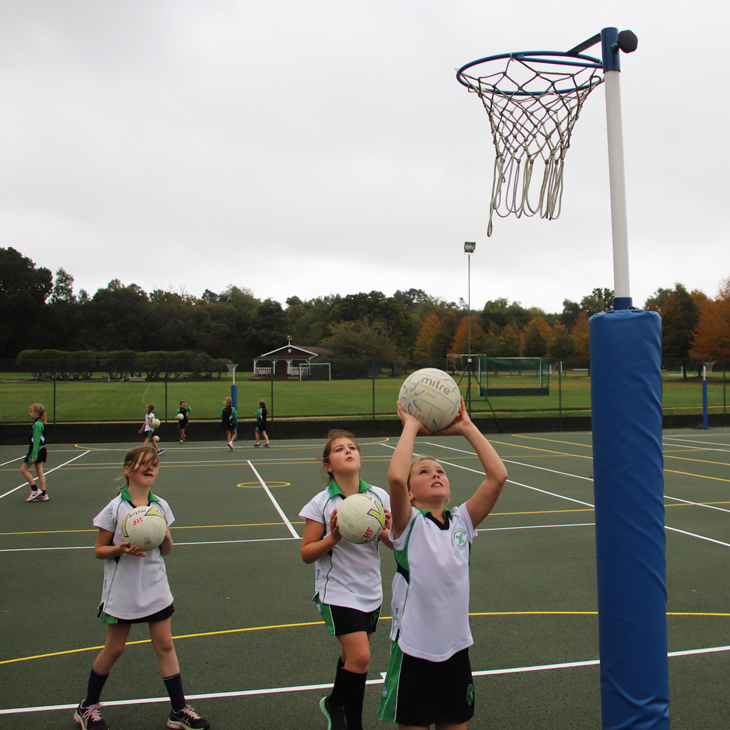 Year 4 girls have been focusing on their shooting skills under pressure in netball. Could they score and stall the other team's progress as they attempted to dash around a set course on the periphery of the shooting third of the court? Each goal was the signal for the opposing team's runners to stop in their tracks; giving them the opportunity to practice important footwork skills. Speed, accuracy and being calm under pressure was the key to this game, called ready, steady, shoot! The girls also worked on their positioning on court, moving quickly into space and passing the ball accurately to each other. Netball is the ultimate team sport. A player can't move with the ball and must rely on his/her teammates to get into position so that they can pass the ball, all within three seconds. England Netball has released new 'Bee Netball' rules for younger players which stipulate that every player must learn to shoot, defend and play in the mid-court positions. The usual seven-a-side positions have been cut to five (no wingers) and there are mandatory position rotations after every quarter of a match. The Year 4 girls are working really hard in all aspects of the game to become well rounded and versatile netball players and they are doing a very good job!
Natalie McIntosh, Year 4 Netball Coach
Year 5 Play Their Trump Card In The ICT Suite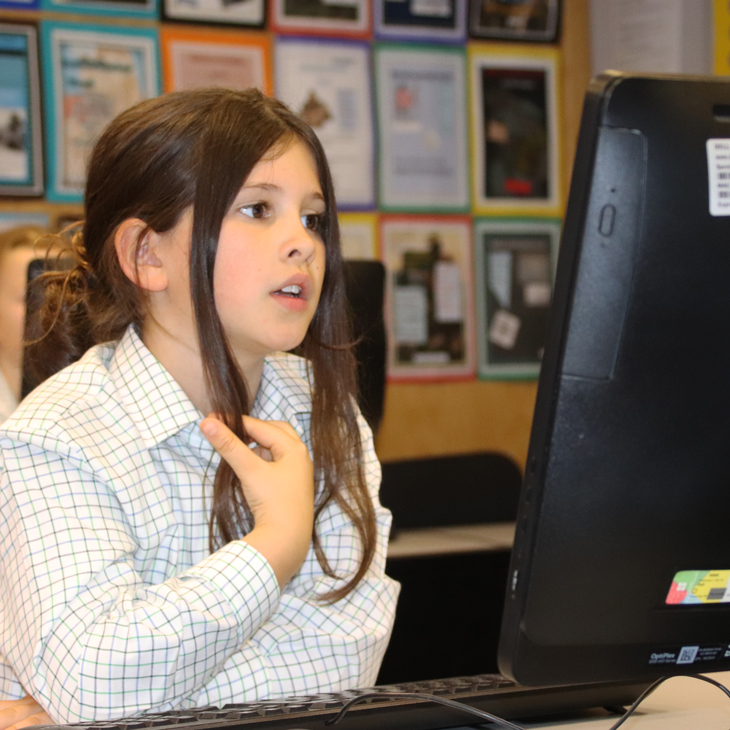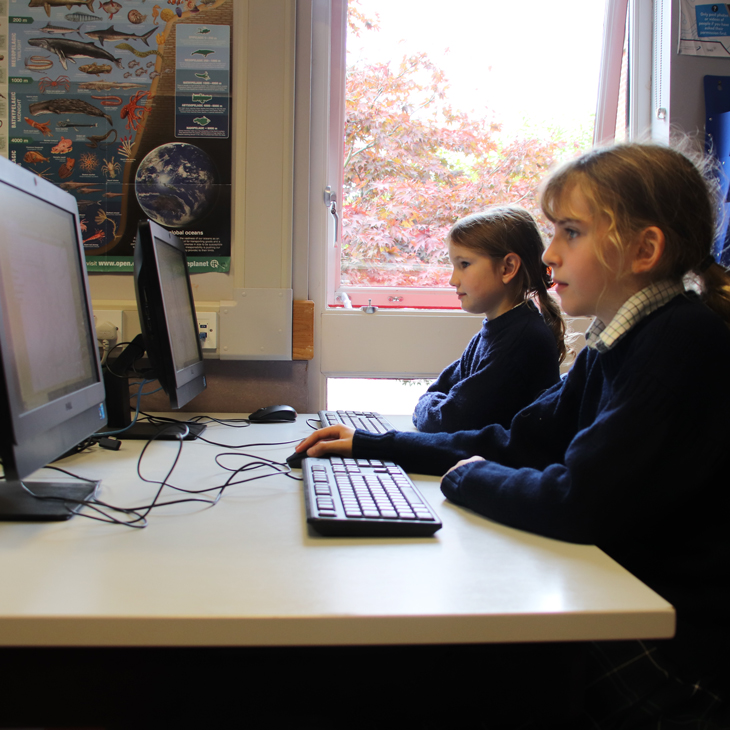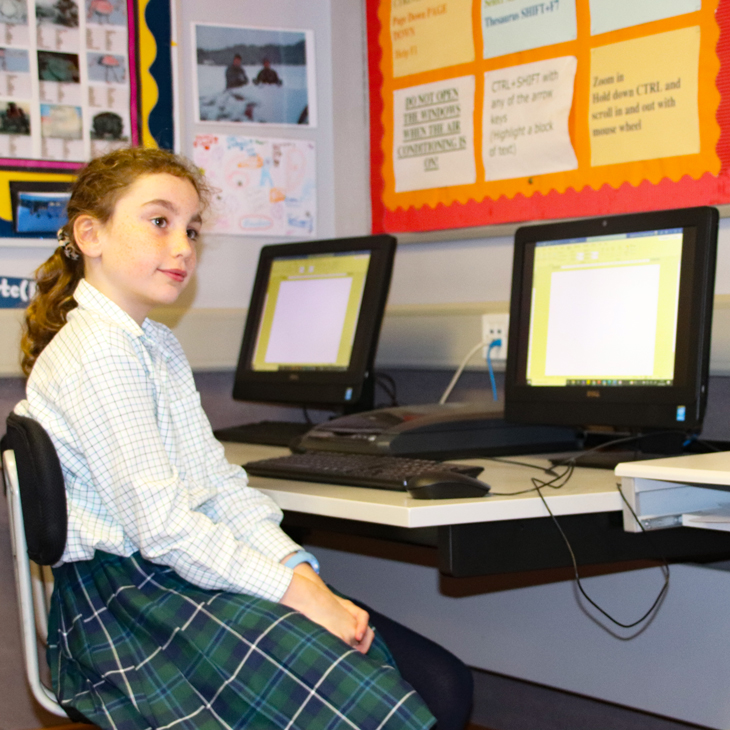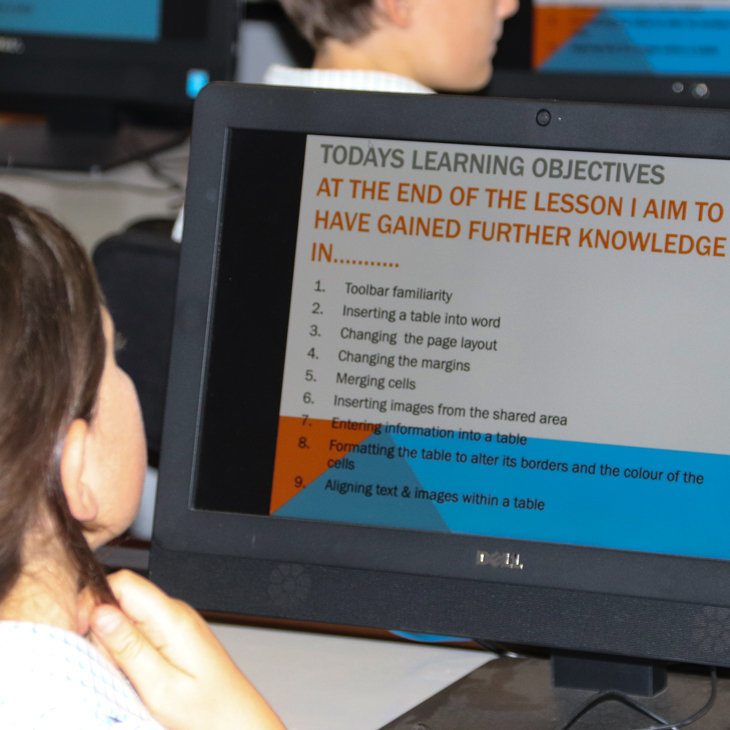 Who's the Top Trump – Gizzardgulper, Fleshlumpeater or the Childchewer? Year 5 have begun a new project in Digital Literacy, making Top Trump cards based on the 10 giants from the excellent Roald Dahl book The BFG, which they are currently studying in English. The children are learning a wide variety of skills to further enhance their knowledge of Microsoft Word and to make them more efficient users of this application. They will choose the categories that the cards will hold, as well as the powers of each giant. In addition, the children will explore how to change page layouts, alter margins, split pages into two columns, add tables, merge rows, format text, and insert pictures. As the finishing touch to the project, the children will cut the cards to a workable size, laminate them and take them home ready to play.
Richard Dunn, Head of Digital Literacy
Black History Month Sparks Curiosity In Inquisitive Year 6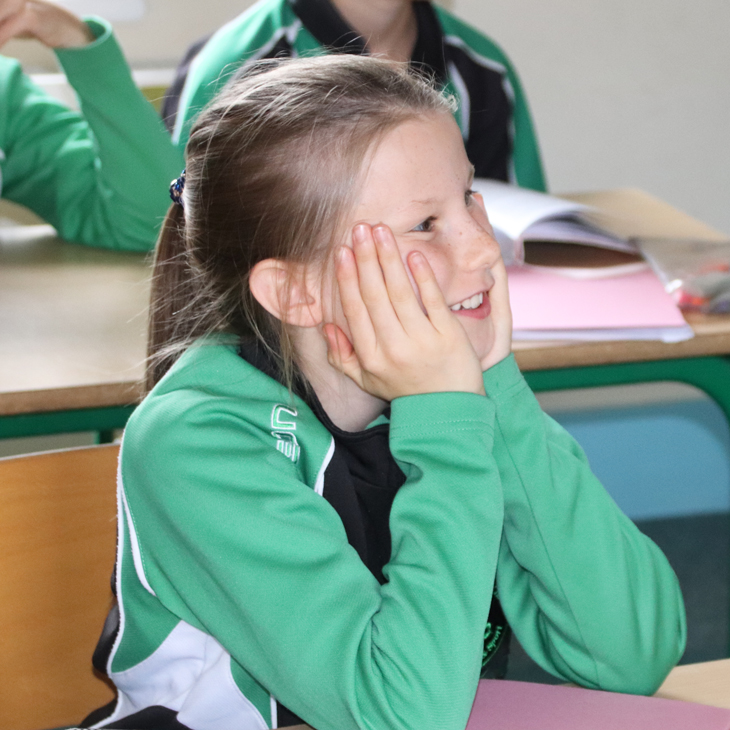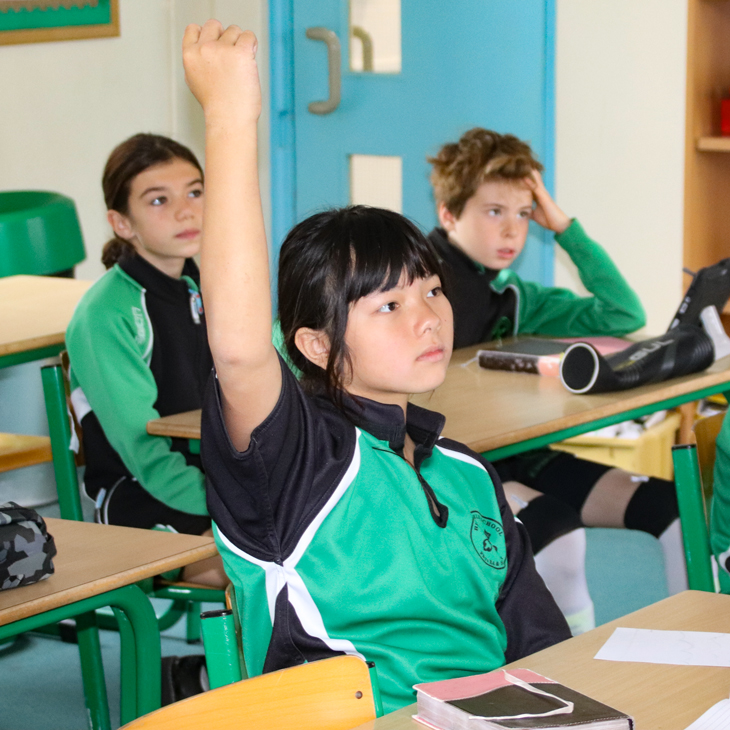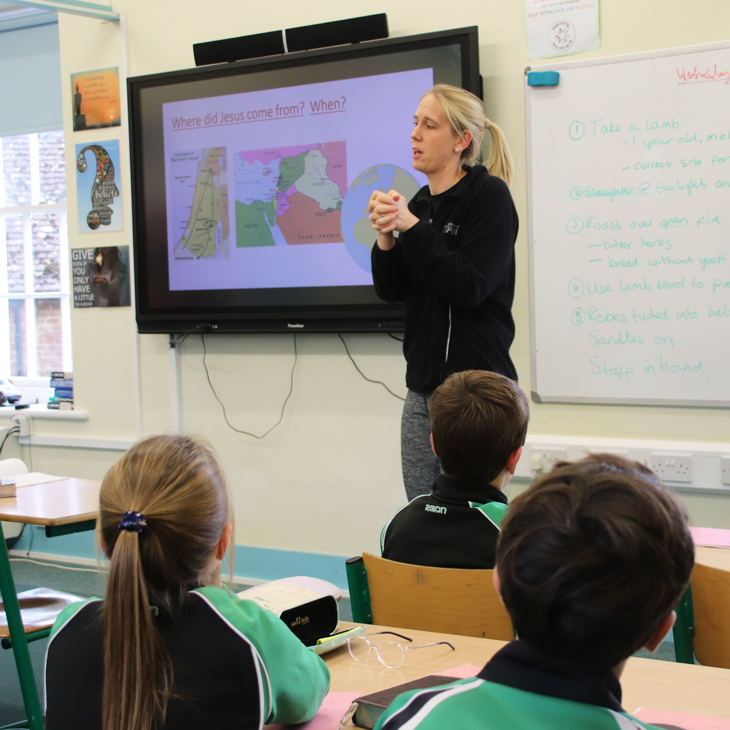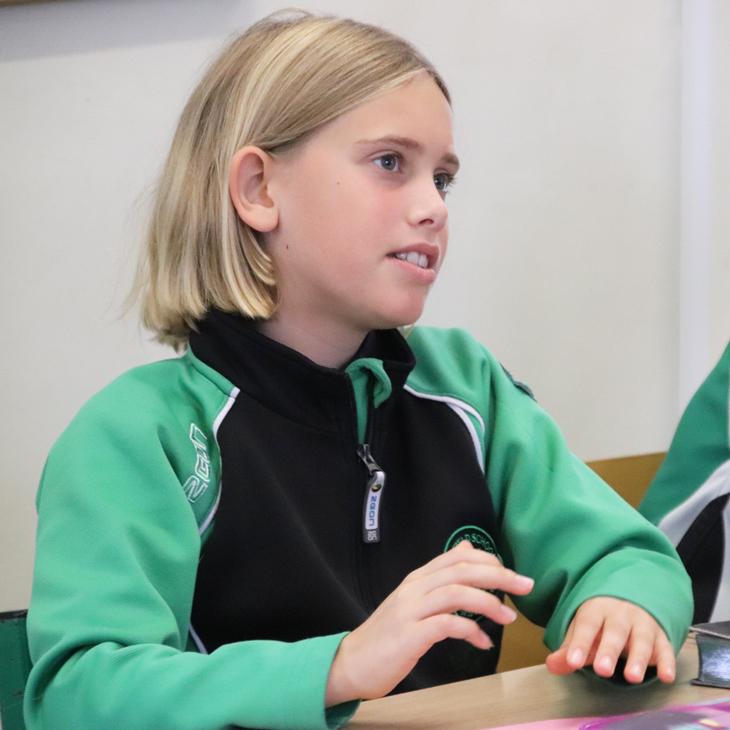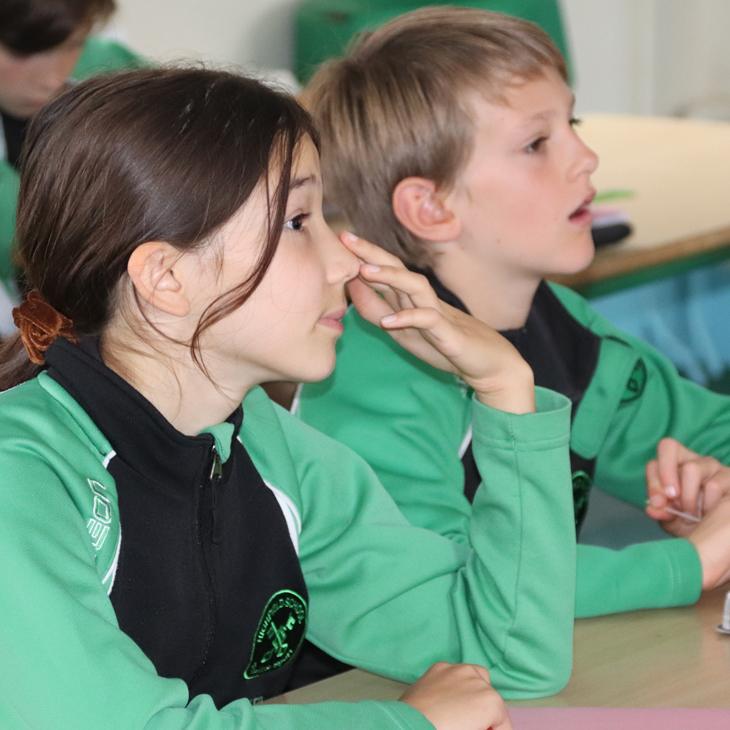 Marking Black History Month, Year 6 had the chance to look at black history through the eyes of different subjects. In TPR, 6a spent the beginning of this week's lesson looking at how Jesus has historically been portrayed through art and images. The children were able to recognise that it is unlikely that, given that he was Galilean, he would have had pale white skin. This offered a great opportunity to reflect and discuss how ethnicity has sometimes been distorted in the past and the damage this has caused. The children also looked at two very influential Christians of more recent times: Bishop Wilfred Wood, the first black bishop in the UK, and Rose Hudson Wilkin, the first black, female bishop. The children were incredibly perceptive during discussions and asked some thought-provoking and interesting questions. We ended this activity by looking up some Bible passages in support of kindness and equality.
Zoe Thesiger-Pratt, Head of TPR
Intrepid Year 7 Head For A Land Down Under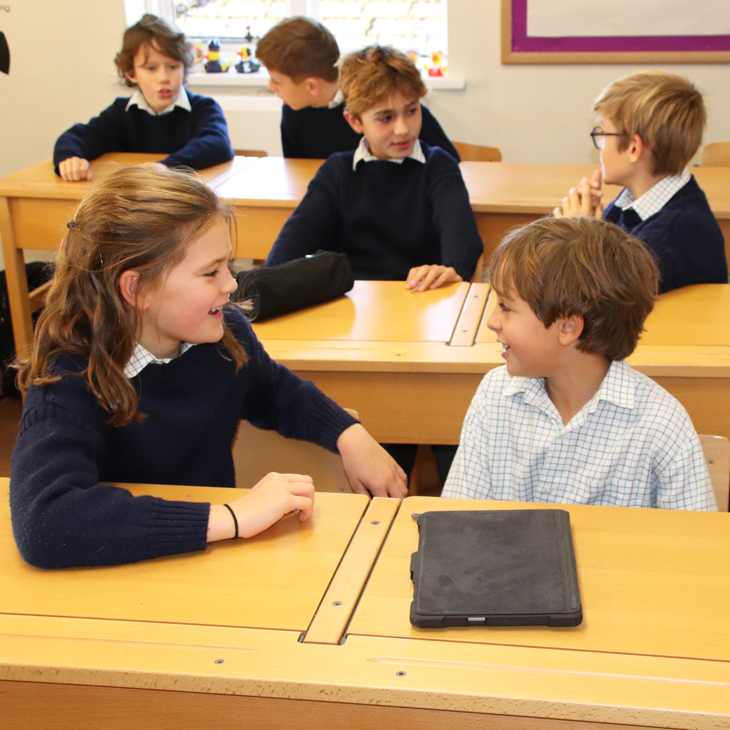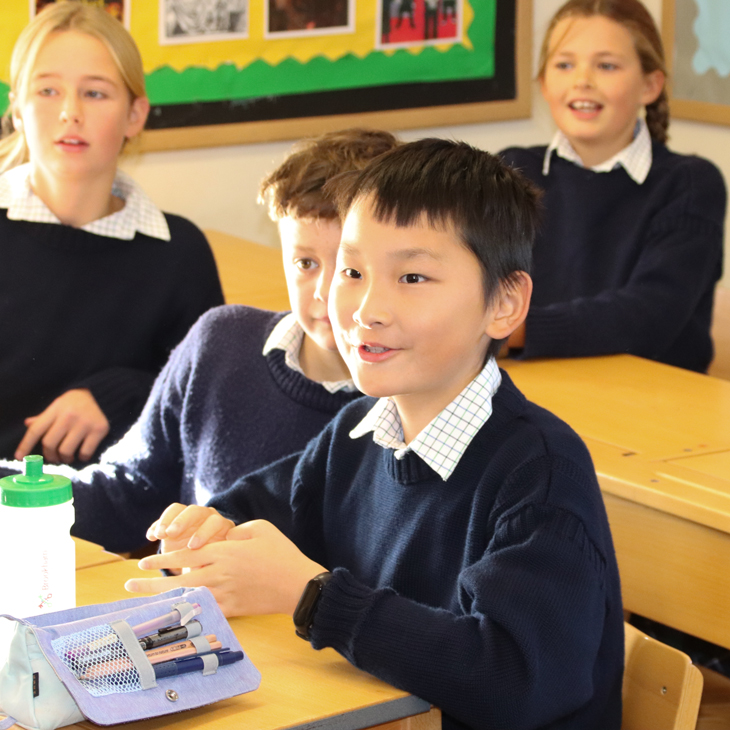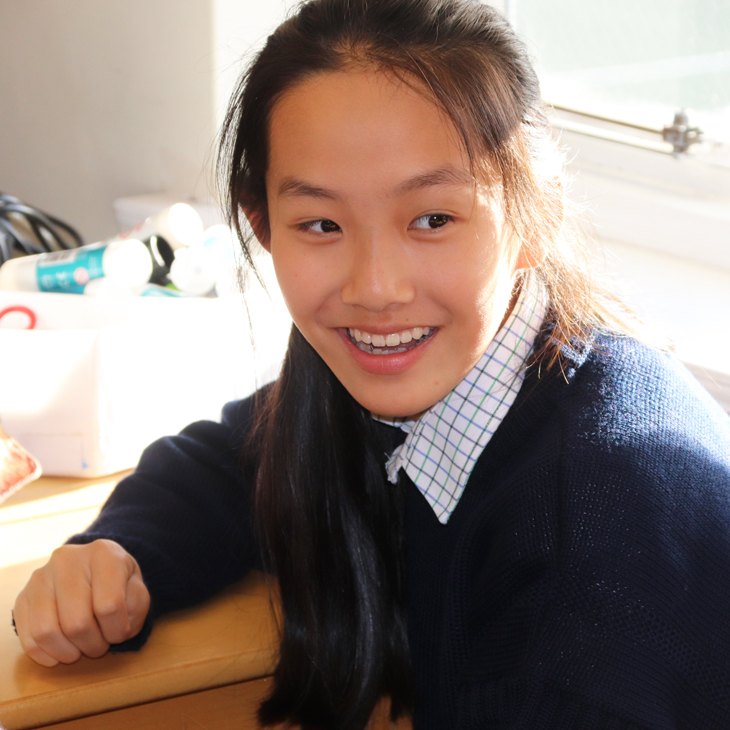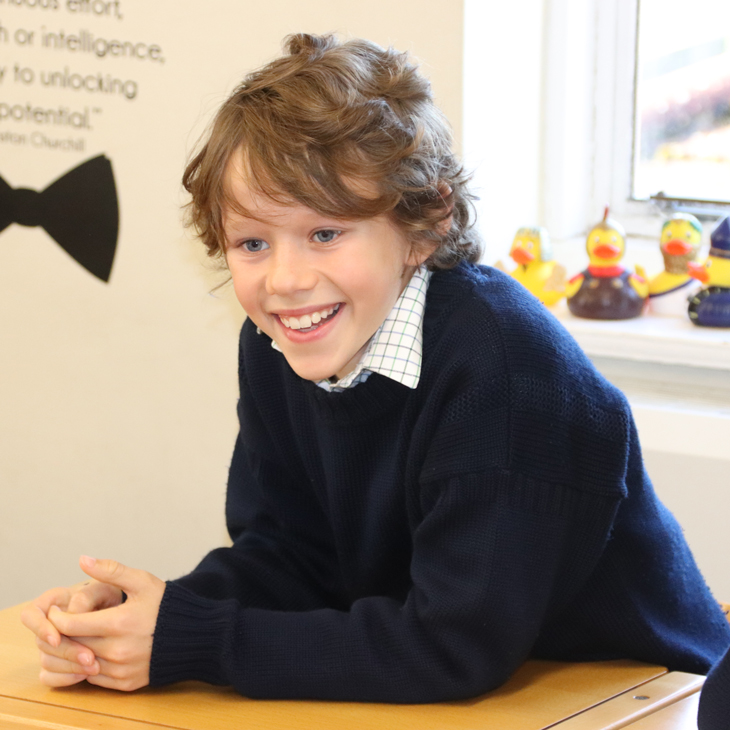 Year 7 have widened their cultural horizons this term with an investigation into life under British rule. We have been 'Down Under' for the last couple of weeks, exploring what life was like for Aboriginals before Captain Cook arrived in 1770. Although different, Aboriginal culture was rich and sophisticated and the pupils enjoyed learning about traditional customs and their nomadic way of life. Next, the pupils tested their map-making skills and explored a ship's navigation as they 'stepped aboard' and imagined they were a salty sea dog aboard HMS Endeavour heading for lands anew! Lastly, pupils researched convicts journeying to the other side of the world to populate the southern continent. Many were shocked that some children aged only 11 were sent over on the initial convict boats. Many left that lesson with an extra spring in their step and an added appreciation for life at Highfield and Brookham. Next stop – India! G'day, all.
James Ridge, Head of History
Year 8 Driven To Produce Cool Pillow Cushions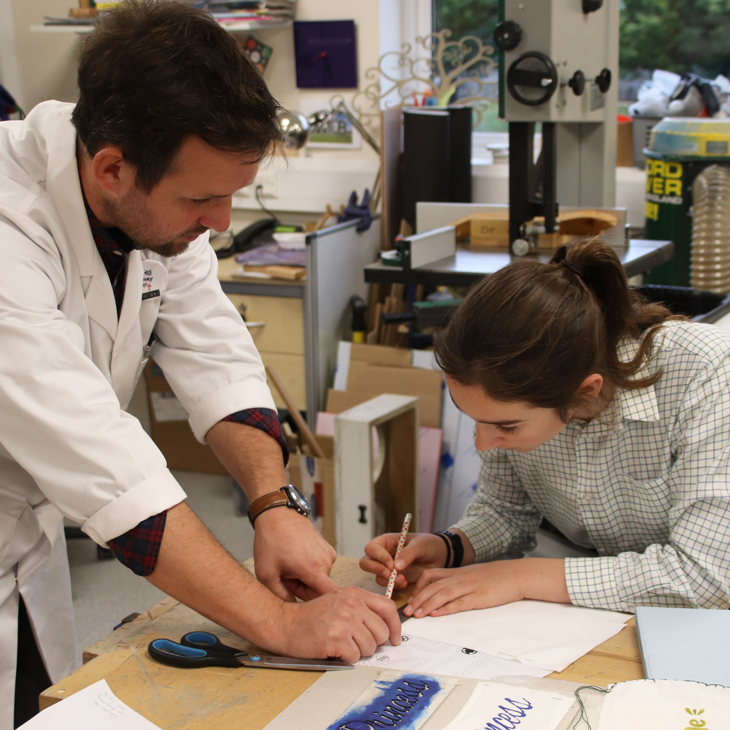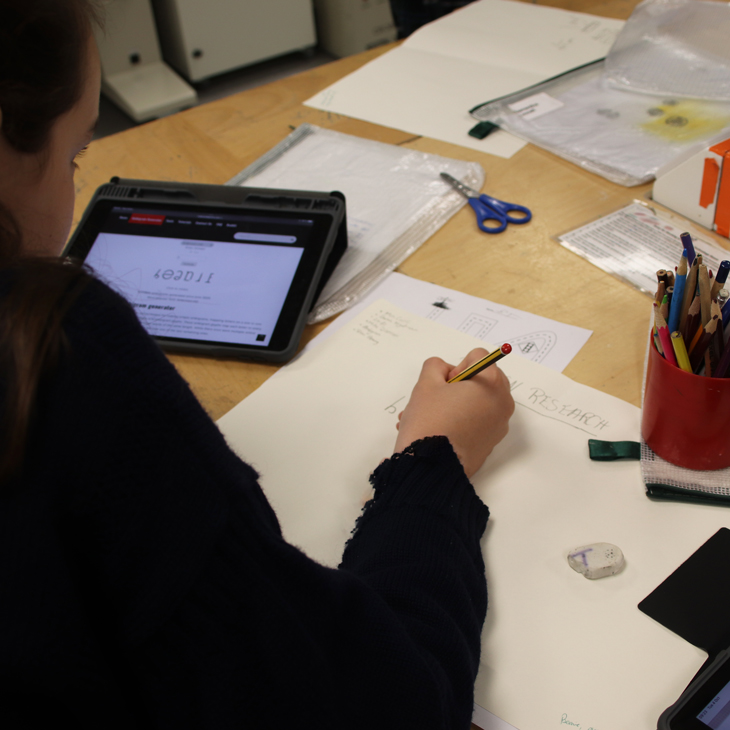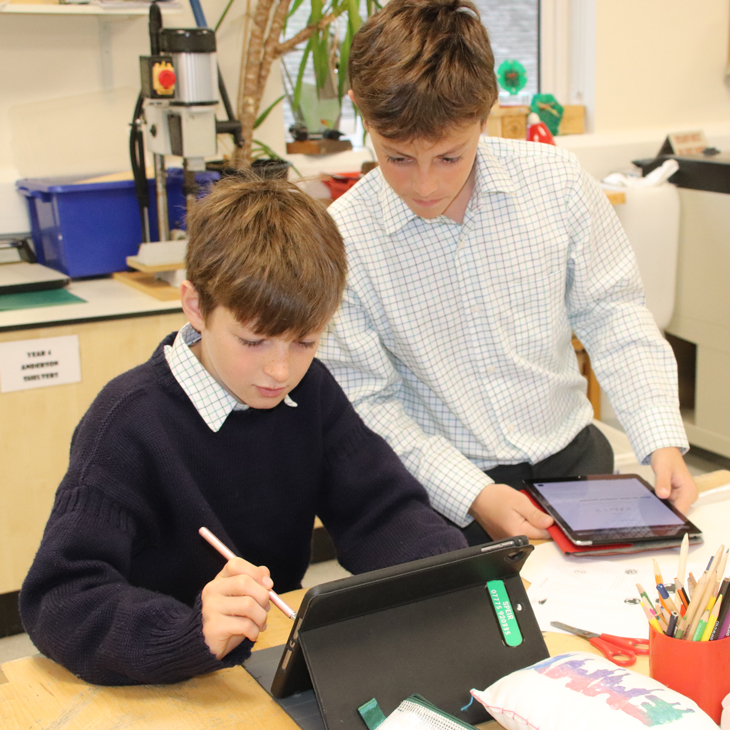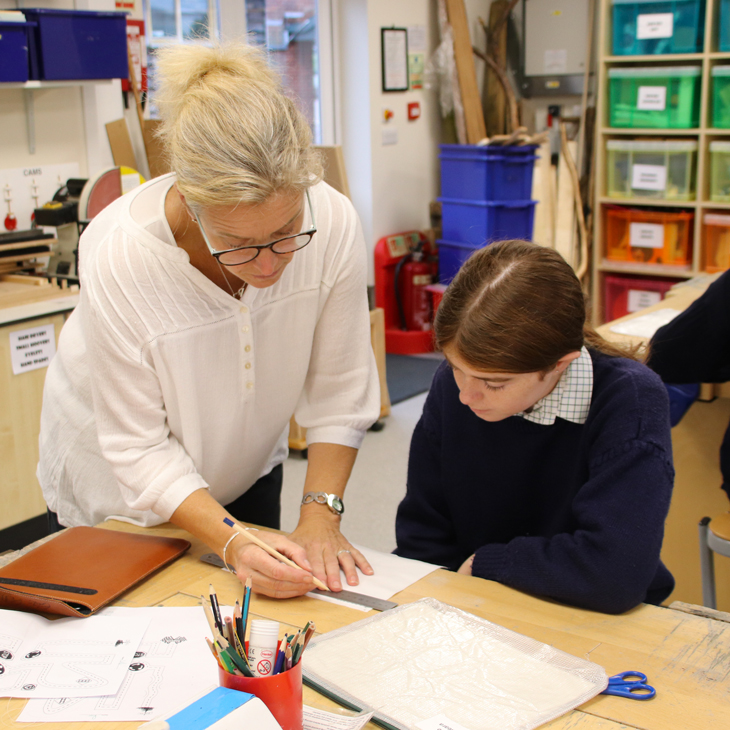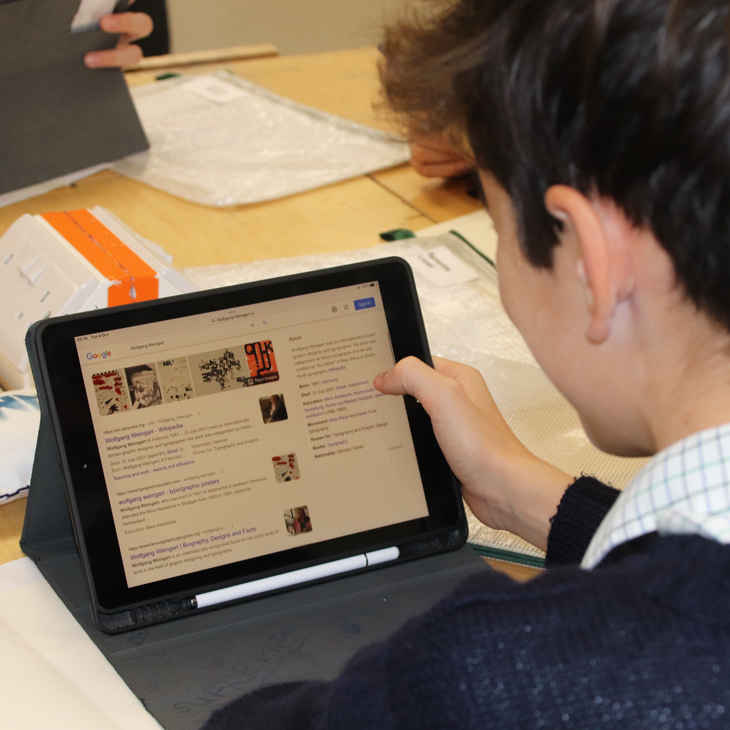 Year 8 have been continuing with their pillow cushion project in design technology, which focuses on typography, graphic design, textiles and sewing, and computer-aided design. The children began by continuing with their paper 'driving test' practice, having to carefully follow a pre-drawn dotted line and navigate their needle and thread around a street circuit in order to learn how to create a running stitch. Once more proficient with needle and thread, half the class marked out their pillow cushion fabric using a ruler and pencil, trying to mimic the lines from their 'driving test' sheets, in preparation for stitching next week. The other half of the class continued their online research into typography designers and began designing their own typography stencils, which the children intend cutting out with a laser as the term wears on.
Jamie Dew, Head of Design Technology