Things Warming Up Nicely
3rd February 2023
Nursery Discover That Maths Is Child's Play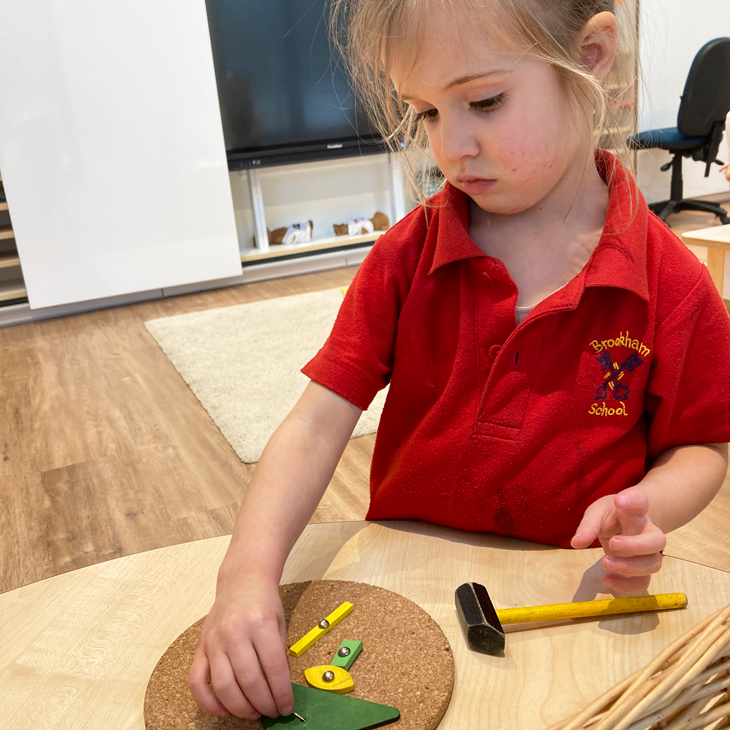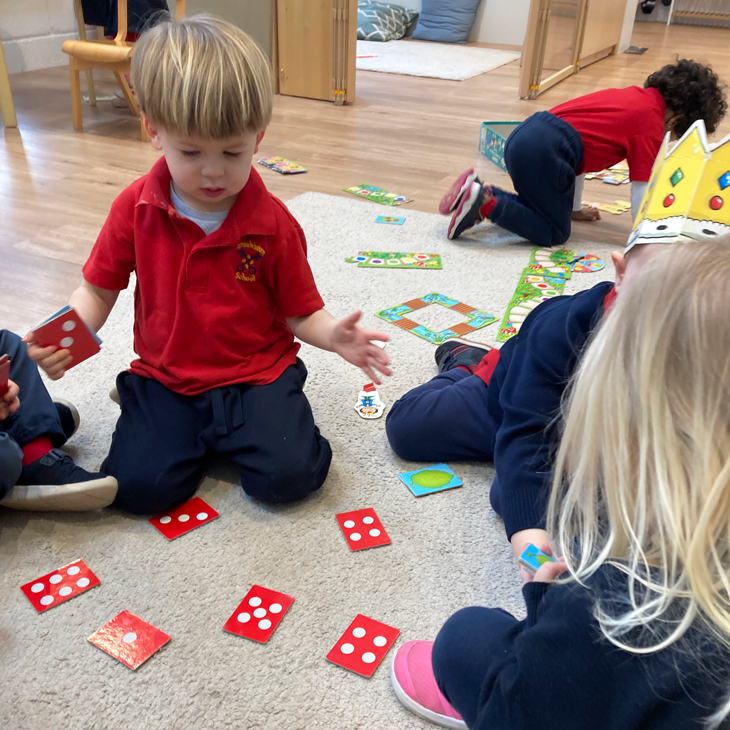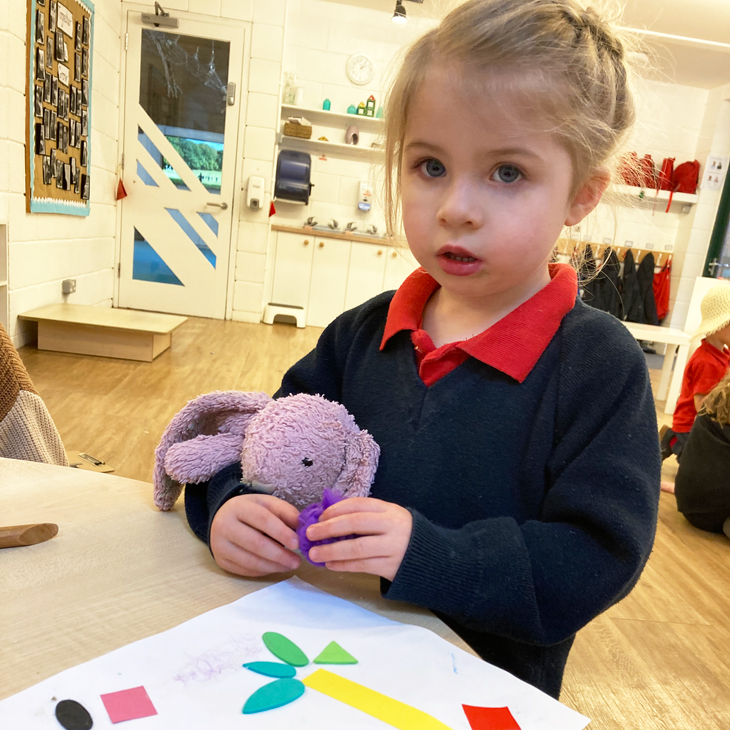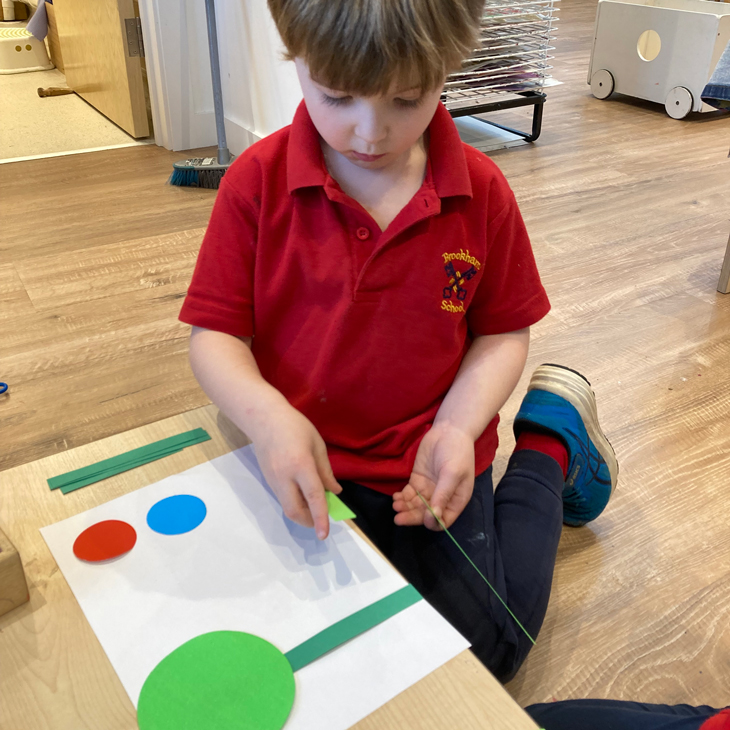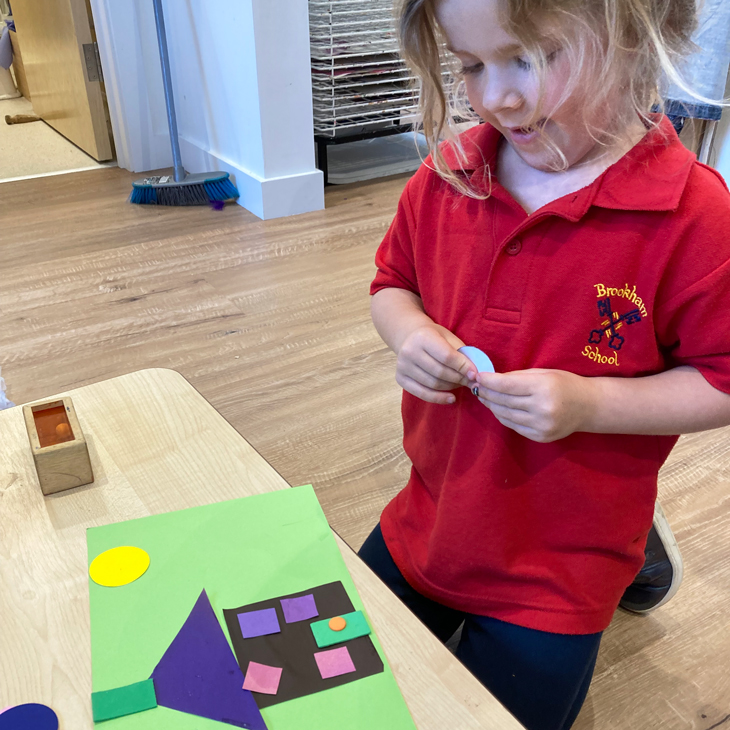 Play is the perfect vehicle to teach tricky mathematic concepts to the youngest children in our school, and throughout the day the children in the Nursery have many opportunities to develop their mathematical language and understanding. Whether exploring capacity in the sandpit or water tray, singing number songs or weighing and measuring out ingredients for baking, they are constantly developing their understanding of the relevance of mathematics in their day-to-day life. To mark NSPCC Number Day on Friday, along with the rest of the school, the Nursery children have also been exploring maths through art. They have had a fantastic time learning about tessellation when making mosaics, printing and cutting out different geometric shapes to make pictures, and learning about symmetry by painting and folding paper. In the garden, the children have used loose parts such as pine cones, glass stones and shells to make patterns, and at Forest School they have had to use their mathematical skills when choosing resources to build giant insects out of natural materials. All these hands-on activities not only help develop key maths concepts but also help the children discover their own capabilities and realise how much fun maths can be.
Sam Forster, Head of Early Years
Resourceful Reception Have Got It All Mapped Out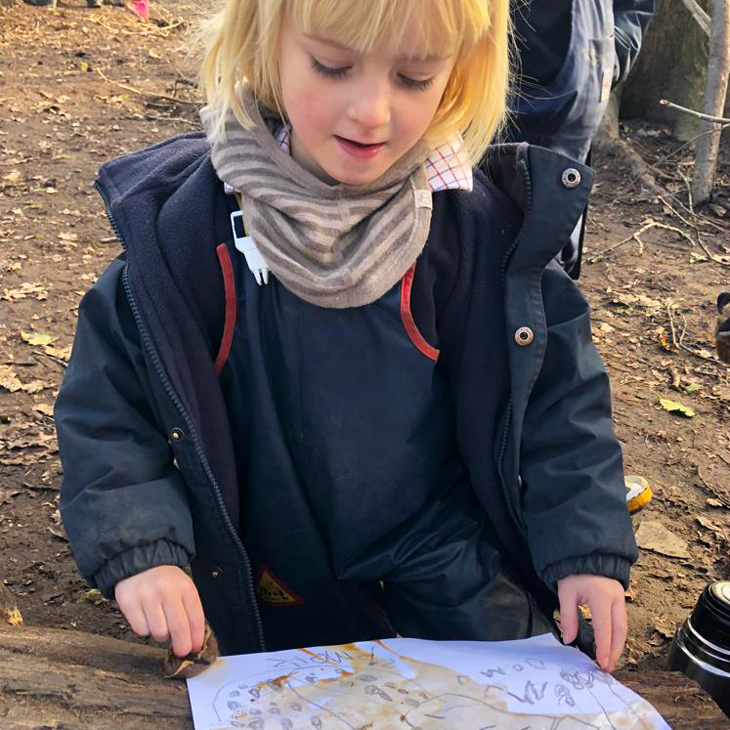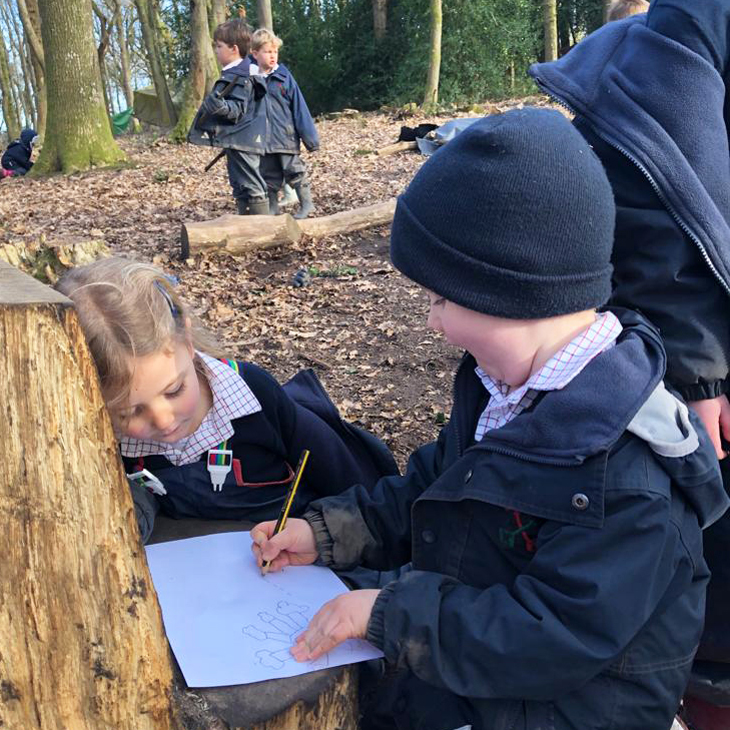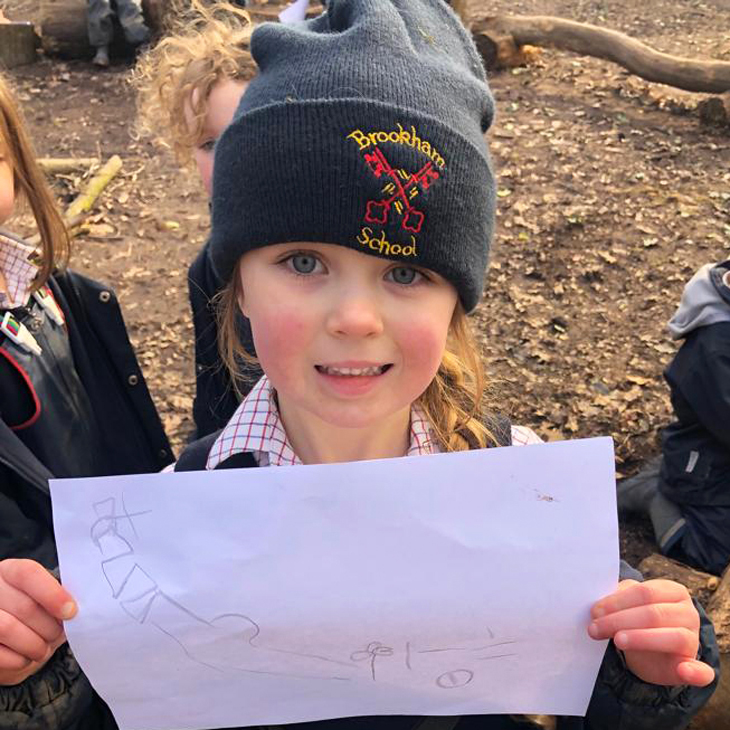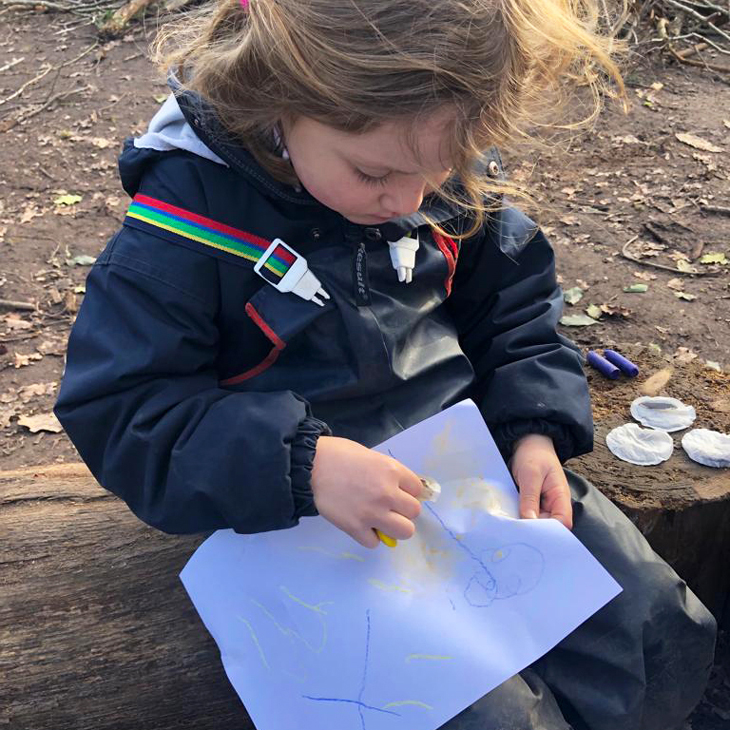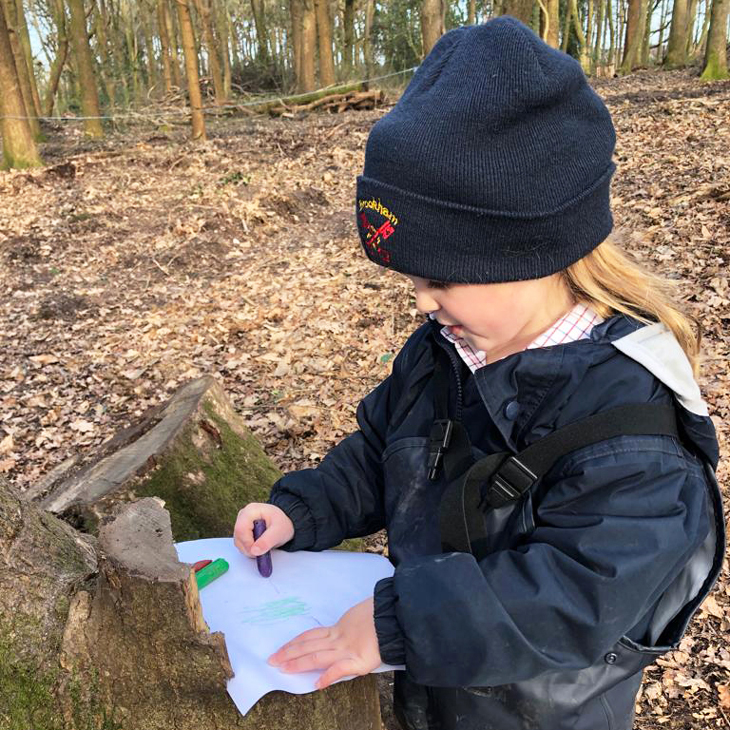 When the Reception children arrived at Forest School this week, they discovered that Badger Bear was missing and all alone in the forest. How would he find his way home? The eager children quickly came up with imaginative ideas such as designing their own treasure maps to help him to find his way back to the classroom. The children eagerly set about creating wonderful individual maps, even adding a touch of authenticity by ageing them with stains from used tea bags! The children collaborated brilliantly by discussing the best route back to school and happily shared their ideas with each other. And the young explorers even used their resilient learning muscles by following maps made by their friends back to the classroom. Once safely home again, the children had a lively discussion all about directional language. Looks like Reception have got everything beautifully mapped out!
Rosie Snagge, Reception Class Teacher
Year 1 Get A Taste For New Challenges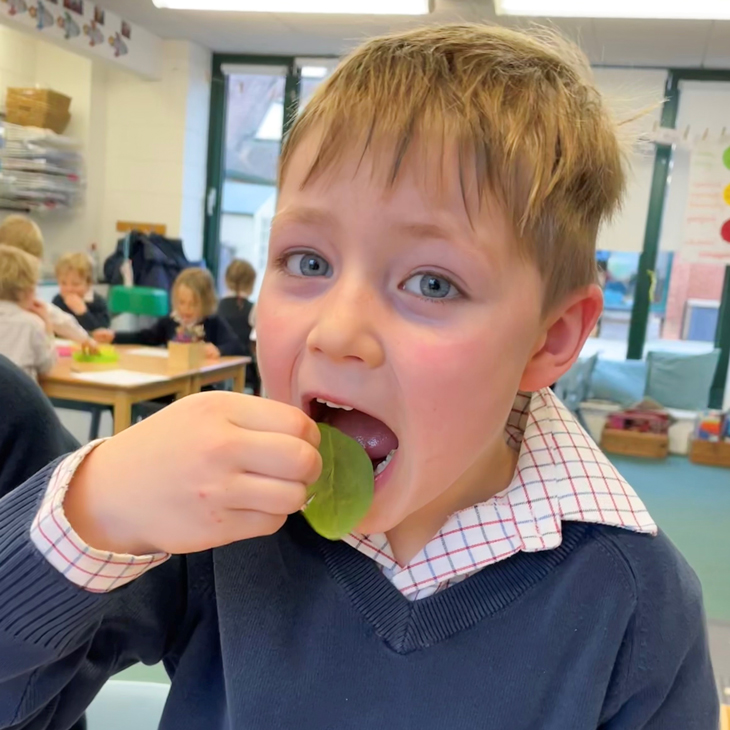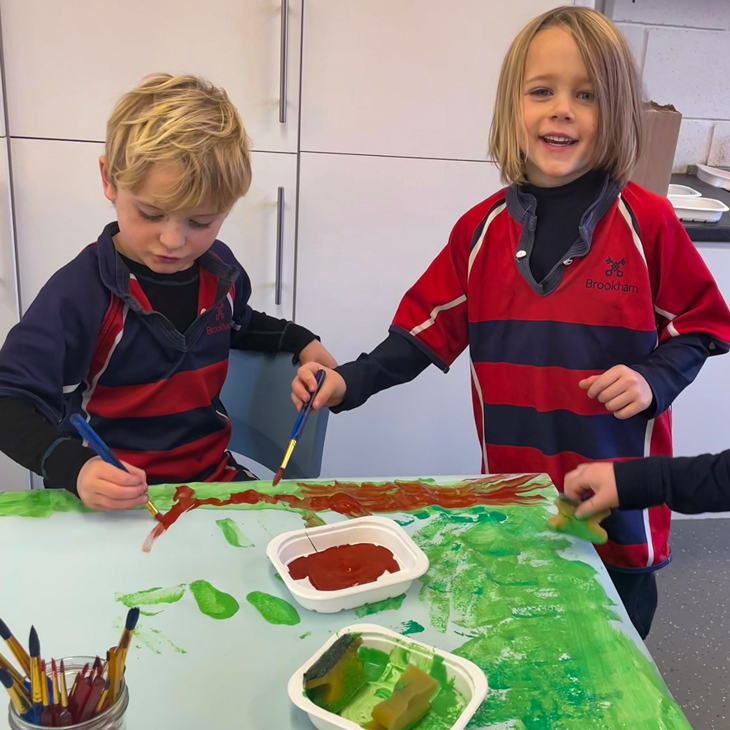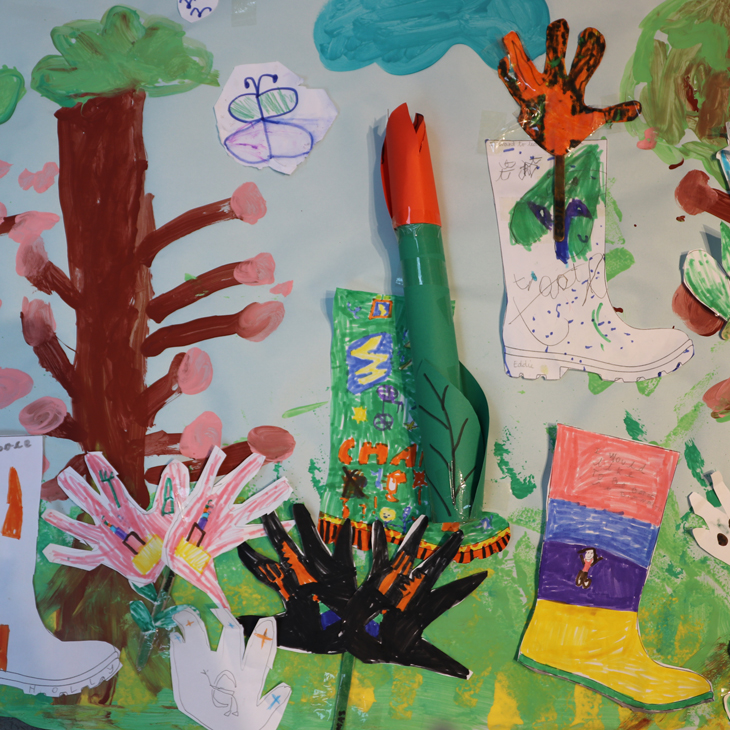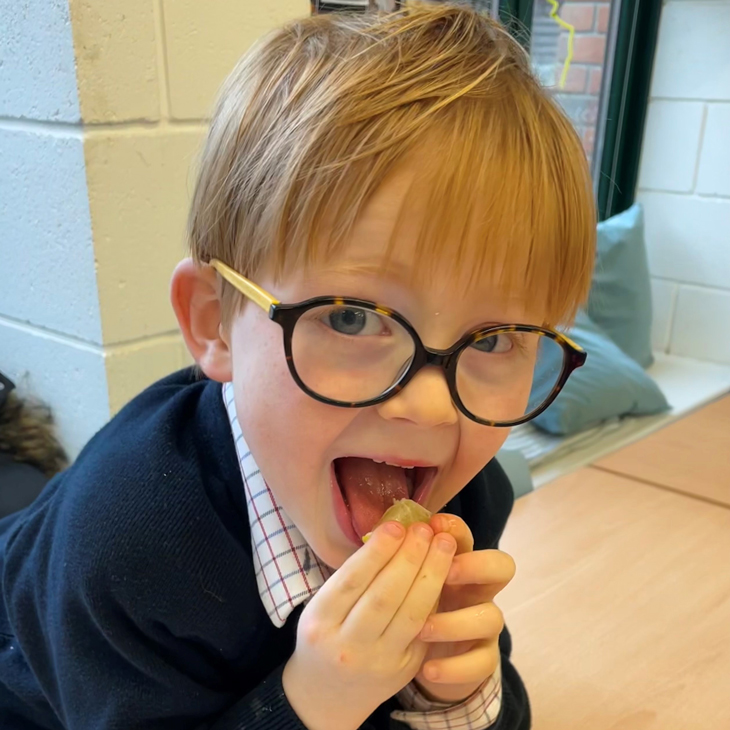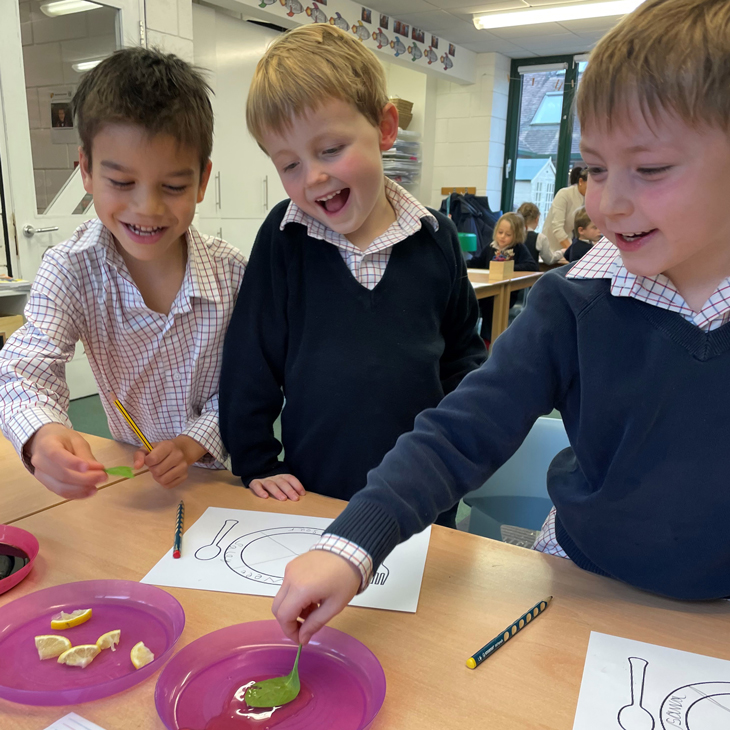 Year 1 have been thinking carefully about their achievements so far and the new challenges that they are all working toward. Thoughtful discussions in PSHE lessons have inspired the children to chat with their learning partners and come up with some shared goals. Perseverance, resilience and determination are all skills which the children know are needed when working toward a tough new challenge. But the children have learnt how important stretching themselves can be and have created their own flowers with stretching fingers to show how they are constantly growing and reaching toward their goals. Each class has collaborated to create a 'Garden of Dreams and Goals' mural, showing how we are all stretching ourselves to meet new challenges. In science, Year 1 have been learning all about the five senses – touch, hearing, sight, smell and taste. This week, the children focused on their sense of taste, having great fun with blind taste testing to get their tastebuds tingling. A wide range of flavours was explored, including sweet, sour, salty and bitter. Sweet honey was a big hit and even the bitter raw spinach went down a storm. This tasty project linked seamlessly to Year 1's work in literacy this week; with a great range of adjectives emerging with each new and different flavour.
Kerri Wilkes, Year 1 Class Teacher
Artistic Year 2 Discover The Wonder Of Woodland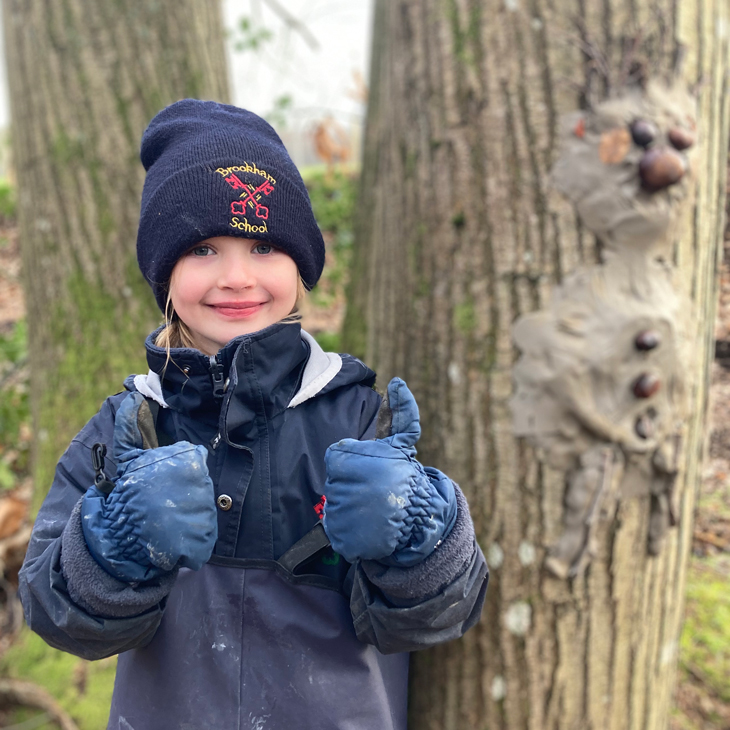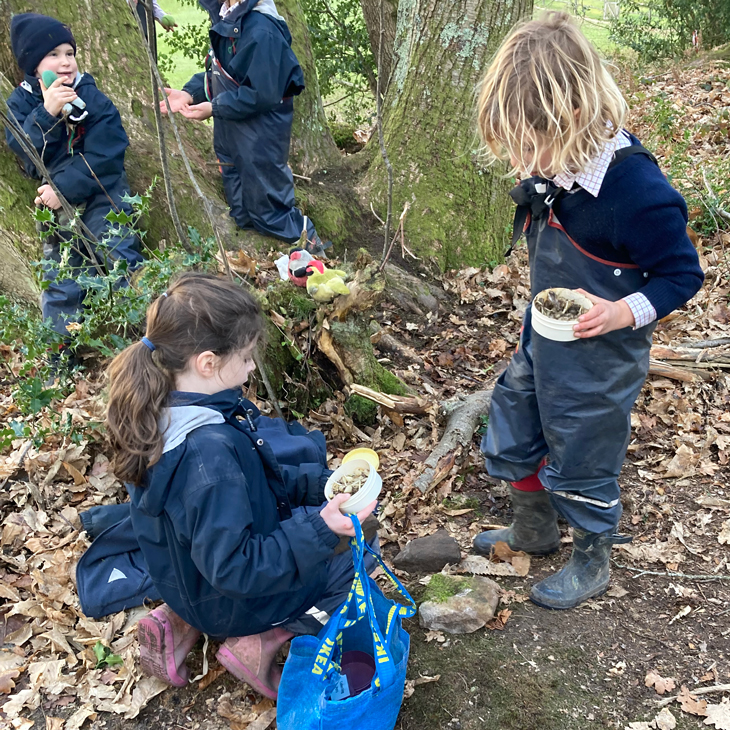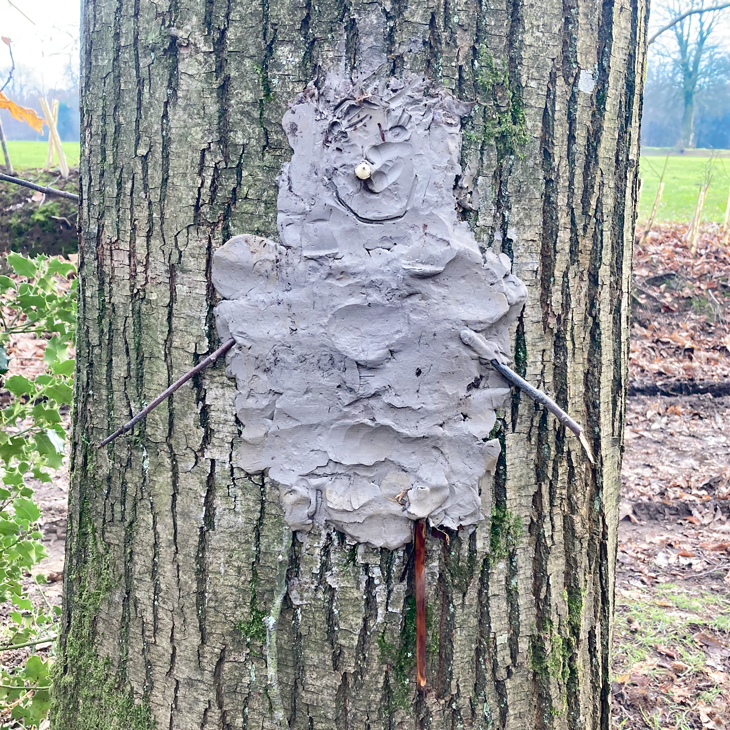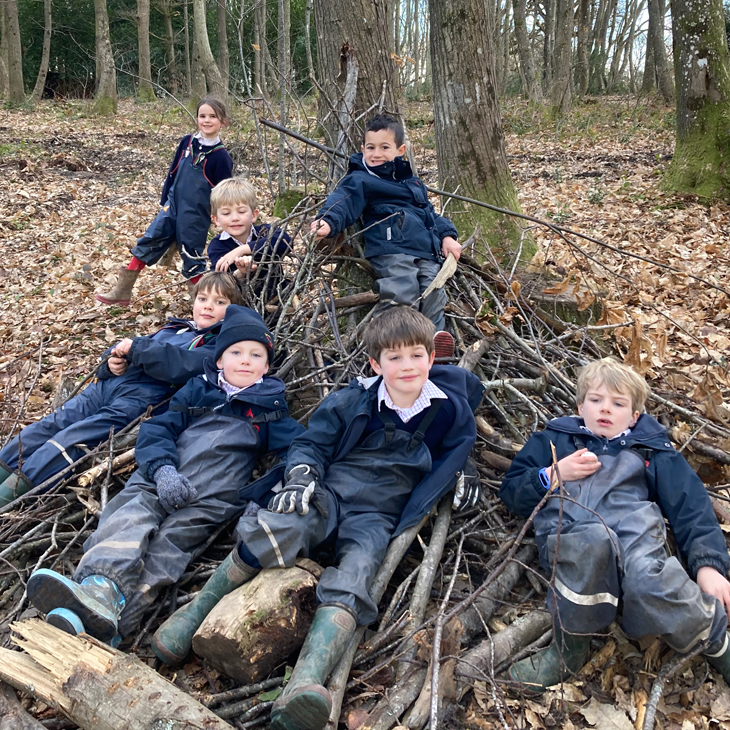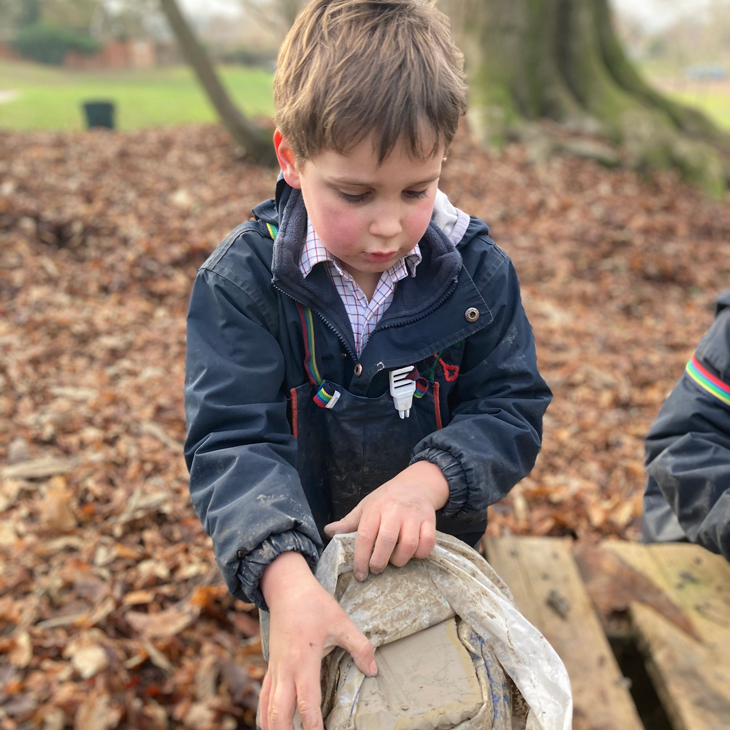 With the frost easing and the sun shining, Year 2 this week explored their magnificent woodland setting. It was a particularly productive session as the woods have gone through a major felling process to encourage the canopies to expand and smaller plants and shrubs to grow. The children considered the reasons for the woodland works and the sensitivity surrounding this process; and they have already begun to see an impact with the emergence of beautiful snowdrops and other bulbs. Naturally there was immense disruption when the work was undertaken, including to Year 2's Forest School sessions, but the children have already been keen to replant any stray bulbs that were unearthed during the process. With the majority of the work now complete, the children could get back to what they do best and develop their collaboration, problem solving and resilience skills. They have skilfully created tinder and kindling for campfires, erected dens, established homes for local wildlife, and brought some friendly faces to life courtesy of air-drying clay; all have which have been produced through their incredible imaginations and conversations. The children have been manipulating small objects with precision; developing and supporting their fine motor skills with precise movements, something which actually helps with their writing! If you happen to go for a walk in our glorious woodland, keep your eyes peeled for the smiling and uplifting woodland art work created by talented Year 2.
Charlie Millsom, Head of Year 2
Healthy Hearts And Healthy Minds Is Year 3's Mantra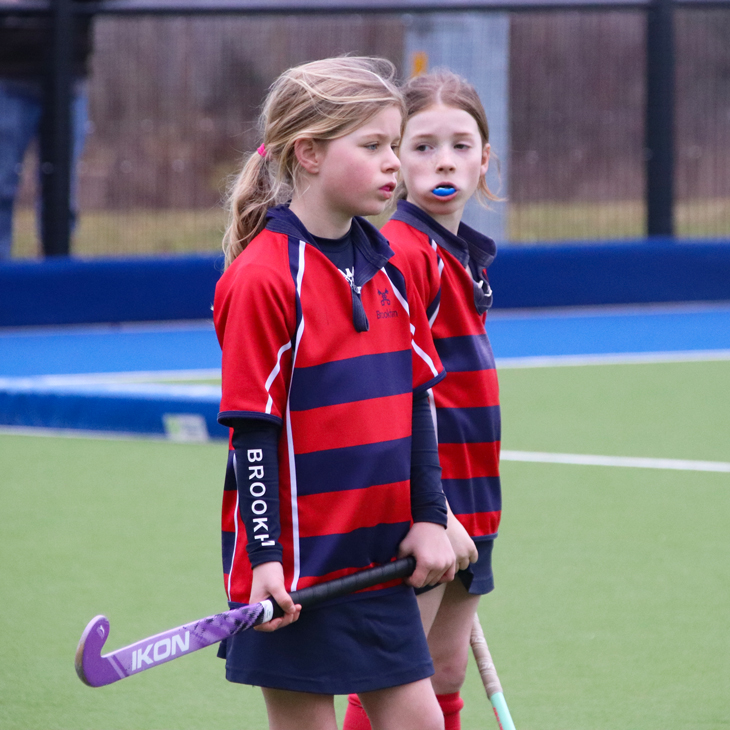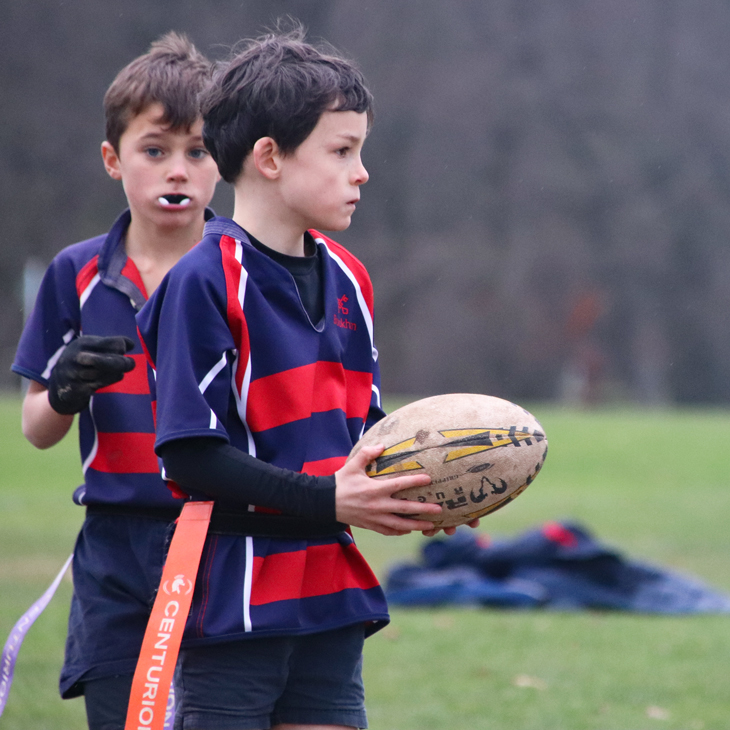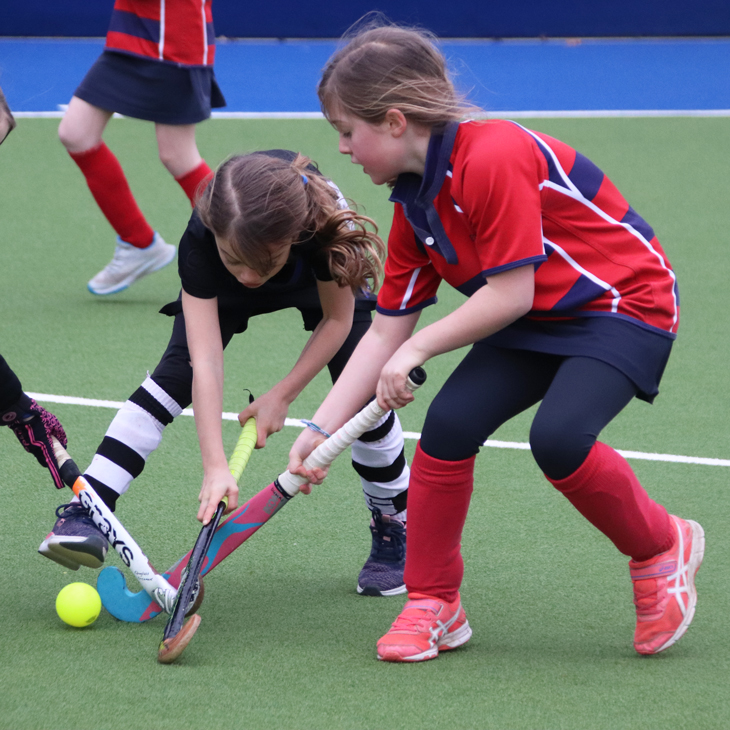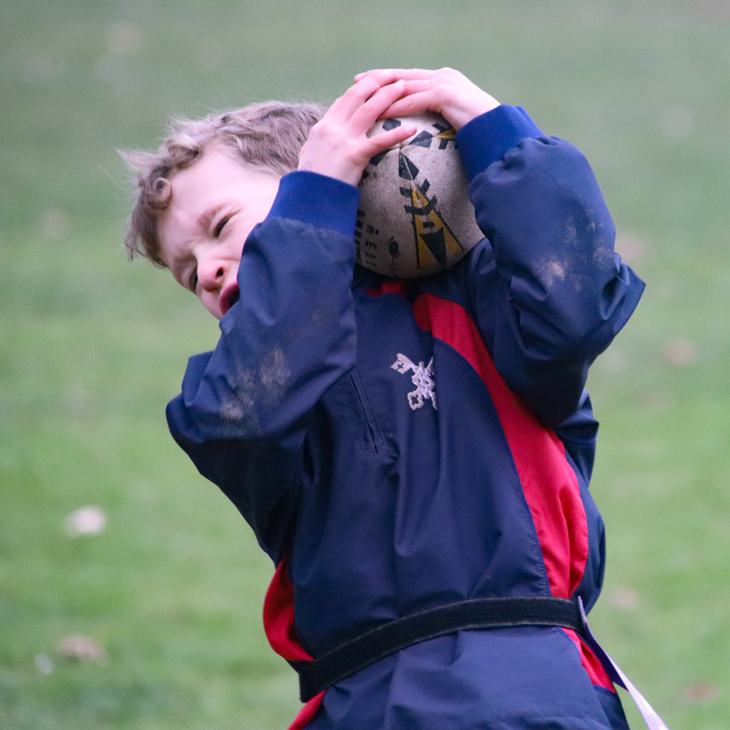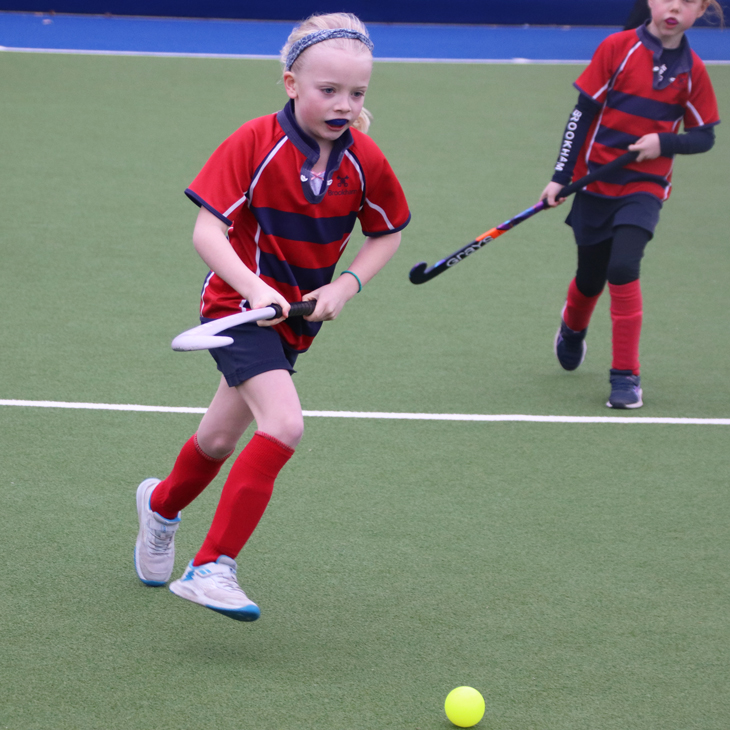 As part of their 'Healthy Hearts' topic, Year 3 have been continuing to focus on the importance of staying safe and looking after their bodies and minds. After stretching both their learning and literal muscles last week by measuring their heart rates before, during and after exercise, Year 3 have learned that it's very important to be physically and mentally healthy, particularly in terms of a diet, exercise, and a balanced lifestyle. The children researched what it takes to make a healthy smoothie before creating their own wonderful recipes brimful of fresh and tasty ingredients. Furthermore, the children have been busy designing and decorating posters for their classrooms packed full of useful information about healthy eating and the positive impact it has on various parts of the body. Away from the classroom, the healthy focus continued on Thursday afternoon as Year 3 took to the rugby and hockey pitches for some competitive sports matches against Amesbury and Portsmouth Grammar School. And what better way to round off a brilliant afternoon of hockey and rugby in the fresh air than with a healthy match tea!
Robert Grech, Year 3 Class Teacher
Year 4 Excel In Plotting Key Weather Data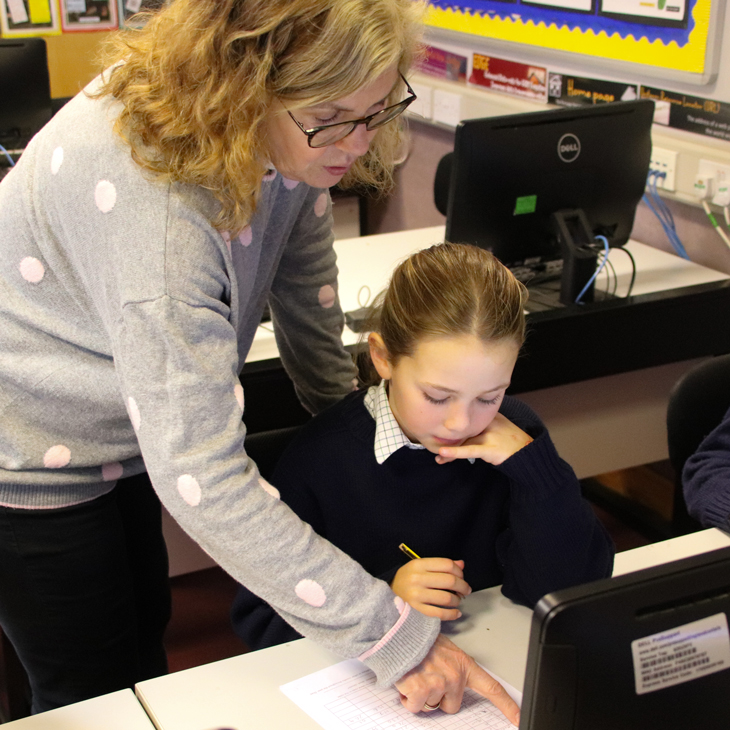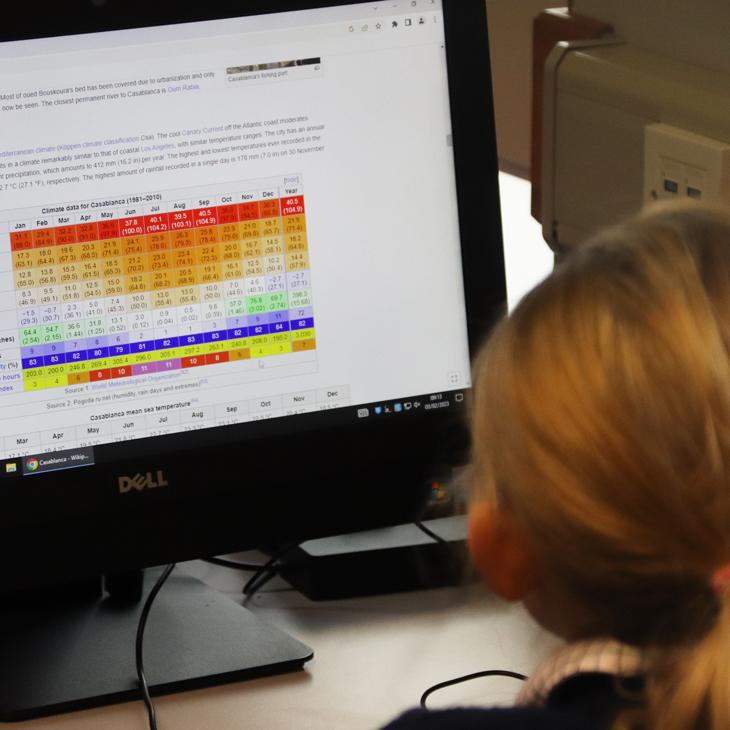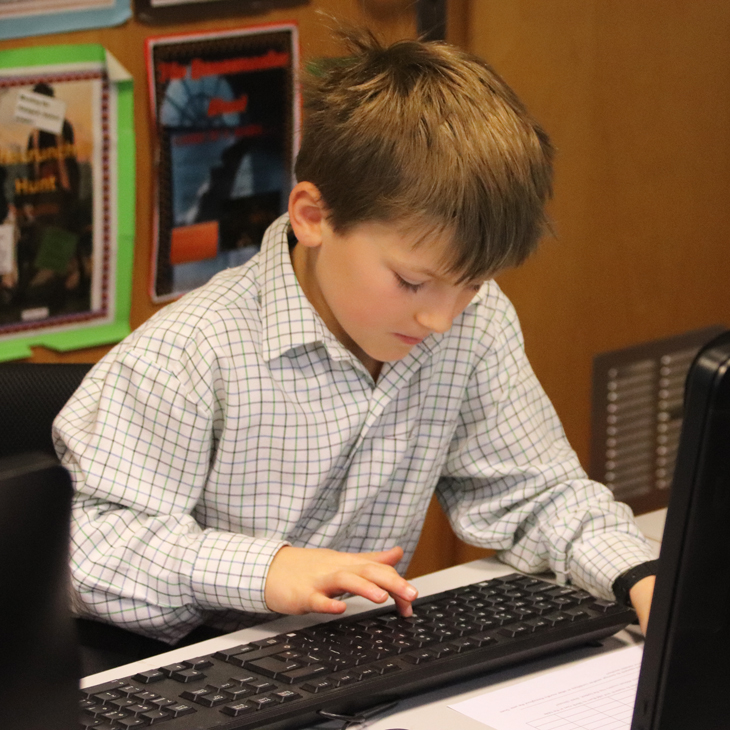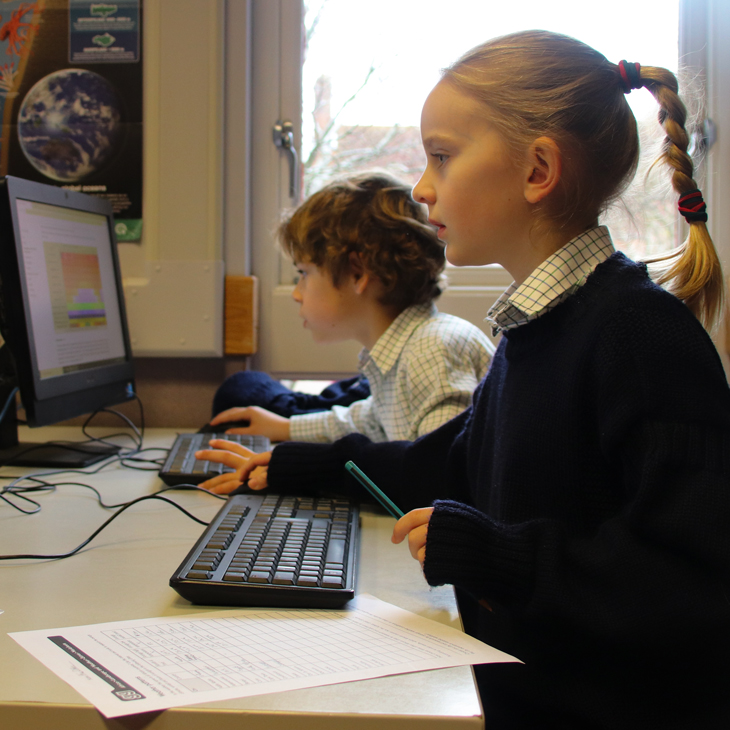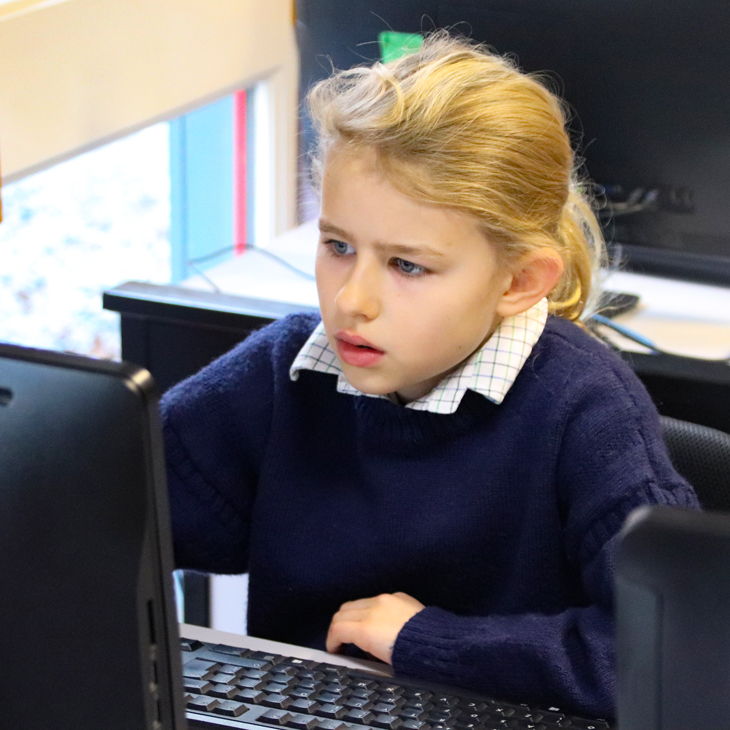 To go or not to go, Excel has the answers. Any idea when the rainy seasons are in some African countries? Or when the daily average high temperature in some places hits a staggering 38.7C? In digital literacy, Year 4 are currently finding out the answers to these questions and more relating to weather on the African continent. The children are using the internet to collect data on the climate which affects the major cities in various countries. Carefully examining the web, Year 4 are then carefully putting this information onto a data-capture form before using Excel to present the data. Learning about the icons and the make-up of Excel are some of the key learning points of this project, as well as highlighting the data. The children will then present their findings in the appropriate graphs in order to correctly interpret the information. As a result, we will soon learn which are the best times of the year to visit these destinations; factoring in high temperatures and the rainy season.
Richard Dunn, Head of ICT
Year 5 Thrive On Return From Enforced Rugby Hiatus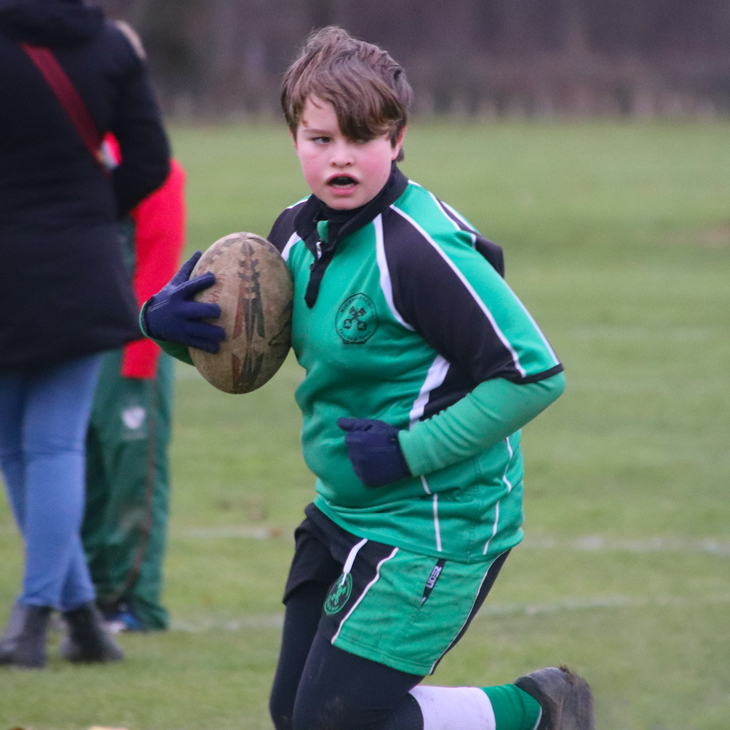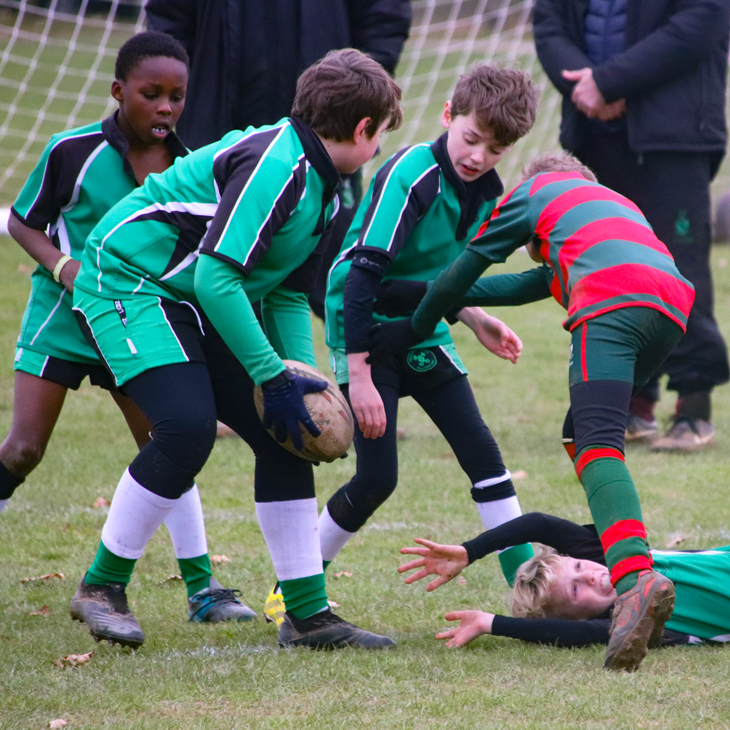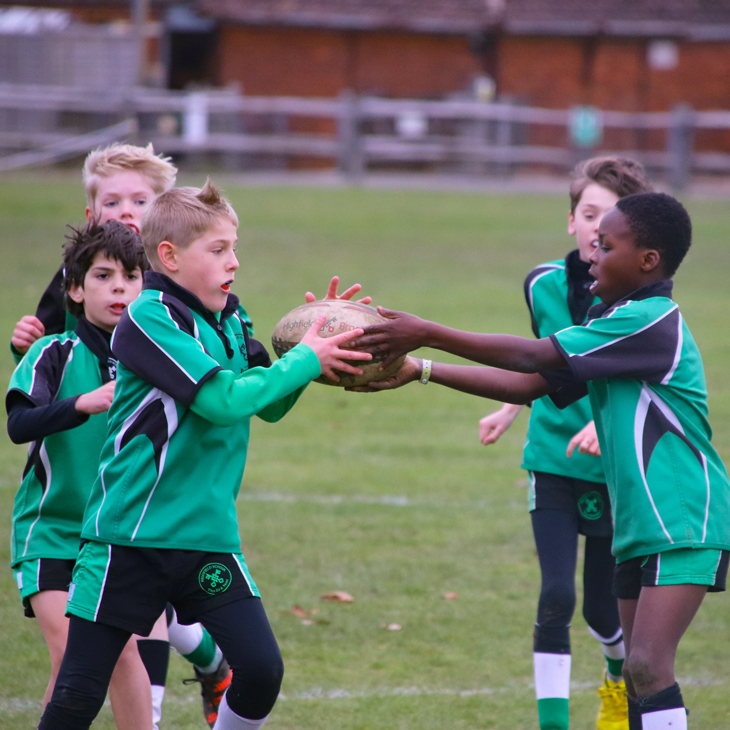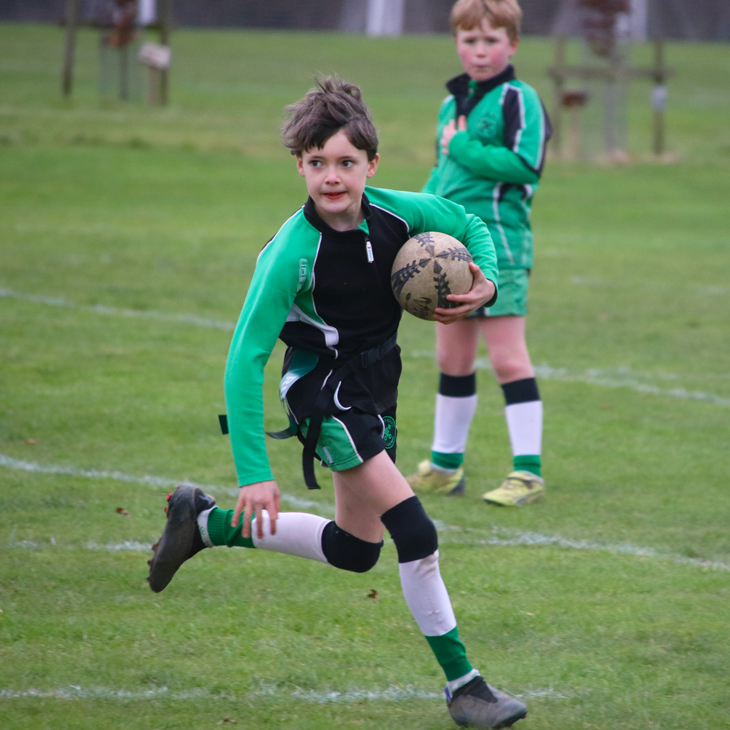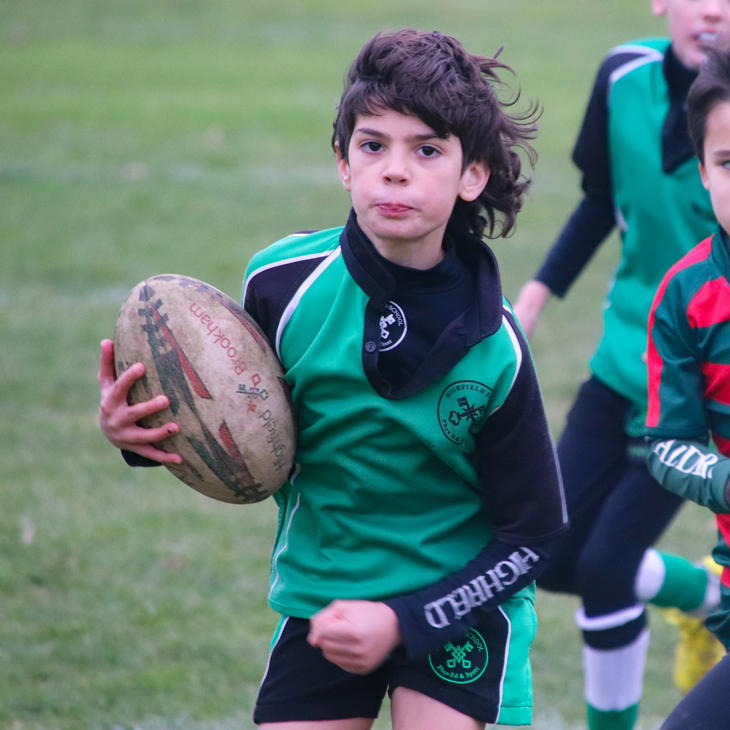 After a lengthy break in fixtures due to the Christmas holiday and frozen pitches, the U10B boys were keen to get back to playing competitive rugby fixtures and approached Wednesday's match against Aldro with great excitement. The first period of the game was a bit scrappy with limited tackling and passing, but as the game wore on both teams improved their tackling technique and this encouraged the formation of the ruck and recycling of the ball in a more orderly fashion. Highfield ran out comfortable 10-2 winners – 50-10 in real terms – as tries were shared around the team, with Olu A (3), Rex W (3), Fred J, Platon B, Jack H and Toby W all crossing the whitewash. And while Ben M didn't register a try, he was nevertheless heavily involved in the scrums, rucks, breaks with the ball and tackling that provided the opportunities for Highfield to score seemingly at will. Once the final whistle had blown and three cheers been raised to each team, it was lovely to see those who had so recently been opponents settle down to share match tea and a chat in the dining room in a spirit of friendship. I am sure that the boys will enjoy playing against each other for years to come.
Peter Hesselmann, U10 Boys' Rugby Coach
On Wednesday, the U10 and U11 C teams joined forces to play against a combined-age team from Aldro in a tag-rugby match. From the start, the boys worked well together and didn't let the fact they have never trained together stop them from passing the ball and communicating with each other like a seasoned team. Captain Max G led the team from the front and was very vocal, ensuring all our players were attacking and defending as one unit. The score was tight for much of the first half, tied at four tries each, but in the final minute of the period Highfield twice turned over the ball and motored away for tries to open up a 6-4 lead. The whole team played exceptionally well but Alejandro G, who was voted man of the match by Aldro, topped the try-scoring charts with four in a gutsy 9-6 win. With only one match of the season left, it's great to see how much each and every boy has improved throughout the season, and we look forward to our final fixture on Saturday.
Lewis Campbell, U10C Boys' Rugby Coach
Literary Leanings Heightened As Year 6 Book Into The Library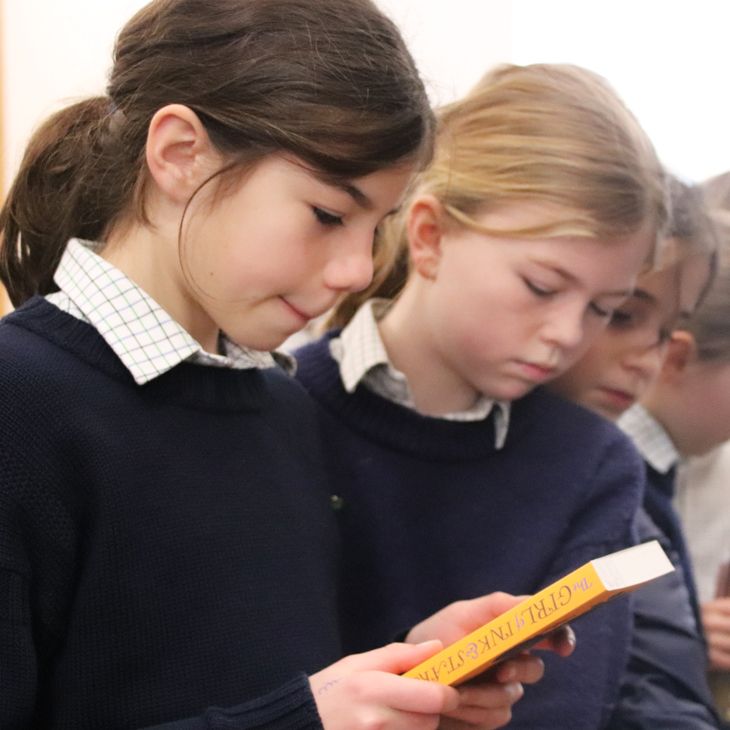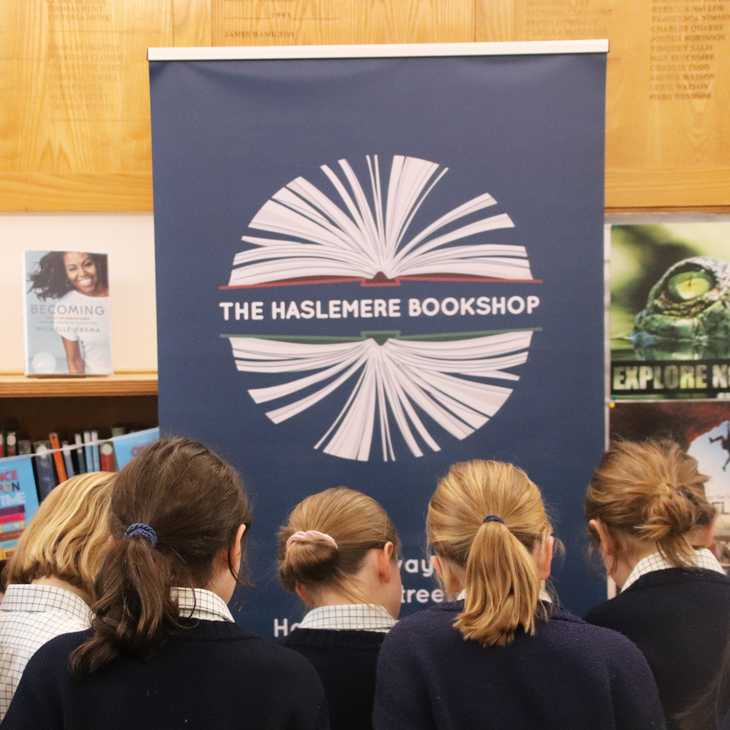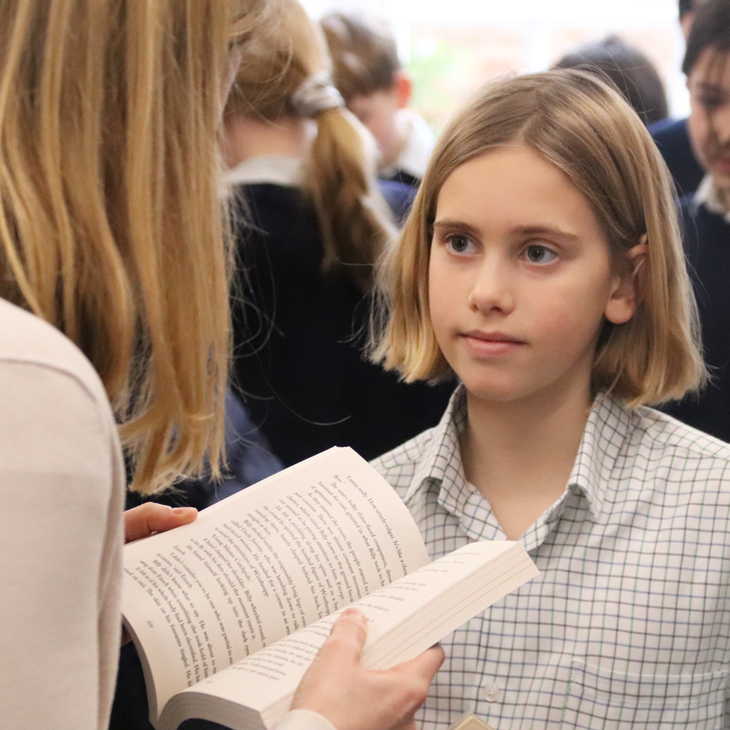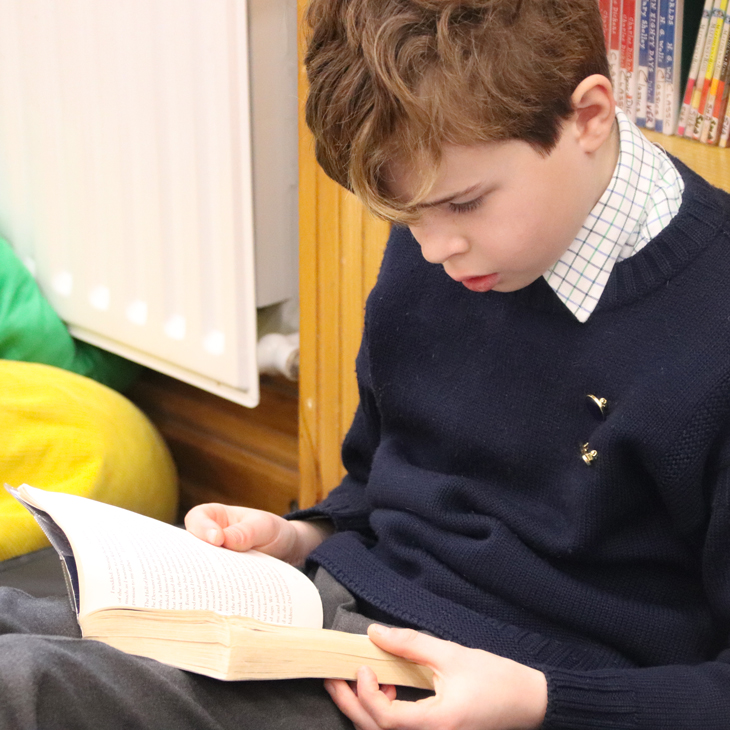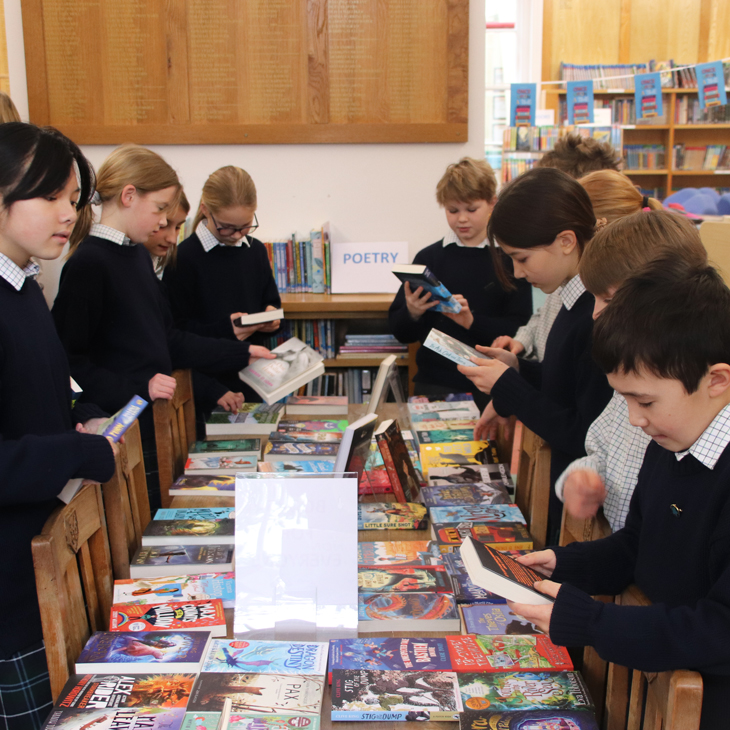 Along with the rest of the school, this week Year 6 had the opportunity to visit the book fair in the library. Haslemere Book Shop provided an excellent range of books for each year group and the children thoroughly enjoyed perusing the selection. Decision-making proved difficult for some but many books were chosen in the end, and the children are now hugely excited and eagerly awaiting the delivery of their new books. A huge thank you needs to go to Dr Whitfield for organising this brilliant annual event; what a wonderful way to cement the children's love of reading!
Lucy Hendry, Year 6 English Teacher
Year 7 Scientists Flex Their Muscles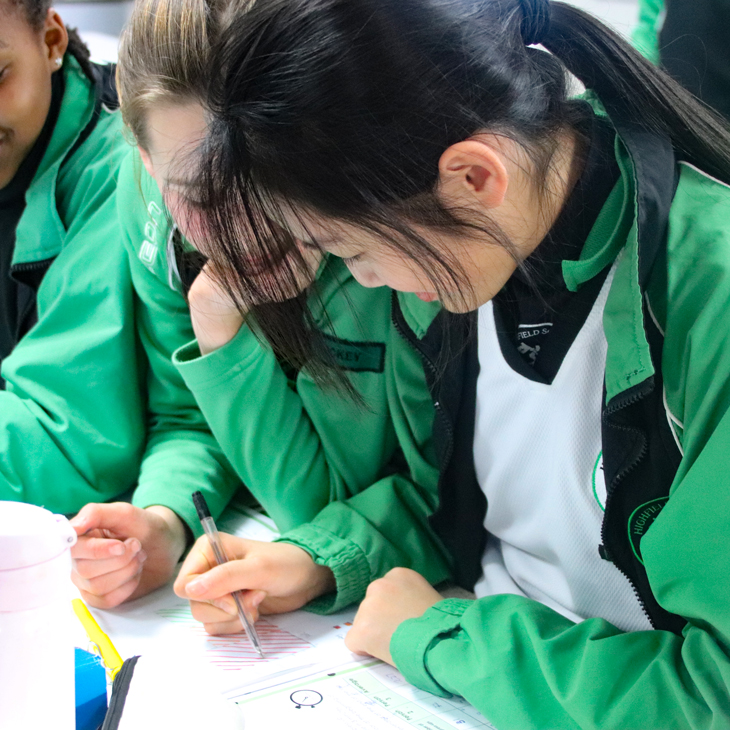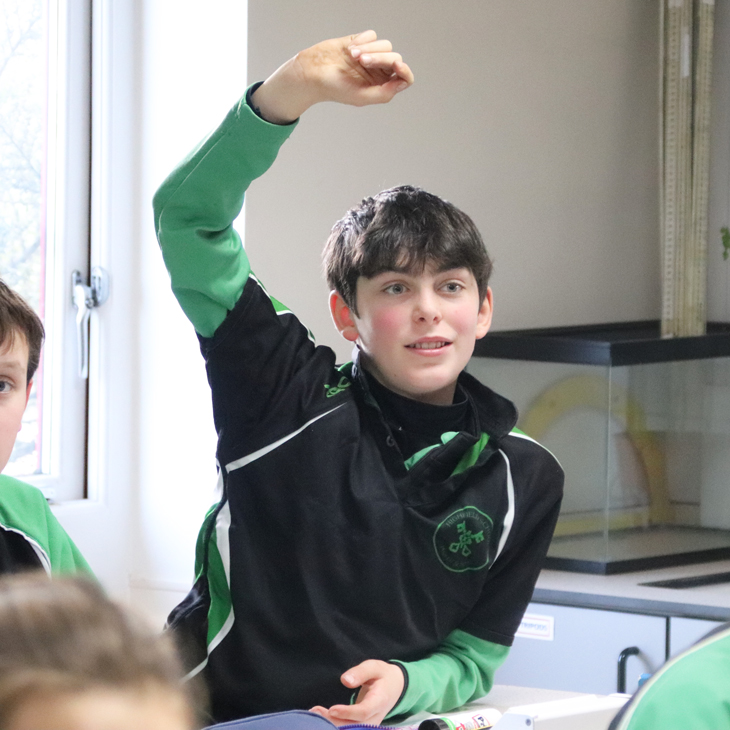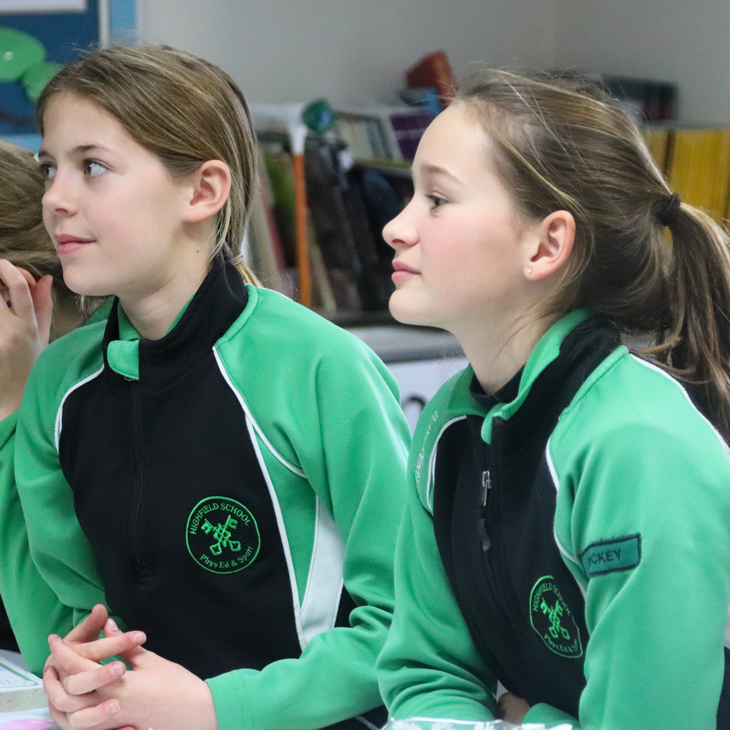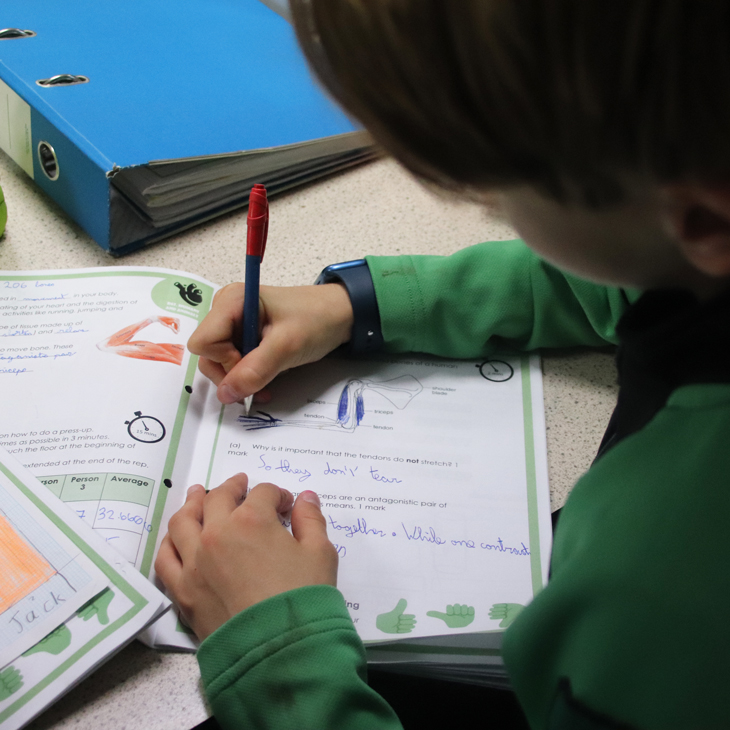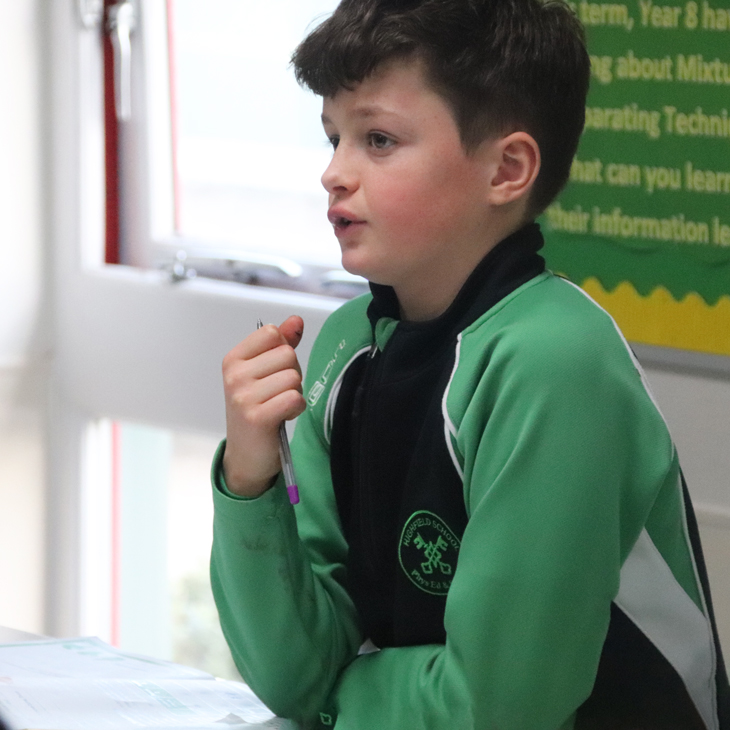 This week in science, Year 7 have been focusing on antagonistic muscle pairs. As part of this topic, they learn about how the body respires in both aerobic and anaerobic states. They then complete a series of exercises over the course of three minutes, with varying breaks. The chosen exercise this time around was 'press-ups' and it's fair to say the press-up technique displayed by all the children was almost comedic! However, it served its purpose by demonstrating how a lack of oxygen leads to fatigue and a build-up of lactic acid – therefore insufficient rest lowers output; which Year 7 recognised the following morning! The children then used the data they collected to produce bar graphs. They then used their understanding of how muscles work to interpret their graphs. Exciting stuff!
Oliver Hamilton, Year 7 Science Teacher
Positive Early Signs As Year 8 Settle Into New-Style Mock Exams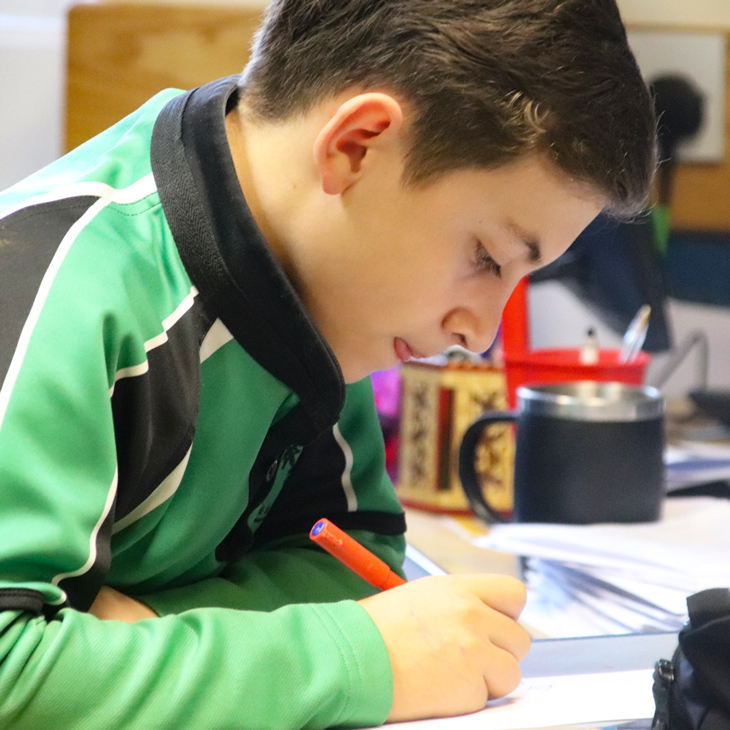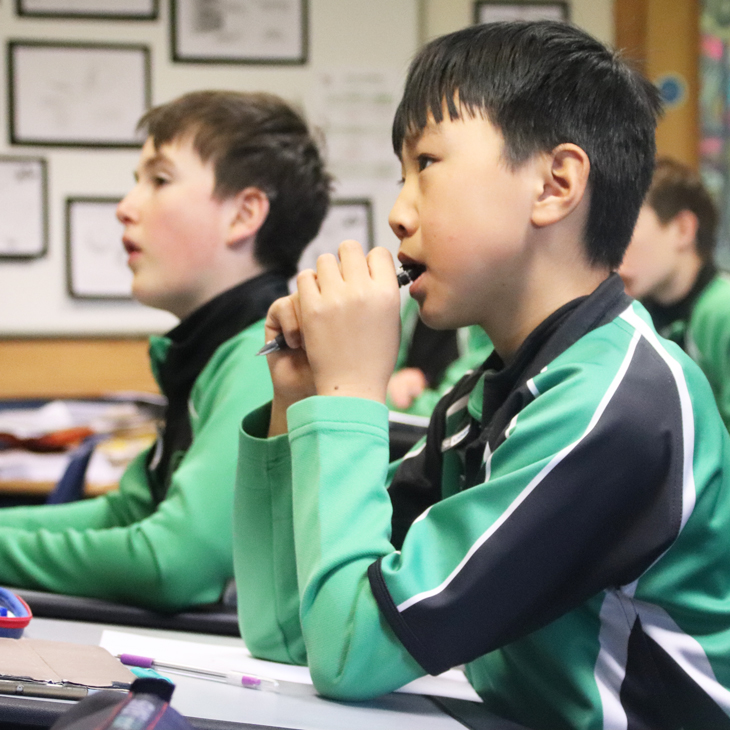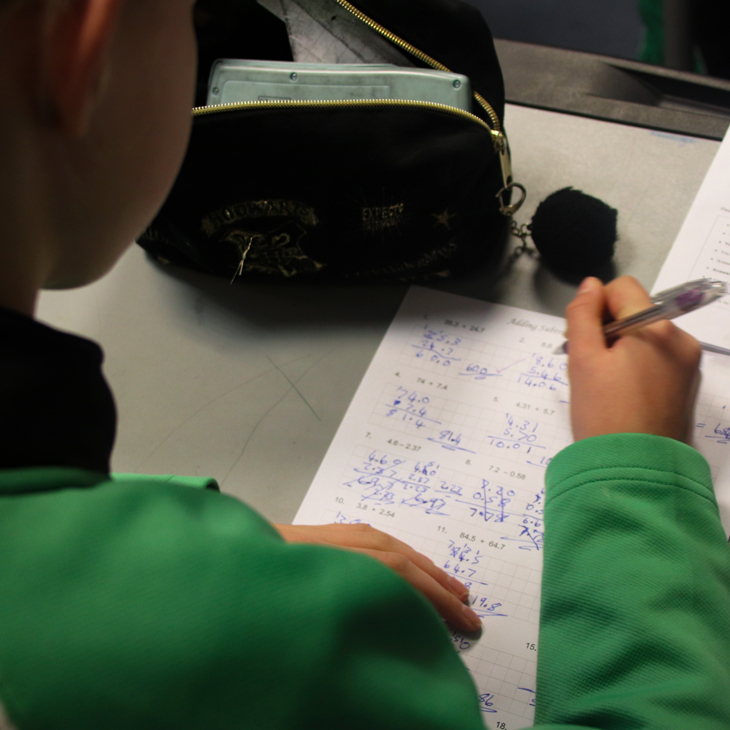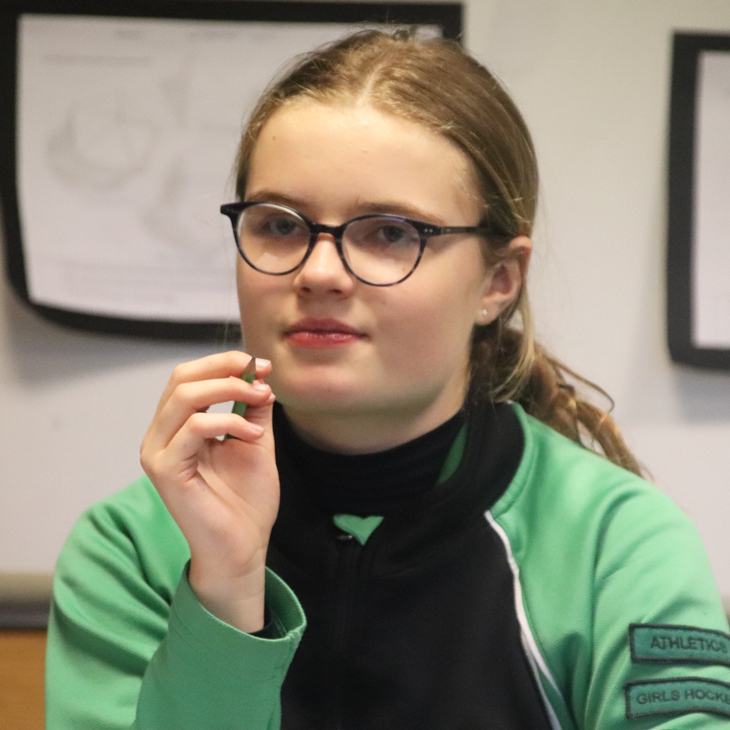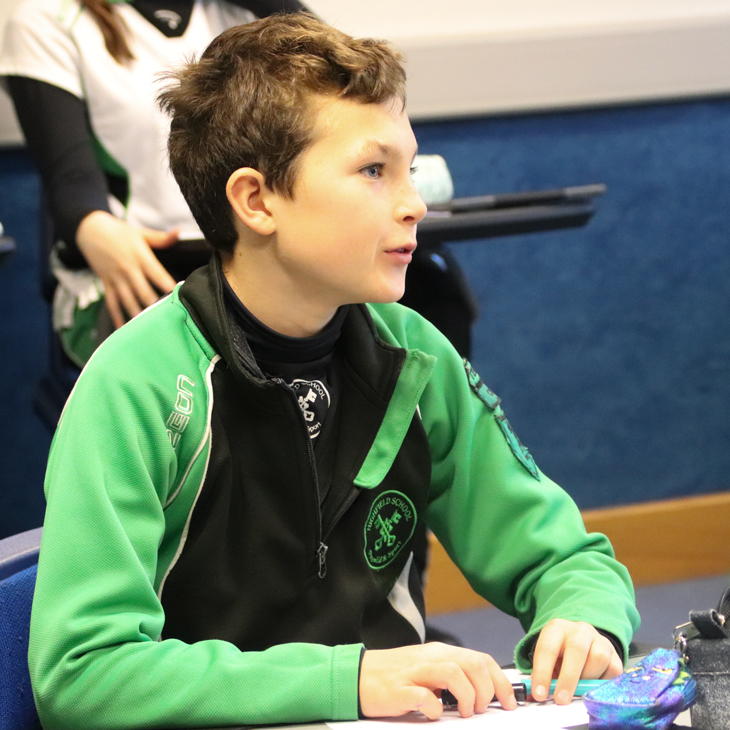 Year 8s are now gently preparing for their mock maths exams. They have just taken their mental test; the first time for the new style test and a significant change from the old one, which was not much loved! Rather than 20 questions being read out from a CD with five seconds to answer, the new test is 40 written questions, allowing candidates to work a little more at their own pace within a 10-minute time limit. The test starts with the likes of simple times tables and addition and builds to trickier, at times even fiendish, questions toward the end, so the stronger candidates are also suitably challenged. The old test was also somewhat of a misnomer, with quite a few wordy and complicated questions. The new test does much more of what it says on the tin: much more genuine mental arithmetic. This new emphasis, I think, is much more useful and interesting, and the new format of the paper seems to be working very well.  Some pupils will see some much more encouraging score than in the past, while still being a good, rigorous test, stretching out the top end, all with less fuss and stress. Pupils have also been practising a few written papers too. These are also a new style, with more emphasis on thinking, creativity and genuine problem solving, with still plenty of good, familiar basics. Good luck to all candidates. They have been well prepared and will have plenty of time and opportunity to progress and improve further before the summer.
Patrick Davies, Head of Maths